Are you in search of the best i7 laptops of 2023? We have a list that can help you compare and choose the one that fits your needs.
The true motive behind buying a laptop is to have the best portability, but that doesn't mean you have to compromise in terms of performance. The best i7 laptops allow users to experience the latest and greatest hardware on a laptop so that you can get a lot of work done on the go.
Why you can rely on our expertise when it comes to purchasing laptops
At technobezz, we are dedicated to providing our readers with expert reviews and in-depth analysis of the best laptop products on the market. Our team of experienced writers and researchers conducts thorough investigations to gather all the information necessary to make informed assessments of each product we feature.
We understand that choosing the right laptop can be a daunting task, which is why we aim to simplify the process by providing unbiased reviews that highlight the key features and benefits of each product. Whether you're looking for a powerful gaming laptop or a lightweight machine for on-the-go productivity, we have the expertise and insights to guide you towards the right choice.
The 8th generation Intel processors are already out, which might be slightly more expensive than the 7th generation Intel i7, but at the end of the day, both are premium models. They can deliver the utmost power to your laptops, making it easier to open multiple excel sheets, Photoshop, or other demanding software to complete tasks.
Laptops over the past decade have become essential. We have started relying on feature-loaded laptops rather than the good old desktops because of the ease with which they can be carried around, whether it is for students, professionals, or for use at home. They offer higher flexibility and better portability without compromising on features or functionality.
The Intel Core i7 processor provides a lot of power to the laptop making it perform outstandingly well. It is great for people who do not like to experience lag when working on heavy applications.
Buying Guide
Going flagship-grade with your next laptop is a wise decision to make. The gadget will be super responsive, have maximum clock speed, and will not be outdated for the next couple of years.
Understand the right i7 processor – There are minor differences between processors because you will easily find multiple processors that use the Intel i7 tag. Instead of going too much into technical specifications such as product numbers, consider the pricing and buy the one that suits your budget.
Pair it up with enough RAM – Most users make the common mistake of going cheap with their RAM module, and that could affect the performance of your amazing i7 laptop. Instead, go for a product with at least 8 GB or 16 GB of RAM to achieve the expected performance without choking the entire setup.
Look for bundled software programs – Many of the high-end laptops are super expensive, and to make the deal appealing, sellers provide audio, video editing software, designing programs or games. Try to find bundled software that will be useful for you.
Check your usage scenario – If you are buying a laptop with an i7 processor for designing, look for compatible graphics cards, while gamers should go for Nvidia or AMD cards meant for gaming. Purchases will drastically vary, even though the pricing will be almost similar. Choosing the right hardware component and pairing it up with the Intel processor helps immensely.
Go for a larger display – The flagship processor will draw lots of power, affecting its battery life. Go for a larger display so that you can use it as an entertainment device or for productivity purposes. In either option, it is difficult to pick a laptop with impressive battery life because of the demanding nature of the processor.
Top Best i7 Laptops
High-Functioning Laptop That Runs Very Fast
HP Pavilion 15 Durable Laptop
Check Price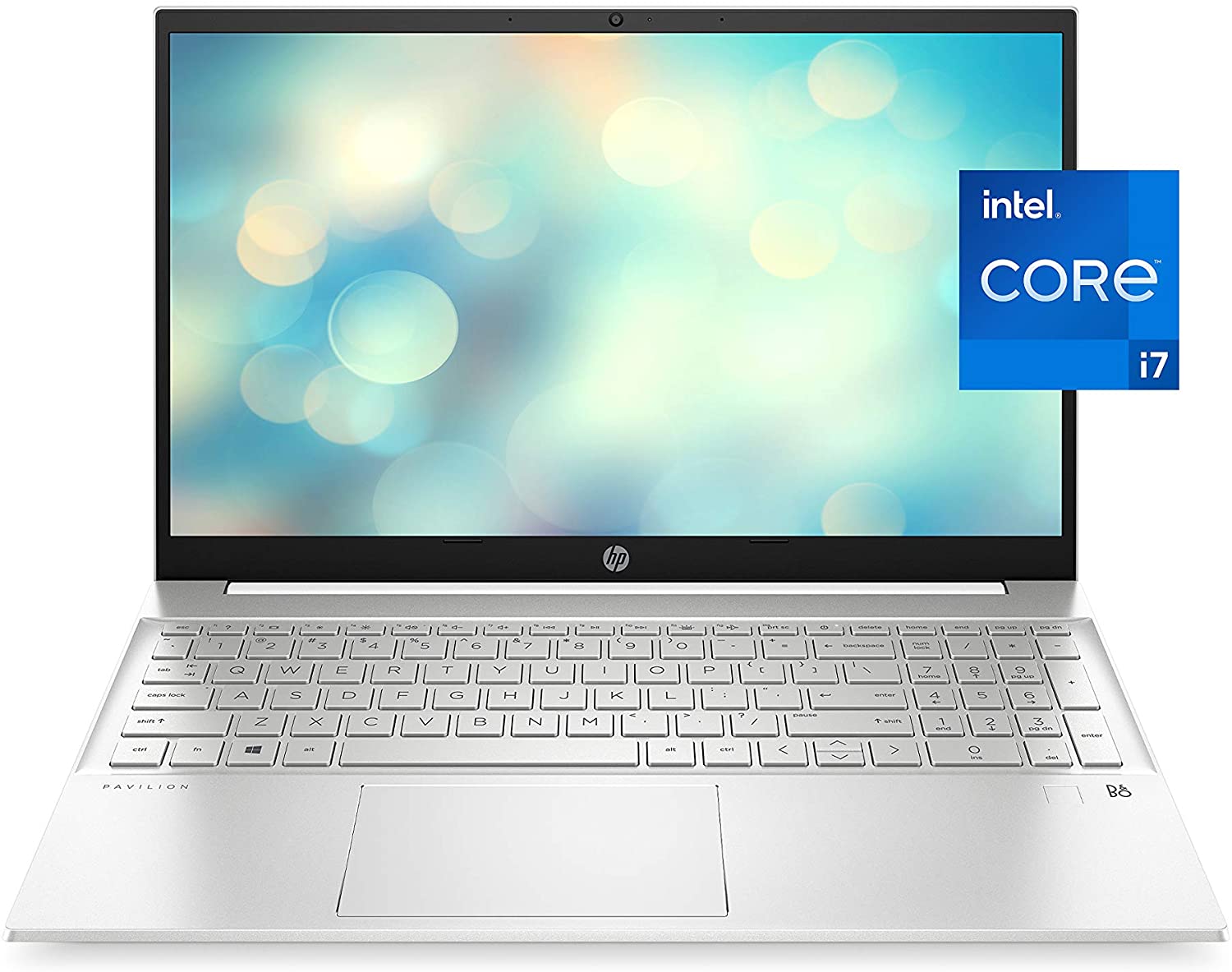 Good quality hardware and high-end specifications are two of the biggest selling points of this laptop. The 512GB SSD contributes to the high-speed performance it registers. The 15.3-inch display screen is touch-enabled and makes using it much easier.
It runs on a fourth-generation AMD Ryzen 7 processor, ensuring smooth and stable performance. Besides being slim, the laptop boasts a sleek and stylish design that adds to its appeal. The full-size keyboard has sturdy and comfortable keys, and the trackpad is quite large. The machine has an internal heat management system that ensures that it doesn't get heated up even after being used for several hours at a stretch.
Those who believe in HP as a brand and are looking for a highly durable and well-functioning laptop should go for it.

Doesn't suffer from the risk of getting heated up quickly and, therefore, is ideal for those who use their laptop extensively or for several hours in a day.
Slim and attractive design

Good quality keyboard

It has

a fingerprint reader

Touch-enabled screen
Poor battery life

The Graphics card is not powerful enough
Gaming Laptop That Also Works Equally Well for Professionals and Students
Dell Gaming G3 15 3500 Long-Lasting Laptop
Check Price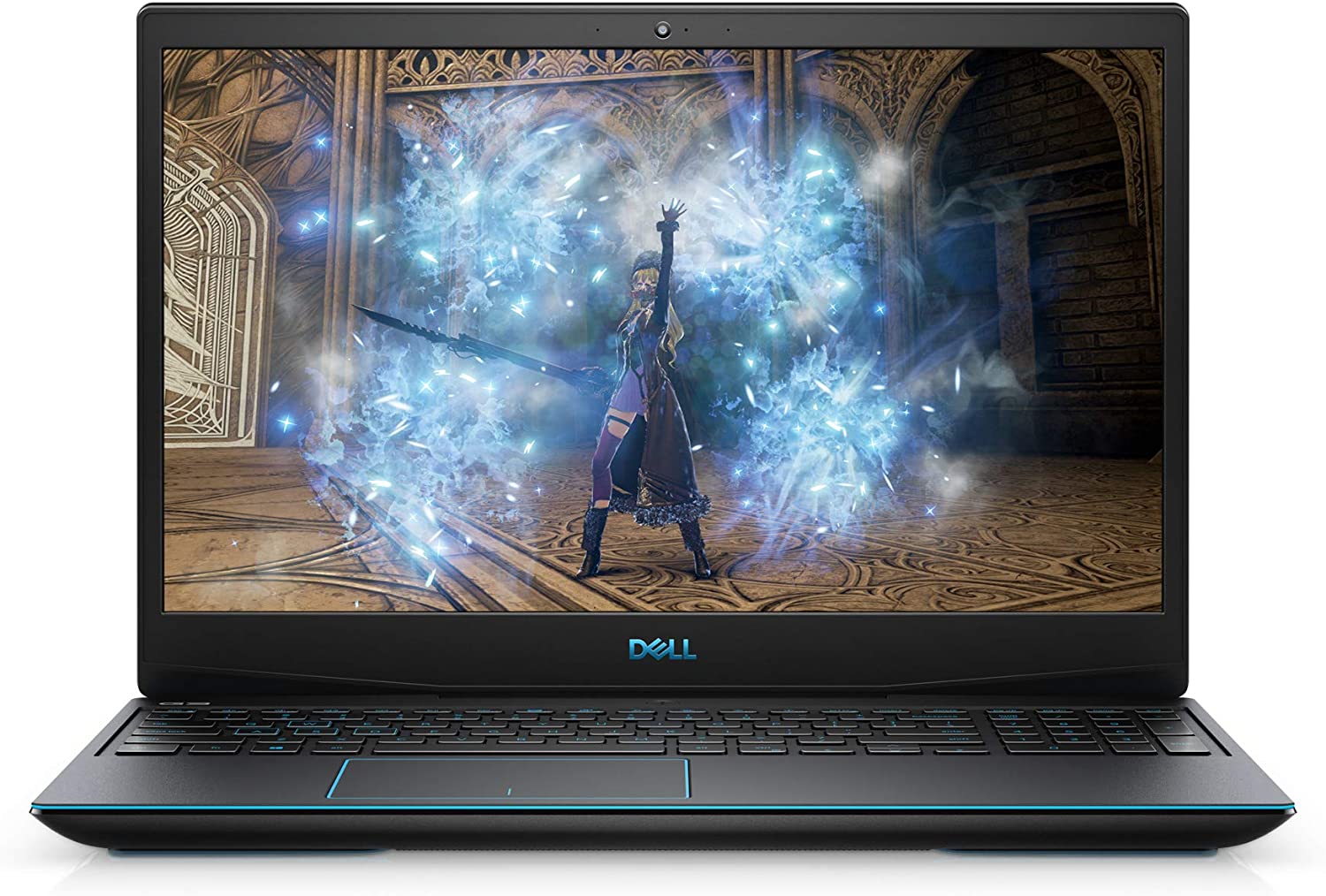 This gaming laptop by Dell is built with premium quality plastic designed to withstand pressure, corrosion, and other external factors. The laptop offers a maximum opening angle of 140 degrees and weighs just about 2.3 kilograms. Though it is slightly heavier than most of the other laptops in this range, you shouldn't have a lot of difficulty traveling with it. The 15.6-inch display screen is surrounded by an IPS panel and delivers a resolution of 1920x1080 pixels.
The device has many connectivity ports, including a Thunderbolt 3 connector. It does have a card reader, but it doesn't support all kinds of SD cards. The webcam produces images at 0.9 MP and could have been much better. Since it has been designed as a gaming laptop, the brand provides a bunch of accessories with it that prove to be useful to gamers. Dell offers a warranty of 12 months on the laptop which can be extended if you pay an additional fee.
It proves to be a very good choice for those looking for a tough, high-endurance laptop that can withstand extreme conditions.

The high-quality processor and the bright display screen ensure a good gaming experience for the users.
It runs the most high-end games

It comes with a bunch of accessories

Bright and high-definition display screen

Good thermal management system
It can get noisy at times

Poor quality webcam
Budget Gaming Laptop That Delivers Adequate Performance
Acer Nitro 5 Powerful i7 Laptop
Check Price
The design of Acer Nitro 5 might not be highly appealing, but it offers useful features and reliable performance. Though this laptop has been primarily designed for gamers, it has several other functionalities that should keep most users happy. The 17.3-inch screen, which this device comes with, appeals greatly to both gamers and those who watch a lot of movies or videos.
If you are planning to buy an i7 laptop that enables you to experience 1080p gaming, this would be the right device to invest in.
The webcam, offering a resolution of 1280 x 720 pixels, makes it an ideal laptop for professionals who regularly participate in video conferences.
Large 17.3-inch screen
Super-fast performance
High-quality webcam
Strong connectivity
Slightly bulky
Underwhelming design
Lightweight Laptop with Premium Quality Keyboard and Trackpad
Microsoft Surface Laptop 3 For Writers and Professionals
Check Price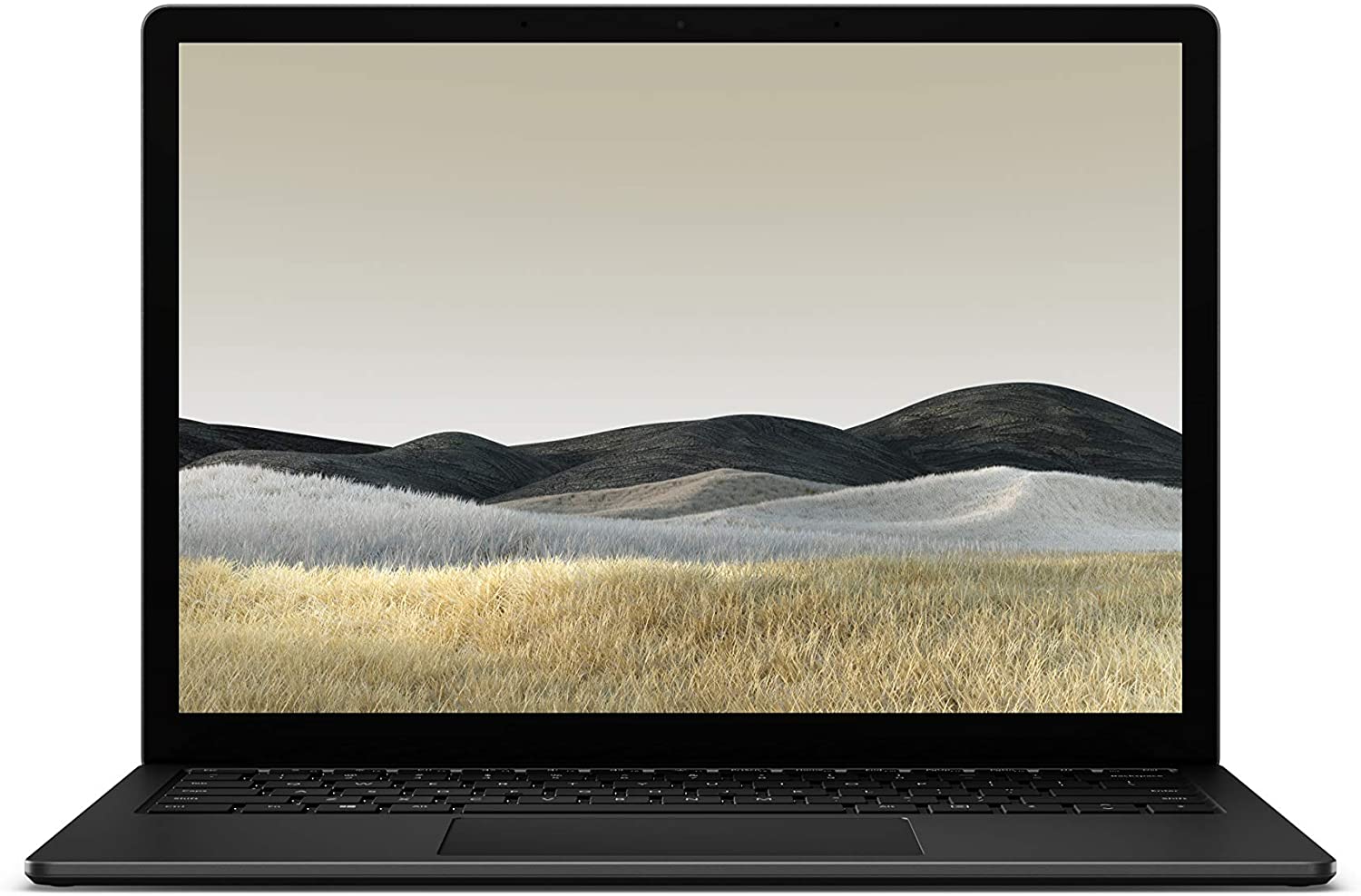 The super-smooth keyboard and a very large trackpad would make this laptop an instant favorite among writers and professionals who type extensively. At 13.5 inches, the display screen might not be very large but can play 4k videos. At 2.89 lbs, this laptop is neither very heavy nor too light. You can carry it around without much difficulty.
The screen has touch functionality and is quite sensitive to responses. The screen has an aspect ratio of 3:2 and produces images that are extremely bright and sharp. The battery life is quite moderate, though you won't have much of a problem if you are using it in your home or office space where a charging port is readily available.
Why You Should Buy This?
The laptop has all the features and the kind of specifications a professional looks for in a device that he could work on.

One of the best things about this device is its touch-enabled display screen that produces high-quality images.
Pros
Highly responsive touchscreen

Premium quality keyboard and trackpad

Sturdy and durable build

Great for regular usage
Cons
Sub-par battery life

Limited connectivity support
Slim and Lightweight Laptop That Would Fit Within Your Budget
Acer Aspire 5 Travel Laptop
Check Price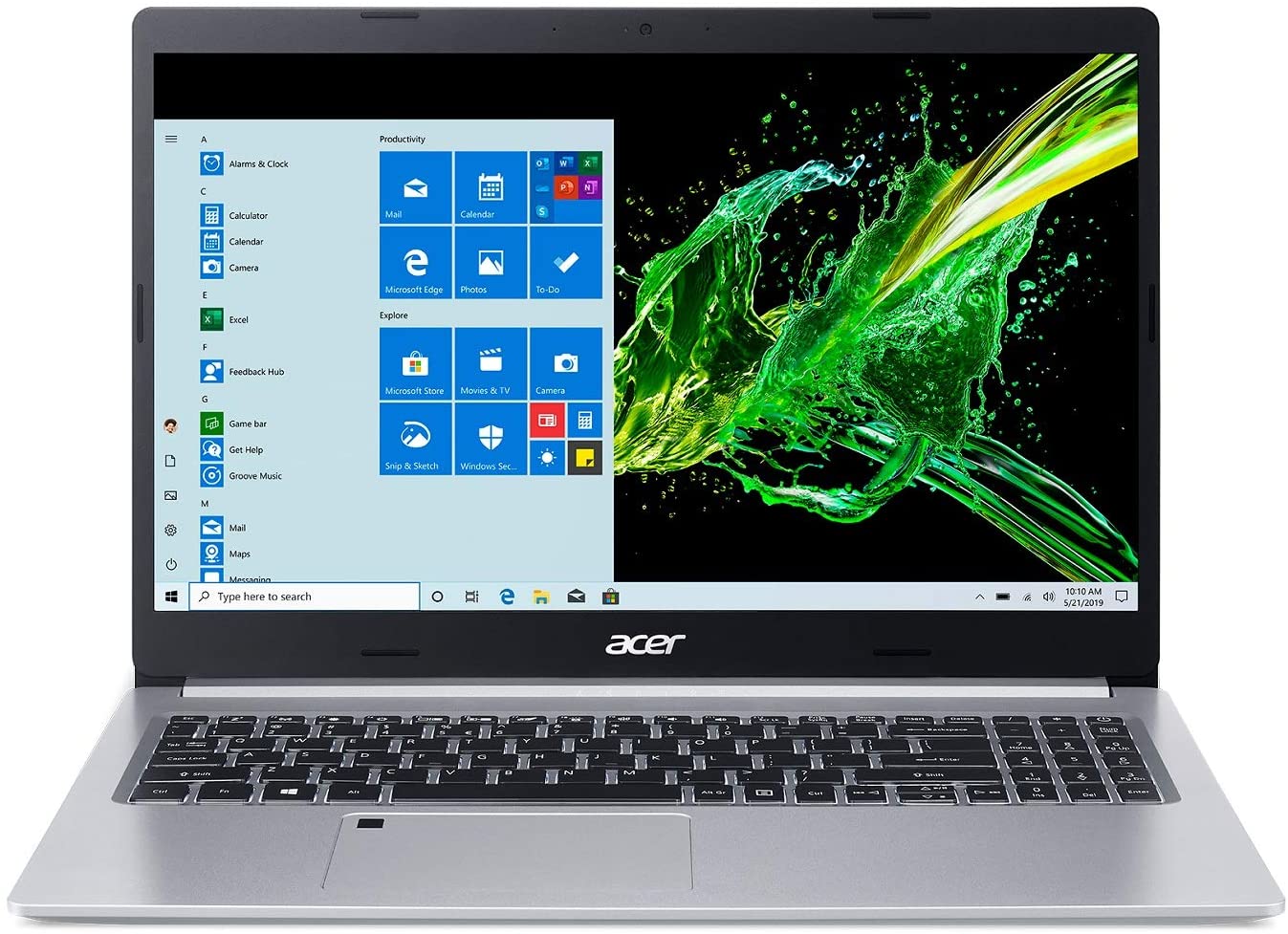 Weighing less than 4 pounds, this laptop by Acer proves to be a very good travel companion and delivers the kind of performance that will make you very happy. The 15.5-inch display screen is bright and colorful. While the laptop packs in all the necessary features, a few things like a VGA display output and an SD card reader are missing.
Being a budget-friendly laptop, the brand has focused on integrating high-quality internal components, not a high-resolution, touch-enabled screen. Built largely with plastic, the overall build quality could have been better. A USB 2.0 port, two USB 3.0 ports, Gigabit Ethernet, HDMI output, and headphone mic-jack have been provided to support good connectivity.
It is an ideal device for anybody on a budget and looking for a well-functioning laptop.

Bright 15.5-inch display screens are great for those who spend hours consuming video-based content.
Lightweight and compact structure

A good number of connectivity ports

Powerful internal components

Storage space can be easily upgraded
No touch-enabled screen

Average build quality
Sleek and Stylish Laptop with Fold-Back Screen
Samsung Galaxy Book FlexHigh-Utility Laptop
Check Price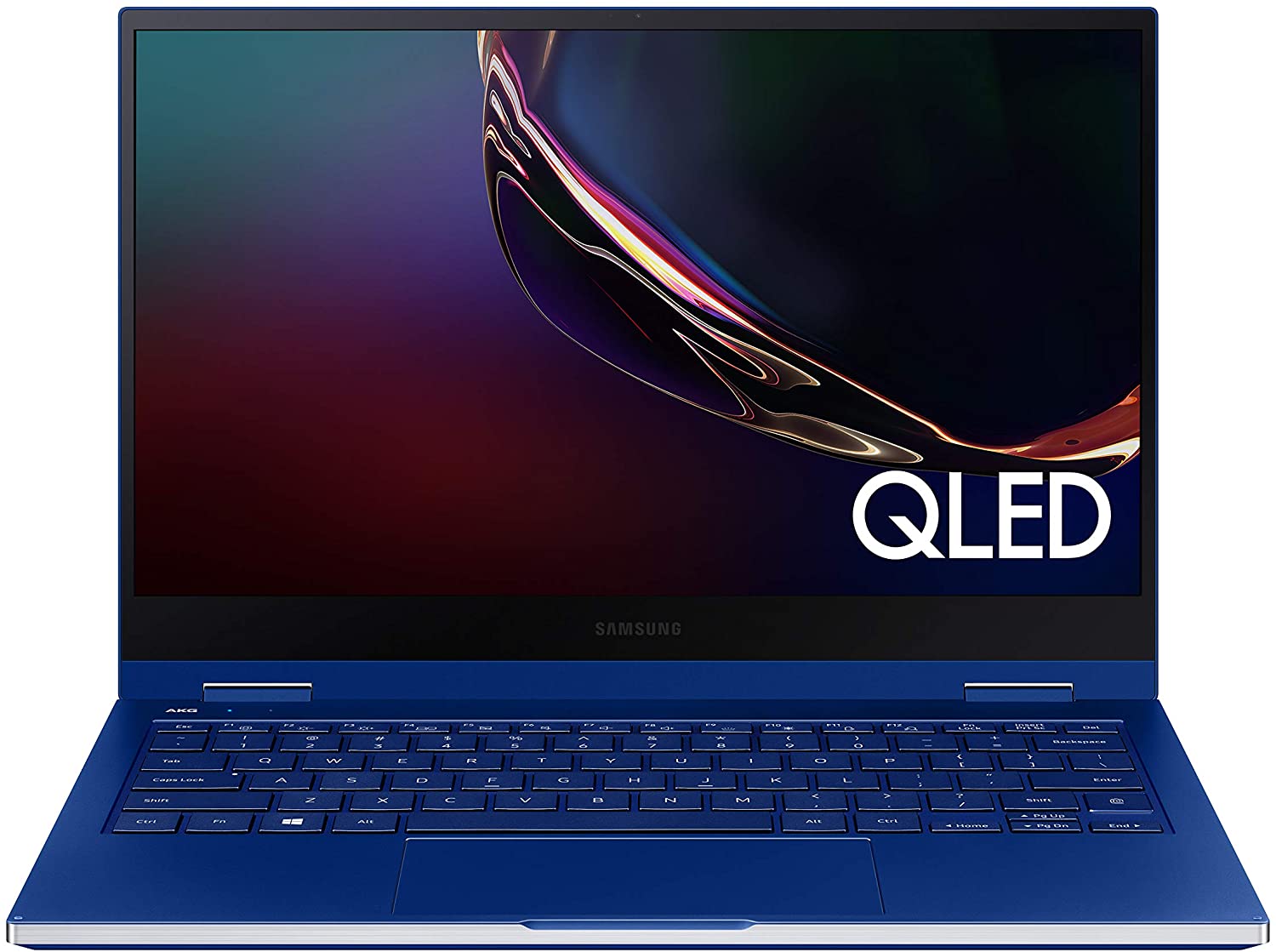 This Samsung device weighs 1.16 kilograms and is 12.9mm thick. That makes it very convenient to put it in a moderately-sized bag and travel with it. It boasts excellent build quality and is highly durable. Biometric logins are enabled by the built-in fingerprint sensor, which adds an extra layer of security to the device.
The keyboard features large-sized keys that are spaced out adequately. The trackpad, too, is quite big and highly responsive. Unlike most other laptops, the power button and speaker grilles are in one corner of the machine, not the deck. The QLED high-definition display screen offers an aspect ratio of 16:9 and is great for viewing widescreen videos.
Why You Should Buy This?
With a battery life of close to 11 hours, the laptop is highly useful for travelers or those who commute frequently.

It is an ideal option for those looking for a convertible laptop that offers good value for money.
Pros
Excellent battery life

Powerful processor

Convertible hinge

Biometric login feature
Cons
Average webcam and microphones

It consumes

a lot of energy
Two-In-One Device That Comes with High-End Features
Acer Spin 5 Easily Convertible Laptop
Check Price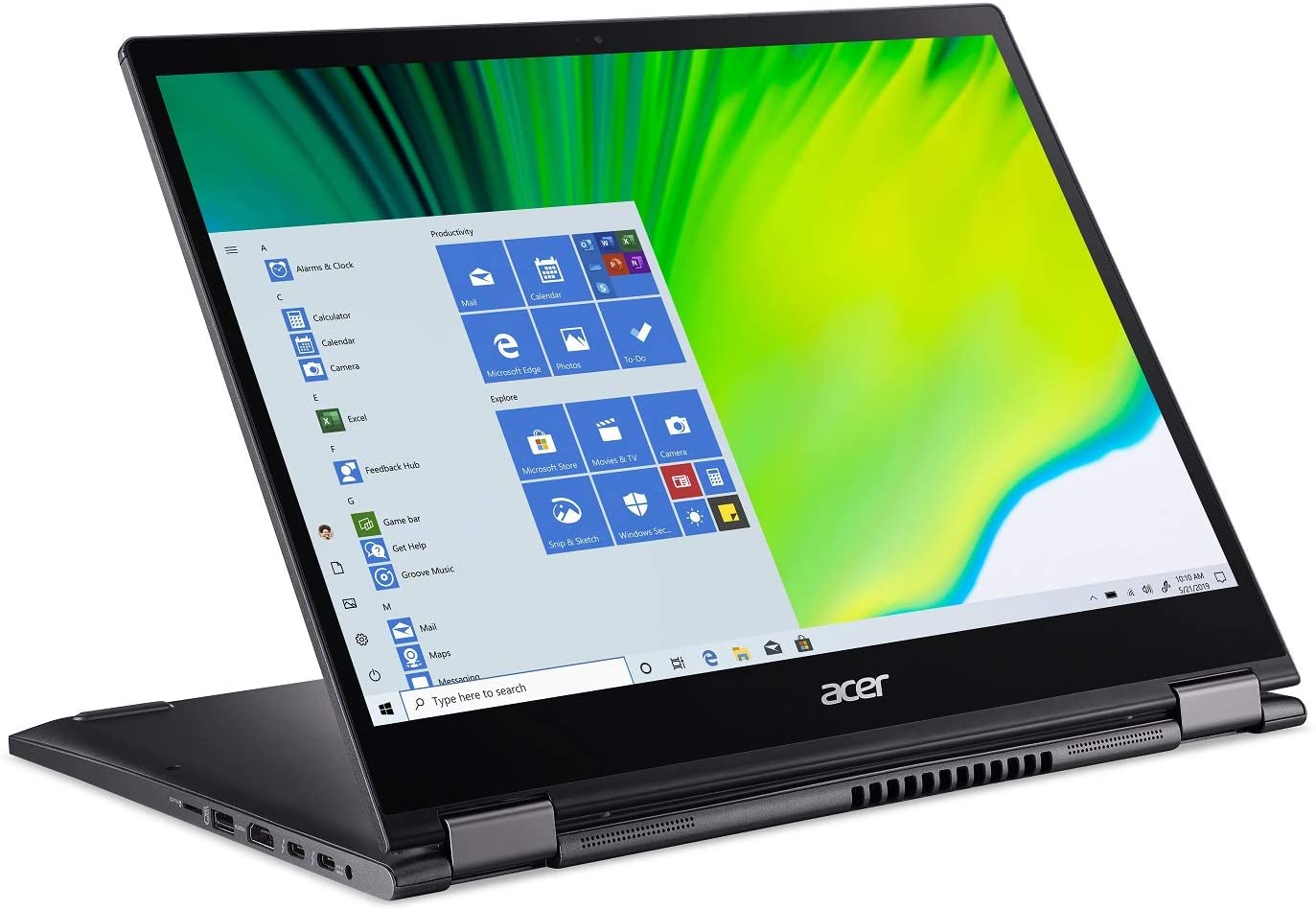 The display screen of this laptop is 13.5 inches wide and is good enough for your daily entertainment needs. As a convertible device that can be used both as a laptop and a tablet, it proves to be highly useful for professionals. The brand also provides you with an active pen that can be charged with the help of the laptop itself and can be used for making a note of a few important things while going about your everyday work routine.
On the left side, you get two USB-A and USB-C ports each. Apart from that, the device also features a microSD card slot and an HDMI connection. The keyboard has a backlight function and is very comfortable to work on. The touchpad is very responsive and offers a good degree of precision. The webcam is quite good but tends to produce noise in low-light conditions. When charged optimally, the device clocks in 8-9 hours which is not great but decent enough.
Why You Should Buy This?
With a 13.5-inch touchscreen with a resolution of 2256x1504 pixels, this Acer laptop should please anybody who consumes multimedia content extensively.

The active pen that comes with it makes it very convenient for taking notes while preparing a presentation or some other piece of work in a professional space.
Pros
Slim and lightweight design

Gorilla Glass display screen

Active pen provided by the brand

Good connectivity options
Cons
Average battery life

No privacy features
High-End Two-In-One Device That Offers Good Value for Money
Microsoft Surface Book 2 Multimedia Laptop
Check Price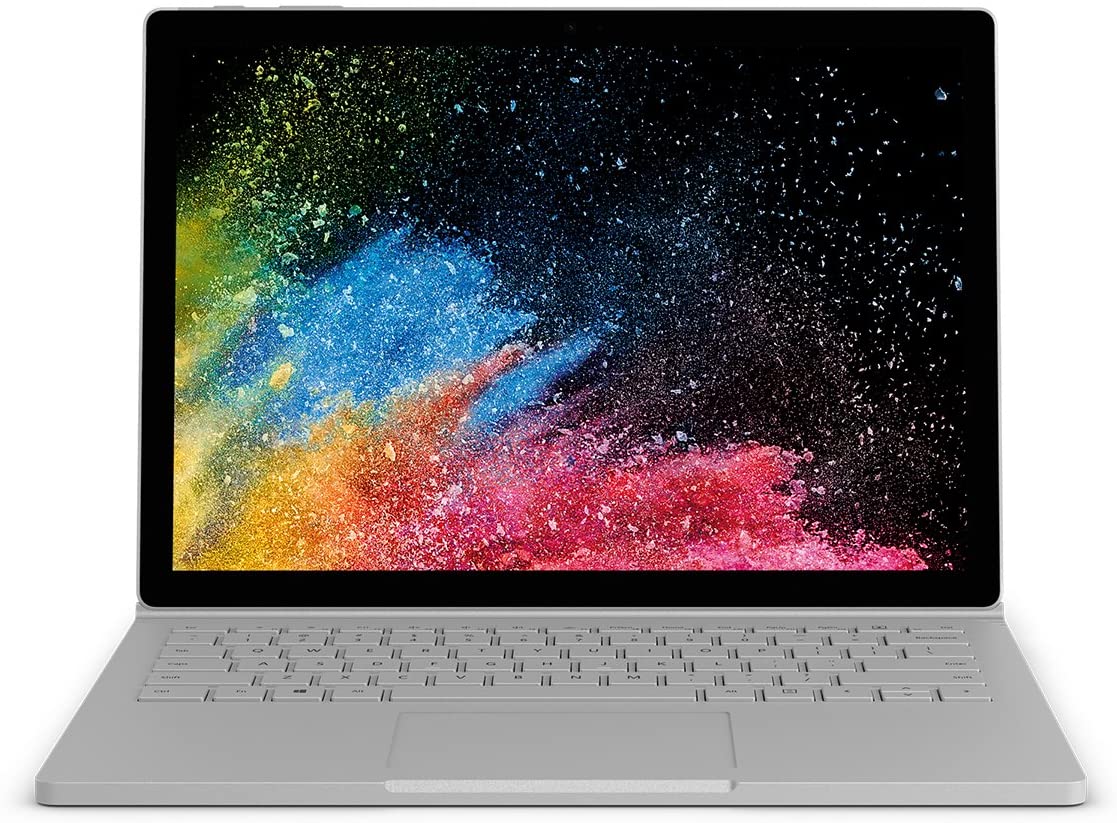 This device, which functions as a laptop and a tablet, doesn't come cheap, but it has the kind of features and specifications that very well justify its price. The system offers a large amount of storage space, and the 256GB SSD ensures that it runs extremely fast. The 15-inch display screen produces vivid images and offers a pleasant viewing experience.
Some of the accessories that you expect, like a Stylus pen, with a device of this kind, are missing, but if you take that in your stride, you will be quite happy with all that it manages to deliver. Zoom meetings prove to be a breeze with the 1080p webcam and rear camera it has. Getting the screen detached from the keyboard and using it as a keyboard is an effortless process.
Why You Should Buy This?
If you are willing to pay a large sum for a high-quality device that works equally well as a laptop and a tablet, you should invest in this.

It does not offer you a reason to complain about the features and specifications it comes with.
Pros
Two-in-one function

Extremely powerful performance

Efficient cooling system

Strong battery life
Cons
No Stylus pen provided

Expensive for many
Brushed aluminum finish, backlit keyboard, and great speakers
HP Pavilion 15.6-inch Laptop
Check Price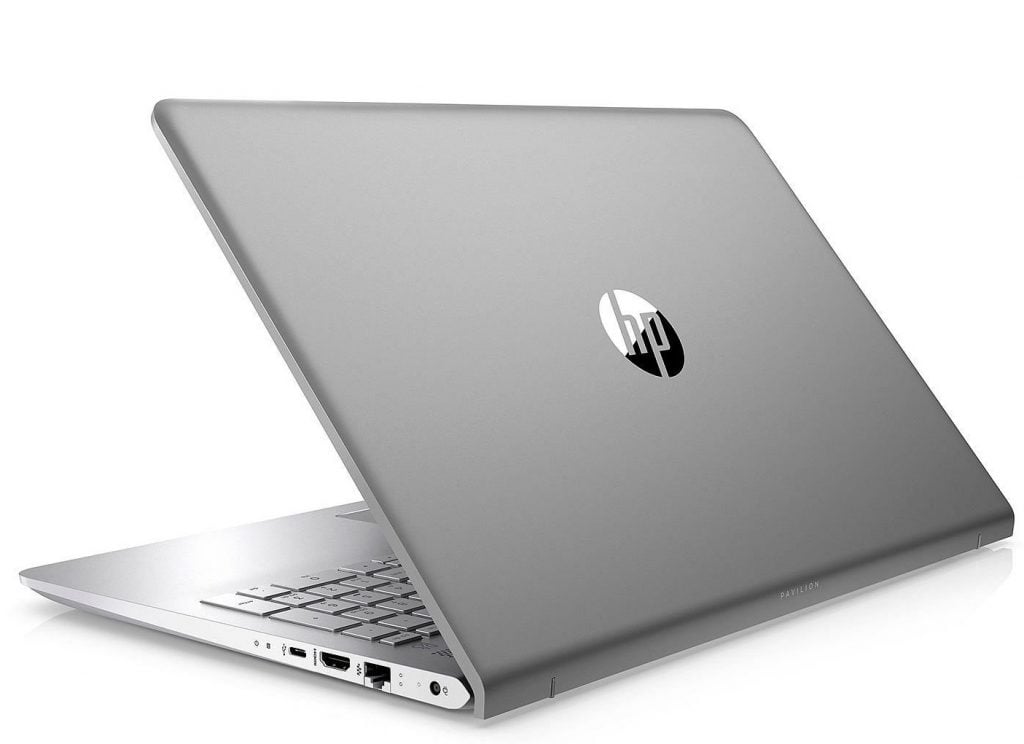 The HP Pavilion 15.6-inch laptop is a product designed for business users. The premium brushed aluminum finish on the exterior will instantly appeal to any buyer. The sturdy-looking laptop even features a backlit keyboard which is rare to find on these products unless they are designed for gamers.
The laptop is powered by the latest 8th generation Intel i7 processor, which can be clocked up to 4.0GHz coupled with 16GB of RAM and 512GB SSD. The laptop sports a 15.6-inch display with 1920×1080 resolution and houses a dedicated Nvidia GeForce 940MX 4GB graphics card. It delivers great sound and is an all-round product for business owners, and surprisingly falls within the budget range.
Why should you buy this one?
It features the latest 8th i7 processor.
The build quality and keyboard are very impressive.
Best i7 laptop that can also be used as a tablet
Dell Inspiron 13 5000 2-in-1 Laptop
Check Price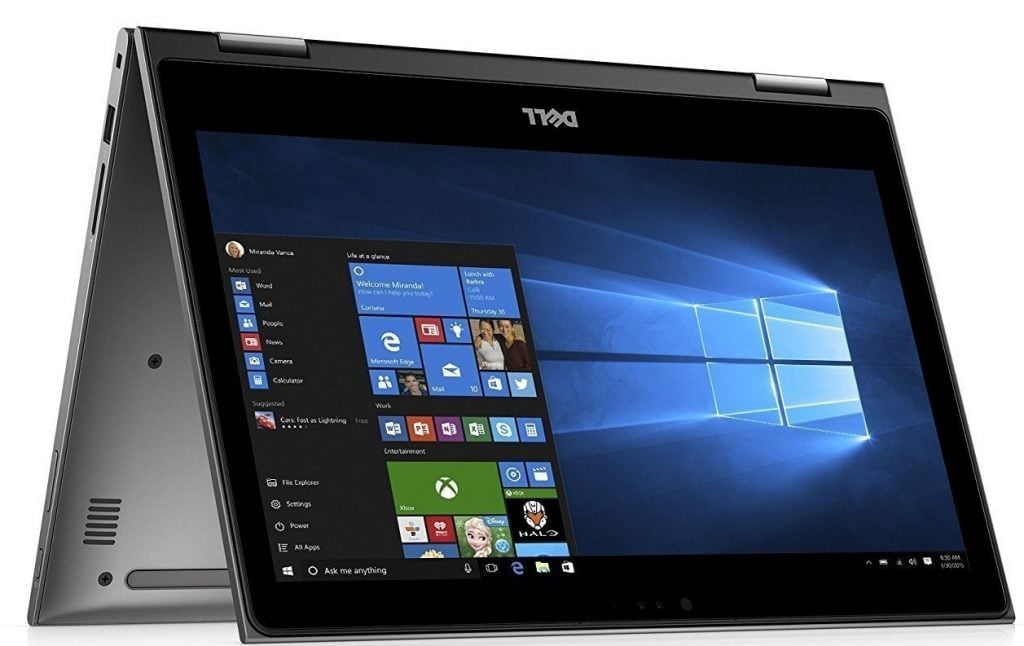 The Dell Inspiron 13 5000 2-in-1 laptop is a product meant for users looking to own a versatile device that satisfies more than one usage scenario. You can easily swivel it to be used as a normal laptop with a robust keyboard. When flipped on its back, it instantly becomes a large tablet with a full HD touchscreen display.
The laptop has a 13.3-inch 1080p display which features an IPS panel offering the best viewing angles. It is powered by an Intel i7 processor with 8GB of RAM and 256GB of SSD storage. The device uses Waves MaxxAudio Pro for sound and has Intel UHD 620 graphics, enabling users to enjoy the best entertainment and casual gaming. The ability to flip open or close the laptop in a convenient position is what sets it apart from the competition.
Why should you buy this one?
Buyers who are looking for a 2-in-1 solution with a laptop or tablet in a single device
Touchscreen setup makes it easier to navigate, especially in tablet mode
See also: Best Laptops for Teachers
Expert Advice
Consider your needs: The first step to buying a laptop is to consider what you'll be using it for. Are you a professional who needs a high-performance machine for work, a student who needs a lightweight laptop for class, or a gamer who needs a machine that can handle demanding games? Make sure to choose a laptop that meets your specific needs and requirements.
FAQs
How do I find the right components for an i7 laptop?
The primary advantage of going for a laptop is that it is a pre-built system. The compatible RAM, graphics card, and motherboard are all included in the package so that you don't have to spend time looking for compatible solutions.
In what scenario should I extend my budget for a flagship processor?
If you are a content creator, a music editor, or a gamer, you should definitely consider extending your budget and purchasing the best i7 laptop because they are a powerhouse. The chipset is highly powerful and can handle amazing displays, graphics cards, or the latest version of software you have installed in it.
What is the difference between an i5 and an i7 processor?
Instead of going in-depth into the technical information, it is safe to say that the Intel i7 processor is a far superior processor when compared to an i5. In a typical scenario, the clocked Gigahertz capacity of the flagship processor, core count, and cache memory will be higher when compared to the mid-range processor. This also leads to a significant jump in pricing.
What kind of laptop does a video editor need?
Go for an i7-core laptop which is the best in the market, and pair it up with an Nvidia Quadro card which will be essential to handle all the processing and rendering requirements you may have. The i7 core laptops will save you some time as well. While a desktop is far more powerful, this helps you finish work while on the move.
Should I really go for an expensive laptop?
The answer depends on your application. If you are a professional, you should go for it, while any passionate designer or gamer can also invest in a high-end laptop so that they can enjoy the best.
Conclusion
The best i7 laptops come in different sizes and are designed for varied purposes. If you are looking for pure gaming or audio/video editing software programs, there are always some great options from Asus, MSI, or Razer. Dell and HP continue to offer the best hardware specifications for business users at an affordable price. They have also introduced 2-in-1 products that offer the best laptops and tablets if that's your preference.
You can find one for yourself if you are looking for the best i7 laptops. All of these laptops promise terrific performance because of the i7 processor. But what makes them stand out is the additional features that boost their performance and make them better than the rest. The design of these laptops is also some of the best that you would notice in the market.