Featured in this article (opens in new tab)
Are you in the search for one of the best gaming laptops to enjoy a smooth gaming experience? Then you landed on the right page. The electronics market is flooded with a huge collection of laptops, but you might be confused about getting the right one to meet your demands. But don't worry; we are here to help you find the best gaming laptop. They are available in various ranges; however, the ones under $1500 are listed here so that all can afford their suitable gaming laptop without making a big hole in the pocket.
For the hardcore gamers out there, here are some of the best gaming laptops under $1500. If you want a new gaming laptop, it is important to know that going extremely cheap could invariably affect performance. At the same time, not everyone can spend thousands of dollars on a laptop. This makes these products under $1500 the perfect sweet spot.
The manufacturer will have the freedom to throw in an i7 processor. They don't have to be miserly, as the budget allows them to include an Nvidia 1060 or even 1070, which offers a premium gaming experience. You can also expect a great display, build quality, and features in these laptops, making it a seamless experience in the long run – be it for gaming or casual usage.
Buying Guide
When you are willing to spend up to $1,500 on a laptop, you can insist on some top-rated specifications. In reality, the most powerful laptops are seen in the gaming laptop category and for $1,500 you can buy a good gaming laptop. There is a vast number of laptops in this price range and it is left to you to choose the best among them. If you are a little confused, here are specific areas you can focus on before making the buying decision.
Processor: At the $1,500 level, you must be able to get laptops fitted with the latest Intel Core i7 processors. They give you sufficient processing power to execute all tasks and play the hardest games. The details about the graphics processor have been discussed above. Go for the machine with the latest NVIDIA graphics card.
RAM: You will find laptops in this range coming with a RAM of 16GB, which is good for the various activities you have in mind.
Display Size: If gaming is at the top of your list for using the laptop under $1,500, then a 17-inch screen would be ideal. It allows you to play games where two players can participate. Check if the display has sufficient viewing angles as well.
Screen Resolution: Check if you are getting a Full HD resolution that can make the game more immersive.
Storage: Laptops under $1,500 may come with at least 1TB of onboard storage. You will want to download games, store them, and play offline. These game files are quite large and occupy more memory space.
Backlit keyboard: Laptops in the price range of around $1,500 may come with backlit keyboards. You can use the laptop even when the light is low or dark.
Touchscreen: This is another feature you may automatically get on laptops in this price range. Check it out.
Connectivity: Ensure all connectivity options are there on the laptop.
Cooling Arrangement: If the purpose of investing in this laptop is gaming, you will need a good cooling arrangement with more powerful fans. Satisfy yourself on this.
Battery: The assumption is that this laptop may not be carried around much because of its large size. In such a scenario, the battery may not be very critical. However, ensure that it has a decent battery.
Top Best Gaming Laptops Under 1500 dollars
Powerful Gaming Laptop with 15.6-inch Display Screen
MSI Pulse GL66 11th Gen Intel Core i7-11800H Processor Laptop
Check Price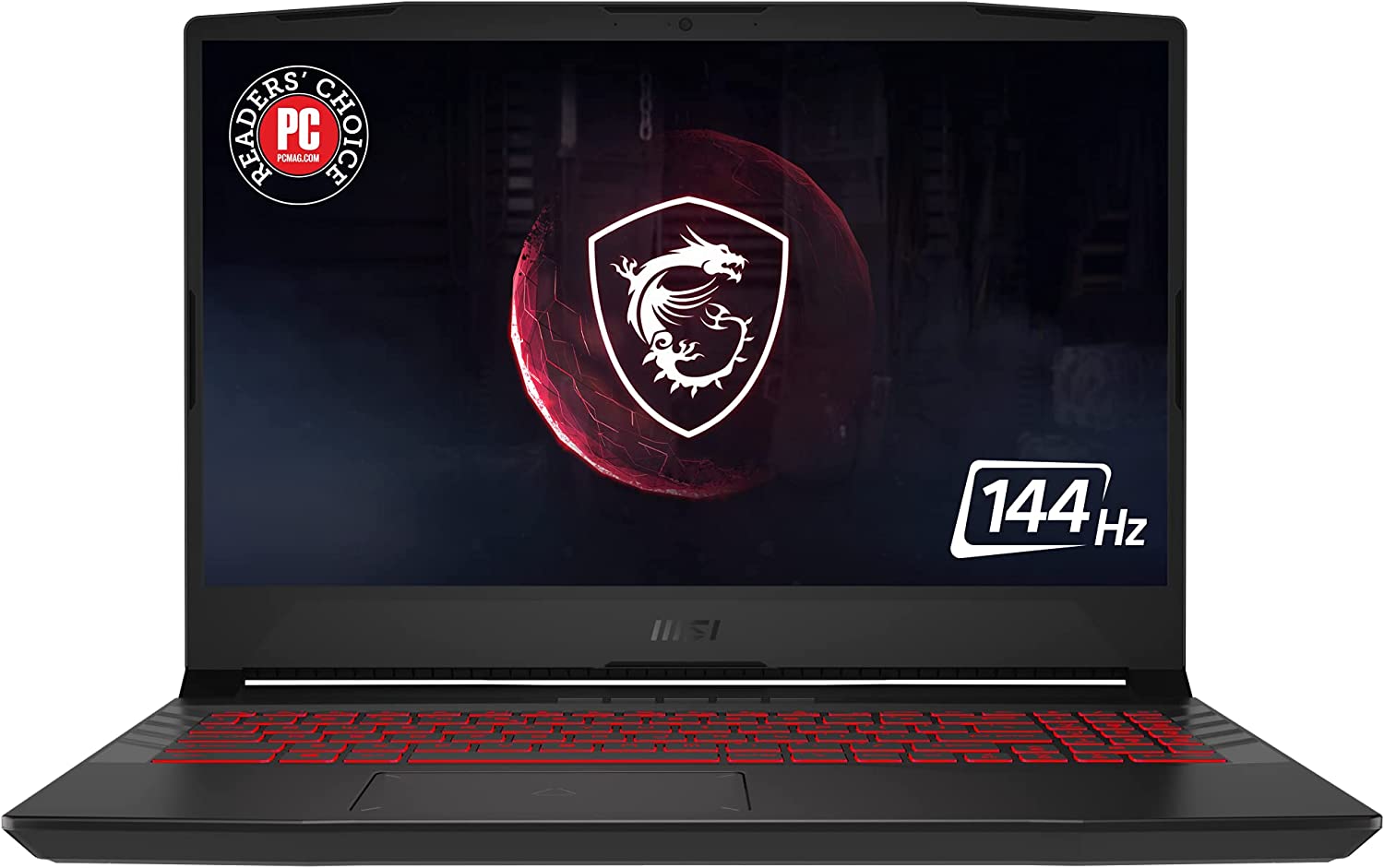 The MSI Pulse GL66 features the kind of design that you would associate with a gaming laptop released 15 years back. However, if you manage to keep the disappointment with the design aside, you will be fairly satisfied with this laptop. The laptop features a 15.6-inch display screen with 1920 x 1080 pixel resolution. The Intel Core i7-11800H CPU runs at a processing speed of 2.4 GHz and offers a very smooth gaming experience.
16 GB RAM comes pre-installed on the device, and the SSD drive offers 512 GB of storage space. The two internal fans ensure the laptop does not suffer from overheating even if you spend hours playing high-end games. At 4.63 pounds, the laptop is slightly heavy. However, if you are not planning to travel with it frequently, you should have nothing to be worried about. While the laptop does not feature an optical drive, it offers several other useful connectivity options.
A suitable option for those planning to buy a gaming laptop for the first time and who do not wish to spend more than $1500.

It is also recommended for working professionals who want to own a laptop with strong gaming performance.
High-definition screen

Stable processing unit

Good gaming performance

Impressive thermal management
Bulky structure

Outdated design
Well-Packaged Gaming PC with Robust Processor
Acer Aspire C27 27-inch Desktop Computer
Check Price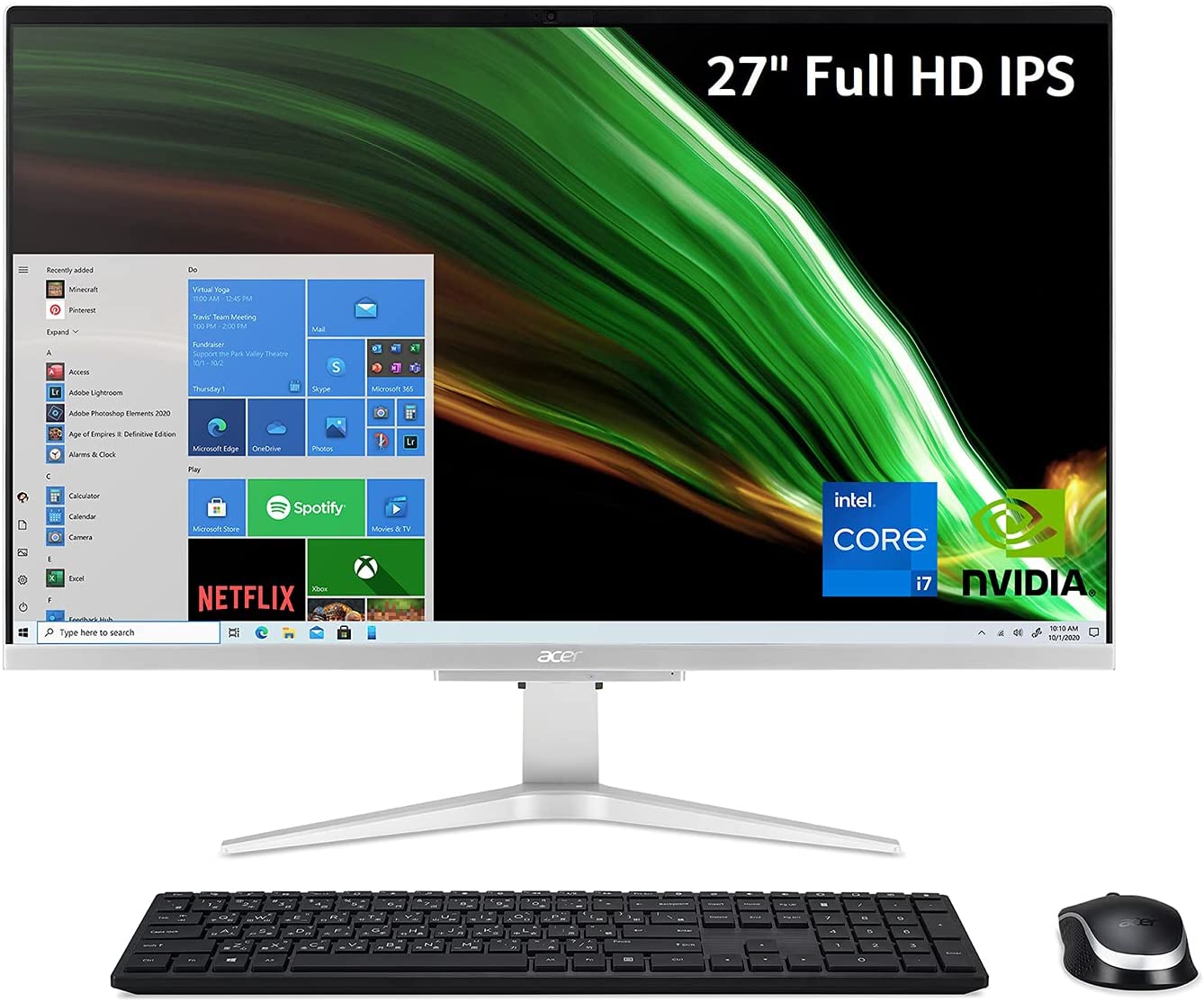 The Acer Aspire C27 comes as a well-packaged unit with a large display screen, durable keyboard, and highly responsive mouse. If you like spending hours playing video games and want that to be a very comfortable experience, this is one device you must get home. The Intel Core i7-1165G7 CPU clocks in a processing speed of 2.8 GHz and ensures that you do not face lagging issues while playing any game.
The mouse and the keyboard are of very good quality and offer wireless connectivity. A desktop computer does not operate on a battery, so you wouldn't have to worry about battery life while using it. The thin structure of this desktop computer is one of its biggest selling points. Despite being a PC, it is not bulky and easy to assemble. The downward-facing speakers offer crystal clear audio output.
If you believe gaming is best enjoyed on a huge display screen, then this would be the right setup for you to invest in.

It is also recommended for those who prefer working on a desktop computer over a laptop.
Huge display screen

Noise-free operation

Convenient assembly process

Wireless keyboard and mouse provided
No USB-C ports

The screen could have been brighter
Fast-Performing Laptop with Good Connectivity Support
Asus TUF Dash 15 Windows 11 Home Gaming Laptop
Check Price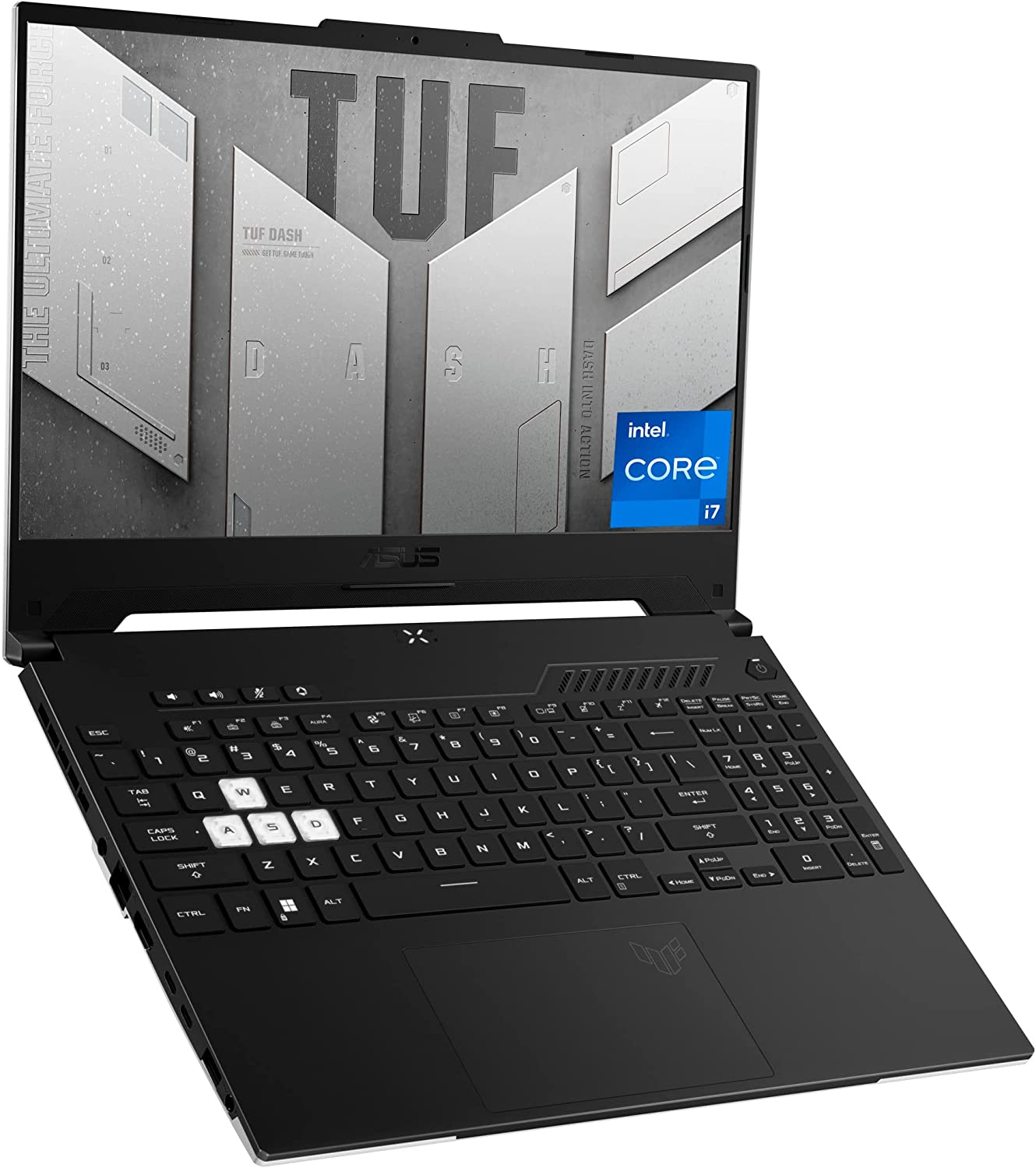 The design of the Asus TUF 15 itself gives you the impression of it being a tough and durable laptop. It comes equipped with a 12th Gen Intel Core i7 – 1265OH CPU capable of running at a processing speed of 4.7 GHz. This is exactly the processor that makes it worth investing in a gaming laptop like this. The laptop does not feature an optical drive but offers several other connectivity options, including a Thunderbolt 4 port.
The display screen is 15.6-inches wide and has a 1920 x 1080 pixel resolution. Apart from offering an immersive gaming experience, the screen also works very well for those who consume multimedia content extensively. At 4.41 pounds, the laptop is moderately heavy. One of the things that would bother you about this laptop is the absence of a webcam. The audio output provided by the built-in speakers is quite underwhelming.
A very good option for those with a budget of $1500 and looking for a laptop that offers strong gaming performance and durability.

It is also recommended for individuals planning to invest in a sturdy laptop that works efficiently.
Durable structure

Super-fast processor

Comfortable keyboard

A good internal cooling mechanism
No webcam

Average audio output
Well-Performing Gaming Laptop That Is Priced Under $1500
Acer Nitro 5 17.3-inch Display Screen Gaming Laptop
Check Price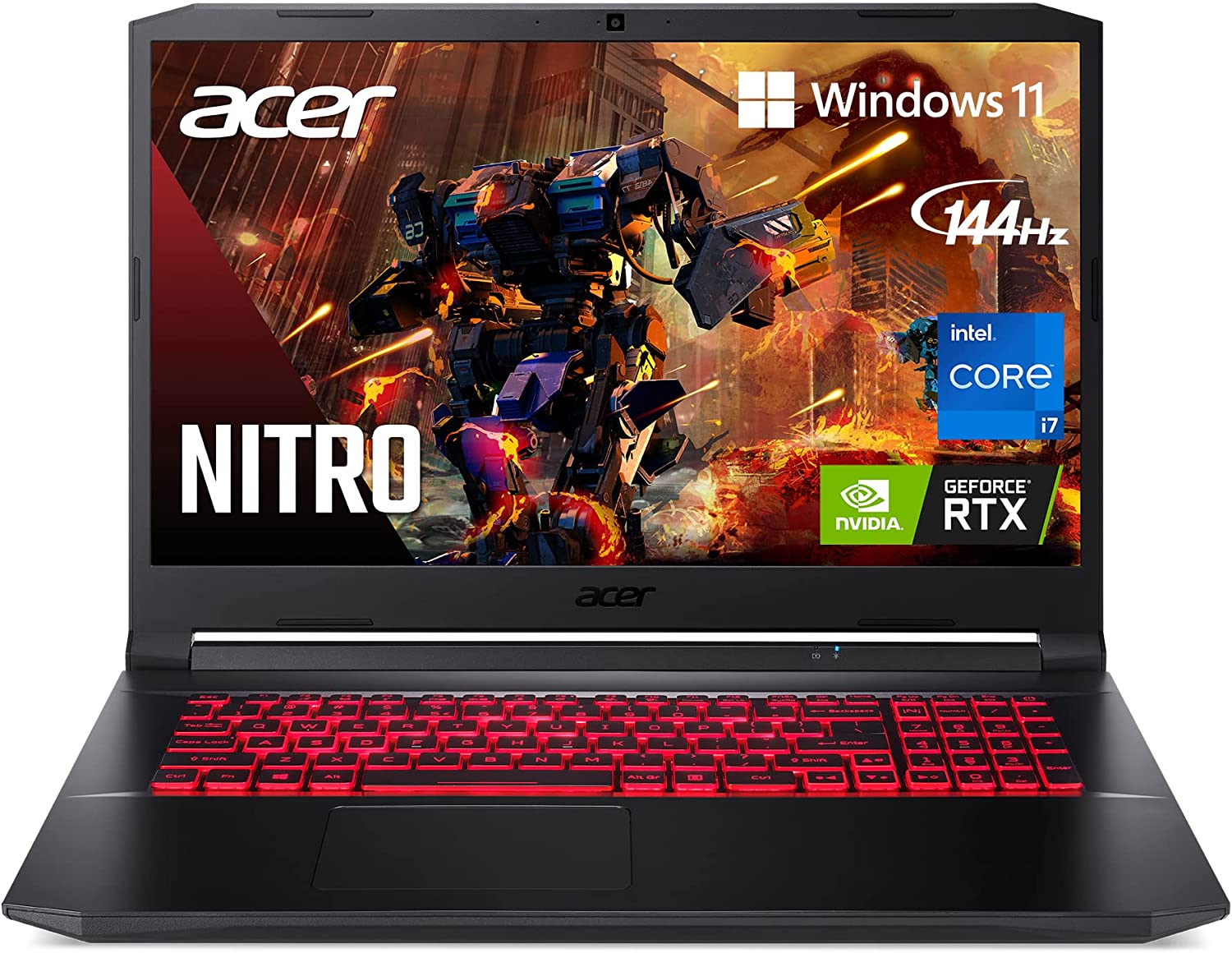 Keeping the fact that it is a gaming laptop, it would be fair to describe the Acer Nitro 5 as a budget-friendly laptop. The plastic build quality of the laptop might not impress you, but its robust performance will make you happy. The laptop is powered by the Intel Core i7-11800H, which ensures it runs at a very good speed and offers smooth gaming performance. The display screen is 17.3-inches wide and produces a 1920 x 1080 pixel resolution.
Armed with Acer's patented CoolBoost technology, the device does an excellent job at managing internal heat and ensures the laptop remains cool despite being used to play games for several hours at a stretch. The backlit keyboard is well-designed and very comfortable to use. The SSD drive offers a storage space of 1 TB. The internal speakers are powerful and offer an immersive aural experience while playing sound-heavy games.
Why You Should Buy This?
Recommended for those looking for a laptop that enables you to indulge in serious gaming for several hours.

It is also a good option for individuals who wish to try out a gaming laptop for the first time without spending a lot of money.
Pros
Affordable

Powerful processor

Large display screen

Good connectivity support
Cons
Moderate battery support

The design needs to be improved
Budget-Friendly Gaming Laptop with Good Features
HP Victus16.1-inch HD Display Screen Laptop
Check Price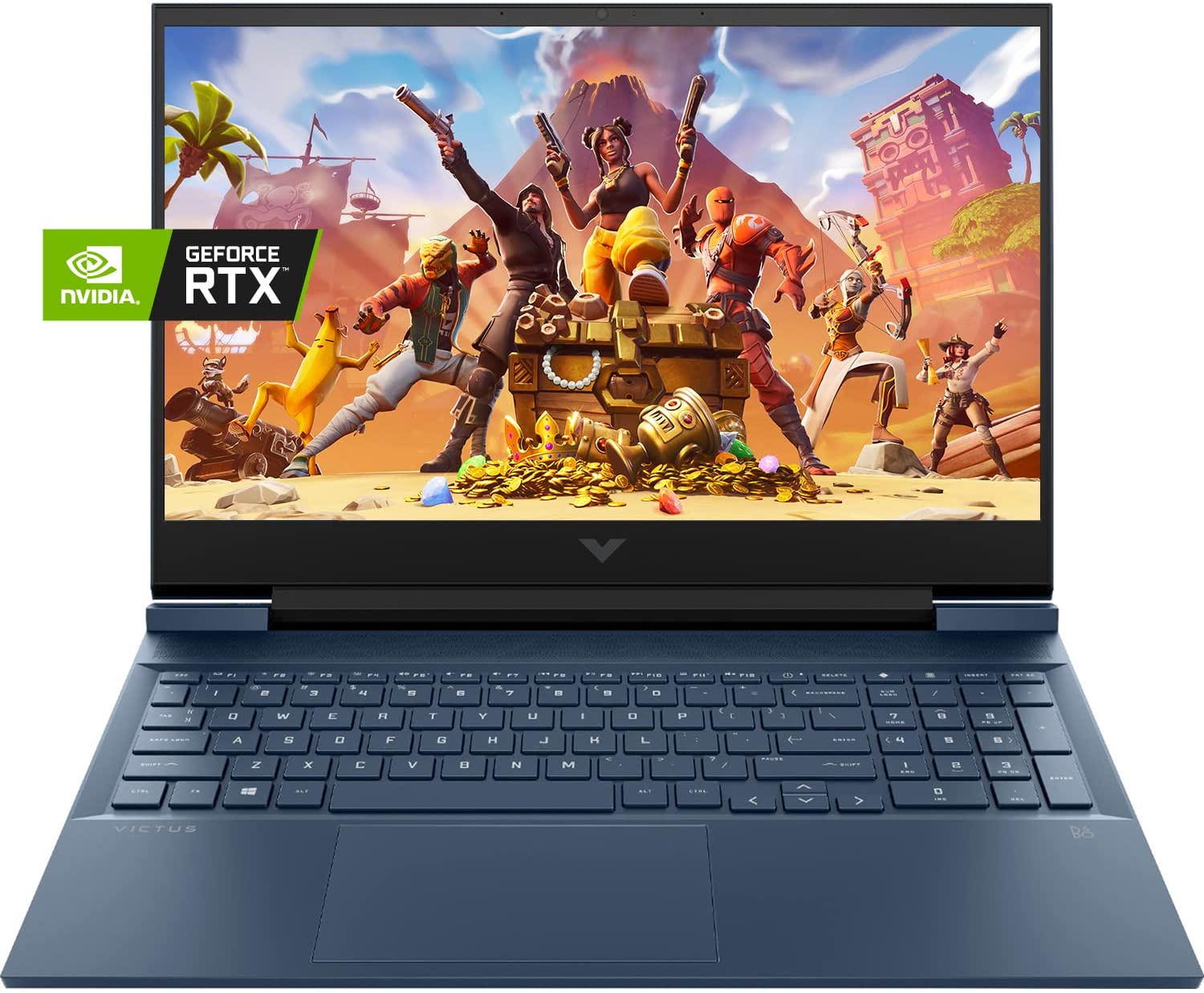 The HP Victus features a display screen that contributes greatly towards offering users an enjoyable gaming experience. The screen is 16.1-inches wide and produces a resolution of 1920 x 1080 pixels. At 5.49 pounds, the laptop is quite heavy, and you ought to be a little careful when you travel with it. When optimally charged, the battery lasts for around 9 hours. The SSD drive offers a storage space of 1 TB. If you need extra storage space, you can easily connect an additional hard drive to the device.
The 720p webcam makes it an ideal laptop for those who participate in professional digital conferences or video call their loved ones regularly. It comes with multiple connectivity options, including a micro SD card reader. However, it does not feature an optical drive. For wireless connectivity, you get Bluetooth and Wi-Fi 6. The backlit keyboard is quite durable and offers a smooth typing experience.
If you are operating at a budget under $1500, this would be one of the best gaming laptops for you to invest in.

It is also recommended for those who have been looking for a laptop that comes with a full-size backlit keyboard.
720p webcam

Moderate pricing

Good gaming performance

Comfortable backlit keyboard
Quite heavy

No Thunderbolt 4 port
Long-Lasting Gaming Laptop with Efficient Processor
Acer Predator Helios 300 1 TB Storage-Space Drive Laptop
Check Price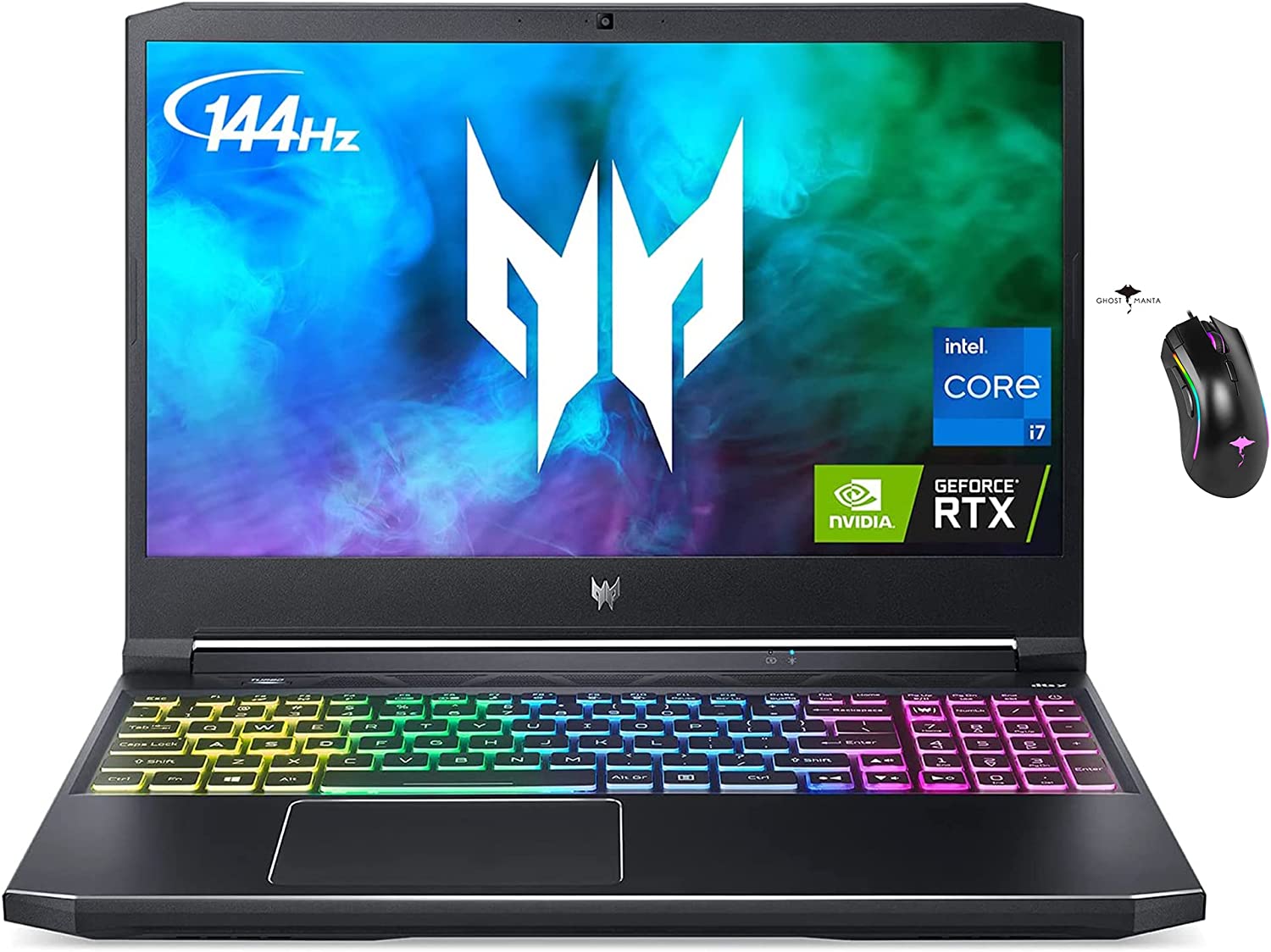 The Acer Predator Helios 300 comes with an 8-core Intel i7-11800H CPU that runs at a processing speed of 4.6 GHz and ensures a very smooth and comfortable experience while playing high-end games. The 32 GB high-bandwidth RAM also contributes to the device working fast. The display screen is 15.6-inches wide and offers a resolution of 1920 x 1080 pixels.
The 1 TB storage-space drive enables you to store most of your data on the laptop itself. One of the highlights of the laptop is its backlit keyboard. The lighting effects it produces leave you spellbound and enhance your overall gaming experience. While it comes with multiple connectivity options, there is no microSD card slot. The brand should also incorporate a fingerprint reader onto the device so that those who give a lot of importance to security features also consider buying this device.
Why You Should Buy This?
One of the best options for those who have been planning to buy a gaming laptop that is priced under $1500.

It is also recommended for individuals looking for a powerful laptop with good multimedia features.
Pros
Sharp display screen

Good storage support

4-zone backlit keyboard

Supports high-end gaming
Cons
Quite heavy

No fingerprint reader
Frequently Asked Questions
Do I have to spend more after buying a laptop costing$1,500?
Well, if you intend to use this laptop to play games, you may have to invest in buying the games. Most top-end games are sold for a price and are not available for free. You may have to buy VR headsets at even higher levels to have the full gaming experience. If you are unhappy with the audio output, you may need to buy external speakers. It's all in your hands to decide if you want to spend or not.
Do laptops under $1,500 come with a DVD drive?
Not necessarily. The latest models of laptops seem to be coming without DVD drives. If you are planning to buy this laptop for under $1,500 for gaming, you may want the drive since many games in your possession may be in the form of CDs. It is a compromise. You may have to find other ways of playing the games.
Do laptops under $1,500 come with a higher screen refresh rate?
It is not mandatory. Some laptop brands offer this as an additional feature, which is mentioned in the specs. The standard refresh rate is 60Hz. There are laptops even in the $1,500 range with a higher 120Hz refresh rate.
People warn me about bloatware on laptops; what is it?
Bloatware refers to unwanted software programs preloaded by the manufacturer or seller of laptops. Apart from occupying precious memory, some of the bloatware could also affect your laptop's smooth functioning. Before buying, you must remove all the unwanted bloatware from the machine.
Is the laptop brand very important while buying one?
Some brands have built a good reputation over the years for the trouble-free performance of their laptops. However, at a broader level, you should look at the laptop's configuration in terms of the processor, etc., before giving weightage to the brand.
Conclusion
Among the long list of best gaming laptops under $1500, Lenovo, Razer, and MSI products are quite impressive. They perfectly blend the best possible hardware configuration and a powerful graphics card within the budget. It should allow you to enjoy various multiplayer games and some of the latest AAA titles without compromising visual fidelity.
The price range falls in the middle, and you can't expect a GTX 1070 or 1080, but the graphics card provided in these laptops combined with an i7 processor is excellent for most gamers. If you are a hardcore MOBA or online FPS player, one of these laptops can easily meet your requirements, while others can always enjoy the newest games if they are willing to tone down the settings a bit to get more frames per second. Enjoy gaming on the go and pair it up with your favorite gaming mouse for an unparalleled experience.