Technobezz is supported by its audience. We may get a commission from retail offers
Summary – Smartphones and tablets have replaced PCs to a great extent, but desktop computers are still far away from being dead. They are very useful
Smartphones and tablets have replaced PCs to a great extent, but desktop computers are still far away from being dead. They are very useful for getting your daily tasks done. Today's desktops are not necessarily huge devices that tower on your desk with several messy cables all around There are some compact towers as well, with some being mini desktops, some all in ones and some exclusive gaming systems as well. Check out some of the best desktop computers.
See also: Top best laptops for home use
Buying Guide
A desktop computer is the epitome of the PC Master Race using which you can be the most productive person out there. The advantages are many because it allows you to upgrade components at a later date and have raw power, unlike any other laptop.
Ability to upgrade – The biggest and most tempting aspect of owning the best desktop computer is that you can usually change the processor, RAM or graphics card based on your requirement. Make sure the product you purchase is modular so that you can use it for five years or more.
Better cooling – Based on how the setup is, some computers become hot especially if you are a PC expert and have the habit of overclocking your processors. When doing so, it should have multiple fans to keep the product cool and at operational temperature or allow you to add some RGB fans.
Gaming capability – Once you go the desktop route, it wouldn't hurt to enjoy some amazing multiplayer and single-player games. Titles like first-person shooters and MOBAs are increasingly addictive on the platform with lots of offers, free games that are given out periodically for PC owners.
The number of ports – Unlike a laptop, you will probably want to add lots of additional items such as a camera, microphone, additional monitor and many other accessories. All of them will consume one available port.  The number of ports should be on the higher side so that you don't have to buy extension adapters.
Customer support – Most users are extra careful when working with large PC components. Check for a warranty period that is beyond the usual one year period for your pre-built PC. They should also provide expert support in case you need assistance to upgrade a component or fix a software issue.
Best Desktop Computers
Butter Smooth Apple Experience in the Best Desktop Computer
Apple iMac 21.5 inches 4K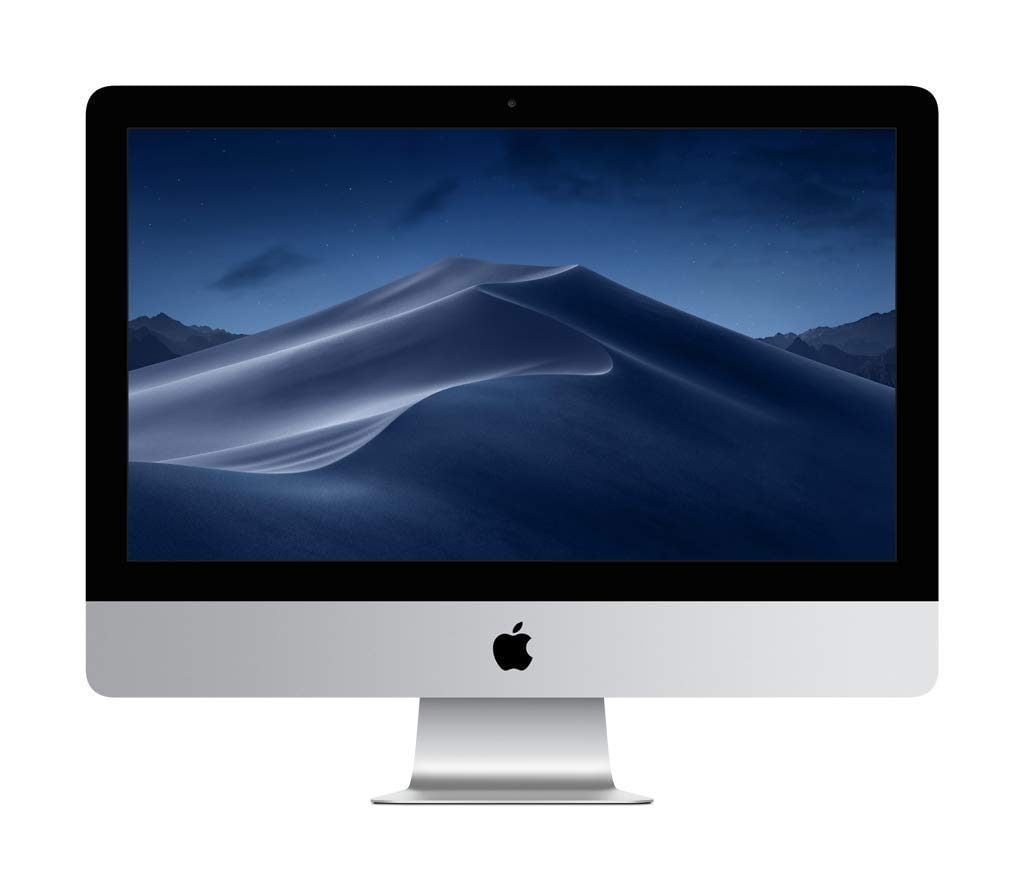 This iMac has a display screen of 21.5 inches with a screen resolution of 4096 x 2304 P3. The system is powered by an Intel Core i5 7500 clocking at a speed of 3.4 to 3.8 GHz and can be upgraded to Core i7. The memory is 8 GB DDR4 and can be upgraded up to a maximum of 32 GB. The graphics card is a 4 GB AMD Radeon Pro.
As for connectivity, there are 3 USB ports, 3 Thunderbolt ports along with a slot for the SDXC card, a headphone jack and a Gigabit Ethernet. The iMac comes with the wireless Magic Keyboard and Magic Mouse 2.
Why you should buy this?
Those who want a desktop computer with a stunning screen and a powerful processor
Those who are looking for a smooth experience with a combination of a good looking computer combined with a powerful processor
Those looking for good audio in their desktop computer, as the iMac is a powerhouse as far as audio is concerned, making it suitable for cinematic or music content
Desktop Computer that Makes Things Easy for You
Lenovo IdeaCentre 510A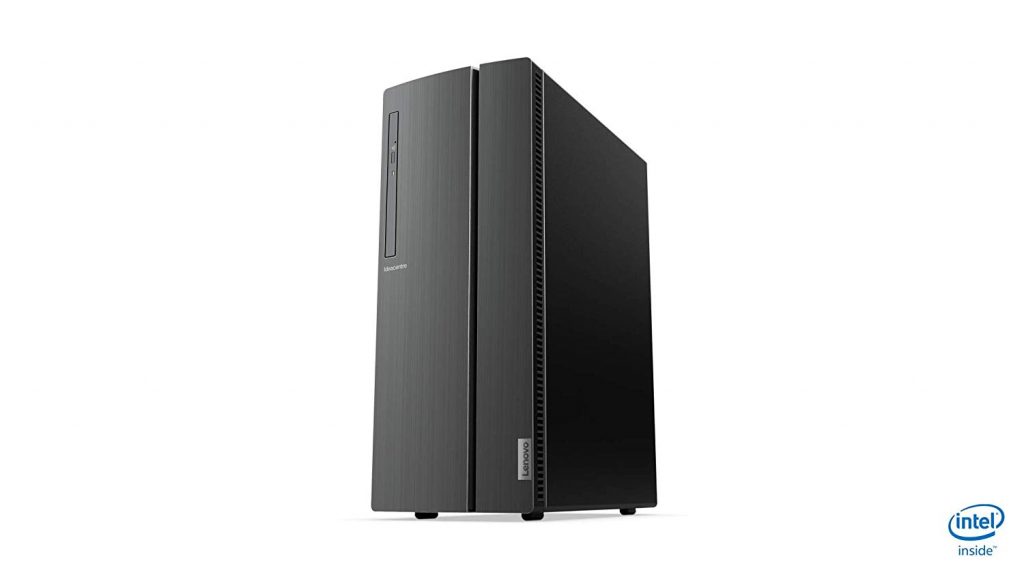 It is a compact PC, offered in a simple design and comes with high-performance abilities. It comes with the latest offering in graphics, with the AMD Radeon RX550 and RX560 discrete graphics. The dimensions of the Lenovo IdeaCentre 510A are 5.71 x 11.22 x 14.4 inches and its weight is 6.85 kg.
As for ports, there are 4 USB 2.0 ports and 2 USB 3.0 ports along with one VGA, HDMI and one RJ 45 LAN port, thereby offering maximum connectivity. As it offers support for WiFi 802.11ac, it offers compatibility with high-speed routers. It runs on the Windows 10 Home OS and is powered by the Intel Core i3-8100 processor and an Intel UHD Graphics card 630 offering a flawless performance. The graphics card is the AMD Radeon RX 550 and RX 560 and the RAM is 4 GB DDR4. The internal storage of the desktop computer is up to 256 GB PCle SSD and up to 2 TB SATA HDD.
Users can access the Lenovo Family Cloud for sharing content through cloud storage.
Why you should buy this?
Those who are looking for a compact desktop computer that is also easy on the wallet and offers a powerful performance
The graphics option offers more than 60 fps making it suitable for enjoying online games and visual realism
Those looking for a compact and modern looking design that can fit in any place in their home
Enjoy Superb VR Ready Graphics with Lenovo Desktop Computer
Lenovo IdeaCentre 720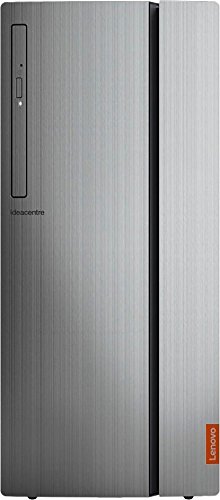 This is an Oculus-ready future proof desktop computer that can offer you an amazing VR experience. It is powered by the AMD RYZEN 5, 1400, 4 cores clocking at 3.2 GHz Turbo, offering lightning-quick responsiveness and enhanced graphics with excellent connectivity options. The graphics card is 630 or 610 with an optional discrete graphics of up to NVIDIA GeForce GTX 1060 6G. It is capable of handling intensive tasks and offering smooth visual experiences.
It runs on the Windows 10 Home OS and has a memory of 8 GB DDR4 SDRAM. The internal storage is up to 512 GB Pcle SSD. As for ports, there is one USB C port, 2 USB 3.1 ports, 2 USB 3.0 ports and an audio and microphone combo port on the front. At the rear, there are 4 USB 2.0 ports, one HDMI, an audio jack, a VGA and one RJ45 port.
The dimensions of the Lenovo IdeaCentre 720 are 14.8 x 6.5 x 12.8 inches and it weighs 19.8 pounds.
Why you should buy this?
Suitable for those looking for a desktop computer for gaming, work, VR, multimedia and all other professional needs
Those who want a stylish desktop computer that is also easy to use
Those looking for a desktop computer that is capable of quickly loading high-performance games as well as actual gameplay
High Performing Business Desktop Computer
HP Slimline High-Performance Desktop Computer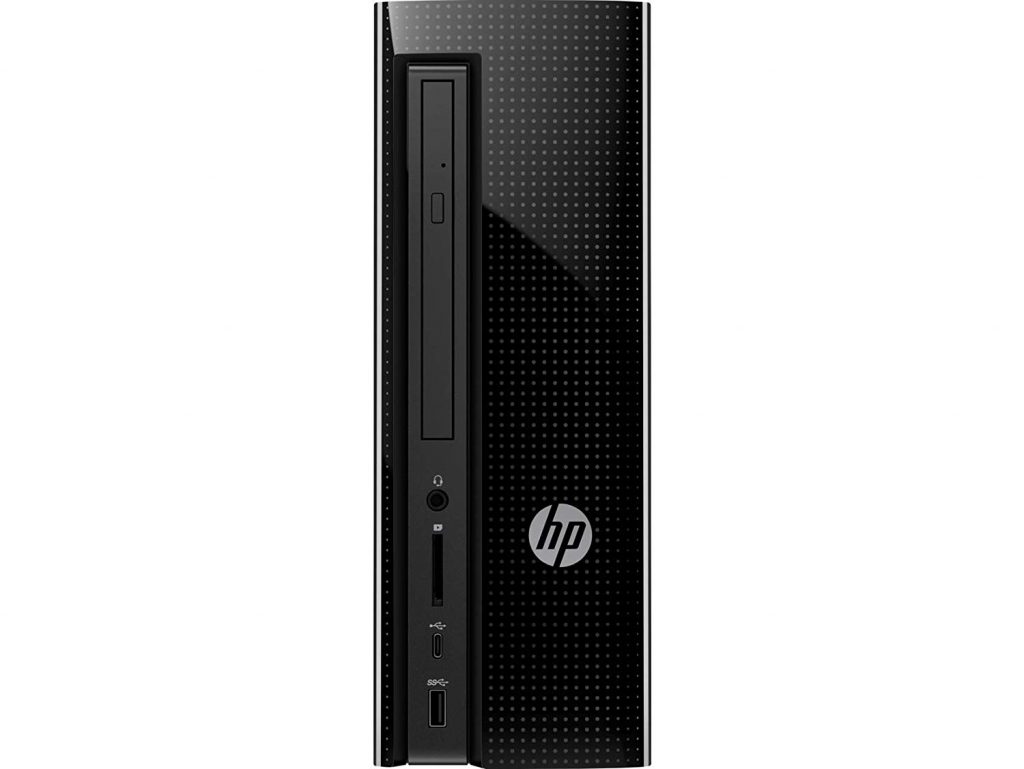 It is powered by the Intel Core, i7 7700, clocking at a speed of 3.2 GHz with 6 cores LGA 1151 processor operating up to a maximum of 4.6 GHz and a cache memory of 12 MB.  The RAM is 12 GB DDR4 2666 SDRAM with a memory that can be expanded up to 32 GB and a SATA hard drive of 1 TB HDD 5400 rpm and a memory speed of 2400 MHz.
As for connectivity, there are 4 USB 2.0 ports and 4 USB 3.1 ports along with inputs for headphone and microphone combo  HDMI port, a VGA output. It comes included with a USB keyboard and USB mouse and is supported by the Windows 10 operating system. The dimensions are 3.94 x 12.09 x 10.83 inches and the weight is 9.7 pounds.
Why you should buy this?
Those who want a desktop computer capable of efficient multitasking and regular demands, using the latest processor
Those who want a desktop computer with a sleek design and several ports
Suitable for efficient streaming of live gameplay and for other intensive tasks as well
Tower Server System Desktop Computer without OS
2018 Dell PowerEdge T30 Business Mini Tower System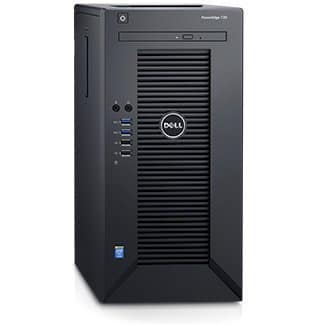 This is a compact desktop computer that is powered by the Intel Xeon E3-1225 v5 clocking at a speed of 3.3 GHz with quad-core and a cache of 8M. The RAM is 16 GB UDIMM and the storage is 3 TB HDD. There is no OS on board for this Dell compact desktop computer so you have to opt for BYO or buy one from Dell.
The memory speed is 2133 MHz. The dimensions are 6.9 x 14.2 x 17.1 inches and the weight is 21.4 pounds. It is very suitable for small businesses and also comes with an optical drive DVR/RW; so, it can be useful for archiving old media. As for ports, there are 10 USB ports, with six of them being USB 3.0 ports.
Why you should buy this?
For those looking for a compact sized desktop computer that can be easily installed in a small office or home
Compact Desktop Computer compatible with Amazon Alexa
HP Pavilion Wave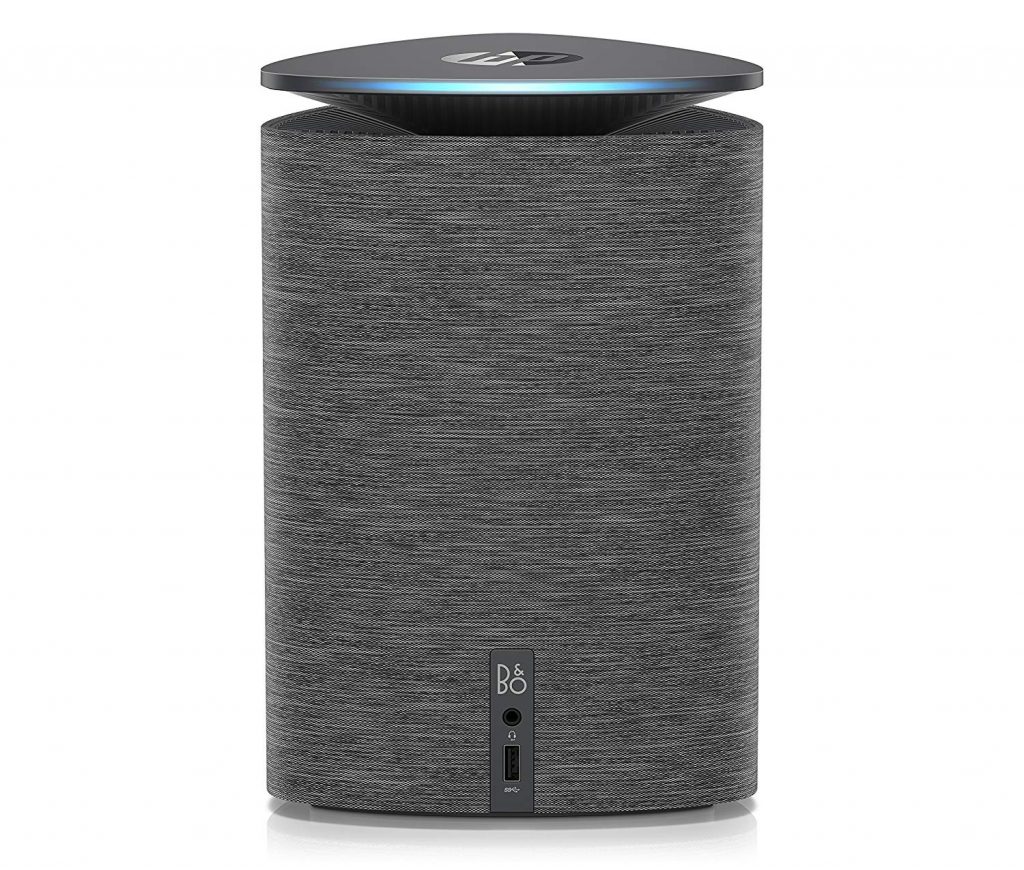 This is the first desktop computer that comes with Amazon Alexa for answering questions, playing music, controlling smart home gadgets and a lot more. It has an attractive design, measuring 6.81 x 6.62 x 9.25 inches, in a triangular frame, that can easily be placed on any desk. It is focused on audio with a single speaker firing upwards shooting audio at 360 degrees.
As for ports, there is one USB 3.0 port on the front and at the back are the SD card slot, the USB 3.1 Type C port and two USB 3.0 ports along with the Display-Port and HDMI. It is powered by a quad-core 2.40 GHz Intel Core i5-7400T processor or a 7th Gen Intel (R) and has a RAM of 8 GB DDR4 that can be upgraded to 32 GB. The hard drive and SSD are 1 RTB 7200 RPM SATA with 256 GB SSD. It operates on the Windows 10 Home. The graphics co-processor is an Intel Integrated Graphics card.
Why you should buy this?
Those who are looking for a contemporary desktop computer with Amazon Alexa
Those who want a stylishly designed desktop computer with a decent processor and powerful audio
All in One Desktop Computer Aesthetics for Productivity
Dell 99K5T OptiPlex 3050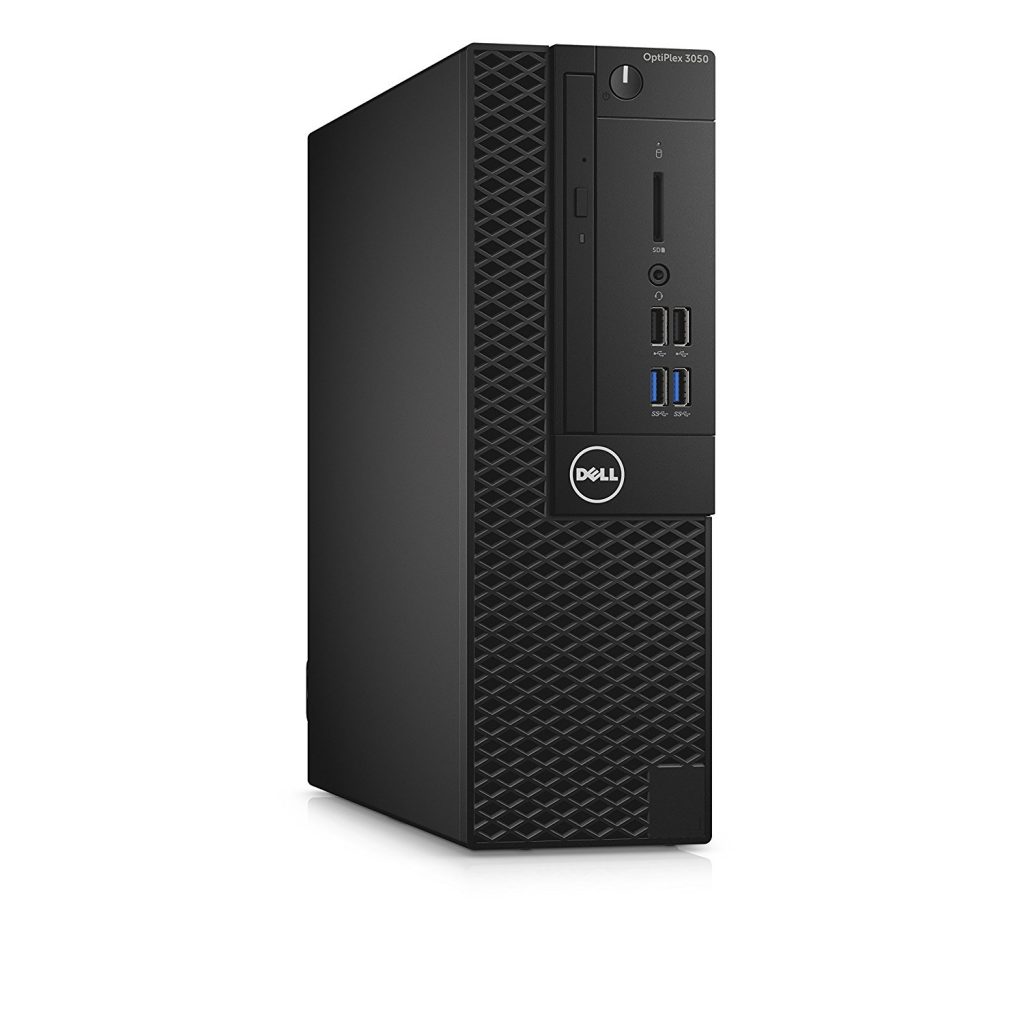 The desktop computer comes in a space-saving design and is powered by an Intel Core processor, an i5-7500 processor with a DDR4 memory of 8 GB 2400 MHz. It has an SSD of 2.5 inches 256 GB SATA class 20 and integrated graphics, running on Windows 10 Pro. The graphics card size is 64 GB. The monitor brings in a lot of productivity to your workplace with a screen size of 21.5 inches and several ports.
As for the USB ports, there are 2 nos 2.0 USB ports and 2 nos of 3.0 USB ports. The dimensions are 19.1 x 15.6 x 10.1 inches and the weight is 13.6 pounds. It is an essential desktop computer for productivity and is reliable as well as space-saving.
Why you should buy this?
It is useful and ideal in educational environments and in call centers
Good for productivity purposes
Flexibility and Good Bang for the Buck Desktop Computer
HP All in One Desktop PC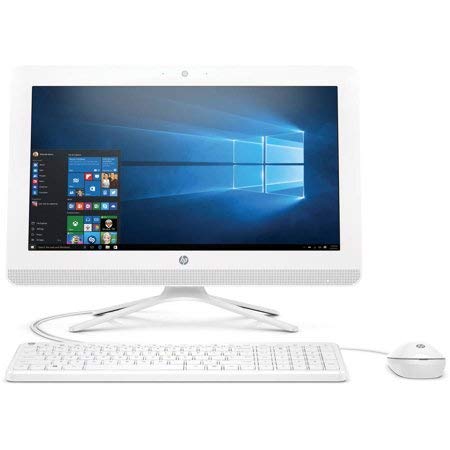 It is powered by the Intel Celeron J3060 processor and has a RAM of 4 GB, offering plenty of space. The display is 19.5 inches with an integrated monitor and an Intel HD Graphics adapter offering excellent images. The hard drive is 500 GB, which is sufficient storage for files. As for USB ports, it has both 2.0 as well as 3.0 USB connectors so that you don't need additional dongles for connecting.
The RAM memory is powerful enough to handle regular tasks and for multitasking. It comes with the usual computer peripherals, namely a keyboard and a mouse. The design is slick and robust and it is easy to set up and operate.
Why you should buy this?
Those looking for an inexpensive desktop computer offering good performance, a sturdy build and robust speakers
Those who want a powerful all in one desktop computer capable of handling basic tasks
Useful for both work as well as entertainment, for storing videos and games as well as work-related data
Entry level Gaming Rig Desktop Computer
Ryzen & GTX 1050 Ti SkyTech Shadow Gaming Computer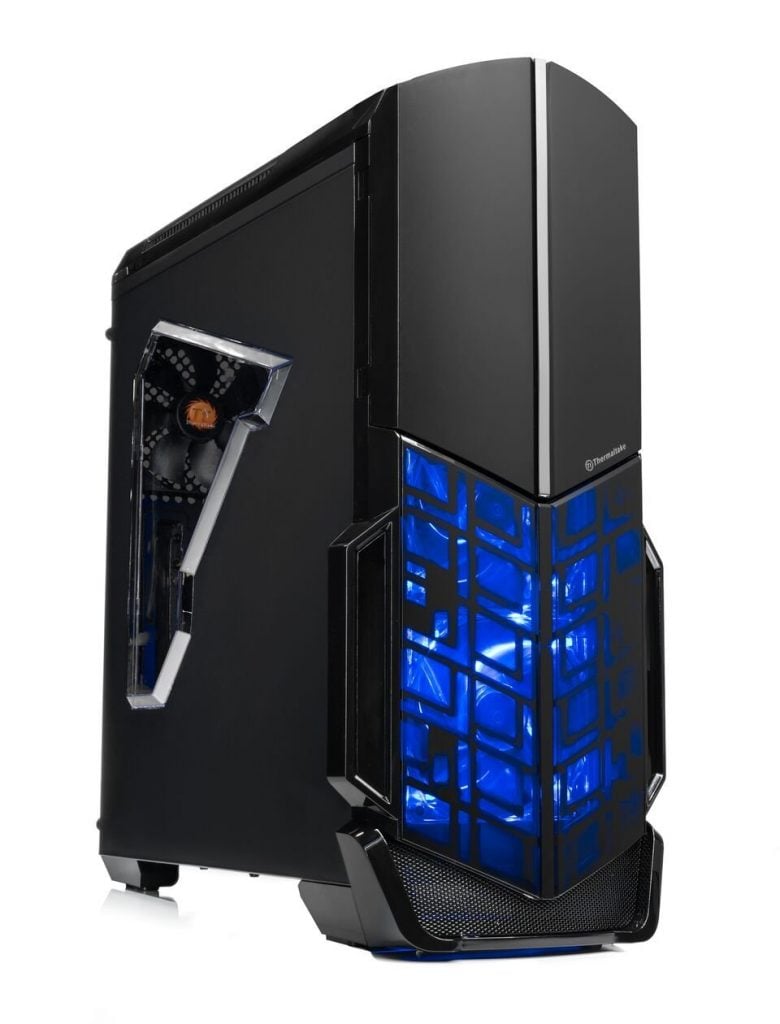 It comes in a subtle, clean design and is powered by an AMD FX 4300 clocking at 3.8 GHz,  4.0 Turbo Quad Core with 1 TB 7200 RPM hard drive. The gaming memory is 8 GB with 1866 MHz and it runs on genuine Windows Pro 10, 64-bit software. The graphics card is GTX 1050 Ti 4 GB. There are 9 USB ports with 7 USB 2.0 ports and 2 USB 3.0 ports.
It is in a tower design with dimensions of 20.1 x 8.5 x 18.2 inches and is quite small though not a space saver. It is a gaming rig coming with one LED theme though not excessively lit. It is an entry-level processor and the graphics card is also not top-notch, but it does a good job supporting smooth playing for modern game titles. This budget gaming desktop computer is good in both performance and price. It can handle any task or game and is good in both looks and quality.
Why you should buy this?
Those looking for a budget gaming desktop computer that offers good performance at a reasonable price
Those who want a desktop computer with an entry-level processor for budget gaming purposes
For those who want a desktop computer that has been created and built by experts and is available at a reasonable price
Best Cheap Desktop Computer With Eye-Catching Design From Apple
Apple Mac mini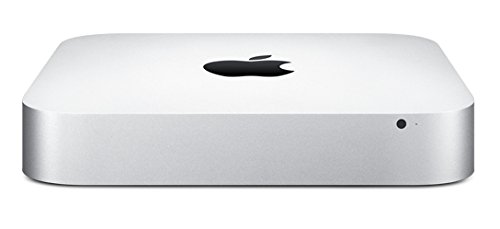 Apple Mac mini, the tiny desktop is the second choice in our list that is also available under $500. So, if you are a brand enthusiast and looking to own a budget desktop computer from Apple, it is the one you can look for. The design of this compact desktop PC is really eye-catching with that all-aluminum chassis. The configuration is very decent to help you handle all kinds of tasks hassle-free. Its features include 1.4GHz Dual-Core Intel Core i5 processor, 4GB SDRAM, 500GB Serial ATA Drive at 5400 rpm, Intel HD Graphics 5000 and the Mac OS. So, everything starting from games, movies, multitasking can be handled on this desktop PC seamlessly.
Why you should buy this?
Equipped with a Hexa-core Intel Coffee Lake desktop processor, the Mac mini is a perfect machine for creatives who make use of graphics-intensive software.
Avail the benefit of industry-leading security as it comes with the Apple T2 security chip. It comes with an SSD controller with on-the-fly data encryption.
Super fast and responsive to most of the demanding tasks.
It can handle several tasks at one time because of the huge memory present in it.
Best Budget Desktop PC From Acer Under $350
Acer Aspire TC-780-ACKi3 Desktop PC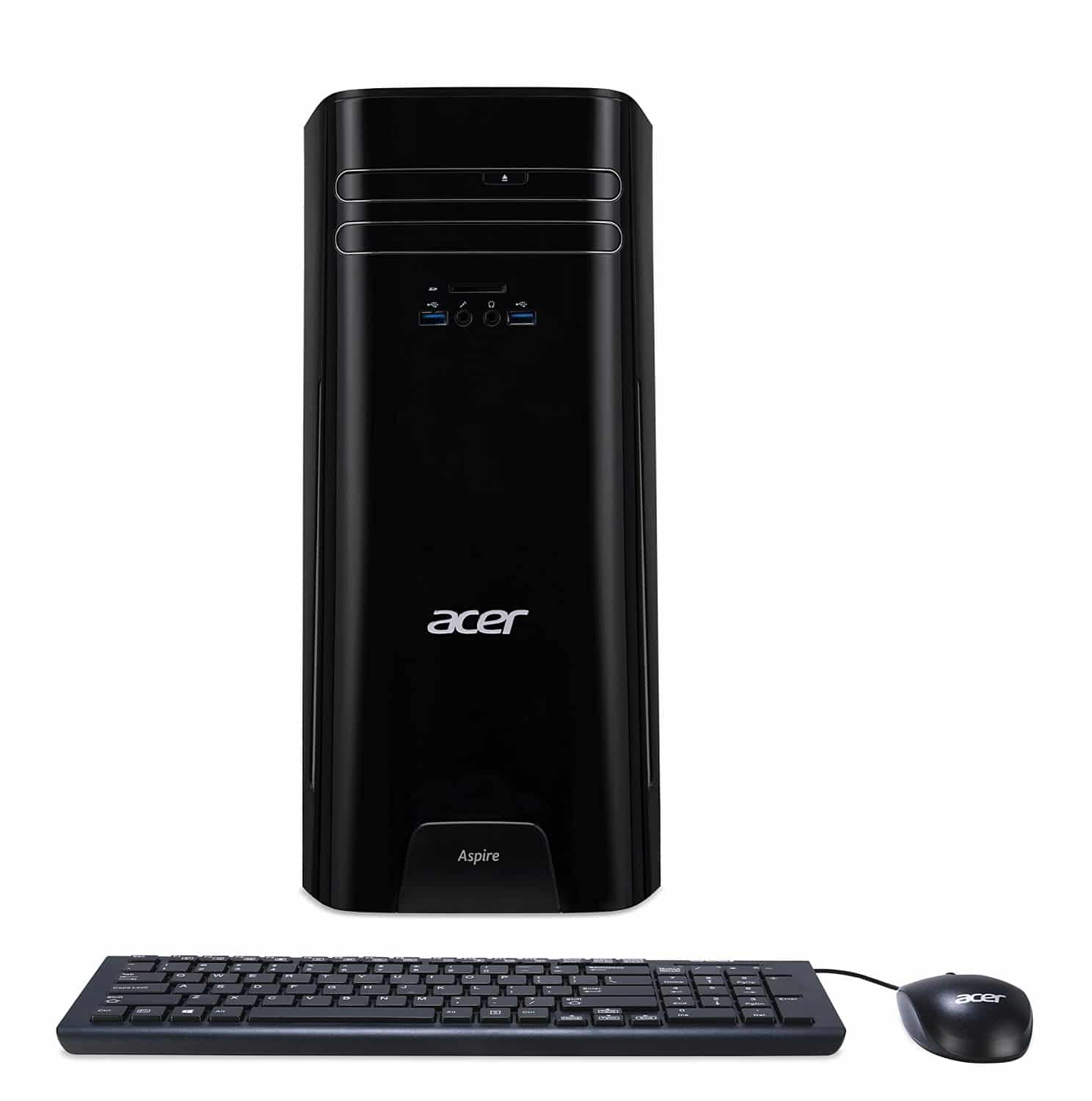 Another desktop PC from Acer but it is priced a bit less due to less power included in it. However, the configuration is good enough to help you accomplish all your daily tasks such as surfing, working on the PC, etc. with ease. The desktop PC is powered by the Intel Core i3-7100 3.90GHz processor, 8GB DDR4 RAM, 1TB HDD at 7200 rpm while the Intel HD Graphics 630 Shared card too let you enjoy the graphics and games fully. So, go for having this desktop PC and it will definitely meet all your demands.
Why you should buy this?
If you are looking for a good budget desktop PC with a prompt seventh-generation Intel Core i3 processor, 8GB of system memory and excellent connectivity options that include Wi-Fi, then this is a great buy.
The mid-tower chassis measures 15.67 by 6.89 by 17.4 inches (HWD) and weighs 18.4 pounds which means it is great if you have limited space on your office desk.
Connectivity is brilliant for a budget desktop PC.
Best Budget Desktop PC From ASUS With Powerful Processor
ASUS VivoMini VC65R-G039M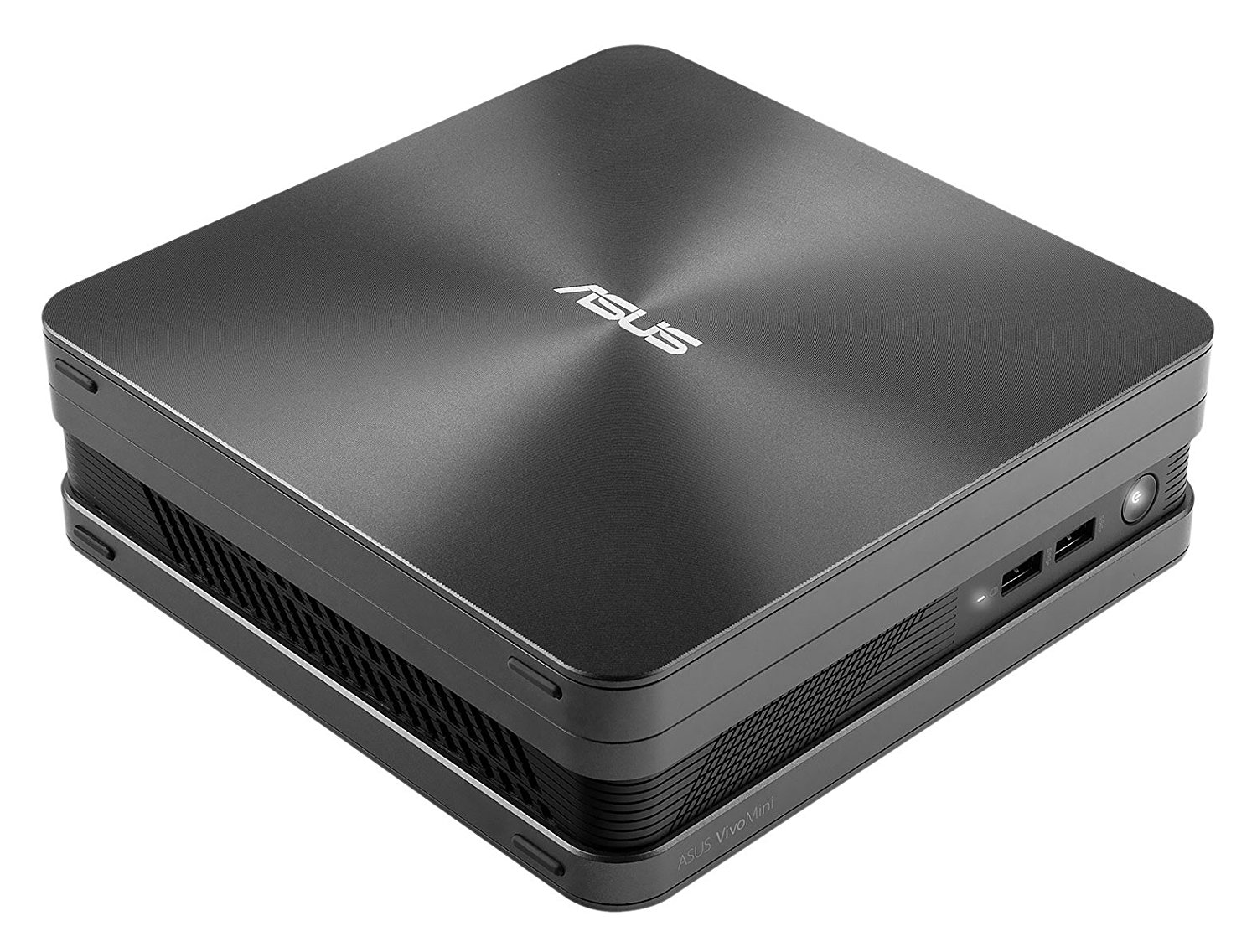 Asus too made it in the list with its ASUS VivoMini VC65R-G039M desktop PC which is a great PC no doubt for everyday use. The included power in it is enough to serve all your purpose. You will get this desktop PC under $500 which is a great deal.  The Intel core 6th generation i5-6400T Processor and Intel HD Integrated Graphics are the power included in it. But this desktop PC does not come packed with any HDD or RAM, so get ready for that beforehand in case you have already planned to own one ASUS VivoMini VC65R-G039M Desktop PC.
Why you should buy this?
Ideal if you are looking for a super-compact with perfect PC dimensions and incredible performance
It is the perfect choice for video editing, transcoding and media server usage.
Fancy a home theater set-up? Well, this allows you to browse the web, view photos from your SD card and watch your favorite movies in spectacular clarity.
Enhances your living space as it has compact chassis and a Zen-inspired spun-metal finish which adds to the elegance.
One Of The Best Cheap Desktop Computers With Excellent Graphics Card
Dell Inspiron High-Performance Desktop Tower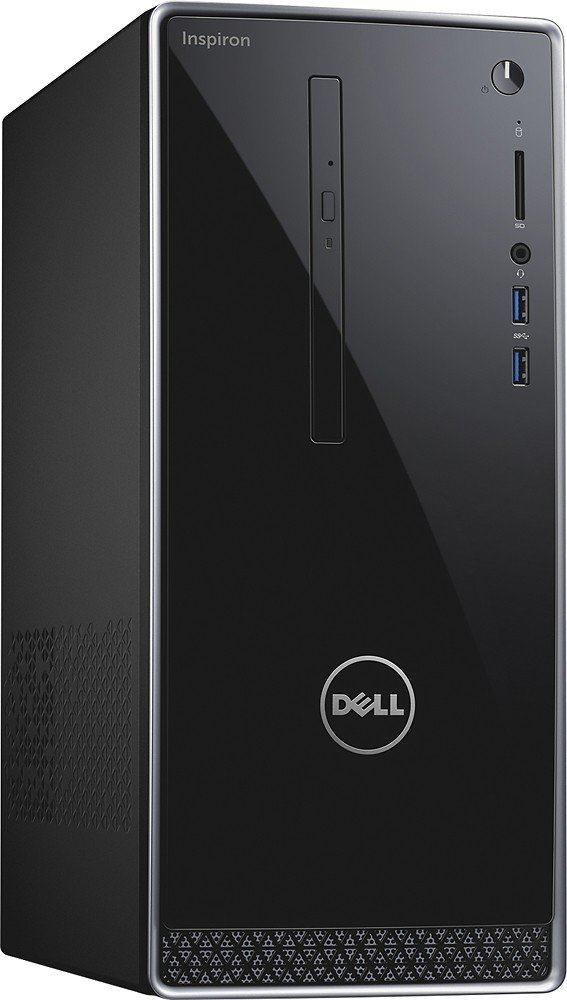 If you like to put some more attention towards the design part, then this desktop PC from Dell can be considered as a great choice as it is designed a bit more clean way to look really good. All the ports are located at the backside while the SD card reader and other needed stuff are located at the front part of the device. Coming to the specification part, this desktop PC is powered with the Intel quad-core i5-6400 processor at 2.70 GHz, 8GB RAM, 1 TB HDD, NVIDIA GeForce 730 graphics card along with 2GB DDR3 RAM while it also has support for Wi-Fi and Bluetooth.
Why you should buy this?
If you are looking for a high-capacity hard drive with powerful Intel processors as well as improved system cooling, this is your ideal pick
Boasts a highly stable performance due to 256 high capacity M.2 PCle solid-state drive (SSD) option
Enjoy 5.1 channel sound proficiently tuned by the Waves MaxxAudio Pro for a perfect immersive entertainment experience.
Be it basic computing needs or the family's digital library, this machine is ideal for storing photos, videos, important files and more.
It offers powerful and steadfast performance which is just perfect for the living room as well as a home office.
The fingerprint reader is integrated into the power button.
Best Cheap Desktop Computers With Great Storage Space
Lenovo 10KY002BUS S510 Desktop PC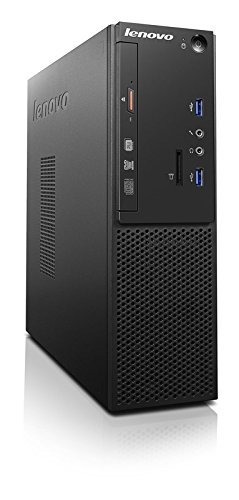 One more desktop PC from Lenovo that will easily fit on the small table, so if you are looking for a small and one of the best cheap desktop computers then it is the right choice. This system is designed to offer great performance as it is packed with a solid Intel Core i5-6400 processor at 2.7 GHz and enough storage space, 500GB, the RAM is DDR4 4GB while it also includes Intel HD Graphics 530 Shared. So, you can easily enjoy the light game, however, when it comes to the intensive games, you might be a bit disappointed. Otherwise, every other task is well handled by it.
Why you should buy this?
If you are looking for extra memory and storage on your desktop, this is the perfect solution for home as well as a small business.
Experience extraordinary productivity as it has the most recent 6th Generation Intel Core processor that delivers 11% faster performance than the previous generation processor.
The Lenovo S510 PC has earned the green certification which means decreased power cons.
If you want high-security, then this has security features like Smart USB Protection which restricts port access while allowing keyboard and mouse inputs.
FAQs
Why should I go for desktop computers in 2022?
The desktop PCs are always a favorite among custom PC builders and those who have space for a large setup. Most professionals, designers and gamers prefer desktops because of the raw power they deliver along with the ability to upgrade by paying only for a specific component.
Will I void my warranty if I mishandle a component?
Yes. If you are not experienced, consider hiring an expert to help you in this regard to replacing a broken part or if you want to upgrade the existing hardware. Alternatively, you can look for YouTube videos to learn the basics.
Can I merge two different PCs?
Not all manufacturers support such a merger unless you have purchased parts individually from websites like NewEgg or Amazon. They are designed to work only with Asus, LG or Dell based on from where you purchased the original computer.
How do I pick a desktop for my graphic designing work?
Most Nvidia Quadro cards are made for graphic designers and filmmakers. The Nvidia GTX and RTX cards are made for gamers. Unless you are okay with minimal power, you shouldn't buy a desktop with a gaming graphics card for video editing work.
Why do they cost more?
Desktops are usually way more expensive than a laptop and often won't include a desktop or keyboard and mouse. They are expensive because they usually have a longer life span and allow you to upgrade the components when they stop delivering the desired benchmark results.
Can I shift my desktop PC occasionally?
If you are using SSD for Windows 10 storage, it will not corrupt the data. However, hard disks are fragile plates that can easily show errors. Consider keeping your desktop setup in the same spot for years. Move only when necessary and with great caution.
Conclusion
As far as selecting a desktop computer is concerned, it is mainly a matter of preference, though you need to consider the design, the processing power and your purpose as well. There is a huge variety of desktop computers available with different features and at different prices, some expensive and some budget devices. Consider factors such as the monitor, the external connectors, the memory, the hard drive and the processor before making a choice.
---