Smartphones and tablets have replaced PCs to a great extent, but desktop computers are still far away from being dead. They are very useful for getting your daily tasks done. Today's desktops are not necessarily huge devices that tower on your desk with several messy cables all around. There are some compact towers as well, with some being mini desktops, some all-in-ones, and some exclusive gaming systems as well. Check out some of the best desktop computers.
See also: Top best laptops for home use
Buying Guide
A desktop computer is the epitome of the PC Master Race using which you can be the most productive person out there. There are many advantages because it allows you to upgrade components at a later date and have raw power, unlike any other laptop.
The ability to upgrade – The biggest and most tempting aspect of owning the best desktop computer is that you can usually change the processor, RAM, or graphics card based on your requirement. Make sure the product you purchase is modular so that you can use it for five years or more.
Better cooling – Based on how the setup is, some computers become hot, especially if you are a PC expert and have the habit of overclocking your processors. When doing so, you should have multiple fans to keep the product cool and at operational temperature or allow you to add some RGB fans.
Gaming capability – Once you go the desktop route, it wouldn't hurt to enjoy some amazing multiplayer and single-player games. Titles like first-person shooters and MOBAs are increasingly addictive on the platform with lots of offers, and free games that are given out periodically to PC owners.
The number of ports – Unlike a laptop, you will probably want to add lots of additional items such as a camera, microphone, additional monitor, and many other accessories. All of them will consume one available port. The number of ports should be on the higher side so that you don't have to buy extension adapters.
Customer support – Most users are extra careful when working with large PC components. Check for a warranty period that is beyond the usual one-year period for your pre-built PC. They should also provide expert support in case you need assistance upgrading a component or fixing a software issue.
Best Desktop Computers
24" iMac with True Tone Technology and 4.5K Retina Display
Apple iMac with the M1 chip
Check Price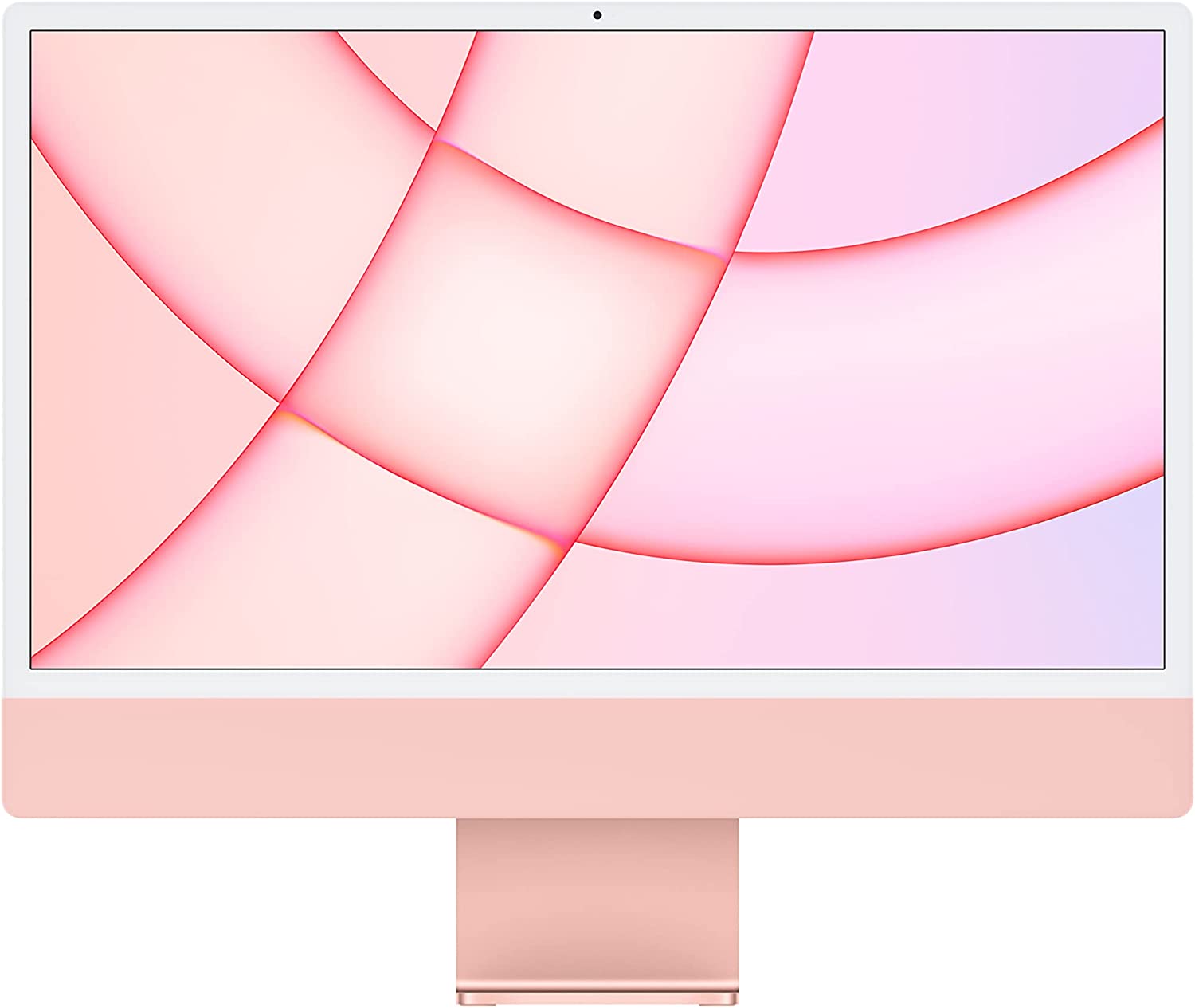 One of the most inspiring devices, this sleek computer is only 11.5 mm thin and comes with the renowned M1 ground-breaking chip. This chip is known to integrate graphics, memory, and processor among other elements, making it one of the most envied computers. This power-packed computer supports spatial audio and includes a CPU that provides an 85% faster performance.
Its 4.5K Retina display, enhanced video quality with ISP, and six-speaker sound system are some of its many spectacular features. A 1080p FaceTime HD camera makes conversations more engaging and enjoyable. Fast Thunderbolt ports and speedy edits in Lightroom add to this impeccably-crafted machine with a detailed soundstage.
This computer comes with a beamforming technology that enables the mics to ignore ambient sounds.

The machine includes a power connector that comes with a magnetic attachment.
Speedy edits in Adobe Lightroom

Rare elements in speakers

Color-matched woven cable

Tone mapping

Neural Engine in M1 provides intelligent exposure
It does not include Magic or Numeric keypads

Slow updates
A Desktop PC with Powerful Processor and Latest Windows 10 Pro OS
Intel Core i5 Dell Optiplex PC
Check Price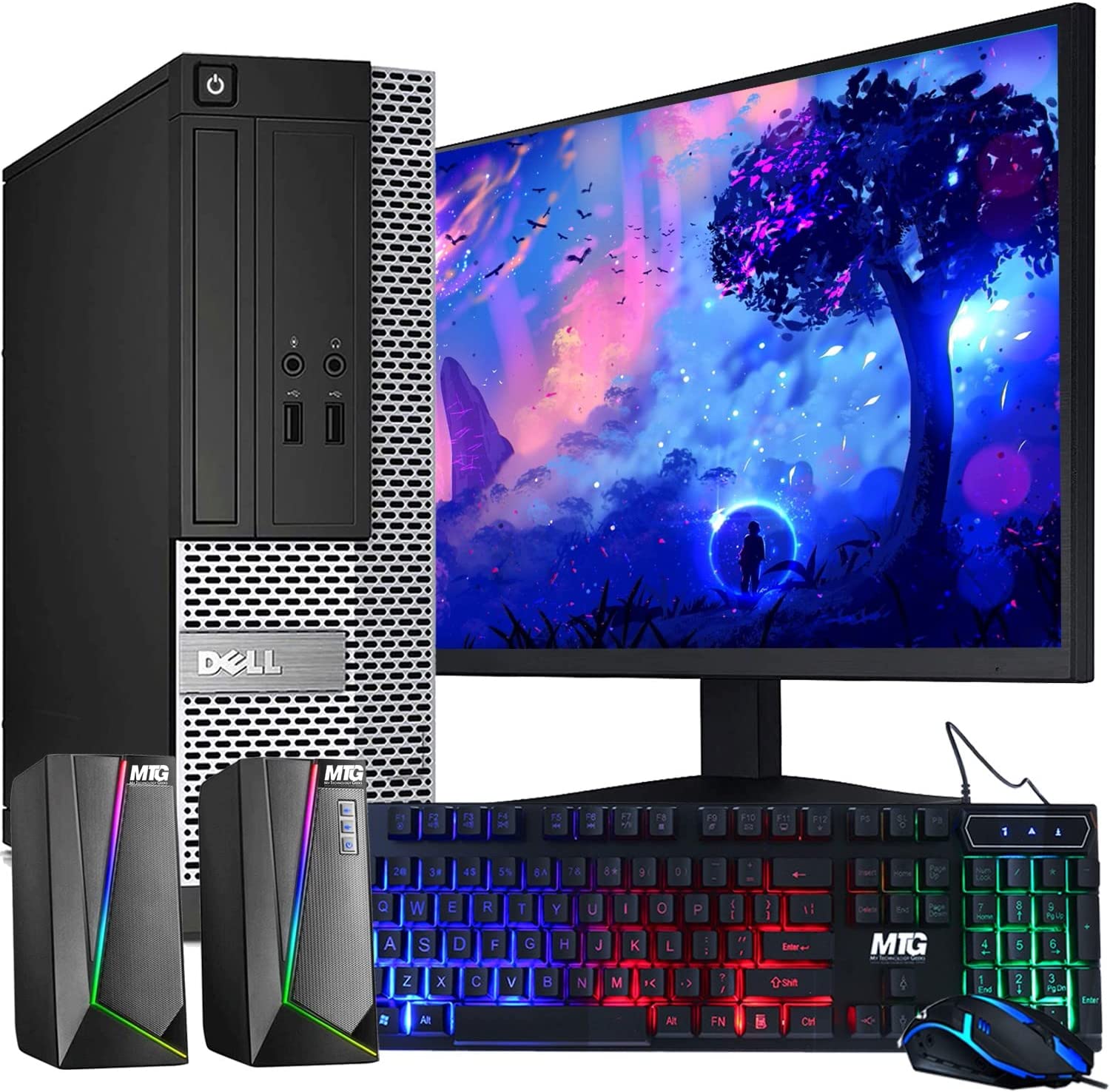 This Desktop PC comes with optimal storage of 2TB for games, music, movies, apps, and photos. It has 16GB RAM. Its 22" LED monitor provides a smart contrast and gives superior quality imagery. The Windows 10 Pro (renewed) comes with a sleek design and an impressive glossy finish. The IPS panel furnishes users with a speedy refresh rate and a fast response time.
This Windows 10 Professional Pro 64-Bit operating system software gives a consistent performance. The RGB lights across the responsive speaker, keyboard mouse, and wide-viewing angles make this computer a delight to work on. Its Intel Core i5 powerful processor allows this machine to perform at lightning speed.
This is a 3rd Gen PC with 3.2 GHz and a 2TB HDD, MTG, accompanied by a 75hz high-quality IPS.

This PC gives reliable and consistent performance and is free of bloatware.
RAM can be upgraded

Webcam can be added to the PC

Includes backlight LED lights

Can run multiple applications simultaneously
No microphone

No graphic card
A 22" Desktop with Plenty of Storage and Memory
Elite HP 6300 PC with Desktop with 16 GB RAM
Check Price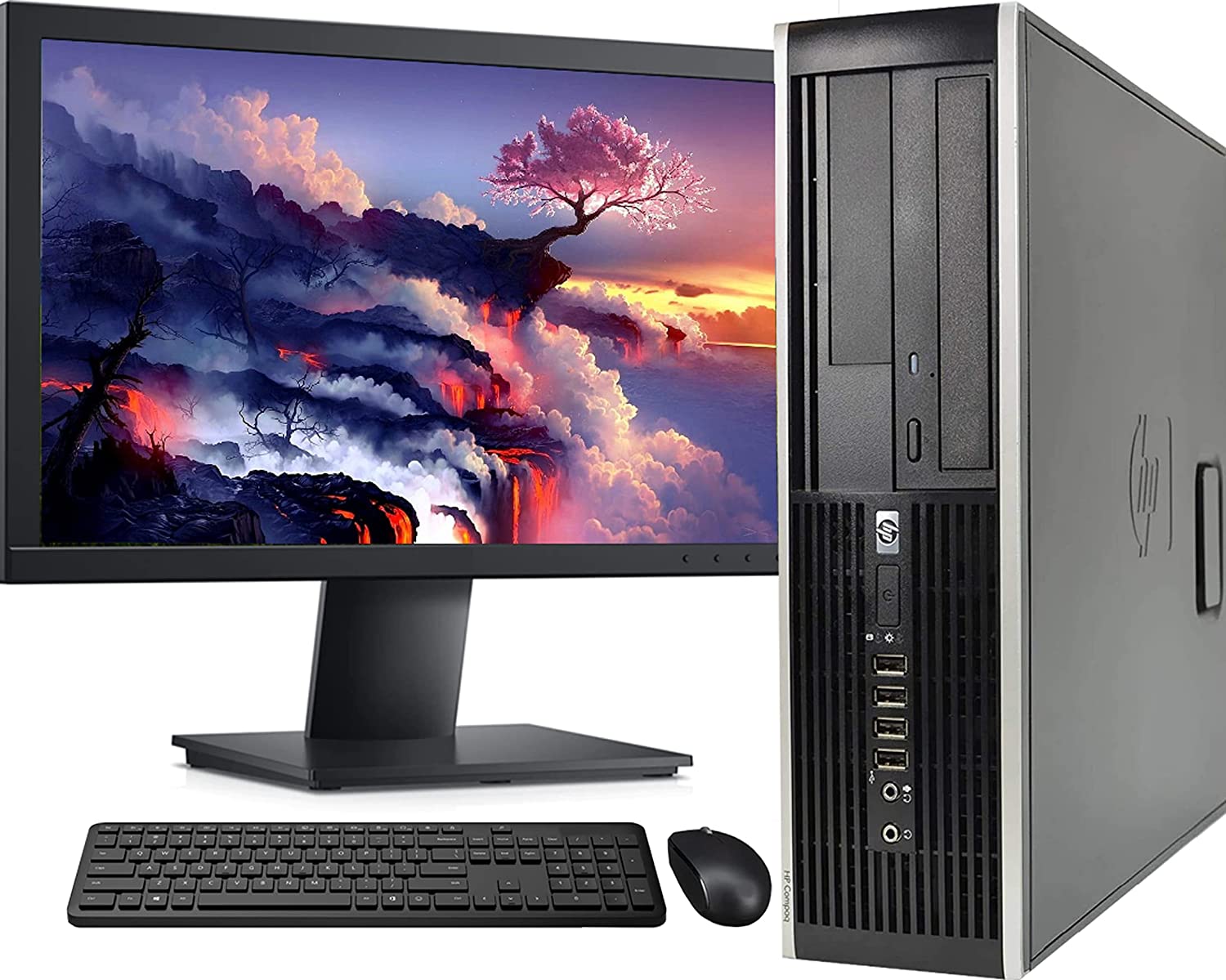 Eco-friendly and refurbished, this desktop has impressive features like a 128 GB M.2 Solid State Drive (SSD), Wi-Fi, and Bluetooth. The 22" screen comes alive with vivid images thanks to the onboard Intel HD graphics. The device is loaded with the latest Microsoft Windows 10 operating system and all the requisite cables to provide you with a secure connection.
Free of bloatware, this PC comes with 10 USB Ports, Ethernet Port, VGA Port, Display Ports, headphones, and a microphone. Wireless keyboard and mouse expansion are some attractive features accompanying this system. The authentic software licenses suffice to convince anyone about the machine and its elements.
This desktop comes with the powerful Intel Core i7 series processor, which offers incredible speed for completing your tasks.

The device is professionally inspected and tested before becoming commercially available.
Fully functional

Ninety-day warranty

Expansions slots & Bays

Abundant memory and storage

Excellent customer service
Accessories are not original.

Connectivity issues with the internet
A Desktop PC with a 23.8" FHD Monitor and 2TB SSD
Lenovo M93P Desktop PC with Intel Core i5
Check Price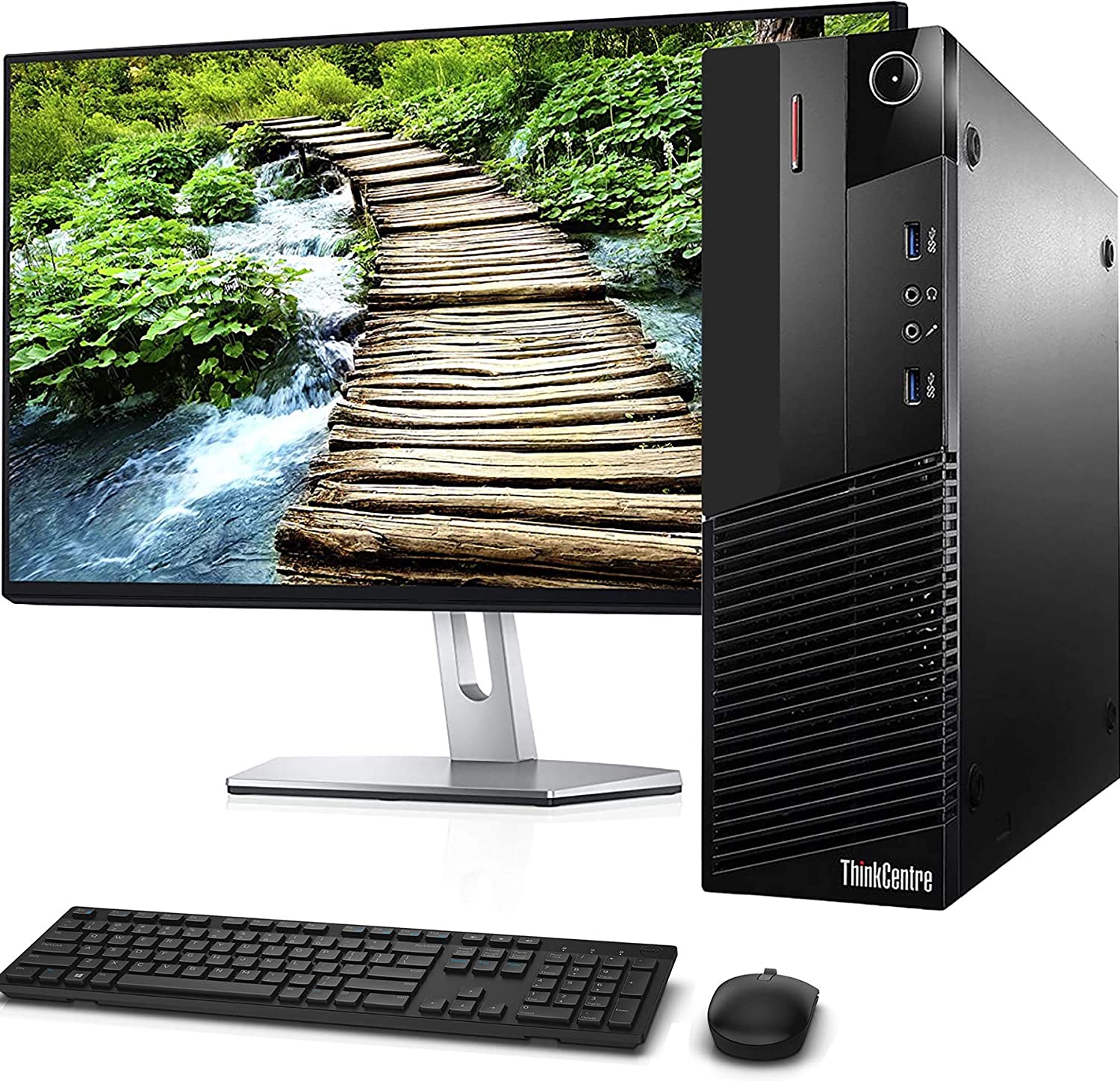 This machine is all about speed with its i5 series processor. Its impressive 2 TB Hard Disk Drive enables you to multitask. Rich in many USB Ports, this eco-friendly machine has a 23.8" screen accompanied by the necessary cables and varied expansion Slots & Bays. Its 128 GM M.2 Solid State Drive (SDD) is complemented with Wi-Fi and Bluetooth features.
This desktop has a memory speed of 12800 GHz and an integrated sound network. Its USB ports allow seamless transfer of music, photos, and files from devices nearby to your digital camera. The wireless keyboard and the mouse facilitate smooth movement while working on this machine.
Why Should You Buy This?
This desktop comes with Onboard Intel HD graphics and provides ample storage space.

You get the latest Microsoft Windows 10 operating system free of bloatware.
Pros
Easy to install

Consistent and smooth functioning

Cleaned and tested by Amazon vendors

Long-lasting battery

Replacement/refund within 90 days of receipt
Cons
No DVD Drive

Not compatible with an HDMI cable
A 27"
Desktop PC with Powerful Intel Iris Xe Graphics and Wi-Fi
Acer Aspire All-in-One PC with SSD
Check Price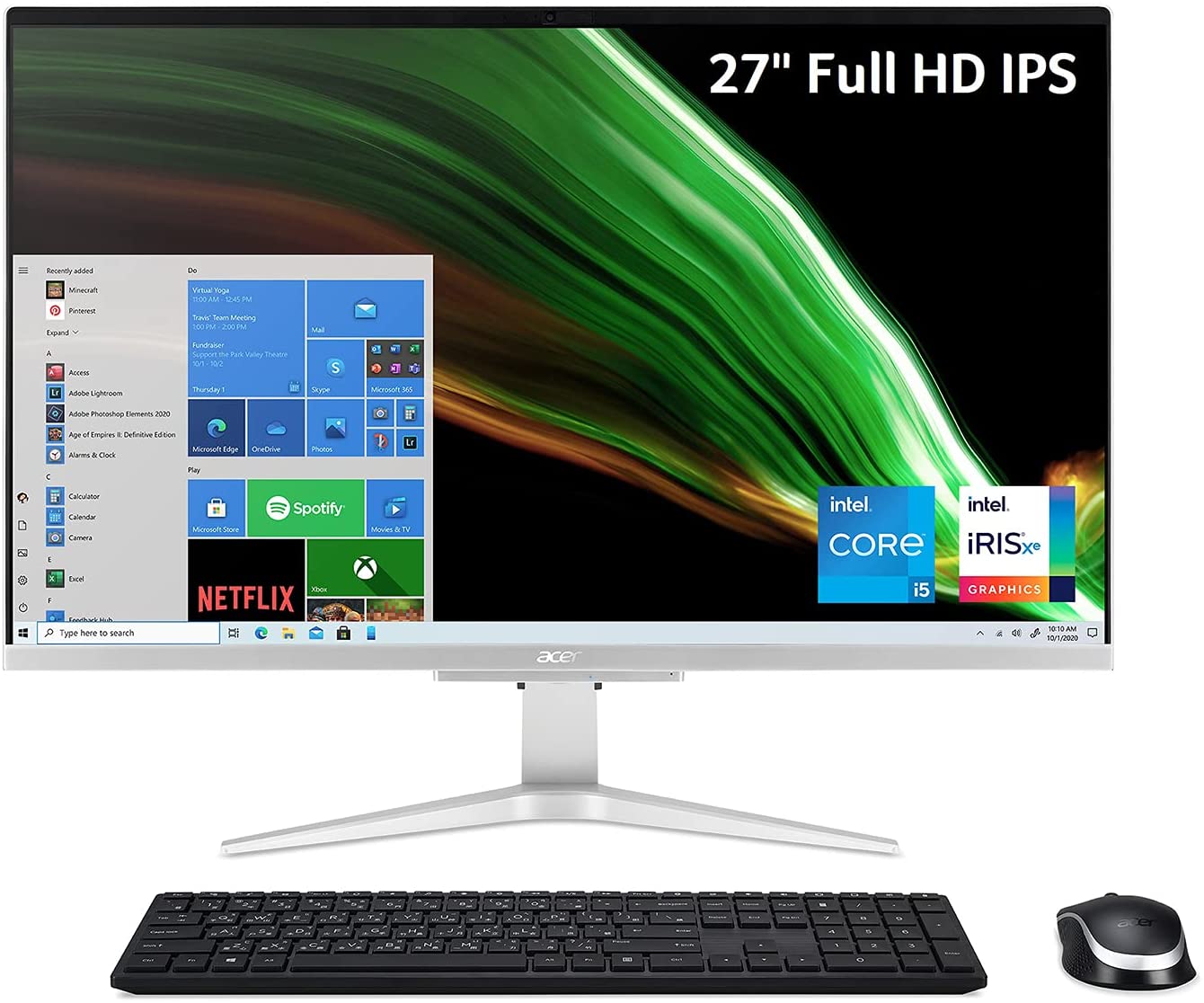 This desktop is an all-encompassing machine that assists you in working smoothly at all times. Its Iris Xe Graphics enables video editing on this large 27" screen at a high resolution, making gaming an enjoyable experience. Designers can execute their work at lightning speed. The slim design of this computer qualifies it as an enormous space-saving device.
The machine offers a lot of storage space and includes a free upgrade from Windows 10 to Windows 11. Economically priced, this computer functions without any hiccups and also includes a wireless mouse and a keyboard. Stereo microphones complete the picture with this stylish computer.
The Full HD widescreen of this computer makes every activity worthwhile and fulfilling.

The built-in MIMO technology facilitates the receiving and transmitting of a large volume of data at the same time.
Compact structure

Dual storage drives

Intel Smart cache of 8 MB

Includes 512GB NVMe
Computer screen freezes

Vulnerable to overheating
A PC with 7505 Intel Pentium Gold Processor Designed for Multitasking
All-in-One ASUS Computer with Anti-Glare Display
Check Price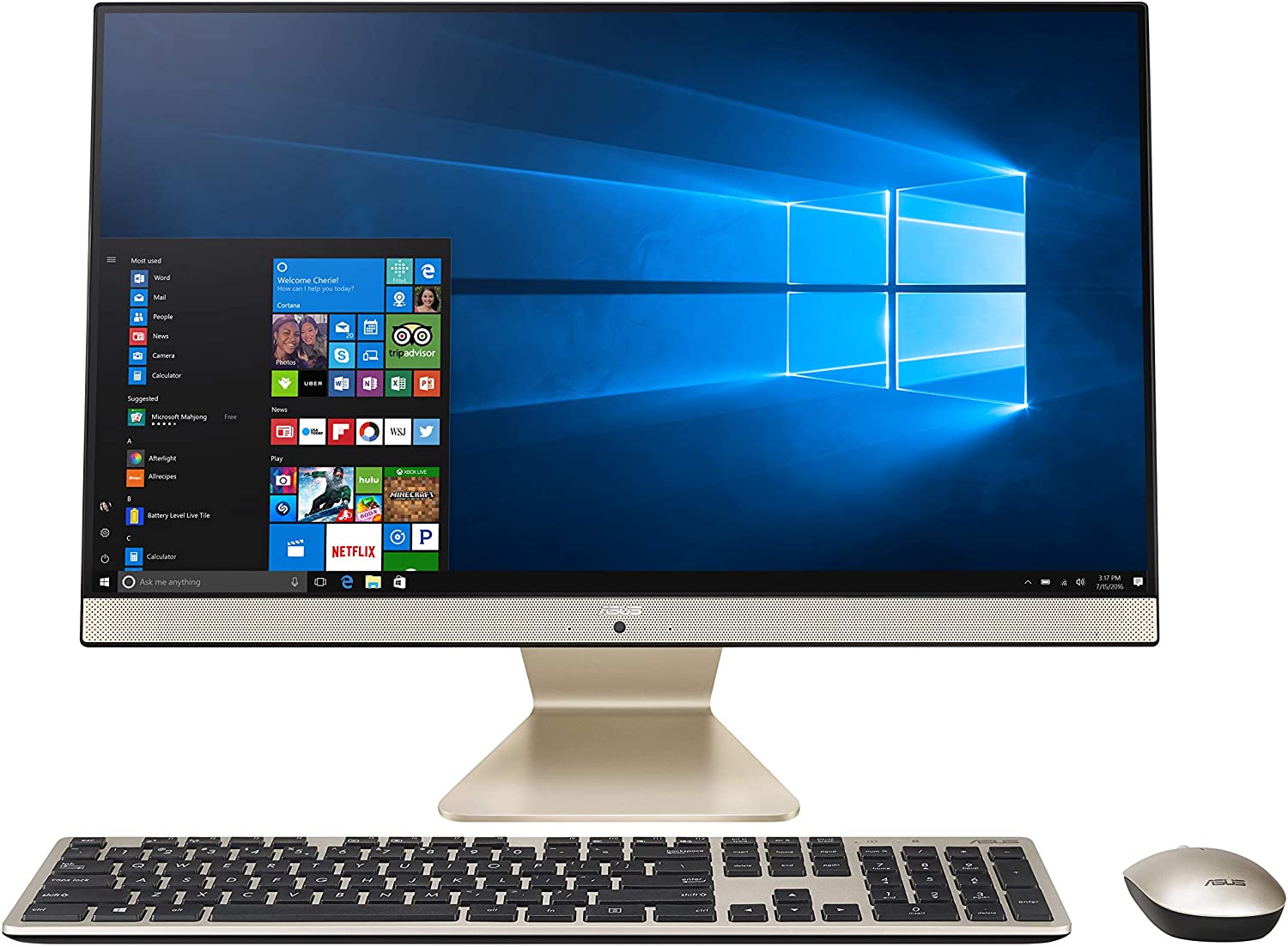 Designed for multi-tasking, this desktop provides crystal-clear images and functions effortlessly. The computer includes Windows 10, which can be upgraded for free to Windows 11. Its anti-glare 23.8-inch screen makes computing an enjoyable activity. The V241 assures ease of connectivity at all times. The Zen plastic golden wired keyboard and mouse make multi-tasking seem like child's play.
Packaged with an 8GB DDR4 RAM and 256GB PCle NVMe M.2 SSD, it also includes a 720 HP video camera. The machine weighs about 11.9 pounds (5.3 kg) and can be securely positioned on a suitable surface inside your premises. This PC is designed with a Kensington lock to protect your computer from being stolen.
Why Should You Buy This?
The anti-glare screen display helps protect your eyes from consistent exposure to the computer due to work.

It's an all-encompassing machine equipped with extensive connectivity.
Pros
256 GB hard disk size

Enables multi-tasking

Free upgrade of Windows OS

Integrated graphics card
Cons
No SD slot

No touchscreen
FAQs
Why should I go for desktop computers in 2023?
Desktop PCs are always a favorite among custom PC builders and those with space for a large setup. Most professionals, designers, and gamers prefer desktops because of the raw power they deliver and the ability to upgrade by paying only for a specific component.
Will I void my warranty if I mishandle a component?
Yes. If you are not experienced, consider hiring an expert to help you in this regard by replacing a broken part or if you want to upgrade the existing hardware. Alternatively, you can look for YouTube videos to learn the basics.
Can I merge two different PCs?
Not all manufacturers support such a merger unless you have purchased parts individually from websites like NewEgg or Amazon. They are designed to work only with Asus, LG, or Dell based on where you purchased the original computer.
How do I pick a desktop for my graphic design work?
Most Nvidia Quadro cards are made for graphic designers and filmmakers. The Nvidia GTX and RTX cards are made for gamers. Unless you are okay with minimal power, you shouldn't buy a desktop with a gaming graphics card for video editing work.
Why do they cost more?
Desktops are usually way more expensive than a laptop and often won't include a desktop, keyboard, or mouse. They are expensive because they usually have a longer life span and allow you to upgrade the components when they stop delivering the desired benchmark results.
Can I shift my desktop PC occasionally?
If you are using SSD for Windows 10 storage, it will not corrupt the data. However, hard disks are fragile plates that can easily show errors. Consider keeping your desktop setup in the same spot for years. Move only when necessary and with great caution.
Conclusion
Regarding selecting a desktop computer, it is mainly a matter of preference, though you need to consider the design, the processing power, and your purpose. A huge variety of desktop computers are available with different features and at different prices, some expensive and some budget devices. Consider factors such as the monitor, the external connectors, the memory, the hard drive, and the processor before making a choice.