If you are traveling most of the time for business or pleasure, carrying your workaround might be difficult. However, with the recent launches of lightweight laptops, you can travel with them quite easily. The factors that make any laptop travel-friendly are its lightweight, super-long battery life, and ultra-portable design. However, for some, the budget is also a major concern. Having a suitable lightweight and budget-friendly travel laptop can be quite a luxury in itself. It reduces the stress of work and due to its specialized features, lets you enjoy your journey.
Traveling with a laptop is fun! You can easily check your emails on the go, watch a couple of Netflix series on a big screen and play a game of PacMan on a plane or a train. While it all sounds cool, not all laptops are meant for travel.
Besides, any frequent traveler would avoid carrying their more expensive premium products and that is when the best cheap travel laptops become essential. They are cheap, easy to travel with and most importantly wouldn't make you lose your sleep over it, in case it is lost or gets damaged during a trip. There's one for every budget and purpose; you just have to choose. You can also have a look at the best laptop with cd drive.
See also: Best Cheap Laptops
Buying Guide
Going on a trip is a fun experience, especially when you can take your laptop with you for productivity and entertainment. When buying the best travel laptops, a fine balance between battery life and compact design should make those long travels easier.
Better battery is a must – The most important of all aspects to consider while buying a laptop for travel is to consider the battery life because you will never know when you can gain access to a charging point while you are on the move. It helps during crucial times when you want to use the map or browse the web for local information.
Compact display size – While gamers and designers would always prefer larger monitors for improved accuracy, being a traveler, you should consider 13-inch or a 15-inch display so that it is easy to carry in your backpack.
Rugged build quality – Be it rain or shine, the product of your choice should be able to withstand extreme weather conditions. Make sure you have a rain cover for your laptop as a heavy downpour could easily affect the internet components. It should be built for rugged usage.
Low profile design – Consider buying a black or a gray laptop because colorful ones like red, blue, etc., could attract lots of unwanted attention. You wouldn't want your data or the product stolen at a random airport, right? Flashy lights and colorful designs are some things you should avoid.
Faster processing power – The multiple cores found in AMD processors or Intel processors can help get the job done quickly. They often contribute to more balanced battery life and will help you a lot when you are in a hurry to get work done while being on the move. Consider a laptop with higher RAM capacity and storage so that you can save the photos or videos that you capture.
Here are some of the best cheap travel laptops.
Best Cheap Travel Laptops in 2023
Travel Laptop That Offers Steady Performance
HP 15 15.6-inch Travel Laptop
Check Price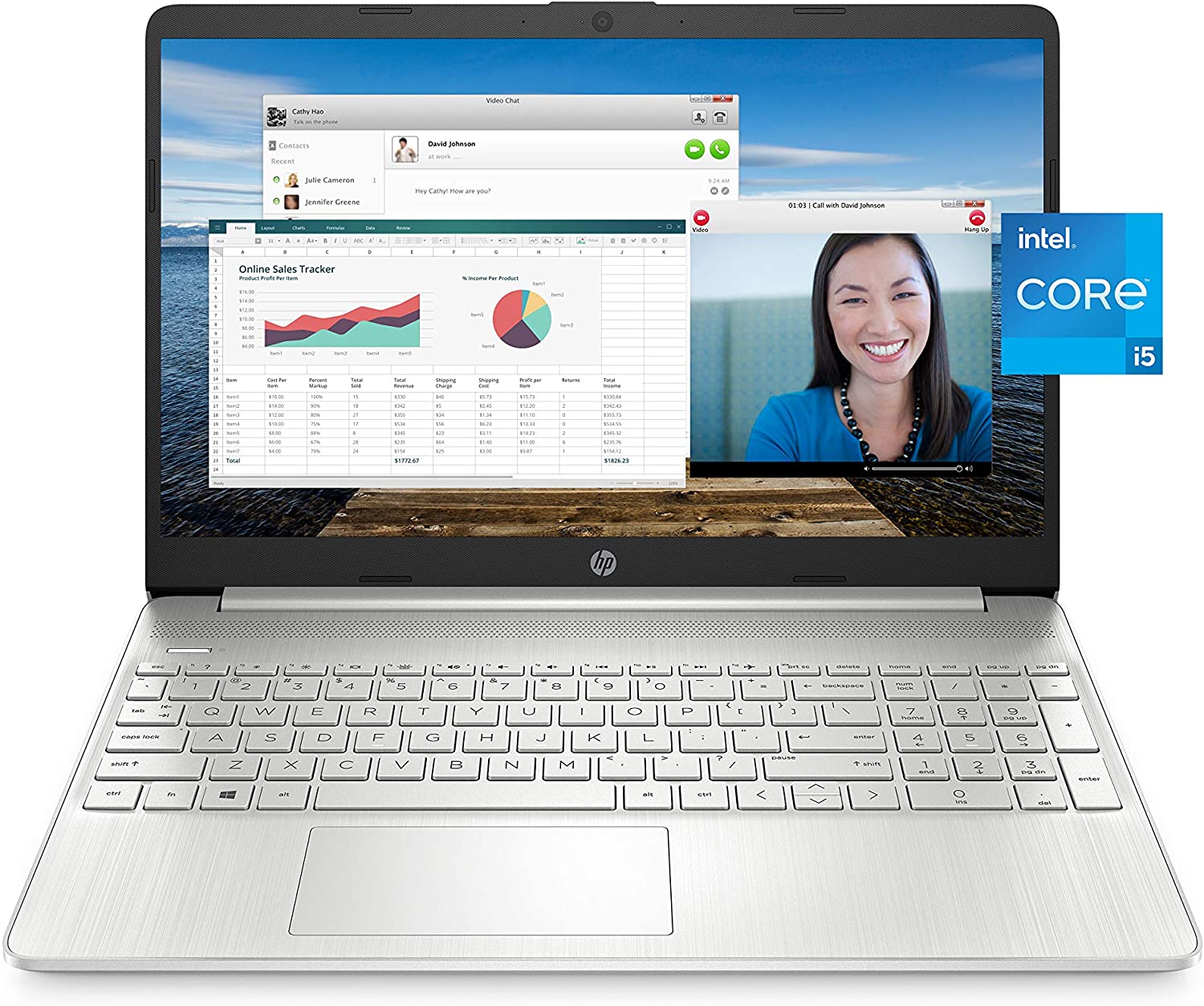 At 3.9 pounds, the HP 15 is a convenient device to carry around. The 15.6-inch display screen offers a 1920 x 1080 pixel resolution and is ideal for consuming multimedia content. A big plus is that the screen is touch-enabled. The laptop is powered by the advanced AMD Ryzen7 4700U processor and registers super-fast performance.
The 512GB SSD storage support ensures you will never run out of space while storing all your data in the device. The laptop offers multiple connectivity options, including a built-in microSD card reader. The keyboard on the device offers decent key travel and the kind of layout that makes it very comfortable to use.
An ideal device for travelers looking for a laptop that works efficiently and offers a large amount of storage space.

It is also recommended for those who wish to invest in a laptop with a vibrant, high-definition display screen.
HD display screen

Attractive design

Strong storage support

Fast performing processor
Average battery life

Middling audio quality
14-inch Travel Laptop with Strong Battery Support
Lenovo Flex 5 2-in-1 Convertible Laptop
Check Price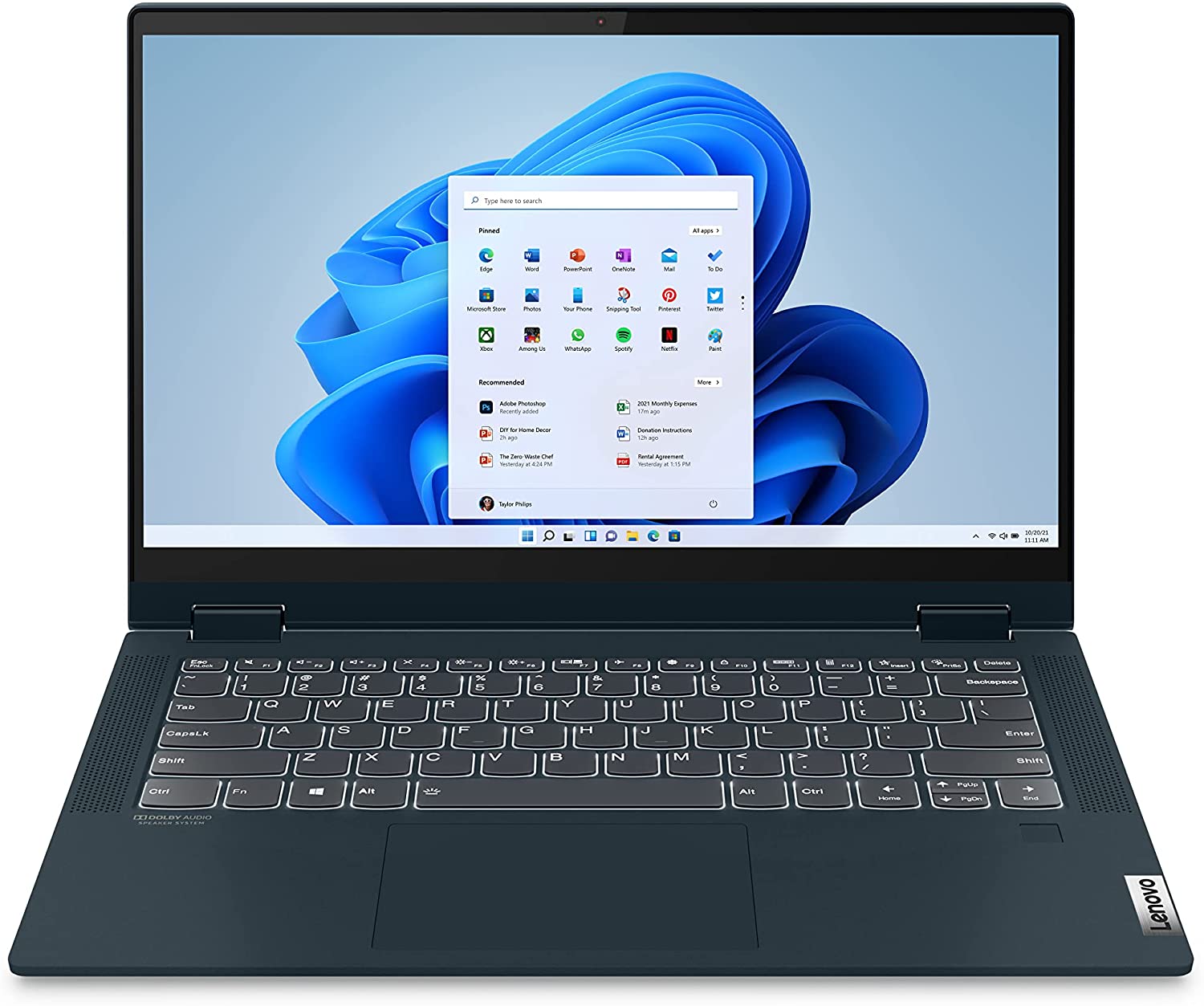 If you find a laptop featuring a 14-inch display screen, you know carrying it around during your work or personal trips wouldn't be too difficult. It is a convertible laptop, meaning you can use it either as a laptop or a tablet. At 1.5 kilograms, the laptop is moderately heavy and can be carried along during trips without inconvenience.
The high-definition webcam has a unique privacy shutter feature that ensures no data or information gets leaked when you engage in a video call with your colleagues. The 2.3GHz AMD Ryzen 5 processor ensures you don't get any reason to complain about the speed at which the device works.
Recommended for professionals who require both a laptop and a tablet while traveling around.

It's also a good option for those looking for a lightweight laptop offering good battery support.
Lightweight structure

Convertible feature

Long-lasting battery

Sturdy and responsive keyboard
The display screen could be brighter

Limited connectivity support
Moderately Priced Travel Laptop with a Very Comfortable Keyboard
HP Chromebook 14 Long-Lasting Battery Laptop
Check Price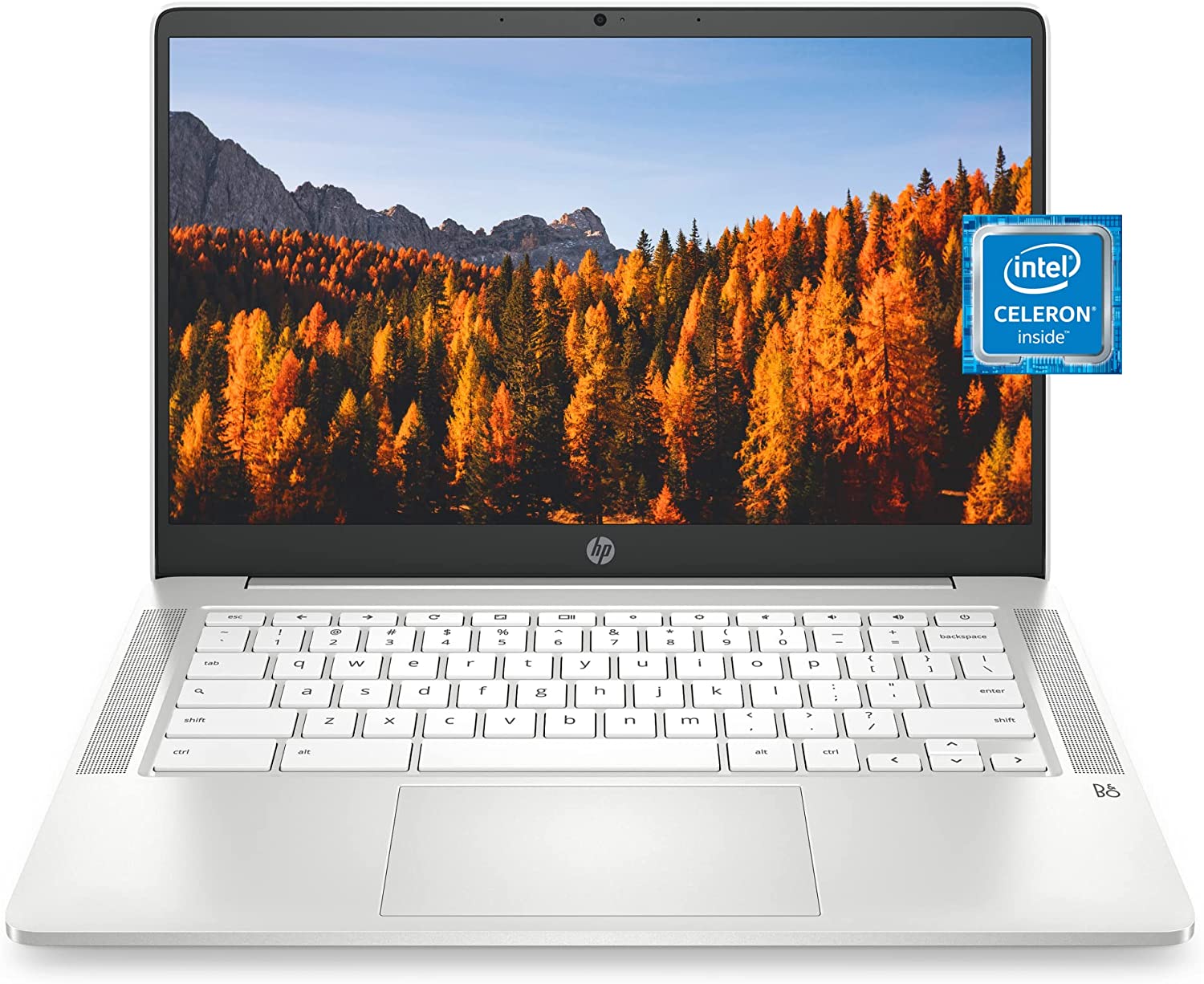 The display screen of this laptop is 14-inches wide and offers a resolution of 1366 x 768 pixels. The bezels on the device are 0.7 inches thick and the overall weight of the device is 3.3 pounds. Its compact structure makes it highly suitable for travelers. The device lasts for 13-14 hours on a single full charge.
The laptop comes equipped with an Intel Celeron N4020 processor. While the processor lends the device good speed, it could have been faster. The brand offers a year-long hardware warranty on the product and offers good customer support. The quality of both the keyboard and the trackpad is excellent. Therefore, this laptop would work very well for those who type extensively.
Recommended for professionals who travel frequently and need a laptop with good multimedia features and strong battery support.

It is also a good option for those who wish to invest in a budget-friendly and reliable laptop.
Long battery life

Good brand support

Multiple connectivity options

Smooth and comfortable keyboard
The processor needs to be upgraded

Screen resolution could be higher
Convertible 2-in-1 Laptop with 14-inch Touchscreen
Asus Chromebook Flip C433TA Backlit Keyboard Laptop
Check Price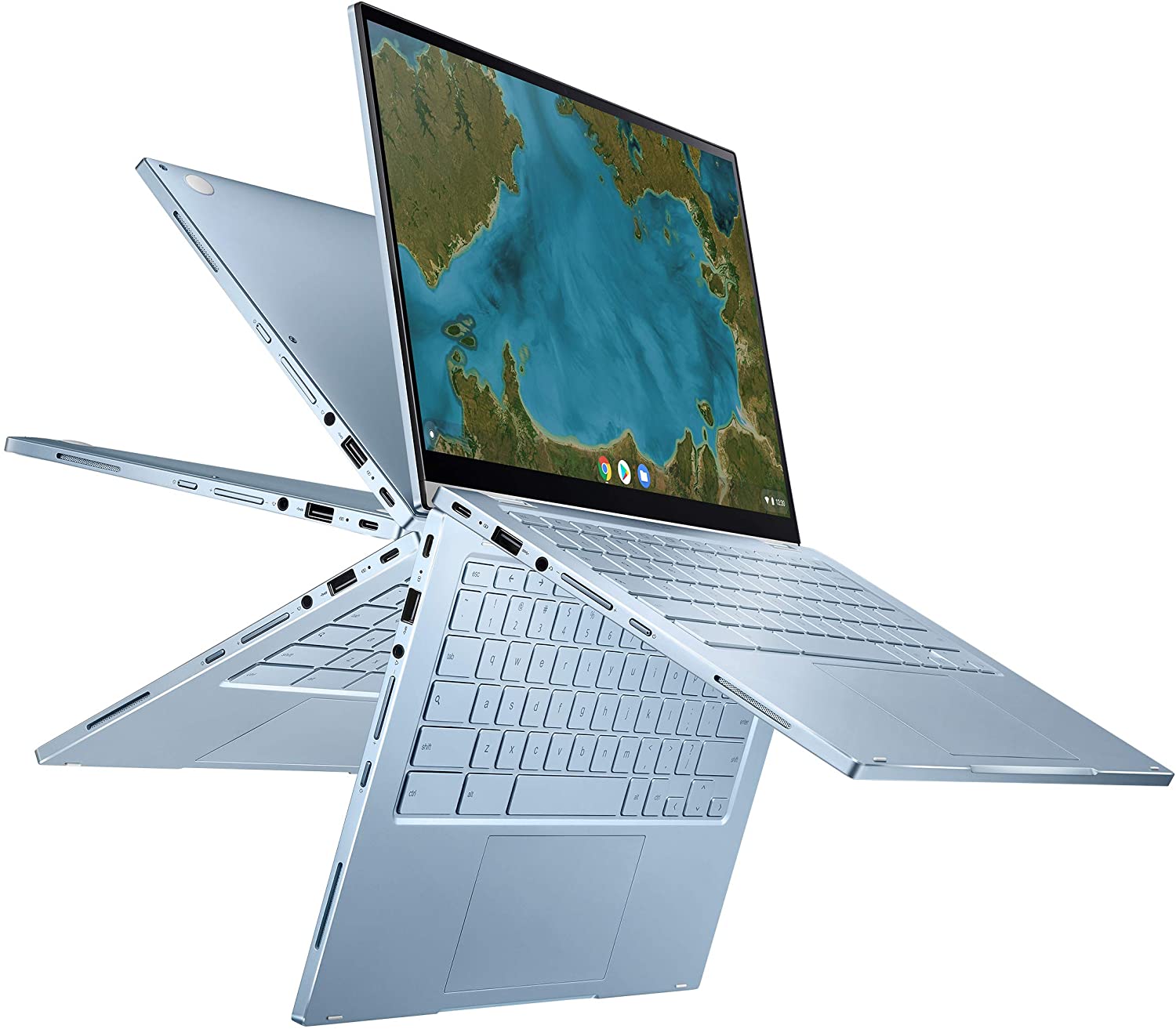 The Asus Chromebook Flip C433TA comes with an Intel Core m3-8100Y Processor that ensures it works at a super-fast speed and does not create lagging issues. One of the standout features of this laptop is its 14-inch anti-glare touch screen that boasts LED backlight function. The display screen offers a resolution of 1920x1080 pixels and possesses great image reproduction abilities.
The hard disk on the device offers a storage space of 64GB. Since it is a 2-in-1 convertible device, it can be used as a laptop and a tablet. As far as connectivity support is concerned, you get all the options you can think of. Apart from two USB-C 3.1 ports and a microSD card slot, you also get a 3.5mm headphone jack.
Why You Should Buy This?
Ideal for those who are amused by the functioning of a backlit keyboard and are particular about buying a laptop device that comes equipped with it.

It is also recommended for those who want to invest in a sturdy 2-in-1 convertible device.
Pros
Works equally well as a laptop and a tablet

Comfortable backlit keyboard

Responsive touch-enabled screen

Good battery support
Cons
Build quality could have been better

Not for serious gamers
Versatile Under $500 Laptop For Travelers
Asus VivoBook 15 15.6-inch Lightweight Laptop
Check Price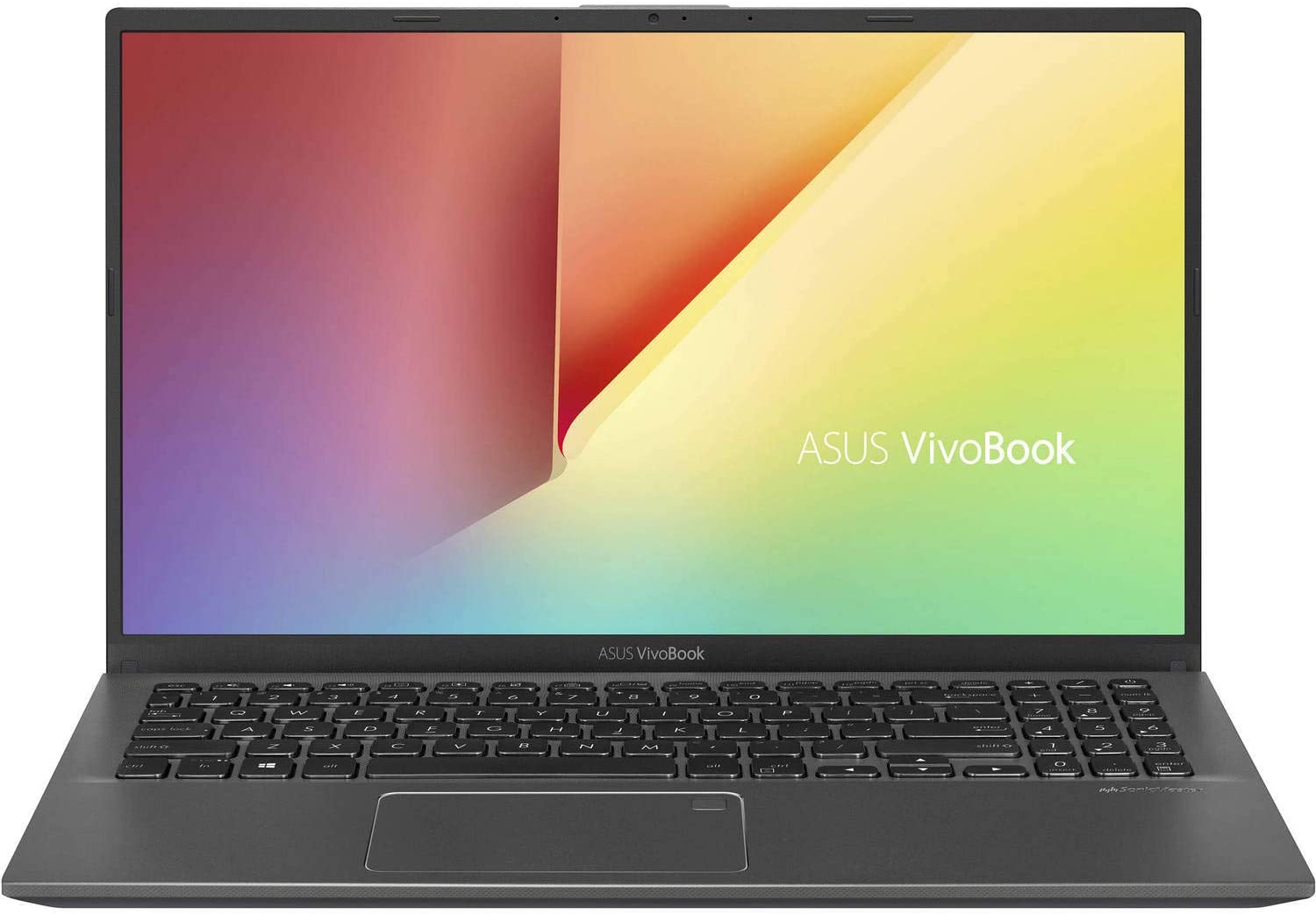 This laptop's 15.6-inch wide display screen offers a resolution of 1920 x 1080 pixels. Besides watching movies, it is an ideal screen for browsing the internet, checking e-mails, and participating in video conferences. The keyboard boasts a backlight function, and the touchpad offers great precision. The device has multiple connectivity options, including a microSD card reader and a 3.5mm headphone jack.
The laptop weighs 3.75 pounds, and it wouldn't be too difficult for one to carry it while traveling. The device's chassis is made with premium quality plastic and is highly durable. The keyboard is of decent quality, and the touchpad could have been broader. As a security feature, a fingerprint reader is placed at the laptop's top right corner.
Recommended for those looking for a laptop priced under $500 and lightweight enough to be carried along during long journeys.

It is also a good option for those looking for a well-functioning laptop offering good connectivity support.
Reliable processor

Lightweight structure

Multiple connectivity options

High-resolution display screen
Moderate battery life

The screen is not touch-enabled
2-in-1 Convertible Laptop with a 360 Degree Hinge
HP Pavilion x360 14-inch Wide Touch-Enabled Laptop
Check Price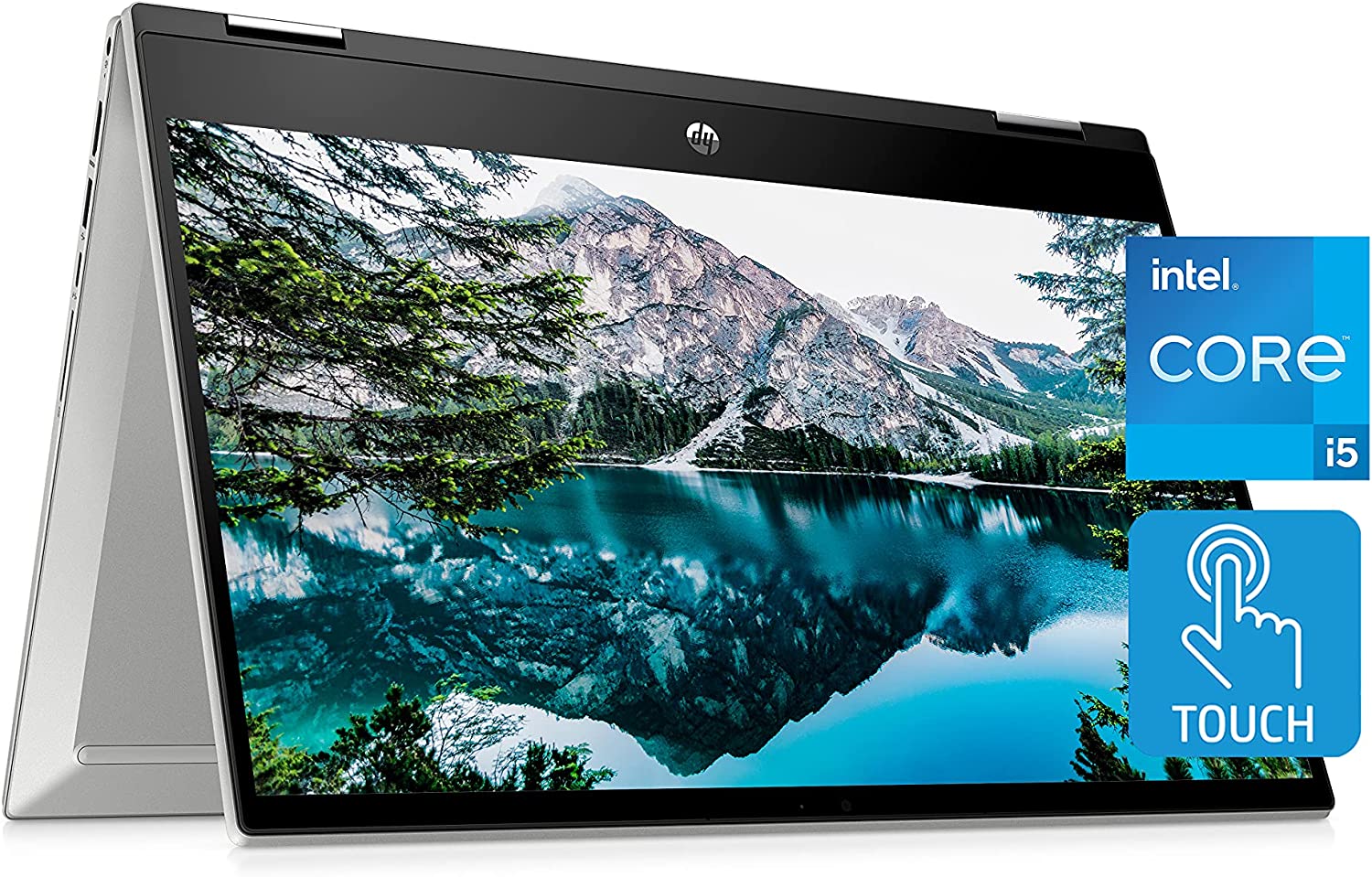 This laptop's 14-inch wide display screen offers a resolution of 1920x1080 pixels and is ideal for those who work in the multimedia industry. It is a convertible device that can be used as a laptop and tablet. While the 360-degree hinge makes it easy for you to use in two different forms, the stylish silver design of the device makes you feel good about owning it.
The battery life offered by the device, on average, is around 10 hours. However, the device lasts roughly 8 hours if you stream video content continuously. The device comes equipped with an 11th-generation Intel Core i5-1135G7 processor that ensures the device never slows down even when you use it to perform multiple tasks simultaneously.
Why You Should Buy This?
Recommended for those who need both a tablet and a laptop regularly.

It is also suitable for individuals looking for a 14-inch convertible device with a sharp display screen.
Pros
Attractive design

Convertible feature

Super-fast processor

Strong connectivity support
Cons
Low-quality webcam

Battery life should have been higher
Solid travel laptop with a DVD Writer
Dell Inspiron 15.6-inch AMD Powered Laptop
Check Price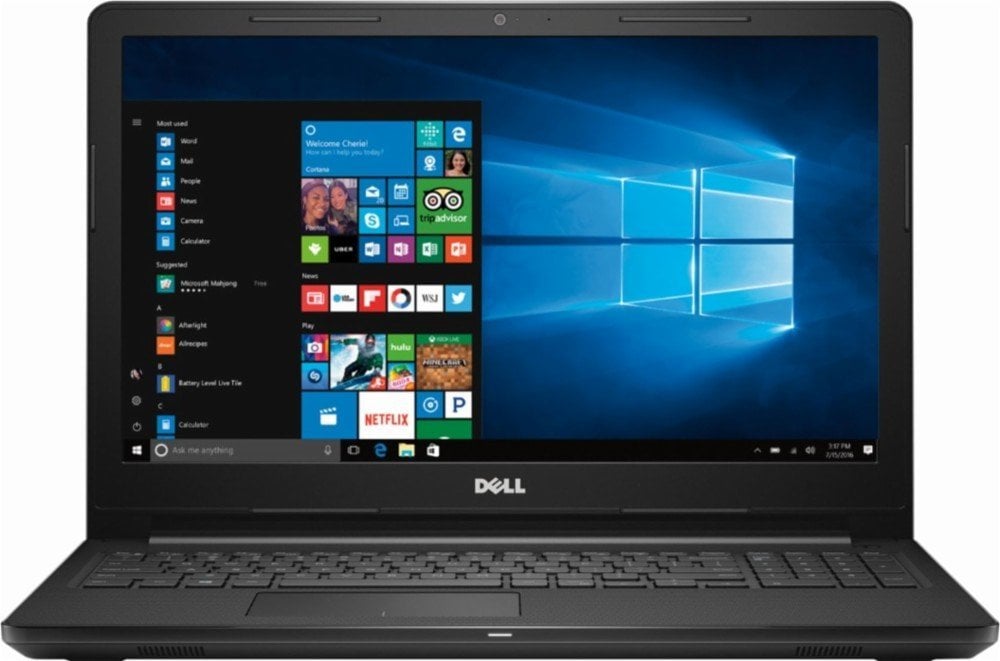 The design of the Dell Inspiron 15.6-inch laptop may hardly impress anyone because it is plain black with a large bezel and thick body. It has some advantages because it makes it easier to type on the keyboard and carry it around without any durability issues. It also offers a range of ports, including an actual DVD writer allowing you to enjoy some old-school file transfer methods.
The Dell Inspiron 15.6-inch laptop is powered by 7th gen AMD dual-core A6-9220 processor clocked at a cool 2.50 GHz coupled with 4 GB of RAM and 500 GB of storage space. The laptop has a 15.6-inch 720p display and uses AMD Radeon R4 integrated graphics, which might allow you to do some casual gaming. It runs Windows 10 Home Edition and is a true business laptop you can travel with while completing your work.
Why Should You Buy This?
Solid build with thick bezels and a body that assures it can withstand rough usage
Great choice of ports and DVD writers to use to transfer data or just watch your old DVD collection during a business trip
See also: Top best laptops for programming of 2021
FAQs
Are cheap travel laptops reliable?
Of course, they are! If you are not buying a rugged product, make sure you take care of it using a thick backpack and avoid bumps along your route because these laptops often use HDD and not SSD.
How can I safeguard my data on my laptop?
Make use of the fingerprint lock found in most modern laptops. You can also consider using an SSD that can withstand rugged usage and lots of movement, which is a common scenario for every traveler.
How can I improve the battery life of my laptop?
If it is unclear when you will have access to a charging port, consider using your laptop with half the brightness so that it lasts much longer than it usually does. You can also use it in airplane mode for increased battery life and always carry a battery pack for times of emergency.
What if my laptop gets damaged due to water?
Most warranty policies will not cover water damage. If the internal components are completely damaged, you will probably have to buy a new one. However, you can consider replacing a specific part of the warranty center, which should save you money.
Why are cheap laptops best for travel?
The chances of your product getting damaged or wet are much higher while being on the move for several days. Consider leaving your expensive products at home and go for a cheap laptop so that in case it gets broken, you can replace it easily without spending a fortune.
What is the most important feature to look for?
A laptop's compact and lightweight design will always be a deciding factor. When your backpack is full, you can't stuff in a heavy device because you still need to carry your phone, speakers, and other accessories for a fun travel experience.
Conclusion
Are you a student or someone with a low budget and looking for a laptop to carry on your trips? You might be overwhelmed with the choices available in the market. Listed above are some of the best and cheapest laptops with decent specs. If you are looking for cheap travel laptops, select the one that suits you from the list above!