Featured in this article (opens in new tab)
Living in this technology-driven era, we can access many options for our computer needs. In this digital age, nearly everything has transformed into this new medium, including schoolwork. Gone are the days when we needed to go to school with notebooks and pencils.
Laptops are a great tool to do everything you used to do manually, but more efficiently and quickly. Today, it's just not enough to have a laptop that can get by fulfilling all our computing needs, especially for children in school. Gaming is extremely popular these days, and most kids look for products that can do both. We will talk about some of the best laptops for school and gaming.
Gaming has become a multi-billion dollar industry with competitive matches and millions of dollars worth of prizes. Playing games is no longer considered something that only geeks or nerds do. It has transcended all genders, countries, and ages, transfixing everyone from all corners. E-Sports has become a serious competitive event with millions of fans and hundreds of sponsored teams.
However, serious gaming requires you to buy heavy-duty machines if you want to play the latest games or train for competitive matches. These laptops come at staggeringly high prices, but you can find some middle ground where they are affordable yet powerful enough to perform both tasks. Remember that laptops at affordable price points aren't built to play the latest games in their highest graphical settings, but they can do a decent enough job to keep you happy.
Below are some of the best laptops for school and gaming, including affordable ones and a few pricey ones for serious gamers. Before jumping to the list of available models, check out the buying guide. It shows all the essentials you should consider when buying a new laptop.
See also: Best Laptops For Bloggers.
Buying Guide
Youngsters spend a lot of time playing games on their computers. There are school-going children too in large numbers who use laptops. If you are buying a laptop for your school-going children, you may want to invest in a machine that serves both purposes, school-related work and gaming. So, what key areas should you be looking at when buying the best laptop for school and gaming?
Sturdy Build: When it comes to handling gadgets, children tend to be a little rough. When browsing through the laptop's specifications, check whether it has a sturdy build that can withstand rough handling. You would be better off with a solidly constructed laptop.
Processor: You must look for a laptop that is apt for school activities and gaming that comes fitted with one of those more powerful processors. The spec to watch out for is the clock speed. Anything above 2.4GHz is good, but you may find that some machines have better processors, too, within the same price range. Gaming laptops with better processors take care of many of your requirements.
Graphics: Check if the laptop you are buying has the best graphics support since gaming needs better graphics. Many brands rely on one of the NVIDIA GeForce graphics cards. There are many in NVIDIA's range, and they are pretty effective in performance.
Storage: Gaming laptops require higher storage capacity since the games come in large-sized files, and storing them for play means that the laptop should have the ability to accommodate them. The storage needs for storing the schoolwork of your kid are also essential. Check this out while buying the laptop.
Battery: If the laptop is carried to school by your kid, it must support good battery life. The four or five+ hours that the kid would be using the laptop at school must be the minimum the laptop should be able to function before the battery requires recharging.
Weight: With all those meaty specifications, it may be challenging to keep the weight of the laptop down. However, since the kid has to carry it to school, you must balance it out. Try and buy a lightweight machine without compromising on the specs.
Best Laptops for School and Gaming
A Chrome Laptop with Long Battery Life
HP 14a-na0021nr High-Performance Laptop
Check Price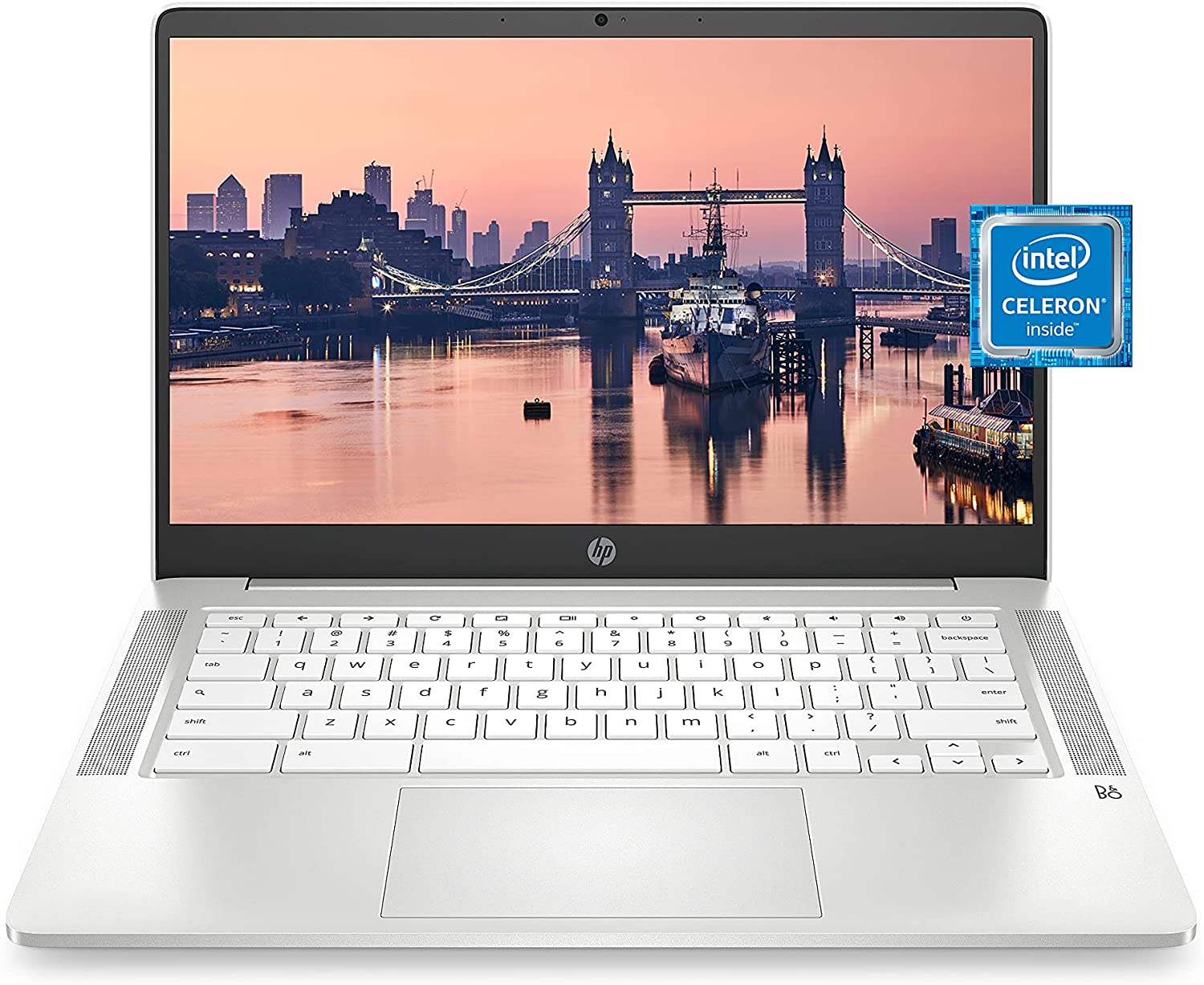 This HP laptop features a 14-inch anti-glare micro-edge HD display with 1366 x 768 screen resolution. The laptop has a solid-state hard drive, a dual-core Intel Celeron N4000 processor clocking at 1.1GHz, and a dedicated Intel UHD graphics processor. It is loaded with Chrome operating system, which makes moving from one tab to another very fast. The product comes with 4GB RAM and 32GB storage to store all your files without hassle.
The laptop has a high-speed performance rate that makes you enjoy your favorite entertainment activity like movies, music, or games without any lag. It is powered by a lithium metal battery that provides up to 12 hours of uninterrupted use on a single charge. The product is integrated with dual array digital microphones and a wide vision HD camera.
This Chromebook is ideal for online chatting because of its high-quality webcam and speakers.
The laptop is a good choice for those who work long hours because of its extended battery life.
The product is capable of resisting fingerprint marks on its surface.
Less strain on the eyes
It supports both Wi-Fi and Bluetooth connections
Lightweight and easy to carry
It cannot connect to a printer because of Chrome OS
A Gaming Laptop with High Aspect Ratio
Acer PredatorPH315-54-760S High Refresh Rate Laptop
Check Price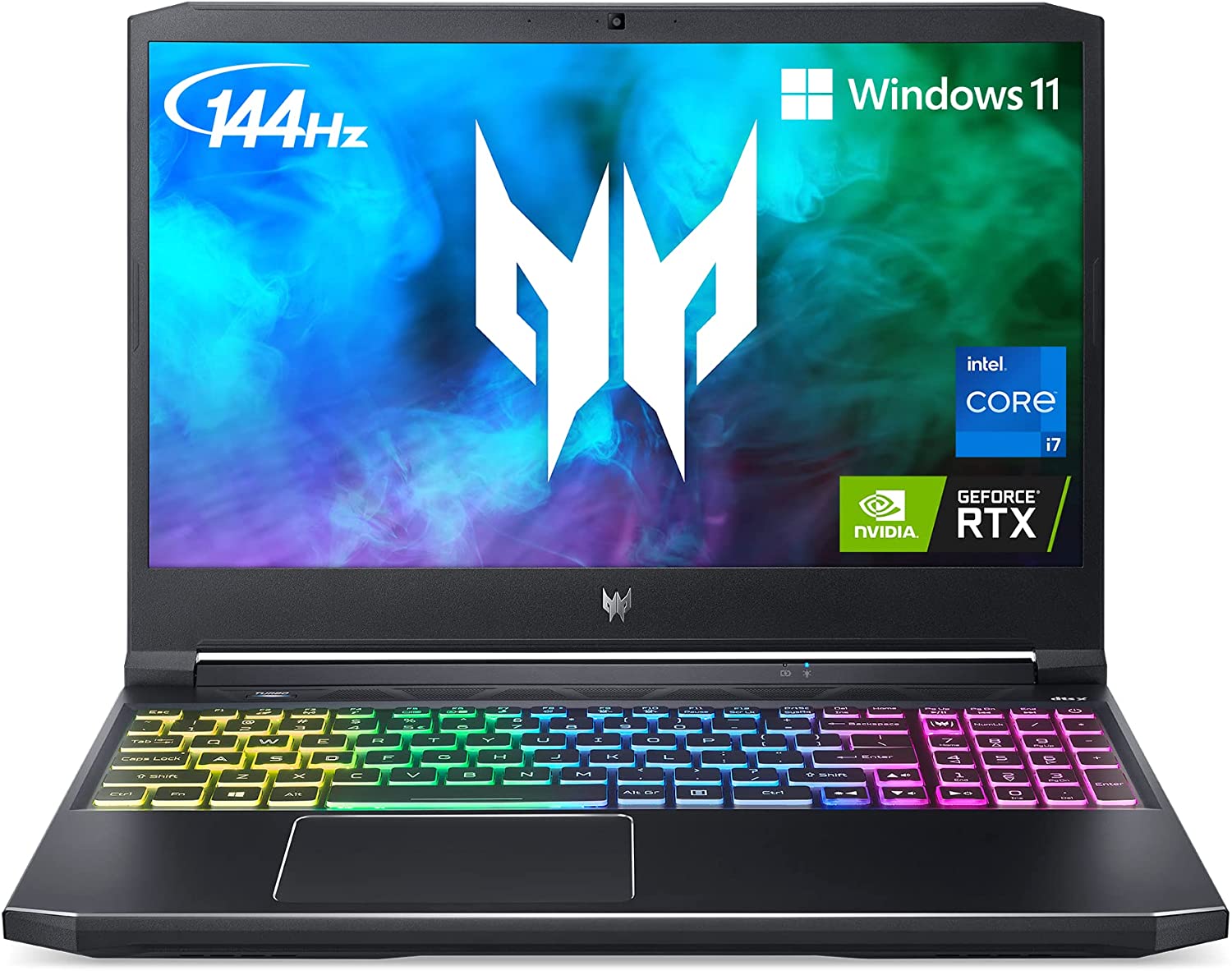 This Acer laptop comes with a 15.6-inch IPS Full HD display with backlighting and 1920 x 1080 screen resolution. The laptop screen also has an excellent refresh rate of 144Hz and a 16:9 aspect ratio. It is installed with Windows 11 Home operating system. The product has an eight-core 4.6GHz Intel i7-11800HCPU, an NVIDIA GeForce RTX 3060 graphics processor, a 512GB SSD as a hard drive, and 16GB DDR4 memory. The memory can be further expanded by 512GB.
The laptop is powered by a lithium-ion battery with an average lifespan of six hours before it runs out of juice. The keyboard supports RGB lighting with concave-shaped WASD see-through keys. It also has an AeroBlade fan with 89 blades to keep it cool during long working hours.
This laptop is a must-have for gamers because of its dedicated graphics processor and high refresh rate.
The product has outstanding speed with just 3ms Overdrive response time.
The laptop is fitted with three different display ports, supporting at least 4K streaming at 60Hz.
It has the latest version of the Windows operating system
Compatible with Alexa
Dedicated 6GB VRAM
The tendency of fans to become noisy
A Compact and Lightweight Laptop with 128GB Flash Storage
ASUS L510MA-DS04 Lay-Flat Hinge Laptop
Check Price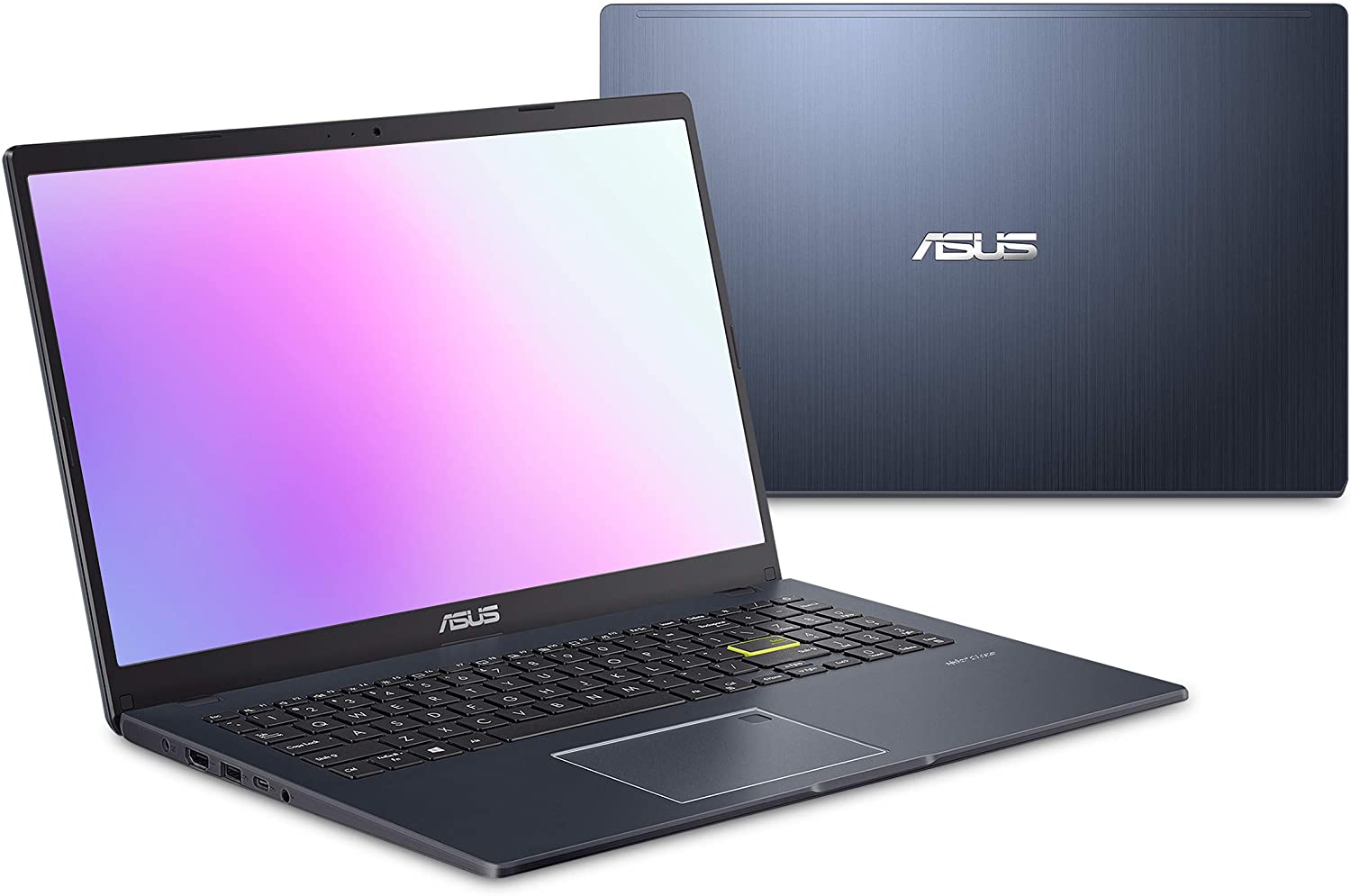 This ASUS laptop has a 15.6-inch FHD display screen with 1920 x 1080 screen resolution. The thin-bezel NanoEdge display renders more screen real estate. The laptop also houses 4GB RAM, a single-core Intel Celeron N4020 CPU with a 1.1GHz clocking frequency, and a 64GB/128GB hard disk. The product comes with Windows 10 Home in S mode preinstalled.
The thin and lightweight laptop features a lithium-metal battery with a life of up to 8 hours after it has been fully charged. It has a keyboard with backlighting and a 6-inch multitouch keypad that incorporates palm-rejection technology. The fanless design ensures that you can focus on your work on your laptop without distraction. The product supports Wi-Fi 802.11 ac/n connectivity and has two USB 2.0 ports.
The laptop makes working on it at night easy without strain on the eyes because of the backlighting supported by the keyboard.
The lay-flat hinge lets you place the laptop at an angle of 180°, making content sharing or collaboration among friends or colleagues easier.
The Nano-Edge display gives the effect of viewing content on a big screen that makes the content displayed appear more realistic.
Ample storage space
No noise disturbance due to fanless design
Security and performance are ensured because of S mode in Windows 10
It does not support additional RAM installation.
Poor quality speakers
A Digital Wellness Laptop with Three Modes
Lenovo IdeaPad 3 Whisper Quiet Laptop
Check Price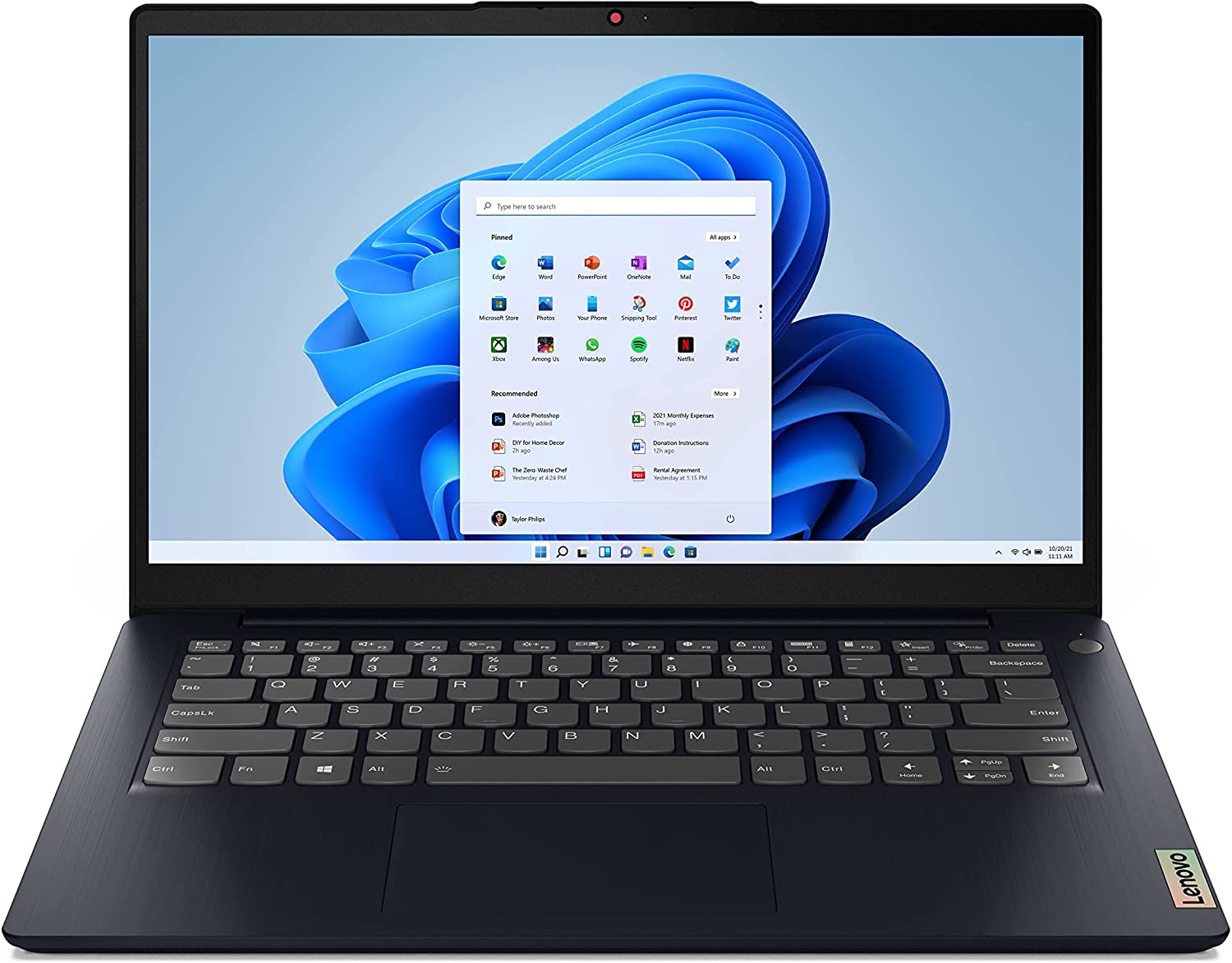 This Lenovo laptop comprises a 14-inch FHD IPS LCD screen display with 1920 x 1080 screen resolution. The laptop features razor-edge narrow bezels on all four sides to make the screen appear bigger and render wide viewing angles. With its inbuilt thermals, the product yields a cooler and quieter performance even under pressure. It also has a single-core 2.1GHz AMD Ryzen 5 5500U processor, an AMD Radeon 7 graphics processor, 8GB DDR4 RAM, and 256GB SSD storage.
The Windows 11 laptop incorporates Q-control functionality for you to choose from three operating modes based on your gaming performance. The product also has a 720p webcam with a dual array microphone and two Dolby Audio 1.5W speakers. Its hyper-efficient lithium-polymer battery supports rapid charge to allow your laptop to be fully charged in a short time.
Why Should You Buy This?
This laptop allows you to take complete control of your privacy without being worried about intruders keeping track of you and your activities.
The inbuilt Eye Care mode reduces the harmful blue light that can cause a strain on the eyes.
The product supports Bluetooth 5 and Wi-Fi 6.0 connections and has both HDMI and USB ports.
Pros
It supports three different operating modes
Free Xbox Game Pass Ultimate trial for gamers for three months
Inbuilt privacy shutter
Cons
No backlighting for the keyboard
A Stylish Laptop with G-Sync Display
Alienware M15R6 Finger Print Unlocking Laptop
Check Price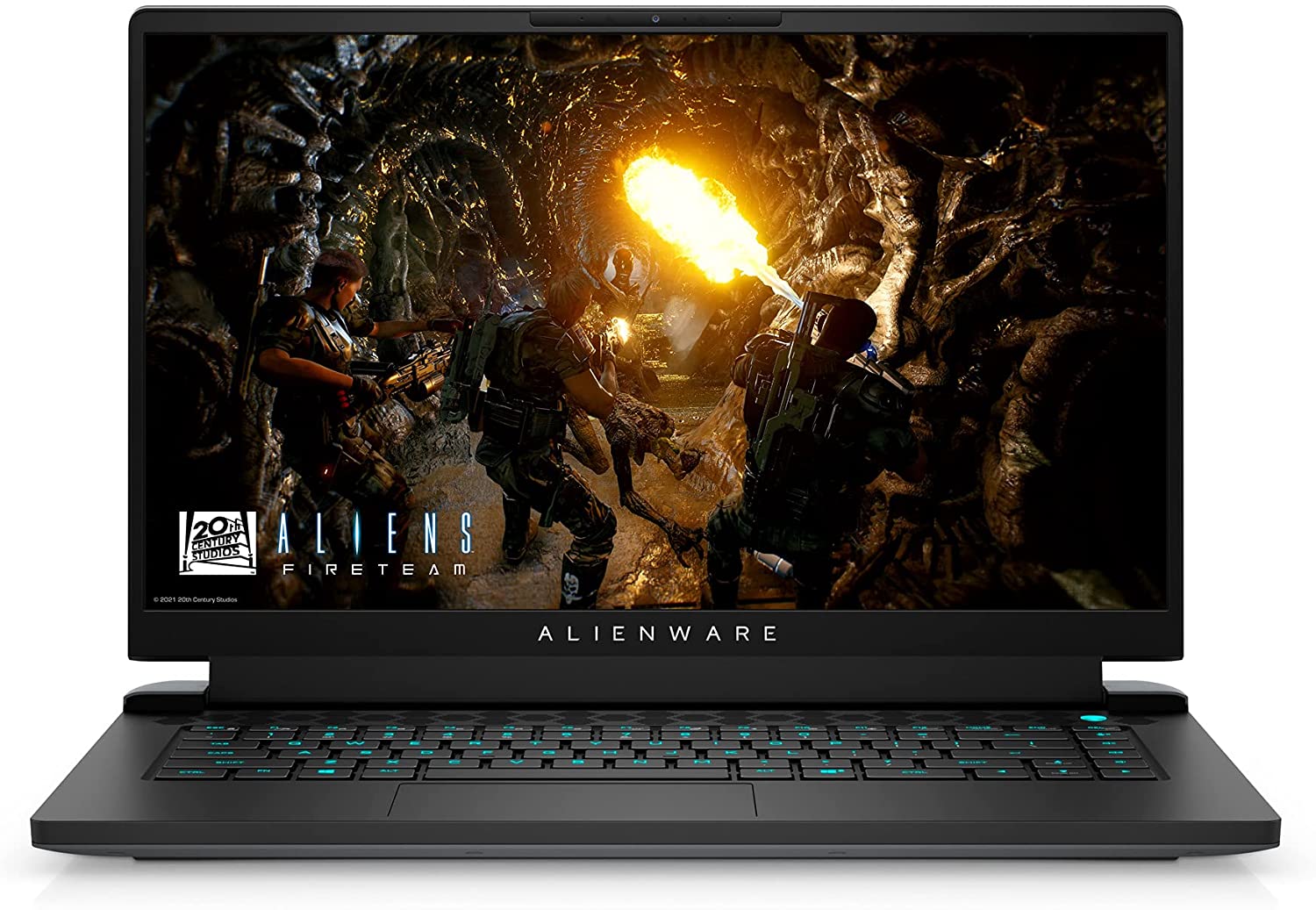 This Alienware laptop boasts a 15-inch G-Sync QHD WVA LED display screen with a refresh rate of 240Hz and 2560 x 1440 screen resolution. The laptop is available in 16GB and 32GB DDR4 RAM options and 512GB and 1TB hard disk variants, respectively. The product incorporates advanced Optimus technology for its screen. It comes with an eight-core Intel i7 processor that clocks at 4.6GHz and an NVIDIA GeForce RTX 3060 graphics coprocessor with 6GB of dedicated RAM.
The laptop features dual cooling fans that keep it cool by pulling in cool air from the top and bottom. The hot air is discharged through vents at the rear and sides. The Windows 11 product supports memory expansion through two DIMM slots, and the laptop has three USB ports, an HDMI port, and an Ethernet port that allows Wi-Fi 6 and 1GB Ethernet connectivity. It works with a lithium-ion battery that supports three to four hours of uninterrupted activities like web browsing.
The laptop supports ComfortView Plus low blue light technology, ensuring that your eyes don't get strained when you game non-stop for hours.
The product is ideal for gaming without any lag and renders a seamless experience to make the gaming experience all the more memorable.
The 32GB RAM ensures that there will often be no need to opt for a RAM upgrade.
Ideal for presenting webinars
Can handle several complex programs simultaneously
Excellent screen resolution
Loud noise from fans at times
Noisy and clunky keyboard
An Ultra-Thin Laptop with Anti-Glare LED Backlight
Dell Inspiron Aluminum Top Cover i5510 Laptop
Check Price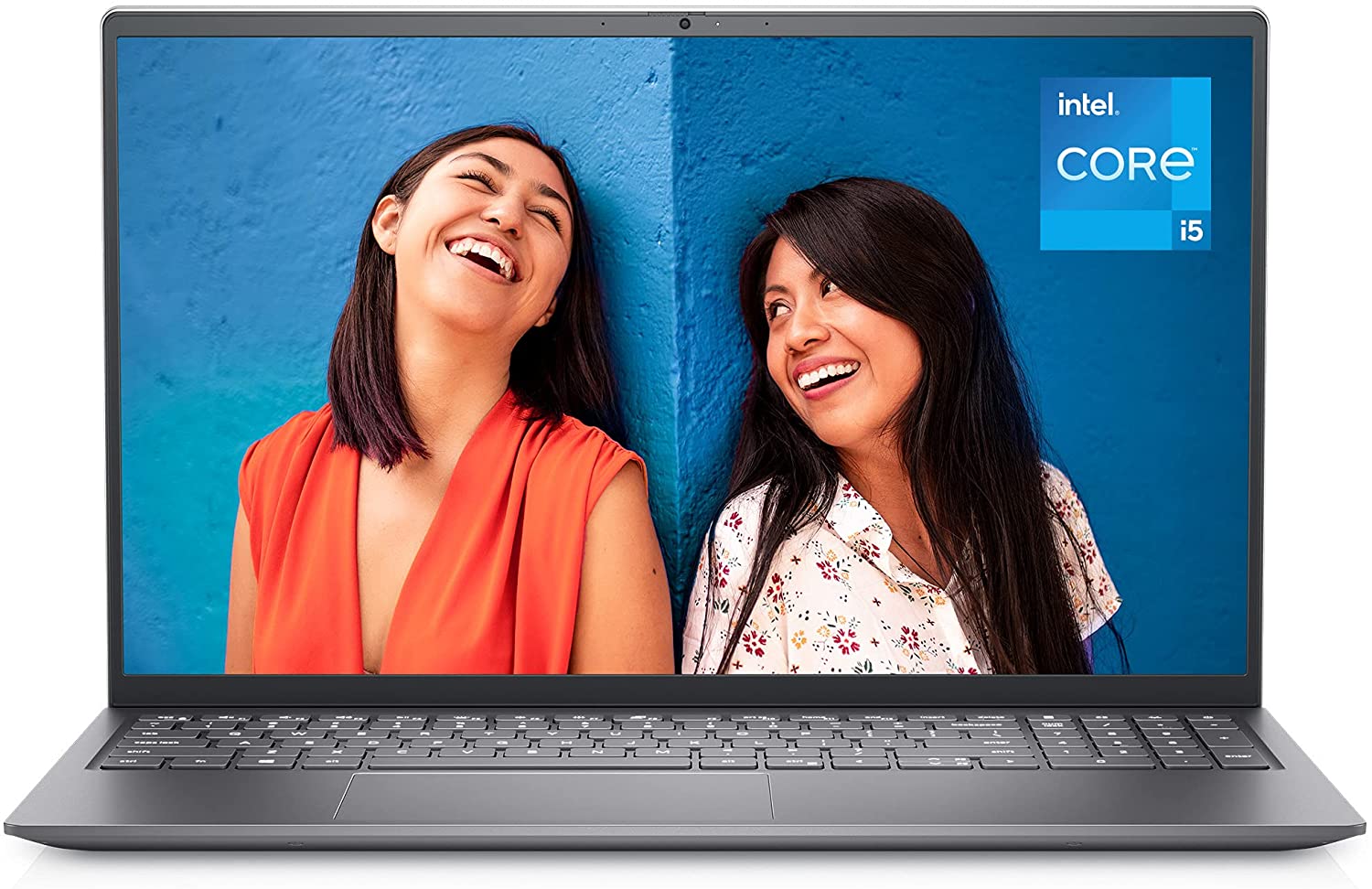 This Dell laptop encompasses a 15.6-inch FHD LED backlight WVA display with anti-glare properties and a 1920 x 1080 screen resolution. The narrow border on all sides helps you enjoy the effect of using a large screen. The laptop also has 8GB DDR4 RAM, an Intel i5-11320H processor with four processors and 4.5GHz clocking frequency, and an Intel Iris Xe graphics coprocessor with shared graphics memory.
The Windows 11 laptop portrays an aluminum top that gives it a luxurious appearance. The product is compatible with Alexa, which helps you increase productivity by asking Alexa to set up your to-do lists and reminders. It also incorporates a fingerprint sensor for security. The lid-open sensor turns on hibernating or turns off the laptop when its lid is raised. The product works with a 54Whr lithium-polymer battery.
Why Should You Buy This?
Because of the Intel Iris Xe graphics processor, this laptop is a good choice for streaming movies and games with a vivid and smooth experience.
The product does not get overheated at the bottom because of the extra fan blades and the thermal system that moves the heat away from the processors as much as possible.
The laptop features accelerometers that help detect whether the product is placed on a stable or unstable surface and adapt the thermal and power files accordingly.
Pros
Long-lasting and quiet running fans because of fluid dynamic bearing
Durable and rugged because of its aluminum top
Verifies identity before logging in
Cons
The Smallest Beast
Razor R3U1 Blade
Check Price
The Razer R3U1 Blade is an exceptional gaming laptop that can help you with your schoolwork while easily running the latest games. It comes with an Intel Core i7-8750H, 8 GB NVidia GeForce GTX 1070, 16 GB RAM, 512 GB SSD, and a 15.6-inch display. The 15-inch display makes it one of the smallest gaming laptops that can pack a punch, not to mention a great 144Hz and an 85 percent visible display area. The laptop also features an exceptionally thin frame, making it one of the most compact gaming machines.
What's more interesting about this laptop is its expandability with the Razer Core X. The 8th Gen Intel Core i7-8750 processor comes with six cores and allows you to run multiple tasks at lightning-fast speeds, making it an absolute delight for anything you want.
The vapor chamber cooling system keeps the laptop cool while significantly boosting its performance. You can also get free additional software and game bundles if you buy them from select online distributors. This is a great laptop to own if you want a small beast of a laptop that can fulfill any computing or gaming needs you may have.
Why Should You Buy This?
While most gaming laptops are expected to be heavy, this ultra-portable device delivers a solid performance.
The device does not make any noise even when you use it for serious gaming for several hours.
The huge touchpad provides you with enough scope for adequate palm rest
Its weight and design make it very easy for students to carry it to school
You may also read Best Detachable Laptops.
Frequently Asked Questions
Is it essential for school and gaming laptops to have a DVD drive?
That's a tricky question. Many top laptop brands have done away with DVD drives in recent years. It is also true that many games are sold on compact discs, and you may have bought them for playing. Your only option is to search for laptops with a DVD drive that meets the other specs requirements.
Do laptops for schools come with longer warranty periods?
There's no such special warranty meant for laptops for school and gaming applications. At the same time, some brands can offer extended warranty in special cases. Do check this aspect with the seller. Some brands charge a bit extra for the warranty to be extended.
Once you buy a gaming laptop, can you play all the games on it without exception?
Gaming laptops come with a configuration that supports all video games primed for playing on PC. There may be exceptions that you will get to know only when you start playing. You may receive an alert that the game is not supported. However, these may be just a few.
Is it alright to leave these high-end laptops for kids to handle?
These laptops don't come cheap. One view is that modern kids seem to know more about the latest gadgets than their parents do. Depending on their age and level of knowledge, you can advise them to be careful while handling the laptop.
Can external keyboards be used with gaming laptops for a better experience?
Yes, you can attach an external device through USB ports. Usually, gaming laptops do have special keyboards for gaming. Check it out before buying a gaming keyboard. If you already own a gaming keyboard, feel free to use it on your laptop while playing games.
The Bottom Line
Buying a laptop might sound easy, but it's way more complicated than one assumes. There are so many unique options available today that it's hard to decide which one to go for at so many price ranges. If you are still in school and looking for a gaming laptop, you need to ask yourself what your laptop's primary and secondary priorities will be. If it's more for school work and less for gaming, you need to look at some entry-level gaming laptops as they will do the job.
If you need a performance-heavy laptop that could also perform any curriculum-based tasks, then you have to go for the more expensive options. It is far better to get a robust system that you can use for years than buy an inexpensive one that might become useless and obsolete in a year or two. Please research and look for the laptop that will help you fulfill your specific needs while keeping in mind its worth is not only for now but a few years from now.