X
Our Editorial Process
Each year more than 60 Million users visit Technobezz to solve a problem or research a product. Our goal is that everyone finds what they are looking for, and that is why we cover a variety of products, problems, and solutions on our website.

Writing an article that contains a lot of valuable information may seem simple. But when the article is written, the story doesn't end. We are constantly updating the content so that you can always get up-to-date and accurate information.
---
Technobezz's Editorial Guidelines
So, you have been using LinkedIn for a while now, and you have decided it's time to take a break. LinkedIn offers users the option to deactivate their accounts temporarily.
Once you are ready to go back, you won't have to create your profile from scratch, and you can just hop back in and continue using your profile. If you are unsure what steps to take, just keep reading.
Here, we will share a quick and simple guide to show you how to deactivate your LinkedIn account.
How to deactivate your LinkedIn account
To temporarily deactivate your LinkedIn account, follow the steps below:
Open a browser of your choice and visit the LinkedIn website
Log in by entering your email address and your password
Next, tap on your profile photo at the top of the page, or click on "Me."
When a drop-down menu shows up, click on Settings & privacy
Next, click Account
Scroll down until you find the option "Hibernating your LinkedIn account;" then click on it
Select one of the answers that tells more about why you are deactivating your Account
If you want to add something, write it in the box
Once you are done, click Next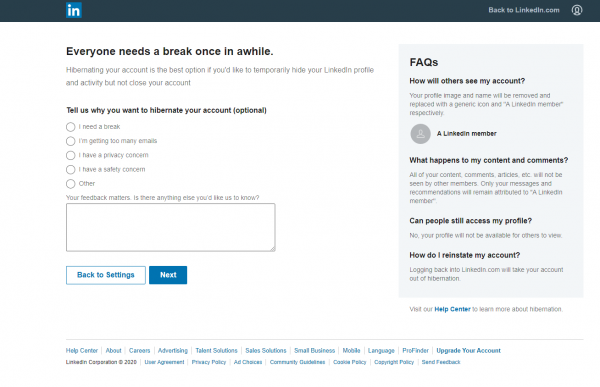 On the next page, enter your password when asked
Finally, click Hibernate account
This is how you can temporarily deactivate your LinkedIn account. Your comments and posts won't be visible to other LinkedIn members.
You will be shown as a LinkedIn member. Once you decide to go back to LinkedIn and start using your Account again, all you need to do is log in. Once you log in, you can use your Account normally.
Was this article helpful?
This helps us improve our website.