Is the home Button not working on your iPad or iPhone? 5 Fixes
What to do if the home button on your iPhone or iPad is not working? One of the solutions is replacing the button, in which case you would have to take your device apart. .
What to do if the home button on your iPhone or iPad is not working? One of the solutions is replacing the button, in which case you would have to take your device apart.
It is not an easy thing to do and certainly not a recommended DIY option, especially if you have never tried something like that before and if your device is still under warranty.
We have some other, more straightforward solutions to share, which are effective.
What to do if the home button is not working on your iPhone or iPad
Consider
Ensure to remove all cases or screen protectors
Ensure the button area is clean
Consider restoring your iPhone or iPad firmware via iTunes or Apple music.
Solution No.1: Recalibrate the home button
This is probably the simplest solution. Here is what you should do:
Press and hold the power button
When "slide to power off" appears on the screen of your iPad or iPhone, release the power button and hold down the home button
Keep holding the home button until the home screen appears.
Solution No.2: Clean the home button
One of the main reasons why the home button won't work is because of debris, dirt, and dust, so what you should do here is clean the button.
Use rubbing alcohol (or 70 percent isopropyl alcohol wipes) and a cotton swab to clean the button. Also, the other option is to pour a drop or two on your finger, rub the button and then push the button around its corners.
Solution No.3: Portrait view/landscape view
This solution helped many. Follow these steps:
Press and hold the home button while your iPad or iPhone is in portrait view
Keep holding the button to turn the device into landscape mode
Turn your device back to the portrait view
While doing this, make sure that your device's screen rotates
Let go of the home button.
Solution No.4: 5-finger gesture
If the previous solutions didn't fix the home button, you can try this:
iPads running iOS 12-iOS 10:
Go to Settings > General > Multitasking and Dock
Set Gestures to on
To return to the Home screen, place five fingers on the screen and pinch all the fingers in – grab them together.
In iPadOS: Navigate to Settings > Home Screen & Dock. Tap the Gestures toggle switch to turn gestures on or off.
Solution No.5: Assistive touch
If you don't like the 5-finger gesture solution, you can create the Home button on the screen. Here is how you can do that:
Go to Settings
Tap on Accessibility
Tap Touch
Tap on Assistive touch and turn it on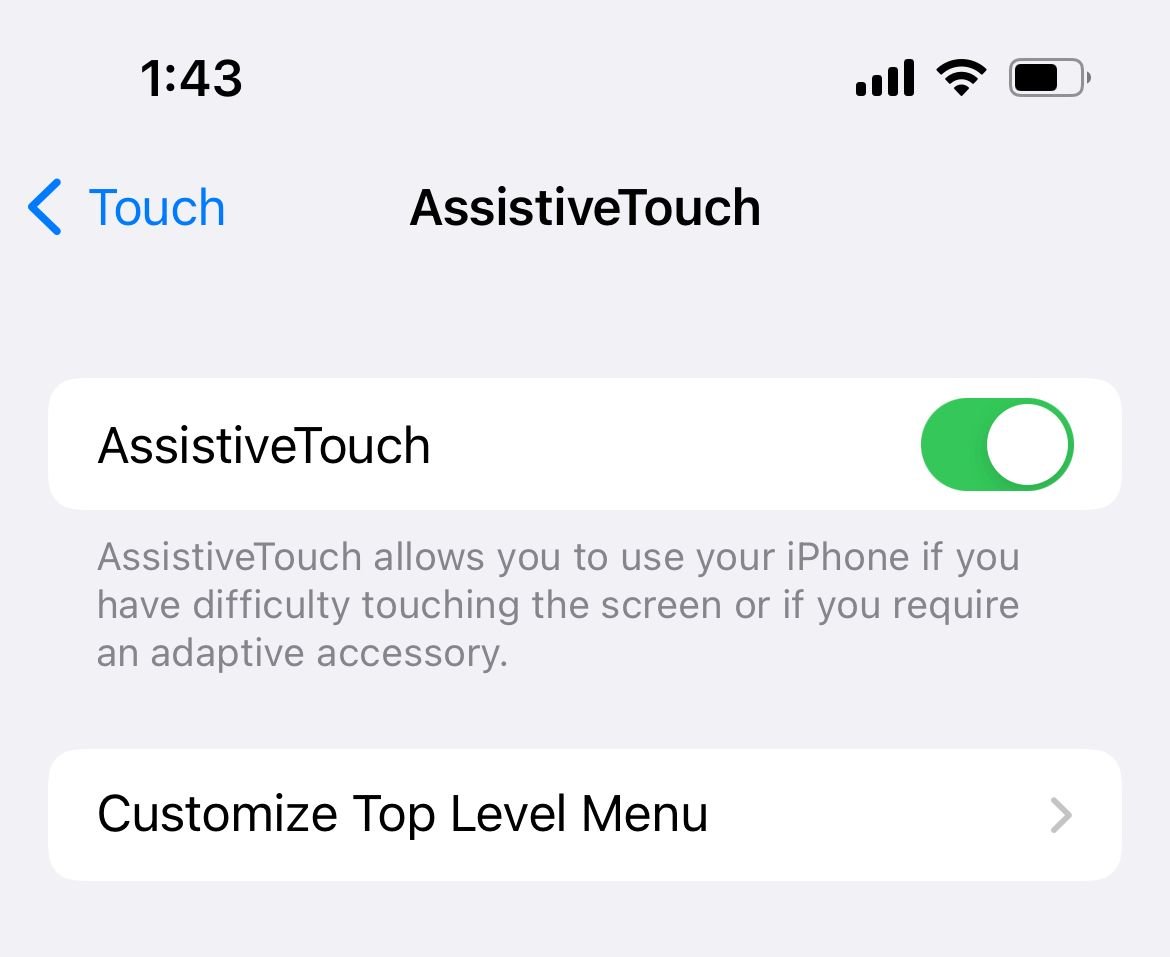 Click on the icon that shows up in the bottom right corner
Select Home
If you want to move it to another position, tap and hold, and drag the icon where you want.
ABOUT THE AUTHORS
Elizabeth
Elizabeth is your trusted Apple product expert with a wealth of knowledge and experience gained from her tenure as an Apple authorized personnel. She's also a seasoned mobile phone, Samsung, and Android expert. With a keen eye for detail and a passion for all things Apple, Samsung, and Android, she is dedicated to providing you with accurate, reliable, and up-to-date insights. Count on Elizabeth to be your go-to source for expert advice on navigating the world of Apple technology, Samsung devices, and the Android ecosystem.
Bogdana
Bogdana is your technology expert, backed by a strong foundation in consumer electronics and a range of qualifications that make her a trusted source in the tech world. With a deep understanding of the latest advancements and a passion for simplifying complex concepts, Bogdana is your go-to authority for demystifying technology and keeping you informed about the ever-evolving digital landscape. Trust her to deliver reliable insights and expert guidance to help you navigate the world of consumer electronics and beyond.