X
Our Editorial Process
Each year more than 60 Million users visit Technobezz to solve a problem or research a product. Our goal is that everyone finds what they are looking for, and that is why we cover a variety of products, problems, and solutions on our website.

Writing an article that contains a lot of valuable information may seem simple. But when the article is written, the story doesn't end. We are constantly updating the content so that you can always get up-to-date and accurate information.
---
Technobezz's Editorial Guidelines
What to do if the home button on your iPhone or iPad is not working? One of the solutions is replacing the button, in which case you would have to take your device apart.
It is not an easy thing to do and certainly not a recommended DIY option, especially if you have never tried something like that before and if your device is still under warranty.
We have some other, more straightforward solutions to share, which are effective.
What to do if the home button is not working on your iPhone or iPad
Consider
Ensure to remove all cases or screen protectors
Ensure the button area is clean
Consider restoring your iPhone or iPad firmware via iTunes or Apple music.
Solution No.1: Recalibrate the home button
This is probably the simplest solution. Here is what you should do:
Press and hold the power button
When "slide to power off" appears on the screen of your iPad or iPhone, release the power button and hold down the home button
Keep holding the home button until the home screen appears.
Solution No.2: Clean the home button
One of the main reasons why the home button won't work is because of debris, dirt, and dust, so what you should do here is clean the button.
Use rubbing alcohol (or 70 percent isopropyl alcohol wipes) and a cotton swab to clean the button. Also, the other option is to pour a drop or two on your finger, rub the button and then push the button around its corners.
Solution No.3: Portrait view/landscape view
This solution helped many. Follow these steps:
Press and hold the home button while your iPad or iPhone is in portrait view
Keep holding the button to turn the device into landscape mode
Turn your device back to the portrait view
While doing this, make sure that your device's screen rotates
Let go of the home button.
Solution No.4: 5-finger gesture
If the previous solutions didn't fix the home button, you can try this:
iPads running iOS 12-iOS 10:
Go to Settings > General > Multitasking and Dock
Set Gestures to on
To return to the Home screen, place five fingers on the screen and pinch all the fingers in – grab them together.
In iPadOS: Navigate to Settings > Home Screen & Dock. Tap the Gestures toggle switch to turn gestures on or off.
Solution No.5: Assistive touch
If you don't like the 5-finger gesture solution, you can create the Home button on the screen. Here is how you can do that:
Go to Settings
Tap on Accessibility
Tap Touch
Tap on Assistive touch and turn it on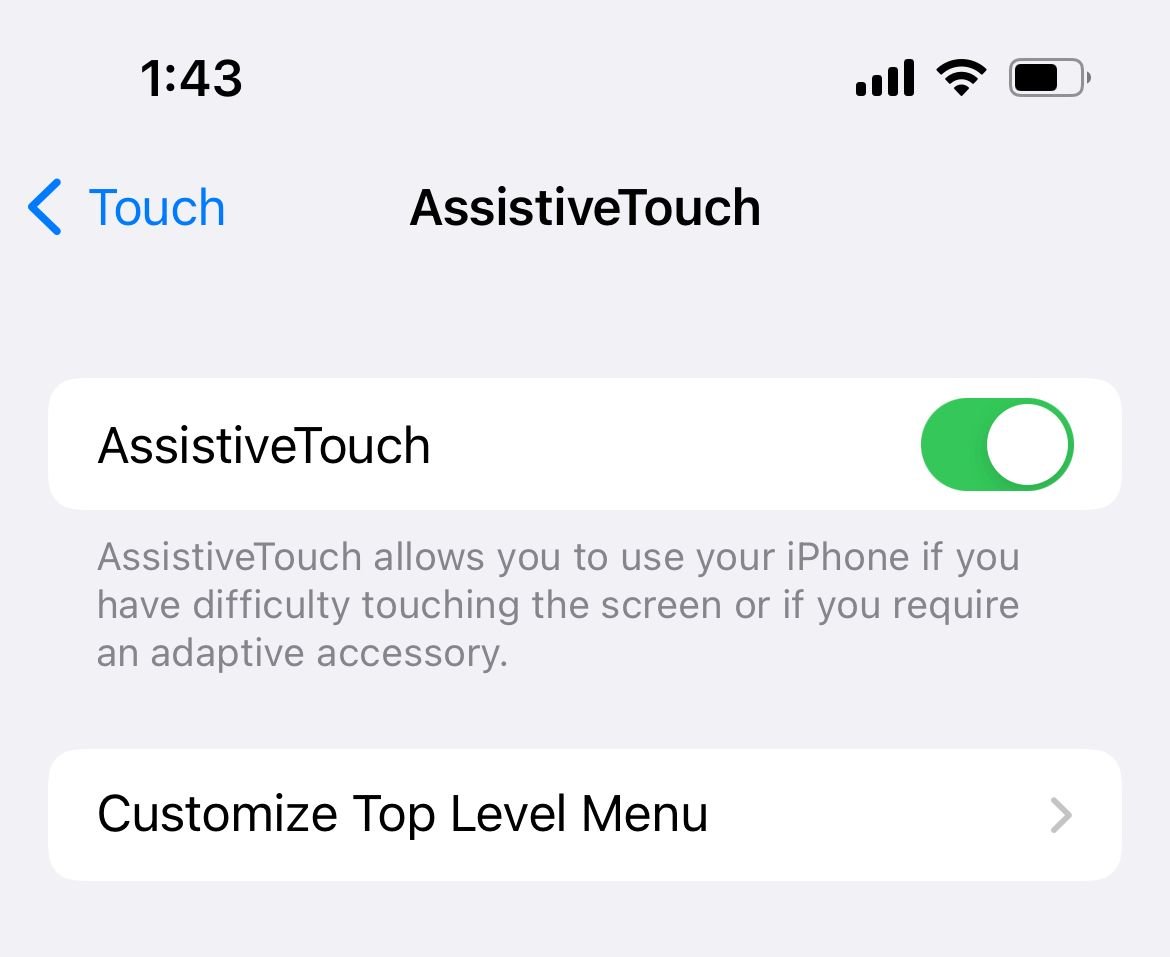 Click on the icon that shows up in the bottom right corner
Select Home
If you want to move it to another position, tap and hold, and drag the icon where you want.
Was this article helpful?
This helps us improve our website.