Technobezz is supported by its audience. We may get a commission from retail offers
Keyboards are essential for the programmers. Having a sturdy and reliable keyboard is very important. If you
X-Bows Ergonomic Keyboard Lite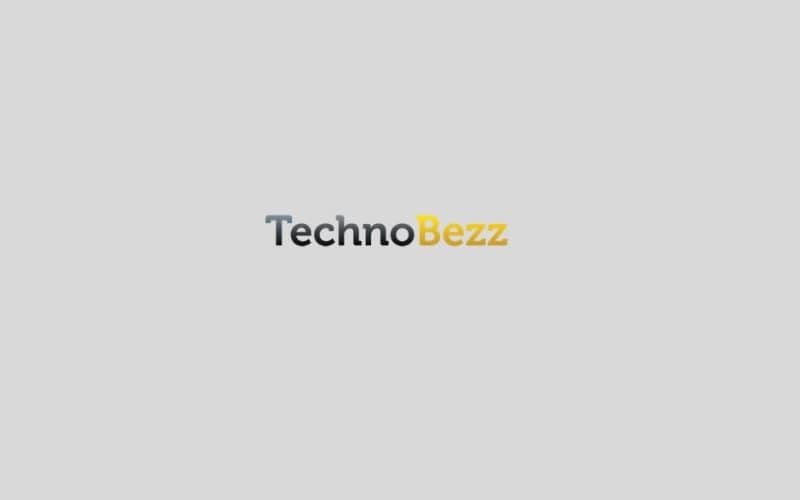 GOFREETECH RGB Wired Mechanical Keyboard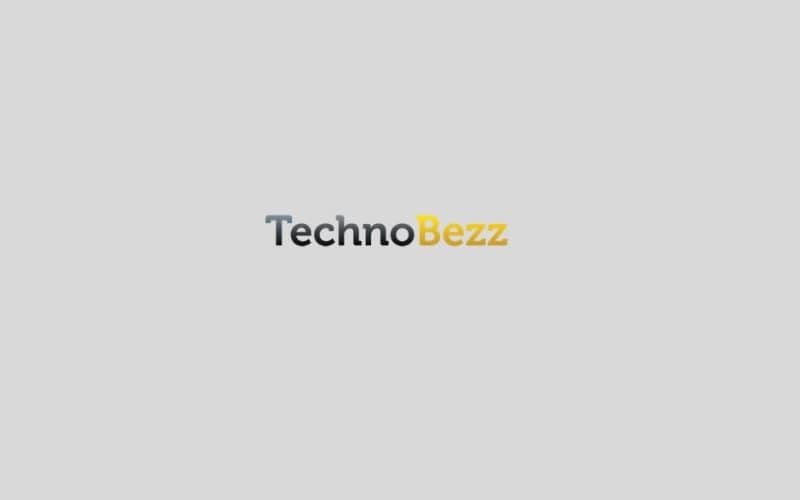 Asward 3000 Mechanical Keyboard by Yeyian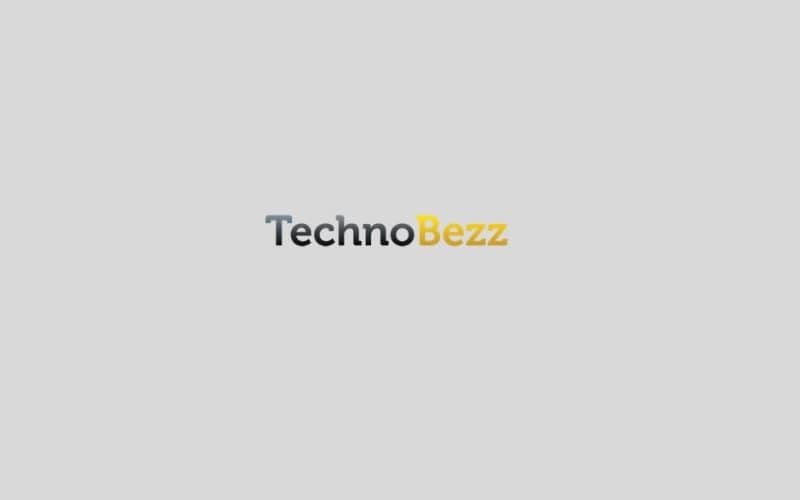 Table of Content
Keyboards are essential for programmers. Having a sturdy and reliable keyboard is very important. If you are looking to buy one, but not sure where to start, this article is for you.
Buying Guide
There are several factors one needs to look at while buying a keyboard, especially for programming purposes. Following are some of the most important factors -
Ensure the build quality is good
Pick a layout you are comfortable with
Check if RGB lighting modes are present
Decide whether you need a Numpad or not
Do the keys make noise while typing?
Check for wrist support
Check whether it is water and dust resistant
Here is a list of the best keyboards for programming.
See Also: Top Best Gaming Laptops under $1000
Best Keyboards For Programming
An Ergonomic Programming Keyboard with a Quirky Design
X-Bows Ergonomic Keyboard Lite

This keyboard, primarily designed for gaming, has a unique X-Bows layout which makes typing a way more comfortable task than what it usually is. The layout divides the keyboard symmetrically and provides easier access to the Shift, Ctrl, and Enter keys. The backlighting is smooth and can also be programmed as needed. It comes with a detachable USB-C cable which hasn't been very impressive so far.
The software of the keyboard is also impressive with great options for customization. The user can easily remap the keys on the keyboard to suit their preferences. Users can also easily set up shortcuts for their preferred macros without any fuss.
If you are looking for something that gives your wrists a little less stress when you type for the whole day, this keyboard perfectly fits in for your requirement.

The software is smooth and makes customization easy.
Ergonomic layout

Good build quality

Easily customizable software
USB-C connectivity issues

Not very durable
A Sturdy and Quiet Keyboard Ideal for Programming
GOFREETECH RGB Wired Mechanical Keyboard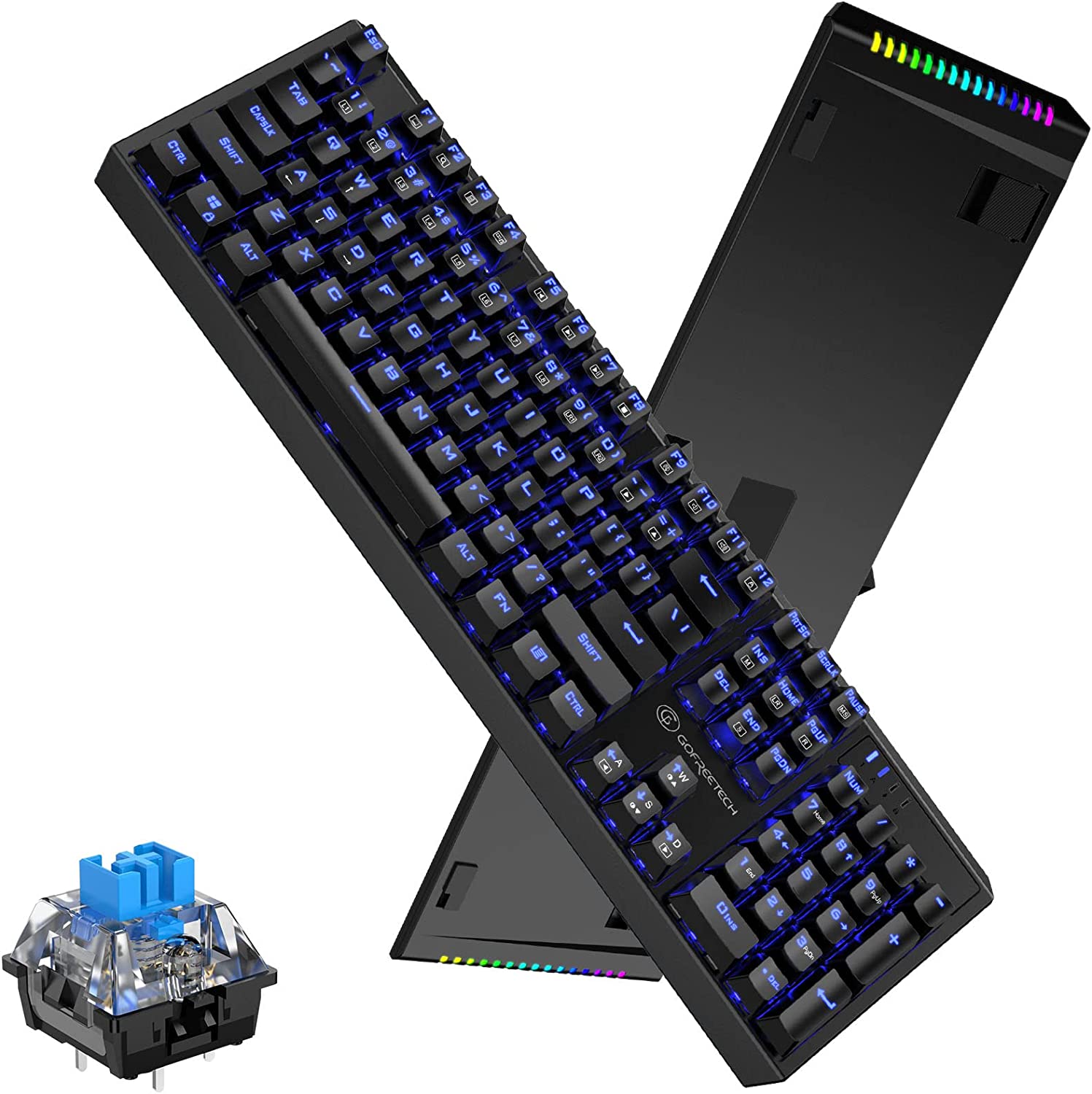 The keyboard's highlight is its design and builds quality that provides comfort while lasting the test of time. The design is spill-resistant, which means any accidental spillage of coffee or any other liquid while one is working on the keyboard won't cause any damage to it. The backlight is blue and offers 9 different modes. The brightness of the backlight is also adjustable.
The keys provide the mechanical tactile clicking experience while being surprisingly quiet. The keys are not as loud as they usually are on a mechanical keyboard. The compatibility is also almost universal, meaning you can use them with any OS. The USB connector is also of high quality and provides a connection without much fuss.
The design and build quality provide comfort for long-term use and are just about unbeatable at this price range.

This is the ideal choice for programmers looking for a sturdy keyboard that lasts the test of time.
Sturdy design

Spill-resistant

Quiet and responsive keys
Bulky

No additional wrist support
Keyboard with a Modern Design for a Quiet Typing Experience
Asward 3000 Mechanical Keyboard by Yeyian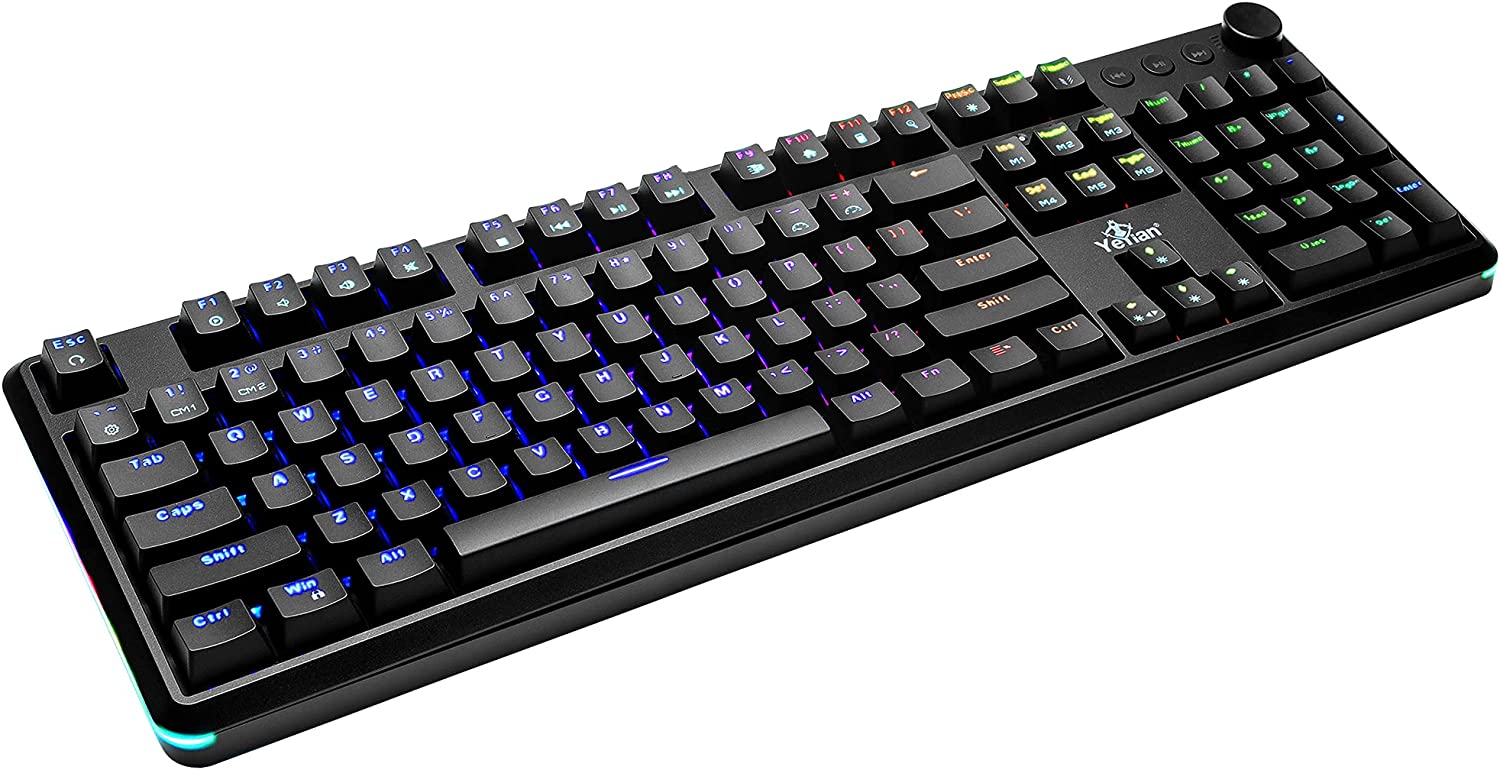 This exquisitely designed and stylishly backlit keyboard from Yeyian provides a premium experience without leaving a big hole in one's pocket. The keyboard is backlit by rainbow RGB LED and has 18 customizable effects. The keys are well spaced and are built with the N-key Rollover technology that helps minimize typing errors.
The keyboard is graded to be IP42 water and dust resistant and is also splash-proof because of its design. The build quality is solid and uses steel in its construction. The nylon braided cable and gold-plated USB connector ensure fast responses and no connection issues.
For programmers, the primary reason to buy this can be the quiet operation and smooth typing experience.

The backlit keyboard is easily customizable with multiple options that can work well with any office setup.
Steel body

Quiet performance

IP42 Resistance
Difficult to understand keycap fonts

Non-removable cable
A Low Priced Keyboard with a Beautiful Design Ideal for Programming
MageGee Wired Backlit Keyboard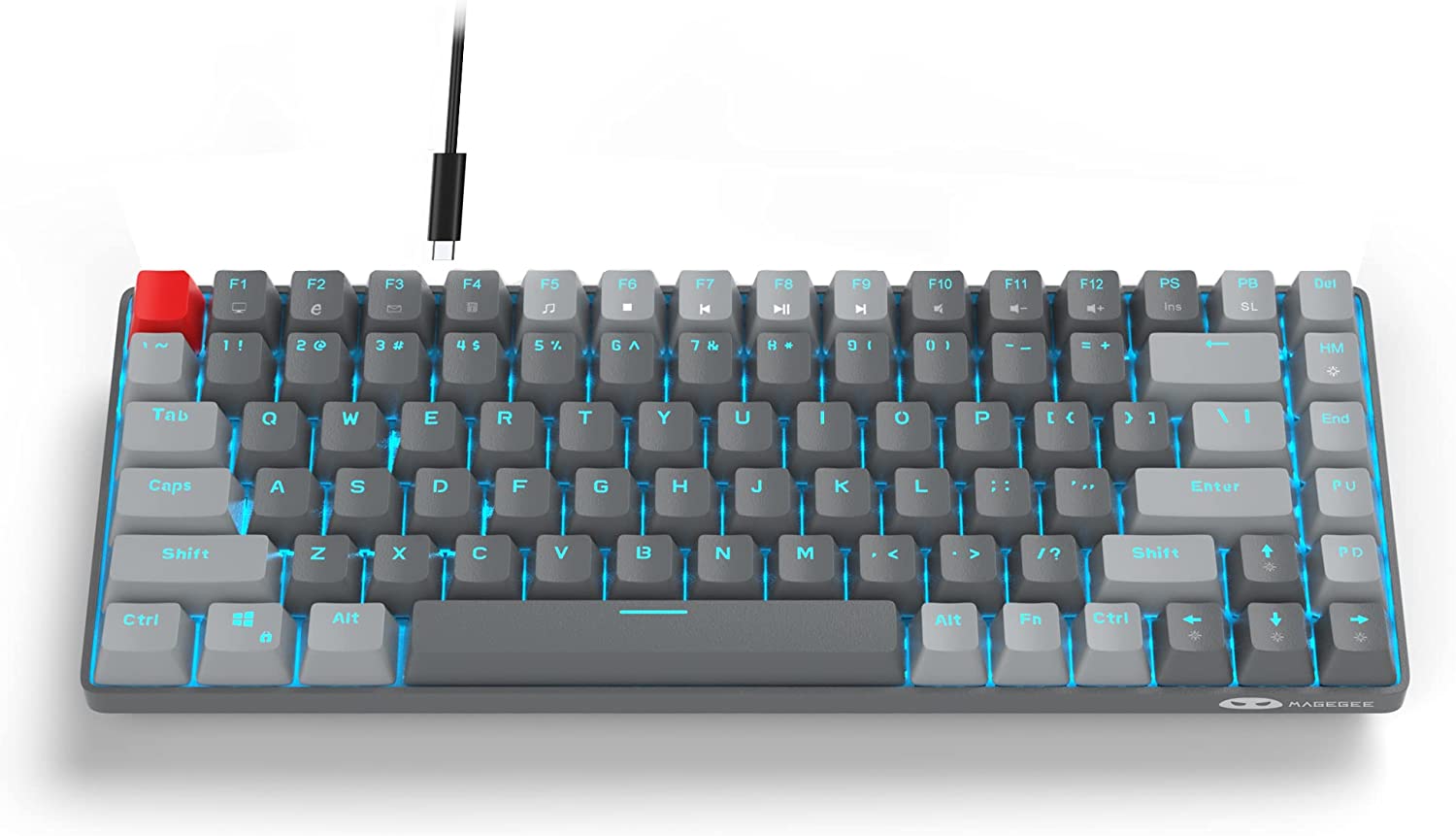 This MageGee from keyboard comes with a lot of ifs and buts but if you're looking for something that can let you sit on it for long hours and deliver a quiet and comfortable typing experience, it can do the job for you. The highlight of this keyboard is its beautiful design that has an ice blue backlight to go with its metal panel. The USB type-C cable is detachable but is not very solid.
The keyboard has just 84 keys that are closely spaced which makes typing a bit easier. All the keys are anti-ghosting switches. The height is adjustable and the backlight to has 18 modes to choose from for customization. The keyboard is compatible with Windows and macOS.
Why Should You Buy This?
It is one of the best keyboards at this price point, offering a modern ergonomic design and a quiet typing experience.

The keys are closely spaced and provide a much better typing experience than most of the other keyboards.
Pros
Closely spaced keys

Beautiful design

Anti-ghosting keys
Cons
Poor USB-C cable quality

Not long-lasting
The Perfect Keyboard for a Creative Programming Setup
RedThunder K10 Keyboard Mouse and Wrist Rest Combo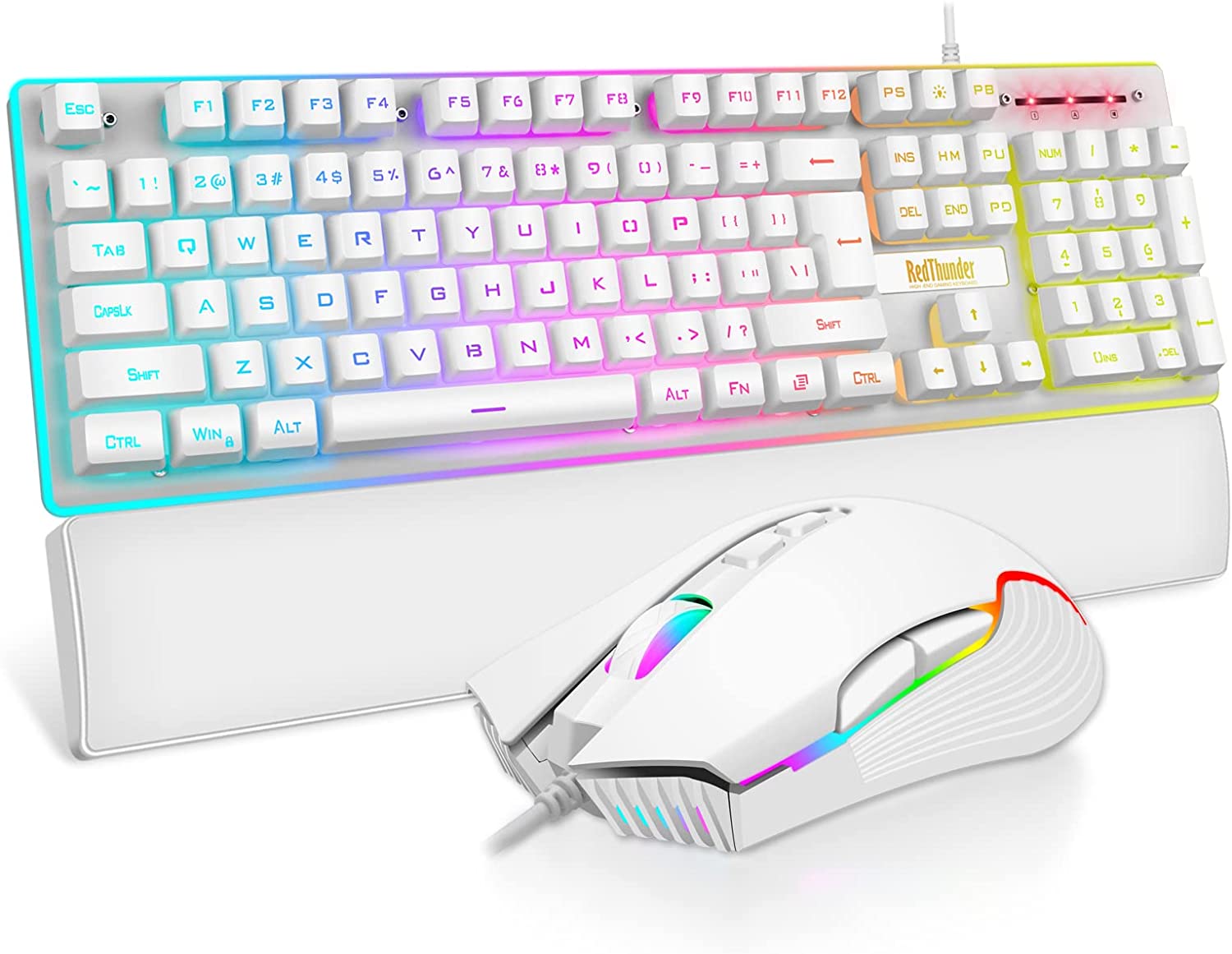 Coming with a full-sized wrist rest, the RedThunder K10 delivers comfort with top-notch aesthetics. The key highlight of this keyboard is its RGB setup that can be easily customized to deliver an impressive aesthetic.
The build quality is very strong with the steel plate of the keyboard being durable and sturdy. The leather wrist rest allows you to use the keyboard for a long time without any discomfort. The keycaps are non-fading and also not so slippery to ensure your codes are free of any spelling errors.
If you're looking for an aesthetically appealing and comfortable keyboard, the RedThunder does seem to be a thunderous choice for your setup.

Another key reason that makes this keyboard a worthy buy is its durability.
Durable build quality

Aesthetically appealing

Additional Fn Function
Keys are not quiet

Irregular key spacing
A Simple and Quiet Keyboard for a Budget Programming Setup
Powzan Quiet Light Up Keyboard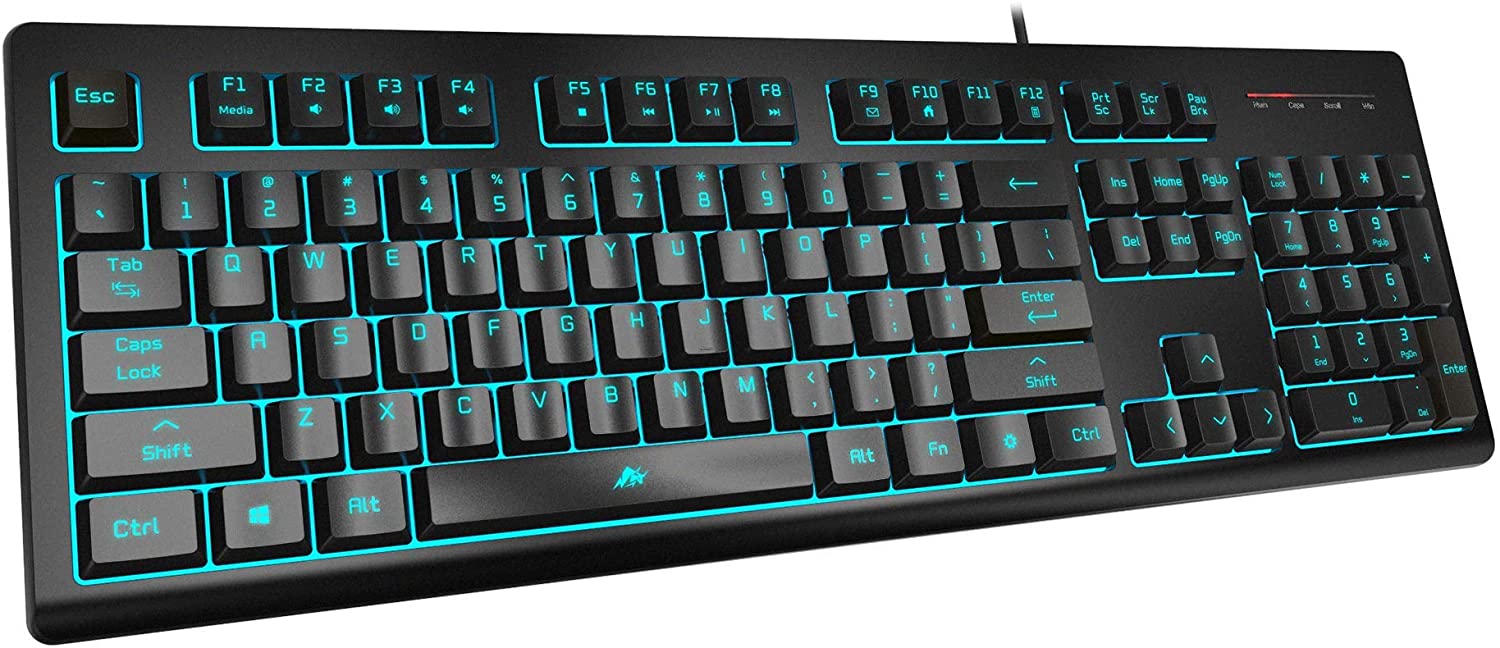 A simplistic design with a quiet typing experience highlights this keyboard from Powzan. The keyboard is backlit by 7 colors and comes with a very easy customization setup. The user can use pre-specified shortcuts to change the backlight color, add a breathing effect, or adjust the brightness levels.
The key alignment is regular and the spacing is also very convenient. The USB connectivity is also pretty decent and sturdy and does not break down very easily.
Why Should You Buy This?
The simplicity of this keyboard makes it a must-buy. The quiet performance, the bright lights, and the solid build quality make it a near-perfect choice.

The key spacing on this keyboard is exquisitely comfortable and makes a strong case for itself.
Pros
Comfortable key spacing

Bright backlight

Lightweight yet durable
Cons
No dedicated media buttons

Only compatible with Windows
Conclusion
The best keyboards for programming are the ones that are compact, use nice keys, and are wireless. The gaming keyboards can double up as great choices for coding while you can also go for a multi-purpose model that connects with smartphones or the one with a track-pad. It's all about personal convenience so that you could experience the best comfort when programming.
See Also: Top best laptops for programming
---