Featured in this article (opens in new tab)
Confused about getting one of the best laptops for personal use? Feeling overwhelmed with all the options on the market? In today's world of abundant choices, even a simple thing like shopping for a laptop can be very intimidating. Technology is moving at blazing speeds, and almost everyone is trying to catch up. We have come a long way from where we were just a few years ago. Today it is possible to get an extremely well-performing laptop at affordable prices. The same couldn't have been said 2 or 3 years ago.
Looking for the best laptop for personal use? There are hundreds of laptop types flooding the market, from models with affordable prices to more sophisticated, expensive ones. It can confuse you when picking the best one. How to find the best laptop? First, you think about your needs, then you can start to classify the laptops according to your needs before you choose the best one. For example, if you are a gamer, who mostly uses the laptop for playing games, then you can search for laptops with an excellent GPU to process graphics, a minimum of 4GB RAM, and a great processor. As a business person, you can focus on laptops with connectivity ports and fingerprint sensors for security, besides a great processor. What if you are looking for a laptop for your personal use only? What is the best laptop for personal use? Usually, you only use this laptop for browsing, checking email, socializing, playing light games, and light productivity tasks. So, you will not need a big amount of RAM or an excellent GPU.
If you are confused about which laptop to buy, do not fret because we have assembled a great list of the best laptops available in the market for personal use. With so many options available, it is necessary to break down your requirements so that you can buy the product that best suits your personal needs. Some people look for laptops that can play the latest games, whereas others just need one for watching their favorite movies and TV shows. Some require a blend of the two but aren't interested in buying an expensive laptop.
Many people buy laptops based on hype and marketing, without doing the necessary research, only to discover that they wasted their hard-earned money on inferior products. To get the most value out of a product, you need to do the necessary research and go in-depth on its features, advantages, disadvantages, etc. When you get all the facts, you can then make an informed decision based on your personal preferences and get the right laptop.
Buying Guide
Finding the best laptop for personal use must focus first on what "personal use" really means. It could be just watching movies, videos, or playing games. A search for a laptop for personal use will, therefore, start with some clarity on this score. However, as dealt with in the paragraphs above, there are some basic specifications and details of laptops available in the market that can help you make the right choice. Here are some tips.
Laptop Size: The market has laptops that range from 11-12 inches to 17 inches. The size suitable for you will be based on whether you would be using it while traveling or while moving around or from a fixed location. If you carry the device around, a smaller size will be most suitable.
Processor: A laptop for personal use should be fitted with a decent processor to get a smooth performance from it. Try to settle on an Intel Core i7 or the i5 latest generation processor. You should see if the processor's clock speed is closer to 3GHz.
Graphics: Graphics support to the processor will be critical if you plan to use the laptop to play fast games. Otherwise, a regular graphics unit would do.
RAM: Modern laptops come with 8 GB RAM, which should be good enough for you to carry out your regular activities.
Battery: You would want the battery in your laptop for personal work to be powerful. It should last several hours before you look for a power supply to recharge the battery.
Storage: Check if the laptop has at least 500 GB of onboard storage. If it is 1TB, you may feel comfortable.
Audio: Normally, laptops for personal use are used by people who spend long hours watching movies or videos. Audio delivery has to be the best available in the market. You do have the option of adding external speakers to enhance sound delivery.
Connectivity Options: Again, the latest models of laptops for almost all brands are good with multiple options for connectivity. This includes additional displays, printers, mice, etc. Think of your particular needs for direct and wireless connectivity and ensure that the laptop you are buying has them all.
Price: When choosing a laptop for personal use, you may not be very fastidious about its price. However, you get a range of prices, and you can choose the machine that ticks all the boxes and is still affordable.
Below we have compiled a list of versatile, affordable, cheap, and versatile high-end machines so that you can find the laptop perfect for your needs. Well, what are you waiting for? Head down and check out the amazing options we have for you.
List Of The Top Best Laptops For Personal Use
A Lightweight Laptop with Fingerprint Reader
Lenovo IdeaPad 3 Touchscreen Laptop
Check Price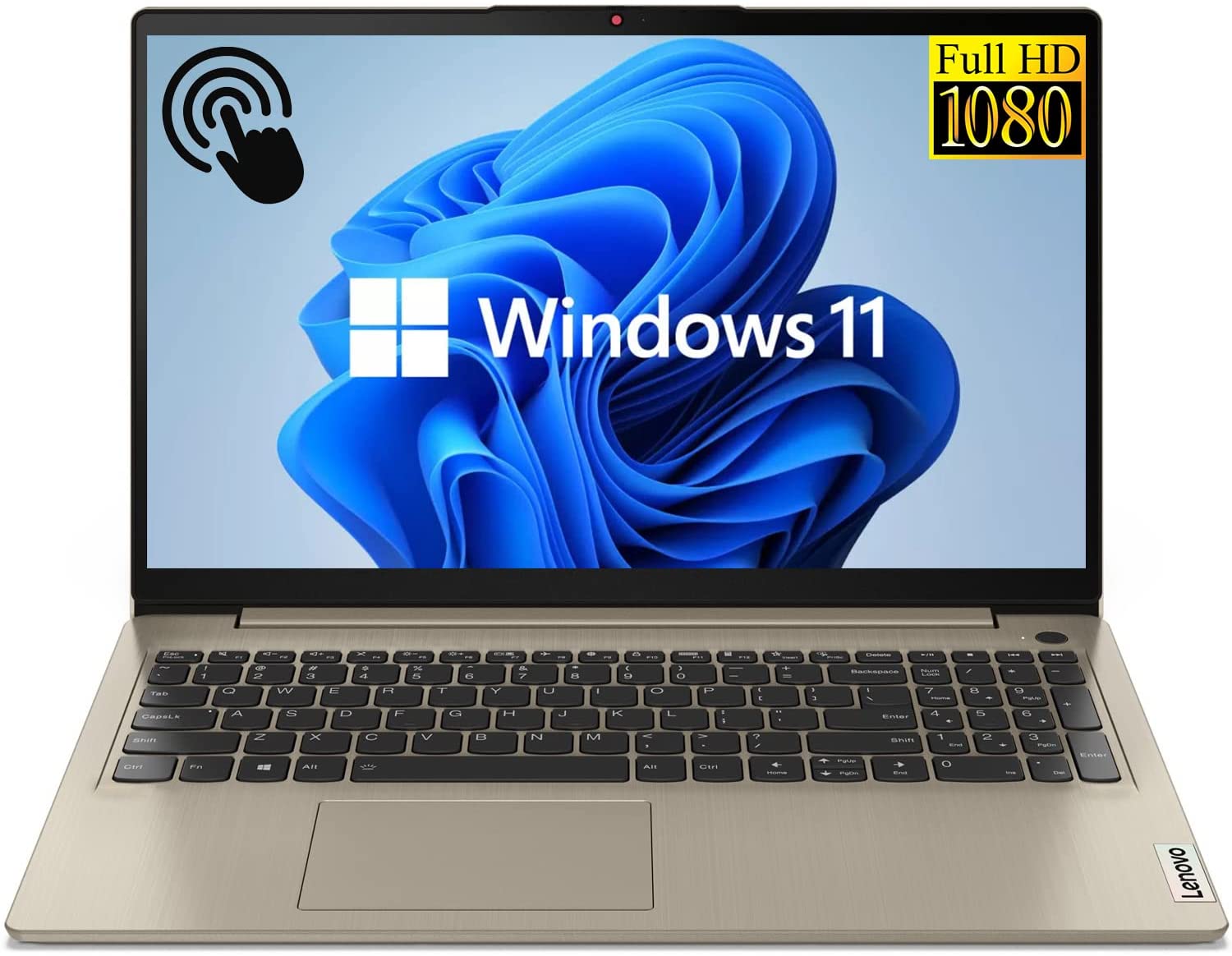 This Lenovo laptop has a 15.6-inch FHD IPS touchscreen with 1920 x 1080 screen resolution. The LED screen also features antiglare properties and renders 300 nits brightness. The laptop houses 8GB DDR4 RAM, a 256GB solid-state hard drive, a dual-core Intel i3-1115G4 processor clocking in at 4GHz, and a dedicated Intel UHD graphics processor. The product is loaded with a 64-bit Windows 11 operating system.
The laptop encompasses an inbuilt webcam with a 720p camera featuring dual-array microphones and a private shutter. It also incorporates a 4-in-1 card reader and two Dolby Audio 1.5W speakers. The product has a slew of ports, a USB 3.2 Gen 1 port for Type A and Type C, a Type A USB 2.0 port, an HDMI port, a headphone/jack combo port, and an AC port. The laptop supports Wi-Fi 2 x 2, 802.11 ac and Bluetooth 5.0 connectivity options and is powered by an integrated 38Whr battery.
The sand color option gives the laptop a distinct appearance compared to the standard black-colored laptops.

The product renders less strain on the eyes when working for long hours because of the antiglare property.

The laptop prevents unauthorized access because of the fingerprint reader that can be used to scan the fingerprint for login purposes.
Ample storage for graphics and arts

Long battery life

Lightweight and easy to carry around
Occasional blue screen without normal booting

Slow loading and performance
A High-Speed Laptop with 20GB RAM
Acer Aspire 5 Backlighting Enabled Laptop
Check Price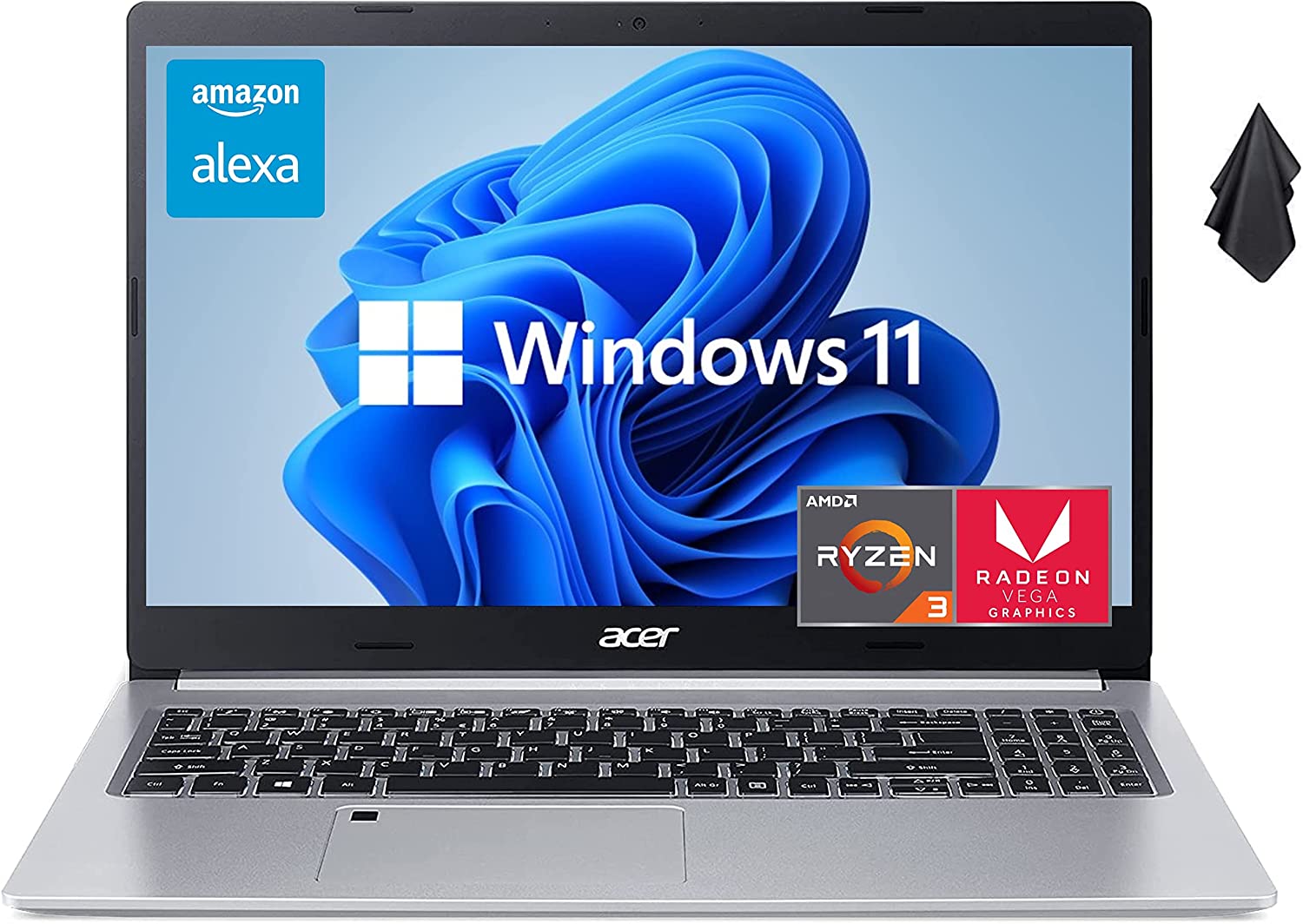 This Acer laptop has a LED-backlit IPS Full HD 15.6-inch widescreen display with 1920 x 1080 screen resolution. The laptop also features a backlit keyboard. The product incorporates 20GB DDR4 high bandwidth RAM and a 1TB solid-state hard drive. Both RAM and hard drive storage can be expanded. It encompasses an AMD Ryzen 3 3350U quad-core processor with a clocking frequency of 2.1GHz and a Radeon Vega 6 graphics coprocessor.
The laptop comes installed with a Windows 11 operating system. The product has a Type C USB 3.1 Gen 1 port, a GDMI port, a USB 2.0 port, and a Type A USB 3.1 Gen 1 port with power-off charging for data transfer. It has Wi-Fi 6, Ethernet, and Bluetooth 5.1 connectivity options. The laptop supports Alexa, a fingerprint reader, dual stereo speakers, and a TrueVision HD camera with integrated dual-array microphones. It is powered by a battery with an average life of eight hours and comes with a microfiber cloth.
The widescreen allows you to watch your favorite content on display with the effect of viewing them on a large screen.

The laptop can operate with voice-based commands partly because of Alexa support.

The product supports long hours of uninterrupted use due to the long life of the battery.
Smooth multitasking and browsing experience

Comfortable nighttime use due to backlighting

Several port options
Chances of the charging cord breaking easily
A Sleek Laptop with Four Color Choices
Microsoft Surface 4 Aluminum Chassis Laptop
Check Price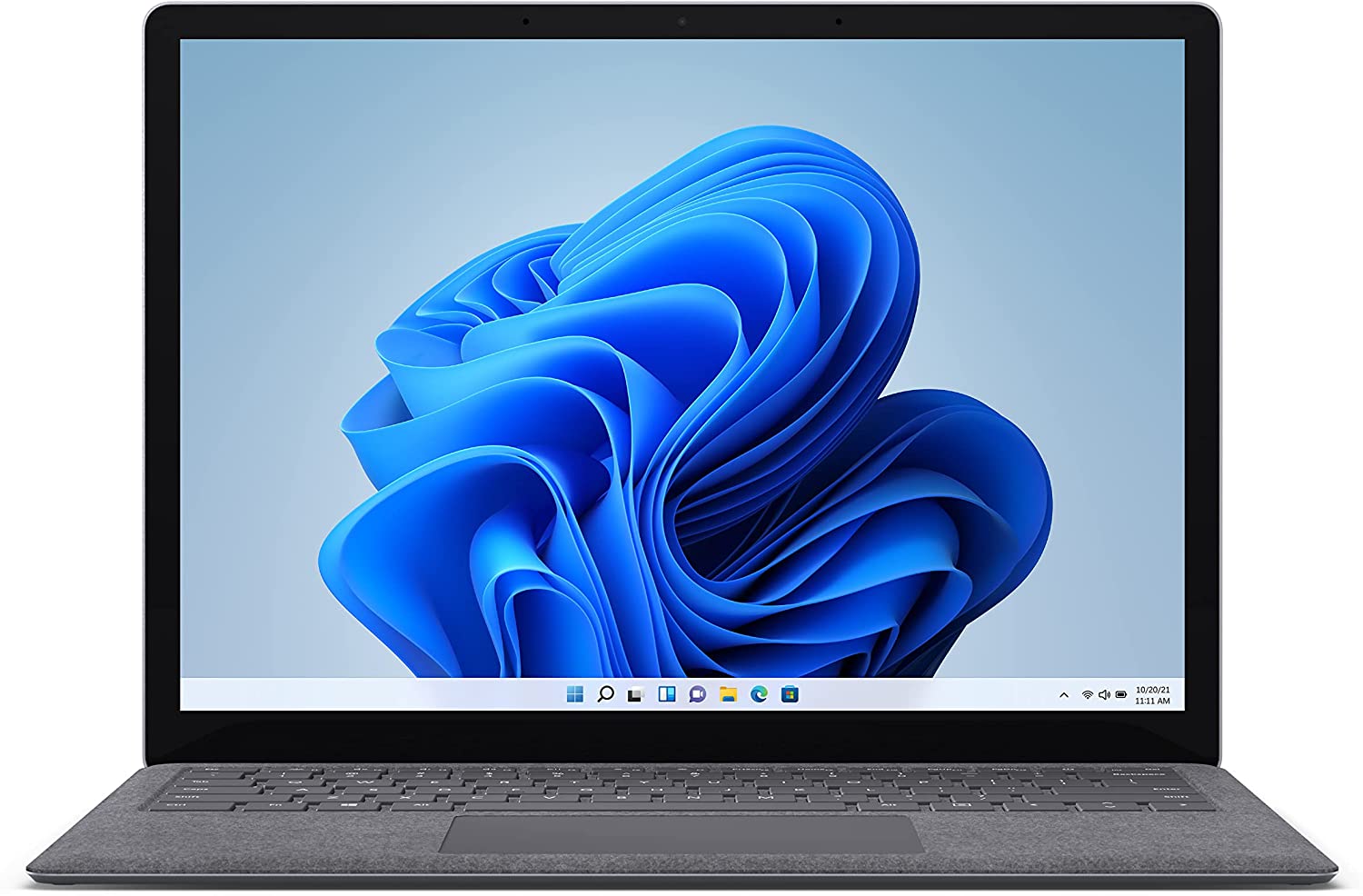 The Microsoft laptop sports a 13.5-inch Pixel Sense touchscreen with 2256 x 1504 screen resolution and pen input. The laptop features a six-core Microsoft Surface edition exclusive 2GHz AMD Ryzen 5 or Intel processor and Microsoft Surface edition AMD Radeon, Intel Iris Xe graphics coprocessor. The product also has 8GB of RAM and 265GB of solid-state hard drive storage. It comes preloaded with Windows 10 operating system.
The laptop has a lightweight, thin and elegant appearance. The front-facing 720p HD camera portrays sharp audio and image quality. The product also features Dolby Atmos 6 Omnisonic speakers and two far-field studio microphones. It has two USB 3.0 ports, one of Type A and Type C, and a headphone jack. The Wi-Fi 802.11 ax compatible laptop receives its power through a lithium polymer battery with an average lifespan of 11.5 hours. It is available in color options: ice blue, platinum, matte black, and sandstone.
The laptop performs exceptionally fast and does not show any lag in operation.

The excellent audio and video quality make chatting with family and friends a memorable experience.

The product is available in different color options based on individual preferences.
Sleek and stylish appearance

It supports long working hours with a single charge

Optimized key travel and response time

Reduced background noise with microphones
Priced on the higher side

No SD card reader
A Micro-Edge Display Laptop with Windows 11 Pro Operating System
HP Pavilion 15-eg0025nr Compact Design Laptop
Check Price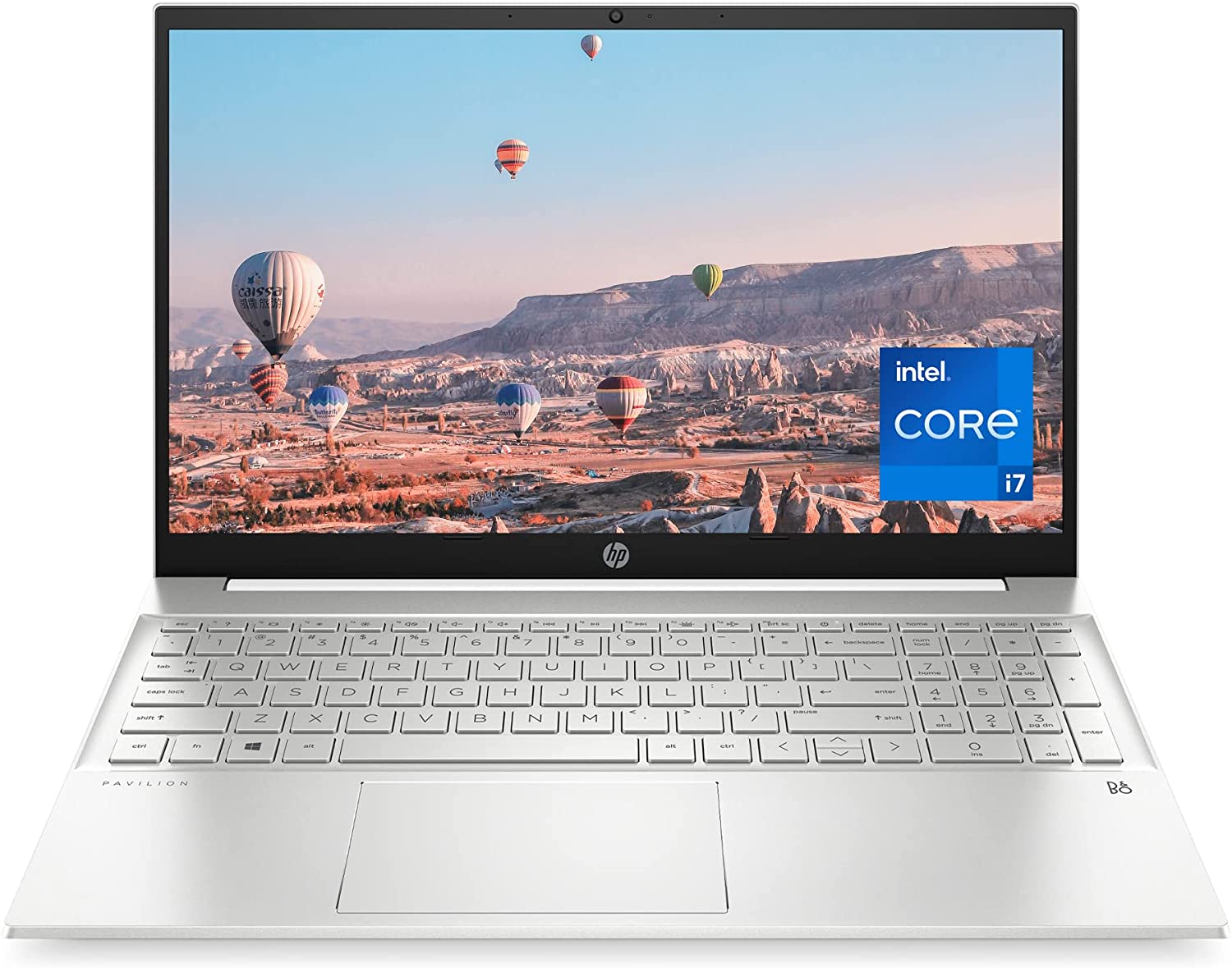 This HP laptop is equipped with a 15.6-inch micro-edge Full HD IPS screen display with a large screen-to-body ratio and 1920 x 1080 screen resolution. The laptop is fitted with 16GB DDR4 RAM, 512GB SSD hard drive storage, a quad-core 4.7GHz i7-1165G7 processor, and an Intel Iris Xe graphics coprocessor. The product features the Windows 11 Pro operating system.
The laptop incorporates a BrightView panel and audio support by B&O. It encompasses three USB 3.0 ports. The thin product uses a lithium-ion battery with an average lifespan of eight hours. When switched off, the battery can charge from 0% to 50% in just 45 minutes. The laptop offers Wi-Fi 2 x 2 and Bluetooth 5.0 combo connectivity.
Why You Should Buy This
The inbuilt HP QuickDrop utility facilitates the wireless transfer of files between the laptop and a PC.

The laptop displays crisp and clear images thanks to its excellent graphics coprocessor.

The natural silver aluminum color gives the laptop casing a classy metallic appearance.
Pros
No need to use cables for file transfer

Fast charging support

Maximized viewing experience due to micro-bezels
Cons
Key visibility is poor at night or in a dark setting

Failing network adapter
A 16:10 Aspect Ratio Laptop with Lid Sensor
DELL XPS 13 9310 Dual Fan Laptop
Check Price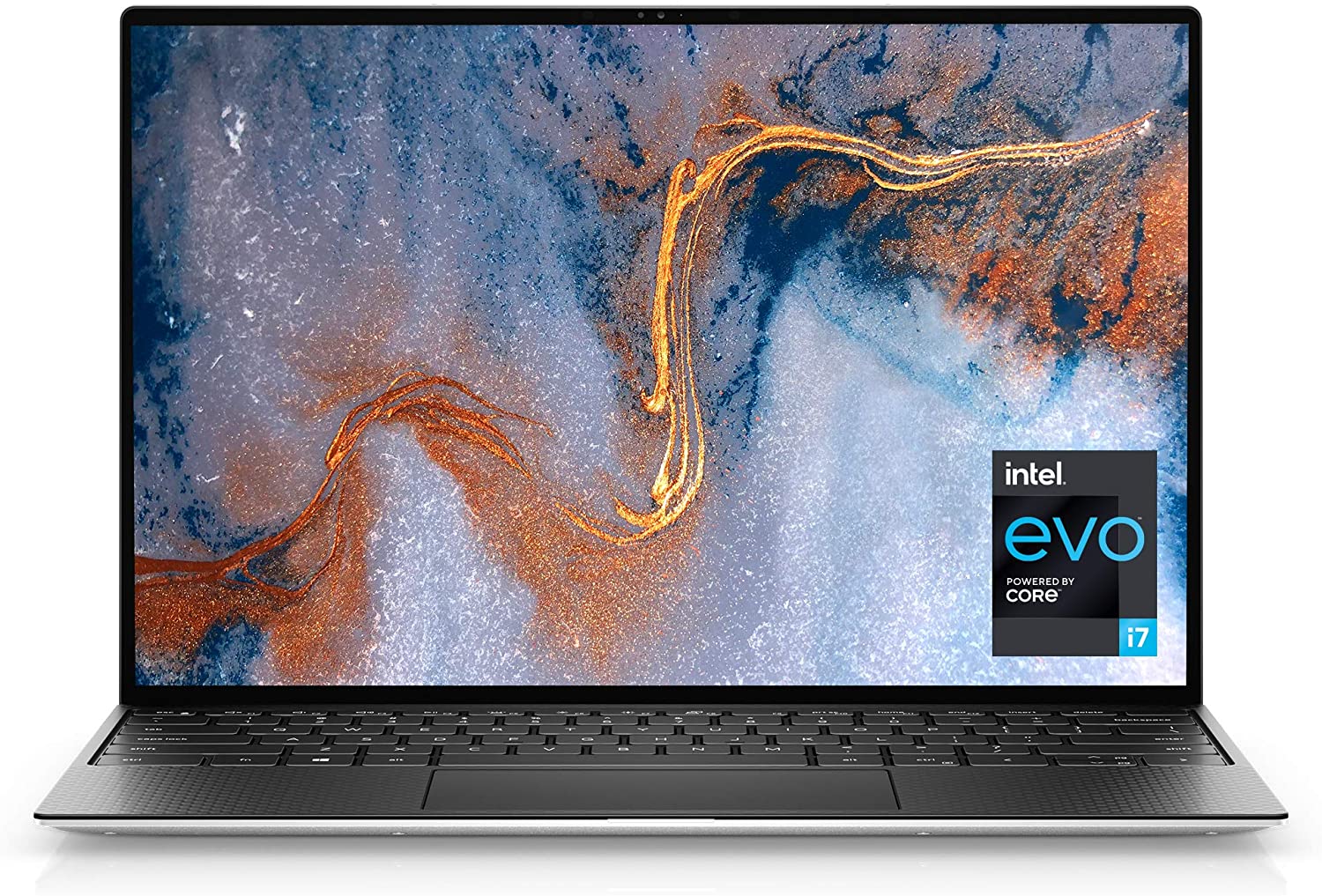 This Dell laptop has an incredible display for its touchscreen. The laptop features a 13.4-inch FHD+ InfinityEdge display with 1920 x 1200 screen resolution, 500 nits brightness, 16:10 aspect ratio, and anti-reflective property. The product has a quad-core Intel Core i7-1195G7 processor and an Intel Iris Xe graphics card with 2GB shared graphics memory along with 16GB DDR4 RAM and 512GB solid-state hard drive storage. It features a Windows 11 Pro operating system.
The silver-colored laptop has two cooling fans away from each other for uniform spreading of heat over a large area. The product comprises a carbon fiber palm rest and is designed using machined aluminum. Its inbuilt lid sensor allows you to power up the laptop in very little time when the lid is opened. The laptop supports Wi-Fi 6 connectivity and a slew of ports. The product receives its power by means of a 45W lithium-ion battery.
Just a simple touch can activate the power button on this laptop.

The product has an integrated Eyesafe technology that minimizes harmful blue light.

The antiglare coating offers screen clarity outdoors and in other bright light settings.
Durable and rugged because of the carbon frame material

Pinpoint screen accuracy without having to zoom through

It comes with an SD card reader
Poor battery life and requires frequent charging

No separate numeric keypad
An ENERGY STAR Certified Laptop with Microsoft Office 365
ASUS Wide Viewing Angle Laptop
Check Price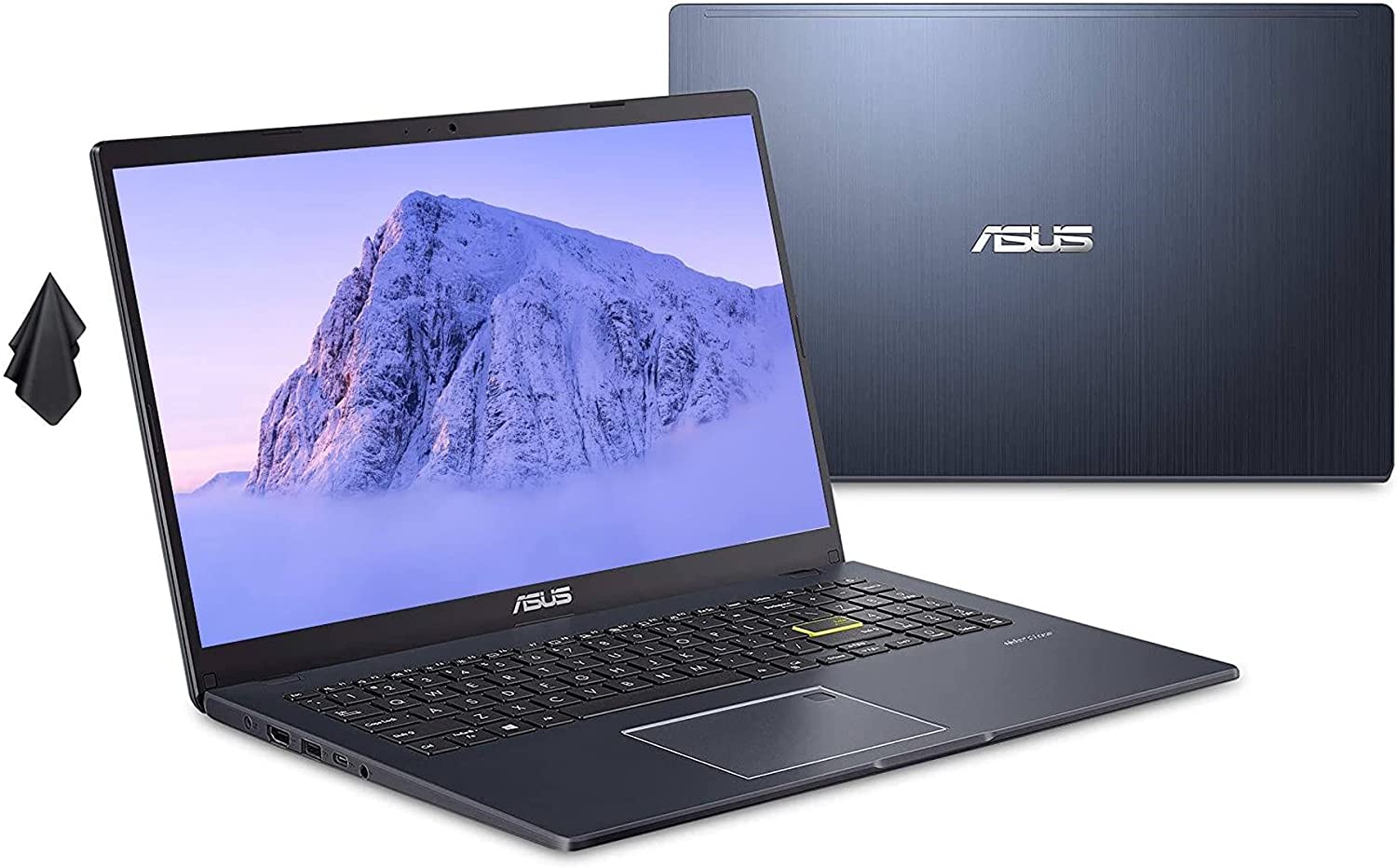 This ASUS laptop has a 15.6-inch FHD NanoEdge display screen with a 1920 x 1080 screen resolution. The laptop has 4GB DDR4 RAM, 256GB hard drive storage, a dual-core 1.1GHz Intel Celeron N4020 processor, an Intel UHD 600 graphics coprocessor, and a backlit keyboard. The product works on a Windows 10 Home operating system and has free Microsoft Office 365 support for one year.
The laptop comes with Energy Star certification and ensures low power consumption. It has two standard USB ports, a Type C USB 3.2 Gen 1 port, a microSD connection port, and an HDMI port. The product renders Wi-Fi 5 802.11 ac connectivity support. The laptop is charged by a lithium polymer battery with a life of slightly more than eight hours.
Why You Should Buy This
The laptop comes with a narrow bezel design that gives the feel of using a large screen.

The product helps improve work efficiency by facilitating the smooth running of several browser tabs and/or applications simultaneously.

The ultra-thin feature enhances the portability of the laptop, making it a good choice for on-the-go use.
Pros
Fast internet connectivity for a memorable online experience

Keys visible in dim light because of the backlight setting

178° wide viewing angle
Cons
No Ethernet connectivity

The camera

quality is not up to the mark
You may also read: Top Best Laptops for Kids
Best Cheap Laptop And Tablet
Asus Chromebook Flip
Check Price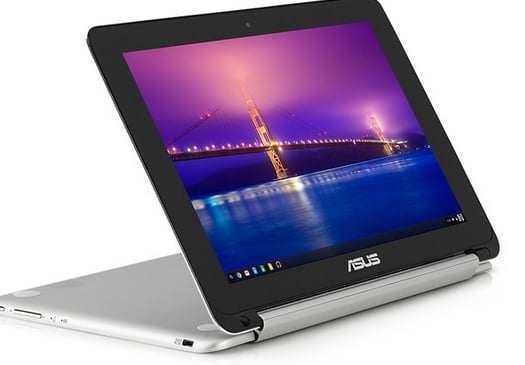 Chrome OS has turned exceedingly robust and has the capability to do a lot more than what it started with. The 10.1-inch Asus Chromebook Flip is a fully metal Chromebook that doubles as a tablet if you need something more portable. The 1.8 GHz Rockchip processor it houses makes it more powerful than other Chromebooks, and the 4GB RAM and 64 GB eMMC storage add up to decent specs for a laptop that can perform average tasks without lag. The lengthy battery life will ensure that your laptop keeps you entertained through a road trip and its responsive touch controls make it very easy to use. Its 10.1-inch screen means that you have a smaller keyboard and trackpad. While some may find this to be fine, others may not like the laptop's small size. Keep this in mind if you plan on investing in this laptop.
Why should you buy this?
From personal to professional uses, this efficient Chromebook covers the demands of the users by enabling easy communication, sharing files, and playing games.
The built-in Rockchip processor is great at enhancing Chromebook's compatibility with Android apps and games.
The device's stellar battery life, versatility, and portability render the value for the money.
Best Laptop From LG
LG Gram 14
Check Price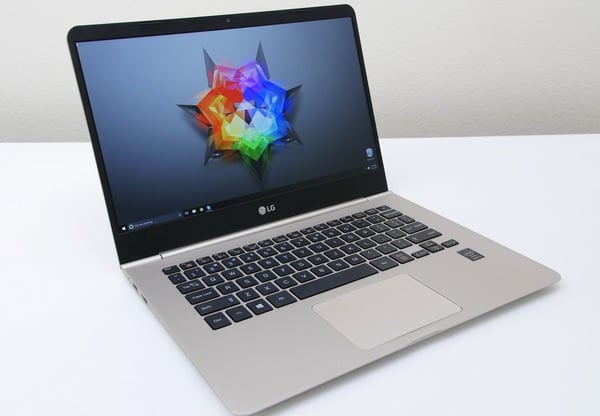 A 14-inch laptop with a powerful Intel Core i7 processor, the LG Gram 14 has taken on major competitors with its outstanding steps and superb design. While the laptop may fall short for powerful business users, it is perfect for average personal use. It lacks a touchscreen, so you may want to consider this laptop only if you choose to work on a non-touchscreen laptop. The lightweight model makes it good for portability, and the screen size is perfect too.
Along with the outstanding Core i7 processor, the LG Gram 14 pairs 8 GB of RAM and 256 GB of SSD. While LG is still experimenting with its laptop, you may find some bumps, but these may not matter as much if you are not a power user. It does well as a computer for personal use. While the battery life is less than many other laptops in the same price range, the LG Gram 14 feels like a next-gen machine.
Why should you buy this?
It is a lightweight powerhouse and holds the charge for a long time, keeping you entertained throughout your flight journey.
Even though it's light, it is built as a highly durable machine and has passed through 7 different military-standard tests.
The users can work smoothly in different environments with any kind of light setting as the keyboard has been brightly lit with two different brightness levels.
Given its 2-in-1 flexibility, LG Gram 14 can be adapted for different purposes like tent mode for leisure use and kiosk mode for business use.
Frequently Asked Questions
Can I use laptops for personal use for playing games?
You can play games on the laptop you have purchased for personal use. However, some games can only be played if the laptop has the required specifications. Check with the game developer.
Does having a touchscreen on the laptop for personal use help?
It does help to have a touchscreen on the laptop for personal use. A touchscreen is any day a good feature to have. If you have yet to buy the machine, you can check this aspect and order the model with the feature.
What connectivity options must I look for in a laptop for personal use?
You should have at least 2 USB-A ports, 1 USB-C type port, an HDMI port, and a 3.5mm jack for audio that can also connect to the microphone. This will ensure that you can connect to most of the devices you want. You will have Bluetooth and Wi-Fi connectivity options.
Do I have to bring my laptop to the service center whenever I have an issue with it?
That may not be necessary. When you buy a new laptop and register it on the manufacturer's website, your laptop will be included in their online support. This means you will continue to get updated patches for your hardware and software to ensure that you enjoy a hassle-free performance from your laptop. If you face any issues, you have the option to call the customer support number given on the machine. It will be a toll-free number, and you will be assisted through actions to be initiated until your issue is resolved. You will only be guided to take it to the service center if the issue cannot be resolved over the phone.
Will I get a replacement for my laptop if it is within the warranty period?
You will have to read the warranty terms thoroughly to understand this. Some laptops come with a 100% replacement guarantee. Some laptop makers will say conditional warranty. This means the company will honor its warranty terms only if certain conditions are met. Such warranties may not include damage due to an accidental fall. Check these out.
The Bottom Line
If you are looking for a laptop, you must first define your primary and secondary purposes. For instance, if you are working in a full-time job and looking for a laptop that can not only perform professional tasks but also provide you with great entertainment, then you need to look for a decently powerful product that comes with a great display screen. Similarly, you can break down your priorities and then look for laptops that can fulfill them efficiently. In today's technology market, you can easily get abundant choices with various unique features, specifications, and prices. All you need to do is go online and research the various products, their general reviews, and tech review articles to get a good idea about their usefulness. Hopefully, the above list has been of some help to you in your journey to find that perfect laptop. Come back for more articles on the latest tech products and gadgets available on the market today.
We know that choosing a new laptop can be time-consuming given that the offer is huge. That is why we have created this list of the top best laptops of 2023 for personal use. Happy shopping!