Featured in this article (opens in new tab)
Are you in the market for the best laptop for home use? If yes, this article will list a few laptops currently on the market specifically designed with excellent graphics cards suitable for game playing. Others are wrapped with unique features and high-end processors to provide the best performance.
We usually use laptops at home to surf the net, play games, watch movies, and sometimes write and read. So, the laptop should fulfill all these needs.
Here we list the top best laptops for home use to help you find just the right one for you. There are many models out there, and we picked some pretty cool ones we think you might consider. Let's dive in.
See also: Best 11.6-inch laptop
Buying Guide
Family members will probably use a laptop at home for simple activities like checking emails and occasionally playing light games. If you are currently looking for a laptop to use at home, there is a wide range of models from which to choose. A situation of plenty is also not a very comfortable one since you can get confused trying to arrive at the right decision. Below are some tips to guide you in making the best laptop choice for home use.
Size: Laptops come in different sizes, and the display screen size is usually considered when shopping for a new laptop. The outer dimensions of the machine will be different. You can settle for a 15-inch or 16-inch laptop for your home. If you plan to have your children working in a group on the laptop, you can choose a larger 17-inch laptop.
Touchscreen: Touchscreen laptops are generally priced a little higher, but they allow you to switch between the keyboard and the screen. In particular, if you are used to your smartphone and tablet, the touchscreen makes it easier to operate your laptop. The keyboard and mouse can be used as well, but for one-click functions.
CPU: An Intel Core i7 or i5 chipset should be good for a laptop intended for home use. Just check the generation and get the latest or most recent one. Chipsets are upgraded with each generation, and you can check the generation of the chipset on the laptop you are going to buy. You may not need the latest generation, but it should not be too old either.
Color: Since the laptop is primarily for home use and you and your children may prefer specific colors, check the colors available and order the one that suits you best.
Graphics: Heavy graphics are not very critical unless you intend to play top-range video games.
Random Access Memory or RAM: The RAM for any computer is critical. It is best to select at least 8GB, preferably DDR4 RAM.
Connectivity Options: Check the number of ports available for connecting external devices to your laptop: the more ports, the better. You will need at least USB ports, both type C and 3.1, and an HDMI port.
Best Laptops For Home Use
There are many laptops on the market available for regular home use. Those looking for a home laptop usually perform activities like surfing the net; playing games, watching movies; writing, or reading. Therefore, purchasing a laptop that offers these functionalities and features is essential.
Decide on a budget and then pick a good manufacturer, such as Acer, Dell, Lenovo, HP, Asus, etc. Consider features like screen size, storage, battery life, graphics, processor or chipset, performance, connectivity, the keyboard, form or design, screen resolution, and other specifications to decide which one suits you best.
A Convertible Laptop Offers Great Value For Money
HP Pavilion Full HD Touchscreen Laptop
Check Price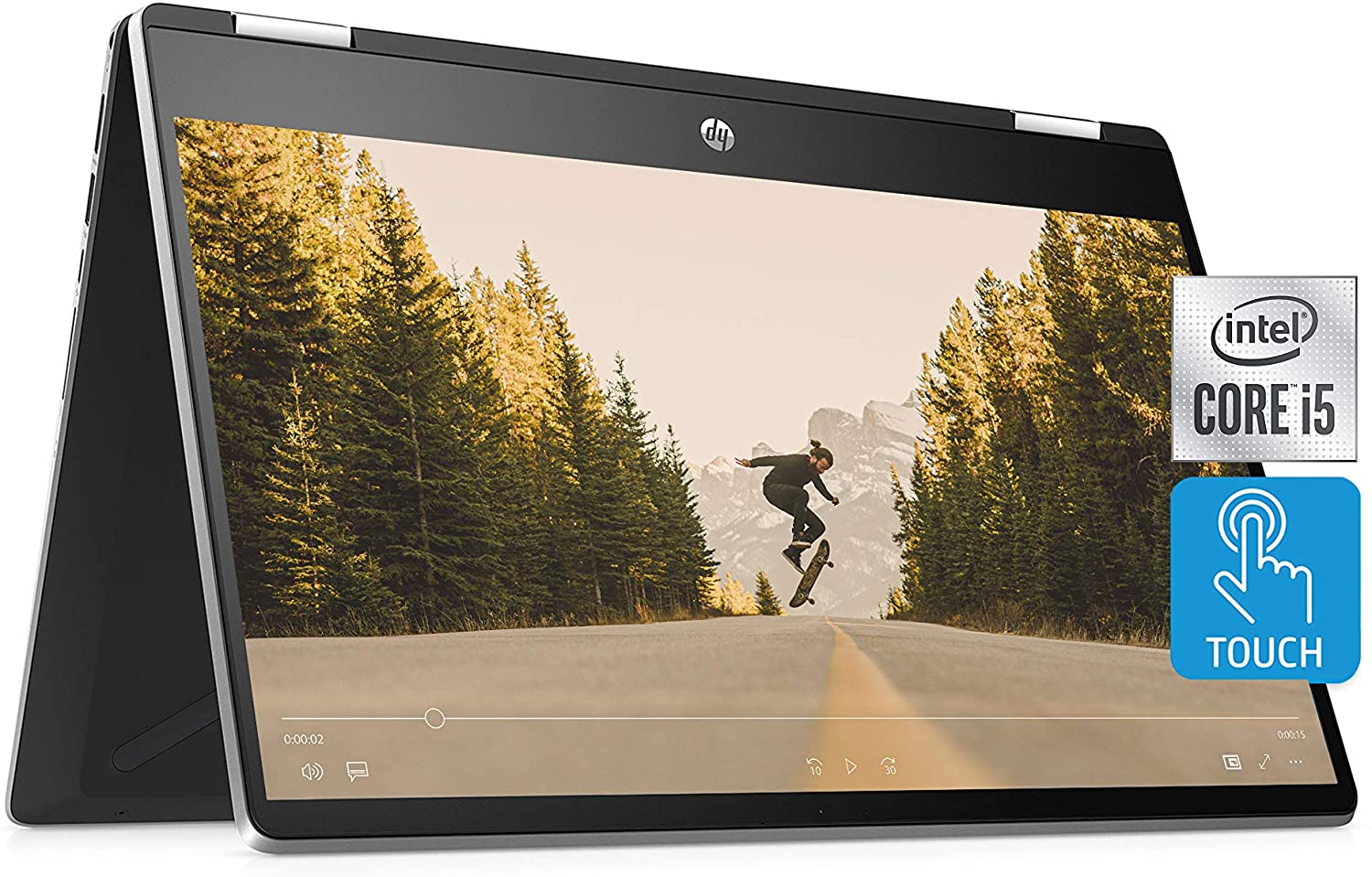 Armed with a powerful processor and a touch-sensitive keyboard, this laptop by HP is precisely the kind you would be happy to have at home. Closer to the touchpad, you can find a fingerprint that ensures security. Being a convertible laptop allows you to use it equally as a laptop and a tablet.
It features a 14-inch touchscreen that boasts an anti-glare function and is suitable for people who spend hours working on their computer system. Offering 12 hours of battery life, this HP laptop can be used in a room or an area that doesn't feature a power socket. This would have been a perfect 2-in-1 laptop if it was not for its dull battery life and underwhelming display screen.
It proves to be a good investment for those who wish to have a well-rounded laptop.
It should be considered by those who want to own a fast and well-performing convertible laptop.
High-quality internal speakers
Comfortable keyboard
Fast and reliable performance
Features fingerprint reader
Sub-par battery life
Dull display screen
A Sophisticated Looking Laptop That Also Performs Quite Well
ASUS VivoBook 15 Ultra-Slim and Light Laptop
Check Price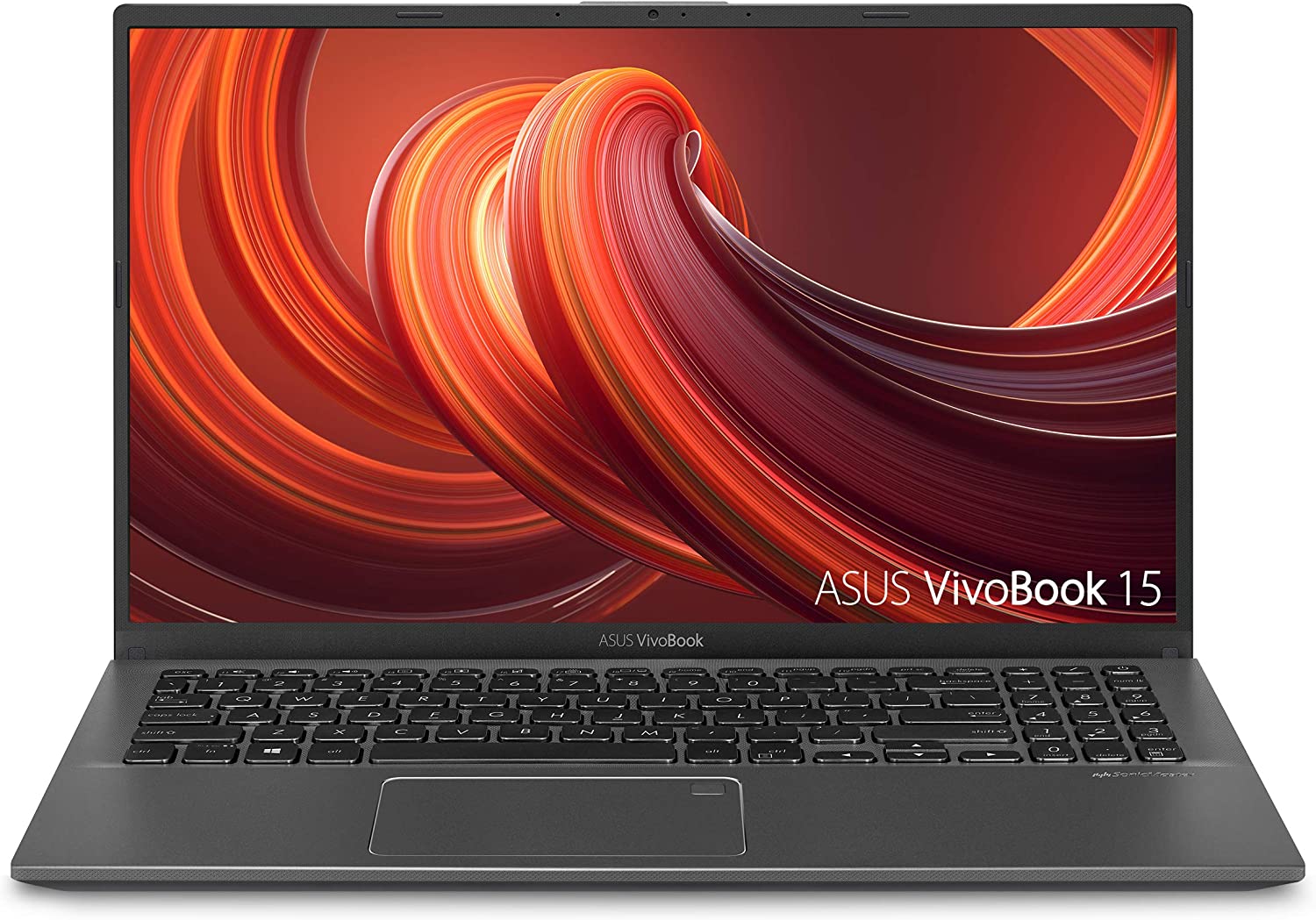 If you want a new budget-friendly laptop that can be used well at home, this moderately priced laptop by Asus should be a good investment. Asus manufactures several budget-friendly laptops that look attractive and perform reasonably well. This device, too, boasts a premium design and delivers reasonably good performance.
This is an outstanding laptop for people who type extensively. The keyboard is very comfortable as the keys are well spaced out. The touchpad offers a 4.1 x 2.9-inch surface area that makes it easy to navigate. The fingerprint sensor is also located right next to the touchpad.
The sturdy keyboard and responsive touchpad make it a suitable device for writers.
Multiple connectivity ports make it an ideal laptop for those who prefer connecting multiple devices simultaneously.
Good quality keyboard and touchpad
Multiple connectivity ports
Premium design
Moderate pricing
Poor battery life
Average quality audio output
A Moderately Device Laptop That Doubles as a Home and Professional Laptop
HP 14-inch Home and Business Laptop Touchscreen
Check Price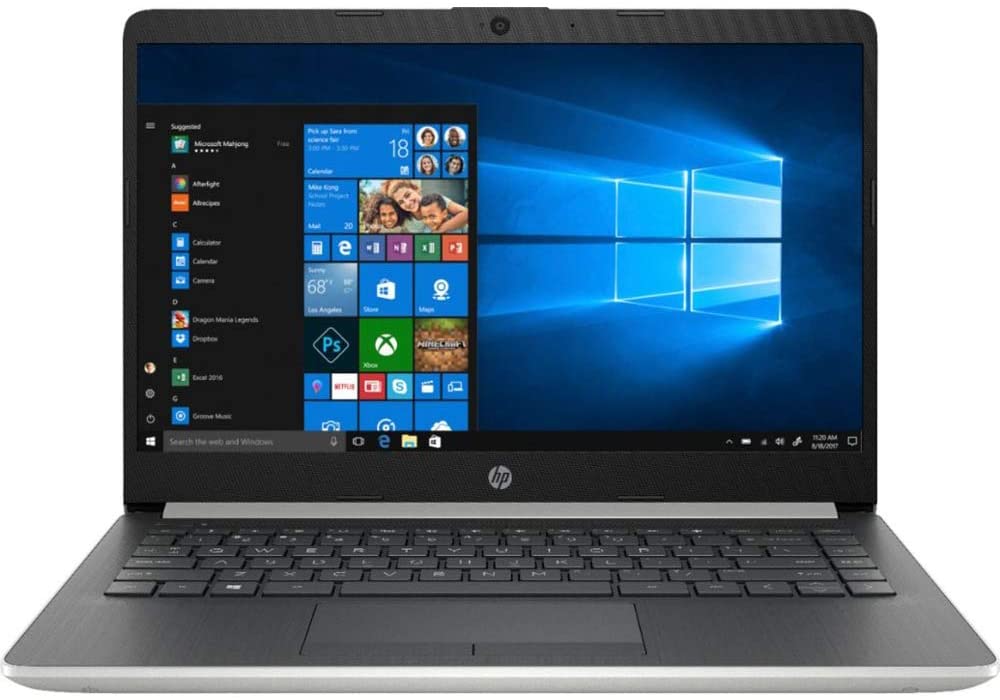 If you want to buy a laptop for your home but would also like to take it to your office sometimes, this would be the right device for you to invest in. This laptop by HP boasts a 14-inch screen with a very responsive touchscreen. Apart from doing professional work, this laptop is also suitable for watching films, videos, and other multimedia content.
At 1.47 kilograms, this lightweight laptop can be carried around with utmost convenience. Being a portable device, you can also take it with you during your work trips. Featuring a Ryzen 3 3200U processor, this laptop promises to deliver fast and powerful performance. It also comes with a 128 GB Solid State Drive, contributing greatly to its speed.
Alongside LED backlight functionality and touchscreen connectivity, this laptop features many modern features.

Unlike most other portable laptops, it features an ethernet port that makes wireless connectivity easier and more effective.
Lightweight and portable

Powerful processor

Features a 128 GB SSD

Touchscreen function
Not suitable for running heavy software

Below par battery life
Versatile Laptop Designed For Everyday Use
2022 Dell Inspiron 15 3000 15.6-inch Screen Laptop
Check Price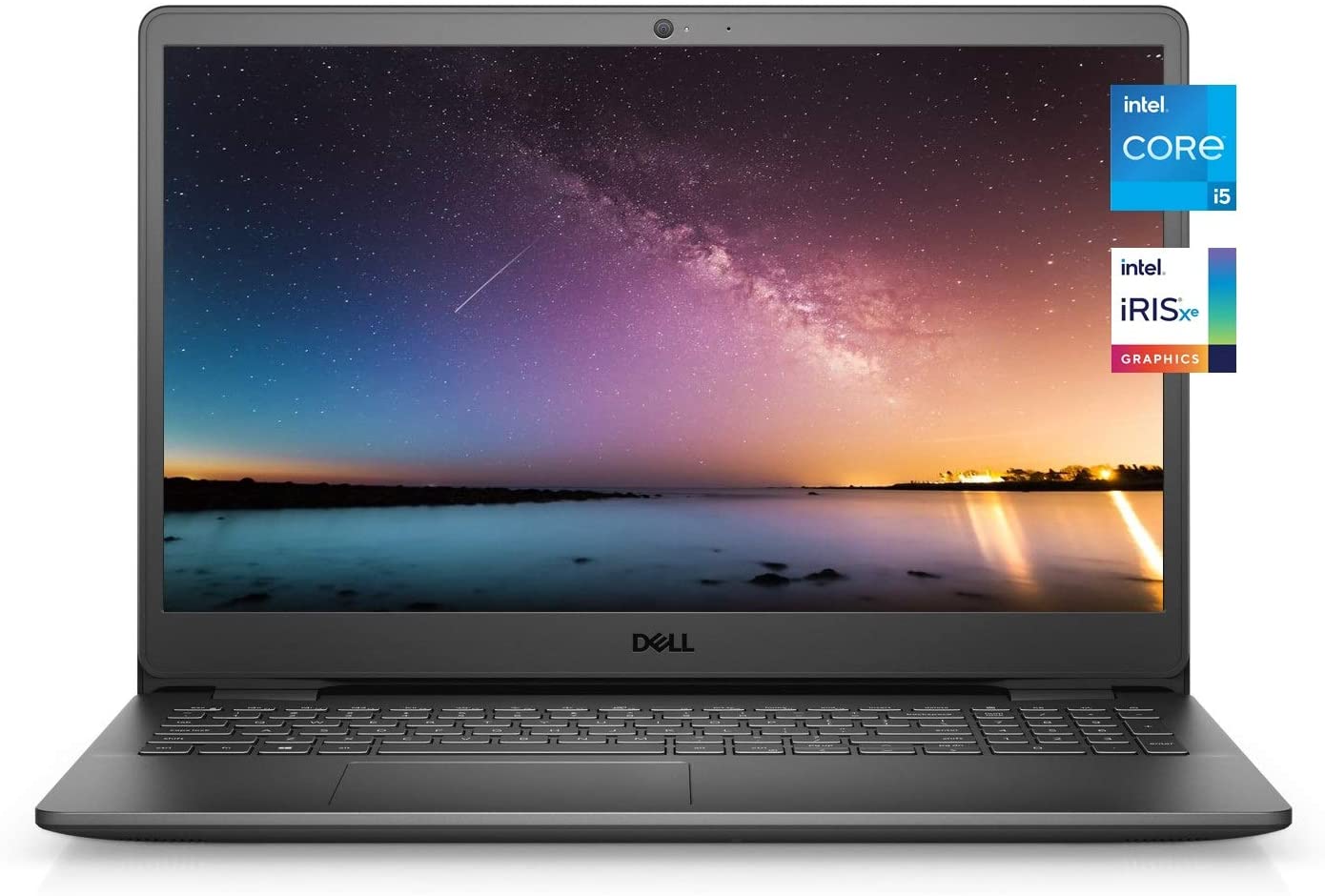 If you wish to buy a laptop to be used by different family members, it should be packed with various features. The 15.6-inch display screen of this laptop is big enough to play movies that the entire family can watch and enjoy. Though the design is quite basic, the laptop scores big on functionality.
Why Should You Buy This?
A medium-budget laptop that fulfills the expectations of those looking for a reliable laptop to use at home.
The laptop has been designed for users of different age groups.
Pros
Large anti-glare display screen
Multiple high-utility features
Excellent audio output
Good build quality
Cons
Unattractive design
No USB-C ports
Multipurpose Laptop That Can Be Used at Home and Elsewhere for Multiple Purposes
Lenovo Chromebook Flex 5 Two-In-One Laptop
Check Price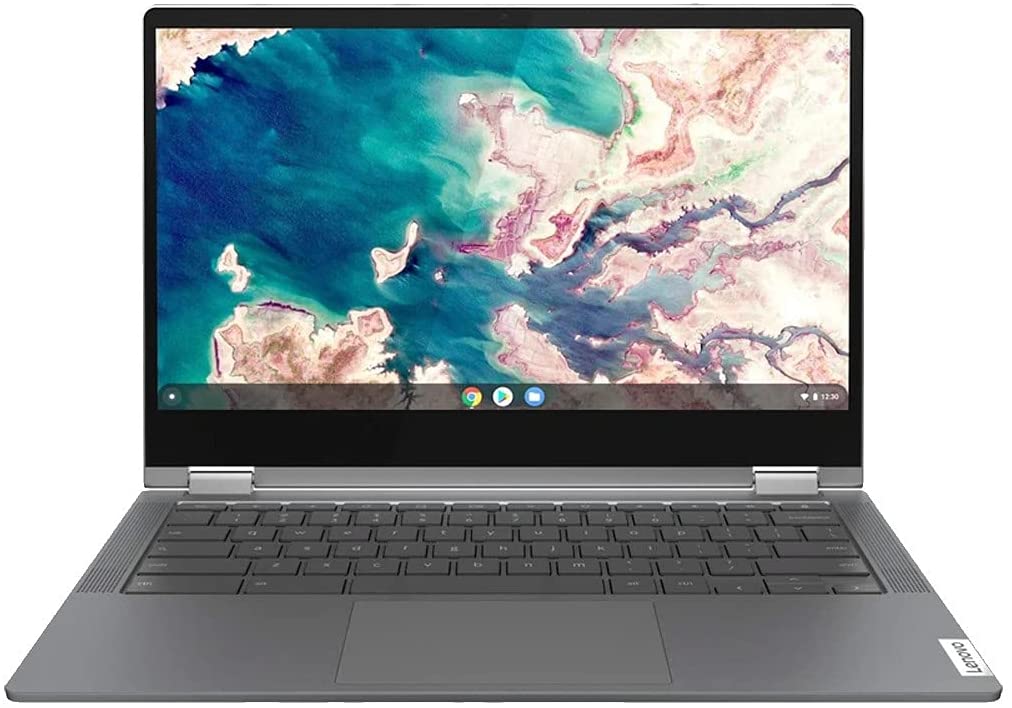 As you know, it will deliver super solid performance when a laptop comes armed with a 10th-generation intel core processor. Apart from reliable performance, this laptop also comes with various high-end features.
Being a 2-in-1 device, it functions as a tablet as well. The touch-enabled screen helps you to control it with effortless ease. A Lenovo digital pen can be bought separately to use the touchscreen more efficiently.
The 13-inch-wide screen might not work for everyone, but one can assure you that it offers great picture quality. It comes with a good quality webcam built on the laptop and works very well for making video calls.
Those looking for a highly functional device featuring a compact 13-inch screen should consider buying it.
The touchscreen is highly responsive, and if you buy the digital pen, you will have a super-smooth experience using it.
Good battery life
Excellent performance
Sufficient connectivity options
High-definition webcam
Memory is not expandable
Dim display
Moderately Priced Laptop That Offers the Functionality of a Laptop and a Tablet
Acer Chromebook Spin 311 Convertible Laptop
Check Price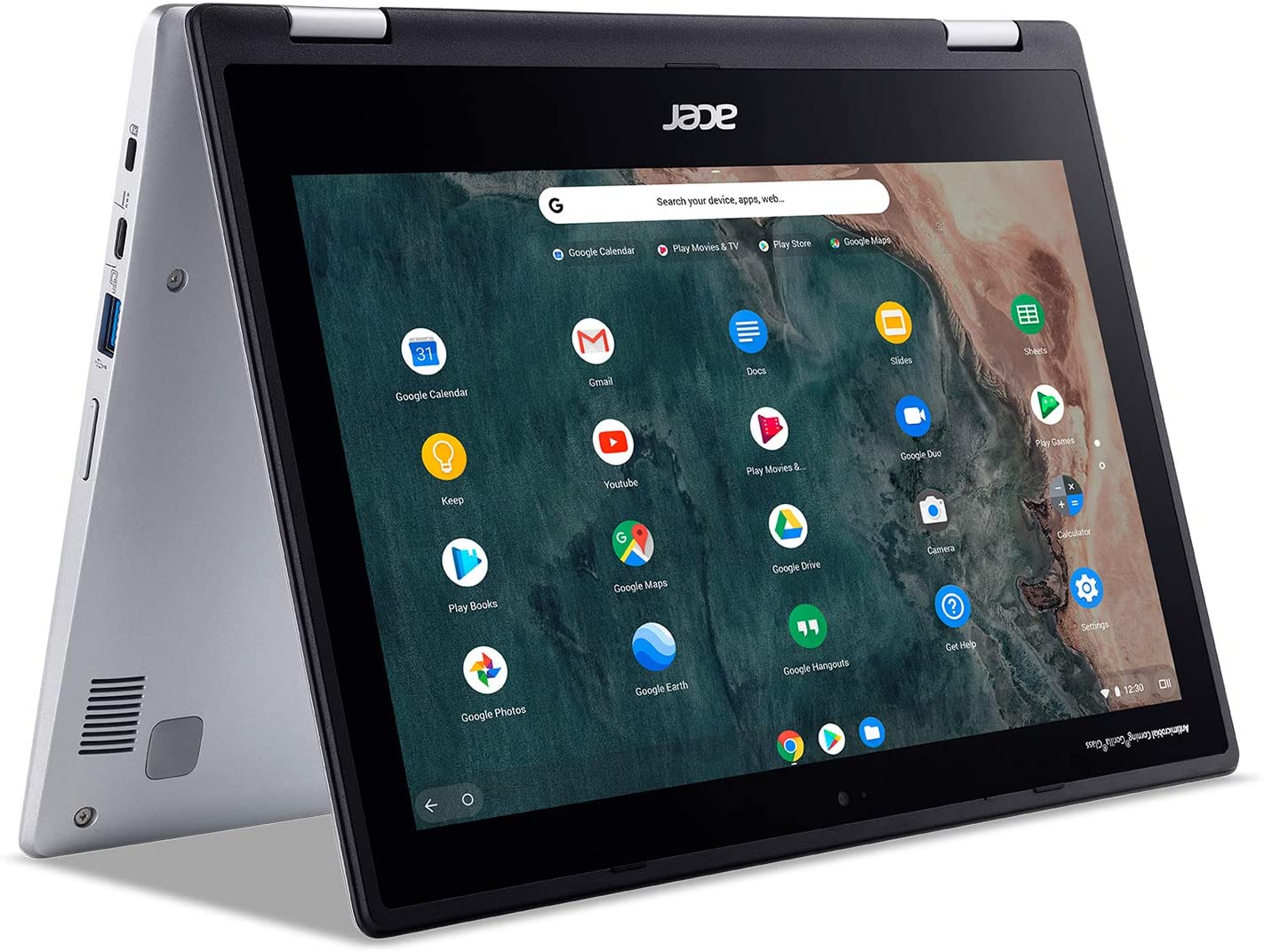 Offering a simple well-complemented design with a plastic silver chassis, this laptop by Acer functions quite well both as a laptop and a tablet. The 11.6-inch screen produces high-definition images and is apt for those who like to consume multimedia content while on the move. This convertible laptop has been provided with features that would appeal greatly to younger users.
The design of the laptop is decent but looks a little clumsy because of the presence of overtly thick bezels. The device weighs 2.6 pounds, making it relatively easy to carry around. The keyboard is pretty smooth; however, there could have been more distance between the keys. The touchpad is also very responsive.
Why Should You Buy This?
This device is a good investment for those with neither a laptop nor a tablet at home.
This laptop would be a good buy if you prefer small-sized screens that can deliver sharp images.
Pros
360-degree rotating display screen
Features a variety of Google apps
Multiple connectivity ports
Highly responsive keyboard and touchpad
Cons
Extremely thick bezels
Limited internal storage
Good Quality Laptop That Offers Portability and High-End Features
Samsung Galaxy Chromebook 4 Compact-Sized Laptop
Check Price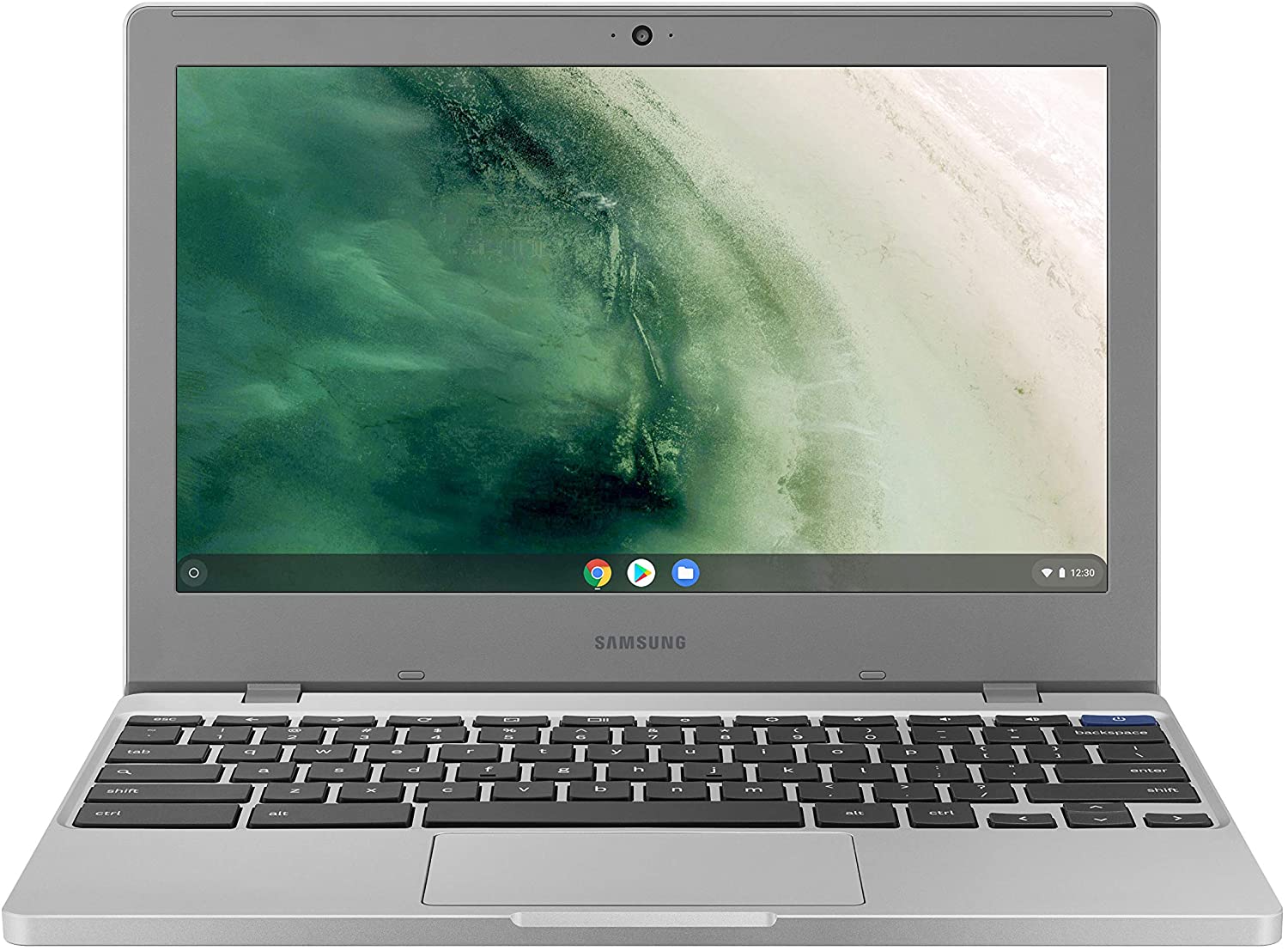 Featuring a display screen with a resolution of 1366 x 768 and a dual-core Intel Celeron N4000 processor, the Samsung Galaxy Chromebook 4 has everything you want in a modern laptop for home or personal use. Though made of plastic, the construction displays strength and durability.
The 11.6-inch display screen boasts an anti-reflective function and is surrounded by thick bezels. The webcam, placed right at the top, is very good quality. Despite all the high-end features, what does bother you is the fact that there is no fingerprint reader or backlit keyboard. The number of connectivity ports is small, but you get a USB-C port, USB 3.0 Type-A port, and a microSD card slot.
Why Should You Buy This?
Those looking for a compact-sized laptop for home and for carrying around during work trips should consider investing in this device.
It is an excellent laptop for basic computing work in a no-fuss manner.
Pros
Super-fast processing system
Anti-reflective display screen
Adequate battery life
Compact and portable
Cons
Limited connectivity ports
No fingerprint reader
Laptop That Comes at A Moderate Price and Offers a 15-inch Wide Screen
Dell Inspiron 15 3000 Sturdy Laptop
Check Price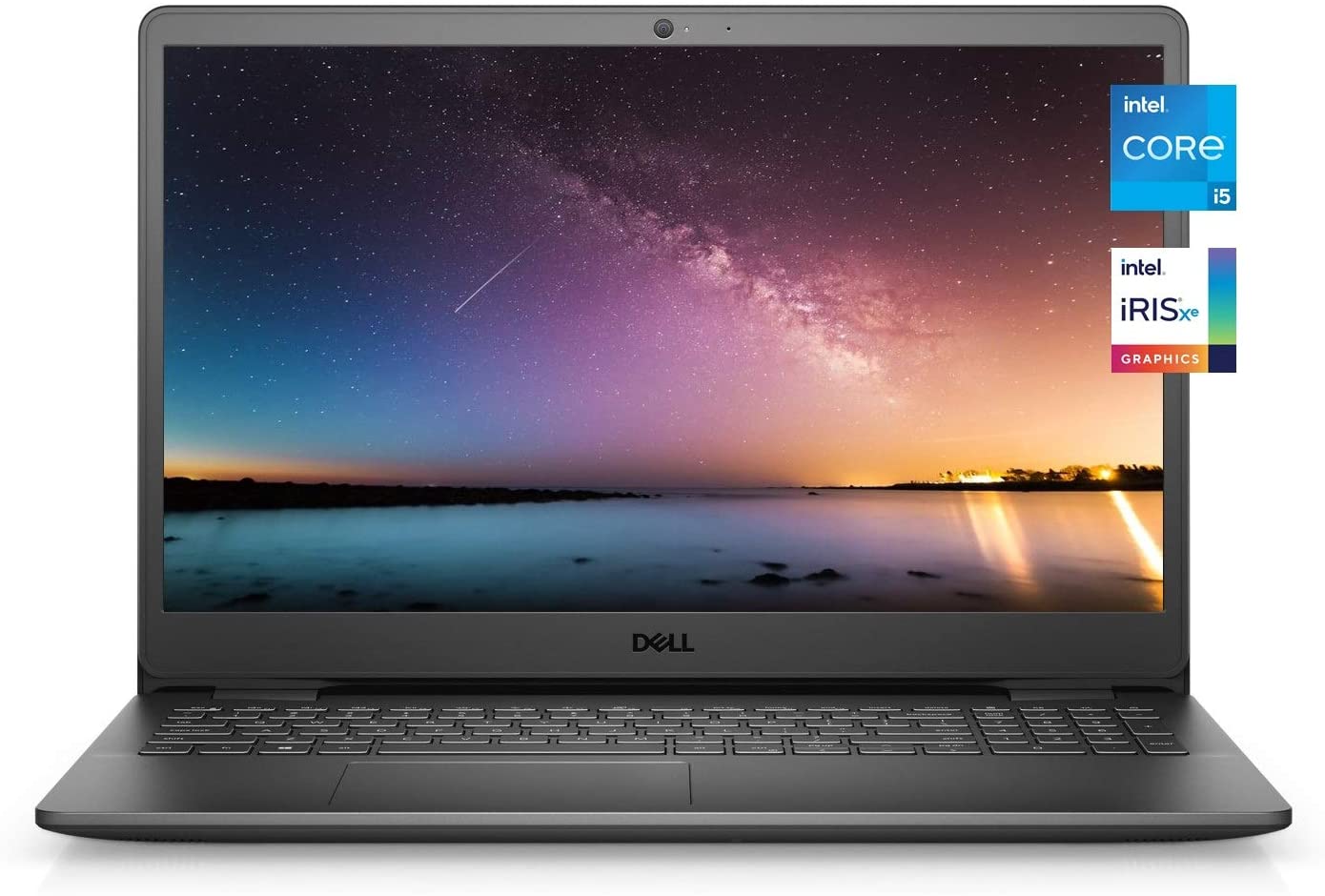 Looking for a big-screen laptop but on a budget? In that case, have a look at the Dell Inspiron 15 3000, which offers you a 15.6-inch display screen. The laptop comes with a 256 GB SSD and 12GB RAM, so you will never be worried about storing your important data. This laptop is most suitable for web browsing and consuming multimedia content.
The device boasts solid construction, and the design is quite attractive too. Despite the large screen, the laptop is pretty lightweight. This device's full HD display has a 1920 x 1080 pixel resolution. For the price you are paying, the audio quality is quite good.
Why Should You Buy This?
A great device for those who want to invest in a moderately priced laptop offering a big screen that is good enough for watching movies and other video content.
The keyboard is very comfortable and comes with dedicated number keys that could be useful for professional computing purposes.
Pros
Budget-friendly
15-inch display screen
High-quality keyboard and touchpad
Features HDMI and Ethernet ports
Cons
Mediocre display quality
No touchscreen function
Luxurious Laptop for Home Use and Productivity
Lenovo ThinkPad X1 Carbon, 14 inches
Check Price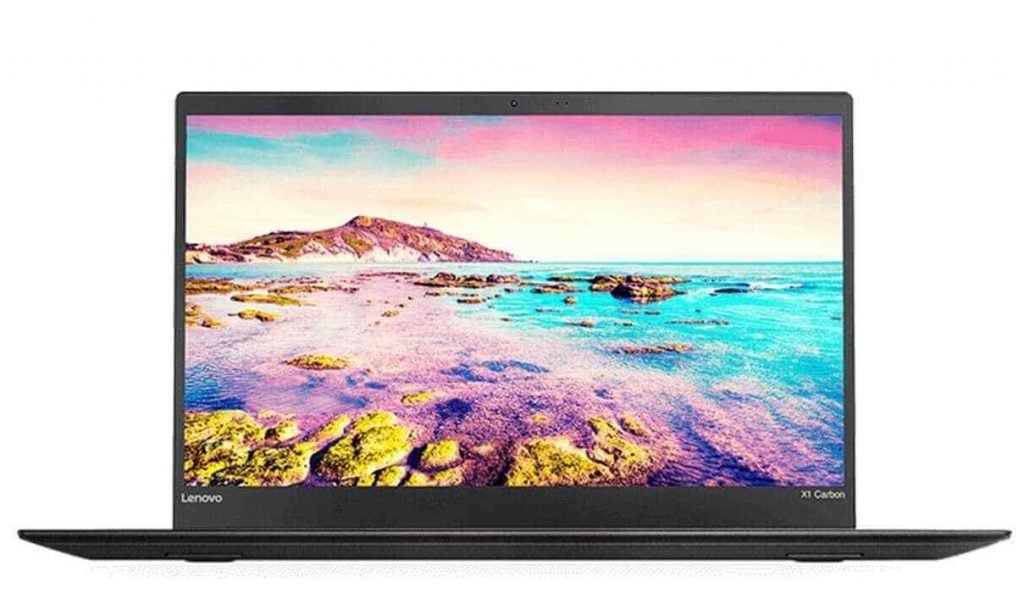 It comes with a slim and good-looking chassis made of carbon fiber and magnesium, with a great keyboard and excellent HDR display. A Core i7-7500U clocking powers the Lenovo ThinkPad X1 Carbon at a speed of 2.7 GHz, which can be boosted to a maximum of 3.5 GHz, with 4 MB of cache.
The laptop runs on the Windows 10 Pro 64 operating system. It has 16 GB RAM and a hard drive size of 512 GB. There is an integrated graphics card-the Intel HD Graphics 620.
It is a slim and stylish-looking 14-inch laptop with dimensions of 19.7 x 13.5 x 4.8 inches and weighing 4.8 pounds. The display is a QHD technology with a screen resolution of 2560 x 1440 pixels with IPS anti-glare features. It has a match in the sensor fingerprint reader. There is also an extra infrared camera for the Windows Hello Facial recognition feature. The battery life is around 15.5 hours.
Recommended For:
Those who want a good HDR display and battery life in an attractive and lightweight design.
Those looking to buy a laptop that offers productivity, portability, and performance.
Those who want a durable and light laptop for productivity purposes.
Brilliant Laptop and Tablet for Home Use
Microsoft Surface Pro, 12.3 inches
Check Price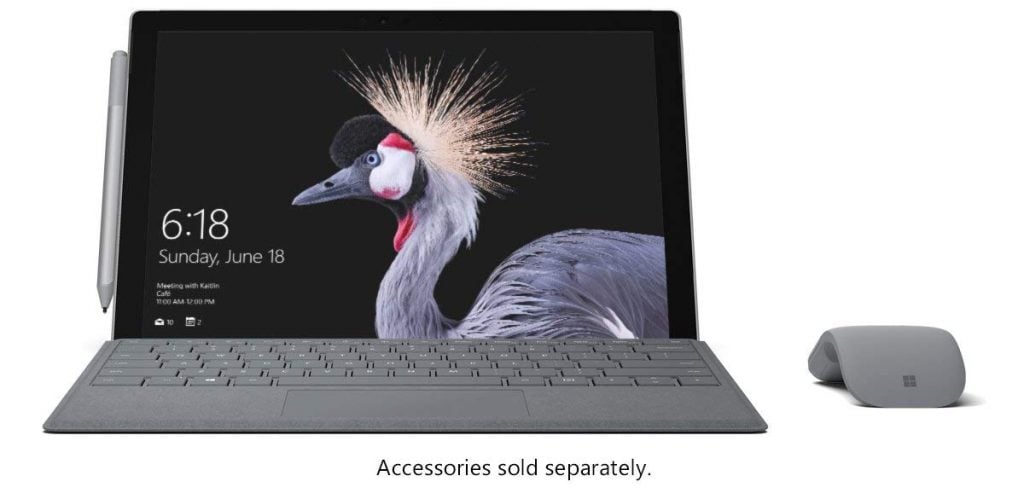 This is a premium laptop/tablet running on Windows 10 Pro OS. It is powered by a Kaby Lake Intel Core i5 7th-generation 7300U clocking at a speed of 3.5 GHz, combined with a RAM of 8 GB DDR4 and internal storage of 256 GB SSD. The graphics card is Intel HD Graphics 620.
The hinge bends back well to a studio mode of 165 degrees angle. The cover is the Alcantara type, which is very comfortable. It comes with a 12.3-inch screen, a ClearType Full HD Plus PixelSense Touchscreen, and a 2736 x 1824 pixel resolution. The dimensions of the Microsoft Surface Pro laptop are 11.5 x 0.3 x 7.9 inches, and it weighs 1.7 pounds.
The Surface Pen offers excellent pressure sensitivity at 4096 levels, making it useful for creators with its new tilt detection support. The battery life averages about 13.5 hours of video playback, and the rear webcam comes with a resolution of 8 MP. The Surface Pro, Signature Type Cover, and the Surface Pen are sold separately.
Recommended For:
Routine browsing.
It is also suitable for creative people who find the Surface Pen very sensitive and useful for creating lines, designs, and illustrations.
Other models worth buying
One Of The Best Home Use Laptop From Dell With a Thin And Light Weight Design
Dell XPS 13
Check Price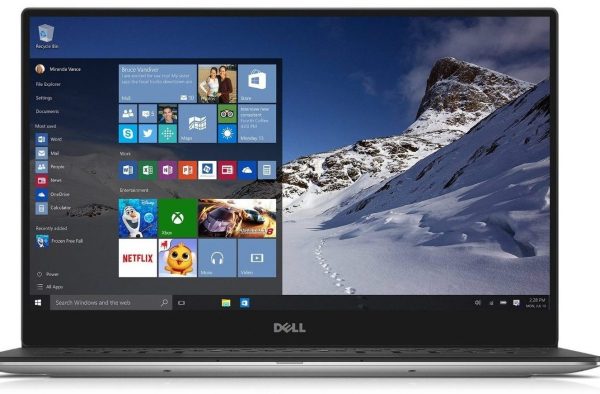 This is a great windows laptop to own for home use which is very powerful and lets you do every task easily. It comes with a 13.3-inch FHD display of 1920×1080 resolutions. The processor is Intel's latest skylake, and for gaming, it has packed Intel Iris Graphics 540. The RAM is 8GB with 256GB SSD storage. Even with all these features, the most exciting thing is its design. The design is impressive, and the set is skinny and lightweight, making it easy to carry around.
Recommended for:
Those who prefer a visually appealing and slim laptop
Suitable for people who like the comfort and convenience of a touchscreen display
Those who spend hours working on the laptop as it has a long battery life
Those who travel frequently and need to carry their laptop to different places
The Best Laptop For Home Use With Thinnest Design
Microsoft Surface Book
Check Price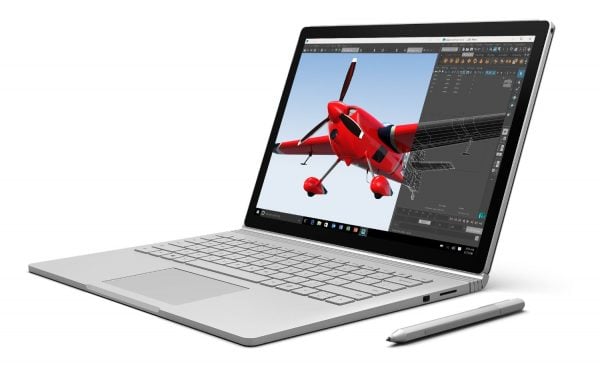 Are you looking for one of the most powerful but thinnest laptops? This might be the best option for you. Microsoft has captured the market and has made its user base much happier by introducing this convertible laptop. The screen is 13.5-inch, and the quality of the screen is just incredible with the 3000×2000 resolution.
Recommended for:
People who need a laptop for video conferencing
Those who need a device that can double up as a laptop and a tablet
Suitable for those who binge-watch video content and expect a very good display screen
People who would like to write or draw using a Surface Pen
See also: Top best laptops for teachers
Frequently Asked Questions
Should laptops for home use have spill-proof keyboards?
You can check if the keyboard is spill-proof when buying a laptop for home use. It is, however, not an essential feature to have. Even if you accidentally spill something on your laptop, it won't cause severe damage and can be rectified/restored quickly.
Is warranty a key issue when buying a laptop for home use?
Warranty is always an issue when you buy any gadget. In the case of a laptop for home use, your concern could be that multiple people will be handling it. The chances of something going wrong are high, and you want some protection. Laptop makers don't distinguish between laptops based on usage. You must insist on the maximum warranty from the seller when buying.
What is the average life of a laptop for home use?
There is no specific or fixed lifespan. It depends on how much care you take while handling it and how you keep it when not in use. The one thing that wears out is the battery. Some minor hardware issues can be addressed through repairs. You should extract a life of at least three years with a good laptop if you use it responsibly.
Should laptops be shut down when not in use or stay in sleep mode?
Experts have diverse opinions on this. If you don't plan to use the laptop for hours, the ideal way is to shut it down and reboot it when needed. If you are taking shorter breaks, then sleep mode is better. A third alternative, "Hibernate," may be the best.
Does the year of manufacture of a laptop matter while buying it?
In normal circumstances, it should not matter since most laptop sellers will be offering you machines made in the last year. The manufacturer or brand should not be a problem if the components are as per the specifications and the latest software is loaded.
Conclusion
The best screen size for home use would be 12.5 to 14 inches, which offers the best compromise between usability and portability. You can opt for larger screens if you don't travel a lot. Minimum Specs should be a processor of Core i5, a screen resolution of 1920 x 1080 pixels, RAM of 8 GB, and SSD storage. It is also essential to have a good battery life of at least 8 hours. If you'd like to use your laptop as a tablet, consider buying a 2-in-1; otherwise, a regular clamshell laptop is good. There are MacBooks, Windows laptops as well as Chromebooks to choose from. Most laptops operate on Windows, Chrome, or Mac operating systems, and selecting one of these is more a matter of personal preference.