Technobezz is supported by its audience. We may get a commission from retail offers
There are many things to consider when buying a laptop, but don't worry; we got you covered. Keep reading, and you will find precisely what you need.
HP 17.3-inch Durable Laptop
HP Pavilion 17 Touchscreen Gaming Laptop
Acer Aspire 3 17.3-inch High-Definition Screen Laptop
Table of Content
Laptops with a CD drive are difficult to find these days. Most manufacturers avoid this feature to attain an attractive and slim-looking device.
But this does not mean laptops with optical drives are not still being sold these days. This article contains a list of the best laptops with CD DVD drives to help buyers select one that best suits their needs.
There are many things to consider when buying a laptop, but don't worry; we got you covered. Keep reading, and you will find precisely what you need.
See also: Top best ASUS gaming laptop
Buying Guide: What are the Best Laptops With a CD Drive?
Laptops are one of the largest selling electronic gadgets throughout the world. Despite the mobile phones offering similar features to computers, you cannot do without the computer. Several tasks for individuals and businesses are better executed on laptops or desktops. If you are looking to buy a new laptop, you should know what to look for before making the final call.
Many brands of late are avoiding the inclusion of the CD or DVD drive. If you intend to buy a laptop that offers the best specifications in addition to the CD or DVD drive, here are things you will have to bear in view.
Processor: As you may know, the processor or CPU is the heart of the machine. Things you should look for in the CPU are the number of cores and clocking speed. You must ensure that the laptop you are shortlisting has a minimum of 2 cores and its clocking speed is no less than 2.5GHz. The other key consideration is the make and brand. Intel and AMD are two significant players that both offer efficient computing capabilities.
Graphics Processor or GPU: There are laptop models with integrated graphics processors or separate graphics cards. Having superior graphics delivery means you should be able to enjoy playing games on the laptop.
Display: There are two or three elements to be looked at as far as the display is concerned. Laptops start at 13-inches and usually go up to 17-inches. You could choose the size based on your need and viewing comfort. Touchscreen displays may add to the cost, but their use is certainly more convenient. The performance of the display is measured through screen resolution. A full HD resolution screen is ideal for the laptop you plan to buy.
RAM & Storage: The laptop's memory component has two elements: the random-access memory or RAM and the internal storage memory. You should not go below 8GB RAM for the laptop you invest in. If you plan to use it to play games, it would be best to go up to at least 16GB. However, dedicated gaming laptops are on the market with up to 32GB RAM. A decent storage level is 500GB SSD or 1TB HDD.
Battery: Battery is another crucial component when purchasing any laptop. Check if the spec sheet indicates the average battery life. This is the number of hours you can work on the machine once fully charged. Six hours is considered the median figure. If the laptop offers eight hours of battery life, you can go for it.
Best Laptops With CD Drive ( Optical Disc Drive)
Versatile Laptop with CD & DVD Optical Drive
HP 17.3-inch Durable Laptop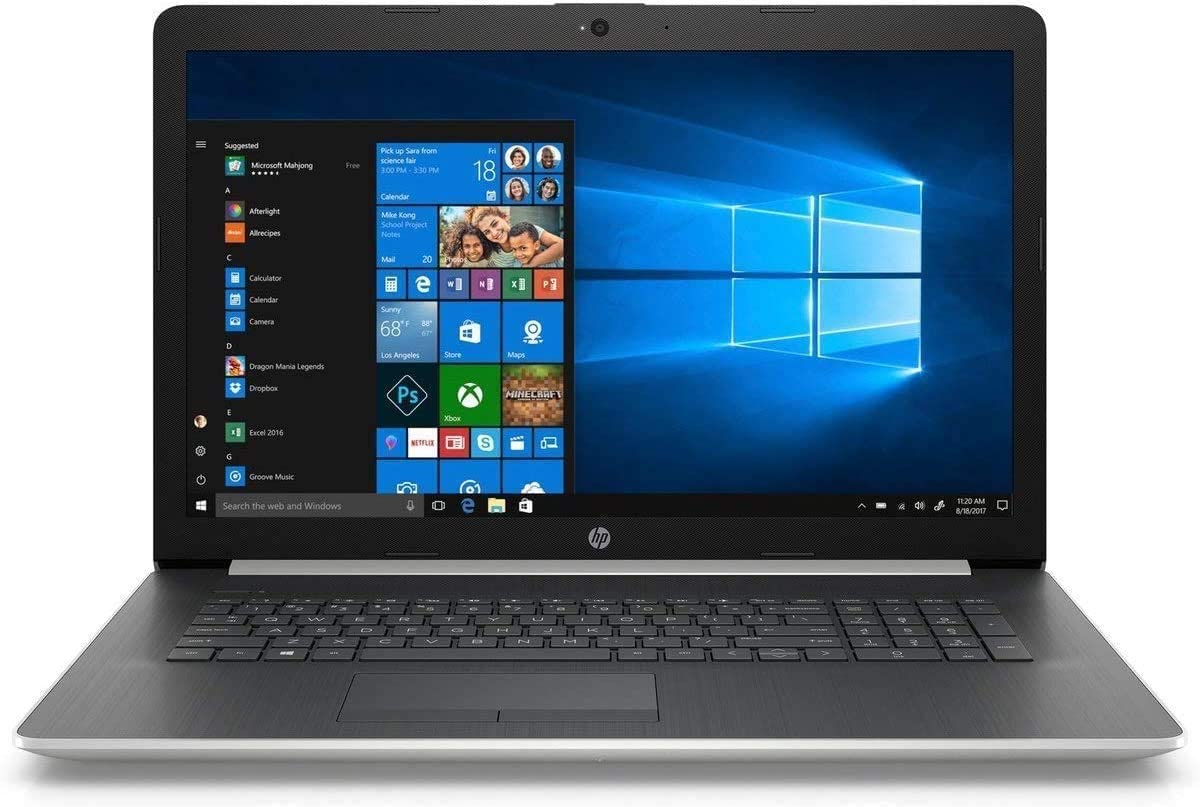 This HP laptop has a massive 17.3-inch display screen that produces high-definition images. Apart from streaming movies and other video content, the screen is highly suitable for browsing the internet, editing-based work, and checking e-mails. The only thing this vibrant screen lacks is touch functionality.
The laptop offers an excellent amalgamation of vintage and advanced features. Among its many connectivity options includes an optical drive that can be used to play CDs and DVDs.
The laptop is available in three different variants. One of the models features a 12GB RAM and a 1TB HDD. Another offers you a 16GB RAM and a 1TB SSD, and the third model comes equipped with 16GB RAM and a 512GB SSD. Regardless of which model you opt for, you will get a lot of storage space. The silver metallic design of the device is simple but attractive. One of the laptop's highlights is its comfortable keyboard which comes with backlit functionality.
It is a suitable device for those who still use CDs and DVDs and need an optical drive to play them.
It is also recommended for individuals looking to invest in a laptop that comes with a large display screen.
Backlit keyboard
Available in multiple variants
It comes with an optical drive
Large and vibrant display screen
The screen is not touch-enabled
Slightly heavy
Premium Quality Laptop with Backlit Keyboard
HP Pavilion 17 Touchscreen Gaming Laptop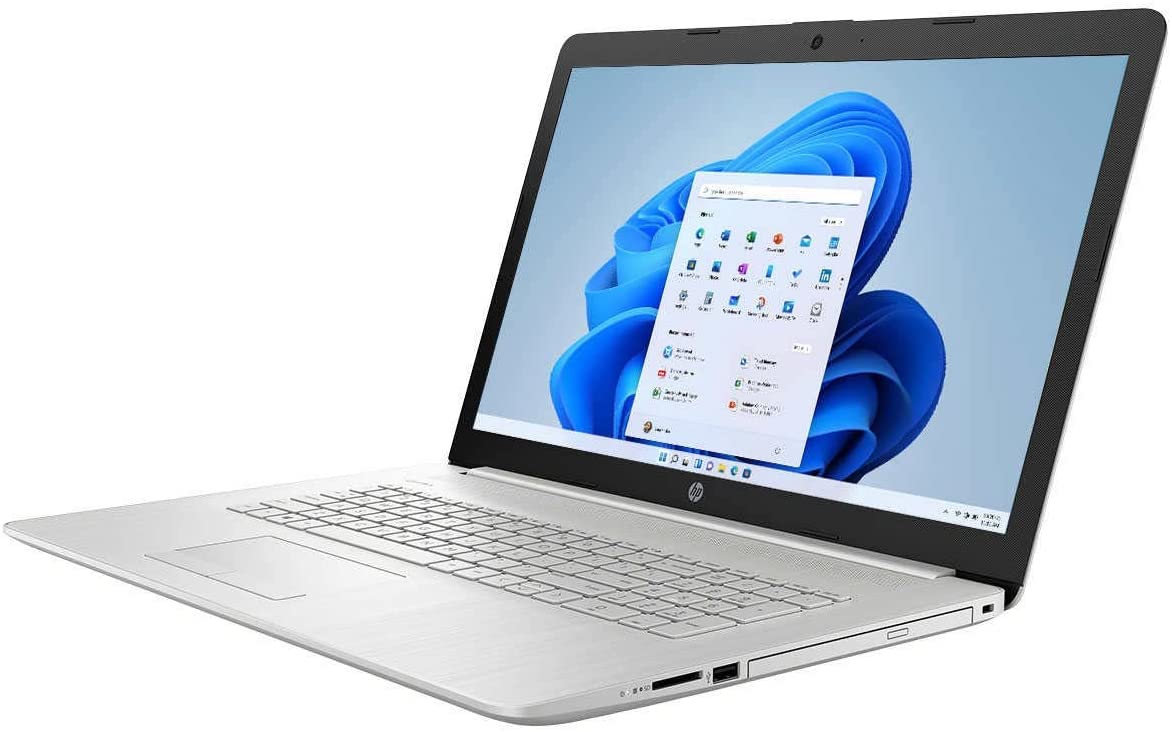 While most smartphones are touch-enabled, very few laptop models come with screens that offer touch functionality. The HP Pavilion laptop features a 17.3-inch screen that, apart from producing high-definition images, is highly responsive to touch. The screen provides a resolution of 1600x900 pixels and offers an immersive movie-watching and gaming experience. Since the device provides noise-free operation and great speed, it is preferred by many gamers.
The presence of a backlit helps the device further in endearing itself to professional gamers. While it offers every modern feature, it also provides several older valuable features like an optical drive. It comes equipped with many connectivity options, including a microSD card reader and a 3.5mm headphone jack. If you think 1TB of storage space will be too little for you, you can opt for the variant with a 2TB solid-state drive.
It is recommended for serious gamers looking for a 17-inch wide high-end laptop.
Those who have an extensive collection of DVDs will hugely benefit by purchasing this laptop as it comes with an optical drive.
Sturdy backlit keyboard
Strong gaming performance
Large touch-enabled screen
Multiple connectivity options
Price is on the higher side
No fingerprint scanner
Durable Laptop with a Well-Performing Processor
Acer Aspire 3 17.3-inch High-Definition Screen Laptop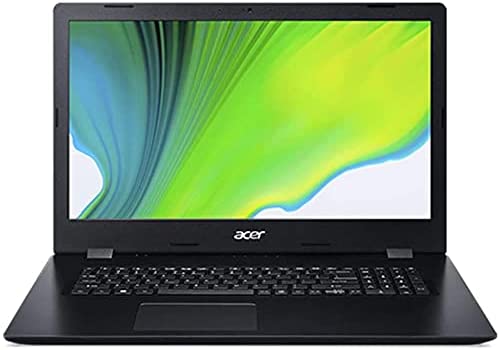 The 17.3-inch screen, which produces a resolution of 1600x900 pixels, is one of the highlights of this laptop. The device comes with several other premium features that make investing in it an excellent idea. While the laptop's overall design is pretty basic, it has been built with components that will last for years. There is no shortage of connectivity options on this device. Apart from modern connectivity features, you also get a good-quality DVD writer.
The 10th-Generation Intel Core i5 processor is responsible for the highly efficient performance of the device. The keyboard is quite large, and the touchpad offers you enough space to use it conveniently. The Numpad, however, is a little narrow. The laptop features a 180-degree hinge that enables you to adjust the screen as per your needs. Though the device has a fairly slim structure, it weighs 6.17 pounds and is moderately heavy.
Ideal for those looking for a well-built laptop that you can travel with.
Also recommended for users who prefer consuming multimedia content on a large display screen.
Solid structure
Fast processing unit
Features an optical drive
Strong connectivity features
Slightly bulky
Underwhelming battery
Well-Designed Laptop with a Responsive Optical Drive
HP 17 11th Gen Intel 4 Core i5 Processor Laptop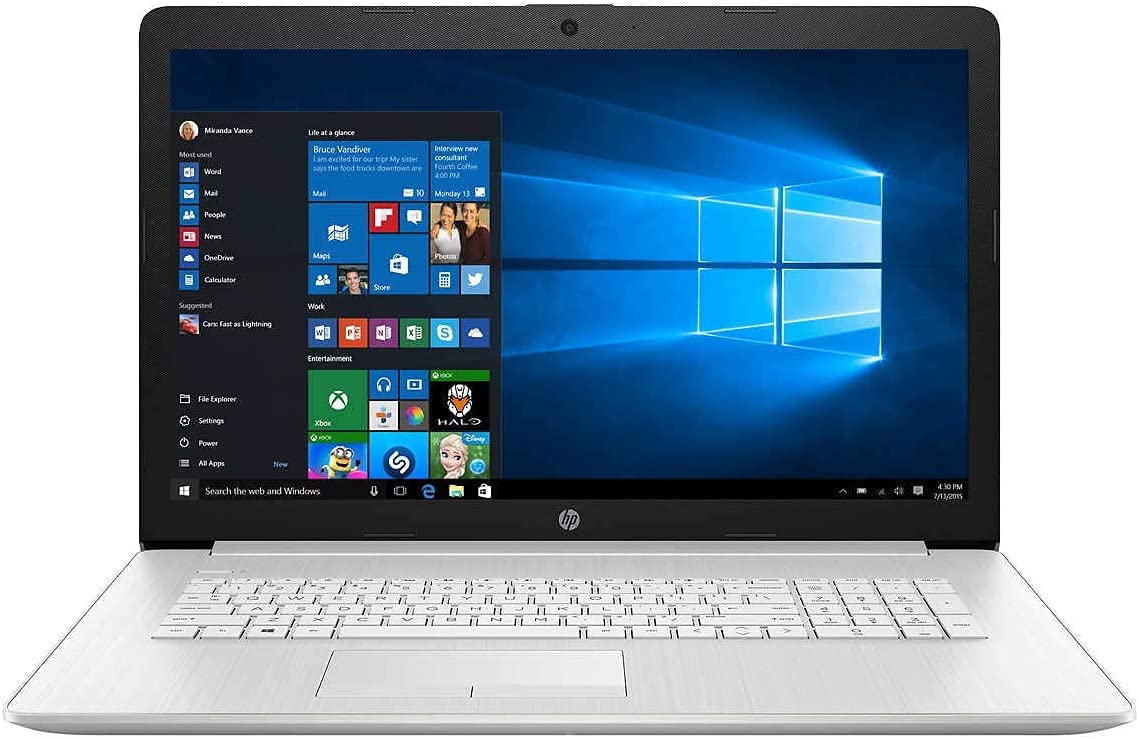 A handful of laptops manage to strike a balance between featuring modern features and offering an array of older features that prove to be very useful. This HP laptop manages to do that, which is why people of different age groups prefer it. The device comes armed with a 17.3-inch display screen that produces a resolution of 1600x900 pixels. The battery lasts for 7-8 hours on a single full charge which is quite impressive.
One of the best things about this laptop is its high-definition webcam. There are multiple connectivity options, including a 3.5mm headphone jack and a microSD card reader. There is also an optical drive for those who like to experience watching movies or listening to music on physical media. The laptop features an 11th Gen Intel 4-Core i5 processor and is fast enough to play a variety of high-end games. Gamers will also appreciate the fact that it comes with a backlit keyboard.
Why Should You Buy This?
A good option for those planning to invest in a versatile laptop that supports multiple activities and high-end gaming.
Also suitable for professionals who engage in video conferences regularly and need a laptop with a high-quality webcam.
Pros
Optical drive
Backlit keyboard
Sharp display screen
Adequate storage support
Cons
No fingerprint reader
Average battery life
17.3-inch Laptop with Powerful Processing Unit
Dell Inspiron 17 High-Performing Laptop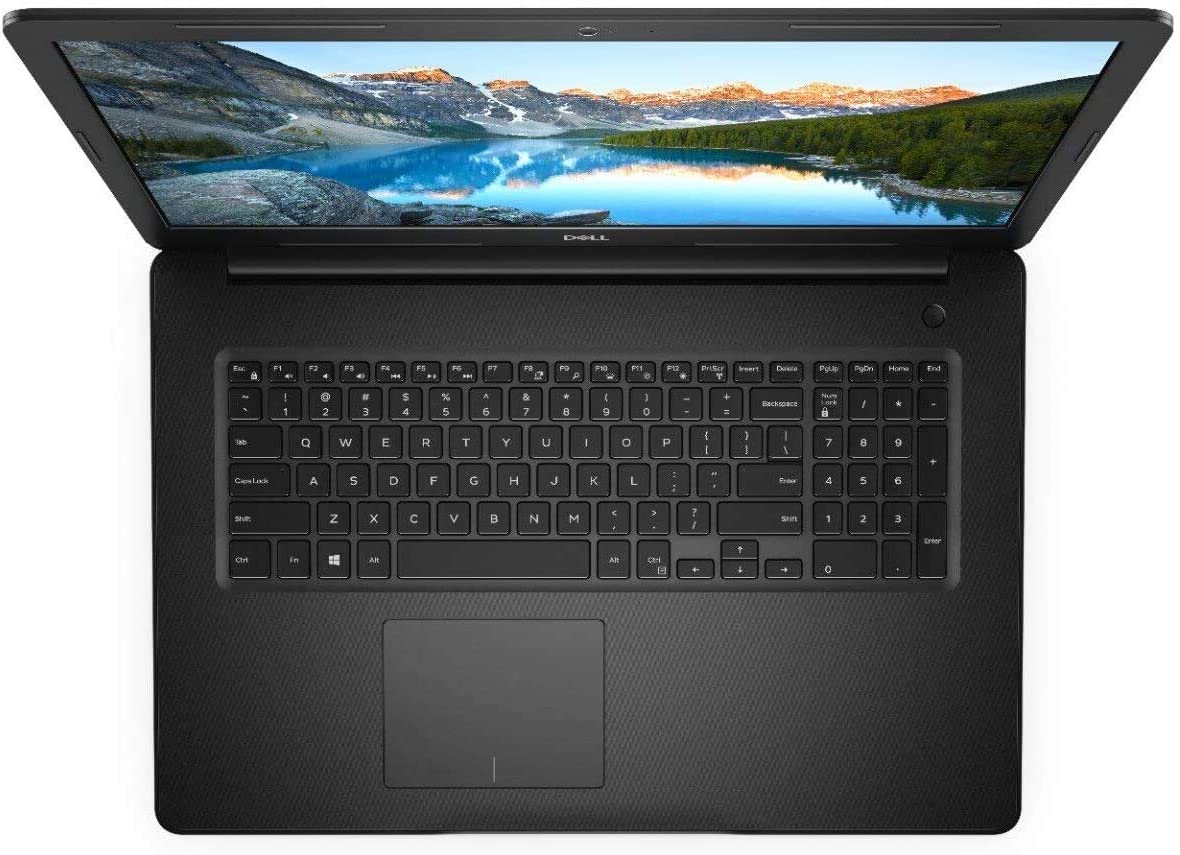 The Dell Inspiron 17 comes with an Intel Core M-5Y10 processor that makes it work extremely fast. If you are used to multi-tasking, you will like the experience of working on this laptop. The display screen is 17.3 inches wide and boasts anti-glare technology. Though it does not support touch functionality, it offers excellent picture clarity.
Along with an optical drive, the laptop comes with all the connectivity options you could need while working on multiple peripherals. There is, however, no USB-C port. The webcam, which comes with this device, is one of its most significant selling points. Apart from offering high-definition image reproduction, it features a dual array microphone that picks up voice signals very well.
The laptop has features that make it suitable for both personal and professional use.
It proves to be a good investment for those who need a laptop with a huge screen that produces high-definition images.
HD webcam
High-speed processor
17.3-inch display screen
Good-quality optical drive
No USB-C port
The display screen is not touch-enabled
Premium Design Laptop with Strong Connectivity Features
HP Pavilion 22-inch Touch-Enabled Screen All-in-One PC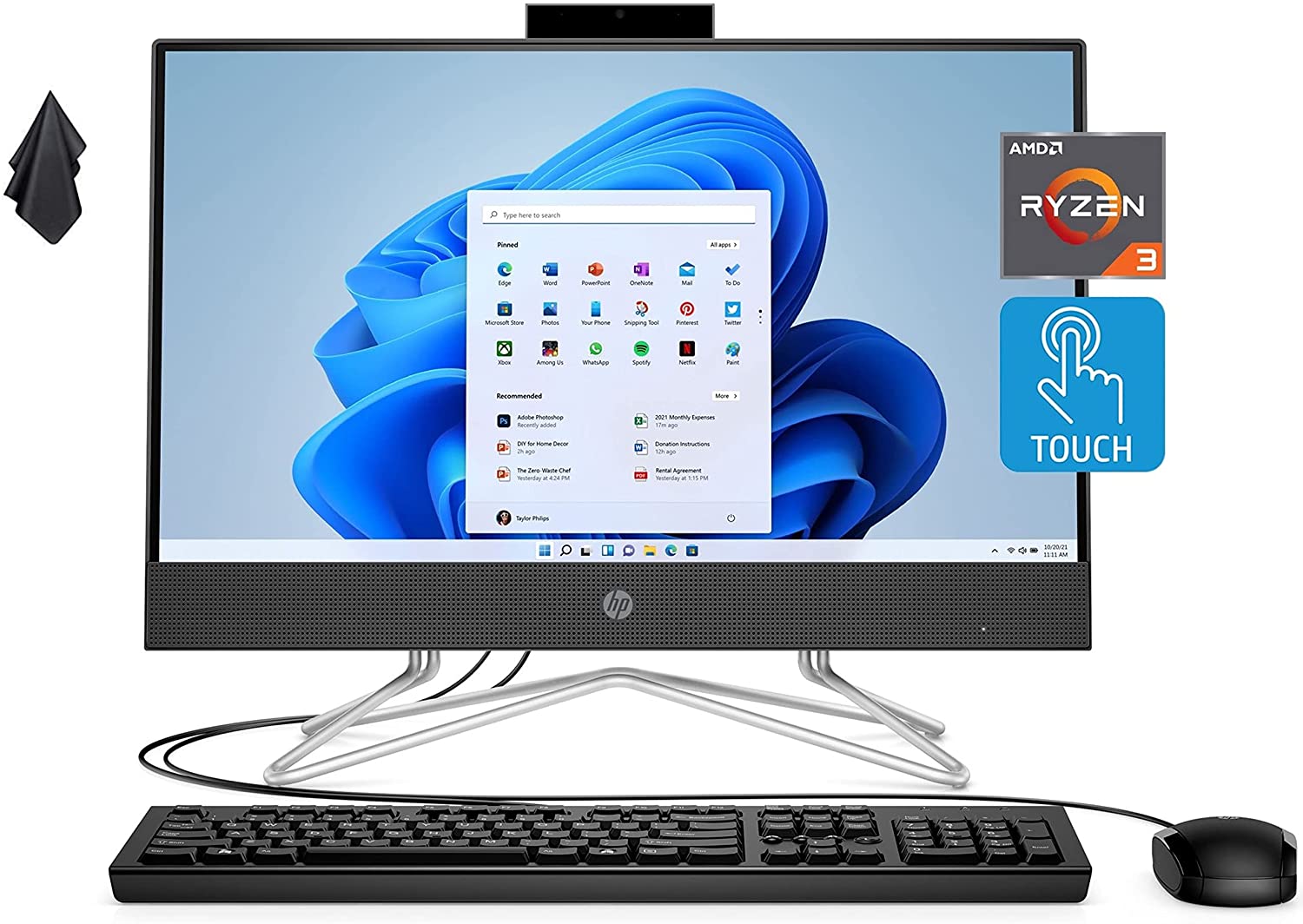 This particular laptop seems to have been designed for individuals who like some features that a personal computer comes with while appreciating the ease a laptop provides. So, while the system offers you a plethora of modern features, it also comes with several features, like a DVD writer, that you would expect in a computer from a couple of years back.
It is powered by the incredible AMD Ryzen 3 3350U quad-core processor that ensures speedy operation. One of the reasons why many people invest in it is because of its display screen. The screen is 22 inches wide and offers a resolution of 1920x1080 pixels. It comes with anti-glare technology and features a three-sided micro-edge display.
Why Should You Buy This?
An excellent option for those who wish to invest in a personal computer that can be set up or assembled very easily.
Highly recommended for multimedia professionals who need a massive display screen to work.
Pros
Easy to assemble
Features a DVD writer
22-inch display screen
High-end processing unit
Cons
No USB-C port
Low-resolution webcam
You may also read: Best Laptops For Home Use
Frequently asked questions about the best laptops with optical drives
1. Can I get the CD/DVD drive fixed on the laptop separately?
No. The CD/DVD drive has to be part of the original design of the laptop and cannot be added to it later. You can enhance the RAM or the storage, but not a DVD drive. However, you can connect an external CD/DVD drive via a USB cable.
2. Do all laptops come with an international warranty?
No, not necessarily. It depends on the manufacturer and the reseller. The warranty may apply based on where you are buying the laptop. Some manufacturers follow a policy where the warranty rights are transferred to the person using the machine. If someone buys a laptop in one country and moves to another, the warranty is transferred to the new country.
3. Do laptops come with MS Office pre-loaded?
No. Most brands don't add MS Office as standard software loaded on their laptops. You will have to buy one. Windows 10 has nowadays become the default operating system in almost all laptops. If you already have the key for MS Office, you can continue using it in the new laptop you are buying.
4. Can I play all games on the laptop?
It depends on the laptop you have purchased. If it has a decent display and a RAM of no less than 8GB, playing games is not a problem. However, you may not be able to play all games as the technical requirements for them may be different. Check the game's requirements and match the laptop specs. The GPU, graphics display capabilities, RAM, and cooling systems will determine this.
5. Can I watch Netflix on my laptop?
Yes definitely. You can watch all the OTT streaming content on your laptop. Your laptop has to be connected to a Wi-Fi source. The data speed of the Wi-Fi connectivity should be good enough for streaming videos without buffering.
Conclusion
If you are looking for one of the best laptops with CD drives, you can't go wrong with any of the laptops listed here. A laptop with an optical drive option is not as popular as it used to be, but still, plenty of models come in various price ranges to ensure all can afford one. The laptops mentioned here range from $400 to $1000, so you can choose the one that best suits your needs and budget.
---