Technobezz is supported by its audience. We may get a commission from retail offers
Looking for the best cheap laptop? Now is the time to change your old rig, why wait for the perfect system
Looking for the best cheap laptop? Now is the time to change your old rig, why wait for the perfect system when you can already choose from a wide range of ultrabooks that are already available on the market?
Laptops have become our lifeline. We cannot deny that they are one of our essential requirements. Be it for work, entertainment or just plain browsing; we look-out for our laptop.
Buying a new laptop, therefore, is a momentous decision. Gone are the days when buying a laptop meant burning a hole in your pocket. With the current cut-throat competition amongst the laptop manufacturers, this beloved device comes in a comfortable price range. And don't worry, low price does not mean that you will have to deal with a cumbersome model. These laptops are fast, responsive and powerful enough for your day-to-day activities.
Buying a laptop is an art. You should be clear about what you really want from your laptop. And on the other hand, to balance that, you should be ready to compromise on other features. The following are the basic things on which we will concentrate to decide the worth of the laptops before buying.
Processor and RAM size
Screen and Display Quality
Storage and Hardware Features
Audio and Webcam
Battery Life
Let's now check out a few different laptops that qualify to be among the best cheap laptops in the market.
With abundant and diverse supply, choosing the best laptop for your needs is easier than ever. Those who travel a lot and want easily transportable and cheap laptops will opt for an Ultrabook. Hardcore gamers will choose the most powerful laptops for their graphical needs while those who want flexibility will be attracted to a 2 in 1 laptop with Intel Inside® – laptop when you need, a tablet when you want. As the budget plays a very important role for many of us, we have created a list of the 5 best cheap laptops you can buy.
See also: Best Computer For AutoCAD
Buying Guide
Best cheap laptops can be bought for as little as $200. The points to consider here are what do you get out of a machine for $200. You will be surprised to find that these are efficient computers and serve your basic needs. It is common to find customers paying huge sums of money to buy a gadget but not use many of the features in it. You have to first decide what you need the laptop for. If a cheap laptop comes with the required specs and features, you should have no hesitation in picking up the machine.
Some factors have been covered in the paragraphs above. Some of the items listed above can be revisited in detail. This is to have a fair idea of the specifications of a cheap laptop.
Processor: The processor or CPU is the engine that runs the laptop. You would want a decent chipset fitted on the laptop. The clock speed of the processor can tell you if it will work efficiently. The clock speed must be at least 2.4GHz.
RAM & Storage: RAM should be at least 4GB. Check if there are models that have a higher RAM. When it comes to storage, you may find 500GB being offered. This is decent enough. Even if it just 256GB, you need not reject the piece.
Battery: You would definitely want a decent battery life for the cheap laptop. Go through the details of the battery and ensure that it will last at least 4-5 hours on a full charge.
Audio Output: If you intend to watch films and videos on your laptop, then the audio output has to be decent. Check the details. You always have the choice of adding an external Bluetooth speaker or use headphones to directly listen to the audio.
Touchpad: Many cheap laptops may be of a small size. Check if you are comfortable with the size of the touchpad. You can add an external mouse and start working. However, a lot of people are used to the touchpad and it has to be sensitive to touch and be of appropriate size.
Connectivity: A few features you may be missing on the laptop can be brought in through connecting the laptop through various connectivity options like ports. There must be the HDMI port, USB-C port, sufficient USB ports and other provisions on the cheap laptop.
Best Cheap Laptops
Powerful Performer with Style
Lenovo IdeaPad 120s: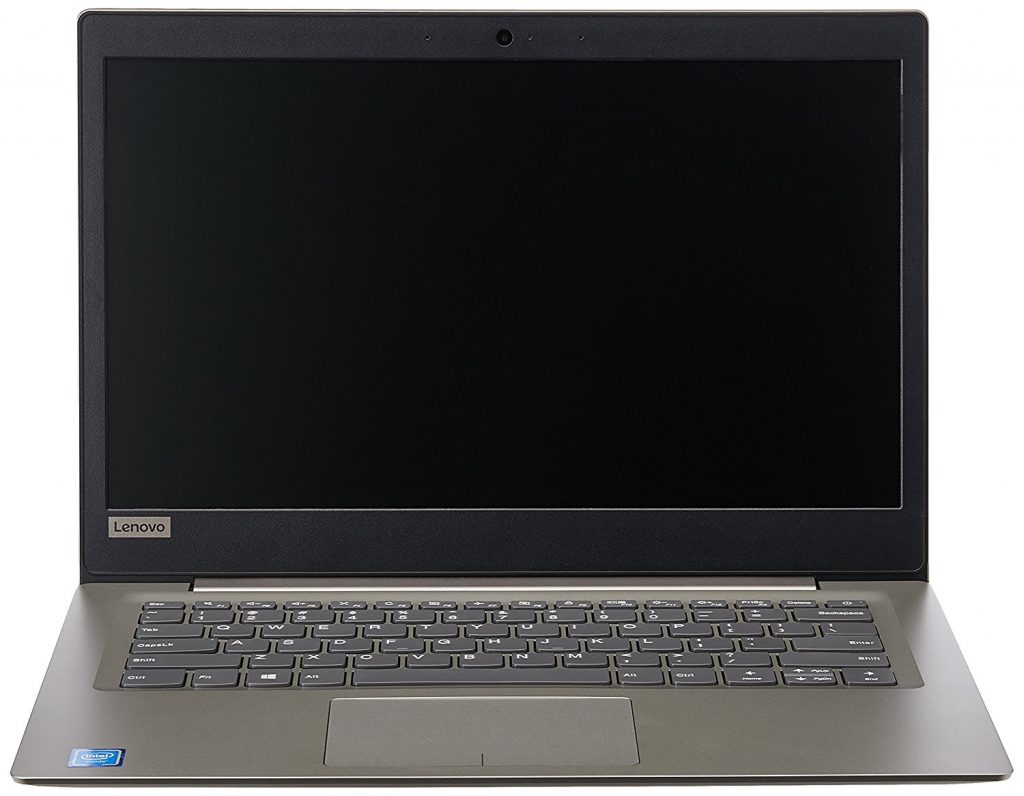 IdeaPad 120s offers an improvement on many features than its predecessor IdeaPad 110s.
The design of the IdeaPad is sleek and slender. Though made from plastic, the look is premium and has color options of mineral gray and denim blue. The laptop weighs only 1.27 kgs and is 20 cm thick. It comes with two USB 2.0 ports, one Type-C 3.0 port, HDMI and micro SD card reader. It also has a 3.5mm audio jack.
The 11" screen has a resolution of 1366 x 768. The smaller size of the screen gives a better pixel density at 135 PPI. The images are not sharp; however, the text looks clear and makes it suitable for reading and writing. The quality of the keyboard is pretty standard but is definitely sturdy. The touchpad response is smooth and accurate. There are two 1 W speakers at the bottom which provide satisfactory sound quality.
The IdeaPad 120s has Intel Celeron N3350 Processor with 4 GB RAM. The performance of the processor is fairly decent for the price range. However, multitasking will slow the machine. It has a Lenovo Ideapad 120S-14IAP as the graphics coprocessor which is definitely a good add-on for your gaming needs. The IdeaPad, however, has only 64GB eMMC storage. The best part about the IdeaPad 120s is battery life. It runs throughout a full day's work. A 0.3-megapixel webcam does not add to the features of the laptop.
A Lenovo IdeaPad 120s costs only $189.
Recommended For:
The Ideapad 120s is most suitable for basic reading, writing, web-browsing, office tasks and a little bit of gaming.
At an extremely reasonable price, the performance of the laptop is noteworthy.
Stylish design and sturdy features are the pros.
Display and the Webcam are the downsides of the laptop.
Cheap but guaranteed satisfaction
Samsung Chromebook 3: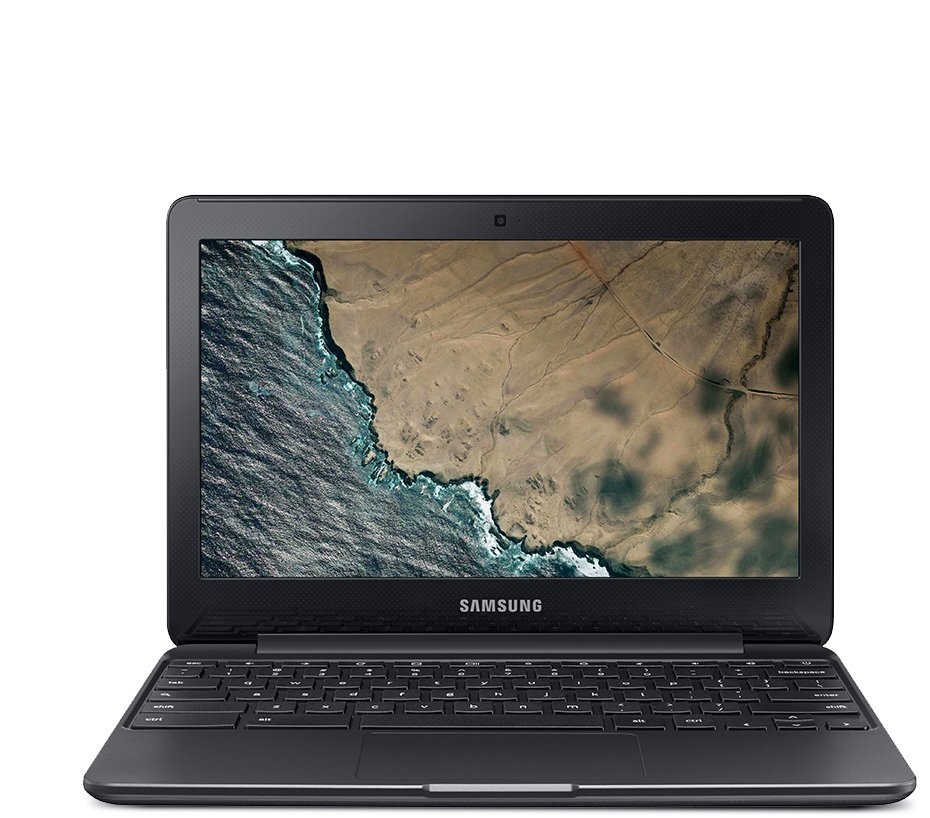 Chromebooks are the new age laptops. Taking portability to a new level, these machines are here to change the laptop scene.
Samsung Chromebook 3 scores a home run when it comes to the design. It is sleek and premium looking with textured feel on the lid. With only 1.15 kg weight and 20 cm in thickness, it is a perfect companion for travel. The Chromebook has one 2.0 and one 3.0 USB port, full HDMI port and micro SD card slot. It also has a headphone-mic combination jack.
The 11" screen has a resolution of 1366 x 768 pixels. Even though the configuration is similar to Lenovo IdeaPad 120s, the brightness is more and image quality is sharper. The keyboard of the Chromebook is really good and the keys are aptly sized. The touchpad size is larger than many laptops and is accurate and highly sensitive. The speakers at the bottom of the laptop are just about decent.
Samsung Chromebook 3 has a 1.6-GHz Intel Celeron N3060 processor with 4 GB RAM. The performance is at par level or slightly higher than the laptops in this price range. It also has an Intel HD Graphics 400 card which handles basic games really well. The storage of the Chromebook is 32 GB eMMc flash memory.
The battery life is really good and can run throughout the day from a single charge. Chromebook provides HD webcam, quite unlike the rest of its counterparts who have been disappointing in the webcam section.
You can purchase a Samsung Chromebook 3 at just $200.
Recommended For:
It gives the best of both worlds.
Style and high performance at a very reasonable cost are the much-appreciated pros.
Weak speakers are a bit of a setback.
Basic Laptop with Remarkable Surprises
Dell Inspiron 11 3000: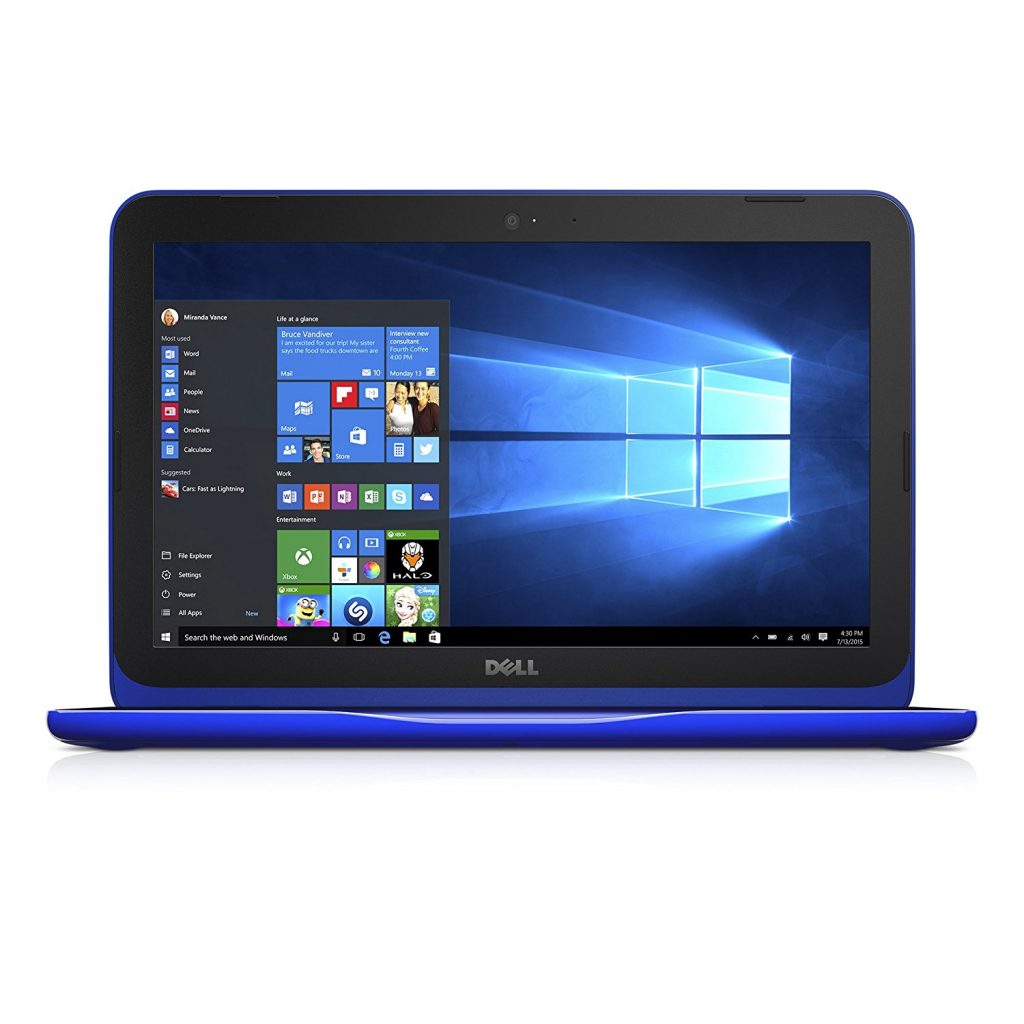 Dell is known to make budget-friendly yet powerful laptops. Therefore, its presence in this list is not surprising.
Dell Laptops are generally designed for robust handling. The glossy finish on the lid of the laptop is appealing but it also attracts a number of fingerprints. The laptop weighs only 1kg and is approximately 30 cm thick. The Dell Inspiron 11 has one 2.0 and one 3.0 USB port, HDMI port and SD card reader slot. It also has a headphone jack and Noble Security lock slot.
The 11" screen has a resolution of 1366 x 768 pixels and is satisfactory for basic functions like reading and writing. However, the screen lacks brightness which is unfavorable while watching movies or videos. The keyboard is slightly congested but is sturdy and does not flex. The touchpad is accurate, but you need time to get accustomed to a button-less feature of the touchpad. Dell has provided excellent speakers that give a good audio experience.
Dell Inspiron 11 3000 has a Celeron N3060 processor with 2 GB RAM. The lesser RAM makes multitasking difficult and sluggish. It has Intel HD Graphics with shared Graphics memory but due to lack of a strong processor, the graphics card does not do much. The storage of the laptop is 32 GB eMMC.
Dell claims the battery to last for about 9.5 hours. The webcam is of 0.9 megapixel and functions decently during the video calls. It clicks pictures with a bit of visual noise.
A Dell Inspiron 11 3000 will cost you around $191.
Recommended For:
The durability of the laptop, excellent audio and display are the advantages of this laptop.
The setback of the processor, however, is a significant one.
Best Cheap Laptop with Unique and Outstanding Package
HP Stream 11: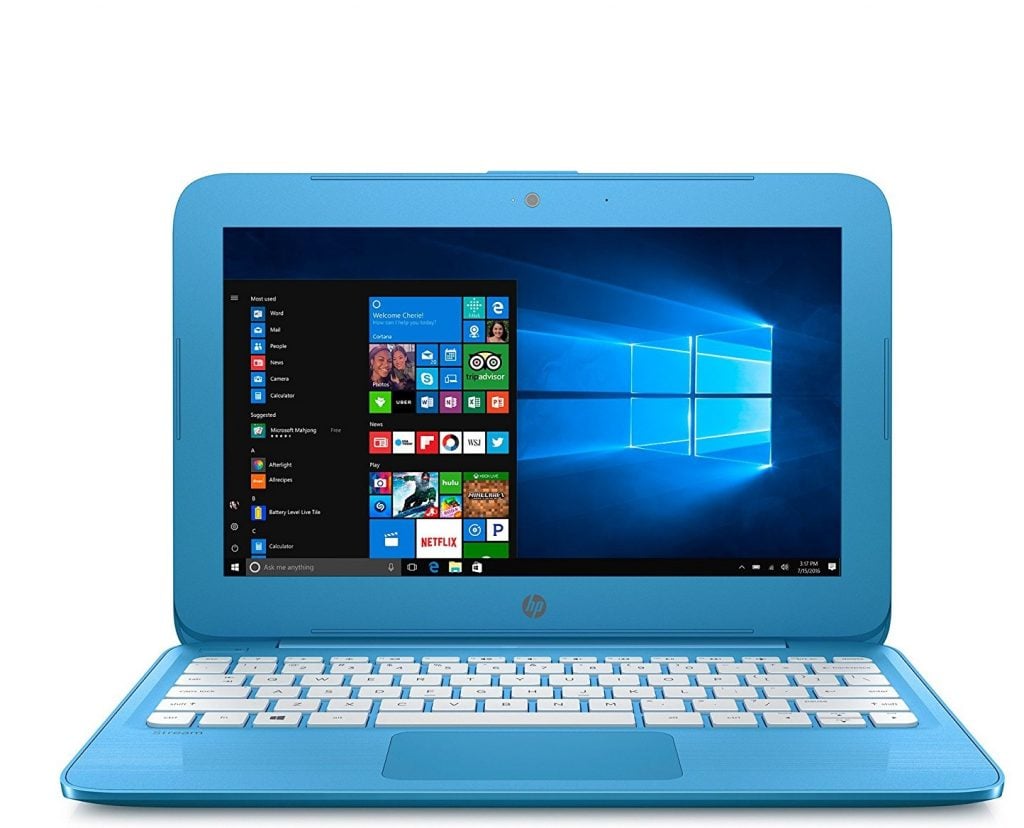 HP Stream 11 is a strong competition to Dell Inspiron 11.
HP Stream 11's design can aptly be called 'Quirky'. The bright colors give it a toy-like appearance and has its plus and minus points. The design can be highly appealing to the students to flaunt in front of their peers, but the corporate folks can give it a miss. It has one 2.0 USB port and one 3.0 USB port, HDMI port and a microSD card slot. It has a headphone jack combined with a mic.
The 11" screen has a resolution of 1366 x 768 pixels but the images look bleached. The colors on the display are not authentic enough. The brightness of the screen isn't bad. The white keyboard which stands out from the bright colored laptop body is strong and has well-sized keys. However, the sharp edges hurt your wrists while typing which is a very peculiar drawback. The touchpad is very accurate and sensitive. The speakers of HP Stream 11, located at the bottom are the USP of the laptop.
The HP Stream 11 packs an Intel Celeron N3060 processor with 4 GB RAM. It gives a solid performance, definitely better than Dell Inspiron 11 3000. Intel Graphic 400 along with the processor gives a good edge to the games. The storage is 32 GB eMMC.
HP claims that the battery life lasts for 10.45 hours, which is slightly doubtful. The webcam provided is VGA and gives a satisfactory performance.
An HP Stream 11 will cost you $250.
Recommended For:
HP Stream 11 offers a very powerful performance.
The audio quality is equivalent to any high-end laptop.
The cons of the laptop are the washed-out quality of the images and for some people the bright color and toy-like appearance.
The sharp edges at the bottom of the laptop base cause significant discomfort and pain.
High Priced but Extraordinary
Acer Aspire E15 (E5- 576G-5762)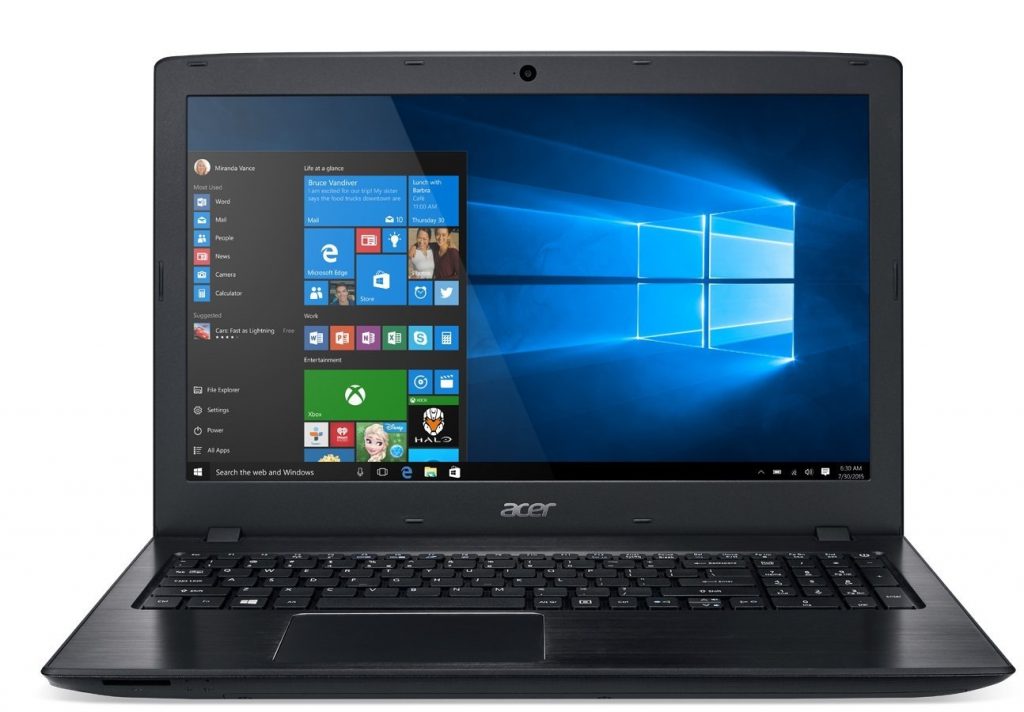 All the laptops we have discussed in the article are below $500. But if you have a flexible budget and need a better configuration, Acer Aspire E15 is your answer.
The design of this laptop is definitely sturdy. It is made up of black plastic and light design on the lid and the inside. The laptop is 2.2 kg in weight and is 30 cm thick. It comes with a DVD-RW Drive. It has two USB 3.0 and one USB 2.0 ports, VGA and HDMI outputs, Gigabit Ethernet, SD Card Slot and Combo headphone-mic jack.
Aspire E15 has a 15.6 inches screen with a screen resolution of 1920×1080 pixels. The screen color quality is moderate and has fair brightness limits. The keyboard of the laptop is backlit and includes numeric-pad. The touchpad response is quite accurate and sensitive.
The Aspire E15 houses an Intel Core i5-8250U processor with 8GB of RAM. The configuration is very good and hardly slows the machine while multitasking. It has 256 GB of storage space. The laptop comes with an Nvidia GeForce MX150 graphics card. Acer claims that the battery lasts for 15 hours which is fair enough for the laptop with this configuration. The Webcam in the laptop is mere 0.9 megapixels, which is a letdown and the images clicked are blurry.
An Acer Aspire E15 (E5- 576G-5762) costs about $599.99.
Recommended For:
The performance of the laptop is unbeatable for the price it comes at.
Sturdy keyboard, strong battery life and extra graphics card are definitely the pros for the laptop.
The low brightness of the screen and the design are not very appealing.
Other models worth buying
Best Lenovo Cheap Laptop For Business People
Lenovo IdeaPad 100-15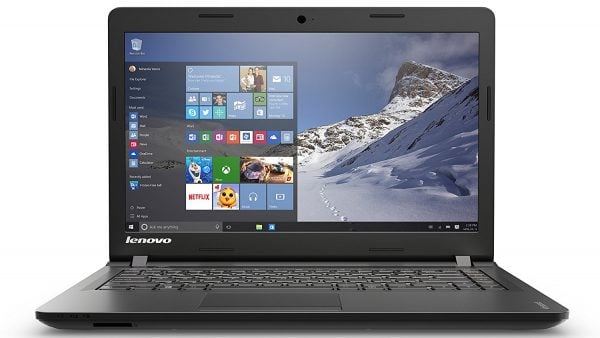 This laptop is powered by an Intel® Core™ processor from the fifth generation, incorporating a new standard of performance and versatility, suitable for the most crowded and fastest lifestyle. The Intel® Core™ i3, i5, and i7 processors will allow a new wave of innovations with features such as 3D scanning inspection of gestures and voice commands. For businesses, the Intel® Core™ vPro™ are designed to meet the needs of mobility and security, having the ability to connect wirelessly. This is no doubt one of the best cheap laptop to own that have all the needed features.
Recommended for:
People who need a laptop to do basic computing work on a day-to-day basis
Professionals who are fine with the speed, but would like to have the option to upgrade it in the future via Solid State Drive
Users who look for good wireless connectivity
Best Cheap Laptop For All Purposes
2 in 1 laptop: Lenovo Yoga 500-14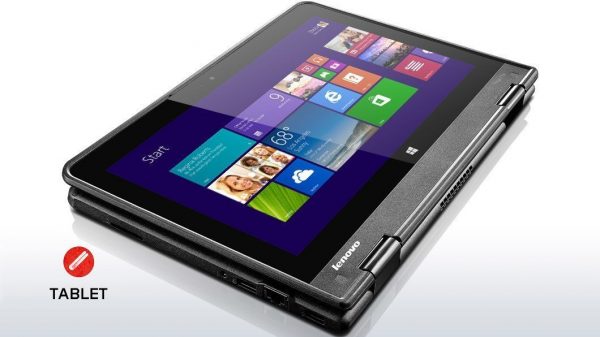 PC when you need it, a tablet when you want and even more. You can quickly change between the four modes: Laptop, Stand, Tent, and Tablet. The screen can rotate 360 degrees around the axis, which means that you can select how to use it, depending on what you choose to do. Enjoy exceptional performance and vibrant images to easily perform several activities, amazing battery autonomy and built-in security features to keep your data safe.
Recommended for
Those who are particular about their laptop having a sleek and attractive design
People who need multiple connective ports to use a bunch of peripherals while working
Those who like their device to have good hybrid features
One Of The Best Cheap Laptops Under $500
HP Stream 13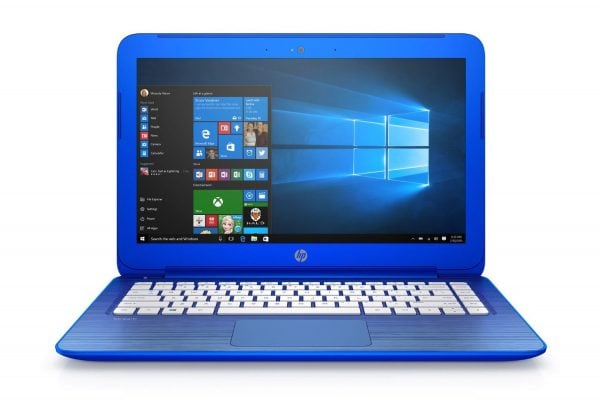 If you are looking for the best budget laptop with solid-state storage, HP Stream 13 is another great option to look for. The color combination is very attractive that has a cobalt blue color with the white color keyboard, best suited for college students. The battery life is quite appreciating, with a blended-use it can be alive for one and a half day. The audiovisual is something that will attract all and the keyboard is highly durable while it makes typing an amazing experience.
Recommended for
People who need a lot of storage space would benefit from the huge storage capacity it provides
College students who would like their laptop to have a colorful and vibrant look to it
Professional typists or writers as the device features a sturdy and durable keyboard
Best Cheap Laptop For Business Users
Dell Inspiron i3543-000BLK 15 3000 Series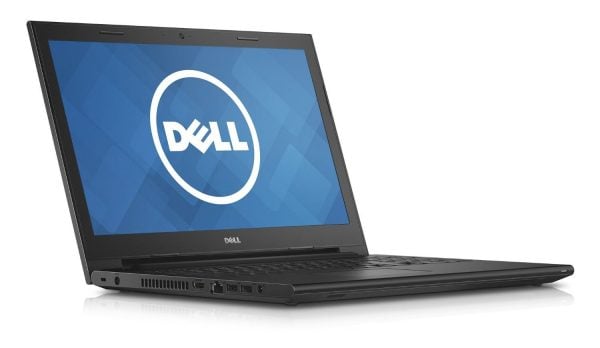 If you are looking for a laptop with Intel Core processor, Dell Inspiration 15 3000 series is no doubt a good option that delivers amazing responsive power considered as more than a standard level. It is great for business users. Its features include 4GB RAM, 500GB HDD and the processor is Intel Core i3 5005U 2 GHz. But in case you need to upgrade the memory, you will have to pay for that as there is only one memory slot on the laptop. The 15.6 LED lit screen is just excellent to enjoy all kinds of movies, games, videos, and audios.
Recommended for
School students who would like to carry a laptop which has a lightweight structure and compact design makes it an ideal choice
People who are looking for a mid-range computer that would be proficient enough to do basic functions
Movie buffs who need a high-definition screen to consume video content on
Best Cheap Laptop With Great Battery Life
Lenovo ThinkPad 13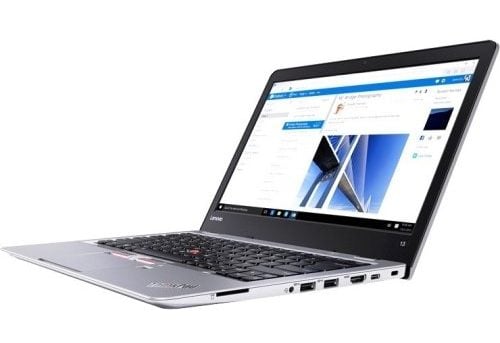 This inexpensive laptop is best suited for all the college students and business people who all are looking for a kind of device that is accompanied with long battery life, durable keypad, and robust build. Also, the lightweight of the laptop makes it too easy to carry around everywhere. Its specs are Intel Celeron 3855u Dual-core processor, 4GB RAM, 128GB SSD, a bright display, etc. It comes with Windows 10 Pro that is compatible with all the primary needed apps. The average battery run time is 11.6 hours. So, have a look at this laptop as this can be the one you are looking for.
Recommended for
People who type for several hours and could well benefit from the Signature Thinkpad keyboard
Individuals who are attracted towards a well-designed, sophisticated laptop with a premium look and feel to it
Those who seek a well-rounded Ultrabook that does not disappoint in terms of performance
Frequently Asked Questions
Can the cheap laptops be connected to Wi-Fi?
Yes, you can connect your cheap laptop to the internet via Wi-Fi. The data speed you can achieve on the laptop is not known. It will depend on the capacity of the ethernet cable used and so on. You have ways of finding out the connection speed through tools available online.
How to address the shortage of storage space in cheap laptops?
You can use external storage devices to boost the storage available on your laptop. The flash drive connected to the laptop via the USB port can be used directly. If the flash drive is not offering much help, there are hard discs available for storing your photos and documents. There is a cloud storage option as well.
What about the printing arrangement on the cheap laptops?
You can connect any cheap laptop to a printer. There is a user-friendly menu for installing a printer. If your printer is Wi-Fi-enabled, you can avail of the feature through the wireless method as well.
My laptop's top panel has too many scratches. Can I change that alone?
Changing the top panel alone may not be feasible. You can check with the service center if they could change the panel. You may even have a choice of colors for it.
Which is the safest way to download and install software applications on my laptop?
Laptop security is critical and you must be careful while downloading software from third party websites. You must first have a good antivirus program installed on your laptop. It will block any malicious content being downloaded. Programs from the Play Store are expected to be reliable.
Conclusion
The best cheap laptops are mentioned here. All these laptops are available on Amazon and you can avail discount offers as well if you are lucky enough. The ranges of all the laptops are affordable and perfect for college students, business users and those who are looking for a laptop for everyday use. So, pick up the one that suits you the best.
---