Featured in this article (opens in new tab)
Looking for the best cheap laptop? Now is the time to change your old laptop. Why wait for the perfect system when you can already choose from a wide range of ultrabooks that are already available on the market?
Laptops have become our lifeline. We cannot deny that they are one of our essential requirements. Whether for work, entertainment, or just browsing, we look out for our laptops.
Buying a new laptop, therefore, is a momentous decision. Gone are the days when buying a laptop meant burning a hole in your pocket. With the current cut-throat competition amongst laptop manufacturers, this beloved device comes in a comfortable price range. And don't worry, a low price does not mean you will have to deal with a cumbersome model. These laptops are fast, responsive, and powerful enough for day-to-day activities.
Buying a laptop is an art. You should be clear about what you really want from your laptop. On the other hand, to balance that, you should be ready to compromise on other features. We will concentrate on the following basic things when buying a laptop.
Processor and RAM size
Screen and Display Quality
Storage and Hardware Features
Audio and Webcam
Battery Life
Let's now check out a few different laptops that are among the best cheap laptops on the market.
With abundant and diverse supplies, choosing the best laptop for your needs is easier than ever. Those who travel a lot and want easily transportable and cheap laptops will opt for an Ultrabook. Hardcore gamers will choose the most powerful laptops for their graphical needs, while those who want flexibility will be attracted to a 2-in-1 laptop with Intel Inside® – a laptop when you need it, a tablet when you want. As the budget plays a very important role for many of us, we have created a list of the five best cheap laptops you can buy.
See also: Best Computer For AutoCAD
Buying Guide
Best cheap laptops can be bought for as little as $200. The points to consider here are what you get from a machine for $200. You will be surprised that these are efficient computers that serve your basic needs. It is common to find customers paying huge sums of money to buy a gadget with limited features. You have to first decide what you need the laptop for. If a cheap laptop has the required specs and features, you should not hesitate to pick up that machine.
Some factors have been covered in the paragraphs above. Some of the items listed above can be revisited in detail. This is to have a fair idea of the specifications of a cheap laptop.
Processor: The processor or CPU is the engine that runs the laptop. You would want a decent chipset fitted on the laptop. The processor's clock speed can tell you if it will work efficiently. The clock speed must be at least 2.4GHz.
RAM & Storage: RAM should be at least 4GB. Check if there are models that have higher RAM. When it comes to storage, you may find 500GB being offered. This is decent enough. You don't need to reject the piece, even if it is just 256GB.
Battery: You would want a decent battery life for a cheap laptop. Go through the details of the battery and ensure that it will last at least 4-5 hours on a full charge.
Audio Output: If you intend to watch films and videos on your laptop, the audio output must be decent. Check the details. You always have the choice of adding an external Bluetooth speaker or using headphones to listen to the audio directly.
Touchpad: Many cheap laptops may be of a small size. Check if you are comfortable with the size of the touchpad. You can add an external mouse and start working. However, a lot of people are used to the touchpad, and it has to be sensitive to touch and be of appropriate size.
Connectivity: A few features you may be missing on the laptop can be brought in by connecting the laptop through various connectivity options like ports. There must be an HDMI, USB-C port, sufficient USB ports, and other provisions on the cheap laptop.
Best Cheap Laptops
Compact Budget Notebook with Catchy Design
Newest HP Windows 10 Laptop with 8GB RAM
Check Price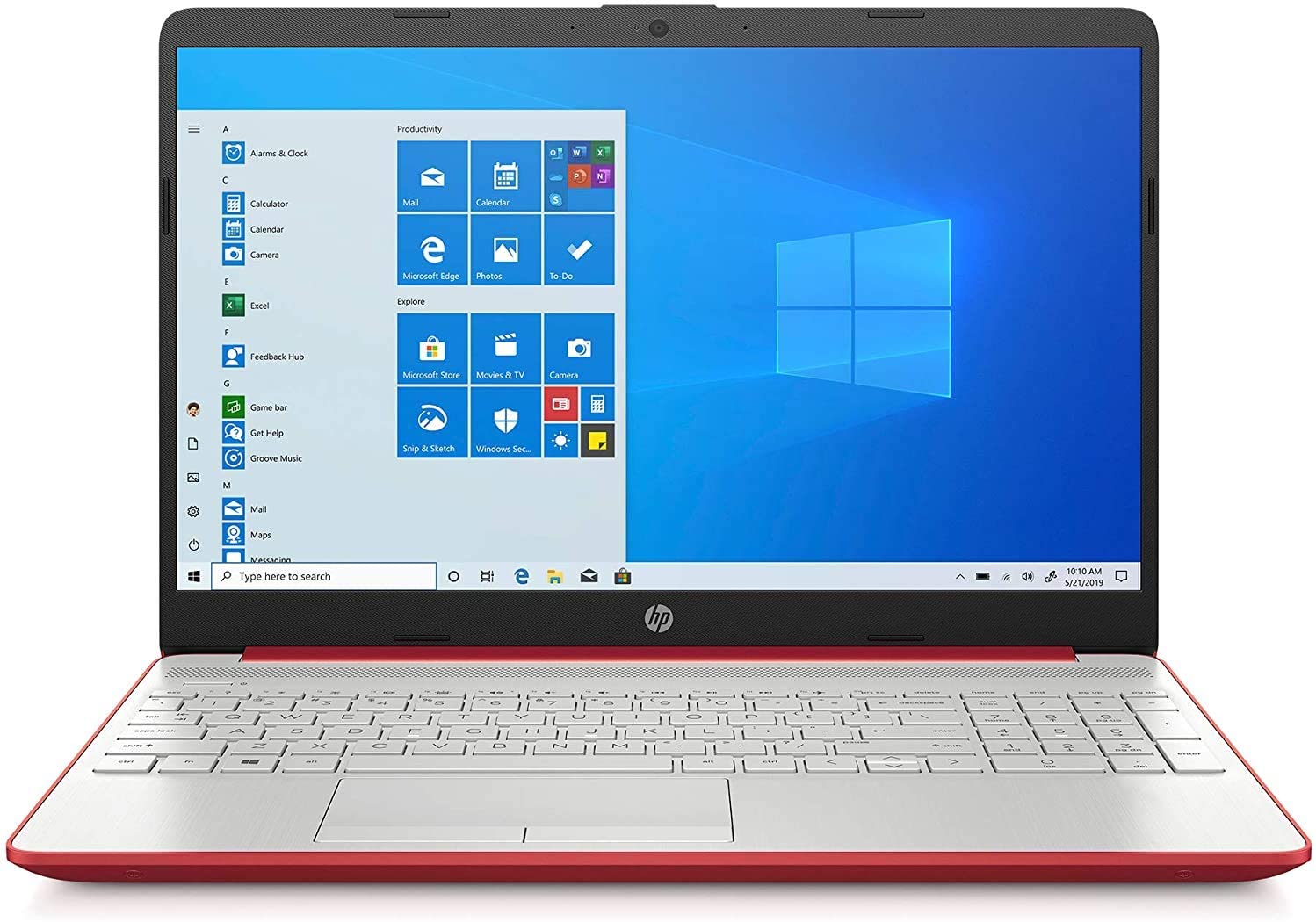 The HP 15.6-inch laptop comes with the Intel Quad Core Pentium microprocessor with a storage of 128GB SSD. Its operating system, Windows 10 is accompanied by 8GB of RAM and a multi-format SD media card reader. Its 6.5 mm micro-edge bezel design enhances the aesthetics of this machine.
The Wi-Fi 5, Bluetooth 4.2 clubbed with a 720p HD camera, integrated dual array digital microphone, and Intel UHD Graphics 605 are some of its other features. With a CPU speed of 1.1 GHz, this laptop provides a decent battery that makes you execute your work uninterruptedly.
This laptop comes with the Intel Pentium Silver N5000 processor based on the Gemini Lake platform.
This HP Laptop has a memory speed of 2666 MHz and durable lithium-ion batteries.
Compact and portable
Three USB ports
One year of Office 365
Ten hours of battery
Screen-to-body ratio is 81%
Mid-range Budget Asus Laptop with FHD Display
Asus VivoBook Laptop with Intel Core i3 and Windows 11 Home
Check Price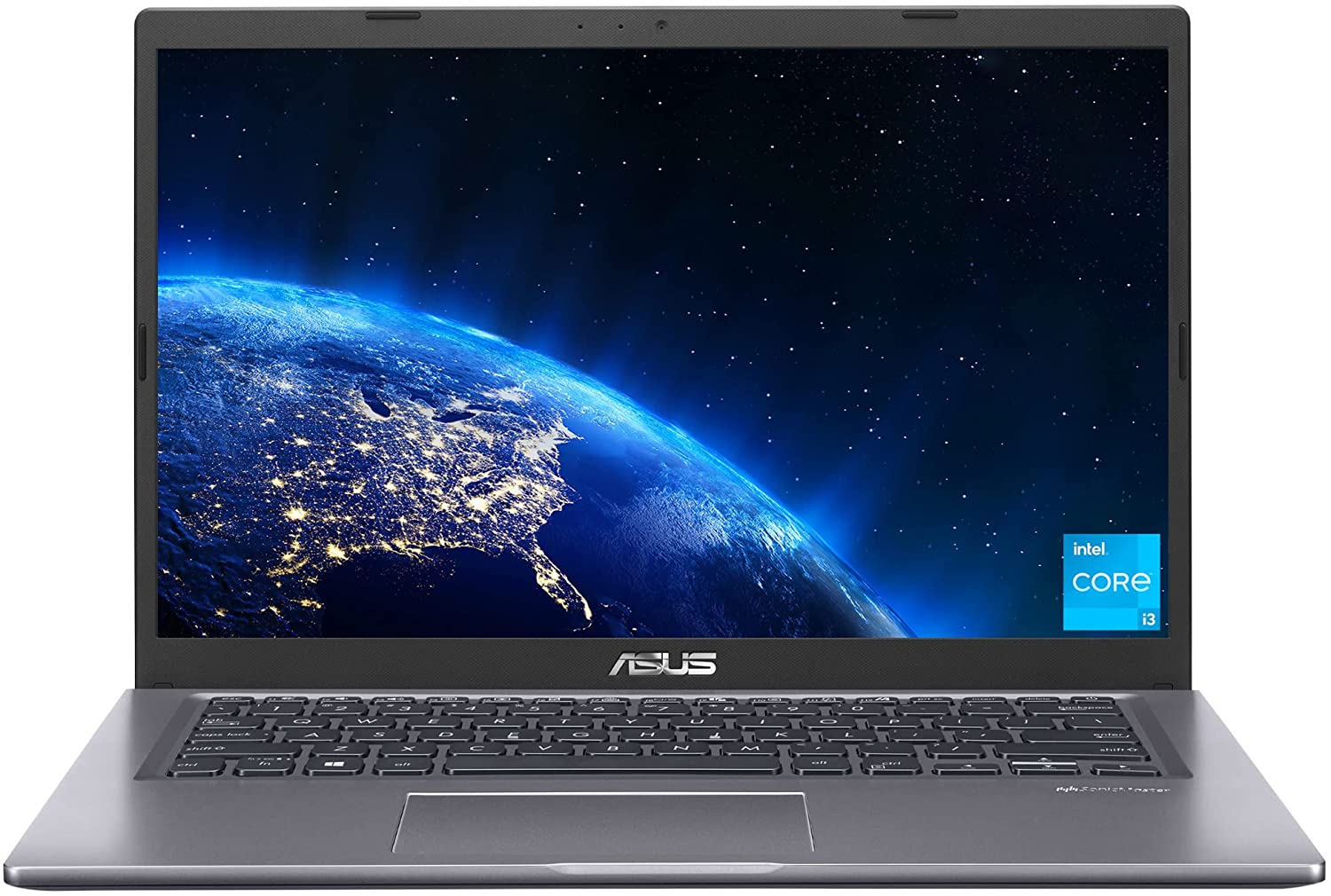 This laptop comes with a touchscreen Full HD IPS display and pulse-width modulation (PWM) to control the monitor brightness of up to 60 nits. This machine comes with an eco-friendly keyboard and fingerprint sensor. Elegantly designed, it also includes a wide-view FHD panel with an anti-glare coating to protect your eyes.
Well-equipped with a couple of USB ports, this slim and lightweight laptop with its nano-edge display provides you with a great viewing experience. You can carry it comfortably to the outdoors and easily work with its backlit keyboard even in a dimly-lit ambiance. Its fingerprint sensor relieves you of keying in your password every time you log in.
This sturdy laptop comes with a display resolution of 1920 x 1080 pixels, providing you with crisp imagery.
Its powerful Intel Core i3-1115G4 processor assures you of consistent productivity at all times.
Lightweight & portable
Ergonomic design
Windows 11 in S mode
HD webcam
Smooth connectivity
One of the Best Laptops for Students and Businessmen
Coolby Laptop with Intel J4005 Processor
Check Price
Designed with an Intel Gemini Lake processor, this YealBook comes with a pre-installed Windows 11 Pro and a 1366 x 768 anti-glare screen display. Its 64GB RAM furnishes you with fast computing speeds for gaming and other multi-tasking functions. This stunning machine also comes with a night mode feature and a cooler setting, easing the strain on your eyes.
Portable and user-friendly, this machine comes with practical interfaces which give you the freedom to even pair it with your television set. You can stream and watch 4K videos, play games and load web pages speedily without any hindrance. This laptop also supports M.2 SSD expansion and TF card.
Windows in this system provide you profile protection with enterprise-grade security.
This laptop enhances productivity with its power management tools and a long-lasting battery.
Wi-Fi & Bluetooth
Hi-definition screen display
Fast performance
Durable battery
Low Priced Laptop with Milky Snow White Color Shade
HP Laptop with MediaTek Integrated Graphics
Check Price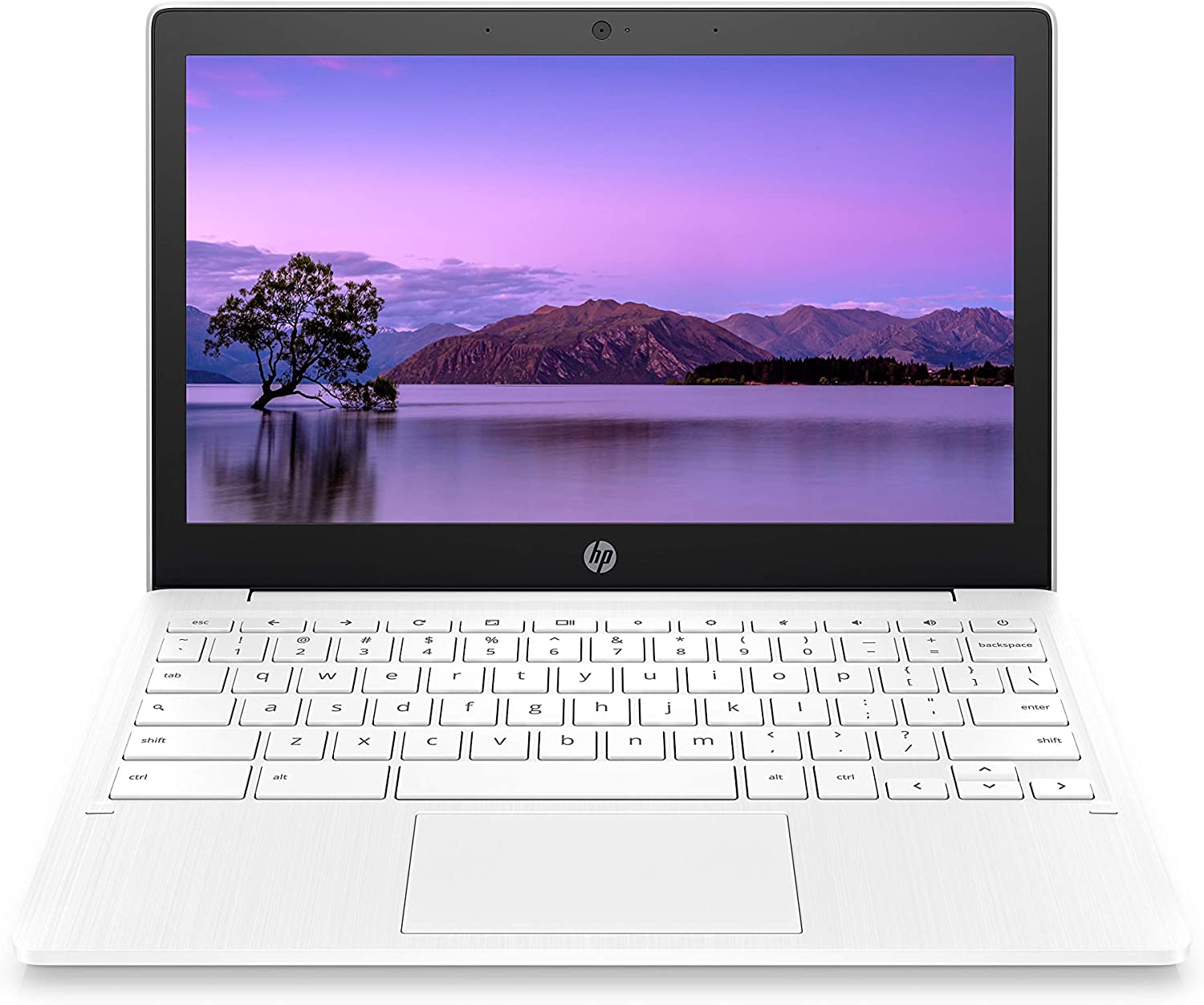 This pristine white-colored Chromebook is designed to be meticulously loaded with 32GB of eMMC storage. Its slim build and light weight make it easy to carry. This laptop has Wi-Fi, Bluetooth, and an 11-inch screen that enables you to stream movies and music with detailed brilliance and accuracy.
The machine's HD camera comes with an integrated dual array digital microphone to provide you with the ultimate stereo quality. From great optics to amazing audio, this machine is an all-encompassing computer that caters to your needs effortlessly.
Why You Should Buy This?
This laptop includes a battery of a 15-hour duration that assures you of the excellent performance of all your tasks.
You can access a wide range of Android apps on your smartphone or tablet.
Pros
Latest Wi-Fi WLAN adapter
One year warranty
Embedded multi-media card
Good audio and video streaming
Cons
Inferior Quality Touchpad
No DVD drive
Ultra-slim Laptop with Office 365 and eMMC Storage
11.6" ASUS Laptop with Intel Celeron N4020 and Windows 10
Check Price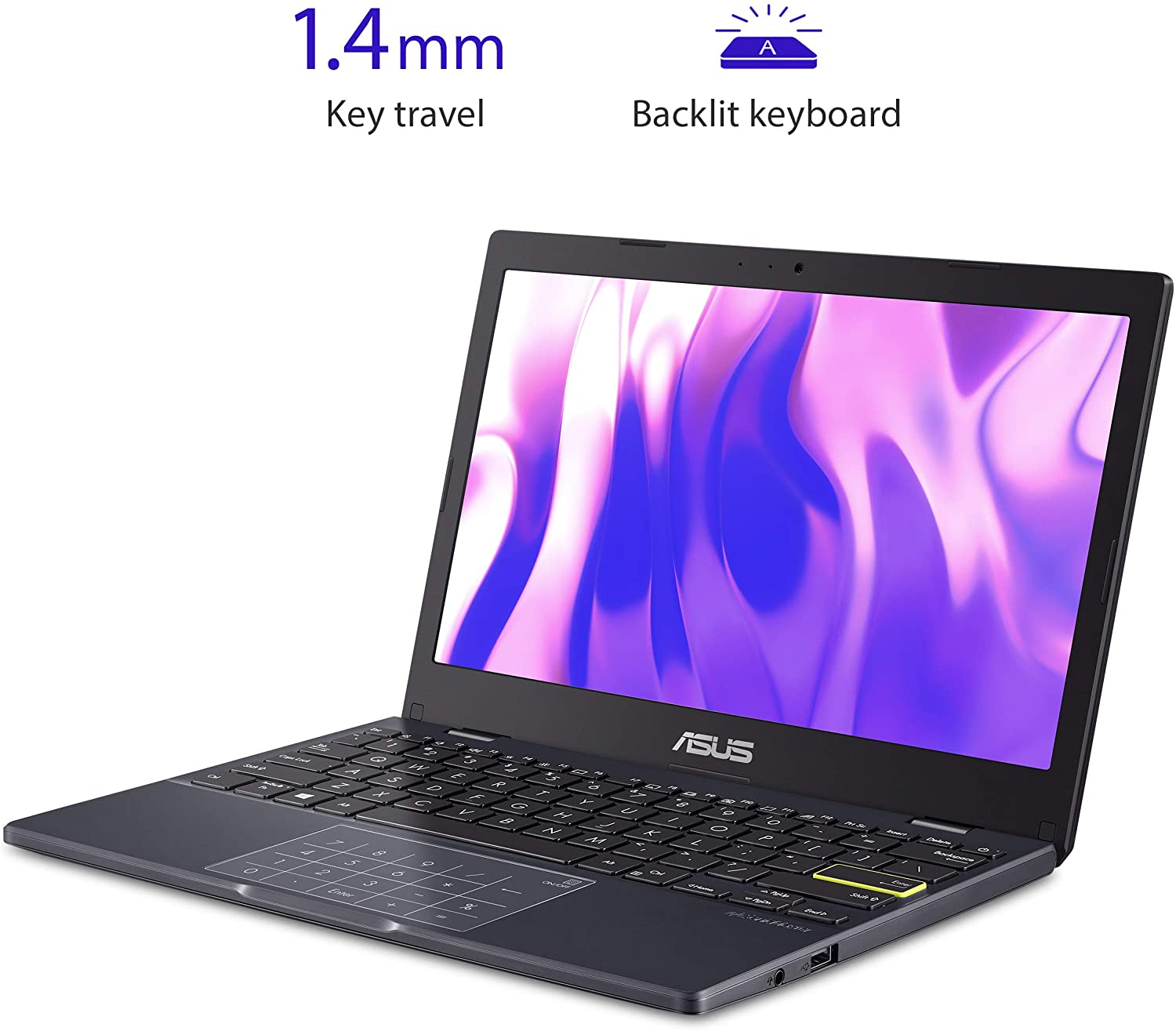 This sleek laptop's fine LED-backlit HD display enables you to work comfortably in dim light. This machine is loaded with the Intel UHD Graphics 600 chip and a Celeron N4020 processor that speeds up your various tasks in an efficient way. A pre-installed Windows 10 operating system, a comfortable keyboard, and a convenient number pad suffice to work your way through the day.
This laptop's unique feature is its 180-degree hinge, which elevates its aesthetics to a different level. A ten-hour sturdy battery enables you to work with the utmost comfort. You can enjoy crisp visuals with its Intel UHD Graphics 600. Its Wi-Fi 5-802 is clubbed with Bluetooth 4.1 enhances productivity.
This laptop is free of hardwired bloatware and boasts an excellent performance ratio.
The laptop has a sturdy build and is made of premium components, making it extremely durable.
Lightweight & portable
Spacious keyboard
No frames-drop
Economically priced
One year of Office 365
Convertible Laptop with 11.6" HD Touch Glass Display
Chromebook Spin 311 Laptop with Intel Celeron N4000
Check Price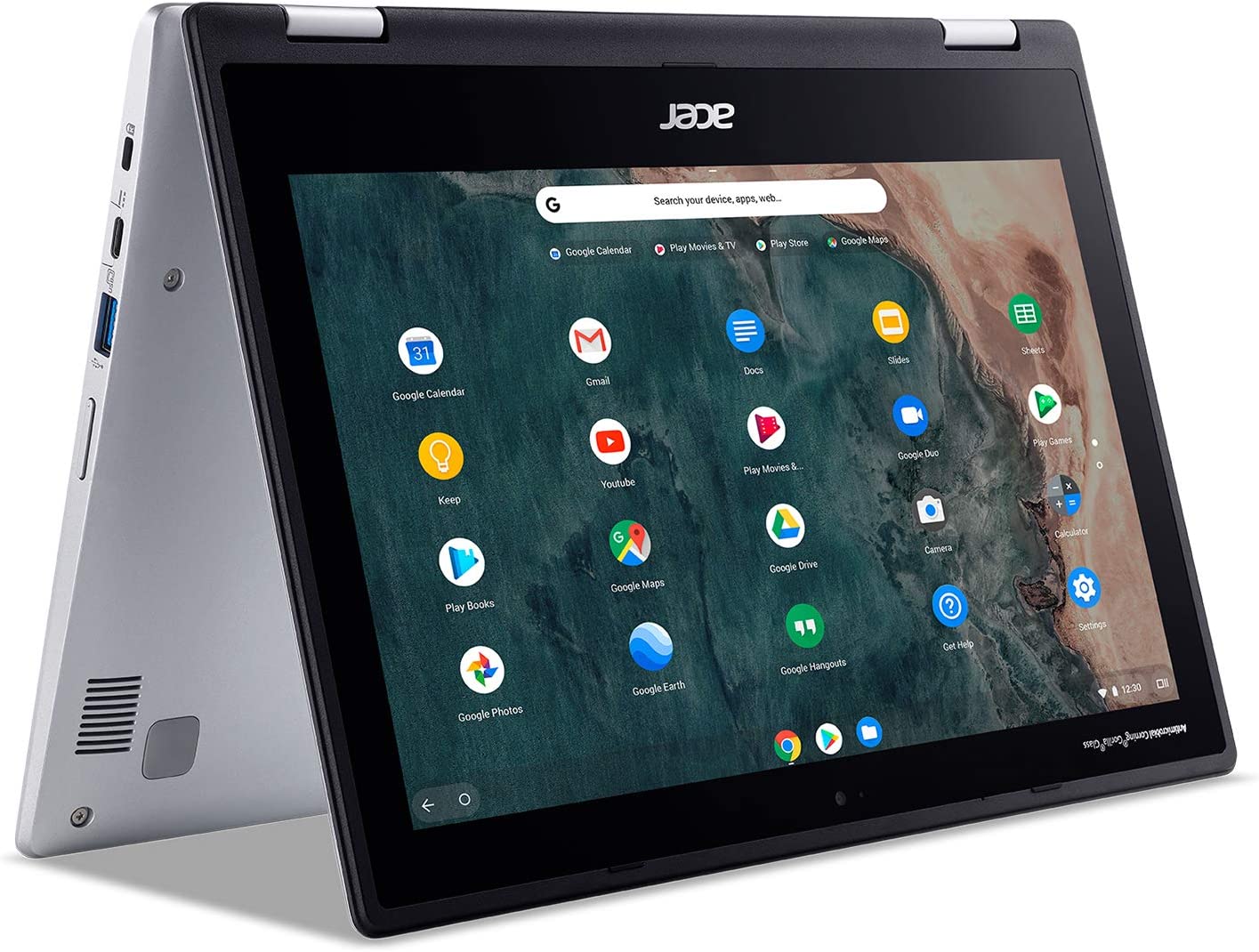 A built-in virus protection system, Chrome operating system, and all your favorite Google apps make this stunning laptop a marvel to work on. With a speedy home screen load, this compact Chromebook comes with 100GB of Google Drive space, which provides massive storage for all your important content. You can edit, download and even convert Microsoft Office files into Google Docs, sheets, and slides.
Its HD touch display comes with an anti-microbial corning gorilla glass which offers sharp and clear imagery. A ten-hour sturdy battery complements the 64GB eMMC, making the laptop come full circle. Its Intel 802.11ac Gigabit offers faster download speeds and more responsive performance.
Why You Should Buy This?
This stunning Chromebook comes with Wi-Fi 5.0, an HD Webcam (1280 x 720), and an 88-degree wide-angle lens.
Its built-in set of stereo speakers, two microphones, and USB ports make audio and video streaming a delightful experience.
Pros
Built-in storage for offline access
Google Drive space of 100GB
Fast boot-up of the system
HD resolution of 1366 x 768
Extremely compact
Cons
Frequently Asked Questions
Can cheap laptops be connected to Wi-Fi?
Yes, you can connect your cheap laptop to the internet via Wi-Fi. The data speed you can achieve on the laptop is not known. It will depend on the capacity of the ethernet cable and so on. You have ways of finding out the connection speed through tools available online.
How to address the shortage of storage space in cheap laptops?
You can use external storage devices to boost the storage available on your laptop. The flash drive connected to the laptop via the USB port can be used directly. If the flash drive does not offer much help, hard discs are available for storing your photos and documents. There is a cloud storage option as well.
What about printing arrangements on cheap laptops?
You can connect any cheap laptop to a printer. There is a user-friendly menu for installing a printer. If your printer is Wi-Fi-enabled, you can also use the feature through the wireless method.
My laptop's top panel has too many scratches. Can I change that alone?
Changing the top panel alone may not be feasible. You can check with the service center if they can change the panel. You may even have a choice of colors for it.
Which is the safest way to download and install software applications on my laptop?
Laptop security is critical, and you must be careful while downloading software from third-party websites. You must first have a good antivirus program installed on your laptop. This will block any malicious content from being downloaded. Programs from the Play Store are expected to be reliable.
Conclusion
The best cheap laptops are mentioned here. All these laptops are available on Amazon, and you can avail of discount offers if you are lucky enough. The ranges of all the laptops are affordable and perfect for college students, business users, and those looking for a laptop for everyday use. So, pick the one that suits you the best.