Technobezz is supported by its audience. We may get a commission from retail offers
Summary – Being a PC gamer and vying to join the great PC Master Race is not as expensive as some
| | | | |
| --- | --- | --- | --- |
| Logitech G903 Lightspeed Gaming Mouse | Razer Ornata Chroma Mech-Membrane Gaming Keyboard | Corsair K70 RGB RapidFire Mechanical Gaming Keyboard with Cherry MX Speed Switches | Steelseries Rival 310 PUBG Edition |
| | | | |
| See on Amazon | See on Amazon | See on Amazon | See on Amazon |
Being a PC gamer and vying to join the great PC Master Race is not as expensive as some assume. While buying a quick PlayStation 4 or Xbox One console saves time, money and gets you into gaming quickly, the long-term benefits of being a PC gamer are plenty.
It is a great hobby that you can develop over time and will challenge you even when you are in your 30s, earning high because the best PC gaming accessories are available at varying costs. Ranging from a cheap, but great value, for a gaming mouse, to an expensive mechanical gaming keyboard, you have plenty of accessories to make your gaming experience better.
We have handpicked some of the best PC gaming accessories that could make your gaming sessions fun.
See also: Best laptops for school and gaming
Best PC gaming accessories
Best PC gaming accessories – Gaming Keyboards
Affordable Gaming Keyboard
Redragon K552 Red LED Backlit Mechanical Gaming Keyboard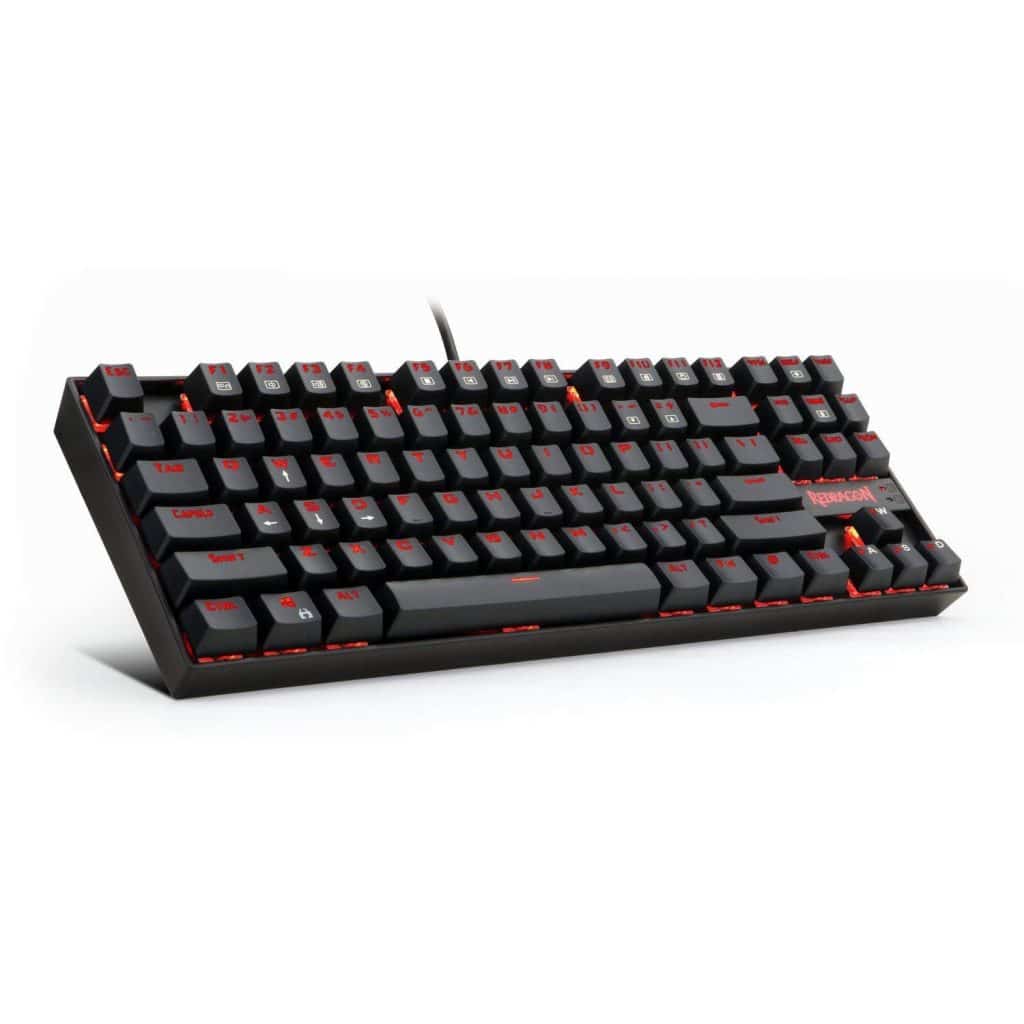 It couldn't get cheaper than this, because, for less than $50, you get the Redragon K552 Red LED gaming keyboard. The product uses mechanical switches which provide amazingly good tactile feedback every time you press the button. The keyboard is available in a range of colors including white, black with RGB colors, but the only red edition will cost you the least.
A compact keyboard that uses an equivalent of Cherry MX Blue switches that are loud, has strong tactile and uses molded key back. It helps bring out the lights in a prominent manner. The Redragon K552 uses ABS construction with metal components making it very sturdy and also uses gold plated USB connectors for long-lasting performance.
With 87 standard keys, 12 multimedia keys, and a splash-proof design, the product offers great value for money and is one of the best around. Make sure to know that it doesn't use a dedicated number keypad and is designed to be more of a gamer-friendly compact solution.
What Makes the Redragon K552 Keyboard Awesome?
The pricing is obviously a big selling point.
It also uses mechanical switches and has Red backlight with an audible click sound and tactile feedback.
Recommended For:
One of the best affordable mechanical gaming keyboards for beginners who are on a tight budget, but would like to experience mechanical keys at an early stage
Most Comfortable PC Gaming Keyboard
Razer Ornata Chroma Mech-Membrane Gaming Keyboard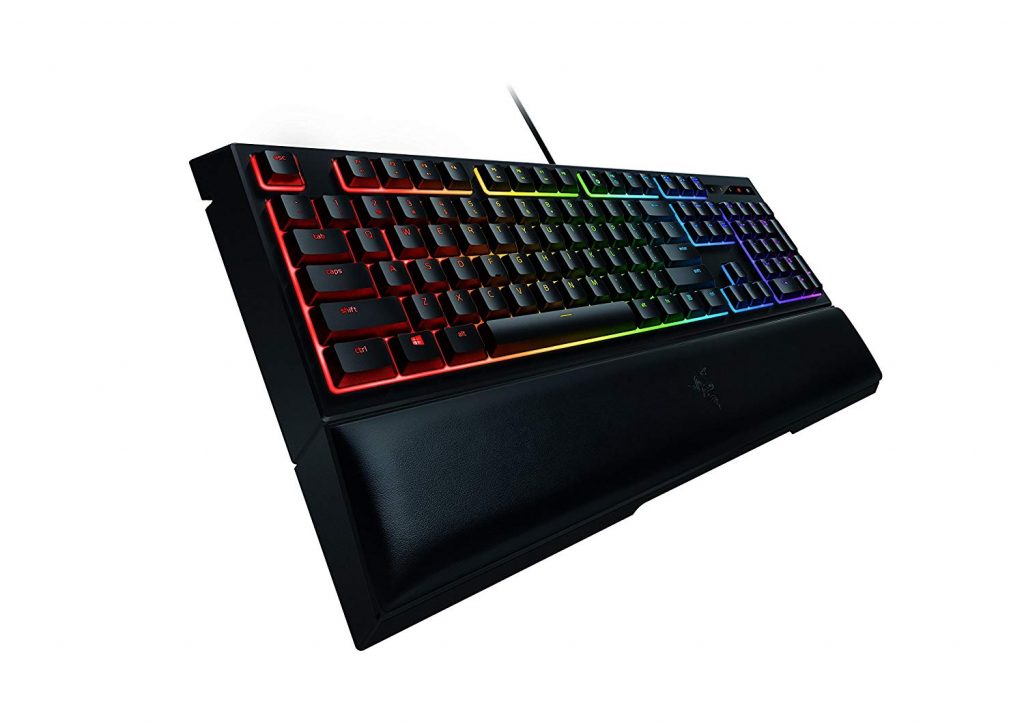 The Razer Ornata is an RGB keyboard that is commonplace among all the best PC gaming accessories, these days. People just don't buy any product, be it PC cases, keyboards, mice, or even RAM, without having RGB light strips embedded on them. If you are a sucker for such products, this one should fall right in place. The only catch is that instead of actual mechanical key switches, it uses a mixed mech-membrane switch.
The keyboard provides tactile feedback but it is not loud and has a cushion-like membrane on the bottom to provide the best of both worlds. The lighting is a big point for this product because it uses technology used in professional light manufacturers like Philips. Razer has tied up with over 30 partners to allow the lighting to effortlessly sync with multiple products and lots of AAA gaming titles.
Razer Hypershift allows you to customize the key switches and the magnetic, cushioned wrist rest ensures the highest level of comfort. Be it programming, gaming, or designing for long hours, you can enjoy the best comfort without any strain on your wrist. It supports up to 80 million clicks and uses a metal plate on top for added durability. The keyboard from Razer is equally rugged and comfortable which makes the Ornata a great product.
What Makes Razer Ornata Chroma an Ideal Choice?
Razer is a popular brand that specializes in PC gaming accessories.
RGB lighting quality is amazing.
It uses a new technology that provides both tactile feedback and comfort.
Recommended For:
Gamers who are a big fan of RGB lighting and would like to avoid the noisy mechanical Blue switches will love this new technology
An Expensive Gaming Keyboard for Premium Experience
Corsair K70 RGB RapidFire Mechanical Gaming Keyboard with Cherry MX Speed Switches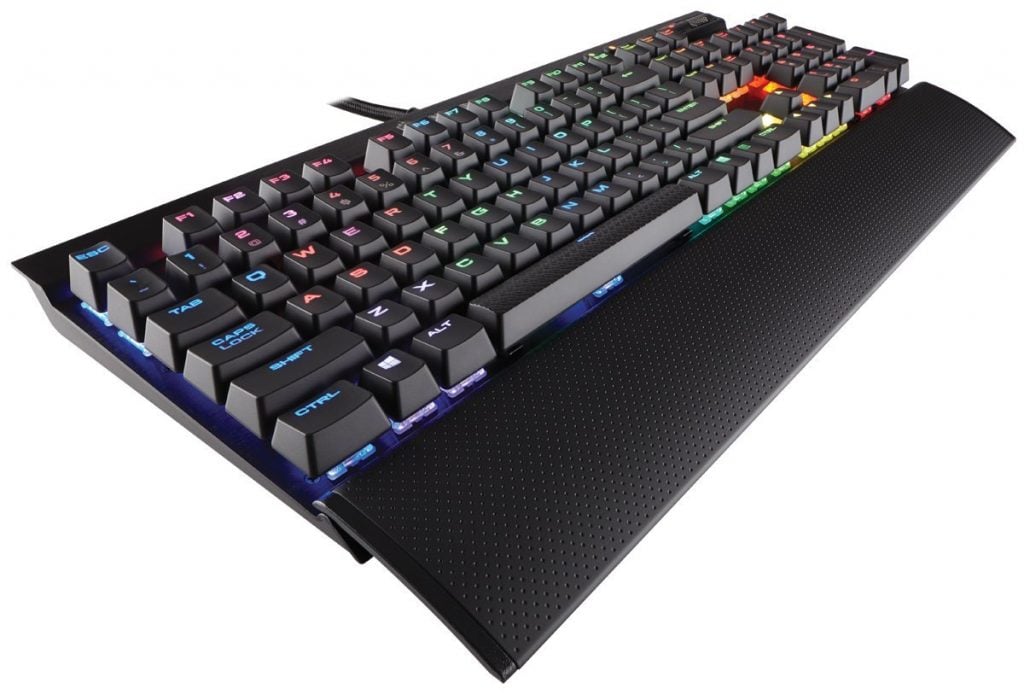 Once you have decided to go all out and spend the maximum sum on a keyboard, Corsair has got you covered. While the brand has some amazing choices in the budget range and other gaming keyboards that are customizable, the Corsair K70 RGB RapidFire mechanical keyboard is the top of the line. The product has everything, including a USB passthrough, full support for the ICeU software, and uses a sturdy build quality that evokes a sense of satisfaction.
The keyboard is rather large in size as it has a dedicated Num keypad and also dedicated media control keys. Gamers who love analog keys would love the buttons on top that lets you lock the Windows key during gaming sessions. The textured volume knob is fun to use and you wouldn't be surprised when you get really attached to it. It is fast and responsive. The keyboard is equipped with Cherry MX Speed switches that produce less sound and have a faster key actuation point.
It uses an aircraft-grade brushed aluminum frame and uses a 100% anti-ghosting full key rollover design. The Cherry MX keys used in a Corsair product are original which is why they cost a lot. It also has a USB 2.0 passthrough to quickly connect your smartphone or other peripherals in your PC gaming setup. The wrist rest is rubberized, textured and there are dedicated keys that you can use for MOBA or FPS gaming. The key puller is included in the kit and this is one of the ideal choices for a premium gaming experience.
What Makes the Corsair K70 RapidFire RGB Gaming Keyboard Excellent?
The keyboard uses original Cherry switches for an authentic experience and they last much longer.
It has a sturdy frame with a splash-proof design.
The RGB lights are authentic, customizable and the additional keycaps help MOBA/FPS gamers.
The textured finish on the spacebar and the wrist rest makes it more comfortable, durable.
Recommended For:
PC gamers who like to go all-out will enjoy this keyboard as it has great keys, Cherry switches and justifies the price you spend on it with dedicated media keys
Best PC gaming accessories – Gaming Mouse
Best Budget Gaming Mouse
Steelseries Rival 310 PUBG Edition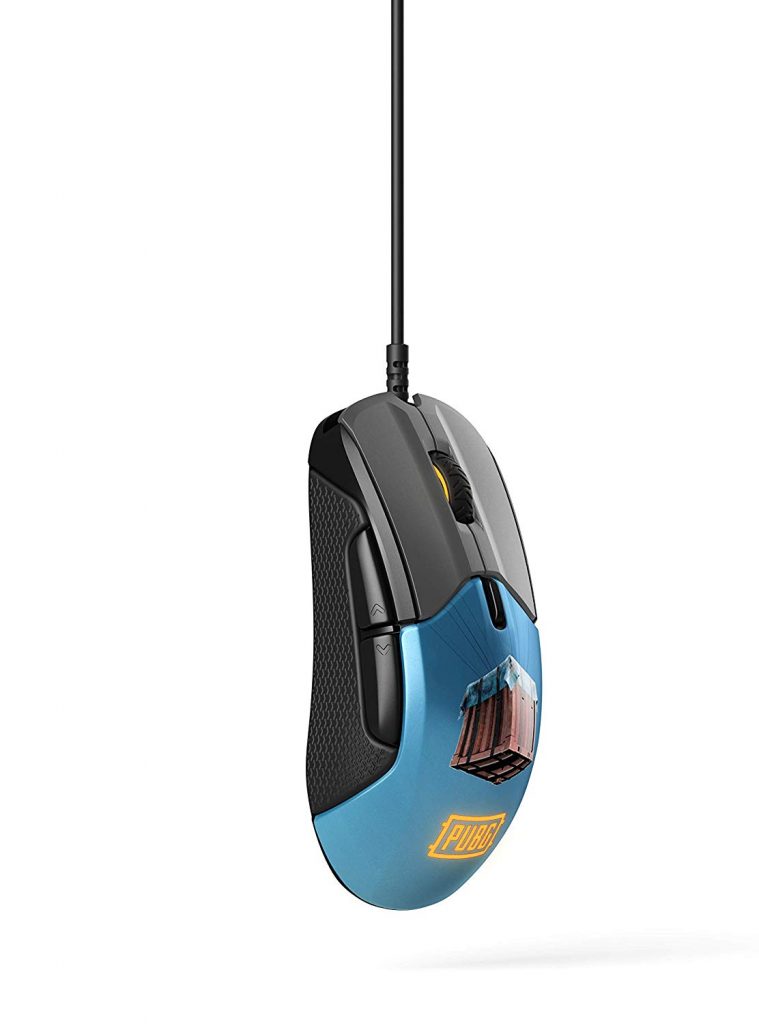 While you can find gaming mice for less than $30, the Steelseries Rival 310 PUBG Edition priced around $50 is a great pick. There is no doubt that a low-priced gaming mouse could get the job done. But, PC gamers who love customization, are addicted to titles like CS Go, Dota, or PUBG, these custom edition products give you a sense of satisfaction. The same can be purchased for $10 if you opt for the basic, black edition Rival 310.
Designed for right-handed gamers, the mouse uses TrueMove3 12,000 CPI optical sensor. The lightweight design allows you to move freely and make sure you don't miss another sniper shot in a game of Counter Strike or Call of Duty. The mouse is plain with just two buttons on the side for DPI adjustment and you can customize as you like using Steelseries custom software.
The ergonomic design feels great in the hand and esports players have been consistently rating this model as one of the best around. The rubber grips on the side feel good to your thumbs and ensure there is no strain when you use it for long hours of gaming. It is an RGB mouse with two-zone illumination and the buttons are tactile, have a very clicky response, and even look cool.
What Makes the Steelseries Rival 310 Mouse the Best?
It is available in PUBG, CS GO Howl edition, and a cheaper Rival 310 providing multiple design choices.
The rubber grip feels amazing and the right-handed mouse just fills your palm area comfortably.
It is lightweight and a perfect choice for FPS games.
Recommended For:
FPS gamers and MOBA gamers who don't need too many buttons will love this right-handed Steelseries Rival 310 gaming mouse that has been consistently rated one of the best for the past few years.
You may also read: Best High-Performance Desktop Pcs
All-Time Most Popular Gaming Mouse of the Decade
Razer DeathAdder Elite Gaming Mouse with Chrome RGB Lighting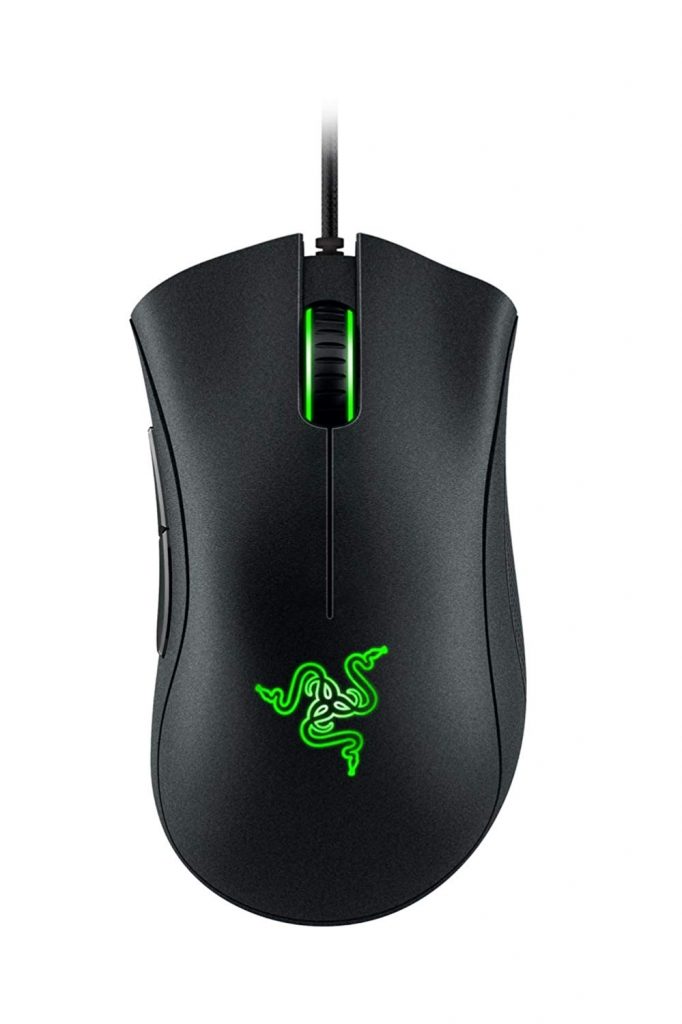 The Razer DeathAdder has been the go-to gaming mouse for many years now. The manufacturer has managed to capture the best of everything most PC gamers would need. They didn't change much since the first edition, but the DeathAdder Elite is an amazing mouse with rubber side pads, an ergonomic design that is easy to grip, and also uses RGB lights on top to cope up with changing trends.
The mouse is powered by an optical sensor that can handle up to 16,000 DPI, more than you can ever as most gamers stop their DPIs at 2000 or 3000 settings. The two buttons on the side are convenient to change the DPI on the fly when you are handling sniper guns. It uses 16.8 million colors to produce some amazing combinations and the preset profiles can be utilized to get unique color effects.
Razer provides two years of warranty for the mouse and the mechanical left/right-click buttons should last up to 50 million clicks. Over 7 programmable buttons empower the Razer DeathAdder Elite which is ideal for FPS, MOBA, or any type of gaming you would like with a fun design. The Synapse software is used for customization and it even has a very wide scrolling wheel to provide that satisfying scroll whenever you need it.
What Makes the Razer DeathAdder Elite the Most Popular Gaming Mouse?
If you want the best PC gaming accessories, invest in this mouse as a starter as it will significantly improve your experience.
The rubber grips feel great in the hands combined with the ergonomic design.
Great RGB lighting, 16,000 DPI sensor, and minimal buttons.
Recommended For:
Both newcomers and professional PC gamers can opt for the DeathAdder Elite for it suits all types of gaming needs and has an impressive design at an affordable price.
High-End Wireless Gaming Mouse for Hardcore PC Gamers
Logitech G903 Lightspeed Gaming Mouse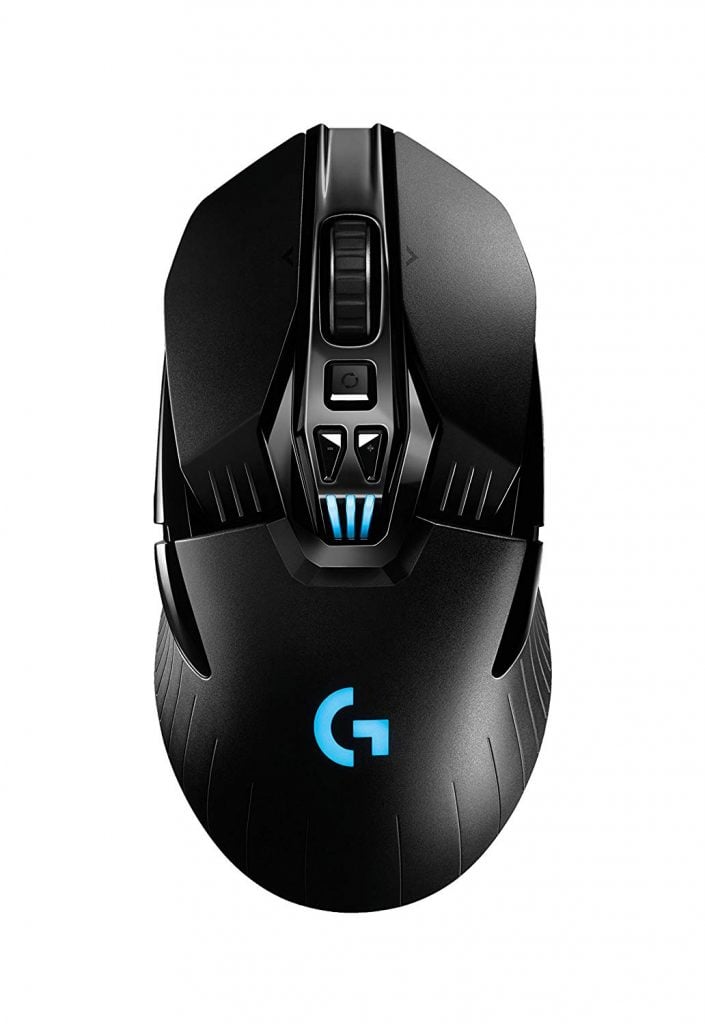 Considered the most premium among the PC gaming accessories that you could own, the Logitech G903 Lightspeed gaming mouse is quite an expensive gaming peripheral to own. It is a wireless gaming mouse that allows you complete freedom when you are playing games like Counter Strike. Every move counts when it comes to FPS gaming where fast-paced movement is essential to winning.
Some gamers feel wires may slow down their movement while some feel the lag in wireless technology is there. However, things have changed in the past few years and the sensors, wireless connectivity used in newer mouse models are exceptionally good. They hardly have any lag issues. This Logitech model uses Lightspeed wireless technology which provides a 1ms response rate.
It is equipped with a sensor that can go up to 12,000 DPI and uses mechanical buttons for durable button clicks. The right and left mouse buttons should last a million clicks. The battery life with RGB lighting is 24 hours but when you switch it off, you can get up to 32 hours which should last an entire week on moderate gaming every day. The ambidextrous mouse is ideal for both right and left-handed gamers while the buttons can be customized using Logitech software.
What Makes the Logitech G903 Lightspeed Mouse a Premium Choice?
The wireless technology has considerably improved with a lag-free 1ms response time
It has a very sophisticated design with premium materials.
The mouse buttons are all fully customizable.
Recommended For:
Gamers who are willing to spend and want the very best wireless gaming experience would love the Logitech product for its premium experience.
Best PC gaming accessories – Gaming Headsets
Get into Multiplayer Gaming Quickly with Affordable Headset
Runmus Gaming Headset for PC, Xbox and PS4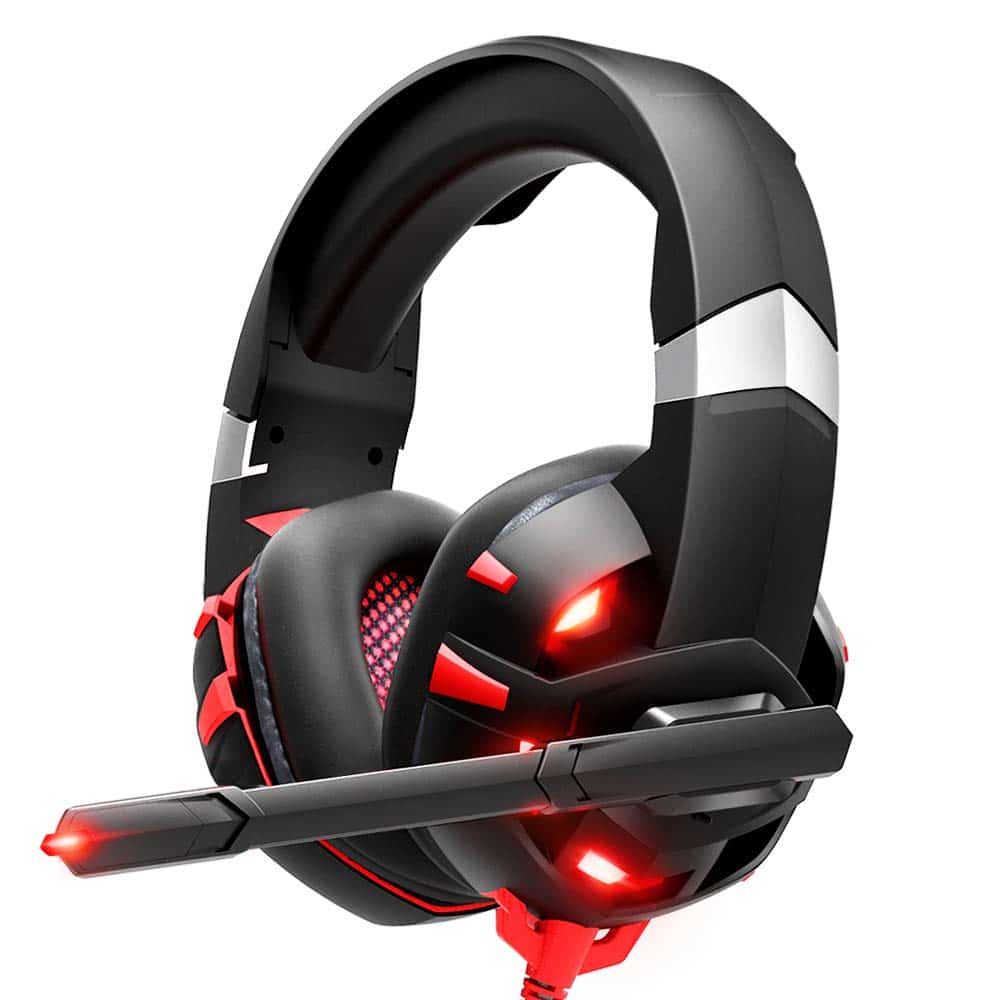 The Rumpus gaming headset is powered by reliable 50mm drivers that are capable of providing a surround sound experience. It helps a lot in multiplayer games where PC gamers need to hear enemy footsteps and plan their action. The headset is a must-have accessory for any gaming session where you need to talk to friends using the microphone and also listen to game music as well as in-game sounds.
The headset is made using premium materials including a leather-like cover for the earcups and cushioned interiors. You can easily wear it for hours without any strain and it also uses breathable material so that your ears don't sweat. The best part is this affordable Runmus product works with PC, Xbox, and PS4 making it a versatile solution for your multiplayer gaming needs on all platforms.
The microphone used in the product uses noise-canceling technology which helps in allowing your teammates to listen to your commands clearly. It also comes with a 12-month warranty so that you can get your headset replaced in case it shows any signs of error. It comes in bright red color and can be used as a reliable accessory for all your gaming needs.
What Makes the Runmus Gaming Headset an Easy Buy?
The pricing is one of the best aspects of this product.
It works on PC, PS4, and Xbox One.
A comfortable headset for long online gaming sessions.
Recommended For:
It is an affordable gaming headset for all kinds of gamers and the surround sound works well for multiplayer titles.
Best PC Gaming Headset with Ample Cushioning
HyperX Cloud Stinger Gaming Headset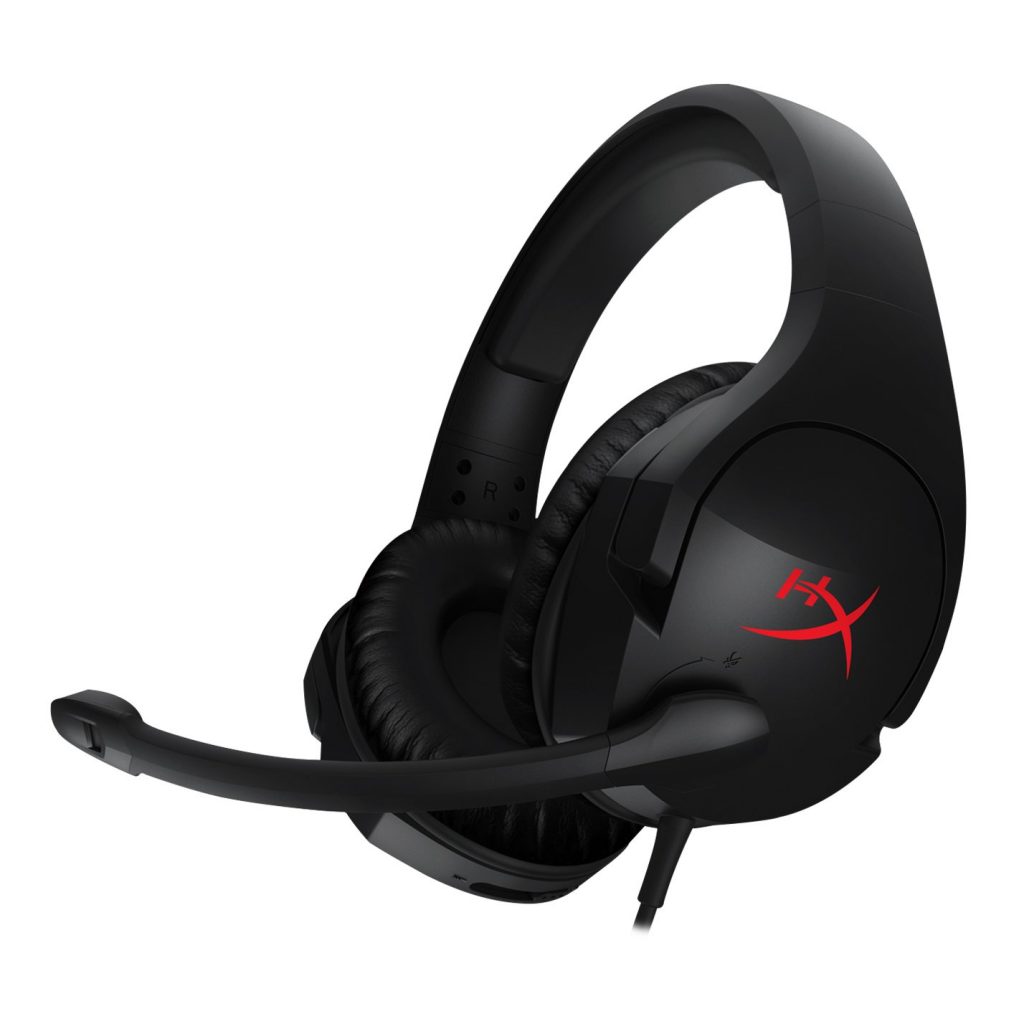 The HyperX Cloud Stinger gaming headset has a very lush feel to it as the large earcups with padded cushions make it look extremely comfortable. Obviously, it feels as comfortable as it looks and you can adjust the headband according to your head size for a good fit and ergonomic comfort while shouting orders during multiplayer matches. The advantage of opting for a headset and not a headphone is that the microphone will come in handy in the future even if you are not much into multiplayer games right now.
It is a lightweight product that allows gamers of all age groups to comfortably use it without any pressure on the top of your head. The ear cups can be comfortably rotated up to 90-degrees so that they can lay flat on your neck when not in use. The audio is delivered by large 50 mm directional drivers which provide situational awareness in games. Every time you hear enemy footsteps, you will be able to deduce its direction easily.
When we come to the comfort zone, the HyperX Cloud Stinger wins hands down with its earcups filled with memory foam material. They are the best cushions that you could get used to in high-end audiophile-grade headphones. They comfortably fit over your ears without any strain or noise leakage. The microphone is adjustable so that you can slide it back when not in use. It works on PC, Xbox One, PS4, and even the Nintendo Switch making it a multi-platform headset with reliable build quality.
What Makes the HyperX Cloud Stinger Gaming Headset the Most Comfortable?
The headset has some amazing ear cushion padding with memory foam material.
It is made using durable plastic and the microphone is easy to adjust.
The 50 mm drivers ensure better sound clarity for both gaming and entertainment.
Recommended For:
Gamers who spend hours watching movies, playing multiplayer titles would definitely appreciate the amazing comfort this product provides and its lightweight design makes it even better.
Go Wireless and Enjoy Multiplayer Games with Great Level of Freedom
SteelSeries Arctis 7 2022 Edition Lossless Wireless Gaming Headset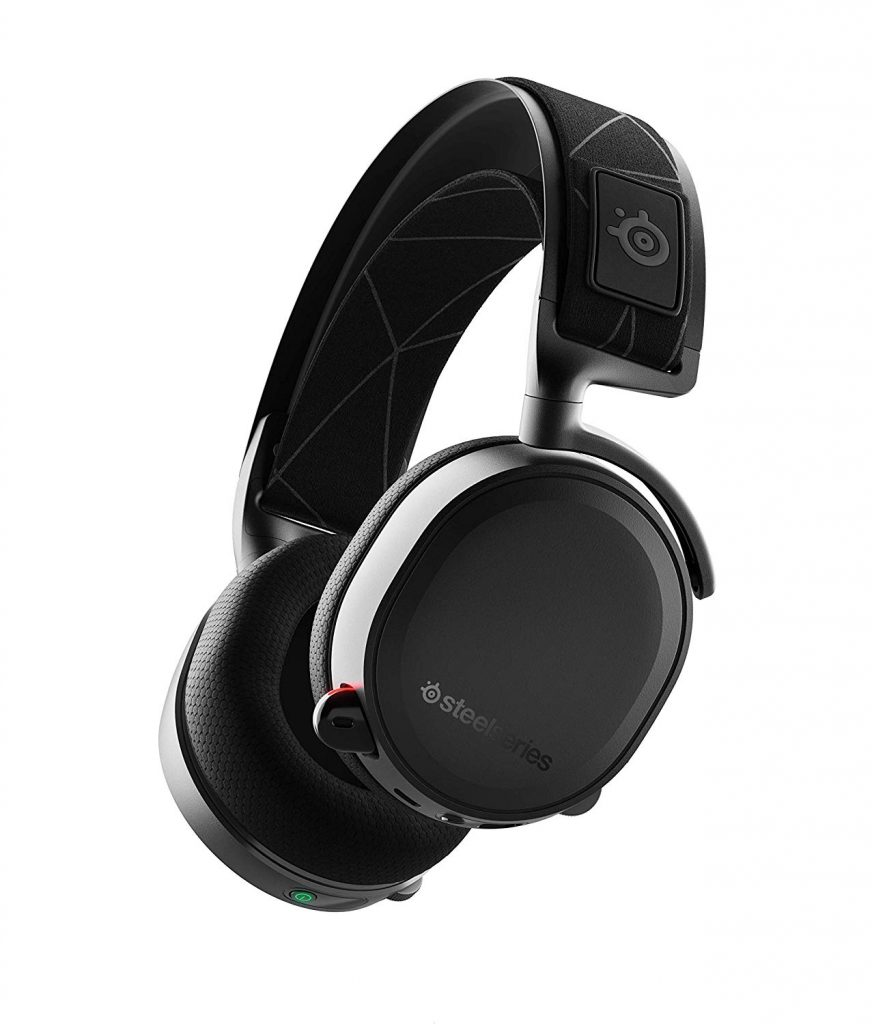 SteelSeries is one of the prominent manufacturers of PC Gaming accessories and they make some of the best gaming mice, keyboard, and mousepads. They also make amazing headsets and the Arctis 7 2022 edition is the top-of-a-line product. It is a wireless gaming headset that gets rid of all the annoying wires that might hinder you when you try to access your mouse and keyboard. You will find it comfortable to move around with ease besides getting the highest quality sound in a wireless setup.
The Arctis 7 is equipped with a 2.4G connection which provides a lag-free experience, both for the headphones and the microphone. The headset has been Discord-certified which means it provides clear voice transfer and uses Clearcast technology to ensure your commands are delivered with better noise cancellation technology. The S1 speaker drivers produce authentic sound and it has also been certified to be DTS X headphone for an immersive, surround sound experience. The 7.1 experience can be availed on a gaming PC, but it also works with other gaming consoles.
The SteelSeries product delivers highly comfortable cushions that you could easily wear for long gaming sessions and the microphone is fully retractable when not in use. Its battery life has been rated to last at least 24 hours on a full charge, which is usually more than enough for an entire week of gaming.
What Makes the SteelSeries Arctis 7 Wireless Gaming Headset a Great Product?
The wireless technology allows you to get rid of wires, but still enjoy a great sound experience with DTS X.
Its battery lasts up to 24 hours which is viable for most gaming sessions.
The cushion is extremely comfortable and feels great to wear.
Recommended For:
Gamers who like to invest in the best PC gaming accessories or probably going for a fully wireless setup without compromising on quality would love this SteelSeries product.
See also: Best gaming mouse
Best PC gaming accessories – Mousepads
Best Gaming Mousepads for Your Gaming Mouse
SteelSeries QcK Classic Gaming Mouse Pad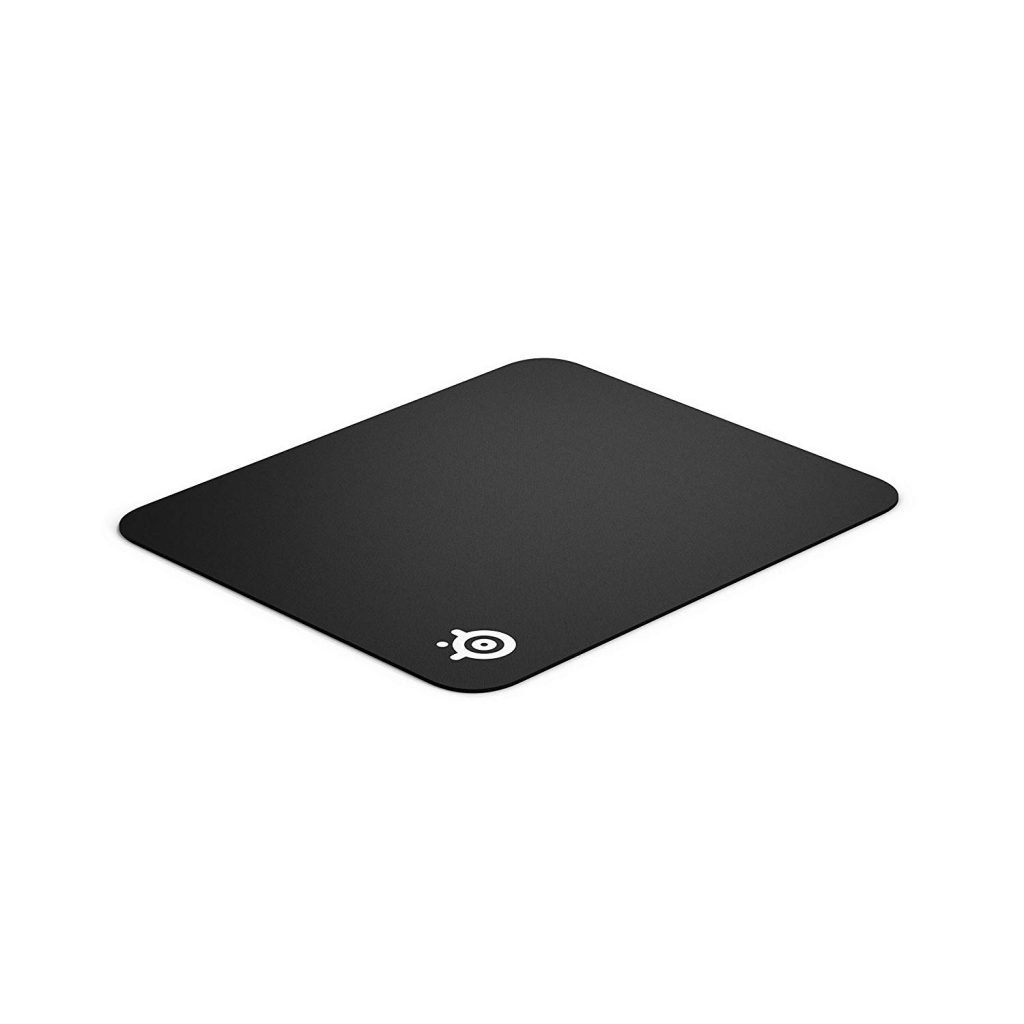 Once you are done investing in some of the big accessories to enhance your gaming experience, it's time to spend a couple of dollars on a good gaming mouse pad. The SteelSeries QcK Classic is the best of the lot because it allows you to get things done in less than $10. The size is just perfect, easy to use and you don't need a large table to place this product.
While there are options such as small, medium, and large sizes, the classic mouse pad without any frills and a nice black finish is ideal for both gamers as well as office users. If you need to take this mouse mat to a different place, you won't be frowned upon. The mousepad measures 320 mm x 270 mm x 2 mm with a medium-thick finish. It uses strong and solid materials that feel good in the hands besides providing a nice surface for your mouse to slide on.
The medium-sized QcK Classic from SteelSeries is ideal for gamers who don't have a large table and would like to play within the limited space. It is big enough for your hand to move freely. There are other PUBG editions and one with a textured finish but the black edition is a perfect choice for all your varying scenarios.
What Makes the SteelSeries QcK Classic the best Gaming Mouse Pad?
The pricing is just perfect!
It's large enough yet compact for most table sizes.
The materials are of high quality and durable.
Recommended For:
The average gamer who doesn't want to go too fancy but like a good surface for their gaming mouse, this should ideally fit the need.
Best Mouse Mat for Increased Grip
Razer Goliathus Control Large Gaming Mousepad Fissure Edition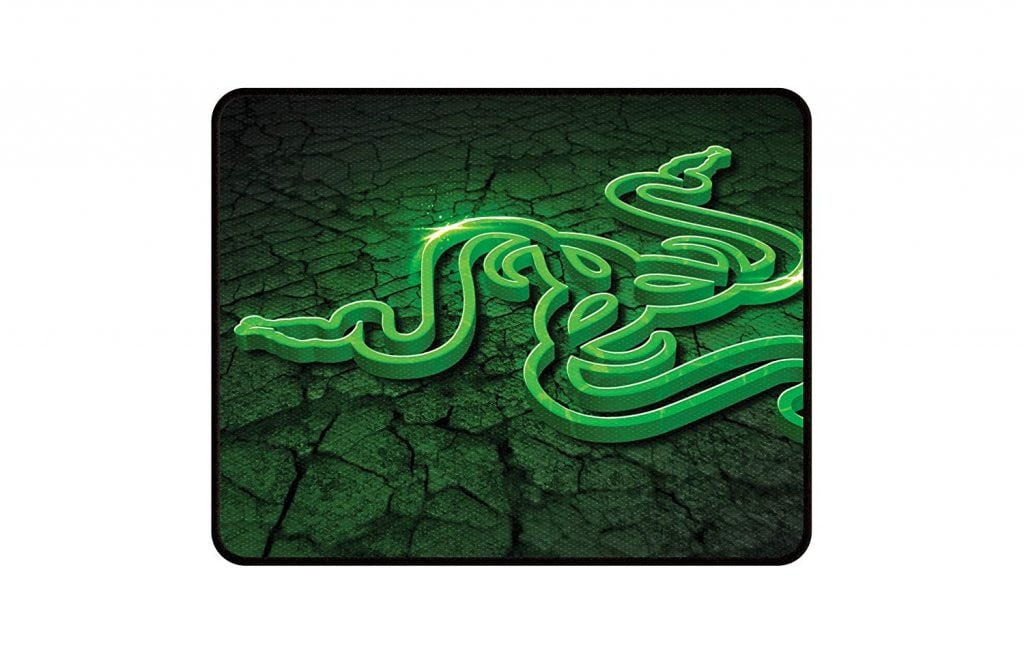 Hardcore gamers can easily spot the difference between an average mousepad and the one designed for better speed or control. The control edition is geared towards gamers who play a lot of MOBA games. You need to precisely click at one point, unlike FPS games where speed is everything. The Razer Goliathus Control is designed for MOBA and other games that require utmost control over your mouse movement.
The mouse mat is made using strong rubber materials and the base is designed in such a way that it doesn't move even when you pull hard at it. The top layer is designed with the official Razer Logo and this is the Fissure edition of the product. It has been duly optimized for all kinds of sensors so that your popular gaming mice models would seamlessly work.
It is a cloth-based design that feels good to the hand and is washable when it gets dirty. The pad uses an anti-fraying stitched base and also has an anti-slip rubber base to enhance grip on any surface. The large mousepad will ideally fit most table sizes with a comfortable feel to it. Razer is known for its quality gaming peripherals and this falls right in place.
What Makes the Razer Goliathus Control Mousepad Good for MOBA?
The mousepad provides more grip and is designed for better control over your mouse DPI.
It has an anti-slip rubber base.
The design is attractive and is not inspired by just one gaming title.
Recommended For:
The mousepad is ideal for MOBA gamers and any other titles that require a lot of control over your mouse movement without being too fast.
An All-rounder Full Table Mouse Mat for Superior Comfort
Corsair MM300 Extended Gaming Mousepad
Gamers do have individual preferences, but some love to have a mouse mat that would stretch through the entire table. If you have a lengthy setup for your PC gaming keyboard and mouse, the Corsair MM300 extended will find its rightful place. It extends right from your mouse area to your keyboard and all the way up to your headset. The soft, rubber mat will provide maximum comfort for your wrist when you use your keyboard for long hours.
The extended mouse mat despite its lengthy size provides utmost grip on almost any surface. It is weaved using thick threads and the durable product also reduces any tracking issues. You should be able to use it with any kind of mouse sensor. The edges are all precisely stitched which ensures the pad doesn't show any signs of wear and tear even when used continuously for over a year.
The top layer is made using a material that works easily with both optical and laser mice. It uses zero slip coating on the bottom layer to ensure the Corsair mousepad doesn't move in any direction. You can keep your keyboard and mouse on top of it. Being able to use these two important peripherals on the same even surface helps a lot in gaming sessions, especially when playing multiplayer games.
What Makes the Corsair MM300 Extended Gaming Mousepad a Good Accessory?
Among the best PC gaming accessories, this extended mousepad is elite and works well for those who need improved comfort.
It is rugged and durable besides being easy to use for any kind of gaming mouse
Recommended For:
If you have a long desk with enough space for an extended mouse mat, this would fit right into place and it also has an excellent grip with headroom for all your gaming peripherals
Bottomline
The first step is to build a gaming PC on your own and once you are done investing, explore the best PC gaming accessories available. The best part is that they are available at the most affordable rates while wireless gaming keyboard or mouse will be quite expensive but usually worth the cost.
Apart from a gaming keyboard, mice, mousepad, and headsets, you can also invest in a gaming chair if you have the budget to do so. The accessories enhance the gaming experience to a whole new level. Most PC gamers should also buy an Xbox One controller to enjoy fighting and racing games among other titles that work well with controllers.
See also: Best gaming graphics cards
---