Featured in this article (opens in new tab)
Summary –
PC gaming is an addictive hobby that millions of PC gamers love to indulge in. You can be a thrifty gamer with a basic setup, a mobile gamer with a powerful gaming laptop for the go or choose to go all out by investing in a massive full tower chassis for the ultimate setup. Here, we are going to talk about the best gaming graphics cards.
Apart from the processor and motherboard, a core component for gaming is GFX. The best gaming graphics cards can be tough to understand area because there is team green with Nvidia and team red with AMD cards. To keep it simple, AMD cards are always cheaper when compared to Nvidia, offer more value for money, but do compromise in some areas in terms of performance.
Nvidia graphics cards are some of the best performers even for 4K gaming, but are expensive on the top tier and are power hungry. If you love PC gaming, the kind of games you play will help you determine which card do you actually need to invest in. After all, newer technologies like RTX is more expensive and may not be ideal for someone who just plays Counter-Strike all day long. We have handpicked the best gaming graphics cards and sorted them to make your PC gaming build easier to complete.
See also: Top Best Gaming PCs Under $500
Best gaming graphics cards
Best Gaming Graphics Cards for Multiplayer FPS/ MOBA
Gigabyte GeForce GTX 1050 2 GB Graphics Card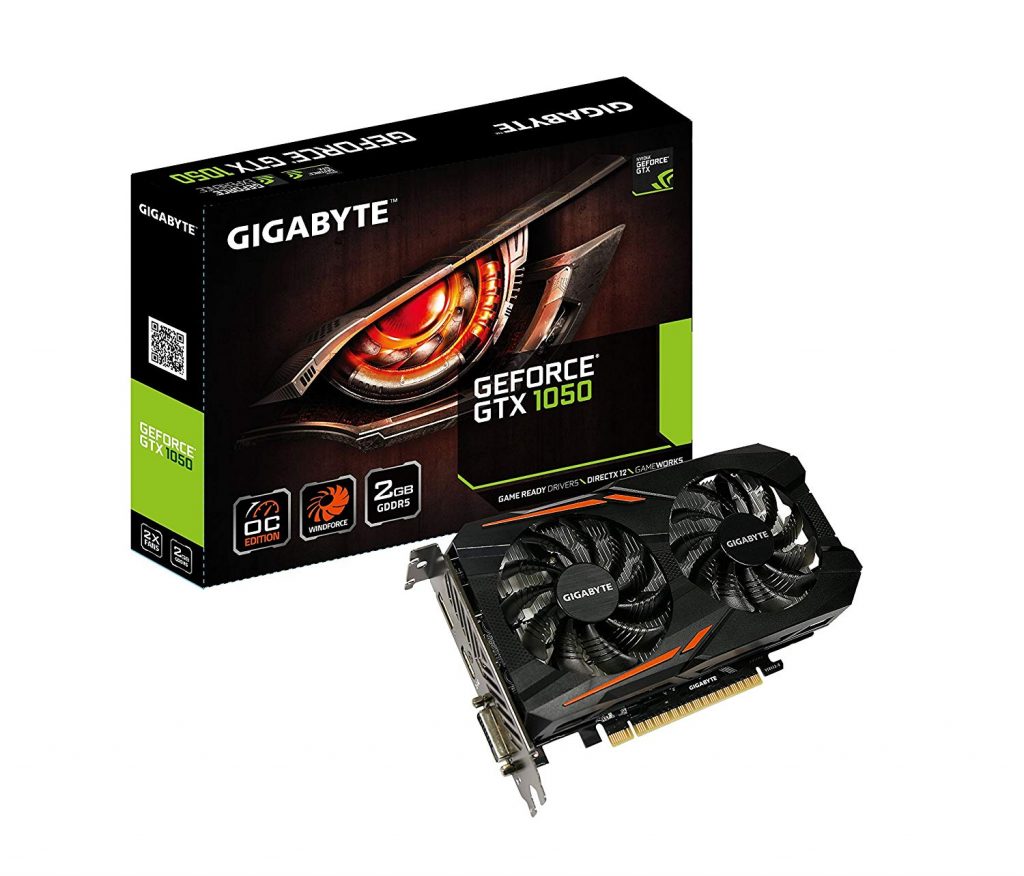 Nvidia released the GeForce GTX 1050 primarily targeted towards multiplayer gamers. If you play a lot of Counter-Strike Global Offensive, Overwatch or Dota among other games, this should be the perfect solution. Besides, the graphics card is discounted a lot recently making it more affordable than ever. The Gigabyte GeForce GTX 1050 is powered by Nvidia's latest Pascal architecture to improve power efficiency and overall performance.
While PC master race talks a lot about 4K gaming, it is yet to be widely adopted by gamers around the globe. The expensive setup is not something everyone could afford. If you are still in a 1080p Full HD monitor which is usually adequate for most multiplayer games, this graphics card appropriately fills up the game within a budget. The card supports DirectX 12 and has a boost clock of 1518 MHz rendering more frame rates, especially if you could pair it up with a mid-range Intel i5 or Intel i7 processor.
The GTX 1050 from Gigabyte is a compact graphics card with two cooling fans that is more than adequate to keep its temperature under control during full load. It has 2 GB DDR5 VRAM and if you are going to try some AAA titles on it at highest settings, the lesser VRAM might pose a hindrance. This overclocked edition should ideally provide you 60 frames per second on 1080p resolution and is best for both multiplayer MOBAs and FPS titles.
What Makes the Gigabyte GeForce GTX 1050 2 GB Graphics Ideal for Multiplayer Titles?
The graphics card is affordable and will suit most types of multiplayer games.
It is overclocked and offers better frame rates than the basic edition.
Recommended For:
Gamers who own a 1080p monitor and love playing multiplayer competitive titles can easily get 60 FPS on this graphics card which is also good for older single-player games at medium settings.
Best Gaming Graphics Card with Increased RAM Capacity
EVGA GeForce GTX 1660Ti XC 6 GB Gaming Graphics Card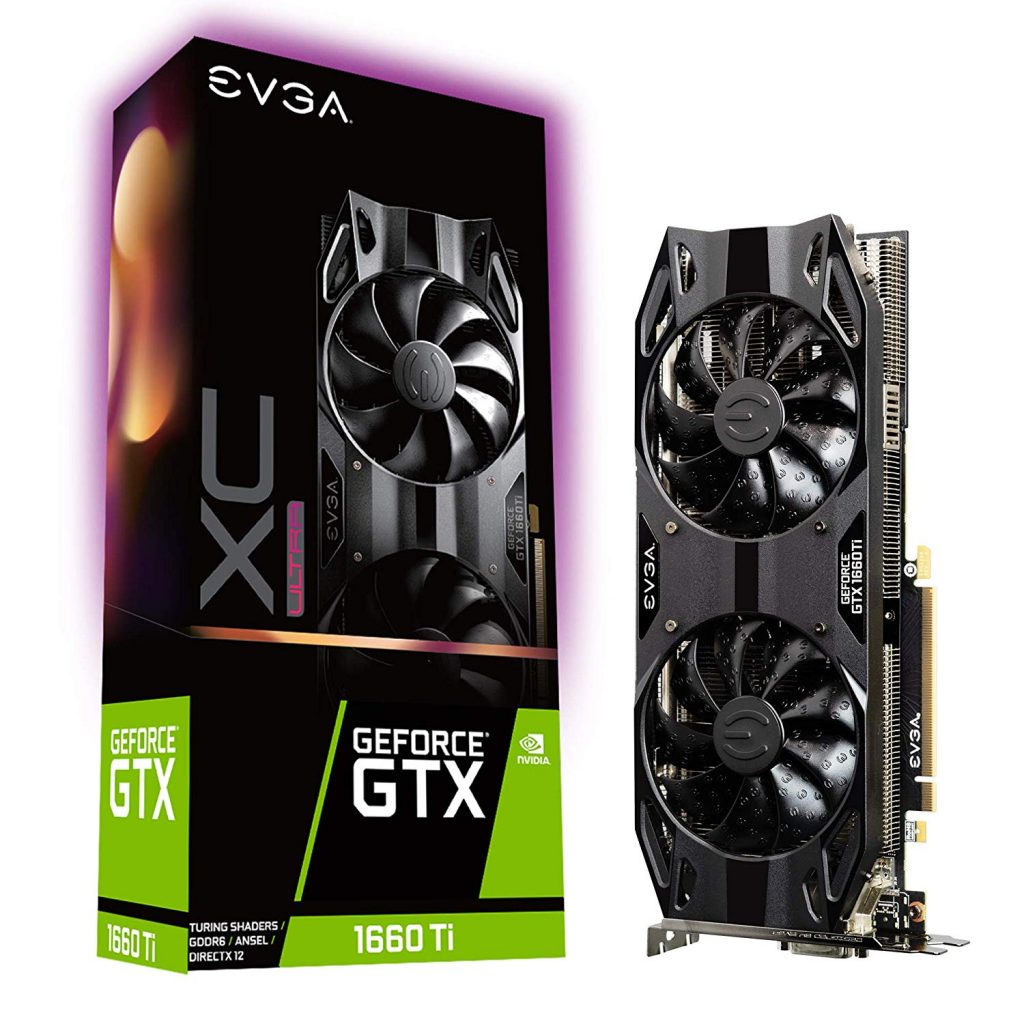 Ardent PC gamers will be quite aware of the fact that when you have lots of VRAM, you will be able to push the graphics settings to the highest level. When playing game titles like GTA V or Witcher 3, you would love to crank up the settings. Make sure to understand the fact that these entry-level graphics cards are not meant for 2K or 4K gaming but if you still use a 1080p monitor, this should be more than enough for most AAA titles.
The EVGA GeForce GTX 1660Ti XC Ultra edition with 6 GB of GDDR6 RAM is boosted in terms of clock speed up to 1860 MHz. It helps improve the overall graphical performance in games and also provides more raw power that you can use to drive AAA titles in higher graphical settings. The large card might require some chassis space so that you can install it without any difficulty. It is also equipped with large dual HDB fans that ensure it stays cool even when performing under full load.
The product comes with three years warranty and you can get 24/7 technical support. The EVGA product is usually reliable in the long run and it also has solid construction to withstand some heavy usage. The 1660Ti is a mid-range graphics card from the last generation and it doesn't focus on newer technologies like RTX but is ideal for single player gaming at 1080p resolution.
What Makes the EVGA GeForce GTX 1660Ti XC an Ideal Product?
The graphics card is best suited for moderate gaming at 1080p resolution with medium to high settings.
It can also be used as an alternate for multiplayer games to get more frame rates in high refresh rate monitors.
Recommended For:
EVGA comes up with great graphics card every time Nvidia brings in new technology and the cooling fans combined with the lengthy design makes this a great card for AAA single player titles at medium to high settings.
Best Graphics Card for Single Player AAA Titles
Gigabyte 8 GB GeForce GTX 1070 Graphics Card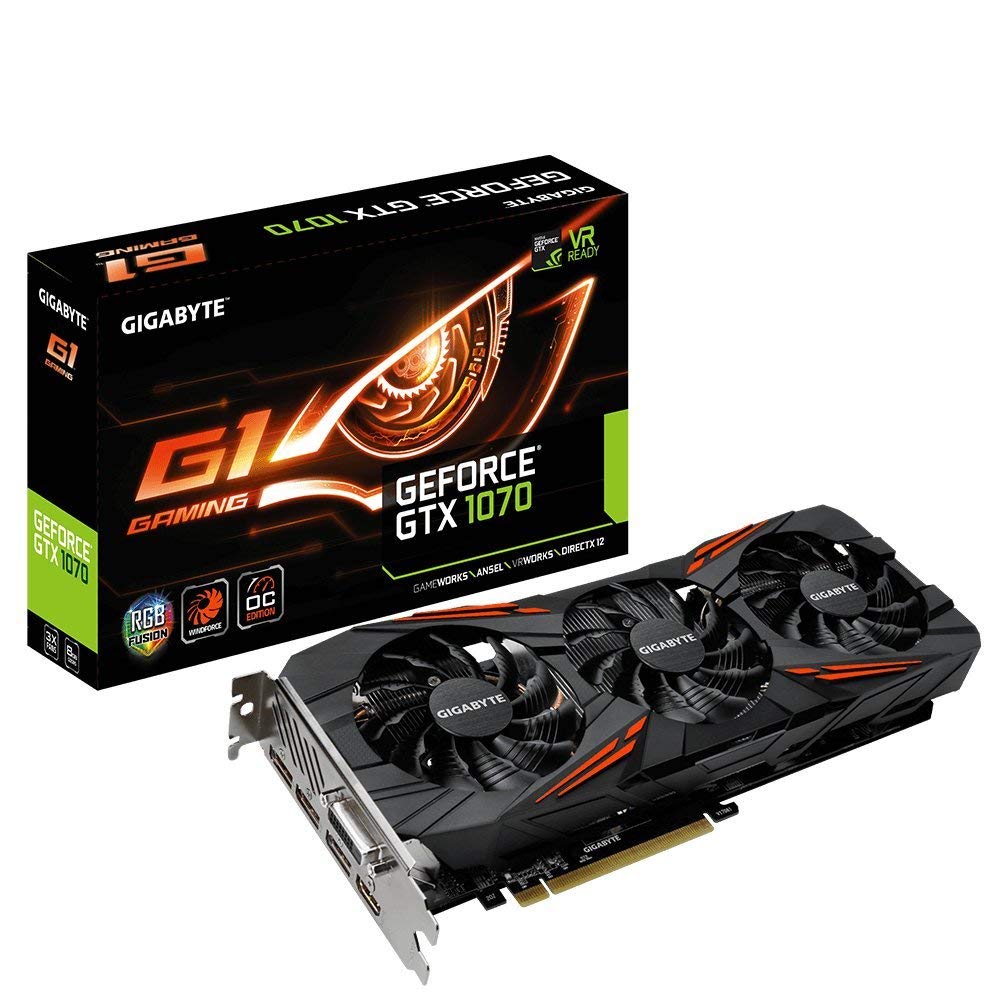 Nvidia has already launched their new lineup of RTX cards and has moved from the traditional GTX cards which powered PC gamers for over a year now. While the newer lineup is more expensive, if you are not keen on the new ray tracing technology there is always the option to go with a 1070 card. The Gigabyte GeForce GTX 1070 is the perfect choice to get your gaming needs covered at below $400 while getting high performance on both 1080 and 2K resolutions.
The graphics card is equipped with 8 GB of GDDR5 VRAM with 256-bit memory. It also uses an extended three Windforce 3x blade fan design which ensures the card remains cool even when it is under full load. Most graphics intensive games like Hitman, Tomb Raider or other single player titles on PC will push the card to its maximum limit. Considering the fact that it has a whopping 8 GB of VRAM, you will be able to push the settings to high and ultra-levels, based on how truly optimized the game is.
Before you buy the card, it is wise to know that it requires at least 500W PSU and a branded power supply will ensure such high-end components work as intended. It can also support up to 8k display and uses 16.8 million colored RGB lighting for that gamer-like looks. It is an overclocked edition that provides value for money, but make sure your chassis can fit this extended card before you make the purchase.
What Makes the Gigabyte GeForce GTX 1070 a Powerful Choice?
It is a top of the line graphics card that is not as expensive as GTX 1080 but can still provide enough juice to handle AAA titles at high to ultra-graphics settings
The card's design is in such a way that it can handle high load and the additional fans keep its performance at satisfying levels.
Recommended For:
If you love gaming with high settings or even ultra in most single-player titles, the Gigabyte GTX 1070 should be an appropriate card for this requirement.
Experience Ray-Tracing Technology on a Budget
MSI Gaming GeForce RTX 2060 6 GB GDDR6 Graphics Card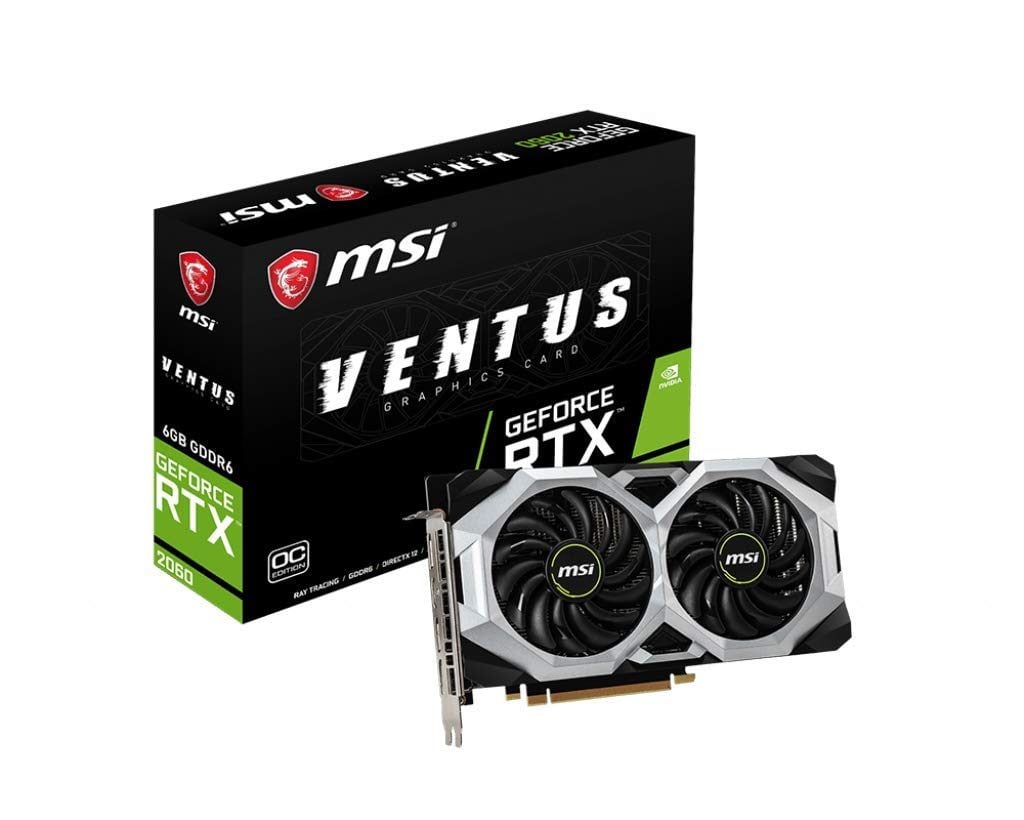 Ray Tracing is an absolutely new concept that gamers are slowly getting accustomed to. While specific titles like the new Battlefield V and Tomb Raider have implemented these futuristic graphics in their games, more titles are yet to slowly adopt the same. If you like to be ahead of the technology curve, you should probably invest in this MSI Gaming GeForce RTX 2060 graphics card.
While very few games support the technology, the advantage is that the new range of RTX cards from Nvidia are much more powerful in terms of graphical performance. They can easily deliver 60 FPS on 2K resolution and can do the same on 4K monitors if you can be more forgiving with the graphics settings. The card is clocked at 1710 MHz that should comfortably give you improved frame rates on lower resolution and it is also much more powerful for the same cost of buying an older generation GTX card.
The GeForce RTX 2060 is the entry-level solution for most gamers who like to be ready for the future and ray tracing, but without breaking the bank. The next in the series RTX 2070 and 2080 are far more powerful made for 4K gaming but they are also quite expensive that you may want to skip it for a quick, budget-friendly gaming build. It has 6 GB of DDR6 RAM combined with three display ports and one HDMI port to connect multiple monitors.
What Makes the MSI Gaming GeForce RTX 2060 the Best in its Segment?
A great budget solution to get into ray tracing for the select titles that are available now.
It has enough connectivity ports and can also support higher frame rates on 2K, 4K resolution.
Recommended For:
PC gamers who are interested in Ray Tracing and like to buy an RTX card with minimal investment would find this product an appropriate solution.
See also: Best Laptops for Gaming
Best Graphics Card for 2K 120 FPS Gaming with Ray Tracing Technology
EVGA GeForce RTX 2070 XC Gaming with 8 GB of DDR6 Memory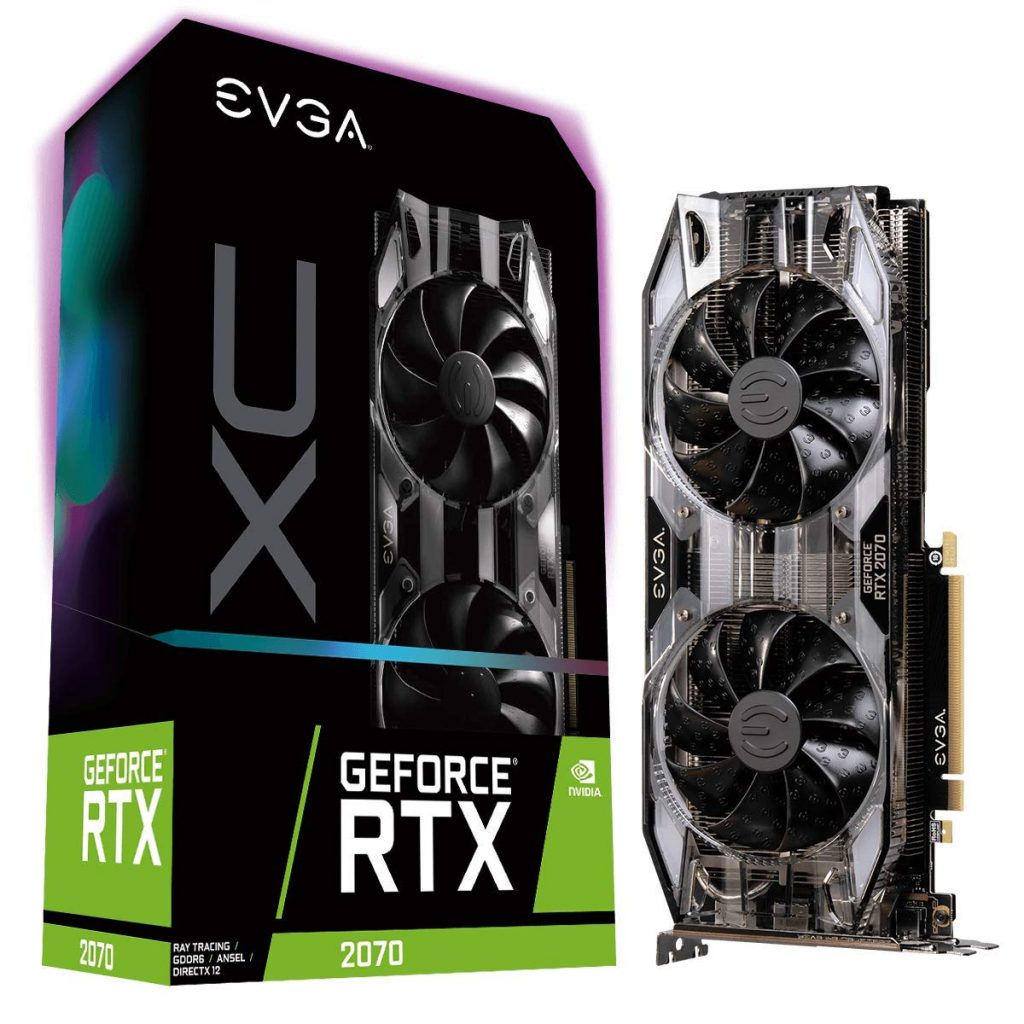 EVGA specializes in all kinds of graphics cards but the RTX 2070 is literally one of the best value-for-money cards that you could get on the top of the line. The card performs much better than the GTX 1080Ti which is an older generation model but for literally a similar price, you not only get 2K and 4K resolution high frame rate support but also the ability to experience Ray Tracing technology in games that support it.
The card has a boost clock speed of 1710 MHz with a whopping capacity of 8 GB of DDR6 memory. The dual HDB fans ensure the product performs at its highest potential without overheating issues. When you clock the graphics settings to the highest, at times the graphics card may heat up, but newer models use dual or triple fans to avoid such issues for hardcore gamers.
You can also customize the clock speed and other features including the RGB LED on this RTX 2070 XC edition. You can go on overclocking it to its maximum limit and make changes to ensure it performs smoothly without any lagging or PC issues. The card excels at supporting 2K resolution gaming and go all the way up to 120 fps or even more. Players who already own a 144 Hz refresh rate monitor would definitely experience the difference.
What Makes the EVGA GeForce RTX 2070 XC Gaming Card the Best?
The card supports Ray Tracing technology for those who love it.
It also delivers excellent frame rates for gaming at 2K resolution and can even handle 4K with moderate graphics settings.
Recommended For:
If you are planning to get into the top of the line gaming experience with high-end monitors and improved frame rates, this card is right up there without being too expensive.
Best Budget Graphics Card for Overwatch
MSI GeForce GTX 1050Ti Gaming X4G Graphics Card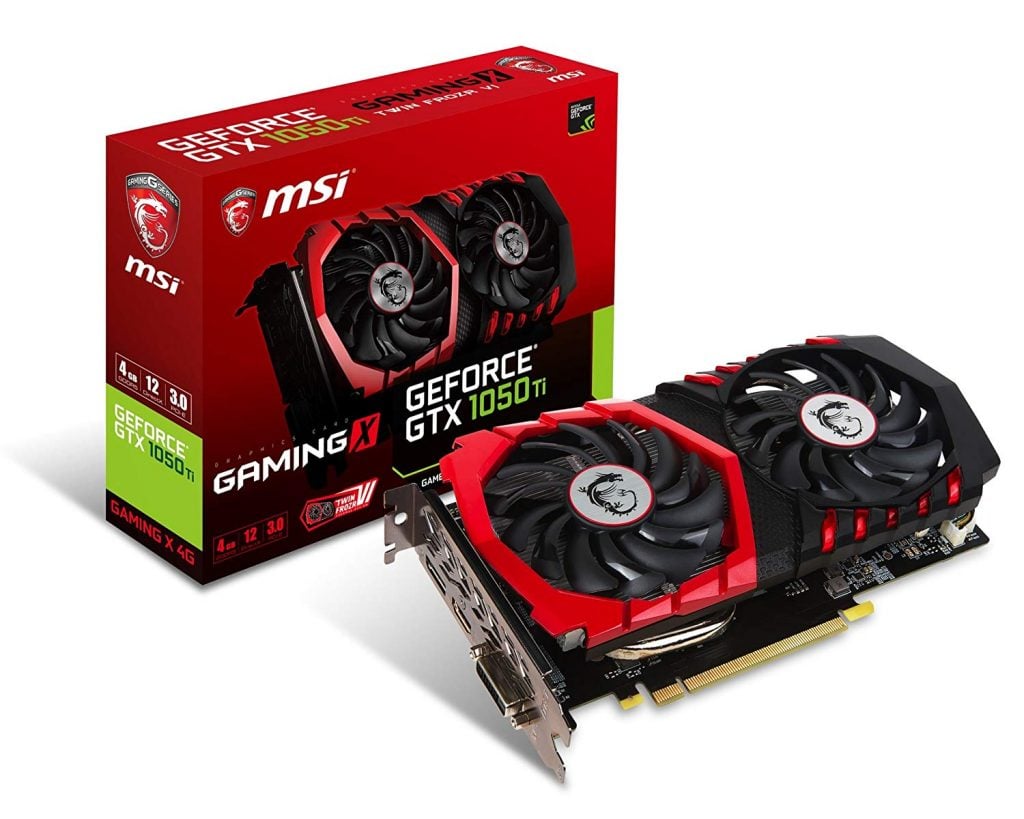 Nvidia has some of the best gaming graphics cards at every point and the GeForce GTX 1050Ti by MSI stands proof to this claim. The graphics card which got released last year was the ideal replacement for the 750Ti released by the company. The difference lies in the performance so that you can experience most popular multiplayer games like Overwatch, Dota, Counter Strike Global Offensive, Fortnite and PUBG at the best possible frame rates.
While hardcore gamers love more frame rates and improved graphical prowess, the new age games like PUBG are not properly optimized for performance. The 1050Ti should be able to comfortably handle the game, but at the same time, it also may require you to reduce the graphics card to improve performance. The GTX 1050Ti was originally launched with overlocked processing capability and has 4 GB of DRR5 RAM.
This particular MSI model has powerful dual fans to keep it cool during operation and also when under full load. It can handle max resolutions up to 2560 x 1600 pixels and can even handle a three-monitor setup so that you can have immersive gaming experience. However, the only catch is that you shouldn't go beyond 1080p displays, because even though it can handle improved resolution, it might work only for older games. New age competitive titles that need fast-paced movement are best experienced in full HD resolution.
What Makes the MSI GeForce GTX 1050Ti the Best Gaming Card?
The graphics card is ideal for games like Overwatch and can provide more than 60FPS with highest graphics settings.
It has dual fans for easy cooling.
It's quite affordable.
Recommended For:
Gamers who spend a lot of time playing multiplayer titles and also like to enjoy some single player games at medium settings can go for the MSI GeForce GTX 1050Ti edition.
Powerful Performance and VR Ready at Affordable Pricing
Asus ROG Strix RX 580 Gaming OC Edition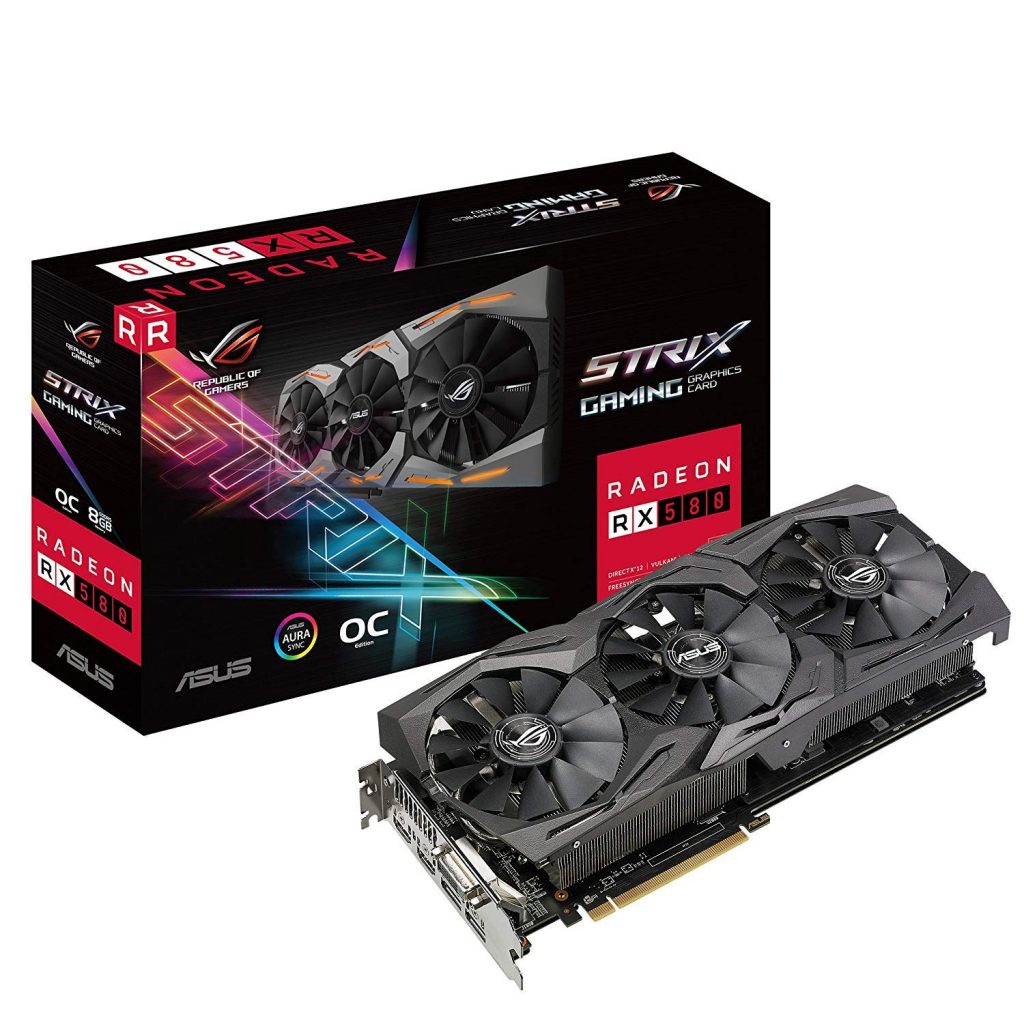 The AMD Radeon range of gaming graphics cards has always been more affordable when compared to Nvidia's offering. The performance difference is usually minor and even though AMD has lesser performance when compared to the top of the line product from their competitor, they do excel in terms of pricing and providing improved value for money. The Asus ROG Strix RX 580 Gaming OC Edition is one of the best cards that you could get for close to $200.
While this card belongs to the older generation and AMD is yet to reveal their new range of cards for the next generation, it shouldn't actually stop you from buying this one. If you are looking to check out VR gaming and also need a reliable card for single player gaming at medium settings, the RX 580 is a perfect choice. The best part is that it doesn't impact your budget and can also provide you the performance you need with little compromise. This particular model from Asus is an overclocked edition clocked up to 1380 MHz which delivers 7% more performance than the base edition.
If you are a big fan of RGB lighting, the ROG Strix edition is equipped with Asus Aura Sync RGB lighting which can easily be controlled using the software. It is also equipped with Max Contact technology and works seamlessly with the company's GPU Tweak II and Driver software. You can change the clock speed, overclock it even further as the triple fan should be capable of handling increasing temperature due to overloaded performance deliverance.
What Makes the Asus ROG Strix RX 580 Gaming OC Edition a Great Choice?
The graphics card from AMD is powerful and is the top of the line model which is capable of supporting both single player and multiplayer titles with high settings.
It uses a triple fan setup and is already overclocked to its best performance.
Recommended For:
Gamers who love AMD for its performance and budget-friendly pricing can go for it because it balances everything in a style that you get both improved FPS without spending too much on the graphics card.
Best Gaming Graphics Card for Versatile Gaming
XFX Radeon RX 570 RS XXX Edition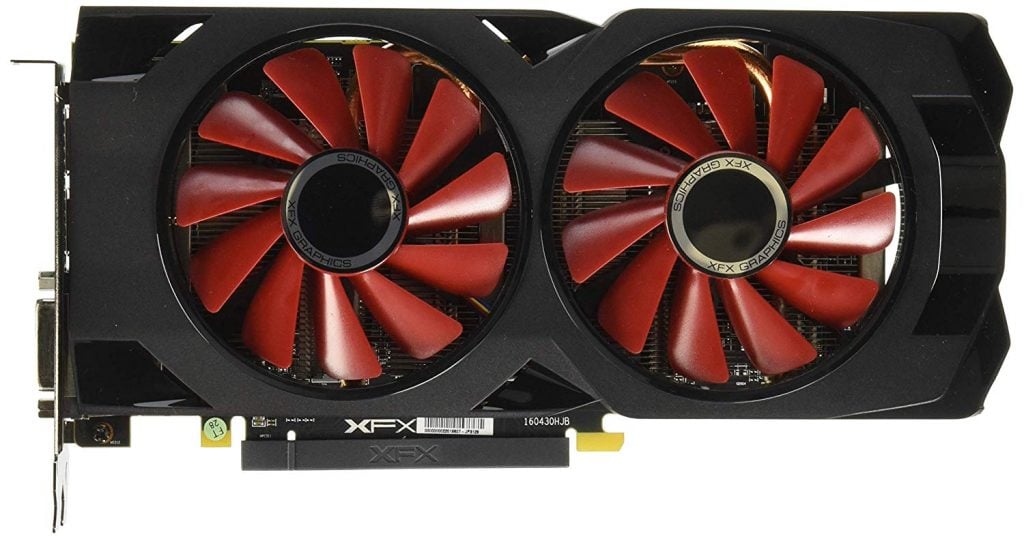 XFX is one of the premium makers of graphics cards and has been around for many years now. The company is known for its quality products and the Radeon RX 570 adds up to their collection in an able manner. When you look for a versatile gaming graphics card that works well with all kinds of games and for a really affordable solution that works for multiplayer titles, like Overwatch and Counter-Strike Global Offensive, this should be right on the cards. The GFX can easily handle all these titles at the highest possible settings with increased frame rates.
The XFX Radeon RX 570 RS XXX edition uses the chipset manufactured by AMD. Before you make the purchase, you can check out the graphical performance testing results provided by various reviewers. In terms of performance, it can handle most older AAA titles in high settings in 1080p resolution. Newer games getting launched in 2019 and in the future may force the players to turn down graphics to medium unless the game is really optimized well. It uses 8 GB of DDR5 memory making it extremely capable of handling graphics intensive settings that use lots of VRAM.
Gamers will be able to control the graphics card with its dual Bios capability. Not everyone may want to get into the world of cryptocurrency, but for those who do, this is a very useful feature. If you are not going to play any games for a very long time, you can always choose to use it for crypto-mining. The Bitcoin and other major coins can no longer be mined in simple graphics card but you might be able to do so for newer cryptocurrencies. It also uses XFX branded double dissipation fan design to keep it cool at all times.
What Makes the XFX Radeon RX 570 RS XXX Edition the Best?
The cooling system is excellent.
The dual fan system combined with the dual bios technology makes it a great solution not only for gaming but other purposes too.
Recommended For:
AMD excels at providing good cards that can handle games well at 1080p resolution and if you happen to have such a monitor, this should be well within your range of required performance.
Best Gaming Graphics Card for 4K Ultra 60 FPS Gaming
Asus ROG Strix GeForce RTX 2080Ti Gaming Graphics Card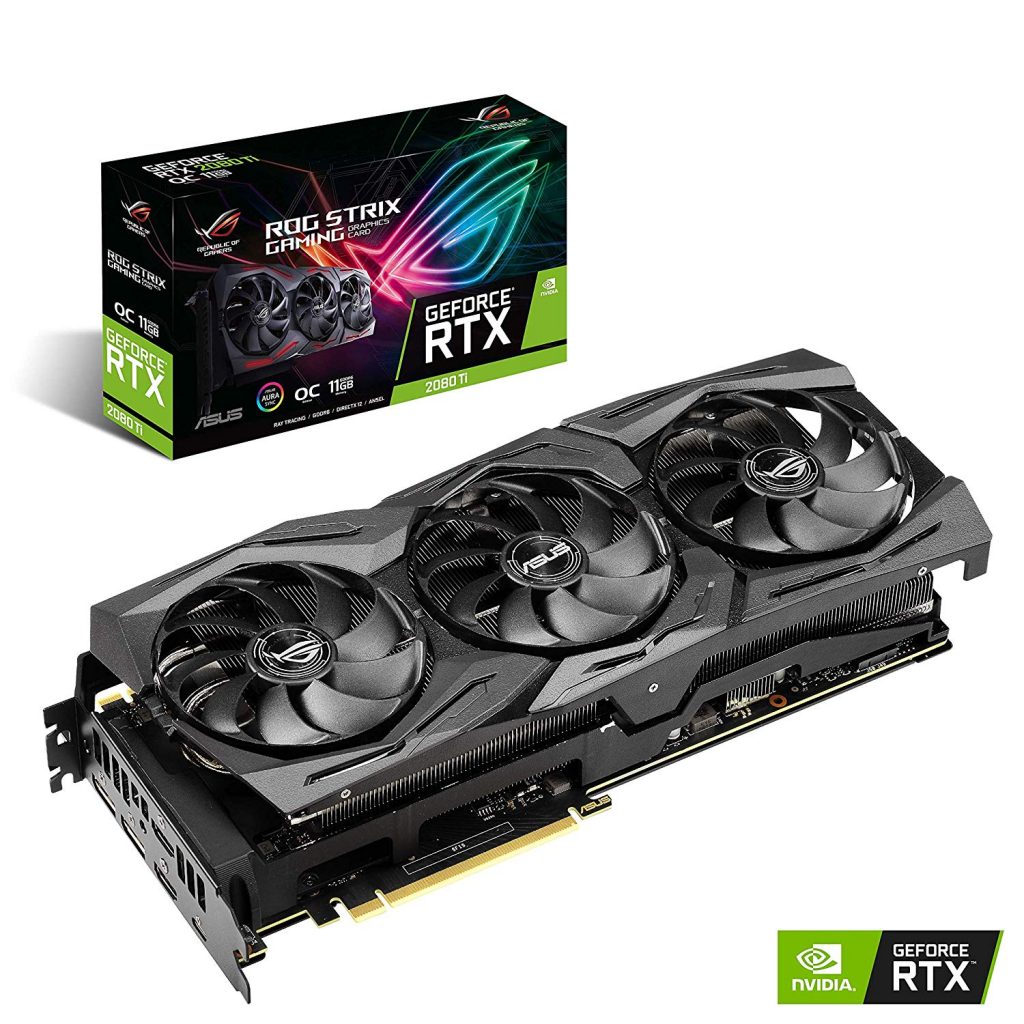 Once you have made up your mind to go all the way to the top and come up with an elite PC gaming setup, there is no other go but to opt for Nvidia's best ever graphics card of the year. The company's flagship model is the Asus ROG Strike GeForce RTX 2080Ti variant which is more than capable of handling 4K gaming at 60 FPS or even more based on the graphics settings you opt for. Besides, the manufacturer has also designed it in such a way that it works great with ray tracing technology to provide improved reflection in games.
The graphics card on the inside is powered by the Nvidia Turing architecture which makes it the most powerful solution that you could buy right now. Besides, the Ti edition also happens to be the most expensive and high-on-performance card which costs more than a thousand dollars. The pricing is something not everyone could afford, but when you do so for a mammoth setup, it will truly justify it. It has 1665 MHz power in overclocked mode with 4352 CUDA cores of processing power and has 11 GB of DDR6 VRAM making it an extremely powerful beast on paper and also in terms of performance.
In terms of connectivity ports, the Asus ROG Strix RTX 2080Ti has an HDMI port, four display ports and USB Type C port. It makes use of Asus AuraSync to control the RGB lighting on the sides and also uses GPU Tweak II software so that you can overclock the graphics card. While it is already OCed to its perfection, some hardcore gamers may want to try and push it even further. The features that Asus provides include game booster, Quantum Cloud, X Split Game Caster that supports both gamers and streamers.
What Makes the Asus ROG Strix GeForce RTX 2080Ti the Best Gaming Card Ever?
Among the best gaming graphics cards, this is a beast in terms of performance and has an equally massive price tag.
Its performance is rated the highest for 4K resolution gaming.
Recommended For:
Gamers who don't think twice about spending a grand on a graphics card and want the very best should go for 2080Ti.
Conclusion
Choosing the best gaming graphics cards should be an easy feat if you are quite clear of your gaming habits. If you spend most of your time playing titles like Counter-Strike and Dota, the GTX 1050Ti, GTX 1060 or AMD Radeon RX 570, it should be more than enough for your requirements. For players who always want to be on the elite side and experience 4K gaming, the best card in the market is the RTX 2080Ti.
The number of games that support RTX is still on the lower side but the cards are extremely powerful and will keep you covered for the years to come. Besides, you can also invest in a good monitor without the fear of losing frame rates when you have the flagship gaming graphics card powering your gaming setup.
See also: Best gaming keyboards