Technobezz is supported by its audience. We may get a commission from retail offers
Why would you ever need a desktop PC for yourself? Even in this digitized era of laptops and tablets, there
Why would you ever need a desktop PC for yourself? Even in this digitized era of laptops and tablets, there are several computing needs that only a desktop PC could fulfill.
The first thing that is highly remarkable about personal computers is their unmatched high performance compared to laptops and tablets. Desktop computers offer the power to finish your task in lesser time and with high performance.
The high-performance PCs usually come with multimedia devices and specialized workstations that ensure more power for completing complex creative work or even scientific projects. With the presence of faster processors with an excellent memory and extra storage in SSDs, you could ask for no more.
So, if you are looking out for the best high-performance desktop computers, browse through our list of PCs.
See Also: Top best gaming laptops under $1000
Best High-Performance Desktop PCs
Best High-Performance Desktop PC for Office Computing
Acer Aspire TC 885 ACCFLi5O Desktop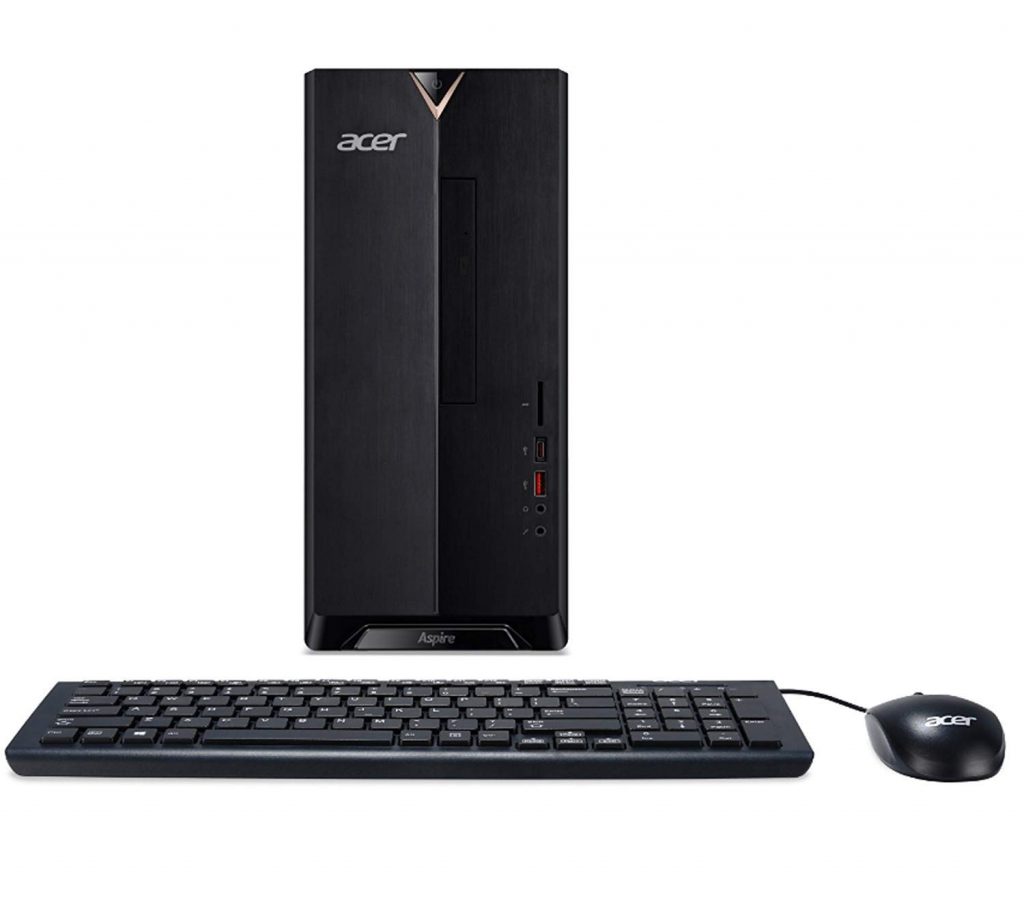 The Acer brand has been synonymous with making the best desktop PCs, and they even have a vast collection of great laptops, including products made for gaming.
The Acer Aspire TC 885 is a desktop PC with all the pre-installed components, and you also get a solid warranty period. Most people think twice about installing processors on their own, which is why this is apt for office computing. The product is powered by an Intel i5 processor, which can handle all your demanding requests with powerful multi-core technology.
The Aspire model uses the 8th generation i5 8400 processor, which has a power capacity of up to 4.0 GHz, combined with 8 GB of RAM and 16 GB of Intel Optane memory. The additional Optane technology allows the Windows 10 operating system to be faster and more responsive.
You also get ample storage space with 2 TB of hard disk for all your files. While it might sound old school in an era where gigabit internet has penetrated most countries in the world, the computer also has a DVD writer so that you can write files and store them. It might be challenging to write files and open them on other PCs as most people have stopped using the drives on all desktops and laptops.
With enough connectivity options, including USB 3.1 Type C, Gigabit Ethernet LAN, Bluetooth 5.0, and multiple USB ports, there shouldn't be any issue in connecting your displays and other peripherals for maximum productivity. The CPU of this desktop PC is not so slim, but it still does have an appealing front design. If you choose to buy multiple PCs together, they will look good when set up together in an office environment.
The bundle includes a keyboard and mouse, but you have to buy the monitor individually based on the type of setup you are looking to put together.
What Makes the Acer Aspire TC 885 ACCFLi5O desktop a Good Choice?
The CPU has a distinct professional design, making it suitable for office setup.
It is powered by an i5 processor, which is suitable for most computing processes as it is fast, responsive, and uses multi-core technology.
The storage space is adequate on this PC, and it includes a keyboard and mouse in the bundle.
Recommended For:
Office users looking for the best desktop PCs to get things done productively and have space to upgrade can go for this model.
Best Desktop PC for Gaming and Multimedia Work
CyberPower PC Gamer Xtreme GXIVR8020A5 Desktop Gaming PC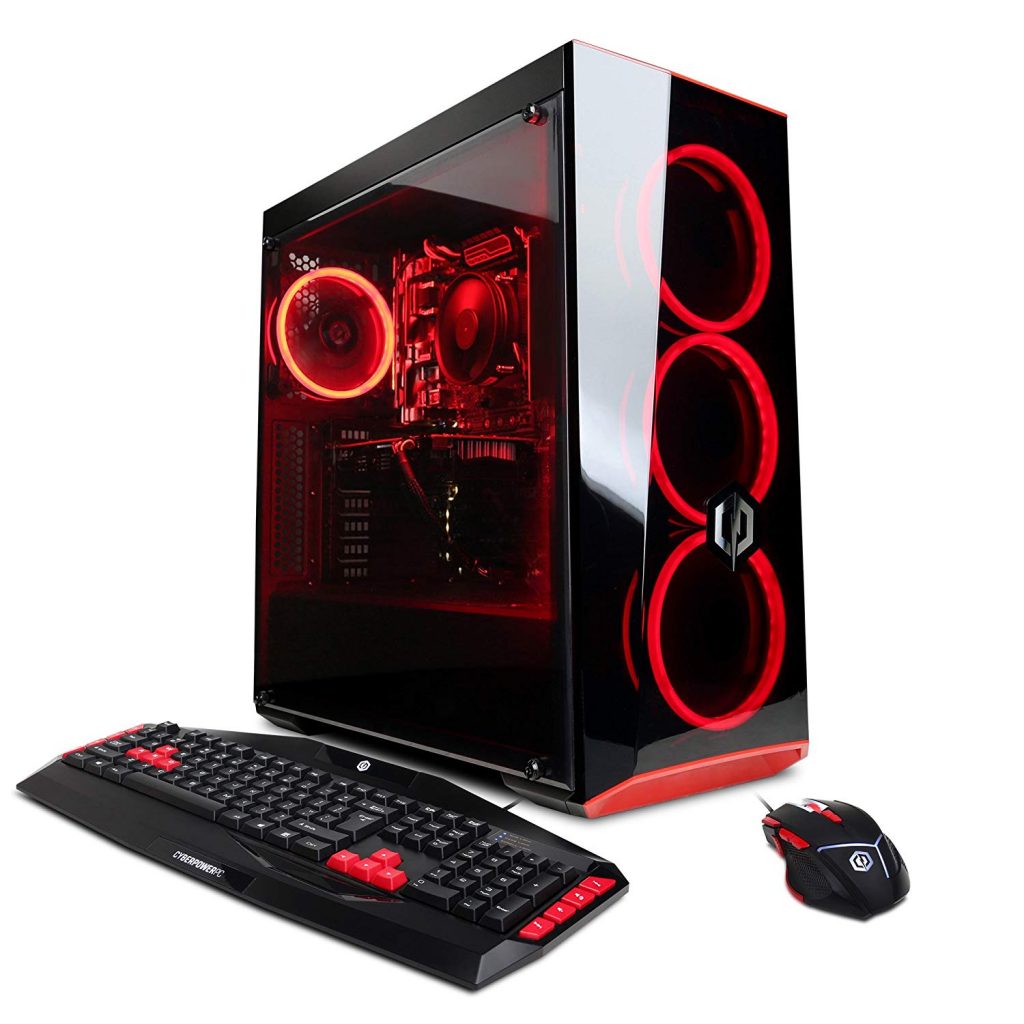 Most people have the common assumption that gaming PCs are designed for playing games; however, the fact is entirely the opposite. If you require a powerful PC to use Adobe Photoshop, Adobe Illustrator, Avid video editing tools, and other demanding software programs, they can ideally suit your requirement.
The GXIVR8020A5 is a desktop PC designed by CyberPower where the company takes control of all the hardware components and sets up the computer on your behalf. While this model doesn't feature the latest RTX cards, it is one of the cheapest you could find with a dedicated graphics card. The model is powered by an Intel Core i5 8400 processor, which has six cores coupled with 8 GB of RAM and 1 TB of storage space. The pricing of the PC includes Windows 10 home edition, and being a 64-bit version; it ensures the OS makes use of the RAM available.
Apart from all these components, the most important is the AMD Radeon RX 580 with 4GB of VRAM. It consists of an HDMI port, DVI, and two Display Ports so that you can conveniently connect multiple monitors for designers who might use them. It also comes pre-built with a WiFi AC adapter and numerous USB ports on the motherboard that can support a 7.1 surround sound system.
The entire gaming PC from CyberPower PC comes with a one-year warranty, uses bright LED lights, and has a gaming keyboard and PC so that you don't have to buy them individually.
What Makes the CyberPower PC Gamer Xtreme GXIVR8020A5 an Ideal Fit?
The product is made for gaming, but the dedicated graphics card can also be used by designers and video editors.
It has the excellent build quality and heat dissipation design
The colorful setup makes it easier to use in the home or creative office spaces
The bundle also includes a gaming keyboard and mouse with red accents
Recommended For:
A powerful yet affordable gaming PC for creative designers, gamers, and those who require a dedicated graphics card for editing requirements
A Compact Yet Powerful Desktop PC
Asus VM65N-G063Z VivoMini PC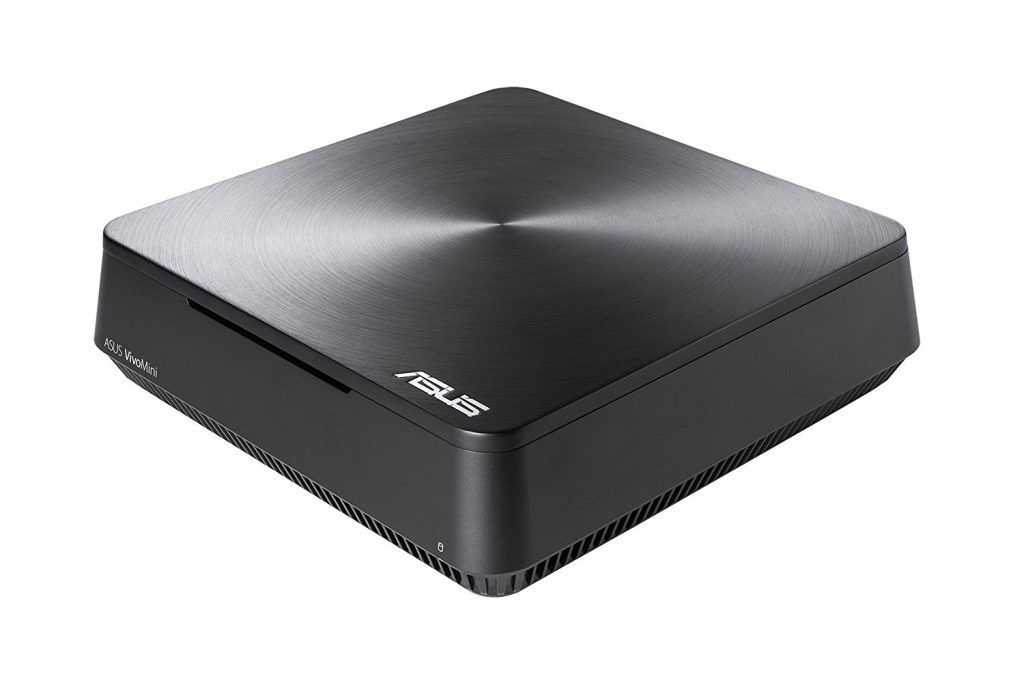 Asus was widely known as a motherboard and systems peripheral manufacturer, but the company has recently ventured into making laptops and some desktop PCs. With their reputation of being the brand that makes amazing motherboards, graphics cards, and many gaming components under the ROG brand, the Vivo Mini PC they now sell is incredible.
The hardware specifications of the desktop PC are impressive as the manufacturer has managed to incorporate an Intel Core i5 7200U processor in it. The processor is clocked at 3.10 GHz and is coupled with 8 GB of RAM and 1 TB of hard disk space, which is more than enough for most office requirements.
The unique selling point of this compact PC is that it comes with a dedicated graphics card. If you require using graphical applications such as Photoshop and Illustrator or use video-related services, this should be an ideal fit. The PC houses an Nvidia GeForce GT 930M graphics card which should be enough for watching movies at the highest possible 4K resolution, and you can even play some games in your free time.
It can also be used to set up many computers for designers to work on in an office space. The smaller size allows you to team up groups of people together in the same location, but there is no need to have large desks. The advantage can be gained only by using compact PCs made by Asus and the Intel NUC series that are known for their form factor.
The PC box is equipped with WiFi AC connectivity so that you can wirelessly use it in a convenient location. The connectivity options available include two USB 3.1 ports coupled with four regular USB ports, and it supports digital HD audio. The addition of a four-in-one card reader makes it easier in situations where you have to use SD cards to retrieve data from them.
The desktop can also be upgraded with up to 32 GB of RAM, requiring minimal hardware knowledge as you have to open and install it. Make sure to check the warranty limitations before doing such upgrades.
What Makes the Asus VM65N-G063Z VivoMini PC a Great Desktop PC?
The compact form factor makes it easy to carry out, and it will occupy the least space when used in bulk quantities in an office space.
The dedicated graphics card from Nvidia ensures designers and developers can use it without any performance issues.
You can upgrade the RAM if required.
Recommended For:
An excellent choice for anyone who needs a powerful desktop PC in a compact form. It can be placed anywhere and be used for demanding graphical purposes combined with light gaming.
Powerful Best High-Performance Desktop PC from Intel NUC Series
Intel NUC NUC8i7BEH Mini PC/HTPC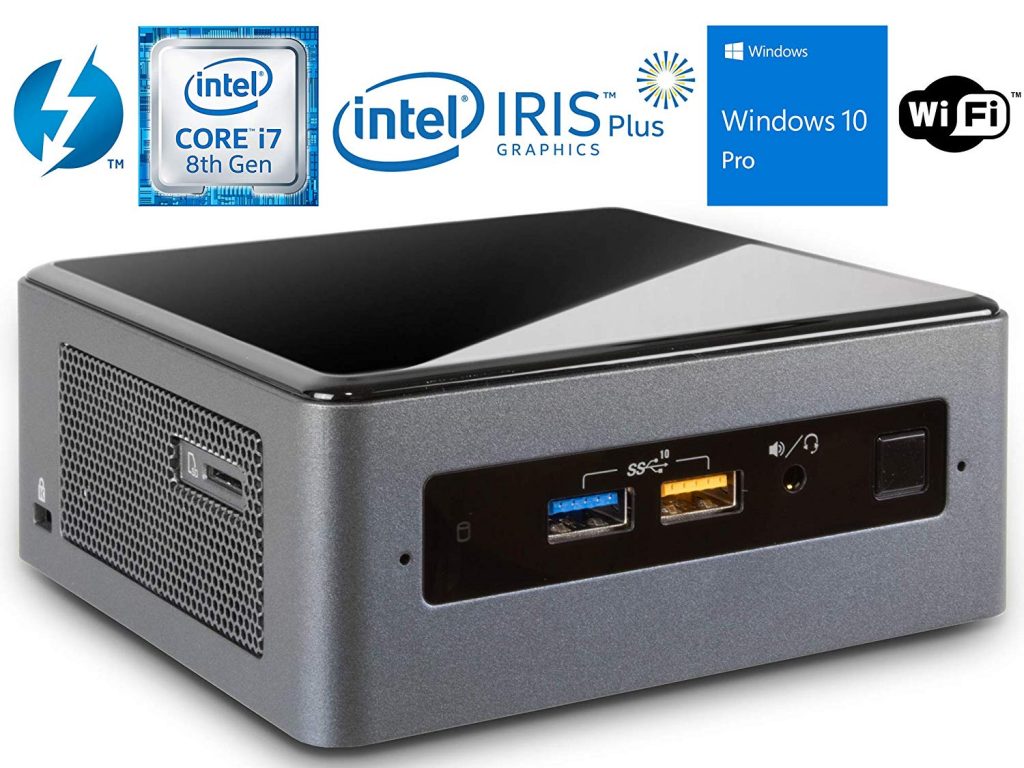 The Intel NUC series of computers have been around for a few years now. Every year, the company upgrades the hardware specifications with their latest processor, and the price tag varies based on the model you choose.
Going with the highest possible configuration could bring the price higher than $1000, but there are always more affordable models. The Intel NUC NUC8i7BEH finds the middle ground and provides reliable performance as it is powered by the top-of-the-line Intel i7 8559U processor.
The processor has been clocked at 4.5 GHz, keeping your PC very responsive. It is ideally paired with 16 GB of DDR4 RAM and 1 TB of hard drive space. Even though compact, the PC has room for one more hard disk to be added if you like to expand the storage further.
The hardware specs include an Intel Iris Plus Graphics 655, Intel Dual Band Wireless AC for Ethernet cable-free internet connection, and Bluetooth 5.0. With a card reader, it is easier to use SD cards as a means of storage, and the slots allow you to connect two monitors at once.
The NUC PC runs on Windows 10 Professional edition, and the 64-bit version of the OS will make use of as much RAM as you install in it. It also has Thunderbolt 3 ports, three USB ports, an HDMI port, and a headphone/ microphone combo so that you can make Skype calls.
Everything about the PC assures that you will get the best performance, and it also has some space for upgrades for those who are not happy with what Intel offers. It is easy to remove as all the ports are conveniently located in the rear end for easy connectivity.
What Makes Intel NUC NUC8i7BEH Mini PC/HTPC a Great Desktop PC?
The form factor is a huge selling point as you can comfortably keep it anywhere without occupying too much space.
It is upgradeable
The ports are plenty, allowing for easy connectivity.
It has powerful hardware specifications ideal for demanding computing tasks.
Recommended For:
Users who require a powerful desktop PC that is not too bulky and powerful in terms of hardware specs can go for this NUC model from Intel.
Best High-Performance Desktop PCs with Stylish Design
2019 Lenovo IdeaCentre 520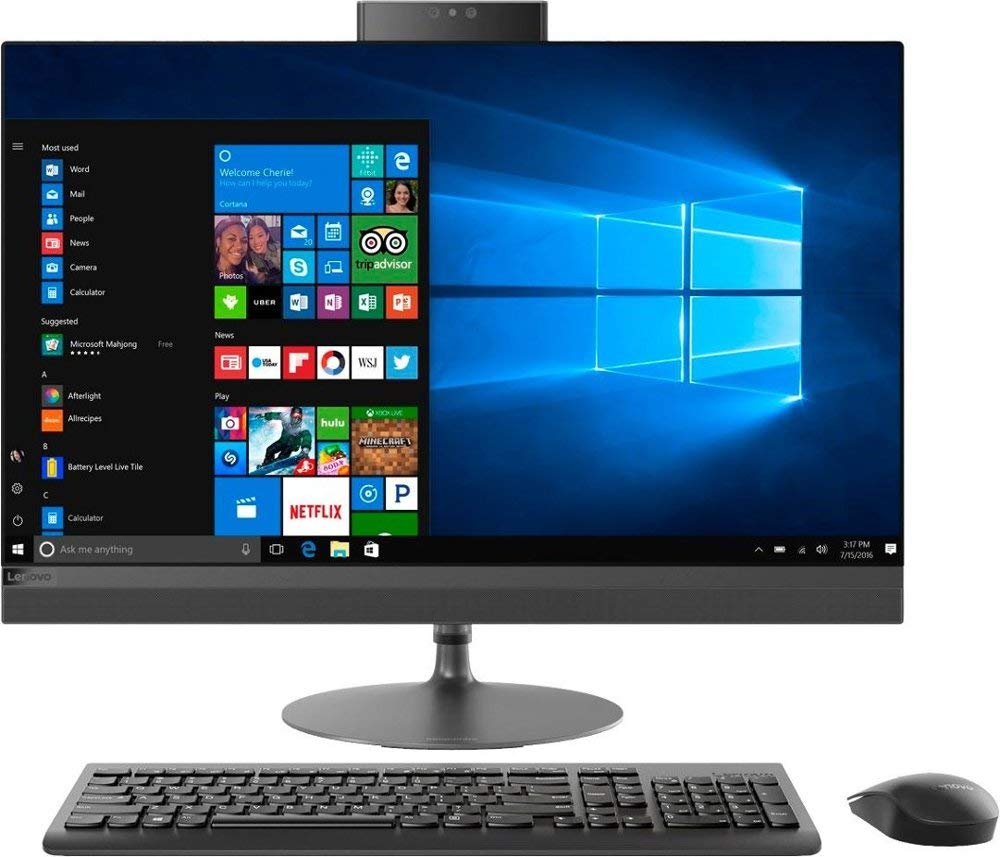 The Lenovo IdeaCentre is truly a place where you could bring your ideas to life. The manufacturer approaches its products in such a way that they strike a fine balance between performance and pricing.
For the $1000 you pay for this device, you get almost everything a power user would expect from their computer. The desktop PC has a large 27-inch display which is ideal for viewing large excel files, designs, photoshop, and other software elements in their full glory. The monitor also happens to have touchscreen capabilities, and Windows 10 has been designed to offer the best with large icons that are easier to access on a touch monitor.
The impressive design is not the only good thing about the 2022 Lenovo IdeaCentre 520 because it also excels in hardware specifications. Under the stylish monitor, the computer is powered by the 7th generation Intel i7 7700T processor clocked at 2.90 GHz. The processor is ideally paired with 8 GB of DDR4 RAM with the fastest clock speeds, and there is 1 TB of storage for all your files. With the digital era moving towards a cloud-only approach, it wouldn't be surprising if you prefer to use lots of cloud storage while the hard disk will be capable of storing most files without being constrained.
Connectivity is at its best in this Lenovo product which includes a primitive DVD drive that you can use if you are still storing files on them. It is a wise addition if you have lots of movies and old software stored in DVDs. The computer supports Bluetooth 4.0, has WiFi AC, the fastest wireless connection you could get, Ethernet, HDMI, and enough USB ports. The ethernet supports Gigabit speeds to get the highest speeds on a wired connection. There is a headphone and microphone combo jack. The PC comes bundled with Windows 10 home edition and is available in the dark silver colored variant.
What Makes the 2022 Lenovo IdeaCentre 520 a Great Product?
The desktop PC is of high performance with the fastest processor, RAM, and storage space
It has all the connectivity ports
The monitor is brilliant in terms of resolution and color reproduction which also has touchscreen capabilities
Recommended For:
The IdeaCentre 520 is recommended for users who expect the best performance and use lots of multimedia content such as movies and pictures and some graphic designing on their PCs.
Best High-Performance Desktop PC with a Brilliant 4K Monitor
2019 Asus Zen Pro 23.8" IPS 4K UHD Touchscreen All-in-One Desktop PC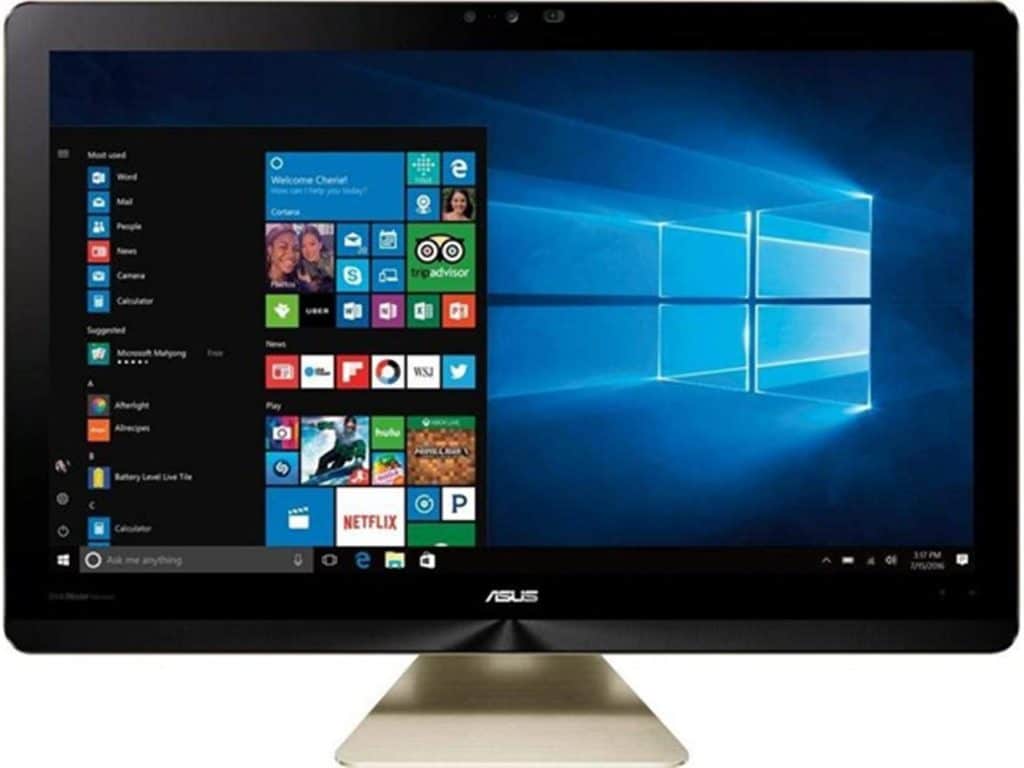 The best aspect of owning an all-in-one PC is that you get the convenience of having the fundamental hardware components bundled inside the monitor. It provides more space on the desk and also creates a very appealing setup where you will have only your monitor, keyboard, and mouse.
The Asus Zen Pro 23.8-inch 2022 edition AIO takes it up a notch by providing an excellent 4K UHD display with an unparalleled visual experience. Be it editing images, watching videos, or creating PowerPoint presentations, the overall productivity and luxury provided by the high-resolution monitor is something you can't argue against.
The Zen Pro PC features a 23.8-inch monitor with a resolution of 3840×2160 pixels. The monitor uses 10-point multi-touch so that you can drag, drop and pinch to zoom if the software supports it. It is also a gaming machine on the inside because the computer houses a dedicated Nvidia GTX 1050 graphics card with 4GB of VRAM. These components are adequately powered by a 7th generation Intel i7 7700T processor. It is paired with 12 GB of DDR4 RAM, 1 TB of hard disk space, and a 128 GB SSD that allows you to get the fastest bootup speeds and store files that need to be quickly accessed.
Apart from the usual connectivity options, including WiFi AC, Bluetooth, HDMI, and USB ports, the computer also uses one of the best speakers on the market. The loudspeakers are designed by the sound specialist company Harman Kardon, which provides better voice clarity and surround sound so that you don't have to add external speakers to make the most out of your setup.
It also has multiple USB ports for connectivity, an SD card reader, and Type C ports. The Asus Zen Pro runs on Windows 10 Home edition, and you have to buy the keyboard and mouse separately. Considering the powerful entry-level card incorporated in it, it can be used for light gaming and graphical software programs.
What Makes the 2022 Asus Zen Pro 23.8-inch AIO an Amazing Pick?
The monitor, with its 4K resolution and touchscreen capabilities, makes every picture and video come to life
It has a dedicated GTA 1050 graphics card which is ideal for casual gaming and using apps like Photoshop
The SSD ensures Windows is quick to boot up and responsive
Recommended For:
Users who love the best visuals on a 4K monitor can comfortably go for this PC which provides a great balance between productivity and entertainment in a stylish package.
You may also read Best Laptops for Drawing.
Most Powerful Desktop PC for Video, Audio Editing
Apple Mac Pro Desktop with Intel Xeon Processor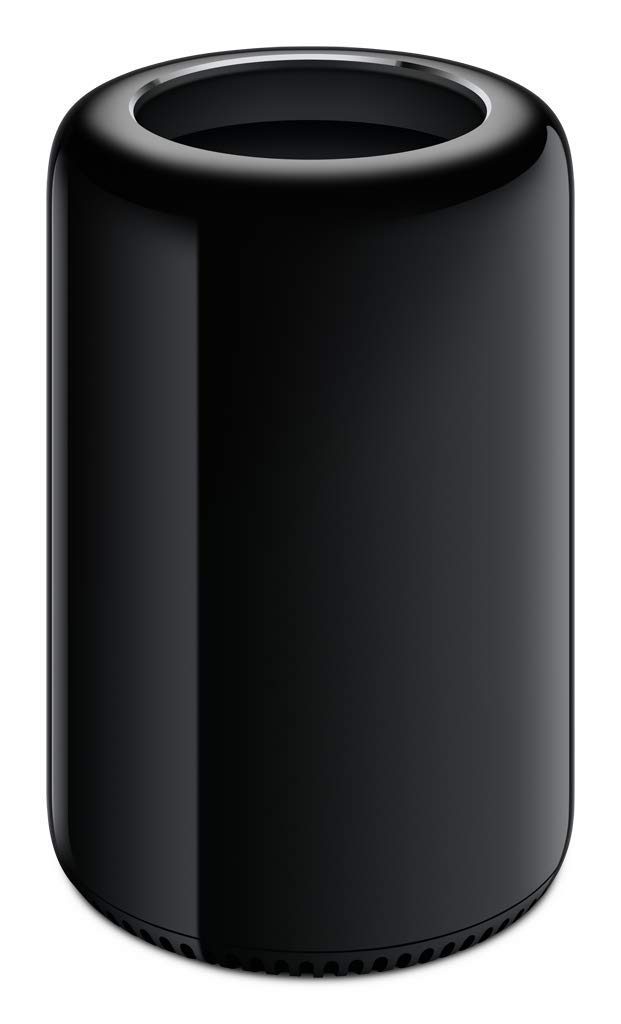 If you haven't come across this yet, the Intel Xeon is the most powerful processor the company makes, and they are usually used in highly demanding servers. The results are stunning when you bring the same power to such a compact page and use it for video and audio editing in an office or studio.
Apple has never been a company that sells affordable products, but the quality and reliability they offer are still on the highest possible end. The Apple Mac Pro Desktop is one such device that is powered by an Intel Xeon E5 processor, which has six cores and is clocked at 3.5 GHz.
The compact cylindrical package houses two different AMD FirePro graphics. The graphics card is not meant for gaming but is precisely designed for audio and video editing purposes. They can significantly reduce the time it takes to render large video files shot at 4K or even higher. Storage is handled by the fastest PCIe SSD storage, which may not be the highest, but you should always be able to extend it further using the connectivity ports found on this desktop PC.
There are six Thunderbolt 2 ports combined with four USB 3 ports, and it also uses WiFi AC and ethernet ports for fast internet connectivity. You have to buy the monitor, keyboard, and mouse separately to start using the Apple Mac Pro desktop PC. It is a popular choice among professionals working in the film industry, graphic designers, and companies that deal with demanding tasks such as high-quality video editing or game development.
What Makes the Apple Mac Pro Desktop the Most Premium PC?
The Mac OS is designed for audio and video editing.
The integrated Intel Xeon processor makes it the most powerful product you could buy, even though it is costly.
Dual AMD cards ensure great rendering speeds and reliable performance.
It has enough connectivity ports for connecting multiple monitors.
Recommended For:
Apple Mac Pro Desktop is the ultimate and the best high-performance desktop PC you could purchase for your money's worth. It is primarily designed for professionals in audio and video editing.
Other models worth buying
Best High-Performance Desktop PC With Magical Keyboard And Mouse
Apple iMac MK452LL/A 21.5-inch Retina 4K Display Desktop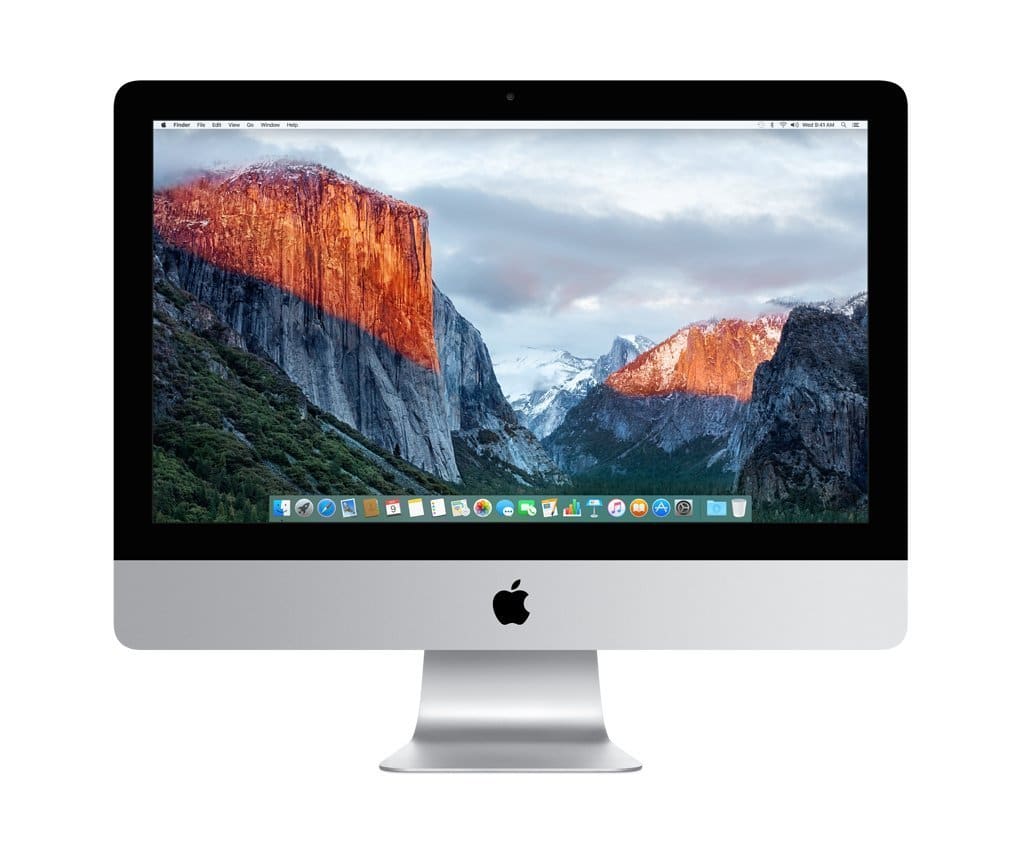 This amazing high-performance desktop is paired with great-value hardware meant to last for a long time. The Apple iMac desktop PC comes in a sleek and classy design, and its value for money is all worth its high performance. The retina display is amazing to glance at throughout the day and would win over your heart instantly.
Some of the additional specifications include:
CPU: Intel Quad-Core i5
Graphics: Intel Iris Pro Graphics 6200
RAM: 8 GB 1867 MHz LPDDR3
Storage: 1 TB Serial ATA Drive at 5400 RPM
Communication: Wireless 802.11 ac with Bluetooth 4.0
Dimensions: 45 X 52.8 X 17.5 cm (W X D X H)
With the presence of a strong Intel i5 processor, the desktop PC can do a myriad of tasks for the users. From your office to home, the iMac desktop PC can handle photo & video editing, spreadsheets, and so more. The combination of the refreshed Magic Keyboard and Magic Mouse 2 is all you would need to see Apple's benchmark in delivering high performance at its best.
One Of The Best High-Performance Desktop PC With Great Storage Options
HP Pavilion Wave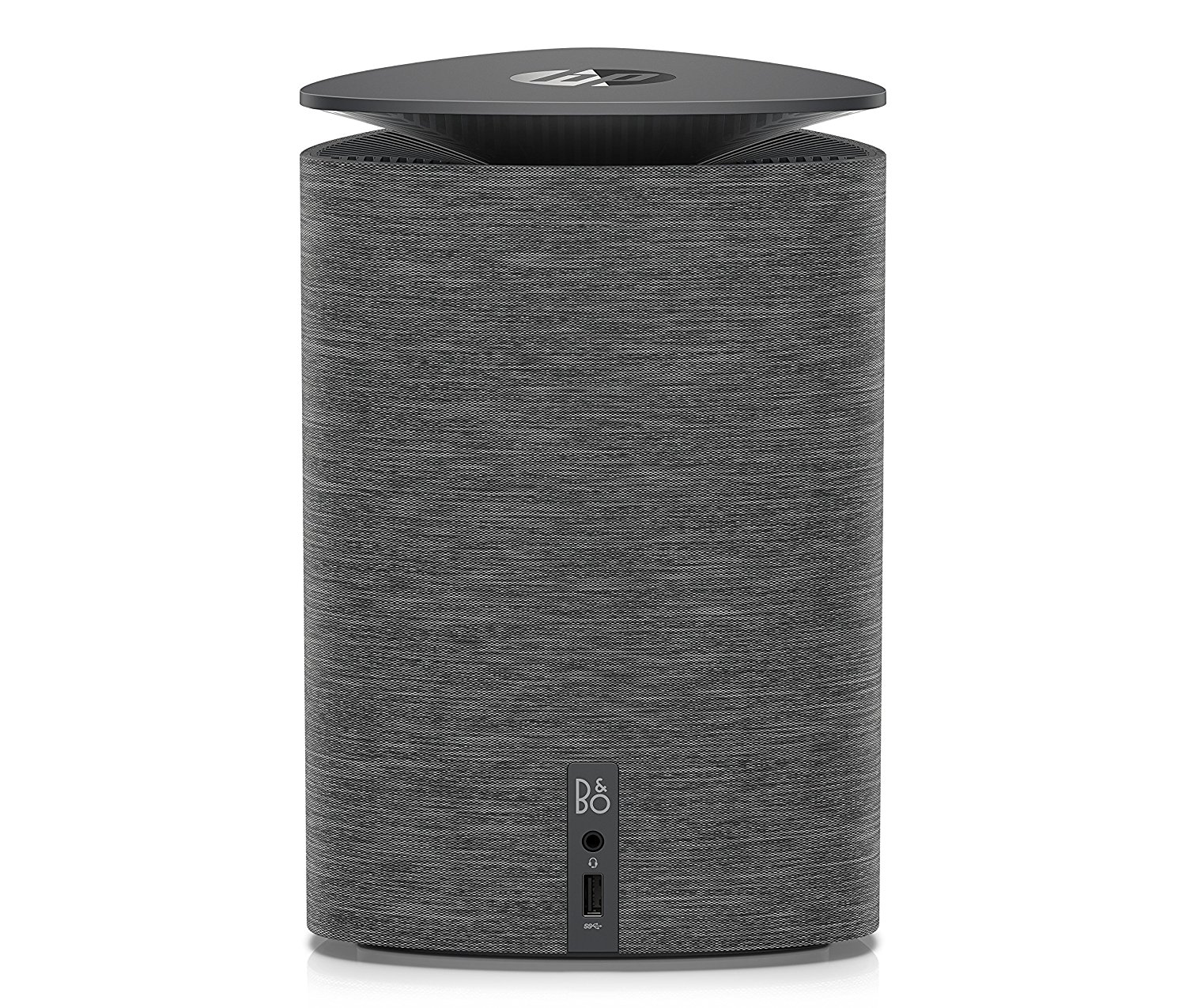 The HP Pavilion Wave is another name in the range of high-performance desktops that would win your heart. This PC has been developed and designed in conjunction with Bang & Olufsen. This speaker system would steal the overall spotlight from all the available PCs. If you are looking for high-quality music performance, the HP Pavilion wave has the rightmost features.
Here are some of its additional specifications to deliver a great performance:
CPU: Intel Core i3 – Intel Core i5
Graphics: Intel HD Graphics 530 – AMD Radeon R9 M470
RAM: 8 GB
Storage: 1 TB HDD
Communication: Wireless 802.11 ac, Ethernet, Bluetooth 4.2
Dimensions: 6.81 inches X 6.62 inches X 9.25 inches (W X D X H)
You can be assured of better performance with as many as three USB 3.0 ports, a single USB Type-C port, HDMI, and DisplayPort.
Best High-Performance Desktop PC With Powerful Graphics Card
Acer Aspire ATC-780-UR61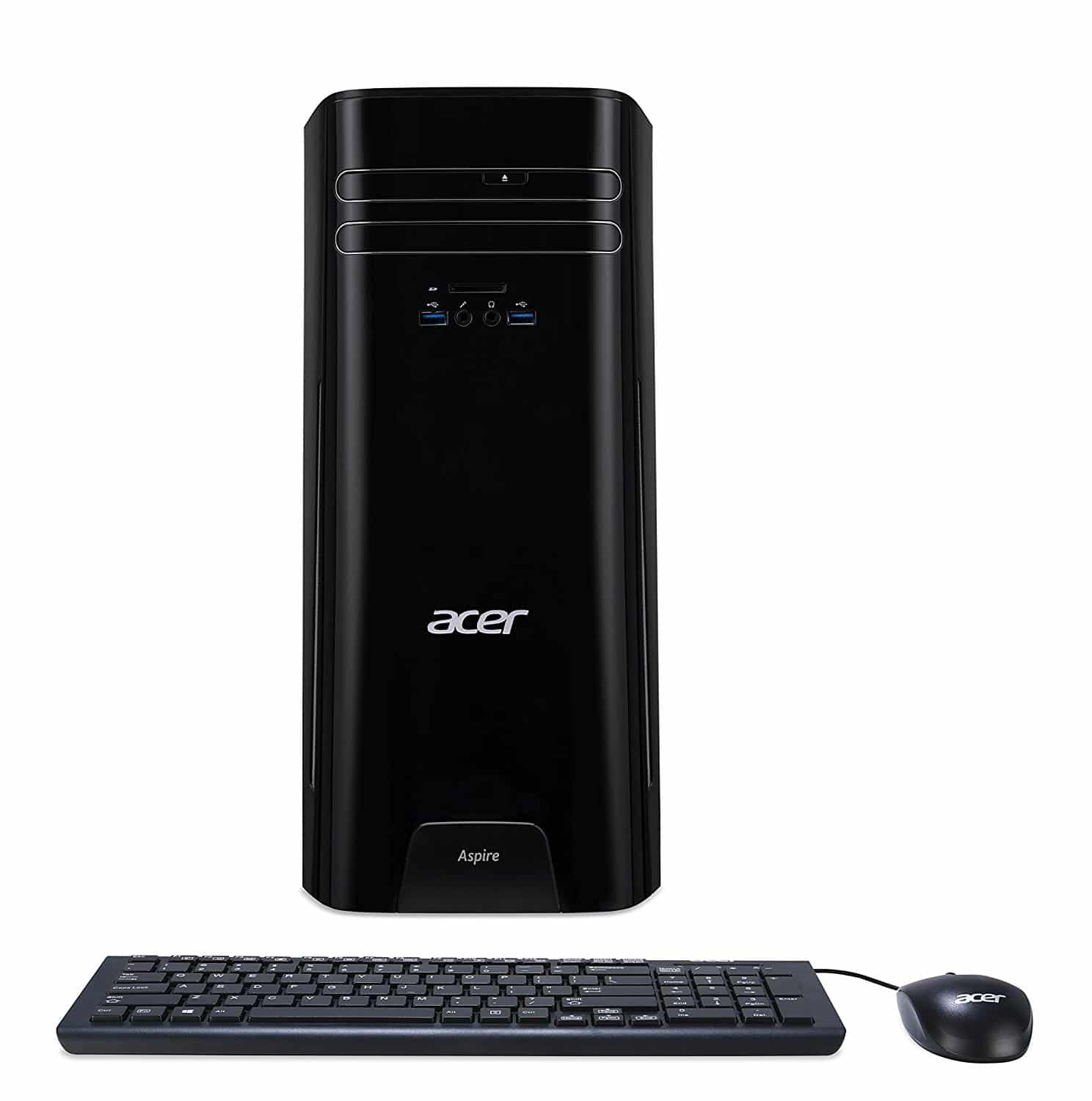 If you are searching for great performance but on a budget, this PC by Acer would fit your purpose well. It comes with an exciting set of features and technical specifications to meet your PC requirements. Moreover, you do not have to drill a hole in your pocket to bring home this spectacular piece of high-performance PC.
Here are some of the technical specifications that you can look out for in this PC by Acer:
CPU: 6th Generation Intel Core i5 6400 processor with 2.7 GHz ( up to 3.3 GHz)
Memory: 8 GB DDR4 2133 MHz UDIMM Memory
Storage: 1 TB 7200 RPM SATA3 hard drive
Graphics: Intel HD Graphics 530
OS: Windows 10
Communication: Wireless WiFi with 802.11 ac along with Bluetooth 4.0
Dimensions: 17.4 inches X 6.9 inches X 15.7 inches (L X W X H)
In addition to the above specifications, the users are also provided with a great combination of USB 3.0 and 2.0 ports. The RAM is expandable up to 32 GB, which allows for the high performance offered by the PC.
Best High-Performance Desktop PC With Excellent Features
Acer Aspire AIO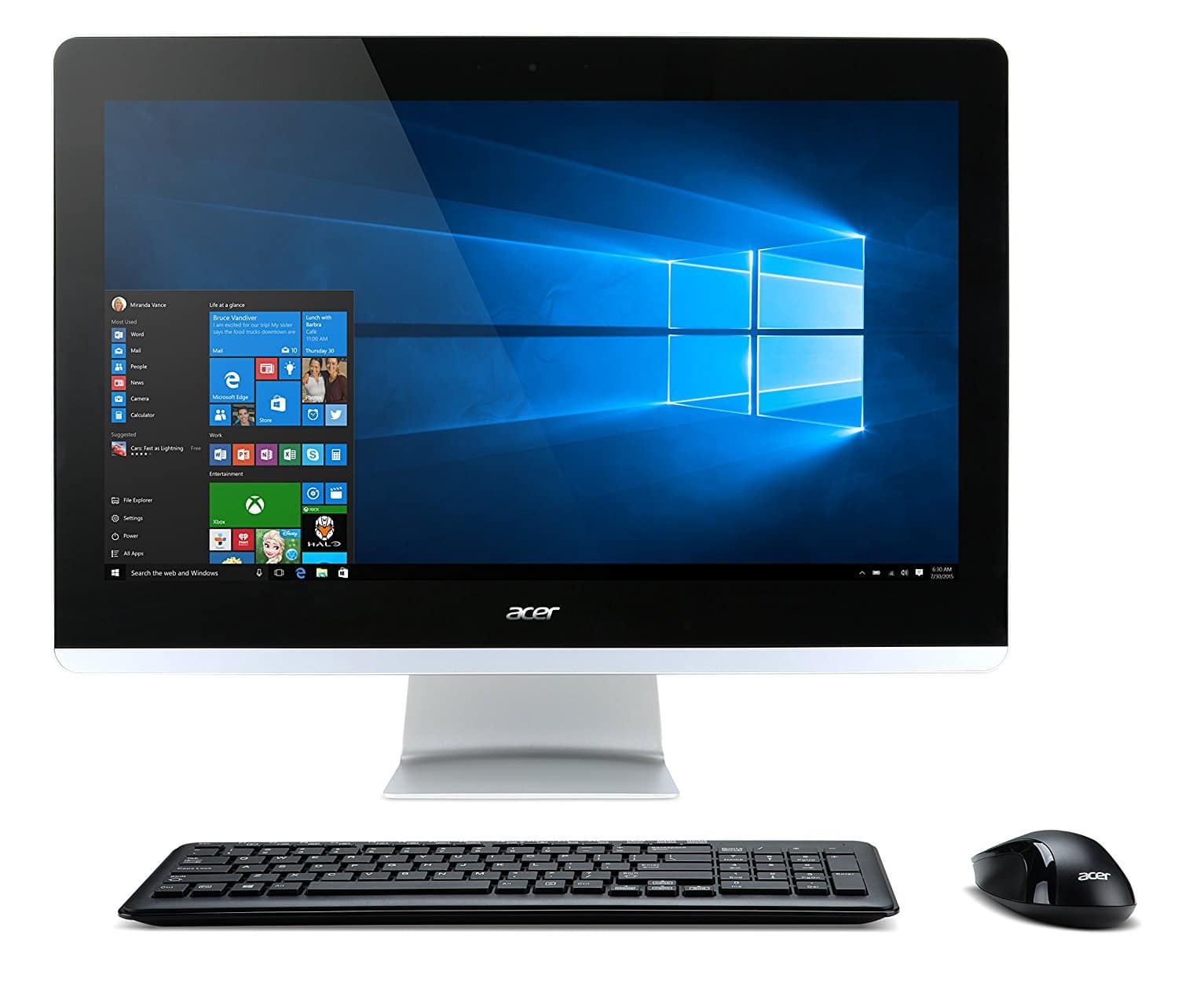 If you happen to work from home a lot and need an excellent PC with high performance, this is one of the best desktops. This desktop PC is powered by Windows 10 and will fit your budget requirements. The Acer Aspire AIO PC series can easily achieve this, from making movies to playing games and doing complex office work for endless hours.
Here are some of the unique specifications offered by this desktop PC:
CPU: Intel Core i5 6400T processor 2.2 GHz (up to 2.8 GHz)
Screen: 2.38-inch Full HD display (1920 X 1080)
Graphics: NVIDIA GeForce 940 M Graphics with 2 GB Video Memory
Memory: 8 GB DDR4 Memory along with 1 TB 5400 RPM hard drive
Connectivity: Wireless WiFi 802.11 ac along with Wireless Keyboard and mouse
Dimensions: 23.3 inches X 1.4 inch X 18.4 inches (L X W X H)
All your multi-purpose tasks would be easily supported by the NVIDIA Graphics memory card of the Acer Aspire AIO model that comes with an excellent addition to the affordable price range. You can bring this PC home with the expectation of some great performance and budget-friendly features.
Best High-Performance Desktop PC With Powerful Hardware Units
Dell Inspiron 24 3000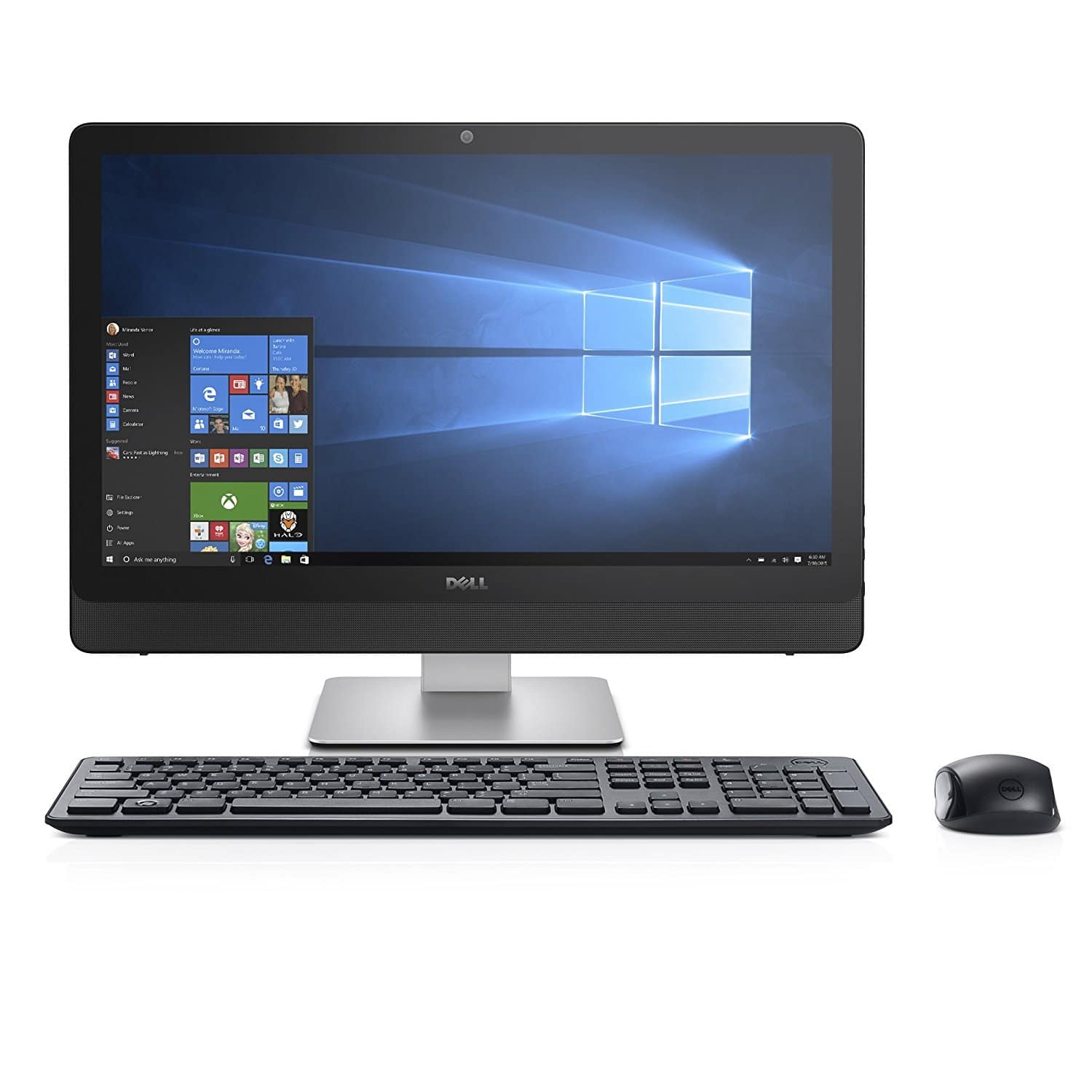 This popular all-in-one desktop PC makes the list of high-performance desktop PCs due to its specific technical features. This PC offers a perfect blend of great desktop productivity and laptop functionality for users' comfort. This desktop by Dell comes with an attractive display at 1920 X 1080 screen resolution with the latest Windows 10 OS interface.
Here are some additional technical specifications of this high-efficiency PC:
CPU: 6th Generation Intel Core i3- 6100U processor ( 3M cache, 2.30 GHz)
Operating System: Windows 10
Memory: 8 GB Single channel DDR3l 1600 MHz
Graphics: Intel HD Graphics
Connectivity: WiFi 802.11 ac with Bluetooth 4.0 and dual-band 2.5 with 5 GHz
Dimensions: 22.7 inches X 1.5 inches X 15.2 inches (L X W X H)
The presence of a great memory processor and storage availability would give the users enough computing power to smoothly run all the applications with the help of the most powerful hardware units.
Best High-Performance Desktop PC With Touch Screen
ASUS Zen Z240 23.8-inches Touch Desktop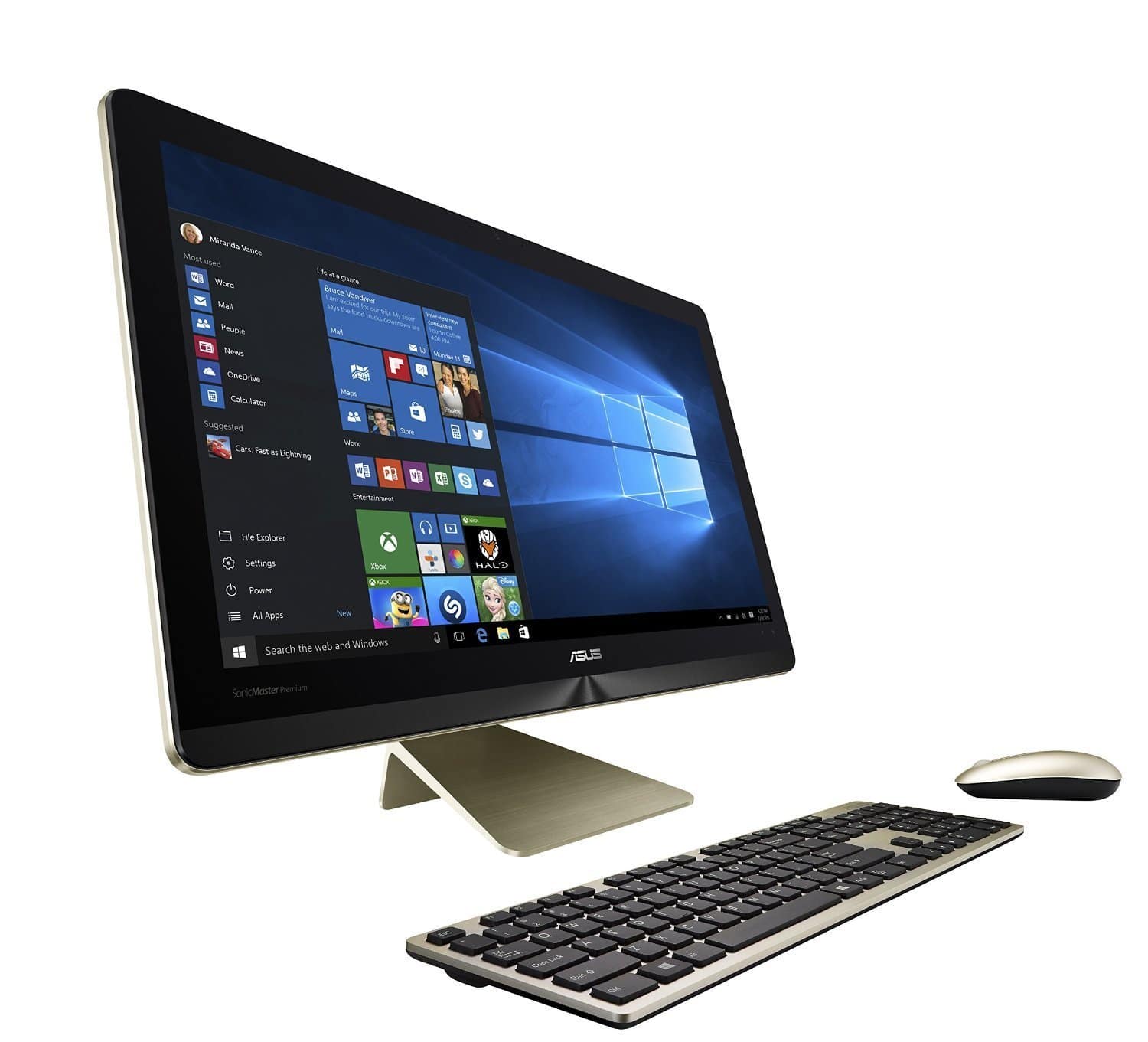 There could be nothing more high-performance than a touch desktop. With amazing design features and sharp looks, the ASUS Zen manages to get the Apple iMac touch to itself. You will find a great combination of great performance features and overall stylish looks to do your purpose well. Packed with the latest processor versions, you could ask for no more.
Here are some of the additional features offered by the ASUS Zen All-in-One Z240 Touch desktop:
CPU: Intel Core i7 6700K processor at 4.00 GHz and TURBO BOOST to around 4.20 GHz. This calls for an EXTREME-power processor.
Storage: 1 TB SSD drive with two HDMI ports
Screen: 23.8-inch brilliant touch screen diagonal Full HD LED-backlit display
Dimensions: 23.1 inches X 7.5 inches X 17.1 inches (L X W X H)
The desktop PC comes with a 10-point touchscreen and a Chiclet keyboard that is excellent in performance and would enhance the overall user experience. This PC provides enough power to get through everyday tasks with ample storage for multiple files in one place.
Best High-Performance Desktop PC From HP
HP 20 Snow White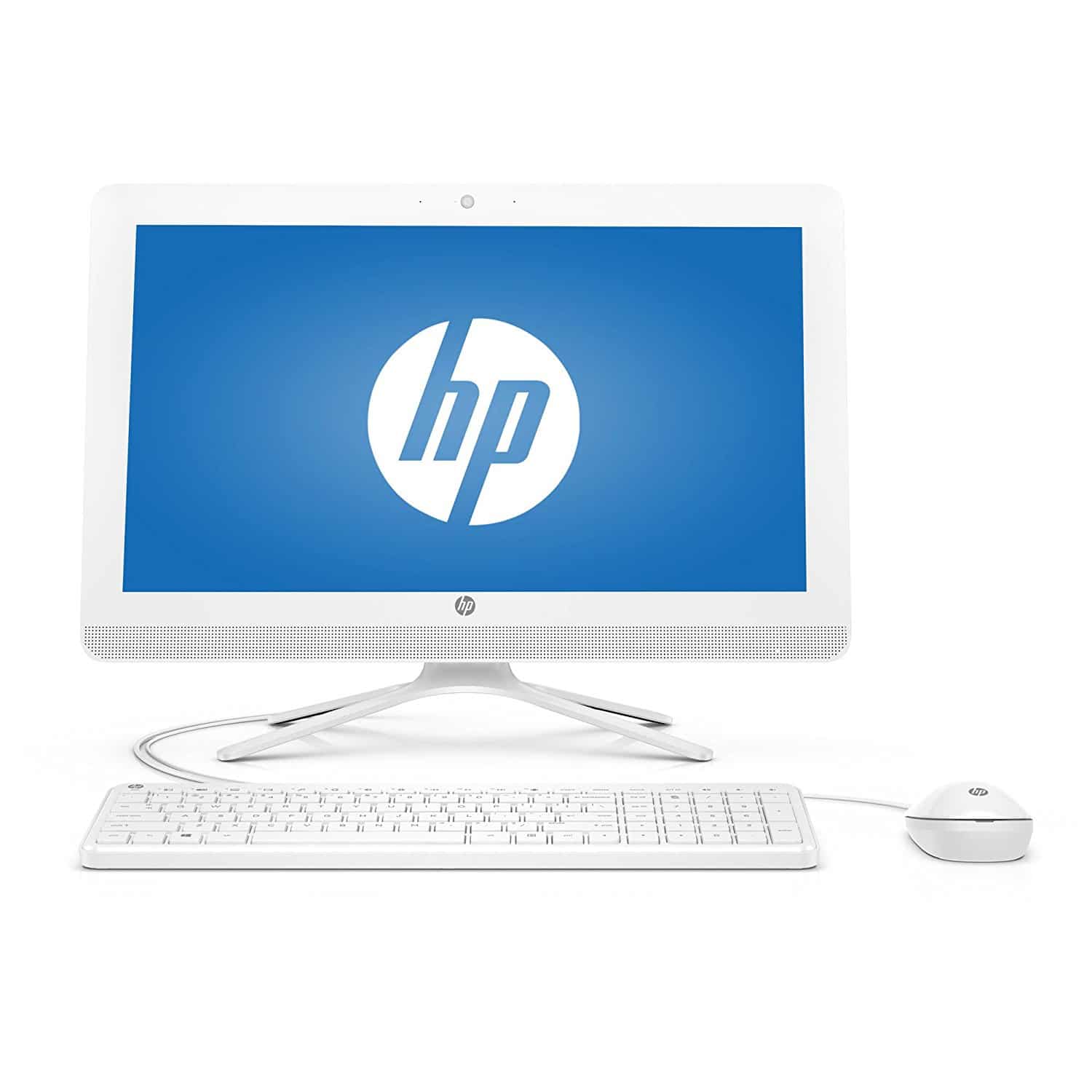 If you are in the technology market and looking for the best high-performance desktops under a limited budget, then this PC model by HP as 20 Snow White could be your best option. This desktop PC comes as an all-in-one option packed with a powerful processor to cater to all the diverse needs of the users.
Here are some more specifications of HP 20 Snow White:
CPU: Intel Pentium J3710 Quad-Core processor 1.60 GHz, 2 MB cache along with turbo boost up to 2.64 GHz
Screen: 19.5-inch widescreen (1600 X 900) HD+ WLED-backlit display with Intel HD graphic card and HP HD Webcam
Connectivity: Wireless LAN 802.11 b/g/n, Bluetooth 4.0, 3-in-1 media card, two USB 3.0 ports, 2 USB 2.0 ports, one HDMI port, one Ethernet port, and one headphone/microphone jack
Operating System: Windows 10 64-bit
Memory: 4 GB DDR3L SDRAM System memory that is expandable up to 8 GB along with 500 GB hard drive
All of the above features add excellent performance that fits your budget.
If you are looking for the best high-performance desktop PCs for yourself, consider the ones mentioned above. These PC desktops are rated excellent on performance parameters that can cater to a wide range of technical specifications and purposes of the users. Go for the best one!
See Also: The best laptops for graphic design 2022
---