Technobezz is supported by its audience. We may get a commission from retail offers
X
Our Editorial Process
Each year more than 60 Million users visit Technobezz to solve a problem or research a product. Our goal is that everyone finds what they are looking for, and that is why we cover a variety of products, problems, and solutions on our website.

Writing an article that contains a lot of valuable information may seem simple. But when the article is written, the story doesn't end. We are constantly updating the content so that you can always get up-to-date and accurate information.
---
Technobezz's Editorial Guidelines
Modern parents want their children to embrace technology as early as possible. While most of us may not have
Geekplus 11.6-inch Mini Student Laptop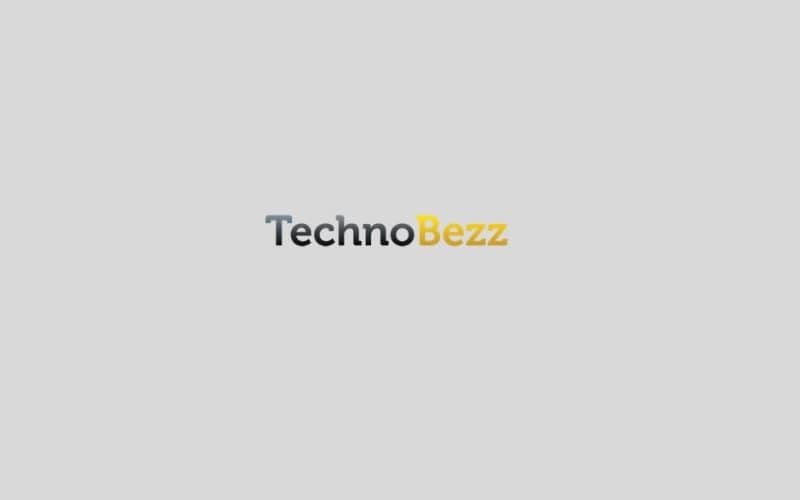 HBE Store 10.1-inch Well-Designed Laptop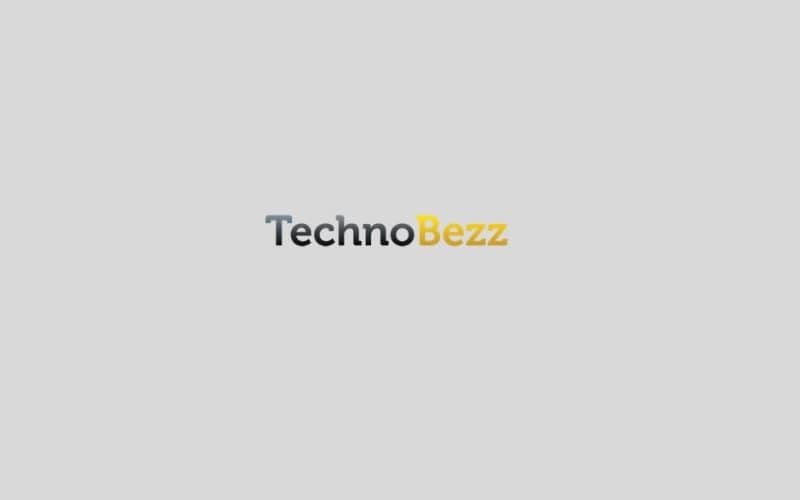 HTools Intel Celeron N4120 Quad-Core Processor Laptop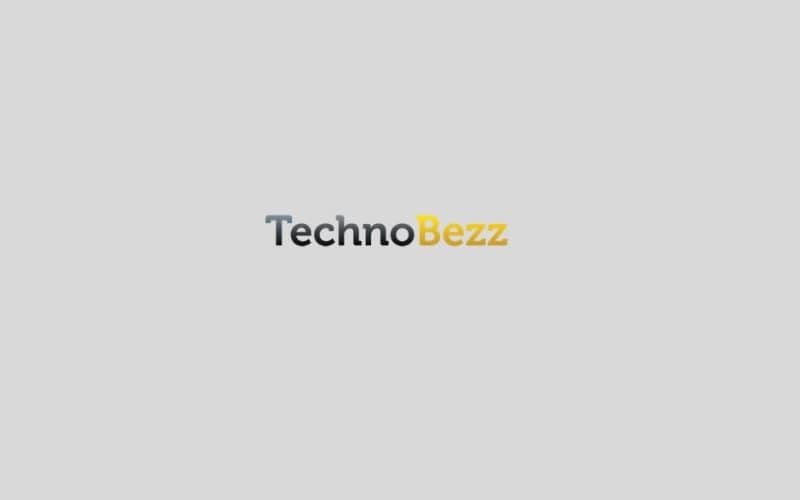 Table of Content
Modern parents want their children to embrace technology as early as possible. While most of us may not have had the chance to start early with computers in our lives, our kids are growing amidst a technological revolution that puts them in a place where they are learning how to operate gadgets on their own. If you are looking for the best laptops for kids to buy in 2022 then we have rounded up some nifty laptops that are easy to use and will be able to provide a simple interface for your child.
Read also- The Best Laptops For Graphic Design
Buying Guide
A few things that we would like to keep in mind when buying a kid's laptop are:
Today, a laptop is more of a necessity than a luxury. Both adults and kids need laptops for various purposes. Kids usually do not need all the specifications adults look for in their laptops. While they primarily need laptops for activities pertaining to their studies, entertainment is another reason they wish to have a laptop. Security must be given due importance when you choose a laptop for your kid. Most of the popular players in the laptop market have a few laptops catering to the requirements of children. An analysis of these laptops can help you make the right choice.
Depending on why your child needs a laptop, the specifications change accordingly and this, in turn, determines the price of the laptop.
Ease of Use
We want the laptop for kids to be simple because it will be handled primarily by the children. They should be able to find what they need on the computer easily. Adequate connectivity options will ensure that you can use different forms of media to transfer content to the laptop as well.
Colour Options
While some kids are happy that they get to use a laptop of their own, many kids today may want more color options. Children love fun colors, and you want to be able to easily distinguish your own laptop from theirs. Many laptop manufacturers are known for bringing fun colors to the laptop body. You may want to look for these, but if you end up buying a mundane color, then laptop skins can come to your rescue.
Touch Screen or Not
Touch screens can be difficult to handle. Since most laptops feature sensitive touchscreens, your kids may find them difficult to use. But on the other hand, it also provides an easy way to navigate once the kid gets used to the laptop. If you are willing to go through the early days of frustration that may be caused by the touchscreen, then these may be one of the friendliest laptops for your kids. Touchscreens can also be expensive to buy and replace.
Two-in-One or Not
Two-in-one laptops offer flexibility. Since kids tend to treat technology with carelessness, it is preferable to pick a laptop that can be converted into a tablet. It will provide portability and will reduce the chances of kids not being comfortable with their laptops when they use it while traveling.
Price
Children usually handle laptops very imprudently. So picking a low-cost device is better than picking an expensive one. Also, identify the costs for replacing parts if the computer is damaged. You may want to consider adding additional warranty to safeguard yourself from paying huge sums of money for repairing damaged laptops.
Best laptops for kids
Waterproof Laptop with Intel Celeron N4000 Processor
Geekplus 11.6-inch Mini Student Laptop
Check Price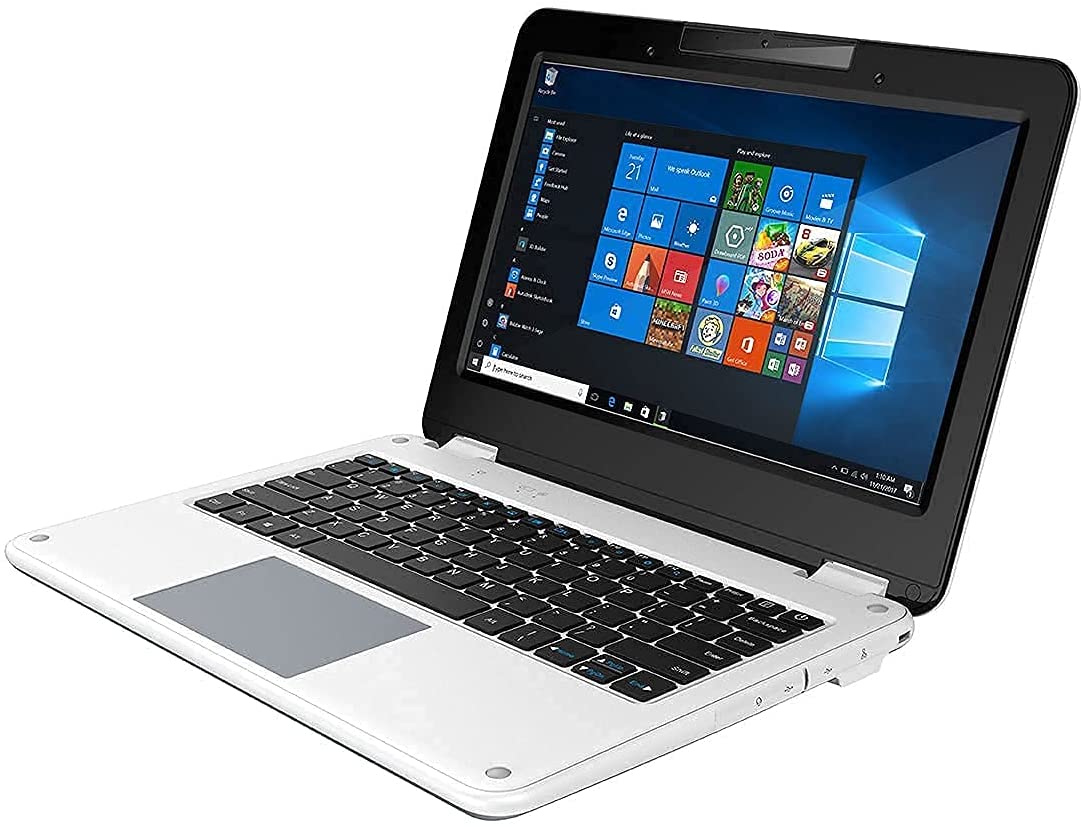 If you want to gift your young child a laptop, you want it to be durable. This Geekplus laptop is not just dust-proof but waterproof as well. Even if a kid spills some liquid over it, it will not suffer from any damage. Furthermore, the structure of the laptop is made of anti-drop material. Even if your child accidentally drops it onto the floor from a distance. The 11.6-inch screen is suitable for watching cartoons for attending online classes.
While it is a very convenient device to use, its lightweight structure ensures that kids can carry it from one room to another without facing any difficulty. The device comes with 6GB of RAM, and one of its highlights is the Intel Celeron N4000 processor, which ensures super-fast performance. You can store countless informative videos and episodes of animated shows for your kids on this device, courtesy of the 128GB SSD storage space it provides you.
Recommended for those looking to invest in a highly durable laptop for their children.

It is also suitable for kids who are studying in school and need a robust laptop device with great storage space.
Sharp display screen

Adequate storage support

Fast performing processor

Waterproof and dustproof
Limited brand support

Not suitable for older children
Portable Laptop with Children-Friendly Features
HBE Store 10.1-inch Well-Designed Laptop
Check Price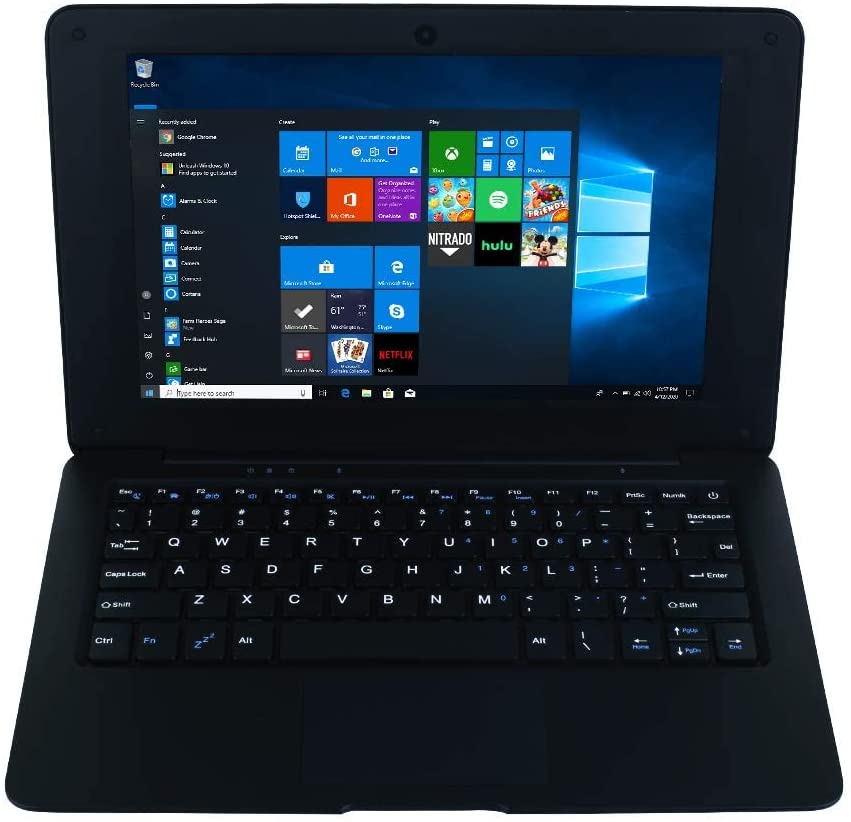 The sleek design of this laptop, colored in black, not only appeals to kids but leaves a strong impression on adults. Pink and white are the other two color variants available for this laptop. The portable structure of this device makes it ideal for kids who look for a laptop even when they are on vacation. The laptop has several educational features that make it a suitable option for school-going kids.
The laptop is powered by an Intel Celeron N3350 processor that runs at a speed of 1.1 GHz. For a laptop that is designed for younger children, the processor is fairly good. Though the device features a very compact structure, it has a robust QWERTY keyboard. There are multiple connectivity ports. You also get the option to expand the memory up to 256GB using a microSD card. The webcam offers a resolution of 0.3 megapixels which is just about okay for video calls and online classes.
Recommended for children who frequently travel with their children and had been looking for a portable laptop.

Also a good option for kids who type extensively and are used to working on a QWERTY keyboard.
Sturdy keyboard

Reliable processor

Portable structure

Expandable memory
Low-resolution webcam

Small display screen
Premium Quality Laptop with Advanced Features
HTools Intel Celeron N4120 Quad-Core Processor Laptop
Check Price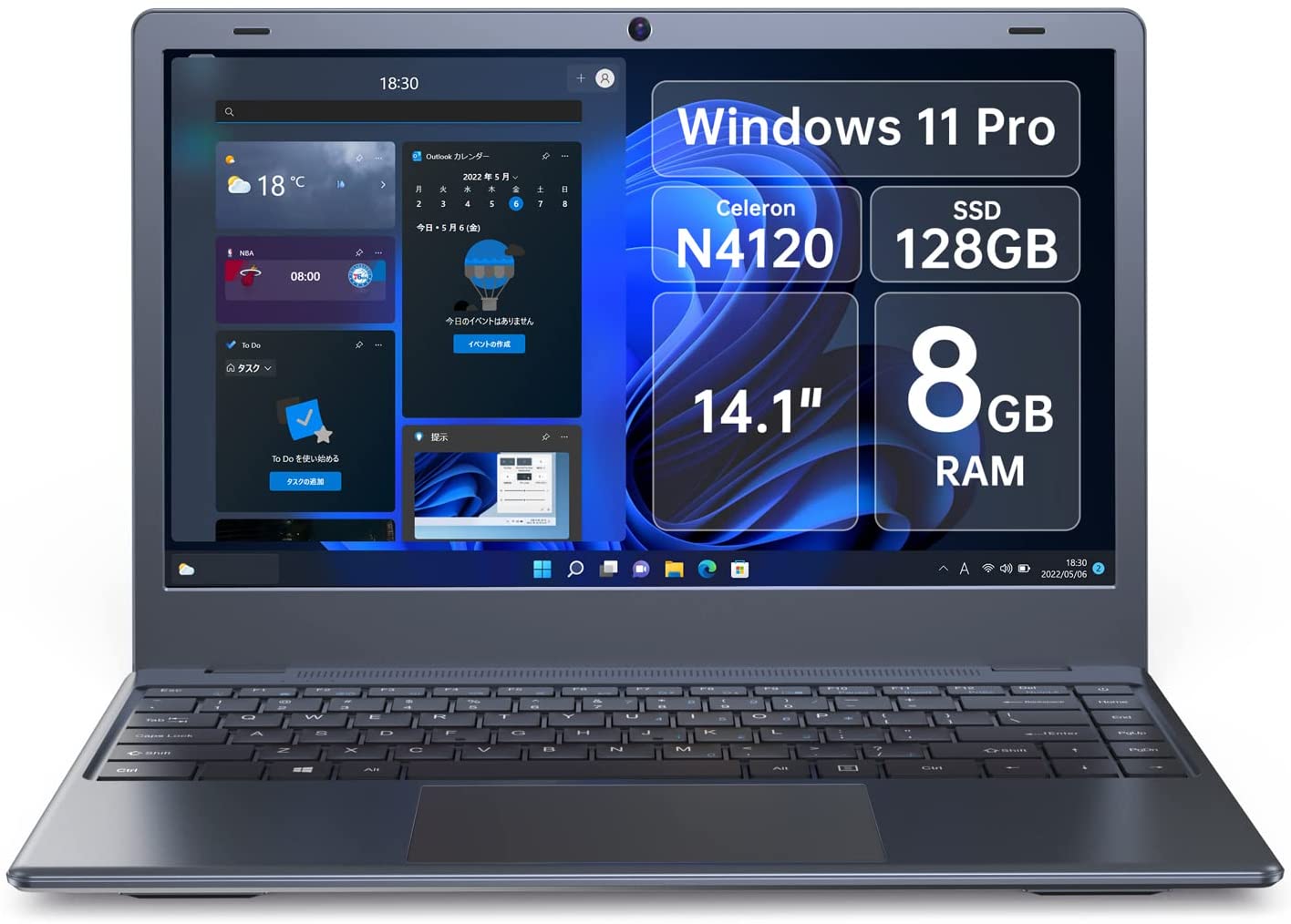 Though the price of this laptop is slightly higher, its features very well justify the amount you have to pay to buy it. The high-design design of the device itself gives you an idea of what you should expect from it. The 14-inch screen offers an immersive 4K video-watching experience. The viewing angles, too, are very good. It offers 5G connectivity support. Making video calls through the device is highly convenient, courtesy of its high-definition webcam.
At 2.87 pounds, the device is not too heavy, and kids can carry it easily from one place to another. The brand offers a one-year warranty on the device, which is fair. Optimally charged, the battery offers a runtime of close to 7 hours. Even children spend long hours using a laptop device, so the brand should consider upgrading its battery life. The Intel Celeron N4120 quad-core ensures the laptop works at a very high speed.
Recommended for parents planning on gifting a high-end laptop to their kids.

It is also a suitable option for those who wish to invest in a laptop that can be used both by children and adults.
4K display screen

One-year warranty

5G connectivity support

Supremely fast processor
Quite expensive

Limited battery life
Convertible Device with Robust Processing Unit
Simbans 10-inch Wide 2-in-1 Laptop For Kids
Check Price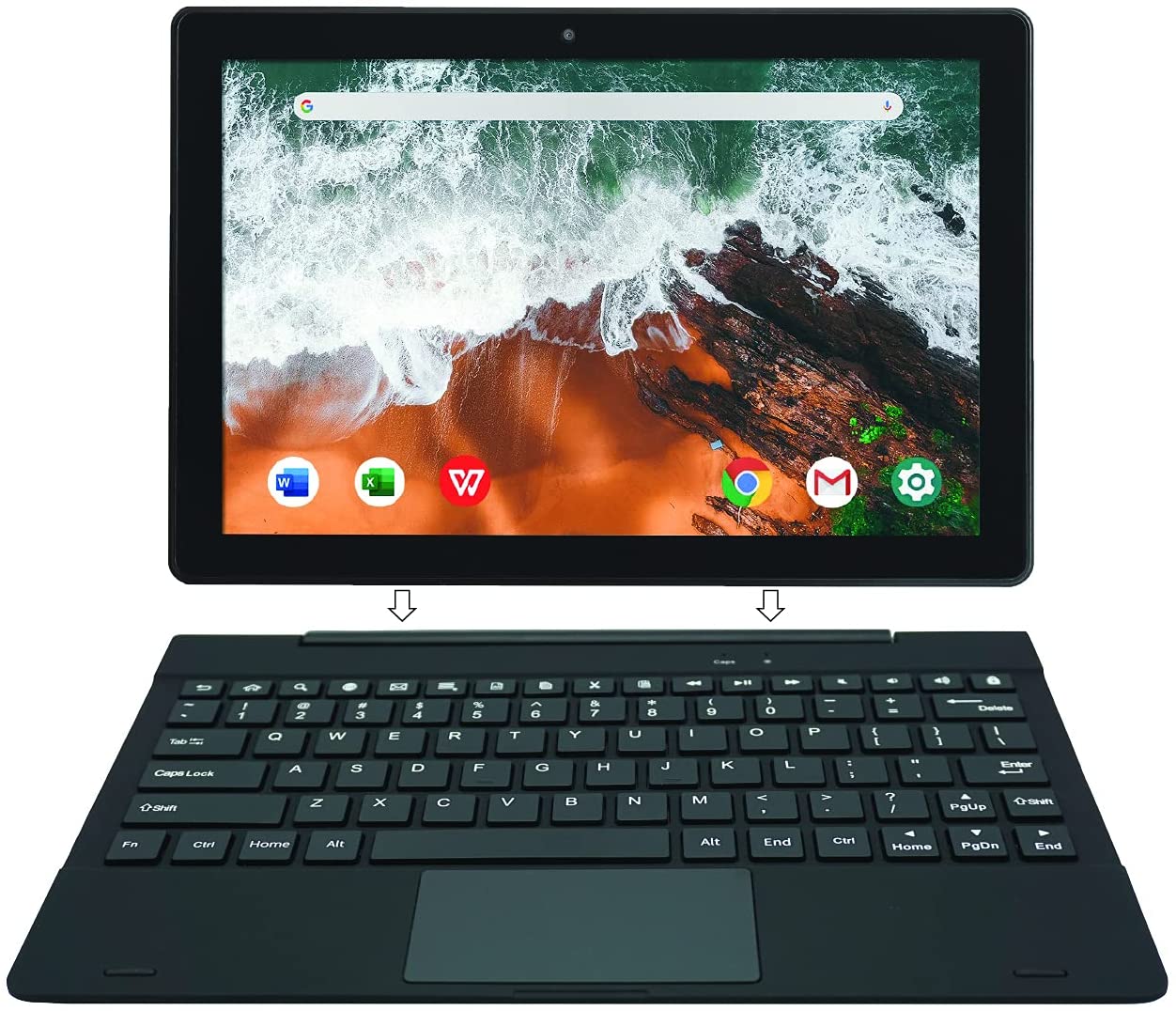 These days, many kids expect their parents to get them both a laptop and a tablet. Instead of investing in two devices, parents can buy a device like this one that can be used in two different forms. This product offers good value for money as it comes packaged with three additional items: a sturdy detachable keyboard, a pre-applied screen protector, and a universal power adaptor. You also get a bunch of useful apps for free.
The 10.1-inch display screen produces high-definition images and works as well as a tablet and laptop. The device comes equipped with a MediaTek quad-core processor with a reputation for functioning at a very high speed. It offers 64GB of internal storage support, which might not work well for everyone. You have plenty of connectivity options, including dual Wi-Fi, Bluetooth, GPS, and a micro-USB port.
Why You Should Buy This?
Ideal for kids who wish to have both a laptop and a tablet.

It is also recommended for kids who receive much of their education online.
Pros
HD display screen

Robust processor

Convertible feature

Multiple accessories provided
Cons
Limited storage support

Poor battery life
High-Performing Convertible Laptop for Kids
Lenovo Chromebook Flex 3 11.6-inch Display Screen Laptop
Check Price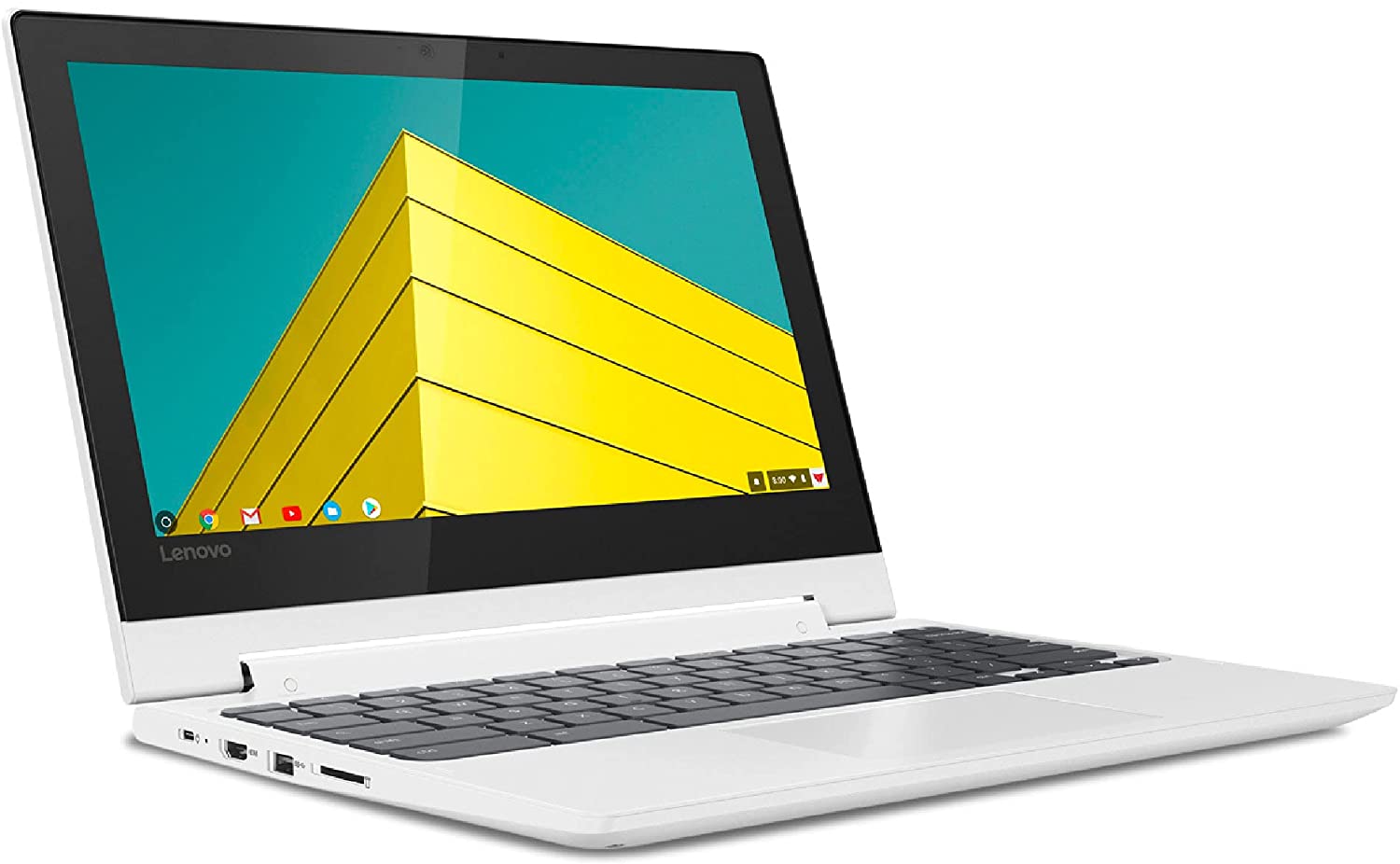 Though this laptop has been designed for children, a lot of adults will find it useful as well. One of its highlights is its 11.6-inch touch-enabled display screen. The screen produces a resolution of 1366x768 pixels and is suitable for various multimedia tasks. Since it is a convertible laptop, one can use it both as a laptop and a tablet. It comes with 4GB RAM and 64GB of internal storage space.
The minimalistic design of this laptop will greatly appeal to kids with a sense of aesthetics. Though it does not feature an optical drive, it offers many connectivity options that will help you connect it with multiple peripherals simultaneously. The device's overall weight is 2.65 pounds and traveling with it is quite convenient. On a single full charge, the device lasts for around 10 hours.
Highly recommended for those who are planning to buy a 2-in-1 convertible device for their kids.

It also proves to be a good investment for those who have been looking for a laptop that can work fairly well for both adults and kids at home.
Attractive design

Reliable processor

Vibrant display screen

Operates both as a laptop and a tablet
No optical drive

Battery life should be higher
Durable Quality Laptop with Expandable Memory Support
HP Stream 11 11.6-inch Anti-Glare Display Screen Laptop
Check Price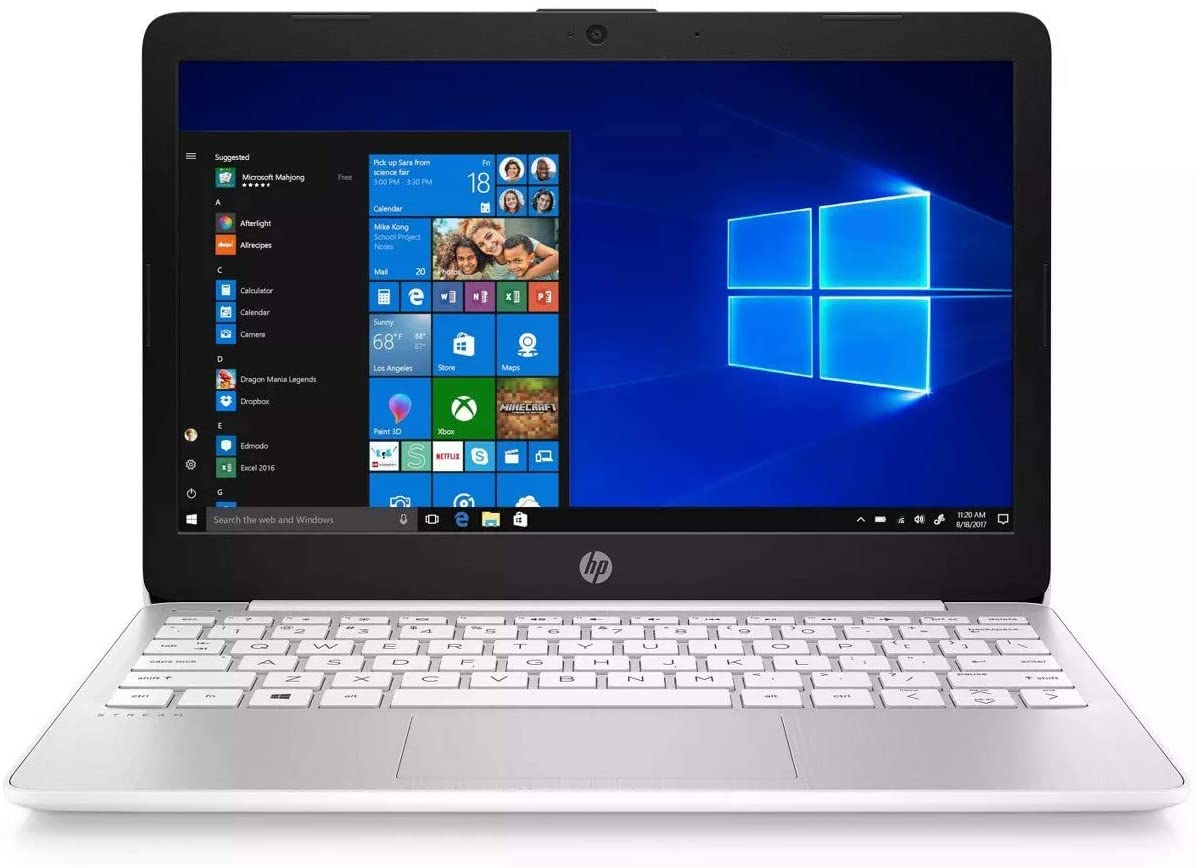 This well-packaged laptop by HP comes with an 11.6-inch display screen equipped with anti-glare technology. Therefore, even if the children in the house spend hours watching video content on this laptop, they won't be straining their eyes too much. The design of this laptop device is very sophisticated, and it is available in three different color options, white, black and blue.
Along with 4GB RAM, the laptop offers 32GB of internal storage support. The limited storage space offered by the device might disappoint some users. On the brighter side, you can expand the storage space using a memory card. As far as speed is concerned, you will not have much to complain about. The laptop runs on an Intel dual-core N4000 processor, which contributes to it functioning efficiently.
Why You Should Buy This?
An ideal investment for those looking for a laptop that both adults and kids can use.
Pros
Solid build quality

Stable performance

Good battery support

Multiple connectivity options
Cons
Limited local storage

Average camera features
You may also read: Best Lenovo Gaming Laptops
Frequently Asked Questions
Are laptops for kids segregated based on age?
The laptop manufacturers do not have any such categorization. The parents should study the specs and features, see whether the kid is in school or college, and choose the laptop accordingly. Your daughter or son will know the tasks they will use the laptop for. You will have to go through the specifications and features of the laptop accordingly before buying.
How much storage is important in a laptop for kids?
It depends on the volume of work the user wants to store on the computer. Again, it also depends on whether your kid is in high school or college. If there are a lot of assignments to be done by the kid and stored and retrieved later, the storage requirement will be critical. Check with your kid first and consider the requirement for at least 2 or 3 years ahead. Based on this, you can choose a laptop for kids. You have the option to use external storage support like flash drives as well.
Can the laptop for kids be used for playing games?
You can play games on any laptop. The real issue is what kind of game you have in mind. Light games with few graphics are usually supported by laptops, even with basic specs. These are the only games where heavy-moving graphics need to be handled so that laptops for kids can stutter. You will need a more powerful processor and higher RAM to handle them.
What pushes the cost of laptops?
Laptop prices go higher when high-end components and technology are used in building them. A laptop with the latest generation Intel i7 processor would be more expensive than one with an Intel i5 processor. Other key components like RAM, graphics card, battery, and preloaded software can impact the pricing of a laptop.
What should I do with my old laptop?
If you are buying a new laptop to replace the current one you are using, you can check if any laptop seller is offering trade-ins. You can put it on sale on any of the websites like eBay that have the option to sell old electronic goods. The last option is to drop it off at the nearest recycling facility for e-waste.
Conclusion
With a horde of manufacturers competing to offer you the best laptop, making the right choice can be challenging. However, when you are buying a laptop for your kid, durability is, without a doubt, one key aspect that you must definitely be looking for. Manufacturers such as LG and Fusion5 have some durable systems for you to check out at various price points. Laptops with metallic bodies and spill-resistant keyboards are worth considering for durability. Apart from this, what the laptop is used for can help you make a wise decision. For example, if your child wants a laptop to browse online for school projects, a fast-performance system from a manufacturer like ASUS will be the right choice.
On the other hand, if the need is for entertainment purposes like gaming or watching movies, check out a laptop with an IPS display that renders wide viewing angles. If your kid is likely to use his or her laptop for long hours, then the ideal option would be getting a laptop with either an antiglare display screen or a battery that can work for long hours on a single charge. HP and Lenovo are a few well-known brands that offer antiglare display laptops that meet your budget.