Featured in this article (opens in new tab)
Are you a game enthusiast looking for the best gaming laptop to take your gaming experience to the next level? Then do not worry as you will be flooded with loads of options to choose from several brands such as ASUS, Alienware, and of course, Lenovo is a must to mention the brand's name in that list. Lenovo has come up with several high-end and powerful laptops that are specifically designed for gaming. Their Y series laptops mainly fall in this category. The main requirement of a gaming laptop is a great amount of RAM, a big screen, a powerful processor, graphics card, etc., and Lenovo gaming laptops have all these things to meet the gamers' demands. The top Lenovo gaming laptops are listed here to help you find the best one.
Gaming laptops are different from regular or mainstream notebooks. They come with powerful specifications and colorful designs but of course, at a premium price. These are a must if you want to play any of the graphics-intensive games like Grand Theft Auto and so on, which require smooth gameplay combined with a high frame rate. The design is also different, coming in bold lines with multicolor keyboards.
See also: Best laptops for music production
Make sure to check out our buying guide. It is designed to help you select the best laptop by considering several points when choosing the model for your needs.
Buying Guide
Gaming laptops have a great fan following among students and ardent gamers spread across the globe. Right from high-quality AAA single-player games to competitive multiplayer games like Counter-Strike, there are so many, and the right gaming laptops from Lenovo make it easier to play the ones you love.
Display resolution and refresh rate – The more expensive laptops will have a higher refresh rate display ranging from 75Hz to 144Hz or even more in specific models. If you are going for an affordable device, it is better to stick with 720p or 1080p resolution, as the lower-end graphics can easily achieve better results in native resolution
Graphics card – This is the single most important hardware component without which gaming is not possible on a laptop. AMD offers onboard GPU, which is the most affordable solution to go for. It can easily deliver HD gaming at high graphics on most titles, while Nvidia's dedicated GPUs like the 1650 or 2060 RTX models are meant for a premium gaming experience
Keyboard layout – The keyboard layout should be easy to use with enough space and not have a wobbly finish. RGB lighting on keyboards is a must-have as it creates that gamer experience. Go for a larger keyboard on a laptop as it allows you to play for long hours without straining your hands
Brand Value – Lenovo is the best brand out there, and they have an excellent customer support system. Branded laptops are more reliable in the long run.
Display Size – While a 17-inch laptop is amazing for a large screen gaming experience, it is not truly portable. If you plan on taking your device to gaming tournaments, consider a smaller display size, such as a 15-inch laptop. Check the resolution because instead of increasing the resolution, simply increasing the screen size wouldn't help.
Best Lenovo Gaming Laptops
Gaming Laptop for Professionals with Top-Notch Graphics
Lenovo Legion 5 17.3-Inch Gaming Laptop
Check Price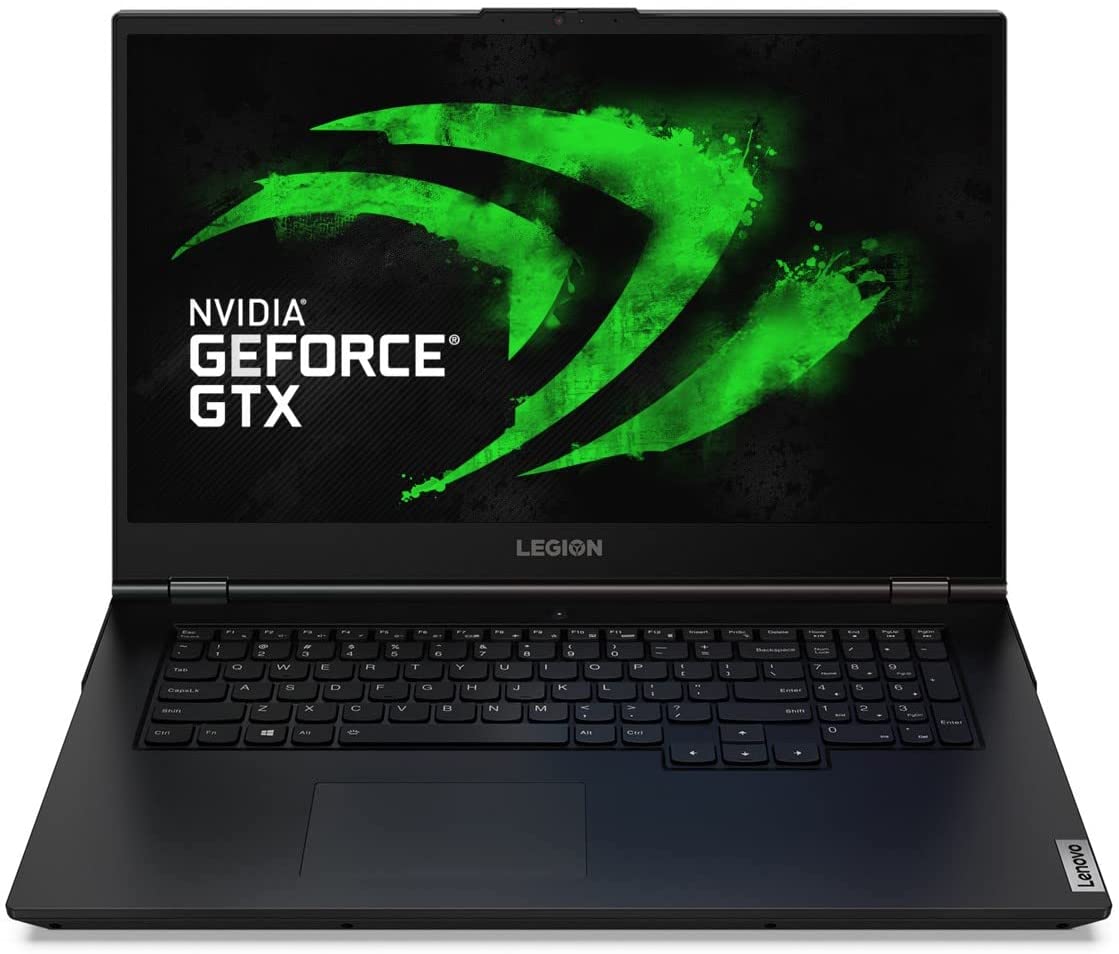 A fantastic gaming laptop for professionals, Lenovo Legion 5 is all about precision. It's equipped with an AMD Ryzen 5 processor that's 6-core and has a speed capacity of up to 4.20GHz. You can uplift your gaming experience further with the 32GB DDR4 RAM while storing games in its 1TB SSD, which is expandable up to 2TB.
Run by Windows 11 home, smooth navigation is ensured, while the mammoth 17.3-Inch FHD display will provide full clarity. The backlit keyboard is perfect for playing games in low light. This black-hued laptop has Wi-Fi 6 and other wireless connectivity options.
If you're a professional gamer looking for a gaming laptop with ample storage space, this one will be a good buy.

This laptop's large screen ensures you can enjoy unparalleled gaming sessions.
Top-notch graphics

Latest Operating System

Powerful processor

Huge storage space

Wide display
Speakers are average

Battery back-up is poor
Gaming Laptop for Beginners with Striking Graphics
Lenovo IdeaPad 3 with 256GB SSD
Check Price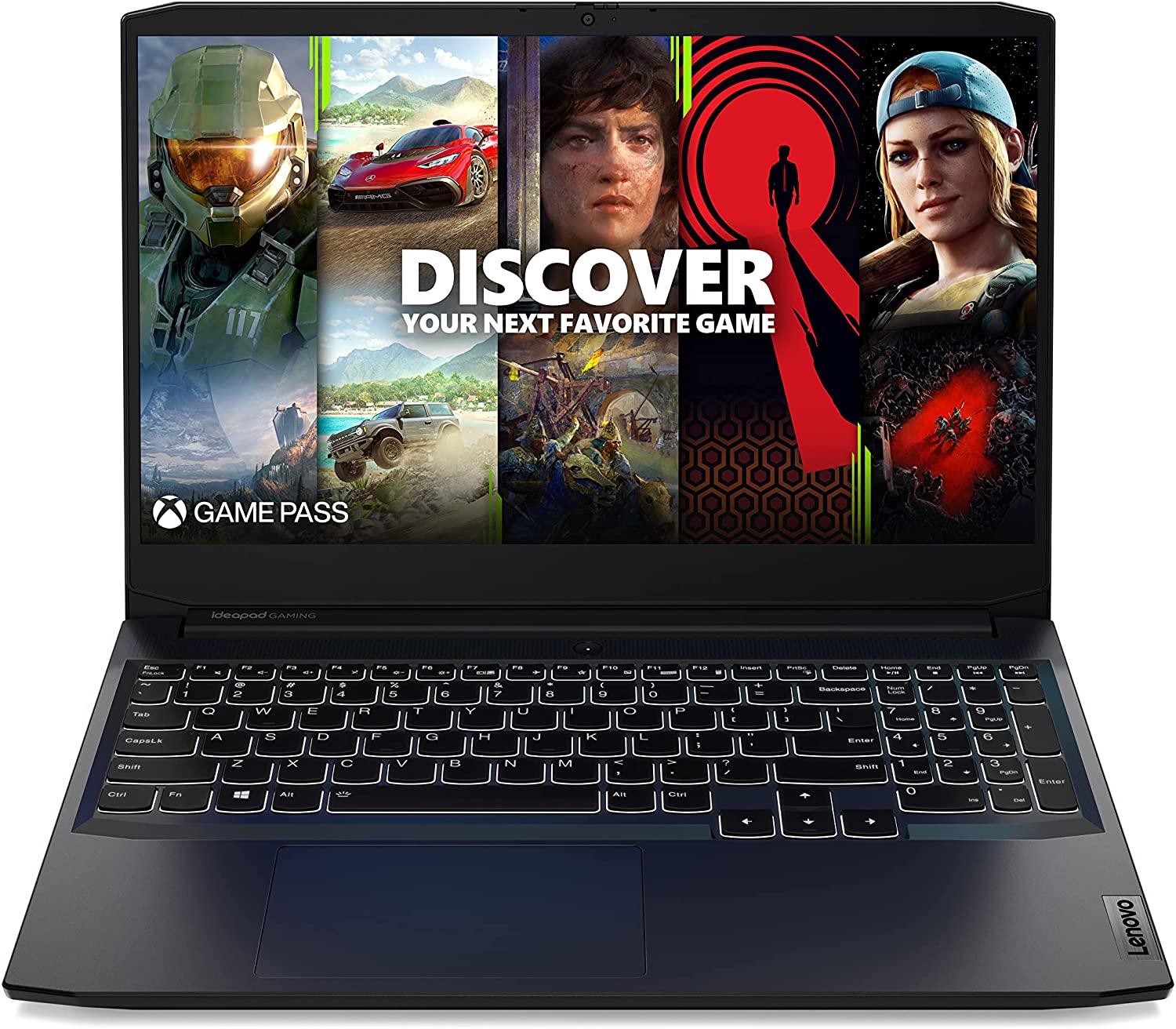 For beginner gamers or those for whom gaming is just another hobby, the Lenovo IdeaPad 3 is just perfect. It comes with an AMD Ryzen 5 5600H processor and NVIDIA GeForce graphics, which can make gaming sessions real-life. The 256GB storage and 8GB RAM are a decent configuration for playing action and adventure games.
Featuring the latest Windows 11 operating system, this laptop will make navigation easy. The 15.6-inch display with FHD technology will make every pixel crystal clear. The shadow black color of this Lenovo gaming laptop is another unique feature.
If you love to play games for recreation and don't need large storage space, this laptop will be a good buy.

The sleek body of the laptop is equipped with a comfortable keyboard and touch panel.
Powerful graphics

Latest Operating System

Heavy-duty processor

Backlit keyboard

Impressive design
RAM is average

Low storage space
Gaming Laptop for Intermediate Gamers with Blazing Performance
Lenovo Legion 5 15.6-Inch Gaming Laptop
Check Price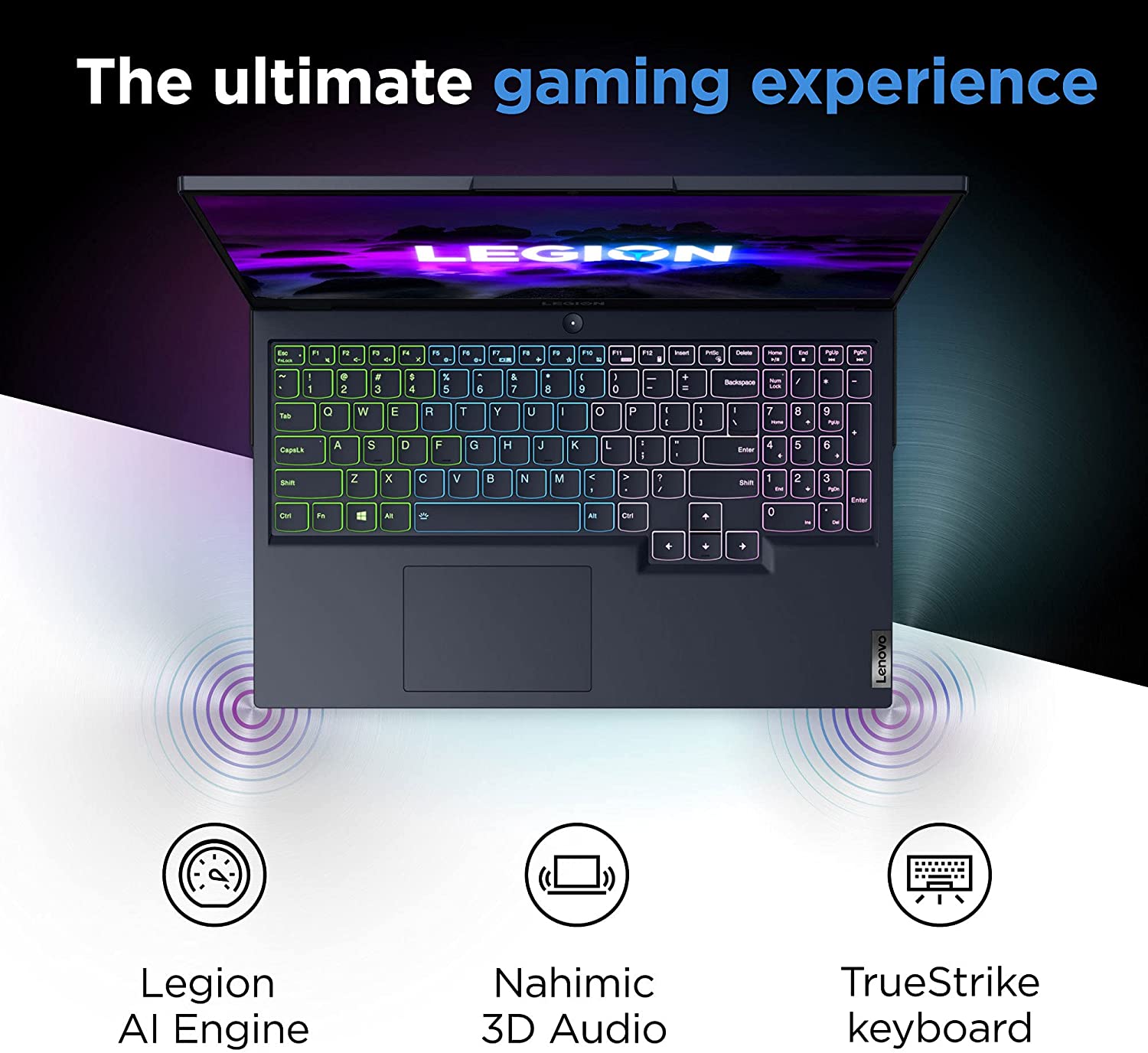 Another spectacular configuration of the Lenovo Legion 5 laptop is apt for intermediate to pro gamers. That's because it has a powerful AMD Ryzen 7 5800H processor, which will provide maximum gaming speed, while the 16GB RAM will enhance the performance further. Plus, storing games won't be an issue with the 512GB SSD storage.
This Lenovo laptop is equipped with Windows 11 operating system, which we know as the latest version. The 15.6-inch full HD display has brighter resolutions than most gaming laptops on the list. Another upside is its 2W speakers equipped with Nahimic 3D audio.
If you're quite serious about gaming and want a high-end laptop for your endless gaming sessions, this one will be a perfect choice.

The display and audio of this laptop are sure to lend you an amazing audio-visual experience.
Ideal for FPS

Windows experience

Powerful processor

Top-notch audio

RAM is satisfactory
Storage space is limited

Expensive
Gaming Laptop for Hefty Adventure and Strategy Games
Lenovo IdeaPad 3 with 1TB SSD
Check Price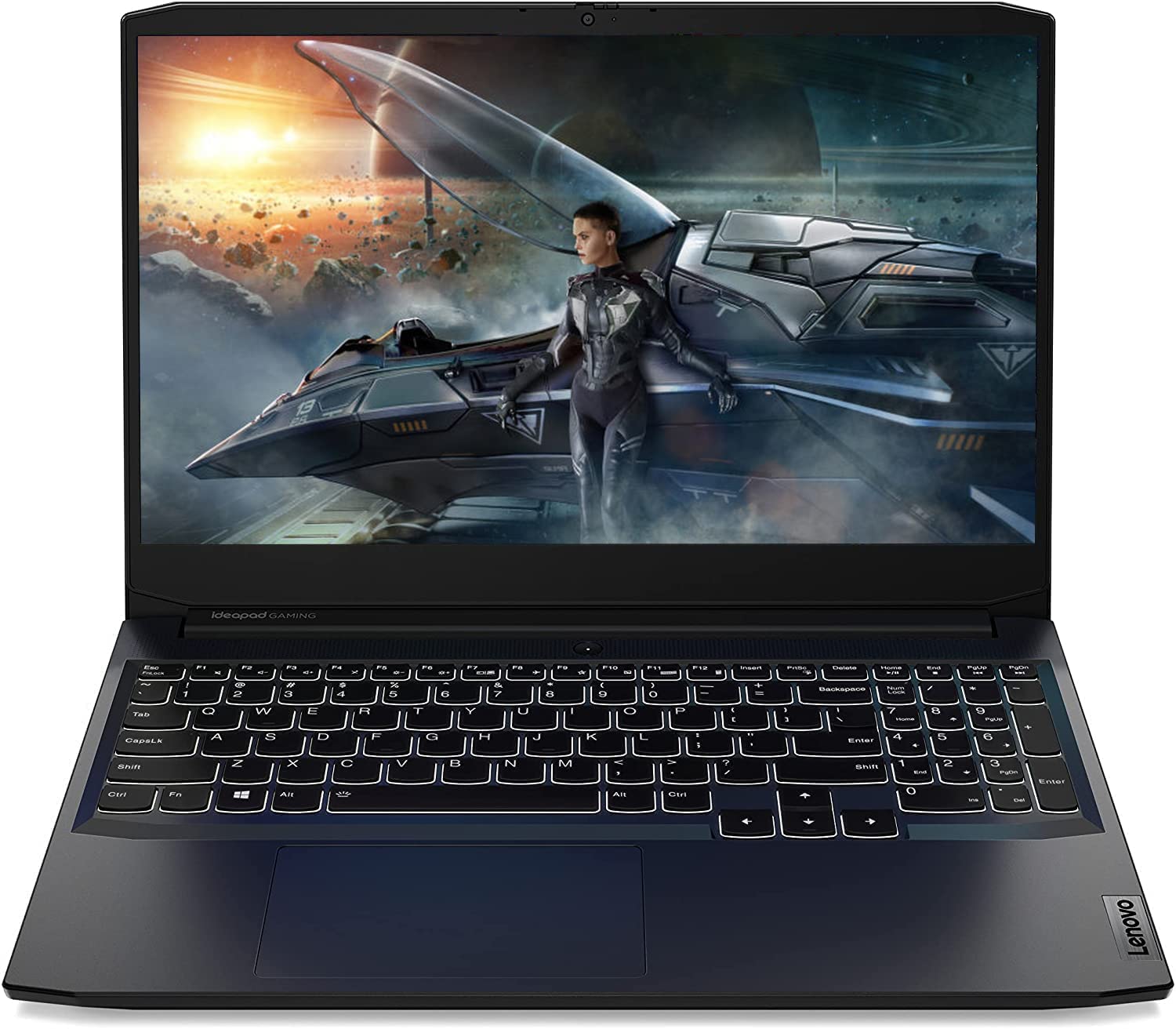 You can never go wrong with this Lenovo IdeaPad 3 if you expect your laptop to be loaded with hefty games. This one offers a 1TB SSD that can fulfill all your storage needs. And when it comes to the processor, you can make the most of your gaming sessions with its Ryzen 5-5600H that can speed up fast.
The 16GB RAM on this Lenovo gaming laptop will ensure you enjoy every bit of the session, while Windows 11 will offer you the latest layout and interface options. Plus, the 15.6-inch full HD display will deliver every minute of the game.
Why You Should Buy This?
This one is a good option for those looking for a gaming laptop with 1TB SSD.

If your budget is high and you want to invest in something strikingly good, you can opt for this laptop.
Pros
Overall great performance

Huge storage space

Display is brighter

Latest Windows

Heavy-duty processor
Cons
Keyboard needs improvement

Ports aren't user-friendly
Gaming Laptop with Huge Storage Space
Lenovo Ideapad with NVIDIA GeForce GTX 1650
Check Price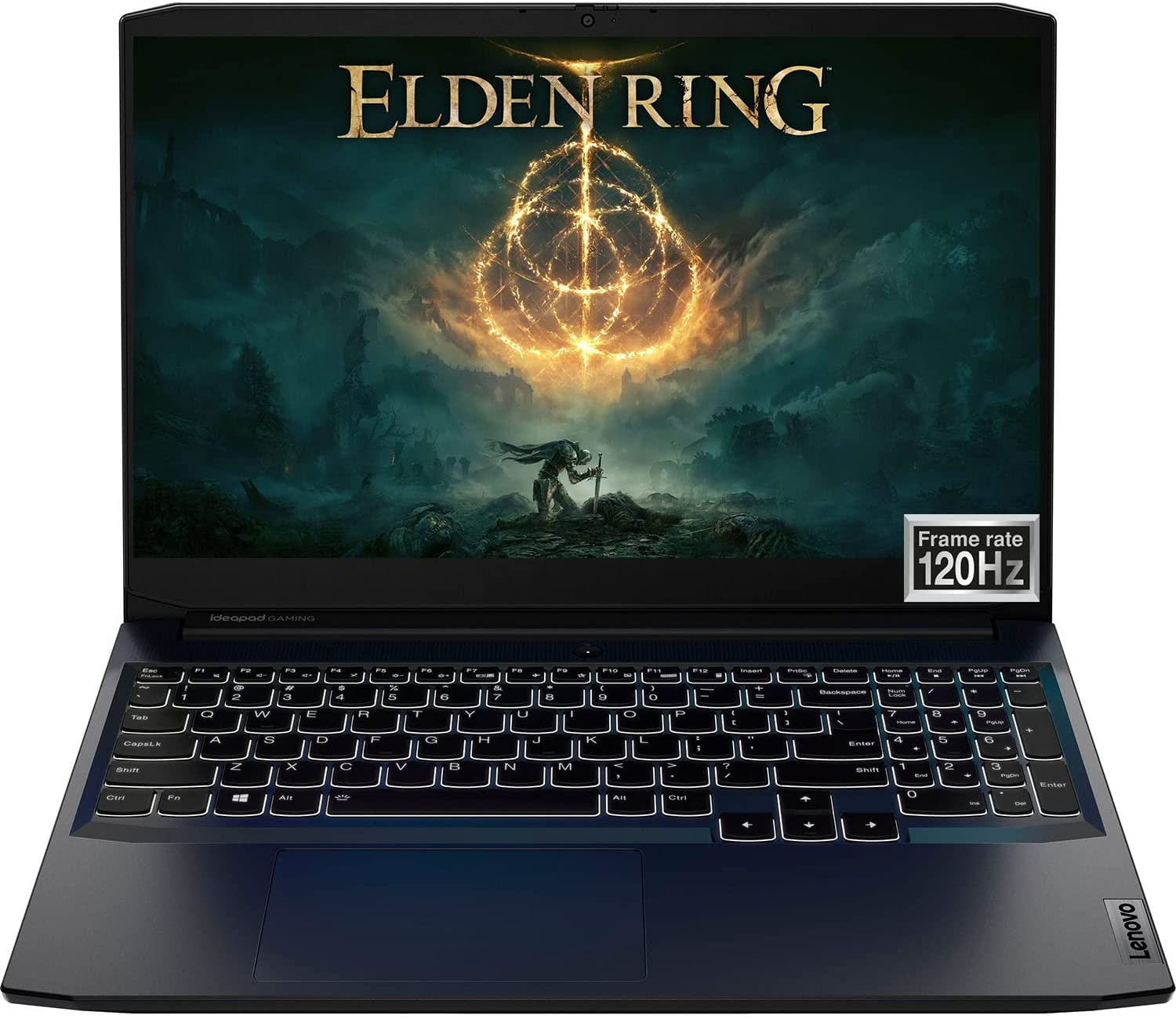 Another solid gaming laptop from the Ideapad series of Lenovo is this one featuring AMD Ryzen 5 5600H processor, 16GB RAM, and 1TB SSD. It has NVIDIA GeForce GTX 1650 graphics, which will read every pulse of the game and reflect the same with the laptop's 15.6 FHD IPS display.
This Lenovo laptop has Windows 11, which you can rely upon while expecting some of the latest layout and interface options. The backlit keyboard is also quite smooth, which will provide you with a seamless interface. Plus, it has a high-bandwidth RAM of 16GB, which is essential for gaming.
If you want a gaming laptop that'll provide you with an outstanding experience in adventure, sports, and multiplayer games, you can go for this one.

The laptop features ample storage space, backed by high-bandwidth RAM.
Spectacular performance

Huge storage space

The display is impressive

Strong graphics

Wi-Fi 6
Speakers aren't powerful

Webcam is average
Gaming Laptop with High-End Processor and Graphics
Lenovo Legion Y540 with Intel i7 Processor
Check Price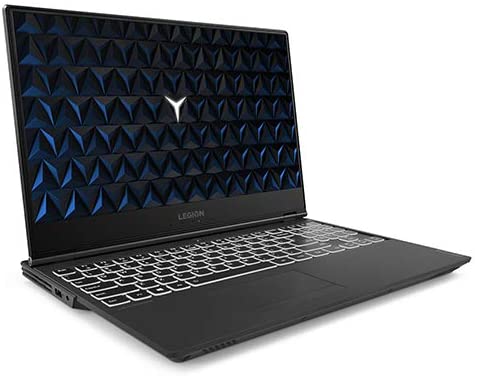 Whether you're a gamer by profession or by passion, this Lenovo laptop is just amazing for all sorts of gaming sessions. Equipped with an Intel Core i7 processor, 16GB RAM, and NVIDIA GeForce GTX graphics, this Lenovo laptop will fulfill all your gaming needs, no matter how hefty the games are.
Regarding the laptop display, you can take advantage of its 15.6-inch full HD capabilities, making every image come to life. The 144Hz refresh rate on this laptop is ideal for most adventure games. That's not all, it has the latest wireless connectivity options to download games in seconds.
Why You Should Buy This?
If you're a pro gamer who needs a new gaming laptop with average storage but great performance, go for this one.

The high-resolution display and speakers of this Lenovo laptop are outstanding.
Pros
Powerful processor

High refresh rate

Heavy-duty graphics

Latest Windows

Brighter display
Cons
Hefty design

Limited storage
Lowering the Barrier to Gaming with an Affordable Option
Lenovo Legion 5
Check Price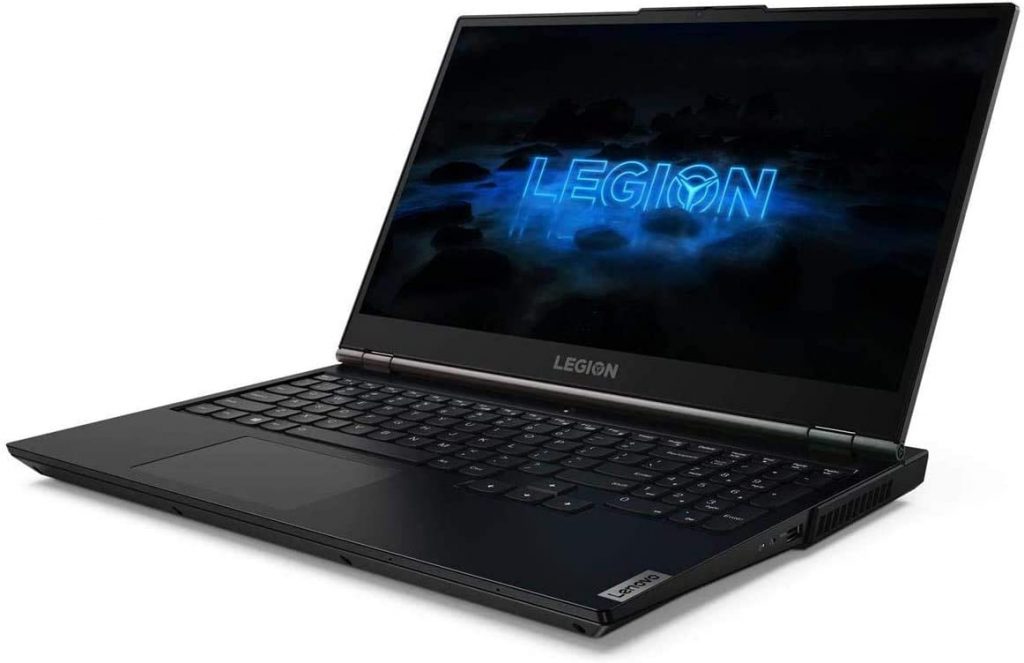 The Legion 5 has a pleasing design and 15.6 inches Full HD display. It is powered by the Intel Core i7 10750H processor combined with the NVIDIA GTX 1600Ti GPU for power games. The processor clocks at a speed of 2.6 GHz. The RAM is 16GB DDR4 and has a hard drive capacity of 1 TB at 5400 rpm and 256 SSD.
As for dimensions, the Lenovo Y700 measures 14.29 x 10.24 x 1.03 inches and weighs 5.55 pounds. The 15.6-inch screen comes with a resolution of 1920 x 1080 pixels, and the color accuracy is excellent. It has decent and standard options for ports. It is supported by Windows 10 Home OS. All the staple Lenovo utilities are present, like REACHit, SHAREit, and Stagelight, which are very useful for music creation.
It is a stylish-looking laptop with JBL speakers that does a good job with the audio. You can opt for Dynamic mode or use a customizable equalizer. The keyboard oozes attractive red backlighting. The specifications are quite decent for the price.
Who is it for?
Those looking for an affordable gaming laptop with an attractive design, good performance and audio.
Those ready to make some trade-offs for a gaming laptop at this price.
Apart from gaming, also suitable for those who are into music creation
See also: Best laptops with CD/DVD
FAQs
Why should I go for Lenovo gaming laptops?
The brand has great customer support and after-sales service worldwide. If you need to claim a warranty, you can do so with relative ease because of their presence in most cities and honoring the claim without a fuss.
What makes the Lenovo Y and Legion series the best?
Lenovo focuses on gaming audiences with the Legion series and Y-series laptops. The ideal aspect of their business strategy is that a laptop at every price point allows you to buy a branded device irrespective of your budget while getting optimal gaming performance.
Do I need RGB lighting on my device?
You don't need it, but it doesn't hurt to have one because most gamers love the fancy lighting, especially when you can customize it to sync with the games you play. Besides, the lighting also allows you to play the game in pitch-black conditions without disturbing friends or family in the same room.
Can I expect a good battery life?
No, gaming laptops are power-hungry beasts that can run for two or three hours if you play a high-quality AAA title with maximum graphics settings. While ultrabooks can last up to ten hours, if you play continuously, stay close to the charging port because you will need it to keep playing uninterrupted.
How do I choose the right graphics card for my Lenovo gaming laptop?
Nvidia is the most popular choice as they deliver graphics for different price points. AMD's Radeon graphics are fast catching up on laptops but will be available mostly in future models. You can go for a $1000 laptop to get the best GPU performance, and more budget can help get 2060, 2070 graphics cards to play single-player games like Red Dead Redemption 2 with ultra settings.
Conclusion
The best Lenovo gaming laptops are listed here with all their features and specifications.
Lenovo is slowly moving out of its business staple notebooks and into the gaming world. If you want a powerful and stylish laptop for gaming, Lenovo gaming notebooks are the go-to option. Ensure that you select a Lenovo laptop with a comfortable keyboard and a big screen of 17 inches or more. It also makes sense to invest in SSD so that you can install games much faster. As for the processor, the Intel Core i7 combined with an NVidia GeForce GTX 1060 GPU is great for enjoying VR games. If you prefer portability, you can opt for a smaller screen of 15 inches, as they are usually lighter at around 4 to 7 pounds.
Lenovo offers a solid warranty and allows users to swap RAM or storage without violating the warranty. You can also extend the warranty to another year.