Technobezz is supported by its audience. We may get a commission from retail offers
Summary – Are you a game enthusiast and looking for the best gaming laptop to take your gaming
–
Are you a game enthusiast and looking for the best gaming laptop to take your gaming experience to the next level? Then do not worry as you will be flooded with loads of options to choose from several brands such as ASUS, Alienware and of course Lenovo is a must to mention the brand's name in that list. Lenovo has come up with several high-end and powerful laptops that are specifically designed for gaming. Their Y series laptops fall in this category mainly. The main requirement of a gaming laptop is a great amount of RAM, big screen, powerful processor, graphics card, etc. and Lenovo gaming laptops have all these things to meet the gamers' demand. The top best Lenovo gaming laptops are listed down here to help you find the best one.
Gaming laptops are different from regular or mainstream notebooks. They come with powerful specifications, colorful designs but of course, at a premium price. These are a must if you want to play any of the graphics-intensive games like Grand Theft Auto and so on, which require smooth gameplay combined with a high frame rate. The design is also different, coming in bold lines with multicolor keyboards.
See also: Best laptops for music production
Make sure to check out our buying guide. It is designed to help you select the best laptop by considering several points when choosing the model for your needs.
Buying Guide
Gaming laptops have a great fan following among students and ardent gamers who are spread across the globe. Right from high-quality AAA single-player games to competitive multiplayer games like Counter Strike, there are so many and the right gaming laptop from Lenovo makes it easier to play the ones you love.
Display resolution and refresh rate – The more expensive laptops will have a higher refresh rate display ranging from 75Hz to 144Hz or even more in specific models. If you are going for an affordable device, it is better to stick with 720p or 1080p resolution as the lower end graphics can easily achieve better results in native resolution
Graphics card – This is the single most important hardware component without which gaming is not possible on a laptop. AMD offers onboard GPU which is the most affordable solution to go for. It can easily deliver HD gaming at high graphics on most titles while Nvidia's dedicated GPUs like 1650 or 2060 RTX models are meant for a premium gaming experience
Keyboard layout – The keyboard layout should be easy to use with enough space and shouldn't have a wobbly finish. RGB lighting on keyboards is a must-have as it creates that gamer experience. Go for a larger keyboard on a laptop as it allows you to play for long hours without straining your hands
Brand Value – Lenovo is definitely the best brand out there and they have an excellent customer support system. Branded laptops are more reliable in the long run.
Display Size – While a 17-inch laptop is amazing for a large screen gaming experience, it is not truly portable. If you plan on taking your device to gaming tournaments, consider a smaller display size such as a 15-inch laptop. Make sure to check the resolution because instead of increasing its resolution, simply increasing the screen size wouldn't help.
Best Lenovo Gaming Laptops
Putting its Best Foot Forward
Lenovo Legion Y740 Gaming Laptop
This is a laptop that definitely sets Lenovo as a serious gaming notebook company. It is powered by the 0th generation Intel Core i7-9750H chipset with 8M Cache, clocking at a speed of 2.9 GHz. This can be pushed to a maximum of 4.5 GHz. It is combined with NVidia GeForce GTX 1070 GPU with 8 GB GDDR5. The RAM is 16 GB DDR4 with 2666 MHz memory speed and 1 TB SSD with 2 TB hard drive rotational speed of 7200 RPM, SATA hard drive. It is supported by Windows 10 software and comes with Lenovo's usual companion software.
The screen display is 17.3 inches and it has a high resolution of 1920 x 1080 pixels in Full HD IPS technology. It weighs 10.1 pounds and the dimensions are 16.2 x 12 x 0.91 inches. The keyboard is a proprietary one that can be customized. The speakers are two 2W speakers along with a 3W subwoofer with Dolby Atmos technology.
All the necessary ports are present, with four USB 3.1 ports; one 4 in 1 card reader; a jack for microphone/headset; DisplayPort ports; Thunderbolt 3; a Gigabit Ethernet along with a proprietary port for charging. As for battery life, it averages about 3 hours.
For audio, there is Dolby Atmos® Speaker System with Soundbar and integrated subwoofer with Smart AMP technology for gaming. The proprietary mechanical keyboard is comfortable and gives good support to wrists. There are also keyboard buttons that are gamer-friendly. For instance, the Turbo allows you to increase the processor as well as graphics card speed. Again, there's a button for video records for capturing game highlights. You can also add fun effects using the keyboard, customizing colors, and so on.
Who is it for?
Those looking for a gaming laptop with great graphics performance and a customizable keyboard
Suitable for gaming for extended periods, as it runs cool
Users who want a bright, vivid, accurate, anti-glare screen while gaming
Those looking for an eye-catching, stylish gaming laptop.
Pushing VR Gaming to its Limits – Certified Workhorse
Lenovo Legion Y720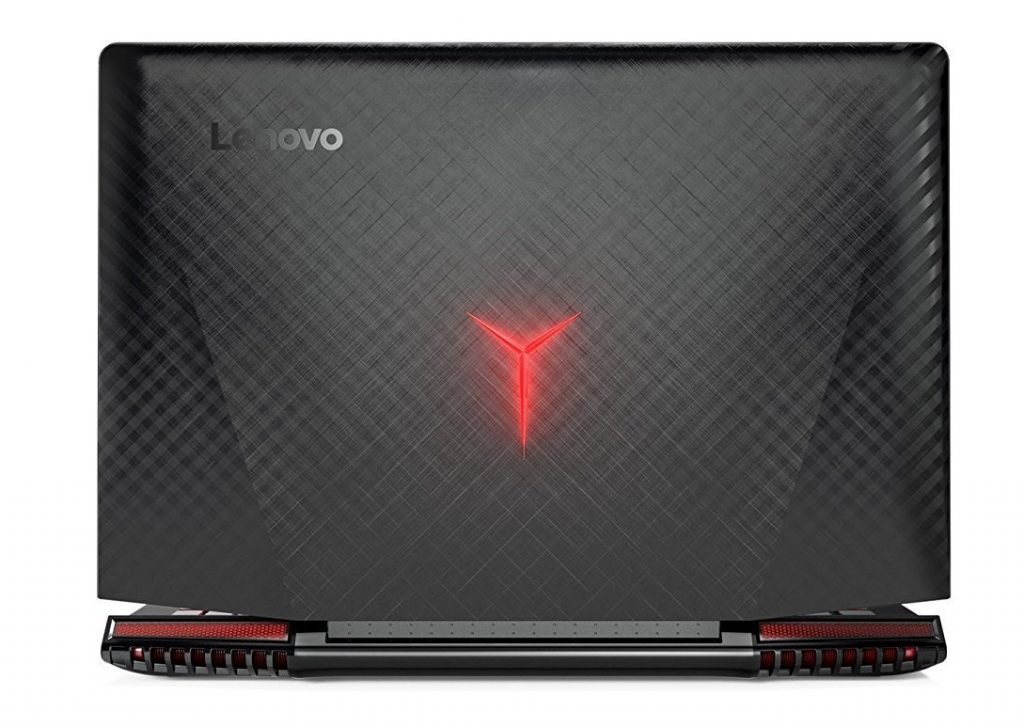 The gaming laptop is powered by an Intel Core i7-7700HQ quad-core processor, clocking at a speed of 2.8 GHz. With the turbo boost technology, it can be boosted up to 3.8 GHz. It is supported by the Windows 10 Home OS. The RAM is 8 GB DDR4 2400 SDRAM. The hard drive size is 1 TB with a secondary hard drive NVMe PCle SSD having a 512 GB storage size. The gaming notebook is supported by the NVidia GeForce GTX 1060 graphics card with a memory of 6 GB GDDR5.
The laptop screen is 15.6 inches Full HD IPS, with anti-glare LED backlighting and the resolution is 1920 x 1080 pixels. The dimensions are 10.8 x 15.2 x 1 inch (LWH) and the weight is 5.6 pounds. You will find all the ports that are needed for gaming and Virtual Reality. As for ports, there are 3 USB 3.0 ports; 1 Thunderbolt USB Type C port; 1 Mini DisplayPort; 1 HDMI port; 1 headphone cum microphone combo; one RJ 45 LAN. However, there is no SD card slot. The battery averages about 6 hours, which is quite solid for gaming purposes. Also, it stays cool under normal gaming conditions.
It also comes with some cool features for gaming, such as a wireless controller adapter for the integrated Xbox One, along with an RGB backlit keyboard. As for the design, it is a typical gaming notebook in black and red colors. There is a button for video recording to capture favorite gaming moments. The speakers are excellent with Dolby Atmos software. There are several preset audio profiles as well, suitable for gaming; music; movies, and so on. It is easy to set up the Legion 720 for gaming, with the built-in Xbox wireless adapter.
Who is it for?
Serious gamers, as it comes with a VR-ready graphics card and loudspeakers. It is ideal for users who want an immersive audio experience while gaming.
Gamers will find the RGB backlighting on the keyboard useful. Also suitable for gamers who want to customize with the Nerve Sense gaming application.
Lowering the Barrier to Gaming with an Affordable Option
Lenovo Legion 5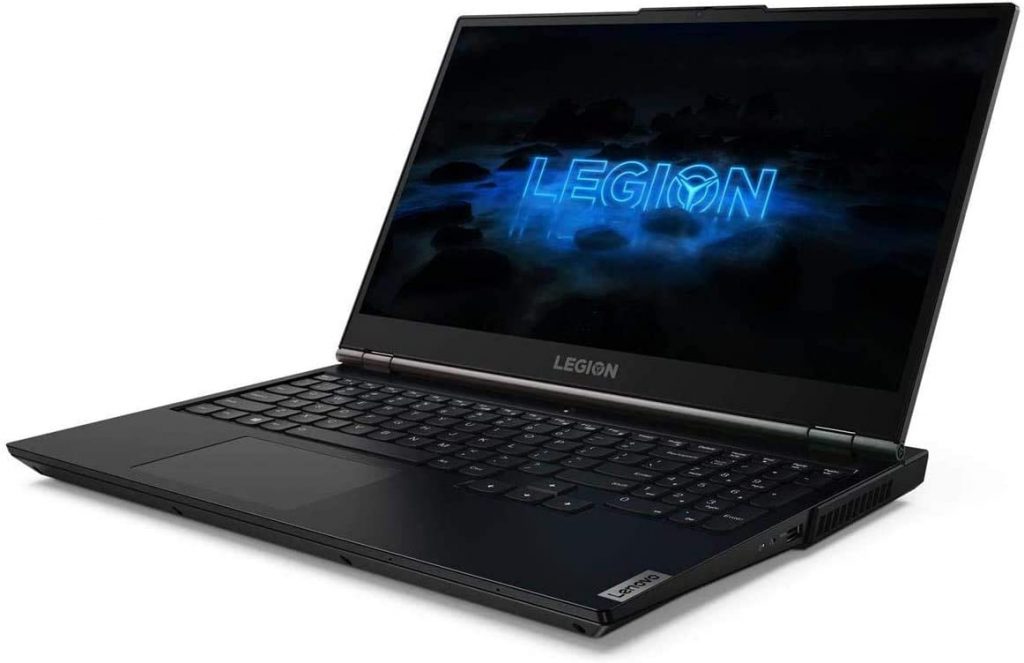 The Legion 5 comes in a pleasing design and 15.6 inches Full HD display. It is powered by the Intel Core i7 10750H processor combined with the NVIDIA GTX 1600Ti GPU for power games. The processor clocks at a speed of 2.6 GHz. The RAM is 16GB DDR4 and it has a hard drive capacity of 1 TB at 5400 rpm and 256 SSD.
As for dimensions, the Lenovo Y700 measures 14.29 x 10.24 x 1.03 inches and weighs 5.55 pounds. The 15.6 inches screen comes with a resolution of 1920 x 1080 pixels and the color accuracy is excellent. It has decent and standard options for ports. It is supported by the Windows 10 Home OS. All the staple Lenovo utilities are present, like REACHit, SHAREit, and Stagelight, which is very useful for music creation.
It is a stylish-looking laptop with JBL speakers that do a good job with the audio. You can opt for the Dynamic mode or use the customizable equalizer. The keyboard oozes attractive red backlighting. The specifications are quite decent for the price.
Who is it for?
Those who are looking for an affordable gaming laptop with an attractive design and good performance and audio.
Those who are ready to make some trade-offs for a gaming laptop at this price.
Apart from gaming, also suitable for those who are into music creation
Affordable Gaming on the Go
Lenovo Ideapad Y700 17.3 inches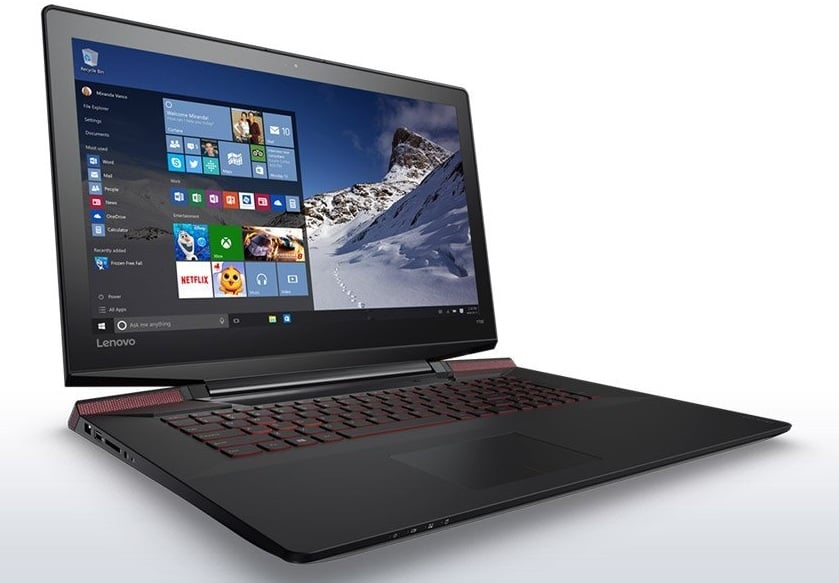 This is an affordable 17.3 inches gaming notebook offering fast performance. It is powered by the 6th generation Intel Core i7 6700HQ chipset combined with NVidia GeForce GTX 960M GPU with a memory of 4 GB. The processor clocks at a speed of 2.6 GHz. It is supported by the Windows 10 OS. The RAM is 16 GB DDR4 and the hard drive size is 512 GB SSD.
The display resolution is 1920 x 1080 pixels. The dimensions of this gaming laptop are 20.2 x 15.5 x 4.4 inches and the weight is 11.8 pounds. All standard connectivity options are provided, including 3 USB ports with two 3.0 ports and one 2.0 port; one combination port for headphone and microphone; one HDMI port; one SD card reader. The battery life averages about 4 hours.
The laptop offers compelling audio with its JBL speakers that are placed on either side of its hinges. There is also the Dolby Audio application for improving the audio experience. You can select from presets like dynamic, game, video, etc., and even use the customizable equalizer. Images and videos are rich and vibrant. The display is non-touch and comes with an anti-glare coating. The display is great and so are the speakers. The price is affordable, so the Y700 17.3 inches is a good value for money for a reasonably priced gaming laptop.
Who is it for?
Those looking for an affordable gaming laptop with powerful speakers and a fast processor.
An affordable option that can tackle all current AAA titles. All modern titles can be played smoothly at the above resolution.
Also suitable for editing videos or for 3D modeling apart from gaming.
Other Lenovo gaming laptops worth buying
Best Lenovo Laptop For Gaming With High-End Features
Lenovo Ideapad L340 Gaming Laptop

One of the best Lenovo gaming laptops that is incredible from the performance and whatever we will take into consideration. This laptop is made to beat all other similar gaming laptops available at a similar price range. The look is very stylish with an all-metal chassis body and the battery life is another thing to must include. The trackpad is enough comfortable for easy playing while the big 15.6-inch full HD IPS Widescreen LED-backlit display lets gamers enjoy all the heavy and modern games smoothly. Its specifications include an Intel Core i5-9300H processor clocked at 2.4GHz, 16GB RAM, 1TB hard drive at 5400 RPM, and 2GB-4GB Nvidia GeForce GTX 1650 graphics card for gaming. It runs on Windows 10.
Who is it for?
The people who are having a tight budget range but are looking for a combination of advanced features and good performance.
This laptop is an ideal pick for gaming professionals
This is also an amazing choice for animation and IT students.
Best Lenovo Gaming Laptop With Touchscreen
Lenovo Y50 Touchscreen Gaming Laptop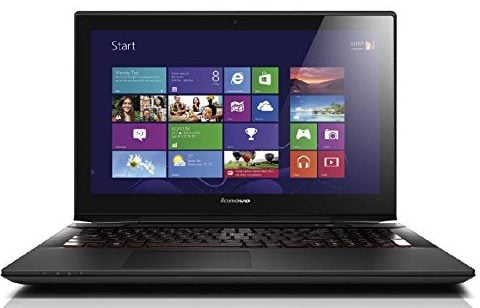 If a touch screen is what you are looking for, this Lenovo gaming laptop is perhaps the best choice for that. While many of us feel convenient to enjoy the game through the use of a mouse, some like to enjoy it through a touch screen and Lenovo Y50 is the laptop for that. Running on Windows 8 operating system this laptop is packed with all the high-end specifications such as Intel Core i7-4700HQ Processor at 2.4 GHz, 8 GB RAM, 8GB SSD, 1TB 5400 RPM hard drive, 15.6-inch high-resolution screen, 2GB NVIDIA GTX-860M Graphics card. However, with all these, the price is not sky reach rather you will get it at a very affordable range from Amazon.
Who is it for?
Those gaming lovers who are looking for stylish looks plus spacious keyboard layout
It is an ideal pick for the laptop users who always wished to own a portable chassis designed gadget.
Those who need to work late at night can invest in this backlit keyboard gadget.
Best Lenovo Gaming Laptop With Bigger Screen
Lenovo Z70 17.3 inch Gaming Laptop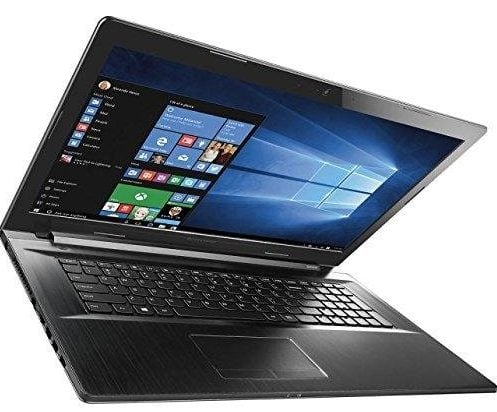 Another best Lenovo gaming laptop that comes with a bigger screen size of 17.3" and thus lets you enjoy the ultimate taste of the game. The screen is having 1920 x 1080 resolutions while the HD webcam is packed with two microphones. The 2GB NVIDIA GeForce 840M graphics card wrapped inside lets gamers enjoy all the high-end and 3D games smoothly. Its specifications include Intel Core i7-5500U processor, 8GB RAM, TB Hard drive at 5400 RPM, etc. Other features include JBL audio technology, voice recognition, Gigabit Ethernet, Bluetooth 4.0, Wireless-AC, the 4 cell lithium-ion battery, etc. The full-body metal cover made the look of the laptop more stylish. You will get this laptop for under $900, so have a look at it if this can be the one you are actually looking for.
Who is it for?
This model is for working professionals who are looking for a solid combination of affordability and high productivity.
This laptop is stylish, compact, and lightweight. It is an ideal pick for students and working women.
This laptop can be a good deal for animation and IT professionals. It offers crisp pictures plus a comfortable typing experience.
Best Lenovo Gaming Laptop With Great Features
Lenovo Y70 17.3inch 80DU0034US Laptop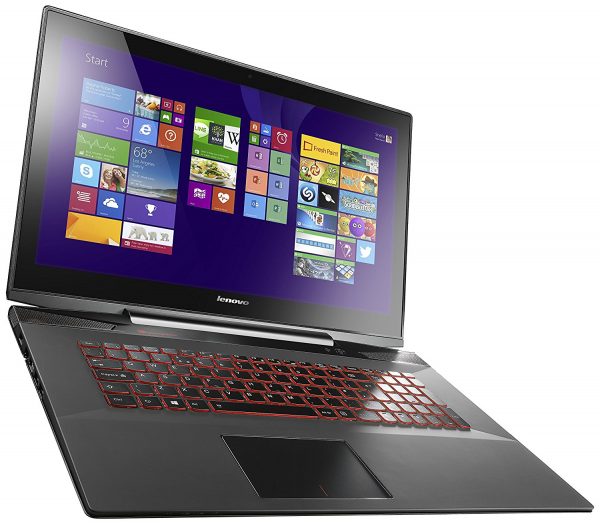 Another gaming laptop from Lenovo with a bigger screen that is also packed with a touch screen so you can enjoy high-end games with the uses of your fingers conveniently. This Y series laptop is no doubt a good choice that lets you enjoy every game prominently here you can look at the even smallest objects which are hardly noticeable on the smaller screen. Its specifications are Intel Core i7-4710HQ processor at 2.5GHz, 2GB NVIDIA GTX-860M graphics card, 16GB RAM, 256GB SSD, 17.3-inch high-resolution screen, and the external DVDR/W Drive. It runs on Windows 8.1 operating system. Available on Amazon at an affordable price.
Who is it for?
This laptop is for users who love to enjoy every aspect of gaming. The crystal clear view is the USP of this gadget.
The students who like to explore new and advanced gaming options can go for this laptop.
This laptop comes with a comfortable keyboard, an ideal selection for the professionals who are more into typing.
See also: Best laptops with CD/DVD
FAQs
Why should I go for Lenovo gaming laptops?
The brand has great customer support and after-sales service worldwide. In case you need to claim warranty, you can do so with relative ease because of their presence in most cities and honoring the claim without a fuss.
What makes Lenovo Y and Legion series the best?
Lenovo is focusing on the gaming audience with the Legion series and Y-series laptops. The ideal aspect of their business strategy is that there is a laptop at every price point that allows you to buy a branded device irrespective of your budget while getting optimal gaming performance.
Do I need RGB lighting on my device?
You don't need it but it doesn't hurt to have one because most gamers love the fancy lighting especially when you can customize it to sync with the games you play. Besides, the lighting also allows you to play a game in pitch black conditions without disturbing friends or family in the same room.
Can I expect good battery life?
No, gaming laptops are power-hungry beasts that can run for two or three hours if you are playing a high-quality AAA title with maximum graphics settings. While ultrabooks can last ten hours if you are going to play continuously make sure to stay close to a charging port because you will need it to keep playing uninterrupted.
How to choose the right graphics card on my Lenovo gaming laptop?
Nvidia is the most popular choice as they deliver graphics for different price points. AMD's Radeon graphics is fast catching up in laptops but will be available mostly in future models. You can go for a $1000 laptop to get the best GPU performance and more budget can help get 2060, 2070 graphics cards to play single-player games like Red Dead Redemption 2 with ultra settings.
Conclusion
The best Lenovo gaming laptops are listed here with all their features and specifications.
Lenovo is slowly but surely moving out of its business staple notebooks and is moving into the gaming world. If you want a powerful and stylish laptop for gaming, Lenovo gaming notebooks are the go-to option. Ensure that you select a Lenovo laptop that has a comfortable keyboard with a big screen of 17 inches or more. It also makes sense to invest in SSD, so that you can install games much faster. As for the processor, the Intel Core i7 combined with an NVidia GeForce GTX 1060 GPU is great for enjoying VR games. If you prefer portability, you can opt for a smaller screen of 15 inches, as they are also usually lighter at around 4 to 7 pounds.
Lenovo offers a solid warranty and also allows users to swap the RAM or the storage, without having to violate the warranty. You can also extend the warranty to another year.
---