Technobezz is supported by its audience. We may get a commission from retail offers
Lenovo Flex 5 14 Touch-Enabled Screen Laptop
HP Laptop 128 GB Storage-Space Drive Laptop
Acer Aspire 5 15.6-inch Display Screen
Table of Content
Graphic designers need powerful laptops that can handle huge software programs, so if you are searching for one of the best laptops for graphic design 2023, then we have a list that you may find helpful. We have looked up powerful machines that can work without lag even when it comes to using heavyweight software, and of course, we have been careful about choosing devices that pack a great graphics card to ensure that working on the computer is a true joy for you. While the average graphics card will be useful if you are a novice, professionals usually look for a laptop fitted with a high-end graphics card that can make it easy for them to work. A good resolution also plays an important role in graphic design, so we have ensured that the laptops we have selected offer good resolution.
See also: Best Lenovo Gaming laptops 2023
Buying Guide
Graphics designers are creative people who require the best laptops to help them with their daily work. While desktops are always far more powerful, it is essential to have a portable computer to complete work from wherever they are, for which laptops are very useful.
Display size – The larger displays are always the most suitable for a designer. They help view the content, understand if their work is impressive, and also help in using multiple software programs as well as its intricate tools, which are small icons stacked up in a row.
Color accuracy – Color accurate monitors are meant for desktops but always look for a graphic design laptop that would help you with the best color reproduction. At the very least, avoid picking up a device that has washed-out colors or has panels that will display colors inaccurately.
Battery management – The battery life will surely take a big hit because most designer laptops are equipped with a graphics card that tends to consume more power. Consider a device that should last at least three to five hours of usage so that you will be able to complete your work.
The ability to upgrade or add components – Graphic design programs are always demanding, so adding more RAM or an external graphics card could become necessary at some point. Expensive models like the Razer Blade support such additional components, but you can check if your laptop will favor an upgrade for future-proofing it.
Hard disk space – While you do have the option to have an external hard disk, consider a laptop with at least 1 or 2TB of disk space. Using an SSD is mandatory for the Windows operating system and your Adobe and other designing software programs. Your primary program will be more responsive and error-free.
Best Laptops For Graphic Design
Bored of working on your designs on your office PC? Looking to work from the comfort of your home or at a café? We have sorted out the available laptops in the market to bring you a detailed list of the best graphic design laptops that can handle your heavy applications' requirements and smoothly help you complete your designs at your convenience. Each of these laptops has sufficient processing capability to handle designers' heavyweight software, high-resolution graphics cards, and high-definition screens to help you produce an accurate design with a joyful experience without any risk of work loss.
2-in-1 Convertible Device with Good Battery Support
Lenovo Flex 5 14 Touch-Enabled Screen Laptop
Check Price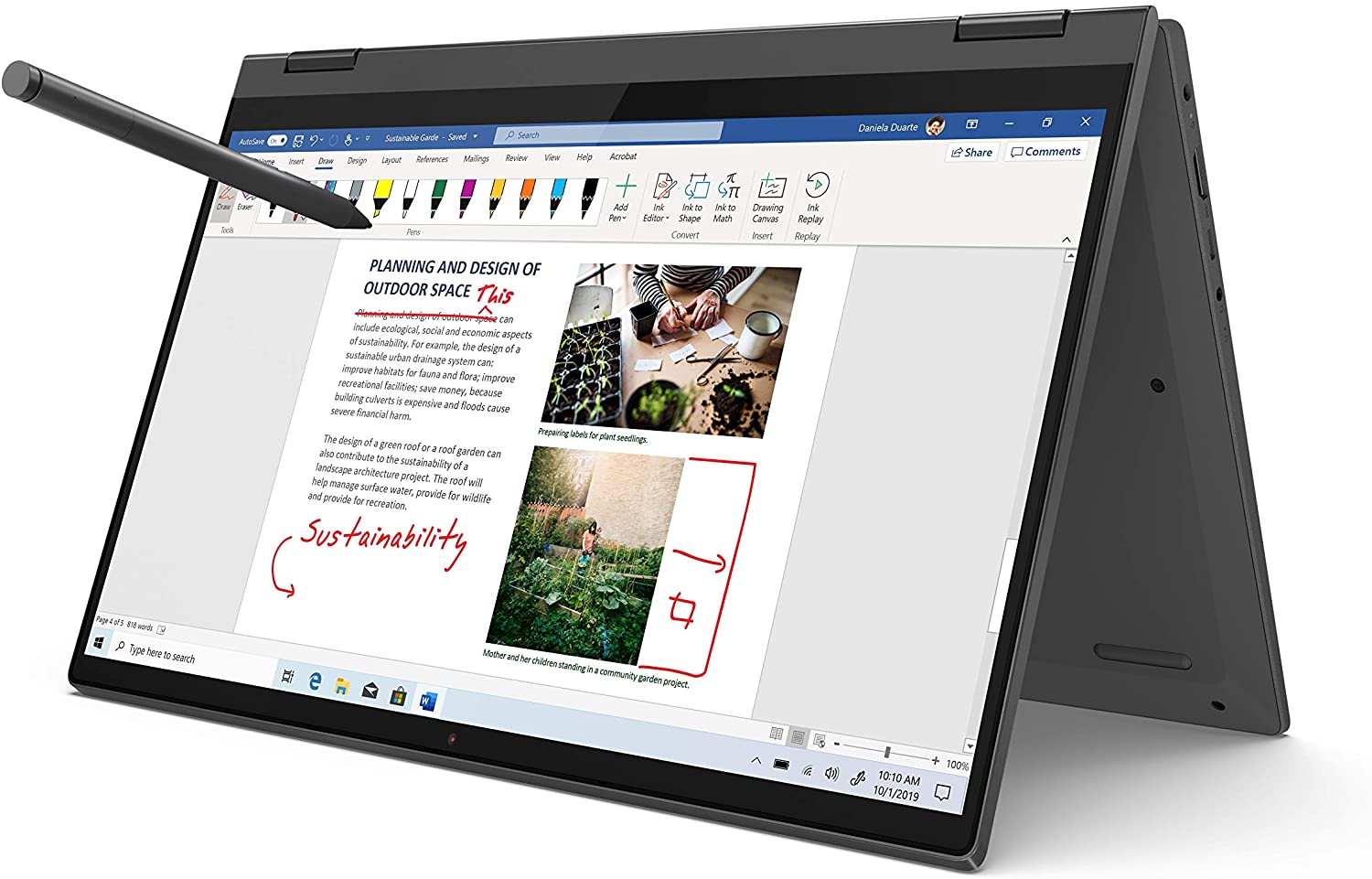 The Lenovo Flex 5 14 features a 14-inch display screen that is touch-enabled and can be controlled using the digital pen that is provided with the device. Weighing just 3.64 pounds, traveling with this device is not a difficult task at all. It has 16 GB of high-bandwidth RAM and is largely responsible for its high-speed performance.
The graphite gray design of the convertible device is highly attractive and is one of its biggest selling points. Apart from being used as a laptop and a tablet, you have the option of using this device in a bunch of other modes like 'tent' and 'stand'. When you charge the battery optimally, it will last you up to 10 hours.
Recommended for graphic designers who have been looking for a device that can double up as a laptop and a tablet.

Also a good option for those who need a comfortable convertible device to travel conveniently.
Stylish design

Convertible feature

Responsive digital pen

Lightweight and portable
No optical drive

Storage space should be higher
Moderately Priced Laptop with 14-inch Display Screen
HP Laptop 128 GB Storage-Space Drive Laptop
Check Price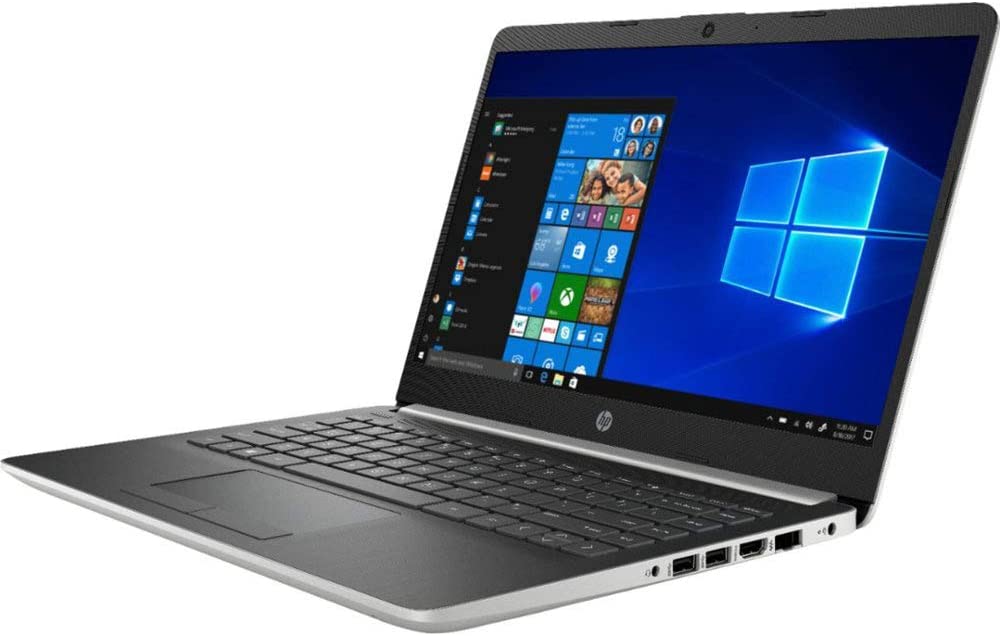 This HP laptop comes with a 14-inch wide display screen with a resolution of 1366 x 768 pixels. Though the screen offers touch functionality, you don't get a fingerprint scanner on the device. The dual-core CPU offers a processing speed of 3.5 GHz and assures you of efficient performance.
The device features a high-definition webcam that is hugely beneficial for professionals who regularly participate in virtual work meetings. The storage-space drive offers a storage space of 128 GB which might not be sufficient for professional graphic designers who store many files on their devices.
Ideal for graphic designers looking for a budget-friendly laptop that can run all kinds of multimedia software.

It is also recommended for those planning to invest in a laptop device that comes with a 14-inch widescreen.
Moderate pricing

Touch-enabled screen

Fast processing speed

Good multimedia features
No fingerprint reader

Inadequate storage space
Well-Built Laptop with Backlit Keyboard
Acer Aspire 5 15.6-inch Display Screen
Check Price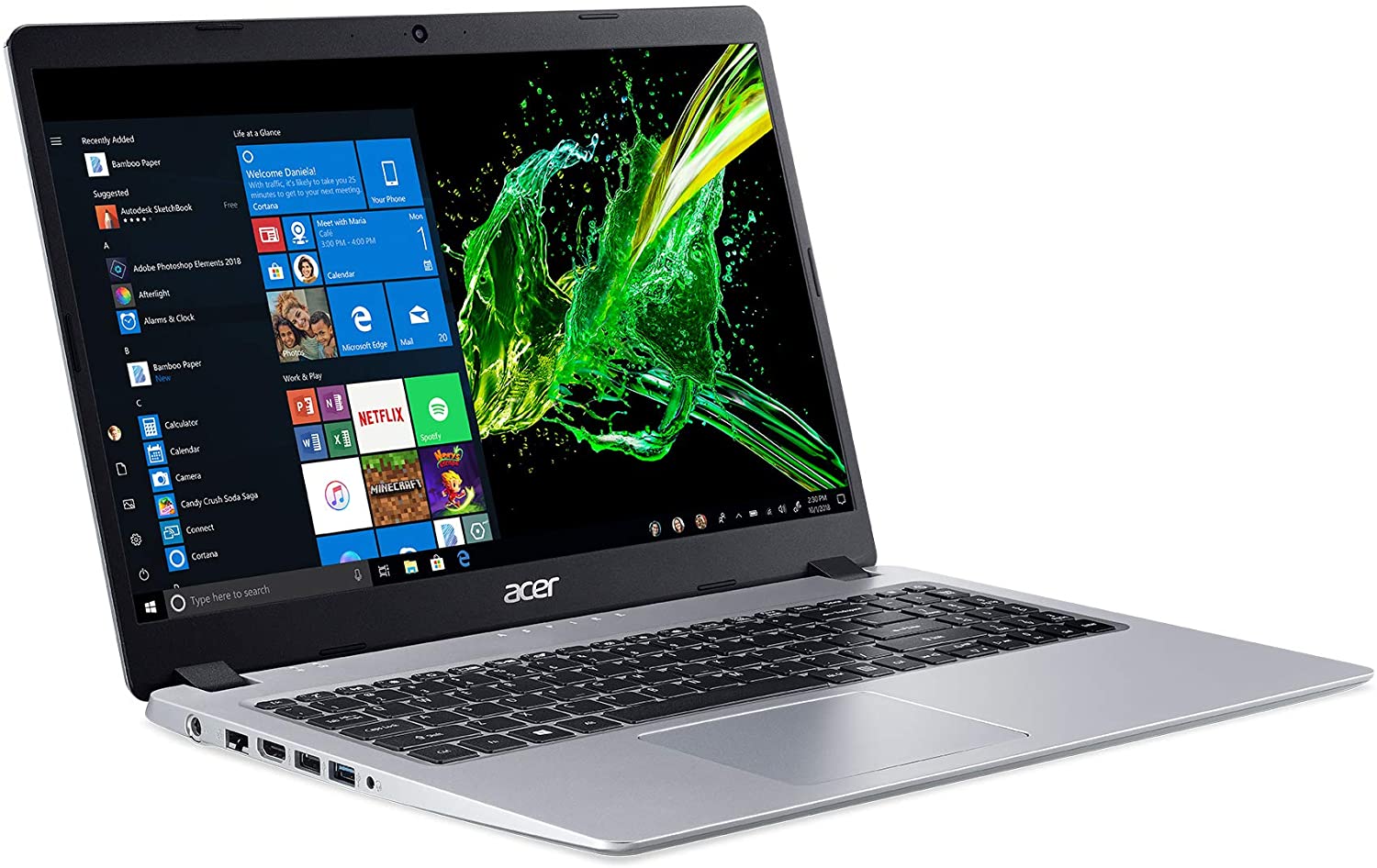 The Acer Aspire 5 boasts a structural design that is both lightweight and durable at the same time. Because of its rugged build quality and slim structure, you can carry it during extensive work trips without worries. The 15.6-inch display screen produces highly vibrant images.
Besides a bright display screen, graphic designers wish to have a good keyboard at their disposal. This laptop comes with a high-quality backlit keyboard that is extremely comfortable. The battery offers a backup of 7 hours on a single full charge. The hard disk provides you with a storage space of 128 GB.
A good option for graphic designers searching for a moderately priced laptop featuring a backlit keyboard.

It is also recommended for those who wish to invest in a laptop with a high-definition 15-inch display screen.
Backlit keyboard

Sharp display screen

Good connectivity support

Lightweight and durable structure
Average battery life

Limited storage space
14-inch HD Screen Laptop with Long-Lasting Battery
Acer ConceptD 3 Ezel Multimedia Laptop
Check Price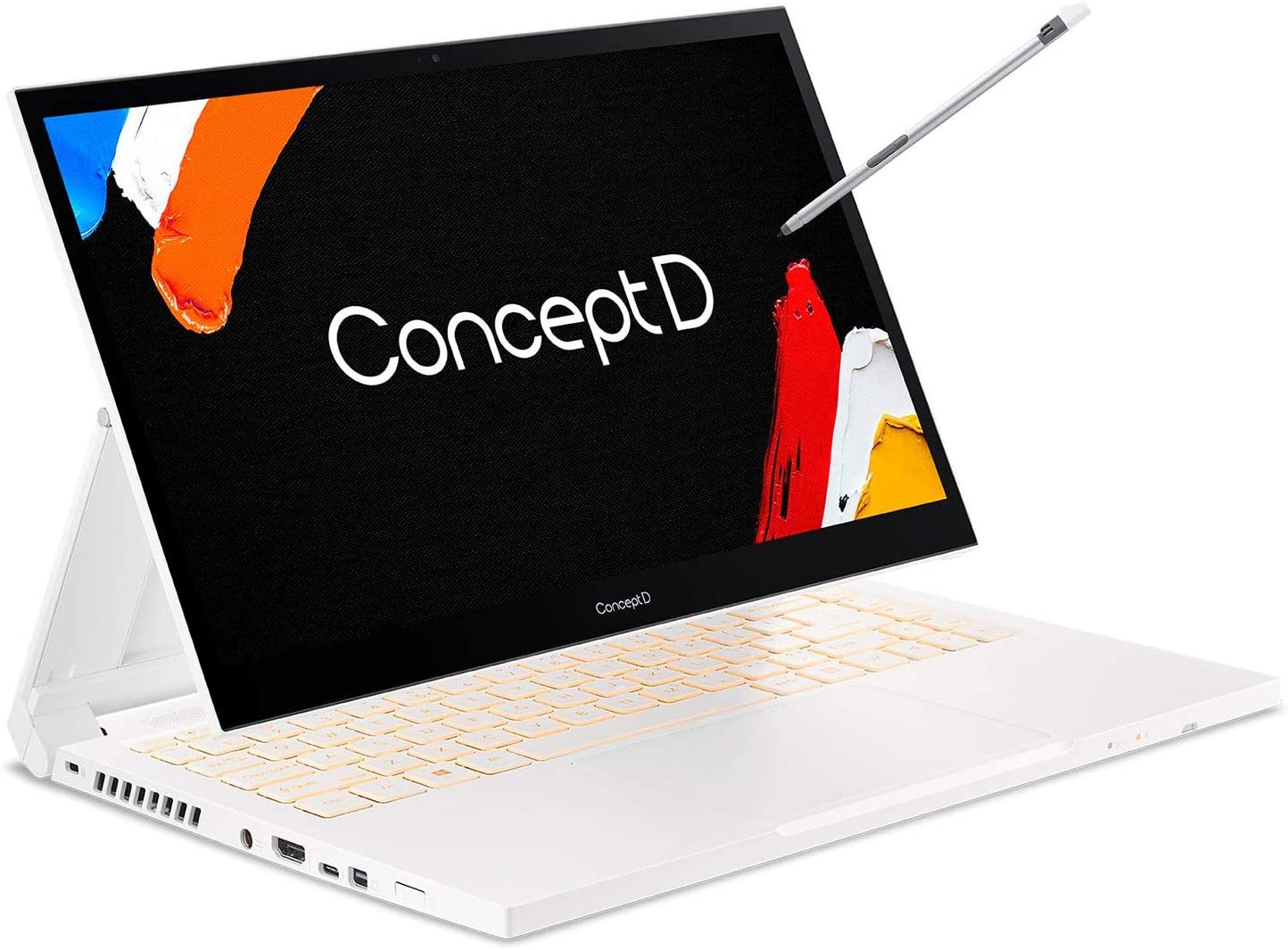 When you look at the Acer ConceptD 3 Ezel, you realize it is a device that has been designed keeping in mind the requirements of graphic designers and media professionals. The device boasts a very innovative design that is stylish and useful at the same time. It comes with a 14-inch touch-enabled screen with 1920 x 1080 pixels resolution. The screen is built with anti-glare technology and can be maneuvered across using a digital pen.
This device, which has been marketed as a 'creator laptop', comes with 16 GB of high-bandwidth RAM and works at a very good speed. The 512 GB SSD offers enough space to store your files and important documents. The backlit keyboard is quite stylish and very comfortable to use. One of the highlights of this device is its robust battery life. On a single full charge, the battery lasts for 14 hours.
Why You Should Buy This?
A very suitable option for graphic designers looking for a device with a touch-enabled screen and strong battery support.

It is also recommended for individuals who travel constantly and need a portable device with good multimedia features.
Pros
Backlit keyboard

Touch-enabled screen

High bandwidth RAM

Strong battery support
Cons
No 4k output

Poor placement of ports
15.6-inch High-Definition Screen Laptop with 16 GB RAM Memory
HP AMD Ryzen 5 5500U 6-core Laptop
Check Price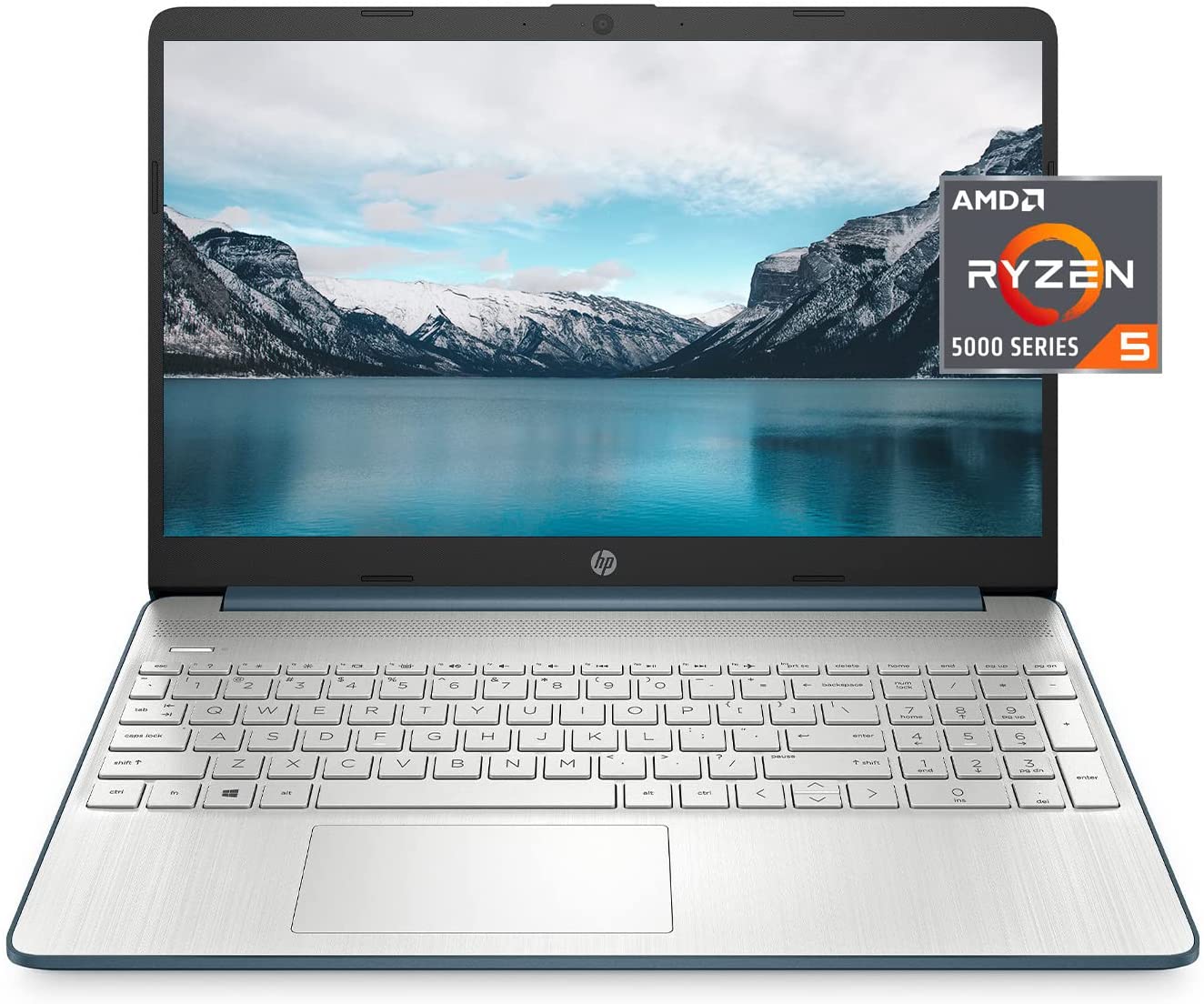 This HP laptop features a 15.6-inch display screen that boasts an anti-glare feature. The screen produces a 1920 x 1080 pixels resolution and is sharp enough to be a good asset to graphic designers. The device features pre-installed 16 GB RAM, and the hard disk offers a storage space of 256 GB.
The AMD Ryzen 5 5500U CPU operates at a high processing speed of 4 GHz, making the laptop run efficiently. You do not have to wait for a long time for the laptop to boot up. Along with the laptop, the brand provides accessories, including an HDMI cable, a mouse pad, and a USB extension.
A suitable option for graphic designers planning to invest in a medium-budgeted laptop device.

It is also recommended for those who are particular about owning a laptop that works at a very high speed.
Bright display screen

High-speed processor

Good graphics quality

Multiple accessories provided
No optical drive

Battery life could have been higher
Convertible Device with Robust Processing Unit
Lenovo Flex 5 512 GB Storage-Space Drive Laptop
Check Price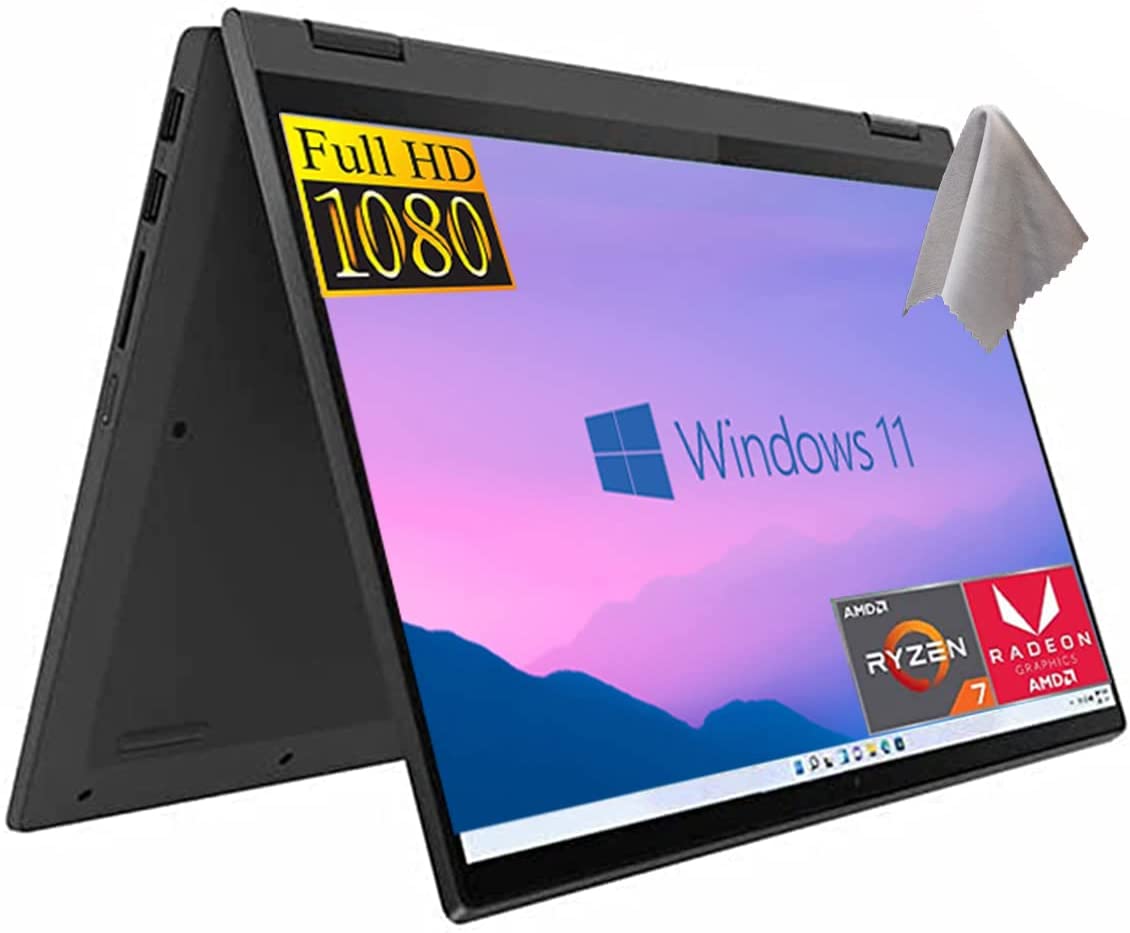 The Lenovo Flex 5 has been designed so that one can conveniently switch from laptop to tablet mode. The device features a 14-inch display screen that produces a 1920 x 1080 pixel resolution and is ideal for creating graphical designs. The screen is touch-enabled and comes with an LED backlit feature.
The laptop comes with a 512 GB SSD drive that is good enough for a convertible device. The 720p webcam works very well for video conferences and calls. While the 360-degree hinge makes it very easy to use the device, the AMD Ryzen 7 5700U processor lends it great speed. A fingerprint reader has been provided to ensure that your data remains secure.
Why You Should Buy This?
An ideal option for graphic designers looking for a convertible device with a vibrant display screen.

Also recommended for those who need a laptop and a tablet for everyday computing tasks.
Pros
720p webcam

Solid processor

Touch-enabled HD screen

Responsive fingerprint reader
Cons
No anti-glare feature

No optical drive
See Also: Top best laptops for programming
FAQs
What is one important feature I should look into as a designer?
Color accuracy. The contrast ratio, even if not certified by Adobe, should be at acceptable levels if you are going to purchase a laptop for designing. An error in the display could affect the professional work you handle on the device.
Is a graphics card necessary?
Yes. It is essential to have an Nvidia or AMD graphics card to support your graphic design programs and handle the demanding tasks you might have on hand.
How do I identify the best laptops for graphic design?
Suppose any product from Dell, HP, or any brand for that matter, has a good display, battery life, and the ability to upgrade for future use. In that case, you can certainly consider it the best irrespective of how affordable or expensive it is.
Will a large display affect battery life?
Yes. The larger display will usually have an improved brightness level, and when you keep the laptop switched on for hours, it will drain out the battery much faster than a smaller laptop. However, it is a necessity for graphic designers.
Should I go for a 1080p or 4K display?
The 4K display laptops are more expensive and will have demanding hardware requirements to run effectively. If your budget allows it, going for a 4K laptop is the best decision to make as they go a long way in making graphic design software more fun to use while being productive at the same time.
How do I choose the laptop with the right graphics card?
If you are a graphic designer, you should be okay with most Nvidia and AMD cards. However, video editors require Quadro and other specific cards designed to speed up the video rendering process.
Conclusion
When purchasing your graphic design laptop, just select the model that provides you with optimum resolution, processing speed, and sufficient storage capacity to meet and exceed your requirements. Some additional features would also be useful, such as additional security layers and 360o flips. Yet, no matter your required specification, you are guaranteed to find a good match for this wide range of products available on the market today across a large pricing spectrum. Also, now you don't need to do any extensive research. Our article presents a detailed summary of most of the available products with sufficient details on each to guide you through your decision.
These are the best laptops for graphic design. All these laptops have a great performance and an edgy design making them the classic choice for any graphic designer. While most of them are pricey, all of them are reliable, and ensuring that working on them is a true joy. If you are planning to buy a laptop for your graphic design work, consider one.
Was this article helpful?
This helps us improve our website.