Featured in this article (opens in new tab)
If you are an artist of sorts, you would surely like to have a laptop where you can draw directly with a digital pen, as this would give you an accurate picture. The good news is that many such laptops are suitable for drawing. They also come with a high resolution, and their touchscreen displays have accurate color displays.
These include digital pens that offer great sensitivity and precision needed for drawing. So let's check out some of these laptops that are ideal for drawing and graphic artists. A general tip is to opt for a 2 in 1 or hybrid laptop. Some of these are top-capacity notebooks that have functionalities that enable quick and smooth rendering of drawings and designs for fine art artists. These laptops are suitable for graphic designers, sketch artists, and anyone who wants speed, good memory, and good graphics in their notebooks.
You may also read: Best Laptops for Freelancers
Buying Guide
The best drawing laptops are often the ones that have a touchscreen display. With a hybrid design, these laptops can be used as both productive computers and a tablet. For designers and drawing enthusiasts, they allow you to get more out of them by using a stylus.
A stylus is a must – While you do have the option to purchase multiple stylus pens separately, if the laptop bundles one, they are probably aimed at designers and people who draw. Such a product should easily make the top of your list because it is convenient to use, and the bundled stylus will work seamlessly.
Touchscreen sensitivity – If you are purchasing the laptop online, consider visiting the brand showroom to have firsthand experience. Drawing is a nuanced art in which every touch matters, and the display should be highly responsive to pick all the strokes you make with your S-pen or stylus.
Color reproduction capability – The color palette on your device should be accurate or close to the RGB spectrum. While not all of them are Adobe certified, they shouldn't have a blue or yellow tint which will affect the quality of work you do. Check for reviews and ensure the display is either neutral or color accurate.
Hardware specifications – Most software programs like Corel Draw, InDesign, and drawing programs require demanding hardware. Apple Mac is easily the best pick, but the company doesn't have a product with a touchscreen display, and the necessary components are expensive and are to be purchased separately.
Slim, lightweight – A lightweight laptop is easy to carry wherever you go if you are an artist and bound to travel to capture the essence of nature. If a slim laptop can deliver better battery life combined with powerful processing capabilities then it is the best pick.
See also: Best computer for AutoCAD
Best laptops for drawing
Detachable Laptop with 10.5-inch Touch-Enabled Screen
Asus Budget-Friendly Chromebook CM3
Check Price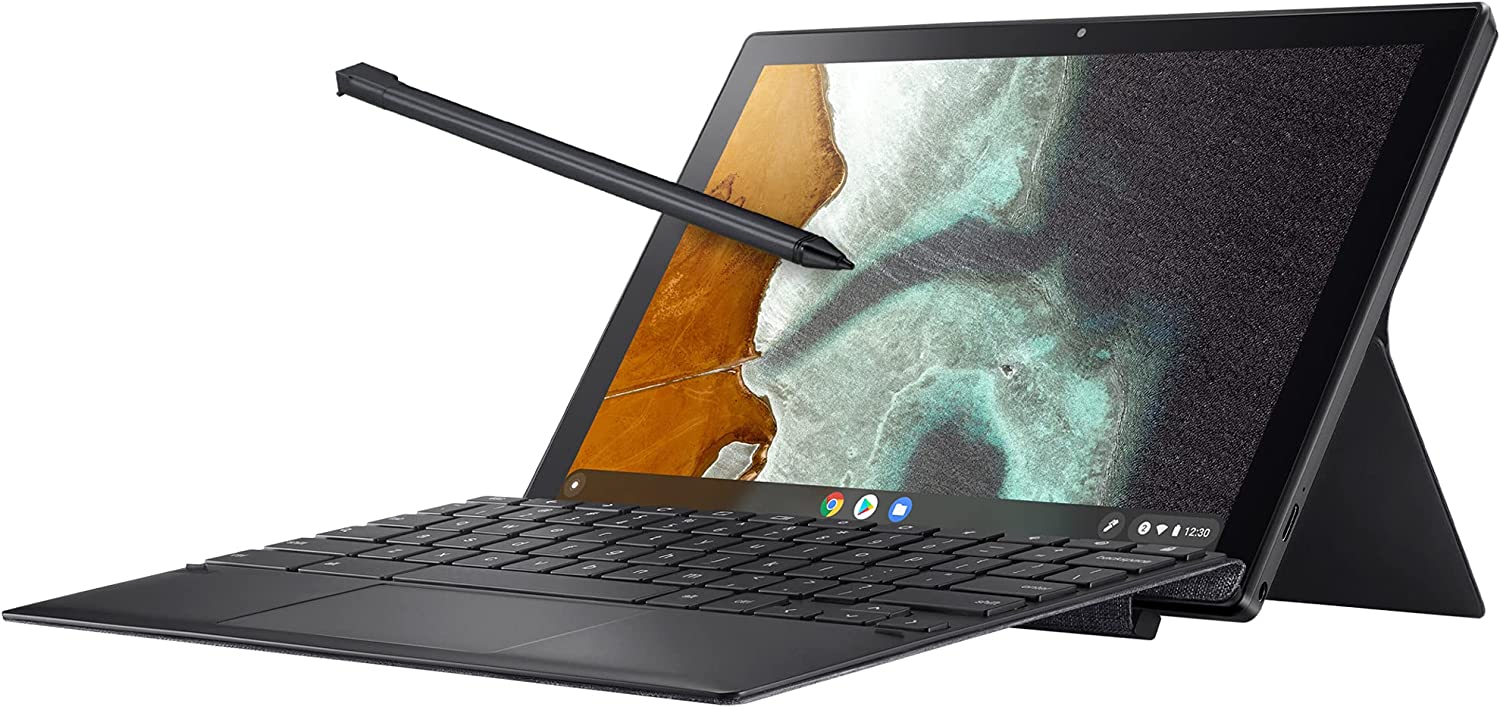 When you decide to invest in a device for drawing, you have to make sure it is comfortable to hold and move around with. This laptop by Asus has been designed as a detachable device and, therefore, is very convenient to manage with your hands. The 10.5-inch display screen is touch-enabled and produces a resolution of 1920 x 1200 pixels.
At 1.12 lbs, it is extremely lightweight and convenient to travel around with. The detachable keyboard is highly durable and very comfortable to use. The mineral gray design of the laptop is quite sophisticated and gives the impression of it being a well-designed professional device. The stand cover you get with the device is of good quality.
Recommended for artists looking for a laptop with a detachable keyboard and a touch-enabled screen for drawing purposes.

It is also a good option for individuals who have been wanting to invest in a lightweight and budget-friendly laptop.
Stylish design

Touch-enabled screen

Lightweight structure

Detachable keyboard
Thick bezels

Limited connectivity features
2-in-1 Convertible Laptop with Built-In Digital Pen
Samsung ChromebookPlus (V2) 360-Degree Rotating Screen Laptop
Check Price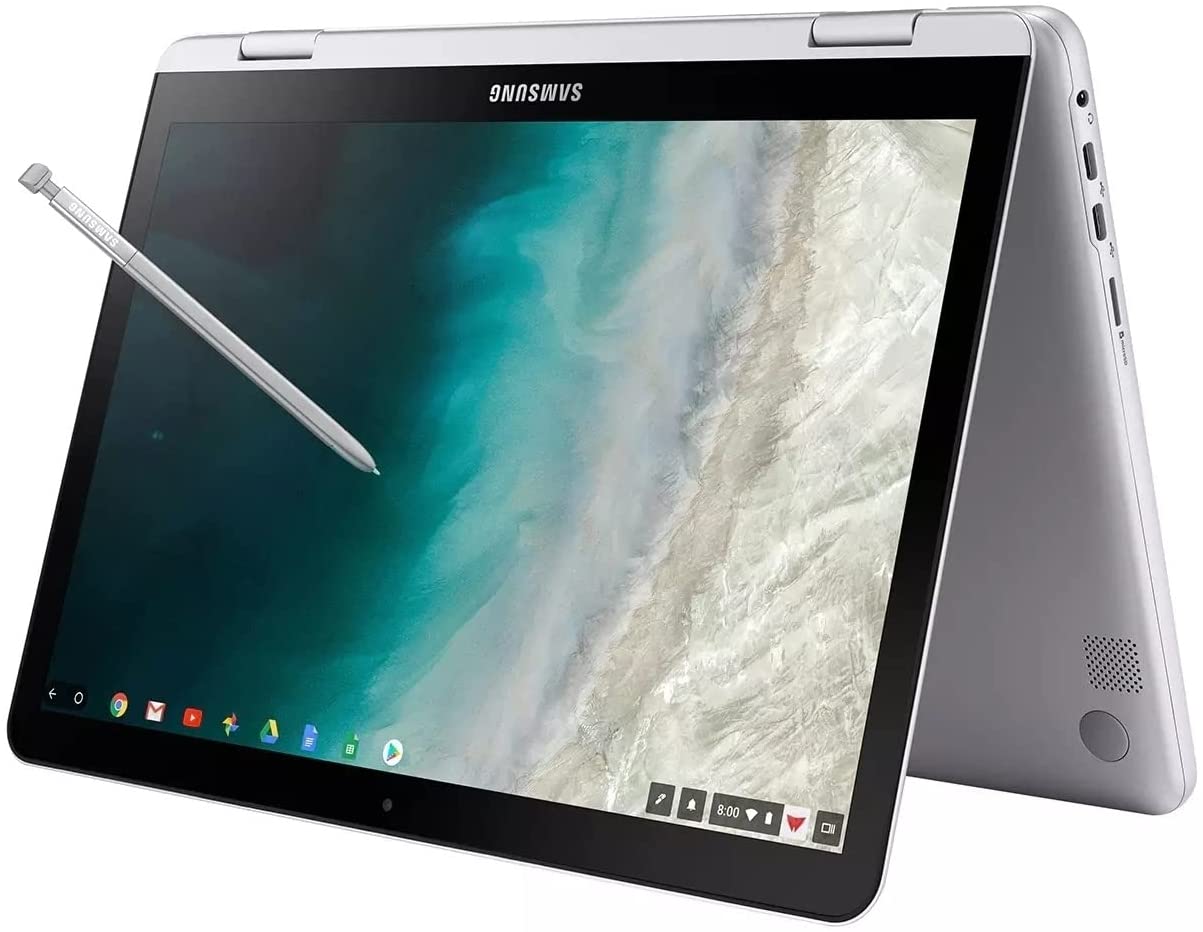 The Samsung ChromebookPlus (V2) has a 12.2-inch display screen with a resolution of 1900 x 1200 pixels. The screen is touch-enabled and highly responsive. One of the highlights of the display screen is that it rotates 360 degrees. You can draw conveniently on the screen using this device's digital pen that comes as a built-in accessory.
The Celeron CPU operates at a processing speed of 1.5 GHz, making the laptop run efficiently. Along with a pre-installed 4 GB RAM, the laptop features a hard disk that offers a storage space of 64 GB. The 13 MP camera lets you click some good pictures when you use the device in its tablet mode. The keyboard is not only durable but also leak-proof.
A suitable option for artists who need a convertible device with a touch-enabled screen and a responsive digital pen.

Also recommended for those who have been looking for a moderately priced and compact laptop with good features.
Budget-friendly

Built-in digital pen

Durable keyboard

Touch-enabled screen
No HDMI output

Limited storage space
17.3-inch Well-Packaged Laptop for Media Professionals
Gigabyte Aero 17 High-Performance Laptop
Check Price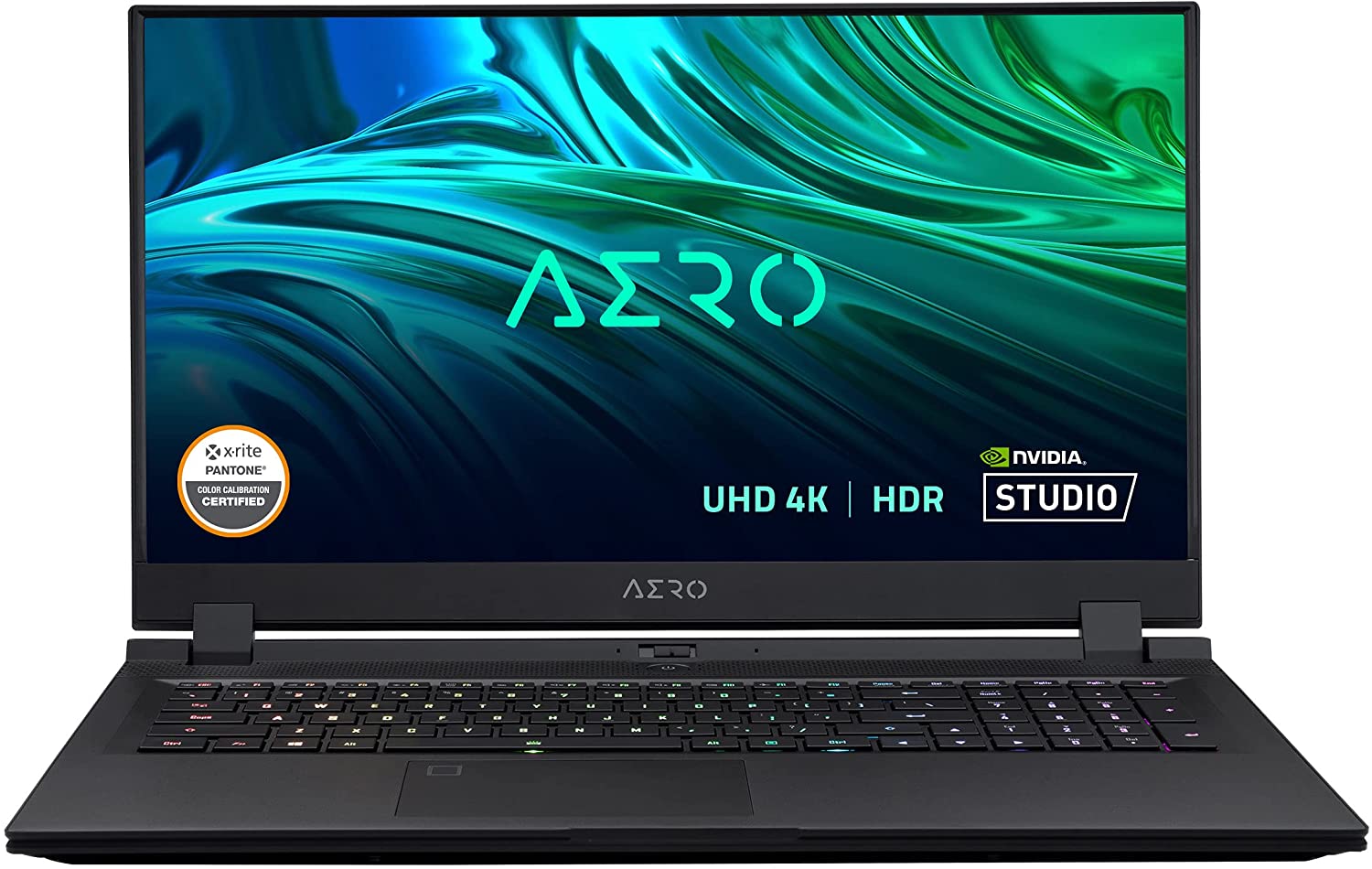 You have to pay a premium price to acquire the Gigabyte Aero 17, but you will not regret buying it. It has many features that media professionals would find highly beneficial. The laptop features a 17.3-inch display screen that produces extremely sharp images and is suitable for various tasks, including making digital art.
The 11th Gen Intel Core i7 CPU runs at a very high processing speed and makes the device work efficiently. It has a 720p high-definition webcam armed with a physical shutter to ensure privacy during video calls. The hard disk on the device offers 1 TB of storage space. Along with several other connectivity ports, the laptop features a headphone jack.
An ideal option for media professionals who wish to own a laptop that offers advanced multimedia features.

It is also recommended for those who plan to invest in a high-end laptop with the assurance of long-lasting usage.
720p webcam

Durable structure

Powerful performance

Large HD display screen
15.6-inch Display Screen Laptop with Good Connectivity Support
Dell Inspiron 15 5515 256 GB Storage-Space Drive Laptop
Check Price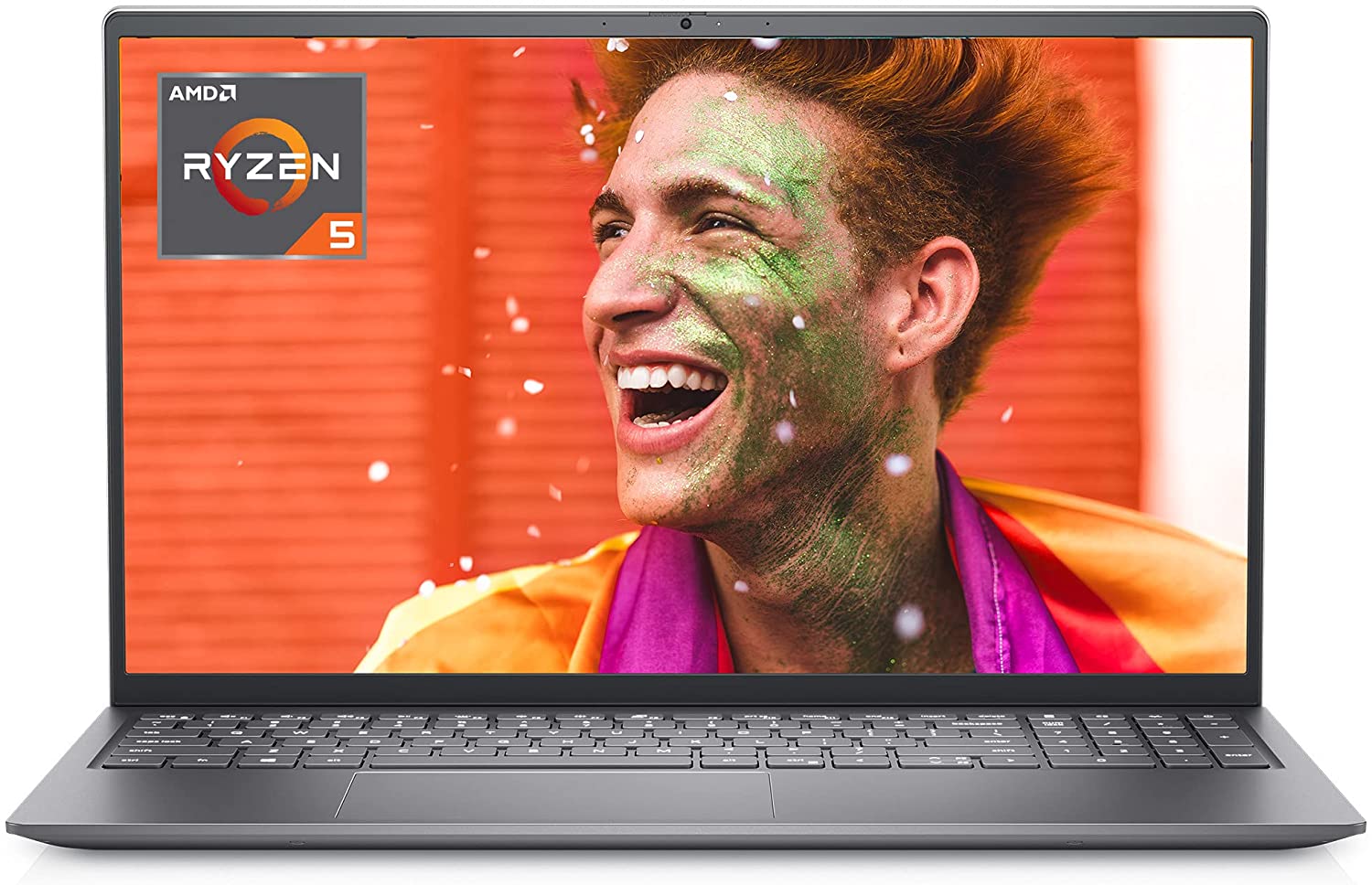 The Dell Inspiron 15 features a 15.6-inch display screen that produces a resolution of 1920 x 1080 pixels. Since it is a touch-enabled screen, you will find drawing different types of images very easy. The laptop is made of durable components and features a silver metallic design that is very sophisticated and stylish.
The 256 GB storage space offered by the SSD drive should be enough for you unless you are used to storing a large amount of data on your devices. The AMD Ryzen5 5500U CPU operates at a high processing speed and ensures you can multitask efficiently. The device offers multiple connectivity options, but no optical drive exists.
Why You Should Buy This?
A suitable option for those looking for a medium-budgeted laptop with good multimedia features.

It is also recommended for individuals who wish to have a well-rounded laptop that works efficiently.
Pros
Touch-enabled screen

Comfortable keyboard

Multiple connectivity options

Responsive fingerprint reader
Cons
Low-resolution webcam

Average thermal management
Budget-Friendly Laptop with a Sophisticated Design
Lenovo Chromebook 3 14-inch Touch-Enabled Screen Laptop
Check Price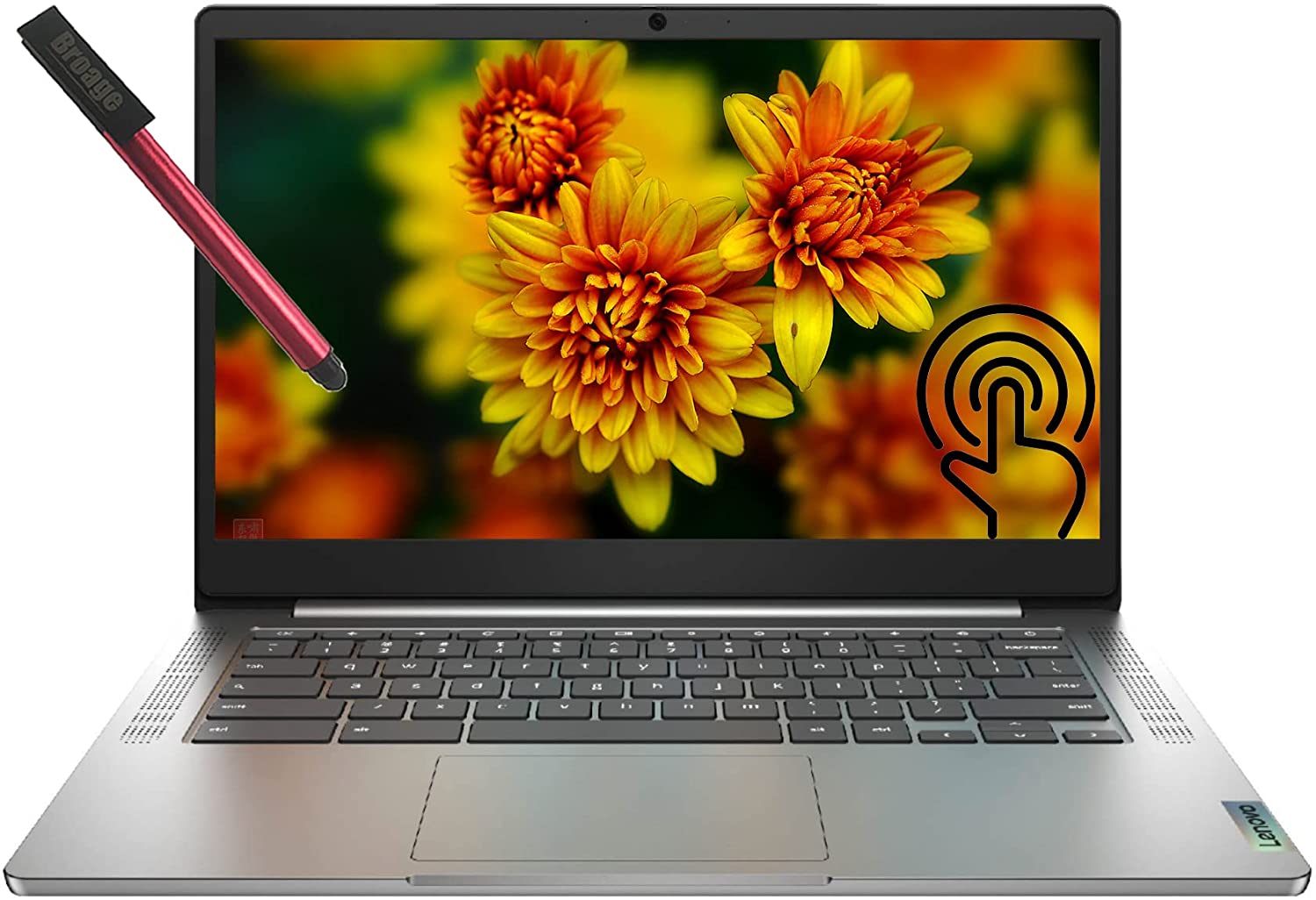 The Lenovo Chromebook 3 comes with a 14-inch wide anti-glare touchscreen that is just apt for making digital art. The unique 3-in-1 design Stylus pen combines the mechanism of a ballpoint pen and a Stylus pen, is highly sensitive, and works effortlessly on the screen. The device comes with pre-installed 4 GB RAM and a hard disk that offers a storage space of 64 GB.
The design, mechanism, and features offered by the laptop manage to camouflage the fact that it is a budget-friendly laptop. The arctic gray design of the device is highly appealing. It has multiple connectivity options, including a microSD card slot and a 3.5mm headphone jack. The 720p webcam works wonderfully for those who engage in virtual conferences regularly.
Ideal for those looking to invest in a budget-friendly laptop that comes well-packaged with useful features.

It is also recommended for digital artists who are comfortable with the idea of working on a 14-inch touchscreen.
720p webcam

Moderate pricing

Sensitive Stylus pen

Features a 3.5mm headphone jack
No optical drive

Limited local storage support
2-in-1 Convertible Device with Narrow Bezels
Lenovo IdeaPad Flex 5i 14-inch Touch-Enabled Screen Laptop
Check Price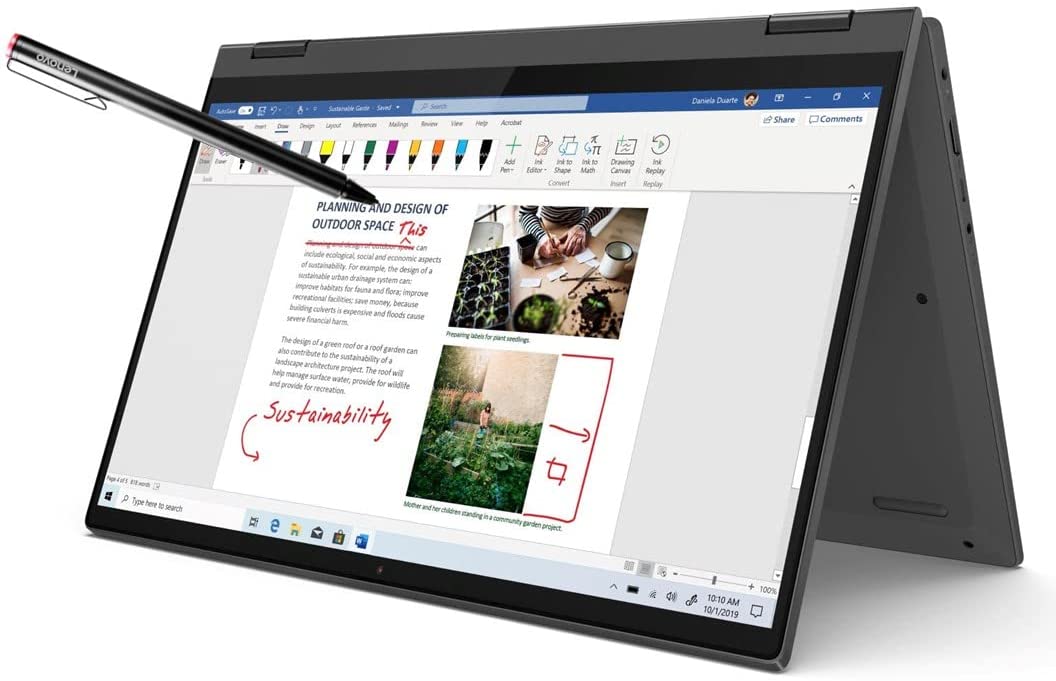 At 3.30 lbs, the Lenovo IdeaPad Flex 51 is slightly heavier than most 14-inch laptops. That being said, you should not face many difficulties while carrying it around. The screen is touch-enabled and enables you to draw and do other artistic work effectively. It is a well-designed convertible that works equally well as a laptop and a tablet.
Though it features a low-bandwidth 4 GB RAM, the device comes with a Core i3 processor that works quite fast. The device has multiple connectivity options, including a microSD card reader and a 3.5mm headphone jack. You get a digital pen with this laptop that is highly sensitive and works well across the screen.
Why You Should Buy This?
Recommended for artists looking for a convertible laptop that doubles up as a tablet.

It is also suitable for those who wish to invest in a compact laptop device that features a vibrant, touch-enabled screen.
Pros
Sensitive digital pen

Sturdy keyboard

Stylish and durable design

Responsive fingerprint reader
Cons
Slightly heavy

Low color accuracy
Best Laptops for Drawing and Light Art
Microsoft Surface Go, 2 in 1, 10 inches
Check Price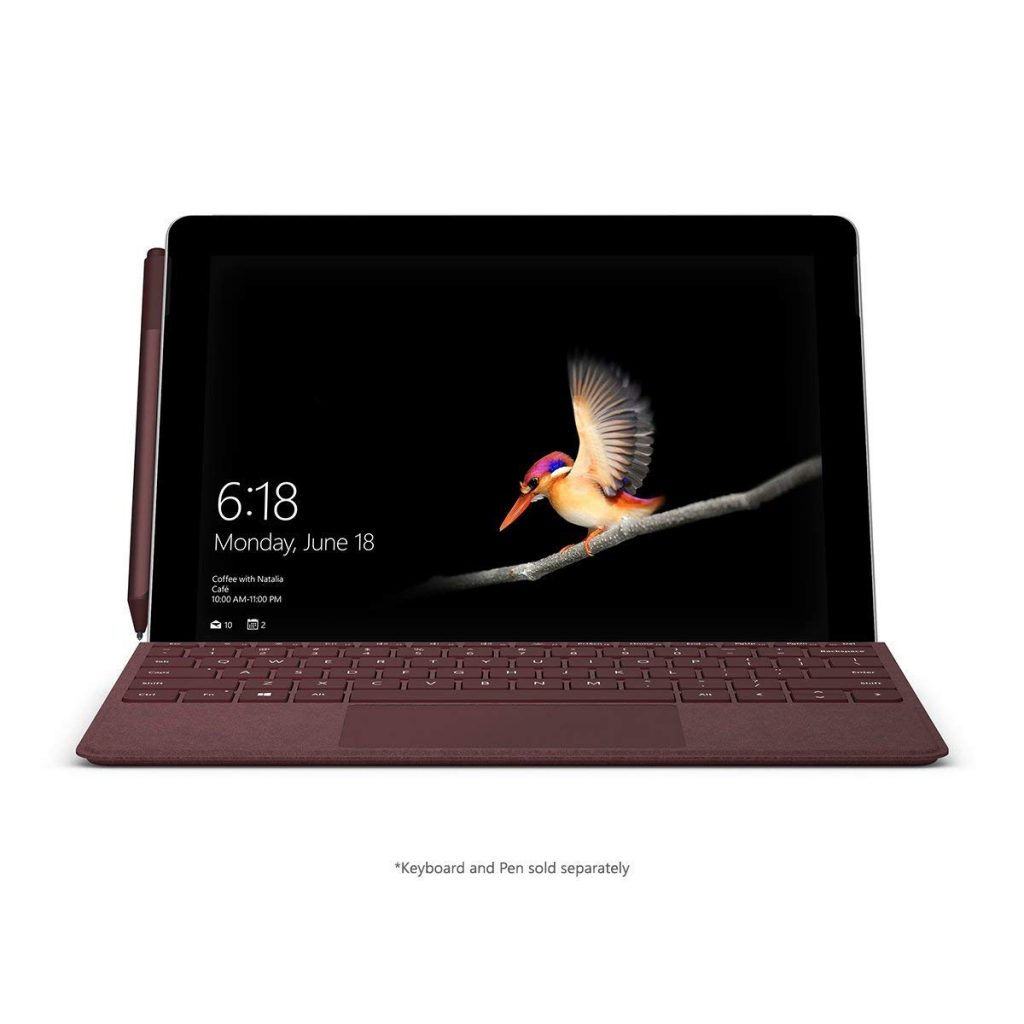 This is a small, light 2-in-1 suitable for art and drawing and for using Photoshop, Sketchable, etc. The specifications are rather a lower-end type, and it is not very powerful, so complex activities might take some time though common drawing apps run flawlessly. The functionality for drawing purposes is greatly enhanced due to the Surface Pen. It also comes with a built-in stand, which enables setting up at different angles, for instance, in the lowest position while drawing.
The Surface Go has a memory of 4 GB RAM and internal storage of 64 GB. The dimensions are 9.7 x 6.9 x 0.3 inches, it weighs 2.85 pounds, and it has a 10 inches screen with a resolution of 1800 x 1200 pixels. The resolution is good enough for drawing and general purposes also. The drawing area of the screen is similar to the size of an A5 notebook. It is also easy to draw with consistent pressure. It comes with support from Windows 10 in S mode with Windows Defender and Parental controls, etc.
The laptop has a processor clocked at 1.6 GHz 8032 and a graphics co-processor Intel HD 615 integrated into it.
Recommended For:
Suitable for drawing and 2D artwork as well as sketches and Photoshop. It's a great drawing laptop to get started.
Those who are satisfied with a laptop with low-end specifications but capable of handling Photoshop and Sketchable.
Suitable for casual sketchers though not for a hardcore digital artist. It is not suitable for rendering movies or for building complex 3D scenes.
Those who are looking for a fun device for artwork without stretching the budget
See also: Best laptops for home use
See also: Best laptops for interior designers
FAQs
Do I need a touchscreen laptop for drawing?
Yes, it is a must-have feature because without relying on external components, you can get the work done on your laptop. Besides, it also allows you to convert the product into a tablet to consume content such as videos, movies, and music.
How important is a stylus for an artist?
A stylus bundled with a laptop is the best you can get. You can easily consider them the best laptops for drawing to buy in 2023 because the manufacturer focuses on artists and people who draw. This is why they bundle a stylus pen along with the product, and it may have additional features to make drawing easier.
How to maintain battery life while I draw?
You can consider reducing the brightness level on the laptop, which always helps increase the battery life on any laptop. While there is no way to turn off the touchscreen feature unless you are drawing, use a mouse or keyboard to access Windows features. Using an external drawing pad can help maintain battery life as well.
What is an important feature to look for in a designer's laptop?
Consider the display's brightness level to be a key element because unless it is bright with 300 nits or more, it may not allow you to discern between the colors. LED displays are amazing but make sure their touchscreen responses are excellent, and if they include a stylus and support Adobe and sRGB color palette then it is the best pick for you.
Why should I go for a hybrid laptop?
A hybrid laptop often flips close, allowing you to use it as a tablet. The design makes it easier to draw content using the stylus and edit it in laptop mode. They also double up as a great entertainment device.
Conclusion
The above laptops come with all features present in a graphics tablet, so you don't have to add any other external accessories or peripherals for your artwork. In short, you are looking for a laptop with a good touchscreen display, accurate colors, and one that has a pen capable of understanding varying levels of pressure. The laptop should also be robust enough so that your drawing software can run smoothly on it. It should be lightweight and portable so that you can also carry it around. In addition, artists should select a laptop for their drawing work that will allow them to edit their work professionally. These are some of the laptops ideal for drawing and worth buying, as they make the artist's work more enjoyable and allow them to work efficiently and optimally.