Featured in this article (opens in new tab)
You landed on the right page if you are looking for some of the best laptops for interior designers.
The computer specification requirement of an interior designer is quite different from that of an ordinary computer user. If you are an interior designer, you might want to select a suitable laptop for your professional needs. This could be quite different from the computers used by students or other professionals. In fact, an interior designer will need a technologically superior laptop to tackle multitasking.
Interior designers have to create and improve architectural designs for buildings and rooms. They have to make it appear spacious as well as beautiful. However, selecting the right laptop can make their task easier. To run the relevant computer software, they need suitable notebooks. The options on the market are unlimited, so check out these top options for interior designers.
See Also: Top best laptops for programming of 2023
Buying Guide:

What Should Be The Specifications Of Laptops For Interior Design?

Even if you don't know much about the hardware and software, it is equally essential for you to understand which part of the computer you need to invest your money in.

The tips for choosing the best laptop for interior designers are all beneficial. However, some additional information can be handy while making the selection.
Display Size: Check if you can find a laptop for interior designers with a 17-inch display. Designing will involve viewing spaces and manipulating images to try different options. A larger display will come in handy. The display resolution is already mentioned above.
Software Handling Capacity: Interior design may involve multiple applications and programs to create the various designs. Laptops for interior designers that you have shortlisted for purchase should be capable of handling them all. Check with the seller/manufacturer. You can send an email listing the software applications that you need, and most will respond.
Battery: Battery power is vital if the laptop is meant to be used by the interior designer away from a power source. Specifications of laptops list the battery capacity and the number of hours the full charge lasts.
Connectivity Options: You would want a laptop for interior designers to be capable of being connected to a printer, additional monitors, etc. Check if there are provisions for such multiple connections on the laptop.
Best Laptops For Interior Designers
Premium Quality Laptop with Touch-Enabled Screen
HP 15.6-inch Wide Notebook
Check Price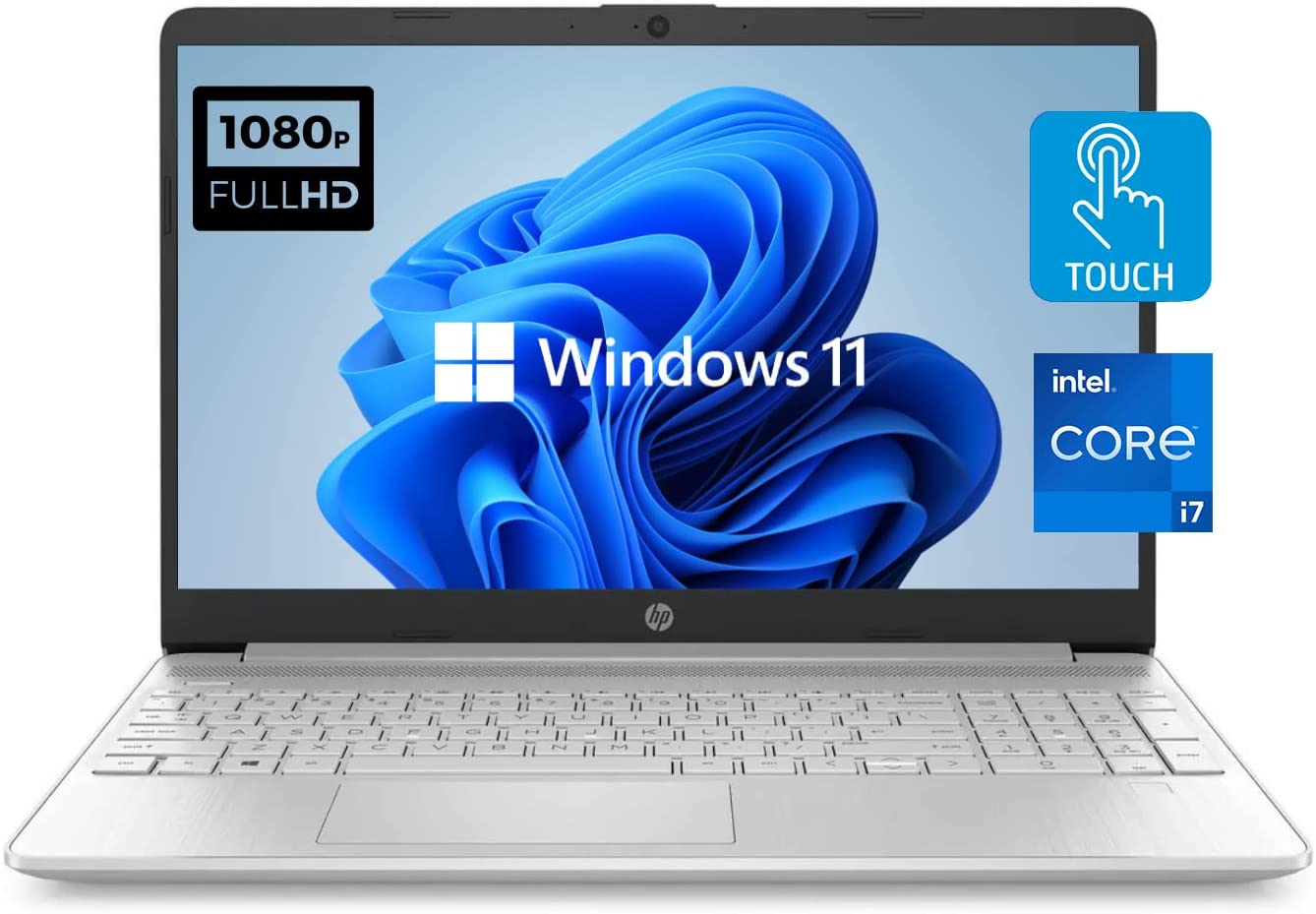 This premium HP laptop comes with a 15.6-inch display screen that is touch-enabled and produces sharp images. The silver metallic design makes an instant impression and should greatly appeal to those who like investing in gadgets that also look good. The laptop comes with many features that interior designers would find greatly useful. For instance, many interior designers like to have a backlit keyboard, and this device comes with one.
The device is powered by an 11th Gen Intel Core i7-1165G7 quad-core processor that offers a speed of 2.8GHz and ensures you never face any lagging issues even while carrying out multiple tasks or functions. It runs on Windows 11 Home and enables you to carry out all kinds of operations smoothly. There is no dearth of connectivity options on the device. Apart from 2 USB-A ports, you get a Type-C port, a headphone jack, a microSD card reader, Bluetooth, and Wi-Fi.
A great option for interior designers looking for a 15.6-inch laptop with premium features.

It is also recommended for those who wish to invest in a versatile laptop with great functionality.
Backlit keyboard

Premium features

HD touch-enabled screen

Strong connectivity support
No optical drive

Quite expensive
15.6-inch High-Definition Screen Laptop
Acer Aspire 5 Budget-Friendly Laptop
Check Price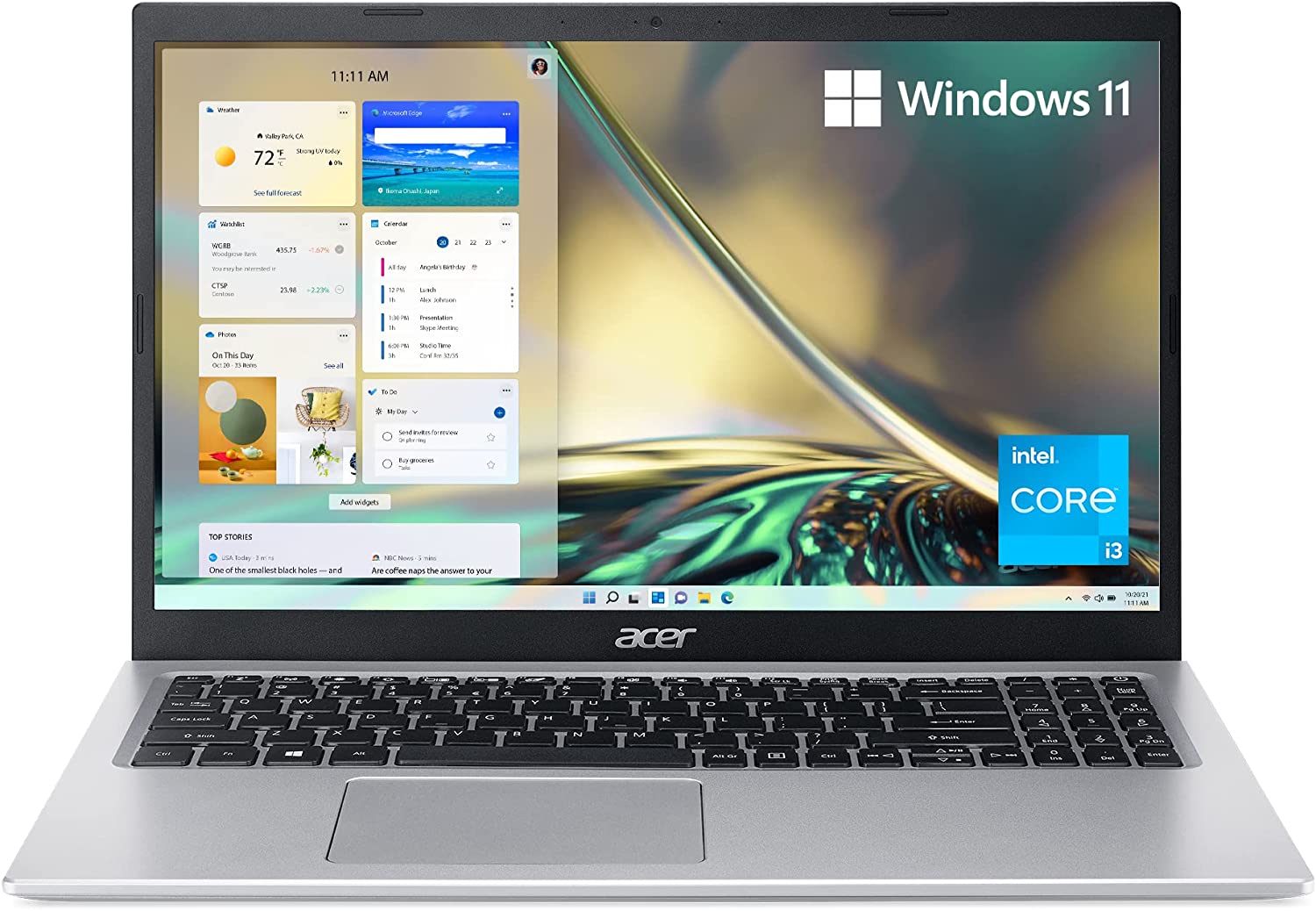 Interior designers use high-end or heavy software that an average processor cannot lend adequate support to. The Acer Aspire is equipped with an 11th generation Intel Core i3-1115G4 that boasts Turbo Boost Technology and offers high speeds. Apart from interior designers, this also proves to be a good budget-friendly option for gamers. The 15.6-inch display screen produces high-definition images.
At 4.19 pounds, the device is slightly heavy. This laptop offers many connectivity options, but it does not feature an optical drive. If you are used to using a fingerprint reader to unlock your devices, you might be disappointed by the absence of this particular feature on this laptop. The ergonomically designed keyboard is a delight to work on. It offers Alexa support, and you can get a lot of things done simply by giving voice commands.
A very good option for interior designers who are on a budget and wish to procure a laptop with a 15.6-inch wide display screen.

It is also recommended for those looking for a highly durable laptop that offers good performance.
Affordable

720p webcam

Super-fast processor

Durable build quality
Slightly heavy

No fingerprint reader
Moderately Priced Laptop with Strong Battery Life
Asus L210 Intel Celeron N4020 Processor Laptop
Check Price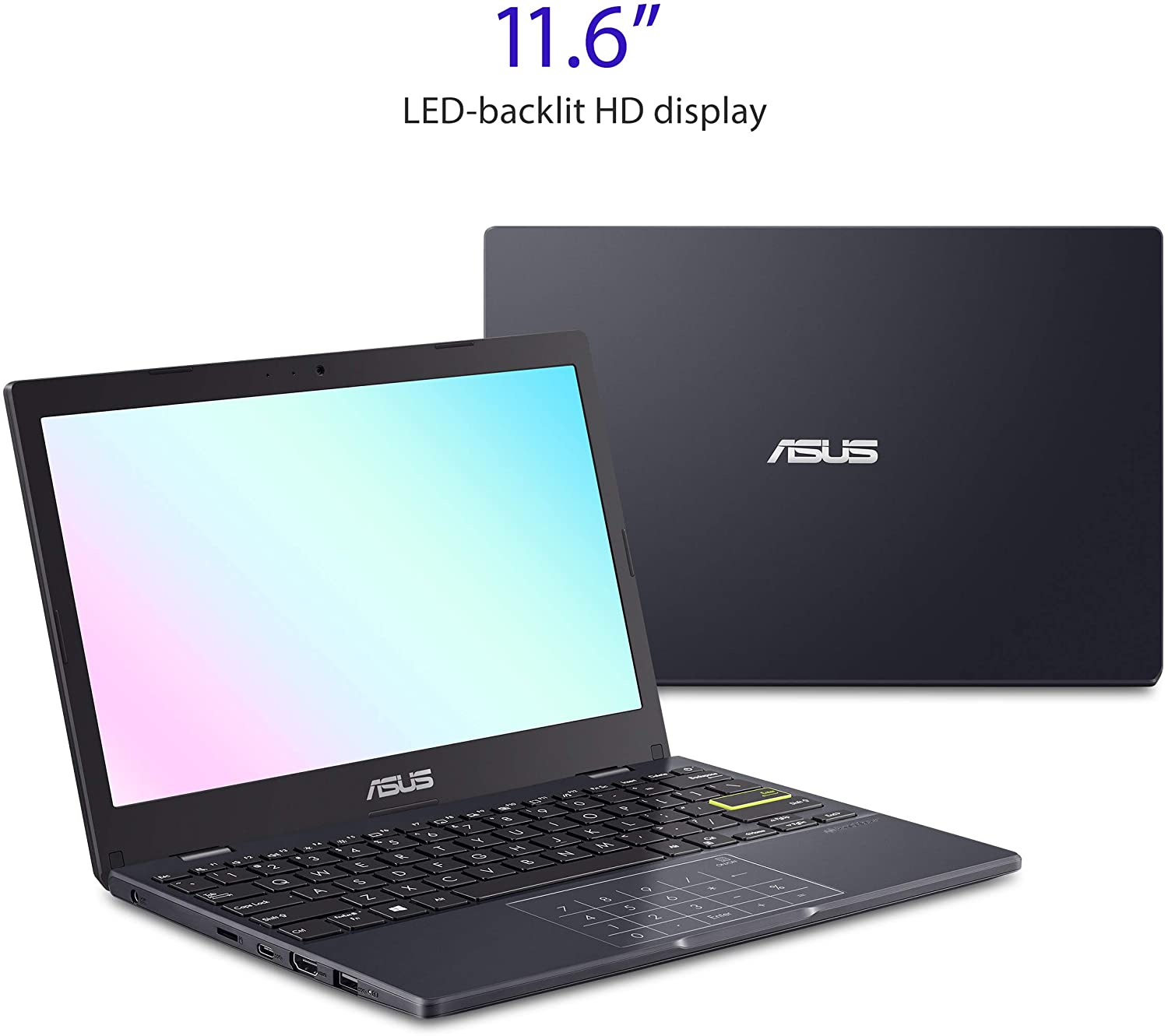 One of the first things that strikes you about the Asus L210 is its pricing. Looking at its pricing, some people might believe that it does not offer too many useful features, but that's far from the truth. The device features an 11.6-inch display screen that does a very good job of reproducing images. Interior designers can use this screen very well to work on and review projects. Because of its portable size, you can conveniently carry it from one place to another.
The device comes with two storage variants. One comes with a 64GB hard disk, while the other variant features a 128GB hard drive. Since interior designers work on big-sized files and store a lot of data on their devices, they might want to opt for the latter. Many features, including the 180-degree lay-flat hinge, make it a very convenient device. On a single full charge, the battery offers a runtime of 10 hours.
A very suitable option for interior designers looking for a highly affordable laptop with good features.

It is also recommended for individuals who travel extensively and need a compact and durable laptop.
Budget-friendly

Sharp display screen

Good battery support

Available in two storage variants
Lacks premium features

The processor needs to be upgraded
A Well-Packaged Laptop for Interior Designers
Lenovo Ideapad 3i 14-inch High-Definition Screen Laptop
Check Price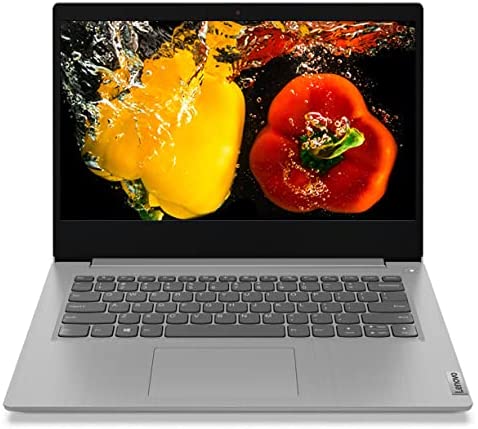 Powered by the Intel Core i5-10210U processor, the Lenovo Ideapad 3i assures you of super-fast performance and extreme efficiency. The 14-inch screen offers a 120Hz refresh rate and produces a resolution of 1920x1080 pixels. The screen works equally well for interior designers and gamers. The device comes in multiple variants. If you go for the high-end option, you will get 20GB RAM and a 512GB hard disk.
If you engage in video conferences regularly, you will hugely benefit from the 720p webcams this device comes with. You get a wide range of connectivity options on the device, including a USB 3.1 Type-A port, an HDMI connection, a USB-C port, a headphone jack, and an Ethernet port. You will find the most connectivity options on the left-hand side of the laptop. This device is known to support every possible software that creative professionals use.
Why You Should Buy This?
It comes with all the features that an interior designer would look for in a medium-budget laptop.

It also proves to be a good option for those planning to invest in a well-performing laptop with high speed and great storage space.
Pros
Good functionality

Adequate storage support

High-definition display screen

Multiple connectivity options
Cons
Average audio output

Graphics could be improved
Moderately Priced Laptop with Useful Features
Asus 15.6-inch High-Definition Screen Laptop
Check Price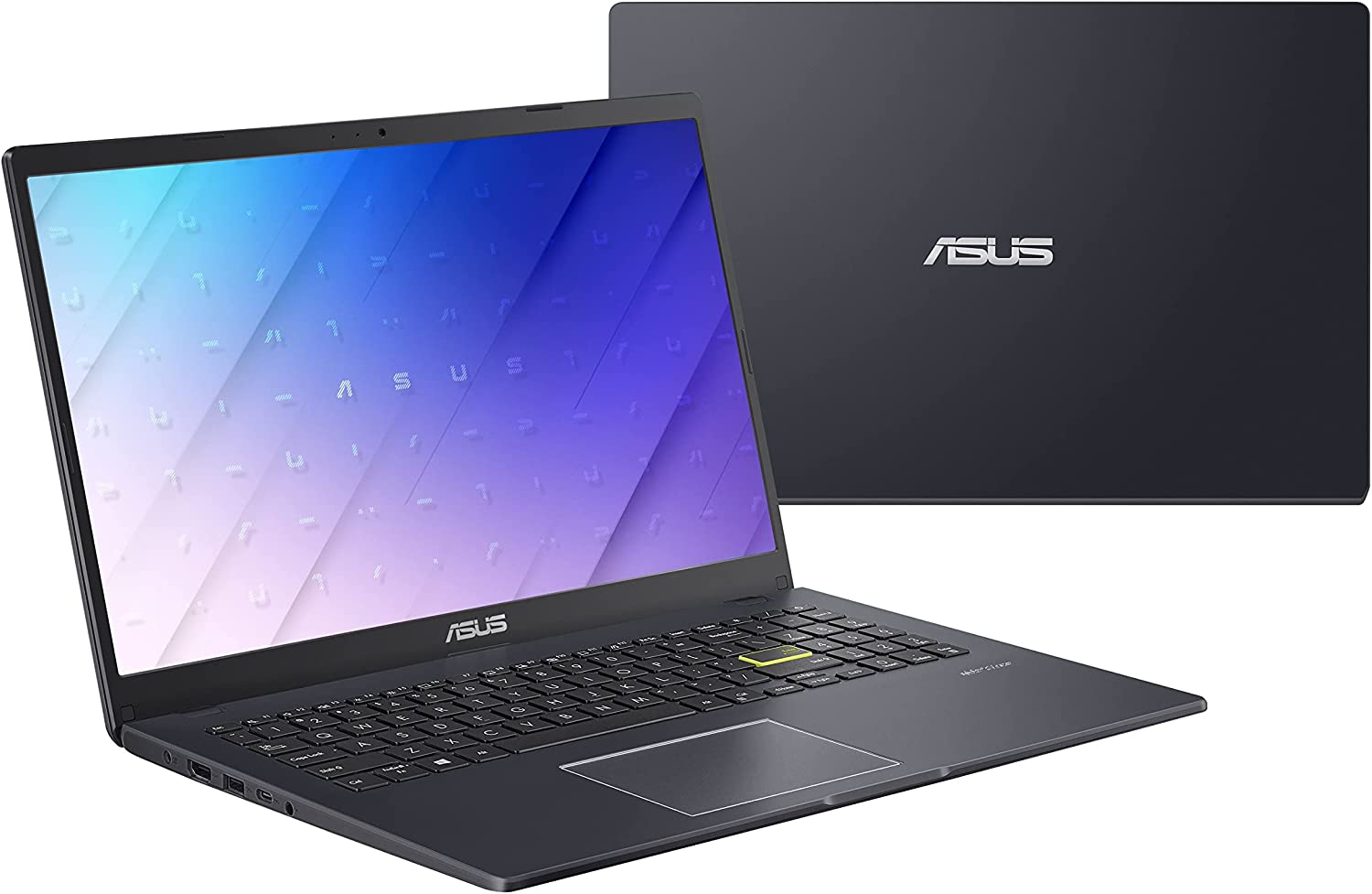 This Asus laptop has a 15.6-inch nano-edge display screen armed with anti-glare technology. Though the screen is not touch-enabled, it produces high-resolution images and proves to be very useful for interior designers. Though a little old, the Intel Celeron N4020 processor is highly efficient and enables multi-tasking. One of the factors that have contributed greatly to the popularity of this device is its affordability.
Being a budget laptop, there are certain things you will have to make peace with. When optimally charged, the battery offers a limited runtime of 8 hours. The structure of the laptop is simple, but the black-colored design leaves an impression. Barring an optical drive, the device offers you all the connectivity options that you could need while carrying out a professional assignment. The 128GB hard disk offers enough space to store many media files.
Ideal for interior designers who are just starting in this field and are looking for a budget-friendly laptop that offers reliable performance.

It is also suitable for those planning to invest in a laptop with a 15.6-inch HD screen.
Moderate pricing

Durable structure

Efficient performance

Anti-glare display screen
Moderate battery life

The screen is not touch-enabled
2-in-1 Convertible Device with Solid Processing Unit
Samsung Galaxy Touch-Enabled Screen Chromebook 2
Check Price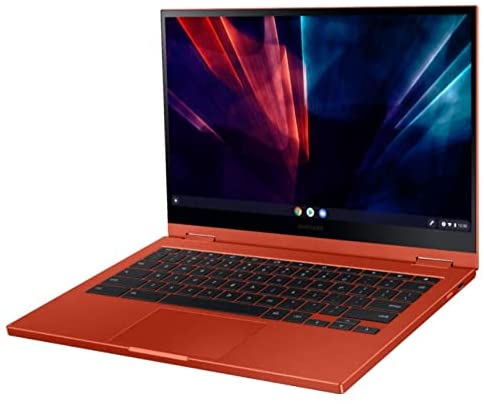 While the colorful design of the Samsung Galaxy Chromebook 2 might be one of its highest selling points, it comes with several premium features that make it a good device to be owned and used by an interior designer. The structure of the device is made of plastic, and it is available in two color options, Fiesta Red and Mercury Gray. The display screen is 13.3-inches wide and is touch-enabled. The hard disk on this device offers a storage space of 128GB.
The Intel Celeron 5205U processor is responsible for the laptop delivering super-fast performance. The processor ensures that you face no lagging issues while multi-tasking or using high-end software. The connectivity options on this device are highly advanced and should appeal to interior designers who like connecting to multiple peripherals while working. It also features a DVD drive, so you can conveniently access some of your older work stored on discs.
Why You Should Buy This?
A good option for interior designers who need a device that can function as a laptop or a tablet.

It is also suitable for those who have been looking for a laptop that can perform a variety of functions at a good speed.
Pros
Vibrant design

Reliable processor

Features an optical drive

Touch-enabled HD screen
Cons
Build quality can be improved

Slightly expensive
Delivering Stunning Value for Interior Designers
Acer Predator Helios 300
Check Price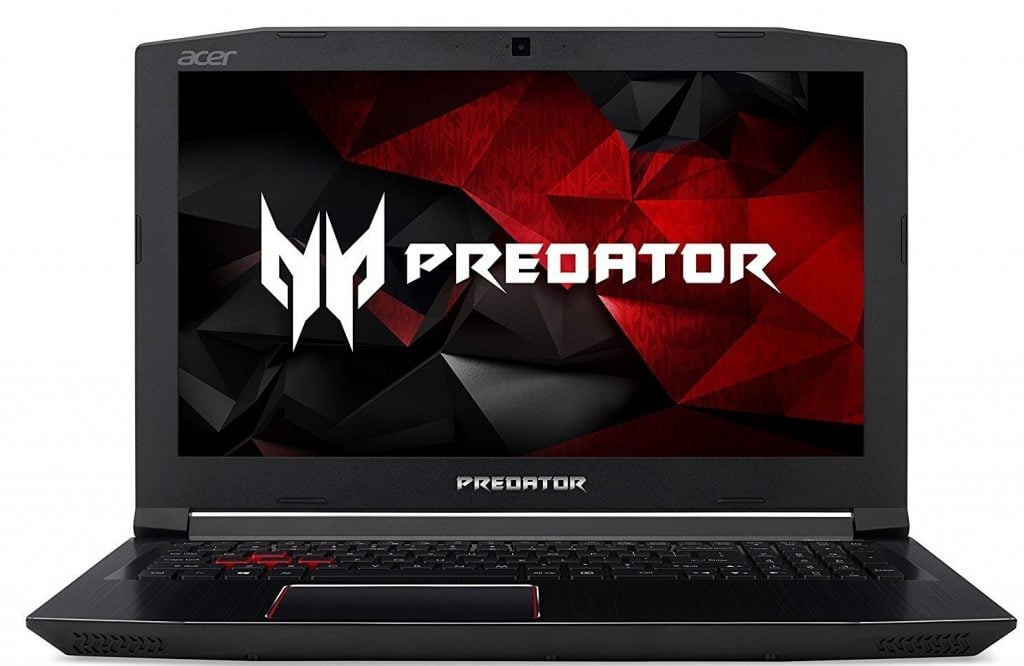 The screen has a full HD of 15.6 inches, with LED-backlit IPS technology offering a 1920 x 1080 pixel resolution. It is powered by the Core i7-7700HQ, clocking at a speed of 2.8 GHz, which can be increased to a maximum of 3.8 GHz. It has a RAM of 16 GB DDR4/2400. This is combined with the NVIDIA GeForce GTX 1060 6 GB graphics card with 6 GB dedicated GDDR5 VRAM, and the storage is 512 GB SSD.
As for ports, there are 2 USB 2.0 ports; 2 USB 3.0 ports; 1 HDMI; one SD card reader; 1 Ethernet; 1 headphone/microphone jack. The notebook's dimensions are 15.3 x 10.5 x 1.1 inches, and the weight is 6 pounds. It is supported by Windows 10 Home OS.
In short, it checks all the boxes for an affordable laptop suitable for both work and play. It's relatively compact and portable. The display is crisp and clear with wide viewing angles. The hardware is robust, the keyboard is comfortable, and it is a portable package at a reasonable and competitive price.
Who is it for?
Suitable for interior designers who just want a no-nonsense workbook, offering a lot of bang for their buck without unnecessary bells and whistles.
It is also suitable for gamers with solid graphics abilities.
Suitable for Interior Designers and Entertainment
Lenovo Flex 5
Check Price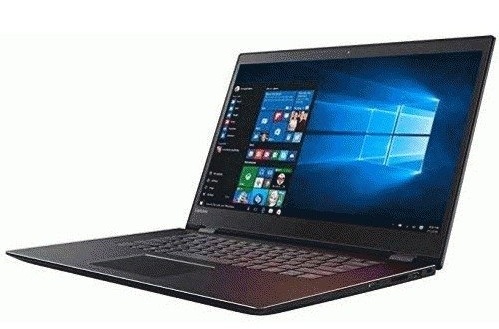 It is a 15.6-inch Full HD Touchscreen with a resolution of 1920×1080 pixels. The display is enabled with an Active Stylus pen. It is powered by the Intel Core i7-8550U and clocks at a speed of 2.7 GHz. The RAM is 16 GB DDR4 SDRAM, 2400 MHz. It is combined with the 2 GB NVIDIA GeForce 940MX graphics card and comes with storage of 512 GB SSD. It is supported by Windows 10 Home, 64-bit OS.
The dimensions are 21 x 12.6 x 3.1 inches, and the weight is 6.6 pounds. As for connectivity, it has 2 USB 3.0 ports; one USB Type C 3.0 generation 1 port; one SD card reader, one HDMI port; one combo jack for headphones and microphone. However, the Ethernet adapter is necessary. Interior designers will find the backlit keyboard responsive and comfortable for typing in long stretches combined with a smooth and responsive touchpad. The battery life averages about 8 hours.
Who is it for?
Interior designers who want to use a single notebook for work
Suitable for those who want to give presentations; watch videos and movies, and even play low-level games
Useful for those making presentations with a 360-degree hinge and a large screen.
Suitable for editing photos and videos but not meant for gaming.
It is ideal for those who want a viable alternative to a conventional, mainstream notebook, as it has a larger screen.
Stereo speakers also make it suitable for listening to music and for movies.
Other laptops worth buying
One Of The Best Laptops For Interior Designers With Excellent Battery Backup
Microsoft Surface Pro
Check Price
Here comes the beast. I agree it is a bit pricey but equally admirable. It will give you a polished computing experience. There are various hierarchies in Microsoft Surface Pro in terms of price, but this product is best suited for interior designers.
Microsoft features a 7th generation Intel Core i7 Processor buckled with 16GB of RAM and 1TB of storage. The clock speed of the laptop is tremendously high at 4GHz. The unique selling point used by Microsoft in this product is its battery backup. Microsoft says it can stay on for many hours without any power backup.
Who is it for?
Interior designers need a loaded machine that can perform a variety of functions.
Ideal for those looking for the perfect Windows hybrid system.
The excellent keyboard makes it a highly suitable laptop for people who type extensively.
It should work for people who are highly particular about the look and design of their laptops.
Frequently Asked Questions
Should the laptop for interior designers be 3D-ready?
Including 3D viewing of images like 360° is helpful for interior designers on laptops. In practice, this will not be easy to see since you will need special software and 3D viewing spectacles. It may still not be real 3D. You have to look for other options.
How critical is security for laptops for interior designers?
Security is essential for any connected device, laptop, PC, mobile, or tablet. In the case of laptops for interior designers, it becomes more critical. The reason for this is that their work involves a lot of confidentiality. They would not want anyone to access their unique interior design ideas since their business depends on delivering unique designs. So, insist on top-flight security for your laptop. You have a facial ID to allow access to a laptop or fingerprint sensor.
Are laptops for interior designers good for playing videos?
All laptops can play videos. Some of the latest ones come with the capability to play 4K videos. Unfortunately, there are not sufficient videos recorded in 4K. Laptops for interior designers can run videos in most cases. Interior designers may have some additional requirements, which the present technology provides.
Do you need a powerful laptop to play games on it?
Video games come in different genres, and the graphics in them vary. The higher the graphics, the more power they will consume from the laptop's engines, processor, and GPU. It becomes challenging to recommend all laptops for playing games across the board. You have to check the requirements.
Can the battery be easily replaced on all laptops?
Laptop designs have changed over the years. The current generation of laptops comes with non-removable batteries. You have to open the rear panel to remove the battery from the slot and replace it. This is not a very difficult thing to do. There are still laptops in the market which have an easy snap-out battery.
Hardware and Software
Here, the computer users are divided into two categories: Windows users, and the second ones are those who use Mac. We have listed some of the minimum hardware requirements mandatory for the work.
Windows:
It should have a multi-core processor. (i7-6300HQ/i7-6500U/i7-5500U/i7-6567U/i5-6200U)
It should have at least 10GB of space and be free on the hard disc drive.
The computer should have at least 8GB of RAM. (DDR3/DDR4)
They should have at least Windows 7, 8, or 10.
It should come with a graphics card or a dedicated one with at least 512MB.
It should have a full HD display (1920x1080p)
Mac OS:
It needs to have a multi-core processor. (i7-6300HQ/i7-6500U/i7-5500U/i7-6567U/i5-6200U)
It should have at least 8GB of RAM. (DDR3/DDR4)
It needs at least 10 GB of free space on the hard disc drive.
It should have the operating system version of at least Mac OS X10.10.
It should also have a full HD display (1920x1080p).
Conclusion
Interior designers must heed the following aspects when selecting laptops for their professional tasks. For instance, the laptop must be powered by a multi-core processor, such as the i7 6300HQ or the i7 5500U. There should also be enough free space on the hard disc, with a minimum of 10 GB. The RAM requirements are a minimum of 8 GB RAM DDR3 or DDR4. The laptop must run on Windows 7 at a minimum.
For Mac OS devices, it should run on Mac OS 10.10. As for the graphics card, it is preferable to have a dedicated graphics card with at least 512 MB. The screen display should have a minimum resolution of 1920 x 1080 pixels.
An interior designer can check out all these options in the above list of laptops, all of which offer a powerful performance suitable for running different design apps.