Featured in this article (opens in new tab)
Gaming laptops are definitely cost more compared to other laptops as they are made to deliver excellence, and lag-free performance to enjoy all kind of heavy games. And this requires a powerful processor, graphics card, and high-end specifications. The most expensive gaming laptop can go up to $3500-$4000.
Being able to play on the go is fun and gaming laptops are a boon for students or professionals who live in confined spaces. There's some good news for all you gaming aficionados!
The list of best gaming laptops under $1000 should finally put an end to your search and there is no need to spend two or three grand on a high-end machine. Most gamers are happy with simple multiplayer titles like Overwatch and even the newest titles like Battlefield V or Black Ops III would still run at moderate graphics.
Many great options are available and interested gamers can easily acquire the best gaming laptops under $1000. Several companies including ASUS, HP, Dell have come out with their gaming laptops that are specifically designed for gaming purposes. So, if you are looking for that, read the article that contains a list of the best gaming laptops under $1000.
See Also: Top best 15 inch laptops
Buying Guide
Buying the best gaming laptop is a dream for millions of gamers because it is a hobby, entertainment and something that people connect with closely. Besides, a laptop allows you to play irrespective of your location – be it a dorm, airport or home.
Look for the right graphics card – When investing a grand into a device, the graphics card is the most important component to consider. Don't cheap out on the card because a processor or hard disk cannot handle your gaming needs. Nvidia GFX is the most commonly found component on any device while AMD cards are evolving into mainstream
Display resolution and refresh rate – Smartphone manufacturers are new to the concept of 120Hz refresh rate on their smartphones but it has been around for years in the PC master race community. Anything above 60FPS will help your gaming hobby if you are into competitive multiplayer games like Counter Strike or Overwatch
Battery life is not your concern – Gaming laptops were never meant to be productive beasts because they consume battery fast. If you can get 3 hours out of your laptop, you are possibly among the very few who enjoy such amazing numbers. Consider keeping it plugged in during your entire gaming session
Better heat management – Gaming laptops will generate lots of heat and a large laptop is the way to go. If there are lots of heat vents on the side, you can be assured that your laptop will work for longer periods and should possibly last years. Use it on a surface that would remove heat and not accumulate it
Gamer-Friendly Brands – Asus TUF series of laptops are the best gaming laptops to buy because it is a gamer-centric company with a focus on RGB lights and great performance. Similarly, Gigabyte, MSI make great gaming laptops if you are very keen on the aesthetics of the product combined with better performance
Best Gaming Laptops Under $1000
Cheap and Robust Gaming Laptop
HP Omen 15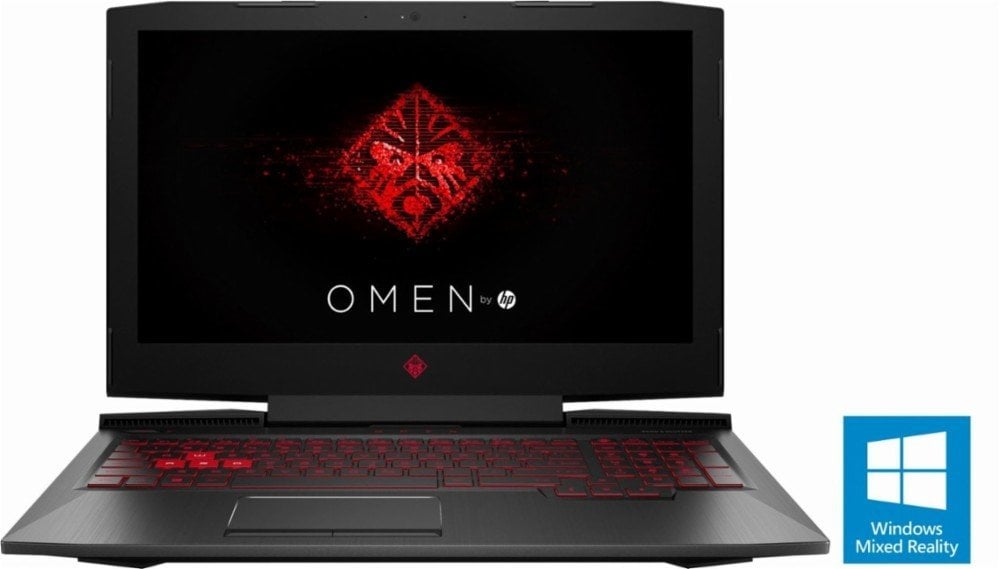 The HP Omen 15 will impress most gamers with its sturdy build quality, catchy top finish and when you fire it up to start gaming, the performance will blow your mind considering its price point.
The gaming laptop is powered by a 2.8GHz Intel i7 processor with 8GB of RAM and 1 TB of HDD. Surprisingly, unlike most other laptops that use an Nvidia graphics card, HP has gone with an AMD Radeon RX 550 GPU with 2GB of VRAM. The card is adequate for the 15.6-inch display running at 1080p resolution if you are willing to bring down the visual fidelity a bit.
A surprising addition is this cheap budget gaming laptop also supports Windows Mixed Reality and other less demanding VR handsets. It provides a completely new experience for the average gamer.
What makes it the best?
Sleek and attractive design mounted on a sturdy base that should withstand any usage condition
Reliable gaming performance on most titles and there is no heating issues
Best Gaming Laptop under $1000 with Large Screen
Asus 17.3-inch Gaming Laptop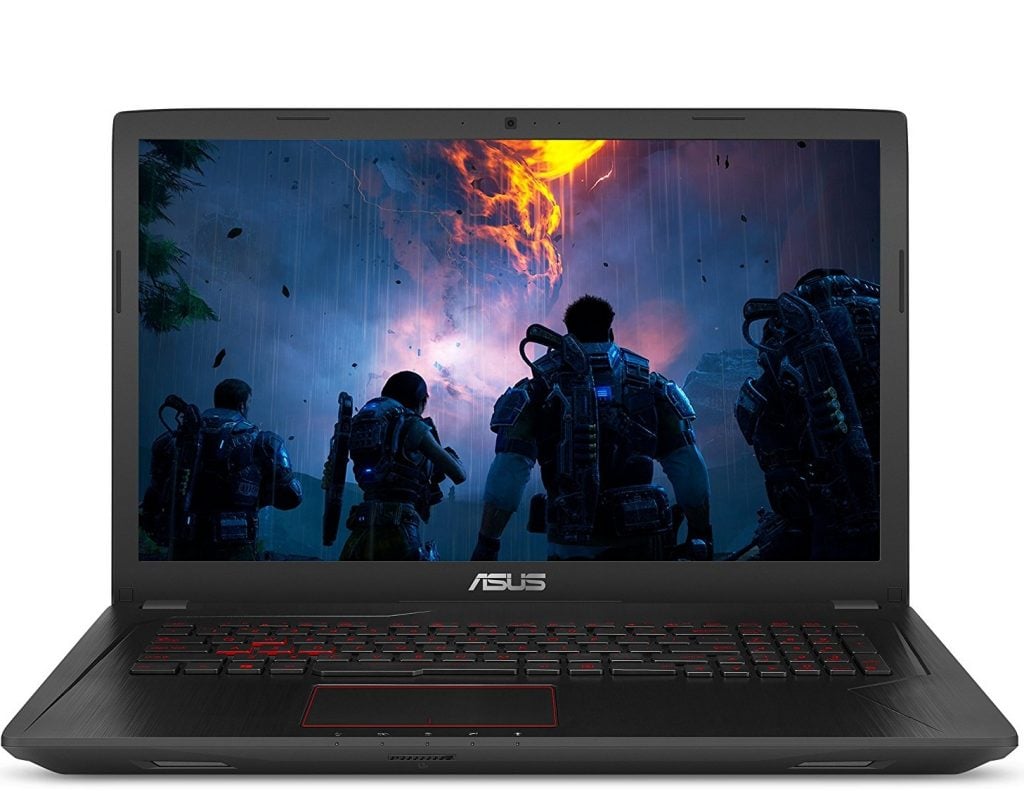 Asus has steadily progressed into the gaming laptop market with their ROG range of products. The newly launched variant sports some of the best hardware specifications including a 7th generation Intel i7 processor clocked at 2.8 GHz with 8GB of RAM and 1 TB of hard disk space.
The selling point, however, is the amazingly large 17.3-inch full HD display which you rarely come across in this segment. Powered by an energy-efficient Nvidia GTX 1050 Ti graphics card, this should be your choice if you are keen on enjoying gaming on a big screen.
The laptop also has a red-backlit gaming keyboard, a slew of port choices and you can easily pick one for a discounted price tag.
What makes it the best?
The large display is sure to offer a more immersive gaming experience
Most reviews suggest that this laptop is very responsive and has a reliable cooling setup
Power Packed Nvidia's 1060 in a Robust Shell
Acer Predator Helios 300 Gaming Laptop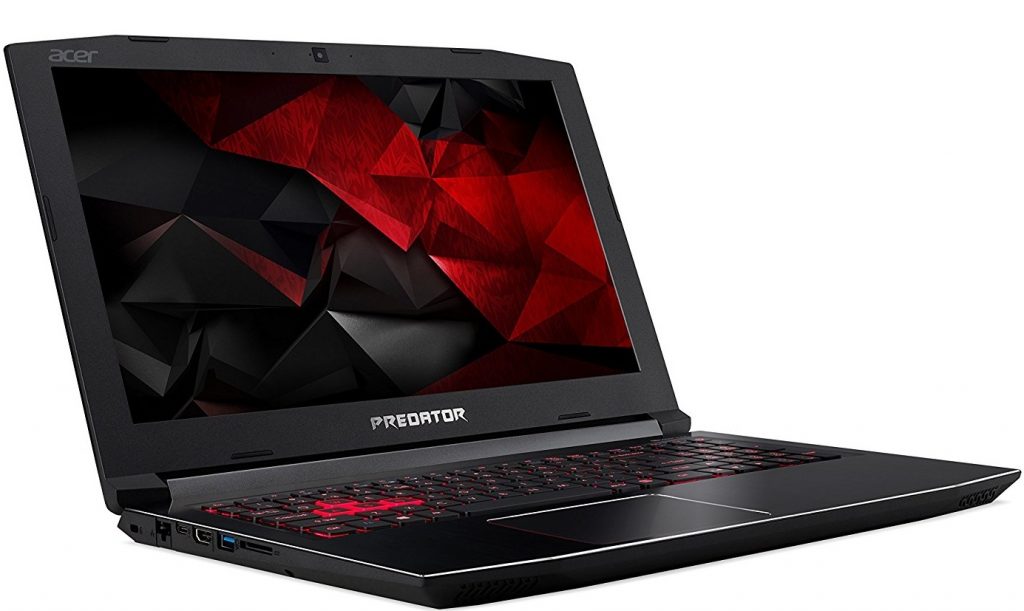 The Acer Predator won accolades for its laptop lineup and the Acer Predator Helios 300 gaming laptop is a budget-friendly beast capable of delivering an amazing gaming experience. While most budget laptops stick to a Nvidia 1050 Ti graphics card, this one is powered by Nvidia's 1060 card with 6GB of GDDR5 VRAM and is VR ready.
The VR experience might be limited due to hardware constraints but it's a great way to dip your feet into the exciting world of immersive gaming. The Predator Helios 300 is powered by a 7th gen Intel i7 processor coupled with 16GB of RAM and 256GB SSD storage space. The laptop has a decent 15.6-inch 1080p display and also uses the backlit keyboard to let you enjoy gaming in the dark.
While the Acer laptop has a slight bulk to it, it facilitates better cooling and the hundreds of positive reviews confirm that it is the best you could get at this price point albeit slightly more than the proposed budget.
What makes it the best?
The more powerful 1060 graphics card makes it VR ready and handle new titles with higher graphics settings
One of the more popular products out there that offer long-lasting performance
Best Gaming Laptop with Seamless Gaming Experience
MSI GL62M Thin and Light Gaming Laptop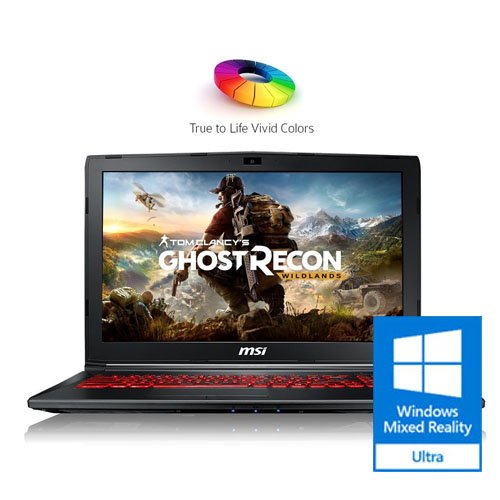 The MSI GL62M is designed to offer maximum convenience. While the majority of gaming laptops are made to be portable, not all of them are. Many are heavy to facilitate better cooling and to integrate more powerful hardware components.
MSI has balanced it efficiently by using the best components while keeping the laptop thin and light. The MSI GL62Msports a 15.6-inch display and is powered by an Intel Core i7 processor clocked at 2.8GHz coupled with 8GB of RAM and 128GB SSD. The laptop also has a 1TB HDD making it easier to store your games.
Besides the lightweight chassis which makes this a cool option for gamers who travel a lot, it also offers an adequate display and good sound setup. The 1050Ti 4GB graphics card is entry-level but it can easily handle all popular multiplayer titles and AAA games at moderate settings.
What makes it the best?
The sleekest and lightweight best gaming laptop under $1000 that you could go for
It's got a great keyboard that works well even out of gaming
Cheapest High-Performance Laptop under $1000
Acer Nitro 5 Gaming Laptop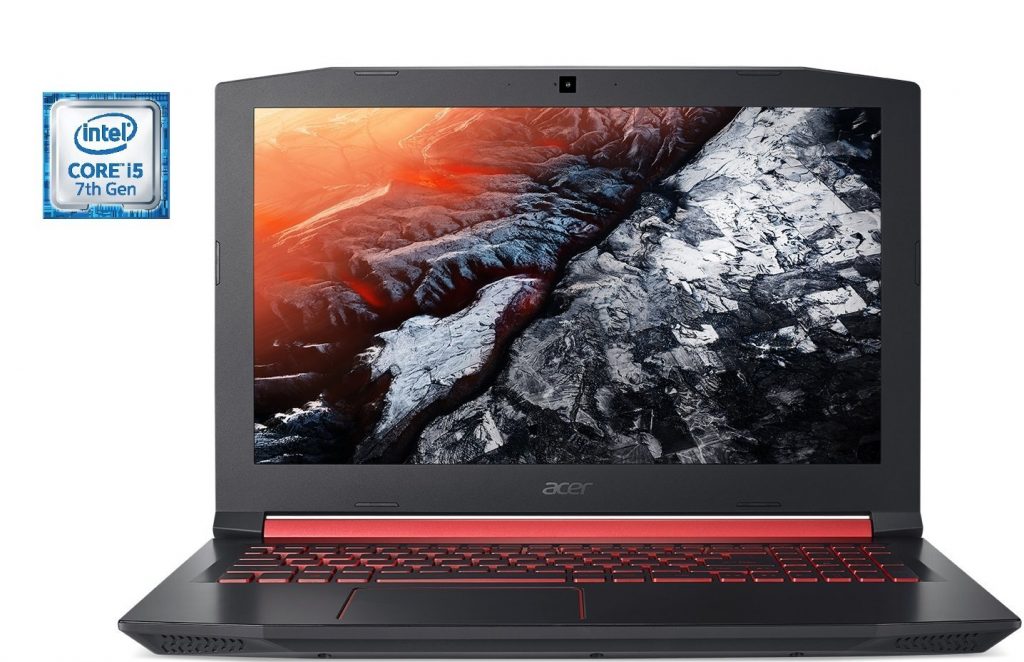 The launch price of the Acer Nitro 5 gaming laptop was very good as it was within the budget range. With a host of new models entering the market, it's no wonder the sellers offer some great discounts and you can get this right now without thinking twice.
Everything about this Acer laptop is amazing with a decent 15.6-inch 1080p display powered by the latest Nvidia 1050Ti graphics card. The laptop runs on the 7th gen Intel i5 processor with 8GB of RAM and 256GB of SSD.
The Acer Nitro 5 gaming laptop promises about 8.5 hours of battery life which should be sufficient for long gaming sessions. The strong customer reviews and critic comments add credibility to this product which has received a big discount recently.
What makes it the best?
An unbelievably budget laptop which has sufficient power for your gaming needs
Good build quality and battery life
Best Gaming Laptop with a Professional Design
AsusFX53VD 15.6-inch IPS Gaming Laptop (2019 Edition)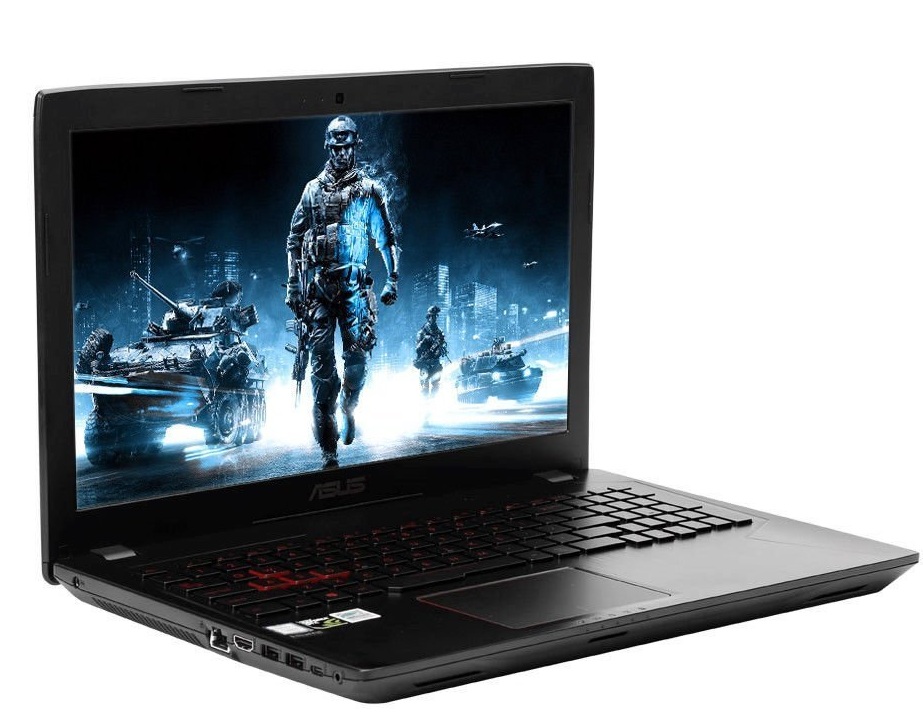 Most gaming laptops go out of the boundaries to make wacky looking designs but the 2019 edition of Asus FX53VD 15.6-inch is very subtle. In fact, most users can actually use the laptop in their office and still find time to play some games during their break hours.
The robust look of the silver outer frame may look boring for some but it packs a powerful Intel i7 processor combined with 16GB of RAM and 256GB SSD. The laptop is powered by Nvidia GTX 1050 and at this pricing, you can hardly complain as it will be able to run all games but you have to tune down the graphics settings to low levels.
What makes it the best?
The pricing is something you can't complain about; Even though this is a budget section, this laptop is quite affordable for most.
The professional design makes it easier to be used in an office environment without any issues
Best Gaming Laptop with Stunning Design and Powerful Hardware
Dell i7577 Inspiron Gaming Laptop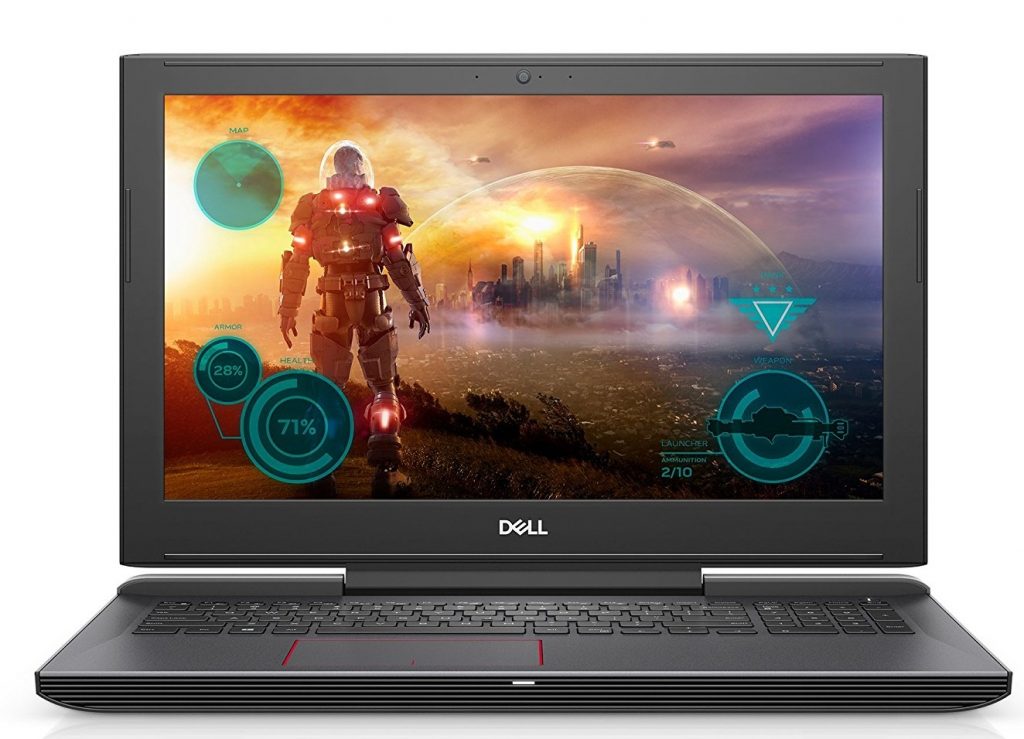 The Dell i7577 is a stunner in terms of design as the red Dell logo on the outside combined with the brushed aluminum finish and sturdy keyboard will impress you immediately. The 15.6-inch display is another great aspect which is designed with anti-glare setup and allows you to view it from any angle.
The best gaming laptops under $1000 do share similar hardware specs but this one is different as Dell has gone with the best possible components without making it expensive. The laptop's price is below $1000 yet it houses a 7th generation Intel i5 processor with 8GB of RAM, 128GB SSD and has 1TB hard disk for storing games.
It is powered by Nvidia GTX 1060 which is much more powerful than the GTX 1050 found in most budget gaming laptops and also happens to be VR ready. Dell doesn't specify its VR capabilities but you should possibly be able to use something less demanding like the mixed reality headsets.
What makes it the best?
Sturdy build quality will impress even the most demanding gamer
Excellent backlit keyboard and smarter airflow design that should allow you to use it for long hours
Best Portable Laptop with Attractive Looks
Lenovo Legion Y520 Gaming Laptop
Gaming laptops are supposed to be portable and provide ultimate gaming experience even on the go. The Lenovo Legion Y520 has a 15.6-inch IPS display with a resolution of 1920×1080 pixels. The laptop runs on 7th gen Intel i5 processor with 8GB RAM and 256GB SSD.
The SSD, just like in other laptops, keeps Windows fast and responsive. The gaming laptop uses Nvidia GeForce GTX 1050 Ti and is a great device for basic gaming. You have to crank down the graphics settings but competitive multiplayer gamers should run fine.
The laptop's best aspects include its ultra-portable design which weighs just 5.5 lbs and the large backlit keyboard which tries to mimic an actual keyboard. It also Harman speakers with Dolby Audio Premium technology to deliver kickass sound during gaming sessions and all reviews or at least most of them don't specify any major flaw in this one.
What makes it the best?
One of the best gaming laptops under $1000 that is very slim, easy to carry and store
The style quotient on this device is phenomenal and you would love showing it off
Best Gaming Laptop with Powerful Graphics Card
HP Pavilion Power Gaming Laptop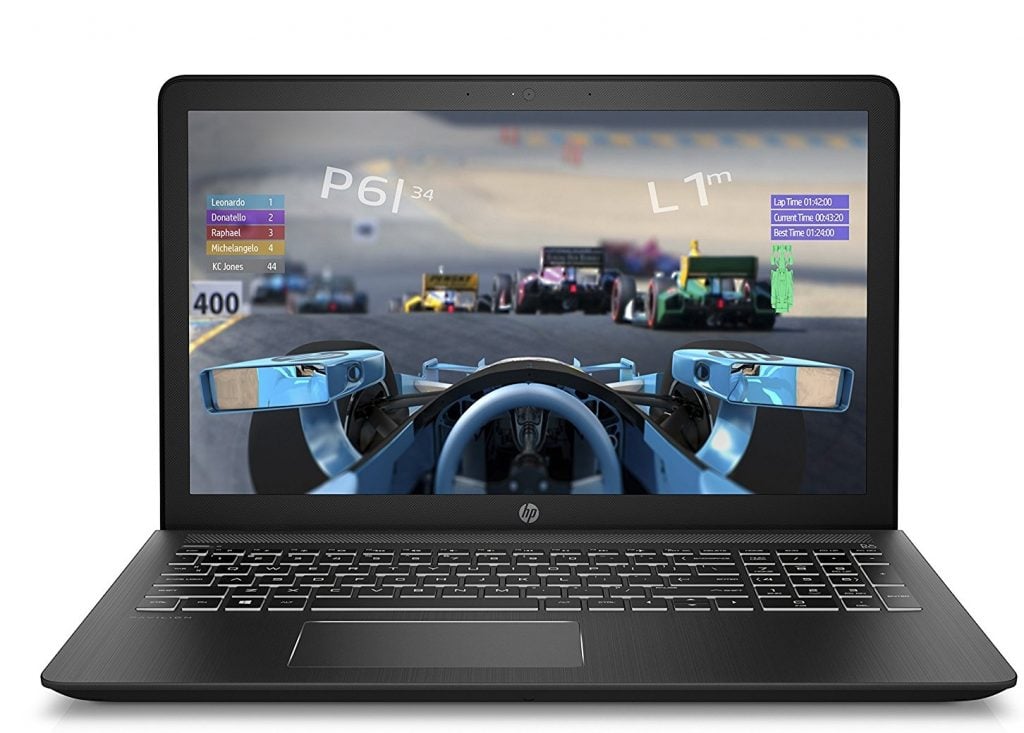 The HP Pavilion Power has a 15-inch full HD display and resembles an office laptop. If you are looking for a subtle solution that you can use for work and gaming on the go, there couldn't be a better option than this one.
The designers have ensured that the professional looks found in all HP laptops are retained for this device. The display area and the palm rest on the keyboard are very comfortable for long-term use. It is powered by 7th gen Intel i7, 8GB of RAM and 1TB of storage space. There's also a 128GB SSD to store your OS and ensure fast boot-up times.
Powered by an Nvidia GTX 1050 2GB DDR5 graphics card, the HP Pavilion Power offers reliable gaming performance and provides more than 8 hours for continuous gaming or video playback. The manufacturer claims it can last up to 11 hours on mixed usage making it an all-purpose laptop which also has a dedicated graphics card.
What makes it the best?
While most gaming laptops have flashy red lights on their keyboard, this one is very subtle and easy to use
The long battery life makes it possible to keep it as your daily driver for work and gaming
Other models worth buying
Best Gaming Laptop With Great Storage
ASUS ROG GL752VW-DH71 Gaming Laptop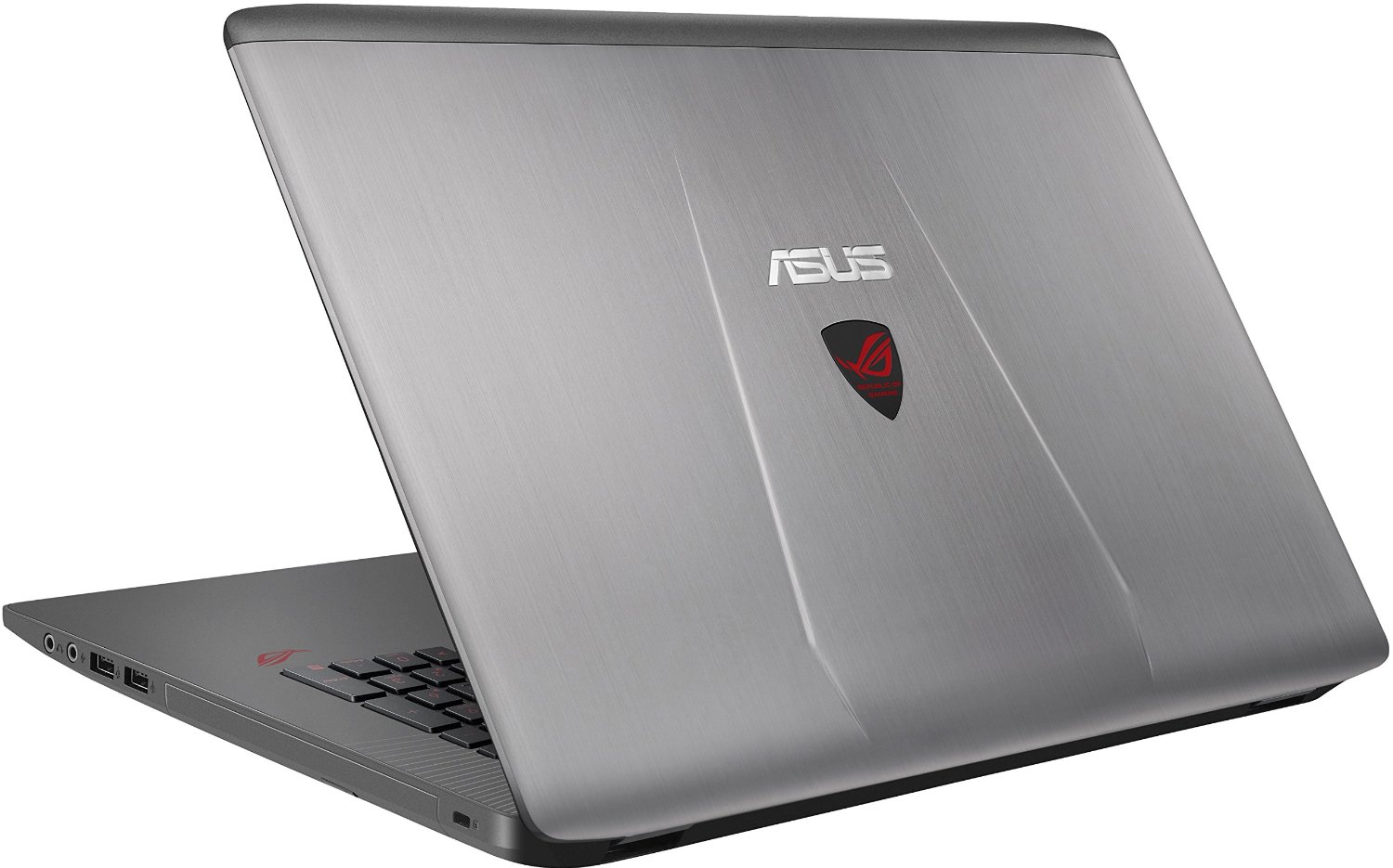 This is one of the gaming laptops from ASUS which is a must to mention. The laptop is packed with a high-end specification to offer users smooth gaming experience. The gaming can be anything from 3D to high definition games. Under the hood, it is powered by Intel Core 6th generation i7-6700HQ 2.6GHz processor along with 16GB RAM and 1TB hard drive with 7200 RPM storage. The 2GB NVIDIA GTX960M graphics card is included for smooth graphics and gaming. With this the big 17.3-inch Full HD matter display lets you enjoy everything very clearly. Overall, this laptop is a perfect choice for all those looking for a budgeted gaming laptop.
What makes it the best?
This laptop is a perfect pick for gaming lovers who are looking for a budget-friendly gadget
It is a durable laptop with a sturdy body and display port
It comes with many different configurations which makes it one of the most popular gaming laptops
Best Gaming Laptop With Latest Graphics Card
HP CUK Pavilion 15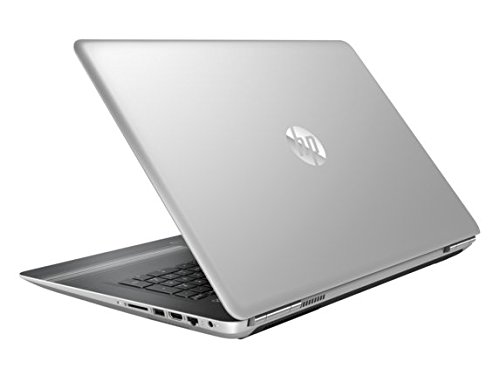 This 15.6-inch laptop from HP is another top choice for gamer which is available under $1000. HP has incorporated the latest graphics card 4GB NVIDIA Geforce GTX 1050 which is reported to be around 64% stronger than the previous model GTX 960m. This ensures all the latest games can be enjoyed hassle-free in this laptop. Other specifications include the Quad-core Intel Core i7-7700HQ processor along with 16GB DDR4 RAM and 1TB 7200rpm Hard Disk Drive. However, if you are looking for attractive design then it is best to mention that this laptop has a very clean look while they are lightweight as well.
What makes it the best?
Its affordable price range, stylish looks, excellent performance and robust case make it a must-have gadget
If you are a fan of GeForce MX150 and AMD Ryzen 5 Options, this can be the best pick for you this season
This is a durable and portable laptop model, ideal to carry anywhere easily
Best Budgeted Gaming Laptop From Dell
Dell Inspiron i7559-763BLK 15.6" Gaming Laptop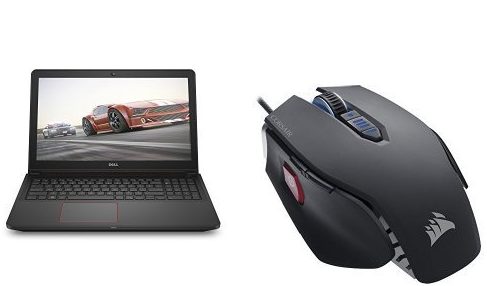 Another gaming laptop to include in the list which is designed incorporating all the powerful features and specification to make it a perfect piece for gaming. Dell has ensured that all the high-end games can be enjoyed hassle-free. Wrapped with Quad-core Intel i5-6300HQ 6th generation processor, 8GB RAM and 256GB SSD this laptop comes packed with a Corsair Gaming M65 FPS Gaming Mouse. So those who are not comfortable using the laptop key do not need to buy any separate mouse. The 4GB NVIDIA GeForce GTX 960m graphics card lets users enjoy every game very smoothly without any lag. So, you can definitely have a look at this one if wishing to buy a gaming laptop under 1000 dollars.
What makes it the best?
This laptop is a good choice for the people who are content-creation hobbyists and like to go gaming once in a while
It is one of the best entry-level gaming laptops so far that offers superb performance and a brilliant screen
If you are a budding gamer or a creative professional, this laptop is worth every penny.
Best Gaming Laptop With Excellent Display
Dell 15.6-Inch Gaming Laptop- i5-6300HQ Processor

This is another gaming laptop from Dell which has a very professional and modest look to impress everyone. The diamond curved edges, sturdy matte black color plastic housing, and red details made the laptop excellent looking. With all these, another feature that makes it really amazing is the 15.6-inch full HD IPSanti-glare and wide-angle screen. The screen is one of the best in the market. The NVIDIA GeForce GTX 960M graphics card ensures each and every game whether it is the latest AAA title game or any other online game can be enjoyed in this laptop perfectly. Overall, those looking for a great performing laptop at a reasonable price, this is one of the choices to go for.
What makes it the best?
This laptop is best for the mid-tier gamers who want more power from their laptop than a normal one
The affordable price range makes it one of the most desirable laptops available
This laptop is perfect for mid-tier gamers and those users who want a little more power from their regular laptops
One Of The Best Gaming Laptops Under $1000 With Touch Screen
Dell Inspiron 7000 15 4K UHD Gaming laptop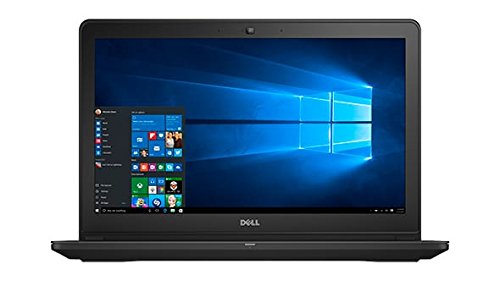 If you are looking for a gaming laptop with a touch screen then this is the choice to go for. The screen is excellent which is a 15.6-inch 4K UHD display with a great resolution of 3840 x 2160. The display along with 4GB NVIDIA GeForce GTX 960M graphics card lets the users enjoy every game perfectly. Dell has incorporated the Intel Core i7-6700HQ processor at 2.6 GHz along with a turbo boost technology of up to 3.50 GHz. Other specifications include 12GB DDR3L, 1TB hard drive, several options for connectivity and the 6-Cell Lithium-Ion. It comes with Windows 10 Home OS.
What makes it the best?
This laptop offers one of the most vibrant and crispiest pictures you will find in any other similar gadgets today
If you are an avid gamer, this laptop can prove to be the perfect deal for you at the best rate
It is a perfect combination of stunning looks and power-packed performance
Best Gaming Laptop With Fast Load And Boot Times
Asus K501UW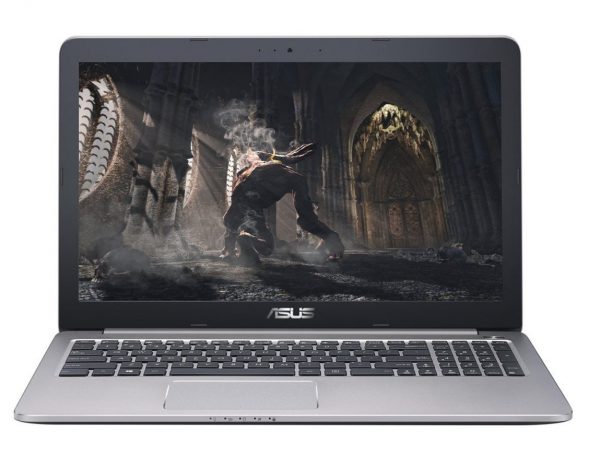 If you are looking for a really powerful gaming laptop that is perfectly solid and comes with a flashy design then Asus K501UX can be considered as one of the best choices. This laptop has all that powerful configuration that makes it stand in the first list of top best gaming laptop under $1000. The 6th generation powerful Intel Core i7-6500U processor, Nvidia Gtx 960m graphics card, 8GB RAM along with 512GB SSD storage let you enjoy all the latest games without any hurdle. The screen is a 15.6-inch full HD matte display of 1920×1080 resolutions. The screen might be a bit weaker than other similar models. Altogether this is no doubt a great gaming laptop from Asus under 1000 dollars.
What makes it the best?
Its affordable pricing and computing power makes it one of the top-rated laptops so far.
This is a portable laptop and offers power-pack performance every time.
Best Gaming Laptop With Excellent Immersive Speakers
Lenovo Y700 – 15.6" gaming laptop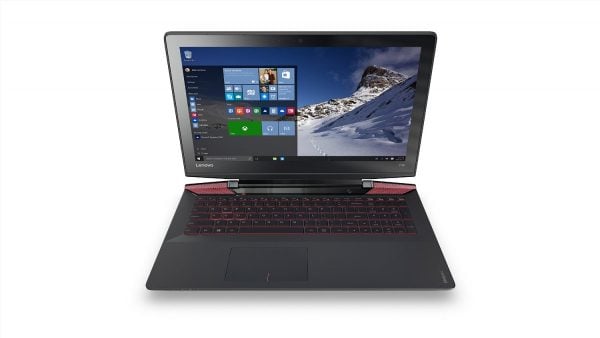 If you are looking for something very specific from the Lenovo brand then Lenovo Y700 is definitely the best option to look for as Y series from this brand is known as excellent for gaming purposes. The Intel Core 6th generation Quad-core i7 processor, 8GB RAM and 1TB 5400 rpm hard drive keep the laptop humming for sure. Also, the NVIDIA GeForce GTX 960M graphics card is attached to the laptop to boost up the gaming performance. With all these, another interesting feature of this Lenovo gaming laptop is that excellent JBL speaker and the Dolby home theater which makes it really stand out in the competition.
What makes it the best?
Its expandable RAM, 2.5 and M.2 inch slots make it one of the best laptops in the market right now.
If you are a fan of JBL speaker and Dolby home theatre, this can be the best choice for you
Invest in this laptop if you are looking for the high-class gaming experience
Best Gaming Laptop With Great Spec And Polished Design
Acer Aspire V15 Nitro- VN7-592G Gaming Laptop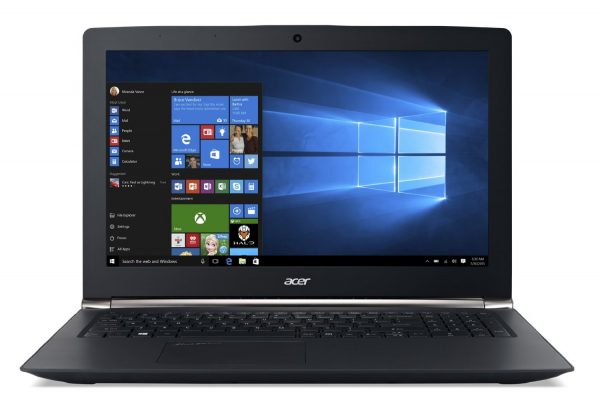 This gaming laptop carries a very polished design along with great internal specifications. The laptop has a very soft plastic case that offers a smooth but firm feeling while the soft-touch technology offers a great pleasure as you rest your palm on the keyboard. The Intel Core i7-6700HQ processor, 8GB DDR4 RAM, 1TB 5400 RPM hard drive, the 4GB NVIDIA GeForce GTX 960M graphics card are the specifications which ensure the laptop is a powerhouse to let you play all kind games without any lag. It has around 6 hours long battery life which runs on Windows 10 home.
What makes it the best?
If you are looking for a thinner and lighter laptop, this can be the best pick for you
This laptop offers a perfect combination of a solid performance at an affordable price range
Its stylish looks, sturdy built fast hardware, and great screen makes it one of the best laptops in the market
See Also: Top best laptops for home use 2019
FAQs
I play games like Assassin's Creed and Call of Duty. Will a $1000 laptop work well for me?
Yes, it will. Considering the newer games in these series are more graphically demanding, you will probably play the games with medium to high settings to receive higher frame rates. Single-player games are usually easier to play at 30 FPS unless you are into competitive gaming
What are the gaming accessories I should purchase?
Make sure to invest in a gaming mouse because the trackpad in a laptop is never meant for proper gaming. It is not intuitive like a controller or precise like a mouse. Gaming mice are available in different sizes and price range that you could choose based on your budget
What happens if my laptop overheats?
Unplug your laptop and let it cool off a bit because Windows will automatically shut down if your device is too hot. If you are using it on a clothed surface or without vents to remove heat, that might be the reason it is running hotter than usual. Change your location and keep gaming.
Are RGB lights essential on my gaming laptop?
The best gaming laptops under $1000 often include RGB lights on the top and definitely on the keyboard. The illumination provides a game-like experience to those who love it and is also useful to the game in the dark if you share your room with a friend or family as it makes it easier to identify the keys.
How do I get the maximum FPS out of my laptop?
Look for a product with the latest and most powerful graphics card but make sure the product is less than $1000 to suit your budget. If you are into competitive gaming, forget graphics and set it to low. This is the only way to go if you are keen on keeping your budget in check while being able to always play above 60 FPS.
The BottomLine
With major players like Dell, Asus, Acer and HP offering the best gaming laptops under $1000, it is easy to pick your choice. Most laptops have similar specifications and use Nvidia's entry-level graphics card. The obvious difference often lies in the display size, compactness and cooling capability based on which you can buy the laptop that ideally suits your daily usage scenario. At this budget, it's easier to have a gaming setup that works on the go while allowing you to do other tasks as well.
So, here is the list of the best gaming laptops under $1000. All the laptops listed here are packed with powerful and high-end features to offer an amazing gaming experience. You can have the one that suits your needs best. Enjoy your favorite game!