Technobezz is supported by its audience. We may get a commission from retail offers
Talk to a bunch of music lovers and you will easily realize that many of them are against using in-earphones.
Sobrili Remote Control Aux Earbuds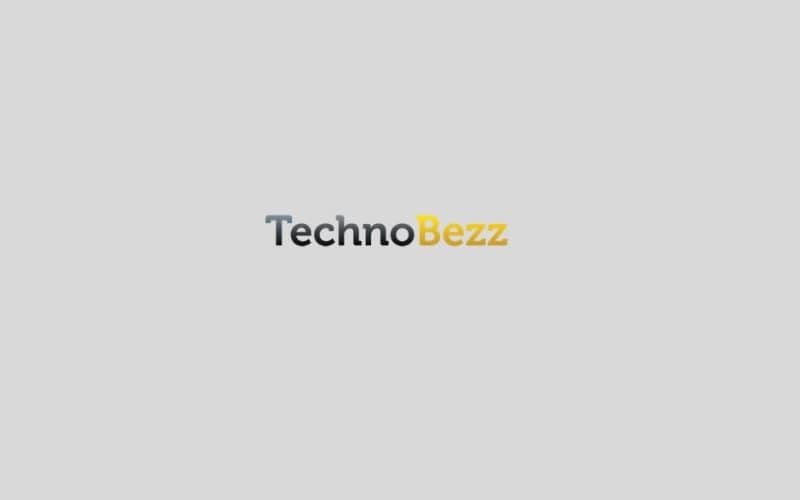 True JBL Wireless earbuds for power-packed bass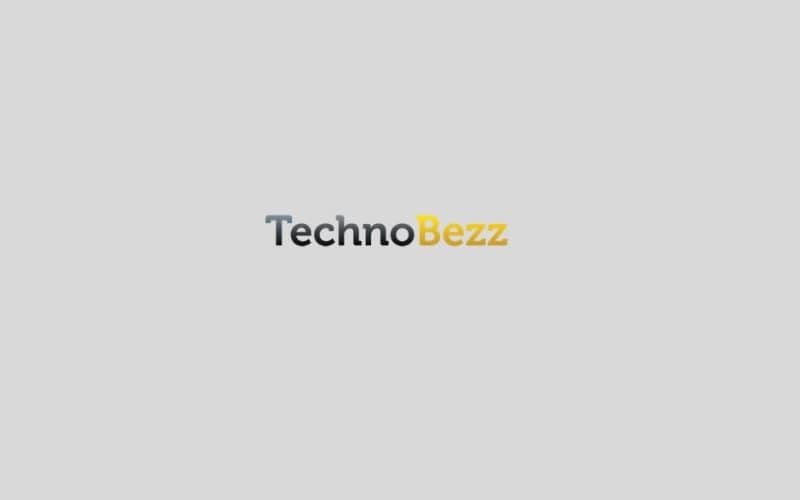 Crystal-clear sounding Sony WF-1000XM4 Bluetooth earbuds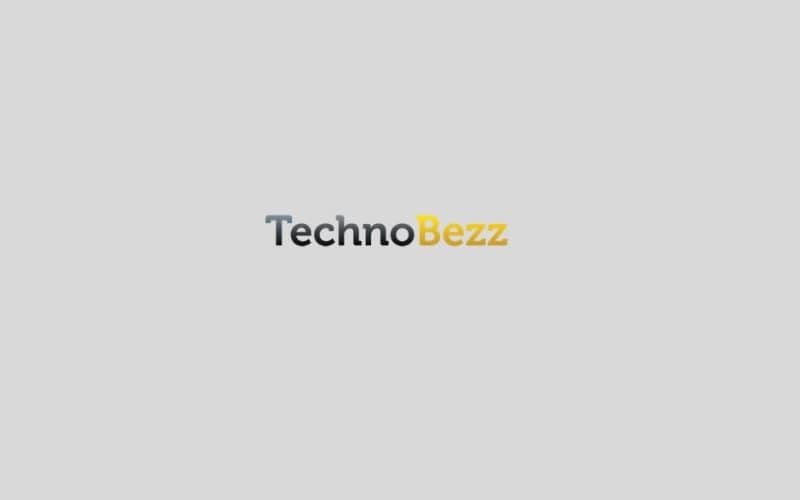 Table of Content
Talk to a bunch of music lovers and you will easily realize that many of them are against using in-earphones. While top manufacturers continue to make over-the-ear, on-ear, and in-ear models, only a few love the latter because of proper fit issues. The best earbuds for small ears are now more readily available than they used to be in the past.
Buying Guide
Manufacturers have started listening to buyers and have come up with unique solutions of their own. Some of them provide at least a dozen different-sized ear tips so that you can find the absolute fit. Other brands have kept the drivers outside in a large enclosure, while the earpiece curves into a small design that ensures an ideal fit. You can also opt for models that bundle Comply memory foam tips, as they expand, based on your ear size, providing the best music quality and complete isolation from external noise.
Do you have smaller ears than the average size and you are looking for the best earbuds for small ears but you are confused about which to pick for you? Well, then you are on the right page. Earbuds became very popular in the last few years and almost every gadget starting from smartphones, laptops, and computers is packed with a pair.
Getting the right size is important. Otherwise, you will face several difficulties like
feeling uncomfortable
pain in the ears
earbuds falling out anytime while you are jogging or doing exercise in the gym.
However, if you have small ears and looking for a pair of earbuds, you will now easily find it as the companies are coming out with various earbuds that are available in diverse sizes and forms. Here is a list of the best earbuds for small ears that will help you narrow down your search when you go out shopping the earphones for small ears.
See also: Best Dustproof And Waterproof Smartphones Rated IP67 or IP68
Best Earbuds For Small Ears
A Well-Designed Aux Headphones with Highly Compatible Features
Sobrili Remote Control Aux Earbuds
Check Price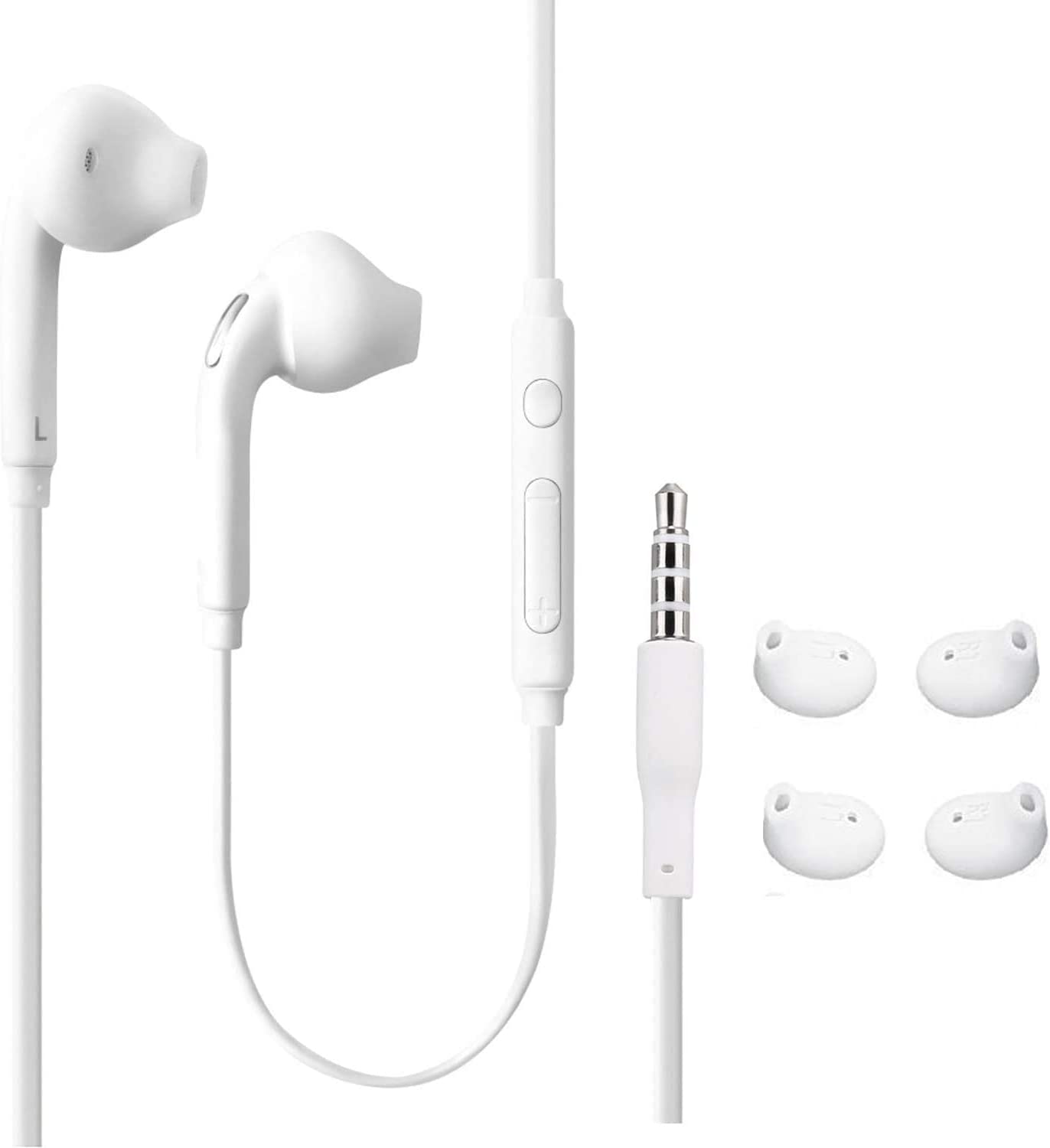 This premium earbud packs several blockbuster features in it. This elegant Aux headphone from Sobrili has amazing noise cancellation properties. While it is extremely lightweight and features an ergonomic design, it is compatible with all models of major mobile brands you can think of including the iPhone and Samsung!
If that's not enough, the cherry on top is its in-built shock-resistant membrane which is the secret behind its external noise cancellation. Some of the other cool features that make this earbud very handy are thoughtful features like hands-free call provision during driving or an automatic control feature for music streaming without the use of the phone.
It is compatible with diverse mobile models from various companies.
For anyone having small ears, these would be the perfect headphones to use because of their small size, lightweight design, and hands-free operation.
Shockproof
12-months of warranty
Attractive design
Sharp noise cancellation
Lightweight design
Not too comfortable
Rare mic issues
Robust Wireless Earbuds for Non-stop Music
True JBL Wireless earbuds for power-packed bass
Check Price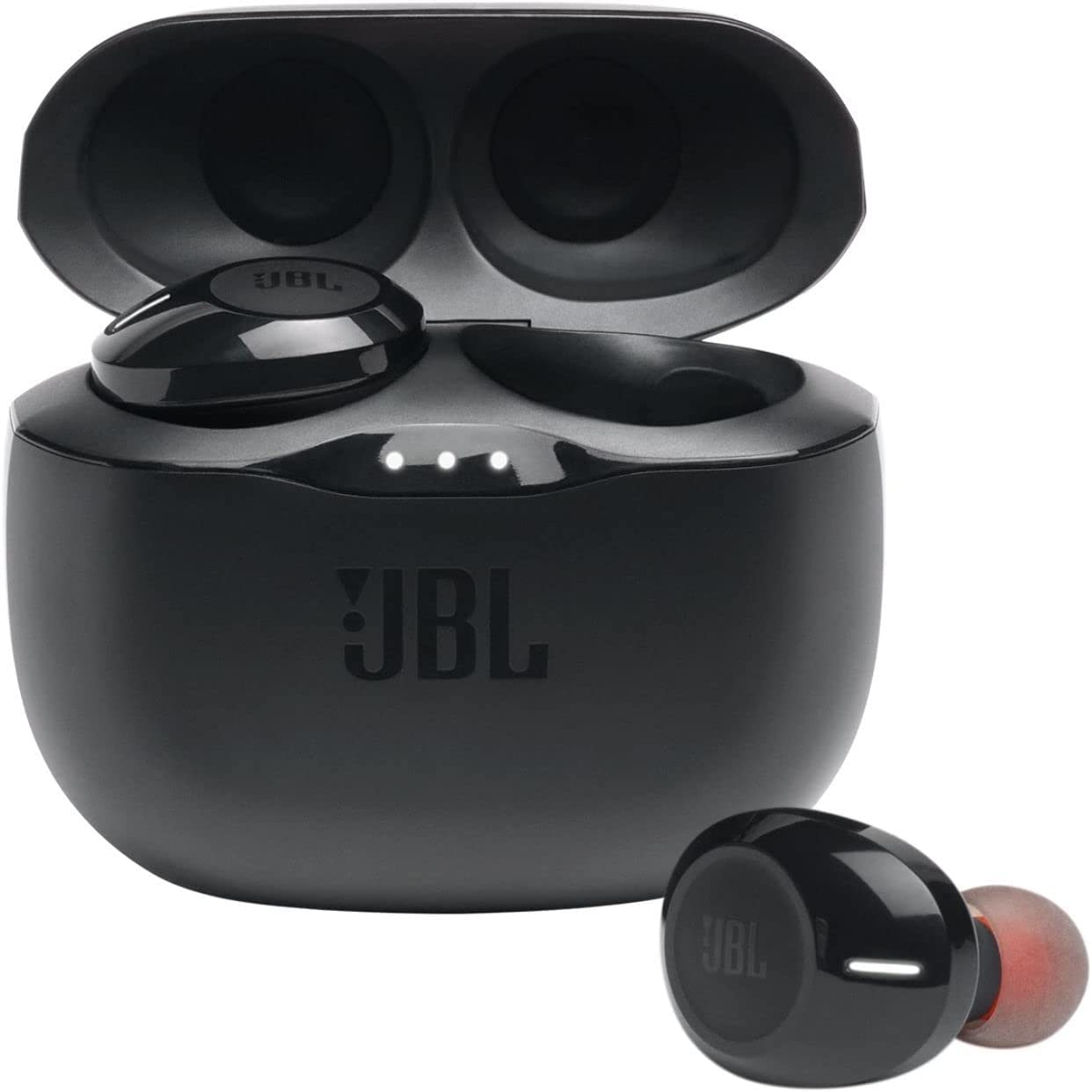 If you are a mad fan of loud, bass music, these JBL Wireless earbuds will make no match to any other headphones. With a reliable build, you don't have to worry about any of its functions as it comes from the house of JBL. It comes with a whopping 32 hours of battery life which is one of the handiest features of wireless headphones.
Talking about its handy features, this power-packed JBL earbud is also enabled with fast pairing. If you are still thinking of some other option for your small ears, this also comes in three different sizes to fit your earbuds and sit comfortably as long as you want.
It is built by one of the most reliable names in the sound industry - JBL
It has a long battery life of 32 hours in just 15 minutes of charge so that you can enjoy your playlist all day long.
It is extremely handy because of its fast-pairing provision.
Comfortable and proper fit
Very good sound quality and bass
Fast connectivity with iPhone
Fast charging time
Not much sound cancellation
Rare connectivity issue with Android
Exceptional Bluetooth earbuds with easy Qi charging
Crystal-clear sounding Sony WF-1000XM4 Bluetooth earbuds
Check Price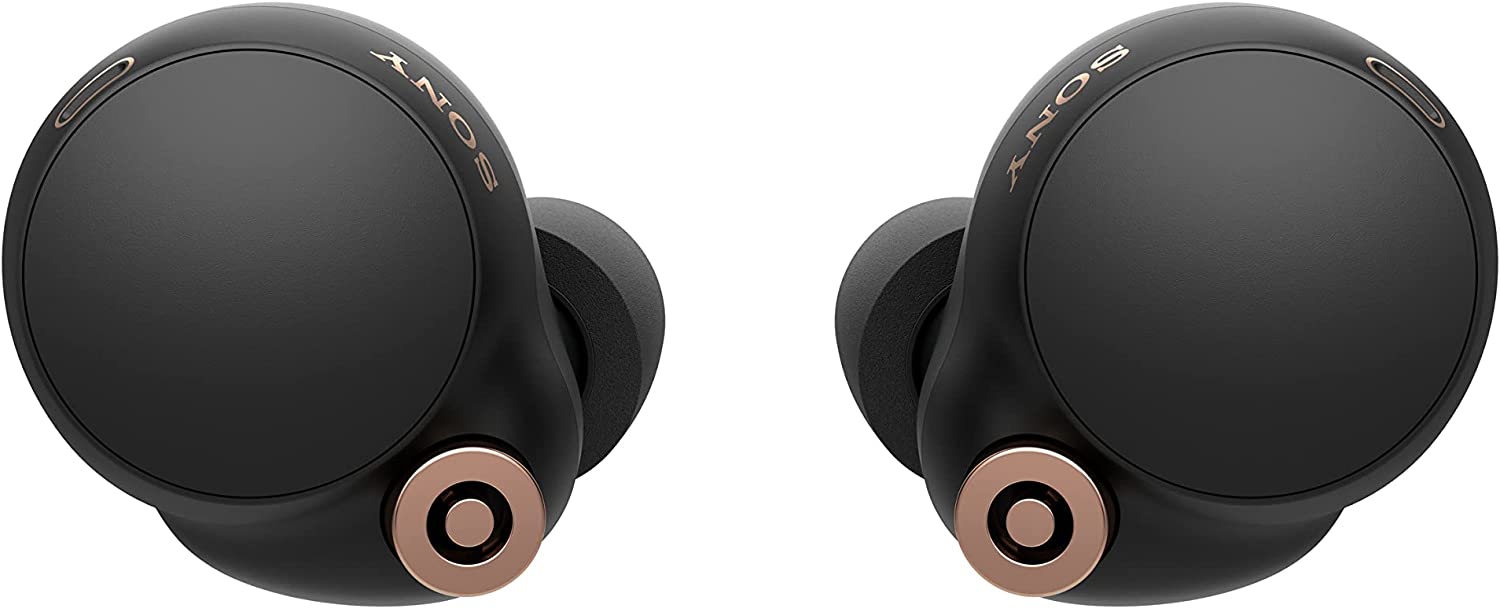 This one is from the house of Sony, an industry leader in headphones and similar devices, and is packed with exceptional noise canceling features and V1 Integrated Processor. Talking about its sound quality, it is as clear as crystal. What's more interesting is that this one from Sony is also packed with an equally astonishing microphone integrated with a bone-conduction sensor that offers precise voice detection plus noise cancellation.
This interesting earbud also features a speak-to-chat technology and gives 8 hours of battery. To add to the list, this earbud is even water-resistant as it features an IPX4 Water-resistant tag. With this one in your purse, you don't need to worry about an unstable Bluetooth connection and battery life.
It has an IPX4 water-resistant design which is very useful in today's world.
It is packed with Qi technology that makes it super-fast and easy to charge.
Super-fast pairing
State-of-the-art noise cancellation
Crystal-clear sound and bass
Elegant matte finish design
Not comfortable
Not satisfactory battery life
Waterproof Touch Control Headphones for small ears
Tribit Flybud 3S headphones for long playtime
Check Price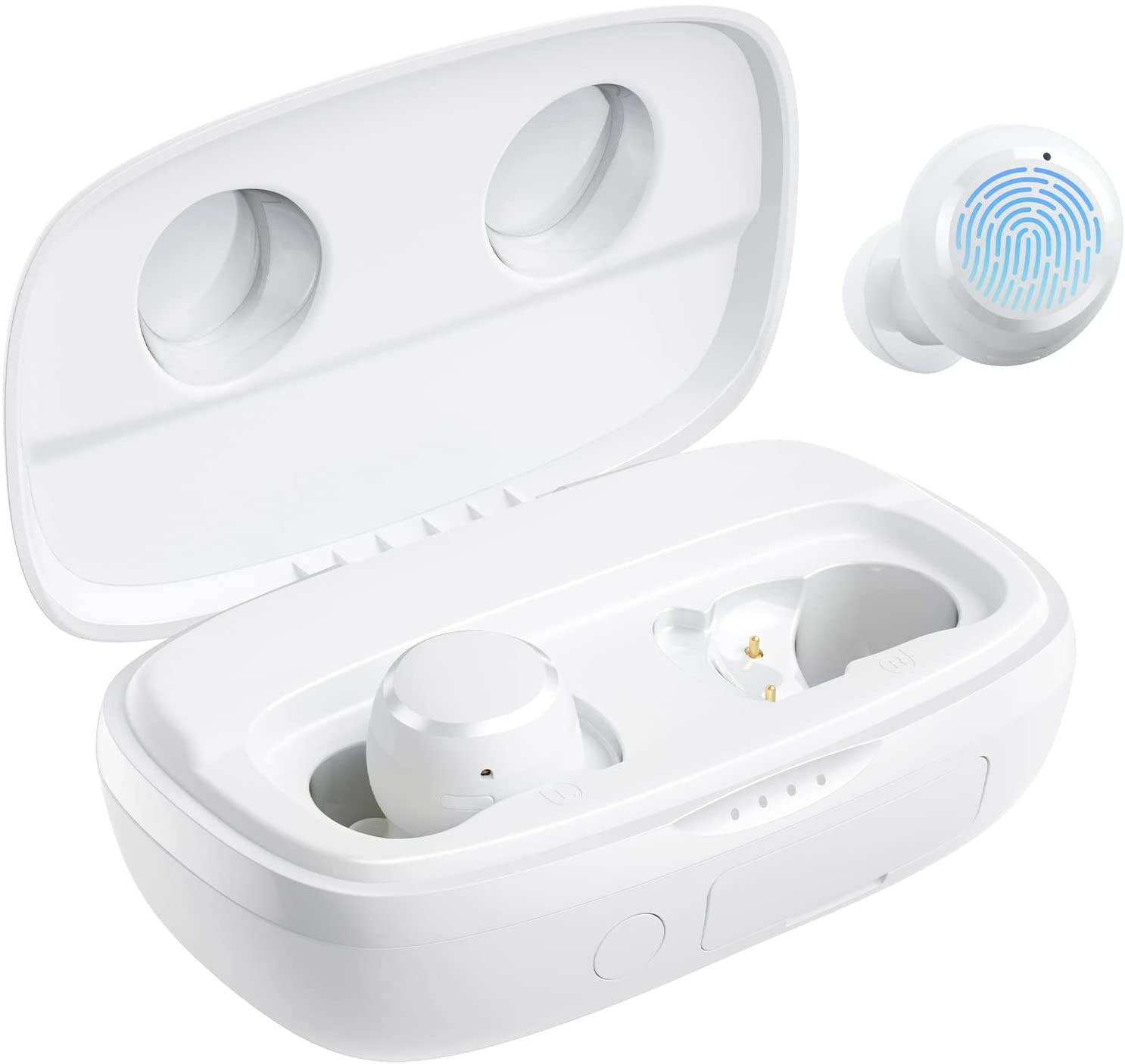 Crafted with an ultra-long lasting battery life, these wireless earbuds render music in high quality. It stays charged for 150H as it comes with a battery capacity of 2600mAh that can even be used as a power bank for phone charging in case of emergencies. These FlyBuds 3S headphones are packed with high-fidelity audio that renders exceptionally detailed music, so you can hear everything - from every tone, to beat.
It also offers a cool built-in noise reduction function for calls that provides a crystal-clear calling experience even in a noisy environment. One of the coolest features of this FlyBuds 3S is its high-range Bluetooth 5.2 connectivity of up to 50 feet, so you can still get a clear sound while you are in any room.
Why you should buy this?
The headphones have a long 50 feet Bluetooth connectivity range.
You can also use either of the left or right earbuds independently.
Pros
Fantastic battery life
Comfortable fit
IPX8 waterproof
Touch pad control
Cons
No volume control button on the earphone
Not extremely loud quality
True Wireless Stereo Earphones for an unmatchable experience
COMFOM V5 Waterproof in-ear stereo
Check Price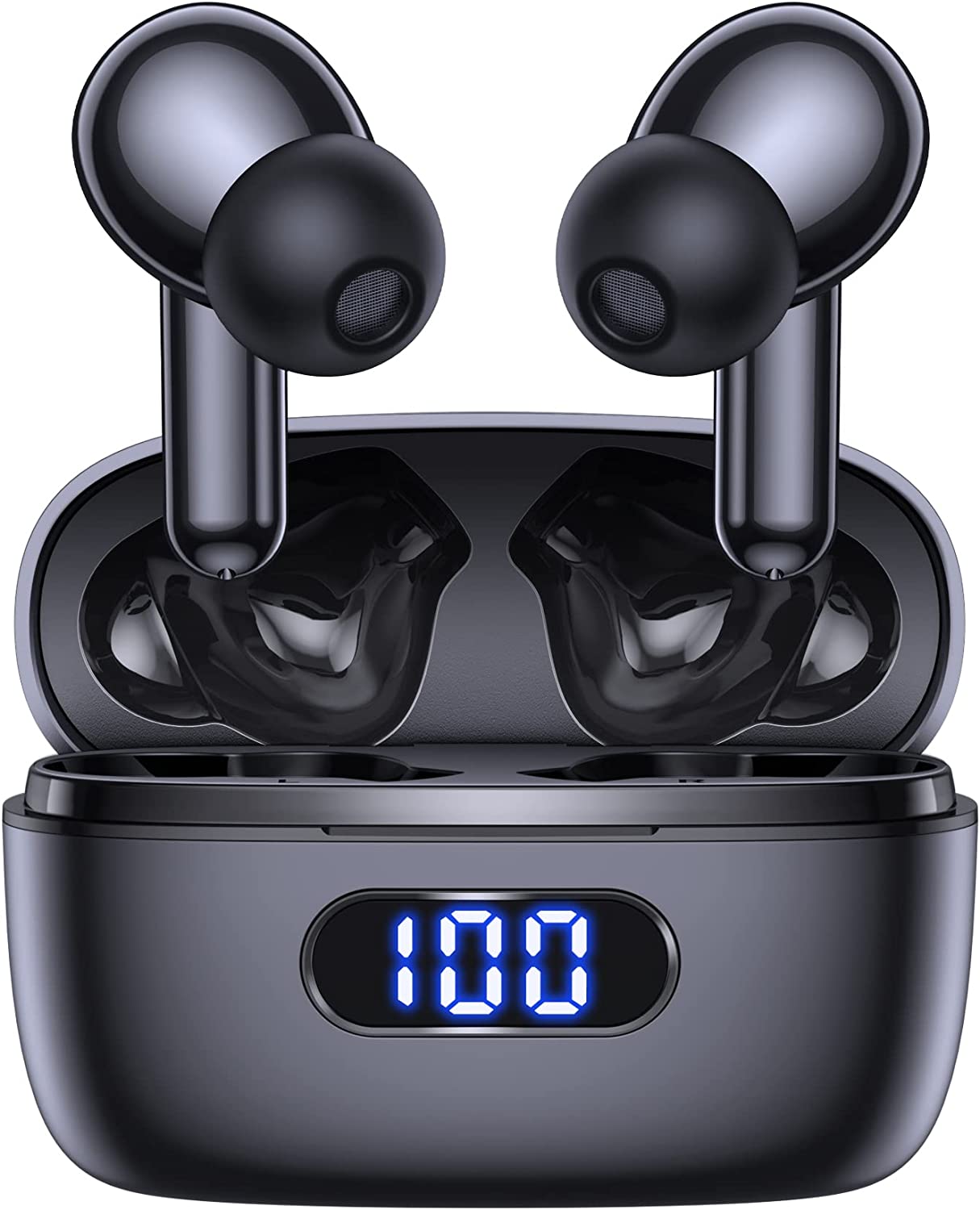 COMFOM has embedded some very thoughtful features in these waterproof headphones that make them one of the best user-friendly headphones for small ears. These can be charged in two different ways. Apart from typical USB-C charging, the charging box (GW20) of the headphones allows wireless charging. There is a small digital display on the charging box that displays the charge remaining in the box.
Moreover, clear sound quality with a built-in premium stereo will make you fall in love with these headphones. It has two in-built microphones on both the left and right earbuds that picks up sound precisely. Lastly, the headphones feature an ergonomic design so they are very comfortable to wear for a longer duration.
The headphones have an IPX5 waterproof rating which prevents damage from splashes of water or rain.
It comes with three different sizes of ear tips that make it comfortable to wear for longer times.
Two ways of charging
IPX5 Waterproof rating
Lightweight and ergonomic design
Clear call experience with 4 microphones
Volume control issues
Connectivity issues
Wireless headphones with TV amplifier
Fast charging AudioRange ITE-1000 for small ears
Check Price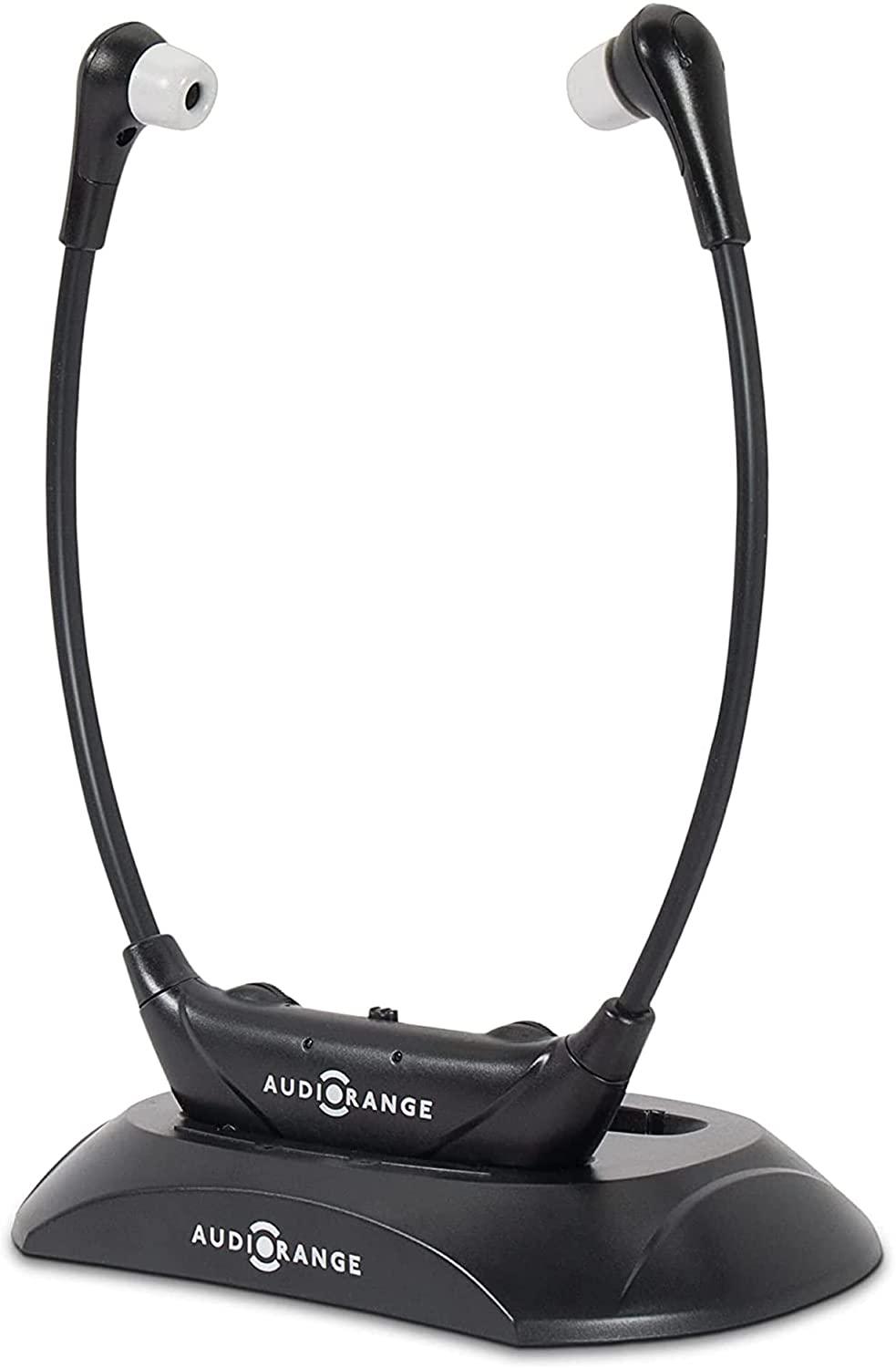 These AudioRange headphones have a long-lasting battery life of 8 hours. These headphones are a good choice for watching TV without disturbing others as these headphones can connect with most TV models without hassle. You can connect it and enjoy your favorite shows with a high-quality sound.
Digital analog and optical audio cables are included with all the headphones that make these headphones act as a hearing amplifier. It also works with most of the major streaming services like Hulu, Netflix, & Prime. What's even better is that there is no audio lag when connected with the TV so there is no issue of echoes, lip-syncing, or lags.
Why you should buy this?
It has integrated stereo for clear-cut sound when connected to the TV
It is compatible with most streaming sites.
Pros
Lightweight
Long-lasting battery life of 8 hours
Hearing amplifier
Crystal clear sound quality
Cons
Connectivity issues
Uncomfortable fit
Experience extra bass in a compact package
Sony MDRXB504AP Extra Bass Earbud Headset
Check Price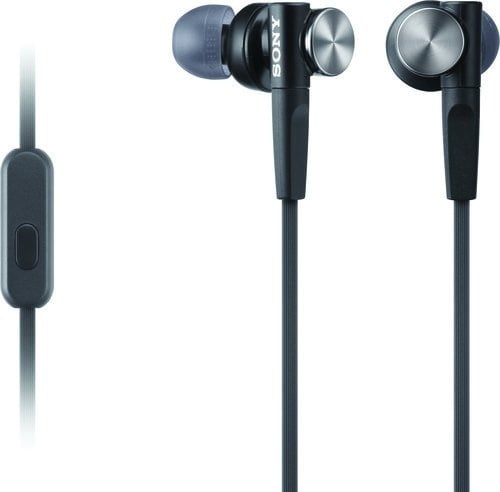 Sony is a competent manufacturer when it comes to making earphones and headphones with extra bass. While the compact form factor of the MDRX504AP may look small, it manages to deliver the best level of bass that you can experience on in-ear phones. The IEMs are fancy as well, as they are available in three different colors – red, blue, and black to choose from.
These earphones are packed with a 12mm driver and are also integrated with a microphone. You can easily take calls while listening to music. The hybrid silicone material for the buds is small, ensuring an ideal fit for people with small ears. The cable is tangle-free and it won't annoy you by creating impossible knots that take hours to remove. It is also made of lightweight material, so the earbuds won't fall off even when your phone weight might pull the tip down.
Sony has opted for 0.47 neodymium drivers which provide a balanced sound, but it has an edgier bass allowing you to enjoy thumping songs. With so many positive reviews, it is easily the best earbuds for music lovers and bass lovers with small ears.
Why are these earbuds the best?
The extra bass will provide a thumping effect on all your songs
The integrated mic allows you to take calls
It's available in different colors
You may also read: Best Macbook Air Cases
Conclusion
Here is the list of best earbuds for small ears to buy. All the earbuds mentioned here come packed with at least three pairs of adapter tips so that you can find the perfect size for you from the options available. They are available in diverse colors as well and have a great design. The 12 best earbuds for small ears are mentioned here which are available in various ranges starting from $25. So, whether your budget is low or high, you will find the perfect earbuds for you.
See also: Top best laptops for engineering students to buy in 2022
---