Featured in this article (opens in new tab)
If you are an engineering student, you may have felt the need to get the best laptop to help you run all the heavy-weight programs. Engineering students usually want a laptop that can do much work without slowing them down. We understand that most of you may want something that does not hurt your pocket too much without compromising on the features. We have a list of the best laptops for engineering students that fit in different price ranges and have features that can be helpful for engineering students.
See Also: Best laptops for DJs 2023
Buying Guide
When choosing the best laptop for an engineering student in 2023, some important factors should help make your purchase decision. Apart from common requirements such as a fantastic display and impressive battery life, consider additional factors if you are a student.
Software compatibility – An engineering student may use specific software programs like AutoCAD, Photoshop, or Oracle if he/she happens to be a computer engineer. While requirements might vary, it is essential to determine whether your laptop runs on Linux, Windows, or Mac. Ensure your laptop supports the software programs you plan to use for your studies.
Graphics rendering capability – Programs like CAD/CAM and any analysis software will require 3D rendering to be done on a work-class level. Some people suggest gaming laptops as the best alternative, but they are usually not portable and don't deliver on battery life. They do have a dedicated graphics card that could help.
Multiple processor cores – The newer generation Intel i7 processors and AMD Ryzen chipsets are ideal for engineering students. Every last automation, programming, and design rendering software demands as many cores as possible combined with higher RAM capacity.
Battery life – Never opt for a laptop that offers less than 7 hours of battery life, especially if you are planning to take your laptop to the university and need to be away from a charging point for extended periods. It also helps get the most out of your work done on the go rather than at home.
Look for a bigger display – The laptop you choose should at least have a 14 or 15-inch display because larger displays reduce eye strain, are easier to use in most applications, and can also double up as an optional device for entertainment such as movies or gaming. They are ideal for students living in a dormitory with limited space to set up dedicated monitors.
The Best Engineering Laptops
A Single Port Laptop with Latest Windows OS
Dell Inspiron Metal Case Laptop
Check Price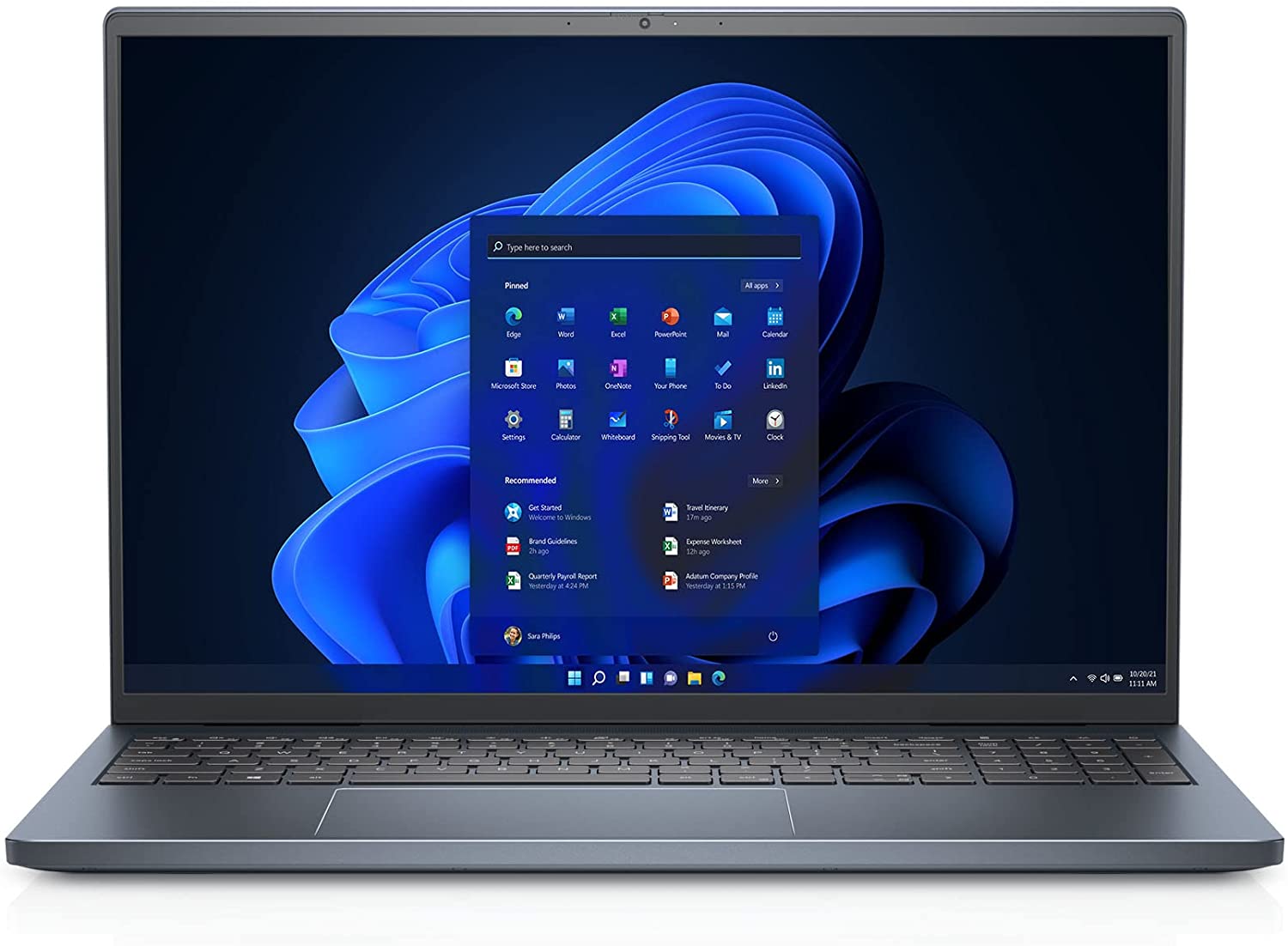 This Dell laptop comes with some of the best features for any laptop. The laptop features a 16-inch anti-glare display screen with 3072 x 1920 resolution. The screen renders 300 nits brightness, allowing you to use the laptop comfortably in any setting. Moreover, the laptop comes with a 512GB solid-state hard drive, 16GB DDR4 RAM, and an eight-core Intel i7 processor. The product is loaded with Windows 11 Pro operating system.
The laptop has an HDMI 2.0 port, a headphone and microphone audio jack, two USB 3.2 Gen 1 Type-A ports, and a Thunderbolt 4 port, along with Wi-Fi and Bluetooth connectivity. It also has an aluminum frame that gives it a classy and stylish appearance. The product incorporates an excellent thermal management system, a fingerprint reader, superior quality audio, a camera setup, and a lid-open sensor. The laptop has a dedicated SD card reader.
The anti-glare property of the screen helps you to work long hours on the laptop without strain on the eyes.

The laptop has excellent brightness and resolution, making text and graphics on the screen highly appealing.

The product portrays minimal booting time because of the integrated lid open sensor.
Dedicated numeric keypad

Durable because of the aluminum frame

Single port for charging and data transfer
It comes with an expensive price tag

Preloaded with lots of bloatware
A High Capacity Hard Drive Laptop with LED Display Technology
Dell Inspiron High-Bandwidth RAM Laptop
Check Price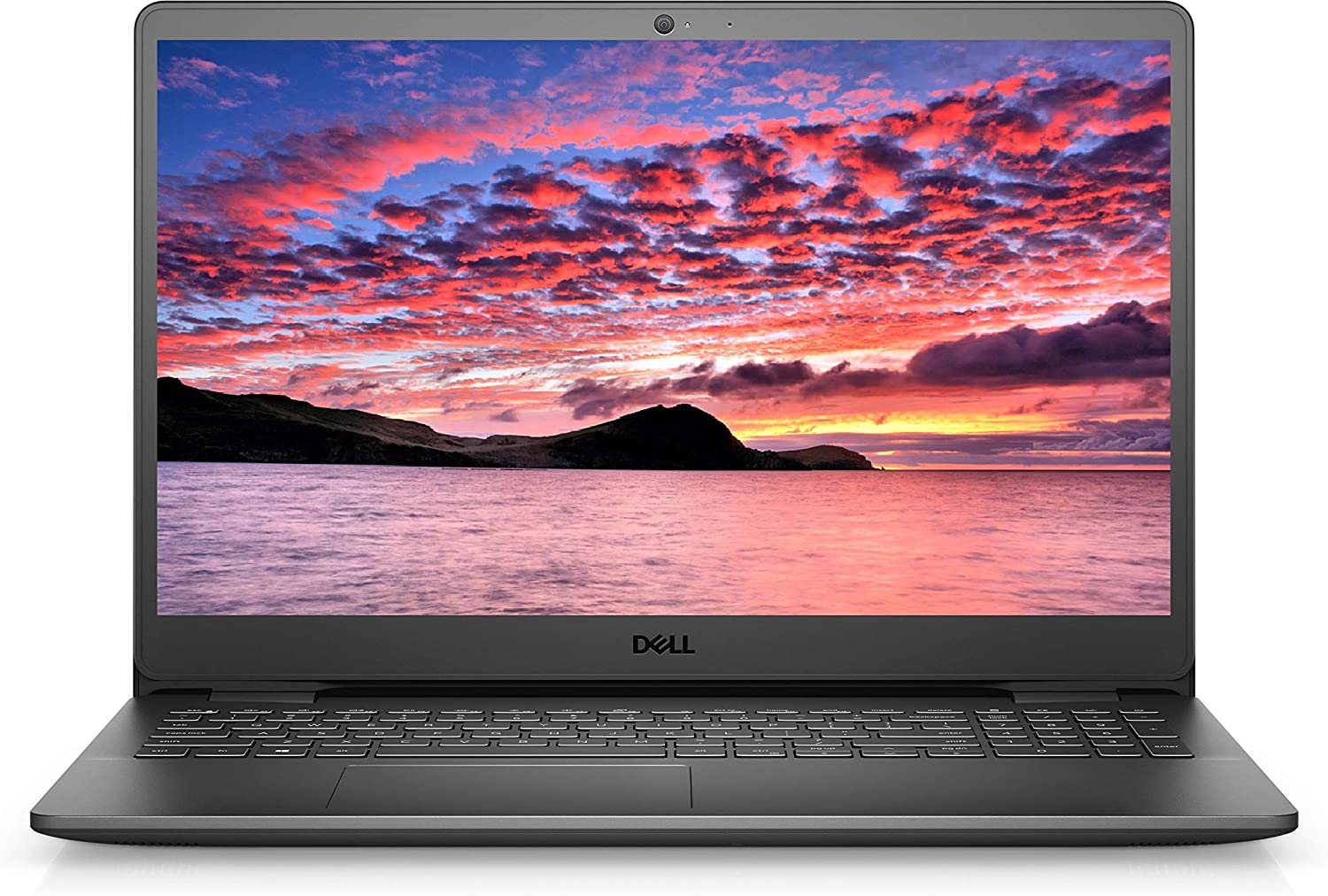 This Dell laptop features a 15.6-inch HD non-touch display screen with 1366 x 768 resolution, anti-glare and backlit properties. The laptop also houses 8GB DDR4 RAM, a dual-core processor that can clock at a maximum frequency of 2.8GHz, and a shared graphics memory with an Intel UHD graphics co-processor. The product also has a 128GB PCIe solid-state drive and a 1TB hard disk drive. It comes with a Windows 10 Home operating system pre-installed.
The laptop has several ports like a USB 2.0 port, two USB 3.1 Gen 1 ports, an HDMI 1.4b port, and a microphone/headphone jack. The product also incorporates a wedge-shaped lock slot, a multi-format SD media card reader, and a slew of utility apps. It is integrated with stereo speakers and a webcam with an inbuilt microphone. The laptop supports Bluetooth and Wi-Fi 802.11 ac wireless connectivity and is powered by a 42Whr, 3-cell integrated battery.
The laptop is apt for students who want basic utility apps without having to install them on their own.

The dedicated numeric keypad makes it helpful and easy to use for students who do extensive mathematical calculations.

The laptop features antivirus protection to keep the system and its data safe.
Comes with ample storage space

Backlit display to work comfortably in the dark

It has an easily affordable price tag
No dedicated graphics memory

Takes time to get out of hibernation mode
A Compact Design Laptop with Long Battery Life
HP Pavilion Excellent Graphics Laptop
Check Price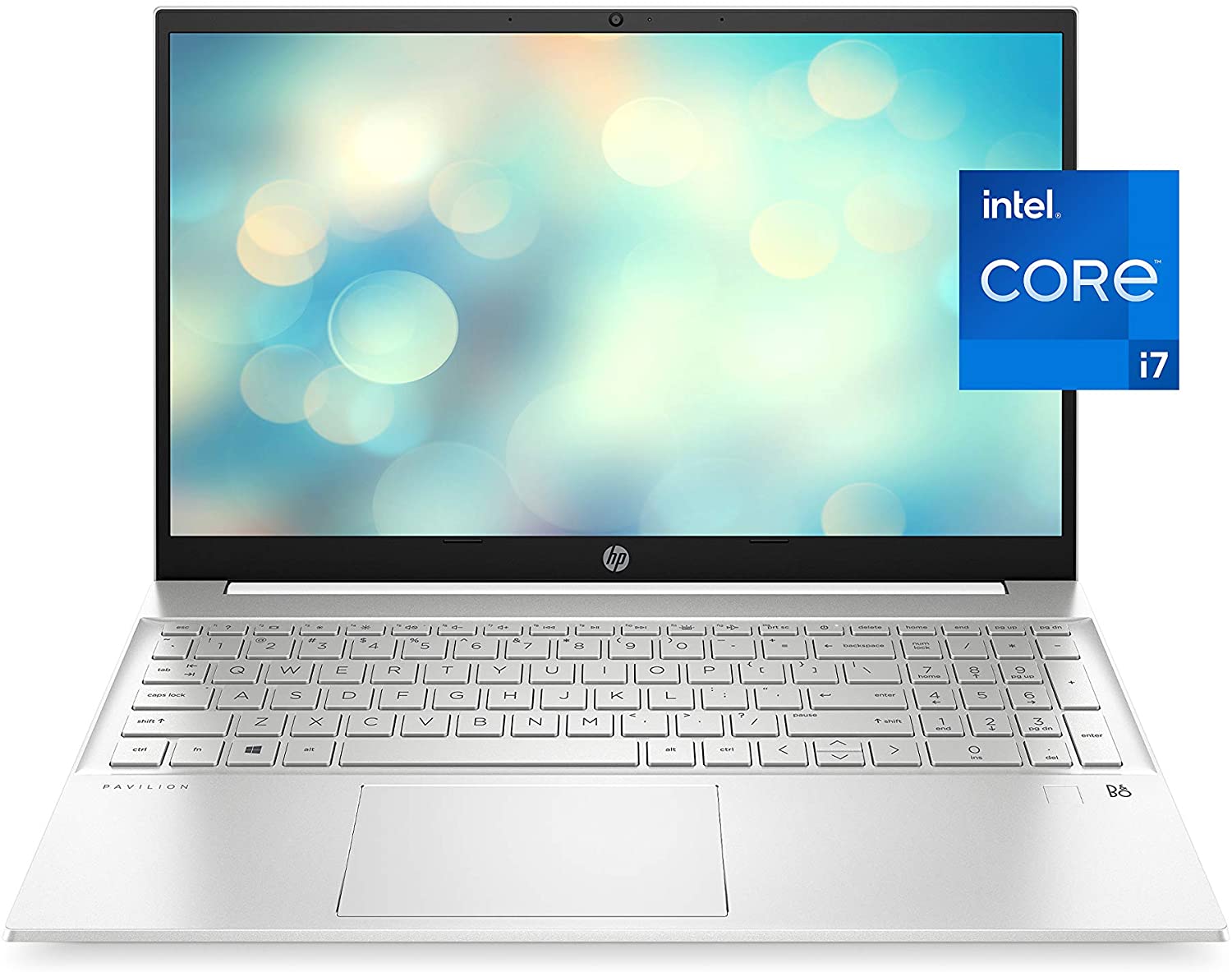 This HP Pavilion laptop features a sleek profile. The laptop is loaded with a 15.6-inch micro-edged Full HD display screen with a 1920 x 1080 resolution, a 4.7GHz quad-core Intel i7 processor, and 16GB RAM. The system also features 512GB SSD storage and an integrated Intel Iris Xe graphics co-processor. It comes preloaded with a Windows 10 Pro operating system. The laptop features a one-year limited hardware warranty.
The laptop features multiple connectivity options such as Wi-Fi 802.11ax, Bluetooth 5, USB, and HDMI. The product also has an SD media card reader and a headphone/microphone combo port. It is powered by two Bang & Olufsen audio speakers for an immersive audio experience. The laptop is powered by a 3-cell, 42Whr lithium-ion battery that lasts up to 8 hours and charges up to 50% in just 45 minutes.
The laptop has a stylish appearance because of its natural silver-colored body.

The product renders high-quality graphics for viewing and carrying out graphics-related activities.

The long battery life helps in working on the laptop for long hours without fear of the battery getting drained suddenly.
Easily portable because thin and lightweight

It comes with fast charging support

Maximum screen real estate with wide viewing angle
Troublesome touchpad over time

It tends to get overheated
A Touchscreen Laptop with SD Media Card Reader
Lenovo IdeaPad 3 Fast Booting Laptop
Check Price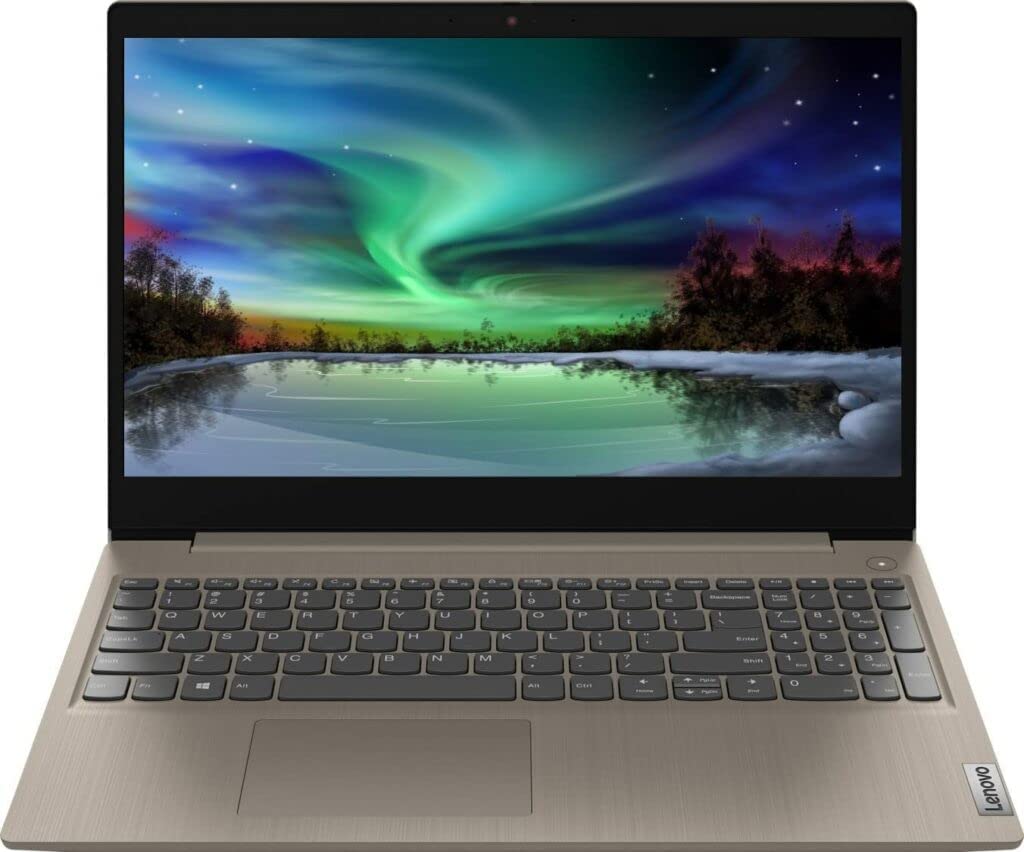 This Lenovo IdeaPad laptop sports a 15.6-inch HD touchscreen with 1366 x 768 resolution. The laptop is backed up by 20GB DDR4 RAM, an Intel i3 dual-core processor with a 3GHz clocking frequency, an integral UHD graphics coprocessor, and a 1TB PCIe NVMe SSD storage. The product is a perfect companion for students to work on their daily routine tasks. The laptop is lightweight and features a Windows 11 Home operating system.
The product comes equipped with an inbuilt HD webcam with microphones and two stereo speakers with Dolby Audio support. It also features a headphone-microphone audio jack, an HDMI port, and three Type-A USB ports (two USB 3.2 Gen 1 and one USB 2.0). The laptop features Wi-Fi 5 and Bluetooth combo wireless connectivity and is powered by a lithium-ion battery that retains the charge for six to seven hours.
Why You Should Buy This
The touchscreen feature makes operating the laptop very easy as against having to press keys for each operation.

The huge RAM makes multitasking a breeze and seamless for those who want to work on several tasks simultaneously.

The laptop is affordably priced for some of the most integrated high-end features.
Pros
Distinct appearance because of the almond color

Can store large volumes of content

Can connect to two monitors at a time
Cons
It tends to crash occasionally

Less screen brightness when not plugged in
An Aluminum Chassis Laptop with Multiple Viewing Modes
ASUS VivoBook Color-Blocked Enter Key Laptop
Check Price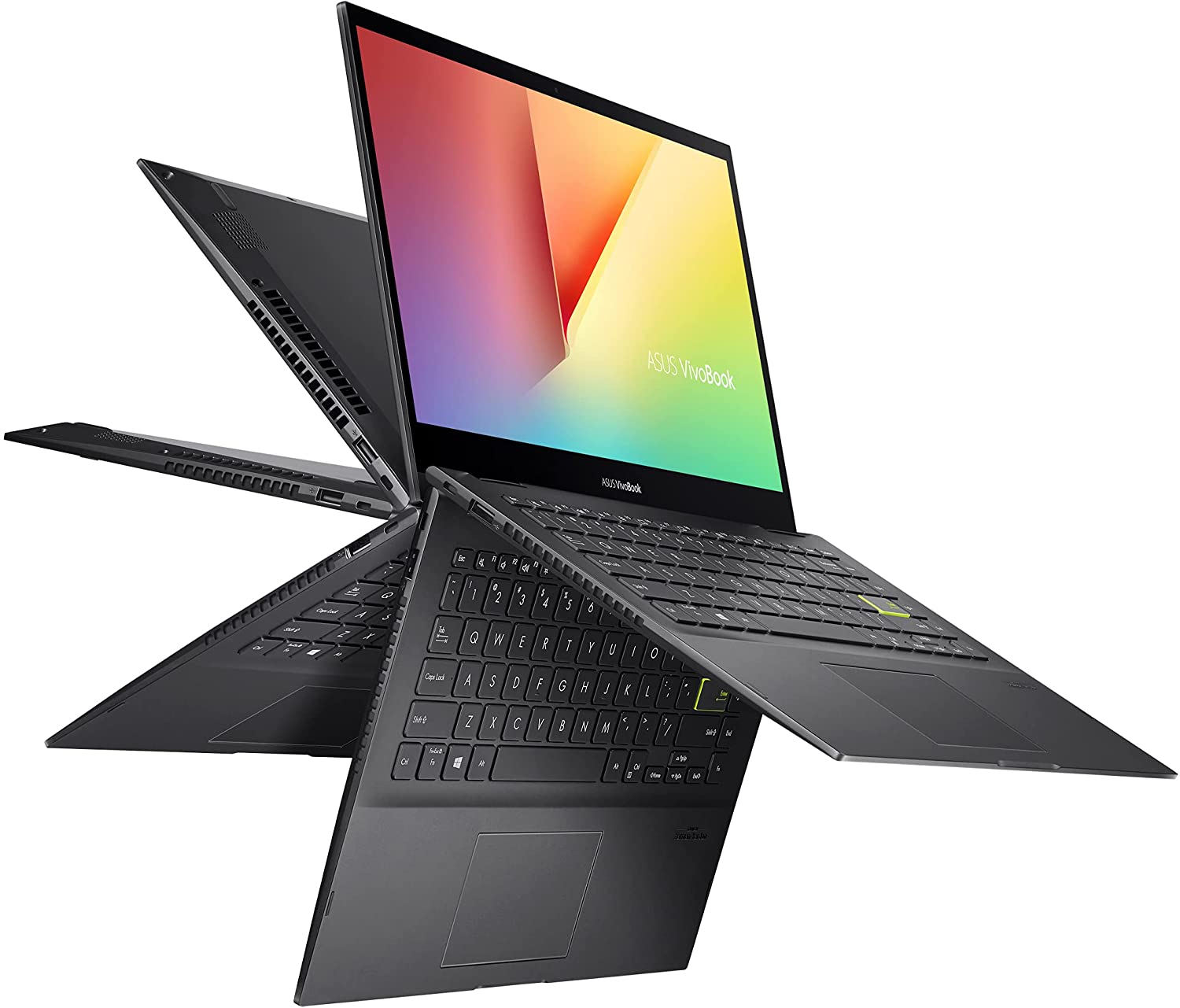 This ASUS VivoBook laptop has a 14-inch FHD WideView touch screen with 1920 x 1080 resolution. The laptop has an 82% screen-to-body ratio and 178° viewing angle. It features a 360° sturdy hinge that keeps them secure in any viewing position. The hinge helps you use the tablet in three other viewing modes, such as a stand, tent, and tablet, apart from the standard laptop. The product houses a 128GB SSD hard drive, 4GB RAM, a dual-core Intel i3 4.1GHz processor, and an integrated Intel Iris Xe graphics coprocessor. It is preloaded with Windows 10 in S mode.
The laptop features a brushed aluminum chassis with an Indie Black finish and a color-blocked Enter key with yellow text and edges. The product deploys noise-cancelling technology and a Harman Kardon-certified sound system for high-quality audio. It offers Wi-Fi and Bluetooth wireless connectivity support and has one USB 2.0 port, two USB 3.0 ports, a Thunderbolt 4 port, and an HDMI port. The product is powered by a lithium-ion battery.
The laptop is a good choice for students who wish to use the same device as a tablet.

The backlit keyboard makes the product easy for those who do a lot of keyboard operations at night or in the dark.

The laptop can be used to store a large number of files of high capacity without fear of running out of space very soon.
It comes with stylus support

Easy to identify Enter key

Free upgrade to Windows 11
Not possible to upgrade RAM

It fails to turn on occasionally
A Large Screen Laptop with Silent Keyboard
LG Gram Alexa Built-In Laptop
Check Price
This LG Gram laptop comes with a 17-inch WQXGA IPS LCD screen with 2560 x 1600 resolution and DCI-P3 99% color expression. The laptop has 16GB DDR4 RAM, a 2TB SSD hard drive, a quad-core 4.7GHz clocking frequency processor, and an Intel Xe graphics processor. The product features a Windows 10 operating system and can be upgraded to Windows 10.
The laptop has a 3.5mm audio jack, a microSD card reader, an HDMI port, two USB 2.2 Type-A ports, and a few Thunderbolt 4 supporting USB Type C ports. The product incorporates Bluetooth and Wi-Fi 802.11 ax wireless technologies. It incorporates Alexa to respond to voice-based commands. The laptop works with two lithium-ion batteries with a lifespan of around 19.5 hours with a single charge.
Why You Should Buy This
This laptop is extremely lightweight and can be easily taken with you wherever you go.

The product has a silent keyboard that makes it the right choice for students who want no sound from the keys during a key press operation.

The laptop renders a smooth working experience and is ideal for multitasking.
Pros
Features large screen real estate

It comes with excellent battery life

Spacious and comfortable keyboard
Cons
Has no Ethernet port

Less sound clarity because of speakers pointing downwards
FAQs
What features are essential in laptops for engineering students in 2023?
The laptop should have at least 7 hours of battery life and preferably have a 15-inch display. Most students should also opt for a laptop with a built-in AMD graphics card or Nvidia graphics card to support graphically intensive processes like CAD.
Can I install Windows 10 64-bit or Linux if required?
Some laptops come pre-installed with Windows 10 64-bit edition, but if they are the Home edition, you can choose to upgrade them separately. Linux is an open-source software and should be easy to install if you follow the online guide.
How do I replace the battery if it fails?
Based on whether you have purchased your laptop from Dell, HP, Lenovo, or other brands, you should contact their support center to get officially authenticated products.
Can I install all my engineering software programs on these laptops?
The answer is yes and no! No one can guarantee that every software will work because many programs require multi-cores, increased RAM, and specific OS requirements to run efficiently. Compare your laptop specs with the software's recommended requirements to find out.
Can I connect Bluetooth mice, keyboard, and drawing pads for engineering studies?
Yes. Most modern-day laptops support Bluetooth connectivity. Alternatively, you can also use the Wi-Fi dongle provided with wireless mice to connect. Drawing pads usually work better on the USB port.
How do I connect my laptop to an external display?
You can use the VGA port to connect to an external display, but an HDMI port is found in newer models and should allow you to push your display limit to 25-inch or 27-inch large monitors.
Is the software used in engineering courses offered for free with any laptop?
In most cases, you will not find them bundled unless it is a specific student offer. You should purchase them separately and install them to start using them for your studies.
Conclusion
We have researched the best laptops for college engineering students you can buy in 2023. We have added laptops from different price ranges and ensured that each one offers good performance and provides a decent battery life so that you can enjoy working on the laptop even when you use heavyweight programs. We have also kept durability in mind while putting our list together because students would want something durable enough to last them through their college without having to take them to the store for repair too often.
See Also: Best laptops under $300 of 2023