Featured in this article (opens in new tab)
Does your job involve a lot of traveling, and are you looking for one of the best travel laptops? Well, not to worry at all as we have listed down in this article the top best travel laptops that you can buy to make your job easier. While the market is filled with numerous options, it requires some effort and valuable time to pick up the right piece as there are some factors to be considered for having the right laptop.
If someone asks us, what are the five things you want to carry when you travel? Our answer would include sunscreen, money, clothes, a camera, and a LAPTOP! Yes, apart from the other bare necessities, we believe a laptop makes a perfect travel companion. Be it catching up on your favorite Netflix series, editing your travel photos, or just attending some work chores, you need your laptop when traveling.
Buying Guide
You need to consider the following things while buying your travel laptop:
Weight: This is the top-most deciding factor. It must be compact and occupy a small amount of space in your bag.
Battery: While on the move, battery life is of prime importance. Not every location you go to will be equipped with electric connections. So your laptop must have a long-lasting battery.
Performance: For this, you need to figure out what kind of traveler you are. If you carry your work while traveling, it is a good idea to invest in some serious processing speed. However, if you are a casual traveler and travel for leisure, you can invest in mid-range processing power.
Storage: While on travel, you tend to take tons of pictures, so your laptop should have enough memory to store these pictures.
Price: Decide on the amount you wish to spend on your travel laptop. This factor highly depends on the above factors, but it also is the penultimate factor.
See also: Best Cheap Travel Laptops
Best Travel Laptops
High-End Laptop with M1 Pro Chip
Apple MacBook Pro 26-inch Display Screen Laptop
Check Price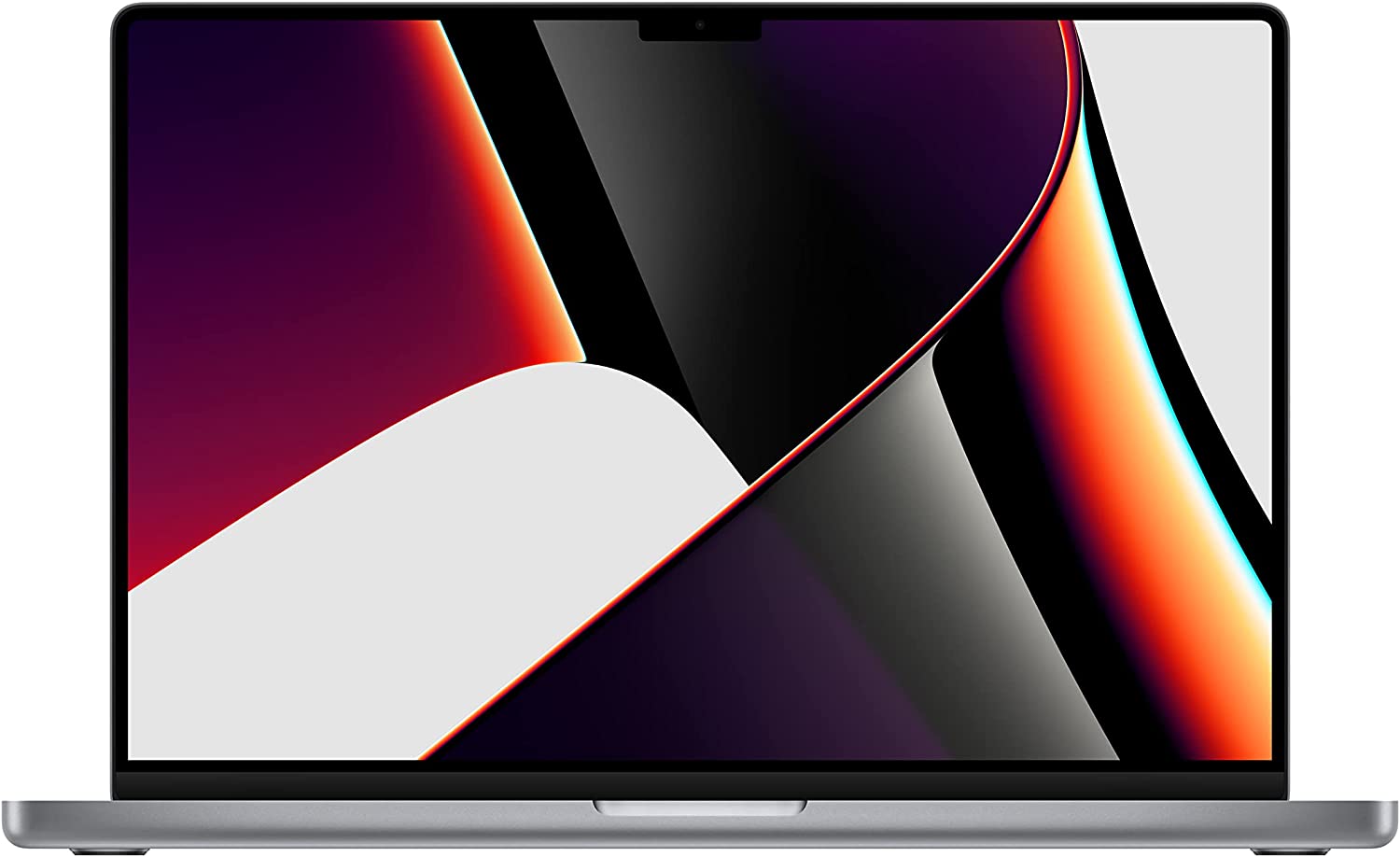 The Apple MacBook Pro offers you everything you would expect from a premium-quality laptop. The laptop has two storage variants: 512 GB and 1 TB. You have the option of upgrading the SSD drive up to 8 TB. So, when using this device, you will never run out of storage space. You also get two color options (space gray and silver) to choose from. The display screen is 16.2-inches wide and offers a resolution of 3456 x 2244 pixels.
Despite being a high-end, well-packaged laptop, it is not very heavy and can easily carry along during trips. The 100Wh, when optimally charged, lasts for 20-21 hours. The M1 Pro chip allows the device to function at an extraordinary speed and ensures that you do not face any issues while performing heavy-duty tasks. High-resolution webcams ensure very high visual clarity during virtual conferences or video calls.
A great option for those who travel frequently and are planning to invest in a premium-quality laptop device.

It is also recommended for individuals who have been using Apple devices for a while and want to try out a MacBook Pro.
Super-fast processor

Massive storage space

Large and vibrant display screen

Available in multiple colors and storage options
Convertible Device That Features a Highly Durable Structure
Acer Travelmate P4 14-inch Display Screen Laptop
Check Price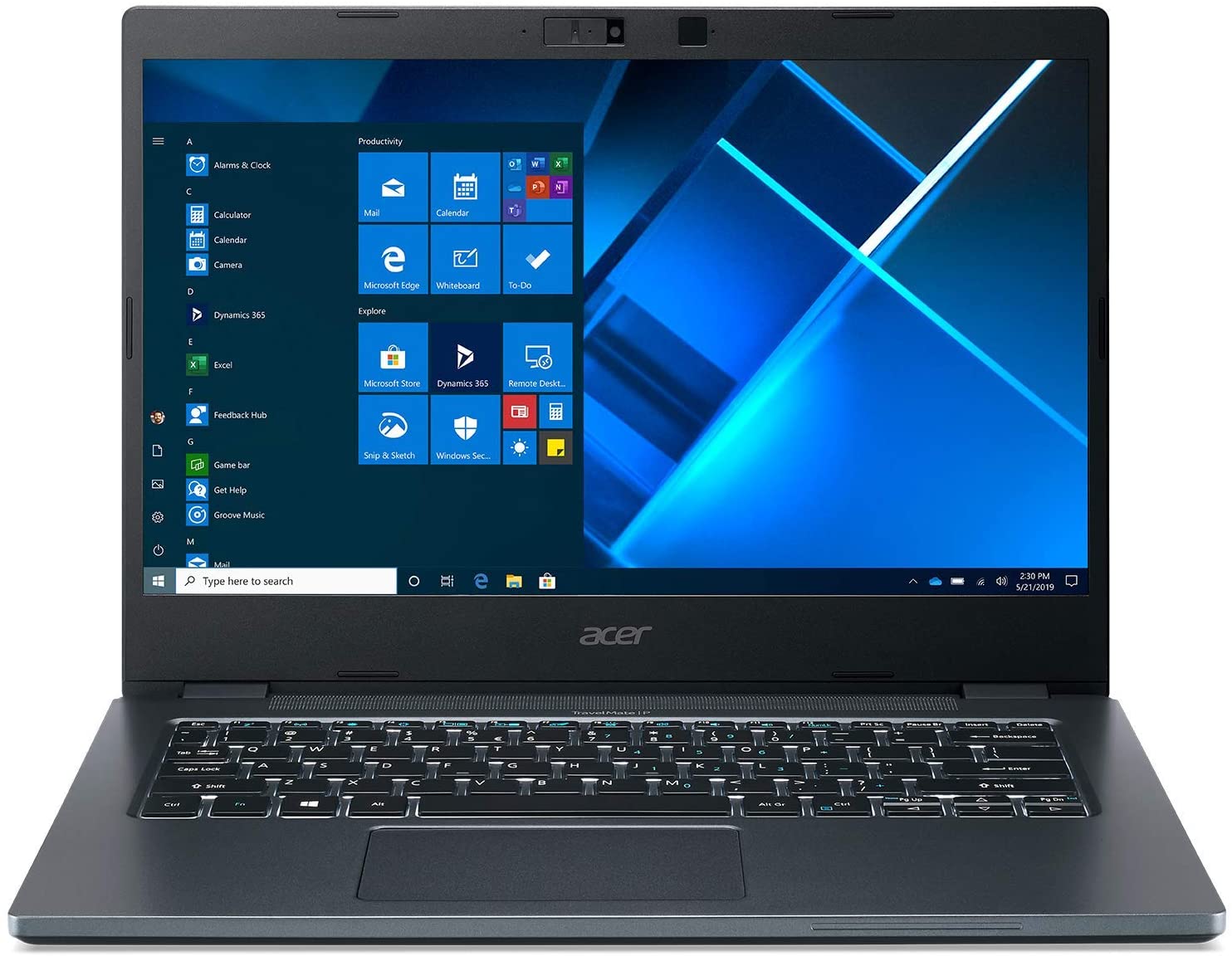 A lot of people believe that convertible devices are designed for personal use. This device by Acer dispels that notion completely. While Acer Travelmate P4 can be used for personal tasks, it has been specifically designed for working professionals. When you use it, you realize it works equally well as a laptop and a tablet. It is made with highly durable components, making it further desirable.
The laptop comes with a highly sensitive fingerprint reader that enables you to safeguard all the information, data, and files you choose to store inside the device. At 3.13 lbs, it is not heavy at all. While traveling for work, you can put it in your bag without any second thought. The Intel Core i5-1135G7 CPU works at a processing speed of 4.2GHz and makes the device run efficiently even while performing the most complex tasks.
An ideal option for individuals who travel all the time and need a lightweight device to carry out their professional tasks.

It is also recommended for those who have been looking for a premium-quality convertible device.
HD display screen

Convertible feature

Lightweight and portable

Responsive fingerprint reader
Reflective screen

Clunky keyboard
Portable Laptop with Backlit Keyboard
Acer Swift 3 Evo Long-Lasting Battery Laptop
Check Price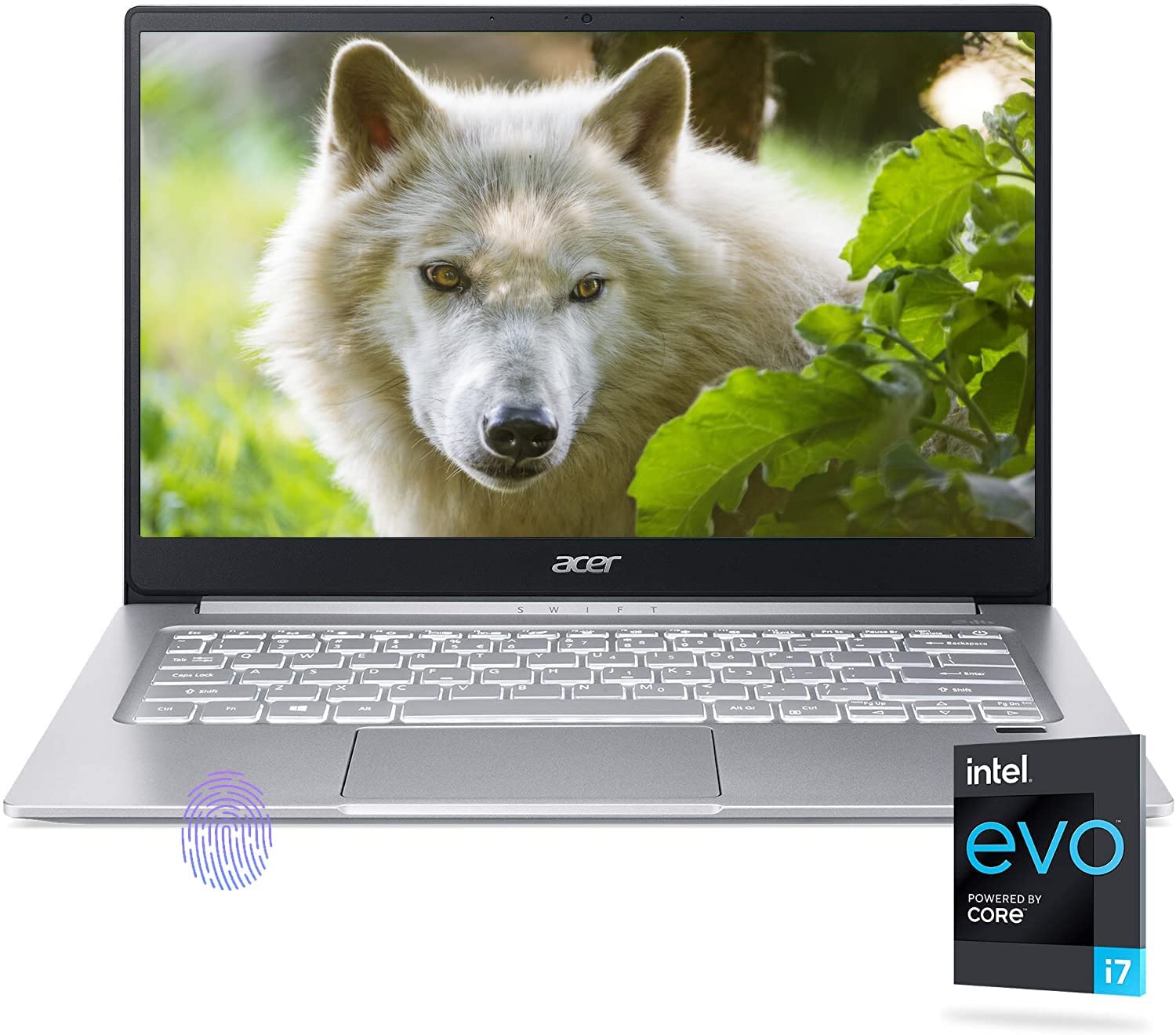 The Acer Swift 3 Evo is a compact, lightweight laptop with steady performance. At 2.65 pounds, it is extremely lightweight and convenient to move around with. It comes with a 14-inch display screen with 1920 x 1080 pixels resolution. While it does not feature an optical drive, it still offers you a wide range of connectivity options to choose from. The Intel Core i7 CPU runs at a processing speed of 4.7 GHz.
The laptop features a keyboard that offers good travel space between the keys and boasts backlit functionality. One of the biggest selling points of this laptop is its battery life. When charged optimally, the battery lasts for 15-16 hours. This makes it further reliable as a travel laptop. The device runs on Windows 10 Home and does not suffer from any lagging issues whatsoever. The 1 TB hard disk enables you to store a large amount of data.
Suitable for those looking for a high-performing laptop that has a compact structure and is easy to travel with.

It's also a good option for writers and media professionals wanting to buy a laptop with a backlit keyboard.
Fingerprint reader

Lightweight design

Strong battery life

Good storage support
Average audio output

Underwhelming webcam
Budget-Friendly Laptop with Tuned Stereo Speakers
HP Steam 11.6-inch Anti-Glare Display Screen
Check Price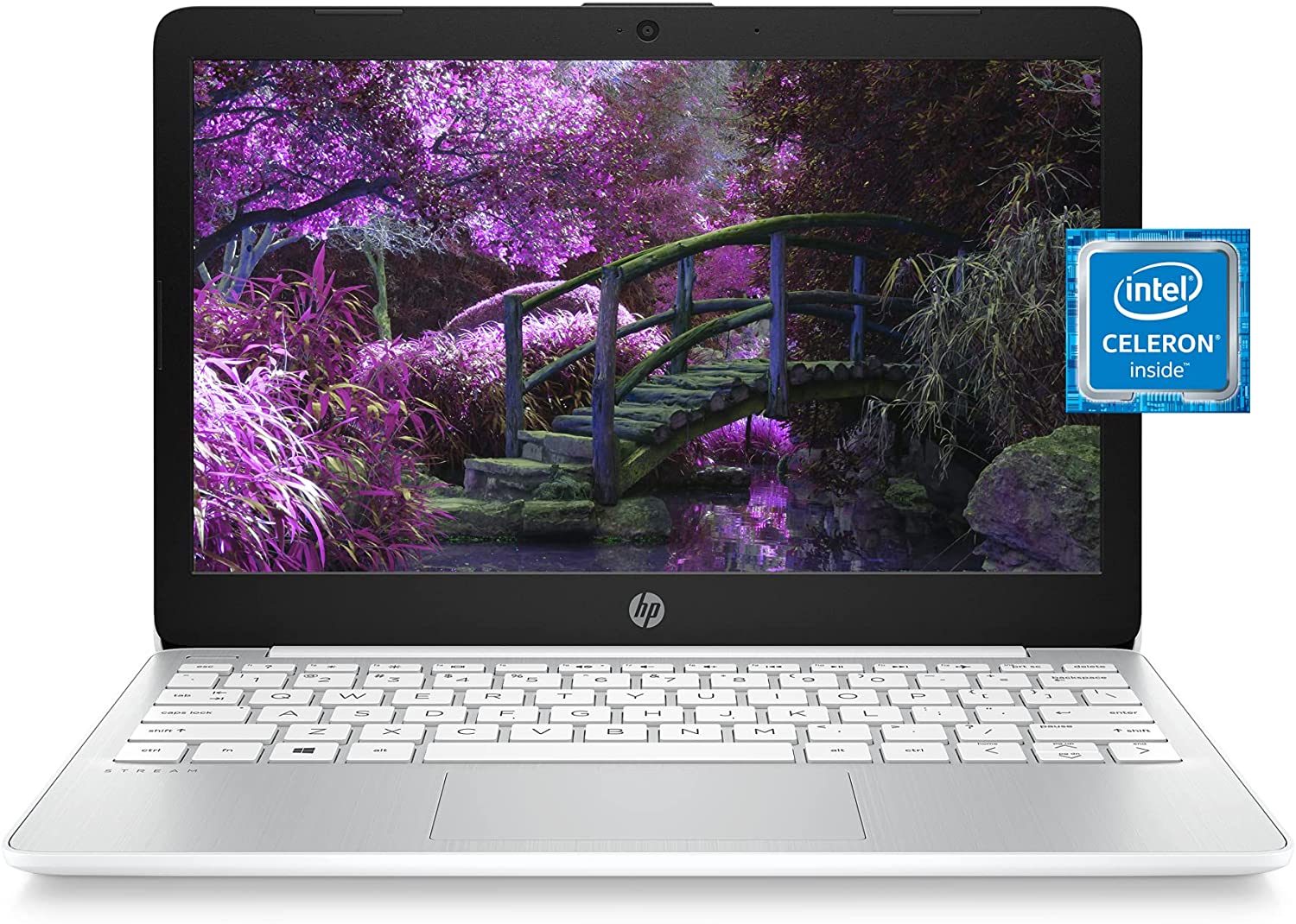 The HP Steam comes with several features that make it a travel-friendly laptop. It comes with an 11.6-inch display screen that produces a resolution of 1366 x 768 pixels and is suitable for multimedia consumption. The screen does not offer touch functionality, but you would be quite happy with its visual output. The laptop is colored in diamond white and looks visually striking. Intel Celeron N4020 CPU operates at a processing speed of 1.1 GHz.
The laptop might not boast high-end features, but it offers great functionality. On a single full charge, the battery lasts for 12-13 hours. While 4 GB RAM comes pre-installed, the hard disk offers a storage space of 64 GB. The laptop weighs just about 2.37 pounds and is lightweight enough to be carried around while traveling conveniently. One of the biggest selling points of the device is its audio quality. The tuned stereo speakers produce excellent audio output.
Why You Should Buy This?
A good option for those looking for an affordable laptop that offers high-quality audio-visual output.

It is also recommended for individuals who need a lightweight laptop for their professional trips.
Pros
Colorful screen

Compact structure

Long-lasting battery

Powerful audio output
Cons
Low bandwidth RAM

The screen is not touch-enabled
Budget-Friendly Laptop with Expandable Storage Support
Bmax Device 13.3-inch Display Screen Laptop
Check Price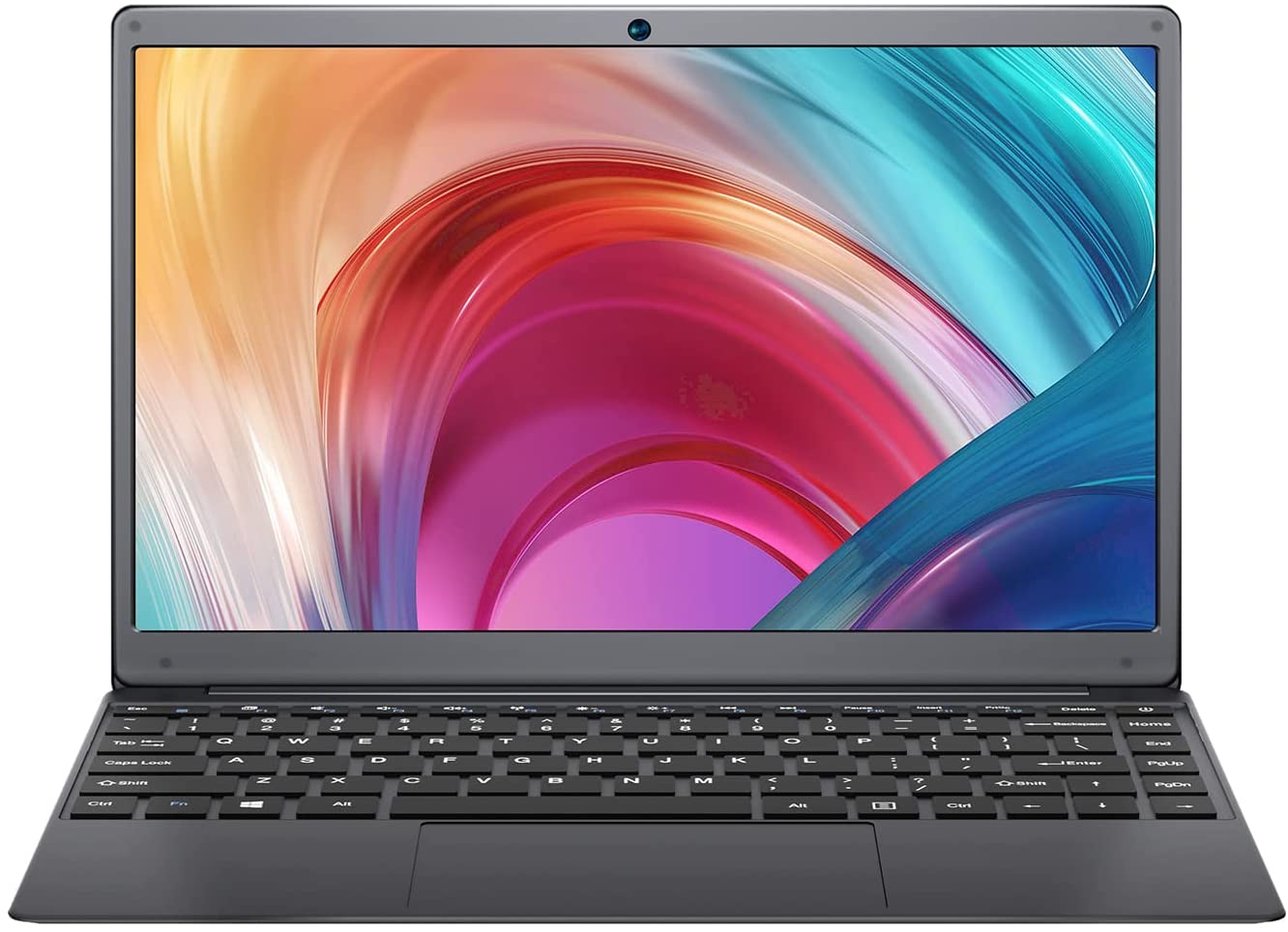 This Bmax laptop has all the features that you would expect to find on a travel-friendly device. It weighs just about 2.8 lbs, so you can easily slip it into a bag and move around with it without any difficulty. It comes with a 13.3-inch display screen with 1920 x 1080 pixels resolution. Apart from watching movies and shows, the screen is ideal for browsing the internet, checking e-mails, writing drafts, and participating in virtual conferences.
While the device comes with a 128 GB solid-state drive, you can expand the memory to up to 1 TB using an external drive. Despite not being as big as some other laptop brands, Bmax offers good customer support. Aside from offering a 30-day return on the product, it provides a 12-month warranty on it. While it is a fairly simple device, you can refer to the user manual provided if you face any confusion.
An ideal option for individuals looking for a lightweight laptop that offers good performance.

It is also recommended for those who are on a budget and wish to procure a well-performing laptop that doesn't cost a bomb.
HD display screen

One-year warranty

Expandable memory

Lightweight and compact
No premium features

Low-quality webcam
15.6-inch Display Screen Laptop with 1 TB HDD
Dell Inspiron 3000 16 RAM Memory Laptop
Check Price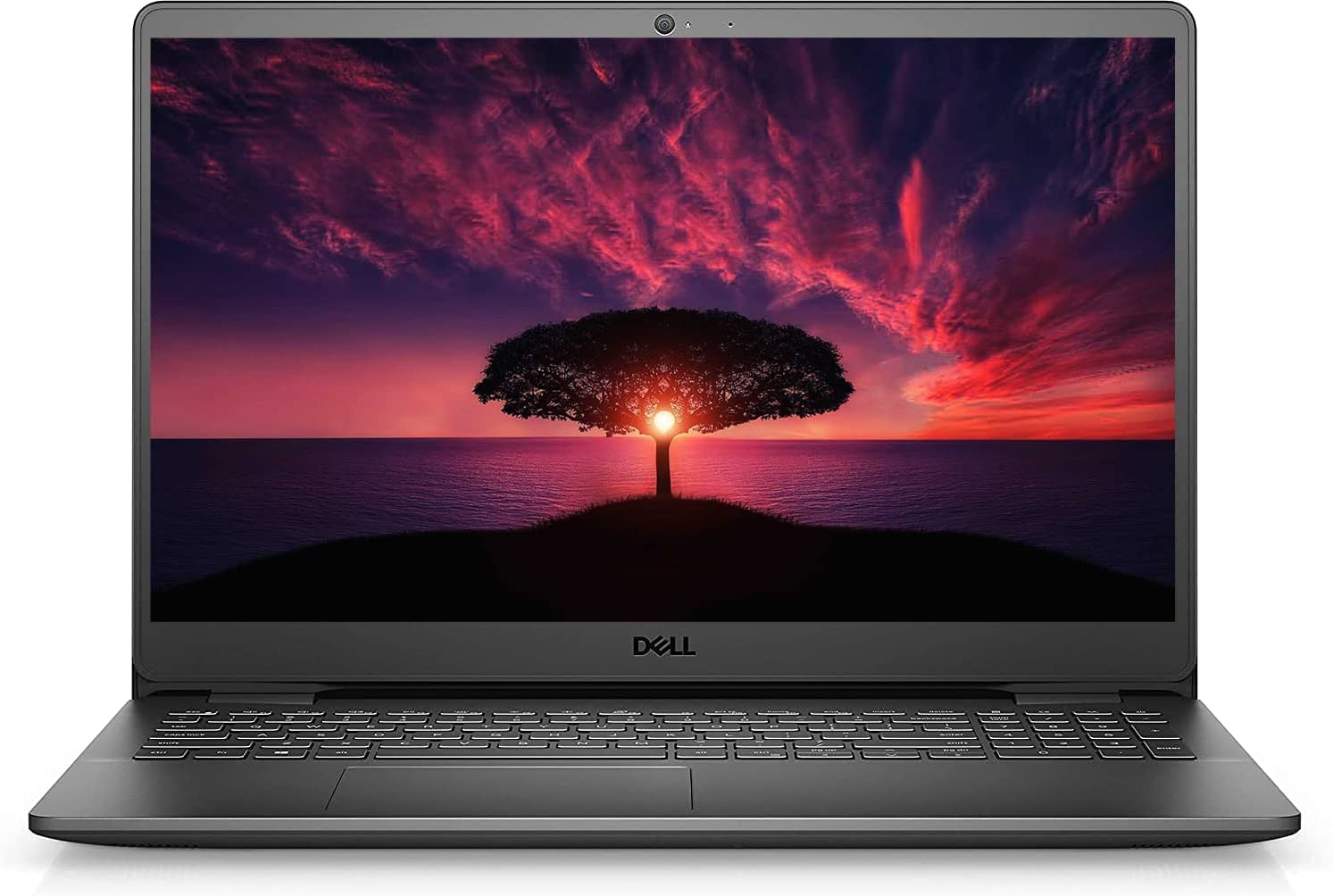 The Dell Inspiron 3000 offers exactly what to expect from a laptop in this price range. The device has a 15.6-inch display screen with a resolution of 1366 x 768 pixels. The laptop boasts a slim and portable structure that makes it very convenient for one to travel with. The Intel Celeron N4020 processor works efficiently and allows users to multitask without worrying about lagging issues.
The hard disk provides a storage space of 1 TBB, and you shouldn't need external storage support while using this laptop. The laptop runs on a Windows 10 Pro and does not take long to boot or process information. As far as connectivity ports are concerned, you get various options, including a microSD card reader and a 3.55 audio jack. While you can create a password to lock the device, it does not come with advanced security features like a fingerprint reader.
Why You Should Buy This?
Recommended for those who plan to invest in a compact, high-performing laptop from a reputed brand.

It is also a suitable option for those looking for a sturdy laptop with good multimedia features.
Pros
Stable processor

Lightweight structure

High-definition screen

Adequate storage support
Cons
No fingerprint reader

The screen is not touch-enabled
See Also: The best laptops for graphic design 2023
Frequently Asked Questions
Should I be worried about the heating of a travel laptop since it is on my lap most of the time?
It is not a major problem since a cooling fan is provided to keep the laptop from getting heated. However, if you are over-concerned about this issue, you can buy a cooling pad available on the market. The laptop can be comfortably seated on this pad, and your body won't come in direct contact with the laptop. This way, your concerns will be addressed. Before buying the cooling pad, you must preferably use the laptop once on travel to experience the heating problem.
Should I choose a smaller-sized laptop for travel purposes?
A standard 15-inch laptop is good for travel laptops. Weight is more important. Check that the travel laptop you will buy is not too heavy. As for the display size, the standard sizes are good enough. You get laptop bags that are convenient to carry and pose no difficulties.
How critical is the battery life in a travel laptop?
Yes, you would want a longer battery life on your travel laptop. You may be on the move most of the time and probably making business presentations. You would not want the laptop to run out of power. When you are buying a travel laptop, do give this aspect due consideration. Some people carry a spare battery with them while traveling. If the laptop has the provision to replace the battery quickly, this can be of help. If you are yet to place the order, you can still go for the model that promises a longer battery life.
Is screen crashing on a laptop a hardware issue or software issue?
In most cases, screen crashing is attributed to the software only. Check if your laptop's software updates have been downloaded and installed. You must seek technical assistance if you experience an issue even after the updates have been duly installed. This is not a serious issue and can be resolved.
Is the stylus useful in a laptop?
A stylus is always a useful tool, though it gives a much better use case with mobiles and tablets. If your laptop comes with a stylus, you must go for it and acclimate to using it regularly. After some days of use, you will find the device quite convenient in carrying out some tasks.
Conclusion
Some of the questions you may have while buying the best travel laptop in 2023 have been addressed here. Most doubts may occur on a product-specific basis. As you browse through the product's details, you will have some questions about specifications. The seller should be able to clear these easily.
If, on the other hand, you have issues after making the purchase, the best course is to get in direct touch with the travel laptop manufacturer and resolve it.