Technobezz is supported by its audience. We may get a commission from retail offers
Summary – Does your job involve a lot of traveling? And do you miss the presence of that desktop monitor of your home? Then you are at the right
Does your job involve a lot of traveling? And do you miss the presence of that desktop monitor of your home? Then you are at the right page as we have listed the top best portable monitors to buy in 2022. Thanks to the ever-evolving technology that makes life much easier by introducing unique things every now and then. Portable monitors also called USB powered monitors are required to plug in through the USB port and that's it. These monitors are very slim, lightweight and interface with your device hassle-free. The top best portable HDMI monitors are listed here to narrow down your search process.
If you travel a lot and prepare plenty of presentations, you might just need a second monitor or a screen. On the other hand, you might have limited port options on your computer and need a monitor for your gaming system or your computer? Also, you might have a small laptop, as it is portable and comfortable to carry around.
However, you might need a larger display for working. Portable monitors are the way to go! These are portable monitors that come with a powerful performance in a compact size. There are plenty of good options when considering portable monitors, available in different budgets. You can use these monitors as your primary display or just as an extended one to your laptop.
See also: Best i7 laptops
Top Best Portable Monitors
Ultra-Light and Slim
Asus MB168B, 15.6 inches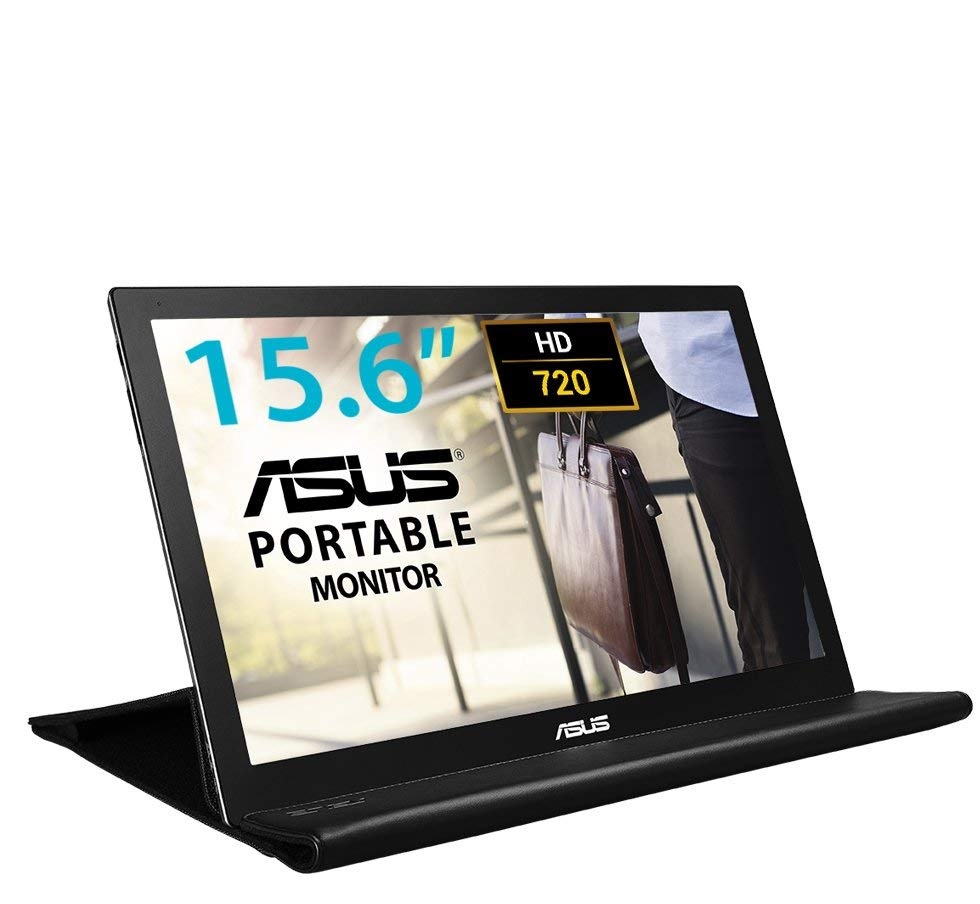 This portable monitor from Asus is powered by a USB 3.0 and comes with a built-in video adapter. It is ultra-light and slim, weighing just 800 grams. As it is USB powered, there are no additional cables or adapters. It is also compatible with a USB 2.0 port.
The monitor comes with a display panel of 15.6 inches in HD and has a resolution of 13266 x 768 pixels, with a 16:9 aspect ratio. The surrounding shell is in plastic with a metallic finish on the back. There's a power LED on the top and there are no ports or cables on the back. The power button and brightness control is also on the top and the USB 3.0 port is at the bottom of the monitor. The monitor has a good brightness of 200 cd/m and a contrast of 500:1, offering good clarity as well. The viewing angle is 90 degrees. There is also a blue light filter that reduces blue light to prevent eye strain.
It comes with a stand, which can also be used as a sleeve for carrying around, known as the Asus Smart case.  You also get a USB 3.0 cable bundled with it. The monitor is an LED with an option for auto-rotate, so that you can use portrait or landscape automatically. It runs on Asus' proprietary EzLink technology, where the display adapter is built in. This means that there is no need for an additional graphics card.
The minimum system requirements are Windows 7 with a 1.4GHz Core 2 Duo and 1GB of RAM or Mac OS X 10.8.3. However, it is not compatible with the MacBook or the MacBook Pro.
Who is it for?
Those looking for a slim and light monitor that they can carry with them while travelling.
Those looking for a simple monitor that is easy to connect and install.
Good option for those who want an extended display for their laptop.
Those who want a travel mate with good ergonomics and powerful performance.
For a Spacious Display on the Road
AOC e1759Fwu, 17 Inches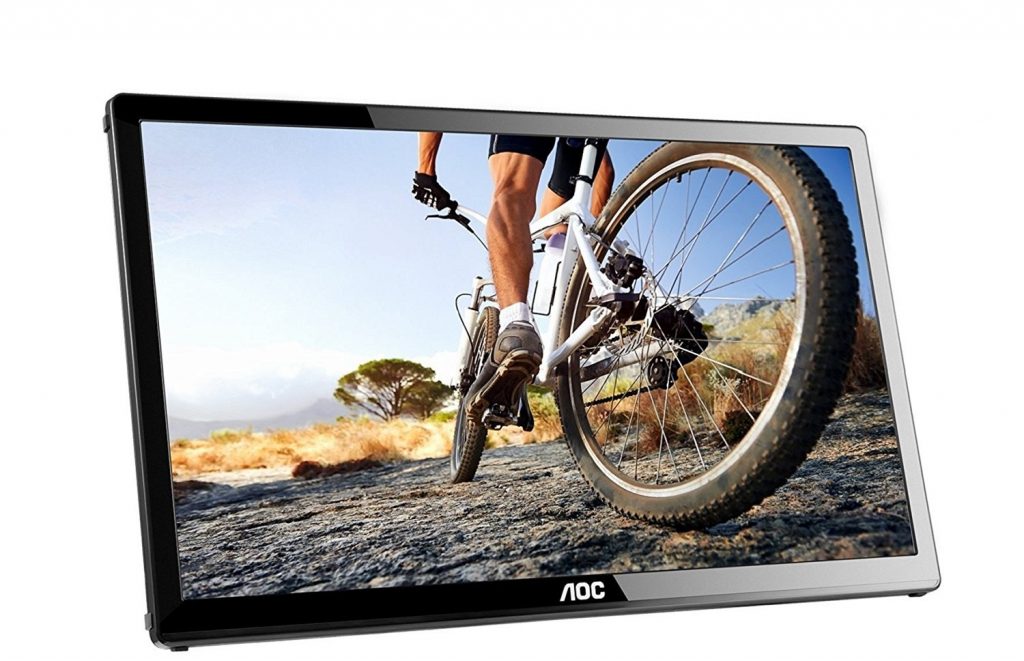 This is an ultra slim, lightweight, portable monitor with a 17.3 inches display screen and a resolution of 1600 x 900 pixels and a brightness of 220 cd/m2, with a response time of 10ms. The screen resolution is 1600 x 900 pixels at a frame rate of 60 Hz and a high contrast ratio of 650:1.  Colors are accurate and bold and images are sharp. The dimensions of the monitor are 16 x 9.7 x 0.6 inches (WHD) and it weighs 2.7 pounds. It comes included with a protective case. The bezels, as well as the cabinet, come in a glossy black finish. It has a foldable and flexible stand.
For mounting ,there are 4 VESA holes and it has one single connector, a USB 3.0 port at the back. Power, as well as video signals, come from the host system using a USB cable. It makes use of the DisplayLink software. There are no additional image settings or functionalities available on the monitor, but ra eorientation of modes, portrait to landscape is automatic.
It can be easily installed by plugging the USB cable into the monitor and connecting it to the laptop or desktop. There is also an additional Y connector for using with older desktops. It is compatible with Windows 10, though only using the DisplayLink drivers.
Who is it for?
Those who are looking for a streamlined and ultra-light monitor with sharp and solid images and accurate colors.
Those who want a light option to bring on the road. Useful for those who want to give presentations, as it has a spacious screen size.
Making Life on the Road Easier with a Touchscreen Portable Monitor
GeChic 1303i, 13.3 inches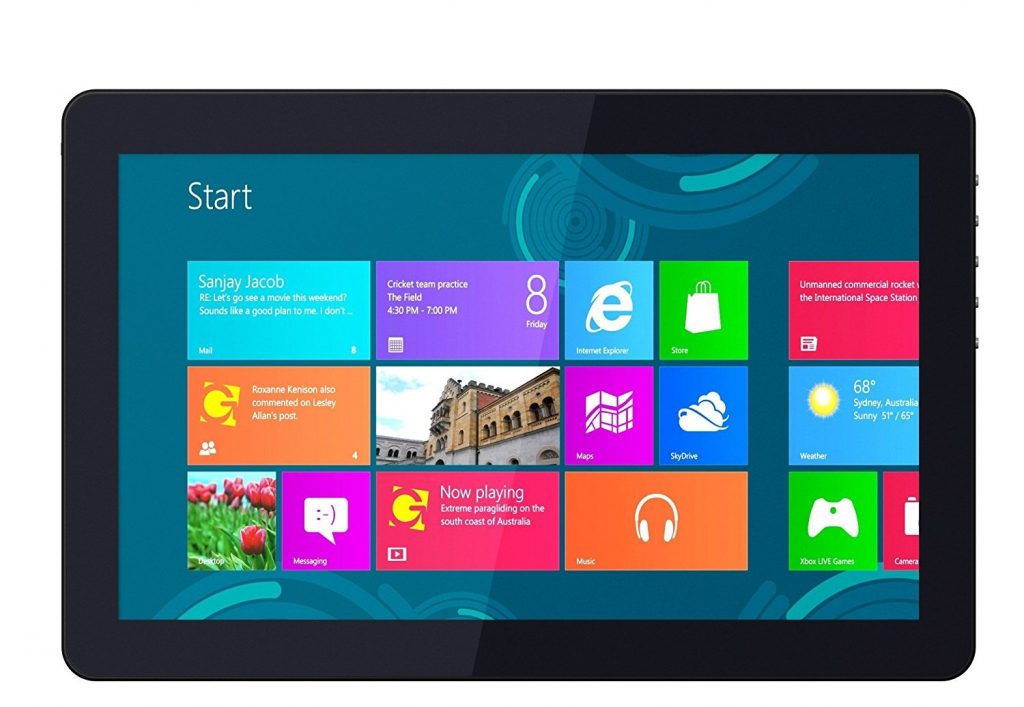 It is a lightweight monitor with HDMI as well as VGA inputs. This means that you can use the monitor with your laptop as well as other devices like DSLR cameras; mobile phones; mini PCs; gaming consoles; Go Pros; Raspberry using HDMI or other VGA ports and so on. It is a USB powered portable monitor and has the True Color display feature, 16.7M offering a crystal clear display.  It is compatible with the Windows 7; 8 and 10 versions.
The screen resolution is 1920 x 1080 pixels and the weight is 1.9 pounds. It is a full efficient HD IPS screen panel. There is a dual speaker that is built in as well. The multi touch, 10 finger recognition features allows users to type on the screen easily. You can improve productivity with this efficient monitor. It is the Plug and Play type powered by USB and there is no need of driver installation.
Accessories included in the box are cover stand; a USB to Micro USB cable of 1.2 meters; one HDMI video cable of 1.2 meters for the display; one mini HDMI to Micro HDMI video cable of 0.6 m length.
Who is it for?
Those who want a portable, touchscreen monitor with HDMI that they can use with their mobile phones and cameras.
Those who want precise and stunning color projections on their portable monitors.
Suitable for those using Windows; professional gamers; and for Apple users needing a portable monitor with high resolution and great display performance.
Perfectly suitable for designers, photographers, containing all the features needed for efficient performance.
Gaming on the Go Portable Monitor
Wimaxit Portable Monitor, 11.6 inches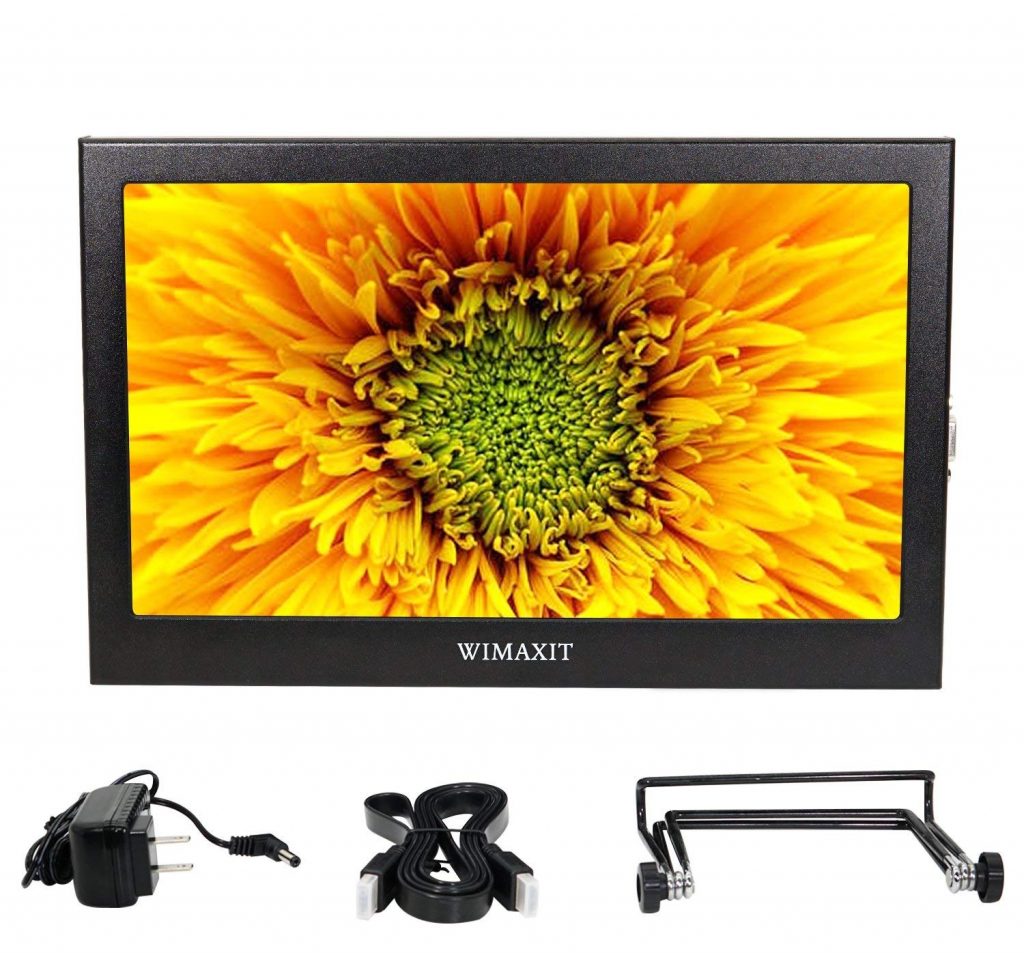 This monitor does not depend on USB for its power, and instead plugs into a 12 volt input. It is a full HD screen and has built in speakers and ha eadphone jack. The monitor comes along with a stand. The display screen size is 11.6 inches and it has a screen resolution of 1920 x 1080 pixels. It also offers support for VGA and HDMI signals up to 1080 pixels. The brightness contrast ratio is a high 800: 1 and it offers sharp pictures with 350 nits.
The casing is durable in Aluminum housing and it is scratch resistant. There are 4 holes present on the rear for a VESA mount. The package includes a stand. It is compatible with the PS3 and PS4 as well as WiiU and Xbox360.
Who is it for?
Those who want a bright screen even when outside.
Excellent for those looking for a portable monitor for entertainment on the go and gamers on the go. You can attach the monitor to the car's headrest to play games on the go.
Attractive and Functional Portable Monitor at a Reasonable Price
HP Elite Display S140u, 14 inches LCD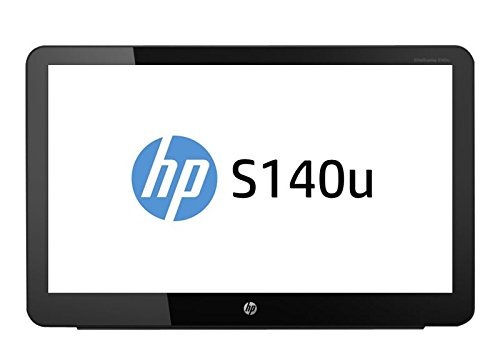 This is a USB powered display monitor of 14 inches LCD real estate with a screen resolution of 1600 x 900 pixels.  It weighs around 3 pounds and is less than an inch in thickness. The protective case included with the monitor has a premium look, made of black vinyl with a faux leather outer covering. The inner surface of the case is made of microfiber material, so that your monitor remains free from scratches during travel.
The HP EliteDisplay S140u comes with an anti-glare or matte screen with brightness up to 200 nits. Viewing angles are 90 degrees for horizontal and 50 degrees for vertical and the response rate is 8 ms. The dimensions of the monitor are 13.6 x 8.55 x 0.53 inches and the weight is 3.28 pounds.
The design of the stand is simple and functional. There is a power button on the rear, for controlling the brightness of the screen. One USB port on the monitor controls both power and video inputs. This means that you do not have to carry any adapter or video cables.
The box includes the magnetic cover; one USB Y cable; one CD ROM of the graphics drivers for the USB and a user manual.
Who is it for?
Those who want a larger screen for sales presentations or multitasking purposes.
Suitable for those who travel a lot, as it has a magnetic protection travelling cover, which can also be used as a supporting stand.
Mobile professionals who are looking for a convenient and low priced second monitor.
Portable Monitor for Graphic Designers and Creative Work
EleDuino Touchscreen Portable Monitor, 11.6 inches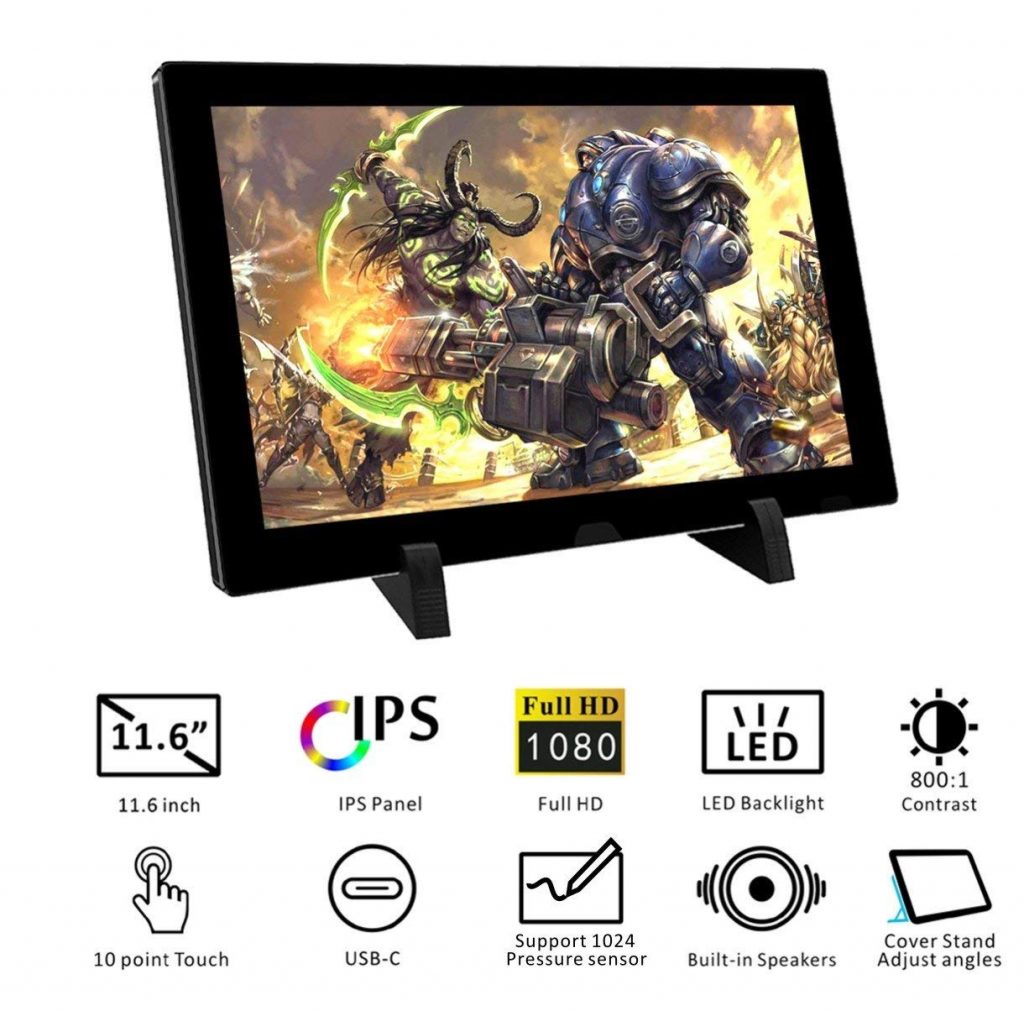 This monitor comes with an LCD Panel having a native resolution of 1920 x 1080 pixels and an aspect ratio of 16:9, with 170 degrees viewing angles. It is a USB multi touch monitor in a sleek, gorgeous and sturdy design. The weight is 1.3 pounds and it is slim at just 1 cm. The screen brightness is 400 cd/m2 and the response time is 26 ms.
The screen has True Color technology 16.7M colors and offers excellent visuals. It offers support for Windows 7; 8; 8.1 and 10 along with support for Raspberry Pi 3b+ 3B B A+ and Raspbian Tested. There is a single cable for; Video, Power and Touch delivery. It supports 1024 levels of pressure sensitivity and can be used for graphics drawing.
Who is it for?
Those who want a portable monitor delivering the excellent visual experience.
Slim and portable, being suitable for frequent travellers and businessmen.
Ideal to be used as a monitor for graphics drawing or for creative artists and beginners who want to learn drawing, designing characters.
Top Tier Gaming Experience with Portable Monitor
G story 11.6 inches full HD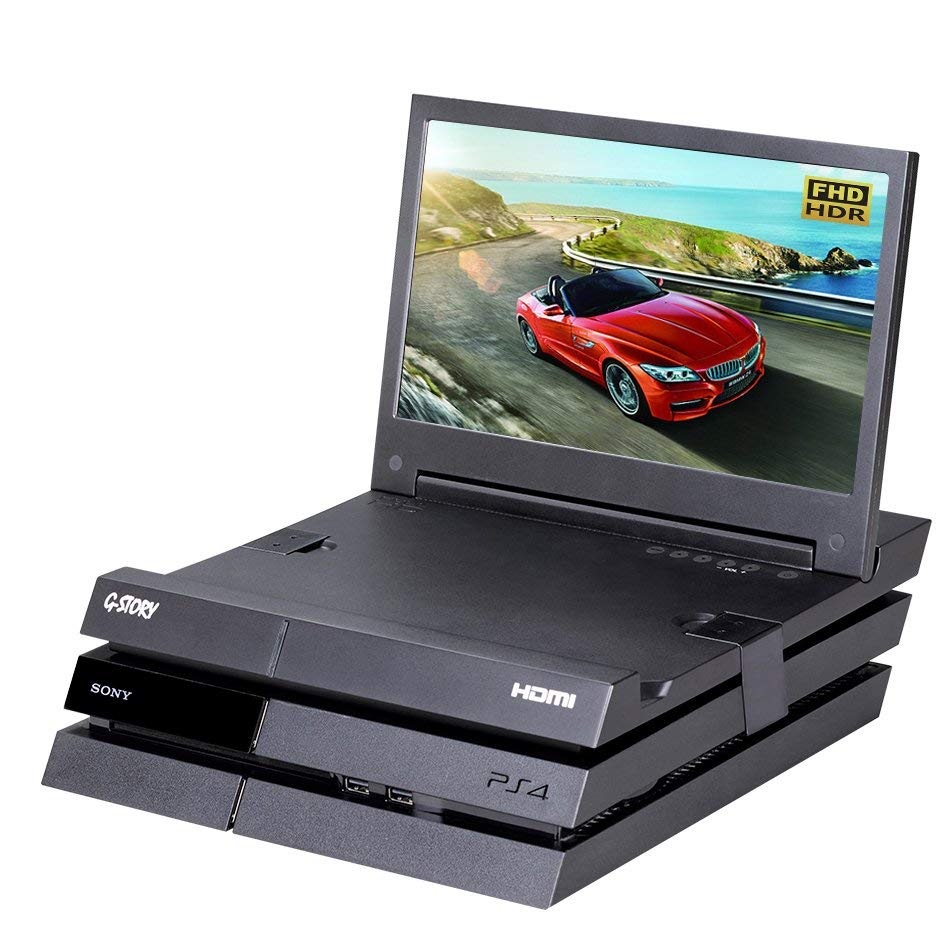 It makes use of HDR technology offering exceptional video quality at high resolutions. The monitor also uses a FreeSync feature, offering lag free viewing. The viewing angles are 178 degrees and the structure of the monitor is compact. It offers support for HDR technology and gives a smooth performance. It is particularly designed with the FPS/FTS gaming functioning in mind, so gaming experience is enhanced in the given modes.
There are 2 HDMI ports for improved connectivity. There is also dual 3.5 mm audio jack so it is easy to play in 2 player mode without interference. There is a built in speaker and you can experience the audio effect even without headsets.   With the dual HDMI ports, it is easy to connect the monitor to any other HDMI device, but not the PlayStation 4. The display screen has a Full HD resolution of 1920 x 1080 pixels.
Who is it for?
Those who want excellent video quality with every detail seen on the screen.
Suitable for gamers who want a portable option. However, it cannot be attached to the original Xbox 1.
For those who want realistic and top tier gaming experience.
Touchscreen Portable Monitor for High Traffic Environments
ViewSonic TD2430, 24 inches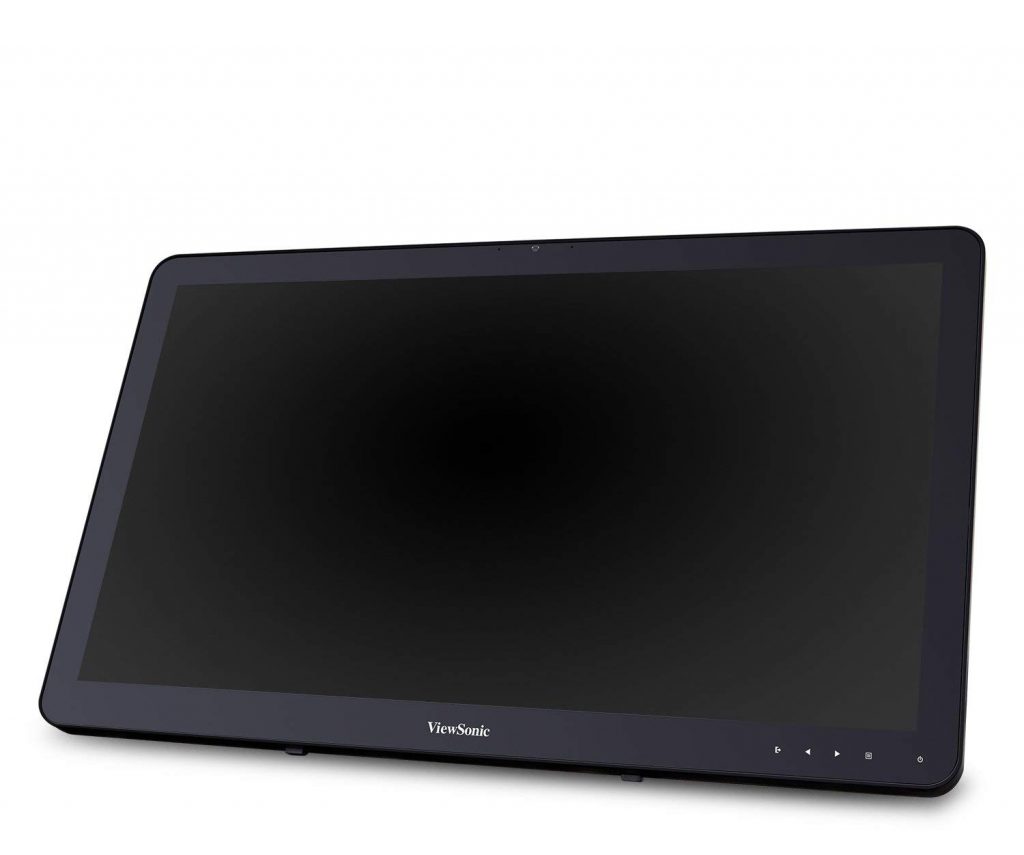 The display on the ViewSonic TD2430 offers the maximum touchscreen versatility. It is a Full HD screen display offering 1-point of multi touch features. The position can be adjusted with wide angle views in a sturdy design.   It comes in a freestanding design like a tablet and has a stable stand that can be adjusted. The bezel is frameless and it has an edge to edge design with an intuitive touchscreen. The display is covered with a strong, protective faceplate that is scratch resistant. The monitor is 24 inches and comes with a resolution of 1920 x 1080 pixels with a static contrast ratio of 3000: 1 and a response time of 25 ms. The brightness levels are 250 cd/m2 and the screen has an aspect ratio of 16:9. The physical dimensions of this portable monitor are 22.6 x 13.9 x 1.9 inches.
It is compatible with several operating systems, such as Windows 10 as well as some Android and Linux versions. It offers support for Windows 7; 8; and 10 as well as Linux 2.6.38 and beyond; along with Android 4.0 and later versions.
The monitor makes use of the SuperClear MVA technology delivery top quality images from all sides with 178 degrees ultra-wide viewing angles. Connectivity options are versatile with a DisplayPort; HDMI; as well as VGA inputs, so that you can connect easily to different devices. There are 2 USB 3.0 Type A; one USB 3.0 Type B; one VGA port; one HDMI 1.4 port and one DisplayPort. It also has two internal speakers of 2.5W.
Who is it for?
Those who want a portable monitor that offers cross compatibility with different OS.
Those who want a touchscreen that is highly accurate and ultra-responsive
Suitable for interactivity in kiosks, search apps, classrooms and so on.
Suitable for office work; entertainment; education as well as business purposes.
Can be used in kiosks and other public environments where a high quality touch experience is needed in high traffic businesses.
Budget Portable Monitor for Gamers on the Go
Eleclink, 10.1 inches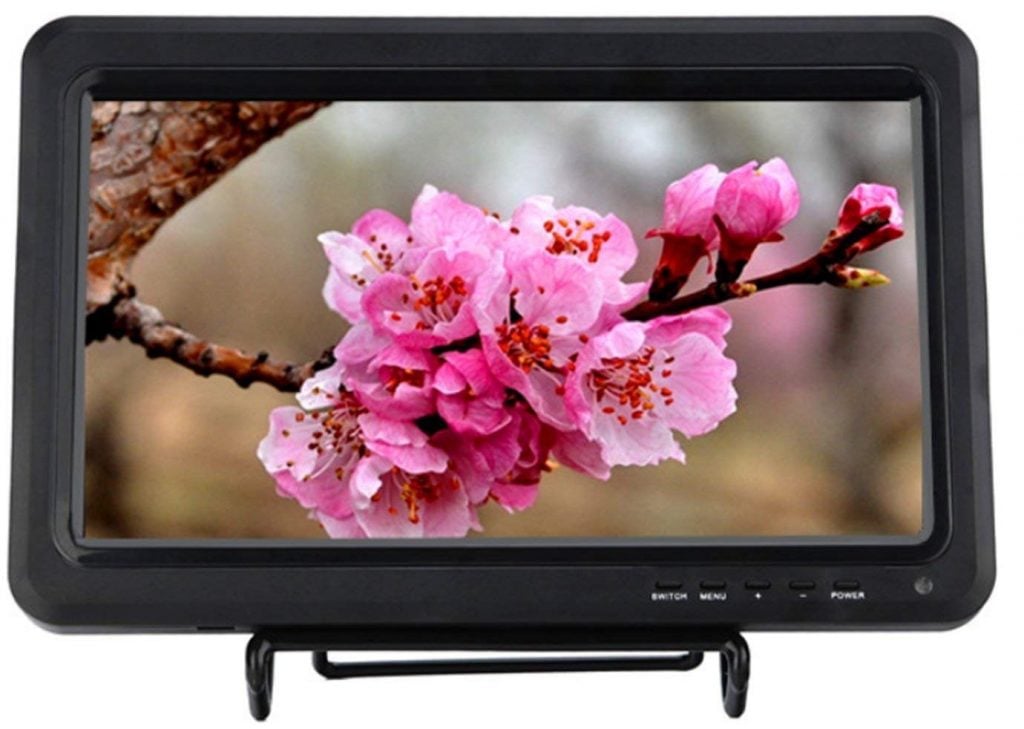 This is a portable LCD display monitor that weighs about 2.75 pounds. The dimensions of the Eleclink monitor are 14.3 x 11.8 x 2.4 LWH. It gets best support from interfaces that mention HDMI; VGA; AV; TV and USB. The graphics power is excellent with a HD display screen.
The screen resolution is 1024×600, having wide screen along with LED backlighting features. The 10.1 inch screen monitor is panel mountable and is convenient to carry around while travelling. The monitor can be used as a computer display or as a monitor with gaming consoles like the PS3; the PS4 and the XBox.
Who is it for?
Suitable for gamers as well as professionals looking for a monitor at reasonable prices.
Super Powerful with Many Interfaces
Elecrow 10.1 Inches Touchscreen Portable Monitor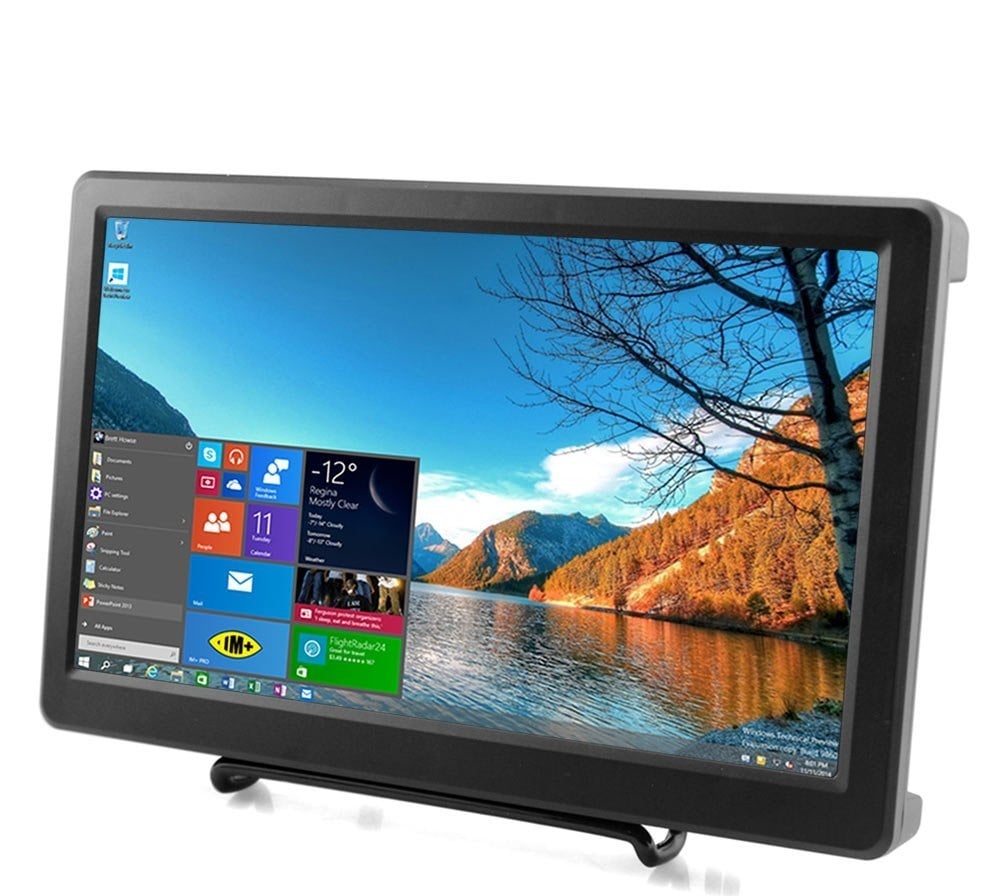 The monitor comes with a metal shell along with a loudspeaker. It can be connected to Raspberry Pi board at the rear. It makes use of 2 in 1 power and the screen is capable of powering the Raspberry Pi, so that wires and clutter are reduced. The screen size is 24.3 x 16.3 x 4 cm (LWH) and the contrast ratio is 500:1.
This is a 10.1 inches portable monitor with IPS LCD technology, and a resolution of 1920 x 1080 pixels. It is a touchscreen monitor and can be controlled remotely as well as by touch. There are keys on the rear, for controlling the display screen or you can use the remote control for adjusting the contrast and colors. It offers support for several video inputs, such as HDMI; VGA; and AV as well as supporting audio.
The IPS display screen offers wide visual angles and a quick response along with accurate colors. The fixing holes at the rear are compatible with Raspberry Pi 3model B; 2modelB; Xbox 360; Windows 7; 8; and 10.
Who is it for?
Popularly used in industrial automations; security; industrial equipment display; car reversing and so on.
Can be used by gamers offering support for PS3 and PS4.
Top Quality Portable Monitor with large Real Estate
GeChic 1503H 15.6 inches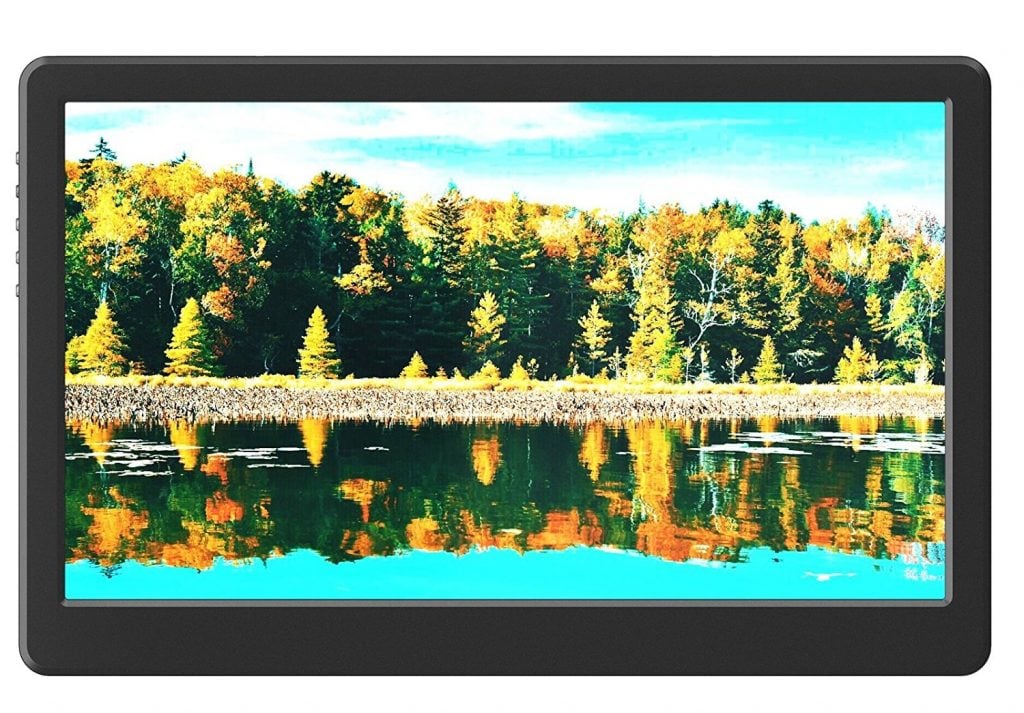 This is a 15.6 inches monitor with a Full HD IPS screen display of 1920 x 1080 pixels. It weighs 798 grams. For connectivity, there are 2 mini HDMI inputs; 2 USB A to 1 USB C power cable; one HDMI to mini HDMI cable.
The bezel is in plastic and it comes with a plastic cover as well. There is a stand for placing the monitor in three different positions. At the rear is a port for optional docking. The GeChic 1503H does not make use of drivers and can work just like usual HDMI displays, with the USB ports on the laptop providing the power, so you just have to plug it in and start playing.
The menu on the screen offers several options. For instance, you can choose from different color presets, change an individual color setting; choose the contrast and so on. Viewing angles are excellent and image quality is also equally good even from oblique angles, so you can share the screen with others at a meeting, for instance. Features and accessories can be tailored to personal preferences and requirements.
Who is it for?
It is a versatile monitor for those who want to do multitasking on the go.
Suitable for those who want to work without giving up screen space. Useful if you want a large, portable monitor with excellent image quality.
Other models worth buying
Best Slimmest Portable Monitor With Excellent Display
ASUS MB169B+ USB Portable monitor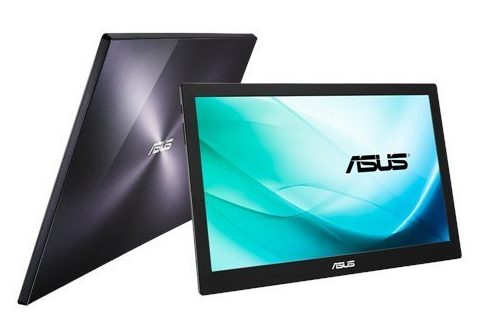 One of best USB-powered monitor that is among the slimmest and lightest monitors of the world and the best part is you will get it at a very affordable price. The screen is 15.6-inch full HD having 1920×1080 resolution. The look is very stylish with a very sleek and metal finish. The stand let it place both the ways in portrait mode and landscape mode. So, you can place it your way to get things done easily. Other interesting features include the auto-rotating display, ASUS smart case etc. In other words, this portable monitor is a must to consider if you are planning to own one.
Best USB Powered Portable Monitor with Latest Features
AOC e1659Fwux- Pro 16" FHD LED Portable Monitor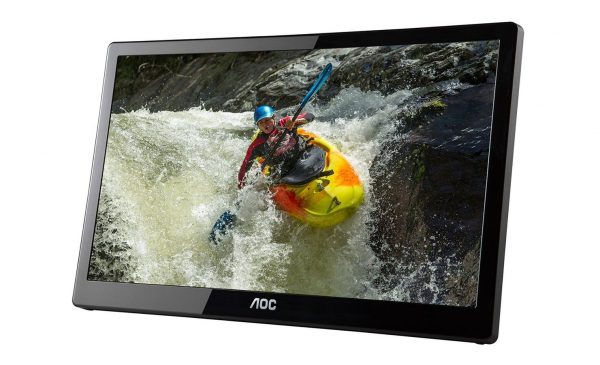 Faster connection speed, the sleek great design is what that makes this monitor one of the best options to consider. Also, since it is lightweight, it is a great travelling companion to all the frequent travellers. The display is big, 16-inch with 15.6-inch viewable and the display has a full HD 1920×1080 resolution along with 300cd/m2 brightness, so you can enjoy each and everything in this set smoothly. It is compatible with the latest operating system Windows 10 as well, so not to worry in case you love to work on the latest OS. The foldable flexi stand allows you to have both the view portrait and landscape, whatever you are comfortable with.
Best Portable Monitor With Bigger And Excellent Display
AOC E1649FWU 16" USB Powered monitor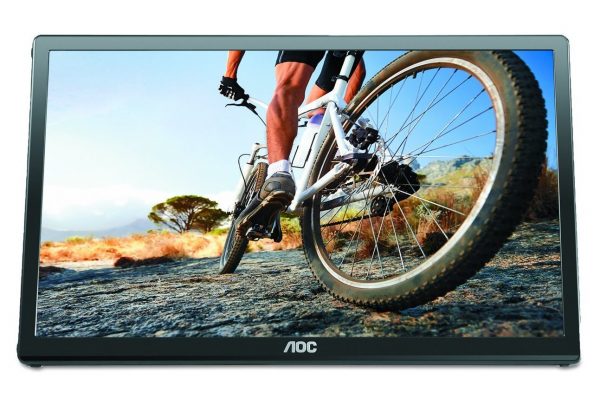 Supported by USB 2.0 technology this is another best portable monitor which requires no external powered cord. The LED LCD ultra-thin display lets you enjoy everything at your best. The screen is big enough almost 16" while 15.8-inch is viewable. The foldable stand let you place the monitor in both positions landscape and portrait. The best thing is this monitor is compatible with all the OS except Windows 2000 and the previous Windows OSes. If you are a very frequent traveller, this lightweight monitor with ultra-slim design can be a great company which occupy hardly any place in your luggage.
Best USB Portable Monitor With Cute Small Screen
Lilliput 7" LCD USB Powered Monitor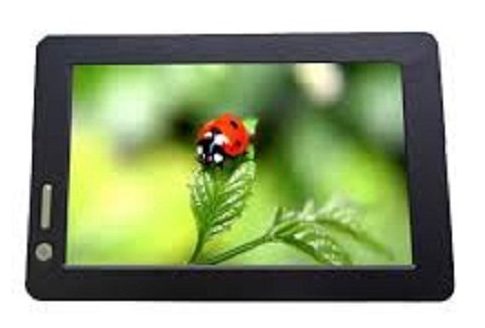 If you are looking for a portable monitor that is comparatively small in sizes than the other options listed here, then you can look at this one from Lilliput that has a 7-inch display with 16:9 aspect ratio and 250:1 contrast ratio. The screen resolution is 800×480 pixels. The LED backlight ensures a brighter display while the USB powered feature ensures no need of having any other external power cord. This great piece is fully compatible with Windows XP, Vista and Windows 7.
Best USB Powered Portable Monitor With Wide-Ranging Features
GeChic 1503I Portable with HDMI and VGA Ports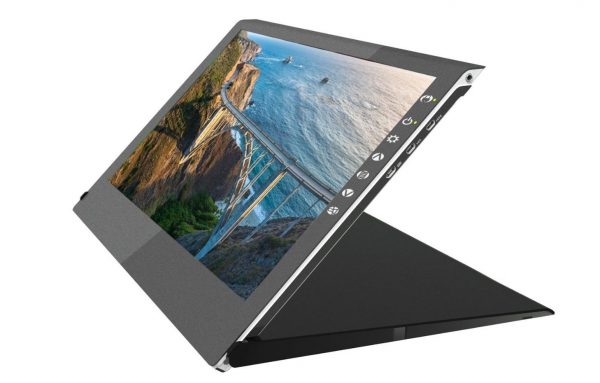 Perhaps the expensive set in this list which comes packed with some improved and extensive features that made it a unique portable monitor to own. The monitor employed IPS panel and the full HD display with 1920 x 1080 resolution and 250cd/m2 backlight are just great to enjoy. The monitor has 262k colours which are just amazing. Also, apart from just being a USB portable monitor, this one comes featured with VGA input and micro HDMI port so that users can interface the monitor with their devices. It has a protective case that is also used as the stand.
Conclusion
The problem that PC fans have with a laptop is that it is not as powerful as a desktop. When they are travelling, it is not possible to carry a laptop as well as a computer with a full-sized monitor. Now, you can purchase these high-quality portable monitors at decent prices. Portable monitors are naturally smaller than the regular computer monitors, with an average screen size of 14 inches or less. It's a perfect solution when you are on the go!
Think about the size you need. 7 inches might seem ideal, but if you need to read a lot of text, go for something bigger or even for the 24 inches monitor, depending on your requirements. Small size means more portability, but a bigger size offers more comfortable viewing options. As for resolution, there are no 4K resolutions available in the portable field, but you can opt for the HD resolutions.
Also, take into consideration the compatibility with your laptop or desktop. Some of the options are touchscreen ones. They are convenient for navigation and scrolling. Moreover, you don't need to carry a mouse while travelling! Other things to consider would be USB powered monitors and whether you need speakers on board, especially in case of gaming.
See also: Top best laptops for teachers
---