Technobezz is supported by its audience. We may get a commission from retail offers
Does your job involve a lot of traveling? And do you miss the presence of that desktop monitor of your home?
Table of Content
Does your job involve a lot of traveling? And do you miss the presence of that desktop monitor in your home? Then you are on the right page as we have listed the top best portable monitors to buy in 2022. Thanks to the ever-evolving technology that makes life much easier by introducing things now and then. Portable monitors also called USB-powered monitors are required to plug in through the USB port and that's it. These monitors are very slim, lightweight, and interface with your device hassle-free. The top best portable HDMI monitors are listed here to narrow down your search process.
Buying Guide
If you travel a lot and prepare plenty of presentations, you might just need a second monitor or a screen. On the other hand, you might have limited port options on your computer and need a monitor for your gaming system or your computer. Also, you might have a small laptop, as it is portable and comfortable to carry around.
However, you might need a larger display for working. Portable monitors are the way to go! These are portable monitors that come with a powerful performance in a compact size. There are plenty of good options when considering portable monitors, available for different budgets. You can use these monitors as your primary display or just as an extended one for your laptop.
Before we get to the list of best portable monitors, let's see what factors you must consider before making the important decision of buying a monitor.
Your budget
How much it weighs
How big is the display
Whether you get a case for carrying the monitor separately
How many years of warranty do you get
See also: Best i7 laptops
Top Best Portable Monitors
A portable monitor that makes screen sharing extremely simple
SideTrak Swivel Attachable Portable Monitor
Check Price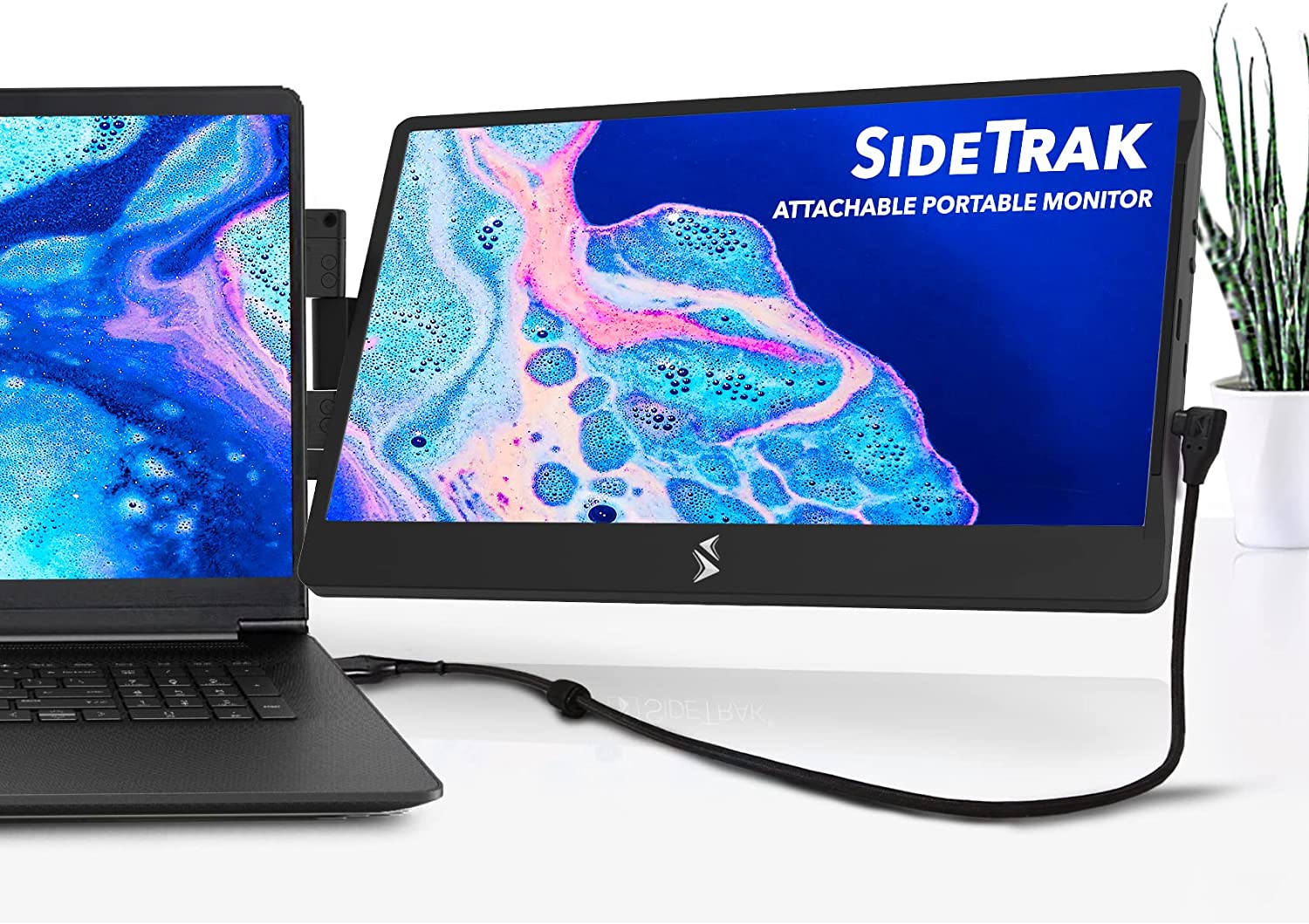 This monitor by SideTrak can be the perfect mashup of productivity and portability in a single device. With a screen of 14-inches, you can easily mount this monitor to the back of your laptop and double your productivity instantly. It weighs only 1.2 pounds and the stand has a strong magnet. It means that you can carry your laptop anywhere without removing the monitor.
There are some additional features in this monitor. For example, you can share your screen easily by mirroring, extending, or rotating your screen horizontally and vertically. This laptop is compatible with Android as well as macOS devices.
This portable monitor is highly portable and slim so you can travel with it easily.
It is a 12.5-inch full HD monitor so you don't have to worry about losing the quality of the picture.
Extremely lightweight
Compatible with multiple operating systems
Adjustable brightness and other features
May slip off due to light design
The magnet in the stand may not be strong
A monitor that boosts your productivity by 1.5X
Trio Max Portable Monitor
Check Price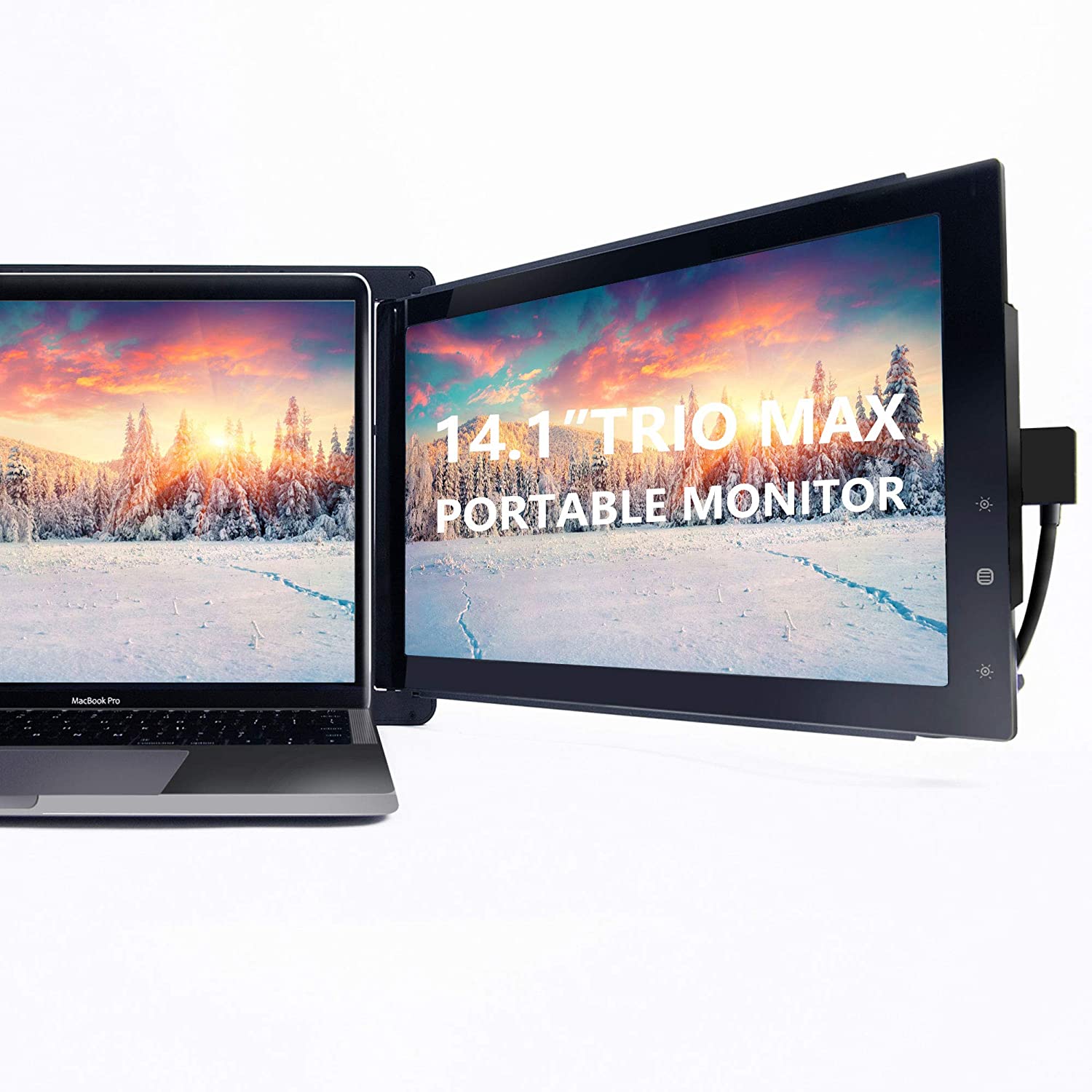 Looking for a monitor that boosts your productivity? Here's the solution to your problem. This monitor by Trio with a 14-inch display is designed in such a way that integrates entertainment with your work in the best possible way. This monitor has been known to boost productivity by over 50%. No matter what operating system you have been using because this monitor works with all types of OS.
It's extremely easy to set up. All you have to do is plug a single cable and your setup will be up and running in a few seconds. The monitor has features that block the blue light and excessive glare coming from the screen. In addition to this, it also allows you to adjust the brightness of the screen.
This portable monitor comes with a 1-year warranty so you don't have to be stuck with a faulty device.
You can choose to extend or mirror the display for a better viewing experience.
A high-definition wide viewing screen
User-friendly
Different picture mode
It may not be compatible with macOS
May slip off the main device
An ultra-slim monitor that offers 24X7 customer support
Portable Monitor - KYY
Check Price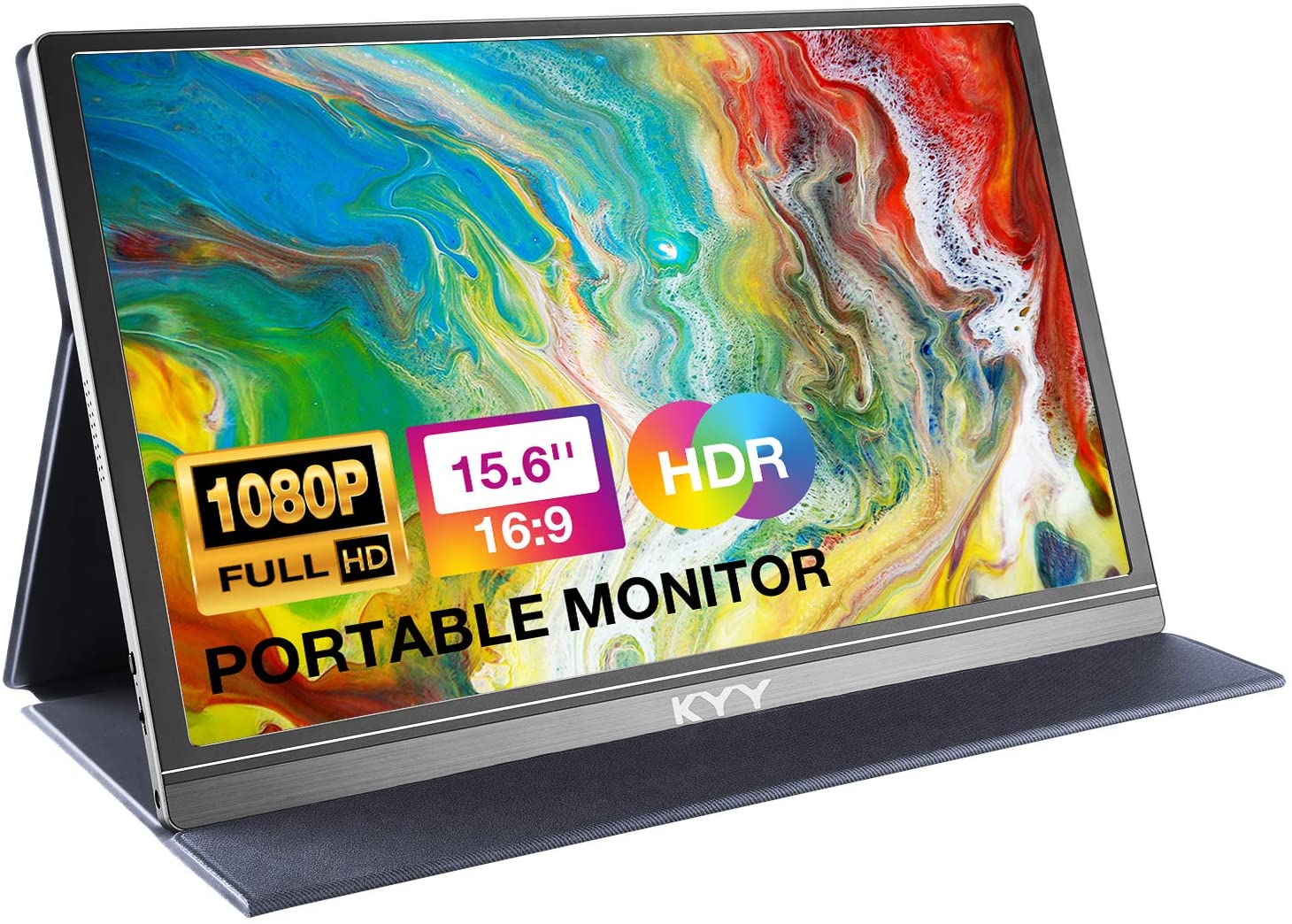 Equipped with excellent color rendering quality and brilliant HDR technology, this portable laptop is the best choice for gamers. Secondly, the monitor has features that reduce the blue light strain on the eyes, allowing you to work on your device and this monitor for long hours. It includes 2 USB Type-C ports and a mini HDMI port that lets you connect multiple devices to your monitor at the same time.
The most striking feature of this monitor is that it comes with a durable cover that can be turned into a stand while working. There are two grooves in the cover to let you change the viewing angle of the monitor. In addition to this, KYY provides 24X7 customer support service.
This portable monitor offers a 178-degree viewing angle.
Dual picture modes are available.
Compatible with laptops, phones, and other devices
Ultra-slim screen
Comes with a durable cover
The screen may become dim after long-term use
The settings do not remain saved
A monitor with an adjustable stand and multiple screen modes
Portable Monitor - Lepow
Check Price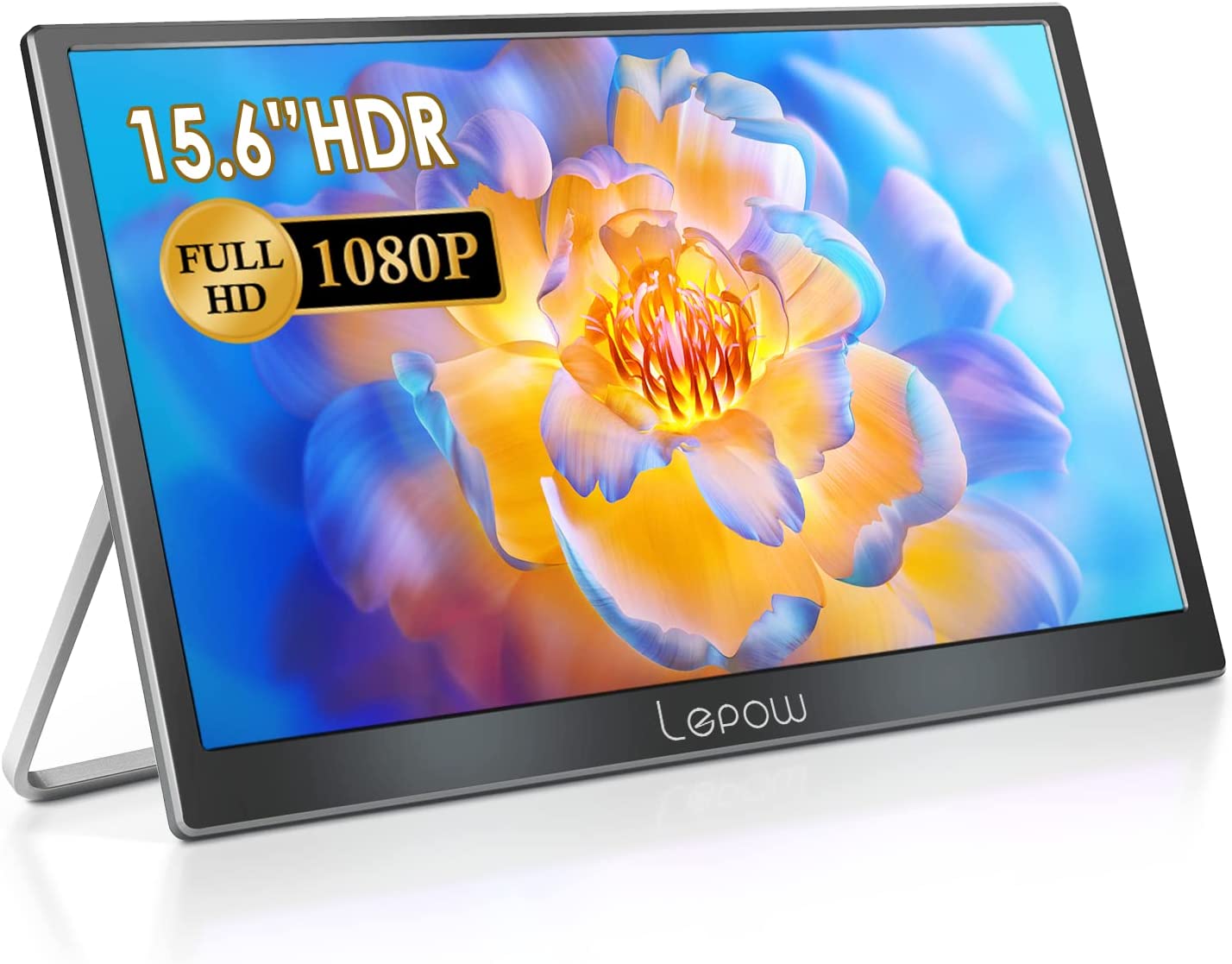 This portable monitor with 1980X1080 resolution is designed to offer an outstanding visual experience with no stuttering or flickering of the visuals. This is especially beneficial for those gaming buffs who don't want to play their HD games on a bad screen. With a mini DP port, a Type-C port, and a mini HDMI port, this monitor is compatible with all kinds of devices.
It weighs only 1.65 pounds, the monitor comes with a foldable stand so that you can carry it anywhere you want, connect it to your device and start working even while traveling. You can also adjust the stand in a range of 120 degrees to get a more personalized experience.
Why Should You Buy This?
It comes with a foldable stand which can be carried anywhere to attach the monitor to your main device on the go.
Multiple screen modes enable you to adjust the monitor settings according to your needs.
Pros
Blue light radiation reduction features
Wide compatibility with multiple ports
Dual speakers for a better sound
Cons
More costly when compared to other monitors
Refresh rate is lower than its competitors
A monitor that comes with a strong cover to protect the display
PONKLOIE Portable Monitor 2022
Check Price
Weighing only 1.42 pounds and having a thickness of just 0.39 inches, this portable monitor is designed to improve your work efficiency and provide you with the optimum viewing experience. You can increase the speed of your work by simply connecting this Full HD 15.6-inch screen to your laptop or smartphone. You can choose to duplicate the screen or extend the screen, depending upon your requirements.
You can connect this monitor with a variety of devices since it has multiple ports to attach all kinds of input cables. It comes with a display cover and a pen hole to keep the pen in place. It also has built-in dual speakers so you can have an enhanced audio experience.
The monitor is thin and lightweight which makes it easy for you to fit it anywhere and carry it with you.
It comes with a very strong cover and a pen hole to reduce damage to the screen.
Allows multi-screening of laptops
Very lightweight
Supports multiple types of ports including Type-C
A bit expensive
May not power up from the computer
A monitor with excellent picture quality and contrast ratio
Portable Monitor, Arzopa 15.6'' FHD 1080P Portable Laptop
Check Price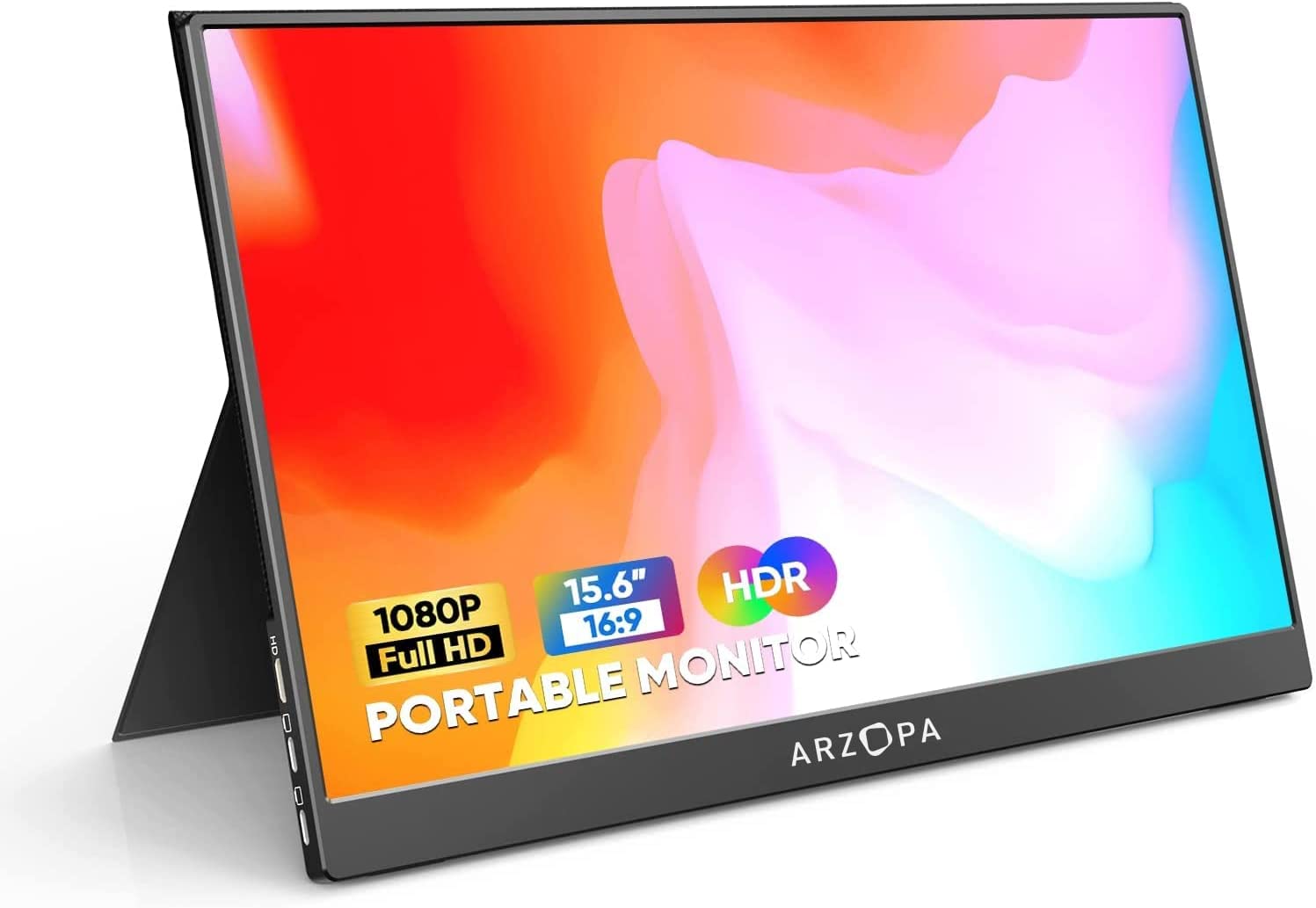 Designed to deliver the best picture quality, this monitor offers a resolution of 1980X1080 and a contrast ratio of 1000:1. It comes with an IPS screen that provides a wide viewing angle of 178 degrees allowing you to take a real-life viewing experience. It weighs only 1.44 pounds and is only 0.2 inches thick. Therefore, this monitor is very easy to carry.
This portable laptop by Arzopa offers multiple screen modes, that is, duplicate mode, extend mode, and second screen mode. This means that you can scale up the screen of your phone and view things on a bigger screen. For additional protection, the monitor comes with a leather cover, preventing it from getting scratched.
Why Should You Buy This?
You can adjust the display mode to extend, mirror, or duplicate the screen.
The monitor is compatible with a wide range of devices like XBOX, computers, phones, etc.
Pros
Allows a wide viewing angle of 178 degrees
Multiple display modes for a personalized experience
Dual functioning USB ports
Cons
The viewing angle may change when the monitor is mounted.
The stand may not be very tight and the monitor may slip off.
Conclusion
The problem that PC fans have with a laptop is that it is not as powerful as a desktop. When they are traveling, it is not possible to carry a laptop as well as a computer with a full-sized monitor. Now, you can purchase these high-quality portable monitors at decent prices. Portable monitors are naturally smaller than regular computer monitors, with an average screen size of 14 inches or less. It's a perfect solution when you are on the go!
Think about the size you need. 7 inches might seem ideal, but if you need to read a lot of text, go for something bigger or even for the 24 inches monitor, depending on your requirements. A small size means more portability, but a bigger size offers more comfortable viewing options. As for resolution, there are no 4K resolutions available in the portable field, but you can opt for the HD resolutions.
Also, take into consideration the compatibility with your laptop or desktop. Some of the options are touchscreen ones. They are convenient for navigation and scrolling. Moreover, you don't need to carry a mouse while traveling! Other things to consider would be USB-powered monitors and whether you need speakers on board, especially in the case of gaming.
See also: Top best laptops for teachers
---