Technobezz is supported by its audience. We may get a commission from retail offers
Apple MacBook Air 13.3-inch Display Screen Laptop
Lenovo Flex 5 Backlit Keyboard Laptop
Acer Chromebook Spin 311 11.6-inch Display Screen Laptop
Table of Content
Animation is gaining popularity in a wide range of sectors such as gaming. They rely heavily on graphics for their effectiveness. It is thus a known fact that those engaged in this field will need laptops with good graphics processors to produce the desired animation effect. The display of the device also plays an important role in bringing out the best animation. Often, gaming laptops can prove to be a good choice when you are looking out for a device to bring out the best of your animation skills. Almost all popular manufacturers have laptops dedicated to gaming. The following are some laptops that you might consider checking out to determine if any of them meet your needs.
See also: Best computer for AutoCAD
Buying Guide
If you are buying laptops for animation in 2023, you have a wide choice. You can spend time analyzing the various specifications in each model and pick the best one. There are some special requirements when it comes to creating animation on laptops as briefly referred to above. If you are already thorough with the activity, it may take very little time in going through the specs and choosing the best laptop. If you are not sure, here are some tips that may be useful.
Display Size: Your laptop for animation must have as large a display size as possible. While you are developing the various screens, you may want to be sure of the minute details and a larger screen will help with this.
Display Resolution: Check if you can get a laptop with a better screen resolution than the regular ones. A full HD resolution will help while creating animations online.
Processor: A powerful laptop is required while working on animation. Ideally, the latest generation of Intel Core i7 or an equivalent chipset will be suitable.
Graphics: There has to be excellent graphics support to the processor if the animation work is to be handled efficiently on the laptop. Look for the appropriate NVIDIA GeForce graphics card for your laptop for animation. No compromises here.
RAM: You will be better served with at least 16GB of RAM for animation work. Creating animation on the laptop will require faster performance from the machine and only a great combination of processor and RAM can offer this.
Storage: The laptop you are choosing has to have sufficient storage facilities for all the work you will be doing on it. 1TB will be the optimum level of storage you should be looking for.
Battery: If you intend to carry on the animation work or any other activity on your laptop outside, then the battery has to last several hours. The latest laptops not only come with better batteries but many of them can be recharged very fast. Look for such a laptop.
Software Compatibility: You may be using several additional software programs on the laptop while doing your animation work. The laptops you are now buying must allow you to download and use existing software. Check this out.
Best Laptops for Animation
High-End Laptop with Outstanding Features
Apple MacBook Air 13.3-inch Display Screen Laptop
Check Price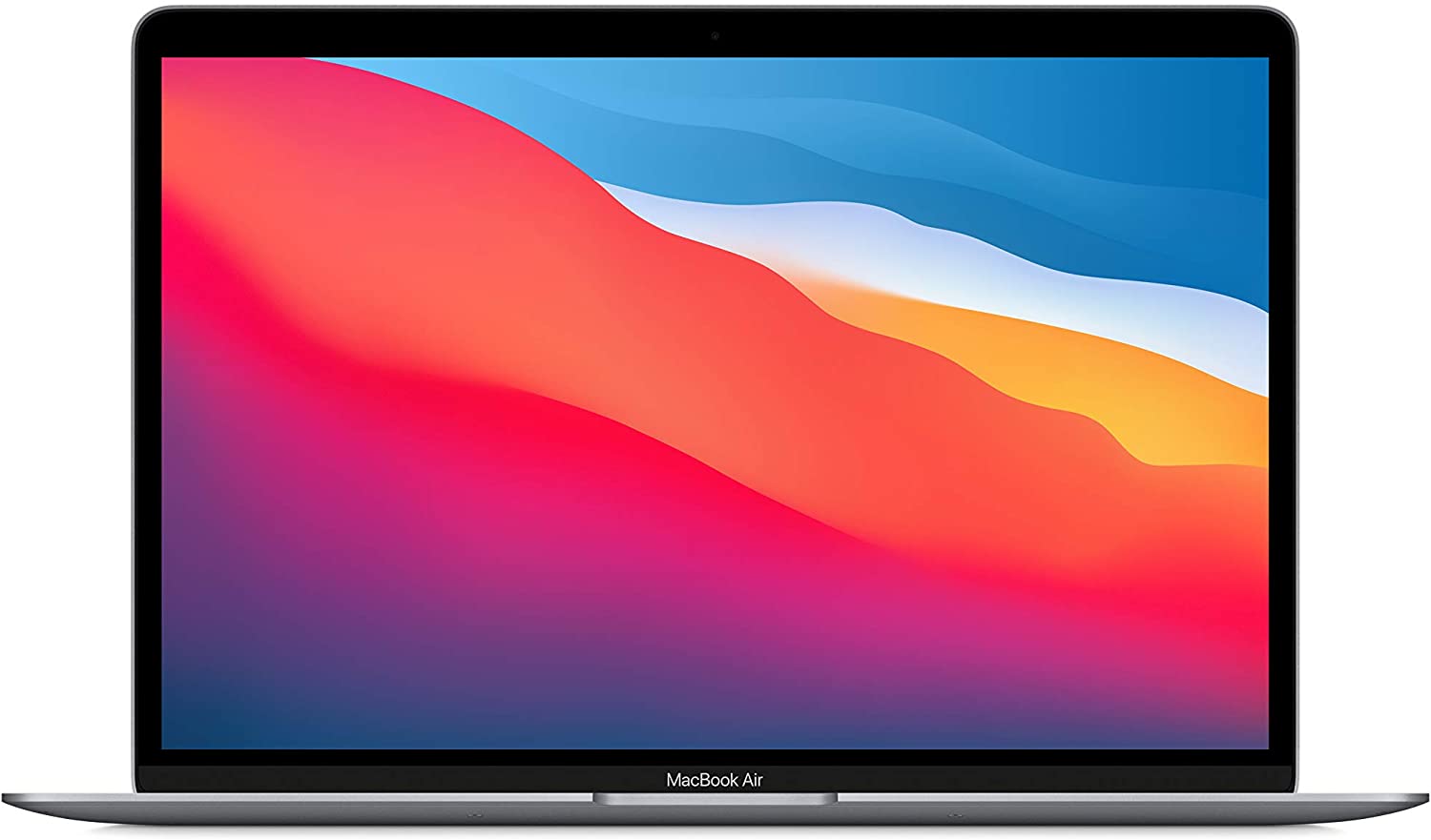 There is a reason why a large number of animators prefer using a MacBook model. The laptops by Apple are known to be equipped with features that facilitate animation and other media-driven visual processes. The Apple MacBook Air features a 13.3-inch display screen that produces a resolution of 2560 x 1600 pixels. At 2.8 pounds, the device is extremely lightweight and very easy to carry around.
The MacBook Air has often been criticized for featuring a limited number of ports and it is high time Apple works towards giving users more connectivity options. One of the highlights of the MacBook Air is its high-quality scissor-switch keyboard that is extremely comfortable to work on. The 720p webcam should be good enough for those who engage in video calls or virtual conferences regularly. The Touch ID button is highly responsive and is one of those features that will help you keep your data safe.
A suitable option for animators who have been planning to invest in an Apple device to do their professional assignments.

Also recommended for those who need a sturdy laptop that offers excellent performance and is convenient to travel with.
High-resolution webcam

Scissor-switch keyboard

Responsive fingerprint reader

Compact and lightweight structure
Limited connectivity ports

Thermal management could be better
2-in-1 Convertible Laptop with 14-inch Display Screen
Lenovo Flex 5 Backlit Keyboard Laptop
Check Price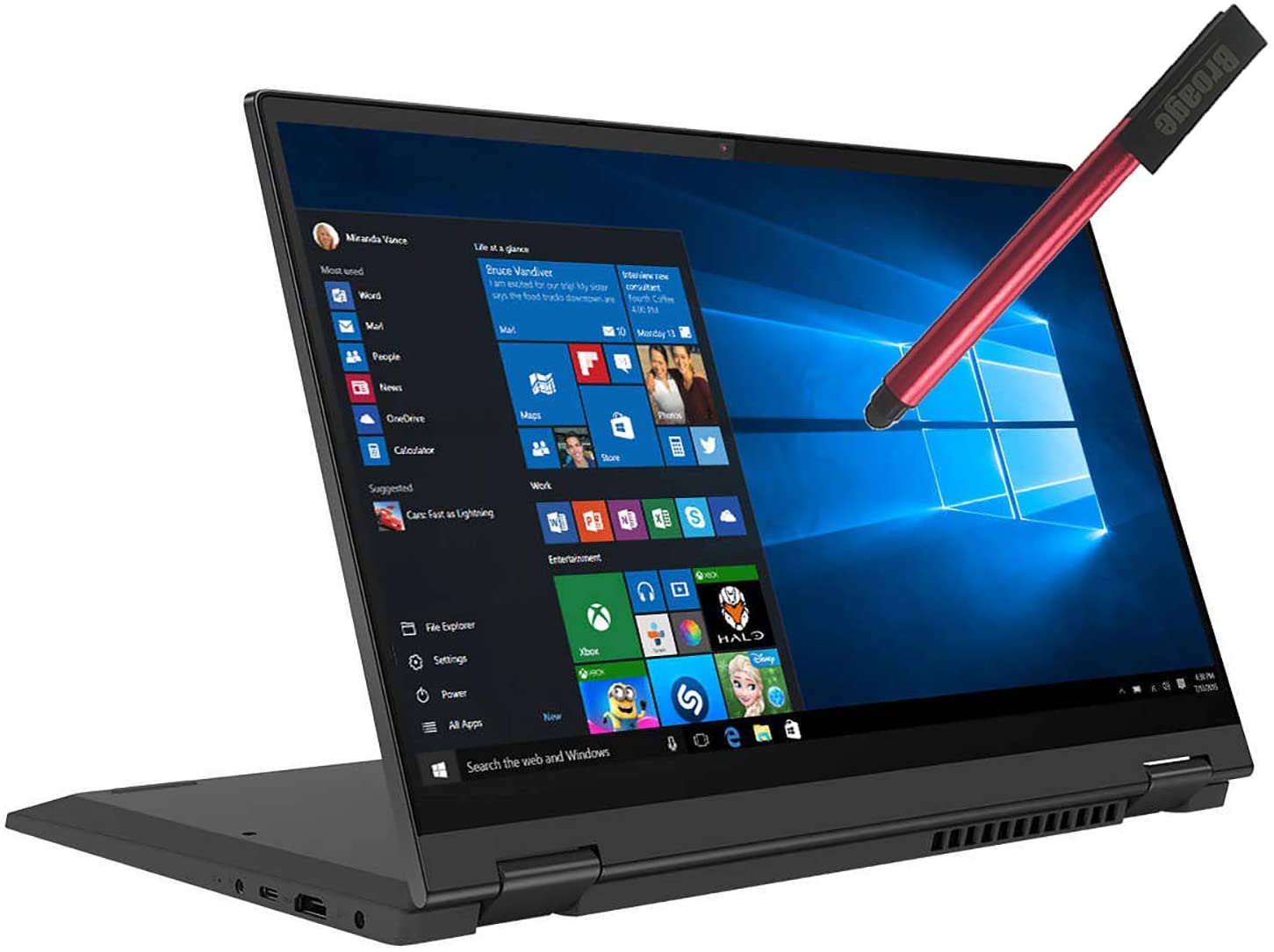 These days, many electronic brands are manufacturing 2-in-1 convertible devices. However, very few of them get it right. The Lenovo Flex 5 is an ideal example of how a convertible device should be designed. Featuring a 360-degree rotatable hinge, it is very easy to convert this device from a laptop to a tablet and vice versa. It boasts a stylish, slim design and you can carry it easily with you while traveling.
The device comes equipped with a 14-inch display screen that is touch-enabled and produces a resolution of 1920 x 1080 pixels. It offers multiple connectivity options including a microSD card reader and a 3.5mm headphone jack. The backlit keyboard produces vibrant lighting effects and offers a great amount of comfort. Fingerprints help you unlock the device instantly and work as a good feature to safeguard your data.
A very good option for animators who need a laptop and a tablet at their disposal on a day-to-day basis.

It is also suitable for those who travel frequently and would benefit from a computing device that is easy to move around with.
Lightweight structure

2-in-1 convertible design

Sensitive fingerprint reader

Comfortable backlit keyboard
No digital pen provided

The display screen could have been brighter
Budget-Friendly Convertible Laptop with Strong Battery Support
Acer Chromebook Spin 311 11.6-inch Display Screen Laptop
Check Price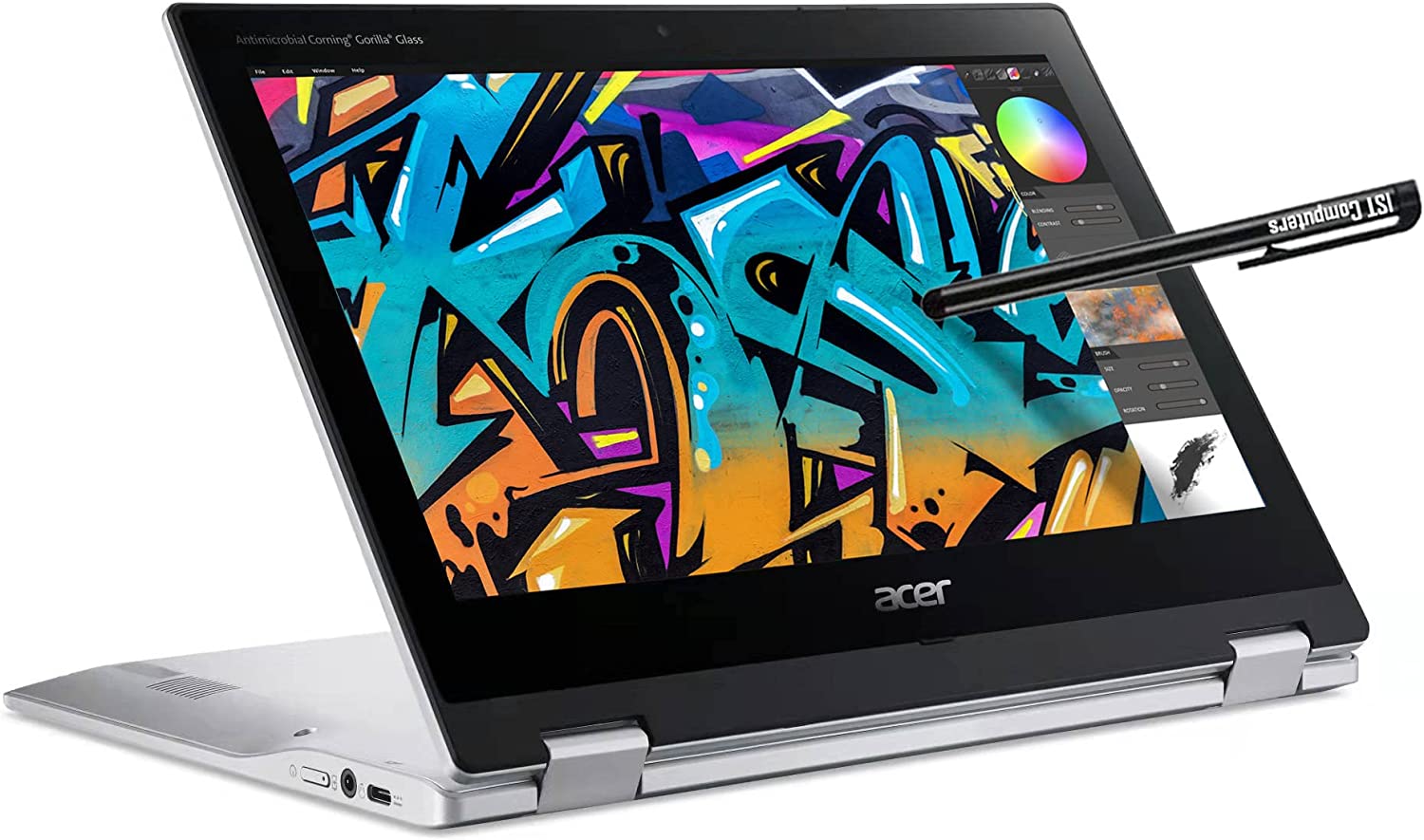 The Acer Chromebook Spin 311 features an 11.6-inch display screen that offers a resolution of 1366 x 768 pixels and is ideal for working on animation projects. Since the screen is touch-enabled, you can maneuver across it easily. The compact structure of this device makes it ideal for animators and those who are constantly on the move. It weighs just about 2.3lbs, so it works very well as a travel partner. Being a convertible device, you can use it both as a laptop and a tablet.
The highlight of this device, of course, is its battery life. When charged optimally, the battery lasts for 12-13 hours. The device comes armed with an 8-Core MediaTek MT8183 processor that lends a good amount of efficiency to the laptop. The 4GB low bandwidth RAM doesn't add much value to the laptop and this is one area where the device would benefit from an upgrade. If you like using a pair of headphones while using your laptop, you will appreciate the presence of the 3.5mm audio jack.
Despite being a budget-friendly laptop, it offers high functionality and great features.

Also recommended for those who have been looking for a convertible laptop that is easy to travel with.
Moderate pricing

Compact structure

Convertible feature

Touch-enabled screen
Thick bezels

Low-bandwidth RAM
15.6-inch Display Screen Laptop with High-Resolution Webcam
Lenovo Thinkpad E15 Gen 2 2 TB Storage-Space Drive Laptop
Check Price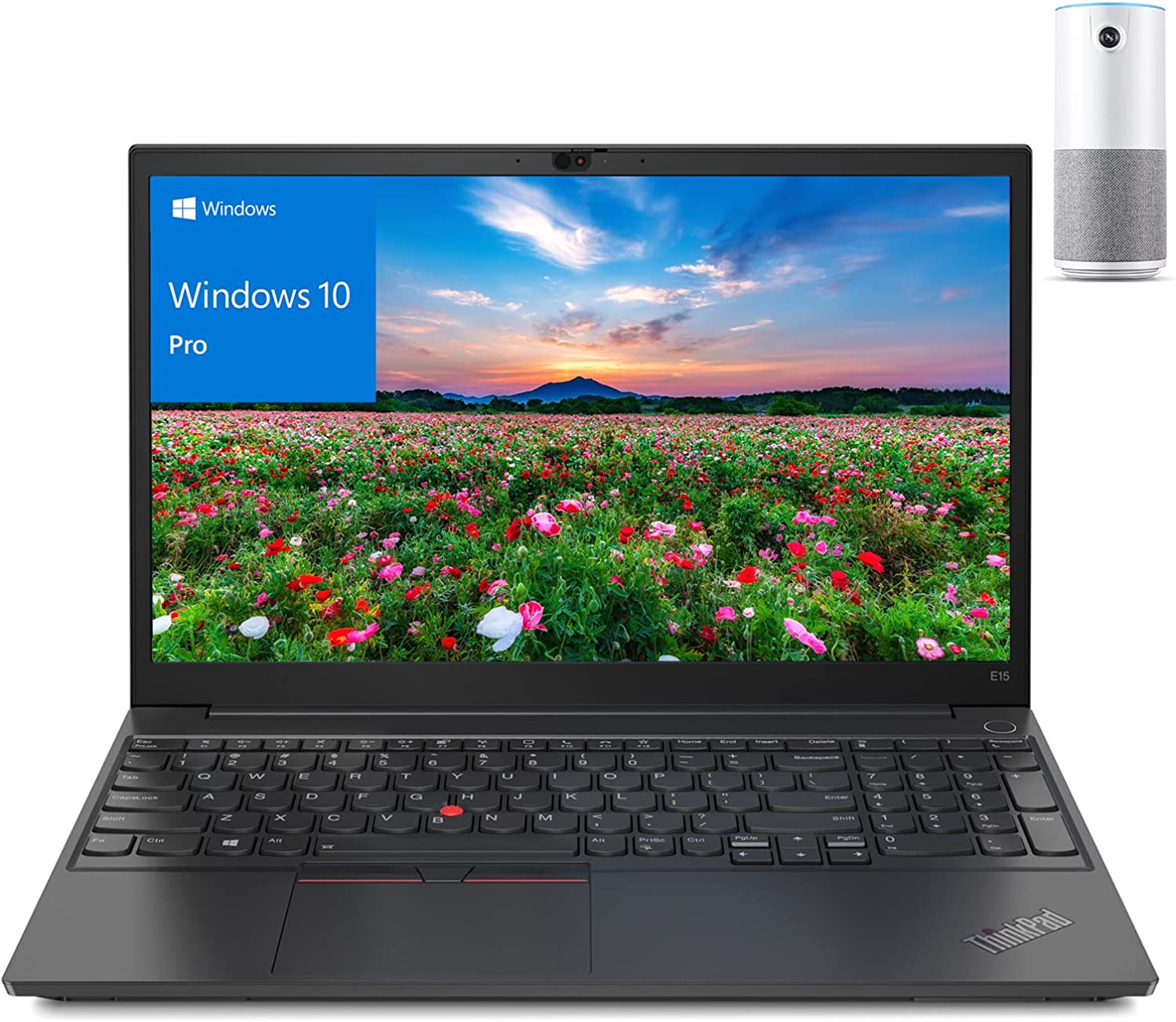 The over-simplistic design of the Lenovo Thinkpad E15 Gen 2 doesn't do much to attract your attention towards it. However, if you are willing to look past the uninteresting design, you will get a laptop that is highly durable and delivers robust performance. The display screen is 15.6-inches and offers a resolution of 1920 x 1080 pixels. The 720p webcam offers great clarity and enables you to participate in virtual conferences confidently.
The keyboard is very comfortable to use but if you have been wanting to use a backlit keyboard for some time, you will be disappointed. Despite being sturdy and highly functional, the keyboard does not offer a backlit feature. The 2 TB storage-space drive ensures that you will never run out of space and can use this laptop as your primary storage device. The laptop offers multiple connectivity options including a 3.5mm headphone jack.
Why You Should Buy This?
A suitable option for animators who have been looking for a laptop device featuring a 15-inch display screen.

It is also recommended for those who do a lot of video calls and require a laptop that comes with an HD webcam.
Pros
720p webcam

Durable structure

Adequate storage support

Good connectivity features
Cons
17.3-inch Display Screen Laptop with RGB Backlit Keyboard
MSI Alpha 17 Well-Built Gaming Laptop
Check Price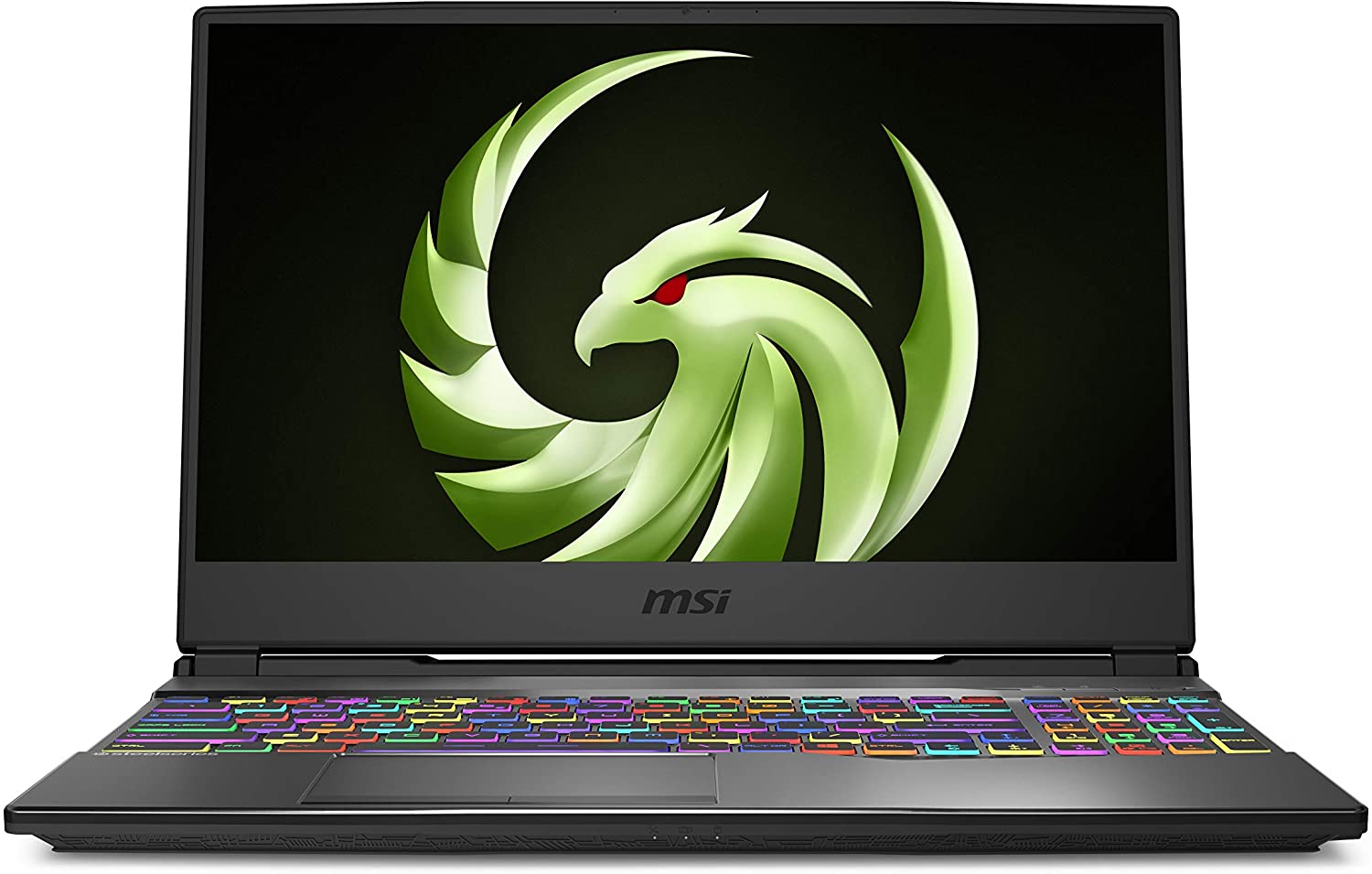 Good-quality gaming laptops prove to be as beneficial to professional animators as they do to gamers. The MSI Alpha 17 features a 17.3-inch display screen that offers a resolution of 1920 x 1080 pixels. Apart from playing high-end games, the screen works as a very good base for you to create animated visuals and designs. The laptop is made of highly durable components. Once you purchase it, you can expect it to run smoothly for a couple of years.
At 5.1 pounds, the laptop is slightly heavy and could cause some discomfort when you travel with it initially. The RGB keyboard, which produces great lighting effects and is very comfortable to use, is one of the laptop's major highlights. While the laptop does feature an internal cooling system, when you use the device for several hours at a stretch, it does get overheated. Though the laptop does not feature an optical drive, it offers several other connectivity options.
An ideal option for animators who have been looking for a high-end laptop with a large and vibrant display screen.

It is also recommended for those who have been planning to invest in a sturdy gaming laptop with an RGB keyboard.
Durable structure

Reliable processing unit

17.3-inch display screen

Comfortable RGB keyboard
Quite heavy

No Thunderbolt port
Budget-Friendly Laptop for Animators
Acer 311 Chromebook 11.6-inch Display Screen Laptop
Check Price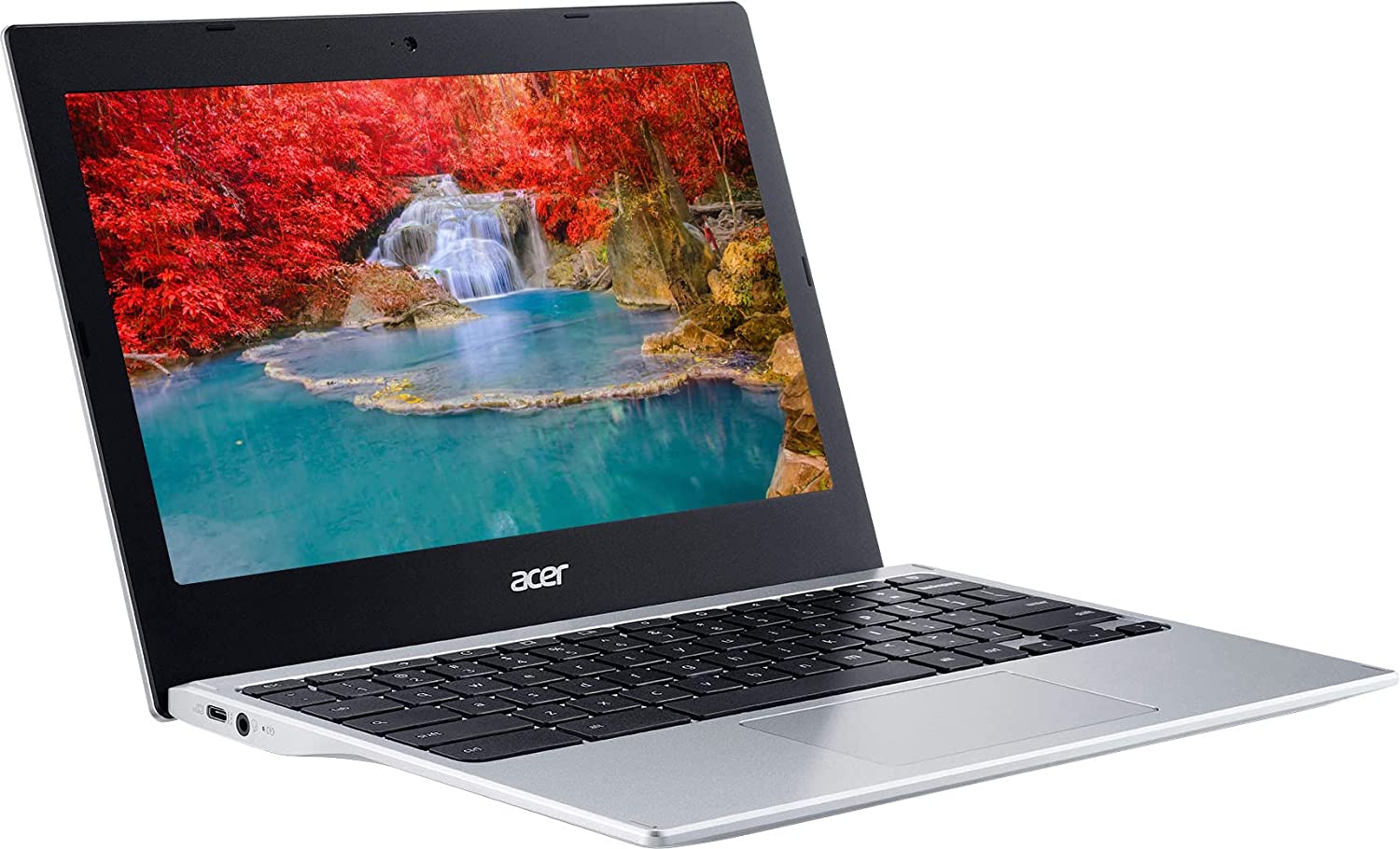 The Acer 311 features a design that many would describe as "dated." It does not come with several advanced features that you might expect on a modern-day laptop. Being a budget laptop, you have to overlook certain shortcomings. Because when you do, you get a laptop which turns out to be a very good performer and makes you complete your personal and professional tasks efficiently. The display screen is 11.6-inches wide and offers a resolution of 1366 x 768 pixels.
The battery life offered by this budget laptop is its biggest selling point. When you charge it optimally, the battery lasts for as long as 15 hours. It runs on the MediaTek MT8183C 8-Core CPU which proves to be quite efficient. The device features 4 GB RAM and the hard disk offers 32 GB of storage space.
Why You Should Buy This?
A very good option for animators who have been planning to buy a budget-friendly professional laptop.

It is also a good option for those who wish to invest in a compact and travel-friendly laptop device.
Pros
Affordable

Stable processor

Strong battery life

Lightweight structure
Cons
Thick bezels

Limited storage support
Best Animation Laptop with Built-In DTS Headphone: X Processing
LG Gram Multiple Ports Animation Laptop
Check Price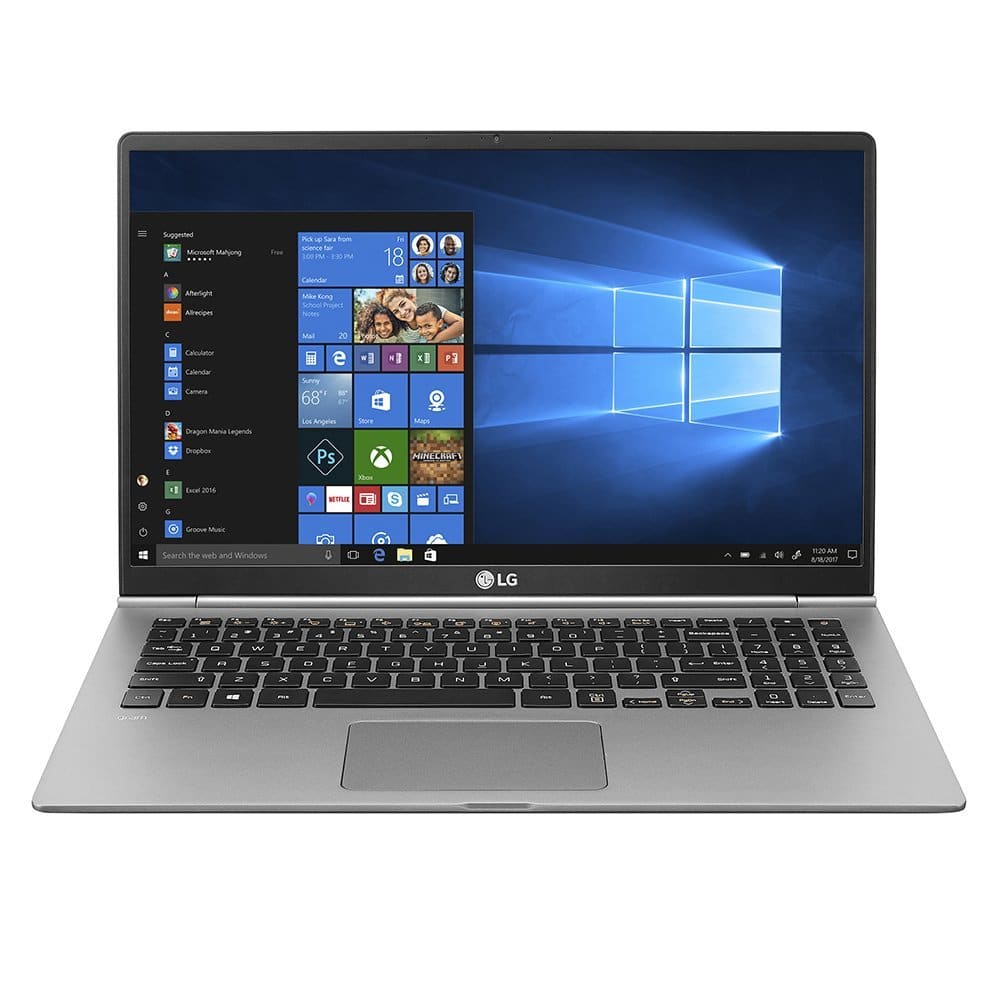 The LG laptop comes with a 15.6" screen with Full HD IPS LCD and 1920 x 1080 pixels resolution. The laptop encompasses 8 GB RAM, an Intel 8th Generation i5 quad-core processor, and an Intel UHD graphics coprocessor with a dedicated graphics card. The device also includes a 256 GB solid-state flash memory hard drive. It is pre-loaded with Windows 10 Home operating system.
The dark silver laptop has a compact metal alloy body of Nanocarbon magnesium that makes it durable and lightweight at the same time. The device comprises a micro SD card reader, an HD webcam, and a backlit keyboard. The unit incorporates a USB Type C port, three USB 3.0 ports, an HDMI port, and a headphone/microphone port with inbuilt DTS Headphone: X processing. The system supports a wireless connection with Wi-Fi 802.11 ac. It works with a 72 Whr battery that has a long life of 19 hours with a single charge.
Who should buy this?
The LG laptop is ideal for people who want to see the animation in their system on a big screen such as a television because of the HDMI port.
The long life of the battery makes the device apt for those who are apprehensive of their laptop running out of juice while they are working on developing animated content.
The system is a good choice for those who want to watch their favorite animated movie saved on a memory card because of the card reader.
See also: Best laptops for college students under $500
Best Animation Laptop with One Year Warranty
Fusion5 Light and Flexible Animation Laptop
Check Price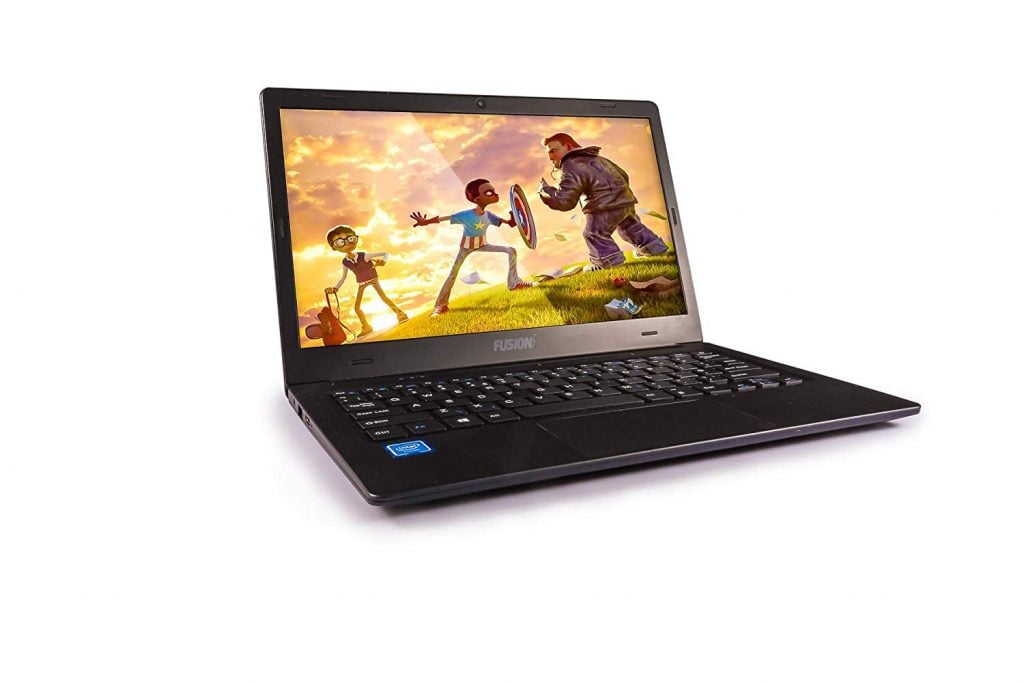 The Fusion5 laptop features an 11.6" screen with an IPS Full HD display, MicroEdge technology, and 1920 x 1080 pixels resolution. The laptop comprises 2 GB RAM, 32 GB eMMC onboard storage, an Intel Atom quad-core 1.83 GHz processor, and a 7th Generation Intel HD graphics coprocessor. The existing 32 GB storage can be raised to 128 GB using a micro SD TF card. It comes preinstalled with a Windows 10 Home operating system.
The black-colored laptop is ultra-slim, lightweight, and highly flexible. The system can be stretched up to an angle of 170 degrees to make it as flat as possible for comfortable viewing. The device has a front-facing 0.3 MP VGA camera for video chats. The gadget comprises a mini HDMI port and a USB 2.0 port. It works with an 8,000mAh lithium polymer battery and features a one-year warranty from the manufacturer.
Who should buy this?
A Fusion5 laptop is a great option for people who want the animated files on their system to load immediately without a lag as soon as they are accessed from the location, they are saved.
The system is ideal for those who want to enjoy animated movies when on the move because of its lightweight feature that makes it easy to carry the unit everywhere.
Best Animation Laptop with Dolby Atmos Stereo Speakers
Lenovo IdeaPad Anti-Glare Screen Animation Laptop
Check Price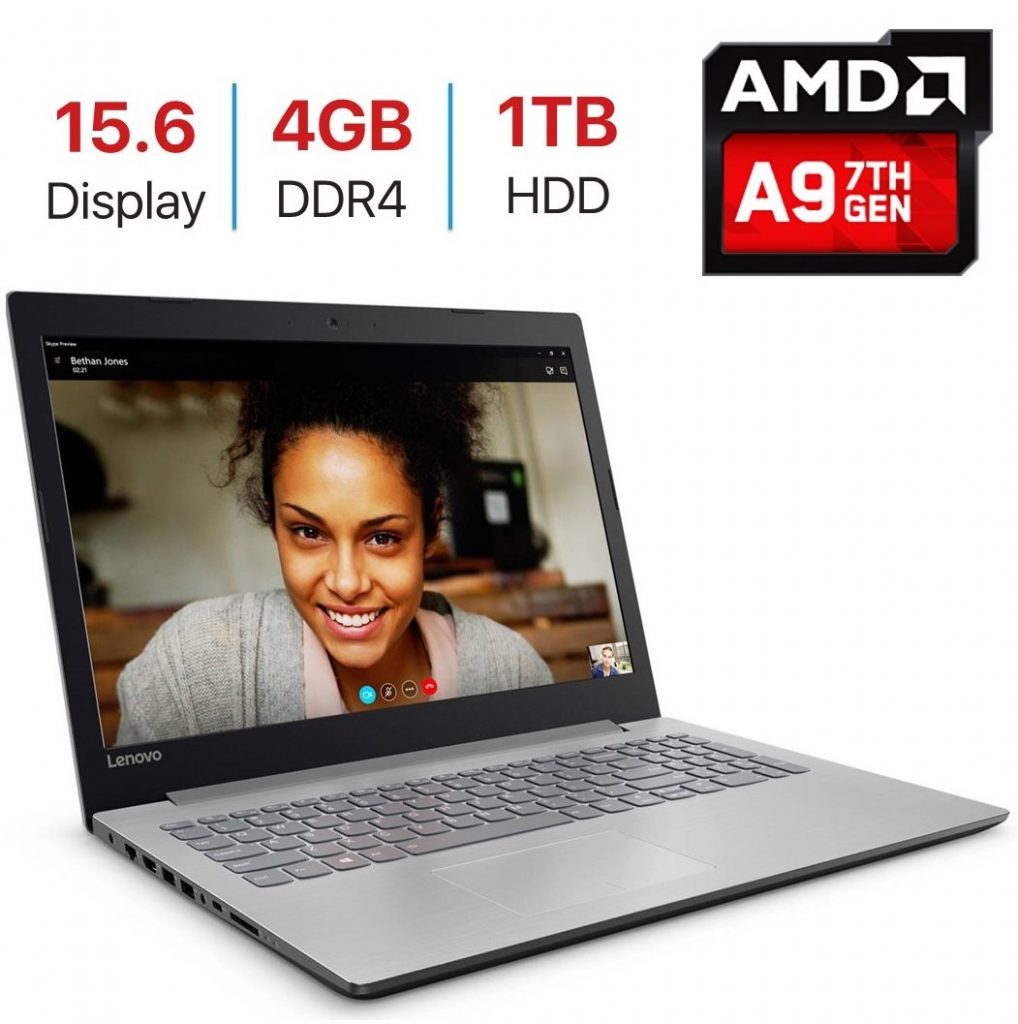 The Lenovo laptop incorporates a 15.6" screen with LED backlighting, HD display, 1366 x 768 pixels resolution, and anti-glare property. The laptop is integrated with 4 GB RAM, a 3.0 GHz Intel AMD 7th Generation dual-core processor with 3.6 GHz maximum clocking frequency, and an integrated AMD Radeon graphics coprocessor. The RAM can be expanded to 16 GB if needed. The device also includes 1 TB of HDD storage. It comes pre-loaded with a 64-bit Windows 10 Home operating system.
The platinum gray-colored laptop houses a DVD-RW optical drive, a 4-in-1 media card reader, an HD webcam, and Dolby Atmos speakers. The system features various ports that comprise a USB 3.0 port, a USB 2.0 port, an Ethernet port, a headphone/microphone jack, and an HDMI port. The device supports Bluetooth 4.1 and Wi-Fi 802.11 ac WLAN wireless connectivity options. It works with a two-cell lithium-ion battery.
Who should buy this?
The anti-glare property of the screen makes the Lenovo laptop ideal for movie buffs who want to enjoy watching their favorite animation movies for long hours without straining their eyes.
The system is undoubtedly a great choice for gaming aficionados who wish to experience nothing but the best sound effects because of the Dolby Atmos stereo speakers.
The huge storage space ensures that the laptop is ideal for those who want to save a lot of animated content on their computer.
See also: Best laptops for teachers
Frequently Asked Questions
Is a laptop meant for animation good for graphic design?
Of course, it is good for graphic design. Animation work mostly involves graphic design. You must check if the laptop has a powerful processor and a high level of RAM with solid graphics support. If so, any graphics-related work can be smoothly handled on it.
Can laptops for animation be used for editing audio tracks and videos?
Yes, you should have no difficulty using the best laptops for animation to edit audio tracks or videos. You may need extra software to edit and save the files in the required format. These laptops come loaded with Windows 10, which should accommodate the software programs you need.
Can one more monitor be added to the laptop for animation?
There will be a provision to add a monitor to the laptop you have chosen for your animation activity. You can still check with the seller/manufacturer what you precisely need and they will be able to clarify.
Are webcams standard on all laptops?
The latest models of laptops are mostly fitted with webcams. However, there may be many older models that may not have it. You have the option to fix an external webcam. Many professionals prefer the external one since it gives them more options.
I have purchased a laptop in the US and moving to another country where the power supply and charging pin design are different. Can I charge my laptop there?
Yes, adaptors are available in the market to facilitate easy switchover from one type to another. You should be able to charge your laptop in any country easily. You don't need to worry about this.
Conclusion
Laptops suited for animation are available in all leading brands at various price points. Since animation relies heavily on graphics, it would be wise to consider checking out those systems with a dedicated graphics memory. This will render a smooth display of animated content. Similarly, since animation files can take up a lot of space, try looking at devices with a lot of storage space or offer at least a media card reader, DVD writer, or a high-capacity HDD. This will help in saving some space on your laptop. Using a laptop for animation-related leisure activities like playing games or watching movies, you can always think of systems with anti-glare properties or IPS displays.
Was this article helpful?
This helps us improve our website.