WhatsApp Introduces "Channels" Feature for Following Brands and Communities
WhatsApp continues its streak of introducing new features, with the latest addition being "WhatsApp Channels," reminiscent of Telegram's Groups..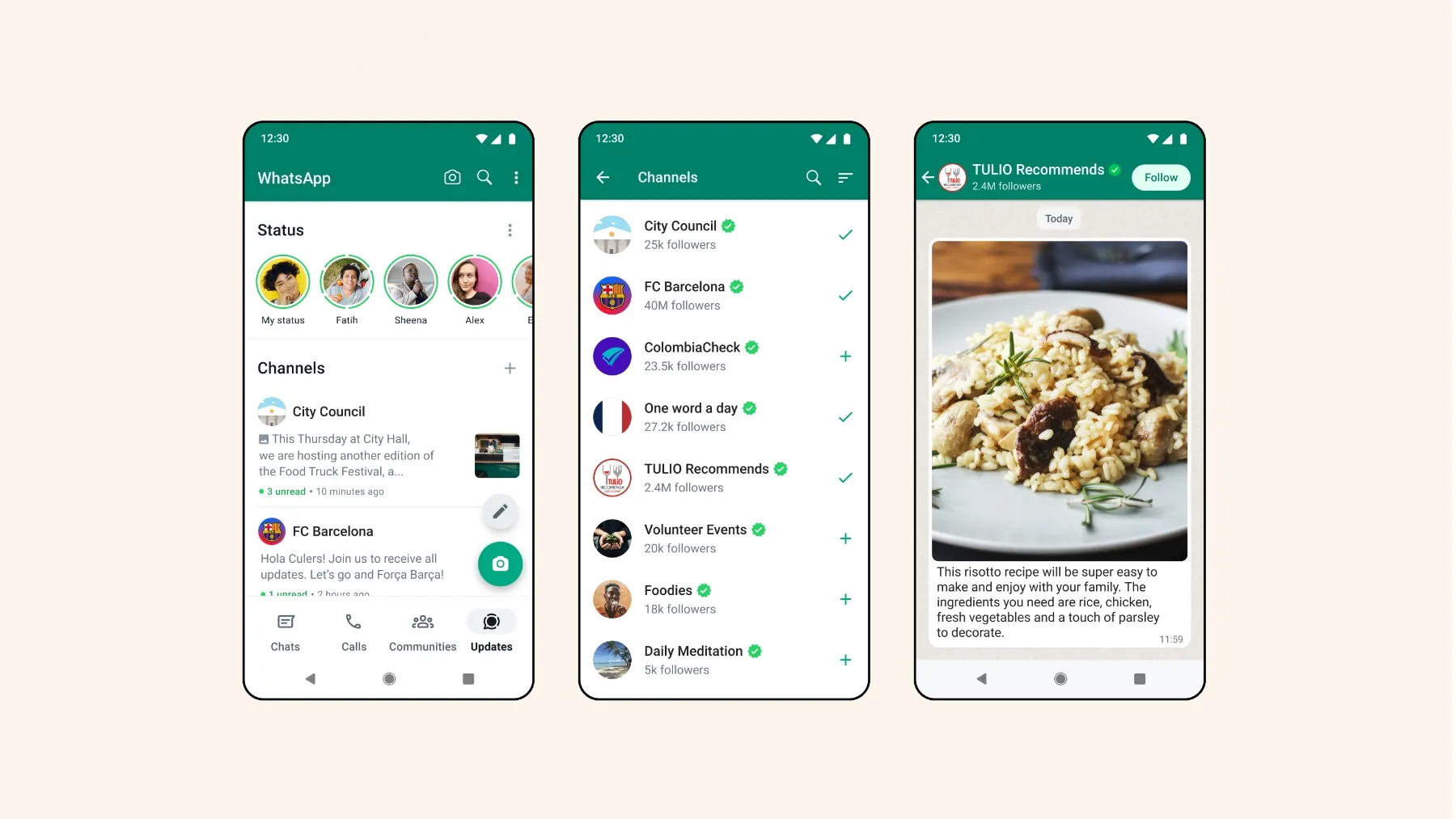 WhatsApp continues its streak of introducing new features, with the latest addition being "WhatsApp Channels," reminiscent of Telegram's Groups. This feature allows users to follow people, brands, and communities in a simple and private manner, keeping their updates separate from personal messages and group chats.
WhatsApp Channels functions as a one-way broadcast tool, enabling users to receive updates from their chosen channels without the ability to post updates themselves. The updates will be visible in a dedicated "Updates" tab, ensuring they remain distinct from interactions with family and friends. To facilitate easy discovery, WhatsApp is developing a searchable directory that will include a range of profiles, such as businesses, local officials, sports teams, and personal hobbies.
Maintaining privacy, the email addresses and phone numbers of both channel admins and followers will remain undisclosed. Channel history will be stored on WhatsApp's servers for up to 30 days, and there is an option for updates to automatically disappear after a specified period. Furthermore, admins have the ability to block screenshots and restrict forwards within their channels. While channel updates are not currently end-to-end encrypted, WhatsApp is actively working on implementing this security feature. Admins can also choose whether their channel should be searchable or not.
Initially rolling out in Colombia and Singapore, WhatsApp Channels provides a platform for businesses to create and support their presence. In the future, this feature will be expanded to allow anyone to create a WhatsApp Channel. Channels support WhatsApp Pay, providing a seamless transaction experience, and can be promoted within the directory to enhance visibility.
With the introduction of WhatsApp Channels, the messaging platform is fostering connections between users, brands, and communities while maintaining the security and privacy measures that are central to its ethos. As this feature continues to evolve and expand, users can expect further enhancements that empower seamless communication and engagement within their preferred communities.
ABOUT THE AUTHORS
Elizabeth
Elizabeth is your trusted Apple product expert with a wealth of knowledge and experience gained from her tenure as an Apple authorized personnel. She's also a seasoned mobile phone, Samsung, and Android expert. With a keen eye for detail and a passion for all things Apple, Samsung, and Android, she is dedicated to providing you with accurate, reliable, and up-to-date insights. Count on Elizabeth to be your go-to source for expert advice on navigating the world of Apple technology, Samsung devices, and the Android ecosystem.
Bogdana
Bogdana is your technology expert, backed by a strong foundation in consumer electronics and a range of qualifications that make her a trusted source in the tech world. With a deep understanding of the latest advancements and a passion for simplifying complex concepts, Bogdana is your go-to authority for demystifying technology and keeping you informed about the ever-evolving digital landscape. Trust her to deliver reliable insights and expert guidance to help you navigate the world of consumer electronics and beyond.