About two weeks ago, I have shared the video of Samsung Gear S2 Smartwatch tease with you. Today, Samsung officially announced their new Samsung full circle wearable, which comes in two variants: new Samsung Gear S2 and Gear s2 Classic. Both of them have the same specification. The difference is on its bands. The Gear S2 Classic's band is made of the genuine leather with black color, which gives it the elegant touch. The Gear S2 has a modern looks design band. It seems that the band is made of rubber.
These new Samsung Smartwatches will be showcased for full media hands-on and more applications will be demonstrated at Tempodrum, Berlin on September 3rd.
The most interesting thing from these wearables is the unique rotating bezel that is used for navigating. With the rotating bezel, Home and Back buttons you can access the notifications and applications faster.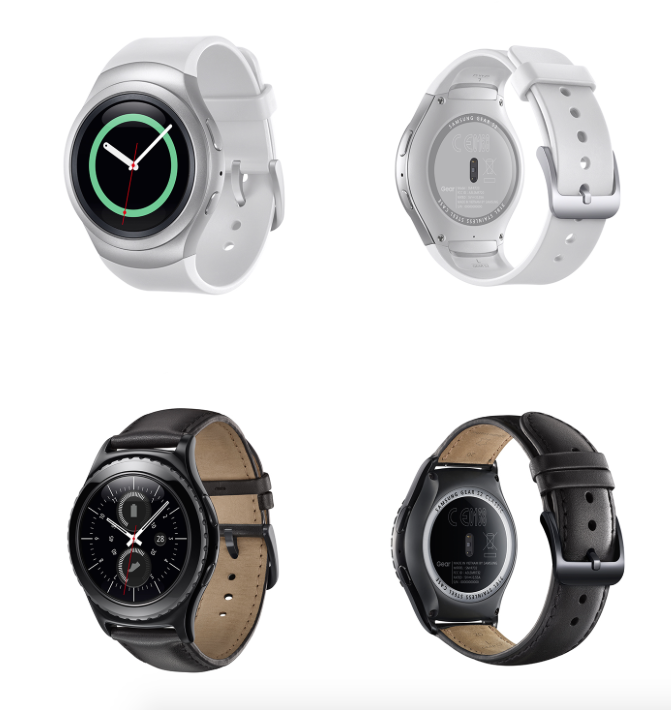 The Gear S2 and S2 classic, both have 1.2-inch circular Super Amoled display with 360 x 360 resolution (302 PPI). It offers an incredibly vibrant viewing experience for a smartwatch, and 11.4 mm thin brings a light and compact design to your wrist. It uses the latest Tizen OS, which is optimized for 1GHz inside. This OS can give these smartwatches a smooth performance with the capability to handle any task efficiently.
For the connectivity feature, you cna choose the Gear S2 with 3G connectivity, which incorporates the first-ever e-SIM with voice capability, to perform quick functions without being closely tethered to their phone. It also has a NFC to be used for a mobile payment (Samsung Pay?). This NFC will be optimized for other applications, such as connected smart home device, smart car keys, and more.
It is claimed that its battery can last up to 2-3 days with their fitness feature. This feature can record a 24-hour activity log, and it will also send reminder updates to motivate you to stay on track with the fitness goals. To charge, simply place the Samsung Gear S2 on the wireless charging dock.
Samsung invites the developers to design other support applications for their smartwatch platform. This is an interesting smartwatch that will compete with the Apple Watch. We will find out more at IFA Berlin.
Source: Samsung
The other news: The New Apple TV's remote With Motion Sensitive
Join our newsletter 🎉
Subscribe to our newsletter and never miss out on what's happening in the tech world. It's that simple.
Latest Tech News

Exclusive Tech Deals