X
Our Editorial Process
Each year more than 60 Million users visit Technobezz to solve a problem or research a product. Our goal is that everyone finds what they are looking for, and that is why we cover a variety of products, problems, and solutions on our website.

Writing an article that contains a lot of valuable information may seem simple. But when the article is written, the story doesn't end. We are constantly updating the content so that you can always get up-to-date and accurate information.
---
Technobezz's Editorial Guidelines
Nowadays, millions of people connect to the Internet to buy movie tickets, pay utility bills, communicate with family and friends on social networks, and order clothes or equipment. But, before all these actions, you must register on the website.
How do you remember the combinations of usernames and passwords for different sites? You can write it down or store it in a file on your computer but keep in mind that any person in your absence will be able to see it. Thankfully, you can easily find your passwords in your Opera browser. This guide will show you how to display saved passwords in the Opera browser.
You may also read: How To Update Opera Browser.
How To Display Saved Passwords In Opera Browser
If you want to find out the password saved on the website, follow these instructions:
Open Opera browser.
Click on the Menu button in the upper left corner. Then, from the menu, select "Settings."
In a newly opened browser tab, go to the "Privacy & Security" section and look for the "Passwords" section under "Autofill."
Click on "Passwords"
In the open window, you will see logins and passwords (in the form of an asterisk) for all the websites you've visited.
To display letters and numbers, instead of a black asterisk, select the field with the site that requires a password and click on the button "Show."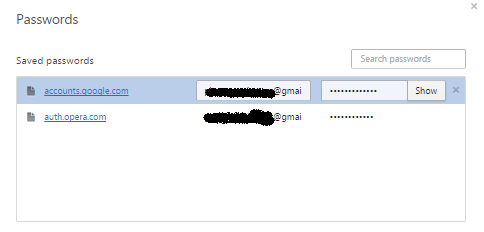 After that, you will see the new administrator window, where you must enter your computer password. After that, the passwords for all websites will be shown.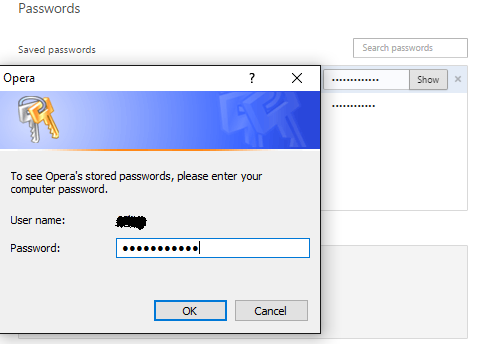 You may also read: How To Translate A Web Page In An Opera Browser
Was this article helpful?
This helps us improve our website.