Laptops are undoubtedly the most convenient type of computer, offering portability, ease of storage, and the ability to work on-the-go. Whether you're a college student, a professional designer, or a working professional, there is a diverse range of top laptops available with exceptional battery life in 2023. After all, battery life is a crucial consideration for anyone looking to invest in a laptop.
It's not always possible to have access to a power source, and carrying a charger around all day to school or the office isn't always practical. A reliable laptop should be capable enough to handle your daily needs while balancing the power usage, allowing you to use it for an entire day before needing to charge it again. While most high-powered laptops last between two and three hours under heavy load, some can last up to seven or even ten hours in specific circumstances.
In the end, it's all about what you need to achieve because power users like gamers, designers, and video editors may not be able to get such power without compromising on battery, whereas office e-mails and other student work, among lots of other computing stuff, can be done on most laptops.
See also: Best headphones
Buying Guide
Having the best battery on your laptop is crucial because it could be a day-long meeting session, going out of the city for business or you simply want to binge-watch a television series for hours without a break. Improved and longer battery life makes laptops truly portable.
Thickness – Look for a thinner laptop because some manufacturers make their laptops thick to accommodate a large battery. They are very difficult to carry around, especially when you are traveling, and a moderately heavy laptop should be your choice.
Go for a higher resolution – 4K laptops are all the rage now because they can display images with a lot of clarity. The advantage is evident when you use apps like Photoshop or video editing programs. The larger battery size will allow you to go for an increased resolution and reduce it to FullHD when not needed.
Balance the specifications – The hardware specifications and build quality are what help determine the pricing of a product. They can be either flagship quality with an i7 processor, or you can opt for a budget-friendly AMD chipset with graphics onboard. Lower specs may help improve battery life in some devices.
Multiple ports – Having as many ports and maybe even a DVD drive could be useful in a laptop. Since your laptop will be operational throughout the day, it may be connected to multiple external devices such as hard drives, USB extension ports, and more to keep things productive.
SSD storage – A must-have feature on any laptop and more so on the best battery life-rated device will help complete all your tasks much faster. The disk is not prone to data issues which makes it more reliable when it comes to moving around with your laptop, be it inside an office or on business trips.
Laptops with the best battery life
An elegant business laptop with touchscreen compatibility
Newest HP pavilion Business Laptop
Check Price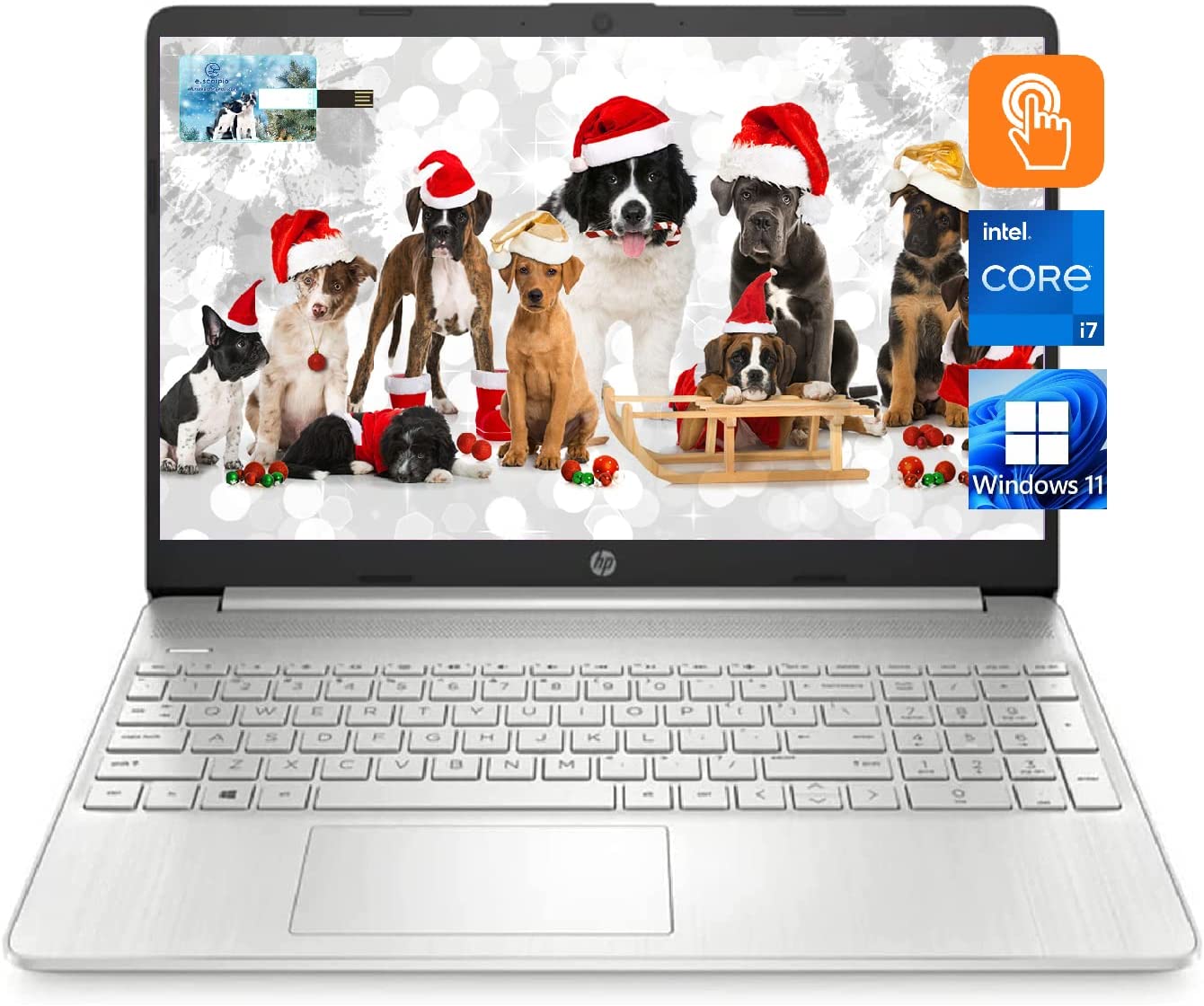 With the 15.6-inch screen size and touchscreen features of this laptop, it is one of the most desirable laptops on its list. Delivering an extra-long battery life allows you to work non-stop without worrying about finding a charging spot. The Intel Quad-Core processor is designed with turbo boost technology, providing a frequency of up to 4.6 GHz.

This laptop comes with 16 GB of RAM and over 1 TB of hard disk capacity. This is exactly what a new generation of users crave. Weighing only 3.75 pounds, this laptop can be carried anywhere you want. Additionally, the laptop comes with Windows 11 S that can be upgraded to Windows 11 Home easily.
It is an ideal laptop choice for developers and business professionals who have to do multiple tasks at once.

With up to 13 hours of battery life, this laptop ensures you can work interrupted.
Up to 13 hours of battery life

Very high hard drive capacity

Latest Operating System
The battery may drain faster while gaming

Not for developers
A laptop with extra-long battery life and high disk capacity
Newest HP Pavilion 1080P Laptop
Check Price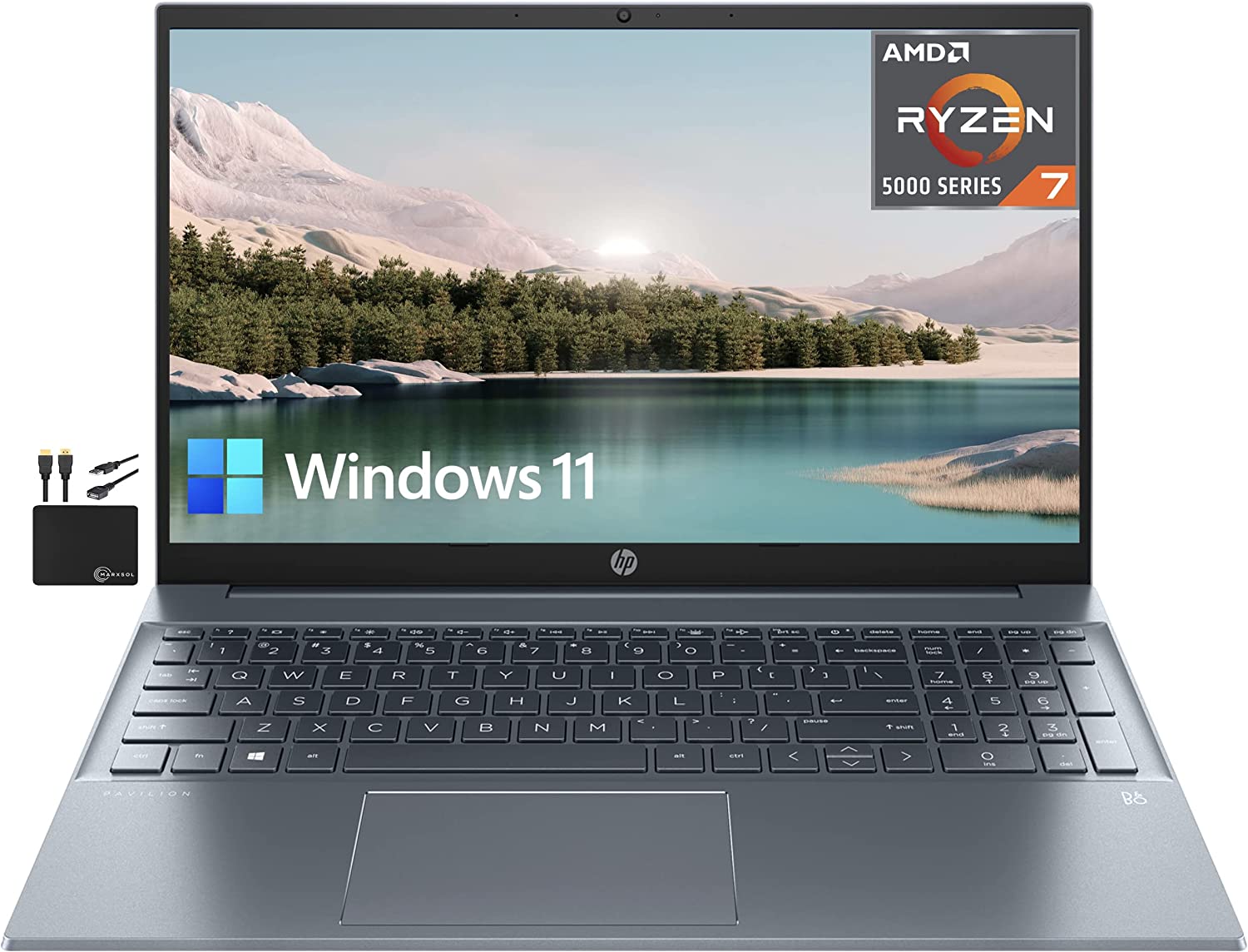 Boasting a large screen with 178 degrees viewing angle and crystal clear images, this laptop will become your first choice for getting a top-notch movie-watching experience. The energy-efficient backlighting system for its LED screen will capture your attention. It comes with a 16 GB RAM capacity, which is more than enough to allow you to run multiple applications and browse several tabs simultaneously.
This laptop comes with a Windows 11 operating system. Windows 11 is just an upgraded version of Windows 10 with brand-new tools, applications, and screen layouts. The laptop is built in a beautiful blue color that stands out from most competitors. It weighs only 3.86 pounds which makes it very portable.
This laptop is the perfect solution for all your energy-intensive needs, such as gaming, video streaming, online meetings, etc.

The laptop is equipped with a 720p webcam that provides a seamless meeting experience.
9+ hours of battery life

Large hard drive space

RAM capacity is good
The screen is not touch-sensitive

The processor may not support additional applications.
A latest-generation laptop with touchscreen features
HP Pavilion Touchscreen Laptop
Check Price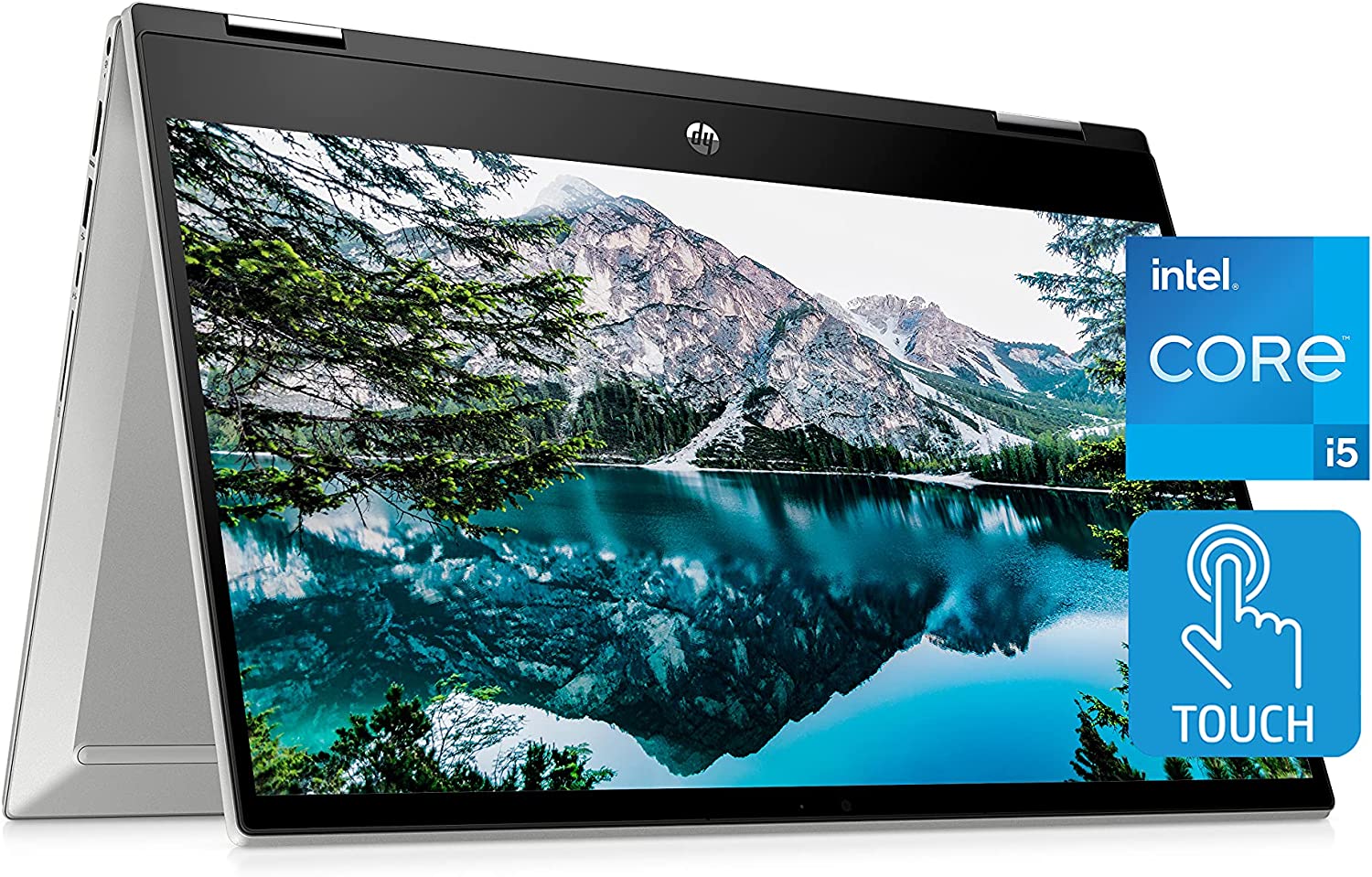 This laptop comes with a sleek, thin 14-inch display that delivers the best graphics and high-quality images. While playing audio and videos in the back, the laptop can run non-stop for over 10 hours and 45 minutes. Secondly, the latest generation Intel Core i5 processor ensures that you can work efficiently without compromising on the speed and responsiveness of your laptop.
This laptop comes with HP's striking fast charging features that take your battery levels from 0% to 50% in just 45 minutes. Thanks to the in-built dual speakers by B&O that provide the best sound experience. Lastly, the Intel Iris Xe graphics allows you to gaze at clear videos and images.
The laptop is good for working individuals as it can deliver a long battery life.

The 256 GB hard disk space is just enough to store your important files and documentation.
Up to 8 hours of battery life

High-quality graphics

New generation operating system
Only 8 GB RAM capacity

Prone to visible scratches
A laptop with a sleek design and 15 hours of battery life
HP Chromebook 11-inch Laptop
Check Price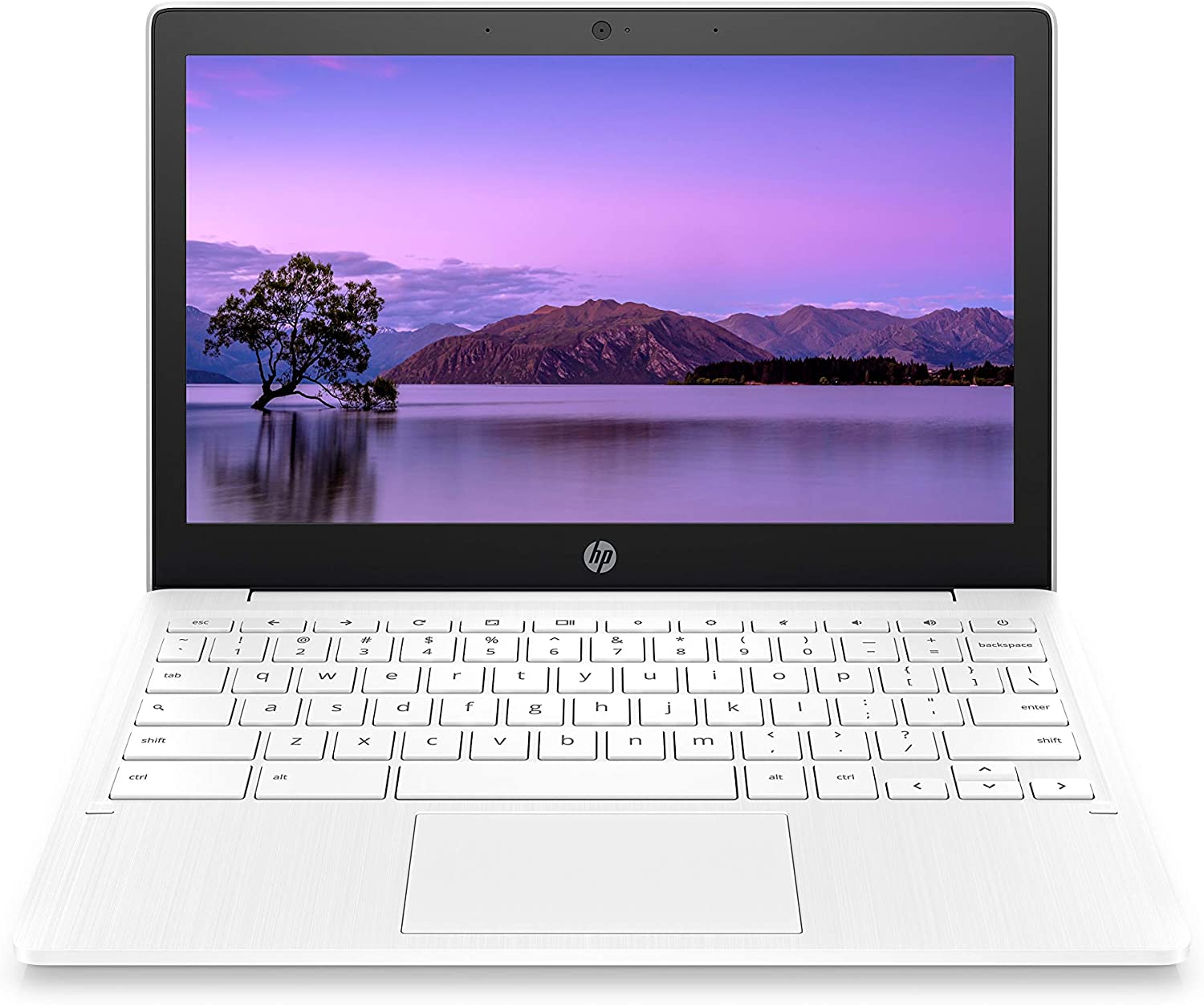 This laptop is the best combination of high RAM capacity and long battery life. With 32 GB RAM, this laptop is your go-to solution if you often need to work on multiple tasks simultaneously. Secondly, the laptop has a battery life of up to 15 hours. This means that you can go a few days without charging your laptop or when you are traveling.
The laptop comes with Google Chrome and all the applications pre-installed on it. In addition, the Octa-Core CPU and GPU aim to deliver graphics that are neither harsh on the eyes nor your laptop's battery life. Lastly, the laptop comes with True Vision technology, improving the online meeting experience.
Why Should You Buy This?
The battery life of this laptop is the most striking feature of this laptop.

It has specialized graphic technology, which is highly energy-efficient.
Pros
Very long battery life

True Vision camera for a great online meeting experience

Anti-glare screen
Cons
Very low disk space

Speed may be too slow
A student and business laptop, best for organizing meetings
ASUS 14" Thin Light Business Student Laptop
Check Price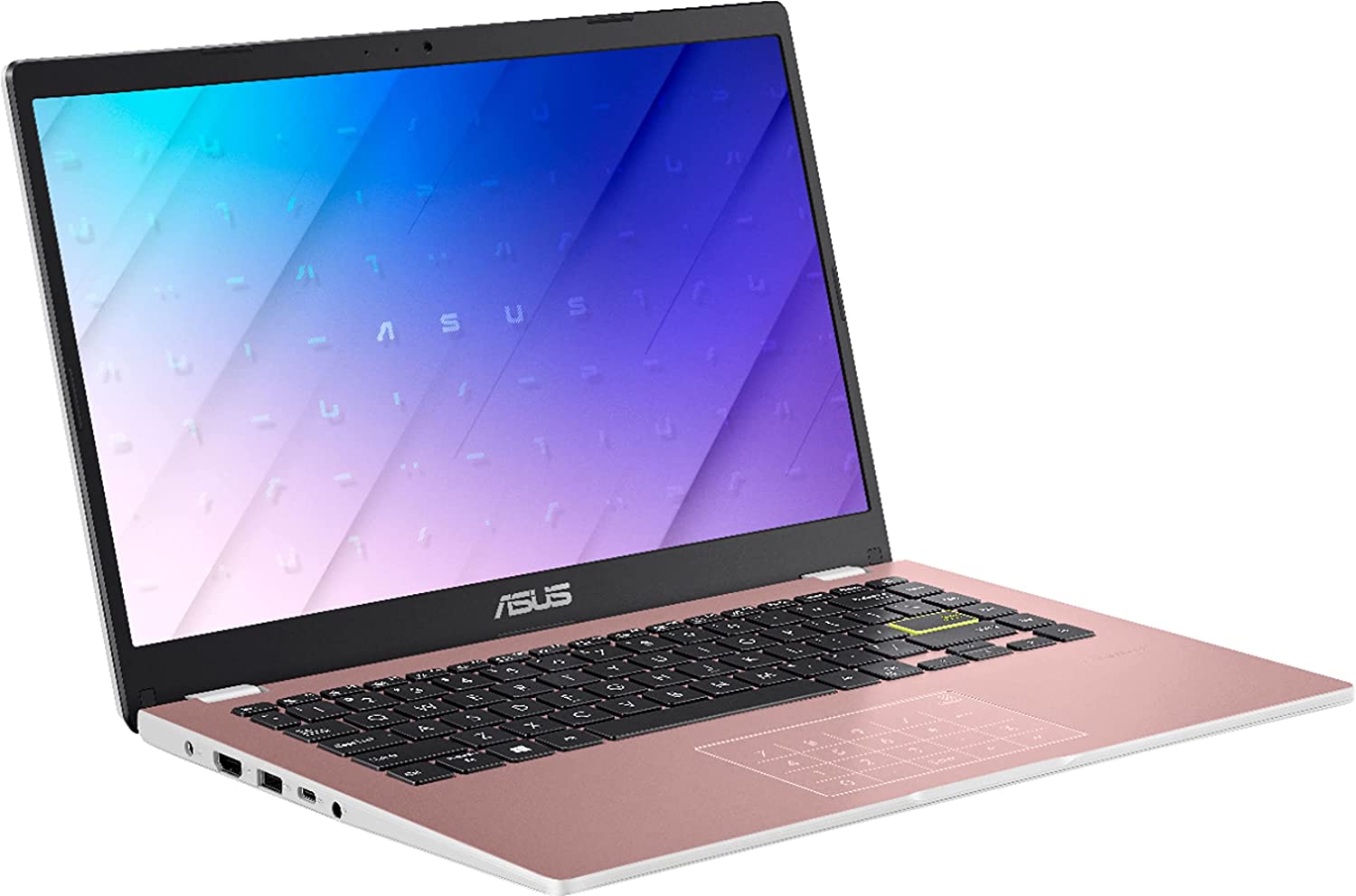 This laptop by Asus is the best if we are looking for an affordable range. It has built-in features which are just enough to fulfill the basic work requirements of students and business professionals. The laptop has an all-new Intel Celeron processor. It comes with advanced technology that adapts the laptop to the requirements of the user.
The laptop has an average battery life of up to 12 hours, which means you can go up to 2 days without charging your laptop. The operating system that comes pre-installed on this laptop is Windows 11 Home. Windows 11 is well-known for its improved security features and app layouts.
Long battery life ensures an interrupted online meeting and work experience.

The color of the laptop is extremely pleasant and unique.
Equipped with machine intelligence features

Beautiful color

Latest Operating System
RAM capacity is low

The hard disk drive has a small space
A new generation laptop with a webcam with a protective shutter
Powerful Lenovo IdeaPad Touch Screen Laptop
Check Price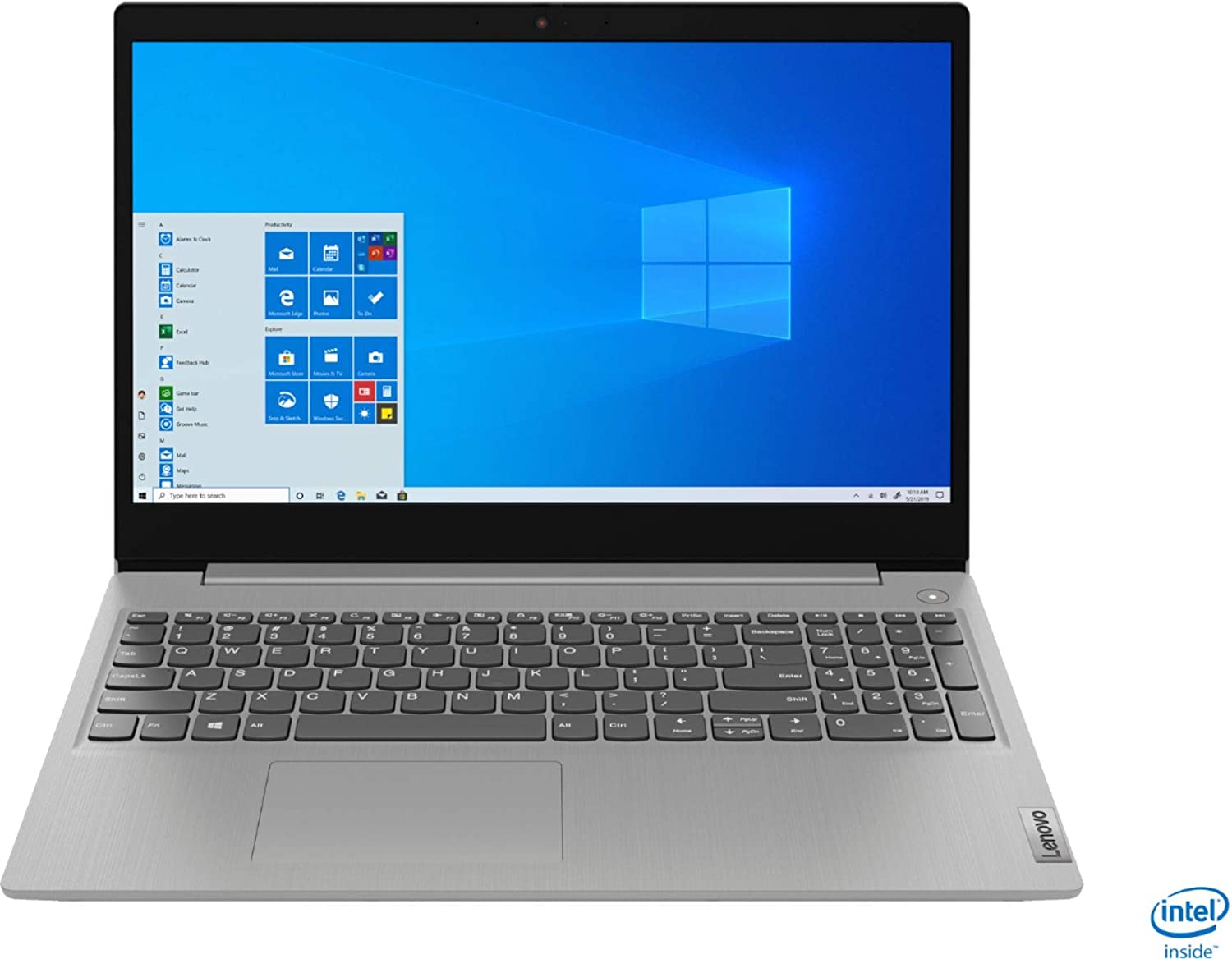 Equipped with brilliant Intel UHD graphics, this laptop delivers the highest video quality ever achieved. So, it's a piece of good news for gamers who are tired of looking at pixelated images in their HD games. The laptop comes with 512 GB of space on the hard disk drive and 8 GB of RAM capacity, which is ideal for running multiple tasks simultaneously.
The battery life for this laptop is up to 7.5 hours. This means that you can work in your remote job continuously without plugging in the charger. The display is 15.6-inch large and comes with TruBrite technology. It enhances the colors and clarity of the picture significantly.
Why Should You Buy This?
It is a perfect laptop for gaming, professional work, and a movie-watching experience.

It is very thin so it can be fitted in your bag and carried anywhere you want.
Pros
Ultra HD graphics for a great viewing experience

Dolby Audio with dual speakers

Amplified picture quality with TruBrite technology
Cons
RAM capacity is low

Processor is old
Budget-Friendly Laptop for Everyday Use
HP Pavilion 14" HD WLED Backlit HD Laptop
Check Price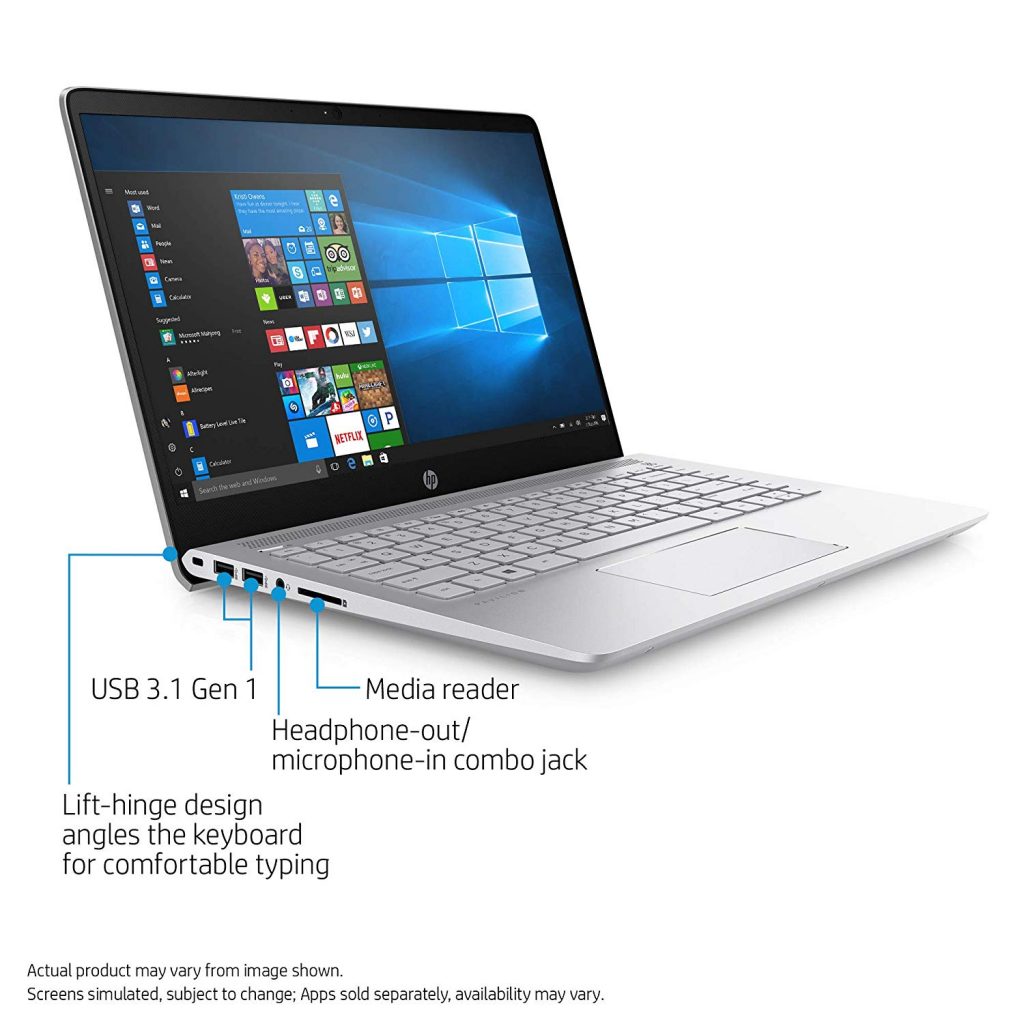 HP and Dell are the most popular choices for selling budget laptops. The HP Pavilion is a compact 14-inch laptop with a solid build quality and is one of the most affordable solutions. The hardware specifications of the laptop include a basic Intel Core i3 processor coupled with 8 GB of RAM and 1 TB of hard disk space. The storage is adequate for storing most of your office files, and you can always make use of the Cloud storage for additional storage requirements.
Even though it falls within the budget category at just $500, the laptop also has some additional features, including speakers from B&O and a backlit keyboard. Not many users may need it, but the keyboard is usable in dark conditions, so you can send a quick e-mail or open an Excel sheet without difficulty. The laptop has all the connectivity ports, including HDMI, Type C, and USB 3.0, along with Wi-Fi AC and Bluetooth. The designers have somehow managed to maintain the slim and sleek design while retaining all the ports.
The HP Pavilion series laptop excels in terms of battery life. According to user reviews and the manufacturer, it can easily last up to 8 hours on a single charge. Very few laptops can make this claim, and when it does, you can rest assured that you can use the laptop for an entire day without having to hit the charging port. It weighs just 3.58 lbs and has a stylish silver finish to provide the aesthetics that this powerful, portable and affordable model deserves.
What Makes the HP Pavilion 14-inch Laptop a Perfect Choice?
This is the best solution for budget buyers as the 14-inch display is adequate and the pricing is affordable.
The laptop has all the essential ports and features great speakers, as well as B&O speakers.
It lasts up to 8 hours at least of mixed usage or even higher, making it one of the top laptops with the best battery life in 2023.
Recommended For:
The best battery life combined with a great price tag and performance makes HP Pavilion an easy pick for most buyers.
See also: Best laptops with CD/DVD Drive
FAQs
How do I improve the battery life on my laptop?
The best way to do so is by reducing the screen brightness. On high-resolution displays, you can also improve battery life by reducing the resolution when it is not needed. Keep the device where the air vent has space to dissipate heat.
What is the foremost factor when choosing a laptop?
The battery life often plays a huge role but for some laptops, such as gaming laptops, gamers know that they will not be able to get higher time because of the hardware components and RGB lighting. However, most professionals and office goers can use the best battery life in laptops of any model.
What kind of ports are essential in a new device?
Ethernet ports are fading in products like the Apple MacBook, but they are always useful if your Wi-Fi adapter fails to work. Similarly, USB ports, including Type C and Type A, are required for professionals who have a requirement to connect multiple components to their laptops.
Will I have to pay for Windows 10 when I purchase a laptop?
No. Most laptops have Windows 10 Home bundled as part of the device's price, but if you plan to upgrade to Windows 10 Pro, you will have to pay the extra sum to get additional features. Some devices are made for Linux and will not include Windows, which you should consider.
What kind of work is easy to carry out on laptops?
Budget laptops are usually powered moderately and can be used for office work like sending e-mails, Microsoft Office apps, and Photoshop. You can also use the improved battery life for extended hours in the office or outside without charge.
Conclusion
The top laptops with the best battery life in 2023 list all the major brands and the best laptops that you could buy today. They should easily last you an entire day's usage without having to recharge them. They also save power wherever possible, which other gaming and high-end laptops may not be able to do when equipped with demanding hardware components. Choose a laptop that strikes a fine balance between power consumption and performance.
The AMD laptops have GPUs integrated for graphics-intensive applications and are also good at providing long-lasting battery life. Intel laptops are more powerful and may drain the battery quicker, but based on your usage scenario and whether you will have access to a power plug when using it at its maximum performance level. Either way, a good laptop with reliable battery life and build quality will ensure you get the most value for your money.