Technobezz is supported by its audience. We may get a commission from retail offers
Summary – Laptops are the most convenient type of computers anyone would want to use because they
Laptops are the most convenient type of computers anyone would want to use because they are portable, easy to store and you can get lots of work done on the go. Be it a college student, a professional designer or an office goer, everyone can choose from a range of top laptops with the best battery life in 2022. After all, battery life is one of the most concerning factors that should be taken into account.
Not every time you might have access to the PowerPoint and carrying the charger all day long to an office or school doesn't make sense. A good laptop is the one that is powerful enough to handle your daily requirement and also balances the power so that you can use it for an entire day before having to charge it again. Most powerful laptops last anywhere between two to three hours under load, whereas there are those that can last up to seven hours or even ten hours in specific cases.
In the end, it's all about what you need to achieve because power users like gamers, designers and video editors may not be able to get such power without compromising on battery whereas office e-mails and other student work, among lots of other computing stuff, can be done on most laptops.
See also: Best headphones
Buying Guide
Having the best battery in your laptop is crucial because it could be a day-long meeting session, going out of the city for business or you simply want to binge-watch a television series for hours without break. Improved and longer battery life makes laptops truly portable.
Thickness – Look for a thinner laptop because some manufacturers make their laptops really thick to accommodate a large battery. They are very difficult to carry around especially when you are traveling and a moderately heavy laptop should be your choice.
Go for a higher resolution – 4K laptops are all the rage now because they are capable of displaying images with a lot of clarity. The advantage is evident when you use apps like Photoshop or video editing programs. The larger battery size would allow you to go for an increased resolution and reduce it to FullHD when not needed.
Balance the specifications – The hardware specifications and build quality is what helps determine the pricing of a product. They can be either flagship quality with an i7 processor or you can opt for a budget-friendly AMD chipset with graphics onboard. The lower specs may help improve battery life in some devices.
Multiple ports – Having as many ports and maybe even a DVD drive could be useful in a laptop. Considering the fact that your laptop will be operational all day long, it may be connected to multiple external devices such as hard drive, USB extension ports and more to keep things productive.
SSD storage – A must-have feature on any laptop and more so on the best battery life-rated device will help complete all your tasks much faster. The disk is not prone to data issues which makes it more reliable when it comes to moving around with your laptop, be it inside an office or on business trips.
Laptops with the best battery life
Slim, stylish and lasts an entire day
Asus VivoBook S Ultra-Thin Laptop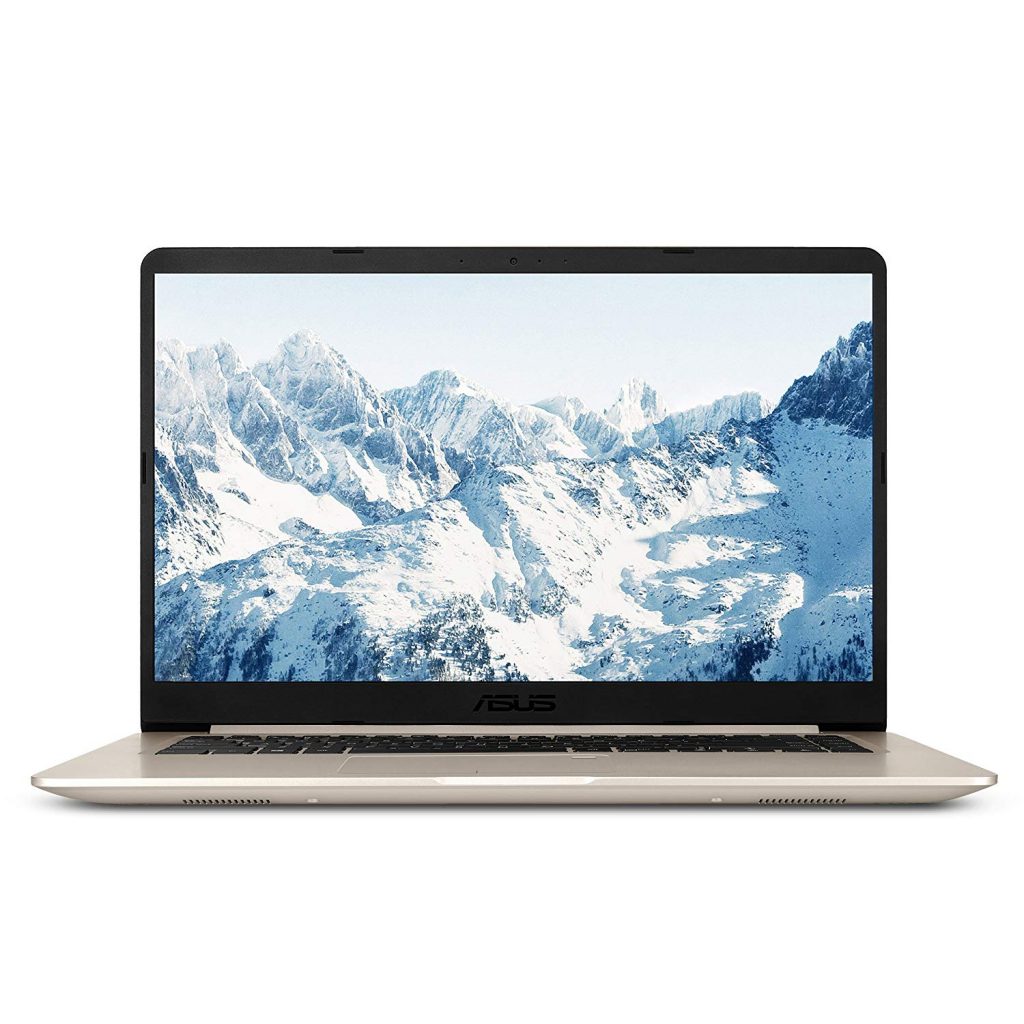 The Asus VivoBook S Ultra-Thin is a laptop that truly defines its title because it is already ultra-thin, easy to carry around and most user reviews confirm that you can use it for an entire day without having to hit the charging port. Some even claim that you don't have to take your charger to the office at all as the battery life is perfectly reliable.
This laptop has found its way to the list of top laptops with best battery life in 2022 for a reason as it combines the best of hardware specifications and delivers it in a sleek, affordable package. In terms of components, the laptop is powered by an Intel Core i7 processor combined with 128 GB SSD that assures faster Windows loading times and has 1 TB of storage space for all your files.
The laptop is large enough for most office work as it has a 15.6-inch display with 1080p full HD resolution. It has 8 GB of DDR4 RAM which is more than enough to keep all your excel sheets, browsers and other software programs zippy with immediate response times. And, there is always the option to choose to install the frequently accessed stuff on your SSD. Connectivity ports are generous on this laptop including USB Type C, USB 3.0, 2.0, HDMI and it also has Wi-Fi AC for fastest internet speeds on a wireless network. The battery life should be approximately six to eight hours of moderate usage.
What Makes the Asus VivoBook S Ultra-Thin Laptop the Best?
The laptop has a sleek and slim finish measuring at just 0.3-inches in thickness making it easy to carry around.
The battery life is reliable at around six hours or more based on your usage scenario.
It also sports ergonomically designed a backlit keyboard that is easy to use in the dark.
Recommended For:
People who use their laptops a lot on the go and would want a light solution that need not be used on a table with a reliable battery life can buy this one.
Ultra High-End Laptop with 4K Touchscreen and All-Day Battery Life
HP Envy 13-inch Thin Laptop with 4K Display and Fingerprint Reader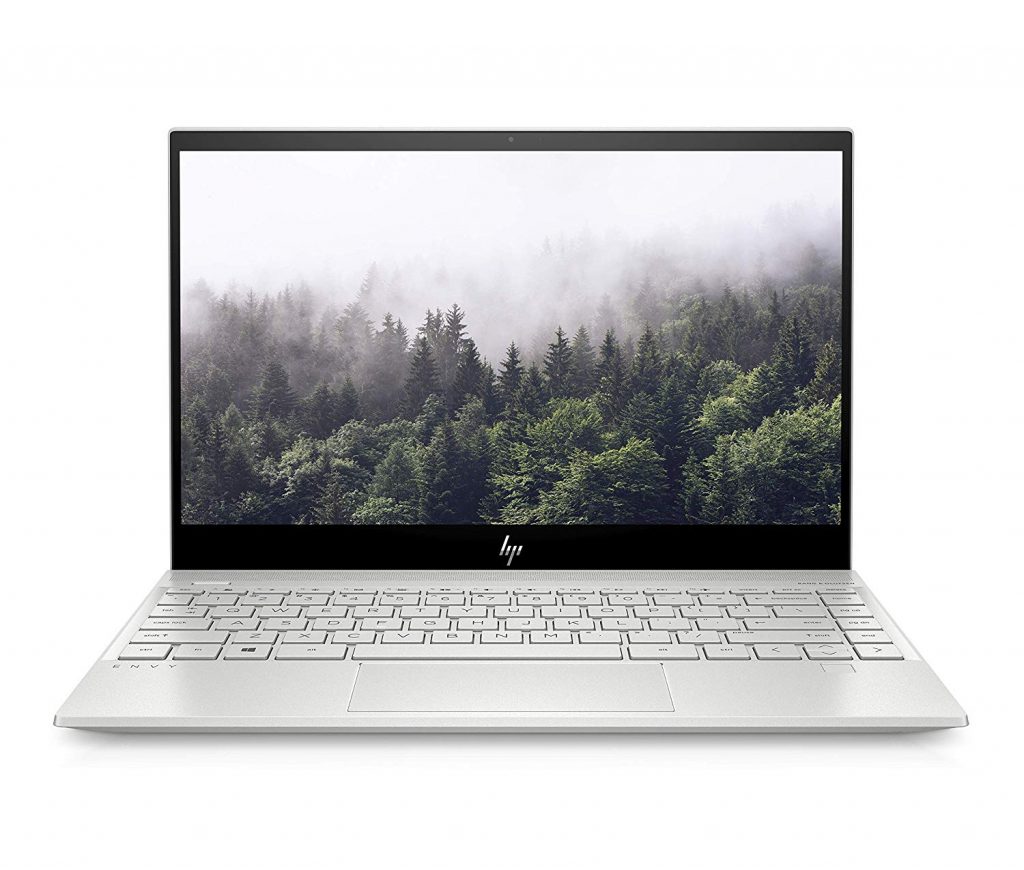 The HP Envy 13-inch laptop belongs to the high-end category or the ultra-high-end because there are very few laptops that boast of a 4K display with touchscreen technology. After all, it is yet to be seen if Windows 10 sees massive adoption of touchscreen interfaces but if you like to be ahead of the curve, you can always spend more to get into the latest technology. In terms of hardware specification, the laptop is powered by an 8th generation Intel i7 processor which can be clocked up to 4.6 GHz.
The monitor is an impressive 4K panel with slim bezels and high screen to body ratio. It is a 13.3-inch display with WLED technology and also uses Corning Gorilla Glass. It ensures the durability of the laptop and you should be able to comfortably use the touchscreen without the fear of scratching it. The laptop has 16 GB of DDR4 RAM combined with 512 GB M.2 SSD which is one of the fastest storage solutions that you could go with.
One of the most impressive features of this HP Envy laptop is its battery life. The device can easily last up to 12 hours or more on a single charge. Not many laptops can make this claim and while your mileage might vary based on your usage scenario. If you are looking for a luxury experience with a pixel-perfect 4K display, touchscreen, fingerprint reader and all the connectivity ports that you could make use of, there is no better choice than the HP Envy 13-inch laptop which delivers on all fronts without forcing you to hit the charging port multiple times.
What Makes the HP Envy 13-inch Laptop the Best Luxurious Product with Great Battery?
It lasts easily up to 12 hours on a single charge which is an amazing feat that you could rely upon.
The 4K display with Gorilla Glass and touchscreen makes it the ultimate experience for the one grand plus that you spend.
Recommended For:
Users who are willing to spend over a thousand dollars and want the very best laptop experience combined with the great battery life will find this a perfect choice.
Budget-Friendly Laptop for Everyday Use
HP Pavilion 14" HD WLED Backlit HD Laptop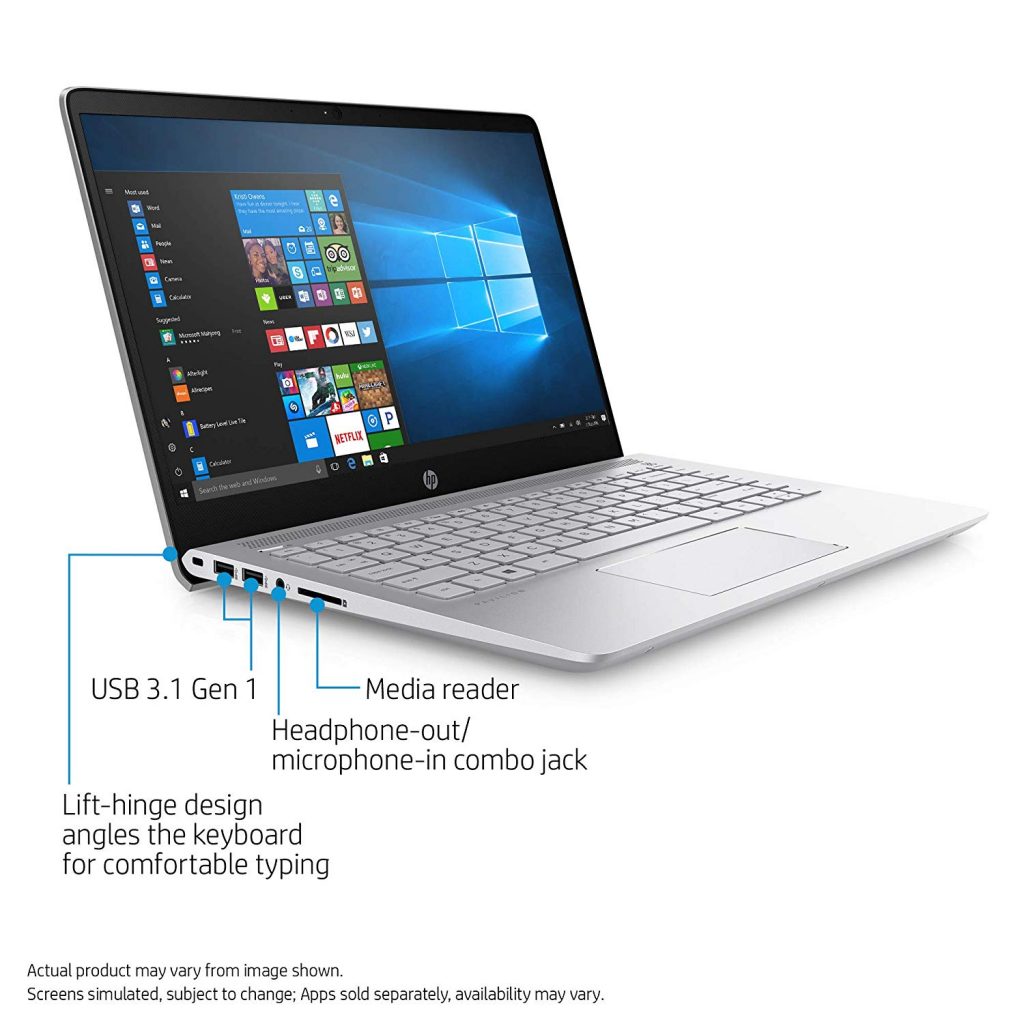 HP and Dell are the most popular choices when it comes to selling budget laptops. The 2022 HP Pavilion is a 14-inch laptop that is compact in size, has a solid build quality and is one of the most affordable solutions out there. The hardware specifications of the laptop include a basic Intel Core i3 processor coupled with 8 GB of RAM and 1 TB of hard disk space. The storage is adequate for storing most of your office files and you can always make use of the Cloud storage for additional storage requirements.
The laptop, even though it falls within the budget category at just $500, also has some additional features, including speakers from B&O along with the backlit keyboard. Not many users may need it but the keyboard is usable in dark conditions so that you can send a quick e-mail or open an Excel sheet without difficulty. The laptop has all the connectivity ports including HDMI, Type C, USB 3.0 along with Wi-Fi AC and Bluetooth. The designers have somehow managed to maintain the slim and sleek design while retaining all the ports unlike how dongles are being brought to the forefront in Apple laptops.
The HP Pavilion series laptop excels in terms of battery life. According to user reviews and the manufacturer, it can easily last up to 8 hours on a single charge. There are very few laptops that can make this claim and when it does, you can rest assured that you can use the laptop for an entire day without having to hit the charging port. It weighs just 3.58 lbs and has a stylish silver finish to provide the aesthetics that this powerful, portable and affordable model deserves.
What Makes the 2022 HP Pavilion 14-inch Laptop a Perfect Choice?
It is the best solution for budget buyers as the 14-inch display is adequate and the pricing is affordable.
The laptop has all the essential ports and features great speakers as well as B&O speakers.
It lasts up to 8 hours at least of mixed usage or even higher making it one of the top laptops with the best battery life in 2022.
Recommended For:
The best battery life combined with a great price tag and performance makes HP Pavilion an easy pick for most buyers.
Rugged Laptop with Good Battery Life and a DVD Drive
Dell Inspiron 15.6-inch LED BackLit Laptop with DVD RW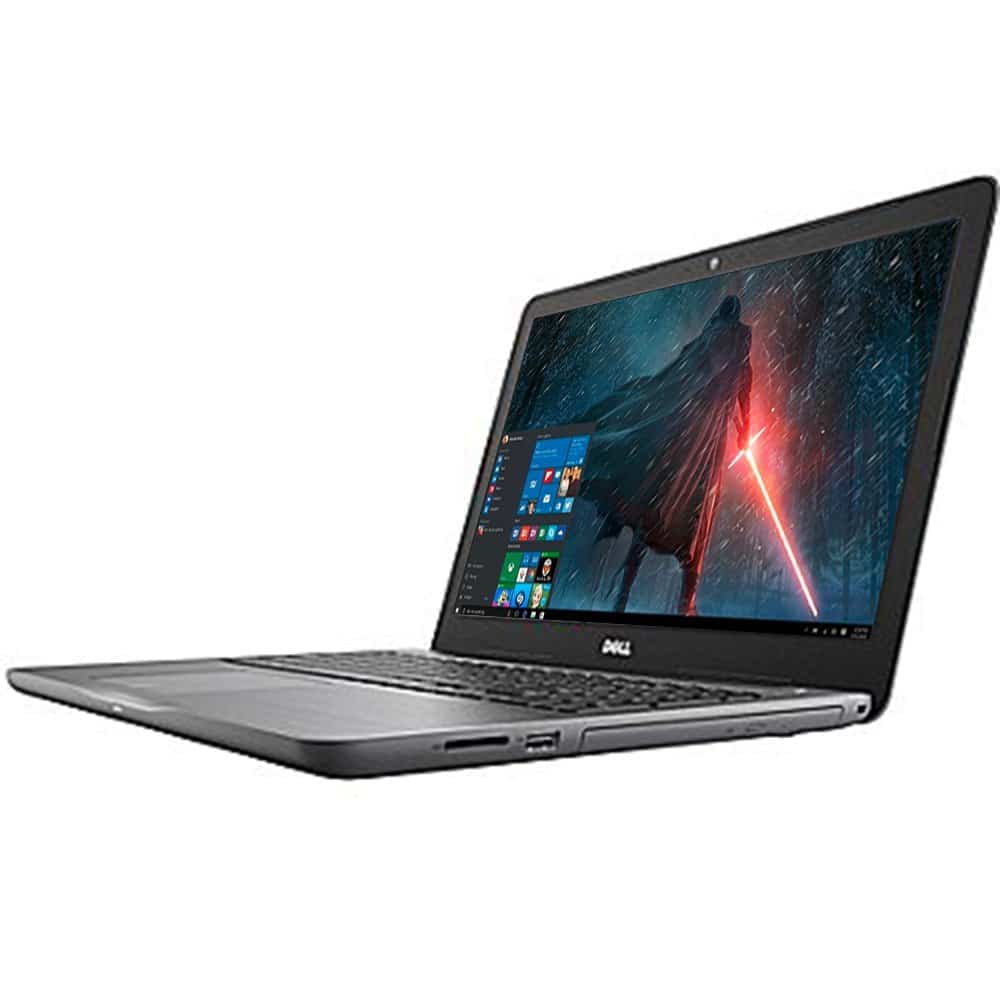 Dell is one of the best companies when it comes to manufacturing some of the amazing laptops that you could purchase. The company excels at providing great after-sale support and you can also claim a warranty without any hassles. The business flagship laptop from the company, the Dell 15.6-inch Inspiron is an ideal pick for most users who are looking for a sturdy product that they could rely upon. The hardware specifications include a large 15.6-inch display with a resolution of 1366×768 pixels which is not full HD, but it does contribute to longer battery life.
According to Dell, the laptop, even though it falls in the budget category, has a TrueLife display capable of producing better blacks and allows you to enjoy movies and videos in the highest possible clarity. The laptop is powered by an Intel Core i5 processor which is capable of handling most everyday office processes with relative ease. It is coupled with 8 GB of DDR4 RAM and there's also 256 GB SSD to keep your Windows experience quite snappy. An additional feature is the presence of the DVD RW, which sounds so old school now, but as a matter of fact, you can use it to access files, watch old movies you have collected over time and also make good use of the Waves MaxxAudio Pro for your home entertainment needs.
The connectivity options are plenty on this Dell Inspiron laptop which includes Wi-Fi AC, Bluetooth Headphone jack along with the usual HDMI port, Micro-SD card reader and Ethernet ports. The laptop doesn't look too stylish, but it was never the primary focus as it is more rugged and rigid. You can take it out anywhere without the fear of breaking it and also handle it comfortably without having to give it too much attention. The bezels do remind us of old school products, but when you get decent battery life and build quality at affordable pricing, it shouldn't matter much.
What Makes the Dell Inspiron 15.6-inch Laptop an Ideal Choice?
The laptop is powered by an i5 processor and has SSD storage which keeps the overall computing experience very responsive.
Its battery life is not explicitly mentioned but it should easily last 6 hours or even more considering it is not a full HD display.
Recommended For:
The laptop is a budget-friendly solution with old school DVD RW, bulky build but will also last you much longer and costs less.
An Everyday Laptop with Astounding 15 Hours of Battery Life
Acer Aspire E 15 Laptop with 15.6-inch Display
The battery life of this product is obviously its selling point and would easily impress most business users. But there is more to it than what meets the eye. The Acer Aspire E 15 is a dependable laptop that has impressive hardware specifications. Surprisingly, the manufacturers have managed to keep the pricing of the product well within the affordable range. The laptop runs on the latest 8th generation Intel i5 processor which is more than capable of handling all types of office and minor media work such as creating PowerPoint presentations.
Apart from the 8 GB of RAM and the responsive 256 GB SSD provided to handle your storage needs, there is a surprising hardware component in this one. The laptop actually has an Nvidia GeForce MX150 graphics card that should allow you to do some casual gaming but also make software programs like Photoshop and PowerPoint more responsive than usual. Combined with such components, it is easily a powerful laptop yet manages to deliver an impressive 15 hours of battery life on moderate usage.
If you are going to travel with this one, it will be the most reliable as it can last hours and hours of usage unless you are going to board planes that might drain the battery. The display is rather large measured at 15.6-inches and sports a resolution of 1920×1080 pixels. The full HD display comes in handy to view large excel sheets and other pictures easily without having to zoom out to view them. The device runs on Windows 10 Home edition but you can always upgrade it to Professional or any other edition you might need.
What Makes the Acer Aspire E 15 Laptop the Best Battery Backup Device?
The laptop delivers 15 hours according to the manufacturer but even if you are going to deduct a couple of hours, it will still be the best in its category.
It sports a full HD display, has basic connectivity ports and the keyboard is firm allowing users to type large content easily.
Recommended For:
While the list is full of top laptops with best battery life in 2022, this Acer laptop manages to maintain the pricing, yet provide all necessary features and build quality well within most buyer's budget range.
Premium Features at an Entry-Level Price
2019 HP Premium 15.6-inch HD Laptop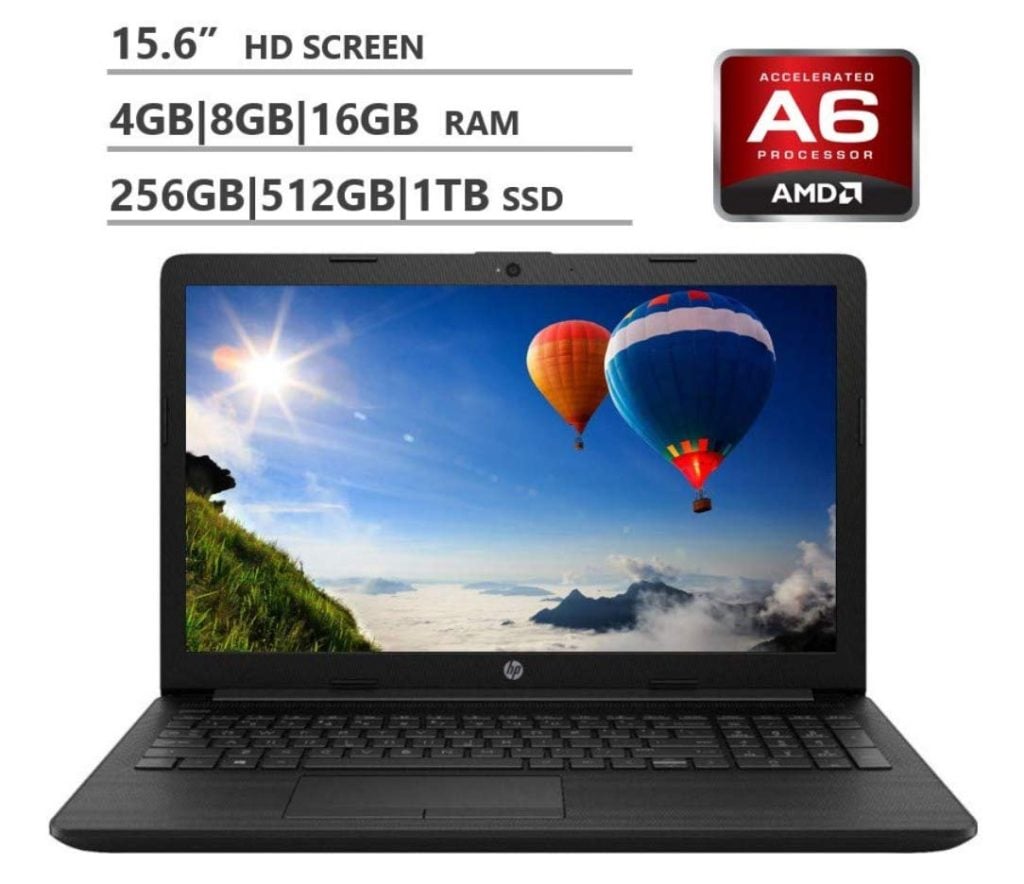 Most people are usually on a budget when they have to upgrade their laptops. While there are devices that deliver a 4K resolution, touchscreen and lots of other bells & whistles, you may or may not be spending over $1000 on a laptop. After all, the usage scenario will vary as gamers and designers opt for desktops whereas business users need a reliable product to get work done on the go. The 2022 HP Premium 15.6-inch laptop is the perfect companion for your basic office needs and costs quite less than even the affordable laptops we mentioned in this list.
The laptop has a decently sized 15.6-inch display with a resolution of 1366×768 pixels and the semi-HD resolution allows the device to deliver more battery life than usual. The company doesn't mention it explicitly, but it should easily last 7-9 hours of usage because it runs on an AMD processor. The laptop is powered by AMD A6 9225 processor clocked at 2.6 GHz which is paired with 4 GB of RAM and 128 GB SSD on the base model. You can choose to increase the RAM or the size of the SSD if your budget allows, but for most cases, especially if you are connected to the web for a long time, these specifications should suffice.
There is always an added advantage when you go for AMD laptops because it also bundles the AMD Radeon R4 graphics card. It makes it easier to use graphics-intensive applications and you can even play games to a certain extent with low to medium graphics on this one. The laptop runs on Windows 10 Home and has lots of connectivity ports including HDMI, USB ports, SD card reader, Ethernet and even has a full-blown DVD writer which is quite rare to come across in this digital storage era.
What Makes the 2022 HP Premium 15.6-inch HD Laptop a Great Pick?
The laptop is priced at a very affordable range.
It has lots of connectivity ports including DVD RW and features a large display.
Recommended For:
If pricing is of utmost concern, you should go with this one which also has the great build quality and port selection offering great value for money.
Budget-Friendly, Easy to Use and Powerful for Office Computing
2019 Lenovo IdeaPad 15.6-inch High-Performance Laptop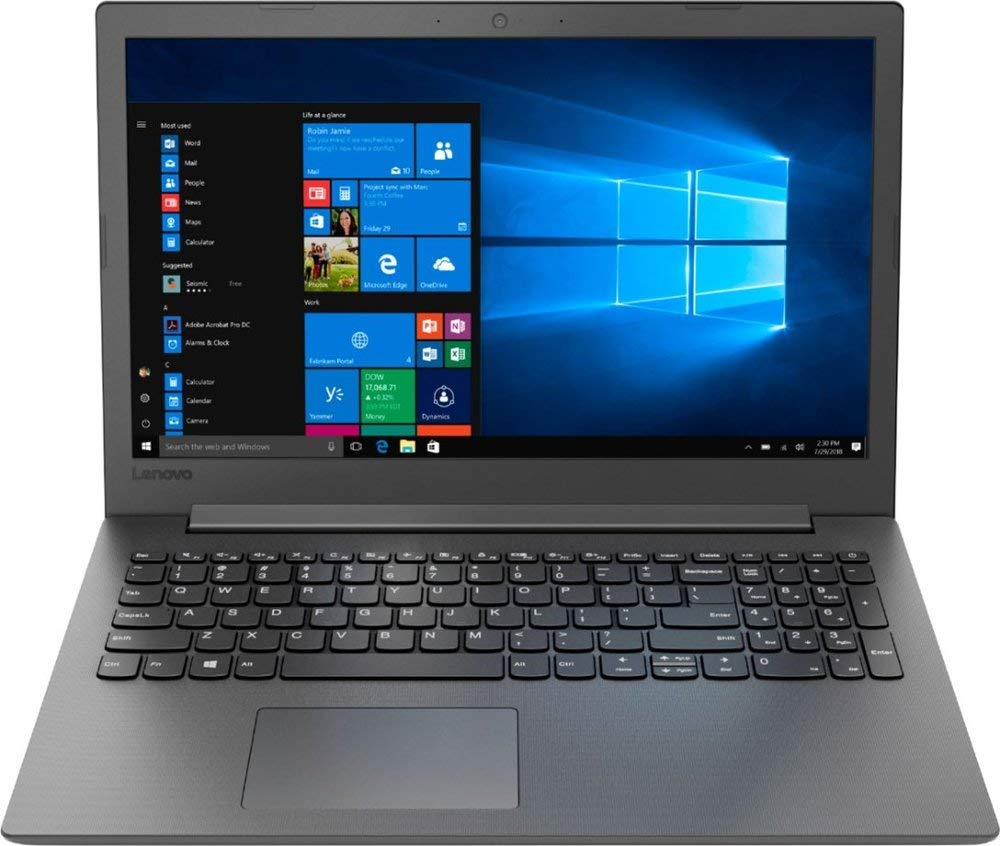 Most laptops use the Intel Core processor which usually increases the overall pricing of the product. However, there are select products that use an AMD processor and it contributes to a lesser price tag, making it more affordable than ever. The 2022 Lenovo IdeaPad costs just some more than $200 making it almost on par with a Chromebook, but it comes with a full hard disk, connectivity ports and everything else that you need to get you through a day's work at the office.
The laptop features a 15.6-inch display which has a resolution of 1366×768 pixels and the display which is not full HD contributes to boosting the battery life as a whole. It runs on the 7th generation AMD A6-9225 dual-core processor clocked at 2.6 GHz and the surprising factor for Intel fans is that this model doesn't need a graphics card yet you can game on it. AMD specializes in providing GPU on their CPU and the model is powered by AMD Radeon R4 which will easily facilitate some casual gaming.
The hardware specifications continue with 4 GB of RAM and have a massive 500 GB of hard disk for all your storage needs. The keyboard is firm and easy to use while it has a large list of connectivity options including HDMI, Ethernet port, USB, headphone and microphone jack along with a DVD writer. While you may or may not find this tray useful, it doesn't affect the aesthetics of the product and at this price point, you can't really go wrong. The Lenovo laptop uses a 2-cell lithium-ion battery and can easily last a day of moderate usage.
What Makes the 2022 Lenovo IdeaPad 15.6-inch Laptop a Powerful Solution?
At this price point, the laptop is pretty powerful because it has an AMD processor and even a graphics chip for intensive applications like Photoshop.
The build quality is sturdy and it is a great value for money.
Recommended For:
The laptop is quite affordable, is ideal for office computing and you can also use excel sheets or Photoshop without any signs of slowing down as the processor is powerful enough for most tasks.
Best Battery Life and a Mac OS from Apple
Apple MacBook Air 13-inch Retina Display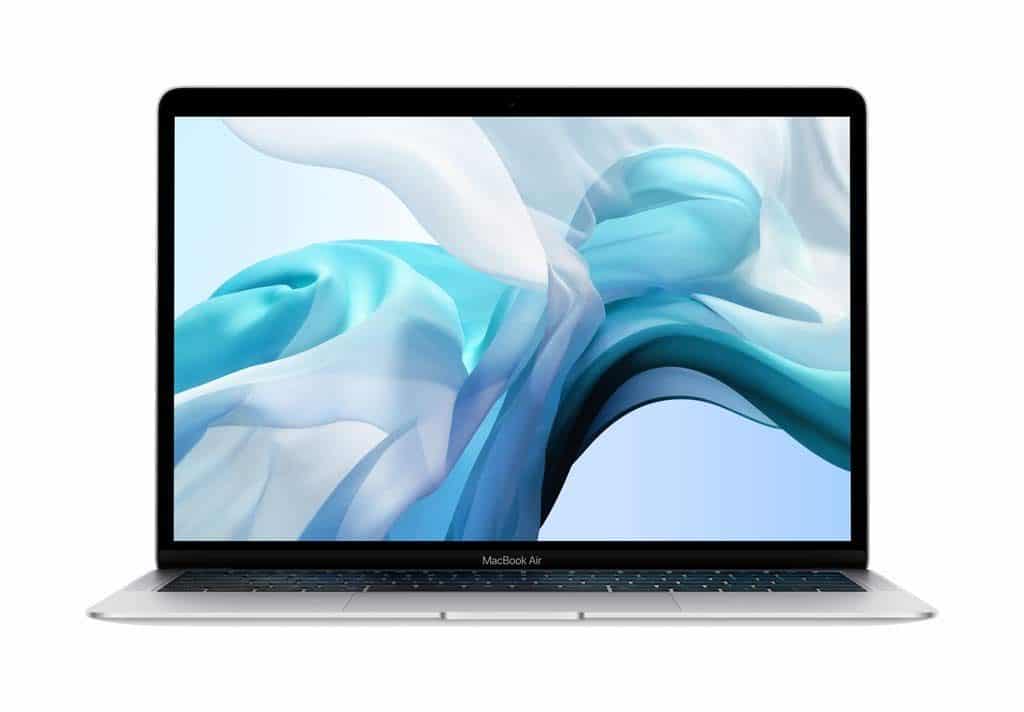 Apple products easily fall on the most expensive and luxurious side, but sometimes you can't ignore the company when you are looking to spend a little to get the most out of it. The Apple MacBook Air would definitely blow your minds off with its amazingly good battery life. This laptop should easily last you an entire day and the company officially claims it would last 10 hours on a single charge. While individual mileage may vary, there is no contradicting info against the fact that this is one of the top laptops with the best battery life in 2022.
The company has already launched a more expensive variant which is a refresh of the current MacBook Air lineup. It includes improved Retina display, bezel-less design and the latest A-series processor. However, the price tag that is more than $1500 may put off a lot of people which is why this slightly discounted model is a more ideal pick. Besides, it should easily handle everyday computing work without any difficulty. The hardware specs have never been the forefront for Apple, but so that you know, it runs on 1.6 GHz dual-core Intel Core i5 processor with 8 GB of RAM and has 128 GB of SSD storage space making it blazing fast besides being responsive.
The laptop features a 13-inch Retina display with Stereo speakers and uses only USB Type C ports. In order to connect other devices, you need to carry a couple of dongles around but it is a given in 2022 as everything is moving towards Type C while ditching older ports. The laptop has a premium finish similar to any other Apple product and should easily last you a couple of years for the thousand dollars that you spend on this device. The touchpad and keyboard have considerably been improved making it easier to use in Airport or any public locations. You don't have to worry about battery life in this one as it has been proven through the years.
What Makes the Apple MacBook Air 13-inch the Best Battery Life in a Laptop?
The Macintosh OS is a choice for any who would love it.
It delivers 10 hours of battery life in a premium finish that you can rely on and the laptop should last you years.
Recommended For:
MacBook owners and anyone who loves to travel a lot or wants to invest more for long-term benefits on a laptop with best battery life in 2022 can go for the new MacBook Air.
See also: Best laptops with CD/DVD Drive
FAQs
How do I improve the battery life on my laptop?
The best way to do so is by reducing the screen brightness. On high-resolution displays, you can also improve battery life by reducing the resolution when it is not needed. Keep the device in a place where the air vent has space to dissipate heat.
What is the foremost factor when choosing a laptop?
The battery life often plays a huge role but for some laptops, such as gaming laptops, gamers know that they will not be able to get higher time because of the hardware components and RGB lighting. However, most professionals and office goers can make use of the best battery life in laptops in any model.
What kind of ports are essential in a new device?
The ethernet port is going away in products like the Apple MacBook but they are always useful if your Wi-Fi adapter fails to work. Similarly, USB ports including Type C and Type A are required for professionals who have a requirement to connect multiple components to their laptops.
Will I have to pay for Windows 10 when I purchase a laptop?
No. Most laptops have Windows 10 Home bundled as part of the price you pay for the device but if you are planning to upgrade to Windows 10 Pro, you will have to pay the extra sum to get additional features. Some devices are made for Linux and will not include Windows which is something you should consider.
What kind of work is easy to carry out on laptops?
Budget laptops are usually powered moderately and can be used for office work like sending e-mails, Microsoft office apps and Photoshop. You can also make use of the improved battery life to use it for extended hours in the office or outside, without having to hit the charging port.
Conclusion
The top laptops with the best battery life in 2022 list all the major brands and the best laptops that you could buy today. They should easily last you an entire day's usage without having to recharge them. Besides, they save power wherever possible which other gaming laptops and high-end laptops may not be able to do so when equipped with demanding hardware components. Choose a laptop that strikes a fine balance between power consumption and performance.
The AMD laptops have GPU integrated into them for graphics-intensive applications and are also good at providing long-lasting battery life. The Intel laptops are more powerful and may drain the battery quicker but it is based on your usage scenario and whether you will have access to a power plug when using it at its maximum performance level. Either way, a good laptop with reliable battery life and build quality will ensure you get the most value for your money.
---