Technobezz is supported by its audience. We may get a commission from retail offers
Summary – Headphones are invading human life everywhere. There are different styles and configurations
–
Headphones are invading human life everywhere. There are different styles and configurations and the options are so many that it could be quite daunting to select the best one. They come in different shapes/sizes and at different prices. Read on to solve your dilemma. After all, a pair of headphones is an important tech piece that you have to buy. You'd like your music to sound good, beginning from basic MP3s on your notebook to top-notch tracks playing from your audio player.
Here are the top headphones suitable for everyone, whether you are a music lover, a traveler who wants to silence the outside world or a runner, these are the top guns in the business.
See also: Best laptops for gaming
Best headphones
Leading the Class: Quiet and Comfortable
Bose QuietComfort 35 (Series II)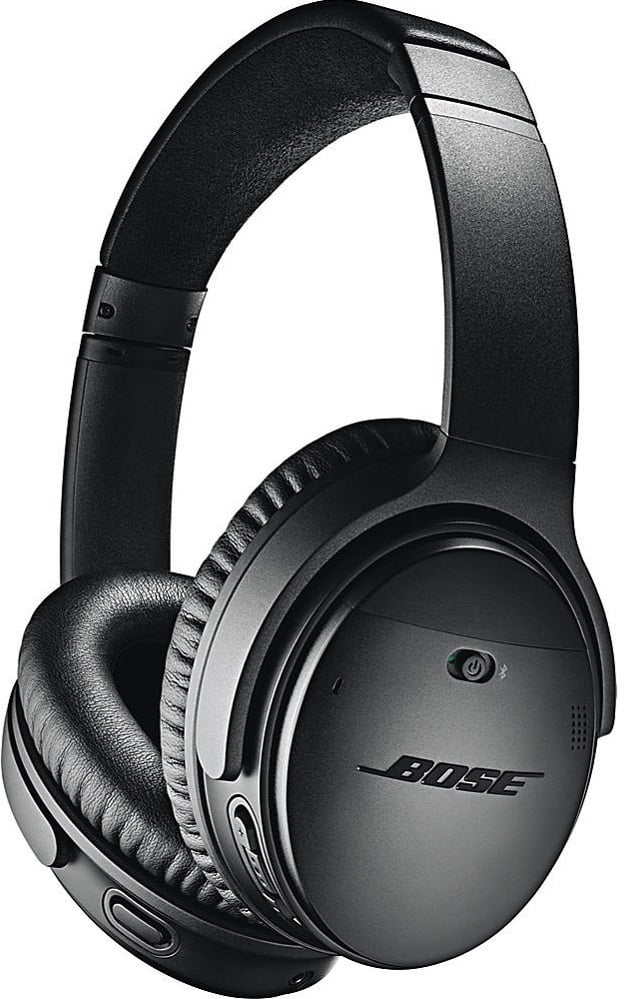 It is one of the top headphones in the market, being the quietest and most comfortable one you can buy. These solid but light earphones come in a basic but very comfortable design without any fancy textures. There are buttons for on, off and pairing along with keys for playback and volume. It comes with vanilla Bluetooth 4.1 version. ANC (Active Noise Cancellation) can be adjusted and configured for Android and iOS.
It has smart features like the Google Assistant added to it and you can activate it using a smart button. Battery life offers 20 hours of wireless playback. You can continue to use the headphones in passive mode even if the battery runs out, though it may not sound that great!
Recommended For:
As far as noise cancellation is concerned, there's nothing that can beat Bose QuietComfort 35. It's the top choice for music lovers.
Noise cancellation adjustment feature is useful for those with a baby nearby. etc.
The integrated Google Assistant can inform you about notifications, the time, messages, replying to messages and a lot more.
Very useful for those who travel a lot.
Bursting with Technology
B&W PX ( Bowers & Wilkins PX)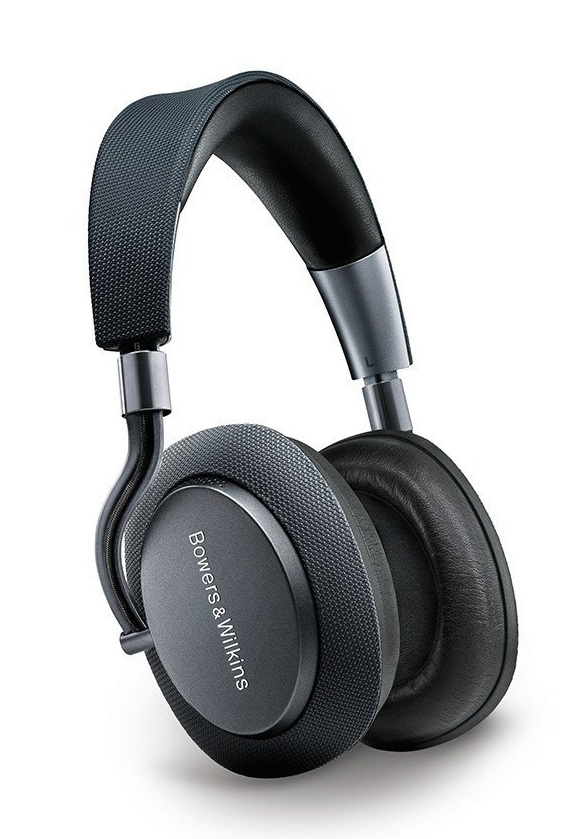 It sports an amazing design and literally bursts with technology, smart sensors, adjustable ANC and offers 22 hours of battery life. These are Bluetooth wireless headphones with smart sensors for pausing and playing sound. When you remove the headset, the sound automatically pauses and replays once you put it on. The sensitivity of the sensor can be adjusted.
All buttons are present in the right earphone, including volume, pause and play, environment filter, power and Bluetooth buttons. It has a 33 feet Bluetooth range. At the base, there are ports for audio cable and a USB Type C port for charging. Made of soft leather, it fits comfortably on the ears and weighs 11.8 ounces.
It also has a partnering app where you can adjust the ANC modes. The Voice Pass through the feature on the app allows adjustment to the loudness of ambient noise, so that you can choose to remain alert to your surroundings. Firmware updates are easy to install.
Recommended For:
Highly suitable for listening to tracks with robust sound and nice details.
Useful for those who commute or travel a lot
They're pricy but offer excellent noise cancelling tech and a good battery life
Way to go if you're looking for a truly premium experience
Stellar Value at Reasonable Price
1 More Triple Driver ( In Ear Headphones)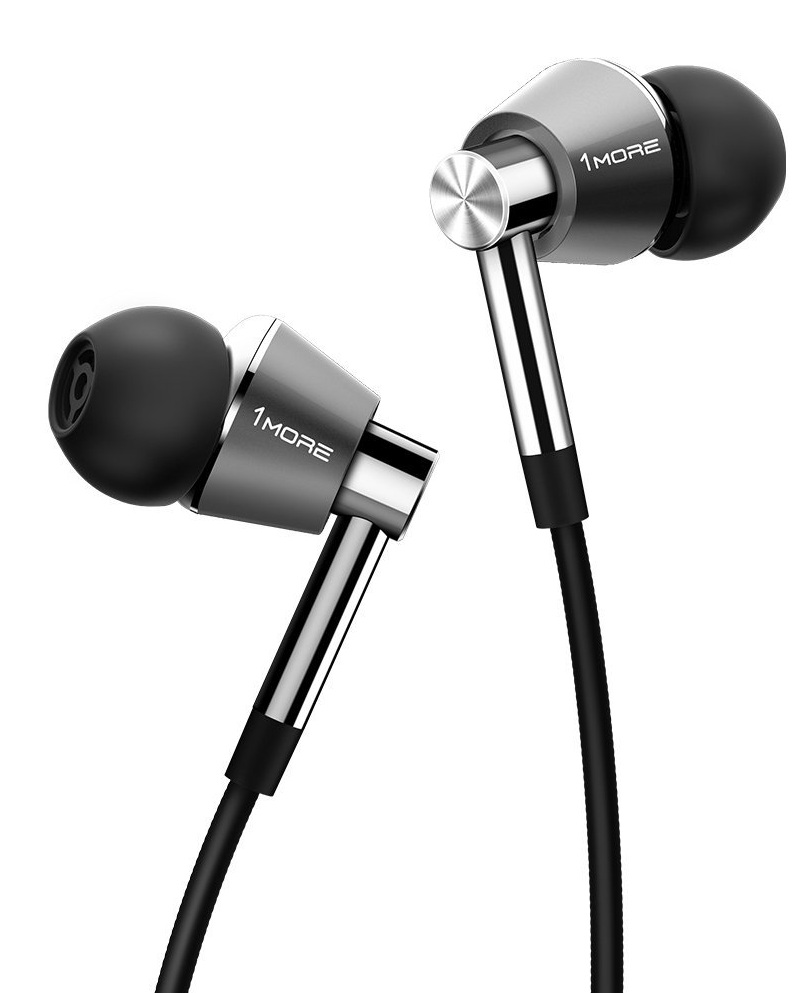 It comes in a subtle yet unique design made of aluminum combined with the rose gold finish. The earbuds are well angled and fit well, with options for Android or iOS specific earbuds. There are 3 buttons on the remote and the controls are easy to use. The cables come in two textures: covered in fabric for the cable connecting the Y connector to the jack and made of rubber for the cable leading from the Y connector to the earbud.
The package includes several silicone tips, so you can find a good fit for yourself. It helps seal out noise, though it does not have ANC features. It is among the best in ear headphones for under $100 made in solid metal with a good fit. Sound is balanced and music is well detailed with a good bass. Human voices are well highlighted. They are a good pair of earbuds for enjoying music.
Recommended For:
Suitable for people with several devices, as you can switch between devices.
Also suitable for commuters
Effectively Muffles Ambient Noise
Sony WH-1000xM2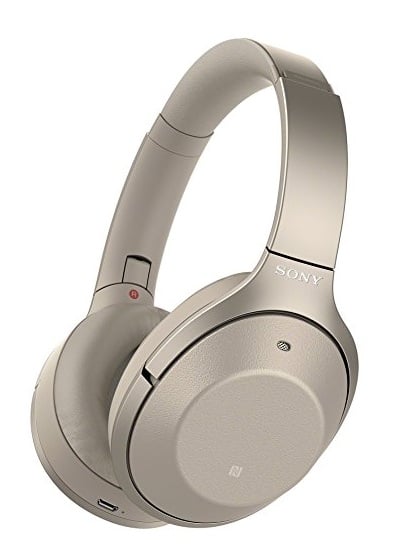 It's a sturdy, over the ear, wireless Bluetooth 4.1 Headphone from Sony, equipped with excellent noise cancellation features. The upgraded version optimizes atmospheric pressure, has an equalizer and controls for sound position to offer more customization. You can pair it with its app for tweaking the features for adaptive sound controlling features. It is available in black or beige and weighs 272 grams. The build quality is excellent with good plastics and a rigid stainless steel band along with good cushioning. There is a 3.5 mm socket for connectivity with a micro USB port present on the right cup for charging. The power as well as noise cancelling buttons come with LED indicators on the left cup.
The touch controlling features are present on the right side cup. You can adjust volume, playback and answer calls. You can also muffle the music merely by holding the hand over the touch controls or remove it when you want to resume playback.
Recommended For:
Very useful for frequent travellers, as it sports an excellent battery life of up to 30 hours with 40 hours for wired connections. The pads are soft and feel comfortable when when worn for long durations. The Quick charge feature offers 70 minutes of battery life within 10 minutes of charging.
Ideal for users who like to play around with the settings and tweak them, such as various surround model
The Quick Attention feature/gesture is useful when you're on a flight and want to listen to people temporarily.
Easy Sync with Apple ecosystem
Beats Studio3 Over Ear Wireless Headphones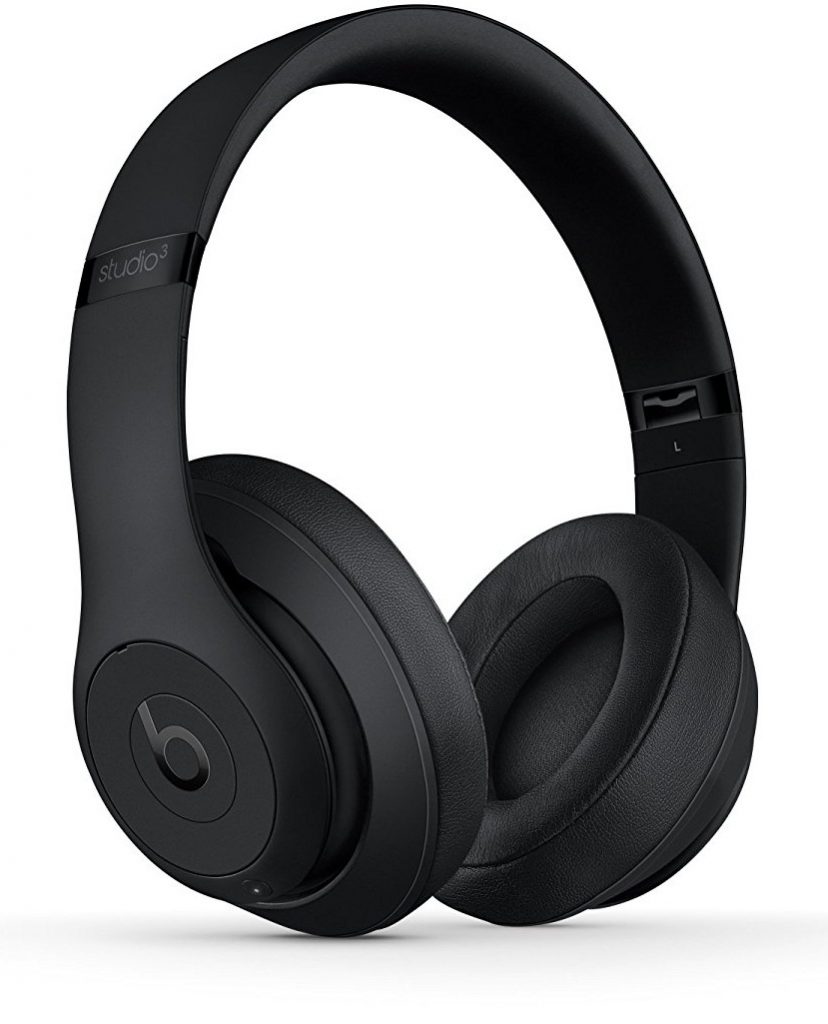 It is Beats' latest update powered by Apple's wireless chip and improved noise cancelling features. Beats uses its proprietary technology, known as Pure Adaptive Noise Canceling/ Pure ANC. It monitors the environment continually and calibrates noise cancelling based on the surroundings, such as train, plain, wind noise, etc. A microphone is present inside the ear cups adjusting leakages. It is available in 4 basic colors of white, red, blue and a matte black, along with special edition colors: shadow gray, porcelain rose.
It syncs well with Apple devices, has a better battery life and features a stable Bluetooth. The build quality is sturdy in decent plastic and is comfortable to wear for the extended time with a weight of 260g. It effectively muffles external sounds as well.
It is comfortable and durable. The control features are simple and found on the left cup, with 2 buttons for volume and one for pause/skipping tracks. It syncs seamlessly with iPhones and ships with a microUSB port.
The battery life lasts around 22 hours with iOS devices. Class 1 Bluetooth offers excellent connectivity with extended range for your devices. There are built in controls for making a call, skipping a song, controlling volume and for activating Siri. Is an excellent headset for making a phone call, as you can hear your own voice, which prevents you from talking too loudly.
Recommended For:
Suitable for those who travel a lot, with a collapsible design whereby you can fold them into a hard pouch.
Ideal for those having an Apple ecosystem as it operates flawlessly with it. Not recommended for those outside this system.
The W1 offers excellent ease of use with a better battery life. With the Fast Fuel feature, you can charge it for 10 minutes to give you 3 hours playback.
Tweaked and Redesigned but No Frills
Grado SR80e On Ear Headphones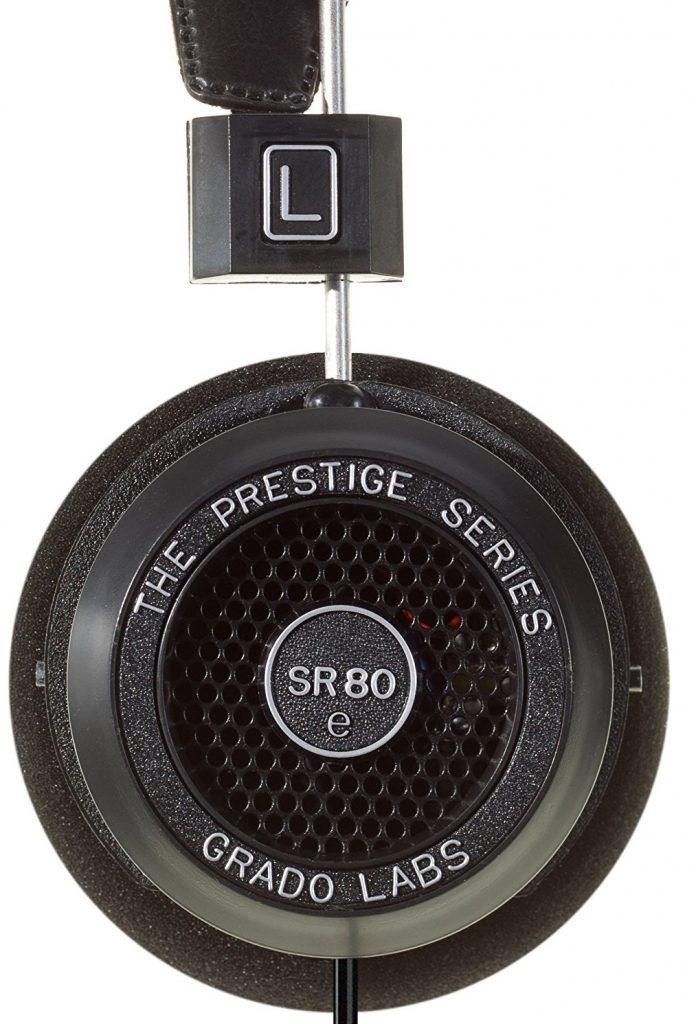 These headphones have been tweaked and are the latest version of the earlier SR80i released more than 5 years ago, though they still sport a 'cool' retro look. It is an open back type, making stereo imaging sound more natural, and sports permeable foam pads. It comes with a 3.5 mm to 6.3 mm adapter. They are not noise cancelling, so suitable only for quiet environments.
The open back design makes it unsuitable for noisy environments. The audio quality is good for the price, the bass is fuller and an upgrade to the predecessor, the SR225i. Excellent dynamics for this price range. You can wear them comfortably for a few hours, as they come with metal rods protruding from its headband, with the cups swivelling freeling and allowing it to fit instantly. It is comfortable and lightweight.
Recommended For:
Recommended for those who want to save a little money on their headphones, yet want a good sound quality.
It's ideal for those who do not need a closed back design and a built in microphone for making phone calls.
High Resolution Audio with Phenomenal Sound
Audio Technica ATH SR5BTBK Over Ear Headphones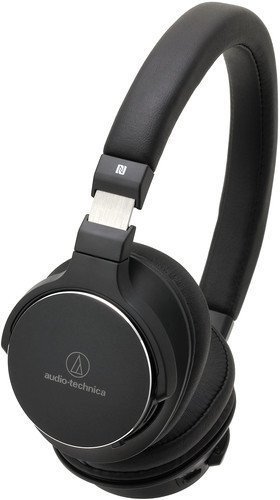 It is a lightweight, wireless headphone with 45 mm drivers, offering a frequency response of 5-40,000 Hz. The 45 ohm impedance on the earphones does not need an amp for driving them. The design is excellent in an understated black and silver finish. For a sci fi type of look, you could opt for the white and silver finish version.
The ear cups are in metal with soft and comfortable leather earpads. The controls have been placed behind the ear cups, with the power switch on the right and the playback controls, microUSB port and 3.5 mm jack on the left ear cup. The box contains a microUSB cable for charging and a wired cable of 3.9 ft along with a carrying case. The headphone cable has a button for controlling playback/attending calls and also a microphone.
It plays all kinds of music nicely, with high resolution audio meaning that it can play a much better than a CD quality. Though there is no noise cancellation feature, it is able to block noise passively and audio is well balanced. You can use the wireless mode but the full capabilities of the Hi Resolution audio is best experienced when you plug it with the included cable. The battery lasts for an amazing 38 hours.
Recommended For:
This is suitable for those always on the go. Great for listening while commuting if you're not too particular about total fidelity.
Comfortable to wear for long sessions, as the memory foam is soft and feels comfortable with a reduced clamping force
Suitable for both Android and iOS users, as it supports aptX as well as AAC codecs.
Go Truly Wireless with Alexa Enabled Sports Earphones
Jabra Elite Active 65t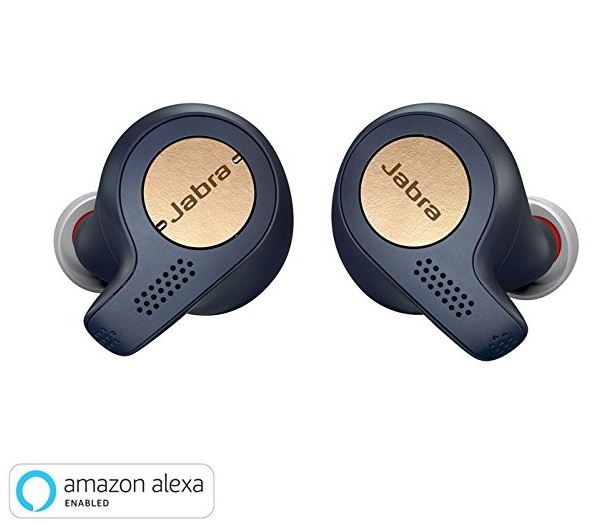 Jabra has eliminated the heart rate monitor this time around, but this has improved the battery life and made it 5 hours, with the charging case adding 2 more charges. 3 sizes of eartips are included. The motion sensor or accelerometer can be used for counting steps in the Sound+ app available for both Android and iOS phones.
The Elite Active 65t comes with Bluetooth 5.0 offering more stability. Being noise isolating earphones, all ambient sound is sealed. However, the Hear Through feature can be toggled in the app to adjust the amount of sound you wish to let in. In addition, there is an equaliser for adjusting the treble, bass etc. You can pause the music by pulling the bud out and put it back for resuming. A sidetone feature allows you to hear your own voice in phone conversations. It offers voice support for Amazon Alexa, Siri or the Google Assistant.
Recommended For:
Sports wear, as they are totally resistant to sweat, coming with an IP56 rating for sweat resistance and it fits securely, so you safely run with it.
Good for making calls and offer excellent sound quality, having 2 microphones in each earphone.
Suitable when you're on the go, with the Quick charge feature allowing 1 1/2 hours with 15 minutes of charging. Also, suitable for noisy environments.
Conclusion
There has been an explosion of headphones during the last few years. Many of us are forever changing our earphones, perhaps because you are frustrated with certain features or because it doesn't suit a specific purpose. The in ear type of earphones are preferred by some, as it is a noise reducing design.
If you commute a lot, it is better to avoid noise cancellation earphones, as you need to be aware of your environment. However, some of the noise cancellation earphones also come with apps where you can control the degree of noise to get the right amount of ambient sound.
On the other hand, over ear phones come with headbands and are ideal for watching a video. Wireless earphones are more expensive but are necessary for those who exercise a lot.
---