The world of music is unique; only those who have experienced different versions can understand its nuances. Some users are happy with simple headphones, whereas serious audiophiles spend on expensive equipment to hear every piano note, guitar string, and drum beat. The best sound cards for music production are crucial assets for music composers, sound engineers, and professionals who cater to the extremely demanding audiophile market.
Each sound card is being marketed to cater to a different audience, and the quality they deliver may vary based on conversion rate and type of hardware components used, among other aspects. The pricing also plays a crucial role as you can go for a cheaper version based on your requirement or invest in a premium product with a maximum number of connectivity options and additional features.
Buying Guide
Are you looking for the best sound card for music production? We are all well aware that the usual sound card which comes in our computers – even the premium ones – may not be as effective in music production. This is why sound engineers hunt for a good sound card capable of rendering audio tracks with careful details required for music production.
There are quite a few things that can make a difference when choosing a good sound card.
connectivity options
conversion rate
affordability
portability
These are a few important factors.
Let's look at the best sound cards available.
See also: Best Turntables
The Best Sound Cards For Music Production
Versatile Sound Card with 3.5mm Microphone
Maono Audio Interface with Sound Card and DJ Mixer
Check Price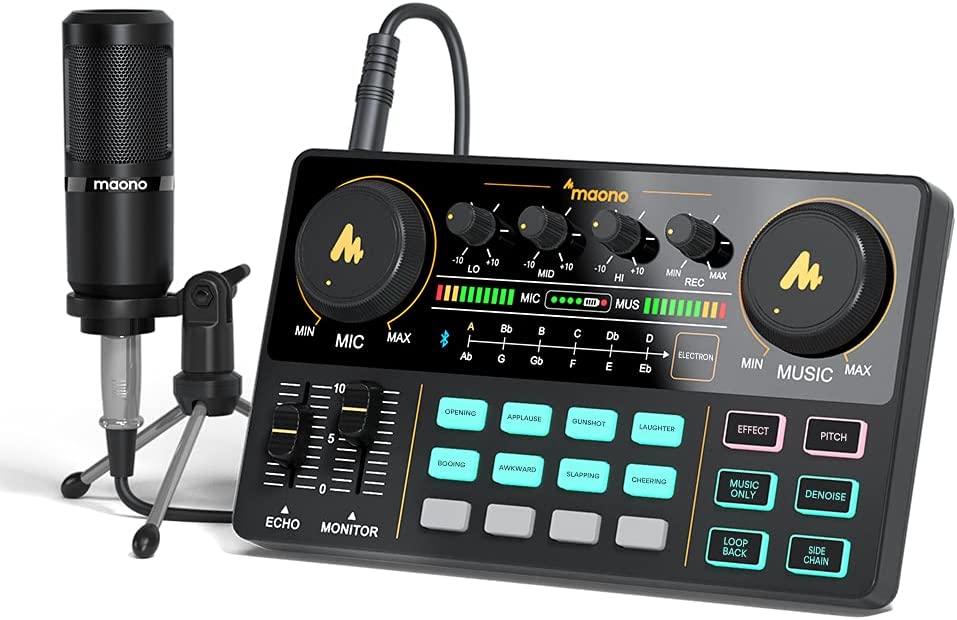 When you invest in this sound card by Maono, you can get multiple things done efficiently. Apart from working as a USB sound card, it works very well as a mixing station. It comes with a wide range of built-in special effects. Because of the features it comes with, one can safely recommend it for professional use.
Even if you plan to replace some of your existing devices with newer ones, you can buy this sound card without thinking too much about it. It is compatible with most Android and IOS systems. It offers great value for money to those who like well-packed products. It comes with one mic, one windscreen muff, one mic tripod, one charging cable, and several other accessories.
If you are looking for a versatile sound card that does a very good job at audio reproduction, this would be the right product for you to invest in.

It is also recommended for those who are planning to replace a defective sound card with a new device.
Good audio output

Multi-utility design

Compatible with most devices

It comes with several accessories
Moderate battery life

Mic quality could have been better
Elaborate Soundcard Kit with Podcast Microphone
Tenlamp Well-Designed Soundcard
Check Price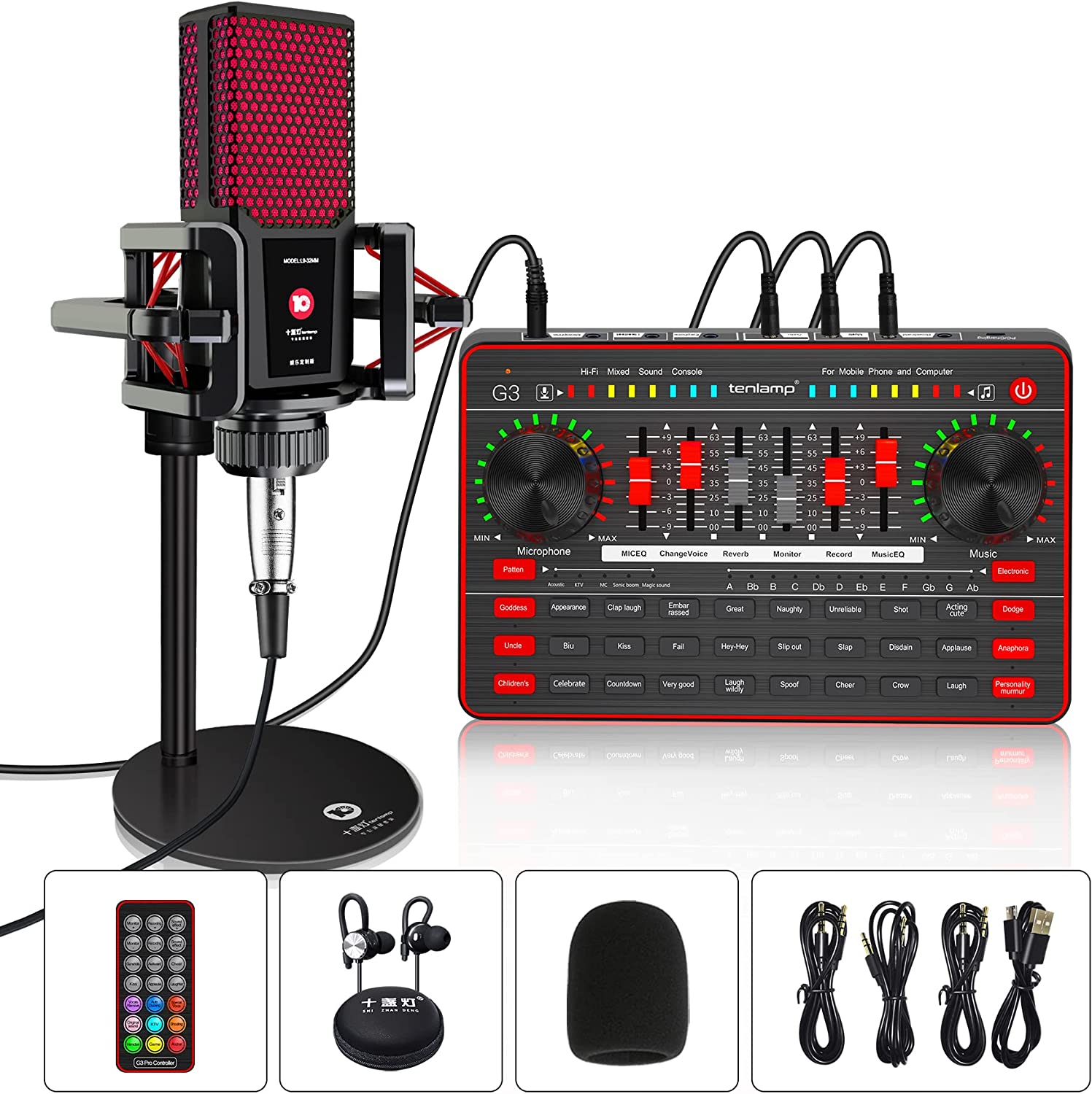 Available in three different colors (black, red, and red T2), the vibrant design of this soundcard kit by Tenlamp does prove to be one of its biggest selling points. However, there are several other reasons why you should invest in this device. It is compatible with a wide range of devices, including PC, laptops, karaoke systems, speakers, smartphones, and tablets.
It works very well as an audio DJ mixer, and that's one of the reasons why it is used extensively by individuals working in the music industry. There are many well-defined controls on the equipment, which help you work around them easily. Its processing speed is much higher than the efficiency with which most other sound cards available in this price range work.
A very good option for professional podcasters planning to invest in a sensitive mic and some other audio equipment.

Also recommended for professional musicians who are looking for a soundcard kit that not only is of good quality but looks great as well.
Durable battery

Professional features

Extremely sensitive mic

Good connectivity support
Sound effects could be improved.

Not compatible with USB microphone
Good-Quality Audio interface with XLR Condenser Microphone
Maonocaster Portable Podcast Creation Equipment Setup
Check Price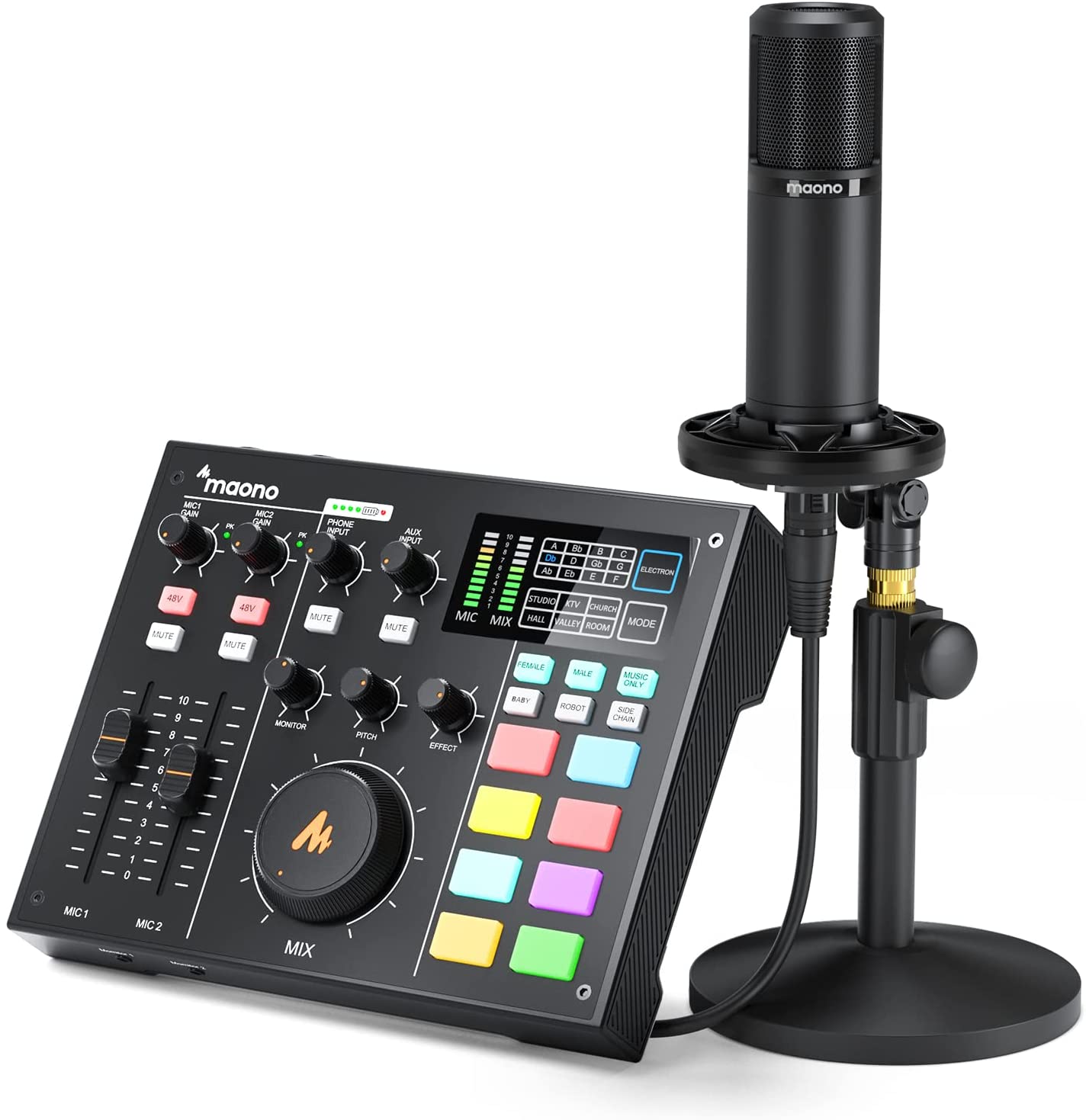 Maonocaster is a brand that is known for manufacturing high-quality sound and audio equipment. This elaborate audio setup, too, boasts very good quality. It comes as a package with multiple components that a professional podcaster needs to create original content. The XLR Condenser Microphone also works very well for those who play the guitar.
The fact that this device has received multiple awards, including the prestigious CES Innovation Award 2021, speaks volumes about its quality and performance. If you are into audio mixing, you will be happy to find as many as four channels on it. You also get to fine-tune the audio with the help of multiple settings and features like six reverb modes, four-pitch changers and auto-tune.
From professional sound engineers to podcasters to musicians, this sound card offers something for everyone.

Also recommended for those who had been planning to buy a long-lasting sound card manufactured by Maonocaster.
Easy setup process

Well-packaged product

XLR condenser microphone

Can use two headphones simultaneously
No windscreen

Need a specialized adapter for certain devices
Multifunctional Sound Card with Audio Mixer
CofeLife Budget-Friendly K300 Live Sound Card
Check Price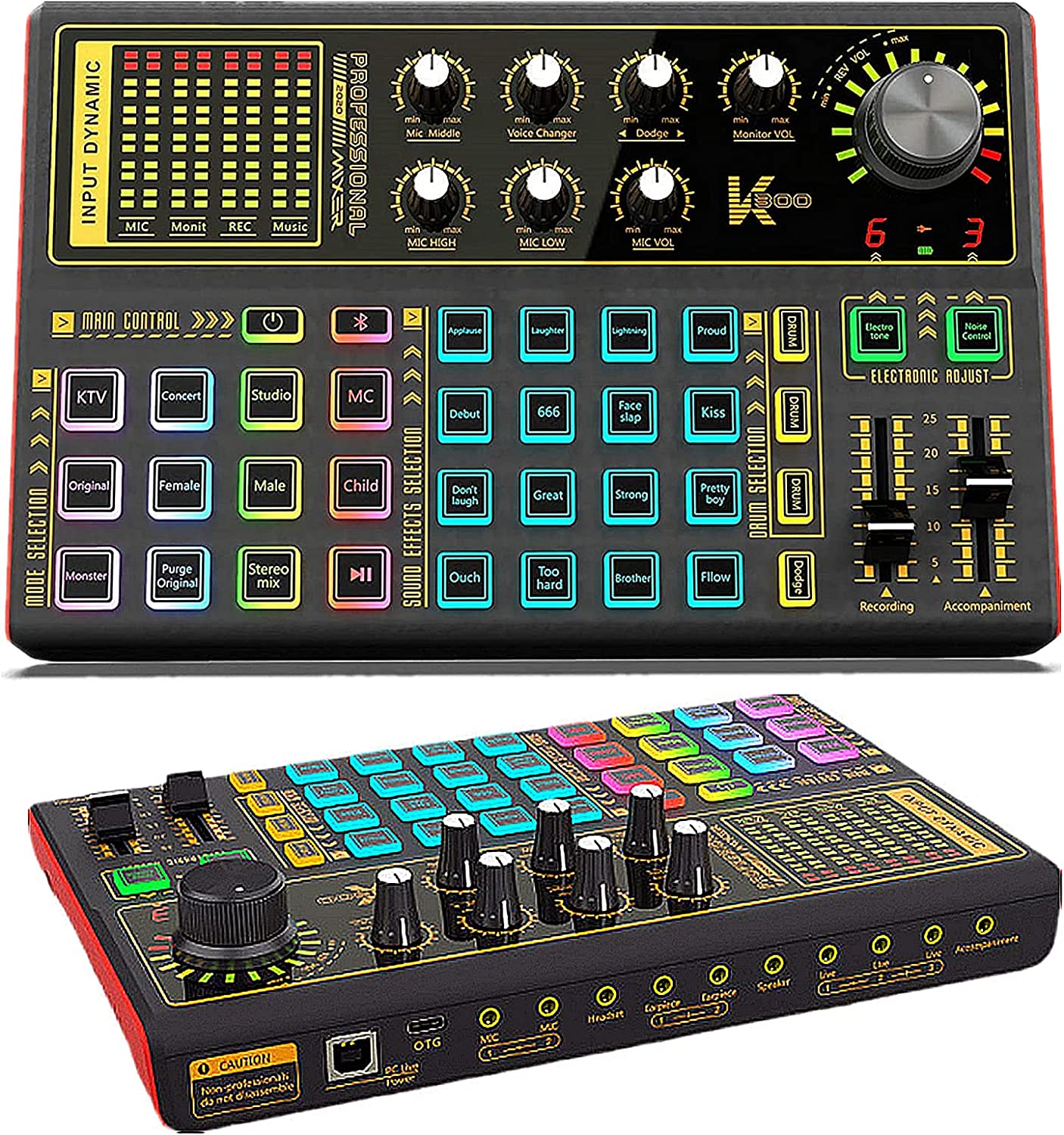 This sound card by CofeLife has been designed for those who prefer to use devices with multi-utility features. It comes at a very affordable price, and its multiple features are easy to understand and use. It comes in two different models. One of the two variants comes with a mic and is priced higher than the other version.
Along with 12 well-defined modes, this sound card offers you as many as 20 sound effects. LED lighting helps you identify all the different buttons easily. When playing games, you can use the voice changer feature to lend a unique identity to your in-game voice. It provides you with the option of using two microphones at the same time.
Why You Should Buy This?
Ideal for those who are planning to set up a small home studio and looking for a moderately priced sound card.

It is also recommended for individuals who need a good-quality sound card while playing video games.
Pros
Advanced features

Voice changing function

Available in two different variants

It supports the use of two microphones
Cons
No USB microphone support

It cannot run on phantom power
Moderately Priced Sound Card with Audio Interface
Tenlamp G3 Live Sound Card Podcast Equipment Package
Check Price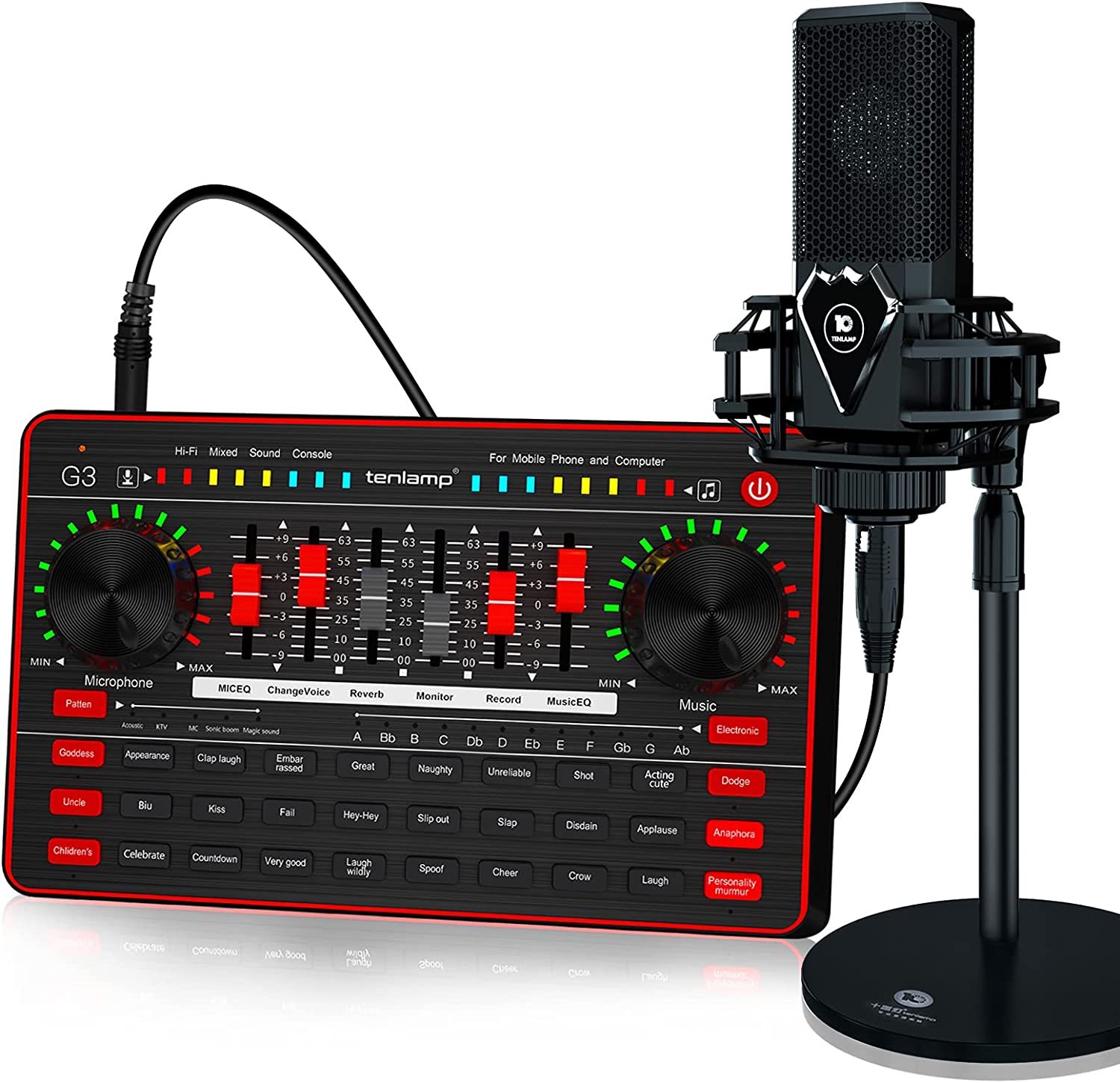 If you have been planning to launch your podcast or get into music production, there could be a possibility of you being confused about the equipment you should be investing in. This podcast equipment by package has been designed for those taking their first steps into the world of podcasting. It features a noise reduction chip that ensures external noise is blocked out.
The sound card also offers you the options that enable you to be truly creative. You can speak in the voice of a female, male, child, and several other distinctive voices. With as many as twenty-four sound effects, this is an ideal device for live recordings. At one time, the sound card controller can handle two individuals, three platforms, and three devices.
A very good option for those who are heavily involved in live streaming and live recordings.

It is also recommended for individuals who are in the early stages of their career as music producers.
Budget-friendly

Two mic inputs

Noise reduction chip

Compatible with most devices
Moderate battery support

No auto-tune
Portable Sound Console with BM-800 Condenser Microphone
CofeLife Budget-Friendly Podcast Equipment Bundle
Check Price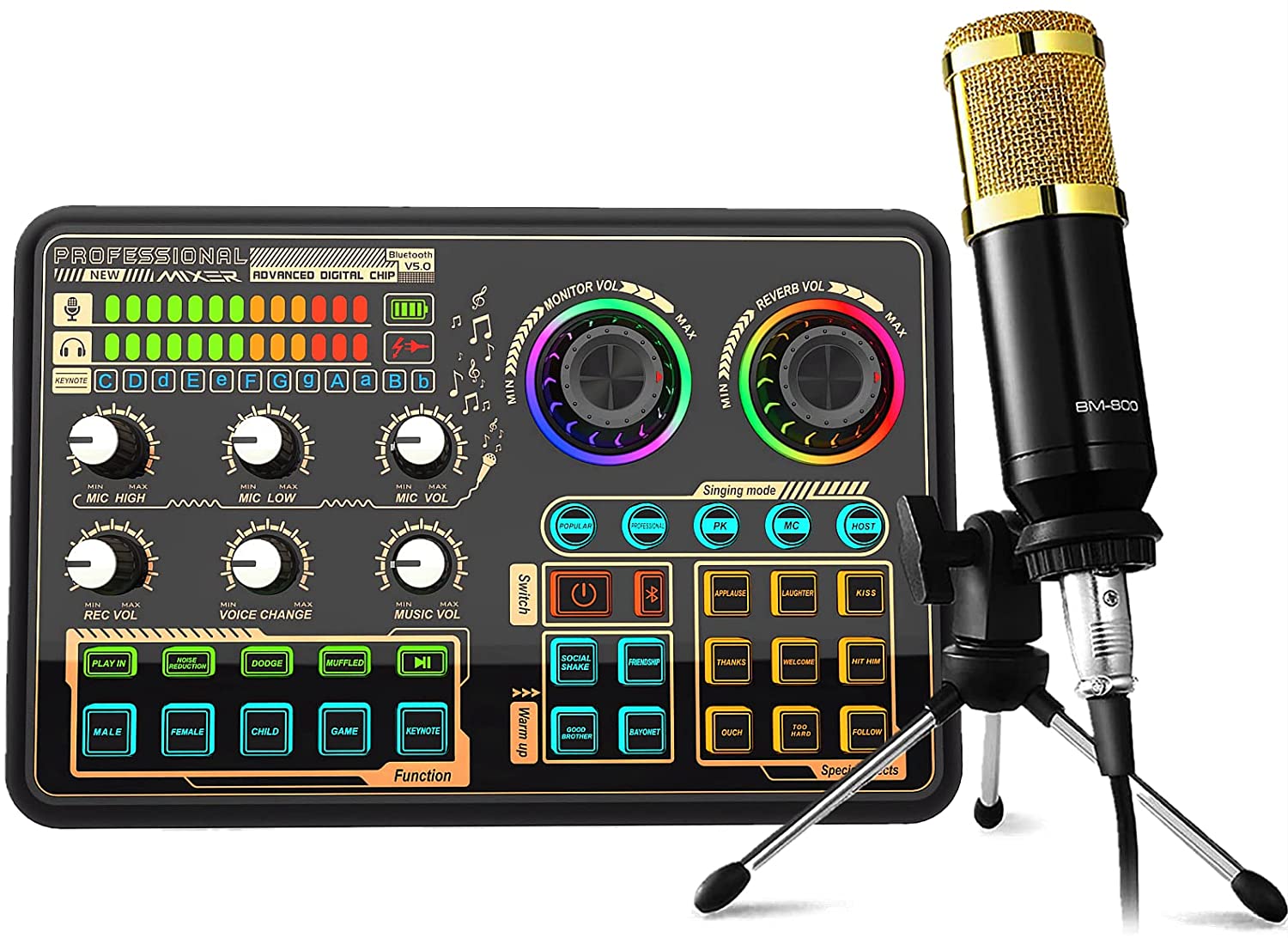 If your work as a music producer takes you to different places, you need a sound console that is easy to carry around. This sound console by CofeLife comes at a very reasonable price and offers various features that you would find useful while producing music. This is a sound console that does not require driver software to run.
The sound chipset it comprises boasts a very effective cardioid directional pickup pattern. This pickup pattern makes it a very suitable device for recording podcasts, music tracks, and vocals. The sound console provides different connection methods to connect to various devices.
Why You Should Buy This?
Recommended for those who have been looking for a portable sound console that comes equipped with a wide range of equipment.

It's also a good option for music producers who are on a budget and need to procure a sound console that can help get their professional tasks done.
Pros
One-year warranty

Multiple sound effects

Good connectivity support

Adequate frequency range
Cons
The mic should be more durable

It lacks some premium features
Conclusion
With so many of the best sound cards for music production available, a newcomer may find it difficult to choose. In terms of performance and audio quality, they all deliver professional-grade music that can be streamed live, recorded, or used to enhance music production. The compactness, pricing, and additional features are the aspects based on which you can make your final decision.
Some sound cards are compact, while some are rugged, but each brand outsmarts another with one exclusive feature. If you find it very useful to be able to live stream sound online or use the mono recording, you can pick a particular model and make the most out of it. All these brands are professionally certified and have other models you can explore before making your purchase decision.
Sound cards are a great investment, but making the right choice matters most. It can be good only if you choose the right sound card carefully. Depending on your needs and your production work, you may be interested in investing in one of the premium sound cards or in going for a more affordable one. Pricing, however, is not the only factor to be considered. There are other important factors like the connectivity options, the operating system you use, and the equipment's power. While beginners prefer something easy to use, most professionals choose devices with more controls. We have listed some of the best sound cards for music production so that you can easily find the one just perfect for you.
See also: Top best soundbars under $100