Technobezz is supported by its audience. We may get a commission from retail offers
X
Our Editorial Process
Each year more than 60 Million users visit Technobezz to solve a problem or research a product. Our goal is that everyone finds what they are looking for, and that is why we cover a variety of products, problems, and solutions on our website.

Writing an article that contains a lot of valuable information may seem simple. But when the article is written, the story doesn't end. We are constantly updating the content so that you can always get up-to-date and accurate information.
---
Technobezz's Editorial Guidelines
Sound bars are often used on their own or along with other speakers to enhance the sound quality of your audio
BESTISAN Dual Speakers Sound Bar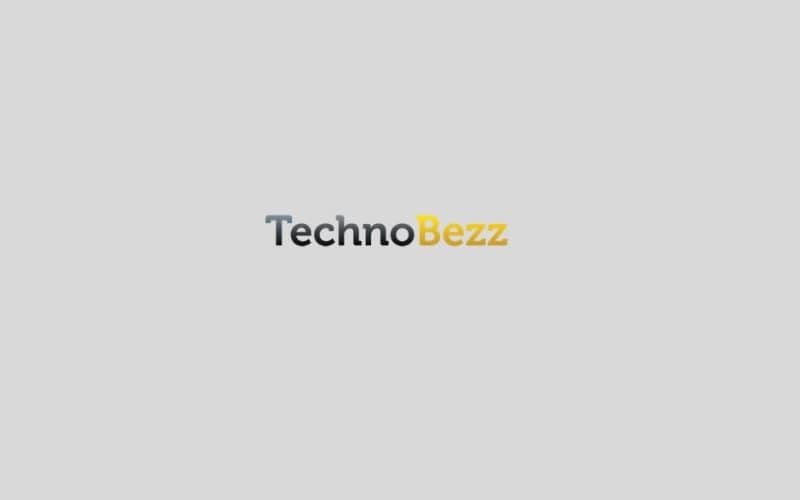 Majority Bowfell Customizable Equalizer Sound Bar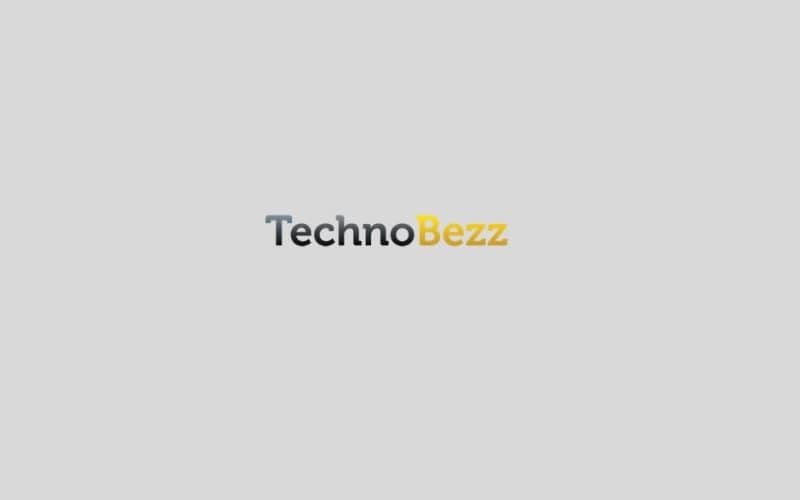 Hisense Dolby Audio Sound Bar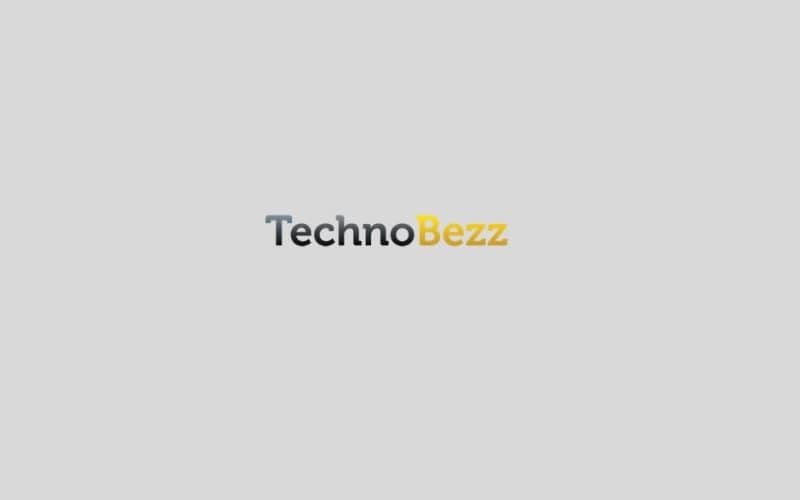 Table of Content
Sound bars are often used on their own or with other speakers to enhance the sound quality of your audio system or television. These units are often sleek and take up very little space compared to a home theater setup.
Buying Guide
They often come with a couple of inbuilt speakers or more and amplifiers in a long thin enclosure. However, a few models need to be connected to a receiver externally. The advantage of the first type is its ease of setup.
Depending on the soundbar you buy, consider these factors -
whether it generates stereo or surround sound
whether a subwoofer is included for profound bass effects
whether the product comes with grooves and a mounting kit
where you plan to place the soundbar
whether it supports DTS/Dolby Atmos sound
the different connectivity options available
The following is a list of the best soundbars under $100 for you to check out if you want to buy one.
See also: Top best soundbars
Top Best Sound Bars For TV
A Wide Sound Spread Sound Bar with Wooden Skin Wrapping
BESTISAN Dual Speakers Sound Bar
Check Price

This BESTISAN sound bar has an attractive appearance with its wooden skin wrapping. The sound bar is equipped with two full-range three-inch speakers. These speakers feature two bass ports and 3-inch full-range drivers that have very good flexibility and render crisp, transparent, and clear sound. The bar supports wireless Bluetooth 5.0 connectivity and a wired connection using 3.5mm and coaxial or optical cables to other devices.
The sound bar is integrated with a DSP chip to help users enjoy their preferred sounds by supporting three modes: dialogue, music, and movie. The bar comes equipped with a set of essential accessories like remote control, power cord, cables, and wall mount brackets.
This sound bar is an excellent choice for use in places with space constraints because of the wall mounting option.

The product supports several connectivity options like TV, projector, Alexa Echo, Firestick, mobile phone, and computer.

The bar renders deep bass, which makes it ideal for those who enjoy loud sounds.
Sleek, stylish, and compact

It can be placed anywhere

No need for a subwoofer
Missing cable with some soundbars

Customer support is not satisfactory
A Compact Size Sound Bar with Inbuilt Subwoofer
Majority Bowfell Customizable Equalizer Sound Bar
Check Price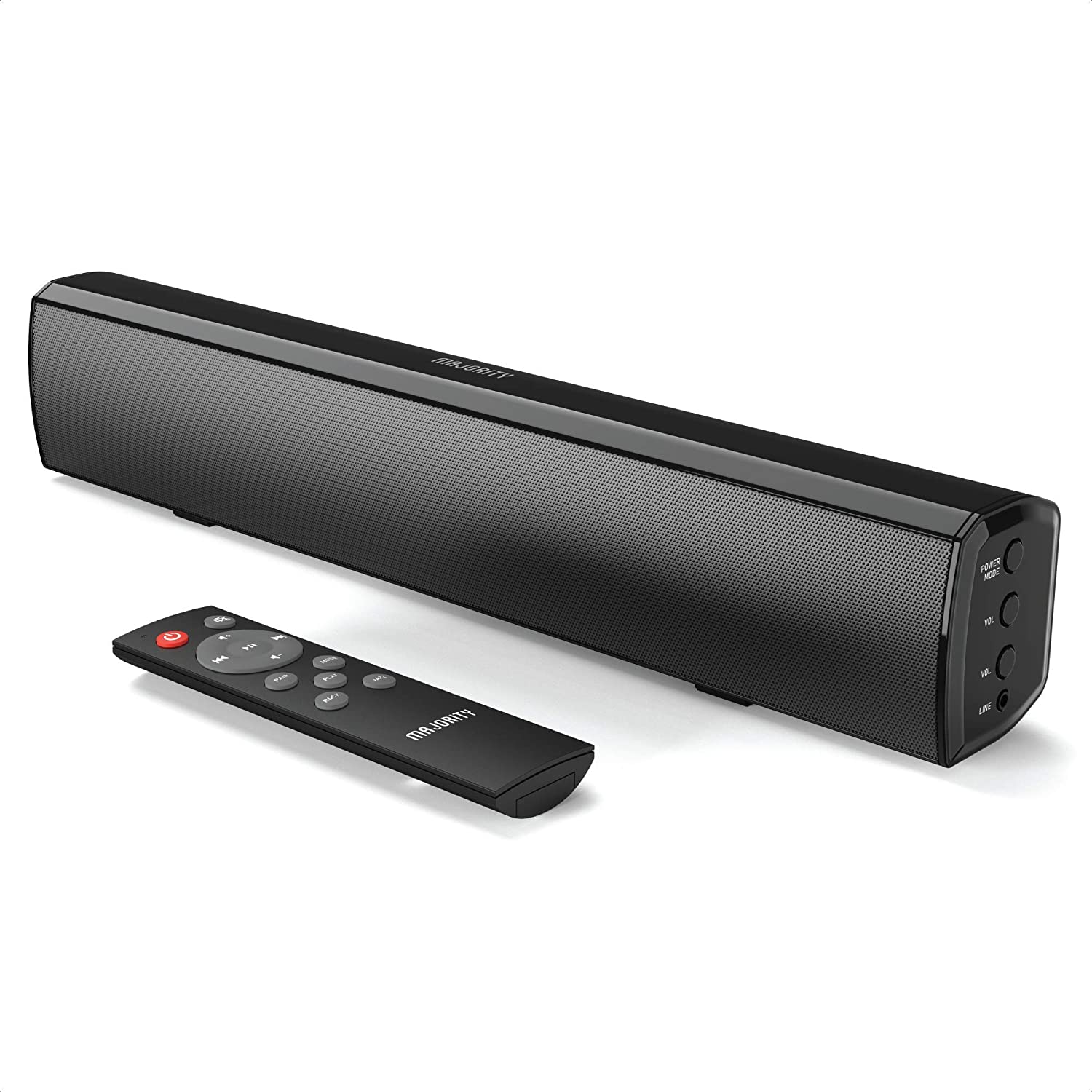 The Majority Bowfell soundbar is fitted with two 50Wstereo speakers and a subwoofer. The sound bar has a compact size. The product features Bluetooth connectivity for connections within a 10mm range. It also supports wired connection through various inputs such as a USB input, an RCA input, an AUX port, or an optical input so that you can connect to just about any device.
The sound bar has five audio modes. The bar encompasses an equalizer with three sound modes: flat, jazz, and rock. These three settings can be set by just touching a button. It comes with a remote control, a power cable, an AUX cable, and an RCA cable.
The sound bar is compact and allows installation even in confined spaces.

The product is easy to set up and minimizes the installation hassle.

The bar offers very good sound for its price and is far better than the sound produced by most TVs.
Installation is possible where there is less space

Supports multiple sound modes and audio modes

Inbuilt subwoofer saving you the space needed for an external unit
No provision to mount on the wall

No HDMI or surround sound support
An Easy to Connect Sound Bar with Quick Touch EQ Modes
Hisense Dolby Audio Sound Bar
Check Price

This Hisense sound bar is easy to connect to and enhances the viewing experience. The sound bar is best suited for televisions of 32 inches in size or higher. The bar has a compact and elegant design with a built-in subwoofer. The product has three speakers, of which two are front-facing 108W speakers that render clear and bright mid-range and high-range frequencies. It can be connected using a wired connection to the TV through a USB, AUX, optical, or HDMI ARC port or wirelessly through a Bluetooth connection.
The sound bar is compatible with any Roku TV. The TV and bar can be controlled using the same Roku TV remote. The product has several preset EQ settings to help you enjoy its audio. The 2.1-channel bar comes with a remote control and its batteries, a wall mounting kit, a power cable, an optical cable, and an HDMI cable.
The sound bar supports Dolby Audio and renders excellent bass for those who enjoy loud sound effects.

The product has multiple quick touch EQ modes to enjoy movies, music, news, and more with the best audio effect.

The bar can be connected to not just television but also a laptop, a tablet, or a smartphone.
Compact size to fit in any space

Stylish appearance due to leather pattern design

Dedicated modes for movies, news, and music
Subwoofer sound not up to the mark

The tendency of sound lags from the picture
A Slim Profile Sound Bar with Multiple Devices Connection Support
Larksound High-End Acoustic Effect Sound Bar
Check Price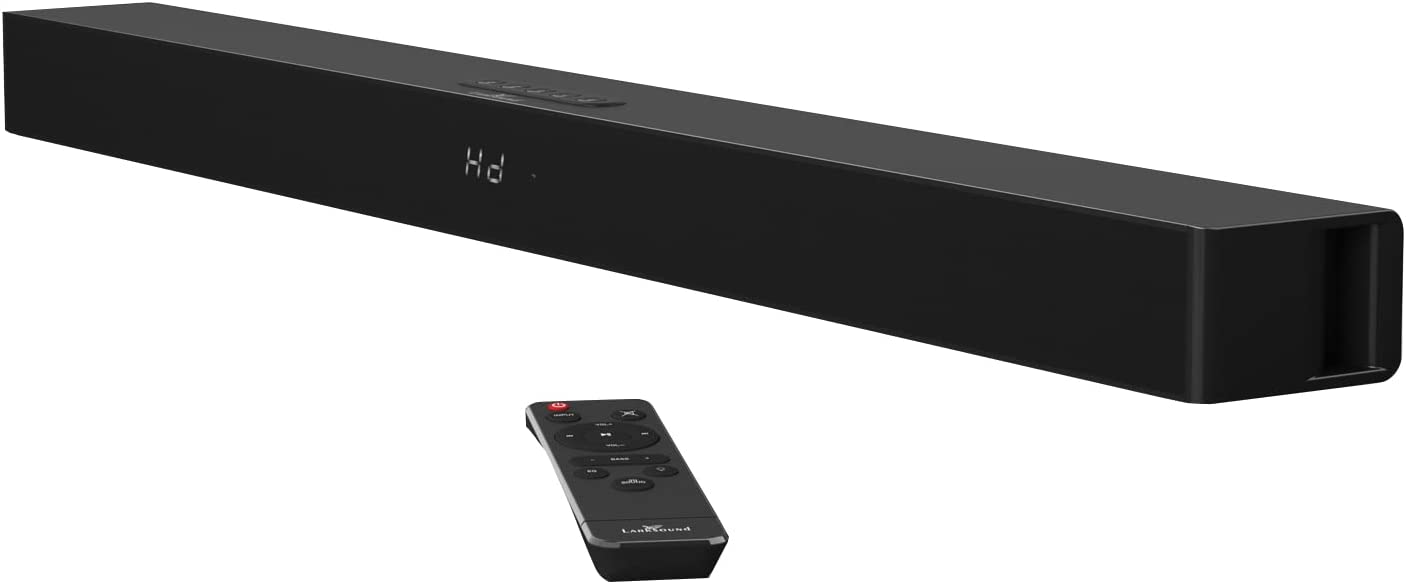 This Larksound sound bar produces a high-quality sound effect. The sound bar incorporates reflex tubes for the right and left channels to render an improvised bass effect and deliver a dynamic audio experience. The slim-profile product features anti-interference lossless transmission technology to enjoy the perfect sound. It can be connected to several devices at a distance of up to 200 feet to 200 feet with a wired connection or up to 33 feet with a wireless Bluetooth 5.0 connection.
The sound bar delivers a memorable and immersive 3D sound experience with its powerful speakers and subwoofers. The product also features good sound field positioning because of the independent cavity design for both the channels. The bar comes with its remote control and HDMI-ARC, optical, and AUX cables of 4.92 feet in length.
Why You Should Buy This?
The sound bar can be connected to different types of devices, thereby allowing you to enjoy the best sound from any device of your choice.

The product can be mounted on a wall or laid on a flat surface, helping you to place it anywhere based on preference.

The sound bar renders excellent sound at an affordable price point like many others that do the same with a more expensive price tag.
Pros
Wire-free connection due to Bluetooth support

Possible to use with almost any device

4K supported by HDMI port
Cons
Occasional cutoff of sound

Cannot add an external subwoofer
A Dual Subwoofer Sound Bar with Integrated DSP
GEOYEAO Split Design Sound Bar
Check Price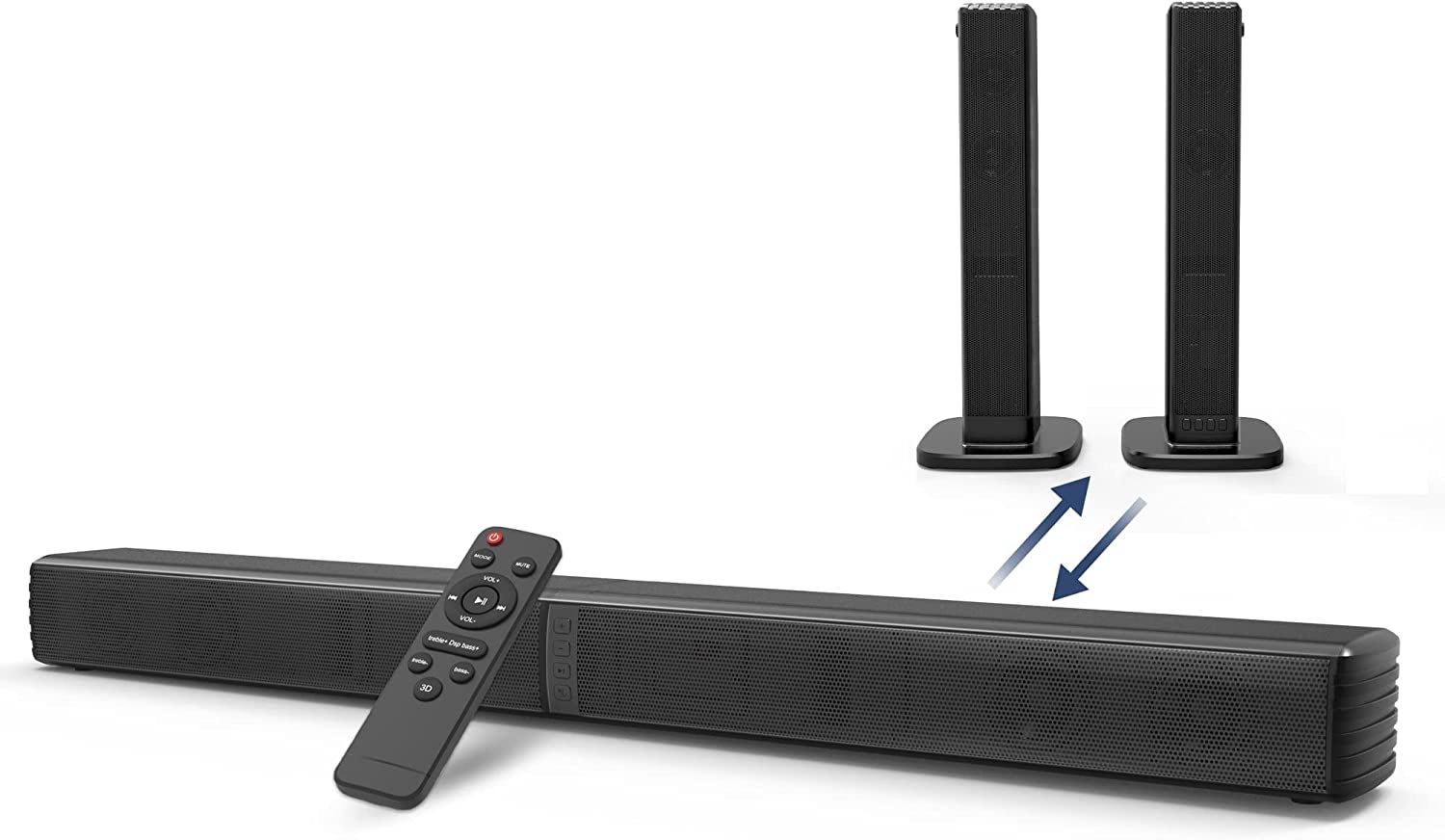 This GEOYEAO sound bar is a 2.2-channel sound bar with two woofers and two woofers. The sound bar can function like a dual tower speaker on either side of the TV because of its split design. The product also has a treble speaker that generates crisp, clear deep bass and a stable treble that is easy on the ears. The bar produces a realistic 3D surround sound effect. It supports Bluetooth 5.0 connectivity. The bar has a chassis on both sides of the speaker.
The sound bar features an inbuilt DSP and an adjustable equalizer setting that allows you to adjust the treble and bass according to the preferred sound with the remote control. The 10 EQ modes supported add to the customizations available with ten sound effects. The product has a USB port, an optical port, an HDMI-ARC port, and an LED digital display. It has bases, a power adapter, multiple connection cables, wall mount screws, and remote control.
The sound bar allows you to enjoy multiple sound effects like class, soft, rock, pop, jazz, and more.

The product has extra channels for a more immersive and engaging sound experience.

The bar can double up as a tower speaker for the television to which it is connected.
Supports horizontal and vertical mounting

USB port to connect to a flash drive directly

Includes all the cables required for connection
Distorted sound quality at times
A High-Density Sound Bar with LED Display
MEREDO Two-Way Speaker Sound Bar
Check Price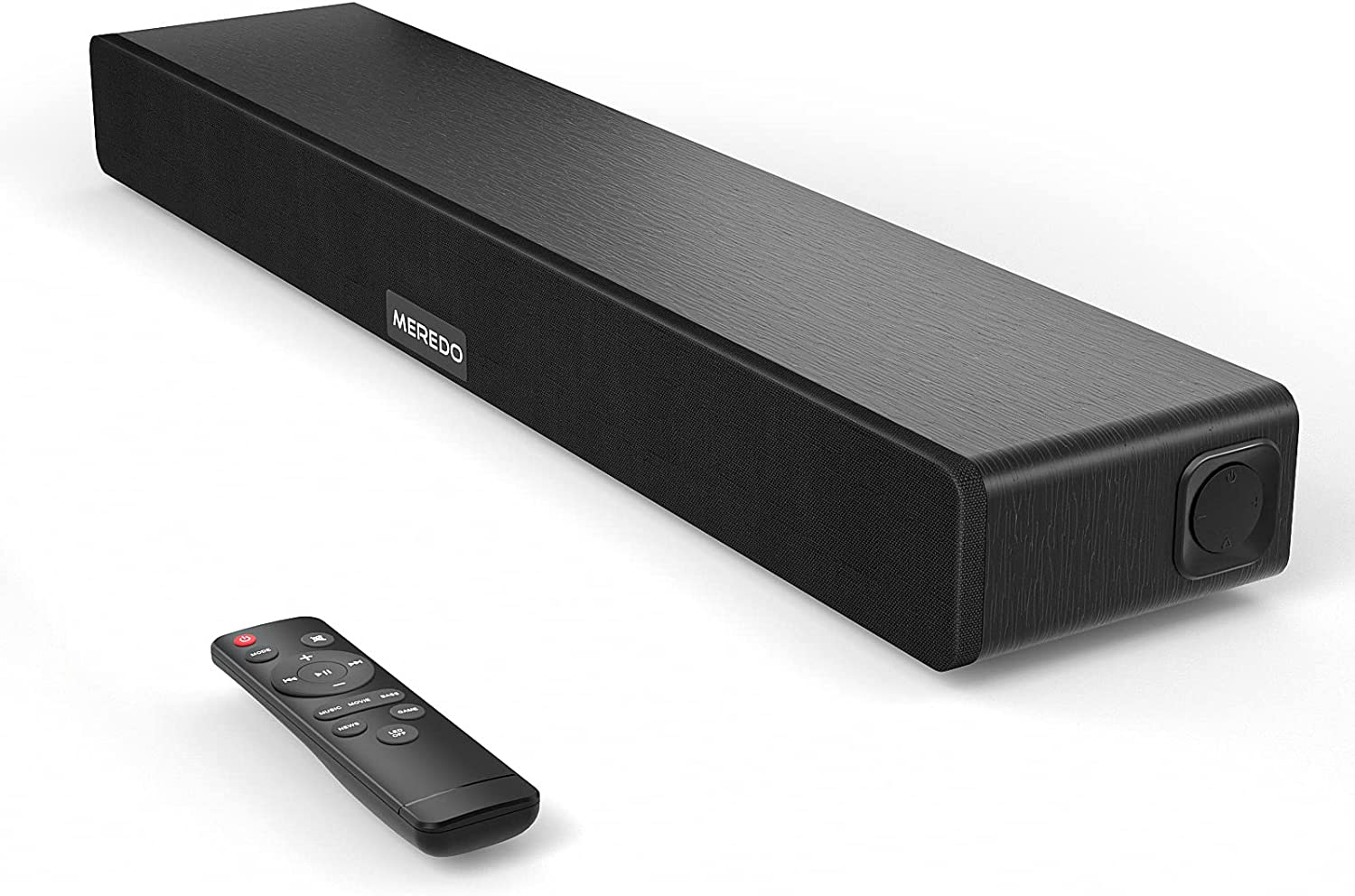 This MEREDO sound bar is made of high-density wood and has a huge power carrying capacity. The sound bar features a two-way full-range 150W speaker to deliver a powerful, thick distortion-free sound of up to 110dB. The product also renders extra deep bass with an inbuilt subwoofer and bass duct structure. It supports five connection modes to enjoy the best sound without any lag. The sound bar connection can be established wirelessly or with wires.
The sound bar has optimized sound to match the content viewed with its five EQ modes. This is perfectly complemented by the built-in 3D surround effect so that the audio and video can be enjoyed. The five EQ modes are film mode, game mode, news mode, bass mode, and music mode. The bar has an LED display, while its remote control features an LED switch.
Why You Should Buy This?
The sound bar has different EQ modes to set the sound according to the viewing content.

The product can be used outdoors due to the loud audible sound that it is capable of generating.

The bar has a unique look and feels because of wood as the choice of material used to make it.
Pros
Dedicated gaming mode to enhance the gaming experience

Auto-off functionality supported by the LED display

Better noise reduction and harmonics absorbing capability
Cons
No DTS or Dolby Audio support

Bluetooth connectivity getting cut occasionally
Conclusion
There are a few points that you must bear in mind when you choose a soundbar. First, determine whether you need an active unit or a passive one. An active accessory requires less setup, while a passive device delivers more precise sounds. Since sound bars come in various sizes, identify where you would like to place yours and check out those units that fit comfortably. Alternatively, if you plan to mount your sound bar on a wall, take your pick from those that are equipped with this functionality, such as grooves and mounting kit. Last but not least, if you want to enjoy the full effect from your sound bar, opting for one with a subwoofer would be the best bet.