Technobezz is supported by its audience. We may get a commission from retail offers
Summary – The nostalgic vinyl, which everyone assumed long gone, is actually going nowhere and
| | | | |
| --- | --- | --- | --- |
| Belt Drive Turntable by Vimukun | Manual Direct-Drive Turntable by Audio-Technica | Dual Stereo-Bookshelf-Speakers Based Turntable by Retrolife | Turntable with Vinyl Player, USB, and Wireless Support by Retrolife |
| | | | |
| See on Amazon | See on Amazon | See on Amazon | See on Amazon |
The nostalgic vinyl, which everyone assumed long gone, is actually going nowhere and is back with a bang. While the world of music underwent a massive change with Spotify and Apple music, the retro vinyl which belonged to a niche audience became conventional.
With major new releases like music albums, movie soundtracks and podcasts being released on vinyl, reputed brands and some new ones have got into producing best turntables. Right from really expensive models with USB connectivity and audio ripping features, to a simple, retro-styled player, there are lots of models to choose from. Check out the comprehensive guide for finding the best vinyl player to enjoy a new musical experience.
See also: Best Android Tablets
Top Best Turntables
A Wireless Turntable with a Replaceable Stylus
Wireless Direct-Drive Turntable with USB Support by Audio-Technica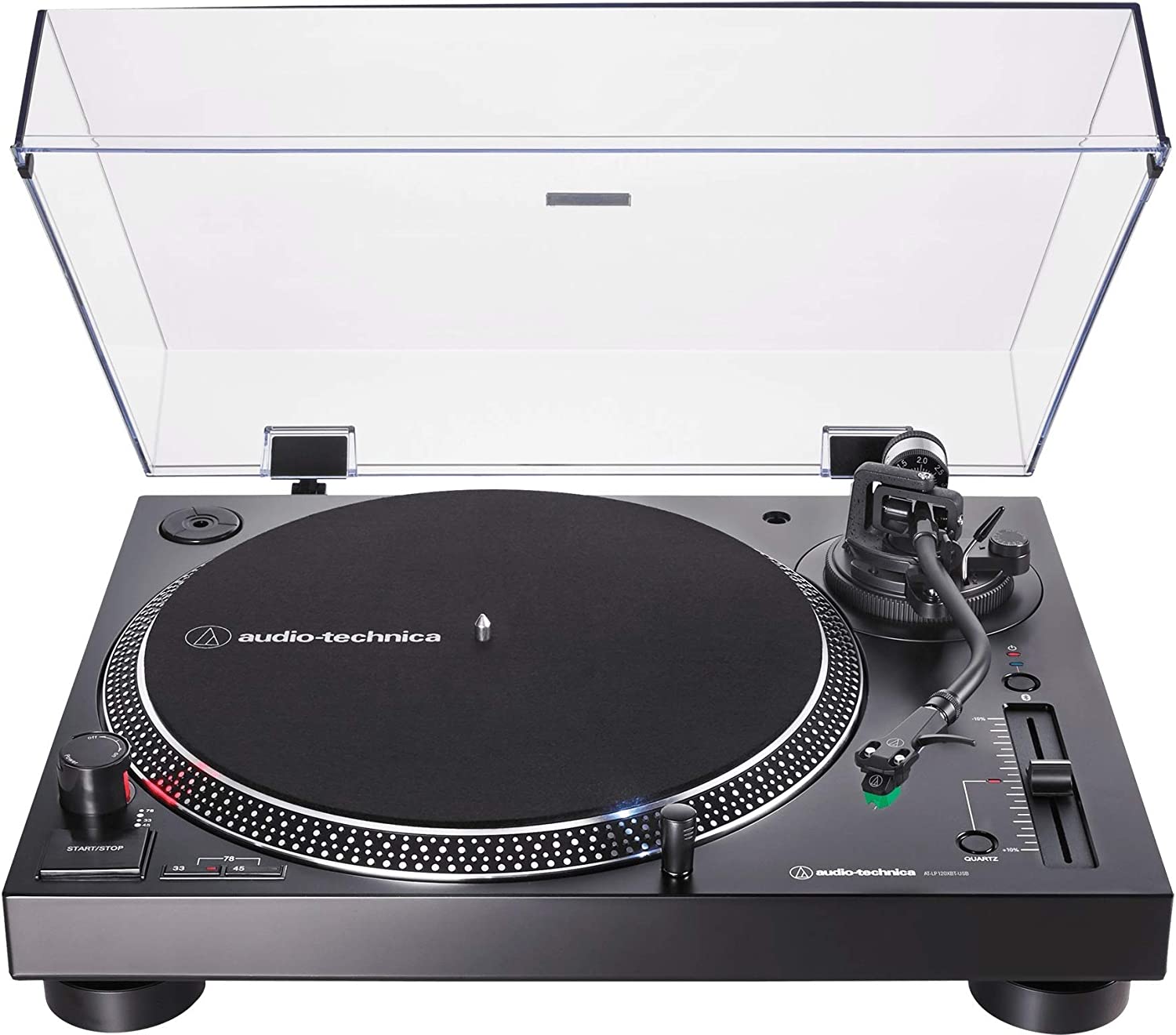 Designed for manual operation, this turntable operates at three distinct speeds; 33 RPM, 45 RPM, and 78 RPM. It has a quartz speed lock along with the capability to adjust to different pitches. Moreover, it also can cue in low light conditions. A detachable plug-type target light makes it possible.
Along with the wired connectivity support, the product comes with a wide range of components. These include a removable dust cover, felt mat, counterweight, adapters, and USB cable. Overall, it is a reliable product for high-fidelity audio. The other hallmark features of the product include its replaceable stylus, a balanced tonearm, and its ability to convert vinyl collections into digital output.
Why Should You Buy This?
It can adjust to a wide range of pitches and it comes across with a quartz speed lock.
It comes with a replaceable stylus and a wide range of other accessories.
Pros
A wide range of accessories
Replaceable stylus
High-fidelity audio
Balanced tone arm and the ability to turn the vinyl collection into digital output
Cons
Lacks the auto-stop feature
Does not have wireless connectivity
A Lightweight Turntable to Minimize Tracking Errors
Manual Direct-Drive Turntable by Audio-Technica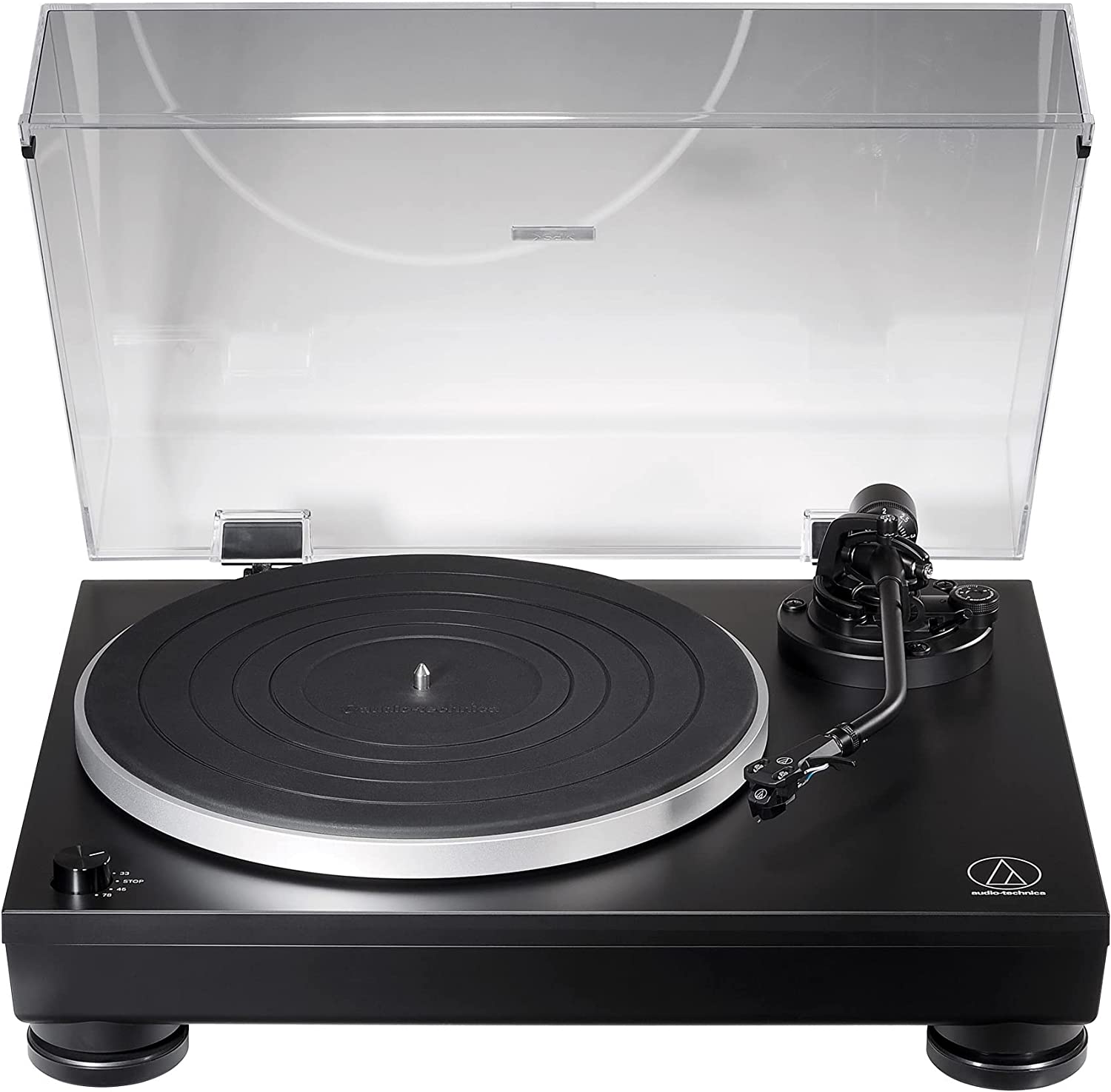 This lightweight turntable operates manually. It has a low-noise motor along with a J-shaped tone arm. Because it is lightweight, you can carry it from one place to the other easily. It is the ideal choice for you if you need to use it while traveling outdoors.
It comes with a replaceable stylus and its black appearance looks stylish. Its visually pleasing design is inspired by the designs of the 1960s and 70s. This product is precisely engineered to reduce the number of tracking errors.
Why Should You Buy This?
It is lightweight and comes with a low-noise motor.
It is designed to keep tracking errors under control.
Pros
Lightweight
Low-noise motor
Connects to the computer directly via USB
Minimizes tracking errors
AC noise reduction
Cons
Not suitable for professional use
Prone to hardware issues
A Turntable with Dual External Speakers for Music Wireless Streaming
Dual Stereo-Bookshelf-Speakers Based Turntable by Retrolife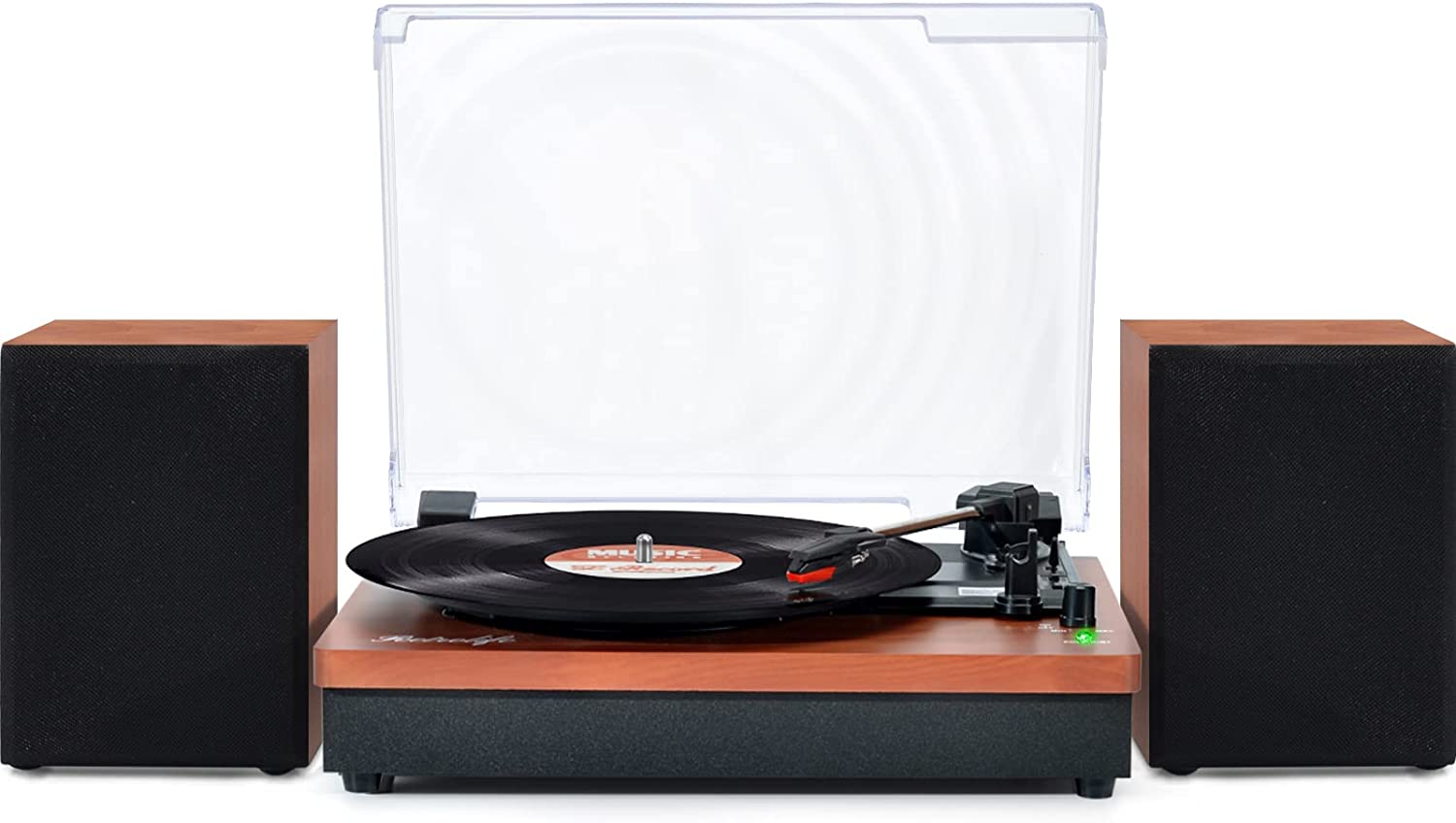 Tailor-made for wireless music streaming, this turntable has three different speed record players 7", 10", and 12" vinyl. Further, it has an auto-stop function, due to which you do not need to worry about stopping the player manually. It stops playing on its own. In terms of appearance, it has a vintage design that looks elegant.
Its built-in Bluetooth receiver makes it easy for users to connect it to smartphones. Due to the dual power bookshelf, you can explore its multiple options. It is designed to provide ultimate audio quality. It has dual external speakers to provide users with an invaluable experience as they enjoy vinyl audio.
Why Should You Buy This?
It supports wireless music streaming and has two external speakers.
It provides the best wireless streaming experience.
Pros
Built-in Bluetooth receiver
Auto-stop function
Vintage design
Dual external speakers
Cons
Lacks durability
Prone to hardware issues with prolonged use
A Turntable with Diamond-Tipped Cartridge for Precision
Turntable with Vinyl Player, USB, and Wireless Support by Retrolife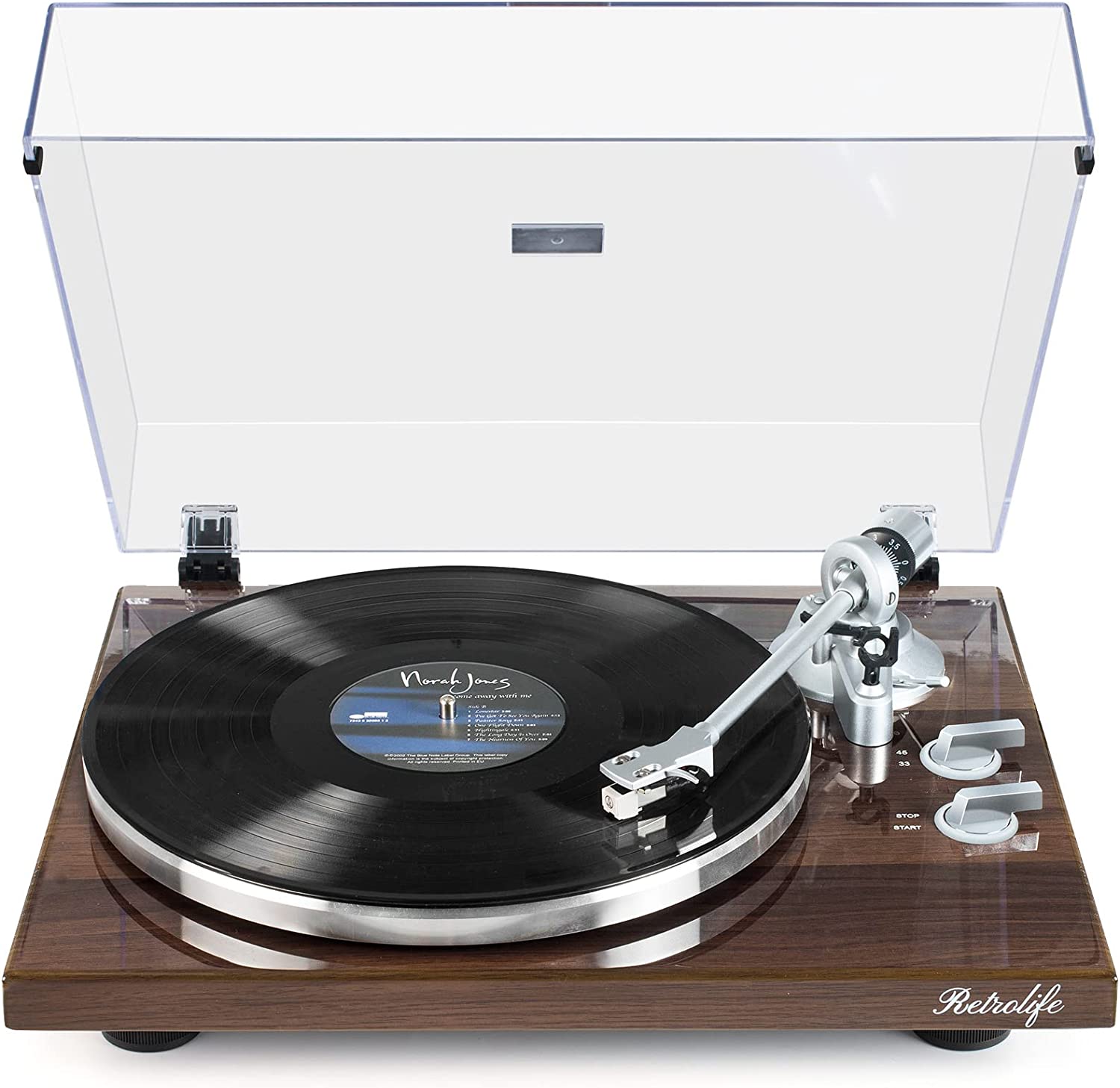 This turntable has a special diamond-tipped cartridge that helps it to produce music with precision in 3D. It is compatible with Bluetooth, which allows it to connect with wireless devices. You can connect it with multiple devices like smartphones, computers, or tablets. Using this product, you can set vinyl recording via USB.
The counterweight force of the product is adjustable, which prevents the records from accruing any damages. This feature provides playback according to the requirements of users. Also, you can adjust the stylus of the product with ease.
Why Should You Buy This?
It produces music with precision and it is compatible with Bluetooth devices.
It allows users to set up vinyl recording via USB and has the mechanism to adjust counterweight force.
Pros
Adjustable resonance and superior isolation
Flexible counterweight force
USB-based vinyl recording for PC
Good sound quality
Cons
Does not remain steady
Not for beginners; it necessitates users to be experienced to operate.
Stylish Analog Turntable with an Excellent Sound Quality
Analog Turntable by Walnut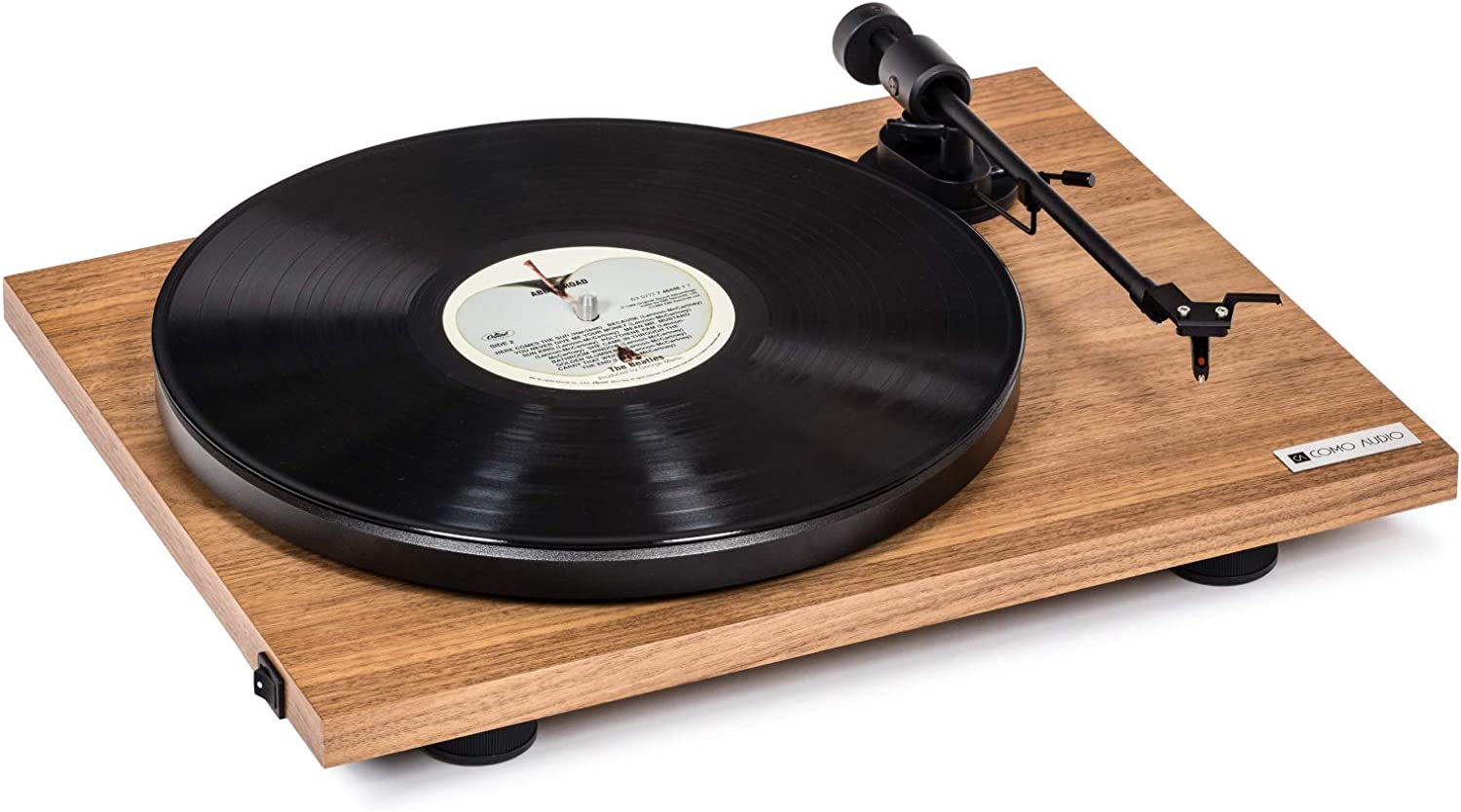 This stylish analog turntable is made for those who are fond of listening to music. It comes with a clear cover that protects it from dust. You can remove the cover as per your will. It is compatible with a music system as well as Como audio. Due to this feature, you can conventionally use the turntable. If you have an auxiliary input such as an Aux cable, you can use it in conjunction with the turntable.
When combined with one of the existing Como Audio music systems in the market, it produces a stunning audio experience. Regardless of the type of music you wish to enjoy, you can bank on the analog turntable for an invaluable experience.
Why Should You Buy This?
It is a turntable that gives the best audio experience.
It is compatible with a wide range of auxiliary devices.
Pros
Clear cover
Superb sound quality
Heavy steel platter for vibration reduction
Aux cable support and compatibility with auxiliary devices
Cons
Slows down over time
Fragile wiring
An Easy-to-Use Turntable with a High-Quality Cartridge
Belt Drive Turntable by Vimukun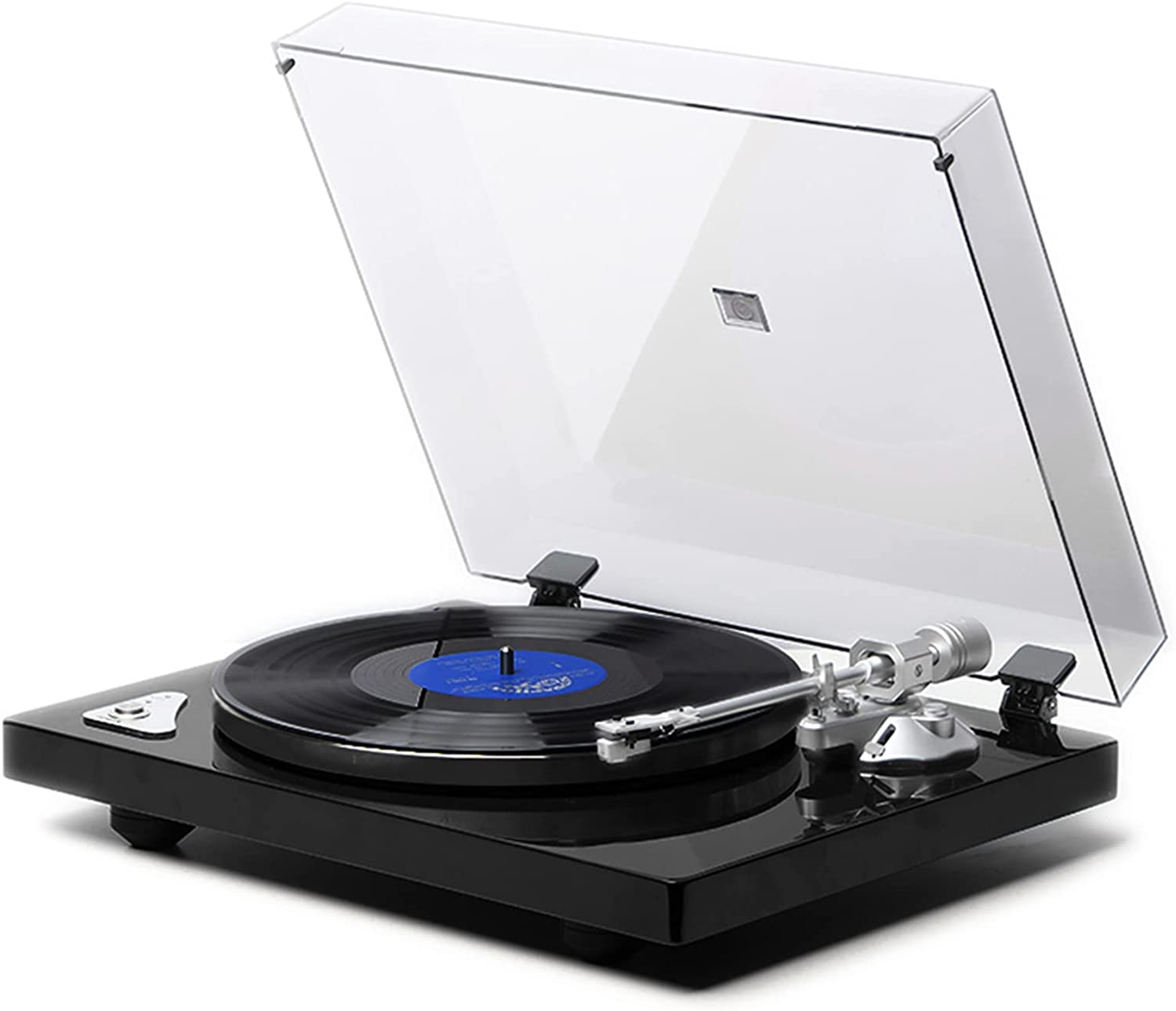 Equipped with a high-quality moving magnet-based cartridge, this easy-to-use belt drive turntable is made for supporting records of 12 and 7 inches. While it has a reliable cartridge, you can also install a cartridge of a higher grade if you feel the need for it. The best part about this product is that you can remove its existing cartridge and install a new one.
It can control vinyl records featuring a wide range of sizes. To keep the surface clean, the product comes with an acrylic-dust-proof cover. It supports dual RPM speeds of 33 ⅓ RPM and 45 RPM.
Why Should You Buy This?
It comes with a high-quality magnet-based cartridge.
It is easy to use and can control vinyl records of distinct sizes.
Pros
Easy to use
High-quality cartridge
Support for dual RPM speed
Dust-proof cover
Cons
Lacks a button for volume adjustment
No built-in speaker
How do you choose the best turntables?
The vinyl record player which used to be a niche has now joined the mainstream market with latest tracks getting released on this analog platform. There are many best turntables available and it will vary based on your requirement and budget because you can always skip additional features to go for an affordable choice. The premium models are best sounding when paired with compatible audio components and you can opt for it if you already have a setup or willing to invest in one. You can rip your music to your PC or simply listen to the analog version with its fine nuances. Whatever your choice is, vinyl turntables are an excellent and exciting choice to enjoy the other side of music.
---