Are you in search of a good sound bar? Televisions have been doing so much to enhance the picture quality, but the only thing which may stop us from believing that the video is real is the sound quality. So, add a good soundbar to your television, and you will have a complete entertainment system – excellent video quality and outstanding audio quality. The only problem we face is choosing from the wide array of sound bars available in the market today.
Buying Guide
Each one of them is amazing, and the more you delve into the market for sound bars, the more options you will have. To make things easier for you, we have listed the best the market has regarding soundbars. Of course, when we say "the best," it can hold a different meaning for different people. While some users may look for the best price, others may want the best features, and some may just want the best sound quality.
Here is the list of points one needs to consider before buying a soundbar.
Make sure it is budget-friendly
Check if the device offers the desired bass effect
Buy a compact one if you're short of space in your room
Look for the various connectivity options
We have kept all these considerations in mind while putting together our list.
See also: Top Best headphones for drummers
The Top Best Soundbars of 2023
You can upgrade your television sound by using a soundbar. Though modern TVs boast of 4K Ultra HD, there is one aspect where they still don't cut it, and that is the sound. Since it is not possible to accommodate the top speakers on wafer-thin television screens, the only solution is to opt for an external sound bar.
Soundbars are slim and are easily set up. With a good quality soundbar, you can get full surround sound. However, several options are available in the market, and it could be a herculean task to sift through the options and pick the most suitable one. When you shop for soundbars, you might see some numbers like 2.0, 5.1, etc. This might be confusing. These are the number of channels present on the sound bar and whether it has a subwoofer. If there is a 3rd number, it means that the soundbar comes with Dolby Atmos, a surround sound feature.
Portable Sound Bar That Comes With A Remote Control
Audvoi 60W Bluetooth 5.0 Sound Bar
Check Price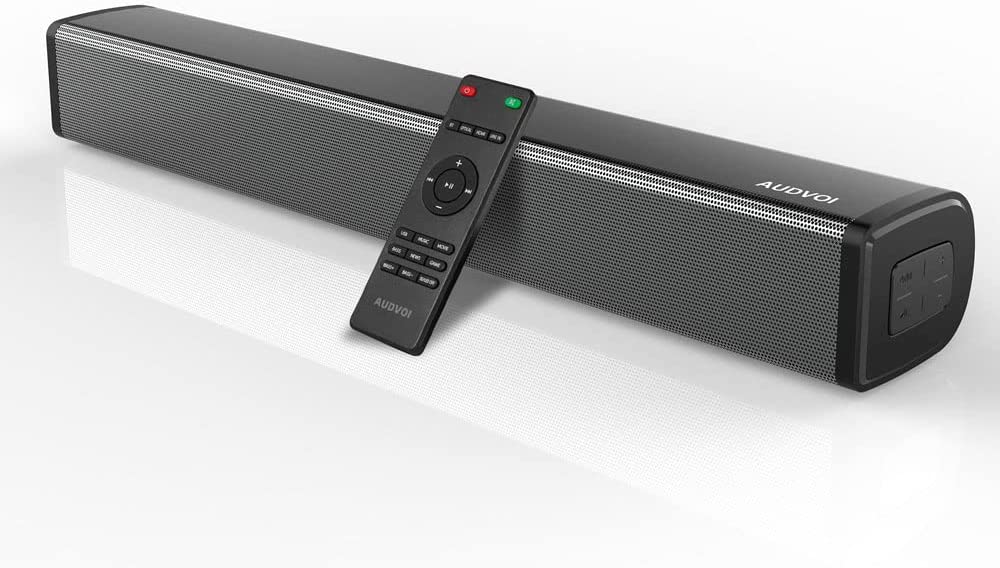 Though this Audvoi sound bar is primarily used to pair up with television, its compact structure makes it convenient for one to carry it to different places without difficulty. It comes armed with two powerful speakers and produces 60W of audio output. Apart from reproducing sound well, it offers impressive bass effects.
It boasts advanced features like virtual 3D surround technology and built-in DSP that ensure you have an immersive aural experience. Whether watching a movie or playing a video game, having this sound bar around will be helpful. Different sound modes enable different types of aural experiences based on your mood.
If you find the audio output of your TV to be underwhelming and wish to improve it, this would be a suitable device to invest in.
It is also recommended for individuals who are planning to buy a sound bar for the very first time and would prefer investing in a moderately priced device.
Budget-friendly
Good bass effects
Compact structure
Virtual 3D surround technology
Limited brand support
The user manual should have been more elaborate
Bluetooth Enabled Sound Bar with Built-In Alexa
Bose Premium Quality Smart Sound Bar
Check Price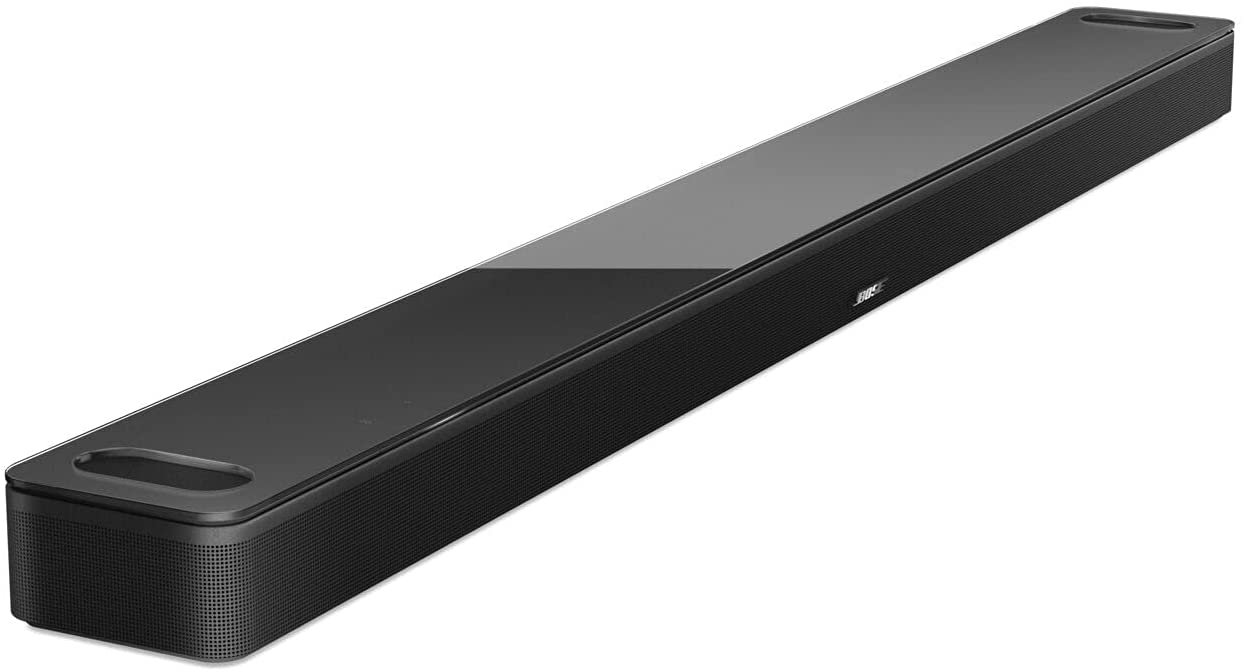 When you think of a high-end sound bar, you think of Bose. The brand is known for manufacturing high-quality and innovative sound bars, and this one is no different. It is equipped with two custom-engineered dipole speakers that offer a highly immersive experience. Aside from Bluetooth connectivity, it also supports Wi-Fi and apps like Apple AirPlay 2 and Spotify Connect.
One of the highlights of the sound bar is Alexa. The microphones are designed to reject external noise. Therefore, you can deliver voice commands to the device without facing any difficulty. Whenever you wish to disable the microphones, all you have to do is to click on the mic-off button. You can connect the device to your television using an optical audio connection or the HDMI eARC connection.
A very good option for investing in a high-end Sound Bar that offers strong wireless connectivity.
It's also a solid investment option for individuals who are used to having Alexa on most of their devices.
Alexa support
Dual dipole speakers
Excellent audio output
Multiple connectivity options
Expensive
Bose app needs improvement
Budget-Friendly Sound Bar with Built-In HEOS
Denon Home 550 Compact-Structured Sound Bar
Check Price

This soundbar by Denon comes at an affordable price and produces satisfactory audio output. Though the volume levels are not very high, you will have no issue with the quality of sound produced by it. Along with the primary device, the brand offers you an instruction manual, HDMI cable, optical cable, rubber mounting collars, and remote control.
The sound bar has multiple EQ presets and offers a virtual surround experience. There are several bass and treble adjustment options as well. However, since this is a budget sound bar, there are many advanced features that you won't find on this device. There is no subwoofer level adjustment or height level adjustment option. There are multiple connectivity options, including an Ethernet port.
Ideal for those looking for a budget-friendly soundbar that offers good quality audio output.
It is also recommended for individuals who wish to invest in a sound bar that is easy to set up and use.
Moderate pricing
Dialogue enhancement option
Good connectivity support
Multiple accessories provided
Not loud enough
No subwoofer level adjustment option
Compact Sound Bar with 5 Equalizer Modes
Wohome 16-inch Moderately Priced Sound Bar
Check Price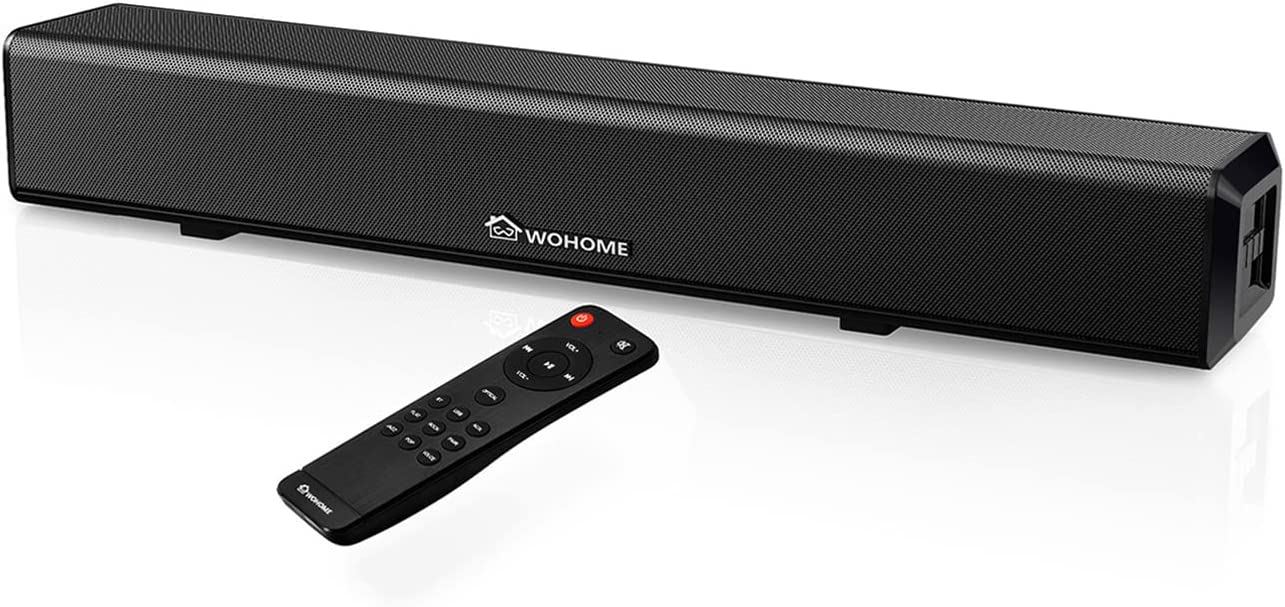 Despite being a budget sound bar, this particular device by Wohome packs in a variety of features that make investing in it a very 'sound' decision. Measuring just about 16 inches, it is a highly portable sound bar with which one can easily travel. You can easily connect it to various devices, including television sets, smartphones, tablets, and projectors.
The five equalizer modes enable you to listen to music in different modes like rock, jazz, flat, voice, and pop. It offers you other customizable options that allow you to have a truly personalized listening experience. With Bluetooth 5.0, you can connect it to most wireless devices. You can also get multiple options if you prefer wired connections. An optical and RCA cable will be provided as part of the packaged unit.
Why You Should Buy This?
Recommended for musicians or music producers who frequently travel with their setup and, therefore, prefer investing in compact devices.
It is also a good option for those who have never paired up a sound bar with their TV and are planning to do that for the first time.
Pros
Budget-friendly
Portable structure
Good audio output
Strong connectivity support
Cons
No sound level indicator
Build quality could have been better
TV Sound Bar with 4 Input Options
Boston Acoustics Bluetooth Sound Bar
Check Price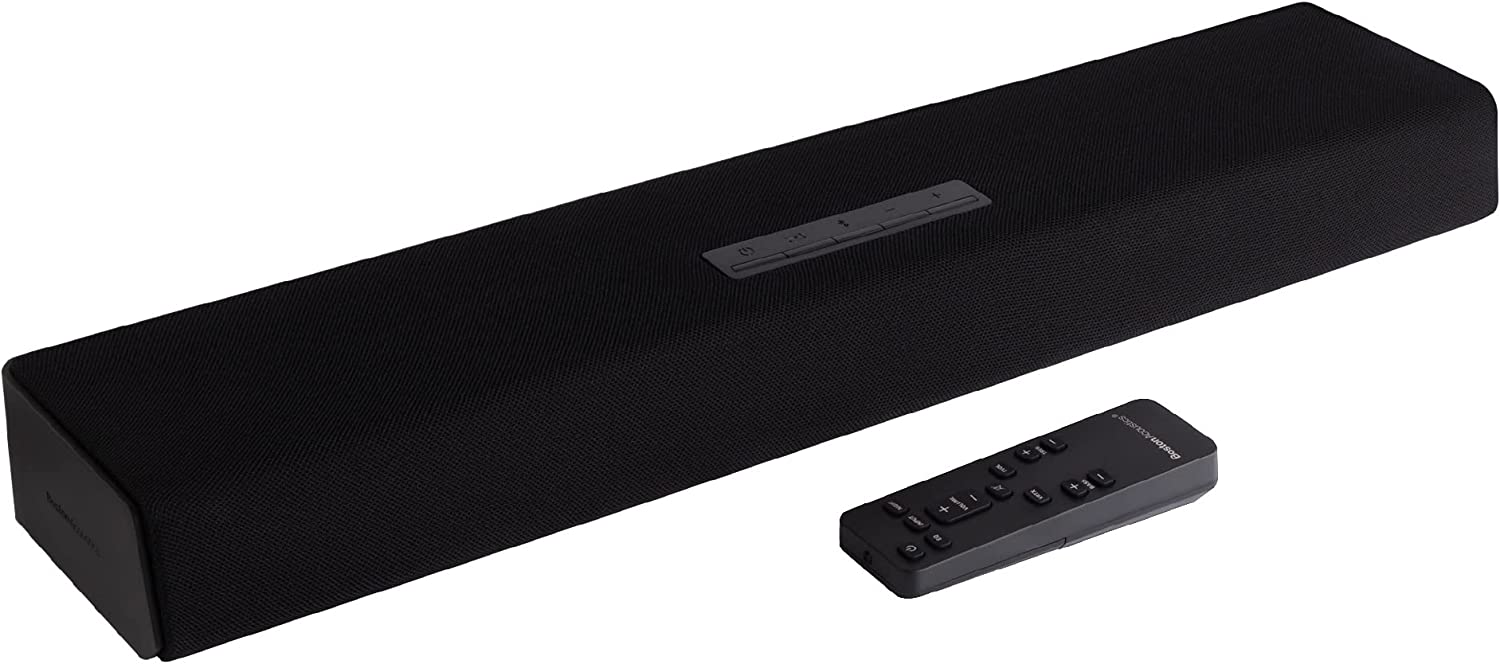 This compact-sized sound bar has primarily been designed for consumers who wish to pair it with their television set. This explains the presence of a large number of connectivity options it comes with. For wireless connectivity, you can use Bluetooth. You get three other connectivity options besides Bluetooth: analog, optical, and USB.
The sound bar features two full-range drivers that take the help of ferrite magnets to offer users high-quality sound. Because of the many customizable options, you can use this sound bar while streaming movies, listening to music, watching YouTube videos, or playing games. You can also get the sound bar connected to an external subwoofer.
An ideal option for those looking for a Sound Bar that can be paired with their newly bought TV.
It is also recommended for individuals who are particular about electronic devices that do not consume much energy.
Portable design
Equalizer modes
Dual full-range drivers
Multiple input options
Limited brand support
Higher volume levels required
Well-Functional Sound Bar with 3D Surround Stereo Sound
OXS 80 Watts Compact Sound Bar
Check Price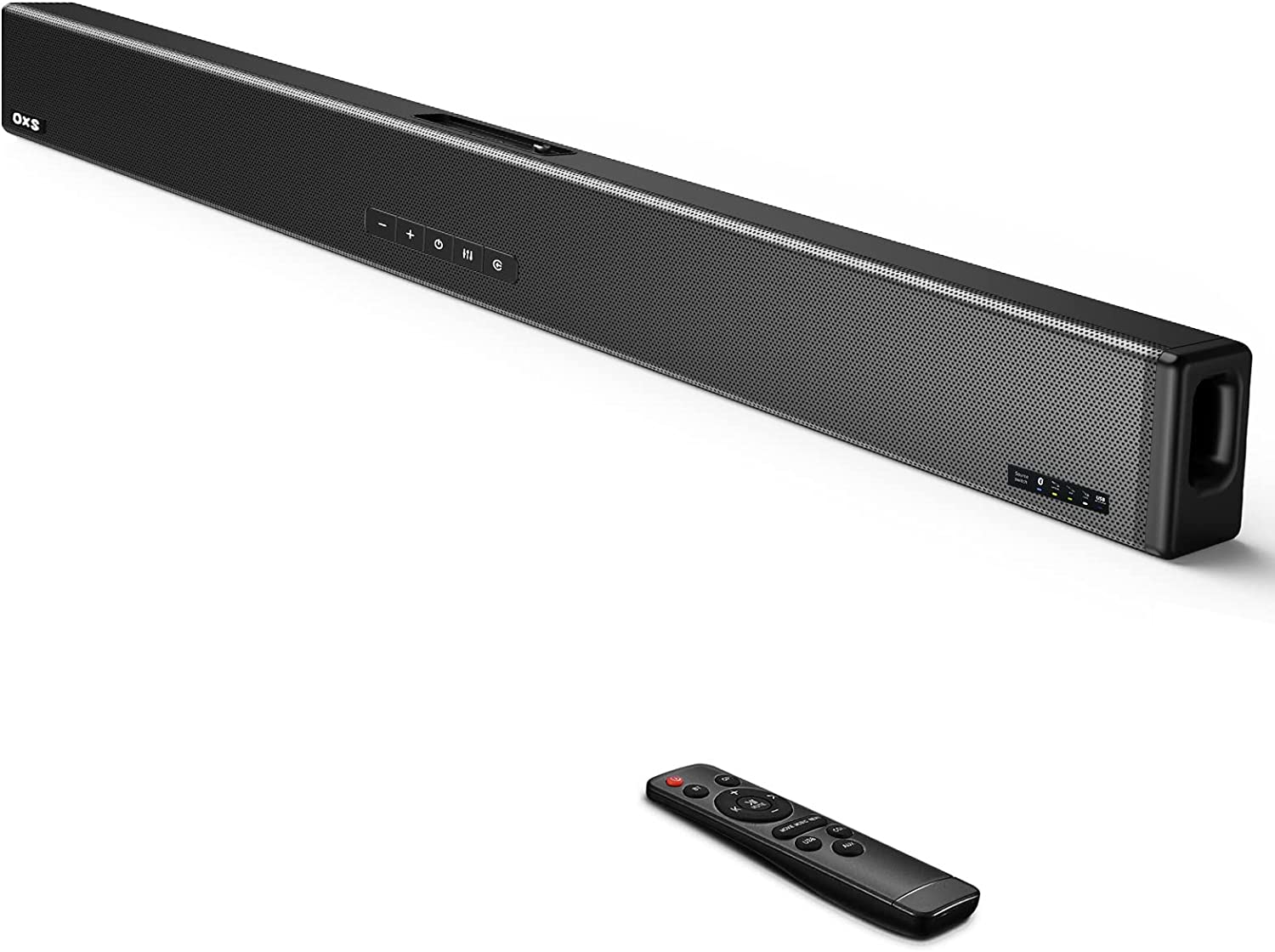 This sound bar from OXS comes armed with four full-range speakers that are responsible for the robust audio output produced by it. It offers powerful bass effects and features a port tube selection to ensure the audio output is grand and immersive. The dialogue enhancement technology also contributes toward polished sound reproduction.
This sound bar comes equipped with Bluetooth 5.0, which enables you to establish a wireless connection with a bunch of devices like smartphones, tablets, TV, and laptops. It also supports optical, AUX, and USB connections. Many features make it a versatile sound bar. It comes with three different equalizer modes for different activities.
Why You Should Buy This?
If you want to experience 3D surround stereo sound technology without spending a lot of money, this would be a suitable device for you to invest in.
It is also a good option for those looking for a sound bar to enhance their TV viewing experience.
Pros
Compact structure
Three equalizers
Robust bass effects
Good connectivity support
Cons
Available only in one color
Some distortion is observed
Wall Shaking Volume in Traditional HiFi Soundbar
Samsung HW-MS650ZA Sound+
Check Price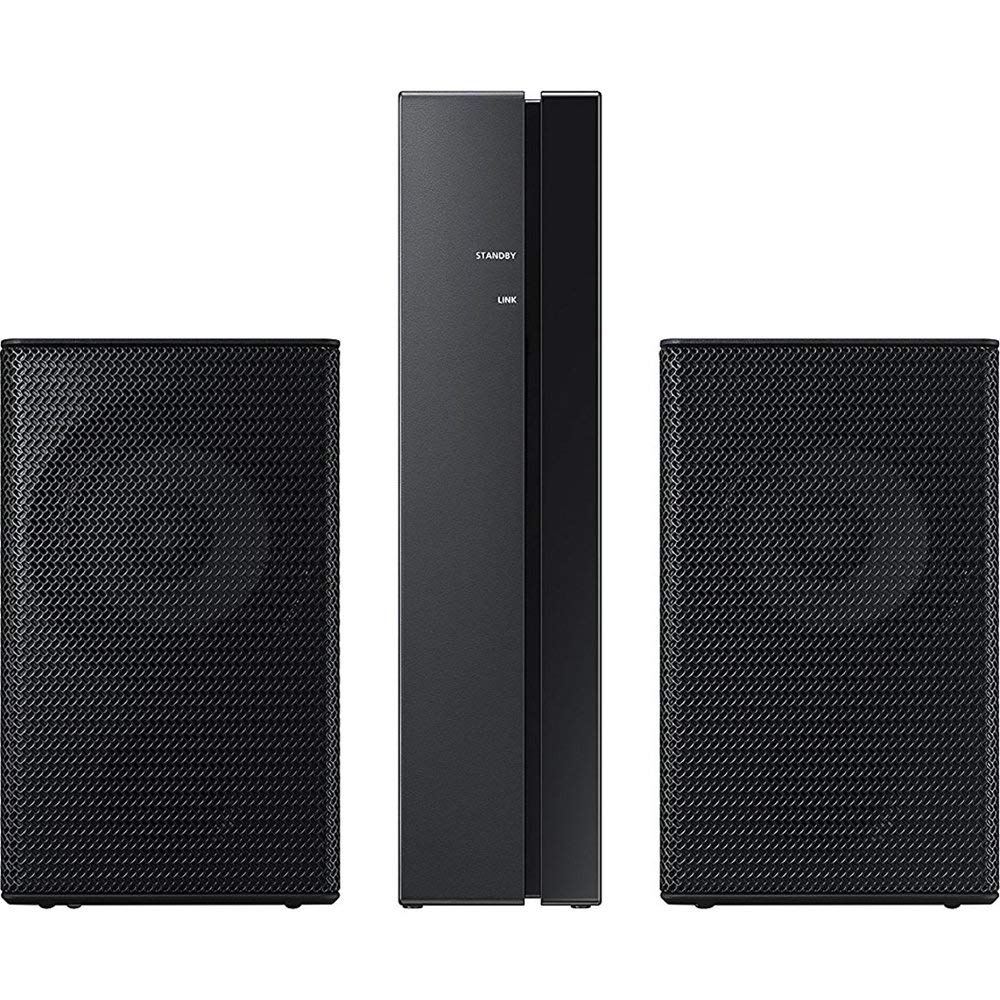 It is easily one of the best soundbars from Samsung. It looks attractive in a traditional rectangular build with a brushed finish and industrial grilles. It is tall at 78 mm, so consider how high your television screen sits. You can also mount the soundbar using the VESA points. There is an HDMI loop system capable of 4K, along with optical input, auxiliary audio input, output for additional subwoofers, and support for Wi-Fi streaming, Bluetooth, and wirelessly. You can use the company's multi-room app for Spotify, Amazon Music, and Pandora.
The dimensions are 1060 x 78 x 130 mm (WHD). The single body design offers a 3.0 configuration, with a combination of 6 woofers and 3 tweeters, all of which are powered by 20W each.
One of the interesting features is the distortion cancelation technology that offers excellent bass levels. It ships standard with the Dolby Digital 5.1 on board. It can cover several audio formats, like AAC, MP3, FLAC, WAV, OGG, as well as ALAC.
Recommended For:
Those looking for a fantastic, powerful sound and bass without an external subwoofer.
Those looking for an all-around, single-body soundbar that offers cutting-edge, high performance.
Conclusion
You have to consider whether you need soundbars with subwoofers or not. Subwoofers are good for bass and other low-frequency sounds, so they will add a lot of punch to your movies. Also, check out the connectivity, optical cables or HDMI interface, where the latter offers better immersive quality.
Some subwoofers are wireless and even wireless satellite speakers, so you don't have to connect them physically to the soundbar. If you need better-sounding audio from your HD television, grab one of these compact soundbars and amp up the home theater.
See also: Best mouse for photo editing