Featured in this article (opens in new tab)
Are you looking for the best mouse for photo editing? We hear you. Photo editing requires a lot of patience. Creativity and an eye for beauty are unmistakably found in every photo editor – professionals and beginners. But patience is something that comes with time. And with insurmountable patience, you require tools and devices that you can use to achieve the results you want.
Buying Guide
Photo editing software makes things a lot easier, but the devices used by the photo editor like the keyboard and the mouse can make a huge difference too. Hours of sitting in front of the computer and using a mouse to reach perfection in a photo can be very distressing if you do not have the right mouse with you.
We have created a list where you will find the best mouse for photo editing, which will help you buy a mouse that will be just perfect for you. Before buying, make sure the mouse is
ergonomics
sensitive
Efficiency
offers good grip
DPI options
offers good battery life
lightweight
Top Best Mouse For Photo Editing
Photo editing requires an entirely different set of tools to achieve the right effect. You need the right mouse to achieve perfection in photo editing. A good mouse can make the task of a photo editor much easier and enhance productivity, as it needs a lot of precision and patience.
Normally, people use the mouse and the keyboard that comes along with the computer or notebook. However, these are not ideal for photo editing, where precise movements are needed, especially in the case of high-resolution displays. Here is a list of some of the best mouses that will give photo editors optimum levels of control as well as freedom of movement. Some of them are marketed for gamers, but these are equally good for photo editors, photographers, digital artists, graphic designers, and other professionals.
There are different types of mice, like the basic one; the trackball type; the multifunctional type; and ergonomic ones. It all depends on the type of work you do. A basic mouse may not work for someone doing plenty of photo manipulations and editing images of high resolutions, for instance.
A Versatile Wireless Photo Editing Mouse with Dual Connectivity
Logitech M720 Triathlon
Check Price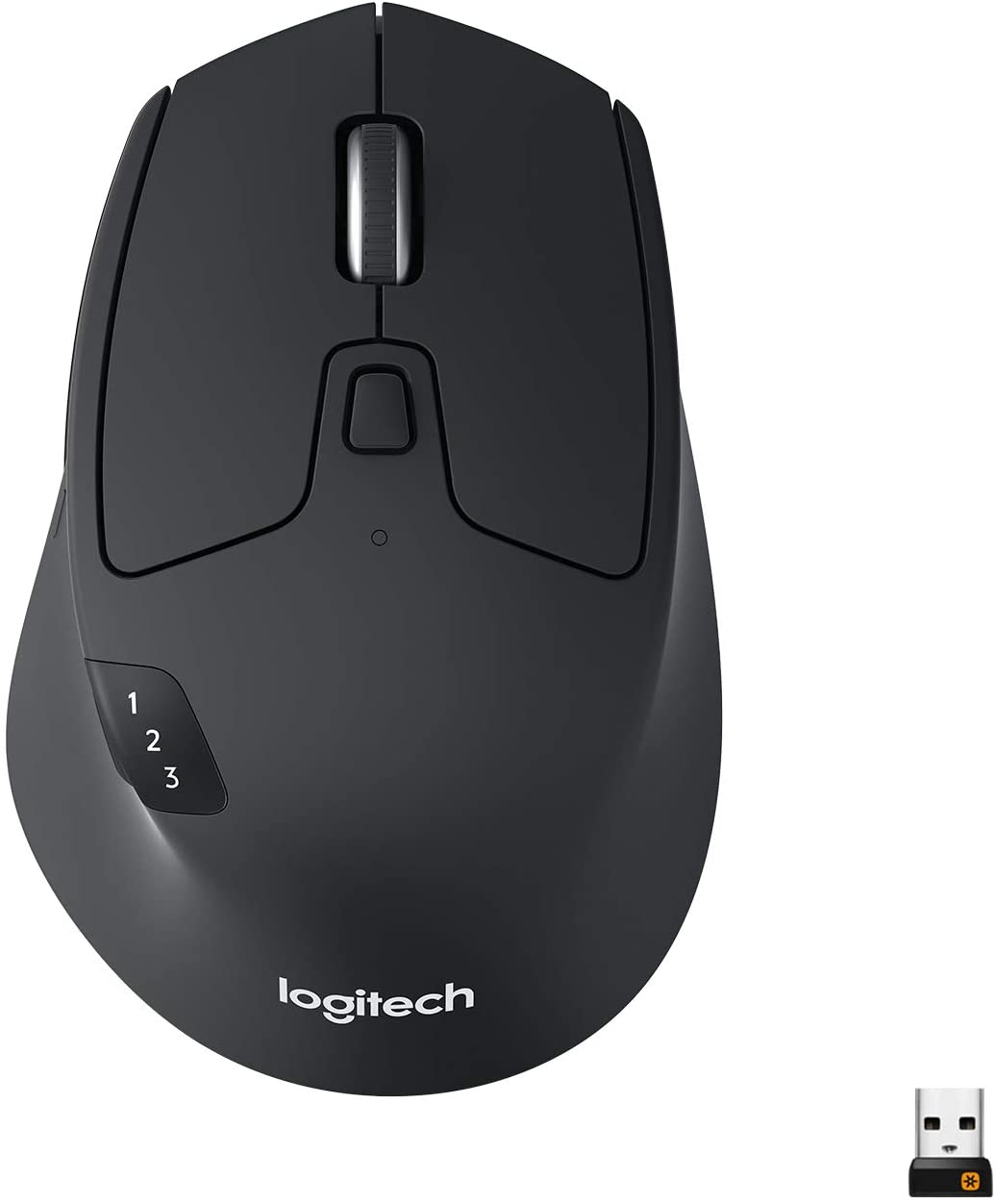 Logitech M720 Triathlon is a wireless mouse for photo editing that is compatible with many devices. These include iPad OS, Linux, Chrome OS, Mac, and Windows. Other than desktops and laptops, it also works smoothly with a tablet. The high-quality rubber on its body, coupled with the palm rest grip, gives a comfy feel upon holding it. Logitech M720 Triathlon wireless mouse comes with the option of dual connectivity.
Aside from connectivity through the wireless receiver, you also have the option to connect to compatible devices through Bluetooth. With the hyper-fast scrolling feature of the mouse, you can scroll a long page easily. In addition to this, you can also connect the mouse wirelessly to multiple computers or laptops.
It operates smoothly with a wide range of devices and operating systems.
It supports dual connectivity and has a comfortable grip for an invaluable user experience.
Dual connectivity
Compatibility with multiple devices and OS
Comfortable grip
Smooth cursor scrolling
Prone to software issues
Vulnerable to breakage
A Bluetooth-Enabled Wireless Trackball Mouse Made for Compatibility
KKUOD 3 Dual Bluetooth Wireless Trackball Mouse
Check Price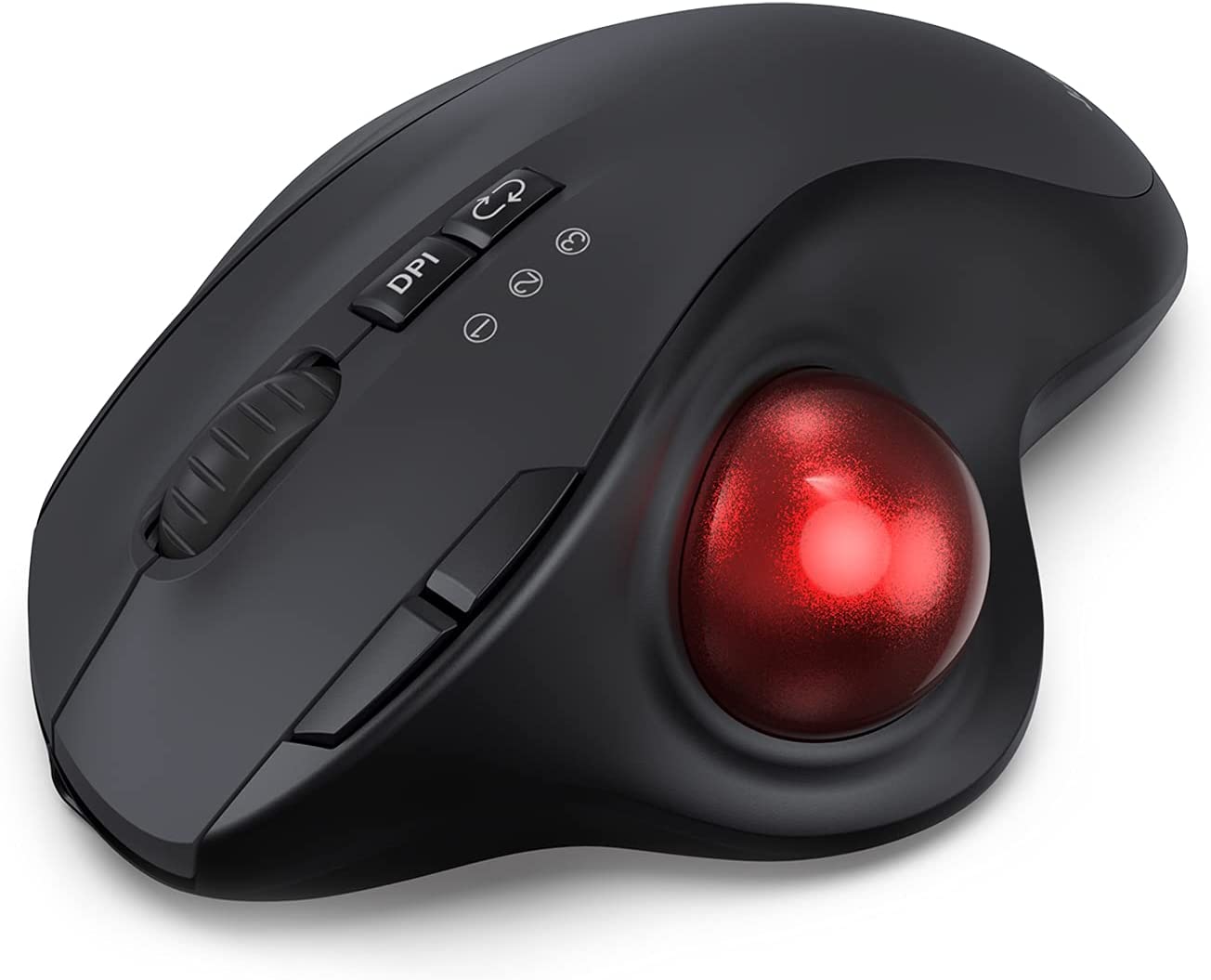 This wireless trackball mouse is for those who wish to move a mouse cursor without straining their wrist. You can use your thumb to move the cursor of the mouse in a hassle-free way. If you need to use multiple devices with this mouse, you can connect three devices with it at once. It lets you switch to Android from Mac and tablet without any technical glitch. Once you recharge the wireless mouse to its full capacity by plugging its USB-C port, it lasts for a month. It comes with a 600mAh battery that delivers a power-packed performance. If top-notch performance is what you need, you can fully rely on this mouse even for heavy usage.
This mouse works with a wide range of devices, including laptops, PCs, and Android devices. In addition, it is also compatible with the leading operating systems such as Android, Windows, and Mac. For varying sensitivity levels, you can switch between three adjustable DPI options (1000/1600/2400). All its features make photo editing simple and easy.
This mouse is compatible with a wide range of devices and operating systems.
It has a powerful battery which lasts for a month with a single charge.
It allows you to move the cursor using the thumb to prevent strain on the wrist.
Good battery backup
Simultaneous connectivity with multiple devices
Three adjustable DPI options
Flexibility to switch devices
Prone to hanging
Lacks sturdiness
A Symmetrical Photo Editing and Gaming Mouse with 8 Programmable Keys
Digifast Nightfall Backlit Gaming Mouse
Check Price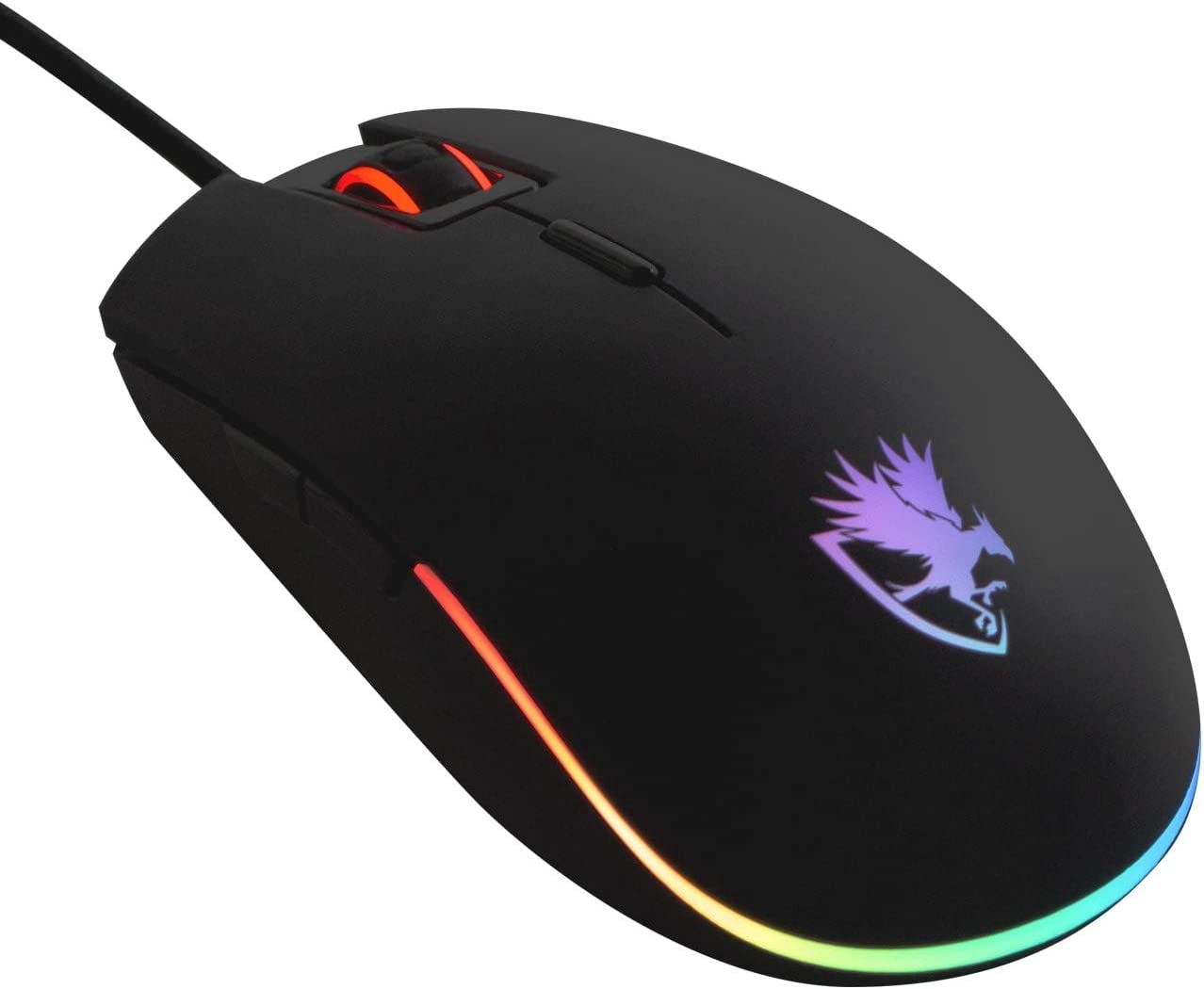 Made for gamers and photo editors, the Digifast Nightfall Backlit gaming mouse is an easy-to-use device with a symmetrical shape. Whether you use it with your left or right hand, it provides an invaluable user experience. To help you match multiple setups, it has Digitfast Nightfall software. With the latter, you can create color profiles according to your preferences with millions of RGB colors.
Regardless of your level of proficiency in gaming, you can easily play any game with this mouse. You can switch from one DPI to the other (100-12000) with the push of a button. A hallmark feature of the mouse is that it has eight programmable keys. It is useful for gamers to gain an edge over their opponents by creating macros to suit game needs.
It lets you move the cursor with both hands, supporting ease of use.
It lets you switch between DPIs, create color profiles, and use eight programmable keys.
Ease of use
Compatible with multiple setups
Support the creation of RGB color profiles
Multiple programmable keys
Smooth cursor movement
Noisy
Pulsing light, which may not be steady
Reliable Wireless Mouse Designed for Photo Editing with Convenience
HP Wireless Mouse X3000 G2
Check Price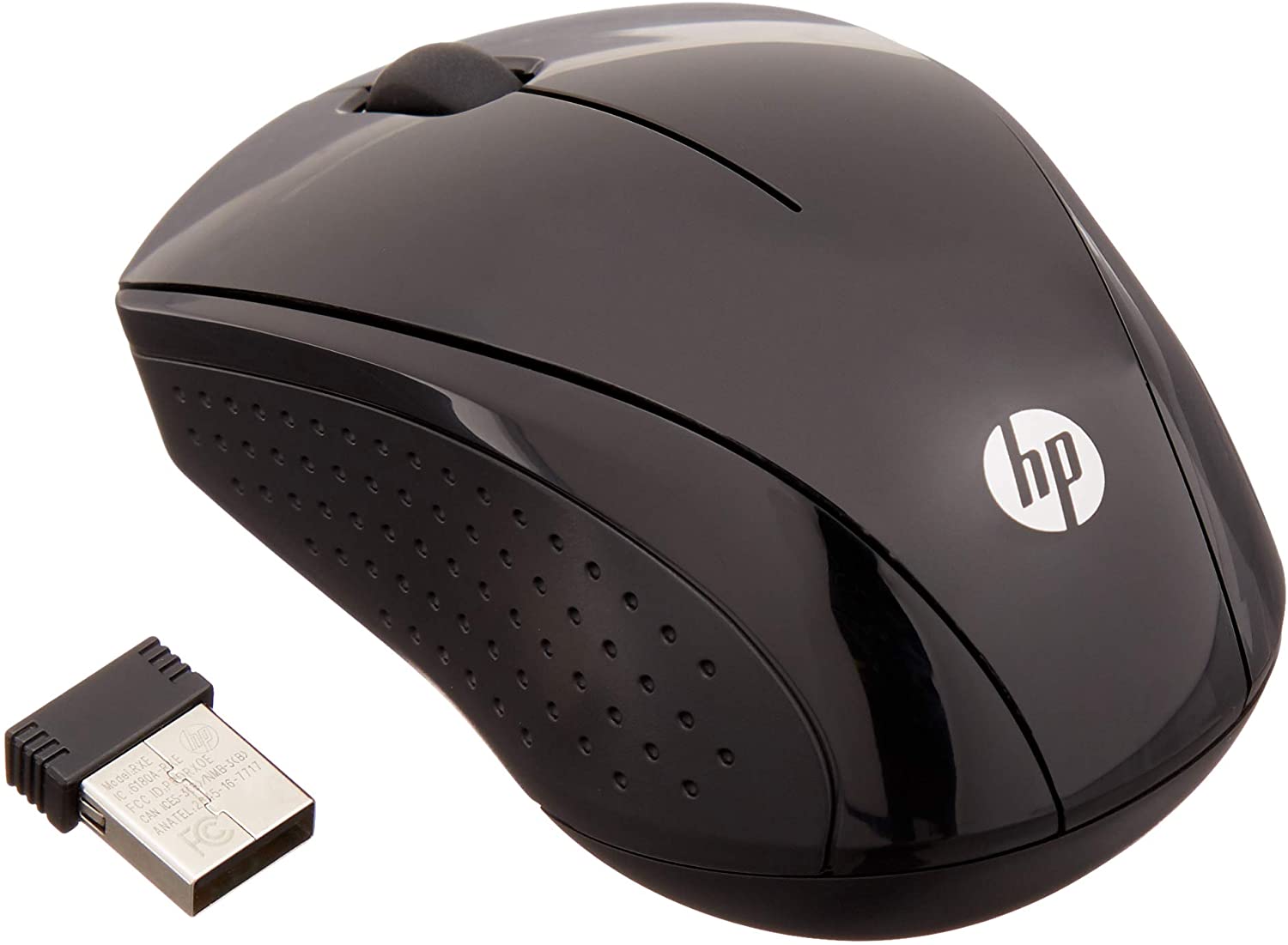 HP Wireless Mouse X3000 G2 is the perfect choice for those who seek the smooth functionality of a wireless mouse on different devices for photo editing and other purposes. Its output of 2.4 GHz is perfect for such a user experience. The powerful battery backup of the mouse lasts for 15 months, even with heavy use after a full charge.
The mouse's contoured shape is for users' comfort and convenience. Its three buttons and a scrolling wheel make navigation simple and easy. Above all, its nano receiver is easy to store, which promotes portability.
Why Should You Buy This?
It provides an easy navigation option and a comfortable user experience due to its contoured shape.
It offers a powerful battery backup for 15 months on a single charge.
Pros
Smooth functionality
Easy navigation
Portable
Long battery life
Cons
Less durable than other mice
Needs adjustment in the movement of the cursor
A Power-Packed Photo Editing Mouse with an Ergonomic Design
RAPOO Bluetooth Wireless Mouse
Check Price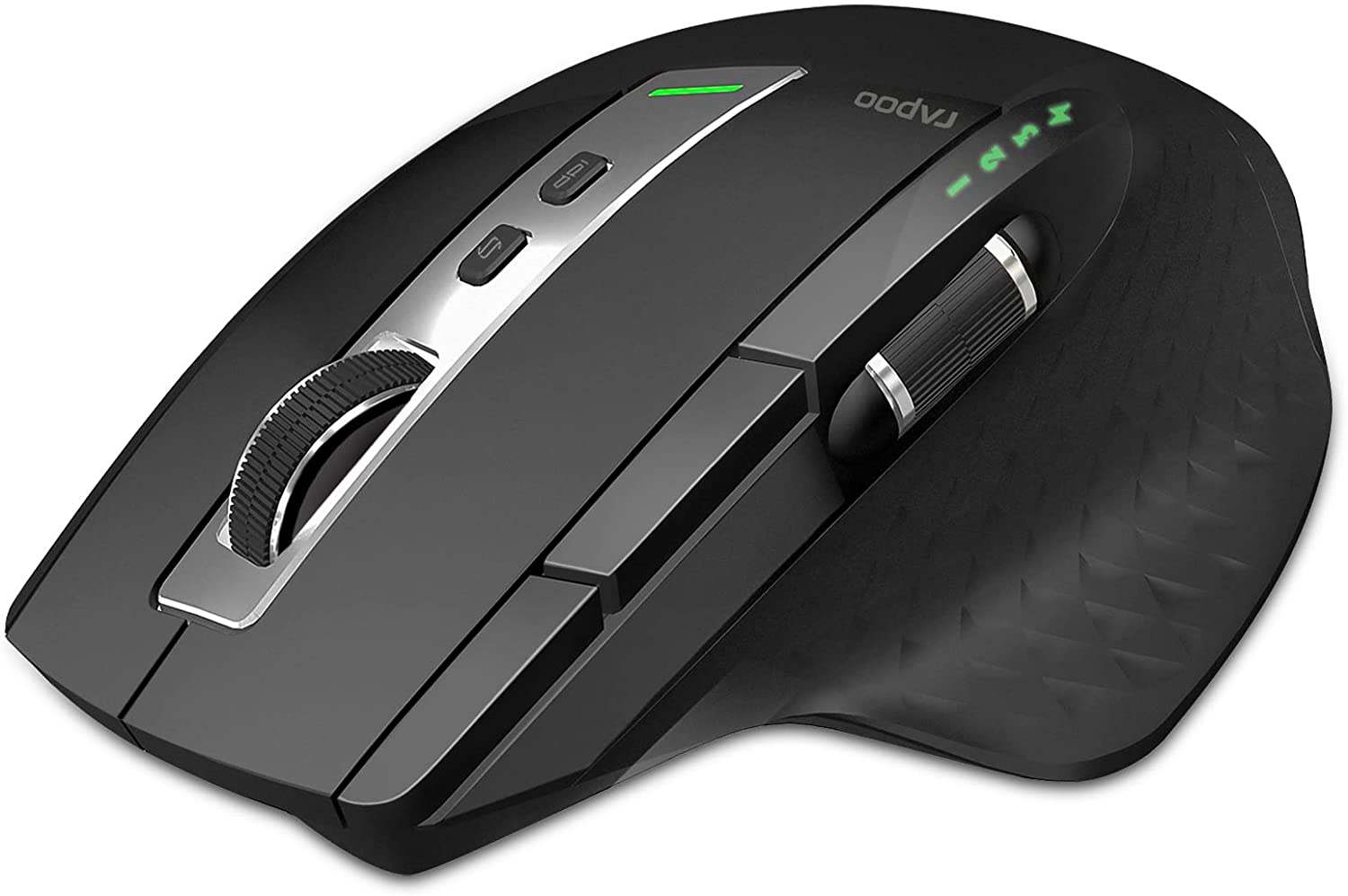 This wireless photo editing mouse is tailor-made for compatibility with many devices. It works with laptops, PCs, iPads, tablets, and mobile phones. The plug-and-play feature makes it easy for all users to use. For better adjustment of mouse sensitivity and speed, it offers four DPI options (600, 1200, 1600, and 3200) along with eight functional buttons. The precise mouse positioning based on a laser sensor favors professional use.
The wireless mouse has a useful battery backup, and unlike the majority of other wireless mouse on the market, it gets fully charged in just 3 hours. Designed for right-hand use, the mouse has an ergonomic design with a useful scrolling wheel. You can switch your mouse across four distinct devices.
It is compatible with many devices.
It supports multiple DPI options ranging from 600 to 3200.
It has an ergonomic design.
Multiple-device compatibility
4 DPI options
Precise positioning
Ergonomic design
Prone to performance issues
Vulnerable to surface damage
An Ergonomic Photo Editing Mouse Featuring a High Compatibility
CensiNewtral Ergonomic Mouse
Check Price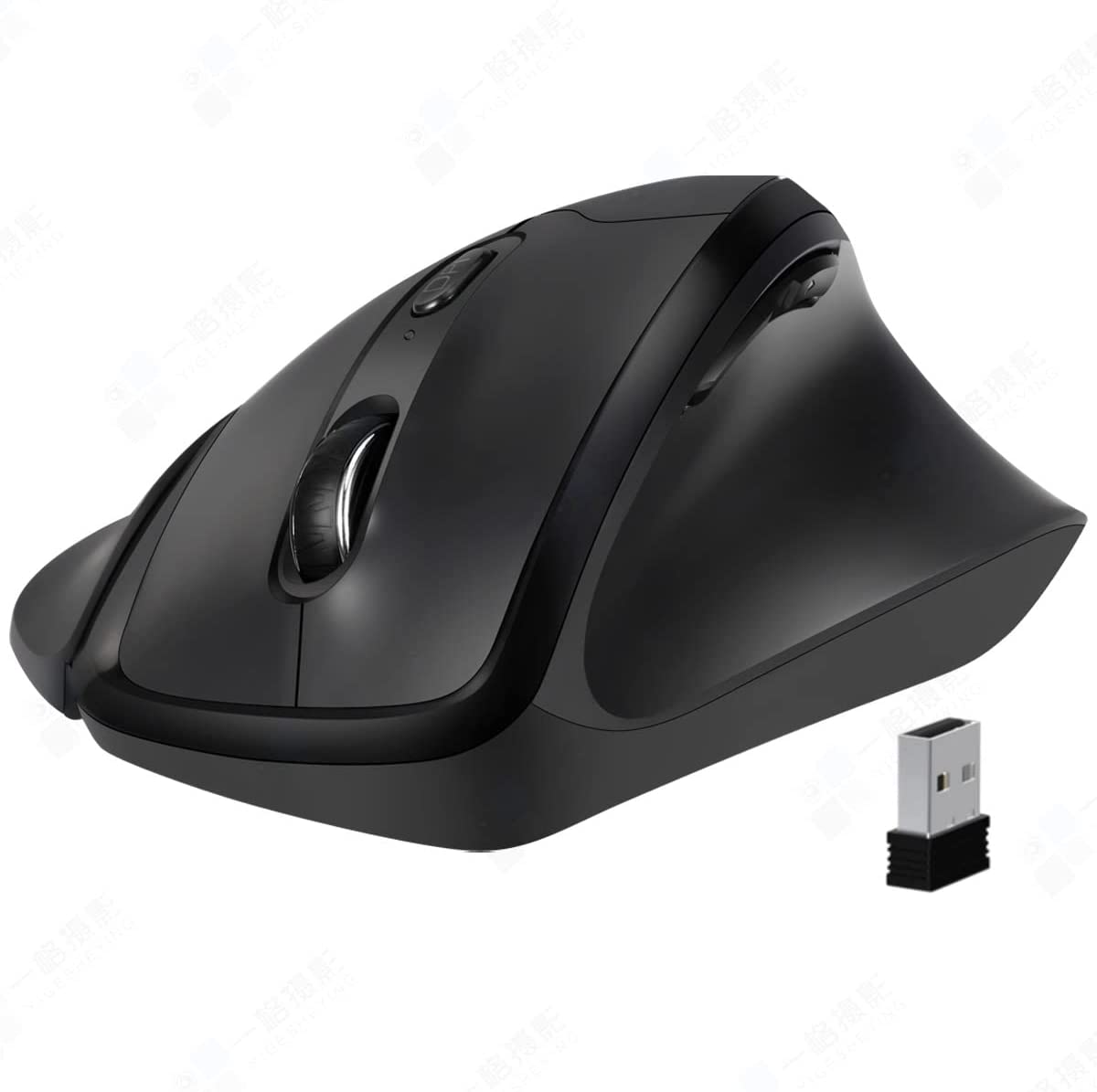 CensiNewtral Ergonomic Mouse is angled at 33 degrees for better wrist posture while photo editing and other purposes. This feature makes it suitable for long-term use by reducing the pressure on the wrists. Based on 2.4G wireless technology, it favors three levels of DPI (800, 1200, and 1600). It is designed for right-handed use and is compatible with Windows 7, 8, 10, Linux, and Mac OS.
Due to the precise tracking of the mouse, you can conclude the majority of tasks with ease and convenience. It has an accurate location sensor which makes it all the more useful. You can replace the batteries of the mouse whenever it is necessary.
Why Should You Buy This?
It is easy on the wrist as its design puts less strain on them
It has an accurate location sensor and is compatible with multiple operating systems.
Pros
Easy tracking
Ease of use
Accurate location sensor
Compatibility with different OS
Cons
Smaller in size than other mice
Prone to damage if not handled with care
Conclusion
Prices typically range from $20 to $100, but even the cheaper ones can serve the purpose and functionalities. Usually, optical sensors are the best choice, as they offer good cursor accuracy. Also, they can work on any kind of surface, even glossy ones. Again, wired mouses are preferable, as there is no need to change batteries. However, a wireless mouse is useful when you are on the go. Opt for a higher-priced wireless mouse.
You can select Bluetooth or Wi-Fi wireless mouse, with the latter having a better response rate and consuming less energy. Check out the DPI and dots per inch as well. Usually, a DPI of 800 to 1200 should be enough for a low-resolution display, but for 4K displays, it would be better to opt for one with 2000 DPI. Another factor to consider is the polling rate in Hz. The higher the polling rate, the better the response, so photo editors usually opt for 300 Hz to 500 Hz.
Photo editing is not always the easiest task; most of the time, it requires immaculate precision and a lot of patience. This is why it is necessary to have a good mouse that can make your work easy. While many mouse can be used, the ones we have listed today are the best that you will come across regarding prices and features. Go through the list and find the best mouse for photo editing that will be perfect for you.