Featured in this article (opens in new tab)
Want to own the best headphones for drummers of 2023? We have prepared a list to help you find the perfect one. Drummers often face the challenge of slowly falling prey to the very sound they enjoyably create for their fans. The amount of noise created when a drummer starts playing is incredibly high. And as a drummer, you do not have the option to step away from the noise, so the next best thing is to cover up your ears so that you do not end up damaging them. Today, headphones offer multiple features that enjoy comfort, protection for your ears, and sound regulation. This helps drummers play without worrying about slowly losing their sense of hearing. We have a list of the best headphones for drummers to help you find out what is suitable for you.
Buying Guide
But before we move on to the list, there are a few things that you may want to think about before you purchase the headphones.
The first thing is that headphones for drummers are available as in-ear and over-the-head headphones. The choice between the two is more of a personal decision because it is about which one makes you feel more comfortable.
Drummers are divided in opinion between these two. While the in-ear headphones are known to be more effective in blocking out the outside noise, many drummers feel that the over-the-head headphones are more comfortable if you play for long periods. We have included both of them on our list.
You must also remember to check for headphones that feature neutral or balanced sound so that you do not end up hearing accentuated sounds when you wear the headphones.
If you believe that higher bass is a better option for the headphones you purchase, you may want to correct this misconception. Look for something that gives you a flat sound so you hear what you play without the sounds being augmented inadvertently.
See Also: Best mouse for photo editing
The Best Headphones For Drummers
Soft and Comfortable Headphones Built to Give an Immersive Music Experience
Maono Over Ear Stereo Headphones AU-MH601
Check Price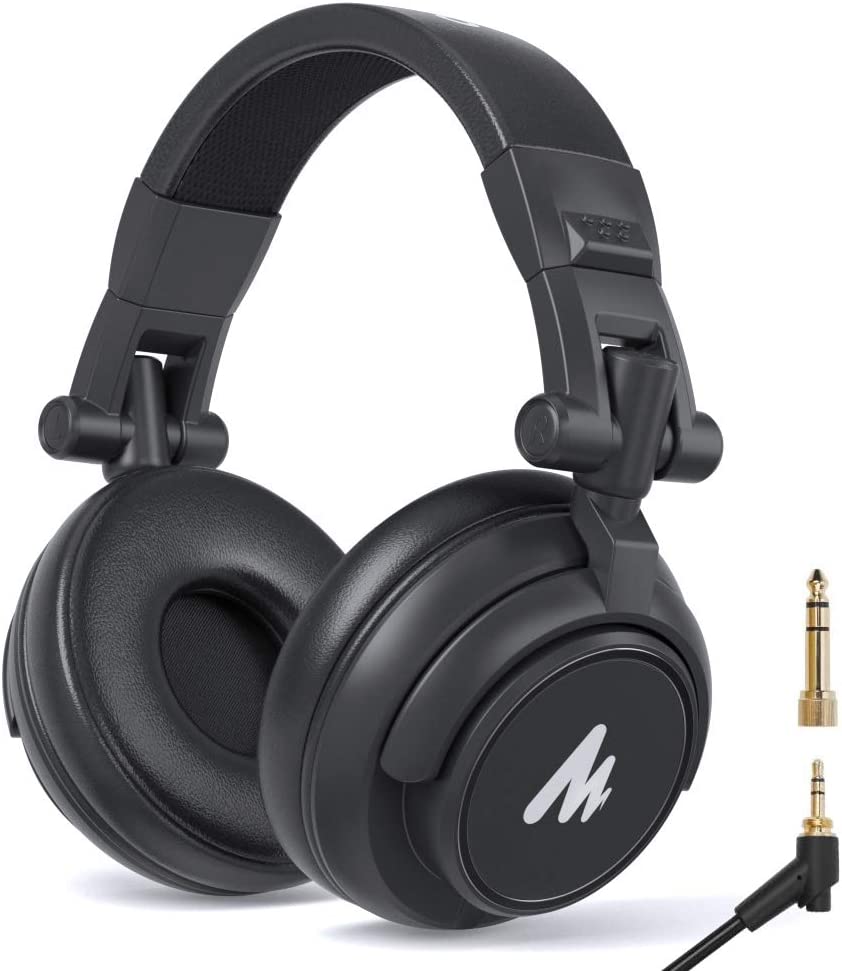 The Maono AU-MH601 stands true to its branding and delivers an entirely isolating and immersive music experience. The headphones are comfortable for prolonged usage and feel very lightweight. The design is also worth noting as it gives individuals enough space to add their branding to the headphones.
The 50mm drivers deliver a more pronounced audio output. The headphones have a frequency range of 20-20 kHz, which means they can cover almost every high and low. The impedance is rated at about 32 ohms, which lets the Maono AU-MH601 deliver the same audio quality when connected to any device. The headphones deliver a much better performance than the price tag suggests.
They are high-quality headphones that offer almost complete isolation without leaking any of the music you're listening to.

They are super comfortable and lightweight, allowing you to use them for a while without making your ears red.
50mm Drivers

Lightweight and isolating

High impedance rating

Removable cables
Not much added Bass or Treble

Slightly lower frequency response rating
Isolating Headphones Tailor-made for Drummers
Vic Firth Isolation Headphones
Check Price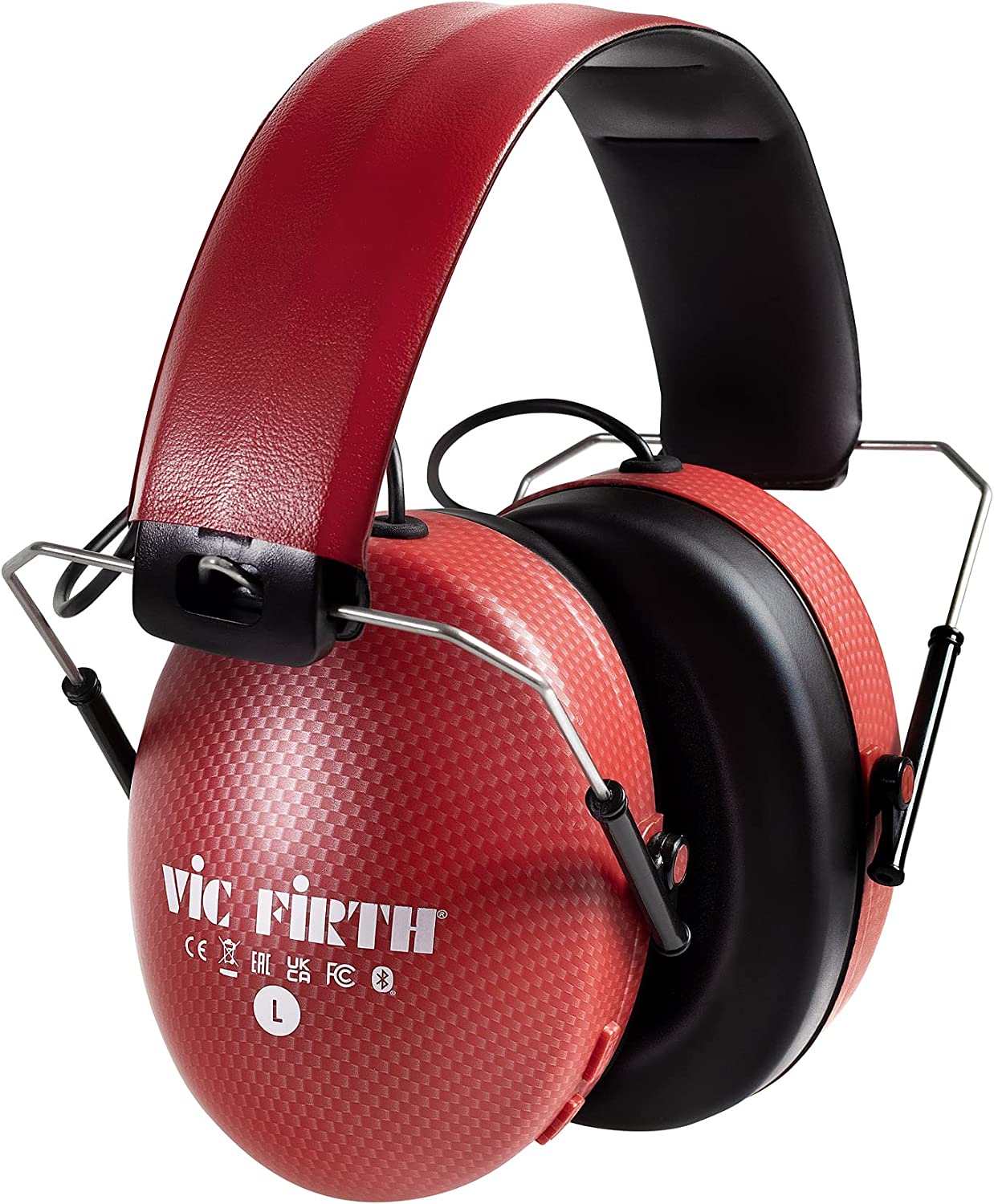 Coming from the home of the world's leading drum stick manufacturers, the Vic Firth Isolation Headphones (VXHP0012) are designed exclusively for drummers, keeping in mind the high requirement for absolute isolation. These headphones can attenuate ambient sound down to as low as 20 decibels.
The design is exquisite, with a red-colored finish and metal hinges. The grip is tight on the head to exert enough pressure to isolate external sounds. The integrated microphone and the switch between wired and Bluetooth connectivity allow you to connect to music through almost any source. The three buttons on the side panel offer easy access to control the headphones while connected through Bluetooth.
These are designed to keep in mind the high sounds a drummer has to avoid listening to while performing, thereby offering the highest possible level of isolation.

The sound quality is impressive and makes a solid case for these headphones.
Absolute isolation

Premium sound quality

Good connectivity
Heavy on the ears

Not comfortable with long use
Headphones with Great Functionality and Impressive Sound Quality
Lieront LT006 Over-Ear Active Noise Canceling Headphones
Check Price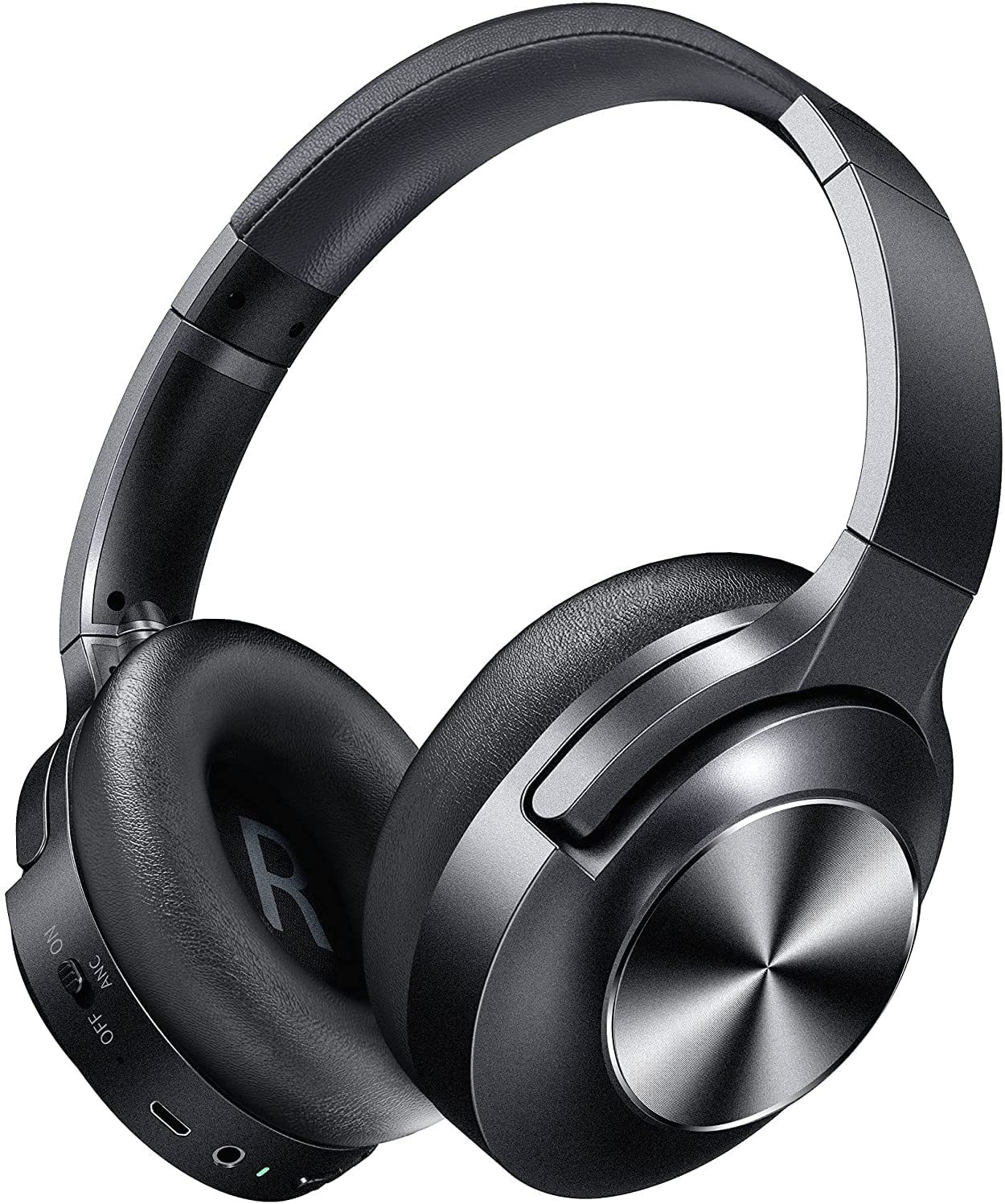 These headphones are a surprise package that punches way above their weight. The earpads made out of Memory Foam offer extreme comfort and make them usable for a long time without discomfort. The ANC feature offers great noise cancelation and attenuation from external noise even without playing music. The sound quality it delivers is also top-notch and can compete well with any higher-priced headphones.
The design is simplistic yet beautiful. The control buttons on the left panel make the headphones easier to control. The battery backup is also very impressive and delivers an astoundingly great playtime. Bluetooth connectivity is highly efficient, ensuring instant connections and no dropouts. The integrated microphone also delivers an above-par performance.
The features on offer, including the ANC and sound quality, are almost impossible to get at this price tag.

The build quality is impressive, and the design is meant to keep them comfortable even for extended usage.
Superior comfort

Excellent connectivity

Great sound output
The ANC doesn't block noise completely

Does not look durable
Stylish and Comfortable Headphones for All-Day Use
Betron Self-Adjusting Retro Headphones
Check Price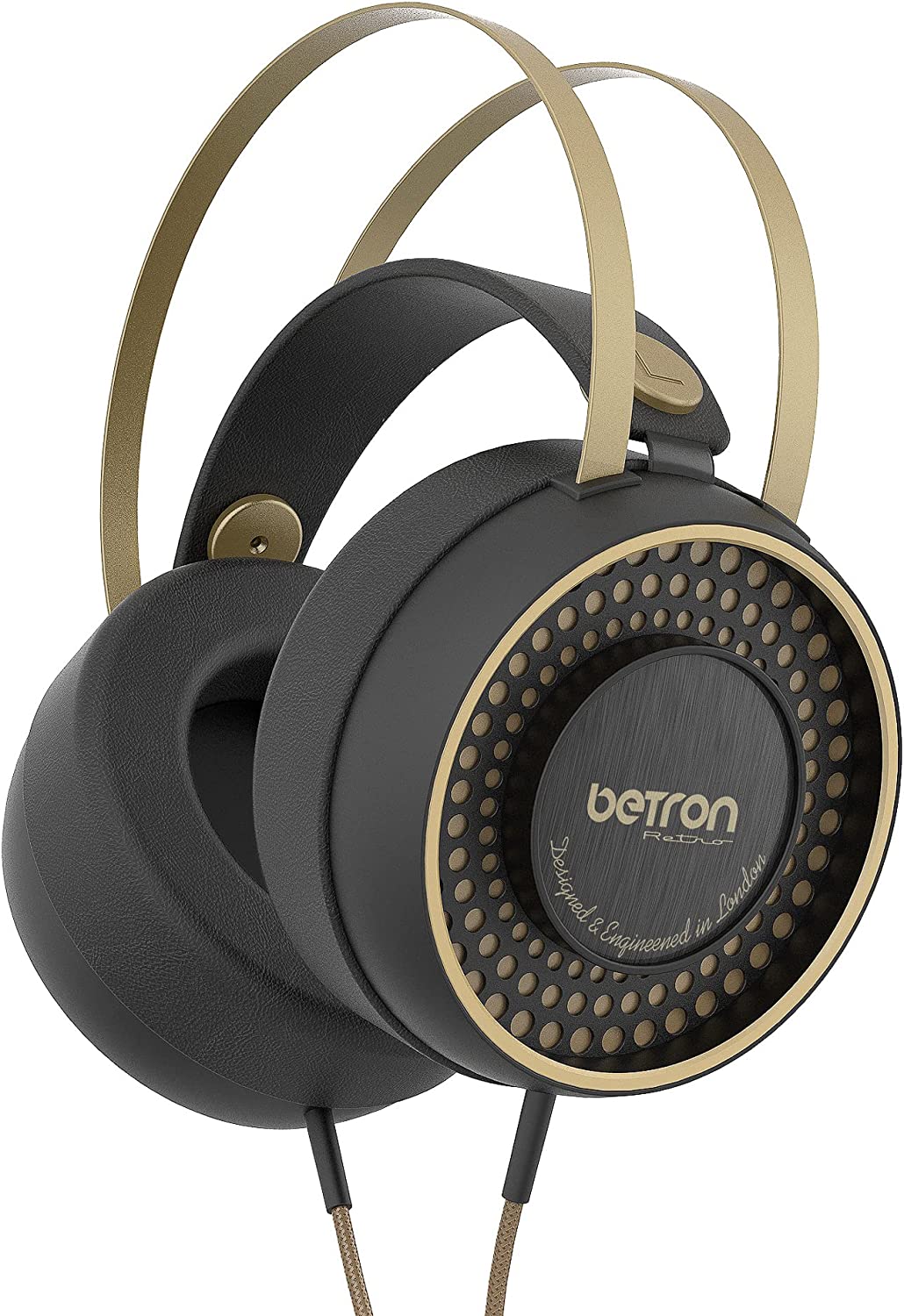 Designed implicitly with a retro touch, the Betron Retro Style headphones deliver all modern-day features in a stylish retro design. A lot of focus has been put on ensuring the durability of these headphones without compromising on the comfort lightweight. The 40mm drivers work well and deliver excellent sound quality. The headphones manage to meet the high bass demand of almost any song.
The headphones can also knock off external noise to help the listener enjoy music to its fullest. The build quality is sturdy and solid and guarantees durability. They can be connected to any device with a 3.5mm Headphone Jack. The adjustable headband ensures the headphones are never too tight on the ears and the listener's experience never gets uncomfortable.
Why Should You Buy This?
The retro design is the highlight of these headphones. If you're looking for a set of stylish earphones that are bound to last long, these are for you.

If you're looking for headphones that can deliver high bass, the Betron Retro Headphones can be your ideal choice.
Pros
Retro design

Durability

High Bass
Cons
Poor sound quality

Ineffective noise cancelation
Foldable Professional Headphones with Great Comfort and Sound Quality
OneOdio A-71Wired Studio Recording Headphones
Check Price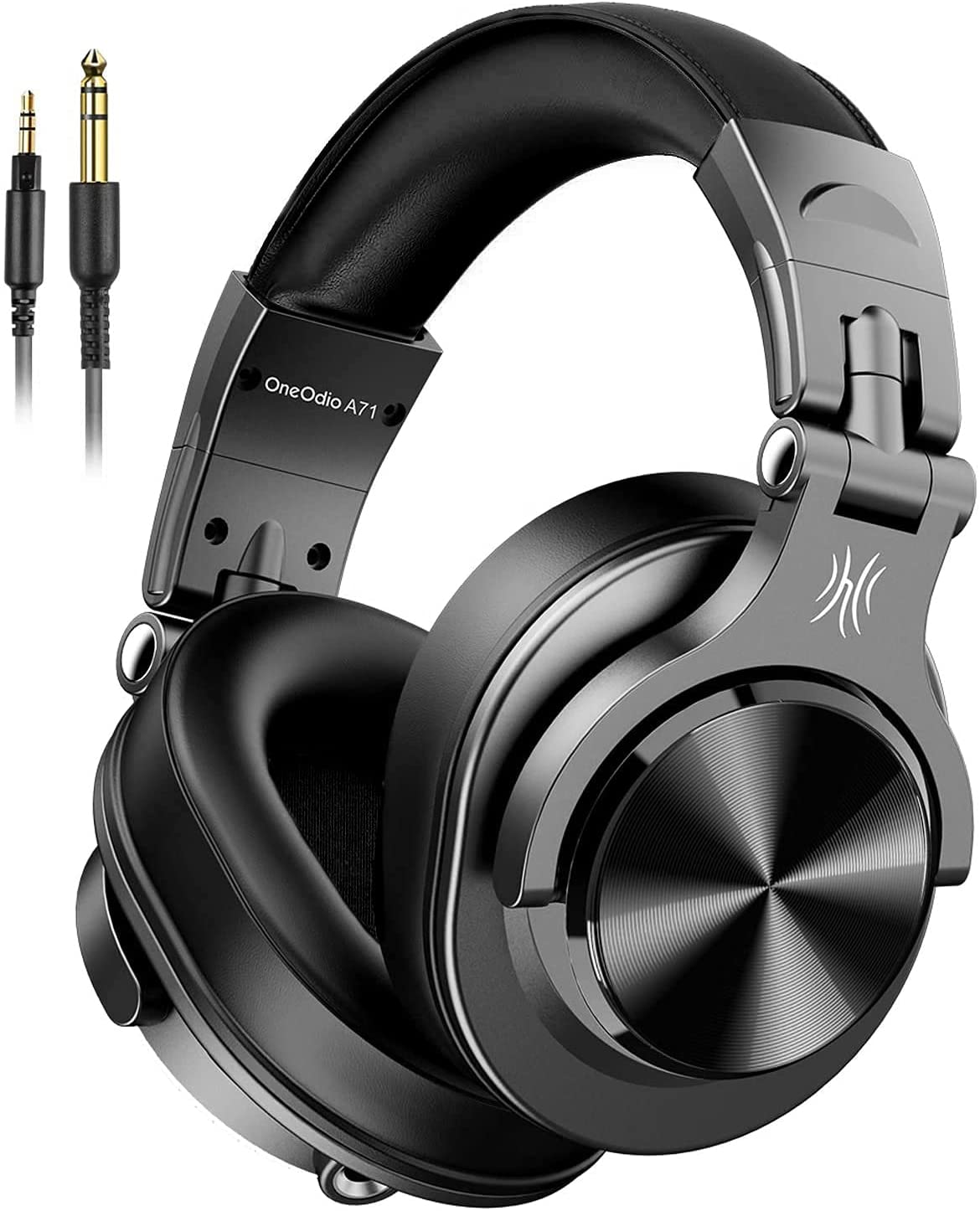 The OneOdioA71 headphones are designed to last the test of time while delivering a comfortable and compact experience. The headphones are foldable with 90° rotatable earcups making them portable enough to carry along. The super soft professional earpads provide a comfortable experience even for extended usage.
The 40mm drivers deliver impressive sound quality and are responsive to the highs and lows of modern-day music. The connectivity on offer is also great, with a 3.5mm and 1/4" jack on either end of the cable. The headphones are designed for drummers, guitarists, DJs, pianists, and other professionals who can't miss out on any details of their music.
The excellent sound quality and the super comfortable design make these headphones a perfect choice in this price range.

If your music involves a lot of bass, these headphones are bound to capture all of it.
Crisp sound quality

Low price point

Comfortable fit
Low noise cancelation

No Bluetooth connectivity
Recording Headphones with High Db Attenuation
DDrum DDSCH BLK Studio Recording Headphones
Check Price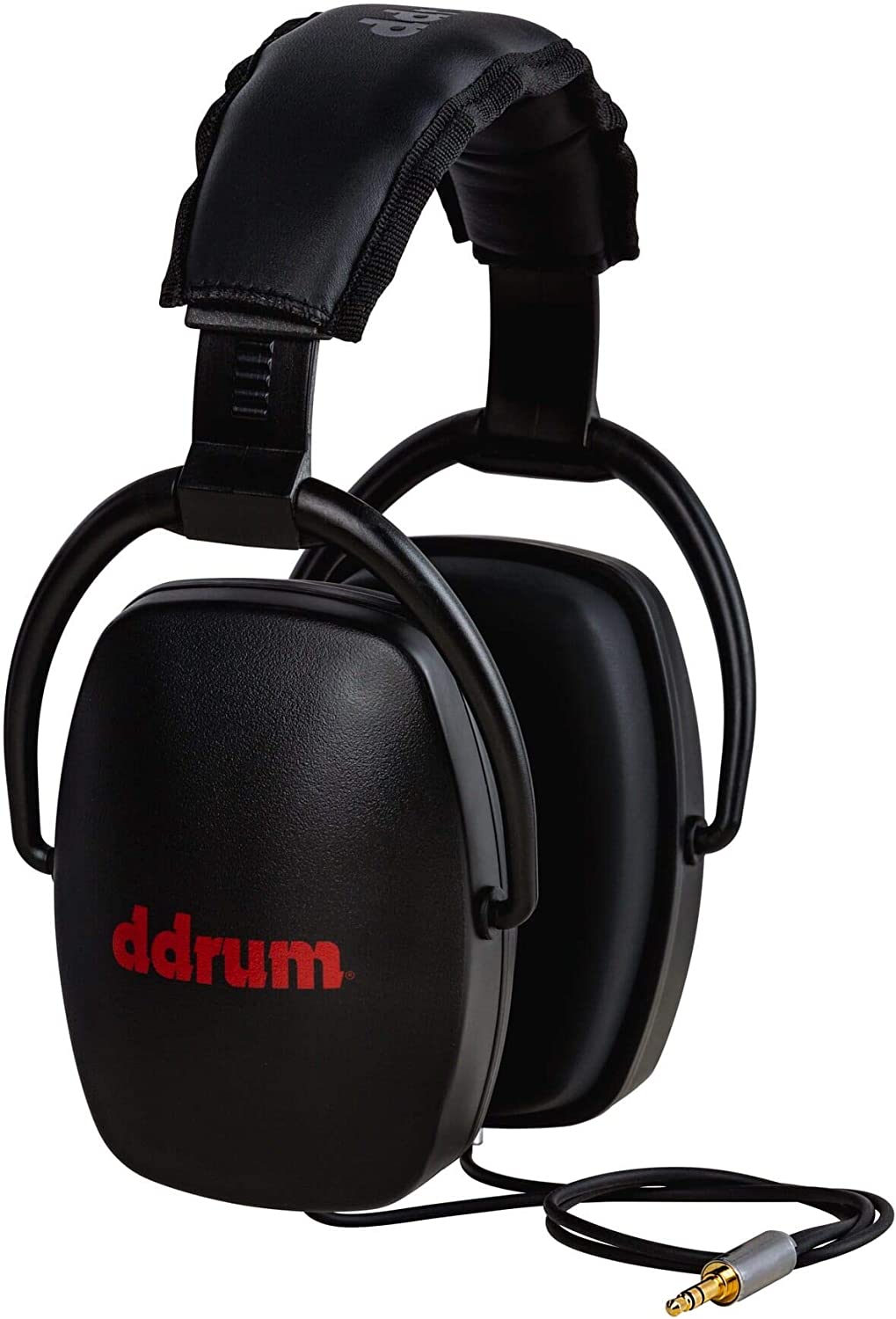 The DDrum DDSCH BLK over-ear headphones offer 36.7 db of sound isolation, more than any other headphones available at this price point. They come in a comfortable design that allows for long time use. They provide the highest attenuation possible.
The 40mm drivers produce crisp and precise audio output and can capture the tiniest details from any and every song. They are built especially for drummers who need a high level of sound isolation.
Why Should You Buy This?
They deliver high-quality sound output to ensure you only listen to what you want.

The design is stylish and comfortable and provides a good place for individual branding.
Pros
High-level noise cancelation

Superior sound quality

Comfortable design
Cons
High price point

Slightly heavier
Conclusion
Being a part of any band is very exciting and rewarding for drummers. You need the protection of headphones to prevent impairment of your ears from the constant drum sounds.
Whatever your choice, be sure that the headphones you choose fit well, as drummers must wear them for a prolonged period, say a few hours at a time. However, if you opt for In-Ear headphones, select those with additional ear tips to get a customized fit. Another tip for drummers is to look out for headphones with Lower OHM and closed drivers to reduce sound leakage. All the above options are excellent in their own ways and offer holistic features. It all boils down to your priorities and usage level, so just select one according to your requirements.
These over-the-head and in-ear headphones are some of the best you may come across in the market for drummers. There are a lot of professionals as well as beginners who use these headphones to protect their ears from damage and also to make sure that they can hear the sound more clearly. When creating this list, we have kept factors like comfort, design, noise cancellation, sound clarity, and price. We have added headphones from various price ranges so that you can find something suitable for your budget and your requirements.
See also: Best Laptops for DJs