Technobezz is supported by its audience. We may get a commission from retail offers
If you wish to buy a Samsung phone, here are the top picks that are nearly as good as an iPhone and way ahead
Samsung Galaxy S22 45W Fast-Charging Support Smartphone
Samsung Galaxy A72 IP67 Rated Durable Smartphone
Samsung Galaxy Z Flip 3 Foldable Smartphone
Table of Content
If you wish to buy a Samsung phone, here are the top picks that are nearly as good as an iPhone and way ahead of other brands available in the market. All of these phones from Samsung are stylish, powerful, and well built. Since there are a lot of Samsung options in the market, it is difficult to pick out the best one for your purposes.
Let's check out the best Samsung phones to help you make an informed choice.
See also: Best tablets for taking notes
Buying Guide
Best Samsung Phones
Thoughtfully Designed Smartphone with Built-In Stylus Pen
Samsung Galaxy S22 45W Fast-Charging Support Smartphone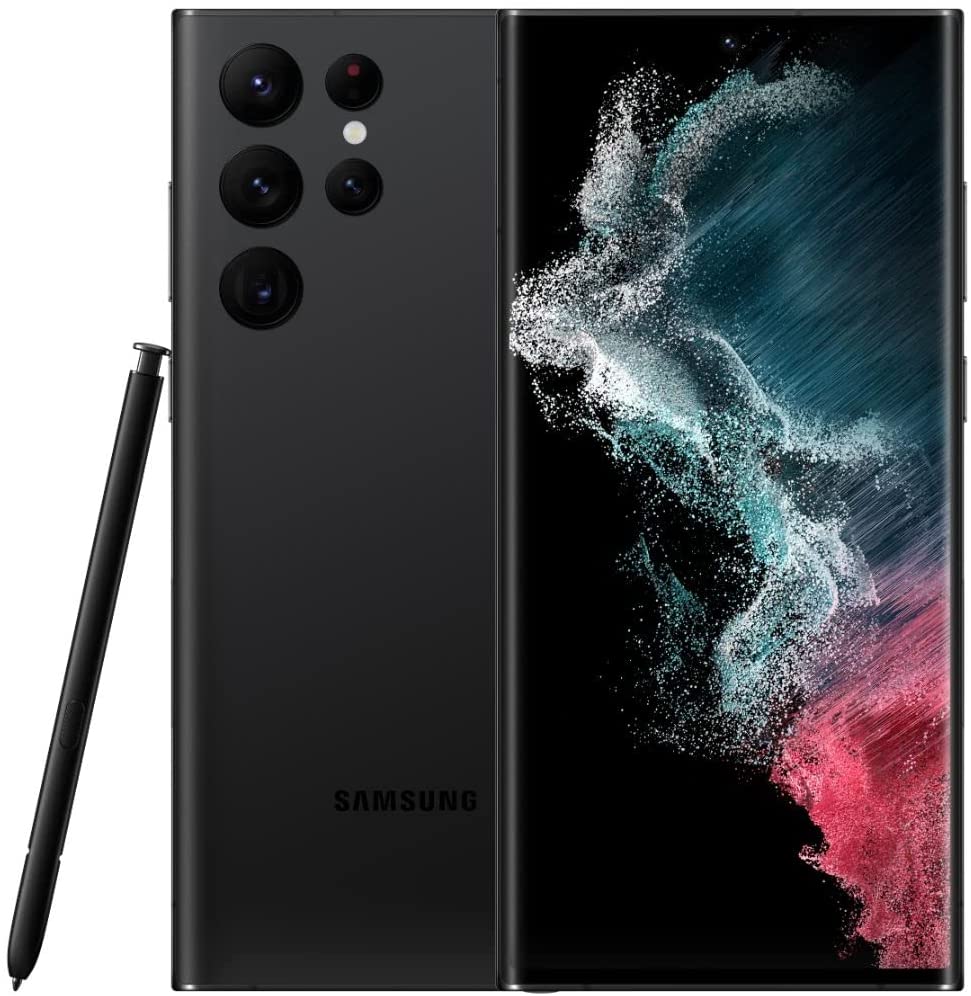 The Samsung Galaxy S22 boasts a 6.8-inch high-definition screen which is an absolute delight to look at. Controlling the device through this screen is very convenient owing to the Stylus pen it comes with. The phone features an array of cameras including a 108MP primary camera, 10MP 10x telephoto lens, 12MP ultra-wide lens, and a 10MP 3x telephoto lens. The device comes equipped with a 5,000mAh battery that offers solid runtime.
An ideal device for those who find the idea of using a Stylus pen while operating a smartphone very convenient.
With its robust camera performance and long-lasting battery, it is a very good option for those who have an interest in smartphone photography.
Excellent camera performance
Stylus pen support
HD display screen
Strong battery life
Slightly expensive
Heavy structure
Well-Designed Samsung Smartphone with High-Quality Stereo Speakers
Samsung Galaxy A72 IP67 Rated Durable Smartphone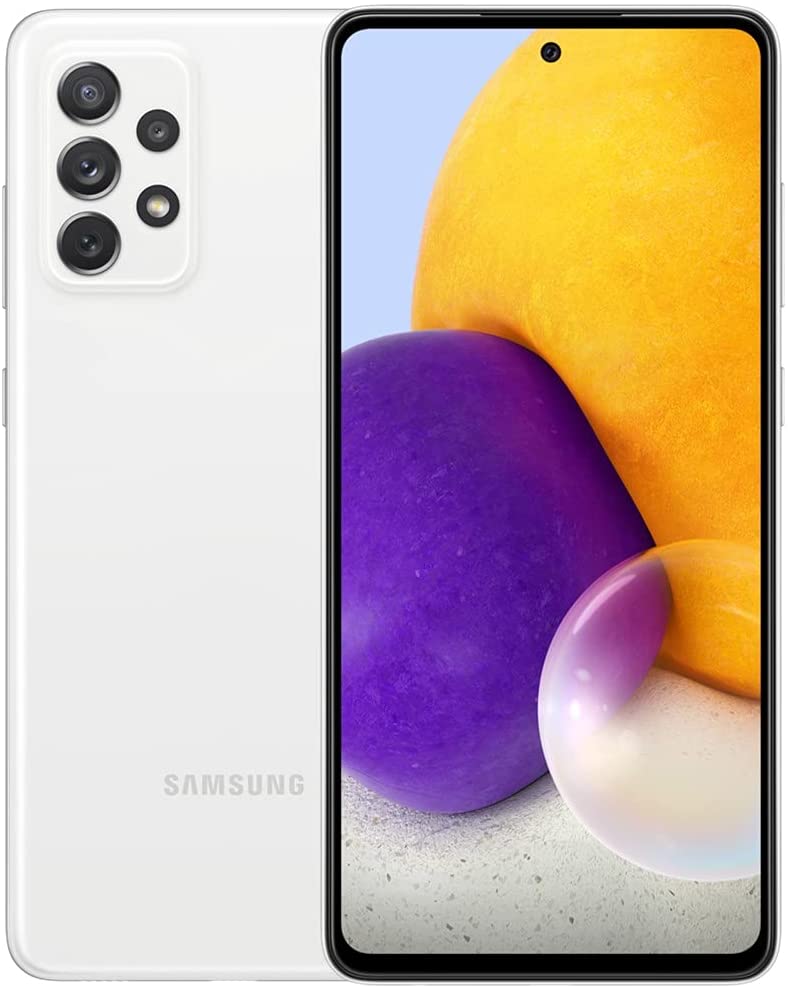 The 6.7-inch screen of this device offers a full high-definition resolution. Apart from great video output, this Samsung smartphone also comes equipped with premium quality stereo speakers. Available in four different color variants (black, white, violet, and blue), the phone features a stylish but slightly heavy design. The Qualcomm Snapdragon 720G is not a super-fast processor but works reasonably well.
If you look at buying a smartphone as a long-term investment, then getting this super-durable device would be a good idea.
A very suitable option for those who spend hours watching videos or listening to audio streaming content on their phone.
Highly durable
Good battery support
In-display fingerprint sensor
Excellent audio-video output
Bloatware presence
Deserves a faster processor
Budget-Friendly Smartphone Made With Durable Components
Samsung Galaxy Z Flip 3 Foldable Smartphone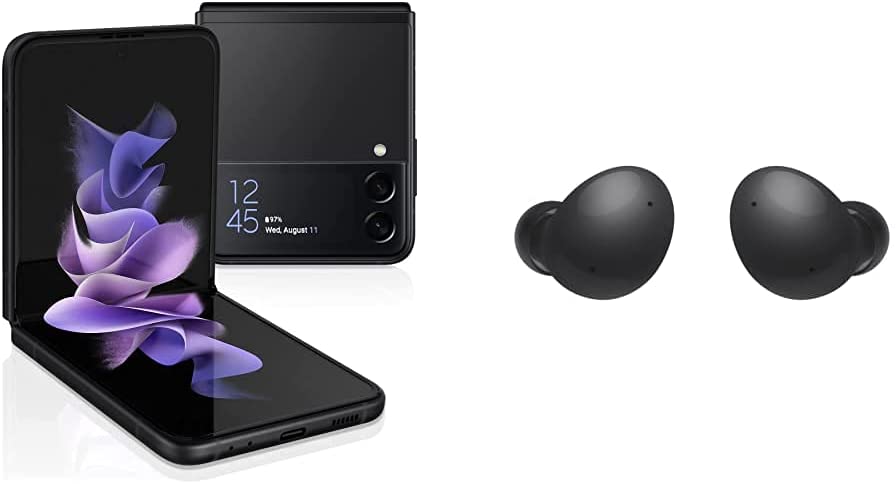 Foldable smartphones are still very popular with a section of mobile phone users and this Samsung device has been one of the most loved phones in that space. The device features a 6.7-inch AMOLED screen that offers good picture clarity. The Snapdragon 888 processor ensures the phone functions at a good speed and enables you to multi-task as well. It is a highly durable device that has received an IPX8 rating for being water-resistant.
A very good option for those looking to invest in a stylish and durable foldable smartphone.
Also recommended for somebody who is planning to try out a foldable device for the first time and does not wish to spend more than $1000 on acquiring one.
Water-resistant
Vibrant display screen
Economically priced
Well-performing processor
Mediocre battery life
Charger not provided
Well-Built Smartphone with High-Definition Display Screen
Samsung Galaxy S20 FE 5G Connectivity Smartphone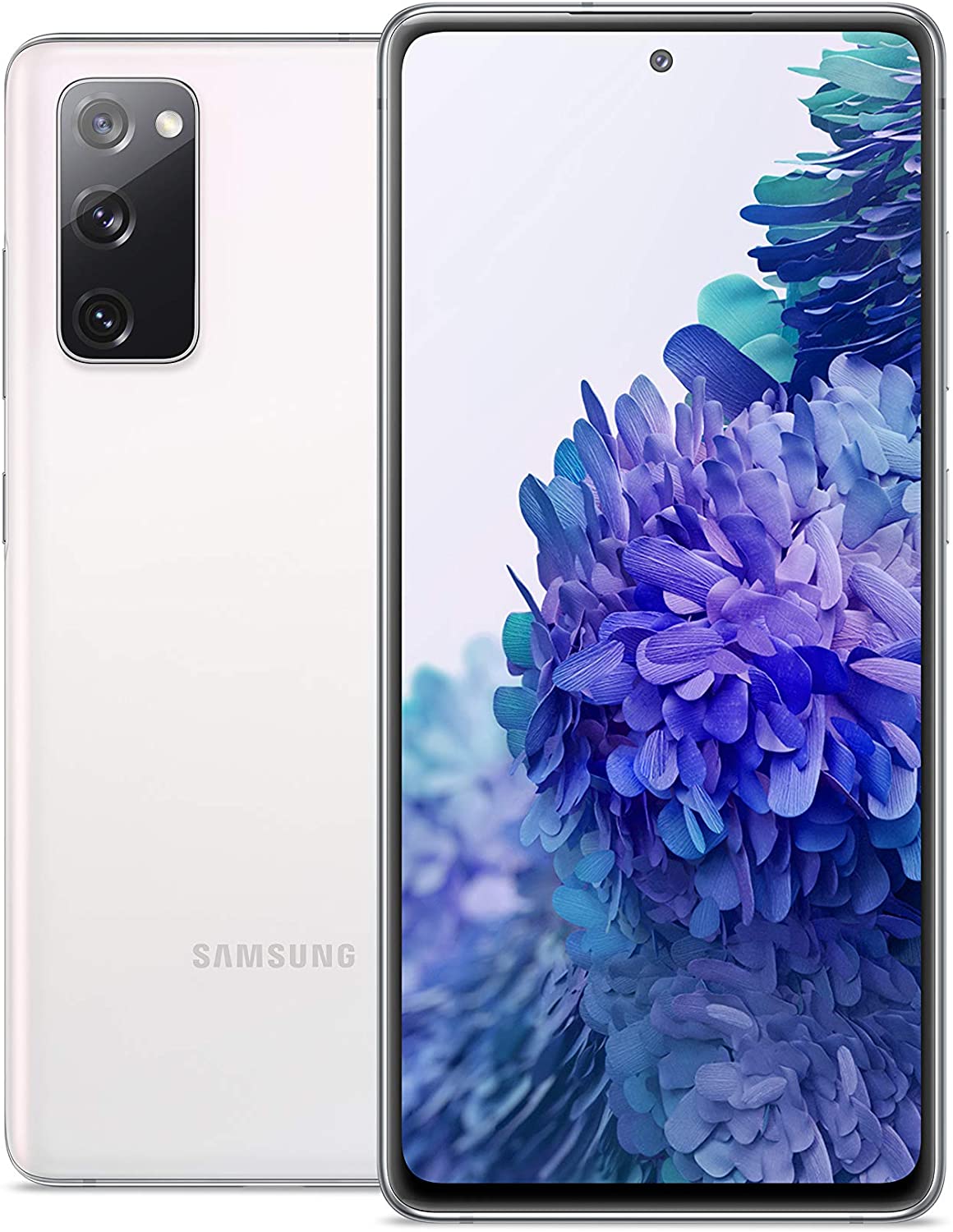 The Samsung Galaxy S20 FE 5G has a simple but stylish design that has been put together keeping usability in mind. On the left, you will find the power and volume buttons. The USB Type-C port, microphone and primary speaker can be found at the bottom. At the top, closer to the edges of the display screen, you will find the earpiece speaker.
The Qualcomm Snapdragon 865 processor, which it runs on, is powerful and makes the phone suitable for high-end gaming too. What also contributes to the smoothness of the gaming and multimedia consumption process is the 6.5-inch AMOLED screen that offers a refresh rate of 120Hz. When you go to the display settings, you will find a variety of options to customize your viewing experience.
Why Should You Buy This?
Recommended for those who believe in Samsung as a brand and want to own a phone that offers a wide variety of features.

The smartphone has the kind of features and specifications that make it ideal for a movie or gaming enthusiast.
Pros
Good camera features

Full HD screen

Multiple connectivity options

Smooth software performance
Cons
Slow charging process

Short battery life
High-end Smartphone with Top-Notch Features
Samsung Galaxy Note 20 Ultra Big Screen Smartphone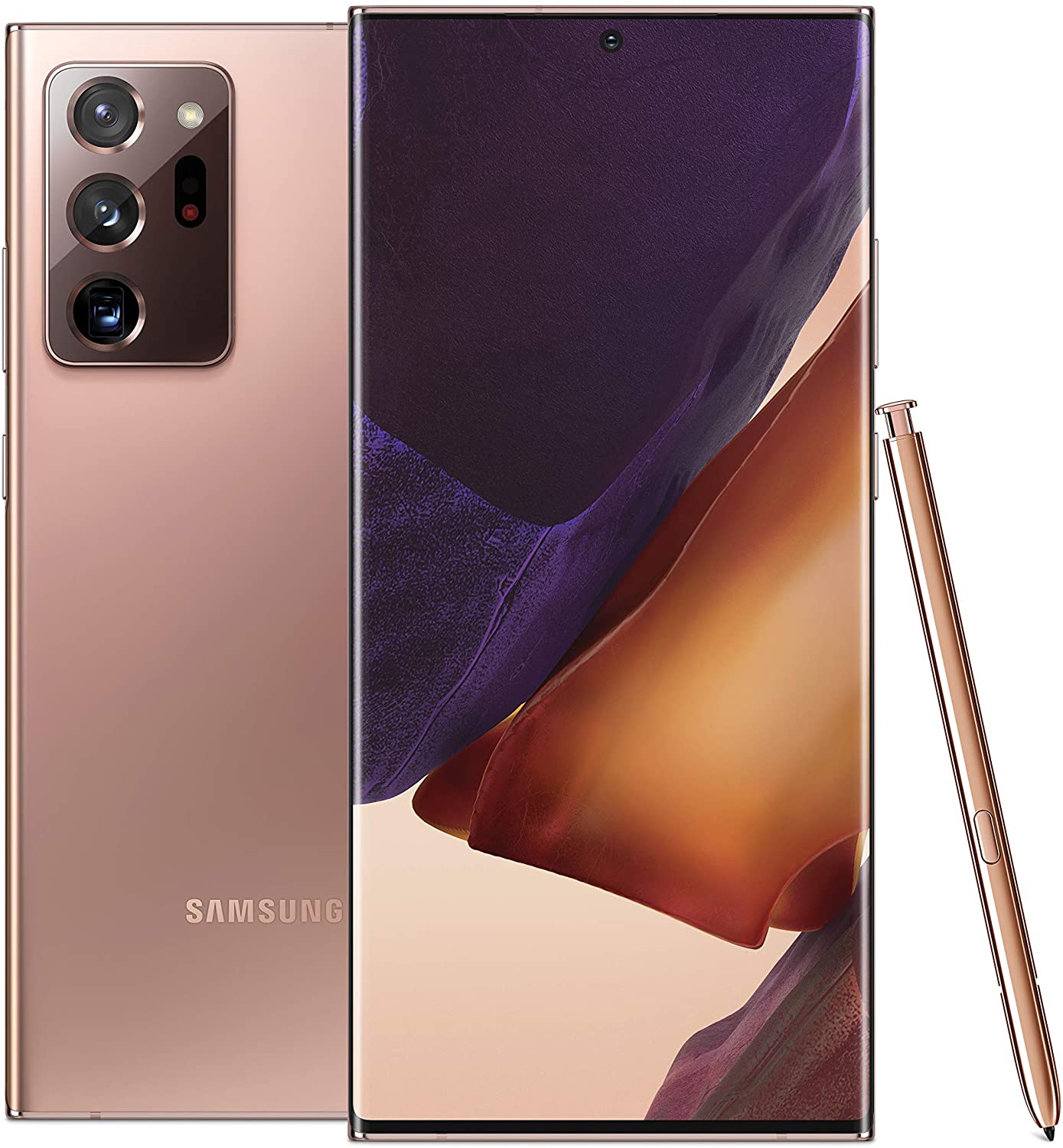 One of the most interesting things about the Samsung Galaxy Note 20 is that it streams Xbox games. Many other features make this Samsung device come across as a truly premium smartphone. The phone features a massive 6.9-inch AMOLED screen that offers a refresh rate of 120Hz and produces extremely sharp images.
On a single charge, the 4,500 mAh battery can last for more than 10 hours. The dimension of the phone is 6.48 x 3.04 x 0.32 inches and it is available in three sophisticated color variants, Mystic Bronze, Mystic White and Mystic Black. The front camera has a resolution of 10 MP which is adequate for taking selfies. On the rear, you get a 108 MP wide lens, a 12 MP ultrawide lens and a 12 MP telephoto lens with optical zoom.
If you are a Samsung fan and have the kind of budget that allows you to buy a premium quality smartphone, then here is a phone you should consider buying.

Those looking for a phone with a vast number of features, a large-sized screen and strong battery life should invest in this device.
6.9-inch display screen

R

esponsive Stylus pen

Strong battery life

Impressive camera setup
Price is on the higher side

Big camera bump
Budget Smartphone with Excellent Battery Life
Samsung Galaxy A21s Quad-Camera Setup Smartphone
Featuring a 5,000 mAh battery, this Samsung device assures you of fast charging and long-lasting usage. The battery also contributes significantly to the weight of the phone. This is not a device that comes with the most premium features but has most of the things you expect in a basic, usable smartphone. The 6.5-inch LCD has a refresh rate of 60 Hz which is fair.
The back of the device is made of polycarbonate plastic that is decent enough but does attract fingerprints and smudges. The curved back panel and the slightly rounded edges make it easier for one to hold and operate the phone. While there is no in-display fingerprint sensor, you do get a physical fingerprint sensor on the rear end.
Why Should You Buy This?
If having a phone with massive battery life is your biggest priority, you wouldn't regret investing in this phone.

It is one of the best options for those looking for a budget smartphone from Samsung.
Pros
Excellent battery life

Sharp display screen

Multiple sensors

Comes with a headphone jack
Cons
Camera performance in low-light is poor

The processor runs slow at times
Mid-Range Smartphone That Offers Good Value for Money
Samsung Galaxy A71 Strong Battery Life Smartphone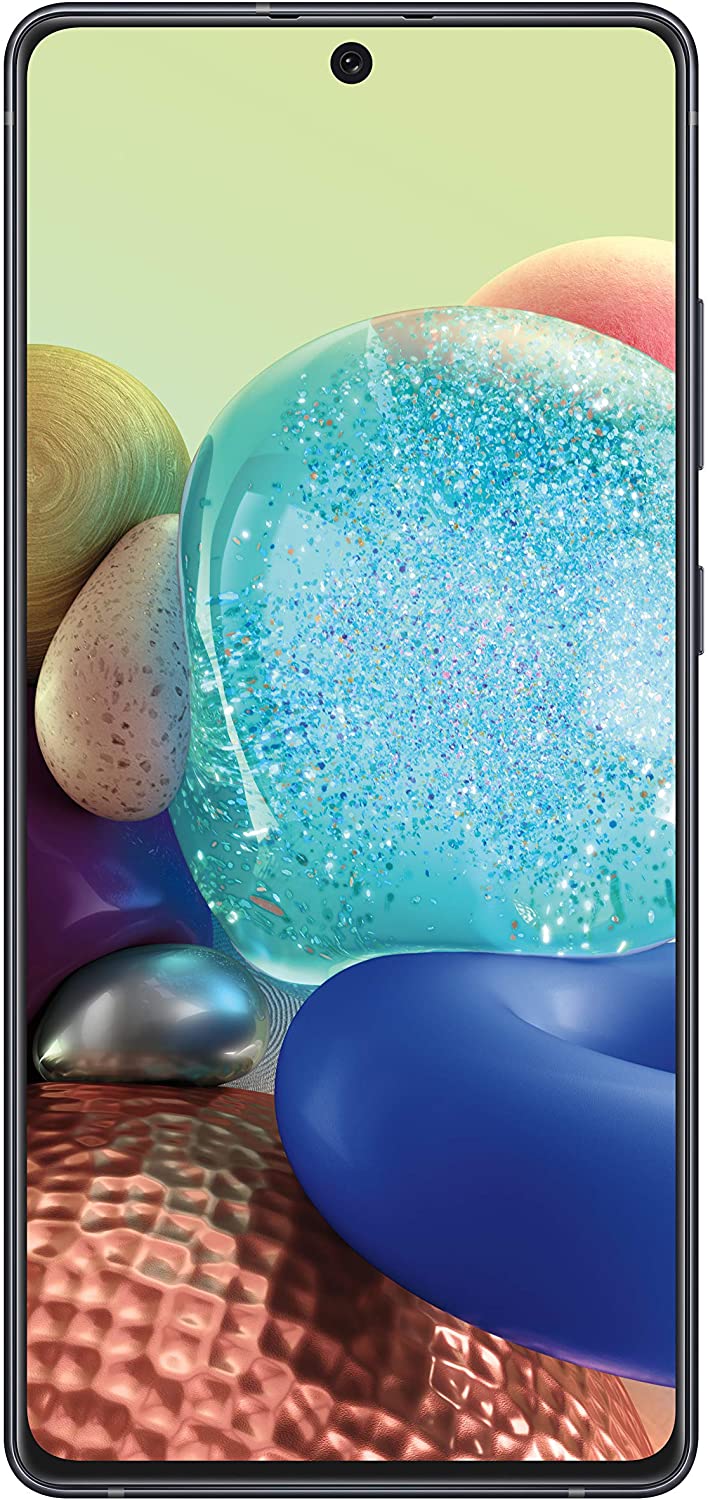 Samsung Galaxy A70 was received very well by people and with the Galaxy 71, the brand has made an effort to upgrade the features and present an improved version of it to the users. The processor and the camera features have got an upgrade and you notice that after using the phone for a while. Apart from a strong 4,500 mAh battery, the phone offers 25W fast-charging support.
The 5G model of this device runs on the very fast Snapdragon 765G and is available in multiple colors including Prism Crush Black, Haze Crush Silver, Prism Crush Silver and Prism Crush Blue. Though the rear end of the phone is made of polycarbonate plastic, it is of durable quality. The 6.7-inch display is apt for shooting videos and watching multimedia content.
Why Should You Buy This?
If you are looking for a mid-range smartphone with good features and specifications, you can try this out.

Those who enjoyed using the Samsung Galaxy A70 and were looking for a better version of it should get one of these.
Pros
Slim and lightweight structure

6.7-inch AMOLED display

Good battery life

Solid processor
Cons
Sub-par macro sensor

Average audio output
Well-Designed Samsung Smartphone with Large Battery
Samsung Galaxy A31 Polycarbonate Build Smartphone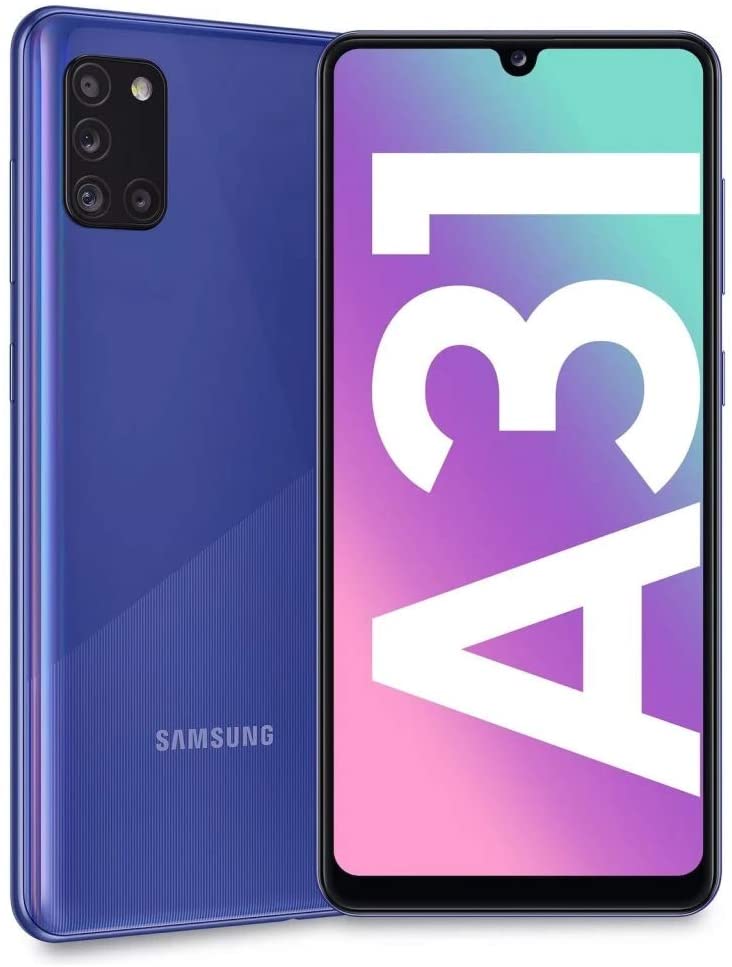 The slim and lightweight structure of the Samsung Galaxy A31 appeals to all those who like to own an easy-to-carry smartphone. The design is the kind one has seen on several other Samsung phones but it still looks interesting and attractive. The body of the device is made of polycarbonate plastic and which contributes to its lightweight design. The 5,000 mAh battery is extremely powerful and lasts for close to 19 hours on a single charge.
At the rear end, you will find the quad-camera setup in the shape of a rectangular component. At the bottom, there is a USB Type-C port, headphone jack and a speaker. You can see a big SIM tray on the left. Apart from the main device, you get a charger, a headset, a silicon case, and a USB cable as a part of the packaging unit. MediaTek Helio P65 is a processor that is fine for a lower-budget phone. This phone should have had a faster and stronger processor.
Why Should You Buy This?
Should work very well for those who are on the move all the time and need to carry a phone with powerful battery life.

Also recommended for those who look for modern features and multiple connectivity options on a phone.
Pros
Strong battery life

Lightweight structure

Quad-camera system

Sharp display screen
Cons
Average quality cameras

Slow processor
Affordable Samsung Smartphone with 6.5-inch Display Screen
Samsung Galaxy A12 5000 mAh Battery Smartphone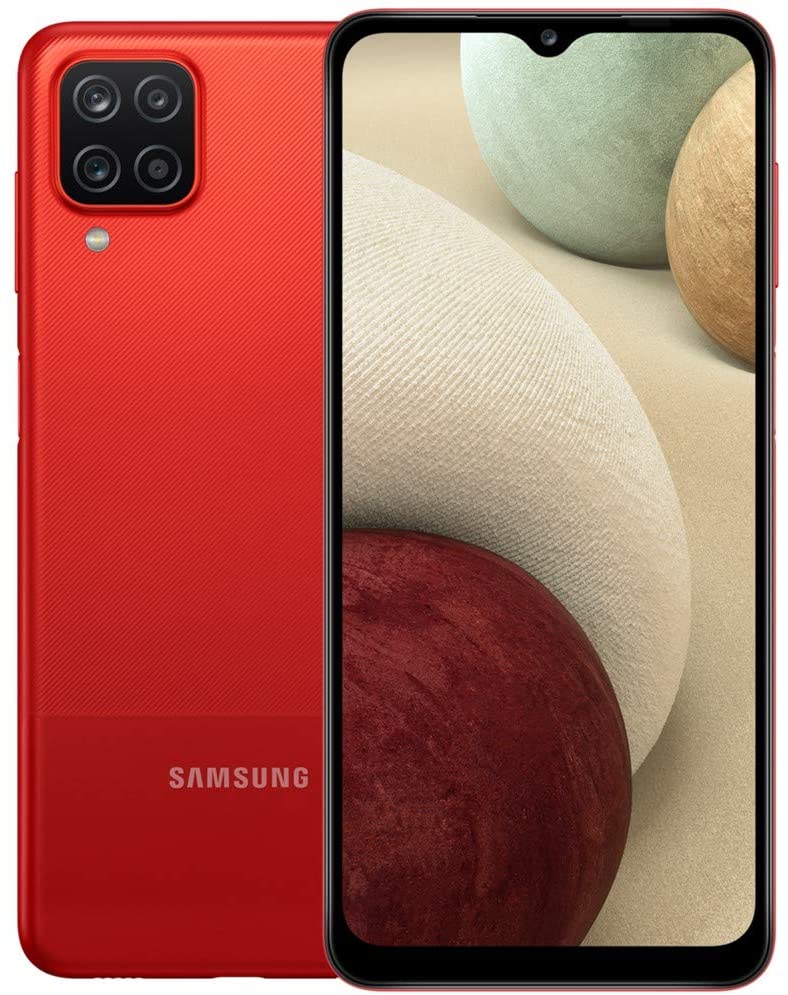 One wouldn't imagine a budget smartphone to carry a 5,000 mAh battery but that's exactly what this phone comes with. Mediatek MT6765 Helio P35 is not one of the fastest processors around but is quite okay for the price which this phone comes at. The 6.5-inch display screen offers a resolution of 720x1600pixels and is good enough to watch movies and videos on.
Despite being a moderately priced phone, it comes with advanced security features like a fingerprint sensor. As far as classic features are concerned, there is a 3.5 mm jack that you can use to insert your headphones in. The phone features a single speaker that produces below-average audio output. You get a USB Type-C connector for connecting different types of devices.
Why Should You Buy This?
If you have been wanting to buy a phone with a powerful battery and are on a limited budget, then this is just the right device for you.

The large display screen should be used well by those who use their phones extensively to browse the internet or watch videos.
Pros
Powerful battery

Expandable memory

3.5 mm headphone jack

Multiple connectivity options
Cons
Not water resistant

Poor audio output
High-Performing Samsung Smartphone with Great Features
Samsung Galaxy Note 9 6.4-inch Infinity Display Smartphone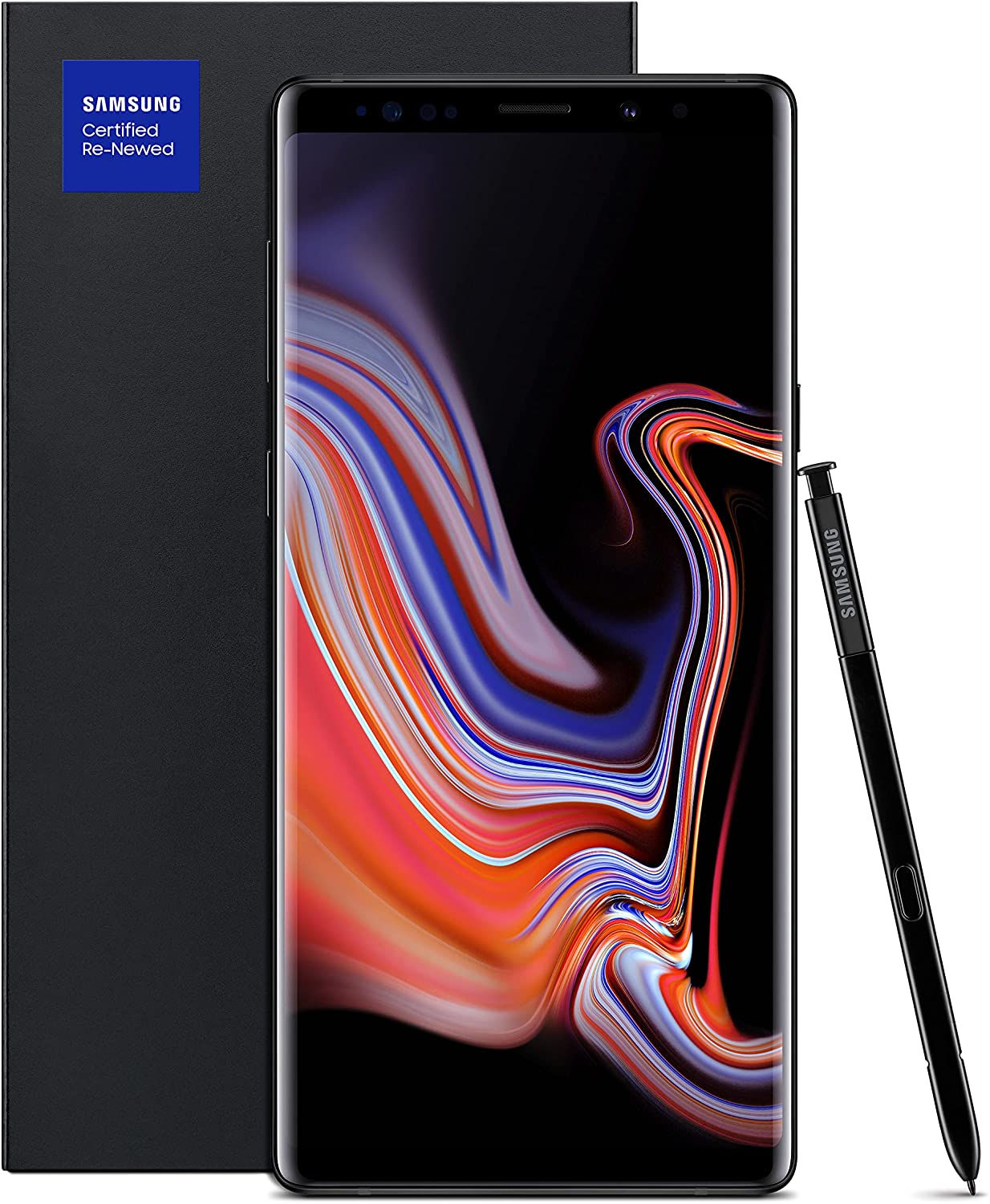 Featuring a 6.4-inch vibrant display screen and a very powerful battery, the Samsung Galaxy Note 9 is very popular amongst younger users. The phone supports both wired and wireless charging and comes with a bunch of security features like a fingerprint sensor and face recognition. The Snapdragon 845 processor offers great speed to the device.
One of the biggest attractions for a Galaxy Note series phone remains the Stylus pen you get with it. The S pen you get with this smartphone proves to be very responsive. The phone is available in four different color variants including Cloud Silver, Midnight Black, Lavender Purple, and Ocean Blue. Despite all the modern features, the phone has also retained some of the older but useful features from earlier models like a headphone jack.
Why Should You Buy This?
Those who fancy a big phone and like using the Stylus pen from Samsung , should invest in this device.

The phone has everything one would like to have in a well-built, modern smartphone.
Pros
Solid battery life

Sharp display screen

Good camera setup

Responsive Stylus pen
Cons
Screen reflects light

Slightly heavy
See also: Best cases for Samsung Galaxy S9
Conclusion
As you can see, there are a lot of good Samsung phones out there and they rank very well against one another. Samsung is one of the best brands among Android phones and for very good reason, as the company is known to offer headline-grabbing flagship phones that come with high-end specifications and features. However, there is a wide range of phones available from Samsung and you can pick one that suits your budget and requirements based on the above guidelines, the specs, the features the screen size, etc.
See also: Best cases for Samsung Galaxy S10
---