Technobezz is supported by its audience. We may get a commission from retail offers
Summary – If you are looking to buy a pair of new headphones for your laptop, you are aware the
If you are looking to buy a pair of new headphones for your laptop, you are aware the choice is huge. The headphones come with different features, in various sizes, designs, and price tags. To help you choose something really cool, we have created a list of the best laptop headphones.
See also: Top Best Cheap Bluetooth Speakers
We have also shared a simple buying guide that points out the things you should be thinking about when buying the best headphones for a laptop.
Buying Guide
If you are watching a movie on your laptop, you wouldn't want to miss even a single word of the dialogue. Similarly, when you are watching an important YouTube tutorial video, you must catch the instructions fully. A pair of headphones is a must to have on these occasions. Imagine you are watching the video while waiting in the airport; you must keep the headphone ready.
Searching for the best laptop headphones currently is a little tough since the products available in the market are quite diverse. You must narrow down the factors to be considered for selecting the best headphone. Here are some tips.
Wearing Comfort: If you are going to be using the laptop headphone for a long period you would want it to be comfortably seated over your ears. When you are buying online, it is not feasible to try it on. You can go through the description and go through the product reviews to know this aspect.
Audio Delivery: The headphones are powered by drivers and their sizes are indicated in mm. Check the best driver that is available on the headphone, since the better the driver, the better the sound quality.
Noise Cancellation: If you intend to use the laptop headphone outdoors, you will need this noise cancellation feature. The feature will ensure you are not distracted by the noises in the background. The audio delivery in your ears will be close to perfection.
Size Adjustments: Most of the leading headphone brands provide a sliding mechanism over your head so that you can make the adjustments. The headphone earpieces should fully cover your ears on both sides for you to enjoy the reception thoroughly.
Ease of Carrying: Again, if you wish to carry your laptop out and use the headphone as well, then you should buy the headphone that can be conveniently folded and kept in the laptop bag.
Battery Life: Where your headphone is wireless, there would be charging needed and you must select the laptop headphone that offers the maximum battery life on a full charge.
Color: The female customers may be keener on buying colorful headphones. You do get color choices and you can pick the one to your liking.
Microphone: Not all headphones come with the microphone option. If you are going to be making Skype calls on the laptop, you would need a good headphone that has a microphone built-in it.
Best Laptop Headphones
Affordable and Easy to Carry Headphones
Edifier H650 Hi-Fi Foldable On-Ear Headphones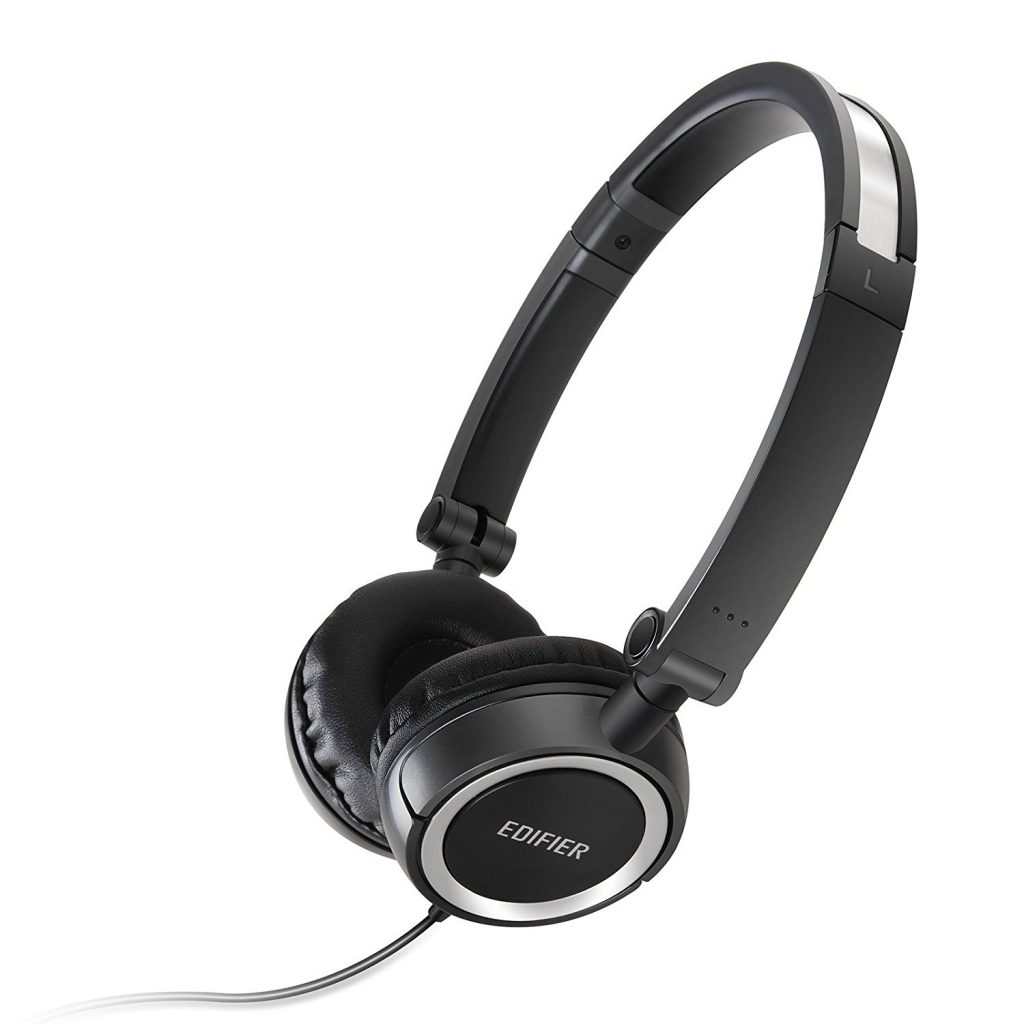 Looking for the best laptop headphones? The search always begins with an effort to find the most compact product that you could find online. The Edifier H650 is an amazing piece of equipment and it's one of the most popular choices on Amazon for a reason. If you haven't come across the brand yet, Edifier is a known professional audio equipment manufacturer and it is easy to expect some decent build quality from them.
The H650 is just impressive to the core because it is available in a range of vibrant colors like blue, pink, violet and yellow. It's very affordable and can be folded in half. You can just throw it in your bag and go to school, office or travel easily. The headphones are a compact on-ear model that sports large 40mm neodymium-magnet drivers. It also ensures comfortable wear as the ear cups are made of plush leather and are cushioned appropriately.
It is made mostly using plastic but is still sturdy because a satin headband is provided. It is fully adjustable to suit all types of heads and comfortable to wear for long hours.
Why should you buy this?
Edifier is a reputable brand known for its brilliant sound
The headphone is compact, can be easily carried anywhere and available in vibrant colors
Sophisticated Noise Cancelling Headphones
Cowin E7 Active Noise-Cancelling Deep Bass Headphones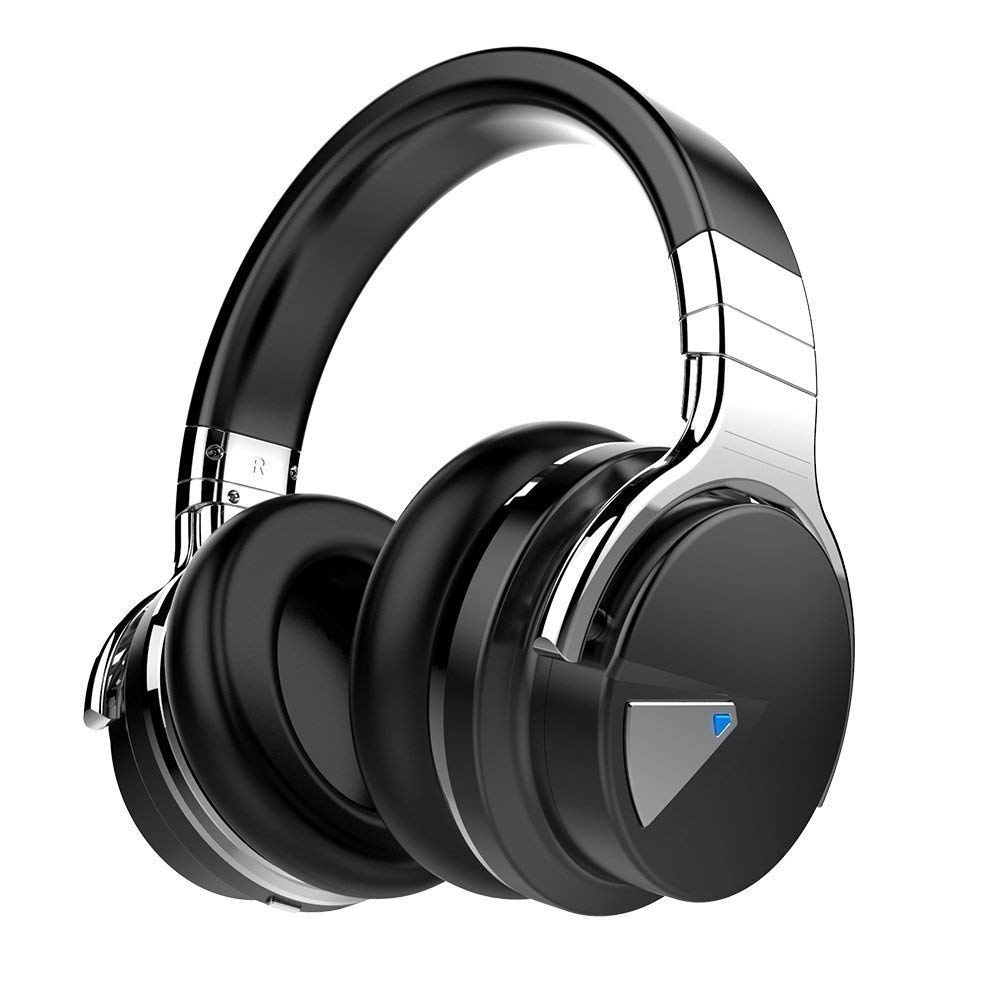 Cowin is a relatively new brand and definitely not a professional one at that, but the quality they offer is simply exceptional. With thousands of positive reviews and impeccably good looking design, the Cowin E7 is a great product for the asking price. It's got a shiny matte black finish that supports Bluetooth technology so that you can use it both with your laptop and smartphones on the go.
The active noise cancellation at this price point that's lower than $100 makes it a sweet deal. The headphone is large for a comfortable on-ear fit and has 40mm drivers to deliver excellent sound reproduction. It has a built-in microphone using which you can take phone calls when required and the lack of wires makes it great to use your laptop when on a plane or traveling in a car.
If you wish to pair it with your laptop, you should be able to do so anytime without difficulty. Even if you have an old laptop, you can buy a Bluetooth dongle and make use of the ANC feature. The earpads are comfortable, uses soft leather material and look great making it an all-rounder choice for work and music. The Cowin E7 is available in white, black and purple colored variants.
Why should you buy this?
The amazing price tag at which it offers both Bluetooth and Noise-Cancelling
The over-ear design ensures maximum comfort and 30 hours of battery life
High-End Bluetooth Headphone That's More Affordable
Marshall Mid Bluetooth On-Ear Headphones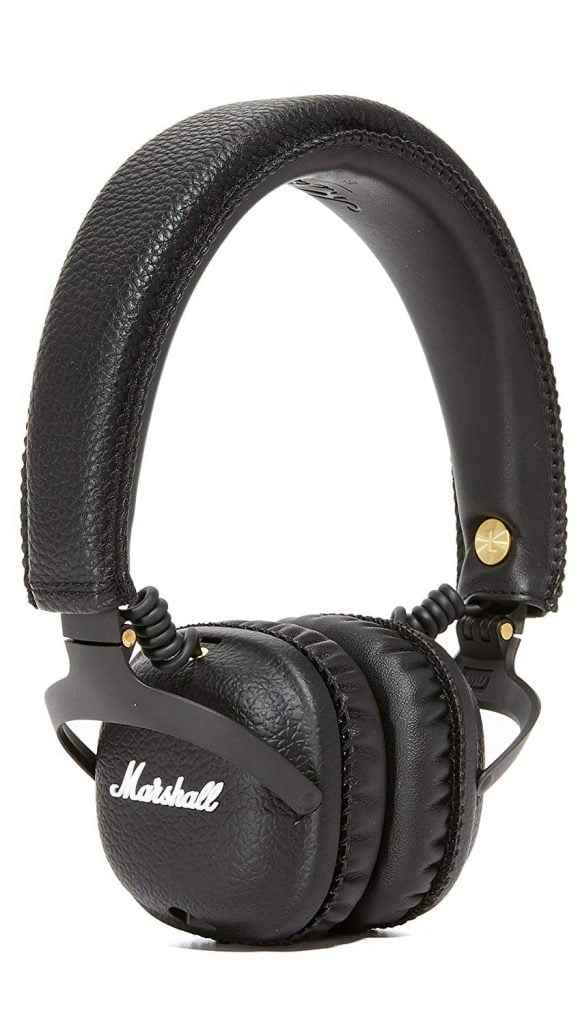 Music fans may have a very good idea of what brand Marshall is as it has been around for decades and is known for its high-quality speakers. The latest range of headphones from the company is equally good as they retain excellent build quality, great leather and plush finish besides being capable of producing impressive sound quality.
The Marshall Mid Bluetooth headphones are powered by Bluetooth aptX technology allowing the device to transfer high-quality sound wirelessly. It is capable of running up to 30 hours non-stop on a full charge and is equipped with custom drivers. Considering the price point that is slightly more than $100, it is a great pick for beginner audiophiles who are not interested in $500 pair of cans but would like to experience a compact build and great sound.
The on-ear headphones are very compact, easy to carry anywhere and the black finish is excellent which should easily sync with your laptop's device. You can even use this one in office without people looking at you for weird designs. The headphone can be connected using Bluetooth and the bundled cable which has microphone and volume control. It uses micro USB for charging and delivers a memorable sound signature for portable usage.
Why should you buy this?
The company has a great heritage and is known for making quality audio products
Marshall Bluetooth headphones offer great build quality, plush finish and 30 hours of battery life
Award-Winning Budget In-ear Laptop Headphones
SoundMagic E10C In-Ear Headphones
Portability is the key to buying a headphone to use with your laptop. If you want something that you can shove in the laptop bag and travel with ease, in-ear headphones are a great choice. Out of the tons of models available, SoundMagic E10C is the best-rated budget-friendly earphone that you will find online.
The earphone is known for its vibrant choice of colors like blue, red and gunmetal. It is extremely comfortable to wear for long hours and produces a colorful sound reproduction. That's great for listening to music and watching movies. The E10C has a microphone and volume control which work both with iOS and Android devices, in case you plan to use it with your smartphone.
The SoundMagic earphones are made of solid metal earpieces and use tangle-free cables. You can shove it in your bag without worrying about knots. It produces a balanced sound with clear bass and treble making it fun to listen to. The earphones have won multiple awards and come bundled with three different earbuds from which you can pick your choice. For the price tag, you can hardly find something that is as good as this one especially from a recognized brand that supports good warranty and replacement policies.
Why should you buy this?
The colorful design and the affordable pricing
Great sound reproduction ideal for all types of usage including music, movies and gaming
Exceptionally Compact and Cheap Laptop Headphones
Panasonic ErgoFit In-Ear Headphones with Mic/Controller RP-TCM125-K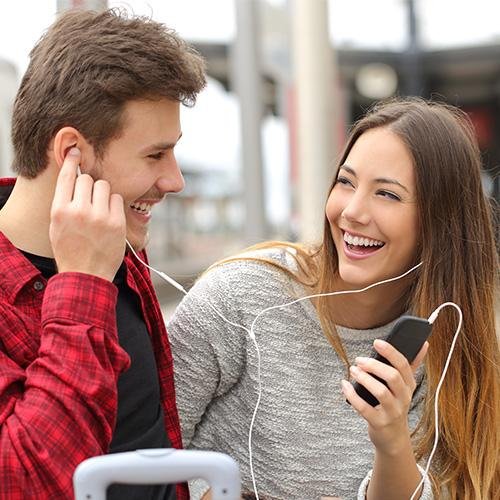 When you read this, don't be fooled by the term cheap because the Panasonic ErgoFit in-ear headphones are no way cheap and are actually the opposite of what you might assume. They are too easy to buy even for students on a budget, office goers who need an alternative to listen to videos in office without spending much and for anyone who just needs a pair of headphones.
In-ears are usually good at noise isolation and these Panasonic earphones are great at it. They offer a very comfortable, snuggly fit that you wouldn't even feel they are there. If you don't believe this, you should probably believe the 50k reviews online. That's a massive number that hardly any manufacturer can boast of but this particular model has managed to snag it all.
The earphones are available in a fantastic range of half-a-dozen color choices including red, pink, blue, purple, green and many more. They offer 16 Ohm output with 10 Hz to 24 Hz frequency with a small 9mm driver that you could really on. The cord is quite long at 3.6 feet and it works with all kinds of laptops, phones and music devices. It's one of the best that you could buy without giving it a second thought.
Why should you buy this?
Unbelievably low price tag combined with one of the best sound quality
Available in a range of colors, cord length
Ultra Lightweight and Slim Pair of Earphones
Panasonic RP-HF400B-K Bluetooth On-Ear Headphones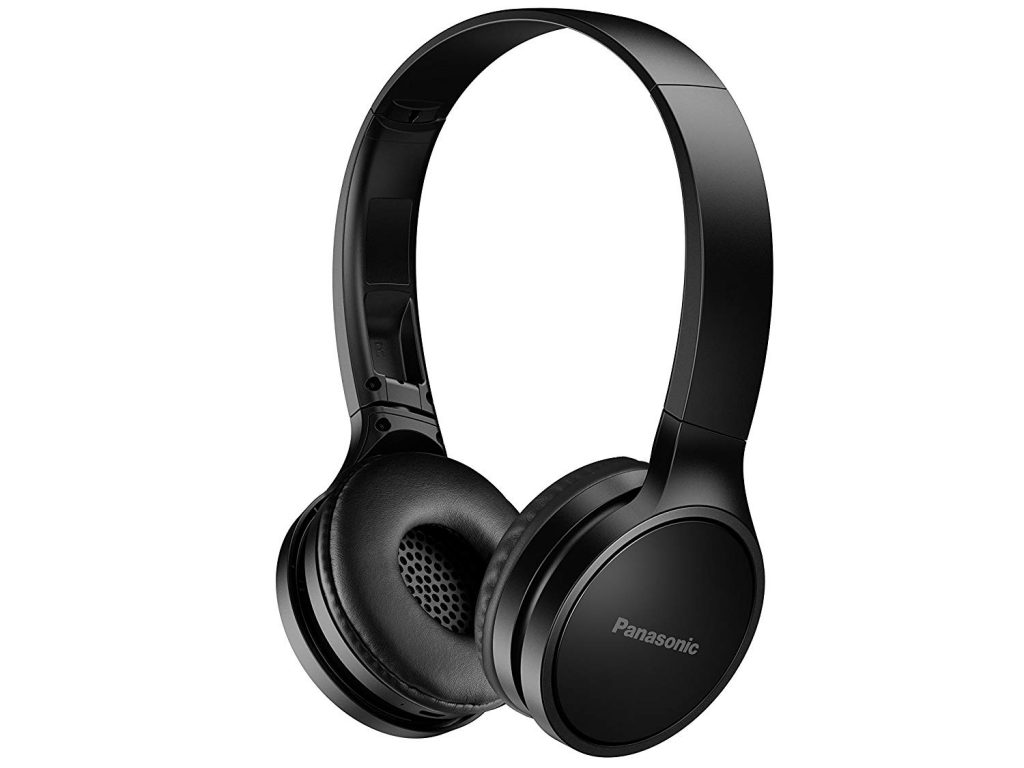 Buying a headphone without Bluetooth support should be a tough call now as almost every other manufacturer is busy pushing it into the mainstream market. While professional audio still relies a lot on cables, the Panasonic RP-HF400B-K is purely focused on consumers. People who love lightweight, or featherweight headphones can comfortably go for this pair as they solve the purpose easily.
Powered by large 30mm neodymium drivers, these headphones are excellent when it comes to producing an authentic sound. It has acoustic bass control to switch between a more bassy sound to a lighter tone with more emphasis on the treble and mid-tones. The ultra-lightweight product weighs just 4.5 ounces and requires 2.5 hours to be fully charged. When done, it can last for a massive 20 hours of playback which is great considering how affordable these pairs of cans are.
The Panasonic HF400B works up to 33 feet so that you can connect it to your laptop and walk to the kitchen or the printer in your office without losing touch of a call or music. It has burst to charge using the micro USB port using which you can charge for 15 minutes to get 2 hours of playback. The convenient size and lighter weight make it easier to fit in any bag or backpack.
Why should you buy this?
The super-lightweight design
Plush ear cups that are comfortable and decent battery life
It is a good investment for those who wish to own headphones that offer powerful bass effects.
Suitable for those who are well-aware of Acoustic Bass Control Technology and would like to avail it.
With around 20 hours of playback time, it is an apt device for people who use their headphones for performing different kinds of functions throughout the day.
As long as black is your preferred color, you should have no problem buying it as is it is the only color it is available in.
Premium Laptop Headphones for Gamers on the Go
SteelSeries Arctis 7 Lag-Free Wireless DTS Headphones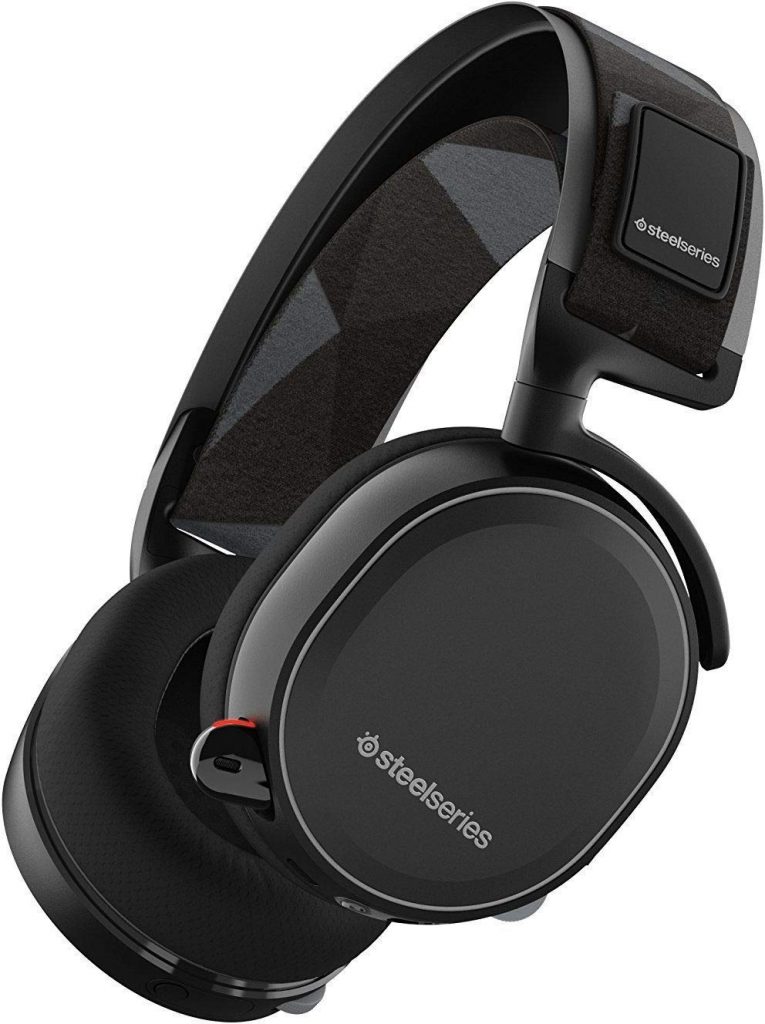 In the headphones segment, not many products can boast of DTS support but the SteelSeries product stands out from the crowd. The headphone has been solely made for gamers who enjoy gaming on their laptops. If you own a powerful gaming laptop and like to play multiplayer titles on the go, it is high time you invest in a good pair of cans that have a microphone attached to it.
After all, they give you the winning edge against your opponents by communicating easily with your team. SteelSeries is a known brand among gamers but is a newcomer to the world of sound and music. They have done a commendable job with the excellent build quality and provide the Arctis series in multiple price ranges. This particular model is a mid-range while you can also opt for a more expensive or less expensive variant.
The Arctis 7 is stylish with a comfortable headband and ear cushions. You can wear them for long hours for both music and gaming. It supports DTS with 7.1 surround audio which is mandatory for immersive music as well as to find where your opponents are during a gaming session. The wireless cans support 2.4GHz audio with a range up to 40 feet and can last for 24 hours on a single charge. It has a frequency range between 100Hz and 6500Hz.
Why Should You Buy This?
These headphones are apt for gamers as they have been designed to receive the sounds emitted while playing low latency games.
The terrific mic has also been made keeping gamers in mind.
Those who like to listen to detailed sound would find the Arctis sound feature appealing.
Also suitable for audiophiles who are particular about listening to lossless audio.
Sleek Red Design and Impeccable Sound with an Added Microphone
HyperX Cloud II Gaming Headset 7.1 Sound with Memory Foam Ear Pads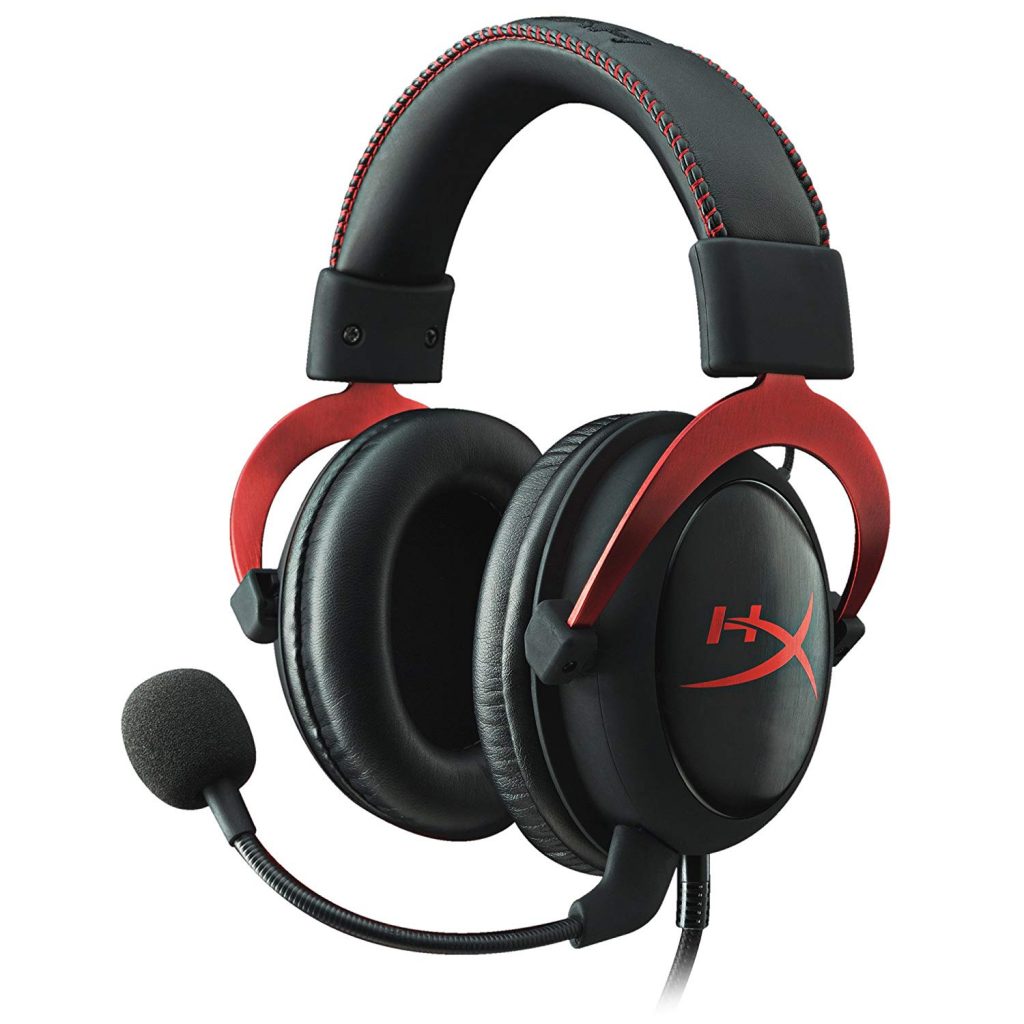 Everything about the HyperX Cloud II gaming headset is impressive because it provides lots of accessories, excellent build quality and sound that can usually be found only in audiophile headphones. You get the highest level of comfort made possible by memory foam earpads and there is also an additional pair of ear cups provided so that you can switch them for that perfect fit.
Cloud II is marketed as a gaming headset, but you can comfortably use it with your laptop and later shove it in your bag when you are on the move. The headphones sport an over-ear design that provides great noise isolation from external sounds and is powered using very large 53mm drivers made of neodymium magnet. They have a frequency response measured between 15Hz to 25,000Hz. The microphone is detachable and you can use it purely as a headphone for listening to music or watch videos. The mic can be attached on the weekend in case you need to make a call or play multiplayer titles.
While the red and black design of the HyperX model may not be so subtle in an office environment, it is not too flashy and you should be able to use it without grabbing too much attention. It has ambient noise attenuation and has a USB audio card to deliver 7.1 surround sound for the most immersive experience. The product is also shipped with a carrying pouch so that you can slip it inside once you are done with the work and keep it safely tucked inside your backpack.
Why Should You Buy This?
It is a good investment for those who expect a bunch of free accessories with a headphone.
If you are planning to buy a headphone which could last for at least a few years, then this would prove to be a good buy for you.
It is suitable for those who are concerned about the quality of ear pads.
Also suitable for those who expect a good USB controller along with a premium quality headphone.
Audiophile Portable Laptop Headphones
Beyerdynamic T51i Portable Laptop Headphones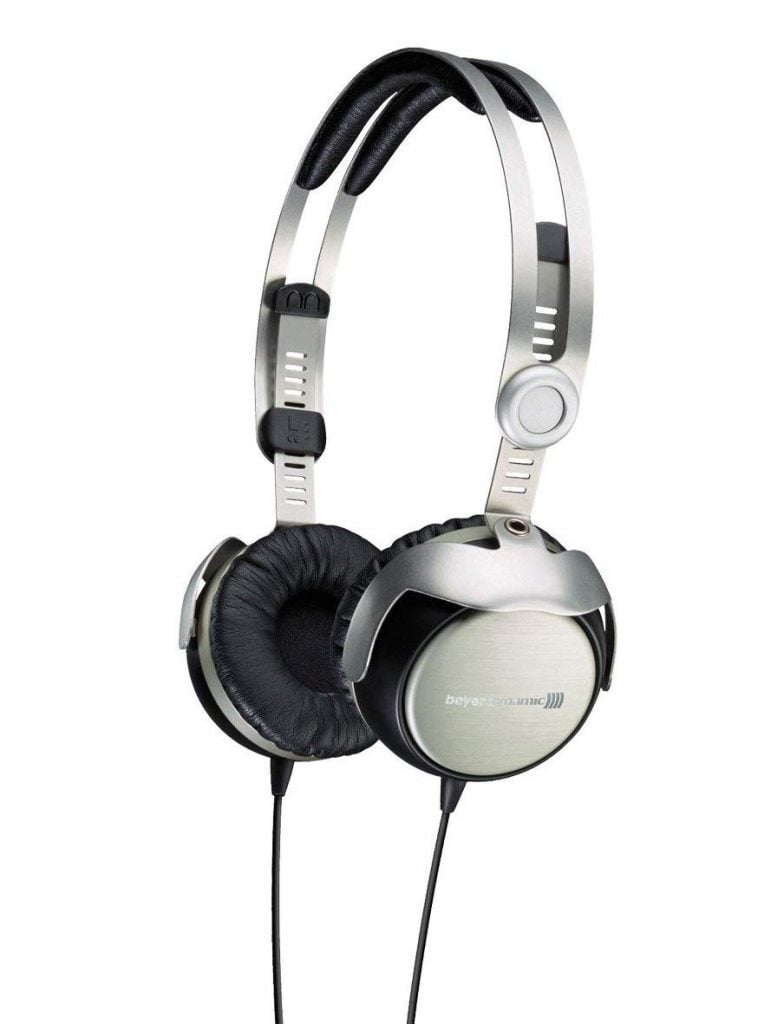 Before you know about the pricing of the product, it's good to have a look at and then listen to the Beyerdynamic T51i or the T51p. Both these headphones are the same products; the 'i' variant provides microphone support for Apple products such as the iPhones. Beyerdynamic is one of the most regarded brands in the world of audiophile products and professional studio monitors. They have created the best ever portable headphone for the prosumer who would love to explore the world of professional monitors and the sound quality it provides.
The 51i is extremely comfortable as it is made of soft memory foam earpads that are great to wear for long hours of music, movies or simply listening to professional videos. The entire product is made of metal with metal headbands and there is hardly any sign of plastic which provides it very sturdy build quality. It is one of the top-rated models available out there with an on-ear design that makes it compact and very subtle so that you could use it in any environment.
The swiveling ear cups allow you to easily store it in the case provided with the product. It works with all Apple products and you can also take and make calls over Skype when using it with a phone. The pricing, however, is on the higher side and may put off some buyers, but if you are ready to enjoy unparalleled music quality, this is definitely a great buy.
Why Should You Buy This?
If you want a good headphone that would be compatible with Apple devices, then this is the one you must opt for.
Despite being very light, it boasts of a metallic design that would appeal to many.
The ear-cups fold up easily and the headphone can be carried along easily while you are traveling.
Its comfortable structure makes it suitable for people who listen to music for several hours at a stretch.
A Solid Pair of Headphones for Cozy Comfortable Listening
Cowin E7 Pro Active Noise Cancelling Laptop Headphones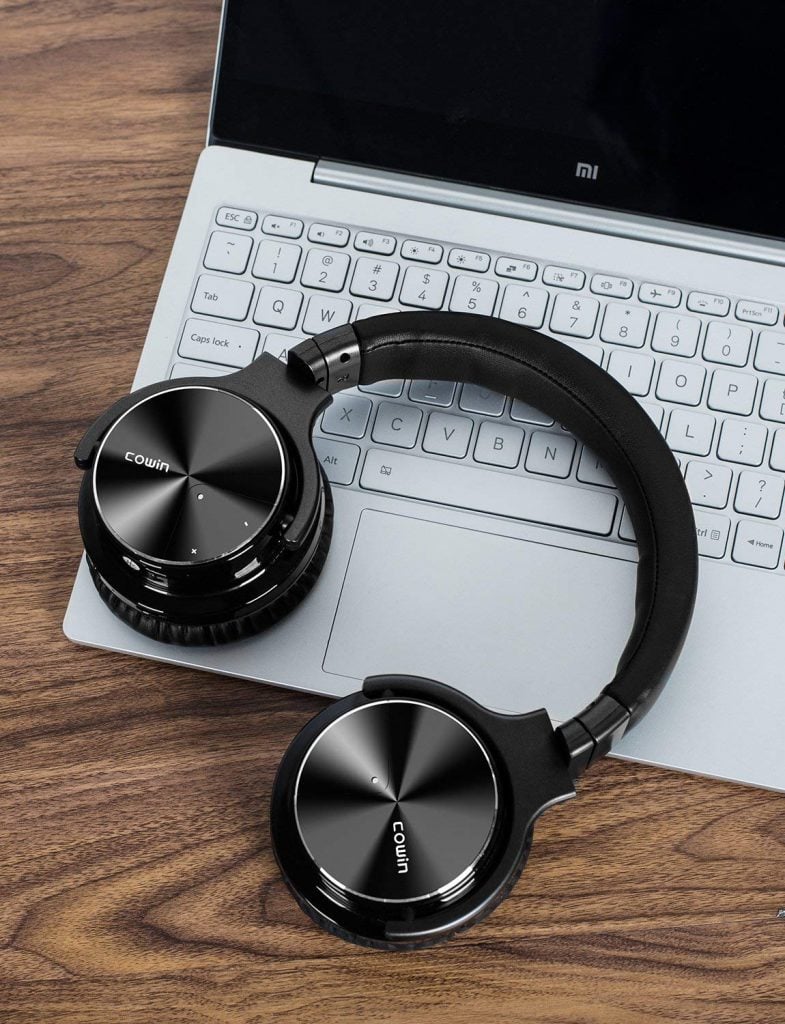 The Cowin E7 Pro might surprise with the sheer amount of features and the excellent build quality the company offers at such an affordable price tag. It has received hundreds of positive reviews that stand proof to how good the brand has evolved through the years. The E7 Pro is a wireless headphone which offers a decent 30 hours of playback time on a single charge.
The headphones impress in terms of design with a cozy comfortable fit. It uses high-quality plastic headphones and really large cushion foams with active noise canceling support. The over-ear headphones will allow you to work with your laptop even in a noisy environment. The ANC features both when using the cans in Bluetooth wireless mode and in wired mode. The model comes with a hard case using which you can protect it during travel and also store it easily in your backpack along with other items without the fear of breaking it.
E7 Pro is available in three different colors including black, white and red. You can opt for any of the colors based on your personal preference and the black one is most suitable for an office environment. They won't stand out but will provide excellent sound quality and noise isolation. While Cowin is more of a consumer brand, it delivers professional-quality output. The built-in battery is 800mAh which is large enough to power the headphone for an entire week even if you listen to it continuously for up to 3-5 hours every day.
Why Should You Buy This?
A good option for those who are looking for a headphone with a good number of useful features.
Its strong build would be a plus for people who want to invest in a long-lasting headphone.
If you are on a tight budget and are looking for a headphone that offers good value for money, you could give buying this a thought.
Despite being priced lower than many headphones in this range, it does not disappoint at all in terms of performance.
Most Value for Your Money with Immersive Sound
Audio Technica ATH-M20X Studio Monitors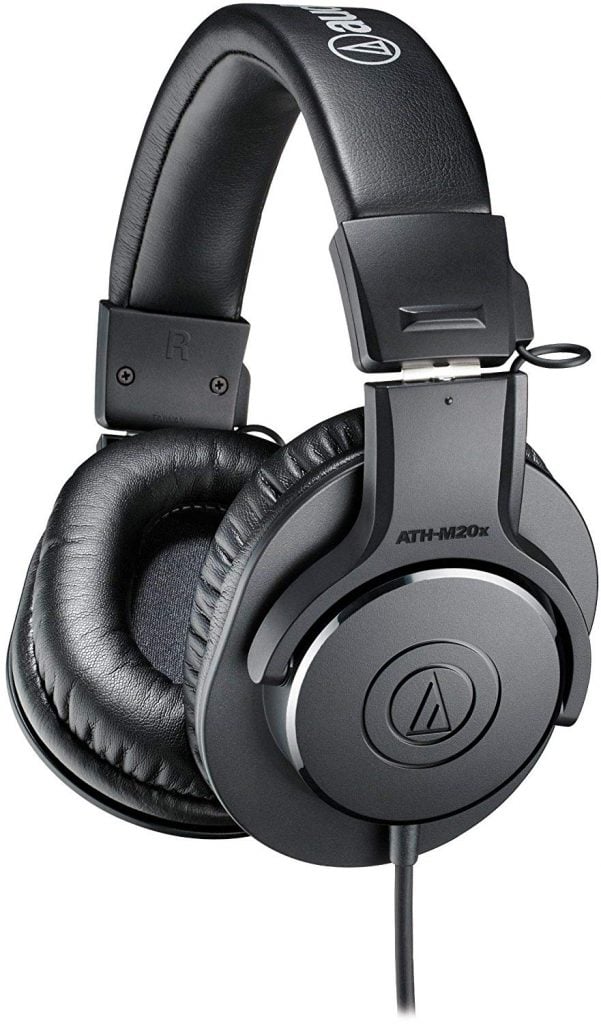 The neutral sound is a luxury at a time when bass head headphones are plenty to find. If you are among the niche category who likes to listen to music and movies with their originality intact, this is the pair you are looking for. The Audio Technica ATH-M20X is an excellent and exciting pair of earphones that don't cost you an arm and leg to own. However, it is a pair of studio monitors that are designed to be as neutral as possible with little coloring in the sound.
You will no longer hear too much bass or treble on your headphones. Make use of the equalizer found on your iTunes or Spotify so that you can make the most out of your headphones. The M20X is the entry-level product which is very affordable while if you have the budget, you can always go for the M50X which has been consistently awarded the best headphone of the year for many years now.
Powered by 40mm drivers and large velour cushion pads, the Audio Technica pair is comfortable for as many hours as you might want to use it. While it is aimed at professionals, consumers who are tired of too much bass and very flashy designs would love what the company has to offer at just $40. It provides better sound isolation with an over-ear design, has flexible cables and the ear cups swivel so that you can store it without any difficulty.
Why Should You Buy This?
It would be worthwhile for audiophiles who like high-quality treble effects to buy it.
If you need headphones that would reproduce sound accurately, this would be a good product to invest in.
The design will appeal to those who like their devices to have an all-black look.
A good option for those who do not travel much and need a pair of headphones that could be used for home and personal use.
Other models worth buying
 Headphone With An Ergonomic Design
GW SADES Newly SA810 Over-Ear Stereo Bass Gaming Headset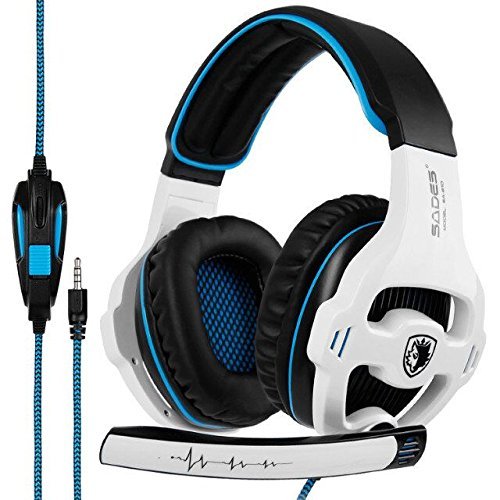 This model has a premium ergonomic design that has been made especially for those who love to play games on their laptops. The headset is super soft and features an integrated microphone along with noise-reduction. The wire is anti-braiding and offers high-quality stereo and enhanced bass with extreme clarity. Playing a game with these headphones takes you in a virtual world that is completely amazing.
Why Should You Buy This?
It is the most perfect headphone for people who prefer an ergonomic design.
The device is made up of very comfortable material and suitable for those who use headsets for a longer duration.
Users who prefer good manual controls would benefit from the well-placed control buttons.
The removable cords also make it suitable for people who would like to use it with multiple devices.
Comfortable Best Headphone For Gaming
VersionTech G2000 PC Gaming Headset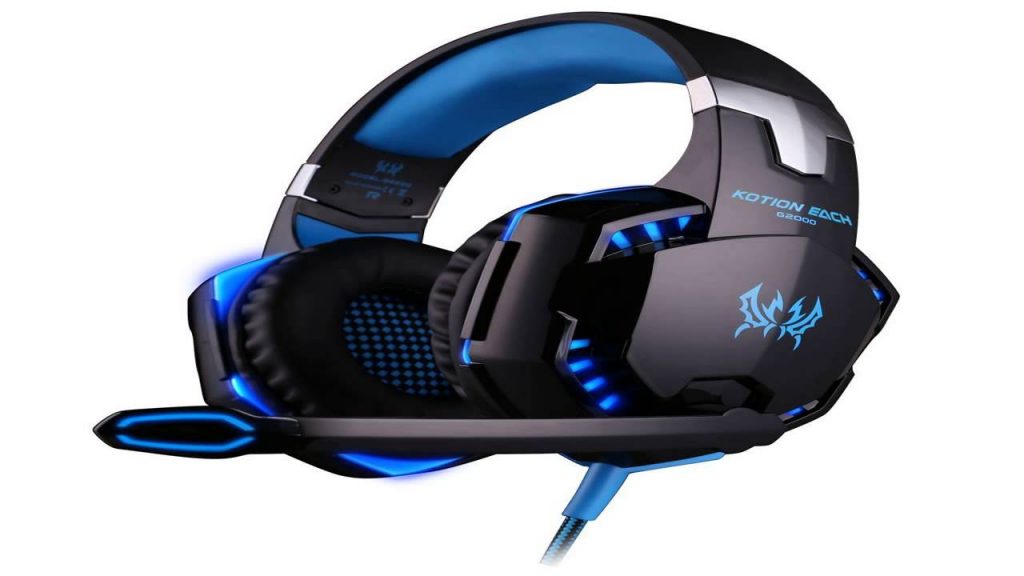 Meant just for the gamers, this pair provides an immersive experience while playing games. It has blue LED lights on the earcups and a 50 mm magnetic neodymium driver offers a high-quality stereo sound which enhances your game playing experience. The ear cushions have ventilation which helps in keeping your ears comfortable even if you have them on for a long time.
Why Should You Buy This?
As it has been designed specifically for gamers, it goes without saying that they would enjoy the features it provides.
Regular headphone users must buy it for its unique ventilation system in the ear cushions.
While playing high-definition games, gamers would like the premium quality stereo sound it provides.
You may also read: Best Laptops for Fashion Designers 
Best Headphone With High-Quality Sound
Envel Gaming Headset with Mic for PC, PS4, Xbox One, Over-ear Headphones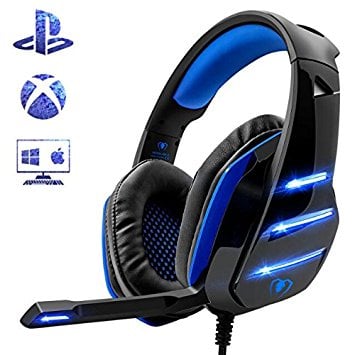 This gaming laptop headset from Envel has a superb design and the earcups are made of soft leather that offers high-quality sound. It also features noise reduction and blue LED lights on the microphone and the earcups. There is one key microphone mute and a rotary volume controller which gives you the ease of controlling the volume. This is one of the best laptop headphones in the gaming section.
Why Should You Buy This?
Those who are particular about the look of the devices they own will definitely find its design appealing.
It has a very effective noise reduction facility which should score some points with audiophiles.
If you like to adjust the volume constantly, you would like the easy-to-operate volume control options on it.
The blue LED lights add to the visual appeal of the device and make it more attractive.
Highly Comfortable Leathery Gaming Headphone
XIBERIA E1 USB Gaming Headset with Microphone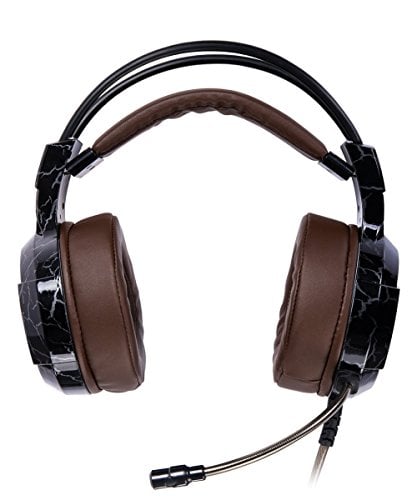 It has a unique leathery look and offers great comfort to your ears when you are wearing it. The brown leather material used combined with red LED lights featured on the tube cable and the sides look stunning. You can wear them for a long time without feeling uncomfortable.
Why Should You Buy This?
Those who are on a budget could consider buying this high-utility device.
Recommended for people for whom built-in volume controls are a must.
The omnidirectional microphone responds to audio input very well.
Those who prefer good quality cables with headphones will appreciate the durability of the one you get with this device.
Excellent Headphone With Deep Bass
Picun Wired Headphones with Microphones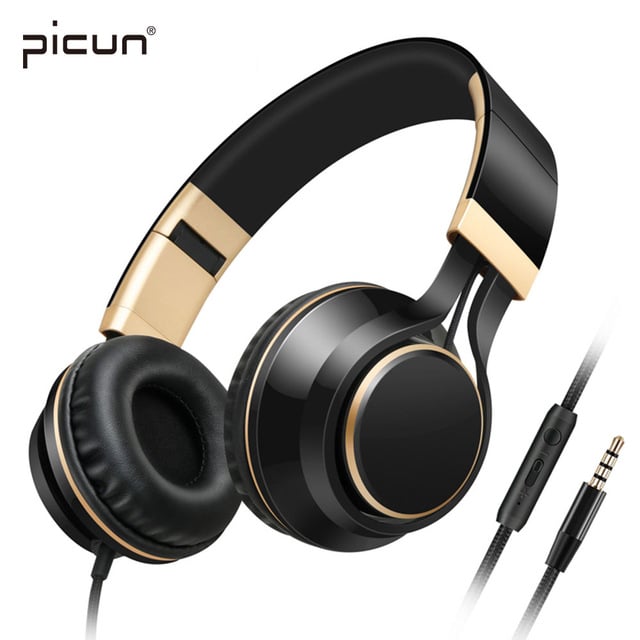 Available in two colors, black and rose gold this headphone from Picun offers HD quality sound and deep bass. The in-line microphone also lets you make video calls while you go handsfree. The soft isolation earpads are comfortable to your ears and the headband is adjustable. The 47 inches braided cord is both flexible and sturdy and it will not break with daily usage.
Why Should You Buy This?
People who use Bluetooth technology to connect their headphones to other devices frequently must buy it.
Technology-friendly people who like their devices to have upgraded features will like it.
Also recommended for people who do not like to control electronic devices manually and prefer hands-free function.
The headset is complemented by a braided cord that is extremely durable and would withstand years of usage.
Stylish Looking Headphone With Great Sound Quality
Sound Intone Headphones With Microphone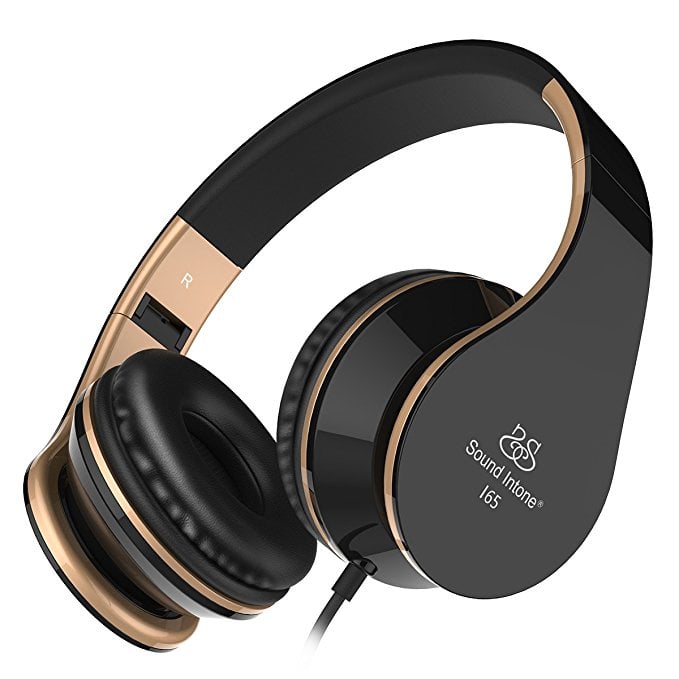 40 mm drivers in this headphone from Sound Intone lets you enjoy a balanced sound and deep bass while you listen to music, watch videos or make video calls. Soft foamy earcups are made with material that is suited for human skin. Besides comfort, it also offers a stylish look. It is easy to store and easily goes inside your laptop bag to carry it around anywhere. You have three color options – black & white, gold black and black.
Why Should You Buy This?
Suitable for those who expect a set of headphones to fulfill their basic function of producing good audio output well.
Also suitable for people who are constantly on the move and can only afford the luxury of carrying portable devices with them.
Ideal for those who are particular about the look and feel of the things they invest in.
For audiophiles, who love bass effects with everything they play, this is a must buy.
Light-Weight And Durable Headphone
AUSDOM Lightweight Over-Ear Wired HiFi Stereo Headphones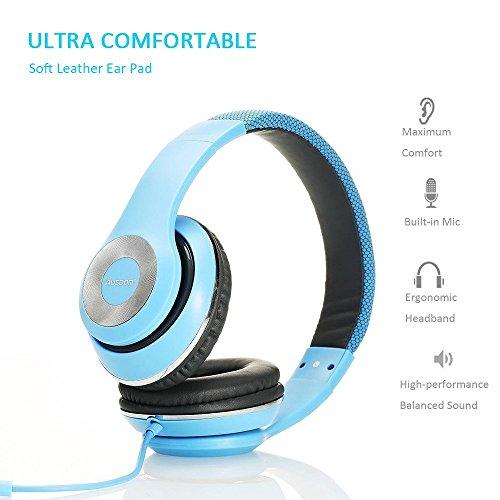 This is a great model which comes in exciting colors. Soft padded ear cushions offer comfort while wearing them so you can enjoy superior sound through them in leisure. The headphone looks stylish yet is quite durable. It is very light and easy to carry around.
Why Should You Buy This?
A great set of headphones for those whose primary concern is durability.
It is an extremely portable device that can be carried around without any issue.
The colorful and vibrant design is bound to attract younger customers.
The ear-pads are made of soft material which enables the user to use them extensively over a long period of time.
Sturdy And Cheap Best Headphone
RockPapa Stereo Adjustable Foldable Headphones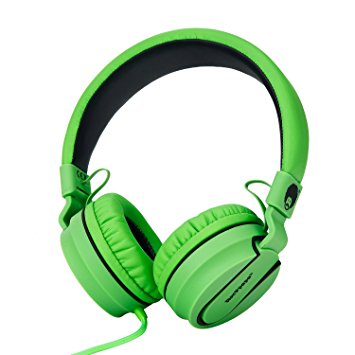 RockPapa laptop headphones are one of the best in looks and quality. You have five different color options to choose from. The noise canceling features let you experience wonderful sound. The nylon rope cord is sturdy and doesn't get tangled.
Why Should You Buy This?
Its design and features make it highly suitable for young children.
The noise-cancellation feature works effectively, giving you a good sonic experience.
Those who like devices made of good quality plastic would be interested in this one.
Expensive Headphone With Longer Battery Life
Nura Bluetooth Headphones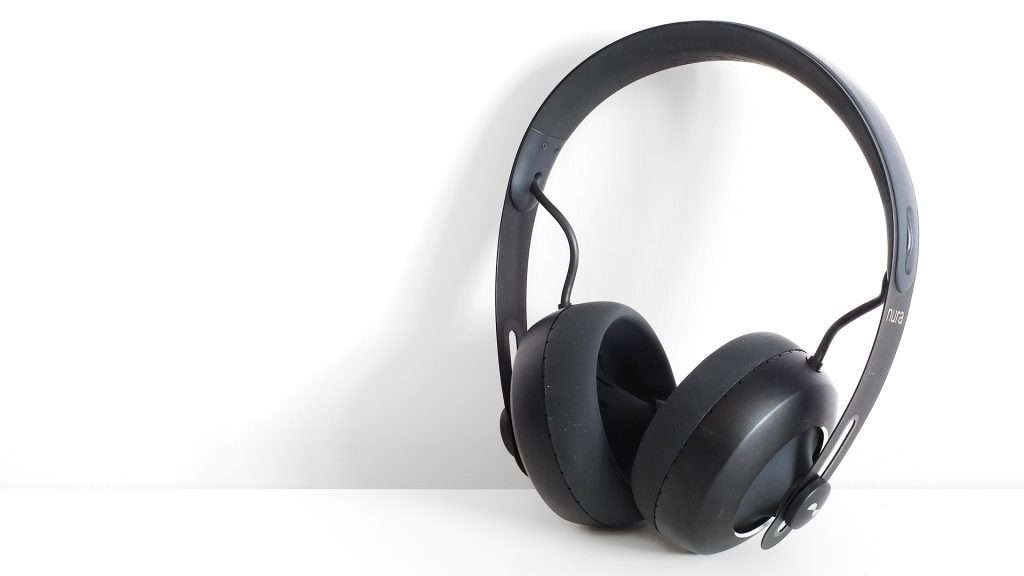 This is one of the most expensive laptop headphones on this list. It offers high-quality sound and clearly justifies its price. This is a pair of Bluetooth headphones so you can connect your laptop with it and enjoy the wireless sound. It offers an extraordinary battery life of 20 hours once it is fully charged.
Why Should You Buy This?
The strong battery life and good thermal management make it the most suitable device for people who use headphones for an extended period of time.
The Bluetooth performance is excellent and that enables you to connect to any device nearby easily.
A good option for people who want to invest in a wireless headset.
With several useful features, this high-end headphone offers great value for money.
Best Headphone With Best Sound Quality
Snlsy Bluetooth Headphones Over Ear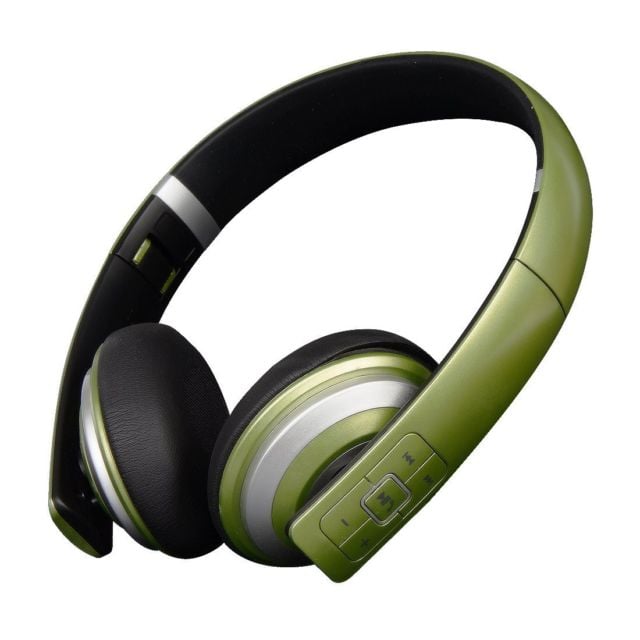 Get these headphones in two colors – white and black. It features Bluetooth 4.1. The signal is both strong and stable. Snlsy ensures no lag in the sound. The control buttons are quite easy to operate and you can connect and control music through them.
Why Should You Buy This?
People who are not too comfortable with rapidly changing technology would like the convenience it provides them with.
You get two color options – black and white – to choose from.
The Bluetooth 4.1 works great for connectivity purposes.
Best Headphone Available In Multiple Color Options
Bluetooth Headphones,Teetox Over Ear Hi-Fi Stereo Wireless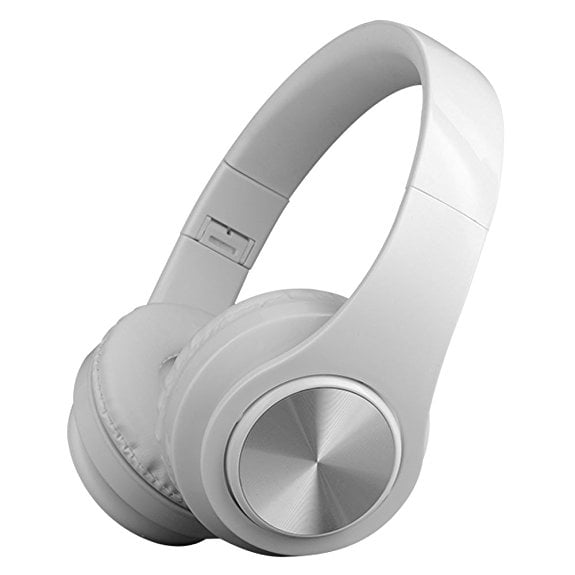 You have four different color options in this headphone from Teetox. It offers a 10-hour battery back-up once it is fully charged. The earcups are soft and cushioned. The headband is also made of comfortable material so you can wear it for a long time.
Why Should You Buy This?
The 400mAh battery ensures that people who use their headphones for longer hours do not have much to complain about.
Freelancers who work at different places can easily fold it, slip it into their bag and carry it along.
Ideal for those who expect a good built-in mic in headphones.
Also suitable for people who like to transfer music onto a device using memory cards.
Best Headphone With A Powerful Bass
Fujack Earbuds In-Ear Metal Headphones with Mic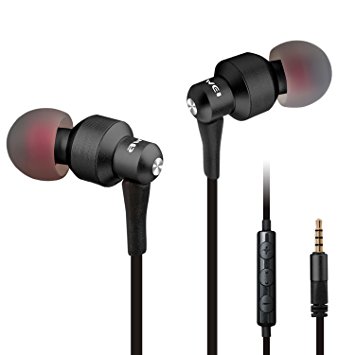 Get access to HD quality sound through this pair of metal headphones from Fujack. The alloy cavity design locks the earbuds in your ears so all the other external noises are barred. It offers superior clarity in sound and powerful bass. It is very light in weight and doesn't make you feel uncomfortable when you have them on.
Why Should You Buy This?
Powerful resistance against noise makes it an ideal device for professionals who do video conferences and other work-related activities on phone.
They are lightweight and do not, for a moment, make one feel uncomfortable.
Those who suffer from the fear of earphones falling off their ears should find some assurance with the fact that the alloy covering helps it stay firm.
Excellent Headphone With Sweatproof Earbuds
COOWIND In-Ear Metal Earphones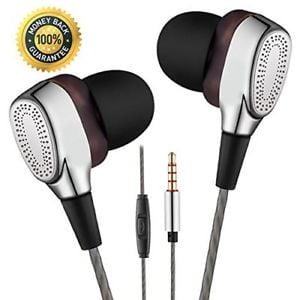 COOWIND headphones have a stylish design that sets them apart from all the other models on the list. You get clear sound and powerful bass at any volume that you select. The earbuds are made of silicone and they are sweat-proof. It also features noise reduction so you can enjoy quality sound in any environment.
Why Should You Buy This?
Ideal for those who are prone to sweating.
Good buy for people who enjoy good bass effects.
Recommended for individuals who would like to own earphones which boast of a premium look.
Lightweight And Highly Comfortable Headphone
KEKU Wired E-Sport Earphone Noise Cancelling Stereo Bass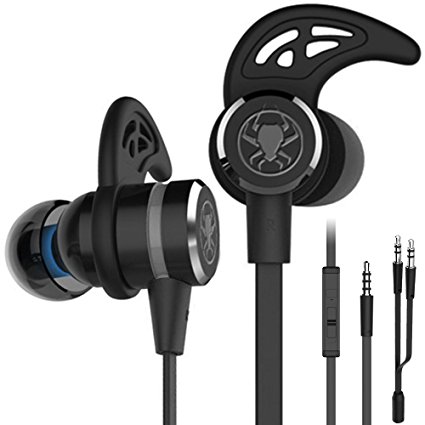 Keku in-ear headphones come in three exciting colors – red, green and black. The earplugs are made of memory cotton which makes them comfortable. They are lightweight and very comfortable. The strong bass makes the sound more energetic and lively. You get 3 pairs of inner rings and silicone earplugs that come in three sizes for anyone to use.
Why Should You Buy This?
Those who are particular about comfort should have no complaints with this earphone.
Suitable for those who are looking for a wired earphone that delivers a powerful performance.
If sound quality is your concern, this device would provide you good value for money.
Best Headphone With A Cute Storage Box
Soundmoov Truly Bluetooth Earbuds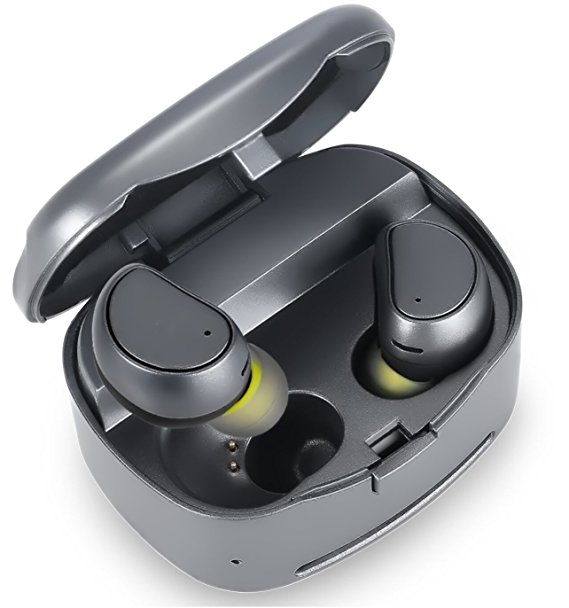 Get these ultra-chic earbuds in three colors – grey, blue and black. This pair comes with a beautiful storage box and a portable 450 mAh battery charging box. Each earbud has a life of 2 hours once they are fully charged. This is one of the best laptop headphones you can buy in earbuds section.
Why Should You Buy This?
If you are not fond of wired devices and are keen on getting a pair of truly wireless earbuds, then go for this product.
The wireless connectivity, it boasts of, is perhaps the best in earbuds/earphones in this range.
The sound quality is top-notch and makes the investment worthwhile.
Best Headphone to Experience Stereo Quality Sound
Holiper Wireless Earbuds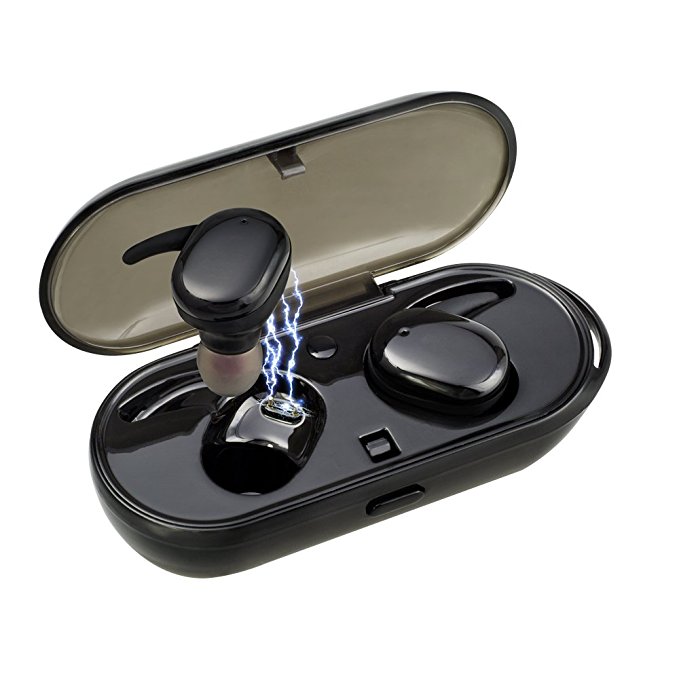 Listen to clear stereo quality sound along with deep bass. It has a built-in 50 mAh lithium battery that offers a playtime of 3 hours. The mini portable chargeable case offers a full charge to the earbuds for 4 times once it is fully charged. Pairing your laptop is super easy and you get a stable connection every time.
Why Should You Buy This?
Appropriate for people who are looking for earbuds that would have simple features and easy-to-operate controls.
Once fully charged, it lasts for long hours and saves you from the trouble of worrying about depleting battery life.
The charging case is very effective in charging it on the go.
See also: Top Best Bluetooth Speakers for iPhone X
Frequently Asked Questions
Do I need any special software to use the headphones on laptops?
No, you don't need any extra software for using headphones on laptops. These are simple plug and play accessories. Just check if the headphone can be connected through the 3.5mm jack on the laptop. There are other ways of connecting as well.
Can the headphones for laptops be used while playing games?
Yes, certainly. You can use the headphones to enjoy the sounds in your game while playing on the laptop. Some of the headphone models can be used with gaming consoles like Xbox One. You can read the full product description and understand the capabilities of the headphones you are ordering.
Are the headphones for laptops very brittle; can they break easily?
The headphones are either made of plastic material or in some cases metal. If you drop them on the floor from a height they can break. However, the headphones are not so brittle that they will break on just falling down. The metal ones are definitely sturdier.
The leather covering on the earpieces of headphones, are they real leather?
In most cases, these would be faux leather or synthetic leather, not natural leather. There may be some premium headphones with real leather in the market too. The material should feel soft and comfortable over your ears. That is important.
What kind of warranty do these headphones for laptops come with?
The warranty terms vary with the brand/model of headphones. There are headphone models that come with 2 years warranty also. The warranty may be limited as well. Check the warranty terms at the time of placing your order.
Conclusion
We have listed some of the greatest and most renowned brands. Choosing the best laptop headphones is not a difficult task when you know what you look for. Most users would look for a compact pair of headphone which offers the best sound isolation and sound quality.
On-ear laptop headphones will offer great compact build quality and design while if you look for active noise cancellation, it is mandatory to go for an over-ear model to safeguard yourself against external noise. Either way, when you go for popular brands like Sony, Audio Technica, Sennheiser, you can comfortably expect great sound quality irrespective of the money you spend on their pair of cans as even the most affordable model will provide decent quality.
---