Featured in this article (opens in new tab)
If you are looking to buy a pair of new headphones for your laptop, you are aware the choice is huge. The headphones come with different features, in various sizes, designs, and price tags. To help you choose something cool, we have created a list of the best laptop headphones.
See also: Top Best Cheap Bluetooth Speakers
We have also shared a simple buying guide that points out the things you should be thinking about when buying the best headphones for a laptop.
Buying Guide
If you are watching a movie on your laptop, you wouldn't want to miss even a single word of the dialogue. Similarly, when you are watching an important YouTube tutorial video, you must catch the instructions fully. A pair of headphones is a must to have on these occasions. Imagine you are watching the video while waiting in the airport; you must keep the headphones ready.
Searching for the best laptop headphones currently is a little tough since the products available in the market are quite diverse. You must narrow down the factors to be considered for selecting the best headphones. Here are some tips.
Wearing Comfort: If you are going to be using laptop headphones for a long period of time you would want them to be comfortably seated over your ears. When you are buying online, it is not feasible to try it on. You can go through the description and go through the product reviews to learn about this aspect.
Audio Delivery: The headphones are powered by drivers and their sizes are indicated in mm. Check the best driver that is available on the headphones, since the better the driver, the better the sound quality.
Noise Cancellation: If you intend to use laptop headphones outdoors, you will need this noise cancelation feature. This feature will ensure you are not distracted by the noises in the background. The audio delivery in your ears will be close to perfection.
Size Adjustments: Most of the leading headphone brands provide a sliding mechanism over your head so that you can make the adjustments. The headphone earpieces should fully cover your ears on both sides for you to thoroughly enjoy the reception thoroughly.
Ease of Carrying: Again, if you wish to carry your laptop out and use the headphones as well, then you should buy headphones that can be conveniently folded and kept in the laptop bag.
Battery Life: Where your headphones are wireless, there will be charging needed and you must select the laptop headphones that offer the maximum battery life on a full charge.
Color: Female customers may be keener to buy colorful headphones. You do get color choices and you can pick the one to your liking.
Microphone: Not all headphones come with the microphone option. If you are going to be making Skype calls on the laptop, you would need good headphones that have a microphone in them.
Best Laptop Headphones
Over-The-Headphone Headphones with 3.5mm Jack
Sonitum Noise Canceling Headphones
Check Price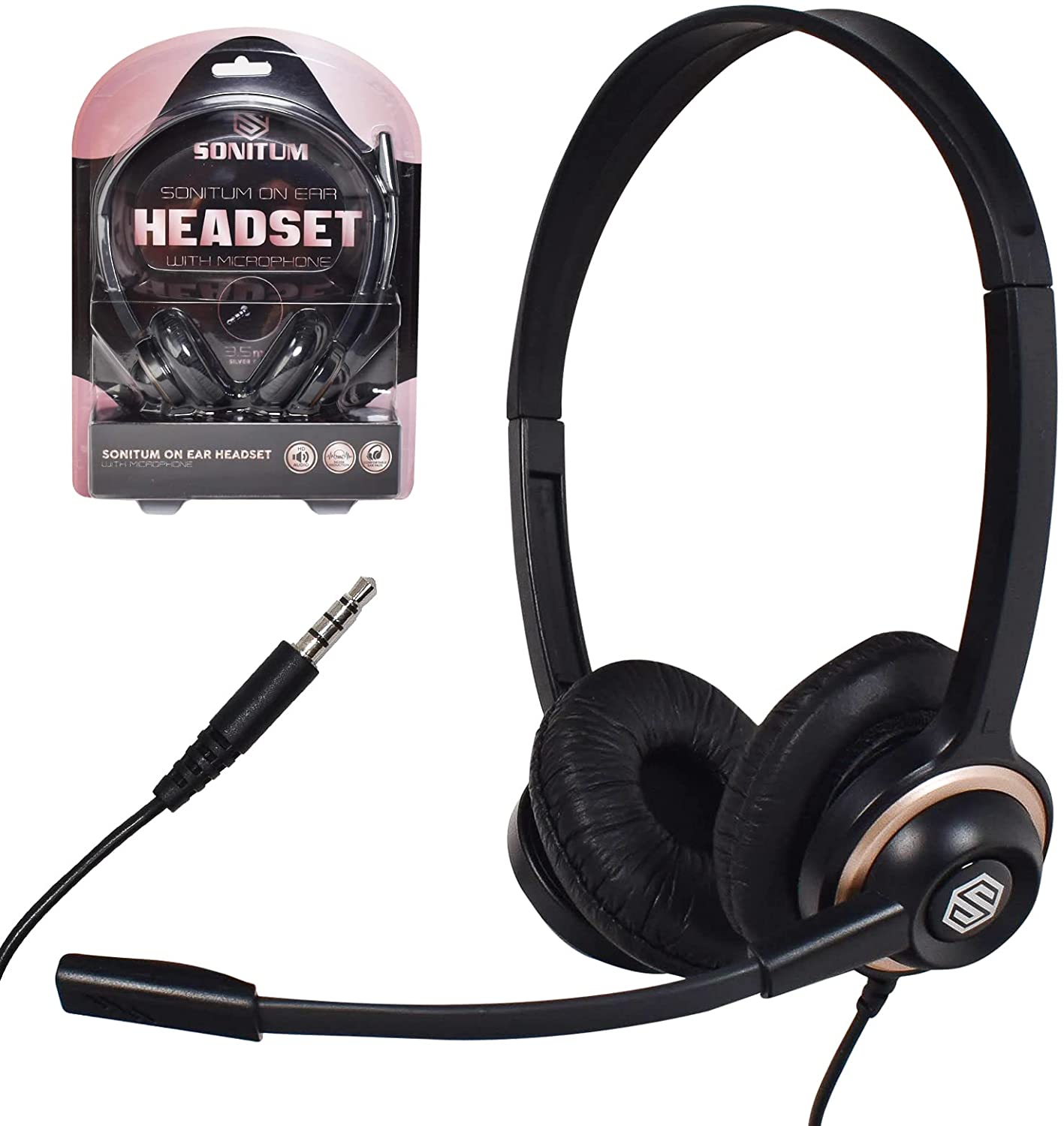 This Sonitum headset has been designed for those who primarily use their laptop for watching movies and listening to music. Though the design of these headphones is quite simple, they deliver good audio output. Since these headphones come with a 3.5mm jack, you can connect them to any laptop that features an audio jack. The rotating mic is quite powerful and picks up audio signals very well.
The noise-cancelling feature of these headphones ensures that you stay largely protected against external noise and focus on the audio produced by the device. The headphone cushions are soft, so you won't face any inconvenience when you use them for several hours at a stretch. Apart from using these to consume multimedia content at home, you can also utilize these headphones well in your workspace.
Highly recommended for those looking for a lightweight pair of headphones that can be paired up with most laptop devices.

It's also a good option for individuals who wish to invest in a pair of headphones featuring a robust mic.
Responsive mic

Easily adjustable

Noise-cancelling feature

Lightweight and comfortable
Ordinary design

Not durable enough
Well-Designed Headphones with USB Support
Nubwo Lightweight Headphones
Check Price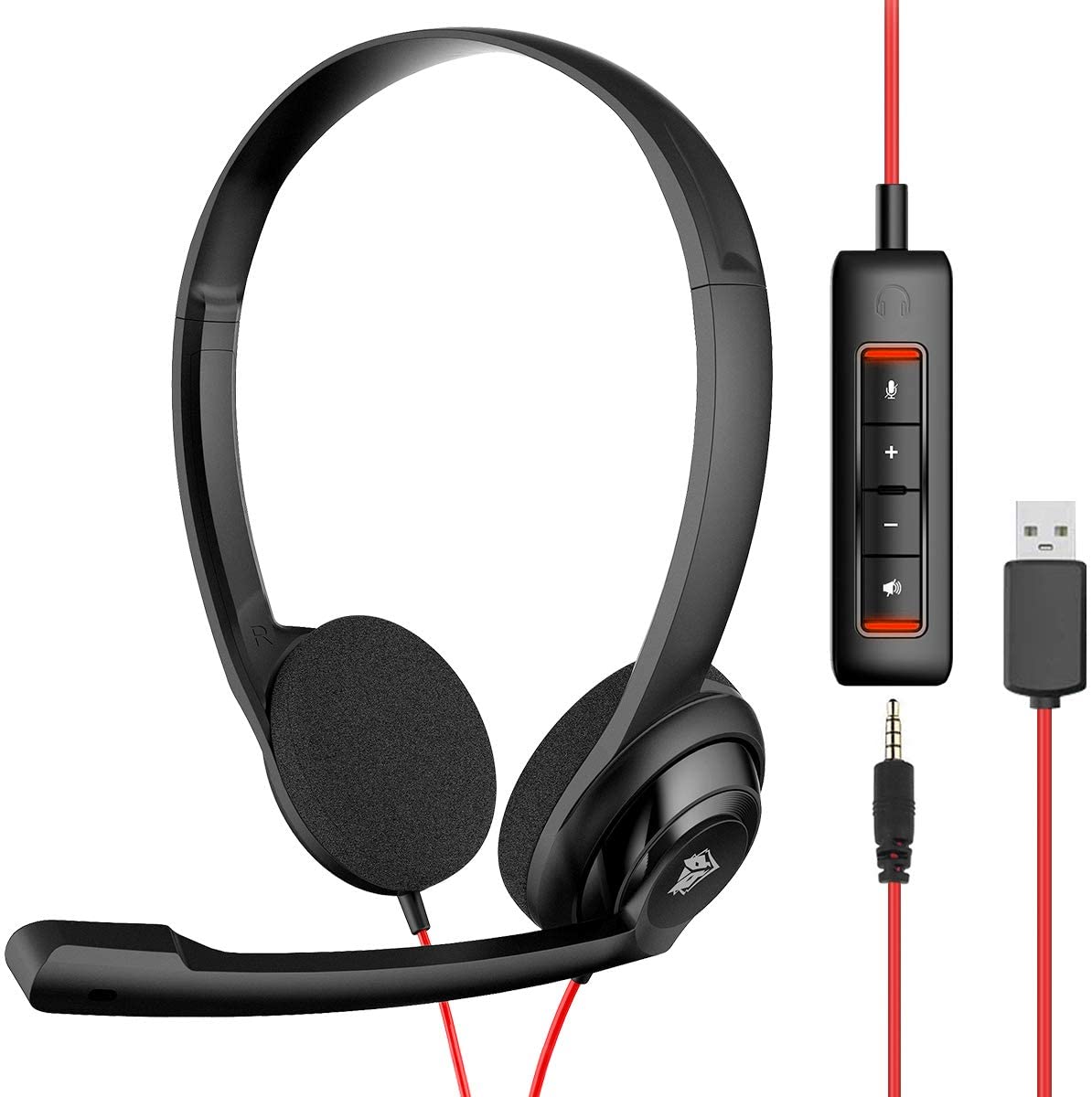 This stylishly designed pair of headphones come from Nubwo, a brand that is known for manufacturing good-quality audio hardware products. While the design helps in registering a good impression, once you start using it you realize it has been structured very well too. Because of its minimal weight, you can wear it comfortably and carry it around without facing any issues.
The headphones offer multiple connectivity options, including USB support. Even if your laptop doesn't have a 3.5mm audio jack, you can connect the headset to it using the USB cable. The volume level and several other features can be controlled easily with the buttons provided.
An ideal option for those who are looking for a pair of headphones that offer USB support.

It is also recommended for individuals who prefer headphones that are easy to control.
Thoughtful design

Portable structure

Adequate mic support

Strong connectivity support
No wireless support

Cushions could be thicker
USB Headphones with Noise Canceling Feature
Hroeenoi Wired Laptop Headset
Check Price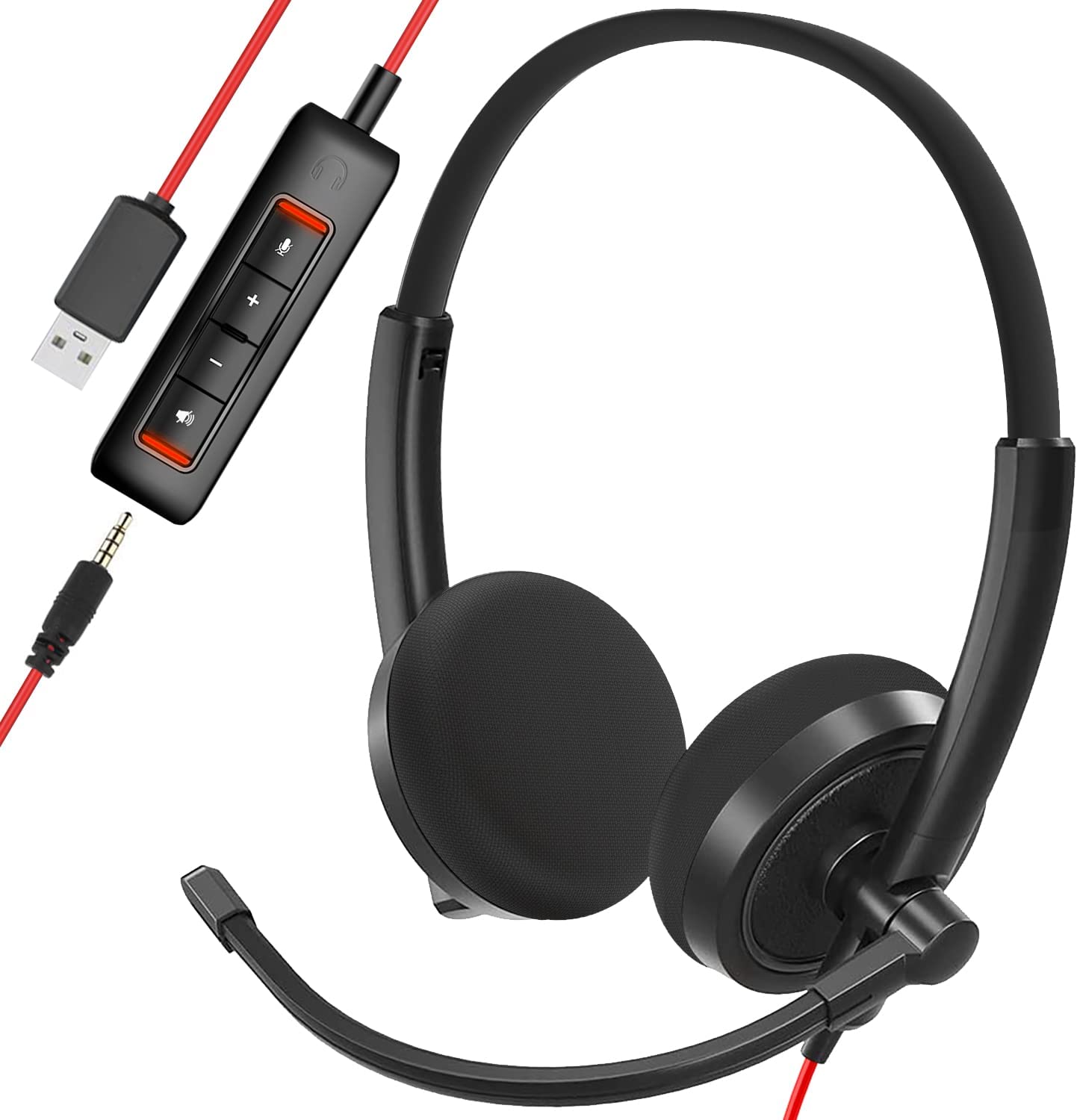 After taking a closer look at this headset by Hroeenoi, one of the first things you'll notice is that it comes with an array of connectivity options. These options, apart from making the process of using the headset more convenient, also serve as an important reason to invest in the device. Apart from the regular control buttons, there is also an indicator light.
The headphones feature a 3.5mm headphone jack which enables you to connect these easily to a laptop. The USB plug is provided to ensure you can connect it to laptops and other computer systems that do not have a dedicated audio slot. With a weight of 026lb, these headphones feel very light in your hands and are convenient to travel around with.
Recommended for individuals who are keen on buying a headset that comes with a USB plug.

Also recommended for those who wish to have a pair of headphones that not only work well but also look stylish.
Attractive design

Rotatable earplugs

Lightweight structure

Features a USB plug
Limited warranty

Build quality could be better
Sturdy Laptop Headphones with USB Plug
OneOdioBoom Mic Wired Headphones
Check Price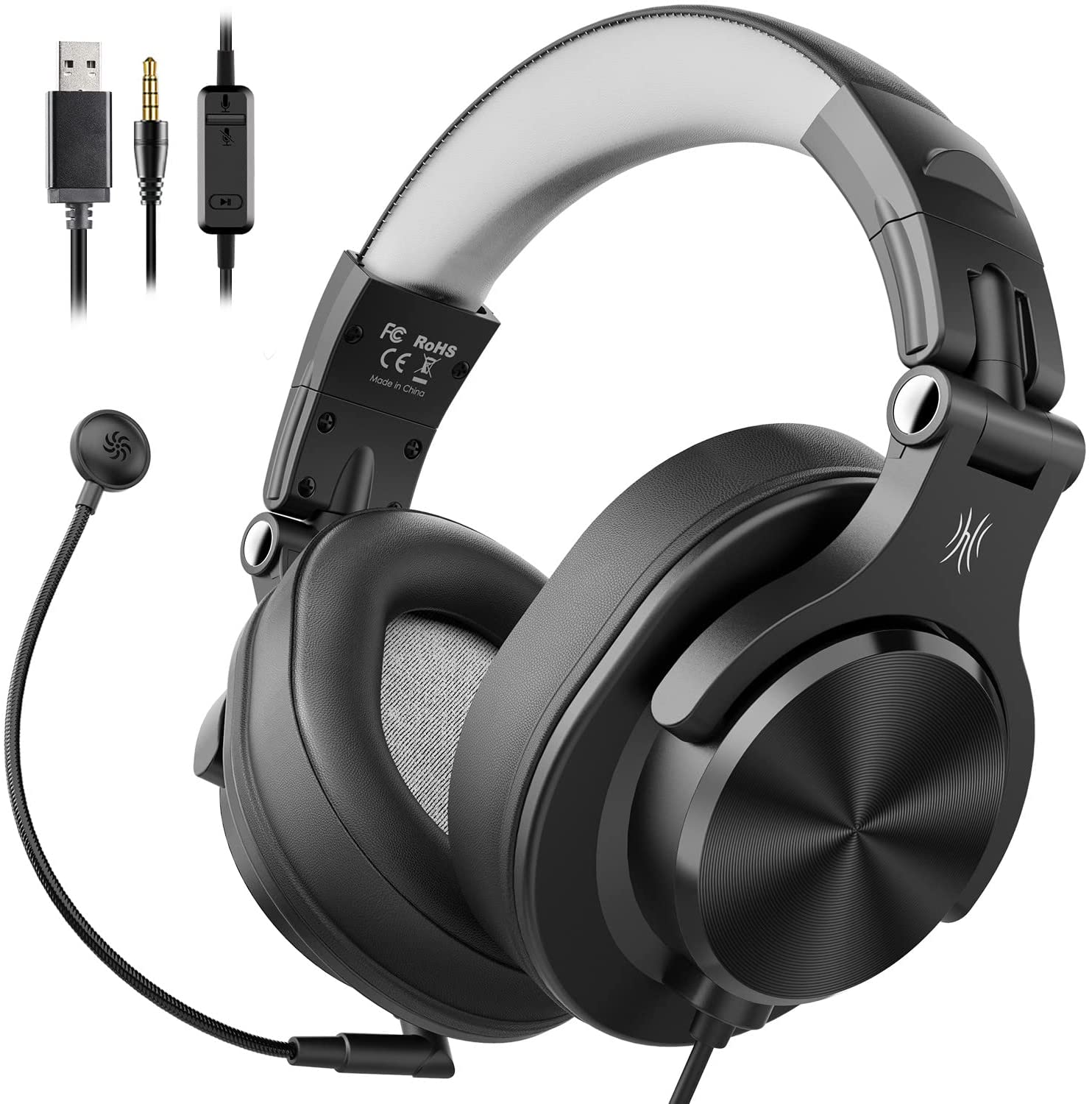 OneOdio has been one of the leading headset manufacturers for years. The audio hardware produced by the company is known for its superlative sound quality. When it comes to audio output, these headphones don't disappoint at all. The device comes with advanced features like a 40mm magnetic neodymium speaker that plays an important role in offering high-quality audio output.
Though the headphones look huge, they are quite comfortable to wear. The ear cushions are very soft and do not hurt your ears in any possible way. Apart from using them with your laptop, you can also pair these headphones with your smartphone, tablet, or any other device.
Why You Should Buy This?
A very good option for individuals who wish to invest in a pair of headphones that offer robust audio output.

It is also recommended for those who are comfortable wearing headphones that feature large ear cushions.
Pros
Detachable cable

Soft ear cushions

High-quality audio output

Features magnetic neodymium speaker
Cons
Made with plastic

Mic could be of better quality
Wired Over-Ear Headphones with USB Type-C Adapter
Earbay3.5mm Jack Noise Canceling Headphones
Check Price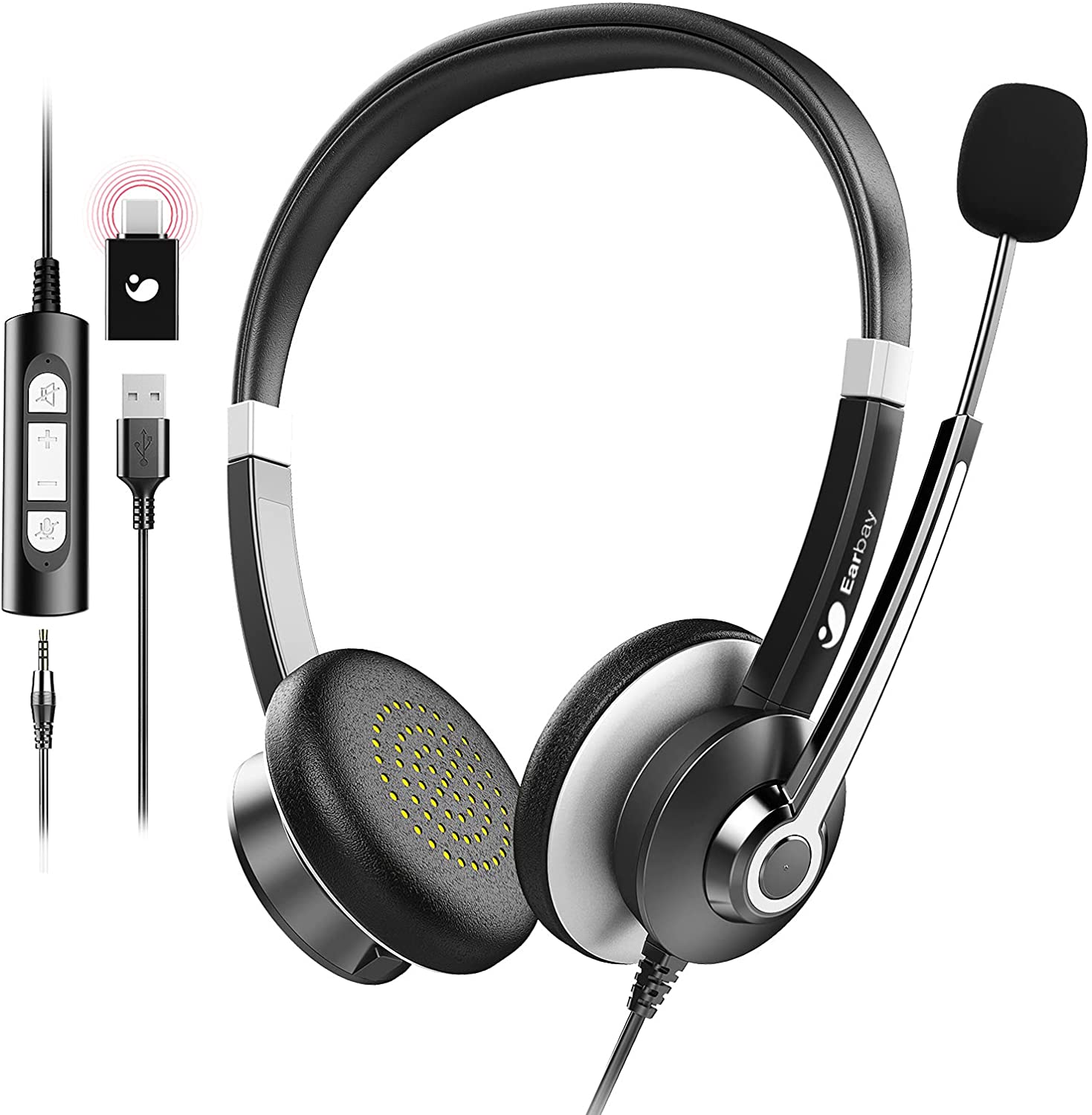 These Earbay headphones feature a metallic design that is very modern and interesting to look at. The performance delivered by this device, thankfully, matches its high-end styling. It is a wired device that comes with a 3.5mm jack that is compatible with most laptops. One of its standout features is a unidirectional boom microphone that ensures only the user's voice is picked up and the background noise is not taken into account.
The Type-C adapter will help you connect these headphones with a smartphone device. The audio output offered by it is of very high quality. While the device is lightweight, it has been designed in a way that you wouldn't face any discomfort despite wearing it over your ears throughout the day. The soft protein earpads are made with skin-friendly material and it takes very little time for you to get used to them.
Recommended for those who are particular about the quality of the earpads in a pair of headphones.

It is also a good option for individuals who are looking for a modern headset with advanced features.
Stylish design

Super-soft earpads

Lightweight and durable

Features a unidirectional boom microphone
Not easily adjustable

Accessories are not very useful
Highly Stylish Headphones with Noise Canceling Feature
ComexionTrucker Premium Quality Bluetooth Headset
Check Price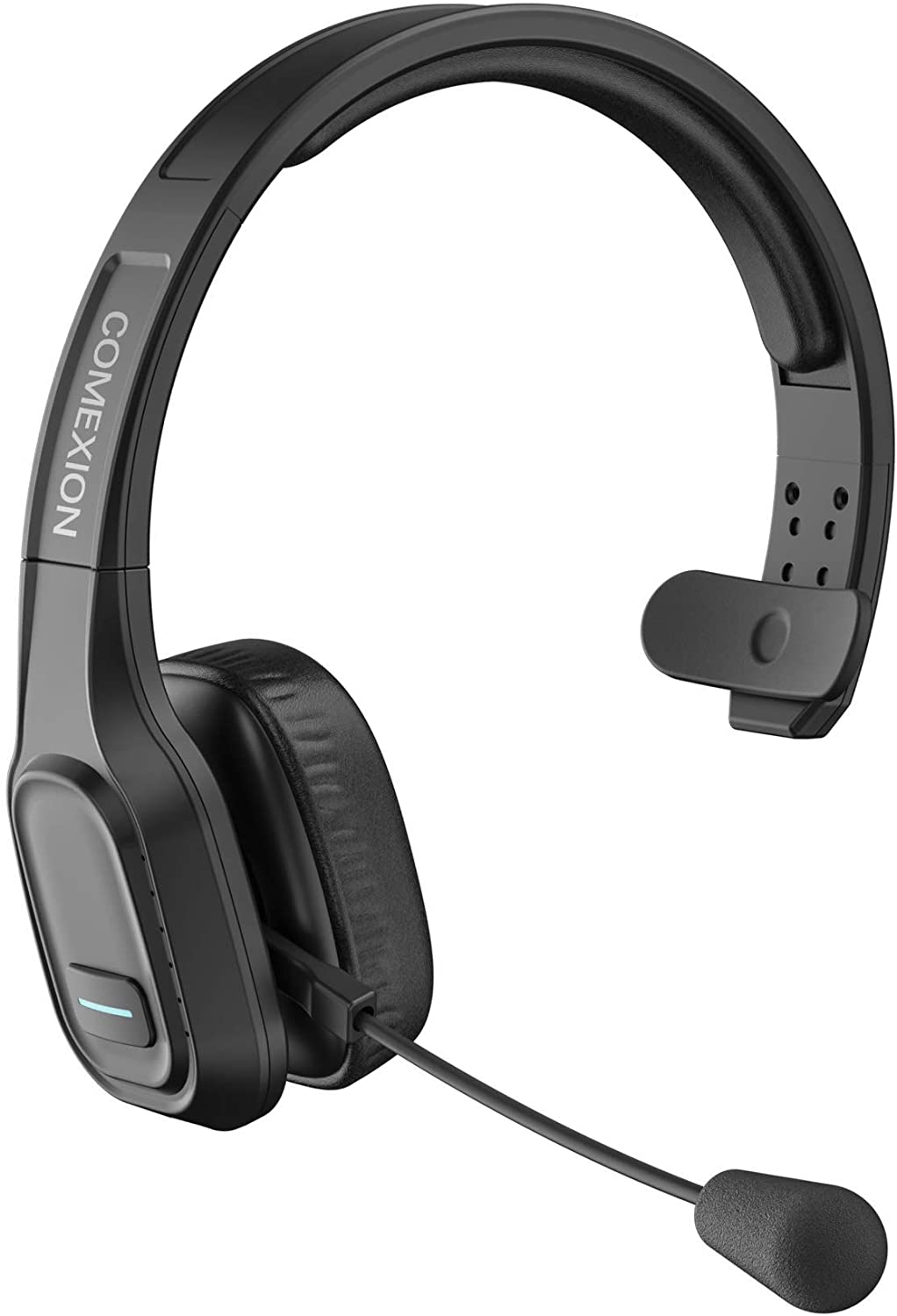 The omnidirectional rotating ear cap, which this headset comes with, makes it very comfortable for one to wear for long hours. The device is easily adjustable and you can wear it in a way that does not put any strain on your head or ears. The noise-cancelling feature in the device works rather well and does a fine job of suppressing background noise when you are listening to some audio file using the headphones.
The headset features Bluetooth 5.0 and you won't face any issues while trying to connect it to a device. What's truly incredible is the fact that it can be paired with two devices at the same time. You also have the option to use it as a wired device. You can connect it to your laptop or any other device using a 3.5mm cable. When charged optimally, the headphones offer you 33-34 hours of wireless functionality.
Why You Should Buy This?
Strongly recommended for those planning to invest in a high-end Bluetooth headset.

It's also a good option for individuals who have wireless headsets that offer very good battery support.
Pros
Smart design

Long-lasting battery

Bluetooth connectivity

Noise-cancelling feature
Cons
Slightly expensive

Complex mechanism
Premium Quality Headset with 48-Hour Battery Life
Binnune Well-Designed Wireless Gaming Headphones
Check Price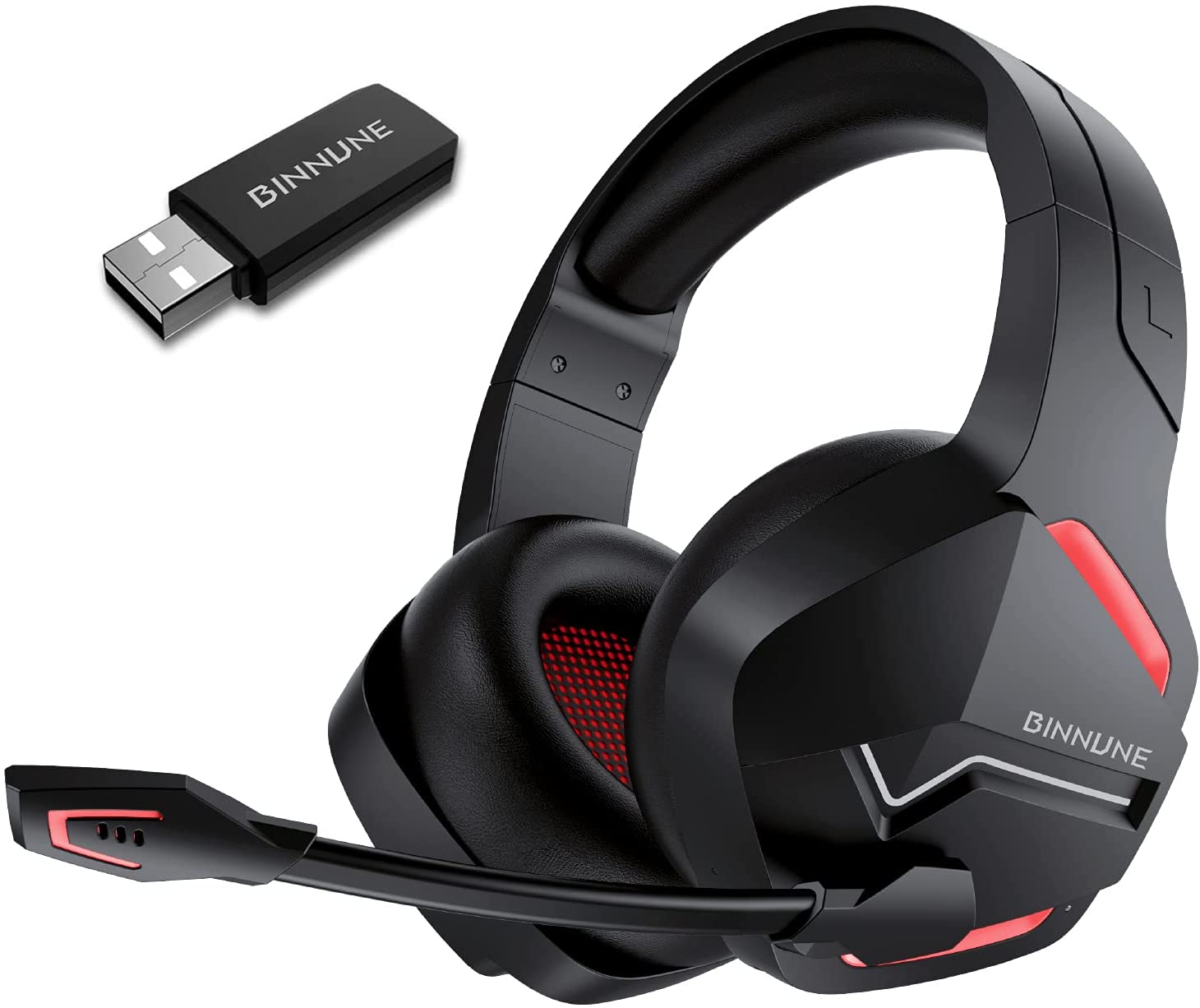 When you look at a pair of headphones and get the impression that it has been designed for gamers, you know that a lot of effort has gone into it. These headphones by Binnune boast a highly stylish design and are extremely innovative as well. One of the highlights of this headset is its battery life. Once fully charged, it will last for almost 48 hours.
The device comes with all the connectivity options that you would hope to find on a modern Bluetooth headset. If you are more comfortable with wired connectivity, all you need to get is an audio cable. The sound isolation feature ensures your ears remain oblivious to external noise while putting the device on.
Why You Should Buy This?
A very good option for those who are planning to buy a good-quality wireless gaming headset

It is also recommended for those who need a pair of headphones that offer great battery support.
Pros
Sensitive mic

Stylish design

Strong battery support

Multiple connectivity options
Cons
Premium pricing

Could be more durable
Sophisticated Noise Cancelling Headphones
Cowin E7 Active Noise-Cancelling Deep Bass Headphones
Check Price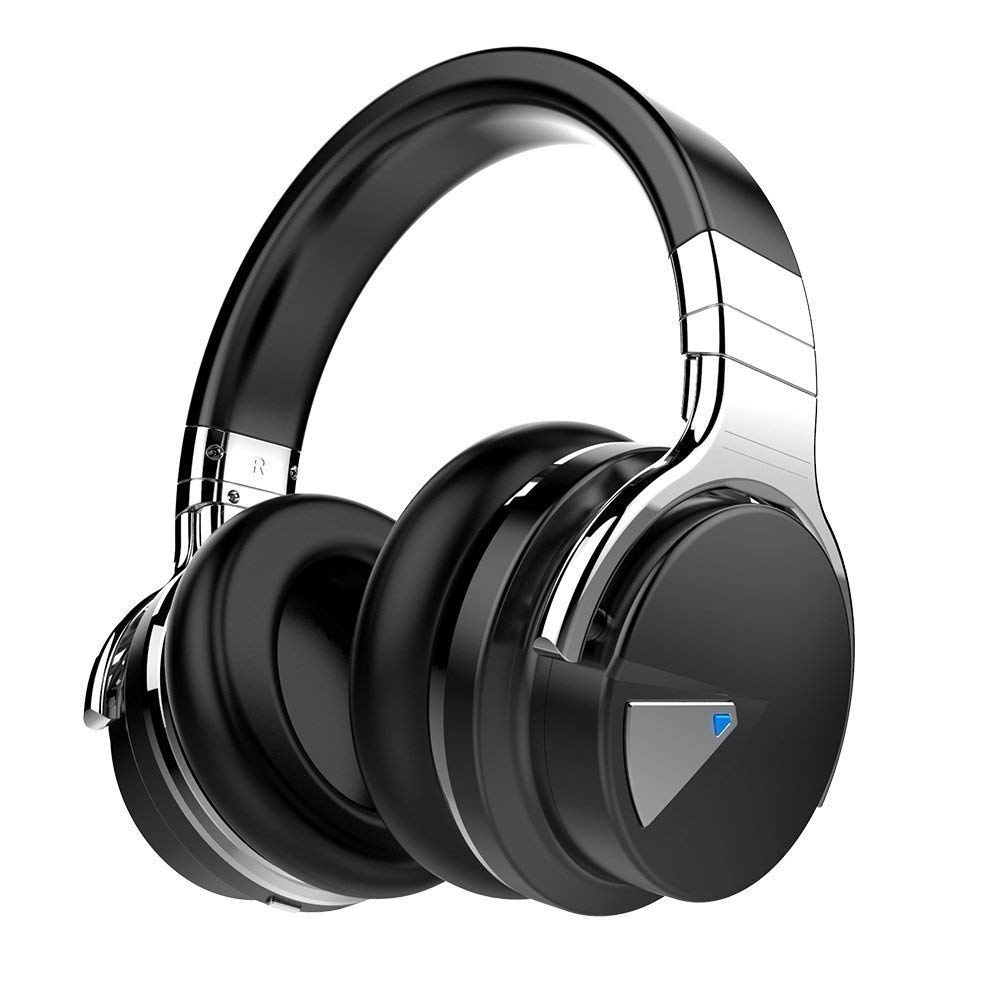 Cowin is a relatively new brand and not a professional at that, but the quality they offer is simply exceptional. With thousands of positive reviews and impeccably good-looking design, the Cowin E7 is a great product for the asking price. It's got a shiny matte black finish that supports Bluetooth technology so that you can use it both with your laptop and smartphone on the go.
The active noise cancellation at this price point that's lower than $100 makes it a sweet deal. The headphones are large for a comfortable on-ear fit and have 40mm drivers to deliver excellent sound reproduction. It has a built-in microphone using which you can take phone calls when required and the lack of wires makes it great to use your laptop when on a plane or traveling in a car.
If you wish to pair it with your laptop, you should be able to do so anytime without difficulty. Even if you have an old laptop, you can buy a Bluetooth dongle and make use of the ANC feature. The earpads are comfortable, use soft leather material, and look great, making them an all-rounder choice for work and music. The Cowin E7 is available in white, black, and purple colored variants.
Why should you buy this?
The amazing price tag at which it offers both Bluetooth and Noise-Cancelling
The over-ear design ensures maximum comfort and 30 hours of battery life
You may also read: Best Laptops for Fashion Designers
Best Headphone With High-Quality Sound
Envel Gaming Headset with Mic for PC, PS4, Xbox One, Over-ear Headphones
Check Price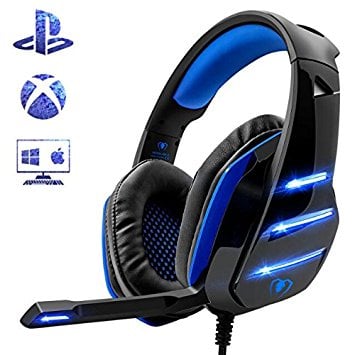 This gaming laptop headset from Envel has a superb design and the earcups are made of soft leather that offers high-quality sound. It also features noise reduction and blue LED lights on the microphone and earcups. There is one key microphone mute and a rotary volume controller which gives you the ease of controlling the volume. This is one of the best laptop headphones in the gaming section.
Why Should You Buy This?
Those who are particular about the look of the devices they own will find its design appealing.
It has a very effective noise reduction facility which should score some points with audiophiles.
If you want to adjust the volume constantly, you would like the easy-to-operate volume control options on it.
The blue LED lights add to the visual appeal of the device and make it more attractive.
See also: Top Best Bluetooth Speakers for iPhone X
Frequently Asked Questions
Do I need any special software to use the headphones on laptops?
No, you don't need any extra software for using headphones on laptops. These are simple plug-and-play accessories. Just check if the headphones can be connected through the 3.5mm jack on the laptop. There are other ways of connecting as well.
Can the headphones for laptops be used while playing games?
Yes, certainly. You can use the headphones to enjoy the sounds in your game while playing on the laptop. Some of the headphone models can be used with gaming consoles like Xbox One. You can read the full product description and understand the capabilities of the headphones you are ordering.
Are the headphones for laptops very brittle; can they break easily?
The headphones are either made of plastic material or, in some cases metal. If you drop them on the floor from a height they can break. However, the headphones are not so brittle that they will break on just falling. The metal ones are sturdier.
The leather covering on the earpieces of headphones, are they real leather?
In most cases, these would be faux leather or synthetic leather, not natural leather. There may be some premium headphones with real leather in the market too. The material should feel soft and comfortable over your ears. That is important.
What kind of warranty do these headphones for laptops come with?
Warranty terms vary with the brand/model of the headphones. There are headphone models that also come with a 2-year warranty. The warranty may be limited as well. Check the warranty terms at the time of placing your order.
Conclusion
We have listed some of the greatest and most renowned brands. Choosing the best laptop headphones is not a difficult task when you know what you are looking for. Most users will look for a compact pair of headphones that offer the best sound isolation and sound quality.
On-ear laptop headphones will offer great compact build quality and design, while if you are looking for active noise cancellation, it is mandatory to go for an over-ear model to safeguard yourself against external noise. Either way, when you go for popular brands like Sony, Audio Technica, and Sennheiser, you can comfortably expect great sound quality irrespective of the money you spend on their pair of cans as even the most affordable model will provide decent quality.