Technobezz is supported by its audience. We may get a commission from retail offers
If you are looking for the best laptop for fashion designing, you will need a stylish, colorful, and top-quality
13-inch Retina Display Apple MacBook Air Laptop
HP 15.6-inch Touch-Enabled Screen Laptop
Acer Aspire 5 Intel Core i3-1115G4 Processor Laptop
Table of Content
If you are looking for the best laptop for fashion designing, you will need a stylish, colorful, and top-quality one. You will need a laptop with high RAM and a fast processor to store designs, articles, patterns, and pictures.
Style and design are also essential for your laptop as these are the essentials in the fashion industry and are features that you must prioritize in your selection. Fashion designers need a powerful and portable laptop with good battery life to run programs like Photoshop and Adobe Premiere and be able to work on the go.
Such laptops for designers are not cheap, as they combine powerful specifications with attractive looks in a thin and portable frame. Let's check out some of the best laptops for fashion designers. To understand what to look for when buying a laptop, read our buying guide below with all the essentials.
You may also read Best Laptops For Designers.
Buying Guide
Creative people are rather keen on not allowing hardware constraints to affect their creations. While going for the best and most powerful laptop, some specific features could make your designing job easier while maintaining that professionalism.
Display size – An obvious requirement is to have the largest display possible, but it will affect the compactness and make it difficult to move the laptop around. If you can strike a balance between the size of the display and the hardware components to handle your apps, it would be good.
Graphics card – A graphics card is an essential component in any laptop to be used by designers or content creators. When you plan to use software programs such as Adobe Suite, CoralDraw, or other drawing apps, they can't just run on the laptop's standard processing capacity, so a built-in or individual graphics card is needed.
The number of ports – Being a fashion designer, you may be required to add multiple external components such as an external hard drive, a drawing board, a touch display, etc. The number of ports on your laptop should be sufficient to support your productivity because it is not fun to use multiple extension adapters.
Stylish finish – While it is not as important as other elements, a fashion designer needs inspiration, and a plain black laptop would never do that trick. Go for a colorful, sleek, and stylish laptop that would inspire you to get more work done. It may also act as a tool to boost and energize your creative mind when you work.
Color accuracy – The display should be capable of showcasing accurate colors so that the designs you create are natural and are not biased towards a particular color palette. Otherwise, it would look odd on other displays.
Best Laptops for Fashion Designers In 2022
Premium Quality Laptop with Apple M1 Chip
13-inch Retina Display Apple MacBook Air Laptop
Apple is a brand that is associated with high-end quality products. That is one of the reasons why leading fashion designers prefer a MacBook for their personal and professional use. This Apple MacBook Air Laptop comes equipped with Apple's M1 chip that ensures the device works at a very high speed and enables the user to perform multiple tasks at the same time. The CPU works at a processing speed of 3.1 GHz and ensures the device never slows down.
The design of the laptop is highly sophisticated and it is available in three color options, gold, silver, and space gray. The laptop features a 13.3-inch widescreen that boasts Retina Display technology. Apart from offering high-quality visuals, it ensures your eyes do not suffer from any strain despite being glued to the screen for hours. It offers 512 GB of SSD storage which should be enough for fashion designers to store all their media files.
An ideal option for fashion designers who have been looking to invest in a high-end laptop that offers good multimedia support.

Also recommended for those who are planning to try out an Apple device for the first time.
Premium features

Sharp display screen

Robust processing unit

Adequate storage space
Slightly expensive

The screen is not touch-enabled
Well-Packaged Laptop with Responsive Fingerprint Reader
HP 15.6-inch Touch-Enabled Screen Laptop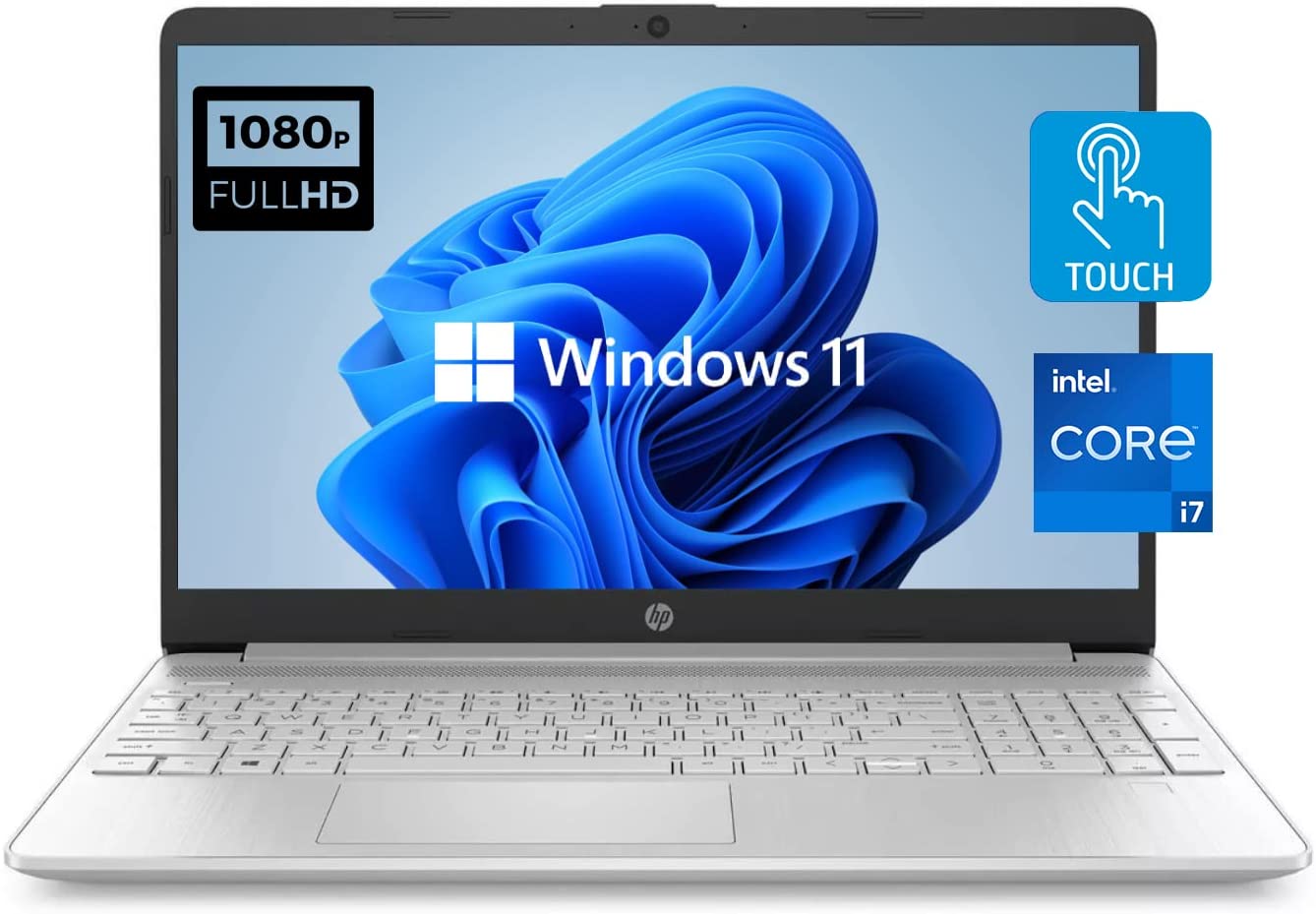 Not every laptop comes with a fingerprint reader but this one does. The fingerprint reader on this device is highly responsive and helps tremendously in keeping the data in it safe and accessing the device with a lot of ease. Since the laptop comes in different storage variants, you can pick one based on your storage needs. Apart from producing high-definition images, the 15.6-inch screen is touch-enabled and very easy to navigate across.
The device is powered by the Intel Core i7-1165G7 processor that ensures you get to finish all your tasks on time without facing any lagging issues. The backlit keyboard s comfortable to use and makes work more fun. You get a good number of connectivity options on the device including 2 USB Type-A ports, a USB Type-C port, an SD card reader, a 3.5mm headphone jack, Bluetooth, and Wi-Fi. The laptop runs on Windows 11 Home which is known to run all kinds of applications smoothly.
Highly recommended for fashion designers who have been looking for a laptop with robust security features.

Also a suitable option for those who have been wanting to invest in a laptop with a vibrant and touch-enabled screen.
Good security features

Touch-enabled screen

Fast-performing processor

Multiple connectivity options
Premium pricing

No optical drive
Budget-Friendly Laptop Featuring a 15.6-inch Display Screen
Acer Aspire 5 Intel Core i3-1115G4 Processor Laptop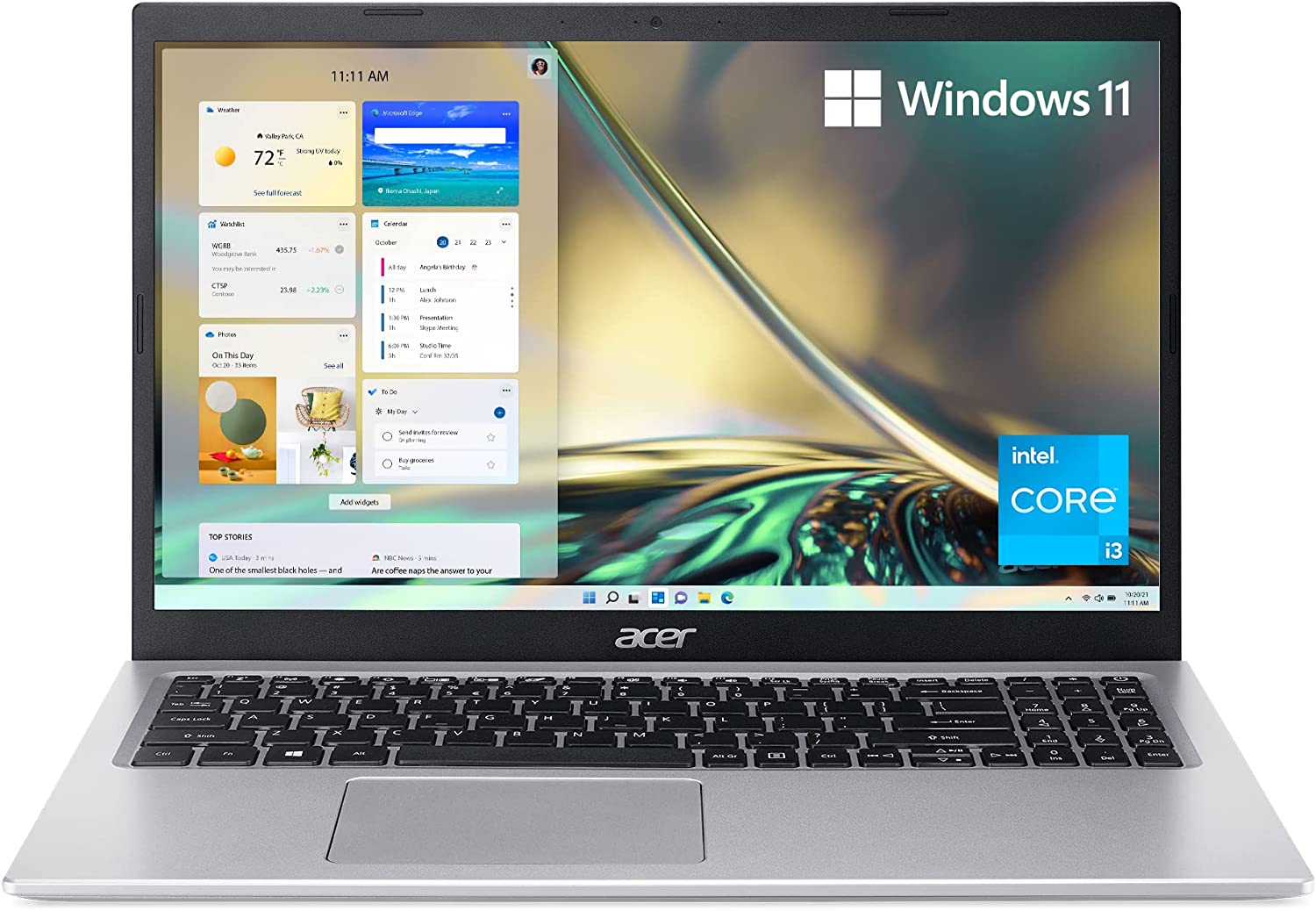 The laptop runs on the very powerful Intel Core i3-1115G4 processor that ensures steady and fast operation. While working in the dynamic fashion industry, you need a device that can carry out multiple tasks or activities at the same time. The Acer Aspire 5 enables you to do exactly that with effortless ease. It is powerful enough to enable the creation of animated videos for fashion presentations.
The device is being made available at a very reasonable price and you can expect to get good brand support as well. One of the highlights of the laptop is the brand-patented voice technology that helps in canceling out background noise and makes you experience high-quality digital signal processing. On this device, you can carry out several by giving commands through your voice. The laptop offers multiple security options to secure the data that you have stored in the system.
Despite featuring several useful features, the device is available at a very affordable price.

Proves to be a good option for fashion designers who are early in their careers and are looking to invest in a moderately priced laptop.
Moderate pricing

Powerful processor

Ergonomic keyboard

Advanced voice technology
Moderate battery life

Storage space should be higher
Highly Affordable Laptop with a Reliable Processor
Asus L210 11.6-inch Display Screen Laptop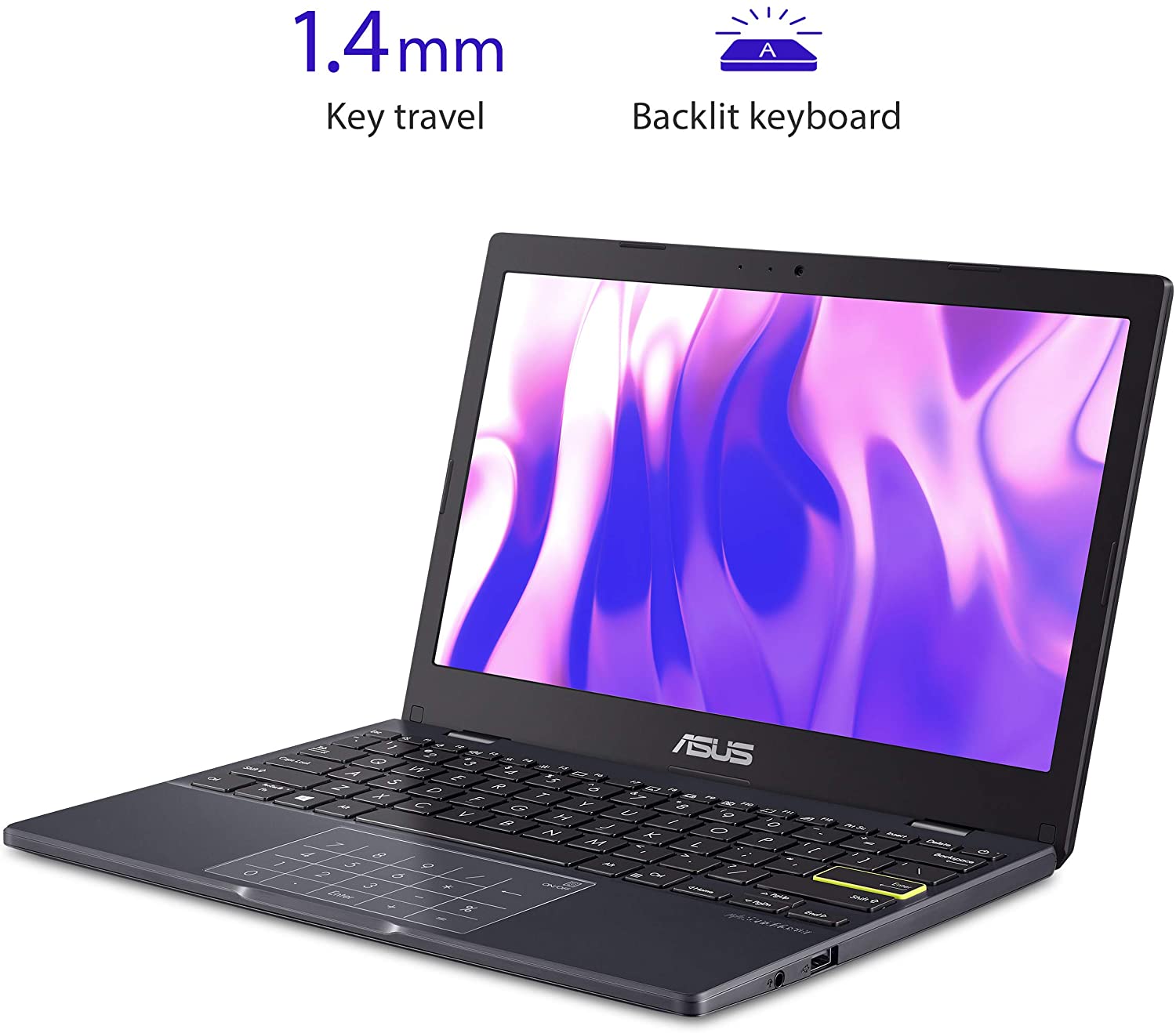 The Asus L210 laptop features an 11.6-inch display screen that is just right for users who prefer compact devices. The laptop features an Intel Celeron N4020 Processor that makes the device function at a good speed. The laptop is available in two storage variants, 64GB and 128GB. The design is strictly okay and could do with some innovation and creativity. It comes with multiple connectivity options but does not feature an optical drive.
Even when you include the weight of the battery, it weighs just about 2.2lbs. Therefore, you can carry it easily while traveling around. Despite being a budget laptop, it offers good battery life. When optimally charged, the battery provides the device with a runtime of 11-12 hours. The hardware of the device is of very good quality. It features a 180-degree hinge that enables you to use the laptop in a flat position.
Why You Should Buy This?
Fashions designers, who are always on the run, will benefit hugely by investing in this compact and portable device.

Also a good option for those who are looking for an extremely budget-friendly and durable laptop.
Pros
Reliable processor

Long-lasting battery

Compact and lightweight structure

Available in two different storage variants
Cons
Unimpressive design

Performance can be improved
Well-Designed Laptop with Backlit Keyboard
Teclast 15.6-inch Display Screen Laptop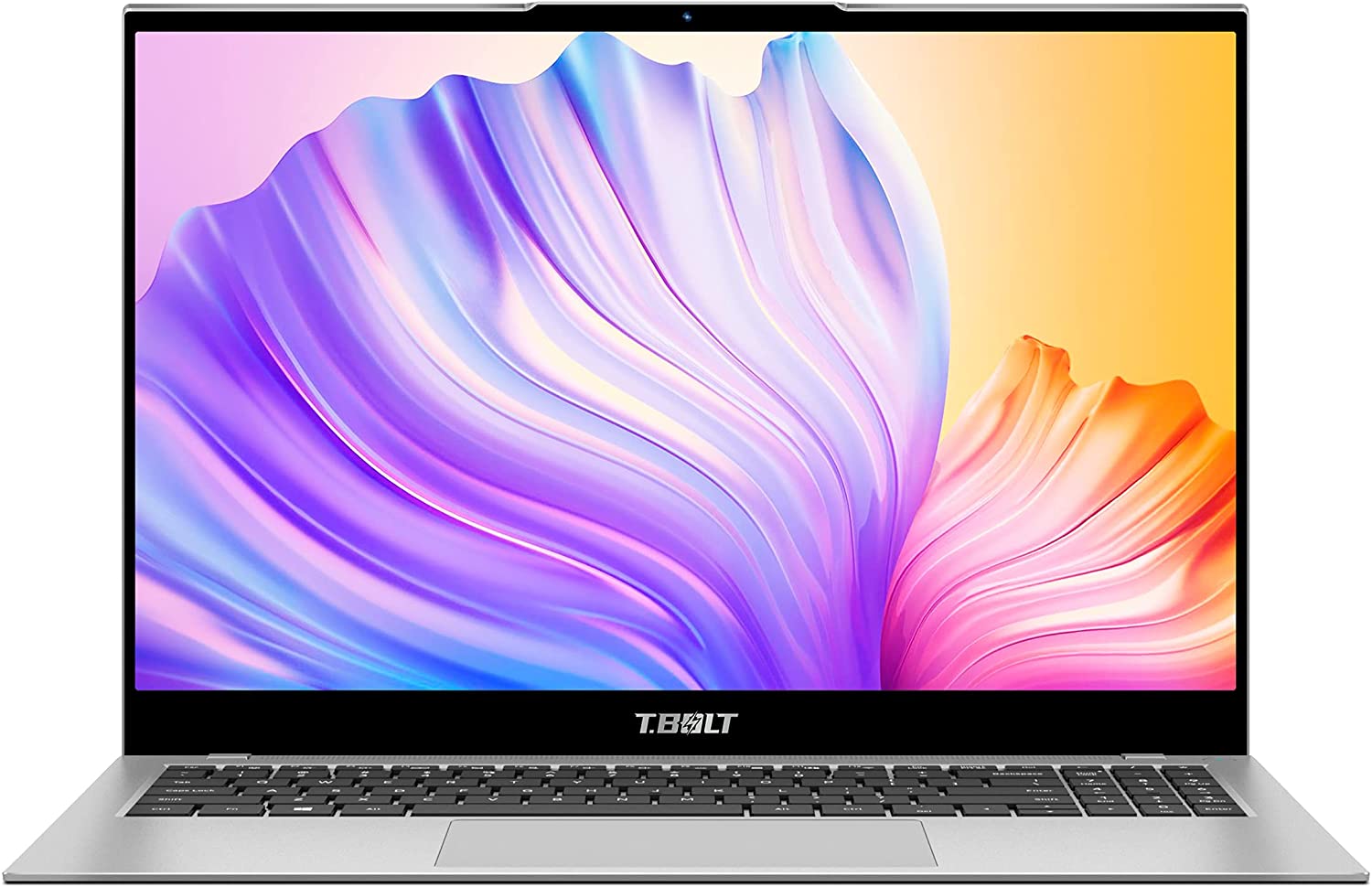 The backlit keyboard and the 3.4GHz processor are some of the features that make it a much more desirable laptop for gamers. It has, however, several other features that prove to be useful for professionals who work in the creative industry like fashion designers. The device boasts of a very stylish and sophisticated design that leaves you impressed as soon as you have a look at it for the first time. The backlit keyboard is comfortable enough to be used by those who type extensively.
The device features a 15.6-inch display screen that offers a resolution of 1920x1080 pixels. The audio output of the device is also very impressive. There are as many as four speakers which produce great audio quality. It comes with a built-in 55000mah Li-polymer battery that offers decent runtime. You get good connectivity support on the device. Apart from the regular ports, there is also a micro SD card reader.
A good option for fashion designers who are looking for a laptop that comes with a backlit keyboard and supports the use of heavy software.

Also recommended for those who wish to invest in a mid-range gaming laptop with good features.
Portable

Attractive design

Super-fast processor

Features four speakers
Moderate battery life

Does not feature Wi-Fi 6
Moderately Priced Laptop with 1.6GHz Processor
Dell Inspiron 3583 128GB Solid-State Drive Laptop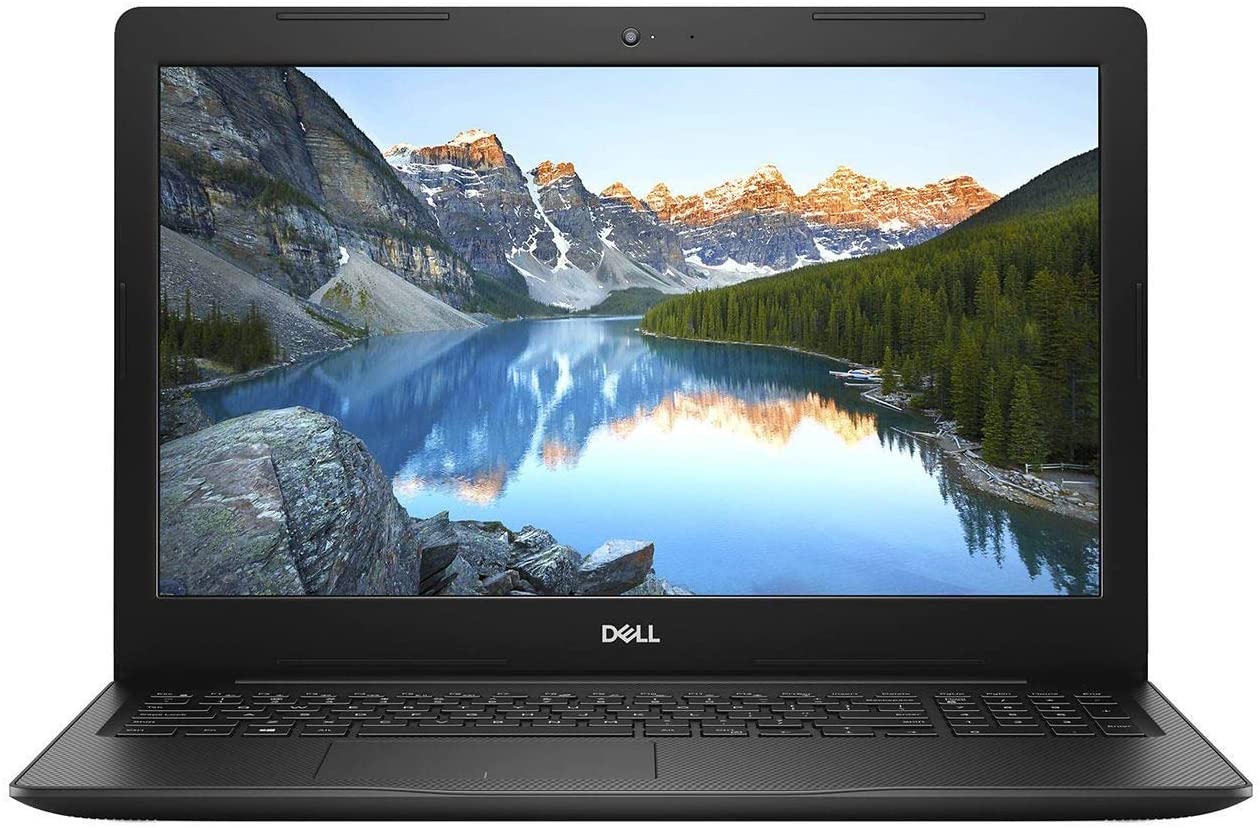 Once you keep in mind the fact that the Dell Inspiron 3583 is a budget laptop, you will be quite happy with all that it offers you. The device comes equipped with an Intel Celeron N4020 processor. While this might not be the fastest processor around, it still works well for a laptop of this nature. It offers a processing speed of 1.6Hz and ensures you do not face any issues while multitasking. The display screen is 15.6-inches wide and produces sharp images.
A 4GB RAM and a 128GB SSD come pre-installed with the device. There is another variant of this laptop that features a 500GB SSD. Before buying the device, you must keep your storage requirements in mind and choose accordingly. The design of the laptop is quite basic and far from being one of its biggest selling points.
Why You Should Buy This?
A very good option for individuals looking for a well-rounded laptop that comes at an affordable price.

Also suitable for fashion designers who need a competent laptop that is easy to carry around.
Pros
Budget-friendly

Useful features

Stable performance

Sharp display screen
Cons
Underwhelming design

Could be more durable
FAQs
How important is the display in a laptop made for designers?
The display is the key accessory where you will view all your creations. Make sure it doesn't have a blue tint or any other color issues. The displays with Adobe RGB certification or sRGB color accuracy are usually the best pick for fashion designers.
Can I go for a touchscreen laptop?
For professionals who need a drawing board, there are dedicated brands that make touchscreen boards that are bundled with a stylus. They can be easily attached to your laptop in the USB port. A laptop with a touchscreen may not feature the best hardware components unless you invest in an expensive model but buying them separately is more feasible for most.
What is the best laptop for fashion designers overall?
The Apple MacBook Pro is an amazing pick overall because of its processor, the laptop's build quality, and the exclusive software programs available only on a Macintosh machine. While it does fall under the expensive category, most laptops meant for professionals will be in a similar price range because of the internal components.
Can you suggest the minimum resolution I should go for?
A Full HD, 1920×1080 resolution is the minimum in this digital era where 4K and 8K are becoming more common. Any resolution below the 1080p is considered too low for a designer because you are expected to deliver quality content for your clients and customers.
Are portable laptops powerful enough?
The most popular options are the Microsoft Surface Pro and the Lenovo Ideapad, among other branded laptops. They are hybrid models in which you can attach or detach the keyboard to use its touchscreen wherever you go. They are powerful and justify the price tag, but you should pair them up with a desktop for more productivity.
Conclusion
Check out the above selection of the best laptops for fashion designers and take your pick. The SSD must be thin and lightweight, as projects can be launched much faster, so something around 256 GB and above should be suitable.
As for graphics, search for a built-in Intel Iris graphics or NVIDIA GeForce graphics card. A touch screen laptop where you can zoom and scroll using your fingertips would be useful, especially when working with your team or doing presentations. You can take total control over the fashion designing stuff with these laptops.
---