Technobezz is supported by its audience. We may get a commission from retail offers
Summary – Bluetooth-enabled speakers enhance the audio experience of your laptop, smartphone, or
Bluetooth-enabled speakers enhance the audio experience of your laptop, smartphone, or tablet. You are not bound to listen to quality music within the walls or at a certain place. Go camping or hiking and still listen to music, play games, or watch your favorite movies and videos with the same experience as you would at home. You don't even have to spend a fortune to buy a Bluetooth speaker. If you are looking for some suggestions then keep scrolling to discover the top best cheap Bluetooth speakers.
Read also- Best Wireless Chargers For Galaxy Note 8
Top Best Cheap Bluetooth Speakers
JBL Clip 2 Waterproof Portable Bluetooth Speaker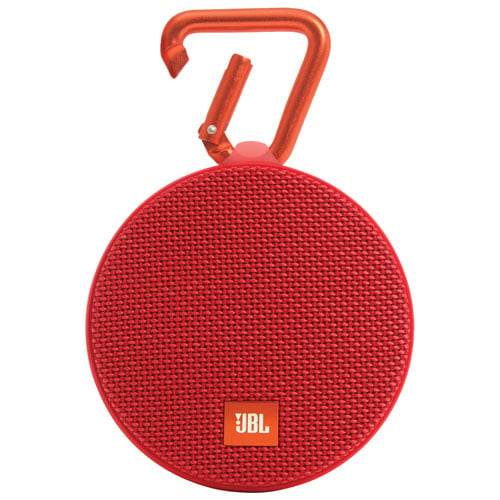 This attractive speaker from JBL is a small portable and waterproof Bluetooth speaker that comes with a neat hook that can be clipped on easily. Besides black, it comes in five more colors. There is a 3.5mm audio cable integrated with this speaker which can be used for connecting. It has a built-in mic through which you can make or receive phone calls. If you are looking for louder audio then you can connect it with another JBL Clip 2 speaker.
Anker Soundcore 2 Portable Bluetooth Speaker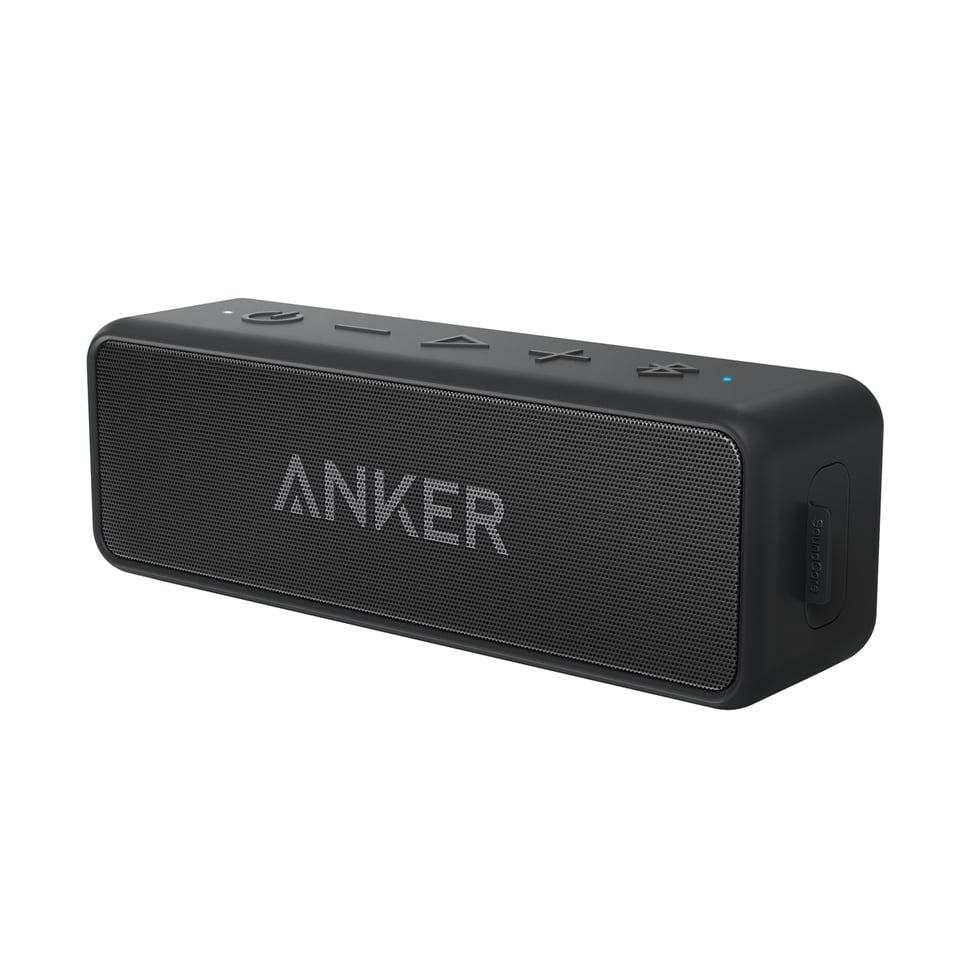 This portable Bluetooth speaker just seems to be small but the powerful 12W audio delivers unbelievable sound. The enhanced bass thunders from the dual neodymium drivers give the speaker this amazing sound. Whilst you enjoy a pounding bass there is no distortion in the sound. It features the exclusive BassUp technology and a patented spiral bass port boost port low-end frequencies which enable the beats to hit hard. The speaker is IPX5 certified so it is safe against dust, rain, snow or sudden falls. There is a 5200 mAh Li-on battery which lets you enjoy music continuously for a long time. The controls are simply flawless and you can take the speaker anywhere you like. This may be on the list of cheap Bluetooth speakers but the features offered are extraordinary.
Vtin 20W Outdoor Bluetooth Speaker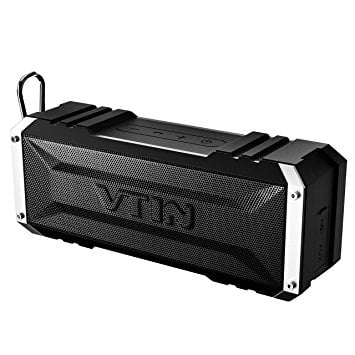 This is one of the best cheap Bluetooth speakers that you can buy in 2022. Whether it is a family picnic or a barbecue gathering you can trust your speaker from Vtin to deliver great music anywhere, anytime. There is a handy hook attached to the speaker using which it can be hung anywhere such as a backpack. The make of the speaker is sturdy and you can rely on its durability. Keep the volume as high as 70% and listen to music for 30 hours with just one charge. There is a 4400 mAh battery which lets you listen to music for so long. If you wish to party loud then the speaker delivers clear loud music for about 7 hours continuously at max volume. It is splash and crash-proof so you can carry it around to the beach or on a rainy day easily.  You can connect your iOS, Windows and Android devices to this speaker wirelessly maintaining a range of 33 feet. There is an AUX cable included that can be used to connect other music sources. 20 W drivers deliver remarkably clear and crisp powerful sound which is completely free of any crackles or distortion.
Sbode Bluetooth Speaker Portable Waterproof Outdoor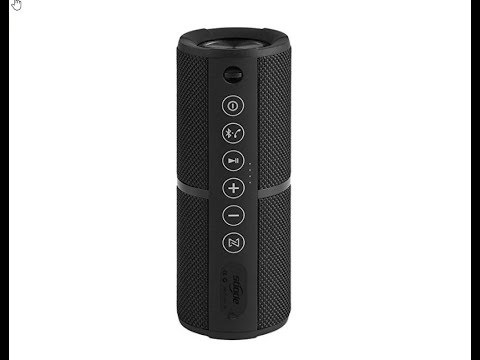 This product from Sbode is a high-quality portable speaker that delivers digital sound. It features noise and wind reduction technology and the speakers and bass radiators on each end delivers a premium-quality sound that is perfectly balanced. It is great for house parties and for outdoor activities too. The True Wireless Stereo function lets you pair two more Sbode speakers for enhanced sound and to cover a bigger area. Its exterior is made of woven mesh which is not only rugged to feel but makes it durable too. It has a triple protection design and will endure rain, water, dust and sand. You can even clean it with running water – convenient isn't it? However, remember the speakers shouldn't be submerged in water completely. You also get FM radio with this speaker and a built-in mic lets you take calls hands-free while you are enjoying your music through your smartphone. Whenever it is on a standby for over 10 minutes the power turns OFF automatically. You also get automatic pairing if you are using the same device again.
AOMAIS Sport II Portable Wireless Bluetooth Speakers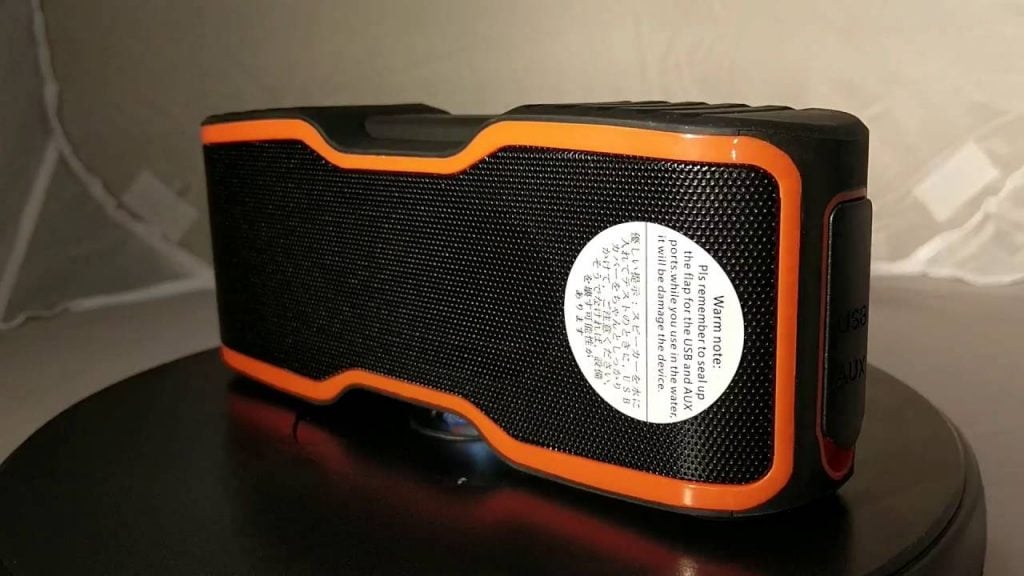 With an IPX7 certification, this speaker is completely water-proof. This also makes it dust and snow-proof and shock proof. You get to hear crystal clear sound through the 20 W powerful loudspeakers without any distortion. You can attach another AOMAIS Bluetooth speaker to create a left and right channel and enjoy more powerful music and enhanced surround sound. The exterior layer of this speaker features a rubber material which shields the speaker from any scratches or other accidental impacts. A speaker with such durability is perfect for hiking and other strenuous outdoor activities. It works with Echo Dot, iOS, Android and Windows devices. You can also use an audio jack provided with this speaker to connect to other devices. The speaker comes in two dynamic colours. Durability at such as affordable price makes this speaker one of the best cheap Bluetooth speakers on the list.
TREBLAB FX100 – Extreme Bluetooth Speaker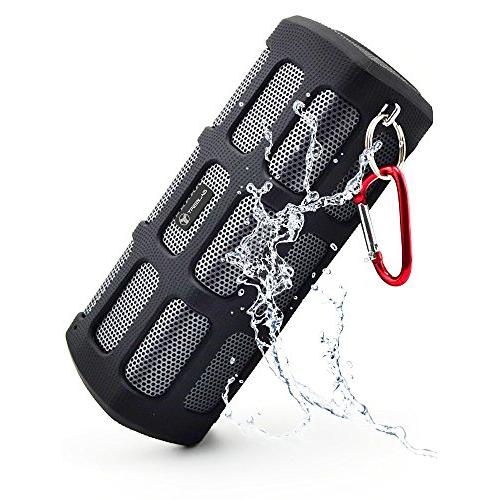 This powerful speaker is made specifically for outdoor activities. You can carry it anywhere you like – fishing, golfing, camping, picnic or a beach. It is an IPX4 certified speaker and shields from dust, water, and accidental shocks. You don't have to fear while keeping it beside a pool because splashes of water will not damage the speaker. The bass is amazing and the thumps in the audio will make your party a super-hit. It delivers a distortion-free sound so you can go ahead and max the volume of the speaker. You can connect almost all types of devices through the speaker to stream music. The controls are ergonomic and you also get notified about your battery going low through a blinking LED light.
These are some of the best cheap Bluetooth speakers you can buy right now. Even though they are affordable, they have some pretty awesome features, so no matter which one you buy, you'll be super satisfied.
Read also: Best VR Headsets For iPhone X
---