Technobezz is supported by its audience. We may get a commission from retail offers
Summary – Are you a big fan of Asus gaming laptops? Are you confused about getting one of the best Asus gaming laptops for you? We can't blame you
Are you a big fan of Asus gaming laptops? Are you confused about getting one of the best Asus gaming laptops for you? We can't blame you because there are so many different options available in the market today. It's quite easy to get overwhelmed with all the choices when you go laptop shopping. Asus has become a powerful and popular brand when it comes to computer peripherals and systems. Over the years, they have slowly but surely built their brand up with high-quality performance-based products. Today, they are easily one of the topmost computer brands when it comes to performance heavy products, like gaming machines.
There are so many different models available in the market today that you might feel a little confused about which laptop to go for. You can considerably break down the question by answering a few key points. Are you looking for an affordable or expensive model? Will you be using it primarily at home or carrying it around a lot? Do you want a compact model or a large one? If you are looking for a specific brand and a specific purpose, your search for the perfect laptop will be much easier.
Asus might be one of the best options to look for. This brand is a very popular and well-settled name in the laptop market when it comes to gaming. The reason they are winning the gaming market is their amazing specifications such as CPU, GPU Cooling system, excellent memory speed, hard drive rotational speed, etc. And with all these, another reason to choose this brand is their lower price.
The worst thing you can do is to look for laptops without any purpose in mind. You will spend hours and days just browsing through different websites and online stores, only to get overwhelmed and confused. If however, you are looking for only gaming laptops, then that shrinks the possible choices by a lot. If you are looking for a specific brand like Asus then that reduces the choices more making it easier to go through the available options and really go in-depth into it.
Buying Guide
Asus is a Taiwanese brand that has built a label for itself as a reliable gaming laptop manufacturer. Some of the important specifications and features in gaming laptops have also been indicated here. However, you will still need to dig a little deeper and analyze the different options available within the Asus gaming laptop range before choosing to buy one.
Find some more tips here.
Processor: Your Asus gaming laptop has to have as powerful a processor as possible. Once you are investing in a gaming laptop, it is assumed that you would want to play all games in it without exception. For doing that you must have a laptop that can handle them. Going by the current trends, the Intel Core i7 (preferably 8th generation) is a very good processor. Intel has gone ahead and released the Core i9 processors as well, but if your i7 chipset can clock a speed of around 3.5GHz to 4GHz, it should be sufficient to play games, subject, of course, to the other support systems like the graphics in place.
Graphics: The graphics section is very critical for gaming as the images move on the screen at great speed. The industry flag bearer in graphics is NVIDIA. They have a huge range of graphics cards. Choose the latest and the best.
Display Size: Gaming enthusiasts would prefer a 17-inch display, though the 15.6-inch display offers an equally immersive experience. It should be your personal choice.
RAM: Gaming laptops will have to have higher RAM levels than regular ones. It can start with 16 GB as the minimum and 32 GB would be appreciated.
Cooling: Asus laptops for gaming purposes come fitted with special cooling fans so that the device does not get overheated. You can check and satisfy yourself while buying that the model has the best cooling arrangement.
Battery: If you are playing the top-end games, the battery won't last quite long. It is ideal to connect the gaming laptop to the mains and play. However, insist on as large a battery as you can get.
Keyboard: You will require special keyboards for playing games. Asus laptops for gaming are supplied with the extra keys needed while gaming. Just ensure you are getting the best among them.
Given below is a compilation of the best Asus gaming laptops in various categories such as affordability, high performance, size and value, to help you find the perfect gaming laptop for your needs.
See also: Best 11.6-inch laptops
Top Best Asus Gaming Laptops
The Most Affordable Asus Gaming Laptop
Asus FX504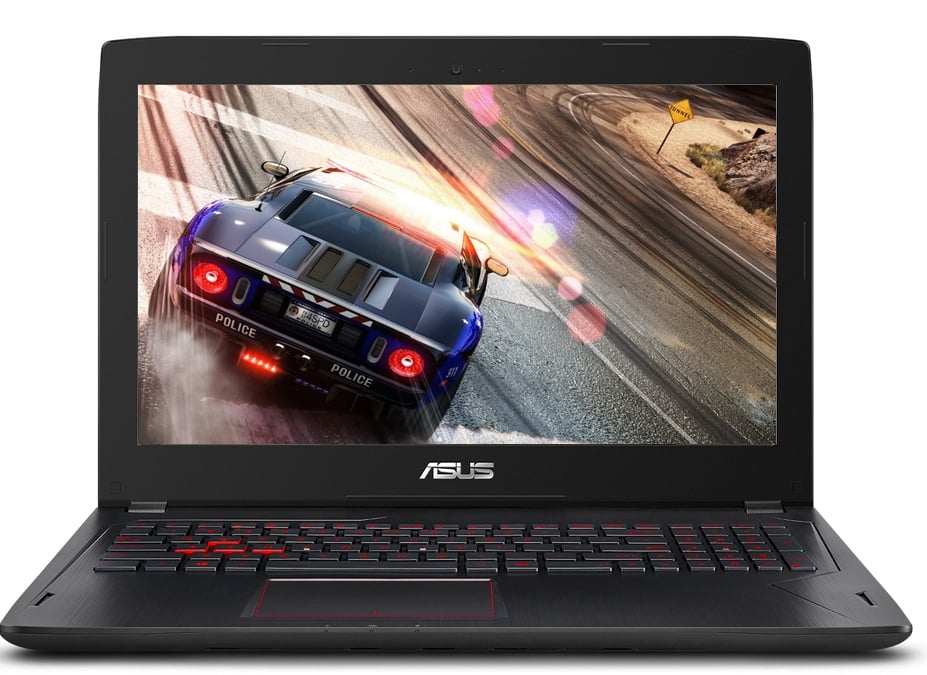 The Asus FX504 is one of the best affordable gaming laptops in the market today. It comes with a 2.8 GHz Intel Core i7-8750H processor, a 2 GB NVIDIA GeForce GTX 1050 graphics card, 8 GB RAM, 256 GB SSD and a 15.6-inch display screen.  It weighs about 5.07 pounds which makes it a bit on the heavier side. So it's more suited for people who are looking for a gaming laptop primarily in the comfort of their own home. You can carry it around if required, but doing so every day might become uncomfortable due to its weight.
The 15.6-inch glossy display comes with a resolution of 1920 x 1080 pixels making it perfect for watching videos and of course playing games. The screen does have a lower level of brightness than other screens and this reiterates back to the fact that this is a laptop for indoor use. However, whatever the level of brightness it has, it distributes evenly across the screen making it almost impossible to notice indoors. So if you are someone who likes to play their favorite games in the comfort of their own home, this is a solid choice for you.
The case is made out of highly durable plastic and features diagonal thin red lines. Aesthetically, the thick design would appeal to those who like their laptops to feel heavy and durable.  The red design theme found on the body continues on to the keyboard as each key is illuminated by the same color. You can switch the intensity of the red illumination down according to your preference. They also don't wobble or creak when you type, which is pretty nice especially for a gaming laptop where the keyboard is used extensively.
Performance-wise, the Asus FX504 does a great job of performing intense tasks considering its low price point. It's nowhere close to being the best gaming laptop on the market, but it offers exceptional value as a budget gaming laptop. You can play the latest games at medium to high settings, but you may notice certain flaws when you play games at very high resolutions. The medium setting is the sweet spot for this laptop if you want to have a smooth and fluid gaming experience. In short, if you are looking for an affordable Asus gaming laptop, the FX504 is a good choice.
Why you should buy this?
Its less power consumption makes it very useful for college students.
People who are into content creation can invest in this laptop as it offers a quiet typing experience.
This laptop offers great screen quality that makes it very safe and easy to understand for the kids.
The Best Value Asus Gaming Laptop
Asus ROG Strix GL703VD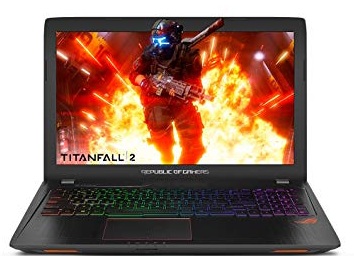 The Asus ROG Strix GL703VD comes with a 7th generation quad-core processor, 4 GB NVIDIA GTX 1050Ti, 16 GB DDR4, 256 GB SSD + 1 TB 7200 RPM HDD and a 17-inch display screen.  It combines excellent performance and breathtaking visuals to give you an amazing gaming experience. The keyboard features an Aura RGB backlit keys with 2.5 mm of travel distance for a tactile experience optimized for fluid gaming.
The design of the laptop is one that a lot of people will either hate or love. If you like a sleek but heavy-looking laptop then you will absolutely love this model. The top is extremely thin, but the bottom looks heavy and durable.  The color theme of black and orange goes well with the overall design of the device. On the backside of the screen, you can see a cool looking logo flanked by two orange lines on the sides, showcasing the streamlined nature of the design.
The 17-inch screen features a full HD IPS panel with wide 178-degree viewing angles. You get the great contrast and amazing consistency of color no matter what position you view the screen from. The matte finish ensures that no reflections or glares appear, giving you a fluid and seamless gaming experience.
Performance-wise, this laptop is an amazing beast with the 7th generation Intel Core i7 processor and the GTX 1050Ti graphics. You can pretty much play all classic and modern games easily at 1080p with a consistent frame rate of 60 FPS. In short, if you are looking for a great value Asus gaming laptop and don't mind spending a little bit, then this is the perfect laptop for you.
Why you should buy this?
The USP of this laptop is its excellent keyboard that comes with customizable RGB.
College or school students can easily do their studies on this laptop as it offers consistent and balanced performance.
People who are into gaming should go for this laptop as it offers a good FHD gaming experience. Its noise and heat are also well-managed.
The Overkill Asus Gaming Laptop
Asus ROG Strix Scar III G531GW-DB76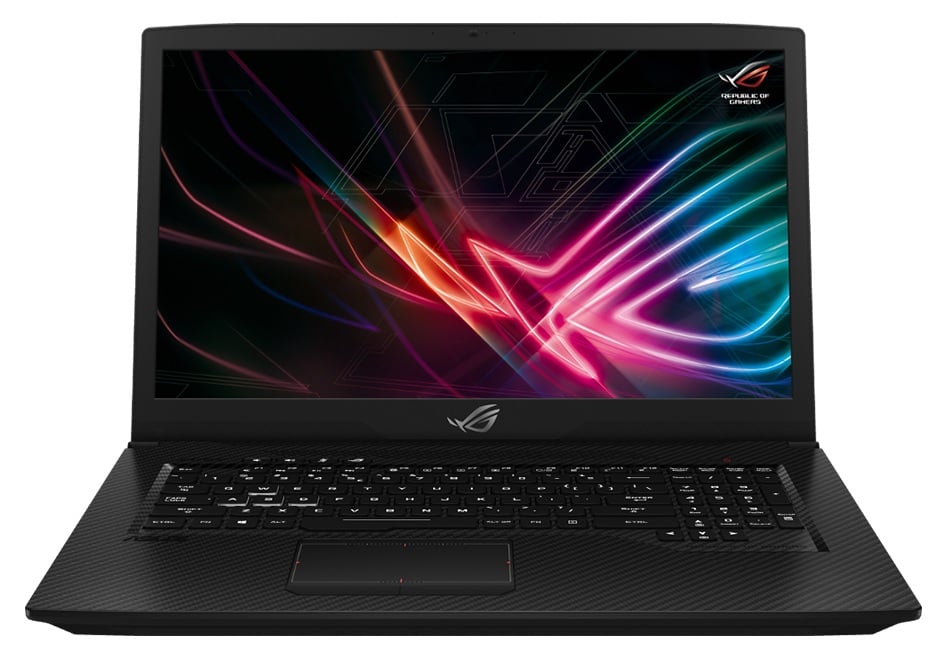 The Asus ROG Strix Scar III G531GW is a monster of a laptop with Intel i7-9750H processor, 16 GB RAM, 1 TB SSD + 1 TB SSHD, 8 GB NVidia GTX 2070 graphics and a Full HD 17.3 inch display screen. Though it's a bit on the expensive side, it is one hell of a laptop that will surely satisfy any of your gaming needs.
Firstly, the laptop looks drop-dead gorgeous. Pictures of this beast of a machine don't do enough justice. It looks exceptionally sleek and features an aggressive yet stylish design. The keyboard area is textured, giving it a great grip for your palms while slaving away at your favorite games for hours. The top of the laptop has an aggressive wedge (or scar if you prefer) design that goes down diagonally with a shining metallic logo branded proudly near the top left corner.  However, it does weigh about 6.5 pounds, so don't expect to have a great time lugging it around everywhere.
As far as the display is concerned, the 17.3-inch Full HD screen features the standard 1920×1080 resolution and a refresh rate of 240 Hz, making it perfect for experiencing games the way they were meant to. The display isn't the best in this price range, but it is by no means a bad or an average one. The Anti-Glare display actually helps you to play your favorite game for a longer amount of time without making your eyes water.
The 1 TB SSD and the 1 TB SSHD gives you more than enough storage capacity to install and play games, no matter how big they are. This really helps out if you love playing huge MMORPGs that require a ton of storage space. But after you install your favorite game, you will find out instantly that this machine just shreds through it like it was nothing. The 9th Gen i7-9750H six-core processor along with NVidia GTX 2070 GDDR6 and 16 GB RAM lets you glide through the latest games with ease.
Why you should buy this?
This is primarily a gaming machine. And the GSync takes the overall gaming experience to another level.
If you are looking for a fairly compact and lightweight laptop, this gadget should be on your list.
The students who are into music composing would fall for its powerful and punchy audio system.
Flagship Asus Gaming Laptop
2019 Asus ROG Strix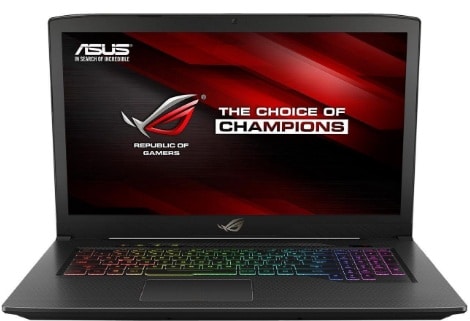 The 2022 Asus ROG Strix is one of the flagship gaming laptops of Asus made to satisfy everyone's gaming needs. It features a 2.8 GHz Intel Core i7-8750H processor, 8 GB NVidia GTX 2070 graphics, 16 GB DDR4 RAM, 256 GB SSD + 1 TB HDD storage space and a 17.3 inch display screen. It also weighs about 6 pounds, making it pretty light to carry around. It's not the lightest laptop in the market by any means, but gaming machines require sufficient space in terms of a graphics card, RAM and other necessary performance boosting components. So it is pretty light in weight considering its capability.
The display looks gorgeous with its aggressive design. The backside of the screen features a diagonal ridge that cuts across the body with the iconic logo to its side. Forget about playing games, you can spend hours just looking at this gorgeous beauty. It is sleek, stylish and very lightweight which is pretty surprising considering its performance.
Intel Core i7 hexa-core processor, NVidia GeForce GTX 2070 chipset and the 16 GB RAM makes for a beastly combo. From heavy multitasking, video editing, live streaming to playing the most graphics-intensive games, the 2022 Asus ROG Strix can do it all with ease. It also has an intelligent thermal regulation which utilizes heat pipes and dual fans to cool down the machine when it is being used.
Why you should buy this?
This laptop offers a great gaming experience with all the advanced gaming features.
Women can go for this model as it offers consistent and smooth performance, thanks to its excellent thermal management.
The signature wraparound RGB LED lighting is the USP of this gadget.
The Emperor – High-End Asus Gaming Laptop
Asus ROG Strix Scar 17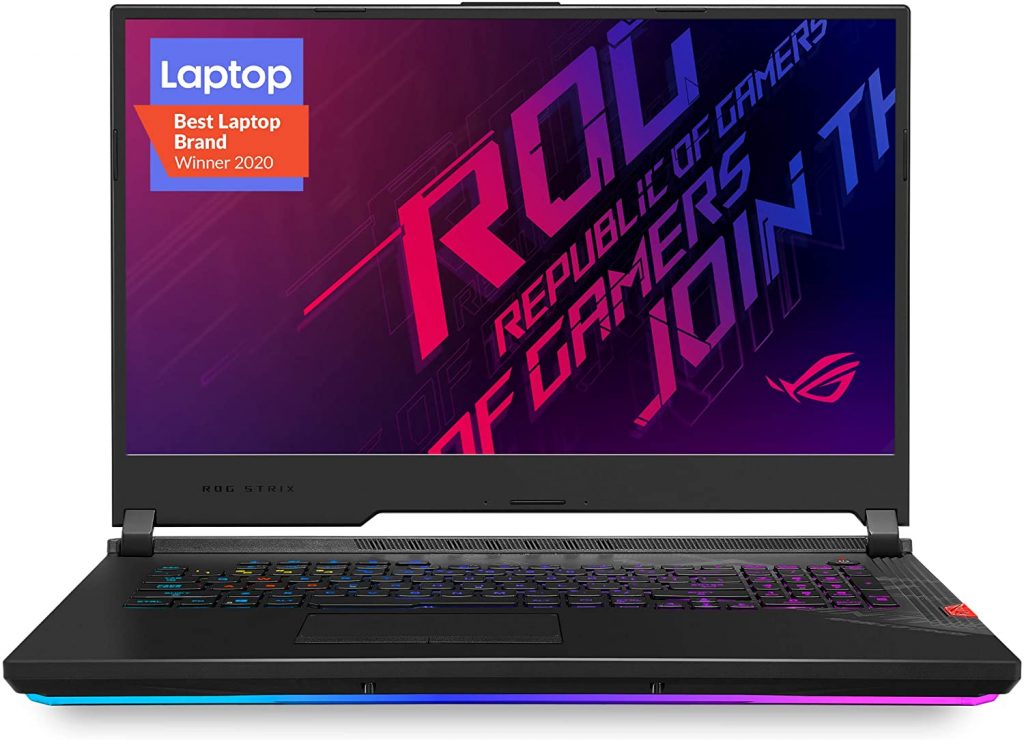 Very few laptops in the world can truly scare you with its performance and the Asus ROG Strix Scar 17 is certainly one of them. It is a laptop designed to compete and even beat desktop PCs and it is absolutely ridiculous. It comes with a factory overclocked 4.8 GHz i9-10980HK processor, 8GB NVidia RTX 2080 super graphics, 32 GB RAM, 512 GB HyperDrive PCle SSD +2TB SSHD storage capacity and a 17.3 Full HD display screen. You know you have the ultimate gaming laptop when it weighs about 6.28 pounds. This may not be the perfect laptop to travel with, but who cares? It is designed to play games that are to be released a year down the line.
As far as visuals are concerned the laptop has a somewhat divisive appearance. It's not ultra-thin nor is it boxy enough to look like a transformer. The way the screen is attached to the body might look a bit weird to some, but if you like monsters and monstrous machines, you will love this one. The looks won't appeal to everyone, but you will either hate it or you will absolutely love it.
It not only looks like a beast, but it feels great to touch and hold in your hands. It's almost like you are carrying around a fierce piece of metallic armor. The keyboard feels very responsive with keys that have plenty of travel and a feel very similar to a mechanical keyboard. The placement of the touchpad feels very intuitive as well. When it comes to the display, the 17.3-inch screen allows you to have a seamless and fluid visual experience like you never had before. The lightning-quick 3ms GTG response time drastically reduces motion blur and outright prevents ghosting and tearing.
When it comes to performance, it dominates everything in its path. It doesn't matter how big or heavy the game is, you can rip it up at max settings and glide through it like a sword through molten fire.  This is a laptop made for playing games at ultra-graphics mode and it's a complete sin if you don't crank it up. You also get two anti-dust 12V cooling fans that regulate the temperature of the CPU as well as the GPU for optimum performance. The patented Anti-Dust Cooling technology actually ejects the dust particles through the inner tunnels to always keep the inside parts clean.
This laptop is an absolute beast and possibly Asus's best gaming laptop, but it comes at a very high price. Is it worth the price? Without a shred of doubt, we can tell you that it is absolutely worth the high price.
Why you should buy this?
Students who have an ample budget should not miss this power-packed gadget. It offers a combination of solid looks, performance, and advanced features.
The latest Nvidia GeForce GTX 1080 8GB graphics makes it a must-have for the working professionals.
The two 3W unite produce superb volume and amazing clarity at both high-end and mid-range.
Other models worth buying
Best Asus Gaming Laptop With An Excellent Performance
ASUS ROG G751JY-VS71(WX) 17-Inch Gaming Laptop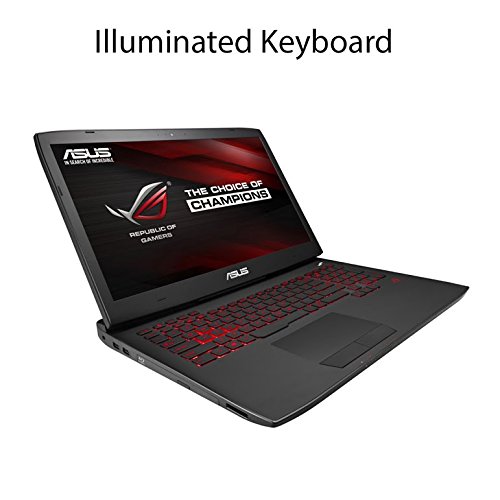 This is one of the best Asus gaming laptop that comes packed with high-performing CPU and GPU which are the main needed things for a gaming laptop. It packs NVIDIA GeForce GTX 980M graphics card for gaming purpose and the processor is Intel Core i7-4720HQ 2.6GHz that can be turbo up to 3.6 GHz to offer a great performance. Other features include 16GB RAM, 17.3-inch full HD matte display with a higher resolution of 1920×1080.
Why you should buy this?
Its anti-slip, soft-touch palm rest, and multi-touch touchpad make it a must-have gadget for working women.
The stereo speakers with microphone and subwoofer take the gaming experience to another level.
This laptop offers easy and multiple connectivity options. It is a plus point for the students as they can carry it anywhere.
Best Asus Gaming Laptop Under 1000 Dollars
ASUS ROG GL552VW-DH71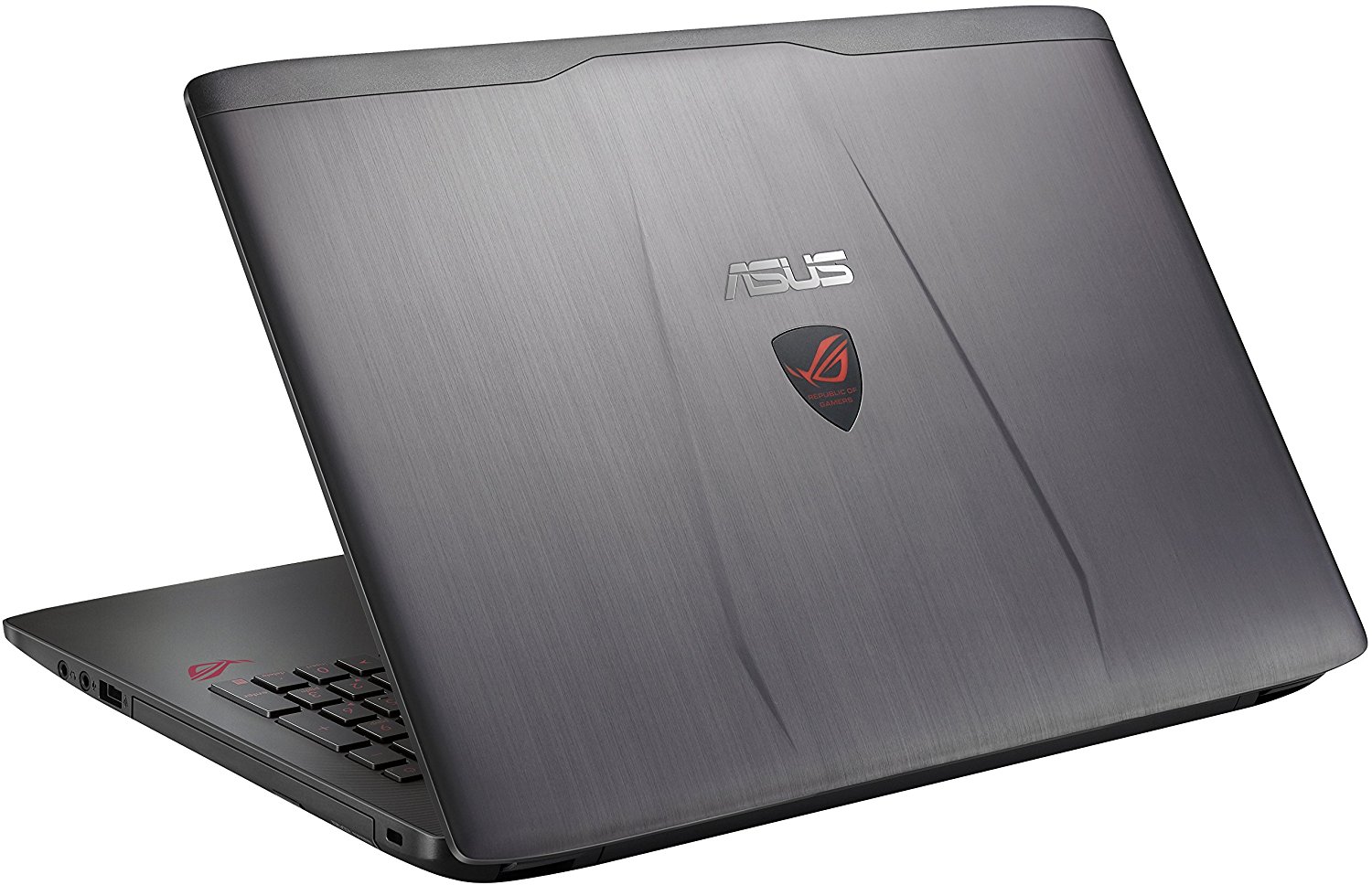 This is another great Asus ROG laptop designed especially for gamers to provide them smooth experience. It includes NVIDIA GeForce GTX 960M graphics card for gaming and the processor is Intel Core i7-6700HQ clocked at 2.6GHz. The screen is big enough 15.6-inch with a higher resolution of 1920×1080. The hard drive is 1TB with 7200 rotational speed. It runs on pre-installed Windows 10.
Why you should buy this?
This laptop comes with the latest NVIDIA GeForce GTX 960M graphics card.
The Chiclet keyboard offers a very smooth typing experience to the college and school going students.
This laptop comes with a GTX 960M that makes it possible for you to play any game at high-ultra settings.
Best Asus Gamer Laptop With a Large Amount Of RAM
ASUS ROG GL552VW-DH74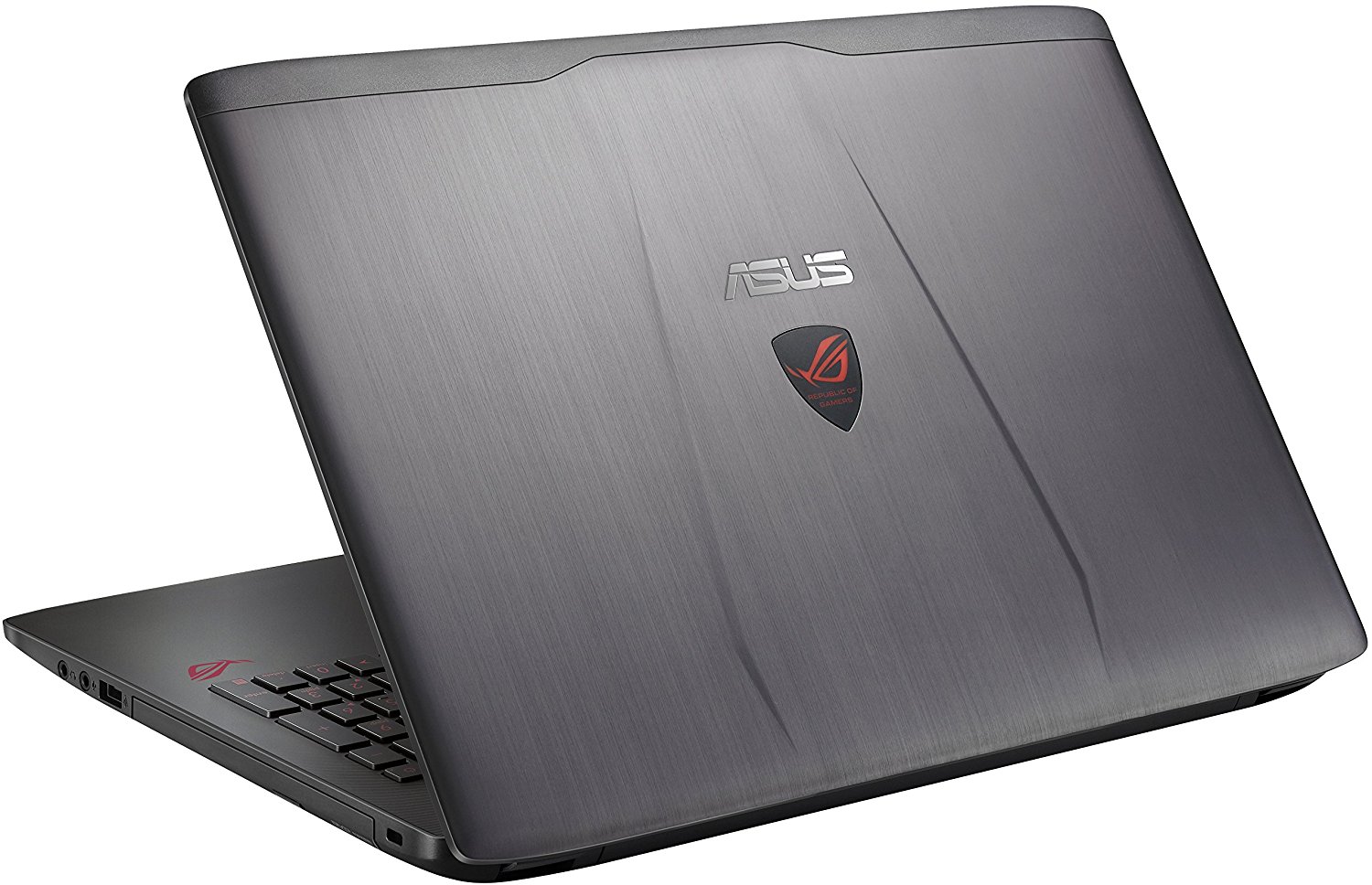 You can have a look at this laptop as well that is featured with almost same specifications such as Intel Core i7-6700HQ 2.6GHz processor, 16GB RAM, 128 GB SSD storage, hard drive 1TB at 7200 RPM etc. The graphics card it includes is NVIDIA GeForce GTX 960M  for high end and smooth gaming. This machine also packs GameFirst III technology that manages the flow of game data better way across your network.
Why you should buy this?
Students who love gaming can go for this laptop as it is a mid-level GPU that can play almost all the modern titles on high settings.
This gadget comes with the newest Intel generation chip, Skylake that offers supreme gaming experience.
Working professionals will find this laptop very useful as it allows to multitask.
Best Asus Gamer Laptop With Powerful Graphics Card
ASUS ROG GL502VS-DB71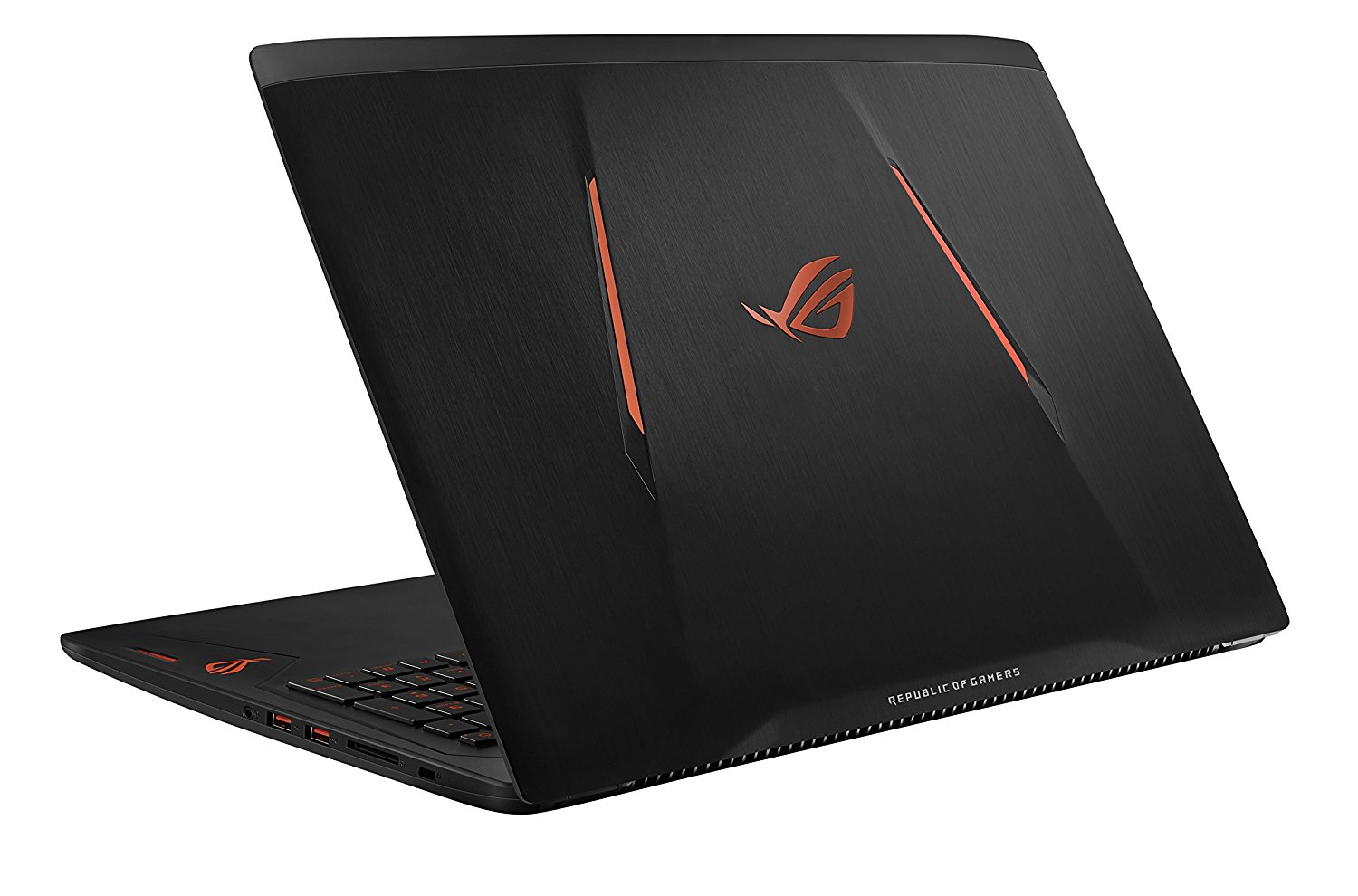 Asus Rog GL502VS-DB71 is a great performing gaming laptop that can amuse you with its excellent gaming experience. Its features are bit different than the mentioned above where it includes 4GB NVIDIA Ge-Force GTXTM 1070 graphics card for gaming purpose and the RAM is 16 GB with 1 TB Hard drive with 256 GB SSD. So, you will never run out of space. The battery life is also not bad, up to 5 hours in a single charge.
Why you should buy this?
The 15-inch FHD 1080p resolution offers wide 160-degrees viewing angles, keeping the images sharp and colors vibrant.
This laptop offers excellent connectivity that makes it a must-have for college going students and gamers.
This gadget offers a perfect combination of high-quality components and stellar performance.
Best Expensive Asus Gaming Laptop With Powerful Performance
Asus ROG G751JY-WH71(WX)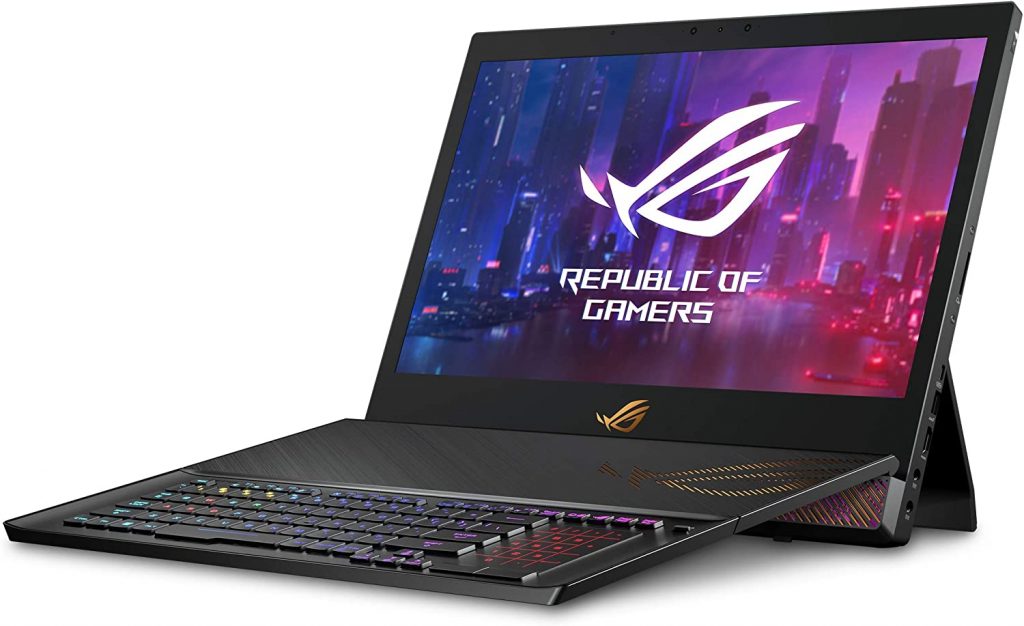 It is another great laptop for gaming from the series of Asus which is equipped with a bold look and stylish design. With this the most needed thing, the powerful performance it provides is amazing that turns your gaming experience into reality. It is no doubt a great choice for serious game lovers. Even though the price is a bit expensive but the features and specs it includes are of high end that altogether makes owning this laptop worthy of the high price also.
Why you should buy this?
The red, backlit, Chiclet-style keyboard will offer a comfortable typing experience to the students.
The speakers of this laptop are very clear and loud with a subwoofer. This feature offers an amazing gaming experience to gamers.
This laptop offers many advanced features at the best price. It is definitely worth an investment.
One Of The Best Asus ROG Laptop With Affordable Price
ASUS ROG GL551JW-DS71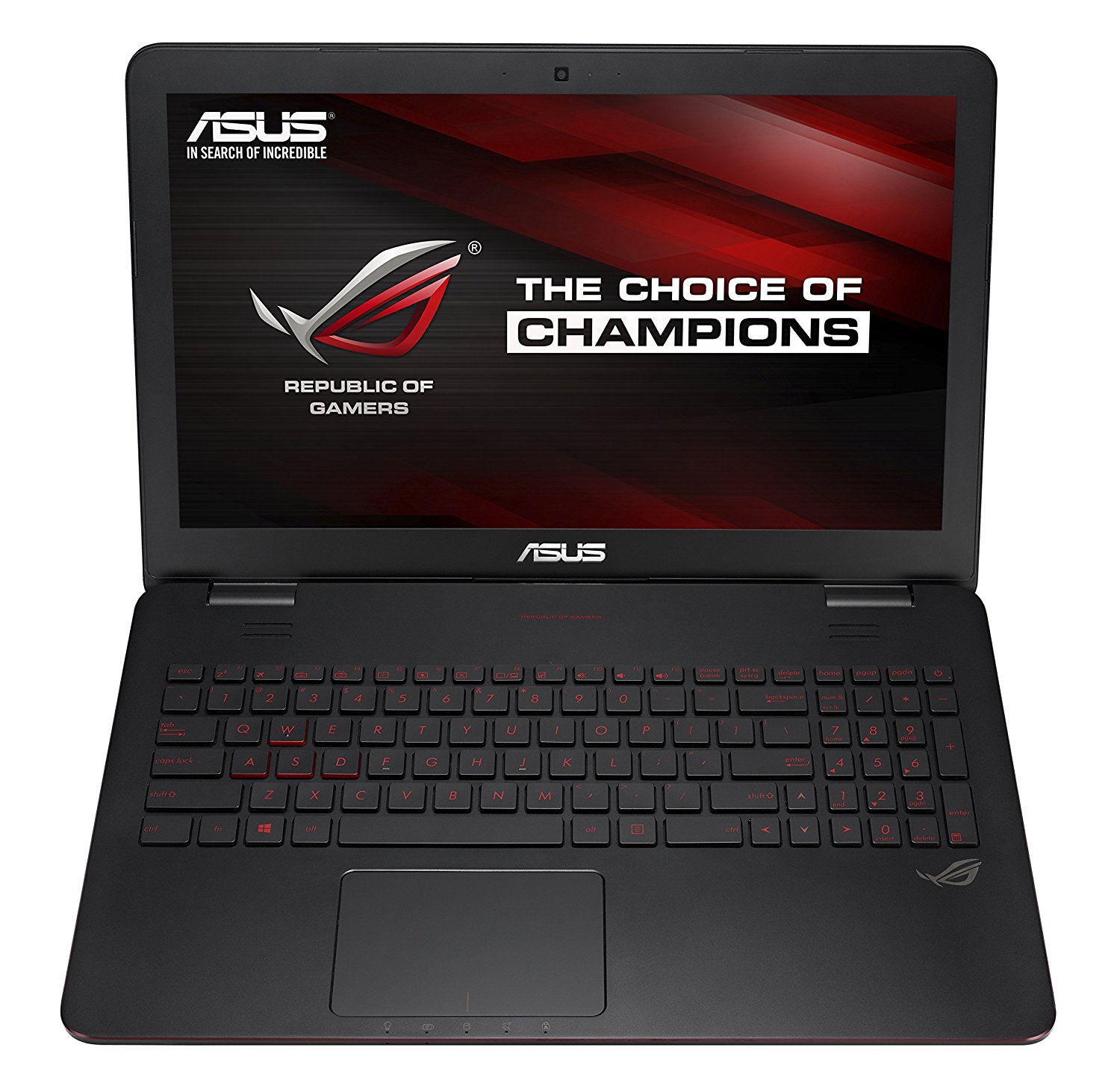 This 15.6-inch laptop is another choice to look for if you are particularly looking for the Asus brand gaming laptop. All the needed basic and advanced features are included in this set that can smoothly provide you the amazing gaming experience including the heavy 3D and high-end games. Playing the game on this device is a great experience that comes packed with a 15.6-inch LED-Lit screen, 2 GB NVIDIA GeForce GTX 960M, 4th generation Intel Core i7-4720HQ processor clocked at 2.6 GHz with 16 GB RAM. It runs on Windows 8.1 OS which might be not liked by all.
Why you should buy this?
Working women can choose this laptop over others in this category as it has a stylish design, comfortable keyboard, and offers a smooth typing experience.
Students who like gaming can have an amazing gaming experience with its high-quality display and audio features.
The best part about this laptop is it rarely gets hot. Its cooling system does an amazing job of keeping the gadget cool and working.
Best Asus Gaming Laptop With Latest Powerful Processor
ASUS ROG Zephyrus S15 Gaming Laptop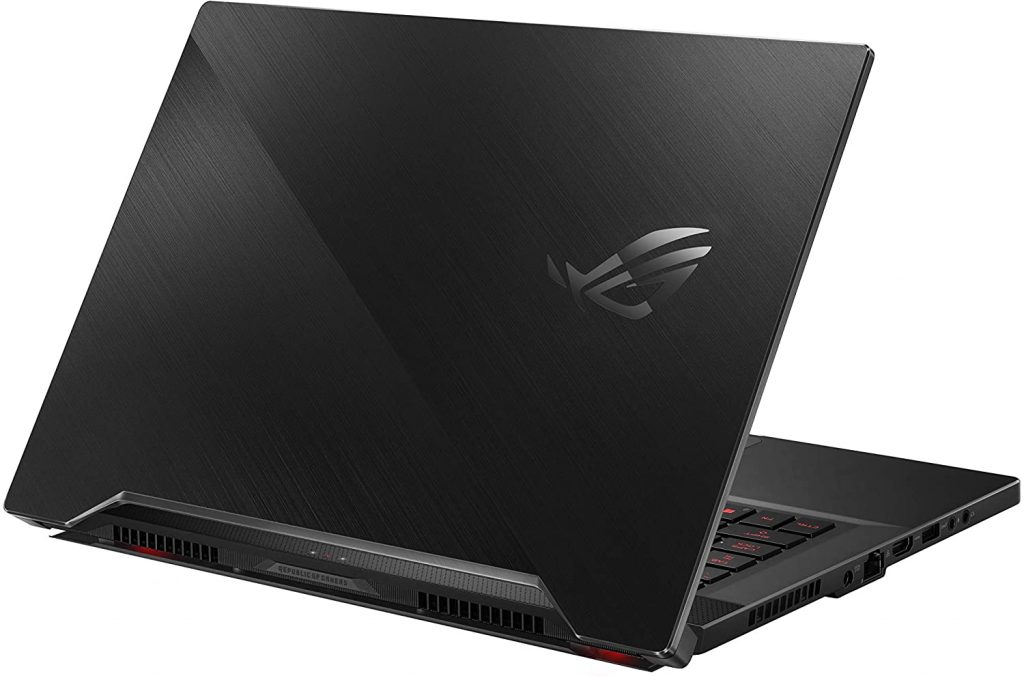 This is the last Asus gaming laptop to include in our list which comes with a 15-inch full HD IPS-Type Pantone Validated display with a resolution of 1920×1080. Also, the powerful Intel Core i7-10875H 2.6 GHz processor that can be turbo up to 3.50GHz, 32 GB RAM, 128 GB SSD with 1TB HDD at 7200 RPM are reasons why this laptop is being considered as a high-end gaming laptop.
Why you should buy this?
This is a power-packed laptop that offers amazing features in a very good price range.
It is one of the fastest options in this category that offers a seamless gaming experience to the students.
This laptop comes with an amazing backlit and anti-ghosting keyboard. It also has an in-built dust-resistant cooling system
See also: Best i7 laptops
Frequently Asked Questions
Do you get free games when you buy Asus gaming laptops?
Asus may have a tie-up with some game developers to include a few games as gifts along with their laptops. These could be models-specific and not all games may be included. In many cases, the buyer may be intimated with a code to be used to download the games free from the respective sites. Free games may not be available across all models.
Will the extra cooling fans in the gaming laptops make more noise?
Yes, the fans do create excess noise when they are trying to cool the laptop. Most gamers report that they use a headphone while playing the game and the noise of the fans is drowned out. You may also try something similar if the noise affects you.
Which is better, a gaming console or a gaming laptop?
Each platform has its own merits and demerits. A gaming console is a dedicated machine meant to only play games. You will still need to connect it to some other device for display and sound etc. A laptop can be used for many other purposes than just playing games. Some people prefer playing games only on desktops. It is difficult to give a direct answer to this question.
How long will the laptop battery last in a gaming laptop?
The battery life in any laptop is directly linked to the program being run on it. It can last a whole of 8 hours if you are just working on a document or an email page. If you run videos, the battery will drain faster. If you play games with heavy graphics in it, the battery life will be further cut short.
Can I exchange my old laptop while buying a new Asus gaming laptop?
Trade-ins are the exclusive preserves of the seller of the laptops. The manufacturer does not have any such trade-in arrangement. Some sellers have schemes going to promote their sales of buying your old laptop at a price and deducting that amount from the new gaming laptop you are buying. If there is a mention of this scheme on the page the laptop is listed, you can avail the facility.
Conclusion
These are the top best Asus gaming laptops to buy in 2022. 10 best laptops are mentioned here while all of them have something unique to offer and you will really be amazed by playing on these laptops. The price range is a bit higher but no high-end gaming laptop can be available at a lesser price than these.
Asus has been making great gaming peripherals and laptops for quite some time now. Their gaming products are some of the best in the world. Though finding the right Asus gaming laptop might not be that difficult a task, it is by no means an easy one. They have a lot of ridiculously good machines that give exceptional all-round performance. The questions that will plague you are not whether a certain model is bad or not. It will be whether you want to spend a lot of money and get a great machine or go for an affordable one and save a lot of money. At the end of the day, you get what you pay for and so with a great company like Asus, it's more about the budget than anything else. From great value affordable laptops to ones that can beat desktops, Asus has them all. All you need to do is decide on how much you are willing to splurge on these lean, mean gaming machines. Happy gaming!
---