Technobezz is supported by its audience. We may get a commission from retail offers
X
Our Editorial Process
Each year more than 60 Million users visit Technobezz to solve a problem or research a product. Our goal is that everyone finds what they are looking for, and that is why we cover a variety of products, problems, and solutions on our website.

Writing an article that contains a lot of valuable information may seem simple. But when the article is written, the story doesn't end. We are constantly updating the content so that you can always get up-to-date and accurate information.
---
Technobezz's Editorial Guidelines
With an 11.6-inch laptop, it is easier to get work done on the go, travel a lot, and easily store it in your
Asus E210 11.6-inch Laptop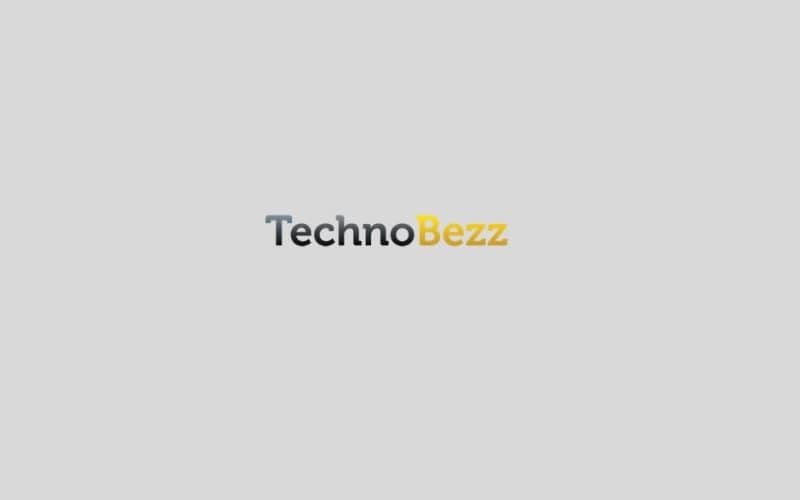 Asus VivoBook E12 Intel Celeron Processor Laptop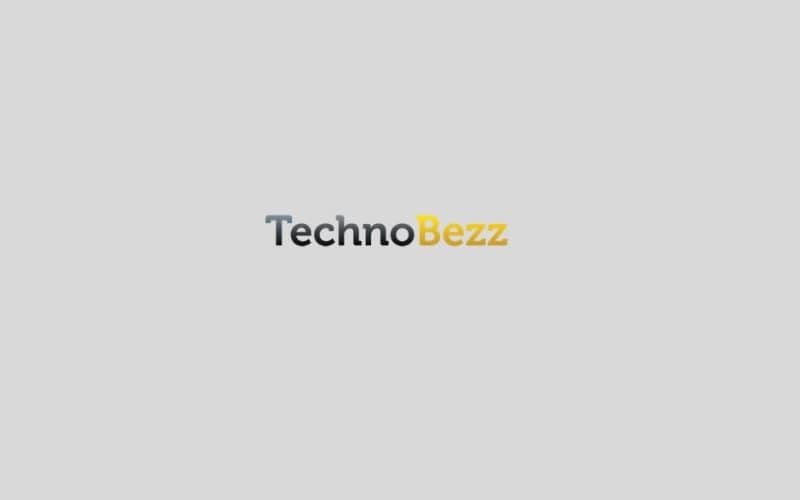 Chuwi Hero Book Air 11.6-inch Display Screen Laptop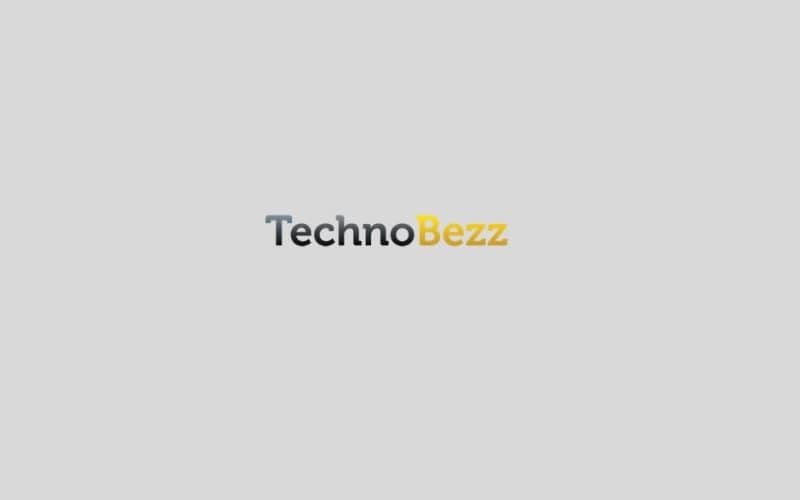 Table of Content
With an 11.6-inch laptop, it is easier to get work done on the go, travel a lot, and easily store it in your backpack as it has a minimal footprint. The advantage of buying the best 11.6-inch laptops is that you get a full keyboard that allows you to type long emails, use Microsoft Excel, and even browse the internet with relative ease. Hardware specifications are mediocre, but they also keep the pricing of many of these models very affordable. Just buy a sleeve to protect your laptop, and you are good to go.
Are you planning to buy a laptop and looking for the best 11.6-inch laptops? Our list can help you narrow down your search. Depending on why you need a laptop, you may find a wide variety of laptops that can fulfill your requirements. But will you get your money's worth when you choose one of those laptops? Take a look at our list of the best 11.6-inch laptops to give you an idea of what is trending in the markets right now.
We have also created a buying guide with all the things you should consider when getting a laptop. Without further ado, let's begin.
Buying Guide
A compact laptop is the most favored option among people who travel a lot and have limited space in their office or home. These products consume batteries slower because of the reduced display size and can even fit in your backpack.
Look for a larger battery – Because your display is just 11.6-inches, choosing a laptop with a large battery would be great. The increased capacity of the battery will increase the performance and longevity of your laptop but if you are opting for more demanding hardware, it may not deliver the expected battery life.
Manage the display resolution – The display size is rather small, and the concept of 4K resolution would never be viable for such a laptop. However, you can consider opting for a 720p resolution that will significantly improve your battery life. Going for a FullHD resolution would be a good choice too in case you plan to use it for entertainment.
Opt for the ideal keyboard size – The most common issue found in many laptops with a smaller display is that it significantly reduces the size of the laptop. As a result, the size of the keys on the keyboard is pretty small. Go for a laptop with a good keyboard layout that does not fatigue your hands and fingers when you use it for long hours. You should also consider investing in an external mouse and possibly a keyboard if needed to use in school or at work.
Moderate hardware specs – The hardware specifications of the laptop need not be exceptionally high because you can only do so much with limited screen space. While there is the option to connect to an external display and get things done, if portability is your primary concern, save cash and invest in a moderately powerful laptop.
Extended Warranty – The extended warranty period, if available with discounts, is a must-buy for users. This will help you once the annual warranty ends and your laptop is accidentally damaged or in case of hardware issues.
You may also read: Best laptops for school and gaming
Best 11.6 Inch Laptops
Budget-Friendly Laptop with Portable Structure
Asus E210 11.6-inch Laptop
Check Price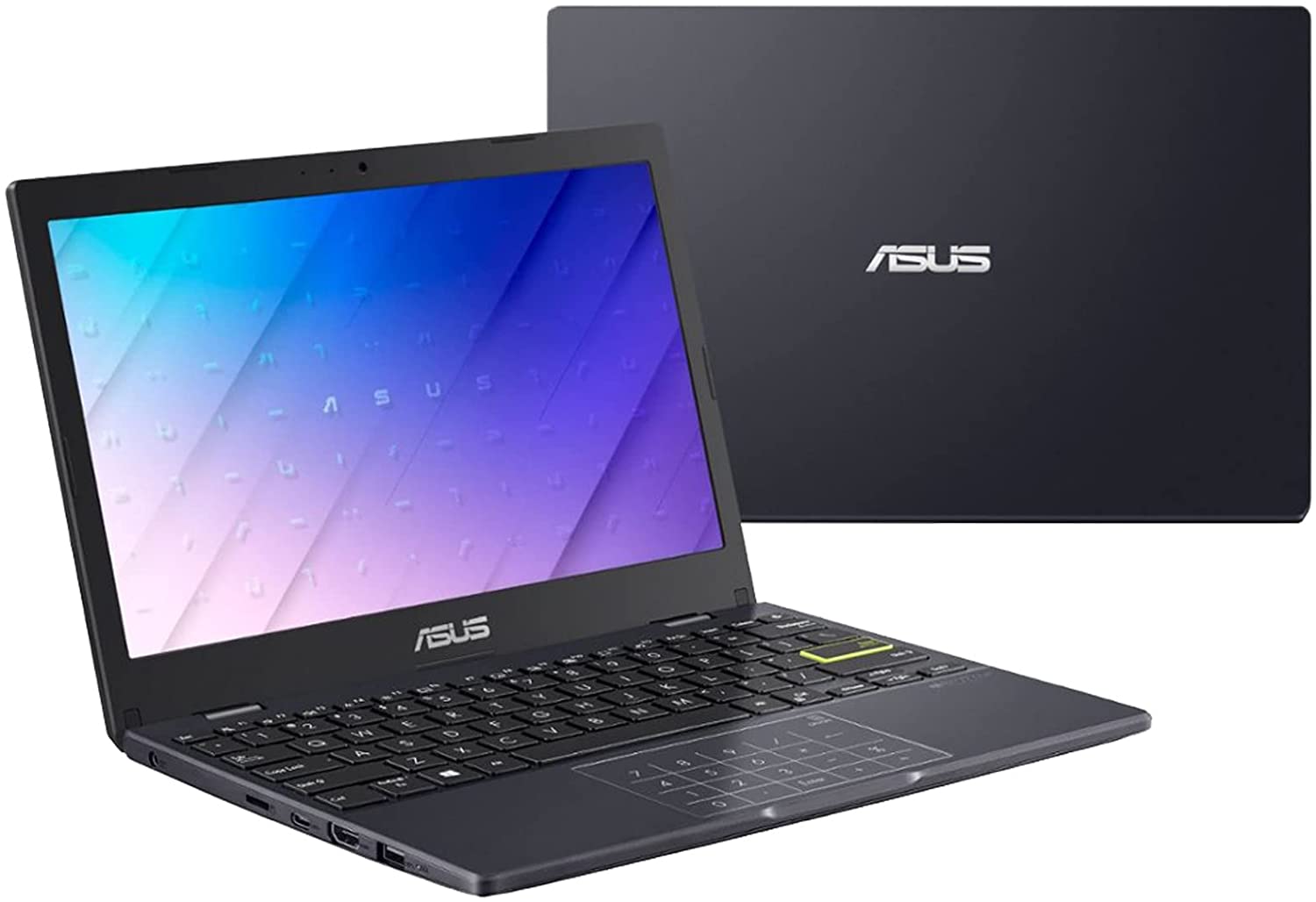 The Asus E210 features an 11.6-inch screen with 1600 x 768 pixels resolution. The display screen boasts very thin bezels and contributes to the lightweight structure of the device. The laptop weighs just 2.4lbs and is very convenient to carry from one place to another. The design of the laptop is quite conventional but is made with durable components. It comes equipped with 4GB RAM and 64GB solid-state drive.
Despite being a modestly priced device, it comes with an efficient processor like the Intel Celeron N4020. The CPU works at a processing speed of 2.8 GHz, enabling the user to multitask without facing any issues. You get one year of Microsoft Office 365 for free with this device. So, whether you use Microsoft PowerPoint or Microsoft Excel regularly, this laptop would prove to be very useful to you.
An ideal option for individuals who travel extensively and are looking for a compact-sized laptop.

It is also recommended for those on a budget and planning to invest in a well-functioning laptop.
Durable structure

Robust processor

Vibrant display screen

Lightweight and portable
No premium features

Inadequate storage space
11.6-inch Display Screen Laptop with a Headphone Jack
Asus VivoBook E12 Intel Celeron Processor Laptop
Check Price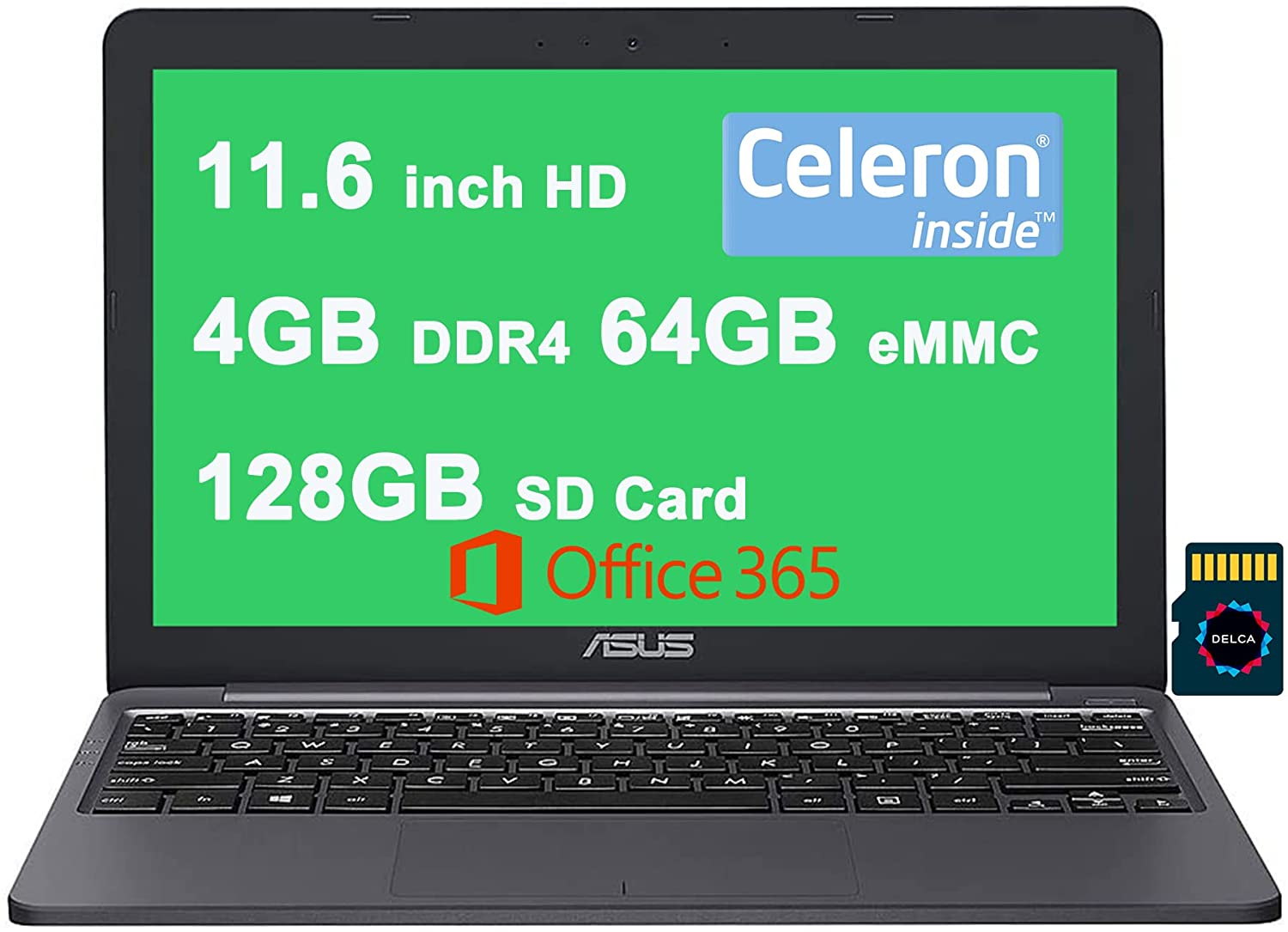 If you are somebody who has missed the presence of a headphone jack on modern laptops, then you will be very happy to find one on this device. It offers several other connectivity ports that you can use to connect your peripherals. As far as storage space is concerned, you are provided with a 128GB SD card. If you don't store a lot of data on your laptop, you shouldn't have much of an issue with this laptop.
The laptop is powered by a robust Intel Dual-Core Celeron processor that lends it a great amount of efficiency. The display screen is 11.6-inches wide and produces crystal-clear images. You get a bunch of accessories with the device, including a 32GB microSD card. The brand also provides free Microsoft Office 365 access for a year. The720p high-definition webcam is highly suitable for those who do video calls regularly.
A suitable option for those looking for a lightweight laptop that is easy to travel around with.

Also recommended for somebody who wishes to invest in something that can function as a secondary laptop device for them.
Moderate pricing

Free Accessories

High-definition webcam

Fast-performing processor
Reflective screen

Insufficient storage space
Moderately Priced Laptop with Full Layout Keyboard
Chuwi Hero Book Air 11.6-inch Display Screen Laptop
Check Price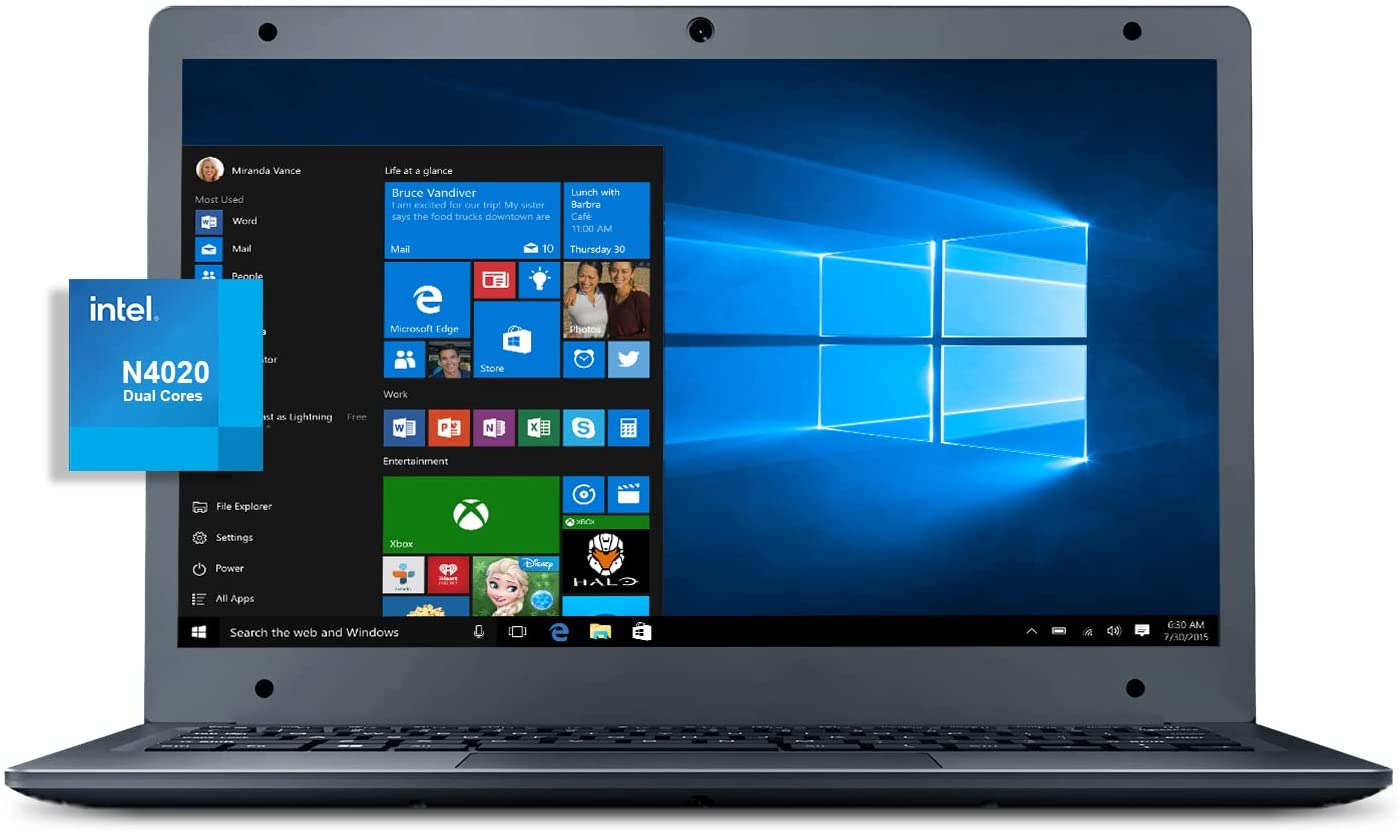 The Chuwi Hero Book Air comes equipped with an Intel Celeron N4020 processor that is responsible for the efficiency provided by the device. The 11.6-inch display screen offers a resolution of 1366 x 768 pixels and should work for anyone who likes to consume a lot of video content. The laptop weighs just about 2lbs and has a width of 0.67-inch. Because of its structure and size, you wouldn't have difficulty traveling with it.
Along with 4GB of RAM, a 128GB hard disk comes pre-installed with this laptop. The amount of storage provided here is quite okay for a budget laptop. However, if you do a lot of heavy work on your laptop or use high-end software, you would require a device that offers you more space. One of the highlights of the laptop is its full layout keyboard designed to serve those who type several thousand words daily. On a single full charge, the battery lasts for 5 hours.
An ideal device for copywriters or anybody in a profession that involves a lot of writing work.

Also recommended for those who are looking for a laptop with a compact but bright screen.
Reliable processor

Portable structure

Comfortable keyboard

Sharp and compact screen
Less storage space

Limited battery life
Lightweight Laptop with Good Processing Unit
Lenovo Chromebook 3 11.6-inch HD Screen Laptop
Check Price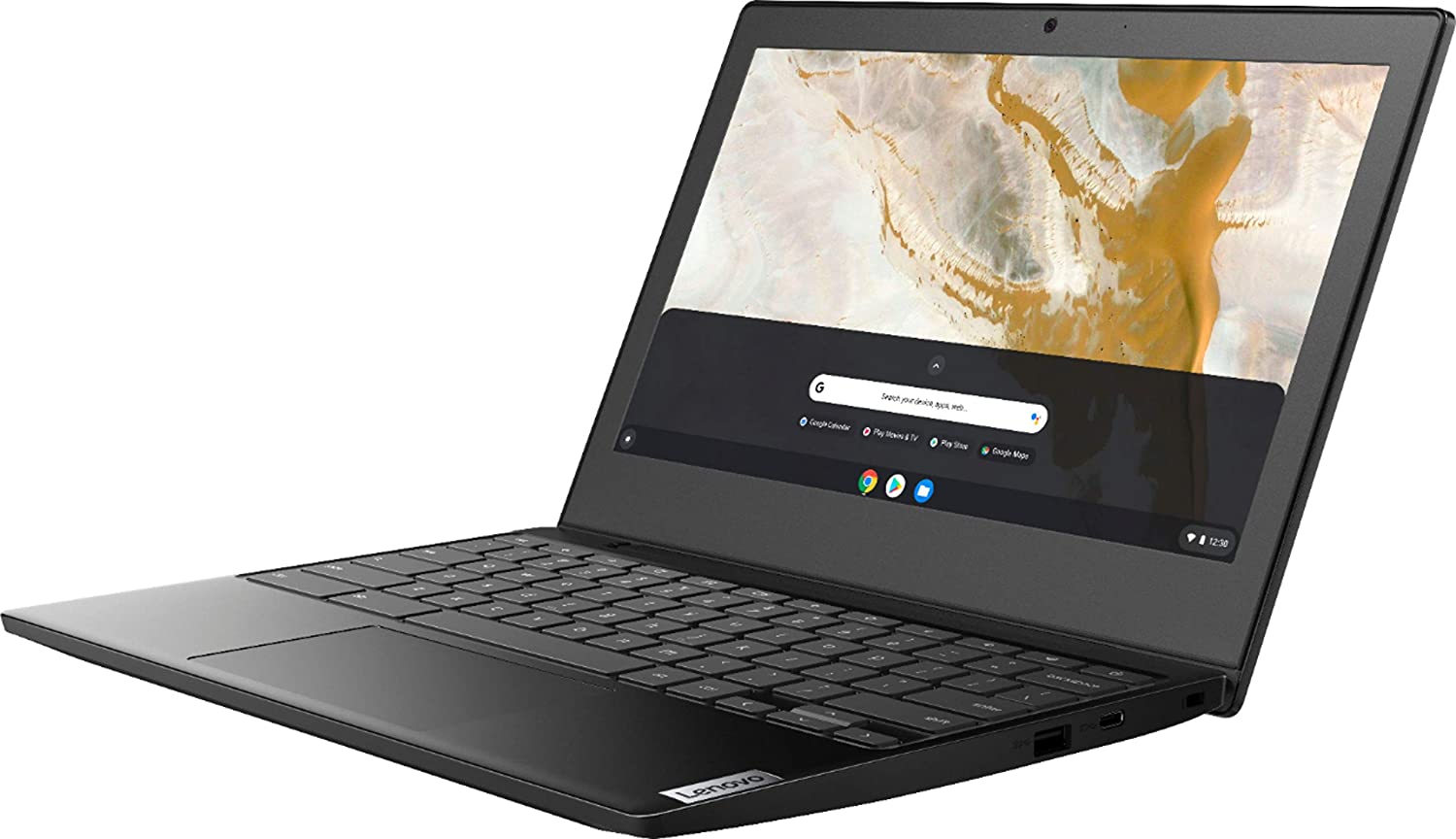 The Lenovo Chromebook 3 features a slightly awkward design. Another drawback of this device is that it offers just about 32GB of storage space. However, if you are willing to look past these shortcomings, you will be quite happy with the performance delivered by this laptop. Not everybody needs a laptop to store a lot of data. Some people need one to just perform some computing tasks at home or in the office. The 11.6-inch screen offers adequate image clarity.
The laptop comes equipped with an AMD A6-922OC CPU that operates at a processing speed of 1.8 GHz and assures you of good performance. Though the laptop is not designed for high-end gaming, you can play various mid-level games without facing any issues. The device has several connectivity ports, including a headphone jack and a microSD card reader. Since the laptop runs on Chrome OS, you are able to carry out multiple activities smoothly.
Why You Should Buy This?
Recommended for those looking for a 11.6-inch display screen featuring a robust processing unit.

It is also a good option for individuals planning to invest in a device that offers multiple connectivity options.
Pros
Budget-friendly

Efficient processor

Good connectivity support

Reliable operating system
Cons
Outdated design

Limited storage space
Budget Laptop with Strong Battery Support
HP Stream Intel Celeron N4000 Laptop
Check Price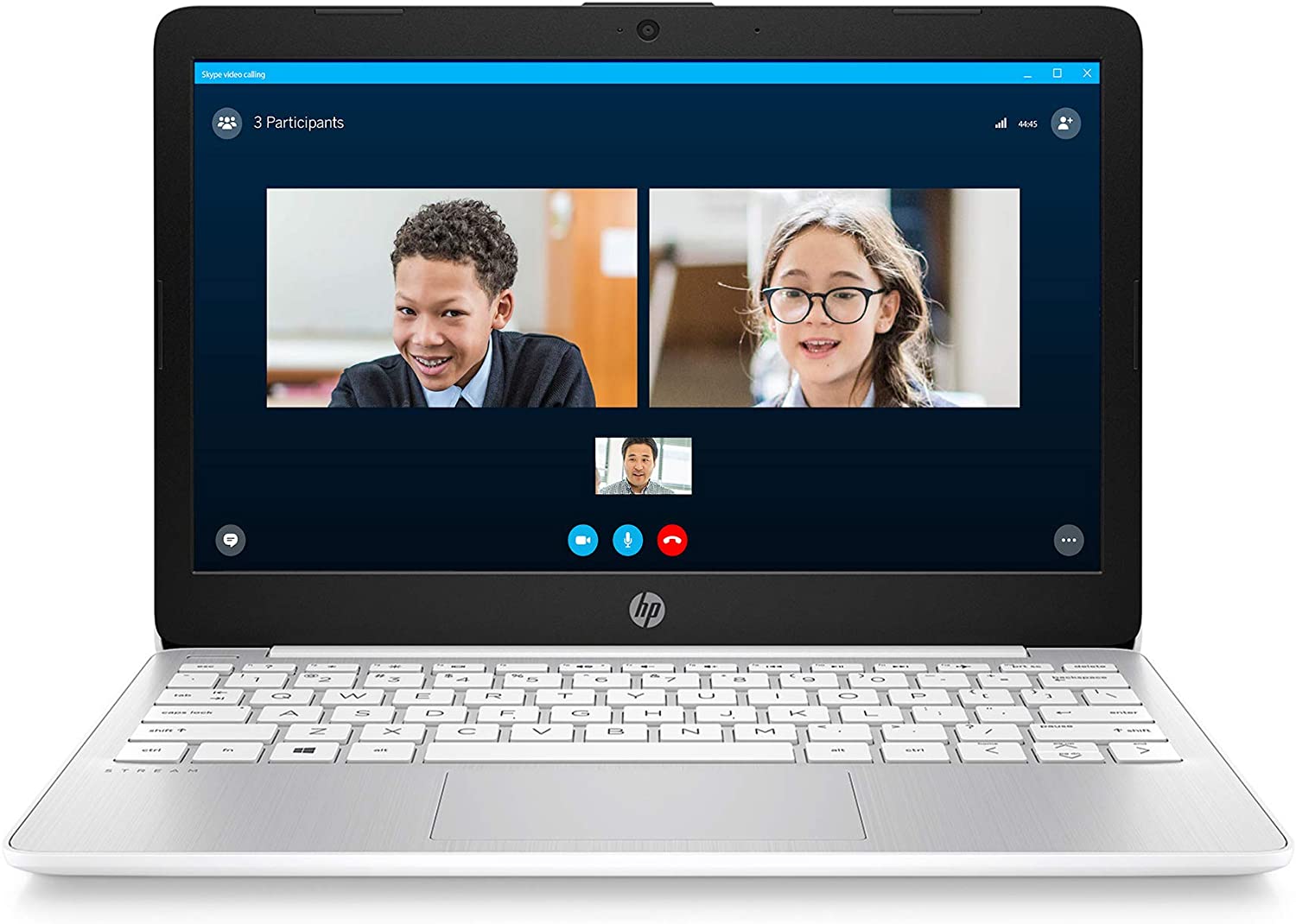 The HP Stream comes with 4GB RAM and 32GB of storage space. Though the storage space offered by the device is quite limited, it provides you with 1 TB of OneDrive storage for one year. The laptop features an 11.6-inch display screen that produces high-quality images. Apart from the anti-glare feature, the screen boasts a backlit display. It offers a resolution of 1366 x 768 pixels and is ideal for binge-watching movies and other video content.
The laptop has been designed quite smartly, and its overall appearance should appeal greatly to younger users. The device comes equipped with an Intel Celeron N4000 CPU that offers good processing speed. Along with a headphone jack and a DVD writer, the device offers all kinds of connectivity options you would expect to find on a modern-day laptop. If you charge the battery optimally, it will last you for 11-12 hours.
A suitable device for those who travel all the time and need a laptop that offers adequate battery support.

It is also recommended for individuals who wish to invest in a device that offers multiple connectivity options.
High-quality webcam

Very attractive design

Sharp 11.6-inch screen

It comes with an optical drive
No fingerprint reader

Inadequate local storage support
11.6-inch Screen Laptop with Sturdy Keyboard
Venturer Intel Pentium N5000 Processor Laptop
Check Price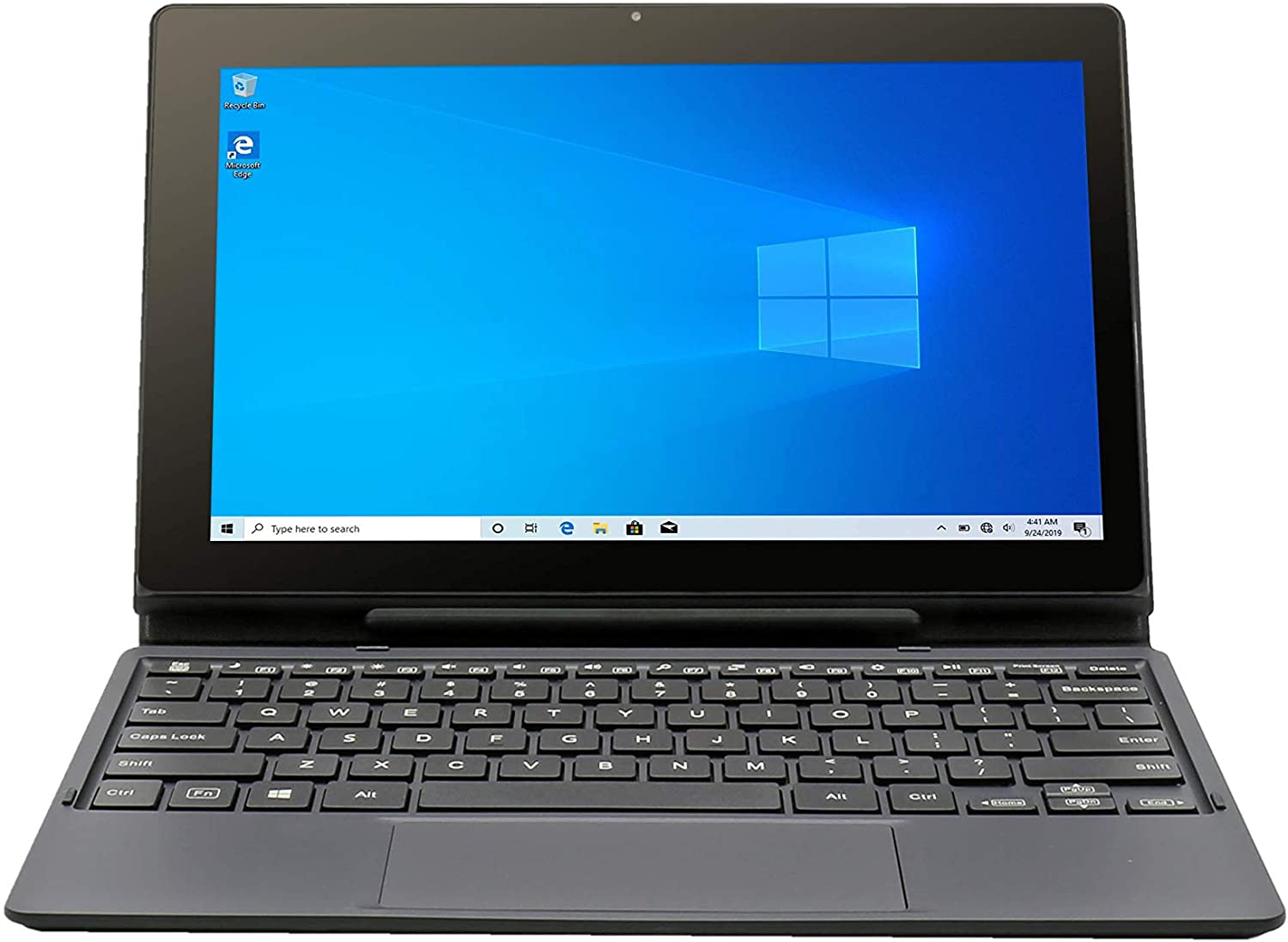 This Venturer device boasts a flexible design that enables you to use it both as a laptop and a tablet. Regardless of the form you opt for, you have a 11.6-inch wide display screen with a resolution of 1920 x 1080 pixels. The screen is touch-enabled and highly responsive to user commands. This device's keyboard is of very high quality and is comfortable to use. When you don't need the keyboard, you can detach it easily.
The laptop is powered by the Intel Pentium N500 processor, which works very efficiently. The device offers 64GB of storage space which should be okay for those who don't store a lot of data on their laptop. On a full charge, the battery lasts for around 6 hours. The laptop offers many connectivity options including a microSD card slot and a headphone jack.
Why You Should Buy This?
A good option for those on a budget and looking for a device that can double up both as a laptop and a tablet.

It is also recommended for individuals looking for a portable device with a detachable keyboard.
Pros
Touch-enabled screen

Detachable keyboard

Multiple connectivity ports
Cons
Best 11.6-inch laptop for travel
Acer 11.6-inch TravelMate Notebook
Check Price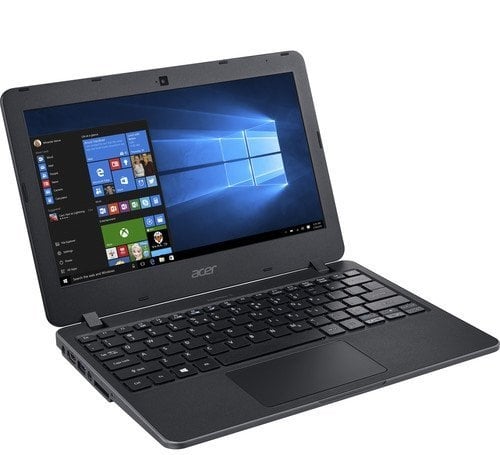 The Acer TravelMate Notebook truly justifies its price tag and its name. The 11.6-inch display uses an LED backlight powered by Intel HD graphics. While the hardware components are definitely on the entry-level side, the laptop is meant to let you work on a trip. It is a no-frills laptop that is inexpensive, easy to use, and can be an ideal secondary device.
Intel N3050 1.6 GHz processor powers the Acer TravelMate Notebook with 2 GB of RAM and 32 GB of storage space. The laptop has WiFi AC connectivity along with an SD card reader and USB ports and uses an integrated webcam to facilitate your video calls. It runs on Windows 10 Pro operating system, and the manufacturer promises an impressive 12 hours of battery life. There should be more than enough for most trips before you can go back and charge it for further usage.
You should buy this because
Compact, easy to carry, and affordable
Great battery life that makes the laptop more reliable during a trip
FAQs
Will an 11.6-inch display be too small for applications?
There is no issue in using a small screen display because you can always connect it to an external monitor using the HDMI port. Most applications will automatically adapt to the screen resolution, or you can adjust it for maximum clarity.
How do I pick the right hardware specifications for a compact laptop?
When going for a budget-friendly, smaller laptop, spend less and look for more value for money. You will not be able to use professional applications because of the limited screen space. At the same time, investing in a graphics card or other expensive hardware specs in this product doesn't make sense.
What is the price range to expect?
There are Chromebooks at $200, but if Windows OS is your desired platform, you can buy a good product at $400 or go up to $1000, which will have improved hardware specifications.
Should I go for an SSD or hard disk for better memory storage?
While all your essential and critical files should be stored on the Cloud or on a hard disk that can be safely kept in your house, consider going for an SSD drive to make it easier to use it on the go. The disks are far more susceptible to data corruption. Opting for an SSD will be a reliable way to use your laptop anywhere, as HDDs are too fragile.
What are the pros and cons of owning a compact laptop?
They are easy to carry in a backpack and will be highly mobile for all your office or schoolwork. They may also provide better battery life, but the smaller screen limits applications in a professional environment unless you pair it with an external monitor.
Bottomline
The best 11.6-inch laptops are the ones that are affordable and offer exceptional battery life. Dell and Acer laptops excel in this area, but for more power on the go, you can consider investing more in a premium laptop. The cheaper ones usually allow you not to worry too much about keeping them safe on a trip and help you get work done on the go. In terms of hardware specifications, they may not impress as ultrabooks or gaming laptops do, as the entire purpose is to offer a smaller display that reduces the laptop's size and makes it travel-friendly.
As we said earlier, we wanted to cover laptops with different features and different prices, so that you can find one that meets your needs. This list of the best 11-inch laptops will help you find exactly what you need. Happy shopping!