Featured in this article (opens in new tab)
Are you looking for the best Android tablet? In today's mobile world, Android is one of the best-operating systems, that supports a large number of applications, which attracts many users towards it.
Tablets are the new laptops. They are a rage; thanks to their portability, wide functionality, and interfaces which are easily usable. It wouldn't be a surprise if the tablets manage to replace laptops.
Android tablets are loved by everyone as they are extremely easy to use. There are a variety of functional and powerful options in the market. Choosing the best tablet from the plethora of choices is a daunting task.
To help you decide, we have made a list of the best Android tablets. So dive into your choices.
See also: Best Chromebooks For Students
Buying Guide
Android Tablet with Good Camera Features
Samsung Galaxy Tab S8 Long-Lasting Battery Tablet
Check Price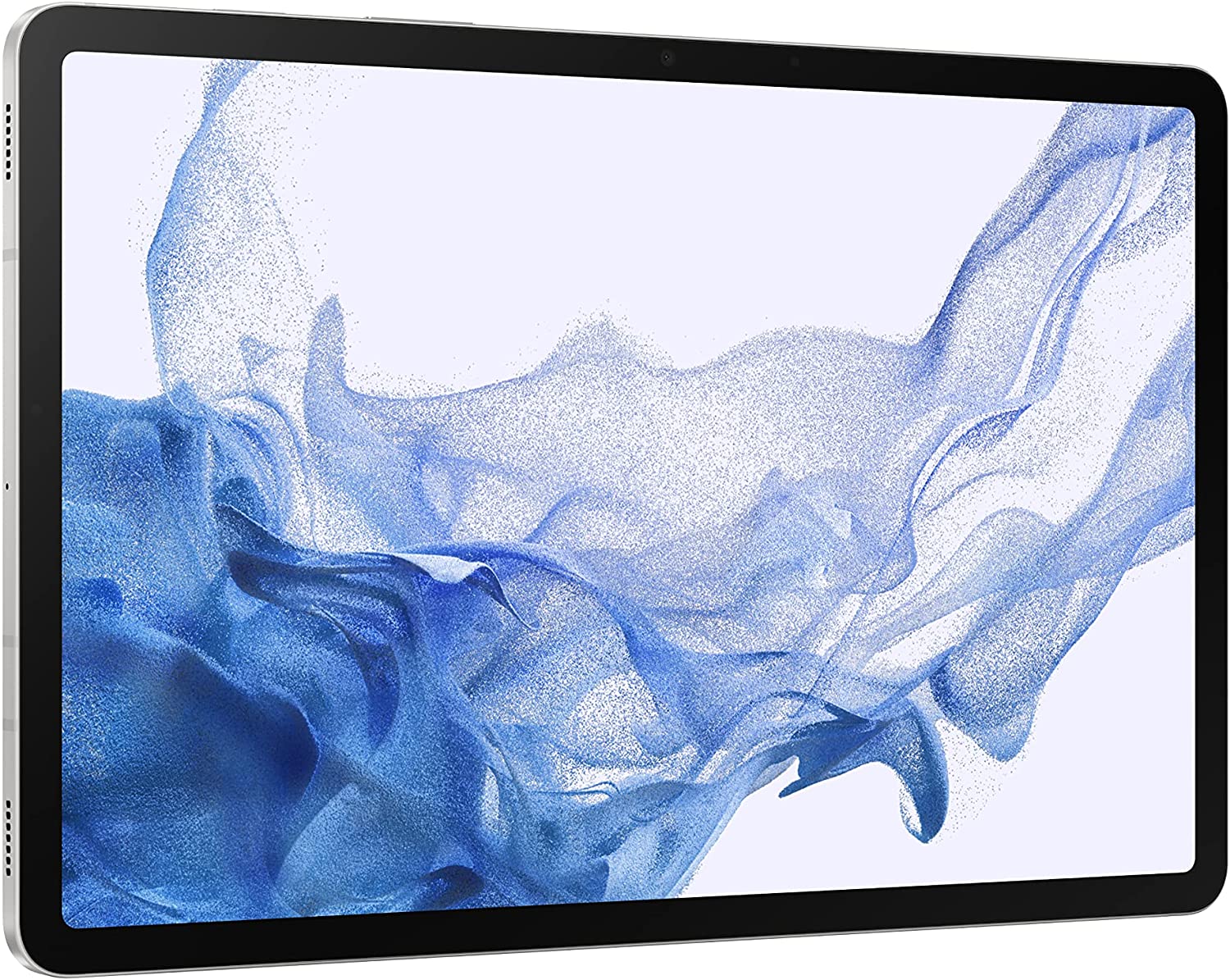 This Samsung tablet is operated by a Qualcomm Snapdragon chipset that lends it great speed and enables it to put forward a stable performance. It features an 11-inch screen with a 1600 x 2560 pixels resolution and a 16:10 aspect ratio. The 8,000mAh built-in battery ensures the phone can be used throughout the day without additional power backup.
An ideal option for those looking for a mid-sized Android tablet that performs various functions.

Also recommended for those who travel frequently and need a tablet that doesn't need to be charged frequently.
Strong battery life

Sharp display screen

Reliable processor

Adequate camera performance
No headphone jack

Slightly expensive
Budget-Friendly Laptop with High-Resolution Display Screen
2022 Lenovo Chromebook Android Tablet
Check Price
Despite being offered at a very affordable price, the 2023 Lenovo Chromebook packs many useful features. The 10.1-inch touch-enabled screen offers a resolution of 1920 x 1200 pixels and makes the experience of watching movies memorable. On a full charge, the battery lasts for 10-11 hours.
Recommended for students and young professionals who are on a budget and need a well-performing Android tablet for their assignments and work.

It also proves to be a good option for somebody planning to buy a moderately priced tablet for their family's entertainment needs.
Economical pricing

Lightweight structure

Good processor

Bright and colorful screen
Battery life needs improvement

No accessories provided
Moderately Priced Samsung Device That Offers Good Value For Money
Samsung Galaxy Tab A7 Budget Tablet
Check Price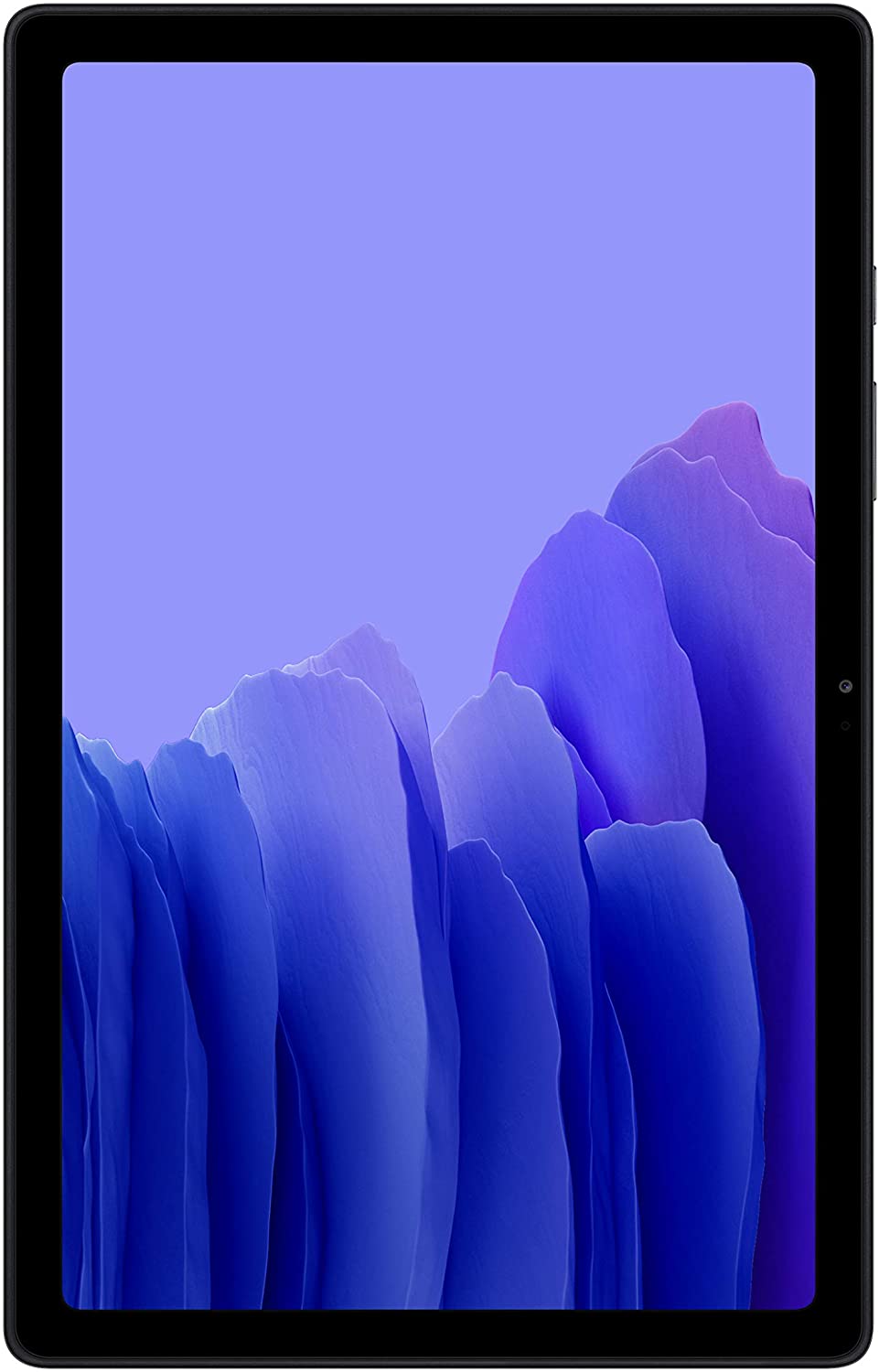 Available in two different storage variants (32 GB and 64 GB), the Samsung Galaxy Tab A7 offers you much more than what you expect out of a budget tablet device. With a 10.4-inch display screen, this device is a very good investment for those who crave big-screen entertainment on their portable devices. It comes equipped with Dolby Atmos Surround Sound that ensures you not just get to see sharp visuals but also hear high-definition audio.
It comes with a very powerful Qualcomm Snapdragon 662 processor that enables you to perform multiple functions at the same time. While the 32GB version is a great performer, if you like to store a lot of pictures, videos, and other data on your phone, you might want to own the 64GB variant. As far as connectivity options are concerned, you get a USB-C port, a microSD card slot, and a headphone jack.
Despite being sold at an affordable price, the tablet packs in a variety of premium features.

It is a great option for professionals because it has multiple connectivity options and great multimedia features.
Sold in two different storage variants

Large and vibrant display screen

Features a headphone jack
Slightly bulky

Software needs to be upgraded
Well-Packaged Tablet with High-Performing Cameras
Vastking KingPad K10 4K Display Screen Tablet
Check Price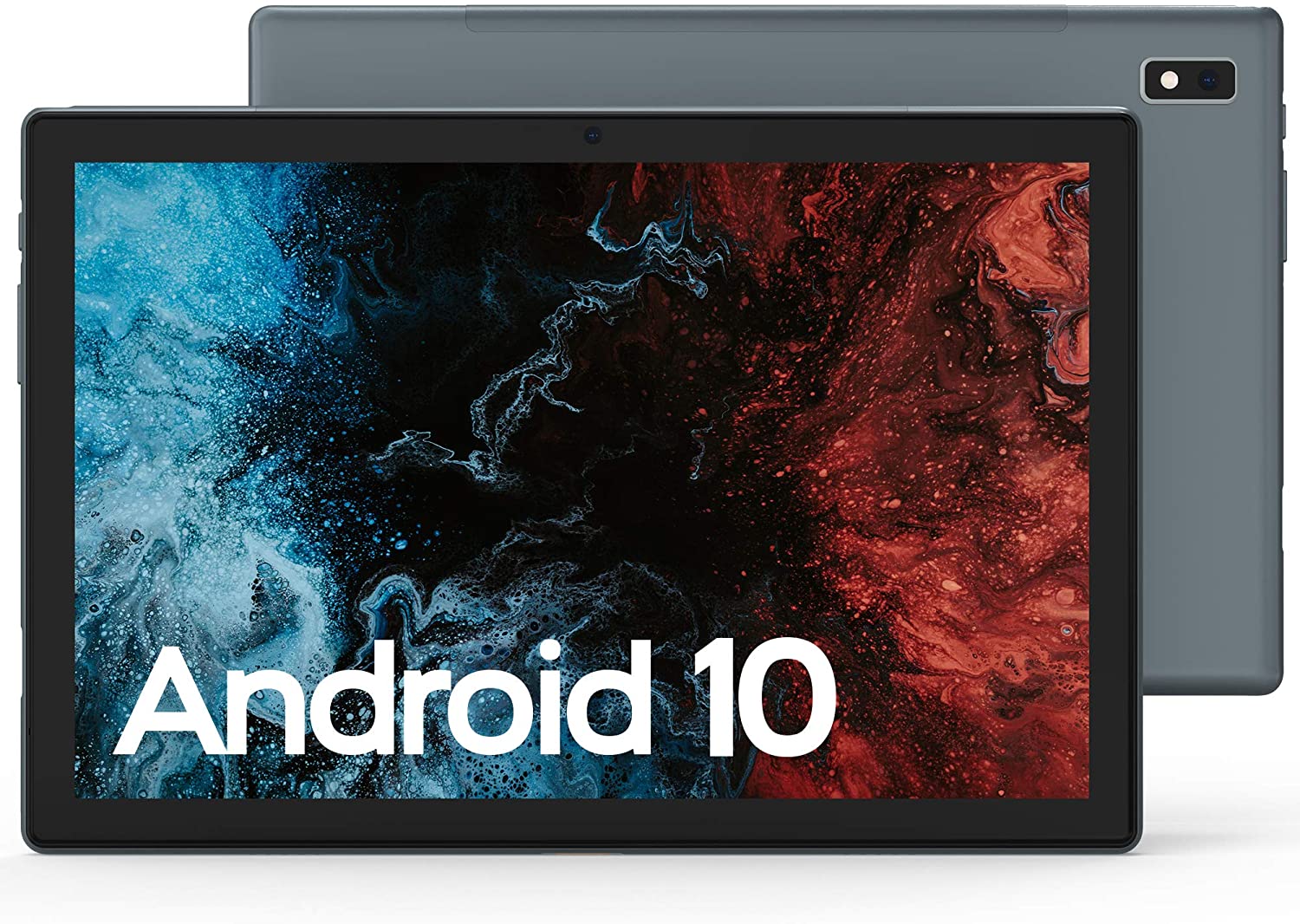 As a brand, Vastking deserves praise for packaging this tablet with a bunch of other accessories, thereby making it a valuable product to invest in. Along with a sturdy keyboard, a stylus, and a durable cover, you also get an elaborate user manual that helps you familiarize yourself with the device quickly. The Octa-Core T610 processor assures fast and steady operation. The 6000mAh battery lasts for as long as 12 hours.
The 13MP rear camera and the 5MB front camera work tremendously well and help you click sharp images at any time of the day. While the phone offers internal storage support of 32GB, you can expand it up to 512GB with the help of an external memory card. The display screen produces a resolution of 1920 x 1200 pixels and is great for watching movies and other video content. The screen boasts a curved screen that helps in controlling eye fatigue. Though the tablet has dual speakers, the audio output is not up to the mark.
Why Should You Buy This?
Ideal option for those who seriously pursue photography as a hobby and like to click a lot of pictures using their tablet.

Also recommended for those who like to watch 4K videos on their smartphone or tablet.
Pros
Large 4K display screen

Expandable memory

Supports Bluetooth 5.0
Cons
Limited security features

Average audio output
Well-Built Tablet That Comes with Multiple Accessories
Meberry 8000mAh Battery Tablet
Check Price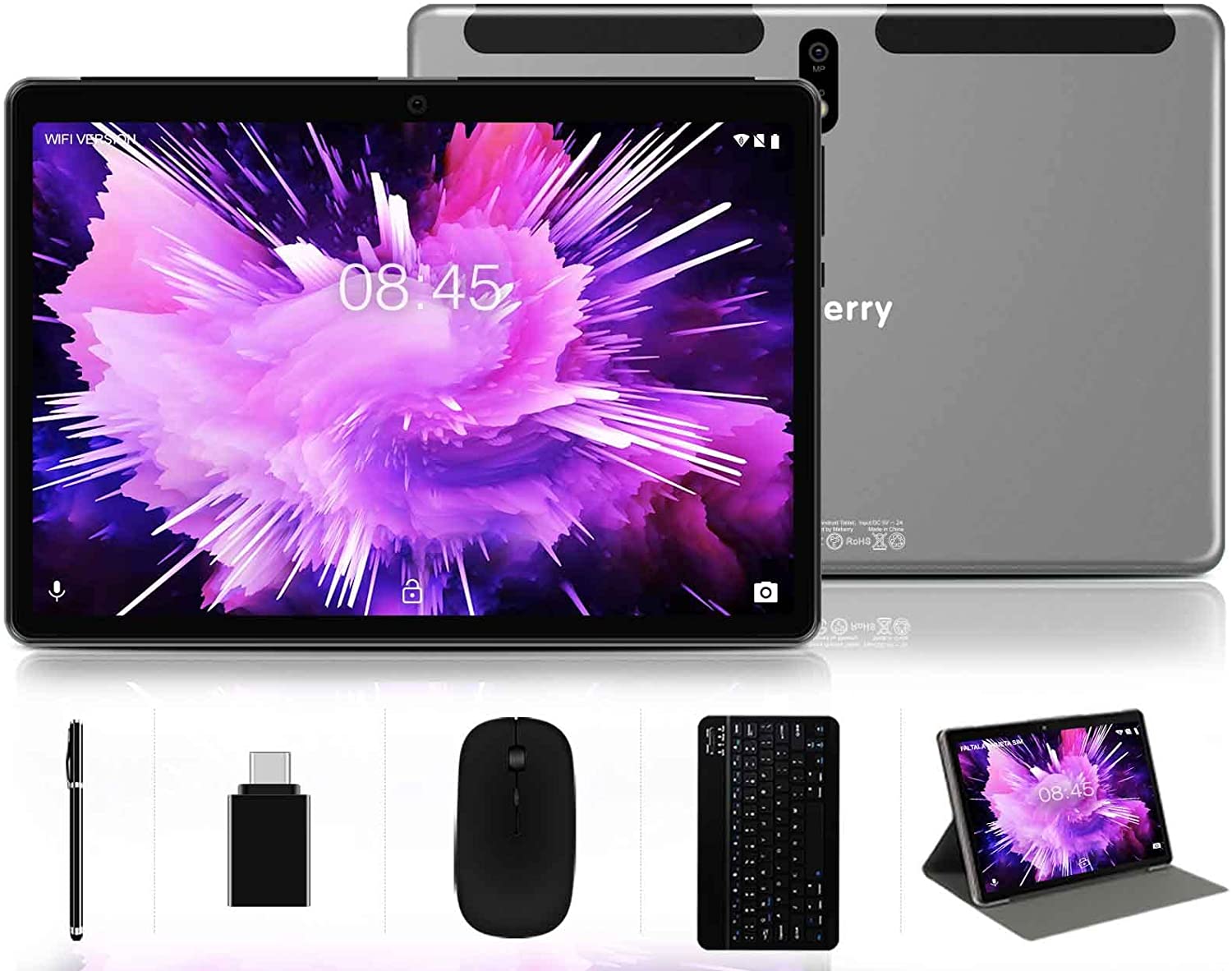 Before discussing the tablet, one must talk about all the beautiful accessories the brand provides you with it. Along with the tablet, you get a robust case, a Bluetooth keyboard, a capacitive pen, a USB adapter, a type C data cable, a protective film, and an instructional manual. Though the quality of the mouse and the keyboard could have been better, they perform reasonably well.
One of the highlights of the tablet, undoubtedly, is its 8,000mAh battery which is powerful and lasts long. The 10.1-inch display screen does a good job of image reproduction. The octa-core processor is known for its speed and is very good at conserving energy. On this tablet, you will face no issues while performing multiple tasks simultaneously. At 1.08 pounds, the tablet is relatively lightweight and easy to hold in one's hands.
A suitable option for those who like to use multiple accessories like a mouse and a keyboard while working on their tablet.

The powerful 8,000mAh battery makes it a great device to invest in for professionals who need a portable device at their workplace.
Lightweight and very durable

Available in two color options

Strong battery life
Average quality mouse and keyboard

Limited warranty support
Sharply Designed Tablet with a 10.3-inch Display Screen
Lenovo Tab M10 Plus Octa-Core Processor Tablet
Check Price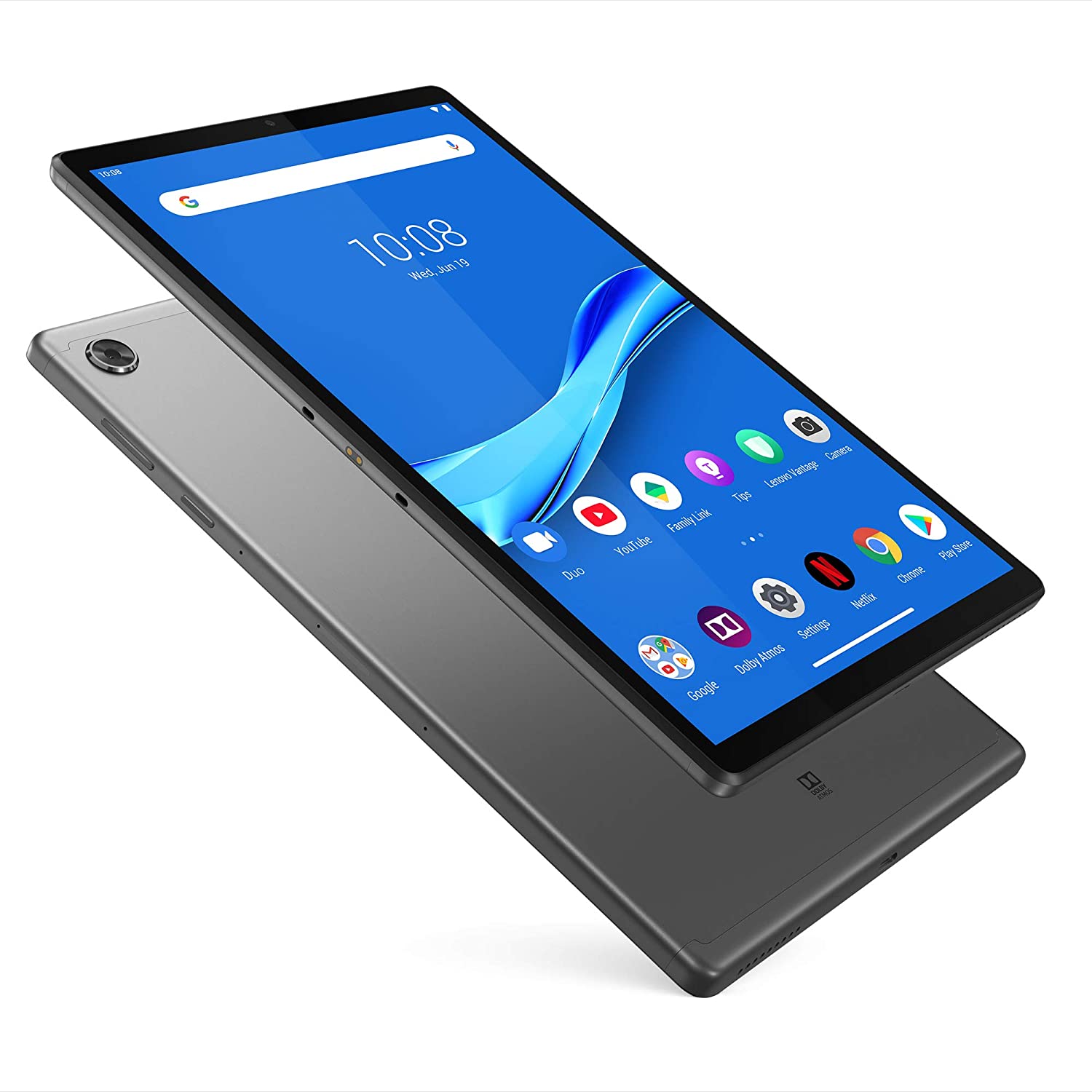 The 10.3-inches wide display screen of this tablet offers a resolution of 1920 x 1200 pixels, which is a good enough reason for binge-watchers to invest in this device. Though the level of sharpness could have been higher, the images produced by it are still very impressive. The MediaTekHelio P22T octa-core processor ensures stable and fast performance for the device.
Though not a phone designed for heavy gamers, it runs some popular games like PUBG and Call of Duty pretty smoothly. Because of its multi-tasking skills, it is highly preferred by professionals for performing different tasks and assignments. It comes with a bunch of pre-installed apps, some of which prove to be useful. You do have the option to uninstall these apps after assuming ownership of the device.
Why Should You Buy This?
This tablet has the kind of features that make it suitable for both personal and official use.

The device proves to be very efficient while carrying out multiple tasks simultaneously.
Pros
10-3-inch display screen

Durable metallic body

High-end processor
Cons
Average camera performance

Low-quality speakers
Budget Laptop with Several Useful Features
Fire HD 8 Compact Multimedia Tablet
Check Price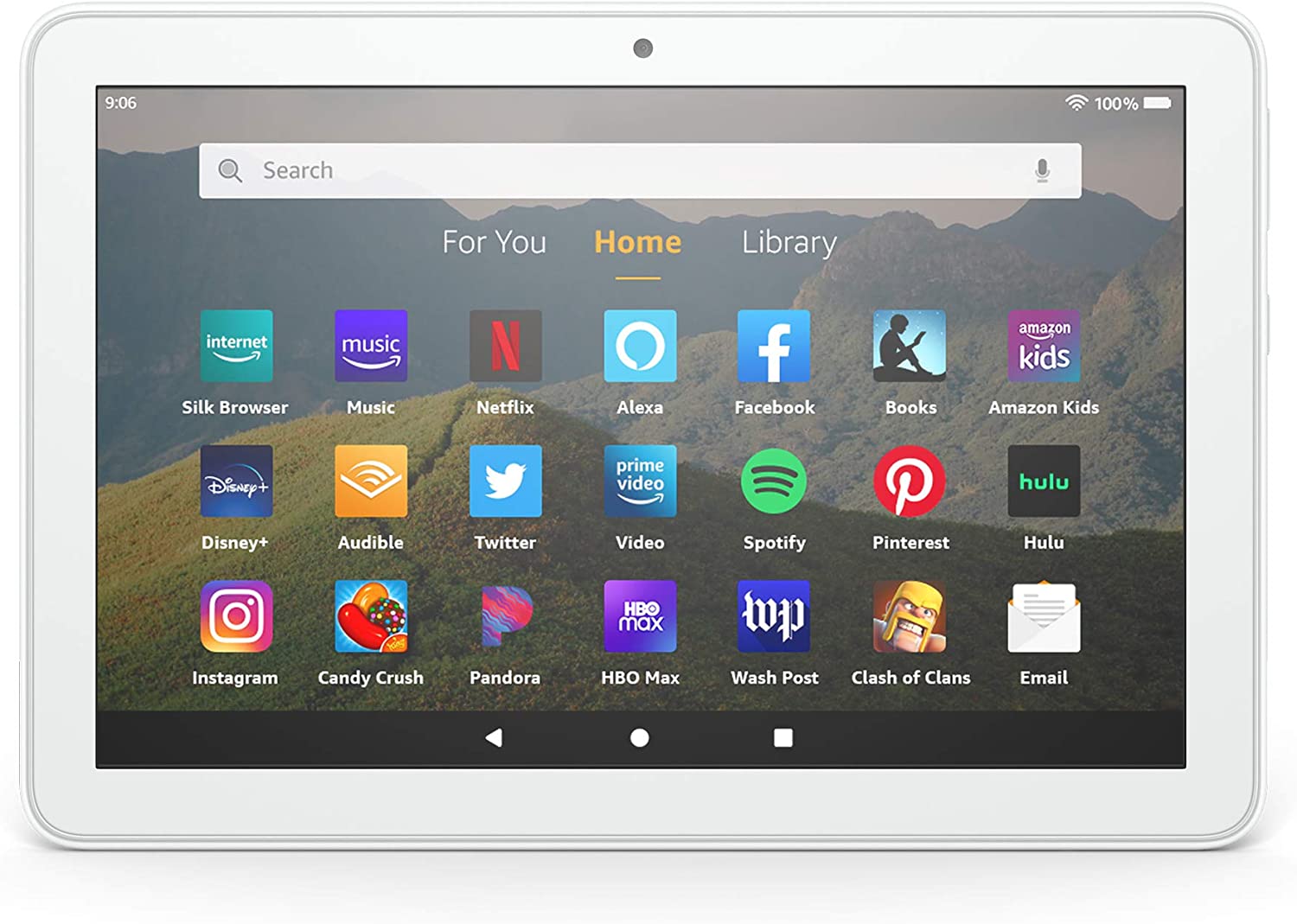 Fire, the low-cost tablet offered by Amazon, has been selling very well for a long time. Despite being an economically priced device, this tablet packs various features that make it very attractive. It is often described as a multimedia table owing to its excellent media features. At 8 inches, the display screen is not very large, but it does produce sharp images. The audio output is very good.
Though the charging time is a little high, the battery life makes up for it. The battery lasts for more than 9 hours on a single full charge. It features dual-band Wi-Fi and offers strong Bluetooth connectivity. Being an Amazon product, it has Alexa installed in it and, therefore, supports hands-free operation. It also features a headphone jack and a USB-C type charging port.
Why Should You Buy This?
It is a very good option for those who don't like big, bulky tablets and prefer having compact devices that are easier to carry around.

It offers great multimedia features and is a great option for those who engage in video calls frequently.
Pros
Alexa is pre-installed

Powerful speakers

Good connectivity options

Easy to hold and handle
Cons
High charging time

Moderate screen size
A Budget Laptop That Offers Good Entertainment Options
Samsung Tab A7 Metallic Frame Tablet
Check Price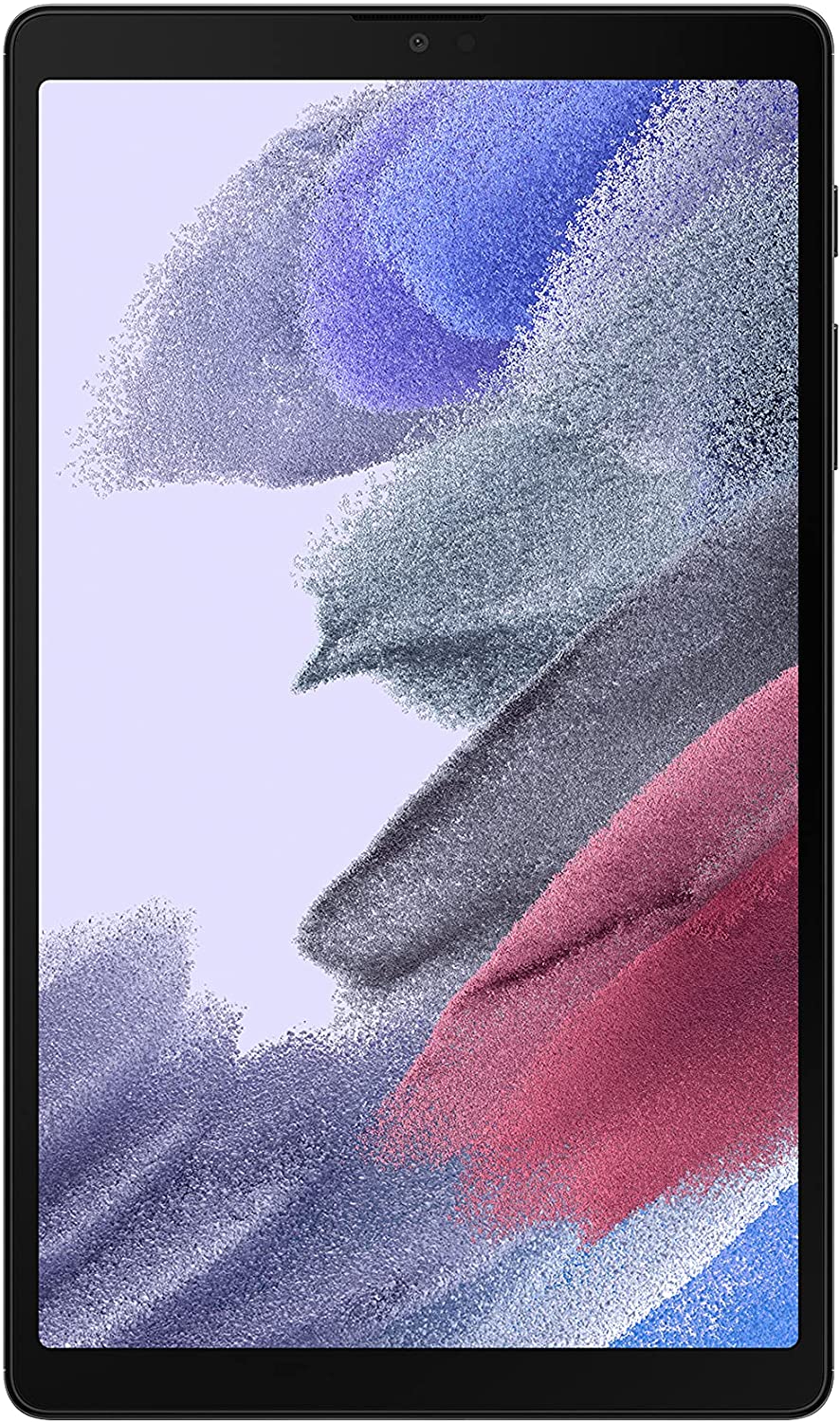 If you believe that a budget tablet does not offer durability and good features, then this tablet by Samsung shall prove you wrong. While the sturdy metallic frame assures you of long-lasting usage, the device comes armed with several features that will leave you thoroughly engaged. The 10.4-inch display screen, which boasts high-definition resolution, offers a great cinema viewing experience.
It features as many as four speakers, and their audio output is excellent. For users who value their privacy, there is a 3.5mm headphone jack. The battery life supports close to 10 hours of multimedia or video consumption. There are many processors around which operate much faster than Qualcomm Snapdragon 662. Still, this particular processor lends the device a good amount of stability.
Why Should You Buy This?
Armed with a 10.4-inch display screen and solid battery support, this tablet is a very good investment for those who consume multimedia content extensively.

It is also recommended for those who have been looking for a budget tablet with a variety of features.
Pros
Large and vibrant display screen

Good multimedia features

Robust battery life

Durable frame
Cons
No fingerprint scanner

Below par camera performance
Lightweight Tablet with Robust Battery Life
Dragon Touch Max10 10.1-inch Display Panel Tablet
Check Price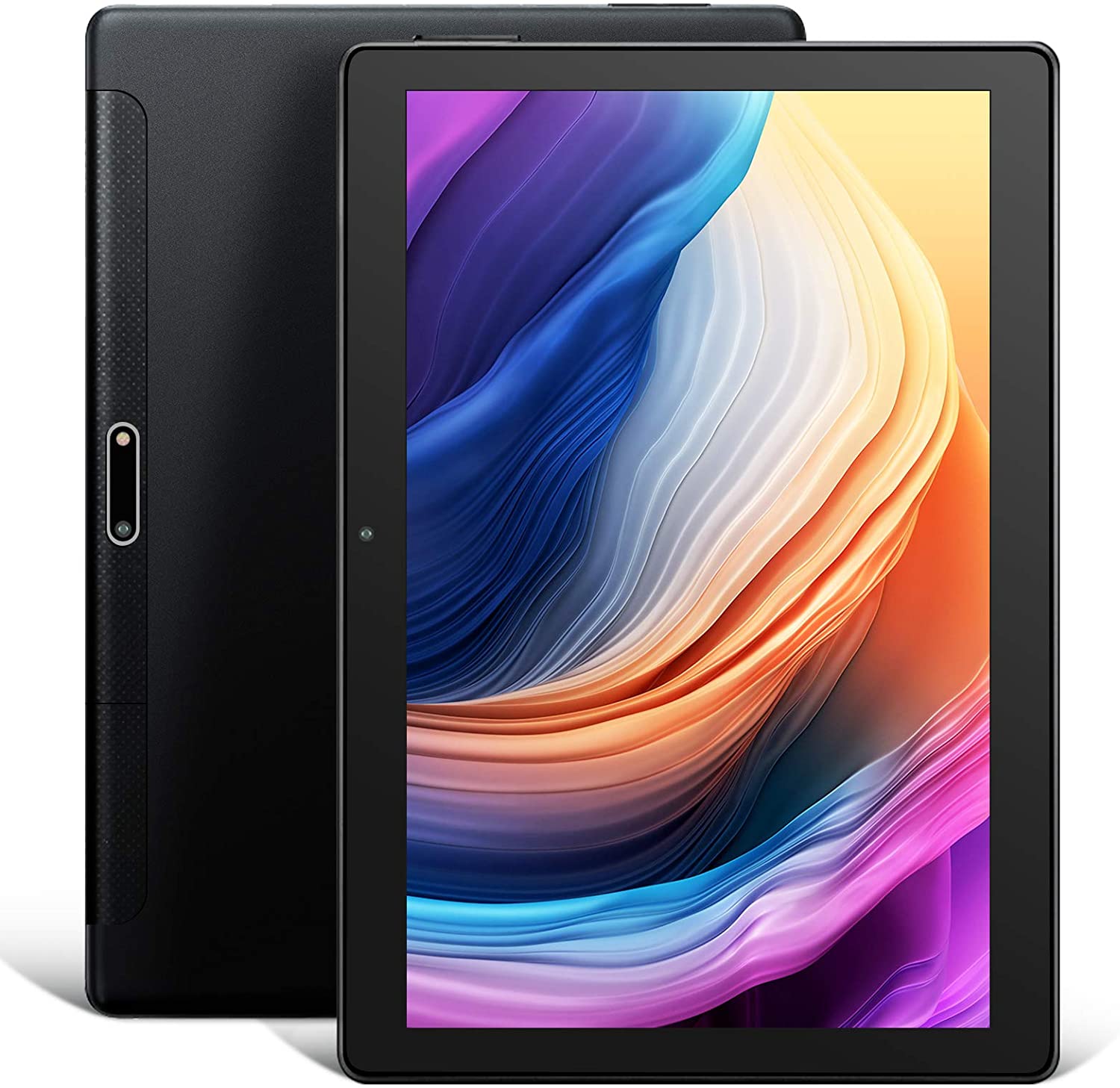 This tablet comes loaded with a bunch of interesting features, but physically, it's a fairly light device to hold. The device's overall weight is 1.2 pounds, and you will not have any issues carrying it around for long hours. The 10.1-inch display screen offers crisp images, and the audio quality is good too. You can watch videos continuously on this device for as long as 10 hours on a full battery charge.
At 32GB, it offers limited internal memory support, but the good news is that you can expand the memory up to 128GB with the help of a microSD card. Apart from consuming video content, this is a good tablet to play games, make video calls and browse social media apps. One of its many connectivity options includes a 3.5mm jack which you can use to connect your headphones.
Why Should You Buy This?
A good option for those who prefer lightweight devices offering a big screen coupled with interesting multimedia features.

Its multiple connectivity options and strong battery life make it a much-desired tablet among corporate professionals.
Pros
Lightweight and portable

Big IPS touch-screen

Several pre-installed apps

It supports long video playback
Cons
Low refresh rate

The screen looks dim under harsh sunlight
The best Android tablets are listed here. They are available in various ranges, screen sizes, and specifications. You can get the one that suits your needs best.