Featured in this article (opens in new tab)
Vlogging or video blogging is a favorite pastime for some, while many people have taken it up as their full-time profession. You can be a traveler, a big-time foodie, or love to talk about your favorite gadgets; choosing one of the best laptops for vlogging is the first step toward making your dream come true. While laptops come in all different shapes and sizes, your requirements are unique.
When buying a new laptop, look for additional features and hardware components to help you build your career as a vlogger. The device, which has a dedicated graphics card will help a lot in allowing you to use software programs like Avid Pro, Adobe Photoshop, and other tools necessary for presenting your YouTube videos.
You can also check out laptops with better camera quality to directly record your content. It should also have a dedicated microphone that ideally picks up your voice clearly when talking to your audience. Based on your current setup, your budget, and the features you need, choose the right laptop that offers value for money and focuses on the best components that support your aspiration to become a popular vlogger.
See also: Best laptops for high school students
Buying Guide
Vloggers are a comparatively new tribe of creative people who share their experiences and opinions through videos and commentary. New vloggers will be looking for a suitable laptop for their use. While a regular run-of-the-mill laptop can do the job, there are some special requirements for vloggers. This is on both the hardware and the software.
Better Software Compatibility: As a vlogger, you may be using many programs to help you create your video blogs, and the laptop you choose must be able to run them. You may have to quickly check the hardware requirements in case of the software programs you will be using. Next, check if these requirements are being met by the laptop you are planning to buy.
Size & Weight: As a vlogger, you may be required to keep your laptop handy. A new idea might suddenly strike even when you are moving, and you would want to write it down before you forget the points. Laptops for vloggers must, therefore, be lightweight, making them easy to carry around. Some brands have sleek designs that weigh much lighter than their rival brands. You may not have to compromise on the display size either.
Longer Battery Life: A laptop for use by vloggers must have a large battery and last 8 to 10 hours. Check the description and the specifications of the laptop you propose buying to satisfy yourself. You must know that a larger battery can also mean a higher weight for the laptop. You will have to make some compromises here and take a middle course.
Storage: You should insist on having sufficient storage (ideally 1TB) in the laptop for vloggers as it would be needed to store all your work.
Best laptops for vlogging
A Windows 11 Home Laptop with Wi-Fi 5 and Bluetooth Combo
Lenovo IdeaPad Touchscreen Laptop
Check Price
This Lenovo laptop has a 15.6-inch HD touchscreen with LED display technology and 1366 x 768 resolution. The laptop has a massive 20GB DDR4 RAM, 1TB SSD hard disk, a dual-core Intel i3 processor clocking at 3GHz, and an Intel UHD graphics coprocessor. The lightweight almond-colored product comes loaded with a Windows 11 Home operating system.
The laptop features wireless Bluetooth and Wi-Fi 5 combo connectivity, an inbuilt HD webcam with a microphone, and stereo speakers with Dolby Audio support. It also has multiple ports like a combination jack, an HDMI port, a Type A USB 2.0 port, and two Type-A USB 3.2 Gen 1 ports. The product additionally has a multi-format SD media card reader. The laptop works with a lithium-ion battery that holds for up to seven hours with one charge.
The laptop is quite fast and responsive because of its high amount of RAM.

The product is lightweight and thin, making it easy to take it with you.

It has a dedicated keypad and large keys, ensuring easy typing.
Fast loading and operation of the installed programs

Long lifespan for the battery

Inbuilt privacy cover for the webcam
The blue hue on images and other things displayed

The camera is not up to the mark
A Liquid Retina XDR Display Laptop with Long Lasting Battery
Apple MacBook Pro Graphics Intensive Laptop
Check Price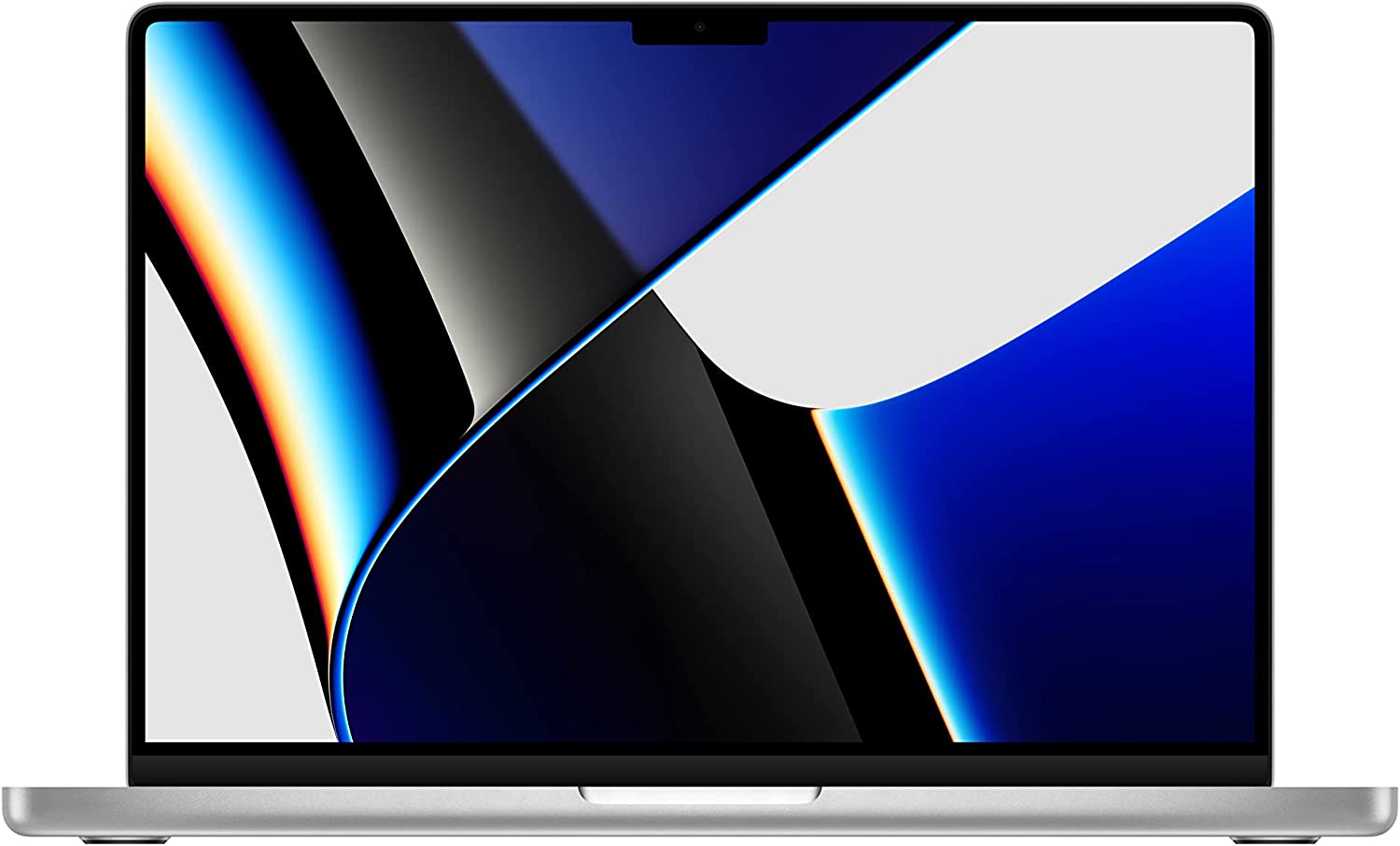 This Apple MacBook Pro laptop is highlighted by a 14-inch liquid retina XDR display with mini-LED backlighting. The laptop comes with 16GB RAM, a 10-core CPU including performance and efficiency cores, a 16-core GPU, and a 16-core neural engine for fast machine learning performance. The product offers two storage options: a 512GB SSD and a 1TB SSD. It supports Bluetooth 5.0 and Wi-Fi 802.11 a/b/g/n wireless technologies.
The laptop houses a 1080p FaceTime HD camera with an excellent image signal processor and an equally good sound system with six speakers and force-cancelling woofers. The M1 Pro chip renders a lifelike gaming and 3D viewing experience. The product is available in silver and space gray colored variants and hardly runs out of juice with a battery that lasts up to 17 hours. The laptop has three Thunderbolt 4 ports, an SDXC card reader, an HDMI port, a USB 3.1 Gen 2 port, and a headphone jack.
This laptop is a great option for people who enjoy creating and viewing videos due to the stunning clarity of the XDR display.

The minimum bezel on all sides gives the enhanced effect of viewing content on a large screen.

The laptop offers a seamless and effortless connectivity experience for those who want to combine it with other Apple or Mac devices.
Can handle 8K video editing with the greatest ease

Excellent contrast ratio and high dynamic range

Clear and sharp video calls
Abnormal sound at times with certain applications

Fails to recognize Wi-Fi while on the move
A Cool and Quiet Laptop with Built-In Privacy Shutter
Lenovo IdeaPad Multiple Performance Modes Laptop
Check Price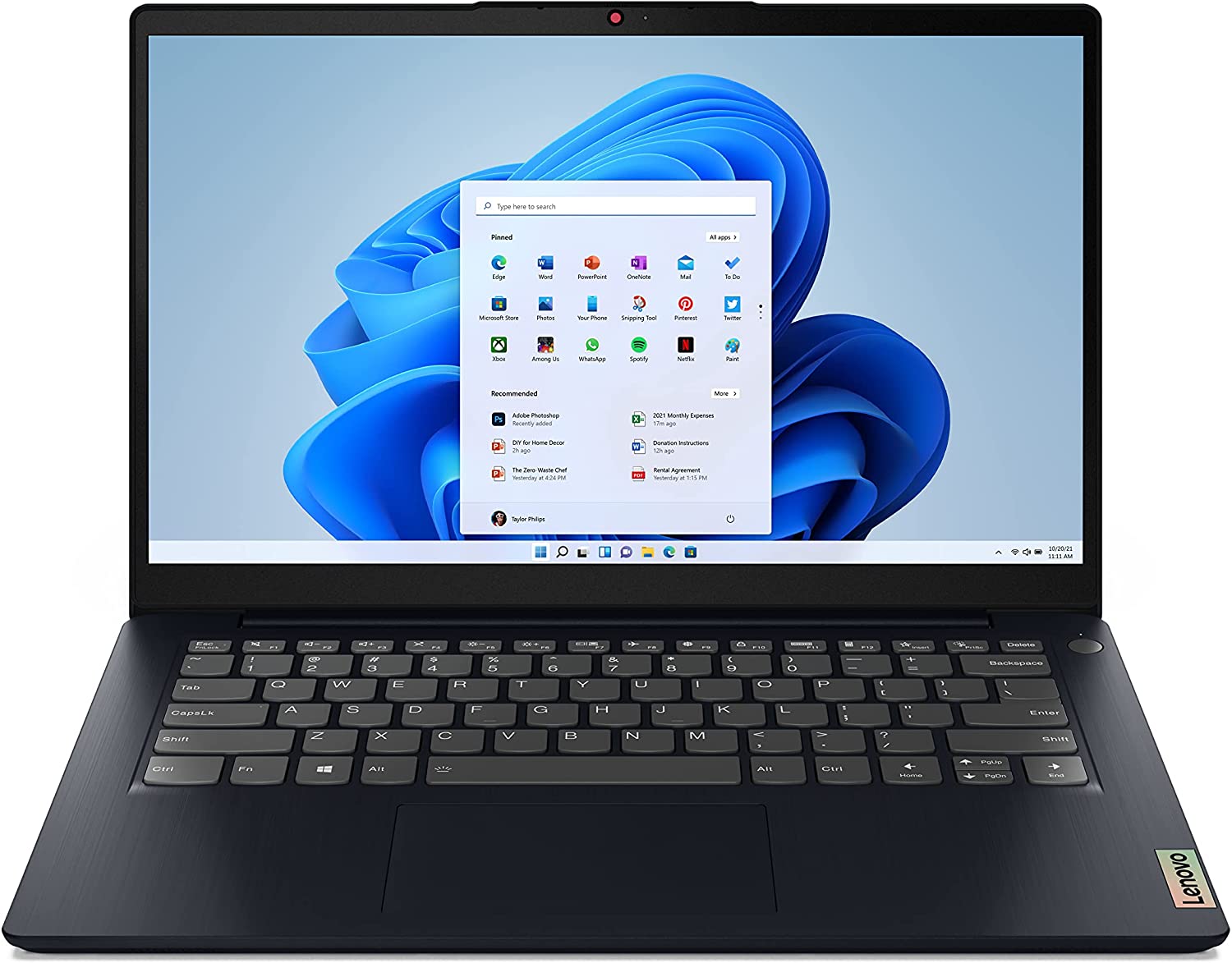 This Lenovo IdeaPad laptop has a 14-inch FHD display with narrow bezels, wide viewing angles, and 1920 x 1080 resolution. The IPS screen also features 300 nits of brightness and has a matte anti-glare coating. The laptop incorporates a 256GB SSD storage, 8GB DDR4 RAM, a single core AMD Ryzen 5 processor, and a dedicated AMD Radeon 7 graphics processor. The product comes preloaded with a Windows 11 Home operating system. It offers Alexa support to respond to voice-based commands.
The laptop supports three performance modes and is equipped with high-quality thermals that offer assurance of cooler and quieter performance. It additionally includes a 720p camera with two microphone arrays and two 1.5W Dolby Atmos speakers. The product is backed by a lithium polymer battery with rapid charge support. The laptop incorporates Bluetooth 5.0 and Wi-Fi 2 x 2 802.11 ax connectivity options and comprises an HDMI port, a USB 2.0 port, and a USB 3.0 port.
The laptop renders a very quiet performance thanks to the noiseless operation of the inbuilt fans.

The product has three performance modes for choosing the right mode based on your preferences.

The Abyss Blue color is perfect for those who want their laptop to look different from the ones with the standard black option.
It remains cool even when working under an intense load

Assurance of privacy with an inbuilt privacy shutter

No strain on eyes due to anti-glare coating
Limited battery life requiring frequent charges

It tends to slow down over time

Heavy compared to standard laptops
A Convertible Laptop with Chrome OS
Lenovo Flex 5i 360° Hinge Laptop
Check Price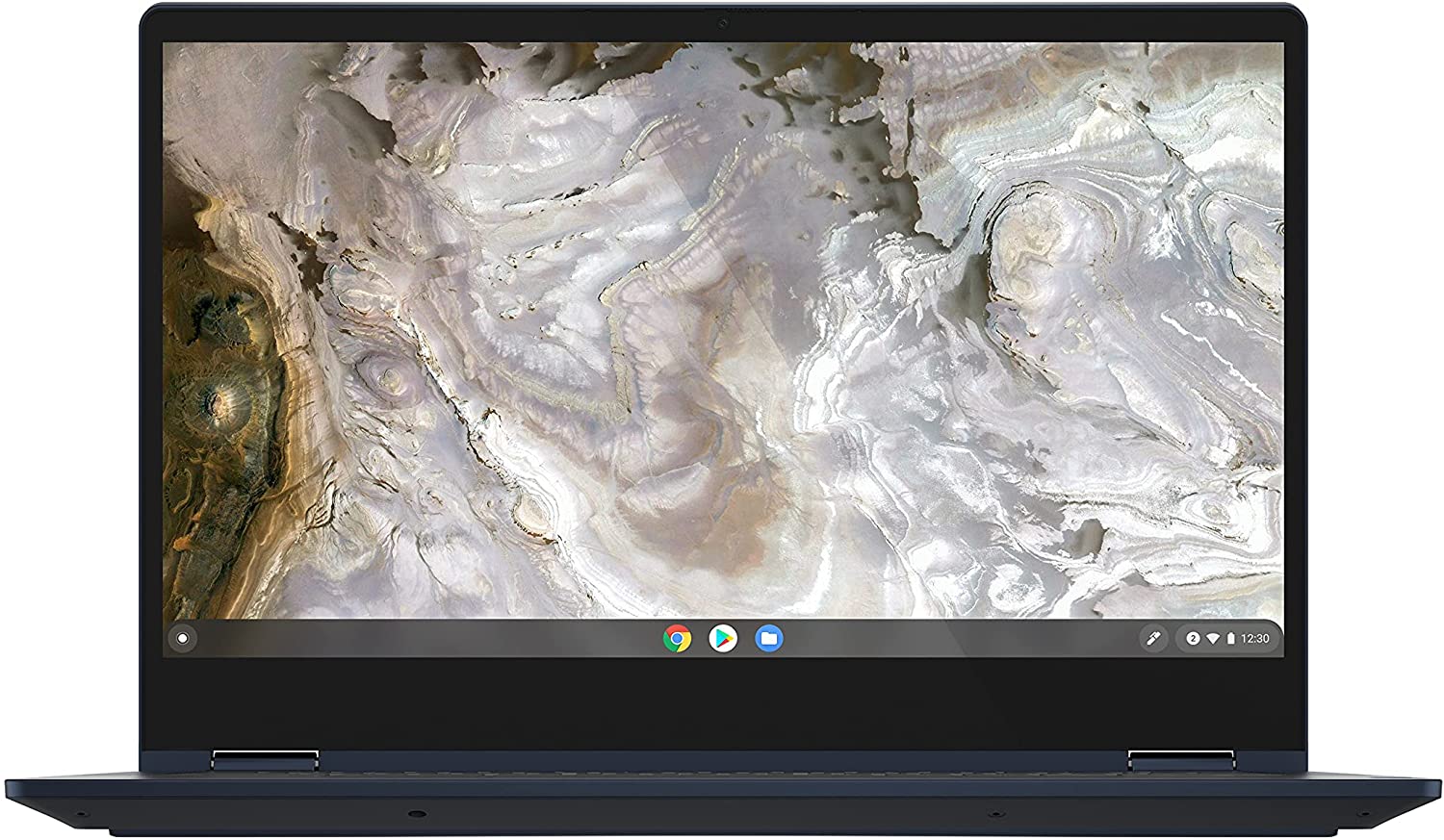 This Lenovo IdeaPad laptop has a 13.3-inch Full HD IPS display with 1920 x 1080 resolution and supports touchscreen functionality and wide viewing angles. The laptop has 8GB DDR4 RAM, 64GB hard disk, a single-core 4.1GHz Intel processor, and an integrated Intel UHD graphics coprocessor. It is preloaded with Chrome OS. It can also be used as a tablet and in tent mode for a handsfree experience,
The laptop comprises a privacy shutter-enabled webcam, a Waves Audio supporting inbuilt amplifier, and enhanced user-facing stereo speakers. The product offers Alexa support and features a lithium polymer battery with an average battery life of 10 hours. The thin and lightweight laptop has two USB 3.1 Type C Gen 12 ports, one USB 3.1 Type-A Gen 12 port, an audio combo jack, a microSD card reader, and renders Bluetooth 5 and Wi-Fi 6 (802.11 ax) wireless connectivity options.
Why You Should Buy This
The laptop starts quickly and is easy to move around because of its lightweight design.

The product is a good choice for those looking for a laptop with decent specifications at an affordable price.

The laptop meets the needs of those who give prime importance to the sound quality of the speakers for videos, games, and other forms of entertainment.
Pros
Large screen real estate due to narrow bezels

Sturdy and unbreakable 360° hinge

Functions like a laptop and tablet at the same time
Cons
It cannot be installed with Windows operating system

Tends to stop working often
A RAM Upgradable Laptop with 16:10 Aspect Ratio
Dell Inspiron 100% sRGB Color Coverage Laptop
Check Price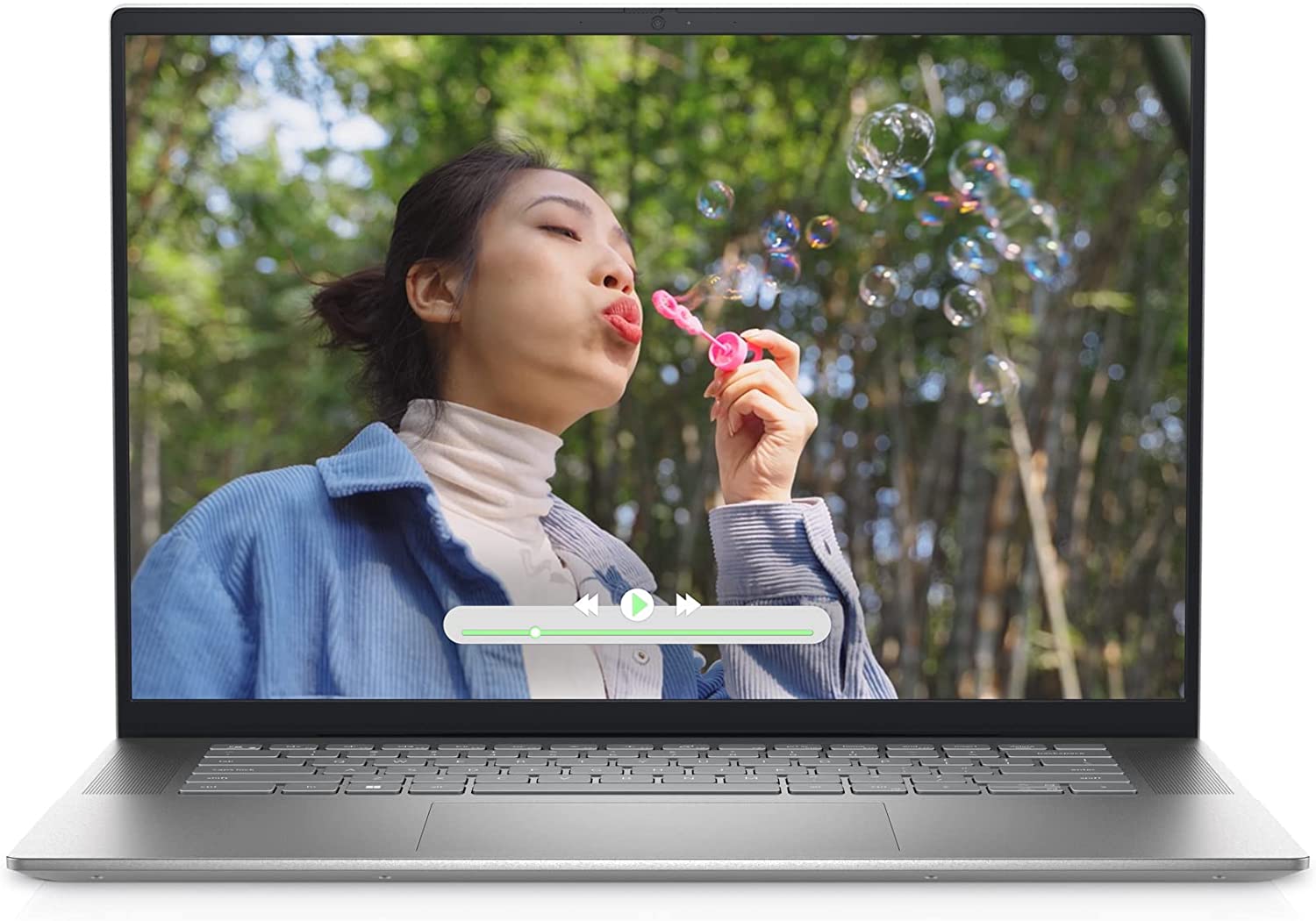 This Dell Inspiron laptop has a 16-inch expansive ComfortView Plus display with FHD+ 1920 x 1200 resolution. The laptop renders 100% sRGB color coverage, 16:10 aspect ratio, and 250-nit brightness. The product houses 16GB DDR4 RAM, 512GB hard disk storage, an eight-core AMD Ryzen 7 processor clocking at 4.5GHz, and an AMD Radeon R7 graphics coprocessor. The product comes with a Windows 11 Pro operating system preloaded.
The laptop has a thin profile and is designed with an aluminum frame. The silver-colored product incorporates a low blue light hardware solution and is comforting on the eyes with less harmful blue light emissions. It is equipped with up-firing speakers, a lid-open sensor, a fingerprint sensor, and a camera shutter for privacy. The product has Wi-Fi 6 802.11 ax, Bluetooth wireless connectivity options, an SD card reader, audio and power jacks, two USB 3.2 Gen 1 Type-A ports, a USB 3.2 Gen 2 Type C port, and an HDMI 1.4 port. The laptop is powered by a lithium-ion hyper-efficient battery.
The laptop helps to keep yourself safe when you are online by activating the camera shutter and not revealing yourself when you feel you are not safe.

The product helps ensure your data's security by using a fingerprint sensor to avoid unauthorized access.

The laptop supports RAM upgrades up to double the installed amount if needed for smooth multitasking.
Less strain on the eyes

Durable and rugged

Expandable RAM
Support for HDR videos is not sufficient

The tendency of fans to become noisy
A Narrow Bezel Laptop with Keyboard Cover
DaySky Dual Channel Laptop with 360° Hinge
Check Price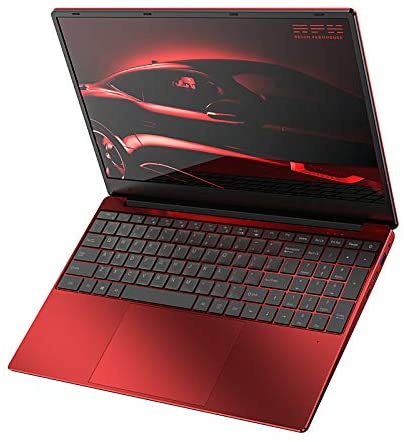 This DaySky IdeaPad laptop features a 15-inch IPS LCD FHD display with a 1920 x 1080 resolution. The laptop has a dual-channel 12GB DDR4, a quad-core Celeron processor clocking at 2.9GHz frequency, and an Intel UHD graphics coprocessor with CODEC and 4K support. The product is available with two storage variants of 256GB and 512GB. It comes with a Windows 10 operating system preloaded.
The laptop has a slim profile with narrow bezels and sports an audio combo jack, a TF card port, an HDMI port, one USB Type C port, and two USB 3.0 ports. The product also houses an inbuilt webcam and double symmetrical speakers. It offers 2.4G/5G Wi-Fi and Bluetooth 4.0 support. The laptop is powered by a 5000mAh37Wh battery that holds the charge for up to six hours. The product comes with a fast charger, keyboard cover, mouse, and mousepad. It comes in red, black, and silver color choices.
Why You Should Buy This
The laptop is worth buying for people who are skeptical about the keys of their keypad becoming dirty because of the keyboard cover included.

The product is ideal for those who want to experience the effect of using a big screen.

The red color option makes it worth considering for laptop users who want their system to portray a bright and striking appearance.
Pros
It comes with several useful accessories

Easy to carry because of its sleek profile

Good speed and performance
Cons
Fast draining of battery in sleep mode

Non-standard keyboard layout
See also: Top laptops with the best battery life
Sturdy Build Quality and Powerful Hardware Specs
HP ZBook Studio 15 Mobile Workstation
Check Price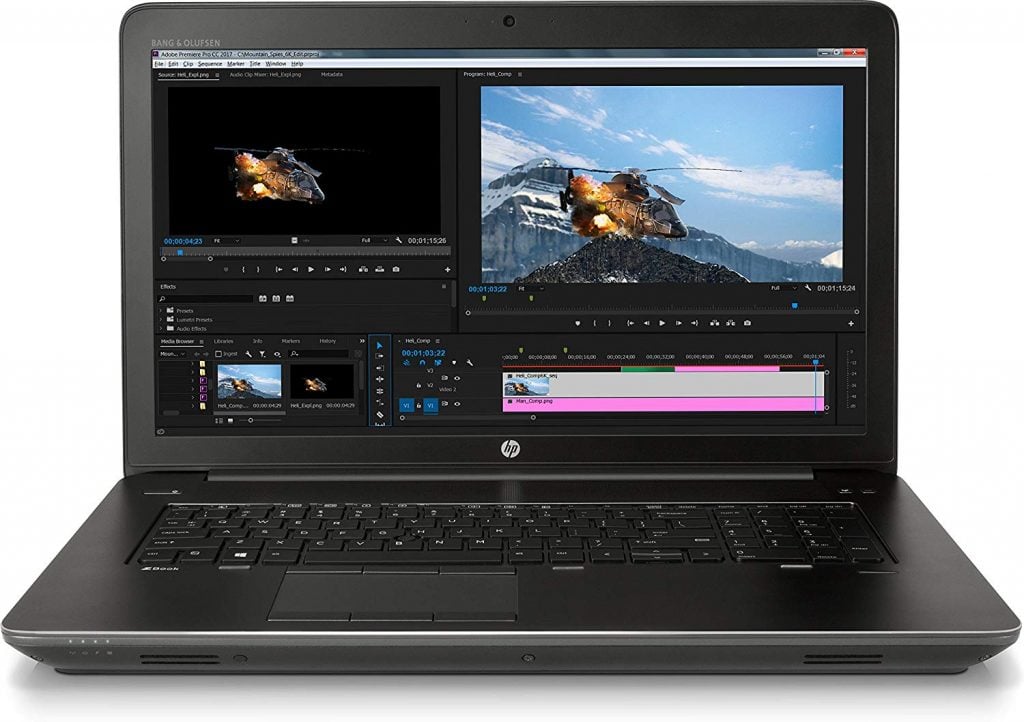 Regarding graphics processing units, the Nvidia GTX and RTX series are designed more for gaming, whereas if rendering videos and graphical files are your major concern, the Quadro products are an appropriate choice. The HP 15.6-inch ZBook Studio 15 is a mobile workstation that vloggers can depend on. The newer ones in the field might consider $500 laptops to get their job done, but if you can save up money and invest in a more professional solution, this should be the best pick.
After all, if you are going to shoot lots of videos in 4K resolution or have longer clips that need raw processing power, this laptop is right on the cards. HP products are reliable in terms of durability and warranty claims. It has a large 15.6-inch display with a 3840 x 2160 pixels resolution. The IPS display ensures you can view the content from any direction without glaring issues and is useful to work on it in open areas with lots of light. Professional Vloggers will appreciate that it is powered by an Nvidia Quadro M1000M graphics card with 4 GB of VRAM for professional video editing.
The hardware specs include an Intel Core i7 quad-core processor clocked at 2.6 GHz coupled with 16 GB of RAM and 512 GB SSD. Because you might want to store terabytes of data for your video blogs, you can always purchase an external storage device. The built-in SSD will provide a very responsive environment where you can seamlessly edit videos in 4K resolution or even higher without slowing down. The laptop has a sturdy build with all the necessary ports for easy connectivity. The business-like look may not be too stylish, but it adds durability to the product.
What Makes the HP ZBook Studio 15 Mobile Workstation a Solid Solution?
The laptop is equipped with an Nvidia Quadro graphics card which is ideal for video editing and graphical rendering purposes.
It is a sturdy product with rugged build quality.
Recommended For:
HP ZBook Studio 15 Mobile Workstation truly justifies its name with powerful hardware specs and a dedicated GPU, making it an appropriate pick for vloggers.
See also: Best laptops under $200
Frequently Asked Questions
Should laptops for vlogging come with an international warranty?
That is a good question. If you are a vlogger specializing in writing on travel, you will be carrying your laptop places. In that case, an international warranty is ideal to have. Laptops can develop problems anytime, anywhere. Some sellers may add to the price if you insist on an international warranty. It may be worth paying a few extra dollars to remain worry-free for the rest of your time using the laptop.
Are there any special cameras and microphones needed on a laptop for vlogging?
It is not as if you require something out of the ordinary for vlogging. However, it helps to do a bit of research since you are investing in a new laptop to find out if there are better components fitted. Some manufacturers use more powerful cameras on their laptops. Professionals who make regular video calls also need a better laptop camera. Look for such laptops and buy one.
Is it essential for a laptop for vlogging to have a backlit keyboard?
It may not be essential, but it comes very close to that. It may be necessary for someone working in dark environments. Backlit keyboards are useful in dark places. Even at home, you can keep working without disturbing your partner sleeping next to you after switching off the lights.
Is the fingerprint sensor effective on laptops?
Any layer of security added to gadgets for personal use is good. You might be storing a lot of information on your laptop that you don't want others to access, at least not without your knowledge. You can also have facial ID recognition as well since most laptops come with a camera. The fingerprint sensor works just fine.
How important is it to consider the price of a laptop before buying?
It depends on how critical the laptop is for your use. If you intend to use it regularly for business or officially for work, you may have to spend a little more. You want to buy the best machine out there. If you already have a laptop for these purposes and the one you are now buying is just an additional one, then don't spend too much on it.
Conclusion
The best laptops for vlogging are available in all sizes and price ranges so that you can make your pick. Ranging from a budget-friendly laptop that costs less than $500 to a pricey one that is close to $2000 they all get the job done. Beginners can use entry-level products; however, you can go expensive if your budget allows.