Featured in this article (opens in new tab)
Laptops come in a variety of shapes, sizes, and features today. From 360-degree foldable laptops to ones that can put even the most hardcore desktops to shame, there is a large range of products available in today's market. However, not everyone needs a high-end machine or a fancy tech-filled device for their needs. Some just need a laptop for online work or they need a secondary laptop for casual use. In such cases, spending a lot of money would be pretty unwise.
Technology changes every single day and you don't want to spend a significant amount of money on something that might be obsolete tomorrow. Either you need to buy a product that you know will meet all your requirements for a few years into the future, or you need to buy a cheap one. Laptops under $200 are the perfect ones for people looking to invest in an affordable machine for specific purposes like work or studies. As a normal consumer, you may want a machine that does everything well, but they cost upwards of $800 easily. If you just need a laptop for work-related tasks or college assignments, then a $200 laptop is the best choice. You can use it whenever you want and store it away easily.
Almost all the major manufacturers have products in that price range but it may be a bit difficult to choose the right one for your needs. Almost every product in this range offers pretty much the same features as they are more on the low-end cost-wise, but they also do certain specific functions better than the rest. If you have a specific purpose in mind, you will have no trouble finding the right one for your needs. Some of the key aspects you must look for in a cheap laptop are its durability, power, and portability.
Here are some of the best laptops under $200.
Buying Guide
Best laptops under $200 may come as a bit of a surprise to you. There are laptops available for such a low price, and they are brand new. These laptops are from reputed brands as well. So, if you are looking for a laptop to perform the bare minimum activities, go ahead and buy one of these machines that cost less than or around $200. More than looking at what you need, in this case, you can assess the limitations that the laptops come with.
Size: Many of these laptops below $200 will have display sizes of 11.6-inch or 13.3-inch. They may not have the latest technology display panels. They will still offer the performance needed.
Processor: Low-priced laptops will come with Intel Celeron or equivalent AMD processors. They will give you sufficient performance for your day-to-day activities. The issue will arise only when you try to use this laptop for any higher-level tasks like gaming etc. RAM support may be around 4GB. Some machines may have slightly higher RAM.
Storage: Don't expect huge numbers as far as storage is concerned. 256GB may be the highest you may see of laptops below $200. Many may even have much lower memory capacity for storage.
Software: It has become more or less a standard for laptop makers to preload the Windows OS. You may also find some Chromebooks in the category with the Chrome OS being the operating system. Beyond that, the laptops below $200 may not have much by way of software.
Battery: The battery size and power rating may be low in these laptops. However, they may still give you sufficient battery life if you carry the laptop outdoors and if the usage is minimal.
Brand: You may wish to keep your selection limited to known and reputed laptop brands while buying laptops below $200.
You should rather assess the tasks you would want to carry out using this laptop priced below $200. If you feel some of those jobs cannot be done on them, you may have to move to higher-priced laptops that suit your requirements. For the rest of the activities, these laptops will be good enough.
See also: Top best 15-inch laptops
Best Laptops under $200
Compact Size Laptop That Offers Good Value for Money
Lenovo IdeaPad 11.6" Bright Backlit Display Laptop
Check Price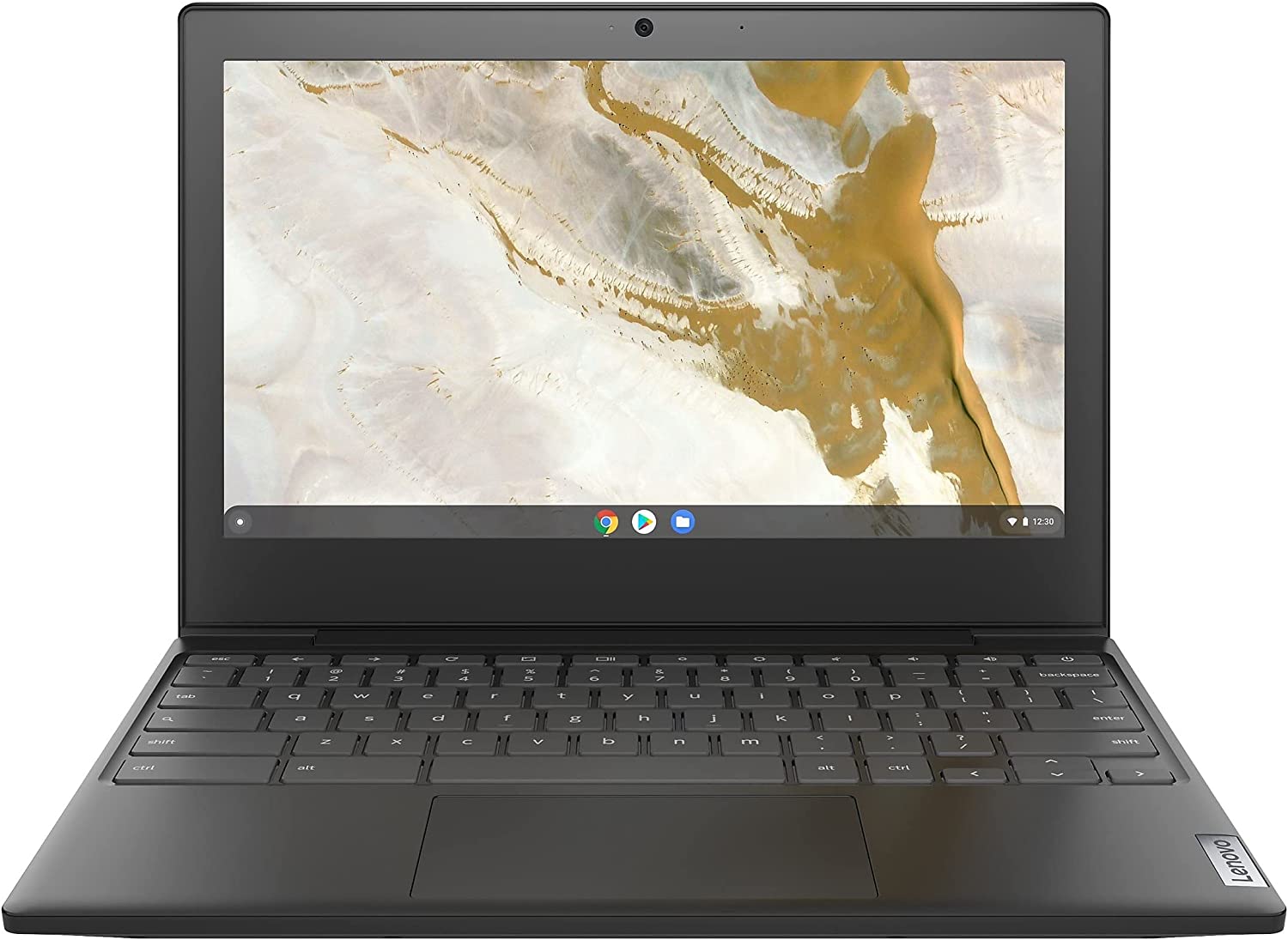 Not everybody looks for a laptop with a huge display screen. Some prefer a smaller-sized laptop that could offer good performance and be easy to carry around. This device by Lenovo boasts solid construction, delivers stable performance, and is ideal for people who travel frequently or need a laptop that could serve as a good companion in your professional space.
The display screen is just 11.6 inches wide but offers great picture quality and comes with anti-glare technology that enables you to work on it for several hours without hurting your eyes. It runs on a Chrome operating system and is powered by an Intel Celeron N4020 processor. It has a very good quality webcam with a sensitive microphone that works well for those who frequently engage in video calls.
It is an ideal laptop for professionals who spend most of their time preparing drafts, doing conference calls, and making presentations on their devices.

It works very well for those who travel frequently and need a compact-sized laptop to carry around.
Compact and portable

Anti-glare display screen

It runs on a powerful processor

Premium Quality Web Camera
Not good at multitasking

Limited storage space
Moderately Priced Laptop That Offers Long-Lasting Usage
Acer 11.6-inch Screen Compact Laptop
Check Price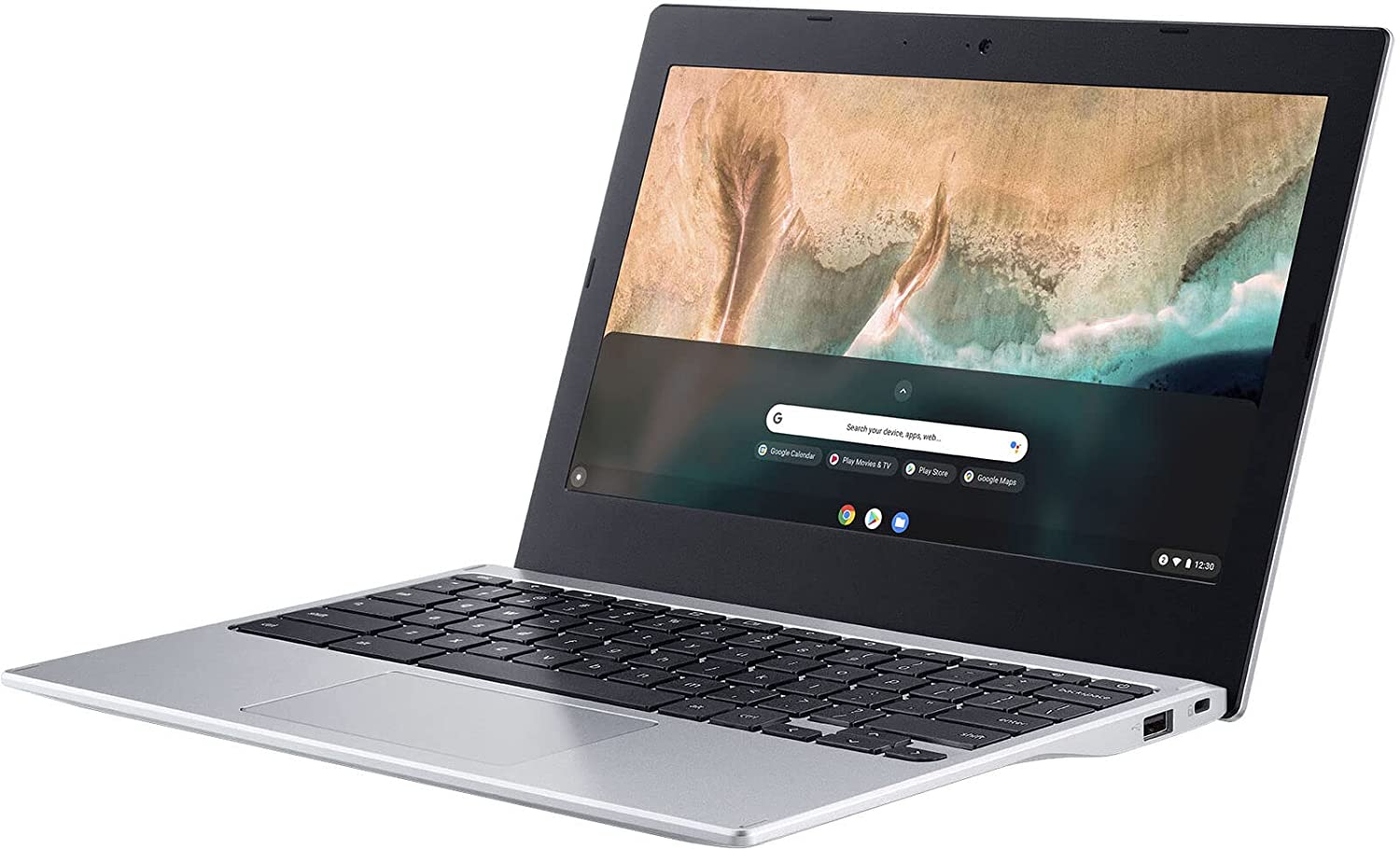 The 11.6-inch display screen is not touch-enabled but offers a resolution of 1366 x 768 pixels that should keep the average viewer happy. Despite being a budget laptop, it enables you to carry out various computing tasks and boasts a 15-hour-long battery backup. While there is no microSD card reader, you get a bunch of connectivity options in the form of a headphone jack, Bluetooth 4.2, USB 2.0 Type-C port, and a webcam.
If you are on a budget of $200 or less and are looking for a laptop built well and offers strong battery life, you should go for this one.
A good option for those who travel constantly and would like to carry a lightweight laptop while moving around.
Strong battery life
Moderate pricing
Adequate processor
Compact structure
The screen is not touch-enabled
No microSD card slot
A Reasonably Priced and Well-Functioning Business Laptop
Newest Flagship HP Chromebook
Check Price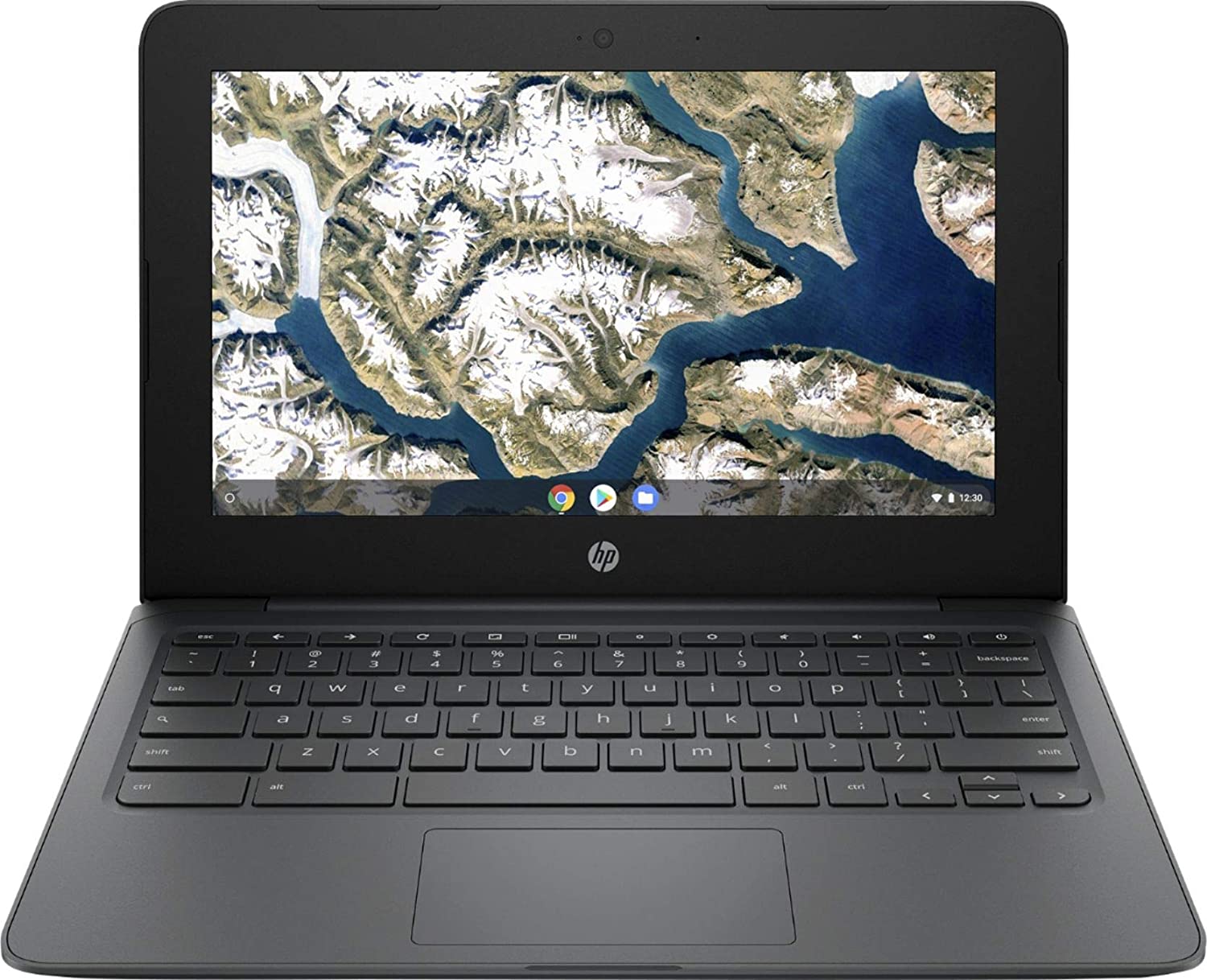 This HP Chromebook is ideal for professionals to be used in a workspace owing to its compact size and moderate weight. Instead of putting together an attractive design, the brand has focused on making the device highly functional and useful. Keeping the moderate price that it comes at, the build quality is quite good.
It has multiple connectivity ports including a USB 2.0 Type-C port, a Type-A port, an audio combo jack, and a microSD card slot. One of the most striking aspects of this device is its sturdy and comfortable keyboard. The keys are very smooth and offer a highly satisfactory typing experience. There is no backlighting feature, but most people should be okay with that.
An excellent option for those looking for a professional laptop but on a budget.

It comes with all the features you would expect on a device that can be used in an office setup.
Touch-enabled screen

Premium quality keyboard

720p webcam

Very good battery life
Shallow trackpad

Limited internal storage
Lightweight Laptop That Works Very Efficiently
Asus Chromebook C223 11.6-inch Laptop
Check Price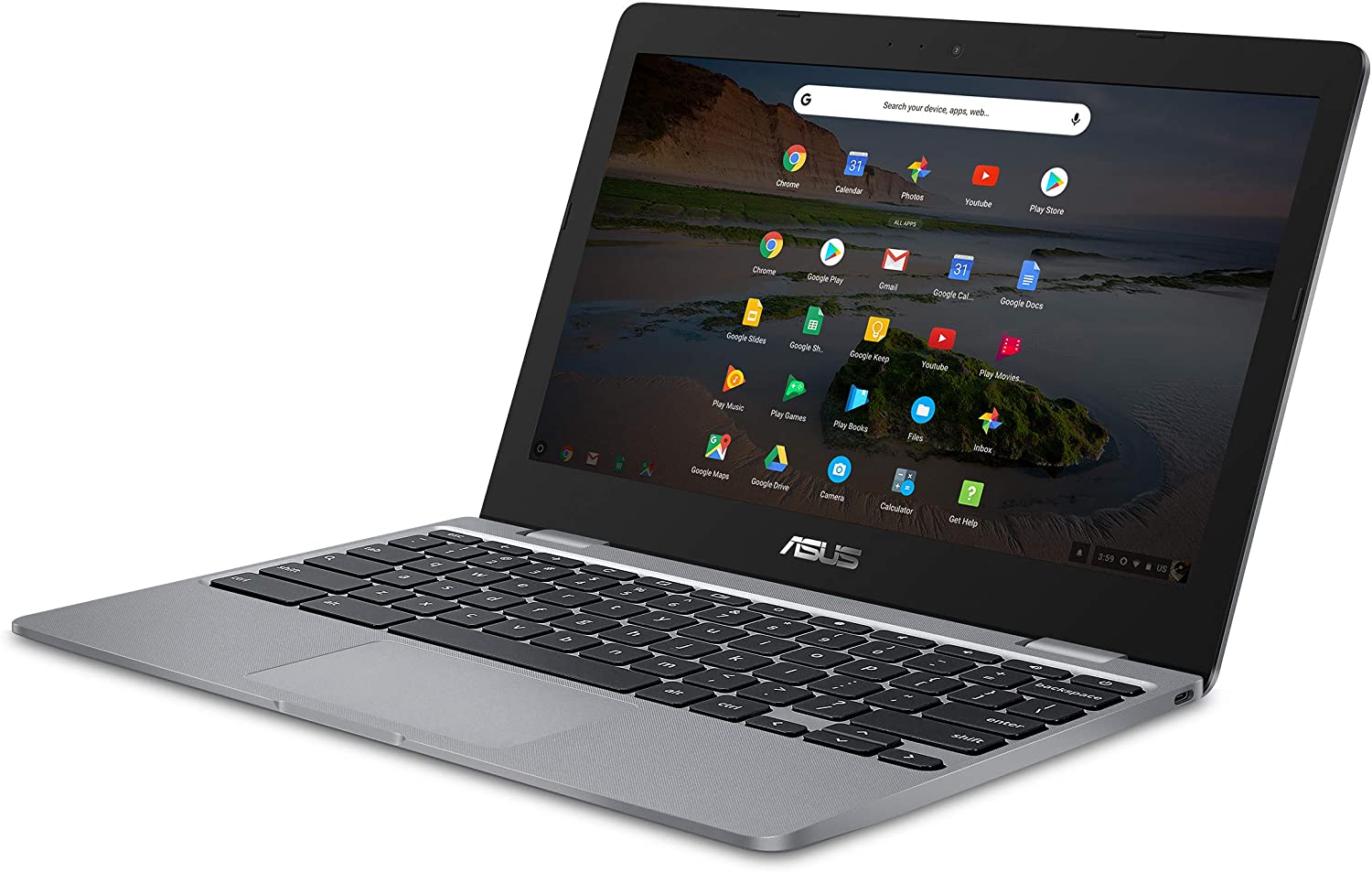 This Chromebook by Asus doesn't feature a display with touch-screen functionality, and the hardware is also not of the highest quality. That being said, the performance it delivers is quite satisfactory, and the number of features it offers at this price is impressive. When you invest in a budget laptop, you can't expect it to be at par with a premium quality laptop, but it is not a disappointing product at all.
At 2.2 pounds, it weighs very little and, therefore is ideal for regular commuters. On a full single charge, the battery lasts 9-10 hours which is quite good. What further makes it a very suitable option for professionals is the fact that it comes with multiple connectivity options. Intel Celeron N3350 is quite powerful and ensures that the system doesn't slow down despite heavy usage.
Why You Should Buy This?
Ideal for those who prefer a smaller-sized laptop offering good functionality and features.

It doesn't burn a hole in your pocket and is well-equipped to handle regular work.
Pros
Available in two color options

Stable and reliable performance

Excellent battery life

Lightweight and durable
Cons
Subpar keyboard

No IPS panel
Compact and Lightweight Laptop Suitable For Regular Usage
HP Chromebook MediaTek MT8173C Processor Laptop
Check Price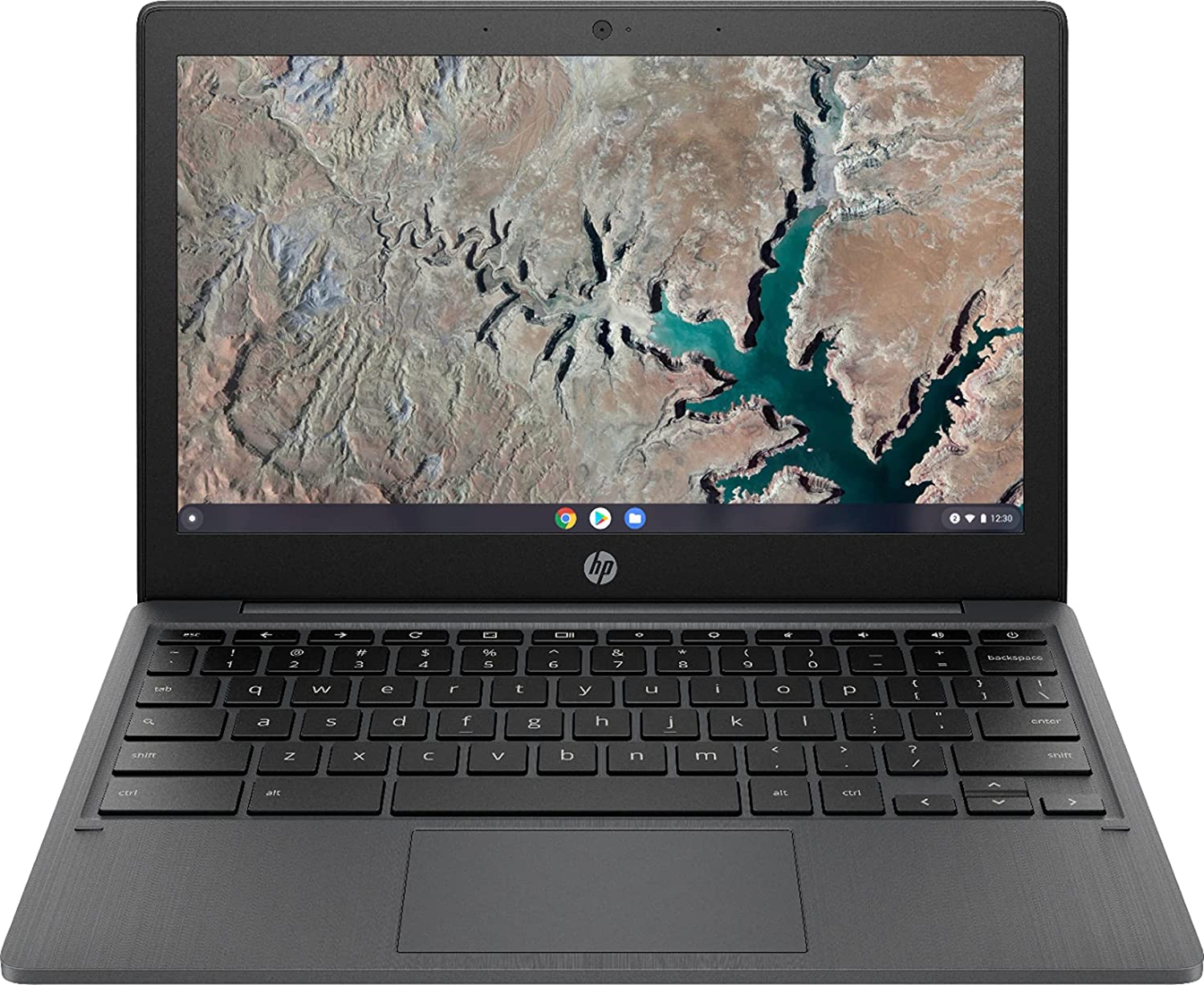 The laptop comes armed with a MediaTek MT8173C processor that ensures you do not face any performance issues. At 11.6-inches, the display screen is quite compact and offers a resolution of 1366 x 768 pixels. It features a high-bandwidth RAM that enables one to run multiple apps simultaneously without facing any inconvenience. The device comes with many modern features that you would expect in a more expensive model.
An ideal option for those who have set aside $200 to buy a laptop that can help them accomplish most of their everyday computing tasks.
Also a good investment for somebody who wants to exchange their bulky laptop for a compact and lightweight device.
Lightweight and durable
Super-fast processor
Versatile features
HD Video Playback
Limited connectivity support
No accessories provided
A Good Budget Laptop That Works for Both Adults and Kids
Lenovo Chromebook 3 Laptop
Check Price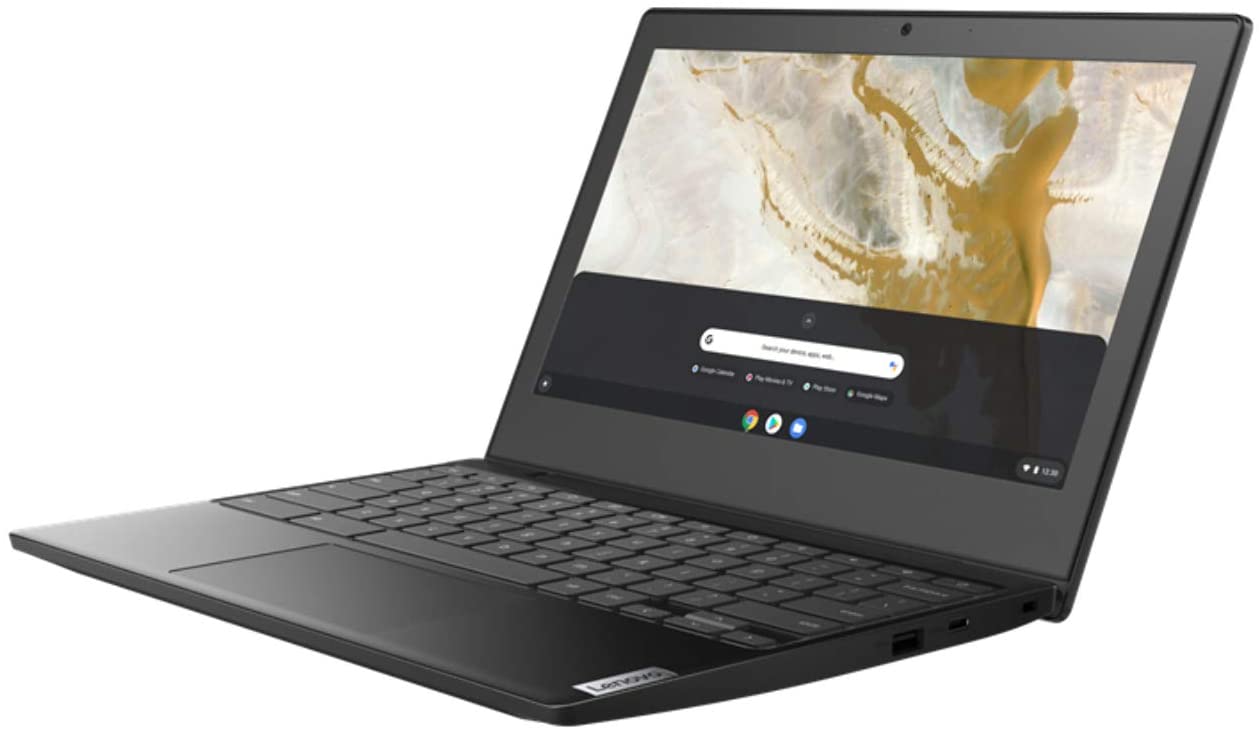 If you have less than $200 in your pocket and are looking for a decent-quality laptop that would be effective for day-to-day use, this is a device you could consider. The device boasts good build quality and excellent battery life, making it a highly functional laptop. If you type extensively, then you will benefit from the sturdy keyboard it comes with. It has many connectivity ports, including a microSD card reader.
The 11.6-inch display screen could be seen as a disadvantage by people who prefer to consume videos and other content on larger screens. However, if you wish to own a compact laptop, you shouldn't have any issues with it. The laptop features a stylish design, and the two-tone color scheme adds to the overall visual appeal of the device. The laptop is very light and, therefore convenient to carry around.
Why You Should Buy This?
It offers good value for money and proves to be the best laptop you can have for under $200.

Long-lasting battery life and high-quality components that make it useful for daily usage.
Pros
Compact structure

Solid build quality

Long-lasting battery

Moderate pricing
Cons
Small-sized and low-resolution screen

Inept touchpad
Versatile Laptop That Caters to Different Age Groups
HP 4BS38UA Chromebook 14 Good Display Screen Laptop
Check Price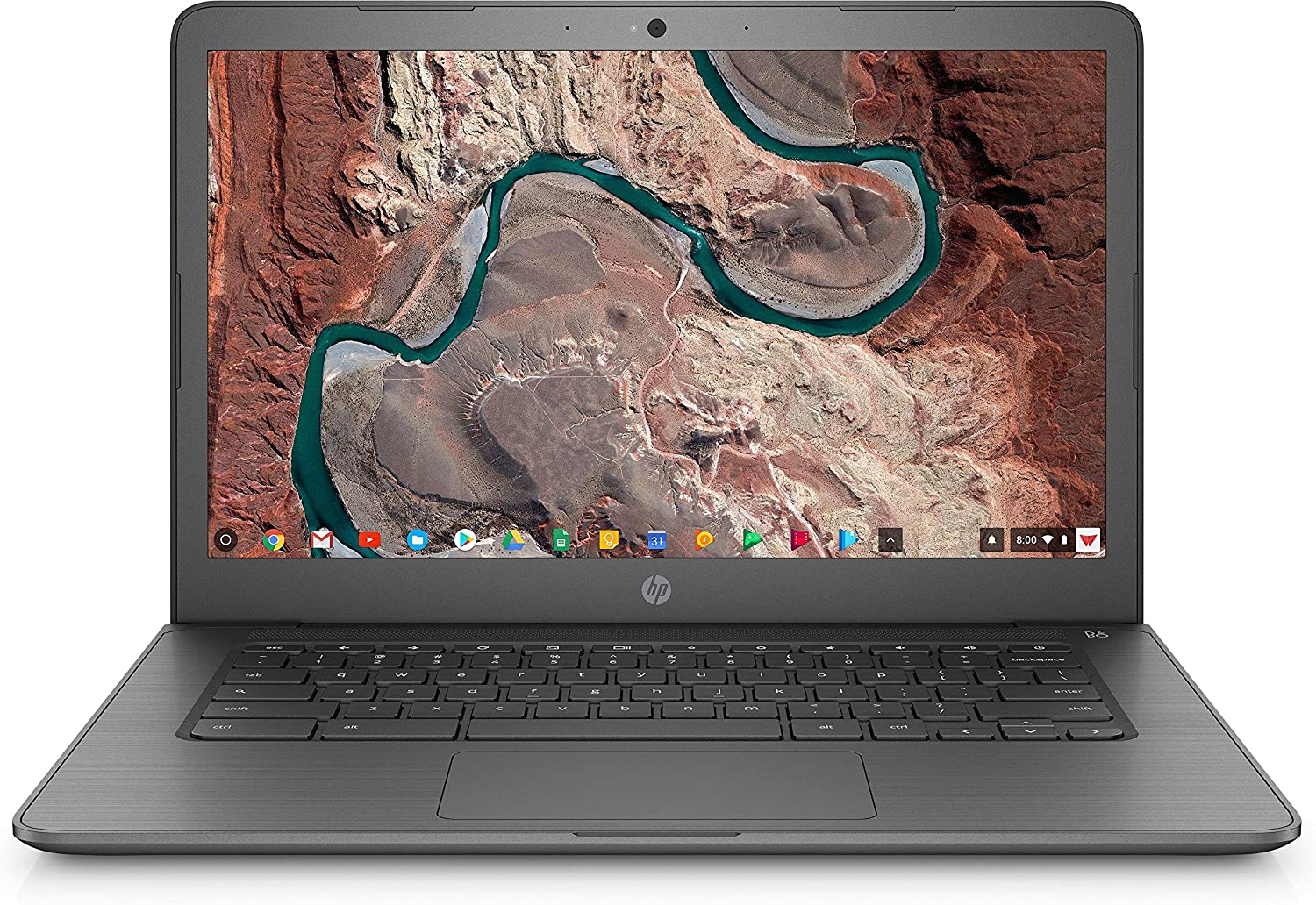 Featuring a 1080p display screen and an Intel Celeron N3350 processor that works very fast, this Chromebook by HP has a diverse set of features bound to attract users of different age groups. This price range is one of the most technically sound laptops you can expect. On a single full charge, the battery lasts for around 8 hours which is fair but not very good.
The 14-inch screen offers a resolution of 1366x768 and produces extremely sharp and bright pictures. The panel offers multiple viewing angles that augment the overall visual experience. On the downside, the laptop doesn't have an interface scaling feature that would enable you to modify the screen's text size and other visual elements.
Why You Should Buy This?
It proves

to be a good investment for those looking for a well-rounded that can perform various tasks.

The screen offers high resolution and is good enough for multimedia consumption.
Pros
Multiple high-utility features

Good display screen

Multiple connectivity options

High-definition webcam
Cons
Average battery life

No interface scaling feature
Great Budget Laptop with Useful Features
Acer Chromebook 11 Affordable Laptop
Check Price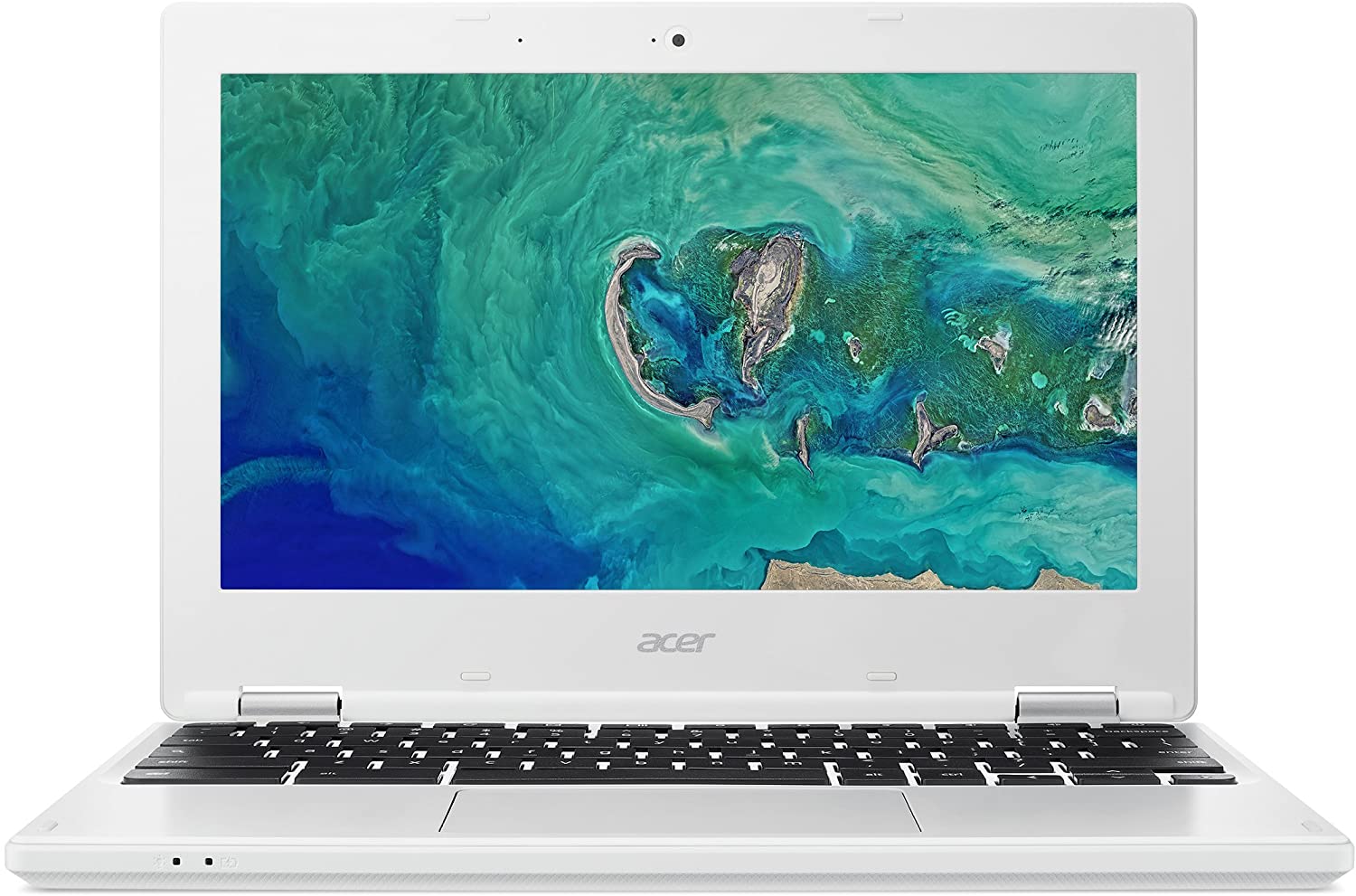 Apart from being the first Chromebook to support the Google Play app, Chromebook 11 by Acer has several other innovations to its credit. Simply put, you get a device with the strength of Chrome OS hardware and offer the great functionality you expect from an Android device. At a very low price, you get access to many features.
Almost the entire device is built with premium quality plastic, which gives it a nice look apart from assuring durability. The 11.6-inch screen, which has an IPS LCD panel, might not offer very high resolution but reproduces colors fairly well. It also comes with touch-screen functionality. The hinge can cover 360 degrees; therefore, this device can be used as a tablet and a PC.
Why You Should Buy This?
This is a great buy for anybody looking to invest in a budget laptop that could offer a good number of features.

It should be a preferred option for those who need a Chromebook that could support the Google Play app.
Pros
1080p display screen

Good battery life

Moderately priced

Sturdy and durable
Cons
No backlight keyboard

Not suitable for playing high-end games
See also: Best i7 laptops
Frequently Asked Questions
Are the laptops below $200 strong and sturdy enough?
The laptops below $200, if manufactured by reputed brands, can be expected to provide decent performance. Yes, they will be as strong or fragile as any other laptop you may find in the market for higher prices. There may be a marginal difference in the plastic quality used to make the outer body shell.
Can I give the laptop for under $200 to my kids?
These laptops are considered entry-level machines, and if you wish to expose your children to computers for the first time, there is no harm in allowing them to use these laptops. Even if your kids damage it, you will not regret it much!
Can I do some upgrades to the laptop for under $200 and make this my main computer?
The chances of upgrades to these laptops are quite limited. You can buy a new laptop with better specs for the cost you have already paid to acquire this machine, plus the additional expense of a proposed upgrade. It is not a good idea.
Do laptop manufacturers honor the warranty clauses?
Most reputed laptop companies do stick to the warranty terms. The authorized service centers you will be directly dealing with may offer a different experience. If you are unsatisfied, you can contact customer care at the manufacturer's end and register your complaint.
What is the average life of a laptop, after which you will have to replace it?
There is no fixed period from the date of purchase beyond which laptops cannot be used. It can vary with the individual piece, how it is handled, and so on. On average, it may be prudent to change your laptop every 3 to 5 years. This is particularly relevant if you use the laptop daily for key activities.
The Bottom Line
Laptops are available today in a mind-numbing diverse array of options ranging from futuristic machines to ones that can be converted into a tablet. Portability and functionality are the names of the game today, as millions of people worldwide have transitioned from static machines to portable ones. Desktops will not be going anywhere anytime soon, as they provide a more wholesome experience, but laptops are slowly catching up. Out of all the different categories and price brackets in the laptop market, the hardest is the low-cost one.
For one, the mere mention of the word "cheap" incites a feeling of a low-quality product in most people. While there was some truth to that in the past, today's technology has alienated most of the past issues. It is perfectly alright to assume great quality with cheap products in today's market. Most top manufacturers are packing some serious punches in the low-cost laptop categories with quad-core processors and HD displays. You also get different laptops, such as 2 in 1 and even hybrid laptops with detachable keyboards. There are so many options available in the market today that you can find one for any use you may have.
To find the perfect low-cost laptop, you must decide on a budget and consider its main purpose. Do you want it for more casual use or work? For how long do you plan to use this device? Do you want one that will last many years but cost more or something temporary? Are you on the road a lot, or do you prefer a device for more home use? Once that is decided, you have to do a little bit of research and then see which products fit the specific criteria you are looking for.