Featured in this article (opens in new tab)
Detachable laptops have the same benefits as their non-detachable counterparts. They also come in different configurations to meet varying needs. As the name suggests, these laptops have an extra advantage. Their screens can be detached, and you can use them as touchscreen tablets. This makes such laptops ideal for those who give importance to aspects like portability and lightweight. They are also a good option for those who do not want to own a laptop and a tablet separately. Because of their capability to act as two devices, they are also referred to as 2-in-1 laptops. Although not all laptop manufacturers offer detachable versions, you can take your pick from reputed brands such as Acer, Lenovo, and HP. The following are some of the best detachable laptops you can consider buying.
Before listing the models, we will also share a buying guide. The guide contains all the important things that should be taken into consideration.
See also: Top 10 Best Laptops For Writers
Buying Guide
Detachable laptops have become very popular among users as it helps you avoid investing in a laptop and a tablet separately. You can use it as a laptop in your home, carry the detachable screen, and use it as a tablet while on the move. These 2-in-1s come with some impressive specifications and offer a host of user-friendly features. You can pick the best detachable laptops from the regular brands of laptop makers and some non-regular ones. There are some special features in these 2-in-1 laptops you need to know about.
Display Size: Since these are detachable, the screen size will be limited to under 12-inches. If you want a large 15-16-inch screen, the detachable laptops are not for you.
Display Features: The displays in the detachable laptops usually sport some special features. They offer better screen resolution. It need not be mentioned here that these are touchscreen displays. They can be used as tablets when taken out of the base. Some models in this category offer multiple options for setting up the display while working or watching a video. Some have detachable keyboards as well.
Battery: The detachable laptops have twin-cell batteries, which are quite powerful. You can use the detached part for over 8 hours without worrying about replacing it in the dock for recharging. Check the details before ordering.
Processor and RAM: In general, the processor and RAM in detachable laptops do not rank very high in terms of their specs. They are decent enough to carry out routine activities on your laptop as a whole unit or on a detached screen.
Camera: The detachable laptops come fitted with front and rear cameras. This is how it differs from regular laptops. This adds dimension to taking photos, viewing them on a larger screen, and editing them. The cameras may be small, meaning the megapixels will be in single digits at resolution.
Connectivity: The base unit of the laptop will have connectivity options. Check if you are getting whatever you need. You will have Bluetooth available in any case for wirelessly pairing any device.
Colors: You will get a lot of attractive colors for the detachable laptops to choose from. It will add that bit of interest to the selection.
Best Detachable Laptops
Sleek Portable Laptop for On-the-Go Entertainment
Packard Bell CloudBook 10.1 with Windows 10
Check Price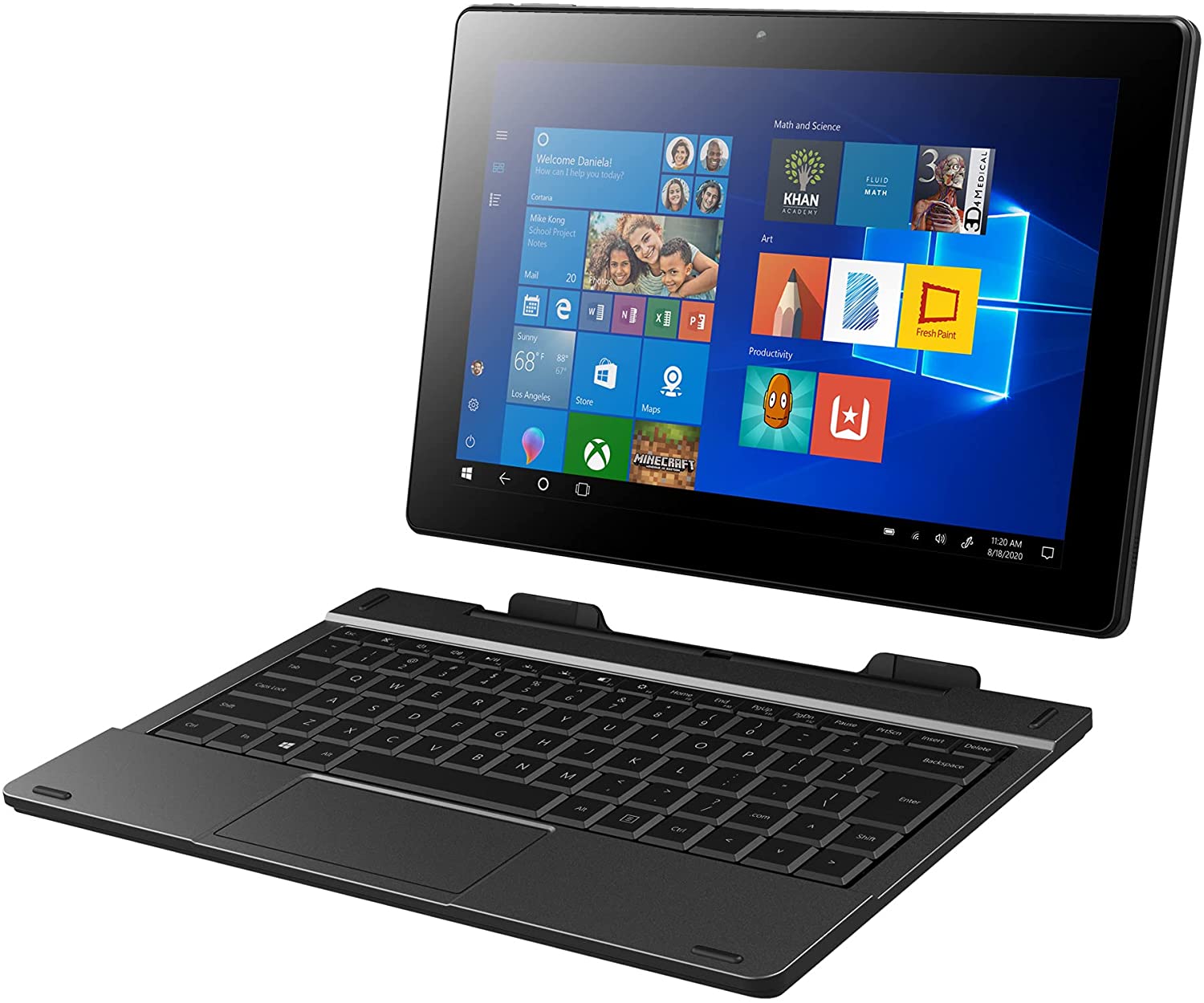 The CloudBook 10.1 from Packard Bell is a versatile laptop that you can easily shift into a tablet by splitting the keyboard and the touchscreen display. Equipped with a Celeron N3450 processor and Windows 10 operating system, the laptop will live up to your expectations during work, study, and entertainment sessions.
You can store sufficient data with the help of 4GB RAM and 64GB SSD from this Packard Bell CloudBook. The 10.1-inch HD screen will stream top-quality images and videos with every detail. You can consider the laptop's HD front and back camera for Zoom calls. You can stay connected on the go with its connectivity options.
A portable laptop with a detachable facility that's perfect for those who want to use it on the go.

Enough storage space and Windows 10 make it perfect for students and working professionals.
Inexpensive

Touchscreen display

Lightweight and portable

It can be converted into a tab
Display is average

Not ideal for gaming or coding
Two-in-One Laptop for Endless Work and Entertainment
Winnovo TaBook S133 with IPS Touchscreen
Check Price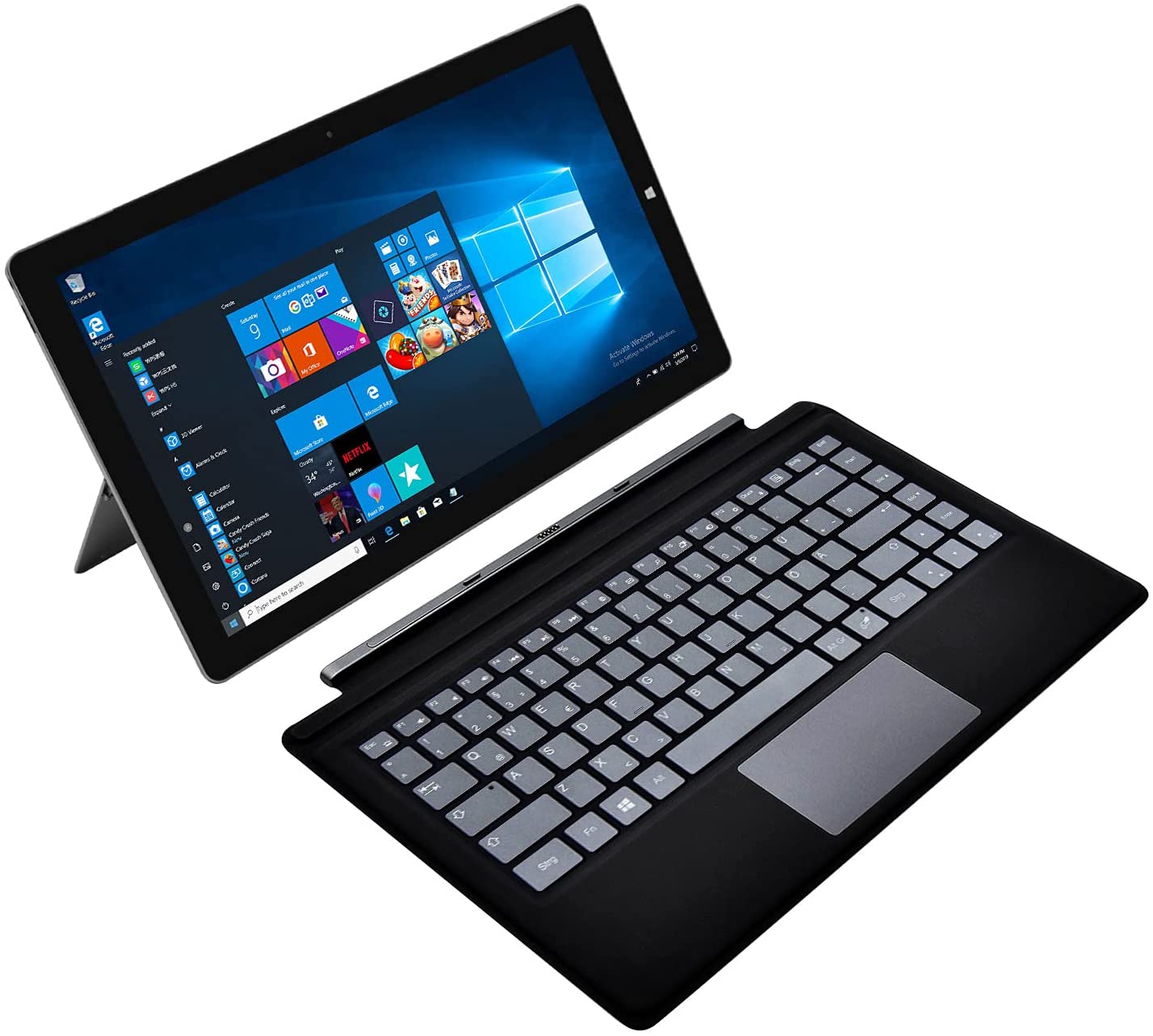 Another great laptop with a detachable screen, Winnovo TaBook S133 is all about precision. This two-in-one laptop featuring an Intel Quad-Core processor can fulfill your craft and task efficiency. With Windows 10, you can enjoy seamless multitasking while the memory is expandible up to 512GB SSD.
You can use this gadget like a laptop and also as a tab by simply detaching the keyboard. And the 13.3-inch FHD touchscreen is equipped with IPS, which means watching vivid images and movies is possible on this one. The sleek black body makes it one of the most stylish detachable laptops.
If you're a student or a working professional looking for a two-in-one laptop with huge storage capability, you can go for this one.

The 13.3-inch FHD touchscreen display is ideal for working, studying, and watching movies.
Thin and stylish

IPS touchscreen

Expandable memory

Detachable full keyboard

Windows 10 experience
Only good for moderate use

Speakers are average
Convertible Laptop Ideal for Students and Working Professionals
Alldocube iWORK20 with Adjustable Angle Bracket
Check Price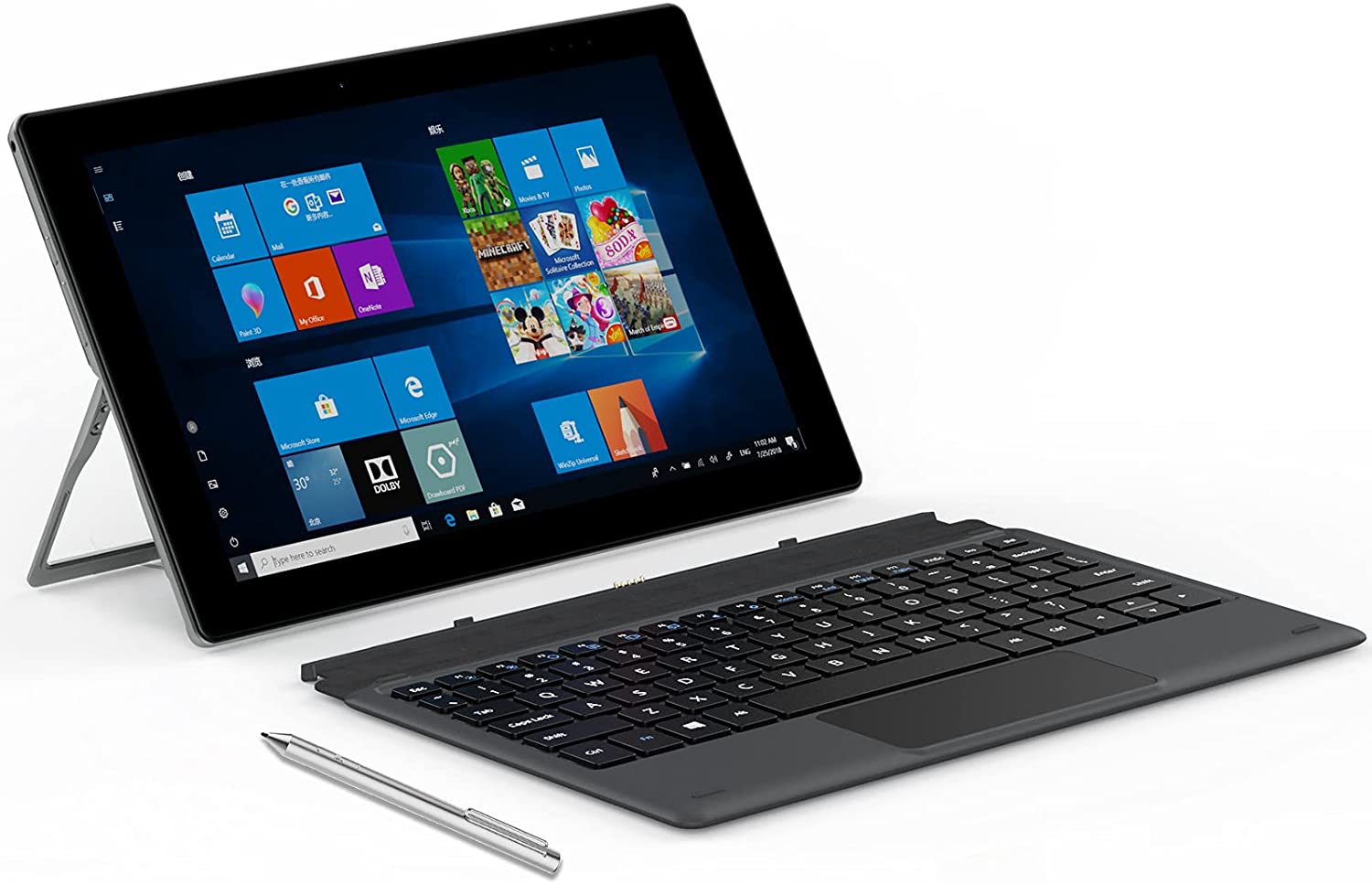 iWORK20 from the brand Alldocube is a mini laptop with a detachable keyboard and a stylish pen. It's a compact device that you'll love to carry and sort your work and entertainment sessions on. Powered by the Intel N4020 processor and Windows 10 OS, it'll make sure to uplift your expectations.
4GB RAM and 128 GB ROM are perfect for moderate usage. You can store high-quality images, videos, and other files on this laptop securely. The 1920×1200 full HD display will make movies brighter and clearer. Plus, the metal body design is accentuated with an adjustable angle bracket.
If you're looking for a compact gadget that'll let you do office work, study, and watch movies on the go, this one will be a good buy.

It comes with an adjustable angle bracket and a stylish pen.
Attractive combo

Supports HDMI

HD IPS touchscreen

Very light in weight

Angle bracket for convenience
Not ideal for gaming

Battery backup is average
Touchscreen Laptop Come Tablet for Work and Fun
Teclast Detachable Laptop with Kickstand
Check Price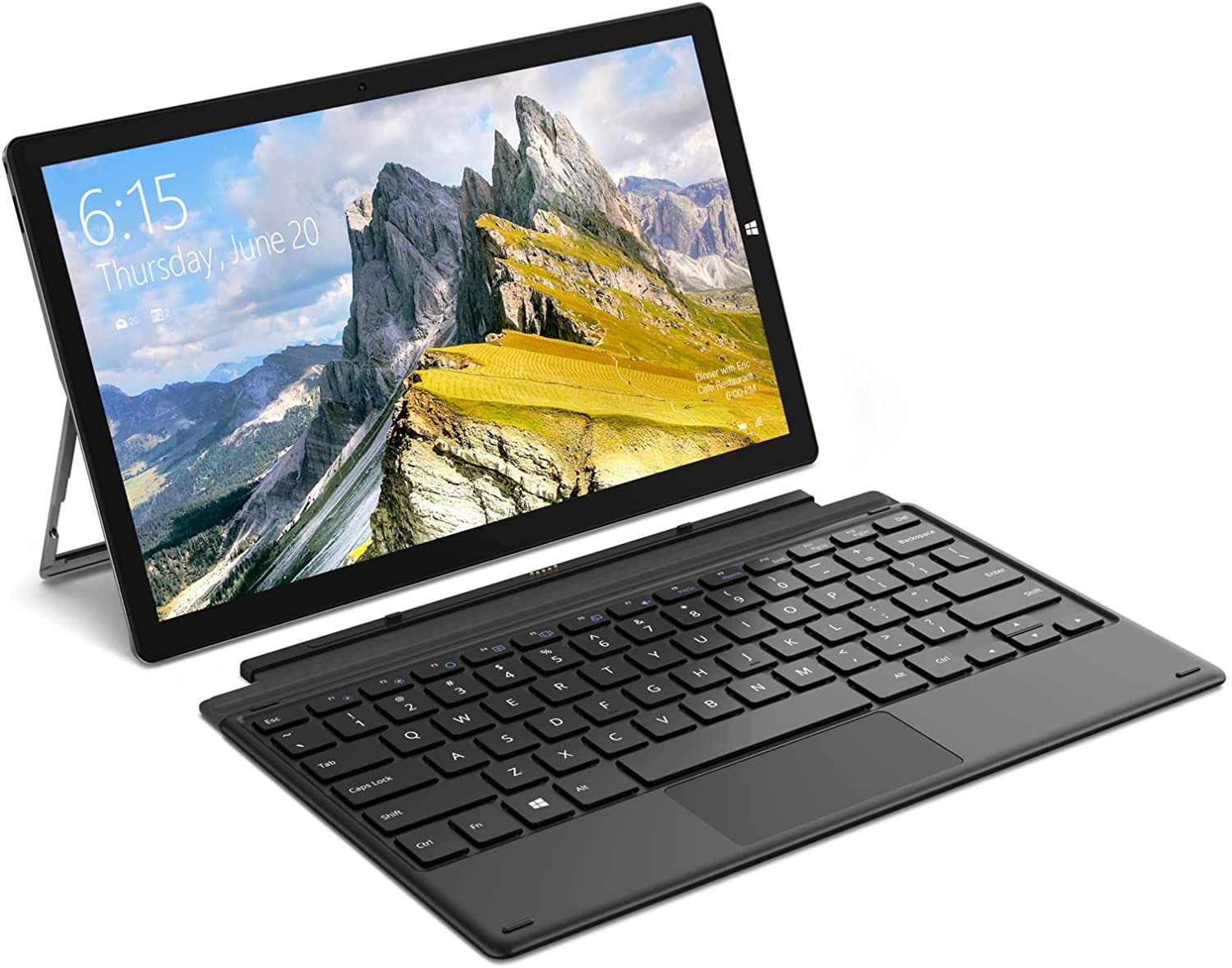 This detachable laptop from Teclast is truly designed for all your work and entertainment sessions. It has an Intel N4020 CPU, 6GB RAM, and 128GB ROM, allowing you to multitask seamlessly while working or streaming movies. Plus, there's a 9th UHD graphics that can let you play games on the go.
The 11.6-inch touchscreen display of this laptop can be detached from the docking keyboard. You can also attach a kickstand to view the screen from multiple angles. This Teclast laptop doesn't weigh too much and is a perfect gadget to carry to your class or office.
Why You Should Buy This?
If you're struggling to carry a huge laptop to the workplace or class, this one will be a perfect choice.

You can stay connected to the internet, stream movies, and video chat for a long time.
Pros
Sleek and sturdy design

Includes kickstand

Playing games is possible

Multiple angle viewing
Cons
Easily convertible

Keyboard is average
Premium Branded Convertible Laptop with Touchscreen
HP Elite Two-in-One Laptop
Check Price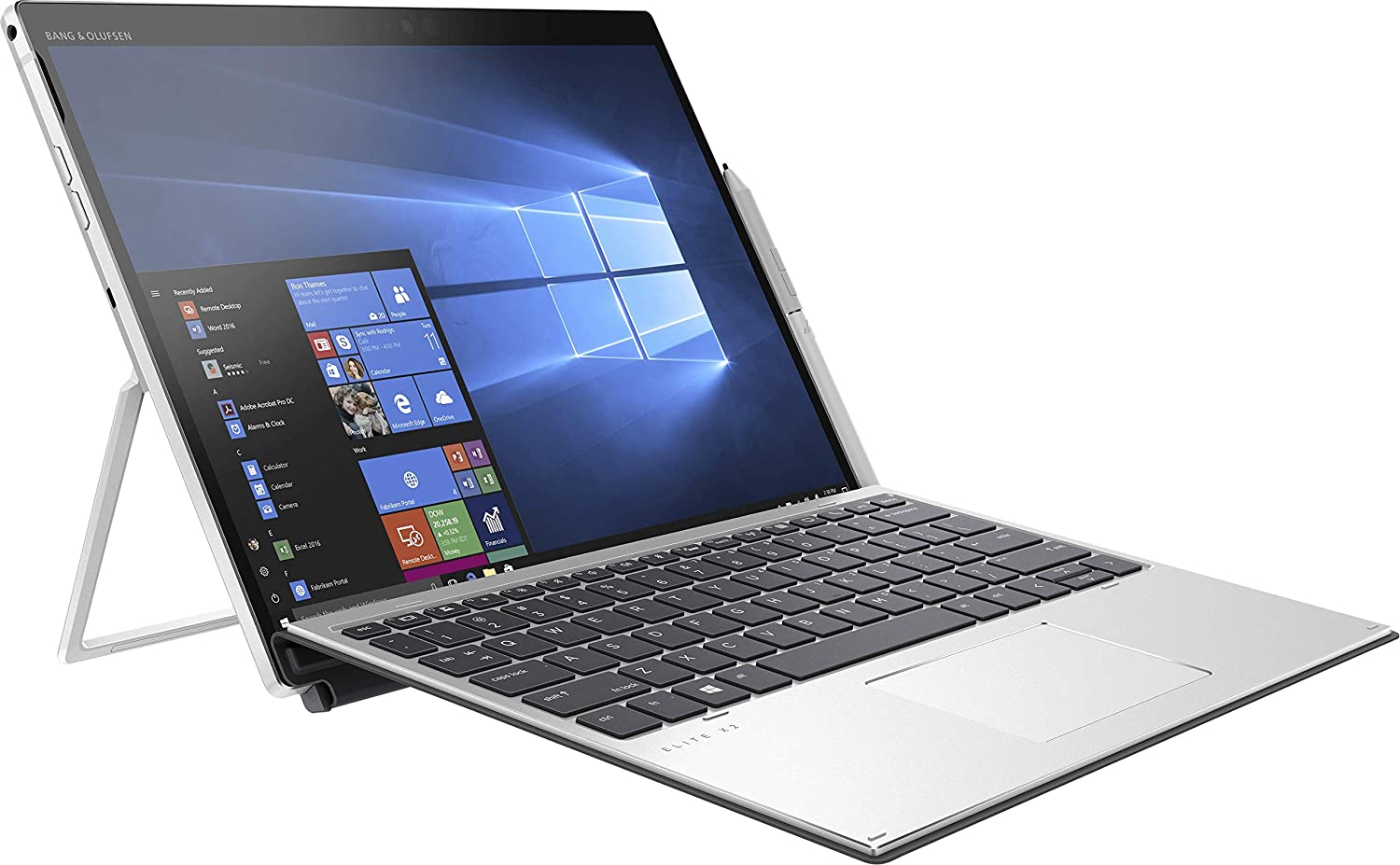 HP needs no special introduction when talking about laptops and PCs. And this one will truly live up to your expectations with an Intel i7 processor and Windows 10 Pro operating system. The huge memory offered by 16GB RAM and 256GB SSD can beat any other convertible laptop on the list.
The combo also includes a detachable keyboard that has an amazing typing experience. Also, you'll get a stylus pen included for an optimum sketching performance. The 12.3-inches display and the Intel UHD Graphics 620 are the two other reasons for choosing this HP laptop.
You can expect exceptional productivity and durability from this HP laptop.

If your budget is no issue and you're looking for a high-end convertible laptop, this one will be a good buy.
Powerful processor

Huge storage space

Ideal for playing games

Luminous display

Great combo
Expensive

A little heavier
FHD Touchscreen Laptop for Office Work and Study
Venturer Two-in-One Laptop with Back Stand
Check Price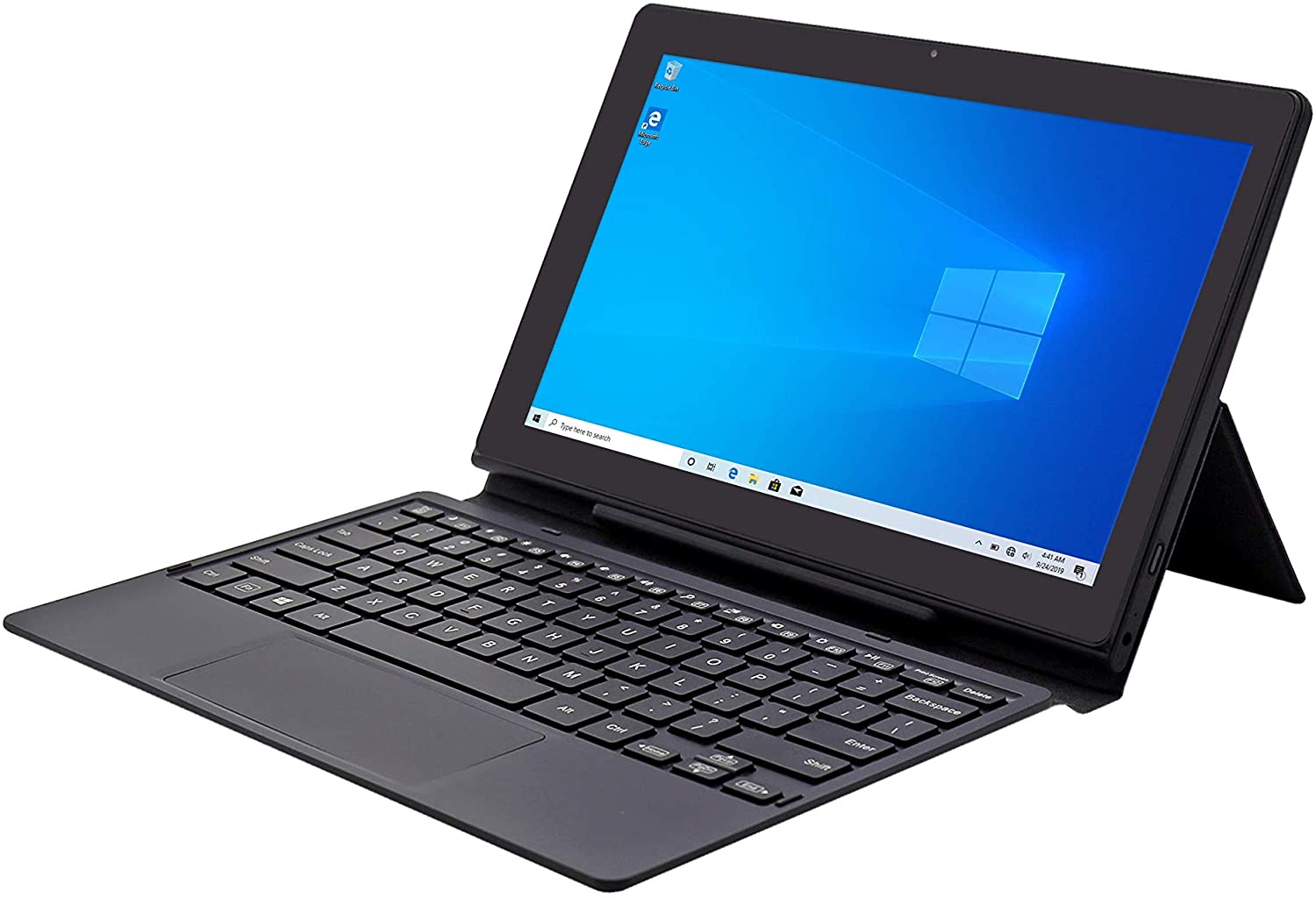 This Venturer laptop from their convertible laptop series is equipped with an Intel Pentium N5000 processor to speed up your tasks, while the Windows 10 operating system will let you seamlessly multitask. The 64 GB storage space backed by 4 GB RAM, is perfect for official tasks, study, and entertainment.
The laptop's 11.6-inch full HD touchscreen display will allow you to see bright and clear images. Plus, the convertible design will ensure you can use the device conveniently as a laptop and a tablet. This laptop can provide up to 6 hours of battery backup.
Why You Should Buy This?
A sleek, portable laptop that can be detached from the keyboard and placed securely with the back stand.

It comes with Windows 10 and sufficient storage space to provide great performance.
Pros
Windows experience

Sturdy back stand

Good battery backup

Display is bright
Cons
Processor is weak

Speakers are poor
Best Detachable Laptop with Dual OS
ALLDOCUBE 4K Video Playing Detachable Laptop
Check Price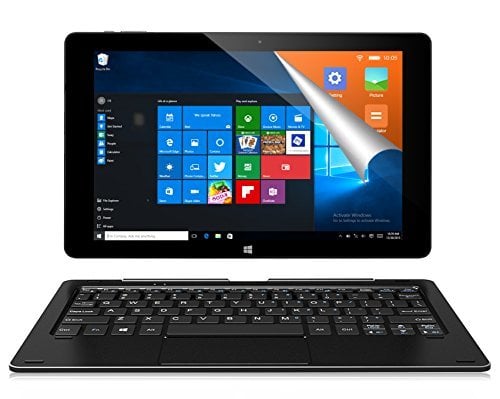 The ALLDOCUBE detachable laptop comes with a 10.1" Full HD IPS touchscreen with 1920 x 1200p resolution and a 16:10 aspect ratio. The laptop incorporates 4 GB RAM and 64 GB onboard memory. It features an inbuilt quad-core Intel Cherry Trail Atom processor that clocks in at 1.92 GHz and an Intel HD Graphics-Gen 8 graphics processor. The system is pre-installed with both Windows 10 and Android 5.1 operating systems.
The black-colored laptop comprises a detachable docking keyboard with a dedicated Android key for you to switch from Windows to Android. The system also encompasses a 2 MP camera on both the front and back, a card reader to insert a TF-type micro SD card for memory expansion up to 128 GB, and two built-in speakers. To swap from Android to Windows, you have to slide the screen downwards from the top and press the Android robot icon on the desktop. The device can play 4K videos at a 3840 x 2160p resolution at a 30 Hz frequency. It offers Wi-Fi 802.11 b/g/n and Bluetooth 4.0 wireless connections. The stylus-compatible unit houses a micro HDMI port, a USB 2.0 port, and a USB Type C port. The system comes with a USB Type C cable, an OTG cable (micro USB / USB Type A), and a user manual. The ALLDOCUBE laptop works with a long-lasting lithium polymer 6,500 mAh battery with a charging time of four hours, a standby time of five days, and a video playtime of six hours.
Who should buy this?
The ALLDOCUBE laptop is a great option for people who wish to use the best features of both Windows 10 and Android operating systems on a single device.
An excellent resolution combined with a high aspect ratio ensures a system is undoubtedly a good option for video watchers who want a memorable experience.
The HDMI port makes the laptop apt for those who want to connect the unit to other gadgets like a television or a projector.
You may also read: Best laptops for teachers
Frequently Asked Questions
Can I connect the detachable laptop to a printer?
Yes, definitely! You can connect the detachable laptop to a printer. Most printers these days have a USB connector, and the detachable laptop will have at least 2 USB ports. You will need a Wi-Fi printer if you wish to provide print commands from the detached tablet portion.
Can I play games on the detachable laptop?
Probably not all games. Some light ones can be played. Ultimately the specifications of the laptop like processor, graphics, and RAM, will decide what type of game can be played. Generally, the options to play games are limited.
How do I input text on the detached tablet?
There is an onscreen keyboard as you have on your regular tablets. You can activate that and start typing. Some models also come with a Stylus pen for writing on the screen. The handwritten text can be saved as a proper document if you have the appropriate software.
Will I get Microsoft Office with the laptop I buy?
In general practice, laptop makers and authorized resellers load the original Windows 10, usually the Home edition on the laptops. As for MS Office, many brands offer free use for a limited period. You have to buy a copy of the software for use beyond that free period.
Can I do video editing on all laptops?
Probably not on all laptops across the board. You need some basic specifications for you to do video editing. The safer way is to invest in a laptop that has specifications like an Intel i7 chipset as the processor and powerful graphics support. The RAM has to be decent too. As you go down the ladder, handling such tasks becomes tougher.
Conclusion
Detachable laptops serve as fully functional tablets that make use of optional keyboards. Manufacturers usually sell these devices by referring to them as laptops with detachable screens. They are best suited for those who wish to enjoy using a laptop and a tablet with just one device. These laptops are also any touchscreen lover's delight. Some models allow you to fold them without removing the screen so that the keyboard gets positioned behind the laptop and acts as a stand for your tablet. Most systems come with either Windows or Android pre-installed. However, some of them come preloaded with both operating systems. However, the price factor is something you might want to keep in mind when choosing such a laptop over normal ones. As you can expect, some detachable laptops are priced a little on the higher side. However, they are more economical than buying a laptop and a tablet separately.