There was a time several decades ago when radio was the premier form of entertainment and news for the general public. Once the television set came into being, it took its place as the leading medium until now. With the advent of the internet, everything has changed. The TV set has been replaced by streaming services, and the radio has been replaced by podcasts. Both the radio and podcasts are auditory mediums; however, the internet has made podcasts more easily available and on-demand as opposed to the radio which you still need to tune in at the set time to listen to your favorite shows. Podcasts are also quite lucrative in terms of a career as you can charge your users a set amount to download and listen to your streams.
Today's information is delivered primarily online. A decade ago there were only a handful of content creators online distributing their passion to the masses. Today almost everyone has a presence when it comes to social media. To meet this insane demand, there are hundreds of thousands of content creators out there trying to make it big in the online information/ entertainment distribution business. Podcasting in particular is now more popular than ever, with millions of listeners worldwide.
However, with so much competition, it is essential to have the right gear to ensure a high-quality production value. The success of podcasts is mainly based on content and delivery, but don't underestimate the importance of creating a high-quality audio stream. People may stick around and listen to your podcasts for a while if your recording is weak, but as time goes by they will go elsewhere for their podcast fix. With the right laptop, microphone, and audio editing software, you will be able to deliver your content in the best way possible. Here are some of the best laptops for podcasting.
See also: Best laptops for vlogging
Buying Guide
Podcasting is what's in trend now, and people use it to disseminate news and views. The medium that is used for this is the laptop. If you are on the lookout for a laptop for podcasting yourself or for listening to podcasts, there are a few key specifications that must be checked before you place the order. Here are some tips that could help you.
Display Size: The best laptop for podcasting can be 14-inch to 15-inch in size as far as the display is concerned. You may find some laptops with larger or smaller displays as well. The mean size is recommended here.
Processor: The laptop must come with the latest processor to handle podcasting needs. If it is an Intel processor, the Core i7 or Core i5 processors should be able to offer good performance. Check with the seller that the chipsets are of the latest generation and not older.
RAM: You will require solid RAM support for your podcasting activities. A minimum of 8GB is essential. If you can lay your hands on a 16GB laptop within this range, you should go for it. The least you can do is buy one with 8GB RAM with the provision to expand later.
Graphics: Graphics on a laptop for podcasting may not be critical since it is an audio-only activity. You would still need the display to be of superior quality, including the graphics department.
Audio Delivery: Audio is most certainly critical for laptops that are to be used for podcasting. Check if there are sufficient speakers and you can listen to all the sounds. You have the option to add external speakers later if the necessity arises.
Battery: If you are picking up one of the latest laptops for your podcasting needs, the battery is now a much-improved component, and charging has become faster too.
Connectivity Options: Check that you have the maximum options on hand to connect the laptop you are planning to order.
Security: A security provision like a fingerprint sensor would be an added advantage. This will protect your laptop from being accessed by any other person.
Best Laptops for Podcasting
Premium-Quality Laptop with Backlit Keyboard
Apple MacBook Air13-inch Display Screen Laptop
Check Price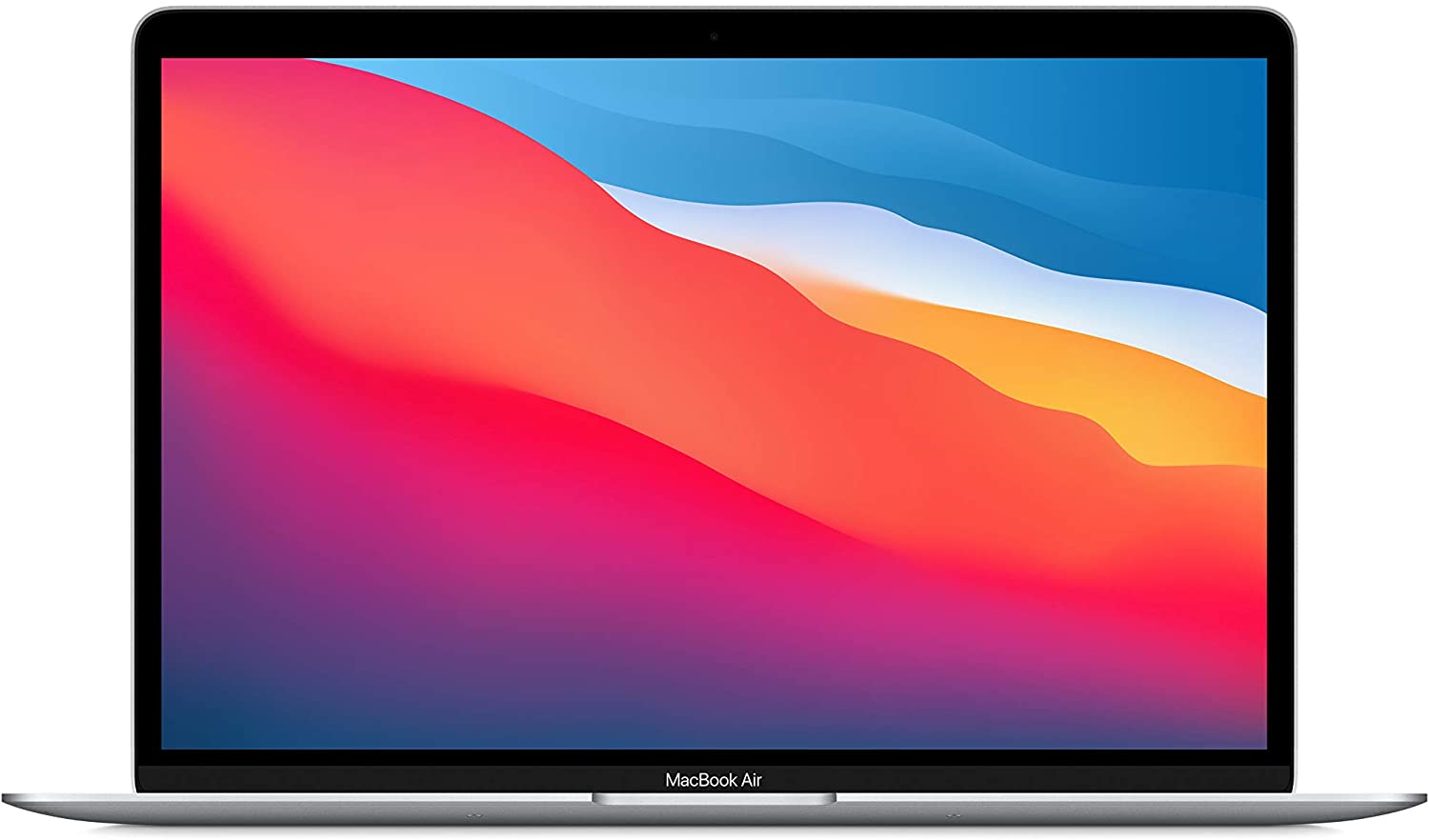 Available in three different colors (silver, gold, and space gray), the Apple MacBook Air boasts a highly sleek and sophisticated design that catches your attention in no time. The laptop comes with all the modern features that will help you record multiple episodes for your podcast. As a podcaster, it supports all the different software and apps you might require. The device is available in two storage variants: 256 GB and 512 GB.
Touch ID enables you to store all kinds of data and information on the device safely and securely. One of the highlights of the device is its smooth and comfortable keyboard. In addition to offering an ultra-smooth typing experience, the keyboard also offers backlit functionality. The laptop is compatible with iPad, iPhone, and every other Apple device. This helps to ensure that you can easily synchronize your files across all your Apple devices.
A good option for professional podcasters planning to invest in a high-end laptop with strong multimedia features.

It is also recommended for those who wish to have a premium laptop that can assist them in both personal and professional work.
Touch ID

Backlit keyboard

Advanced features

Available in multiple color options
Slightly expensive

Some features could be upgraded
15.6-inch Display Screen with Fingerprint Reader
HP Pavilion 512 GB Storage-Space Drive Laptop
Check Price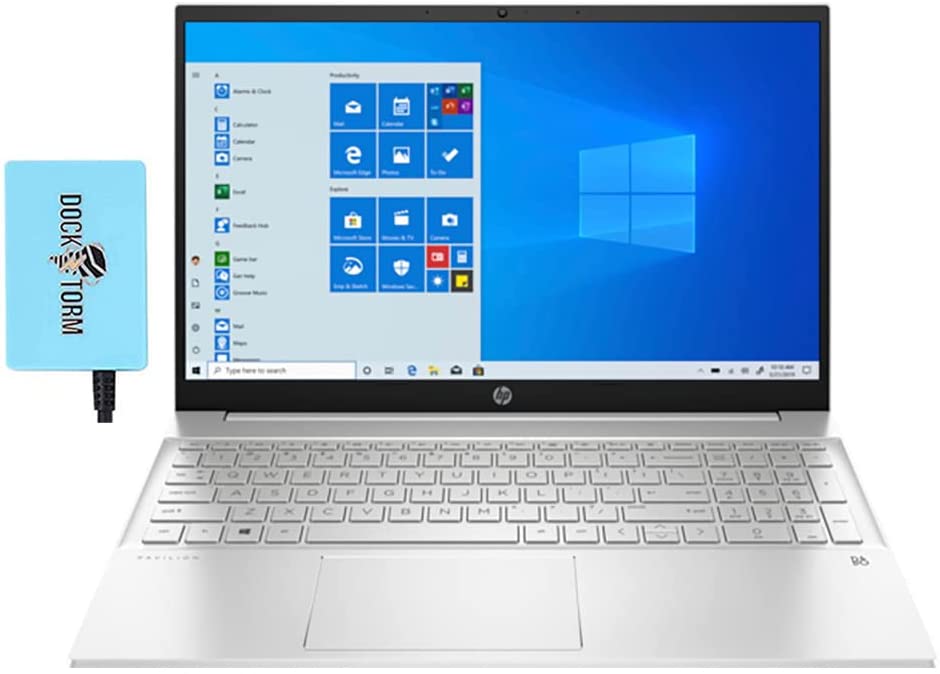 The HP Pavilion comes with a sharp display screen that is 15.6-inches wide and offers a resolution of 1920 x 1080 pixels. Apart from watching movies and binge-watching shows, this screen will assist you in making your podcast dreams come true. The SSD drive offers a storage space of 512 GB, so running out of storage space is not a concern you will have while using this device. High-bandwidth 32 GB RAM ensures the laptop offers fast and reliable performance.
The keyboard offers decent travel space between the keys and stands out for its backlit features. The lighting effects produced by the keyboard are as admirable as the comfort provided by it. The high-resolution webcam makes it highly convenient to participate in virtual conferences or make video calls. You can keep all your data in the laptop safe with the help of modern security features like the fingerprint reader.
An ideal option for those looking for a sturdy laptop with a gorgeous display screen and good security features.

It is also recommended for podcasters who have just started working professionally and need a reliable laptop that can help them create content.
Stable performance

High bandwidth RAM

Sensitive fingerprint reader

Comfortable Backlit keyboard
No optical drive

Average thermal management
Lightweight Laptop with Long-Lasting Battery
Acer Swift 3 14-inch Display Screen Laptop
Check Price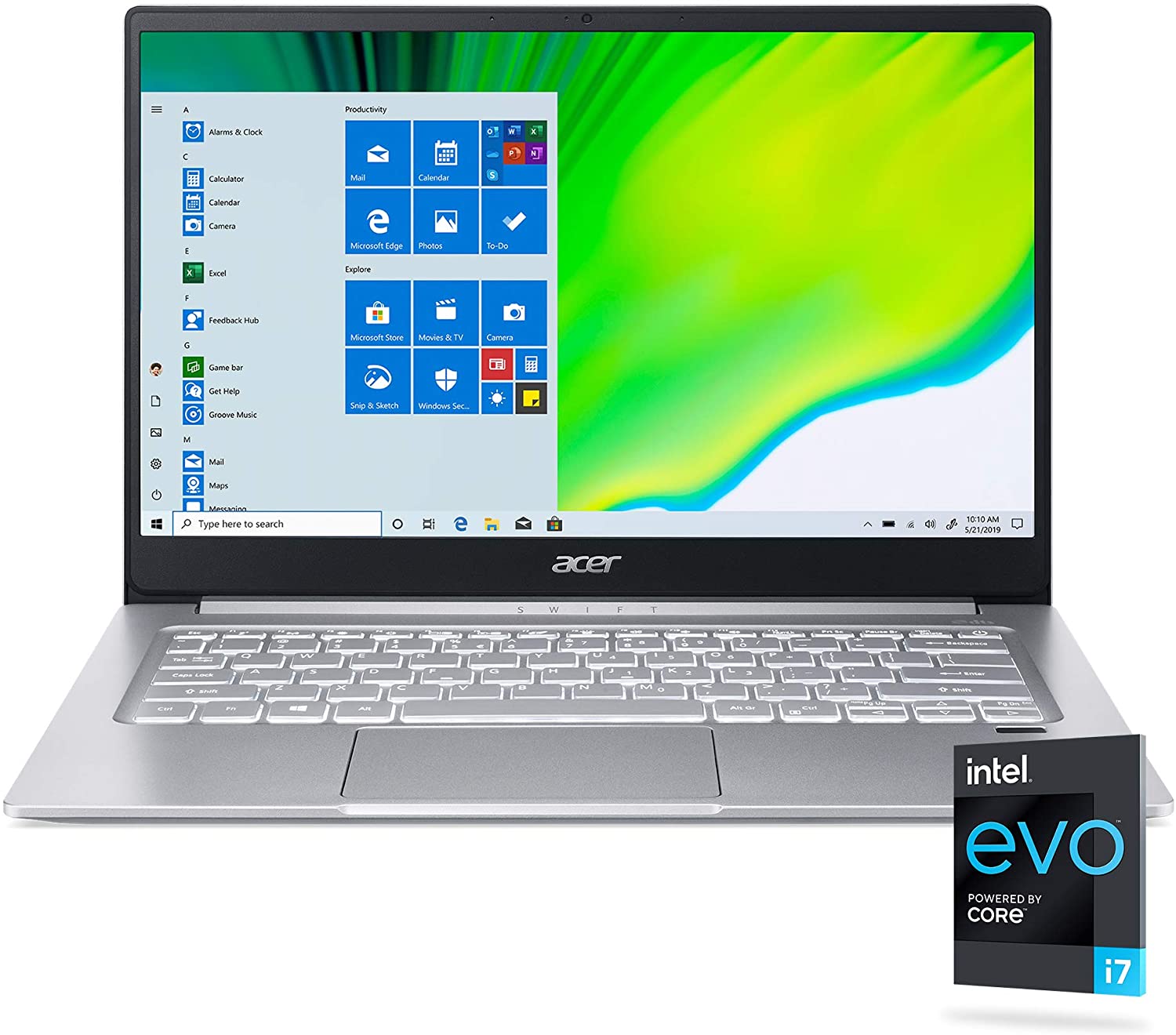 You will come across very few mid-range laptops that offer the kind of battery support the Acer Swift 3 does. When optimally charged, the battery lasts for as long as 16 hours. Its lightweight structure and strong battery life make it extremely easy for you to travel with it. The device weighs only 2.65 pounds and can easily be slipped into a bag. The display screen is 14-inches wide and has a 1920 x 1080 pixels resolution.
The device comes with an SSD drive that offers 256 GB of storage space. If you need to store a larger amount of data on the laptop, you will have to invest in an additional storage device. The 8 GB RAM does not allow you to engage in high-end gaming. There are several connectivity ports on this device that enable you to connect to multiple peripherals simultaneously. The fingerprint reader is highly sensitive and helps you secure your data and files.
A suitable option for podcasters who travel extensively and need a compact laptop that offers good battery support.

It is also recommended for individuals who have been looking for a medium-budgeted laptop with a 14-inch display screen.
Backlit keyboard

Strong Battery Life

Lightweight and compact

Responsive fingerprint reader
Low bandwidth RAM

Underwhelming webcam
17-inch Display Screen with 1 TB Hard Disk
Dell XPS 17 9710 Windows 11 Home Laptop
Check Price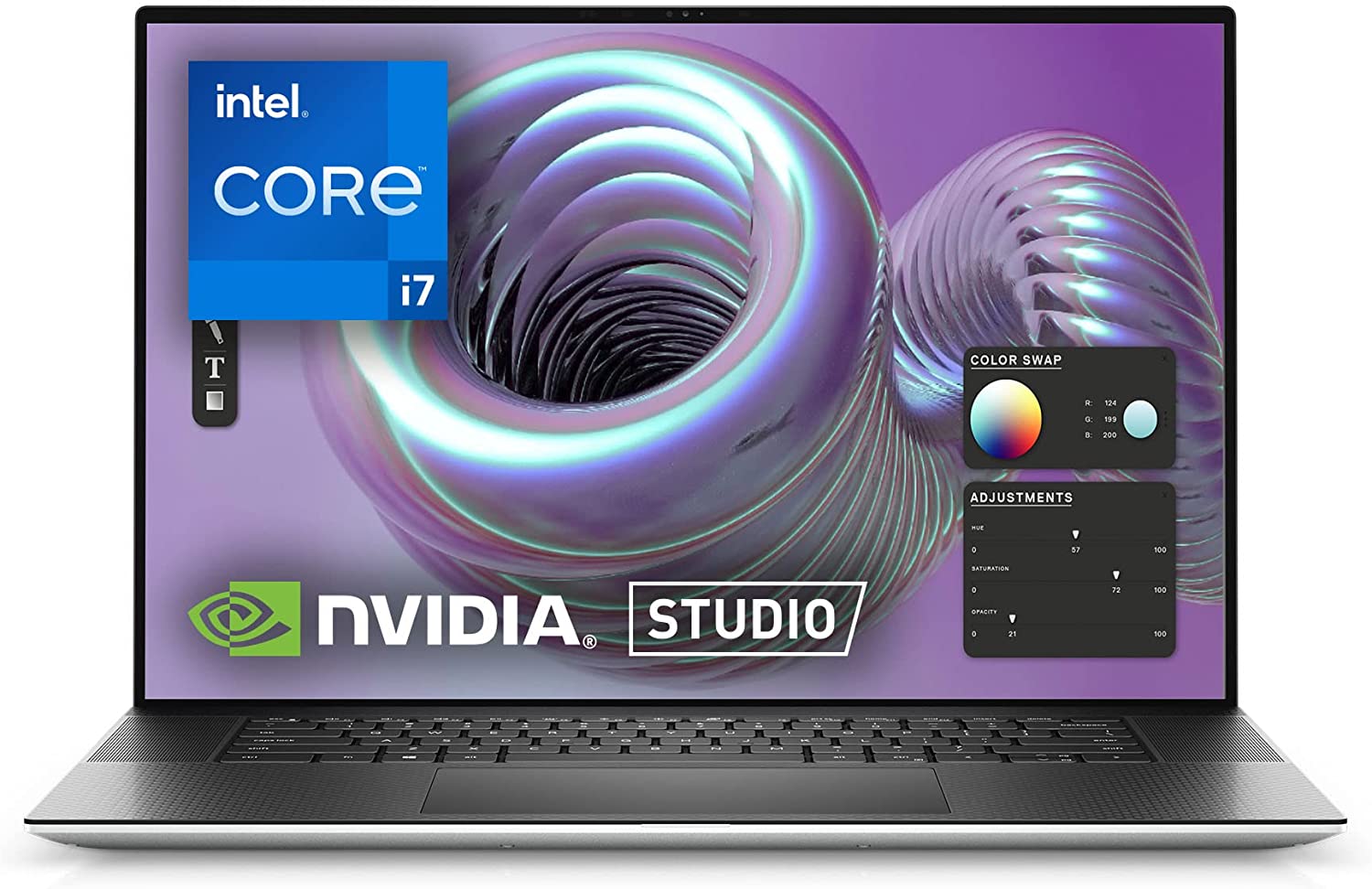 Many people who work in the media space, like podcasters, prefer having laptop devices that feature a large screen. The Dell XPS 17 9710 features a 17-inch display screen that produces a resolution of 1920 x 1200 pixels. The advanced Eyesafe technology ensures that your eyes do not get strained despite looking at the screen for long hours. The laptop comes with a hard disk that offers 1 TB of storage space.
There is no optical drive or Ethernet port on the device, but you get many other connectivity features, including a headphone jack. One of the highlights of the device is its quad-speaker setup. The audio output produced by the laptop is of very high quality and is one of the reasons many people invest in this device. Aided by Windows 11 Home, the laptop offers highly smooth operations. The keyboard has been designed very well and offers backlit functionality.
Why You Should Buy This?
An ideal option for podcasters looking for a laptop with a 17-inch display screen and robust multimedia features.

It is also recommended for individuals who are planning to invest in a versatile and premium quality laptop.
Pros
17-inch HD screen

Excellent audio output

Durable backlit keyboard

Adequate storage support
Cons
No Ethernet port

Premium pricing
Lightweight Laptop with Strong Battery Life
LG Gram 16Z90P 16-inch Display Screen Laptop
Check Price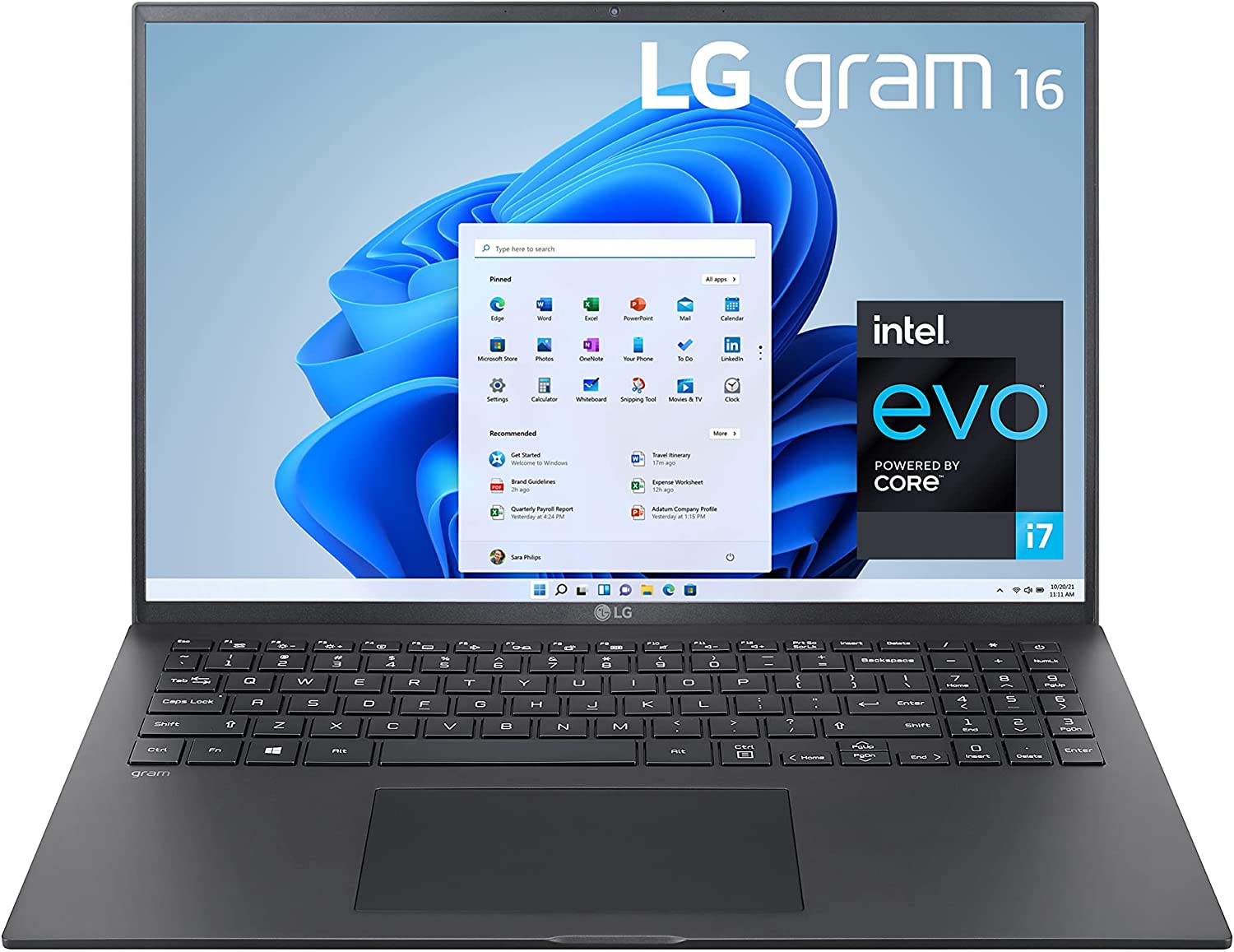 In the premium category, you will find very few laptop devices that weigh very little. The LG Gram 16Z90P has premium features but weighs only about 2.62 pounds. Another highlight of the device is its battery life. On a single full charge, the battery lasts for 22 hours. The screen is 16-inches wide and offers a high resolution of 2560 x 1600 pixels. The brightness levels and color accuracy offered by the laptop are excellent.
The laptop offers multiple connectivity options, including a full-size HDMI port, a 3.5mm headphone jack, and a microSD card reader. The device is powered by the Intel Evo 11th gen CORE i7CPU, which runs at a processing speed of 4.6 GHz and enables you to get all your work done efficiently. The hard disk offers a storage space of 256 GB. One would have liked to have more storage space on a premium laptop device.
Recommended for professional podcasters who have been planning to invest in a high-end laptop with advanced features.

It is also a suitable option for those who travel frequently and require a lightweight laptop that offers great battery support.
Solid battery life

Premium features

Ultra HD display screen

Good connectivity support
Steep pricing

Storage space should have been higher
Medium-Budgeted Laptop with Touch-Enabled Screen
Lenovo IdeaPad Backlit Keyboard Laptop
Check Price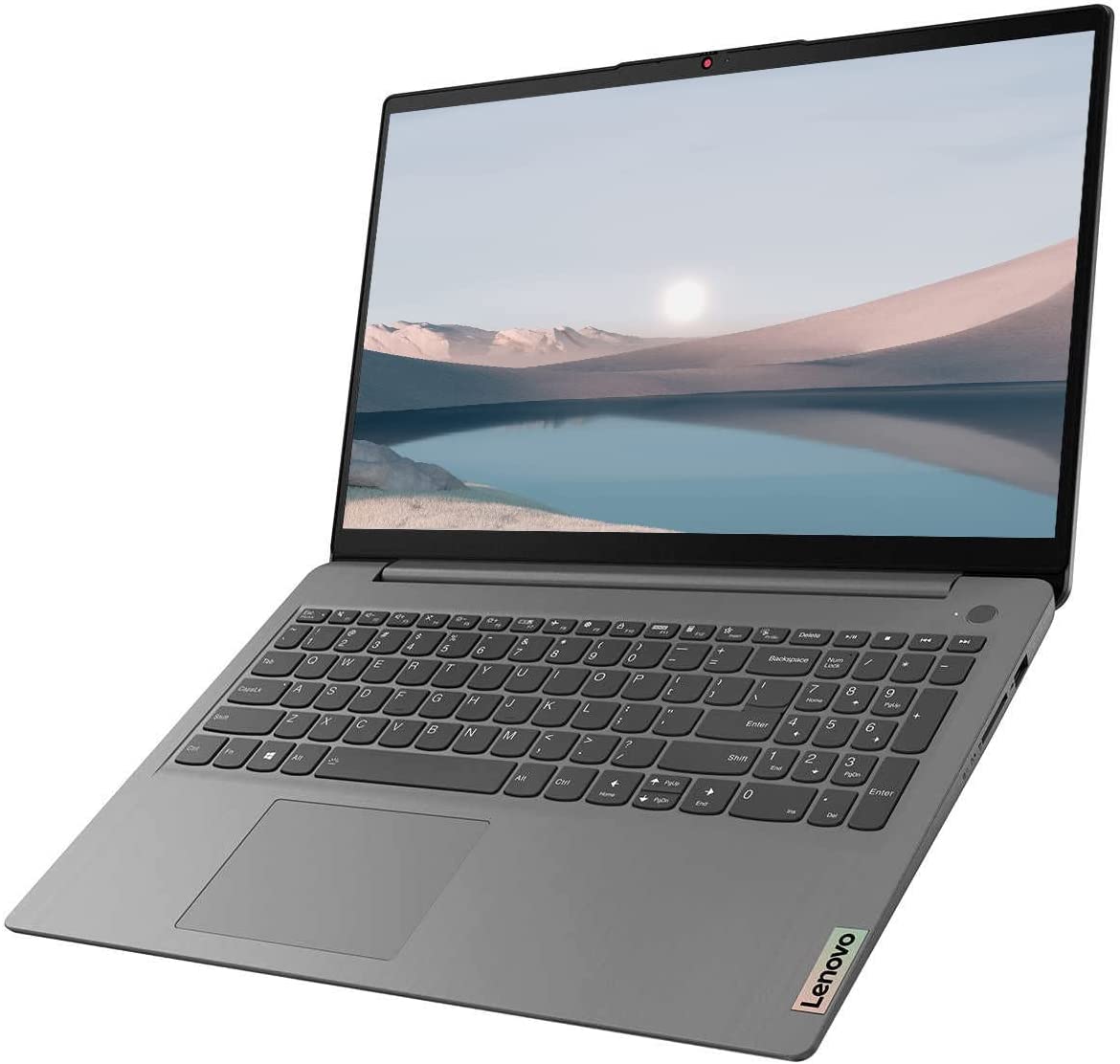 The Lenovo IdeaPad features a 15.6-inch display screen that is touch-enabled and offers a resolution of 1920 x 1080 pixels. When optimally charged, the battery life lasts for 12 hours. Owing to its wonderful multimedia features, this laptop is highly favored by podcasters and other multimedia professionals. At 3.74 pounds, the laptop is not too heavy, and you should be able to travel with it conveniently.
The SSD drive offers 512 GB of storage space, which should be sufficient for the average user. The Intel Quad-Core i5-1135G7 is largely responsible for the laptop working fast all the time. It comes with a high-resolution webcam suitable for video calls and Zoom meetings. The laptop offers multiple connectivity ports, including a 3.5mm headphone jack and a microSD card reader. The backlit keyboard is very comfortable, and the fingerprint reader is highly responsive.
Why You Should Buy This?
A suitable option for media professionals looking for a mid-range laptop with a vibrant screen that offers touch functionality.

It is also recommended for those who need a professional laptop with a high-quality webcam and good battery support.
Pros
Good battery backup

Efficient processing unit

HD touch-enabled screen

Multiple connectivity ports
Cons
Average audio output

The design needs to be upgraded
See also: Best laptops for school and gaming
One of the Best High-End Windows Laptops for Podcasting
Razer Blade 15
Check Price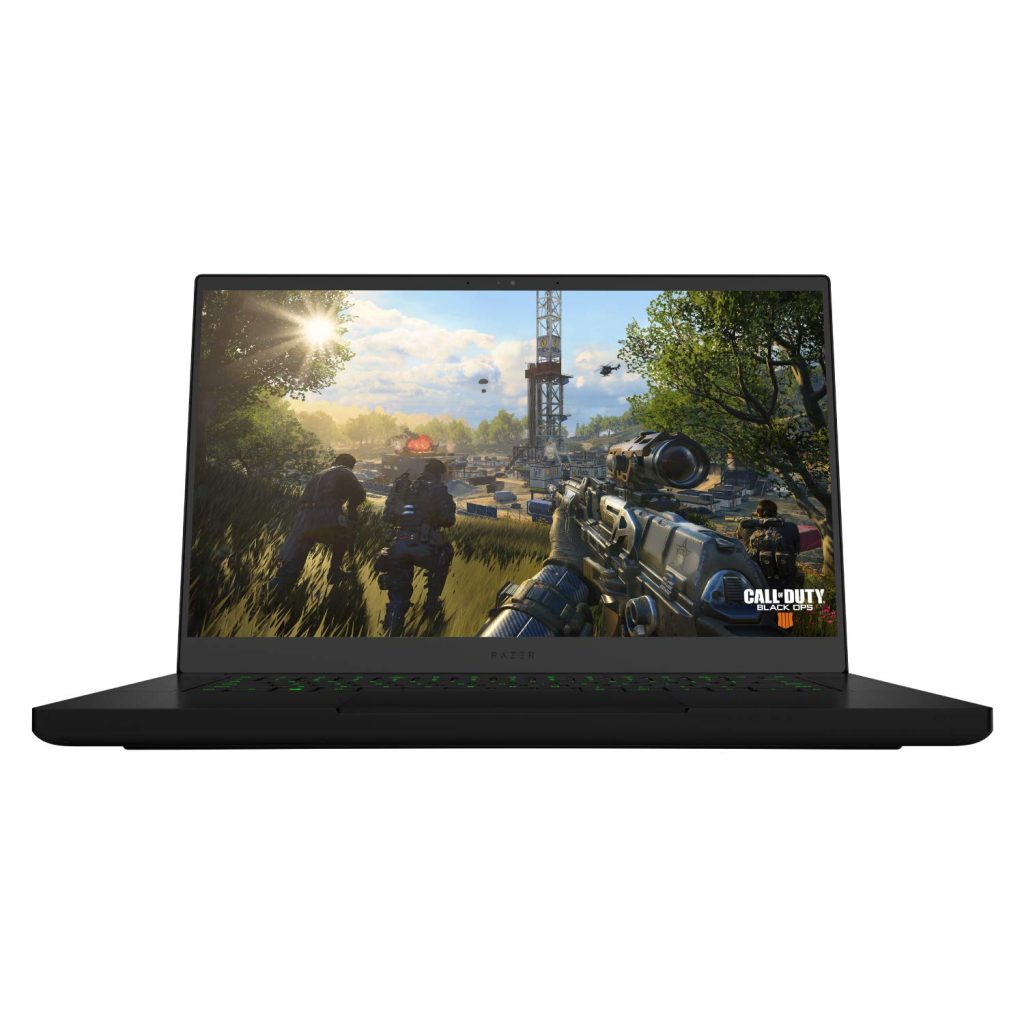 The Razer Blade 15 is a powerful machine that can easily meet your podcasting needs and more. It comes with an 8th Gen Intel Core i7-8750H 6 core processor, Nvidia GeForce GTX 1060 Max-Q Design V.R Ready Graphics, 16 GB DDR4 2667MHz memory, 256 GB SSD plus 2 TB HDD storage, and a 15.6 inch Full HD edge-to-edge display. It also has a spacious glass touchpad for perfect precision and smooth control. You also don't get useless bloatware found in most laptops these days. You get exactly what you seek and nothing more.
It is unique because it is one of the smallest 15.6-inch gaming laptops on the market today despite being insanely powerful. It strikes the perfect balance between portability and performance. The body is designed to make maximum use of the small size to offer maximum storage by utilizing its precision-crafted CNC aluminum chassis. The almost bezel-free (4.9 mm thin) display looks stunning with accurate and dynamic colors. It's perfect if you usually travel a lot to gaming conventions for your podcasting needs, interviews, etc. The Thunderbolt 3 (USB Type-C) and USB 3.1 ports allow you to transfer your files between your external hard drive and your laptop at lightning-fast speeds, which is always a plus for audio production tasks.
Performance-wise, the laptop is a complete monster with the NVidia GeForce GTX 1060 graphics, 16 GB DDR4 RAM, and the Intel Core i7-8750H 6-core processor. You also get a massive storage space of 256 GB SSD and 2 TB HDD, which will be more than enough to store all your precious files. As far as battery life is concerned, you get about 8 hours of light to medium usage and about 4 hours of heavy usage. With everything that the Razer Blade 15 brings, it may be expensive, but you get an absolute monster of a laptop that will glide through the most demanding tasks for years to come.
Who should buy this?
This is perfect for those looking for a high-performance laptop for their podcasting/gaming needs.
It's ideal for those seeking a small but powerful laptop that can easily perform heavy tasks.
It's a great option for those who like to travel light while attending various gaming conventions, outstation interviews, etc., for their podcasts.
See also: Best laptops for business users
Frequently Asked Questions
Are laptops for podcasting much more expensive than regular laptops?
Laptop pricing is a comparative issue. You can buy laptops for $300, and you can find one for $3,000 as well. The laptop's specifications and special components, and additional features all jack up the price. In the case of the laptops for podcasting, if the machines are all top of the line, they may appear to be pricey. It is difficult to conclude that way.
What other purposes can the laptops for podcasting be used?
You can use the laptops for any purpose you desire. You can use it as a business laptop or a gaming laptop, or for other activities as well. Podcasting is growing rapidly, and laptops that possess the technical requirements for use in podcasting have been clubbed and presented. You can also use your existing laptop for podcasting, provided the specs are met.
Can I connect additional audio devices to the laptop for broadcasting?
Yes, you can connect any compatible device to the laptop for podcasting. It depends on the device's connection mode and the laptop's provision. Study both the requirements before buying additional accessories for pairing with the laptop.
Can the offers on laptops sold online be adjusted for cash discounts?
You will have to check with the seller. They may have fixed offers, whether a gift voucher or an accessory. They cannot un-bundle and give you an equivalent reduction in price. Some sellers may be open to that idea. The best way is to check with the seller before buying.
Why is there no automatic international warranty on laptops?
It depends on the manufacturer and the particular model. Laptop manufacturers don't sell all their models of laptops in every market. Also, not all manufacturers may have after-sales service arrangements in every country, which is critical in honoring the warranty terms. These are the reasons; the international warranty is not universally applied. Only specific models may enjoy this facility.
Conclusion
Podcasting may sound like an easy task, but it's more than just talking to a microphone. You need several key pieces of equipment to ensure a high-quality audio stream. Quality is more important than ever in today's age of easy accessibility and intense competition. Having a great microphone is, of course, paramount to creating a great podcast. It is also a very obvious choice when people start their podcasts. The same goes for headphones too. Having inferior products can lower the production quality of your podcasts.
However, many people forget about an equally important device, namely the laptop. There are several amazing audio programs out there that can help to produce a great quality audio stream. You must get a laptop that can run such programs for maximum efficiency. You might also need multiple tabs while editing and perhaps an additional screen if you want to do things professionally. You will need a laptop with sufficient performance capability to do all this and more. About 16 GB RAM is the ideal amount you need, although you could go for laptops with less such as 8 GB RAM, it won't be as smooth as the former.
Another important thing to remember is the CPU. Ideally, for podcasting, you should go for an 8th generation Intel i5/i7. The more powerful the processor, the smoother your programs will run, saving you considerable time and energy. Lastly, there is the ever-lingering question of Apple or Windows. To be honest, each one has its own merits and demerits. Ultimately it comes down to the type of audio software you like and how comfortable you are with the operating systems. Some audio programs, such as Garageband and Logic Pro, are available only on iOS.
With a little bit of research and some much-needed introspection, you can easily pick one of the best laptops for podcasting that will perfectly suit your needs and desires.