Featured in this article (opens in new tab)
If you are looking for the best laptops for business users, this is the place you'll find them. The requirements of business individuals when it comes to buying a laptop for their work are very uniquely different from other purposes. When it comes to gaming, editing work, or animation, several overlaps occur such as high performance, great display, inbuilt cooling feature, etc. For business purposes, all you need is a decent machine that can run tasks smoothly. At least that's what comes to mind when you think about it. However, there are other aspects to look for too such as portability, battery life, versatility, etc. If your need is to only get a laptop for strictly work-related purposes, then you can just buy an affordable one with basic features.
If you often travel a lot on your job, then you need to consider other features such as good battery life for performing tasks on the go, and a lightweight body so that it's easier to travel with. You can also look for laptops that come pre-installed with Microsoft Office if your job requires you to create lots of documents and spreadsheets. Affordability is another very important factor, especially if you are only looking for a laptop purely for work-related tasks.
Though requirements vary from one individual to another, it is always crucial to buy a laptop that offers a little bit of versatility. The last thing you want is to quickly buy one only to realize later that you can't perform several tasks that you didn't think about before. Therefore, it is always wise to buy a laptop that is affordable but versatile too. In the list below, you will see a wide range of laptops that have unique strengths and features. You can browse through the list and find one that would suit any requirements you may have. From the best 2 in laptops to beastly powerful machines and very basic ones, you will be able to find the right one for your needs.
Buying Guide
Though the topic of best laptops for business users is a broad one, there are factors to be kept in view. The key issue is the nature of business use. The needs of a laptop user with a small home, office, or business could be vastly different from someone who does graphic designing for a living. The description above has taken that middle path in assuming the requirements of a laptop for business. You must go into a little more detail when choosing the laptop for your business.
Display Size: The ideal laptop size for a business you should be buying is 15-inch to 16-inch. It won't be difficult to carry it if your business involves travel. Viewing documents like PDFs and worksheets won't be a big strain on your eyes.
Processor & RAM: The best course in selecting a laptop for business is to find one that has an Intel Core i7 or equivalent processor. 8GB RAM should be sufficient to handle most of the activities related to your business. Decent graphics support is required.
Touchscreen & Keyboard: A backlit keyboard is preferred as it is useful while working even when there's poor light, as inside an aircraft. The touchscreen is another feature you will appreciate while using your laptop for business.
Battery: You will need a powerful battery for your laptop to be used for business purposes. You will invariably carry your laptop to various places to meet your clients. Good battery life can last up to 7-8 hours. Check this feature carefully before ordering.
Security: You may store important information and data on your laptop for business. Ideally, you must look for security features like a fingerprint sensor or facial ID so that no one else can open your laptop without your knowledge. You can further fortify by installing a solid antivirus package.
Onboard Storage: Your laptop for business will need sufficient storage onboard to save business-related information. If you are going to be using a laptop to create invoices, then they will have to be stored in the appropriate format for reference later. 1TB is the minimum. You can go for a model that offers 2TB.
Weight: You would want a lightweight laptop. There are some sleek models on the market. They don't weigh much, but there is no compromise on the specifications.
List of top best laptops for business users
A Value-for-Money Laptop that Meets All Business Requirements
HP 15 AMD R3 Series Business Laptop
Check Price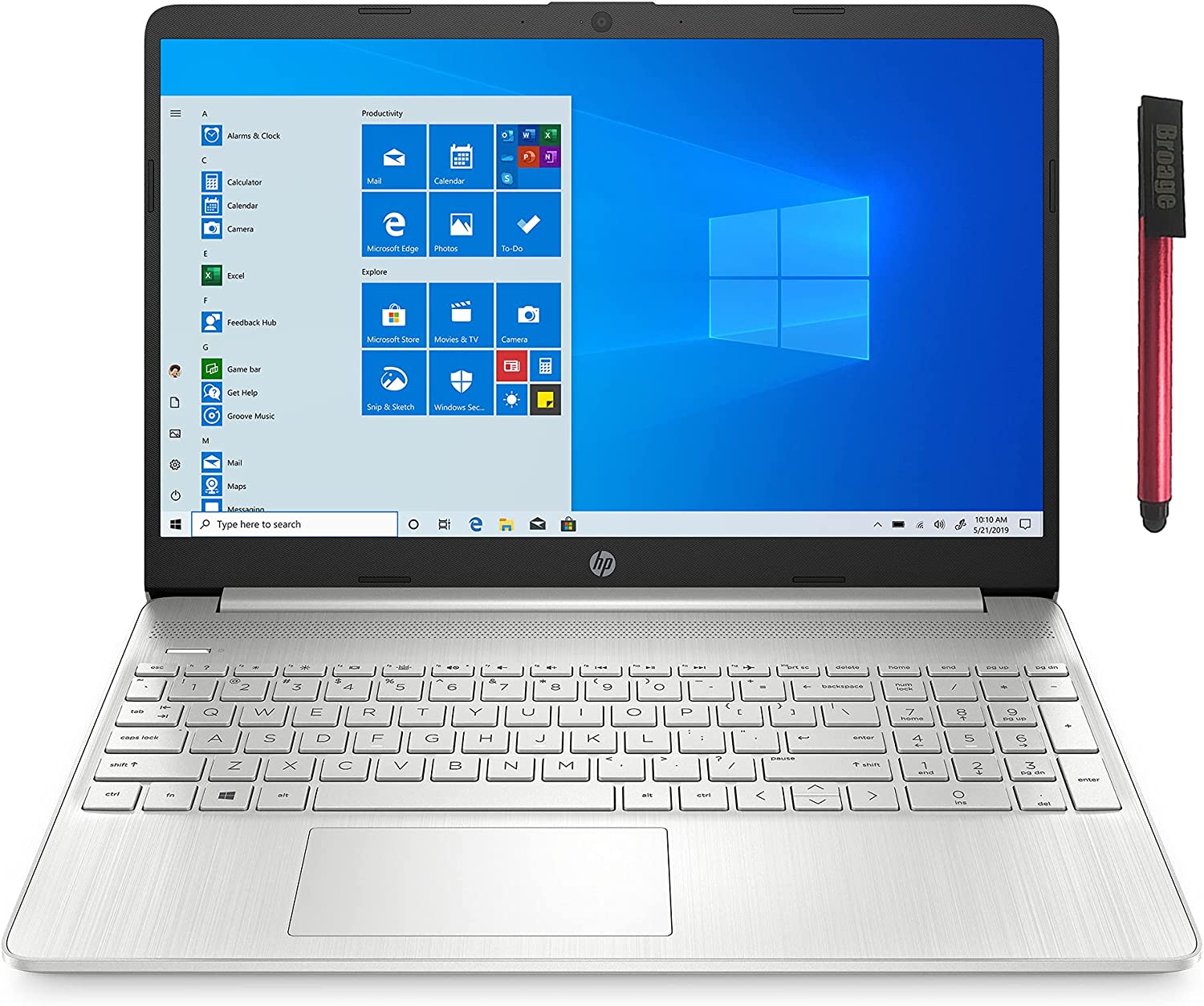 This 15.6" anti-glare FHD display comes with the AMD Radeon Graphics and offers a great viewing spectacle. It makes virtual business meetings smoother with its 720p HD webcam and dual-array microphone setup. The overall design looks stylish and elegant and is compact enough to carry during travel.
It delivers above-par results with almost no lags or crashes on the performance front. The battery backup is sustainable, and the sound output is impressive. It also offers multiple connectivity options with its USB-A, USB-C, HDMI, SD Media Card reader ports, and Bluetooth compatibility.
It offers the latest design and technology that can help you perform all basic tasks with ease

The connectivity on offer is excellent and makes virtual meetings and conferences a smooth experience.
Lightweight and easy to carry

Sharp and responsive display

Great connectivity
No touchscreen

No backlit keyboard
A Powerful Laptop with a Top-End Display and Processor
HP 15 AMD R5 Series Laptop
Check Price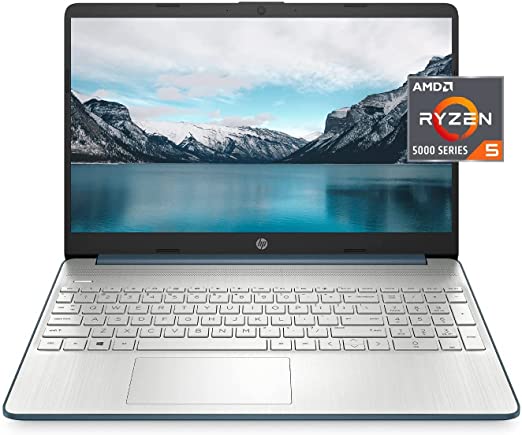 One of the best in the category, this laptop has everything that one can hope for; a stunning display, a great battery backup, a fast-paced processor, a light-weight design, the latest OS, and the best-in-class connectivity. The highlight of this laptop is its sharp display that offers an exquisite viewing experience. It offers great connectivity as well for smooth and seamless video conferencing.
The performance is also worth talking about as the laptop boots up within seconds and hardly has any performance lag or system crashes. The performance is not just fast but quiet without many heating issues. The design is sleek and stylish and offers a premium look overall.
The performance it delivers is more than enough to meet all regular tasks

It is a good option for people who travel too much because of its sleek design and excellent battery backup
Sharp display

Excellent battery backup

Fast and quiet performance
Non-touch display

Slightly overpriced
A Sturdy Laptop Perfect for Business Use
Lenovo Ideapad 3 2023
Check Price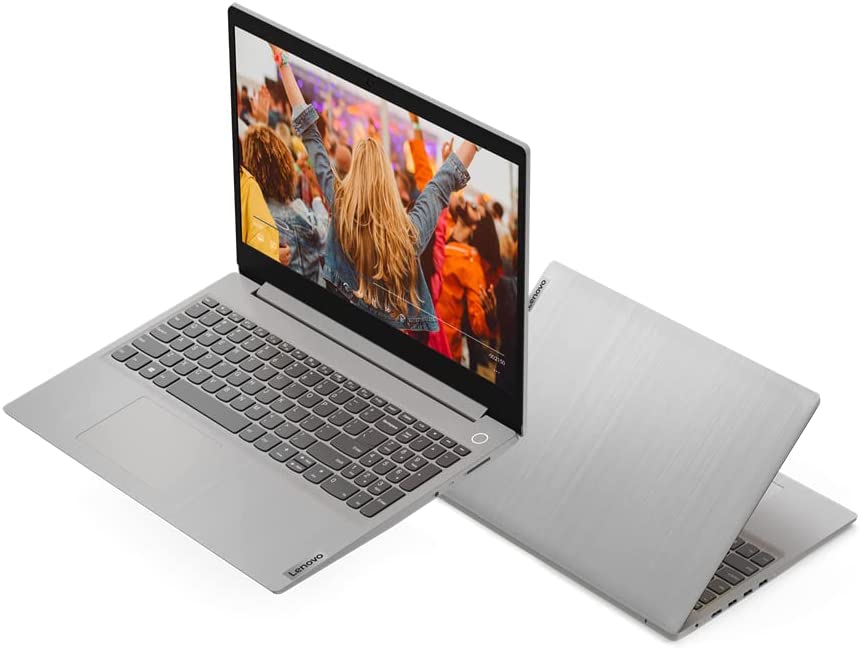 Built to deliver in every situation, the Lenovo Ideapad 3 comes with an 11th-generation Intel i3 processor. The focus of the design is more on delivering a better viewing experience with its higher screen-to-body display ratio and thin bezels. The integrated Intel UHD graphics ensure the response speed of the display remains on point even when under heavy usage.
The audio output is also impressive, with the Dolby Audio system delivering more than expected. The back-lit keyboard goes well with the laptop's aesthetics and adds a premium touch.
The features on offer at this price range make this a value-for-money laptop

Performance is great even for high-end usage like competitive gaming
Smooth performance

Excellent audio output

Good build quality
Slightly heavier

Average battery backup
Perfect Laptop for Basic Office Use
Lenovo 14" Chromebook S330
Check Price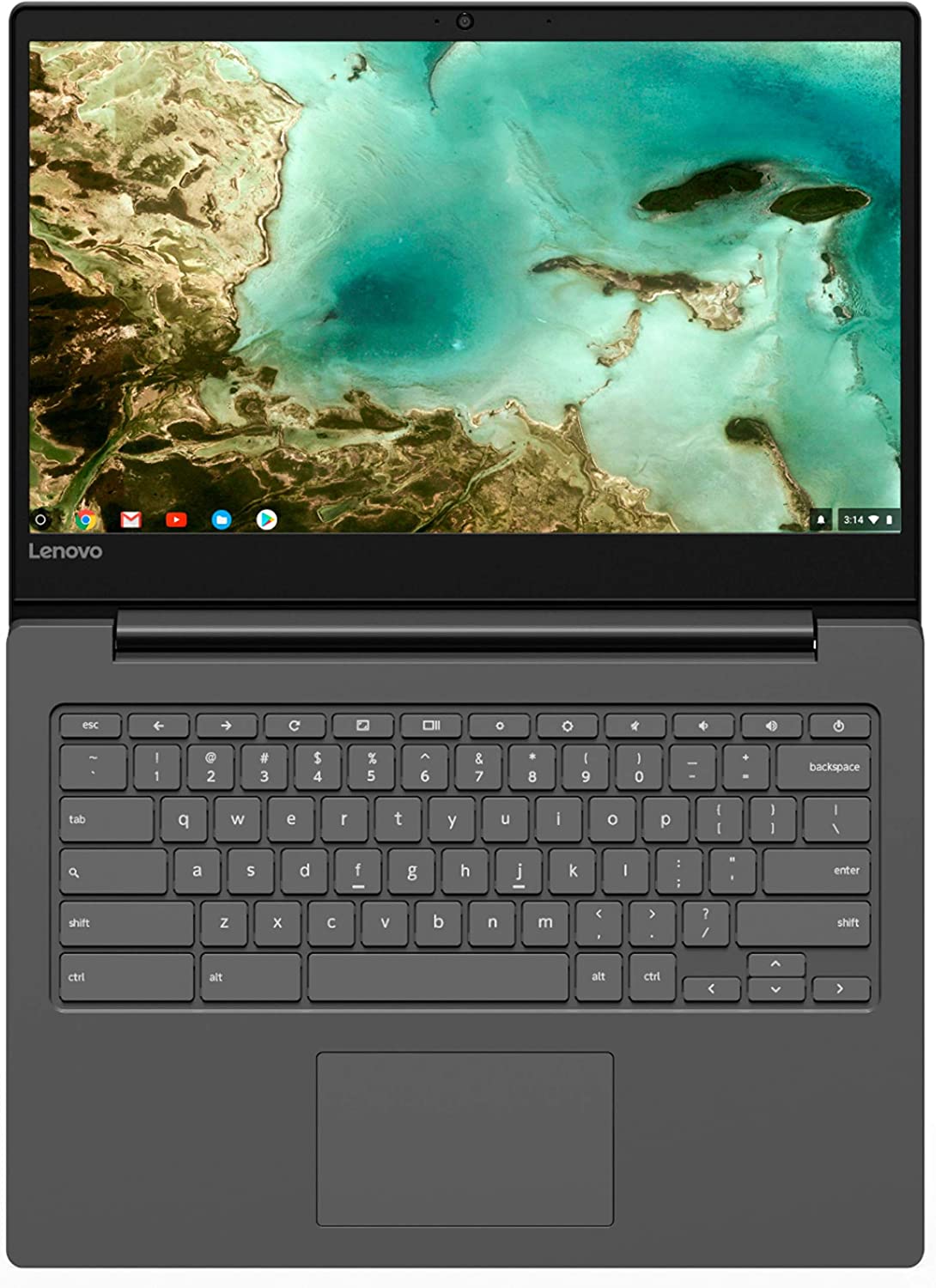 This is one of the low-priced laptops capable of delivering all the basic functions one can expect from a business laptop. The laptop comes with Marxsol Cable Accessories, making the package even more appealing. The body is thin and lightweight and can be easily carried around.
It delivers an impressive performance even with its low specs. The hardware configuration works well to outperform expectations. The battery life is the most impressive part of the laptop, as it lasts for around 8-10 hours on average. Connectivity is also smooth, which makes video conferencing a hassle-free experience. The laptop is powered by ChromeOS, which adds to the smooth experience.
Why You Should Buy This?
It is one of the best business laptops available at this price point

The connectivity is smooth, which makes it ideal for business use
Pros
Low Price Tag

Good Connectivity

G

ood battery life
Cons
Low on RAM

Poor sound output

It has a single USB Port
Business Laptop with a 14-inch Micro-edge FHD Display
Asus VivoBook 14 Business Laptop
Check Price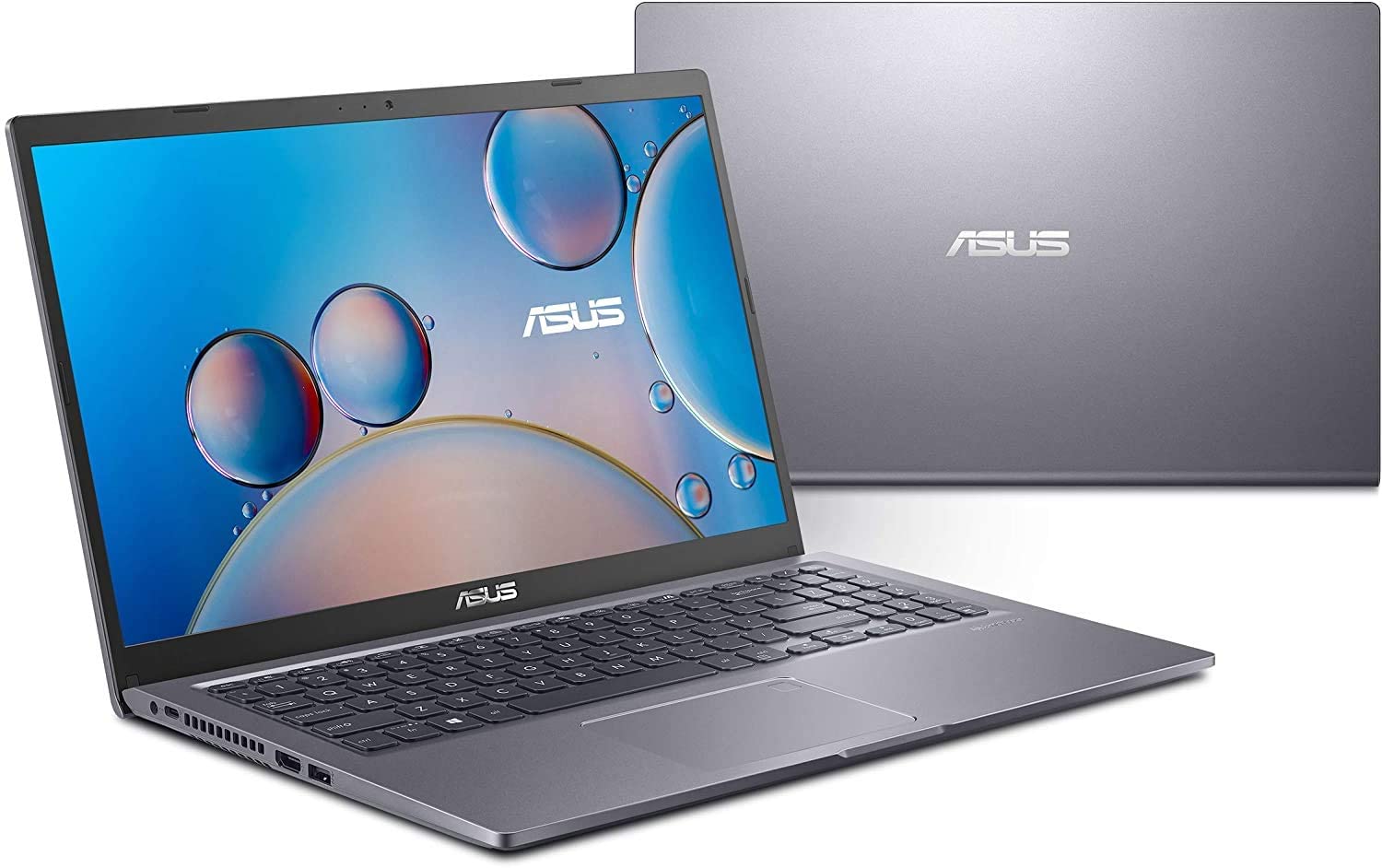 Highlighted by its ultra-edge FDH display, the Asus VivoBook 14 stands tall as one of the best business laptops. The display is easy on the eyes with the color quality being soft and natural. For users with high screen time, the viewing experience on this one can turn out to be a real treat.
It comes with Intel's i3 Dual-core processor, which makes it capable of multitasking without a lot of latency. The design is thin and compact, making it easier to carry around. It doesn't take a lot of space either. The sound quality is impressive and does well with most of the streaming platforms.
The display is impressive and has a very low impact on the user even if the screen time exceeds average time limits.

The performance is lightning fast. So if you're looking for a laptop with a good display and fast performance, this is your perfect package.
Smooth ultra-edge display

Lightning-fast performance
Low battery life

Heavyweight
An Ultra-thin and Lightweight Laptop with an OLED Display
Asus K513 Premium VivoBook
Check Price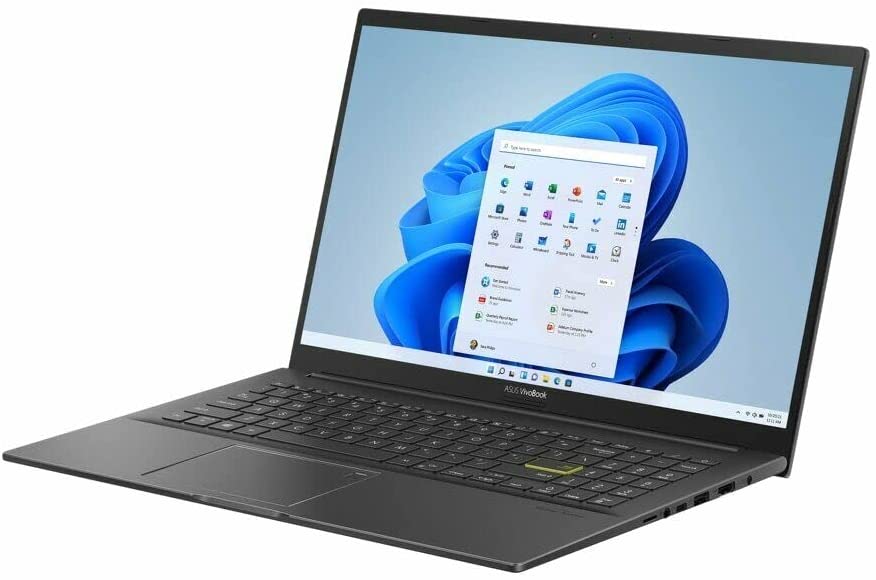 Of all the recently launched laptops, the Asus K513 Premium VivoBook is one of the very few that offers an OLED display. The laptop overall lives up to its price tag, delivering a quiet and superfast performance. The 4-core 11th gen Intel i5 base processor clocks in at up to 4.2GHz and enables the laptop to perform highly complex multitasking with ease.
The OLED display consumes less power than conventional displays and offers a higher refresh rate with crisp visual output. The audio output on the Stereo speakers is equally impressive. It offers great connectivity and makes online conferencing a smooth experience as well.
Why You Should Buy This?
If you're a developer looking for a laptop that doesn't get stuck while you browse tens of tabs on your browser, this laptop is the right choice for you.

The laptop delivers quiet performance and has a great battery life, making it a good option if you travel a lot with your laptop.
Pros
Quiet and fast performance

Impressive battery backup

Stunning display output
Cons
Low on SSD

No Touchscreen
One of the Best 2 in 1 Business Laptop
Acer Spin 5
Check Price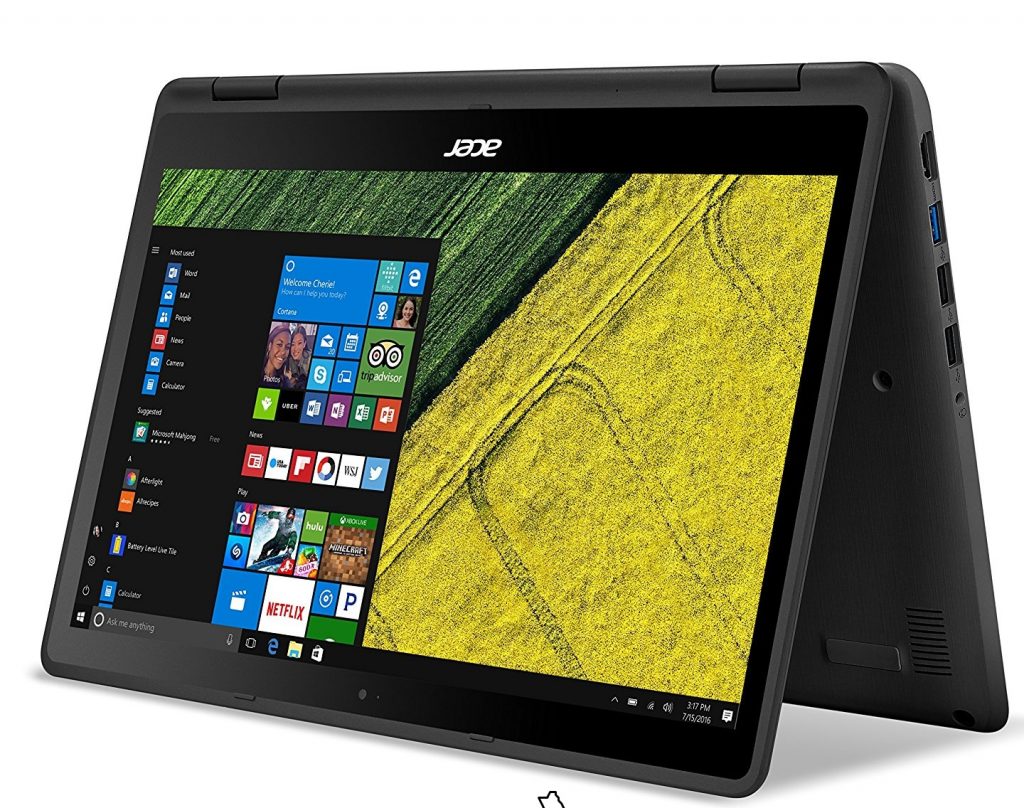 The Acer Spin 5 features a 3.1 GHz 7th generation Intel Core 15-7200U processor, 8 GB RAM, 256 GB SSD storage capacity, and a 13.3 touchscreen display with a 1920 x 1080 pixel resolution and weighs about 3.53 pounds. The Acer Spin 5 looks very different from the usual ultra-thin 2-in-1 laptop you see on the market due to its thickness. It looks more durable and even feels that way when you hold it in your hand. The ability to transform it into four different modes gives it amazing versatility. These four modes are laptop mode, rest mode, tent mode, and tablet mode.
The laptop mode is when you use the device as a traditional laptop with the display upright, whereas the display mode is when you push the display to 180 degrees, making it parallel to the surface. You can also turn the display back, making the laptop look like a tent. This is ideal for watching content while lying on the bed or the floor. It's also perfect for viewing movies and videos on airplanes. Last but not least is the tablet mode, where you bend the display to 360 degrees, making it into one solid piece. All this can be done thanks to the 360-degree dual-torque hinges under the display.
The 10-hour battery life and the latest 802.11 ac and MU-MIMO allow you to connect to the internet efficiently and stay unplugged for a long period. The 802.11 ac antenna optimizes the signal strength to provide flawless connectivity no matter what mode you are in. The laptop also has a backlit keyboard that allows you to work even in dim light environments.
As far as display is concerned, the Full HD resolution and the Acer Color Intelligence technology provide a vibrant and rich viewing experience. The touchscreen can support up to 10 finger interactions at the same time and allows you to control functions with ease. You also get great audio quality with the built-in Acer TrueHarmony speakers that provide a fuller and bolder sound. The 8 GB RAM and the Intel Core i5-7200U processor let you perform tasks easily and quickly. All in all, the Acer Spin 5 is one of the best 2-in-1 laptops on the market today for business purposes.
What makes it the best?
The 360-degree hinge gives you an unparalleled viewing experience compared to a traditional laptop.
The Intel Core i5 7200U processor and 8 GB RAM provide enough power to glide through work tasks with zero hassles.
The display offers amazing vivid images and great clarity regarding video content.
It feels more durable than most 2-in-1 laptops due to its thicker body which is great to see.
Laptop With The Best Battery Life
Dell XPS 13
Check Price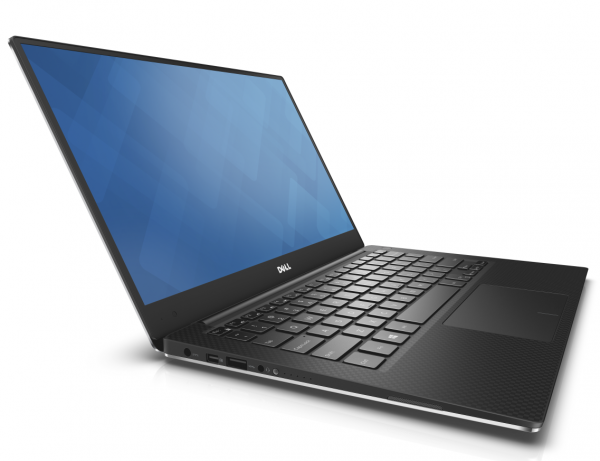 Most of us need a laptop all the time, whether at home, at the office, or on the road. It is essential to have an ultraportable laptop that is light and thin. If that's what you have been looking for, then Dell XPS 13 is the laptop for you. It has a 13-inch screen, is light, and offers a battery life of 12 hours, which is pretty awesome. The typing experience is excellent, and you can turn the backlighting on or off. It has an SD card slow and two 3.0 USB ports. With a six gen Intel processor (several options to choose from), this laptop offers outstanding performance. For more information on this laptop, visit Dell's official website.
What makes it the best?
Built sturdily with premium materials, it has higher durability, and the use of carbon fiber makes it a lighter device with enormous strength.
It has adequate power for seamless performance and lets the business users do everything they want faster.
With its ultra-sharp Infinity Edge display, the screen comes with ultra-thin bezels and provides wider viewing angles of up to 170 degrees.
Longer battery life enables users to work for the maximum time without having to carry a charger wherever they go.
Frequently Asked Questions
Is there a specific brand that specializes in making laptops for business?
No, there is no such thing as one brand being superior to another in making laptops for business. In reality, laptop manufacturers are not selling some models just for business purposes. They have been segregated here by applying certain common criteria to be found in laptops for business. Laptop models with specs close to these criteria have been clubbed and presented.
Is price no factor at all when choosing a business laptop?
Price, as a factor, cannot be overlooked while buying any laptop. However, when selecting a machine for your business, you are planning for the long term, looking at its benefits. You wouldn't want to compromise on certain features to pay a lesser price. If you have shortlisted a few with almost similar specs and features, then you can buy one costing the least.
Do I need to call in an expert to guide me before I start using my laptop for business?
There should not be any need for an expert to guide you to use your laptop unless you are not very familiar with using one. Even in such situations, you should be able to find someone in your family/household or the neighborhood who can help. These machines are menu-driven ones, and in most cases, there is a way to reverse any action you initiate.
How certain can I be that I am getting a genuine laptop when I order online?
On platforms like Amazon, there is a seller rating. If a seller had supplied poor-quality stuff earlier, he would have been rated accordingly. There are also clear reviews of each product on the same page. If you still have apprehensions, you can check with the seller if it is a genuine product. That way, the seller will be alerted to your concerns.
The Bottom Line
Finding the right business laptop is an easier task than you think. Unlike other purposes requiring specific configurations, a business laptop only requires certain qualities like a professional look while handling tasks efficiently. You don't need a lot of RAM or an amazing graphics card in a business laptop. However, if you want a single laptop to fulfill your work-related tasks and other requirements like gaming, watching movies, streaming content, etc., you need to look for a versatile machine. Not everyone can afford to have different laptops for different purposes. If you fall into that category, then going for a great all-around value laptop is ideal. The above list comprises not only business-specific laptops but also some versatile ones and some very powerful ones. Once you have decided to go for any particular one, research a bit more by checking out a few user reviews on online retail sites and go for the one that best suits your needs.