Technobezz is supported by its audience. We may get a commission from retail offers
Graphics Card with NVIDIA Ampere Architecture from ZOTAC
Graphics Card with Three Interfaces from KAER
Gaming Card with AMD Radeon Software from MAXSUN
Table of Content
Are you an ardent PC gamer? Do you love building your gaming setup to enjoy games at UHD 4K resolution with Nvidia hair works and maybe the new RTX reflection technology? Or, you could simply want an entry-level PC with one of the best graphics cards.
Whatever your requirements, this extensive guide got you fully covered. From the best budget-friendly card such as the GTX 750ti or the 1050ti to the amazing RTX 2080ti cards, we cover everything Nvidia has to offer in the graphics card segment. But that's not it, because AMD is always at the helm with their amazing collection of budget-friendly, high-performance GPUs that you could use in your Windows gaming PCs to become part of the proud PC Master Race!
Buying Guide
Consider the following while buying a graphics card
Easy installation
3rd gen tensor cores
Latest cooling options
Cinema-quality gaming experience
Supports Windows/Linux/Free BSD system
Space-saving installation
OS compatibility
Good GPU performance
High speed
See also: Best laptops for teachers
Best graphics cards
Gaming GeForce RTX with New Streaming Multiprocessors
Graphics Card with NVIDIA Ampere Architecture from ZOTAC
Check Price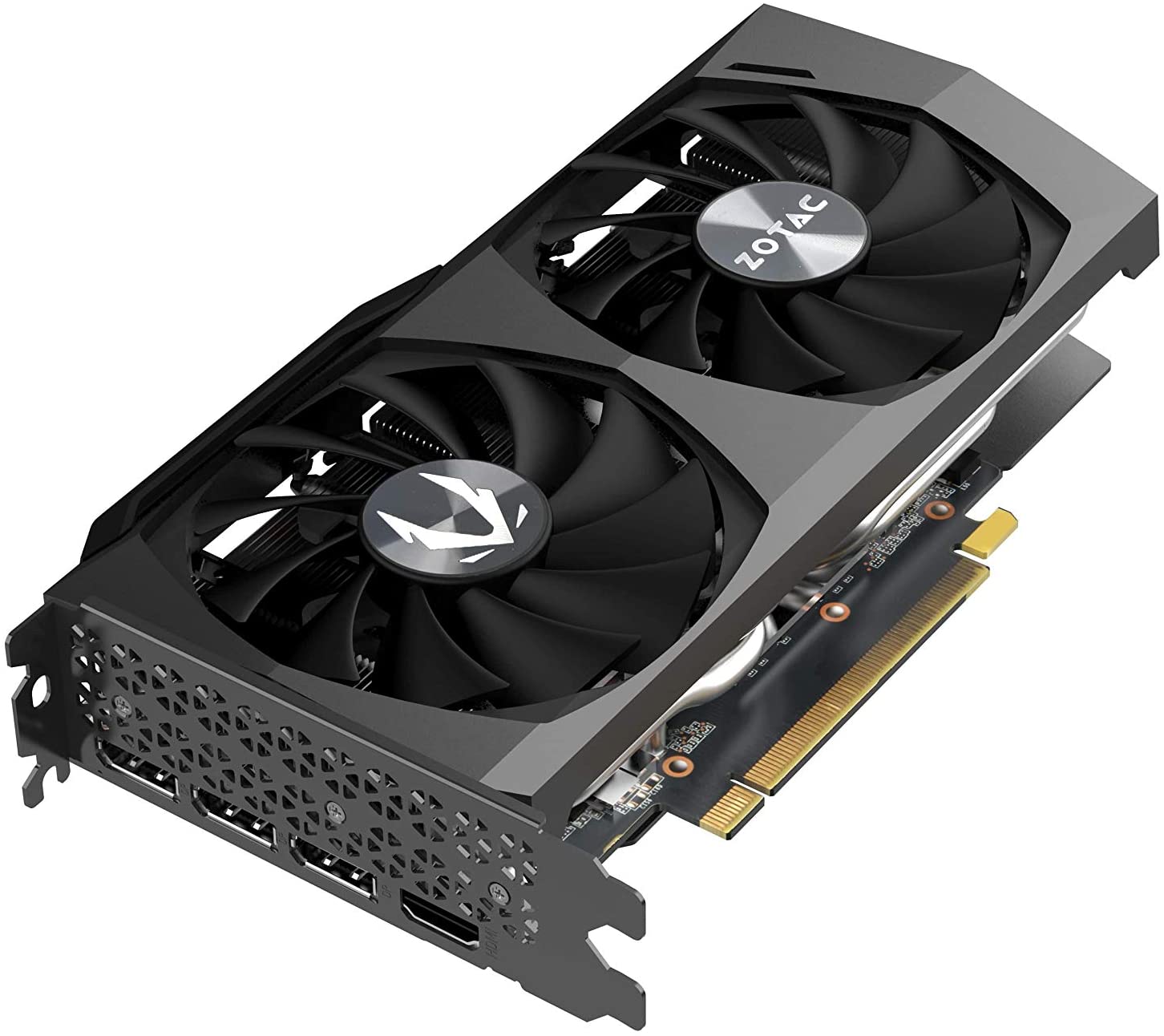 The RTX 3060 processor and 12GB RAM accompanied by a memory interface of 192-Bit make this card a preferred choice for most gaming geeks. This card turns into 102 teraflops which signifies the capability of the processor. It also comes with an enormous acceleration of machine learning apps. The metal backplate helps to dissipate the heat of the GPU.
The graphics card comes with an interface of PCI-Express x 16 and includes graphics GDDR6 graphics RAM. The product has dimensions of 8.8 x 4.6 x 1.5 inches. Some of the accompanying components include a twin edge OC graphics card and a user manual.
This graphics card comes with an impressive memory clock speed of 1807 MHz.
Its Vulkan RT application programming interface allows modern 3-D rendered games to function seamlessly with your graphics card.
Excellent graphics
Easy installation
3rd Gen Tensor Cores
IceStorm 2.0 cooling
Cinema-quality gaming experience
GT 730 Graphics Card with 4GB DDR3
Graphics Card with Three Interfaces from KAER
Check Price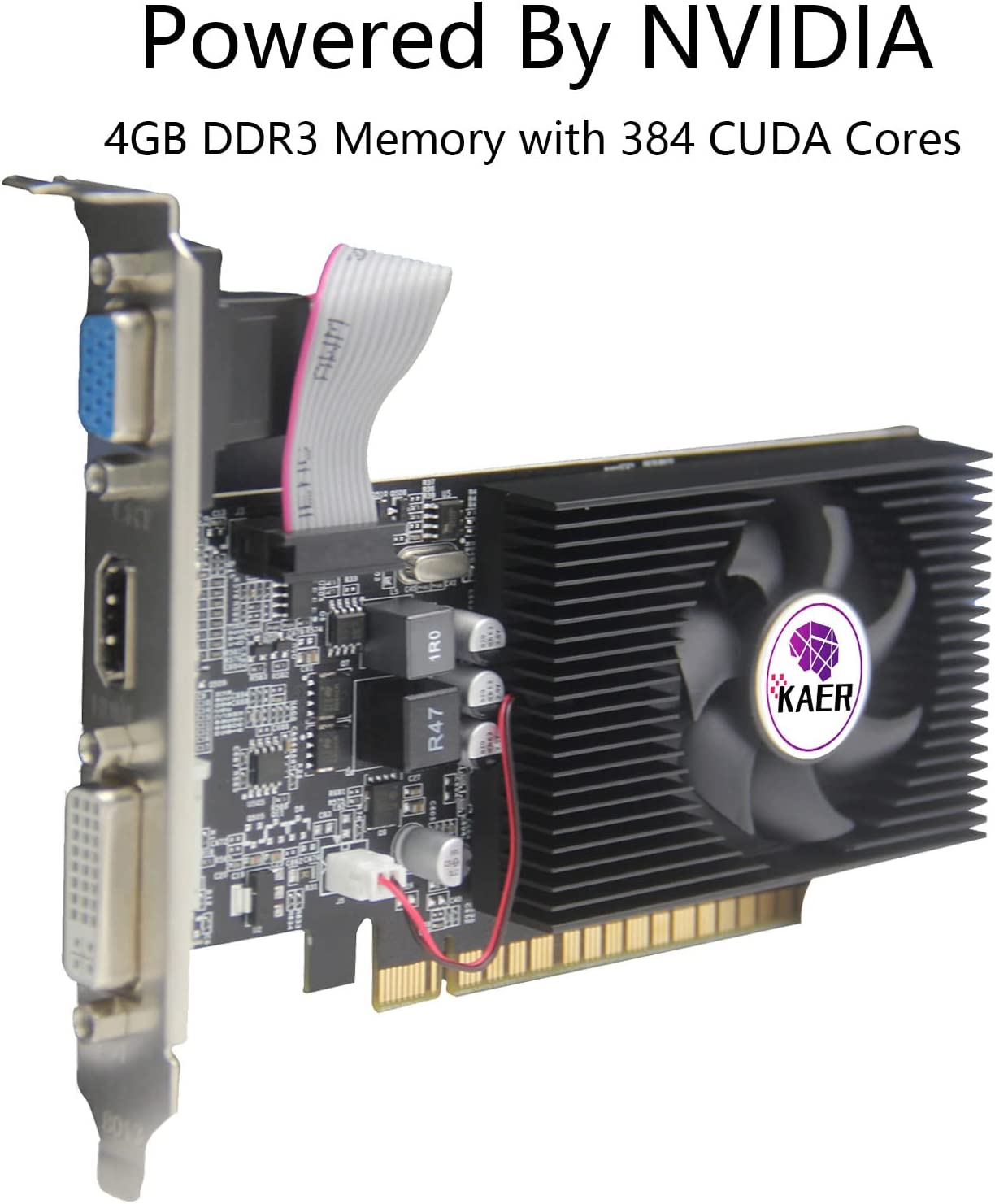 The GT 730 4 GB card is compatible with any PC that supports a PCIe 2.0 x 16 slot. It includes three interfaces, namely, DP, DVI, and HDMI. This product comes well-packaged with premium quality electrical components and a PCB plate that protects key components and enhances the overall stability.
This graphics card is known for its low power consumption feature. Its solid-state capacitor guarantees 30W low power consumption and excellent performance. The high-speed video memory of this card ensures at least 5000 MHz speeds to furnish you with a highly enjoyable gaming experience. The card includes two additional internal brackets that enable you to own an SFF video card.
This graphics card doesn't require any external power supply.
Its quality cooling fans are not loud and enable you to enjoy your games quietly.
Supports Windows/Linux/Free BSD system
Space-saving installation
Three-year warranty & 24-hour after-sale technical support
Unparalleled connectivity
Driver update malfunction
Gaming Video Graphics Card with DirectX 12 Technology
Gaming Card with AMD Radeon Software from MAXSUN
Check Price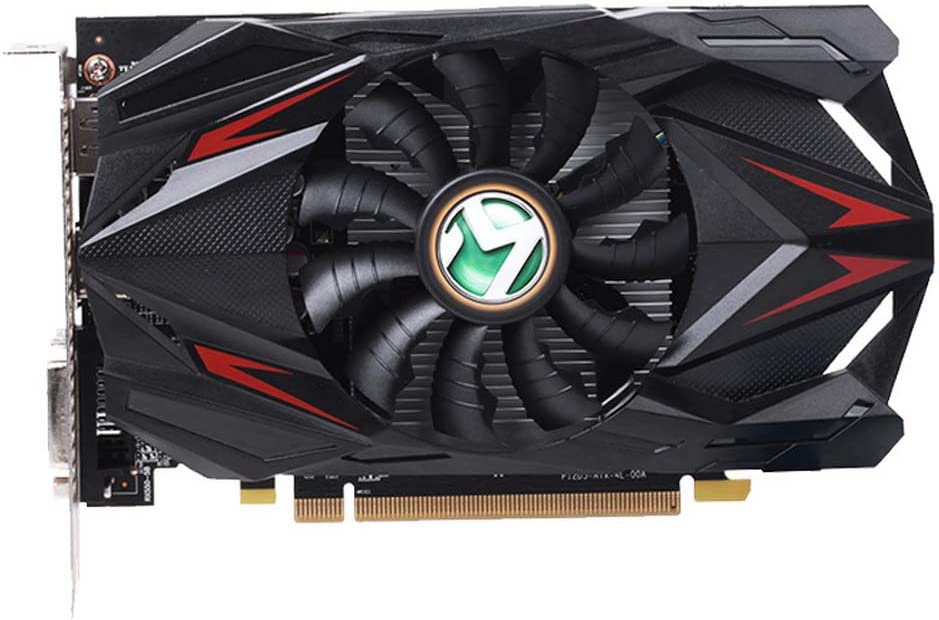 This highly innovative graphics card includes AMD Radeon software which provides a user-friendly interface. You can access the latest driver updates and software features. Its AMD FreeSync technology gives you a flawless gaming experience irrespective of the frame rate. Crafted with the AMD Radeon Chill feature, it remarkably enhances battery life.
Its various USB ports enable instant and simultaneous display without any hindrance. Its Vulkan API ensures fast performance and quality imagery across Windows 7, 8.1, 10, 11, and Linux. With a memory speed that extends up to 1183 MHz, this card is ideal for 3D CAD/CAM activities.
This graphics card comes with a silver-plated PCB and premium capacitors, enabling a low temperature and excellent stability.
Its 9CM unique fan that enables a massive airflow while functioning at very low noise levels.
Excellent OS compatibility
Efficient hardware
Enables access to Radeon software within a game
High frames per second
Gaming Graphics Card with 12GB GGDR6
Graphics Gaming Card with GPU Tweak II from ASUS
Check Price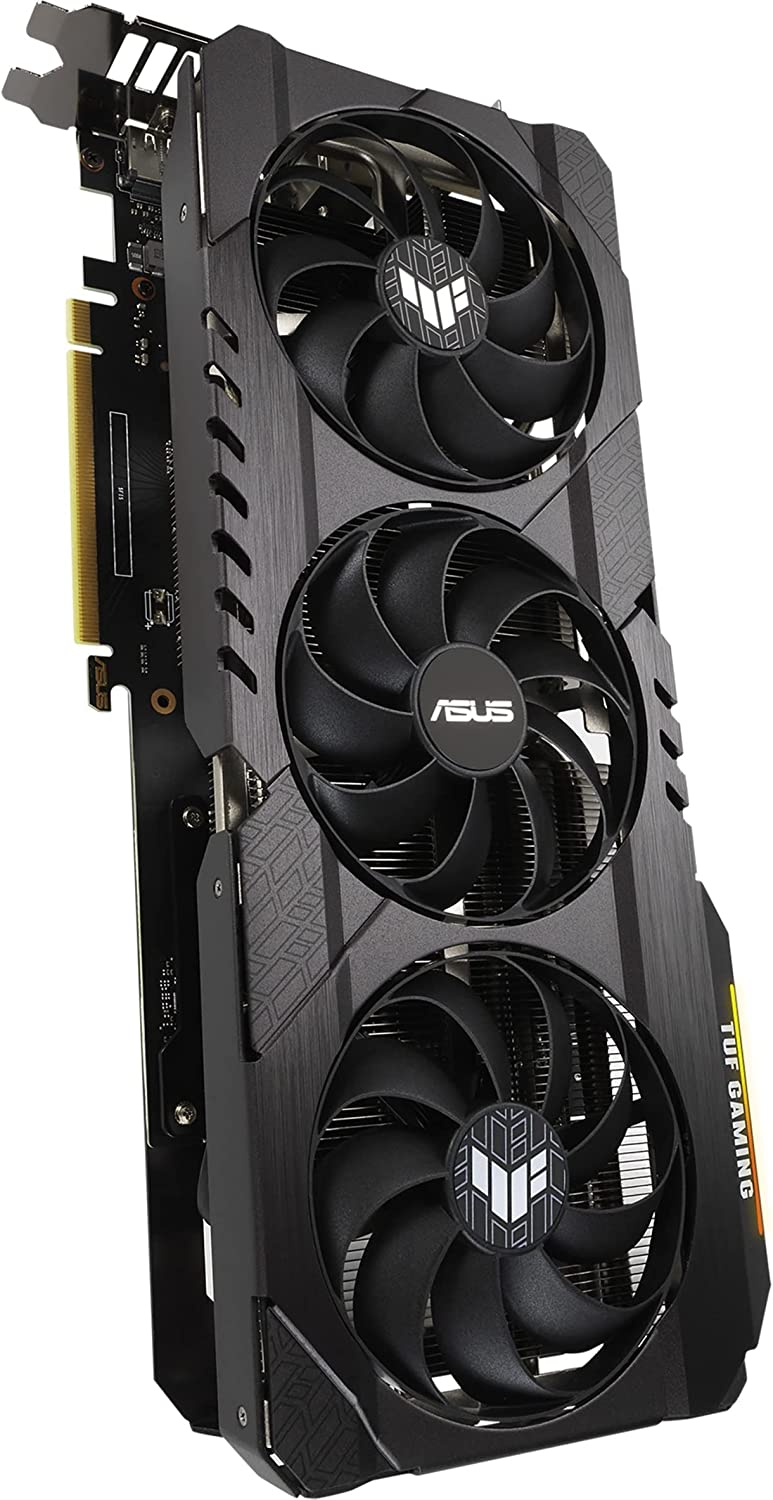 This graphics card comes with enhanced efficiency with its NVIDIA ampere streaming multiprocessors. The optimized fan rotation reduces turbulence, and the stop mode halts them simultaneously at low temperatures. Its auto-extreme technology, TUF components, and a backplate vent make the TUF gaming ecosystem a power to reckon with.
The capacitors are of premium quality and meet military-grade certification. The stainless steel input/output bracket protects the ports. The GPU Tweak II enhances graphics card tuning incredibly. This graphics card comes with an 8-pin connector that effectively fulfills the power requirements of the GeForce RTX 3060.
Why You Should Buy This?
NVIDIA Ampere Architecture furnishes you with the ultimate gameplay like no other graphics card.
This card is loaded with MaxContact technology, which enables surface polishing of the heat spreader and improves the smoothness at a micro level.
Pros
Aluminium-protected graphics card
Memory clock speed of 1882 MHz
Warranty of 3 years
Improved power efficiency
Cons
Malfunctioning video card
Graphics Card with GeForce RTX 3070
Triple Fan Graphics Card with GDDR6 RAM from PNY
Check Price

Gaming enthusiasts will revel in this graphics card based on the 8 nm GA104 silicon, creating an optimal gaming experience. This RTX 3070 Revel Epic-X is crafted with a triple-slot product design that includes a triple-fan heatsink. Its rugged industrial design is complemented with an appealing RGB LED illumination.
These spectacular features help fulfill the needs of demanding games. Its PCI Express 4.0 interface makes it compatible with wide-ranging systems. This also includes a display port and HDMI outputs which facilitate great connectivity.
This graphics card keeps drivers consistently updated, which helps optimize your game settings.
NVIDIA GeForce helps you capture and share live streams, screenshots, and even videos, among other content, with your close contacts.
Path-breaking RTX technology
Flawless GPU performance
Incredible speed
Graphics RAM of 8GB
4K excellent gaming experience
Graphics Card with Display Port DVI-D HDMI
Radeon RX 550 Graphics Card from QThree
Check Price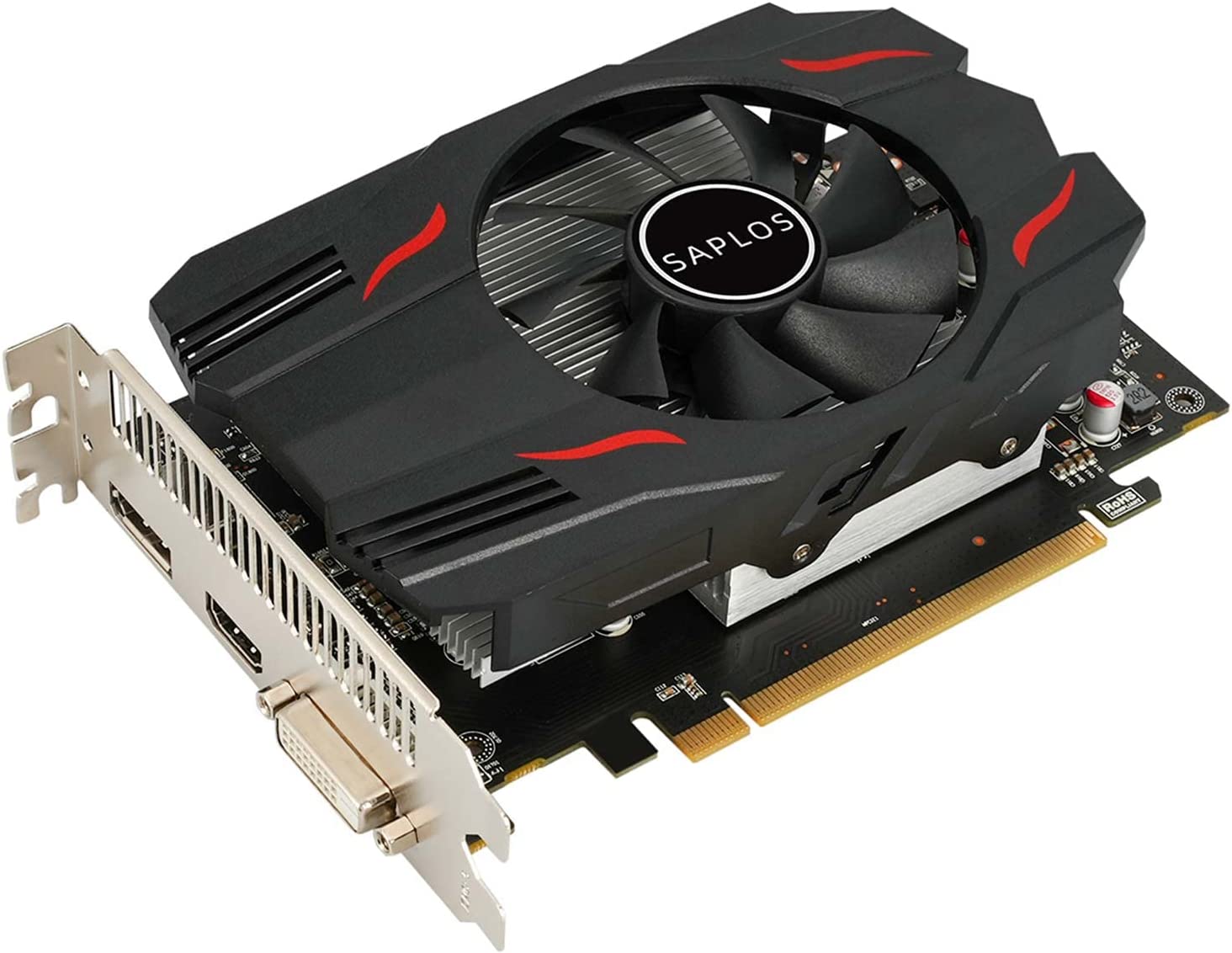 This graphics card comes with brand new AMD chips, which enable unhindered video and graphic editing. The computer video card is loaded with DP/HDMI/DVI-D output ports and supports Blu-ray HD. Powered by AMD Radeon, it includes a 4GB GDDR5 128-Bit with 512 premium streaming processors. The quality electronic components of this card enable high performance while ensuring optimal stability.
The Polaris architecture with advanced power management of AMD ensures maximum heat dissipation, providing a soothing gaming experience. The card's 1180 MHz GPU speed and other premium components make it ideal for setting up a home theater. Rich with three interfaces, this RX 550 card can efficiently manage everyday applications.
Why You Should Buy This?
This supports a 4K monitor, which allows your everyday tasks to function without any hiccups.
It also runs software like Adobe Photoshop and Premiere.
Pros
Enhanced heat dissipation
Low power consumption
Enables viewing & editing of 4K videos
Enhanced response of keyboard & mouse
Memory clock of 6000 MHz
Cons
It gets slightly warm with normal usage
Conclusion

Building your gaming PC is a rewarding experience, and this guide to the best graphics cards to buy in 2023 will help you decide on one of the most crucial components for extensive gaming. Be it just multiplayer titles like Counter-Strike or the latest AAA games with the highest graphics and 4K resolution gaming; there is always a choice from both AMD and Nvidia.
Regarding the top-of-the-line gaming experience, Nvidia wins the game hands down with their new range of RTX cards, while AMD is the clear budget winner. Either way, there are no compromises, as you will get a great performance per price ratio as well as hours of non-stop gaming once your gaming PC is set up.
See also: Best computer for AutoCAD
Was this article helpful?
This helps us improve our website.